November 8, 2022 One collector buys complete Bugattiana collection before the Gooding & Company geared online Auction

Santa Monica, Calif. (November 4, 2022)
Gooding & Company's previously announced Geared Online Bugattiana Automobilia auction slated for November, consisting of over 350 items of historically significant Bugatti-themed memorabilia offered from one distinguished enthusiast and collector, has been canceled. Gooding & Company is pleased to announce that the entire catalogue was acquired from the seller by a prominent European collector who will continue to preserve and maintain these important Bugatti artifacts as one cohesive collection.
The confidential buyer has expressed his intent to make this remarkable collection available for future viewing by Bugatti enthusiasts, collectors, and historians.

Original announcement:
November 7 - 18, 2022 Gooding & Company geared online Auction

One of the World's Most Significant Collections of Bugatti-Themed Automobilia Coming to Gooding & Company's Geared Online Event this November

Bugattiana Automobilia features a private collection that includes factory records, personal and family documents, and other never-before-seen items from the influential Bugatti brand offered for public sale for the first time.

This November, global auction house Gooding & Company will present its Geared Online | Bugattiana Automobilia event, offering one of the world's most significant collections of Bugatti-themed memorabilia from a distinguished Bugatti enthusiast and collector. From Monday, November 7 to Friday, November 18, the online-only auction will present over 350 lots, including a wide array of items such as factory records, personal documents from Ettore and Jean Bugatti, and other significant items which have never before been seen or offered for public sale. Significantly, all lots will be offered without reserve.

The entire catalogue hails from a collector who has owned numerous significant Bugatti automobiles and has been collecting since joining the Bugatti Owners' Club as a teenager in the 1950s. For decades, the consignor has worked tirelessly to curate this historically important collection of Bugatti artifacts. One such effort included placing newspaper ads throughout the Alsace region of France, the very heart and soul of the Bugatti marque and legacy. This of course led the consignor to travel frequently to France, where he met firsthand with the people who responded to the ads in order to not only collect their memorabilia, but to also engage with their stories and personal experiences with the Bugatti marque and history. As such, the offerings in the auction encapsulate over an entire century's worth of all things Bugatti, presenting an unparalleled opportunity for any enthusiast passionate about this iconic French marque.

"We are honored to present this magnificent collection of Bugattiana, which contains some of the finest, most significant Bugatti artifacts in private hands," states Gooding & Company Senior Specialist, David Brynan. "This is truly a museum quality collection, carefully assembled and curated over a span of decades by one passionate Bugattiste. This is a singular opportunity to acquire important, never-before-seen pieces, many of which have well-established ties to the Bugatti family and legendary drivers of the period, such as René Dreyfus and Elizabeth Junek. Any enthusiast with an appreciation for the Bugatti marque will be amazed by the extraordinary contents of this world-class collection."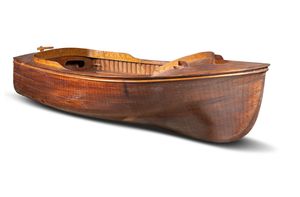 The auction will present several items showcasing the best of Bugatti craftsmanship, including a Bugatti Type 75 You-You Boat from circa 1946. The Type 75 You-You boat was designed by Ettore Bugatti and built in his Maisons-Laffitte shipyard after World War II, but production soon halted with his death in 1947. It is likely that fewer than 30 were built in total, all in incomplete form, and only a handful of these exist today. The 3.3 meter You-You offered here, number 119, was in long-term ownership by two successive car collectors in France, explaining its remarkably original and fine condition. Also offered is a highly original 1933 Bugatti "Type 52" Baby that formerly belonged to Richard 'Dick' Teague, Vice President of Styling at American Motors. The exceptionally well-kept Type 52 comes with original tires, vintage children's goggles, the original factory's wiring diagram, and images of Dick Teague and his son with this Type 52. The auction will also include a Bugatti Type 41 Royale Engine, No. 22, one of the original engines intended for the run of 25 Royales that Ettore Bugatti had initially planned to build. This single ignition engine was used in a Bugatti Autorail, and later exhibited at the Musée Pichon in Cleres, France. An elegant Breguet Chronograph Commissioned by Ettore Bugatti for the Bugatti Royale is also on offer as one of only eight clocks planned for installation in the center of the Royale's steering wheel. Calibrated with a tachymetric scale, this chronograph, number 2020, bears the inscription "Special pour Bugatti" on its face.
The collection also includes a number of personal and family items, such as the Motsch Fils Top Hat Owned by Ettore Bugatti with Original Box. The famous top hat features Ettore Bugatti's initials inside the crown, and his name and address are included on the label of the hat box. Also offered are Original Handwritten Sections of Ettore Bugatti's Memoir, dated November 20, 1944, and February 24, 1945, respectively. These sections were both acquired from L'Ebé Bugatti, Ettore Bugatti's daughter and eldest child. Gooding & Company is also proud to offer Ettore Bugatti's Original Baptism Document, acquired by the consignor from his daughter, as well as several versions of the Contract between Ettore Bugatti and the Deutz Company of Cologne granting the company a license to build a chassis designed by Bugatti, dated 1907-1909. This set of documents was acquired from the Roland Bugatti estate sale. Another notable highlight is the Group of Six Photographs that Once Hung in Ettore Bugatti's Molsheim Villa, several of which are inscribed by Bugatti's noble clients such as the Duke of Bavaria, King Leopold of Belgium, and Prince William of Sweden.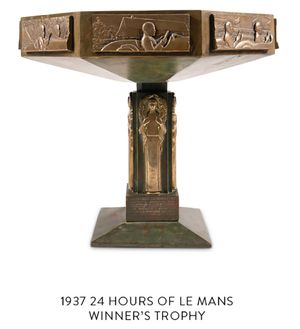 Bugatti's highly influential role in the world of racing and motor sports will also be represented in the sale, such as with the 1937 24 Hours of Le Mans Winner's Trophy and the 1928 ACF Grand Prix Trophy. The latter was awarded by the Automobile Club de France and is an Art Deco design in solid silver by Robert Linzeler. The collection also includes a 1930 Monaco Grand Prix Photo Album given to drivers; the race was won by René Dreyfus and the copy presented here was his personal property. Also offered is Elizabeth Junek's Comprehensive Album featuring mementos of her triumphal 1928 Targa Florio race with detailed annotated maps that she drew of the course, along with annotated aerial images. Junek's album includes photographs with Ettore Bugatti, signed or inscribed photos of drivers, including Achille Varzi and Juan Manuel Fangio, as well as a signed card from Ferrari. Enthusiasts will also appreciate the Comprehensive Files of Bugatti Design Engineer Antonio Pichetto covering road and race cars built during the 1930s. These files consist of notes, drawings, and blueprints for road cars, including the Type 57, 57S, 57C, and 46, as well as race cars, including the 51, 57G, and 59.
In addition to these exceptionally historic and significant memorabilia items, the auction will also include a selection of original Bugatti lithographic posters which were exhibited at Boston's Museum of Fine Arts. Also presented is a robust selection of period Bugatti toys, largely originating from the 1930s. An extensive collection of Bugatti books, factory sales literature, parts, and photographs are also included in this once-in-a-lifetime offering.
Following the launch of the online catalogue on Monday, October 24, all lots will be available for online bidding via Gooding & Company's website or mobile app starting Monday, November 7.