At Mondorf, many other Bugattis were also on show. More about these later in the Bugatti Revue.
The next-generation Bugatti Chiron – still at least seven years from production – will have to be electrified to enhance its performance beyond the current car's record-breaking capabilities, CEO Wolfgang Dürheimer said.
The Chiron can reach 62mph in less than 2.5sec, despite weighing 1995kg, and has a top speed of 261mph. At its heart is a quad-turbocharged 8.0-litre W16 configured petrol engine that develops 1479bhp at 6750rpm, giving the Chiron a power-to-weight ratio of 741bhp per tonne. Torque peaks at 1179lb ft from 2000rpm.
"Electrification will happen," said Dürheimer. "The next car is a long way from being developed, but the way battery and electric motor technology is moving on – as well as regulations – it seems certain that the next car will be electrified in some way. It will still be too soon for a full electric car, I think – but electrification will happen."
As such, Dürheimer has also declared that there "will probably never be a car with the pure mechanical capabilities of the Chiron" – and, as a result, he is considering buying one. "The fact is that it may never be beaten in pure mechanical terms makes it incredibly desirable," he said.
In 2016, Dürheimer told Autocar that hybridisation was initially considered as a way of extracting the required power from the W16 to ensure the Chiron eclipsed the Veyron. In the end, though, the power increase was simply achieved by upgrading many of the engine's components.
Already, the McLaren P1, LaFerrari and Porsche 918 Spyder have employed hybrid technology to deliver hypercar performance. For instance, the P1 is powered by a 3.8-litre twin-turbocharged V8 petrol engine and electric motors, together generating 903bhp. It accelerates from 0-62mph in 2.8sec, 0-124mph in 6.8sec and 0-186mph in 16.5sec.
Dürheimer also hinted that ongoing plans to introduce a second Bugatti model to the firm's line-up could delay production of the next generation Chiron, as the firm would possibly switch to a strategy of alternating between new car launches. If that happens, a new Bugatti model could be launched around 2024 and the next Chiron not until 2032.
"We are looking at what customers want if we do something different, and we have some ideas," said Dürheimer. "But we are not under pressure to decide – production of the Chiron is expected to last for around eight years. We are at the predevelopment phase, preparing technically and asking clients what they expect."
Dürheimer declined to reference any bodystyles for such a vehicle. The Bugatti Galibier five-door fastback concept was shown in 2009 but did not get the go-ahead for production. However, the concept of a more practical but still standard-setting high-performance vehicle remains a potential target for Bugatti. To date, 280 of the planned 500 Chirons have been sold.
1929 Bugatti Type 44 Saloon, Chassis: 44667 / Engine: 191, Estimate: £200,000 - 240,000. Sold for: £196,875
1926 Bugatti Type 37, chassis 37140, maximum estimate £600,000, sold for £650,000
Five East Coast companies are suing the same automobile auction firm that allegedly owes The Snowmass Club over $80,000.
A principal of one company, Kadan Productions, said he and the other plaintiffs are owed over $500,000 from Finest Automobile Auctions for services provided in a separate event.
The defendant recently abandoned its business address in Bedford Hills, N.Y., moving "out in the middle of the night," said The Snowmass Club's attorney, Matt Ferguson of Aspen, on Friday. He cited the process server he employed to try to serve the lawsuit, who talked to adjacent tenants and was told, "They're gone."
The Snowmass Club sued the company last week, contending they owe for using the venue for an auction in September and for cocktail parties, alcohol, waiters and the like.
But Ferguson said he believes the alleged actions by Finest Automobile Auctions have crossed from a civil issue into criminal acts.
"They came into our town and ripped off a lot of good people," he said. "Now it's time to go after these people individually. They're not just breaching contracts, they're committing fraud."
Jay Abrahamovich, partner and co-founder of Aspen-based Premier Party Rental, agrees. He said his company was one of the few to obtain a deposit from Finest Automobile Auctions ahead of the event.
"They don't owe us that much," Abrahamovich said. "We got lucky."
The City of Beverly Hills held its 24th annual Rodeo Drive Concours d'Elegance on Sunday, June 18, 2017. The Father's Day tradition on California's famed thoroughfare featured a superb selection of rare and contemporary automobiles within a three block area between Wilshire and Santa Monica boulevards.
Over 40,000 people attended the Rodeo Drive Concours 2017, despite the record high temperatures that were in store for the day. The Concours featured dozens of unique vehicles and was curated by car collector and founding chairman of the Petersen Automotive Museum, Bruce Meyer.
The Rodeo Drive Committee — in conjunction with the City of Beverly Hills, organizes this yearly automotive event on what is arguably one of the most expensive shopping districts in the world. This year's event featured a wide selection of high-performance sports and collector cars valued at more than $100 million. Examples from Ferrari, Porsche, McLaren, Bugatti, Maserati, Jaguar and several others, lined the upscale streets in both directions.
The intersection of Rodeo and Brighton was the show's featured exhibited area where the unique vehicles displayed included a 1953 Delahaye Type 178 by Chapron from the Margie and Robert E. Peterson Collection, Peter and Merle Mullin's Pebble Beach-winning 1934 Voison Aerosport, Jim Hull's 1947 Delahaye 135 MS Vedette Roadster by Chapron and the "Best of Show" winner, the 1931 Bugatti Type 51 Dubos Coupe from the Nethercutt Collection.
The Rodeo Drive Concours d'Elegance is the largest single-day Concours in North America, drawing record spectators each year. The event attracts connoisseurs, collectors, tourist and locals who have the opportunity to admire a curated collection of impressive automobiles, all while shopping along one of the world's most legendary and exclusive shopping destinations.
However, this is a new movie, with the most Bugatti driving action since Katherine Hepburn driving her T38 in 1933! Check out the trailer on Youtube:
Overdrive is a French action thriller film directed by Antonio Negret and written by Michael Brandt and Derek Haas. On May 12, 2011, it was announced that Pierre Morel would produce the action thriller film Overdrive. The film stars Scott Eastwood, Freddie Thorp, Ana de Armas, and Gaia Weiss. Principal photography began finally on January 4, 2016 in Paris and Marseille, France. The movie was released in the summer of 2017.
The film is all about a gang stealing high - end classic cars, including the Bugatti Type 57SC Atlantic. Though there are a lot of nice action sequences, including that of the Bugatti chasing an AC Cobra, critics are not so very positive. However, seeing the Bug in action would be enough to go see the movie for me! (Out on August 3 in the Netherlands, and already late June in France).
Of course not one of the two originals, but there is a whole series of Erik Koux's replica's that are available, as well as a few other ones. I have had one Jaguar-based Atlantic replica on my website in 2010 that looked quite good (Below, unluckily I do not have better images) though the wheels seem too small, and later there has been another one, or the same but repainted, for sale in Germany.
This classic automobile has been hand crafted from the ground up using a combination of modern technology and classic artisan craftsmanship. The car sits on a custom tubular and box steel chassis with integral forward firewall and cowl structure for torsional rigidity. A T 3.8 Litre twin overhead cam straight six motivates the car, while the twin carbs, polished manifold and covers, as well as generous bright work adorn the engine compartment that features an authentic engine-turned aluminum firewall. This exquisite automobile is the result of over two and a half years of construction.
So, anybody knows exactly which one has been used in "Overdrive"? It seems not logical that one of the Erix Koux's replica's was used, as these are a lot more expensive than the 1/4 million for the blue one above....
BugattiRegister.com states the following, is this the same as the one shown above?:
Engine: Jaguar XK150,
Year: 2000,
Licence plate: W-608-EL (F), JJZ 109 (Licence plate in movie only)
Bugatti specialists Gentry Restorations were once again invited to provide technical support for the most important event of the Bugatti calendar: The International Bugatti Meeting (5th to 11th June, 2017).
Hosted this year by Bugatti Italia in Sardinia, the rally covered just under 1000kms over five days, during which the participants experienced the most breath-taking scenery, glorious food – and extremely hot weather. The extensive itinerary included visits to the archeological site at Tharros, the castle at Sanluri and the mine at Montevecchio.
Gentry Restorations was asked to provide a support crew for all 103 rally participants - all but two of them vintage Bugattis. A comprehensively-equipped support van with spare parts, tools and equipment was transported from the UK on 31st May. Joint managing director Stephen Gentry, along with head technician Ian Pavely, flew out from Heathrow in preparation for the rally on Saturday 3rd June.
Owing to the number of times that Gentry Restorations has given their help and support at these type of events, the Gentry team already knew most of the rally participants and their cars. Over half of them are previous customers of Gentry Restorations, having either bought parts, contracted routine servicing and maintenance or undertaken complete restorations since the business started 17 years ago. Two of the cars participating have been completely restored by Gentry Restorations recently, and completed the course without a hitch.
Right from the outset it was a very relaxed and sociable rally. The Gentry team were kept reasonably busy and were asked to carry out a total of 41 different jobs on the participants' cars. The problems ranged from repairing phone chargers and checking tyre pressures, to replacing a broken half shaft on a 1924 Type 30.
Commenting on the rally Stephen Gentry said; "Sardinia is a wonderful island and despite the relentlessly hot weather the rally participants had a really great time. It was a pleasure to catch-up with so many of our customers and it was warming to know that over half of the rally participants have put their cars through our workshops at some point in the past. Just recently, two of those cars have undergone complete, major restorations by us and this rally was their very first outing. In total, we were asked to assist with minor problems on just twelve of our customers' cars. Needless to say, the two cars that were completely restored recently weren't amongst them (see photographs below)."
Info and photographs provided by Keith Child, Business Manager, Gentry Restorations Ltd. Email: keith@gentryrestorations.co.uk
Rumours that this accident caused such panic on the other side of the highway that a motorcyclists crashed are not true. Guy did not see anything strange (though a lot of motorcyclists!) near, though an ambulance did pass.
Bugatti events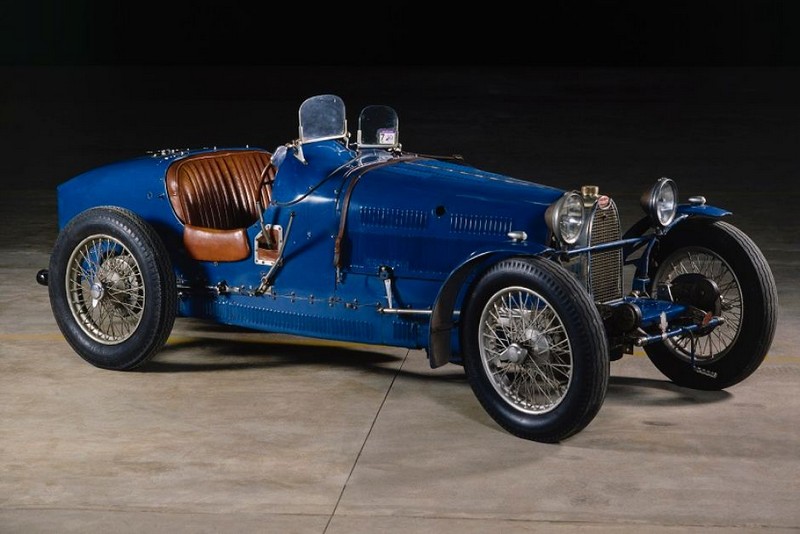 October 15, 2016 - permanent Icons at the Powerhouse Museum Sydney, Australia
Have you ever explored a museum exhibition and wondered, "how do they know which items are worth collecting?" — I have.
So when I talked to Jacqui Strecker, the head of curatorial at the Museum of Applied Arts and Sciences in Sydney, it was one of the first questions I asked.
She had just pieced together a new exhibition entitled Icons at the Powerhouse Museum in Sydney.
It is a kind of "best of the best" exhibition of the more than 500,000 items in the News South Wales collection.
The 70 rarely-displayed items, chosen by Dr Strecker, have been put together to challenge the traditional stereotype of an icon.
"Traditionally, we've associated icons with religious paintings that have a special spiritual power, that draws us to those items as an object of worship or admiration," she said.
"Now we understand icons as digital icons that help us navigate our way around computers and smart phones.
"What I've done with this exhibition is really gone through our basement, our extraordinary collection, and I've chosen my favourite objects that I think tell an interesting story and are really worth looking at and challenging the viewer to think about what constitutes an icon today."
The items range from Aboriginal pottery; a silver, brass and wooden crucifix worn on a necklace; a 1928 Bugatti racing car (so valuable Dr Strecker would not tell me how much it was worth); Australian performer Johnny O'Keefe's red suit and the Olympic torch Cathy Freeman used to light the cauldron at the Sydney Olympics.
Photo: 1928 Bugatti driven to victory by Arthur Terdich at the 1929 Australian Grand Prix.
---

October 23, 2016 - ??? Art of Bugatti exhibition - at the Petersen museum Los Angeles, USA
I get a report from Terry Cook that it is really a breathtaking display!
From the "Carscoops" website:
The Petersen Automotive Museum will host the 'Art of Bugatti' exhibition, one of the most complete lineups of the Bugatti family ever, showcasing the most important creations of the company.
The exhibition will open to the public on October 23 and will remain on display for a year.
The purpose of the exhibition is to give visitors an inside look at the history of one of the greatest art dynasties of the last two centuries, starting with the patriarch Carlo Bugatti and his path through the arts, including his mastery of painting, furniture design and manufacture and silversmithing. It then details the work of his two sons, Rembrandt and Ettore before ending up to the latter's children.
"The Bugattis were an incredibly fascinating family and their history, like all families, is filled with both triumph and tragedy," said Peter Mullin, chairman of the board of directors for the Petersen. "Their incredible aptitude for art and engineering is unparalleled by any family before or since and their legacy is worthy of celebration. It's a great honor to share these works with the public and I'm so pleased that we could bring this exhibition to the Petersen."
The vehicles on display include the Type 41 Royale, Type 57 Atalante, Type 35 and Type 46 along with modern Bugattis like the EB110 and the recently unveiled Chiron, with the assemblage representing the entire span of Bugatti, featuring cars designed by both Ettore and his son Jean Bugatti.
"The Art of Bugatti is a show unlike any other and the Petersen is so pleased to be able to share it with our patrons," said Petersen Executive Director Terry Karges. "The quality and variety of the art and automobiles on display is incredible and it truly gives a unique insight into the history of a fascinating and talented family."
Link to the Petersen museum website
---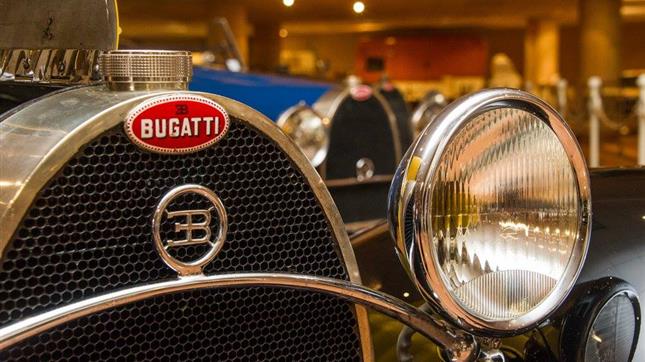 December 18, 2017 - March 10, 2018 Exhibition of Bugattis at H.S.H. the Prince of Monaco's Car Collection Monaco

Fifteen iconic Bugatti Grand Prix and Sport-type vehicles can be admired at this unprecedented exhibition in a unique setting. All are in working order and come from private collections.

Founded in 1909 by Ettore Bugatti, an industrial designer from a family of artists, the brand and its cars are considered true works of art, both aesthetically and technically. Featuring stylish lines and unique designs, Bugattis are reputed to be the most elegant, fastest and most powerful cars.

Among the exceptional cars dating from 1910 to 2016 that will be on display is the Bugatti type 35 C, which took part in the 1st Monaco Grand Prix in 1929 as number 8, driven by Marcel Lehoux.

As a reminder, at this 1st Grand Prix, the Bugatti brand topped the podium with the 35 B and 35 C models (similar to the Lehoux model). Subsequently, in 1930,1931 and 1933, Bugatti cars won the Monaco Grand Prix races with spectacular success.

There will also be a major focus on sports vehicles, with an EB 110 model from 1991, the Veyron from 2015 and the Chiron (loaned by the brand and on show in January 2018).
This Chiron model was named after Monegasque racing driver Louis Chiron, who won the 1931 Monaco Grand Prix in a Bugatti type 51.

H.S.H. the Prince of Monaco's Car Collection
Les Terrasses de Fontvieille
98000 MONACO
Tel.: +377 92.05.28.56
---
January 11 - 14, 2018 Interclassics MECC, Maastricht, the Netherlands

As always, there will be at least a few Bugattis!
---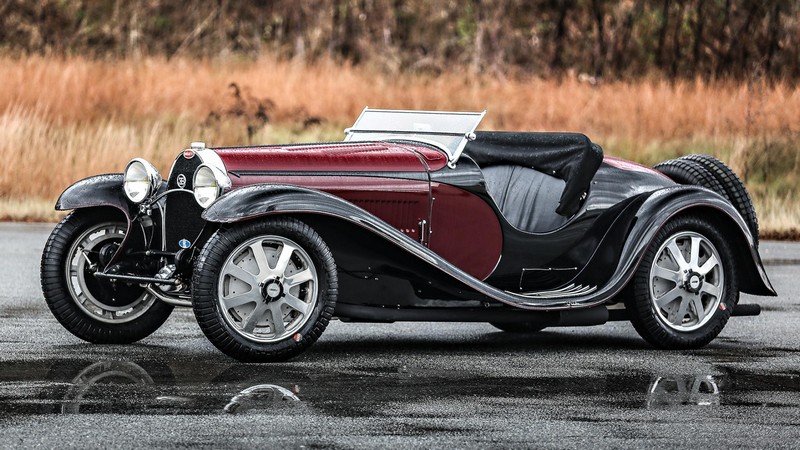 January 19-20, 2018 Gooding & Co - Scottsdale auction Scottsdale, USA

1931 Bugatti Type 55 Roadster

Formerly the Property of Dr. Peter Williamson

Pebble Beach Concours d'Elegance® French Cup Winner

Chassis: 55201, Engine: 1

For how much this Bugatti will be sold largely depends on whatever mood the bidders are in on January 19 and 20, but Gooding & Co expect it to go for between $4million and $5million.

Such a vast outlay buys into proper provenance, mind. This is apparently "one of the most coveted pre-war sports cars" built. Underneath sits the chassis of Bugatti's Type 45 and Type 47 GP racers, along with a supercharged, twin-cam eight-cylinder engine with 130bhp.

This particular car is the very first of just 38 Type 55 models ever built, and as such, gets a GP style bonnet with shortened louvres on the side. Because long louvres are sooo 19th Century.

It was originally showcased at the 1931 Paris motor show, before being delivered to Duc de le Tremoille (French nobility, we're told). After that, a noted Bugatti enthusiast named Dr Peter Williamson owned the thing for more than 40 years.

To this day, the chassis and engine remain original. It's been fully restored too. And let's be honest, it looks quite amazing, no?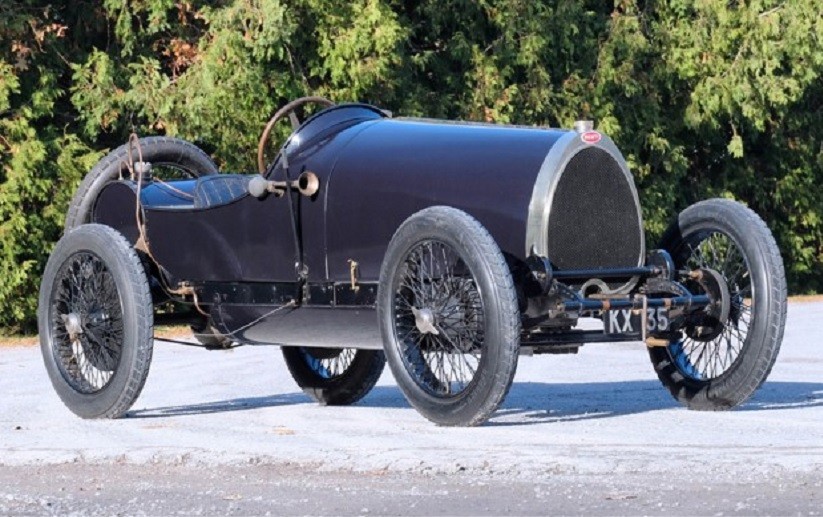 1922 Bugatti Type 29/30
Chassis:4008, Estimate: $800,000 - $1,000,000
The Oldest Eight-Cylinder Grand Prix-Style Bugatti in Existence
The First of Just Two Such Bugattis Delivered in 1922, Recently Restored to Original Configuration
Documented Ownership Backed by Extensive Research by Pierre-Yves Laugier, David Sewell, and Mark Morris
Offered with Extensive Documentation, Including Copies of Factory Records and 1933 Letter from Ettore Bugatti
1,991 CC SOHC Inline 8-Cylinder Engine
Twin Zenith 36 HA Sidedraft Carburetors
Estimated 60 HP
Front Hydraulic Foot-Actuated Drum Brakes, Hand-Controlled Rear Brakes
Front Solid-Axle Suspension with Semi-Elliptical Leaf Springs
Rear Live-Axle Suspension with Reversed Quarter-Elliptical Springs
PROVENANCE
Original Owner, Paris, France (acquired via Bugatti Paris in 1922)
J. William Theze, Bordeaux, France (acquired from the above in 1928)
Claude Knoerr, Saint-Jouvent, France (acquired from the above in 1933)
Max Diederieck, Douai, France (acquired from the above in 1934)
Jean Paul Villemagne, Aude, France (acquired from the above in 1937)
Jacques Liscourt, Toulouse, France (acquired from the above in 1960)
Jean-Jacques Bajol, Toulouse, France (acquired from the above)
Philippe Salvan, Toulouse, France
Claude Renel, Viriat, France
Uwe Hucke, Gloucestershire, UK (acquired from the above in 1968)
Christoph Grohe, Féchy, Switzerland (acquired from the above)
Julian St. John Eckersley, Farnham, UK (acquired from the above in 2006)
Nicholas Benwell, Farnham, UK (acquired from the above in 2013)
Brad Baker, Oshawa, Canada (acquired from the above)
Current Owner (acquired from the above)
With an eye to the future, Ettore Bugatti knew well the importance of perfecting prototypes for a robust eight-cylinder engine suitable for the rigors of racing. In March 1921, the carmaker developed a paired eight-cylinder, three-valve-per-cylinder, overhead-camshaft engine designated the Type 29. By 1922, this engine would evolve into the Type 30 two liter. The new engine would forever change the course of his company, ultimately leading to Bugatti's unprecedented dominance in Grand Prix racing.
The Bugatti company's first series of eight-cylinder cars were the 16 two-liter Type 29/30 vehicles. The cars, numbered 4001 through 4016 and built in 1922 and 1923, are also referred to as the pre-production Type 30s, and are thus separate from the Type 30 and 30A models that would soon be manufactured. Eleven of the cars were built on the Type 22, 2,400 mm wheelbase chassis. Three cars – including chassis 4008, the example offered here, utilized a modified Type 23 chassis, 2,550 mm in length, and two were built atop a much longer 2,850 mm wheelbase chassis.
At the 1922 French Grand Prix, four Bugatti Type 29/30 cars, numbered 4001–4004, competed at Strasbourg, while it is believed that 4008 was shown at the racetrack to spectators and potential customers. Results of the race were promising, with three of the four cars finishing 2nd, 3rd, and 4th. Shortly after the race, the November edition of La Vie Aérienne et Sportive magazine featured a photographic illustration, believed to show 4008, accompanied by an article written by Ettore Bugatti. "My new two-liter cars are undoubtedly the fastest cars in the world," Ettore boasted.
Argentine driver Martin de Alzaga Unzue took notice. He led a team that campaigned three two-liter Bugattis (cars 4014, 4015, and 4016) at the 1923 Indianapolis 500 wearing unusual aerodynamic bodies, achieving speeds in excess of 100 mph. Despite success on racetracks, and notwithstanding the importance these early cars would later prove, only two of the 16 examples of the 29/30 are known to survive, including this car, 4008.
According to factory records and the exhaustive research of esteemed Bugatti historian Pierre-Yves Laugier, as well as historians David Sewell and Mark Morris, the body of 4008 was finished with in-house coachwork, referred to as Reservoir Ovale, which featured gently tapered metalwork pulling tautly from the grille, blanketing the cowl, and terminating at the rear-mounted, oval profile fuel tank. The body was further adorned with long front fenders and unique cycle-type rear fenders that flowed forward, creating blended running board surfaces.
Chassis 4008 has a position of great importance in Bugatti history, as it was the very first eight-cylinder sporting Bugatti delivered, having arrived at the Paris dealer on November 16, 1922. But even more important, this car, due to its two-seater configuration, is the oldest known example of Ettore Bugatti's vision of his company's future, and his unprecedented success in Grand Prix racing.
During the first decade of this Bugatti's life, early owners or registration agencies assigned an incorrect chassis number and varied taxable horsepower ratings to its paperwork. By 1933, the car was owned by Claude Knoerr, who asked Ettore Bugatti himself to correct the record. Ettore issued a signed letter identifying the car as 4008, Bugatti Type 30A (as he often referred to his cars built from 1922–1926), with December 22, 1922, noted as the first road registration date, making it the first of just two such cars delivered within the calendar year.
In 1937, the Bugatti was acquired by Jean Paul Villemagne, a reclusive collector with a penchant for disassembling his cars. Chassis 4008 was disassembled as well, but fortuitously, it remained largely complete under his care. After 4008 passed among a series of owners, esteemed Bugatti expert Uwe Hucke acquired it in 1968, still substantially disassembled. Mr. Hucke worked tirelessly to sort and reunite the correct parts, preserving as many original components as possible. Photos from this period show the car with the original bulkhead, firewall, floorboards, pedals, dashboard, Zenith carburetors, instruments, and switch panel. While the coachwork had been lost, the engine is thought by Mr. Sewell to be a proper, very early Bugatti-sourced replacement. As it should, it features the integrally cast steering-box housing, which is exclusive to the early straight-eight engines. After reassembling the drivetrain, Mr. Hucke fitted the car with torpedo coachwork replicating cars from the Strasbourg Grand Prix, and periodically he would exhibit the Bugatti at events in the 1990s.
During the time of Mr. Hucke's ownership, Pierre-Yves Laugier was engaged to research and chronicle the unprecedented history of the 4008's life. In addition to documenting numerous formerly unknown prior owners and their residences, M. Laugier discovered what he believed to be 4008's original fenders, which had been retained by a former owner. The fenders were reunited with the car, but were not installed on the coachwork at that time. After Mr. Hucke divested his collection and sold 4008 to a new caretaker, M. Laugier issued his report in 2001, stating that "4008 is both the first and the oldest surviving eight cylinder Bugatti… ." Based on the report, its new owner, noted Bugatti enthusiast Nicholas Benwell, commissioned a detailed photo-analysis of the earliest racing cars, and from those photos re-created the Reservoir Ovale racing-style body that 4008 had originally. The car made its concours debut at the 2014 Zoute Grand Prix Concours d'Elegance in northern Belgium, where it was deservedly awarded Most Exciting Design. Under its current ownership, 4008's original fenders were installed, revealing what the car must have looked like when new, over 90 years ago. Beautifully composed with clean and pure coachwork, this surviving artifact is the very foundation of the Bugatti legacy, which manifested itself in an unprecedented string of racing victories with the legendary Type 35 and its variants.
Bugatti 4008 is accompanied by numerous documents, including extensive reports by M. Laugier and other marque experts, multiple factory reference materials, a copy of the 1933 letter from Ettore Bugatti, and a 1922/23 Bugatti sales catalogue depicting what several experts believe is 4008. As M. Laugier documents, this Bugatti has emerged proudly from a lengthy journey and has been confirmed as the earliest surviving eight-cylinder, two-seater sport Bugatti.
---
February 7 - 11, 2018 Retromobile Paris, France

As always, there will be quite a few Bugattis!
---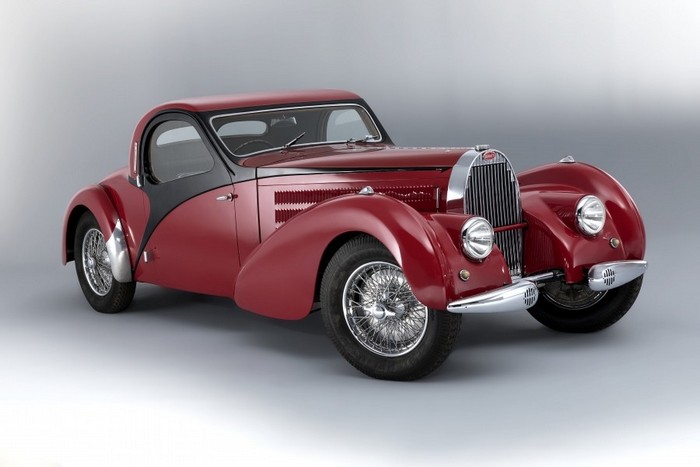 February 7, 2018 Artcurial Paris, France
1938 Bugatti 57C Atalante Coupé
Estimate: 3 M€ – 3,5 M€ / 3.5M$ - 4M$
A wonderful example of the iconic Atalante, this splendid Bugatti was displayed new at the 1938 Geneva Motor Show, and spent the next 20 years in Switzerland. The car then crossed the Atlantic and was owned by various US enthusiasts including a future President of the American Bugatti club.
Only 34 Atalantes were built on a 57 or 57C chassis, and this car is one of the last, featuring an aluminium body, hydraulic brakes and supercharged engine.
---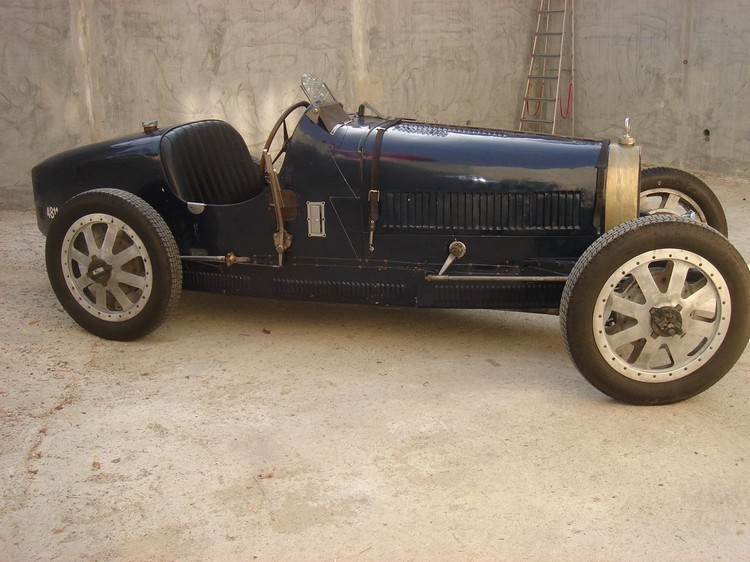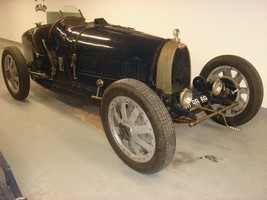 February 7, 2018 RM Sotheby's auction Place Vauban, Paris, France
1925 Bugatti Type 35 Grand Prix
Chassis "4394" Estimate €500.000 - €700.000 (It was first stated as €950.000 - €1.050.000), Offered without reserve
Apperently a partly original car, see this discussion on BugattiBuilder from 2009.
More info on the RM Sotheby's site
---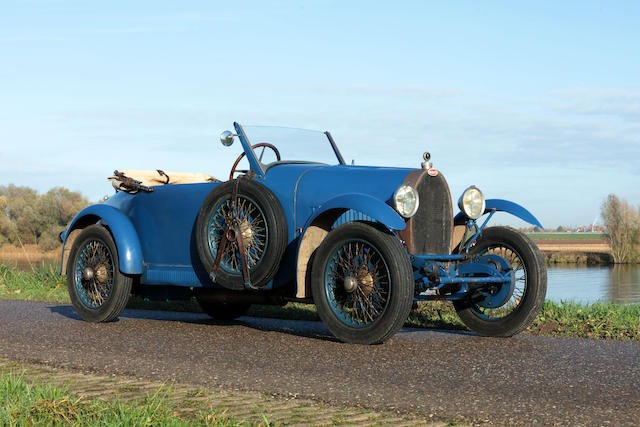 February 8, 2018 Bonhams, Les Grandes Marques du Monde au Grand Palais le Grand Palais, Paris, France
1928 Bugatti Type 40
Chassis no. 40717 Engine no. 710
Estimate €300,000 - 400,000 / £270,000 - 360,000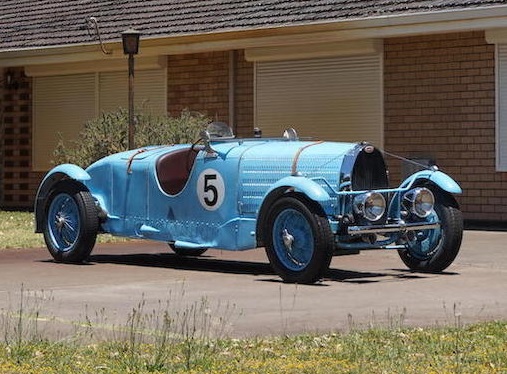 1935 Bugatti Type 57 Tourist Trophy Torpedo
Estimate €780,000 - 1,300,000 / £690,000 - 1,100,000
The ex-Earl Howe, Pierre Levegh, Current Ownership since 1958
More info on the Bonhams site
---
Looking for reliable college paper writing services? Ewritingservice.com is your final destination.
Getting homework help online is easier than you think – check out myhomeworkdone.com
---
Please let