Private Omnibus by Million & Guiet, once owned by Ettore Bugatti
1934 Bugatti Type 57 Cabriolet
Replica Bugatti Baby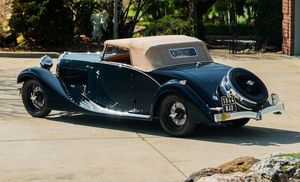 1934 Bugatti Type 57 Cabriolet
Coachwork by Franay
Chassis No. 57127, Engine No. 52
Estimate: Refer to Bonhams'
The only Bugatti Type 57 bodied by Franay
Delivered new to German movie star Hella Hartwich and formerly in the collection of famed French filmmaker Jean Rouch
Subject of a nearly $650,000 restoration
From the Clem and Mary Lange Collection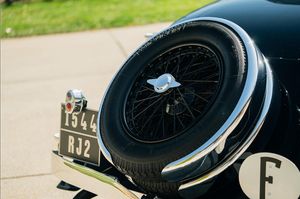 his stunning Bugatti Cabriolet not only features one-off coachwork, but it is among the few Bugattis—and only Type 57—to have been clothed by the famed coachbuilder Franay. With well known history virtually since new, few owners in the last half century, and a recent concours restoration, it is surely a special machine.
According to a report by Bugatti expert Pierre-Yves Laugier, 57127 was ordered new through Paris Bugatti distributor Dominique Lamberjack and delivered as a bare chassis on the fourth of July, 1934 with an invoice of 50,400 Francs billed to the purchaser. The savvy individual ordering this bare chassis for custom coachwork was none other than Hella Hartwich, a wealthy German movie star and ski champion who had recently starred in the 1932 film Slalom opposite Walter Riml. Dating the up-and-coming and soon to be multiple Oscar award winner Billy Wilder, the two had recently moved to Paris following Hitler's rise to power in Germany in 1933.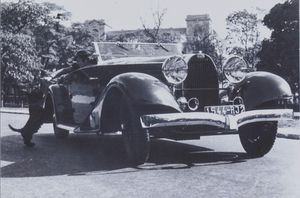 Looking for a new car for her new digs, Hartwich had the bare chassis sent directly to Carrosserie Franay to be clothed in sleek two-door, two-seat open coachwork. A popular custom coachbuilder, Franay would go on to provide coachwork for numerous Bentleys, Rolls-Royces, Delages, Hispano-Suizas, Delahayes, and even Packards and Duesenbergs—but they would only clothe a total of about four Bugattis and this would be the only Type 57 to pass through their shop.
Hartwich registered her new Bugatti in late July 1934 to her 16th arrondissement apartment with the registration number 1544 RJ2. Pictures of her with her new car show it in a dark, single shade with black painted wire wheels and a chromed radiator shell. A jaunty, slightly vee shaped front bumper set the car apart, as did the long tail with a large trunk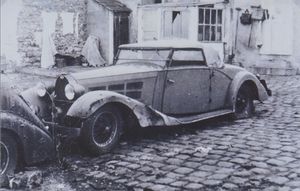 and rear mounted double spares.
It is believed that Hartwich retained the car in Paris throughout WWII, although the war years had no doubt taken their tolls as a photo of the car from 1952 or '53 show the cabriolet in complete, but somewhat worn condition having had its louvered hood sides replaced with vented ones from a Type 57S, its unique bumper switch with a standard straight one, its big Marchal headlights exchanged for more modern units, with the whole car painted a lighter color and a rather sizeable dent in the left front fender. In the care of Garage Aubert owner Pierre Proust of Montrouge at this time, it was next registered to Mr. Di Vincenzo Salvatore of Paris—a mere 5.5 kilometers from where the car had originally lived—with the plate number 3913 DN 75. Retaining the car only briefly, on May 15, 1956 the Bugatti entered the collection of Jean Rouch.
Much like the car's first owner, Rouch was deeply involved in cinema. Considered the father of cinéma verité in France, Rouch had already made a career for himself filming ethnographic films in Africa—mainly in what is now Nigeria—when he began transitioning to filming 'ethnofiction' films in the Niger Valley in the early '50s. While he spent much of his time between France and Africa, he would retain the car nearly half a century.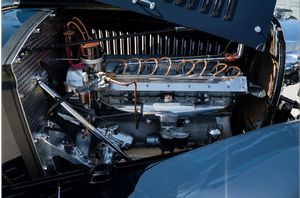 In the late 1960s, Rouch sent 57127 to Carroserie Monceau in Chamecy, France for a full restoration. Shortly after completion of the work, the car appeared in Rouch's 1969 ethnofiction comedy Petit à Petit in which three Nigerian friends wanting to build a skyscraper in their home town come to Paris to learn about the construction of tall buildings—but one could argue the plot was also a pretext to film a movie featuring Rouch's newly restored Bugatti blasting through the streets of Paris! Jean's friend Philippe Luzuy, who was briefly appeared in the film, would share ownership of the car from 1969 until Rouch's passing in 2004. During this time, the two would actively drive the car throughout France.
Still in its late 1960s restoration when it was acquired by the Clem and Mary Lange Collection in 2011, it was sent to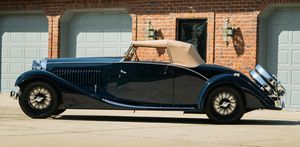 Longfield Restorations Ltd. of Ontario, Canada for a complete, concours restoration. Photos, a DVD, and receipts document the work completed. Executed over the course of three years from 2012-2015 at a cost of nearly $650,000, the Bugatti was restored back to its original specifications (save for the retaining of a rumble seat that had been put into the rear trunk by Rouch). Finished in rich, dark blue paint with a two-tone mustardy tan leather and ostrich interior, the completed car would go on to win Best of Show at the July 2016 Keenland Concours in Lexington, Kentucky.
Sparingly used since the restoration, the Bugatti still presents beautifully. Retaining its original engine, cambox, and transmission, the rear axle is a slightly later unit—no doubt switched out in period as the early axles were plagued by their fragility. A well restored, one-off Bugatti cabriolet from a famed coachbuilder is not something that comes up every day. With largely known history from new with just a handful of owners in the last 65 years, this Bugatti is primed to be coveted by its next, lucky keeper.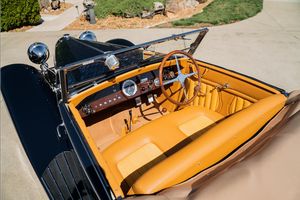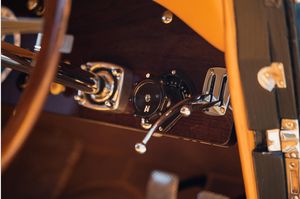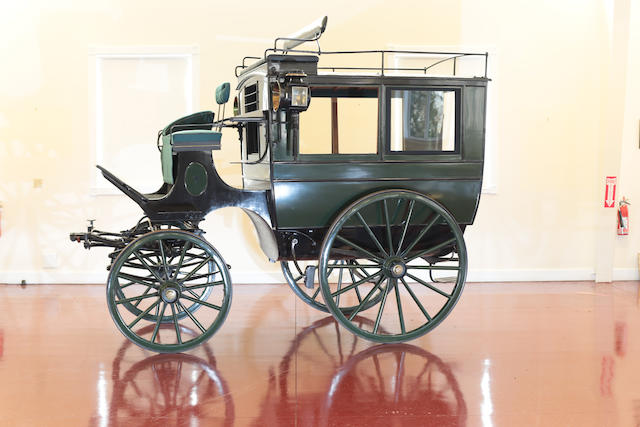 Private Omnibus by Million & Guiet
Formerly in the collection of Baron Casier and believed to have been owned by Ettore Bugatti
Estimate: US$ 80,000 - 100,000 (€ 66,000 - 83,000)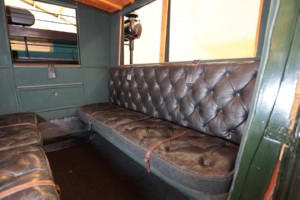 This regal Omnibus bears brass hub caps of Million & Guiet, each cast with the number 3766. This number stamping is repeated on various pieces of the ironwork, including the front road springs and mounting, and may be assumed to be the coachwork build number. The name Million Guiet will certainly resonate with collectors of European pre-war automobiles, as constructors of a number of bodies on Bugatti, Hispano and other great European marques.
According to its provenance, it was formerly in the collection of Baron Casier, who was well known as one of the more prolific collectors of carriages, housed at the Chateau Nokere in Belgium. Part of this collection was acquired in the 1980s by John Kluge, the legendary billionaire and once richest man in America.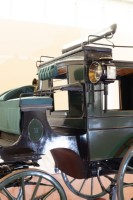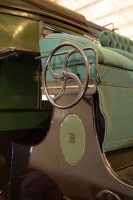 Casier was known to have acquired the Bugatti family's collection of horsedrawn vehicles and it is assumed but not documented that the Omnibus was part of that acquisition. It is understood to have left the Casier collection later than the Kluge purchase, to have been restored and later to arrive here in America.
The Omnibus is listed in the reference work Horseman Bugatti by Andres Furger as reference "EB22", and illustrated in a paint scheme perhaps more readily known to Bugatti collectors of a black over yellow, and with an 'EB' in the oval panel below the driver's seat. Interestingly, Ettore Bugatti's association with Million Guiet extended to his ownership Rolls-Royce Silver Ghost bodied by this house for most of his later years.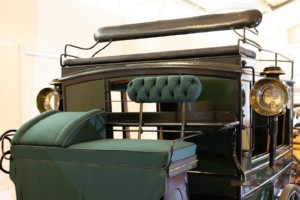 In prior ownership the carriage was refurbished externally to the current dark green paint scheme. Its front seat has been renewed, but in the rear compartment the upholstery is seemingly both original and in remarkably good order.
The Casier collection of carriages was something of legend in this community, and Bugatti's fondness for both horses and carriages runs deeply through the aesthetic of all his automobiles. It is easy to imagine friends being collected from the railroad and delivered to the Chateau St. Jean in Molsheim in this regal conveyance.