Bugatti news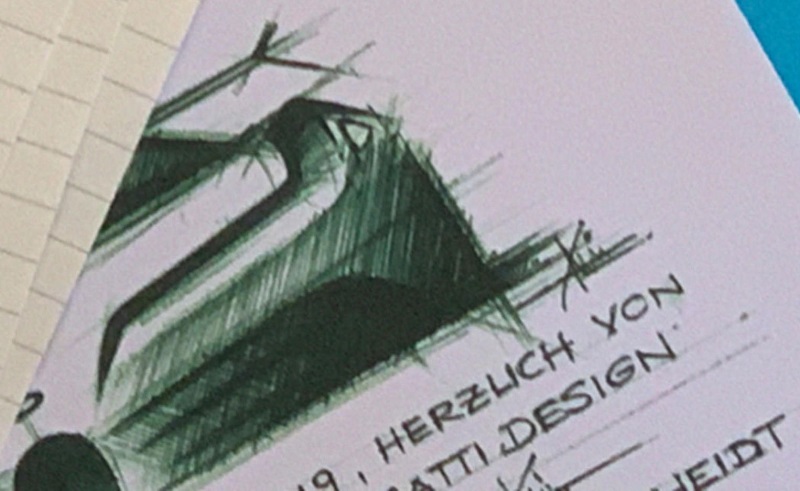 August 9, 2019
Bugatti to present a new version of the Chiron
After presenting the light-weight (several pounds lighter!) Divo and later "La Voiture Noire" shown the first time at the 2019 Geneva Motor Show, Bugatti is to present a new version of the 1500 HP Chiron, next week at Pebble Beach.

Before presenting "La voiture Noire", the new VW-Bugatti company showed a lot of information and history about the T57SC Atlantic, which turned out to be the inspiration for that new design.

This time, Bugatti showed the last month a lot of images and info on Romano Artioli's EB110GT and EB110SS. Also, this year is the "110th anniversary" of the Bugatti brand, thus using the EB110 as inspiration for the new version of the Veyron would make sense.

During a recent interview, the EB110's creator (below) revealed he would love to see Bugatti develop a tribute to the mid-engined supercar. So far, Bugatti hasn't released any teaser photos of the new model, but Germany's Auto Motor Und Sport has managed to obtain a partial design sketch (shown above) allegedly produced by Bugatti chief designer Achim Anscheidt, potentially showing what Bugatti's next hypercar will look like.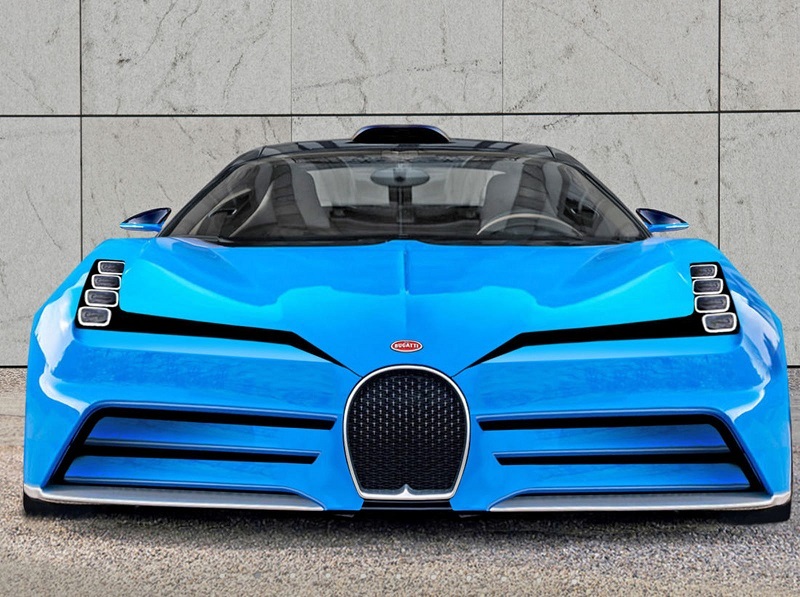 Auto Motor Und Sport believes the internal design sketch was used on a greeting card from the Bugatti Design Studio, but this hasn't been confirmed. Using the design sketch as a basis, the German publication has mocked up a render (pictured above) showing what the new hypercar tribute could look like when the covers come off at Pebble Beach.
Shown from the front, the distinctive crossbars in the grille are clearly inspired by the EB110 Super Sport but the quad headlights on each side of the hood have been vertically stacked, resulting in a striking appearance. We'll have to wait and see if the final car's design matches the render.
Well; luckily we do have a photograph of the finished car, be it just a part of it.. See below, this is one of the wheels, apparently of novel design, see below. In fact, it seems that part of the wheel is in fact located behind the large brake disc.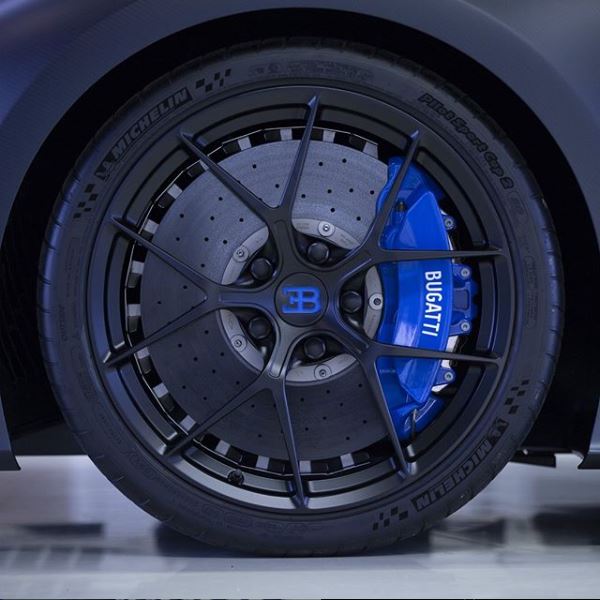 As proof that the current Bugatti does seek for inspiration in the EB110, are the photographs below of a Chiron alongside two racing Bugatti EB110SS's (Le Mans and IMSA, see this article from 1996 in the Bugatti Revue for more info), inside and outside the old Campogalliano factory, which in fact still exists and was not touched since it closed in 1995..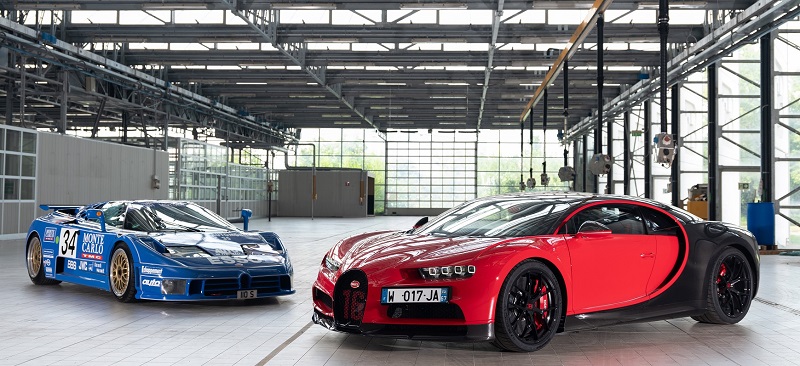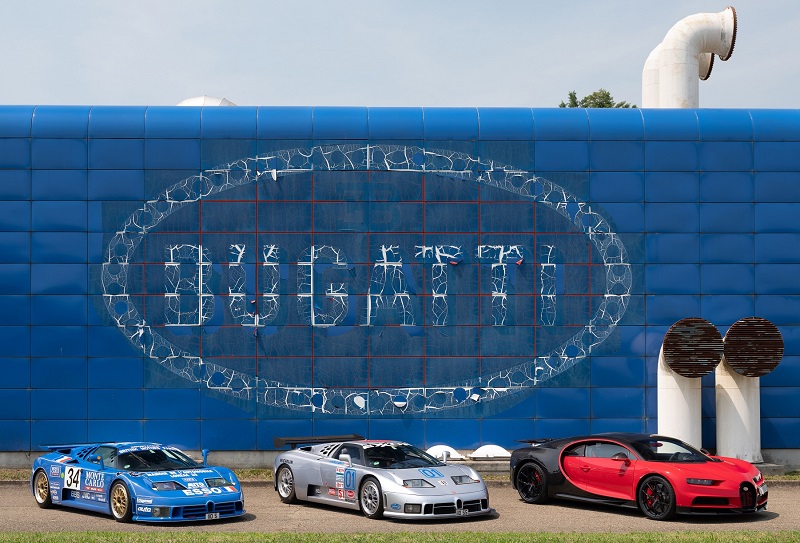 Romano Artioli was interviewed not long ago about what he thinks of this new revival. He is the Italian entrepreneur who revived Bugatti in the 1990s and launched the EB110 before it went bankrupt. A few years later the company was acquired by Volkswagen and launched the Veyron. He has revealed what he thinks about a modern interpretation of the EB110.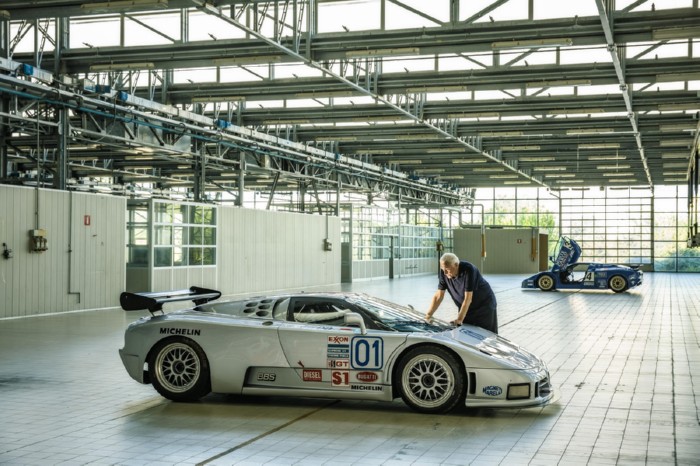 "I have read the rumors about a new Bugatti being presented in Pebble Beach and it being inspired in the EB110. I don't know if that's the truth, but if it were, it would mean a lot to me, to my whole family, and to my old companions at Bugatti Automobili," he said. "The EB110SS was designed to last for a long time, into the future, and for this reason all the technical solutions that had been anticipated, today are present in the new Bugatti cars. I would be very pleased if even the design of the possible future Bugatti was inspired by the EB110SS, which is still contemporary. La Fabbrica Blu in Campogalliano, the EB110, but also the Lotus Elise - these were a dream come true for me, my life's work." Artioli recently came out with a book about these times.
While Artioli doesn't know if the rumors are true, he believes the EB110 SS is long overdue a tribute car. "The EB110 was a car ahead of its time, 110% worthy of carrying the name Bugatti. I might not be the most impartial person in this matter, but no other car deserves a tribute more than the EB110."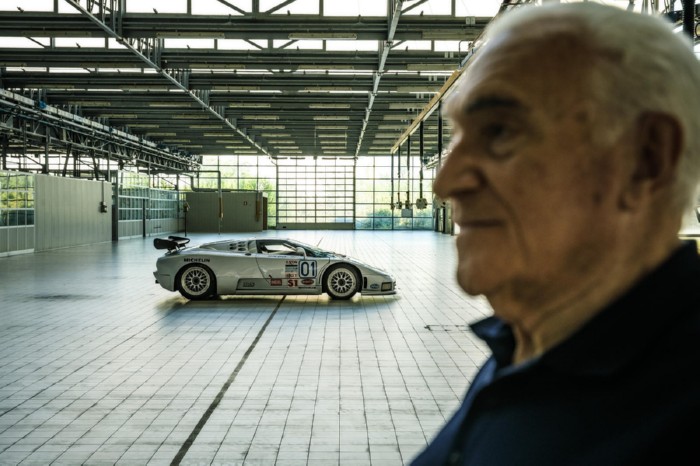 The EB110's distinctive design was the work of Giampaolo Benedini. Artioli says he would like to see some of the car's design elements applied to a modern car. "Giampaolo Benedini finished the design of the EB110 - as an architect! That's quite uncommon in the automotive world, and it resulted in a very distinguished design of this super car," he explained.
"The styling of the EB110 - especially evident in the Super Sport version - is a very graphical one. The memorable, graphical elements make it truly iconic. This Bauhaus style inspiration before that art tendency became popular. Also, design-wise, the EB110 was ahead of its time and nothing but a trendsetter."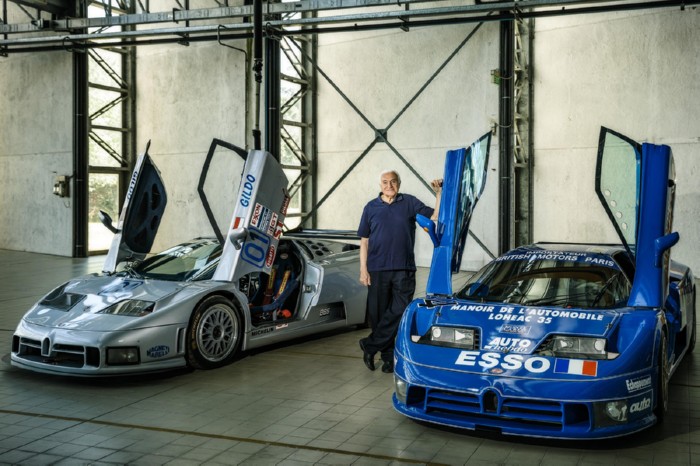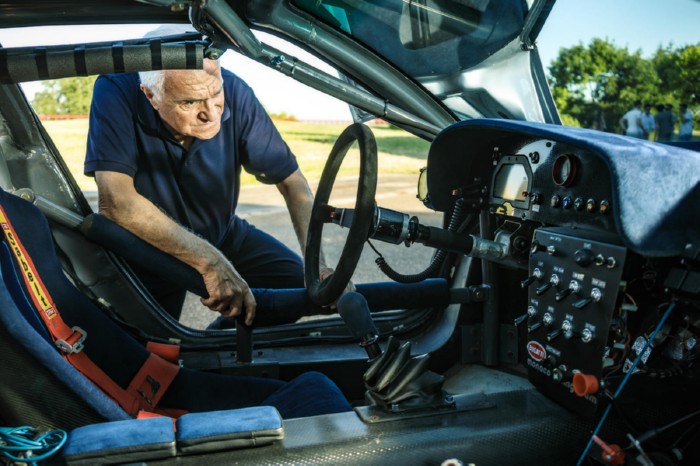 Today, Bugatti is better known for the Veyron and Chiron hypercars after the company was acquired by Volkswagen in 1998. But what does Artioli think of Bugatti's current design direction? "Ferdinand Piech, maybe the last "Patron" figure of today's automotive world took over the brand, and has it shaped to his idea, but always with respect of the long and proud Bugatti history. I think that's the most important point."
"The Veyron was and the Chiron are the absolute pinnacle of the automotive industry, the most powerful and the fastest supercars. By the way, the fact that Loris Bicocchi, our main test driver for the EB110 and employee number 7 at Bugatti Automobili, also helped test drive the Veyron and the Chiron, makes me proud!"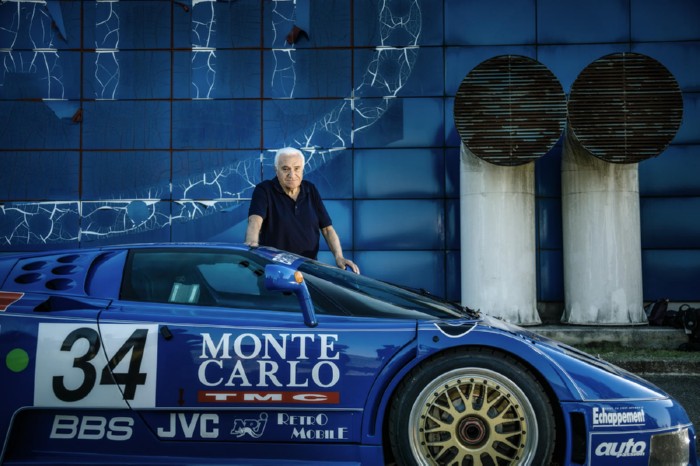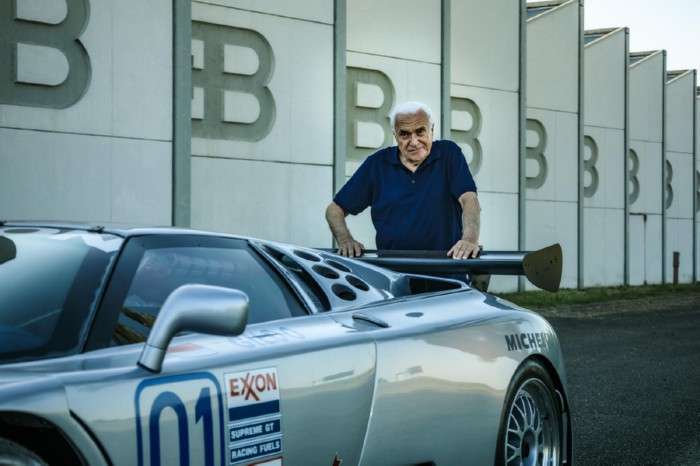 Back in January, Bugatti invited Artioli to Chateau Saint Jean, where he got to drive the Chiron. Was this when Bugatti revealed plans to Artioli to build an EB110 tribute car? "I had never been to Molsheim after Volkswagen had bought the rights to the Bugatti brand. So it was long overdue. It was an amazing experience to be received by Stephan Winkelmann and his team in the Château St. Jean and to test drive the Chiron. We exchanged a lot of ideas and stories, but no tribute or homage project was ever mentioned or presented to me."
We'll find out if the rumors are true when Bugatti unveils its latest project at Pebble Beach on August 16. Sadly, Artioli won't be at the show, but he will still watch the premiere. "I wish I could. However, it is a very long journey that would take me away from my current projects for too long. I will, however, sit in front of the laptop to watch the live stream of the Bugatti press conference, as one more Bugatti enthusiast. Maybe even still the biggest one out there…"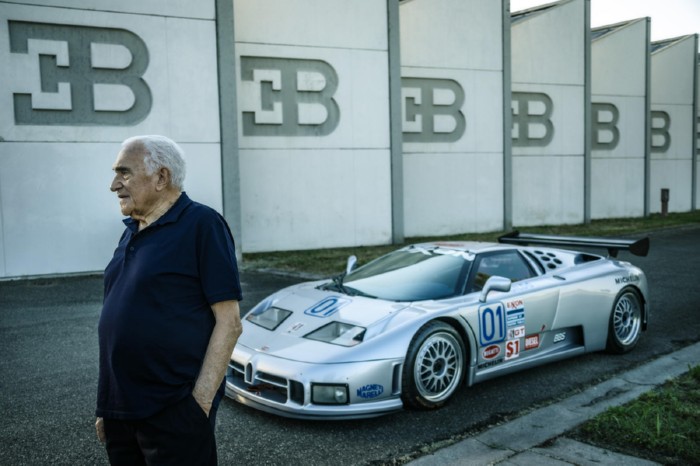 ---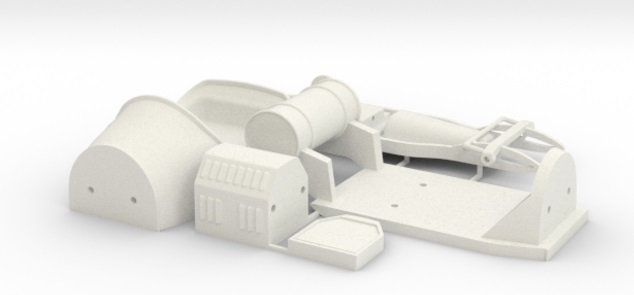 June 28, 2019
Building your Bugatti
...in miniature that is.
I was visiting the old BugattiBuilder website, and found an interesting link.
One hears about 3D printing related to a lot of parts and technologies these days, even the brake parts for a Chiron. However, in this case application is much less structural, but can be fun too.
3D printing enables specific miniatures to be made in small series, with virtually no tooling costs. On this website, there is a listing from different suppliers, with interesting models, even like the T46 wheels for the famous Heller T50 kit.
However, I especially liked the 1911 T13 GP, available in various scales, the biggest being 1:24.
No easy kits though, as these are the basic shapes only, and miss a lot of essential parts (wheels!) and details, which you will have to source elsewhere. Also, the 3D printed material is rather rough, and needs quite a bit of fiddling before it has a smooth surface. Well, plenty of time in these hot summer months, which are too hot to go outside anyway....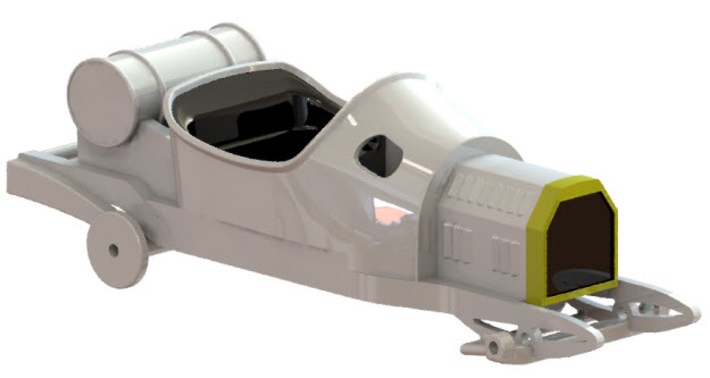 ---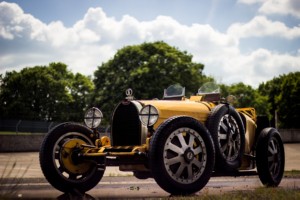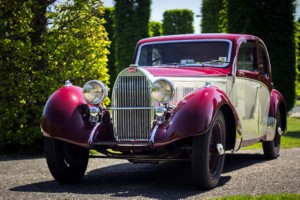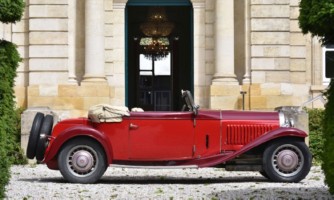 June 22, 2019
Auction results
Osenat Auction: Automobiles de Collection, June 15, 2019
1929 Bugatti T35B, chassis n° BC25, Estimate: 400 000 - 600 000 €: sold for 400 000 €
1937 Bugatti T57 Carrosserie Graber, Châssis n° 57443, Estimate: 350 000 - 450 000 €: Not sold
Arturial Auction: Vente Automobiles en Scène, June 17, 2019
1933 Bugatti Type 49 Cabriolet 4 places, Chassis n°49558, Engine n° 445, Estimate: 300 000 - 400 000 €: Not sold
Two out of 3 not sold, at estimates which do not seem to be extremely high. Apparently the reduction in prices of classic Bugattis continues!
---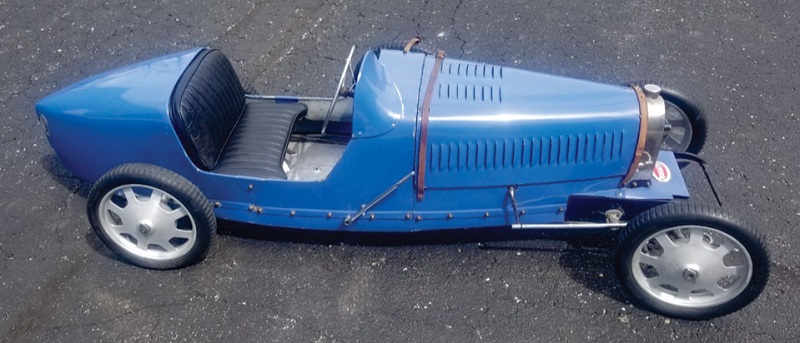 June 8, 2019
Auction result
RM Auctions - Auburn Spring, May 29 - June 1, 2019
Bugatti 'Baby', c. 1929, Chassis no. 355A
Estimate $18,000 - $25,000: Sold For $31,625 (Inclusive buyer's fee)
---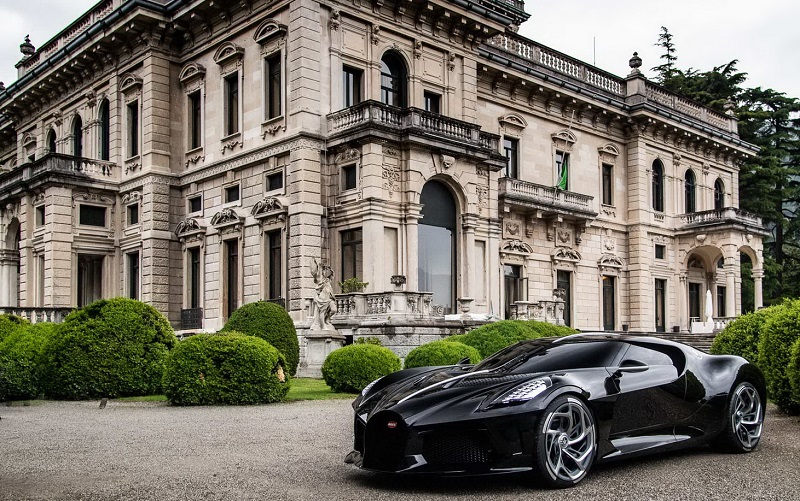 June 8, 2019
Bugatti "La Voiture Noire" Wins Design Award At Concorso d'Eleganza Villa d'Este
Bugatti has received the Design Award for the striking La Voiture Noire during its exhibition at the Concorso d'Eleganza event that was held at the shores of Lake Como in Italy.

Unveiled at the Geneva Motor Show this year, the La Voiture Noire was created as an one-off to celebrate the brand's 110th anniversary and pay homage to the legendary Type 57SC Atlantic.

Underneath the bespoke bodywork, Bugatti's latest bespoke creation uses the same underpinnings with the Divo and Chiron, including the quad-turbo 8.0-liter W16 powertrain. Its output remains unchanged, at 1479hp (1500PS) and 1180lb-ft (1600Nm) of torque.

'La Voiture Noire' is French for 'The Black Car', a node to the second Type 57SC Atlantic that was owned by Jean Bugatti himself and simply vanished, without anyone knowing what exactly happened to it.

Bugatti's modern Black Car has also gained the title of the world's most expensive new car of all time, as its owner has reportedly paid 16.7 million euros ($18.6 million in current exchange rates) for it. Speaking of its owner, it is believed to be ex-VW Group boss Ferdinand Piech, though that has neither been confirmed nor denied so far.

However, the hypercar is far from finished, with the car in the pictures being a prototype powered by a small electric motor for exhibition purposes. The finished item is still two to two-and-a-half years away from delivery, according to Bugatti's head of communications Tim Bravo, so Mr. Piech, if he is indeed the owner, should be patient.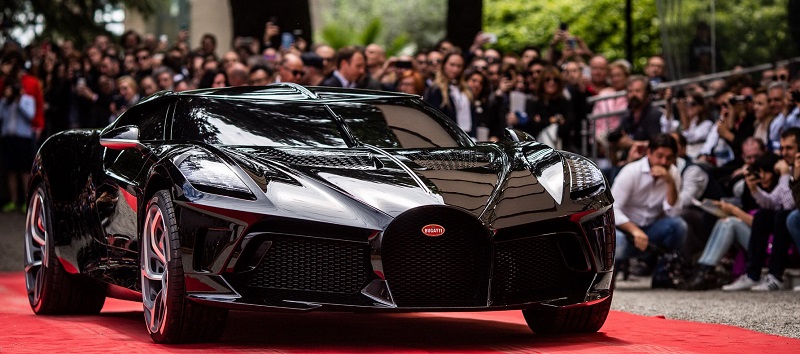 ---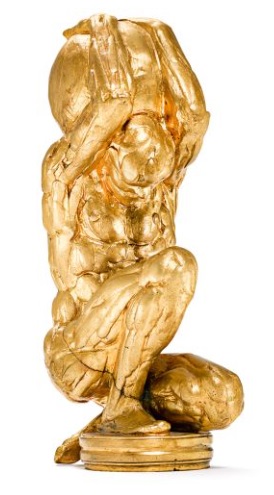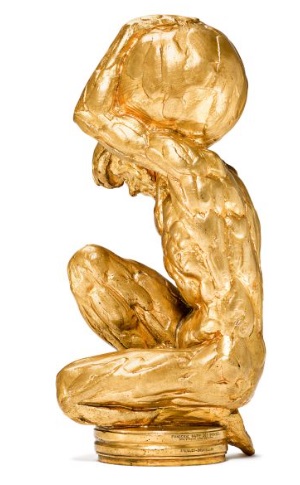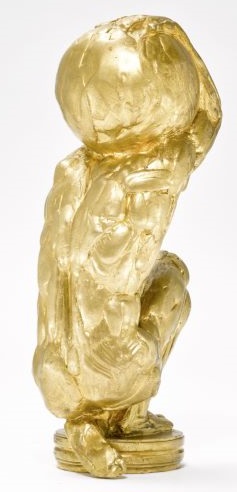 May 31, 2019
Remarkable Rembrandt Bugatti designed auto part on auction
Everybody knows the "Elephant" which adornes the Royale's Radiator, and that it was based on a statue by Rembrandt.
However, this is something different, a radiator ornament actually made by Rembrandt as such, in 1913!.
Full description:
REMBRANDT
(1884-1916)
RADIATOR MASCOT "Atlas", ca. 1913.
Gilt bronze. Gilding, supplemented later.
The base inscribed: Fonderie Nationale des Bronzes, Ancienne Firme J. Petermann. St. Gilles-Bruxelles. H 30 cm.
Lit.: Rembrandt Bugatti, Catalogue raisonné, Jacques-Chalom Des Cordes, Véronique Fromanger Des Cordes, pp. 292, 293.
Acquired on 5 June 1984, Maitre Poulain, Ventes publiques.
Unluckily, at some stage the leg broke off, and was crudely repaired. That can be done better, I guess!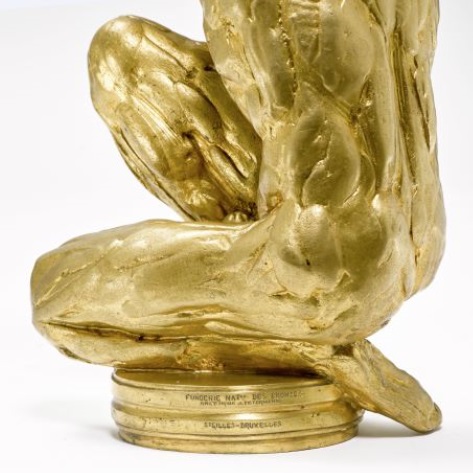 It will be auctioned on June 27, by Koller International Auctions in Switzerland, estimate CHF 10 000 / 15 000 or € 8 770 / 13 160
More info, there are more Rembrandt Bugatti sculptures in the same auction!
---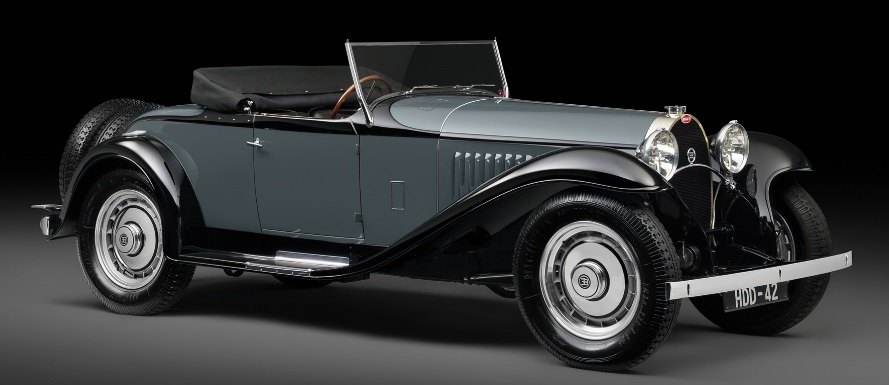 May 30, 2019
Auction result
RM Sotheby's Villa Erba Auction, May 25, 2019
1931 Bugatti Type 50 Roadster, Chassis No. 50123, Engine No. 18. Estimate: €1.400.000 - €1.800.000, sold for €1.411.250 (including fee)
---
May 23, 2019

Bugatti's second model will be unlike any car sold today

Bugatti is developing a second model to sell alongside the Chiron. While full details about the car remain under wraps, the company's chief executive recently hinted the yet-unnamed model will be completely different than its bigger sibling, and unlike anything else currently sold around the world.

"It's clear that when you think about the second model, you always have to see what the body style could be. Believe me, we really looked into every detail of the body style, and I think that there is one that is very promising for a company like Bugatti. It's a body style which is not today on the market," company CEO Stephan Winkelmann told Motor1.

He didn't provide additional details. However, his statement seemingly rules out a long-rumored SUV, a sedan in the vein of the 16C Galibier concept, and a Chiron-like coupe. Regardless of what it looks like, it will arrive as a smaller, more affordable, and more daily-drivable car than the Chiron. That doesn't mean Bugatti will go into Toyota Supra territory, though. Its second model will cost at least $1 million.

The French automaker previously confirmed its quad-turbocharged, 16-cylinder engine has nearly reached the end of its life cycle. What will power the Chiron's successor remains to be seen, and Bugatti still has time to figure it out, but the second model could go in a completely different direction.

"This could be, for example, a full electric car," Winkelmann said. He added a Bugatti-badged EV would need to be "the best of its kind."
---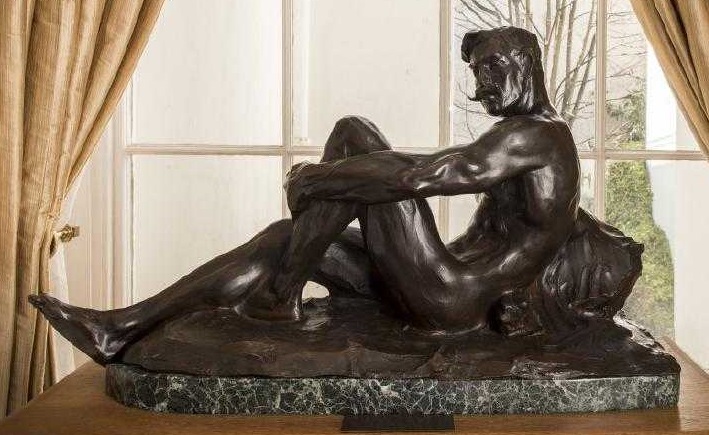 May 19, 2019
Unusual 1907 Bugatti sculpture to be auctioned
Rembrandt Bugatti, 'Athlete nu au repos' ('Naked athlete resting'), c. 1907.

Bronze, brown patina on marble pedestal. 42.5 x 76.5 x 31 cm (including marble pedestal).

Signed below the athlete: R Bugatti and dated: (1)907 (stamped), lower left of it foundry mark of A.A. Hebrard Cire Perdue and numbered: 1 (stamped).

Originally it was intended to realise the 'Athlete nu au repos' three times. According to the catalogue reaisonne and the current research this is the only copy.

Estimate €1,000,000 - €1,400,000

Quittenbaum Kunstauktionen GmbH, Munich, Germany
For bidding
---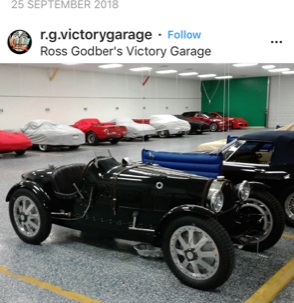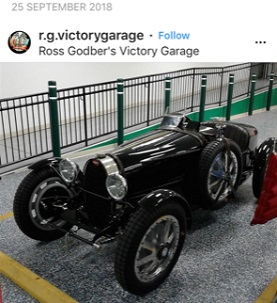 May 13 / 19, 2019
1920's Bugatti destroyed in fire
According to various reports, a fire on May 8 in a two-story self-storage building in Etna, Pennsylvania, just north of Pittsburgh, reportedly destroyed more than 200 vehicles, many of them collector cars, including a 1920s-era Bugatti reportedly worth $2 million.

According to the Allegheny County Department of Emergency Services, the fire started on the building's first floor when a man was working on a motorcycle that caught fire.

Ross Godber, owner of Ross Godber's Victory Garage, said he "was working on a Bentley in his space on the first floor of the warehouse when he heard several loud bangs," the newspaper reported.

"Mr. Godber's space was near an exit, so he got into a Ferrari and drove it out of the building. He ran back inside to try to save the three other vehicles he was working on – the Bentley, which he said was worth $325,000 when it was new; a 1947 Dodge sedan, which was in the middle of restoration; and a 1995 Ford F-250, which he was trying to convert into a monster truck – but the flames and smoke were too strong.

Mr. Godber said he thinks the Ferrari might be the only vehicle that survived the fire. He said he has heard that the vehicles lost in the fire total around $60 million.

From Hubert Lance Huet I received the photographs above of the Bugatti T35B which was probably the one destroyed in the fire. I have no further info on this car, and if it is (was...) original or not.
---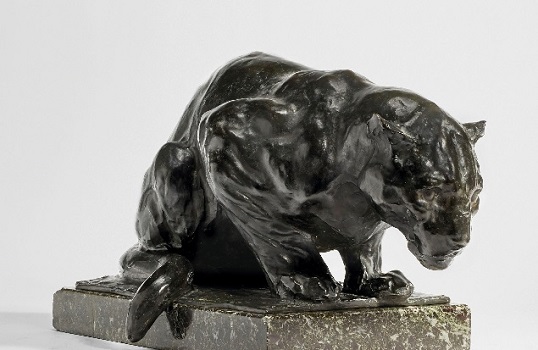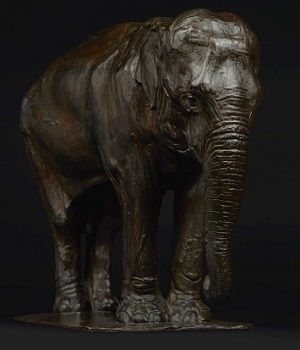 April 27, 2019

Sell your Bugatti automobile, and buy something else!

Now is you opportunity to acquire one of these Brilliant Rembrandt Bugatti sculptures!

On the left: 'JAGUAR ACCROUPI', GRAND MODÈLE, approx. 1907
Estimate: EUR 400,000 - EUR 600,000

On the right: ÉLÉPHANT AU REPOS, circa 1909-10
Estimate: 1,057,110 - 1,585,666 EUR

These are on auction by Christie's respectively Sotheby's.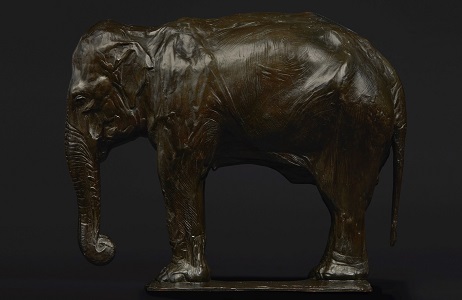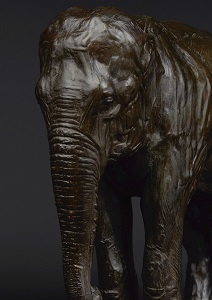 Christie's link
Sotheby's link
I believe this was the first time I instructed a Bugatti owner to buy a Jaguar.....
---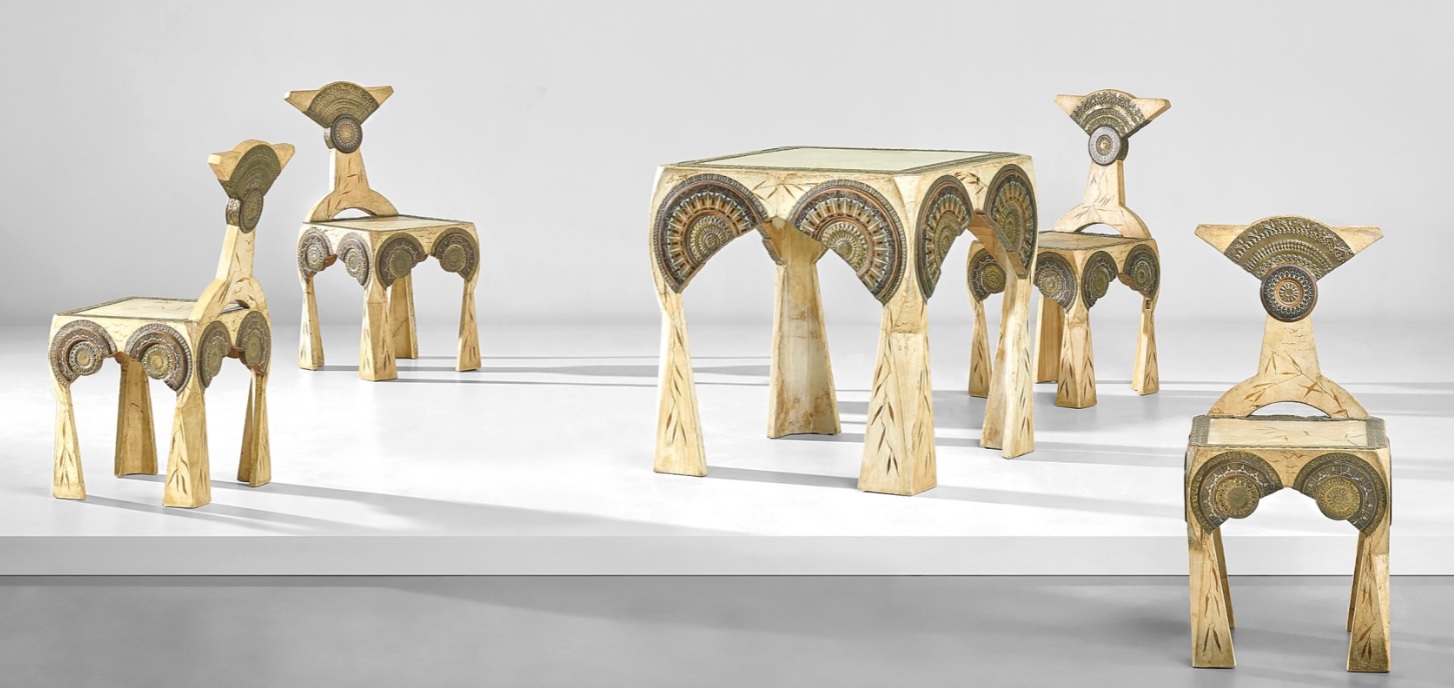 March 23, 2019

Auction result

Phillips auction, London, March 21

Carlo Bugatti game table and chairs, 1902, Estimate £80,000 - 120,000, sold for: £93,750
---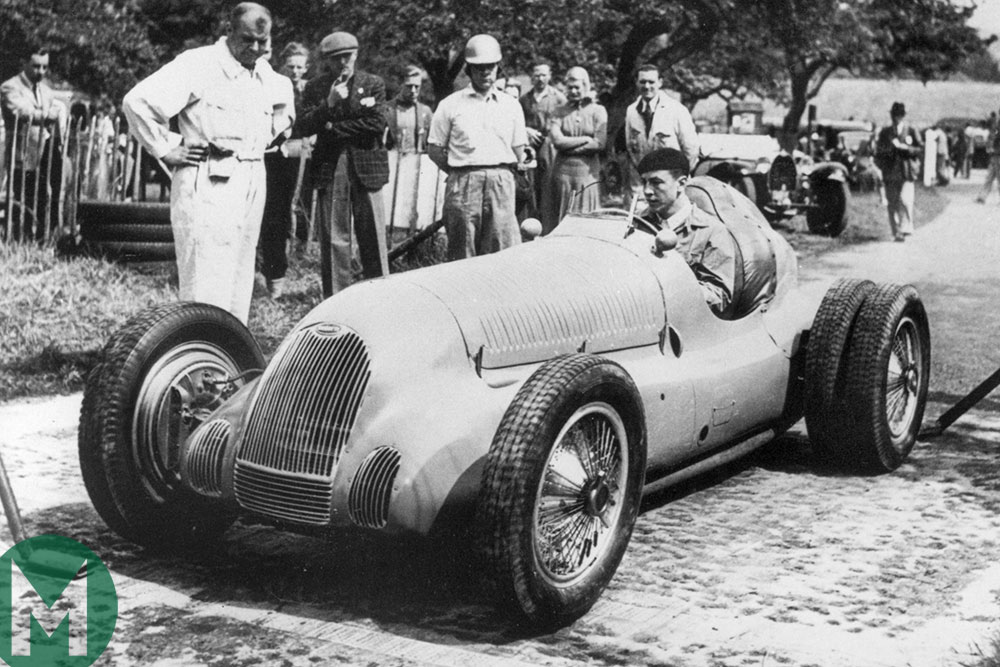 March 16, 2019

Works 59/50B Bugatti returning to Prescott after 80 years

A world-famous Works 59/50B Bugatti is set to return to Prescott hillclimb for the first time in 80 years, as part of a special exhibition this summer that celebrates the Bugatti Owners' Club's 90th anniversary.

The car will be on display at the Bugatti Trust as part of its summer exhibition 'Jean Bugatti and Jean-Pierre Wimille – Prescott 80 years ago', which will run until September this year. The exhibition is one of a number of festivities marking 90 years since the founding of the Bugatti Owners' Club, the oldest Bugatti club in the world. The club also owns and operates Prescott, as well as being based there.

This year also marks the 80th anniversary of a remarkable part of Prescott's history. On Sunday July 30, 1939, it held its first ever international meeting, a Bugatti Owners' Club event, and this very returning Works monoposto Type 59 fitted with an 8-cylinder supercharged 4.7-litre type 50B engine Works 59/50B Bugatti not only took part, legendary grand prix driver Jean-Pierre Wimille was behind the wheel.

Jean Bugatti accepted an invitation to attend the 1939 Prescott hillclimb meeting and he brought with him his famous works driver Wimille, who was fresh from winning the Le Mans 24 Hours for the second time.

The 59/50B had without doubt the most powerful engine built by the factory and was fitted with twin rear wheels specially for the Gloucestershire hill climb's challenges.

Motor Sport's report from the event at the time called it "a truly beautiful car".
"So wide was it, twin shod at the rear, that it could not use the return road," the report continued. "Wimille wore a beret and drove with great care and polish, clocking 46.69sec on his second run, after an initial ascent in 47.50sec, excellent times on this course for such a powerful car.

"Afterwards, Wimille watched other climbs in company with Earl Howe and Jean Bugatti."

Despite the unsuitability of his car Wimille still got the event's second fastest time, shy only of Raymond Mays' ERA which stopped the clock at 46.14sec.

Afterwards Jean Bugatti wrote to apologise for using such an incompatible car for the course and promised to return the following year with one of his new 1-litre machines.

The onset of the Second World War just five weeks later ensured this was not to be; further the 59/50B was only driven one more time, in 1945 again by Wimille at the Coupe des Prisonniers in the Bois de Boulogne in Paris.

It was retained by the factory until it was acquired by the Schlumpf brothers for their Cité de l'Automobile museum in Mulhouse, France. It has now been loaned by that collection to Prescott.

This year's anniversary events also include the Bugatti Trust joining the festivities of Prescott's popular annual French and Italian themed 'La Vie en Bleu' weekend, taking place on May 25-26. It is anticipated that over 90 Bugattis will be present at that.

"We are delighted that the Works 59/50B Wimille Bugatti will make an historic return to Prescott," said general manager of the Bugatti Owners' Club, Chris Rogers. "The Bugatti Owner's Club and Prescott Hill Climb have played a significant role in the history of the car and its famous French driver Jean-Pierre Wimille."

Photographs: Jean-Pierre Wimille at the 1939 Prescott hill climb in his Works 59/50B Bugatti
Published in: motorsportmagazine.com
Images courtesy of The Bugatti Trust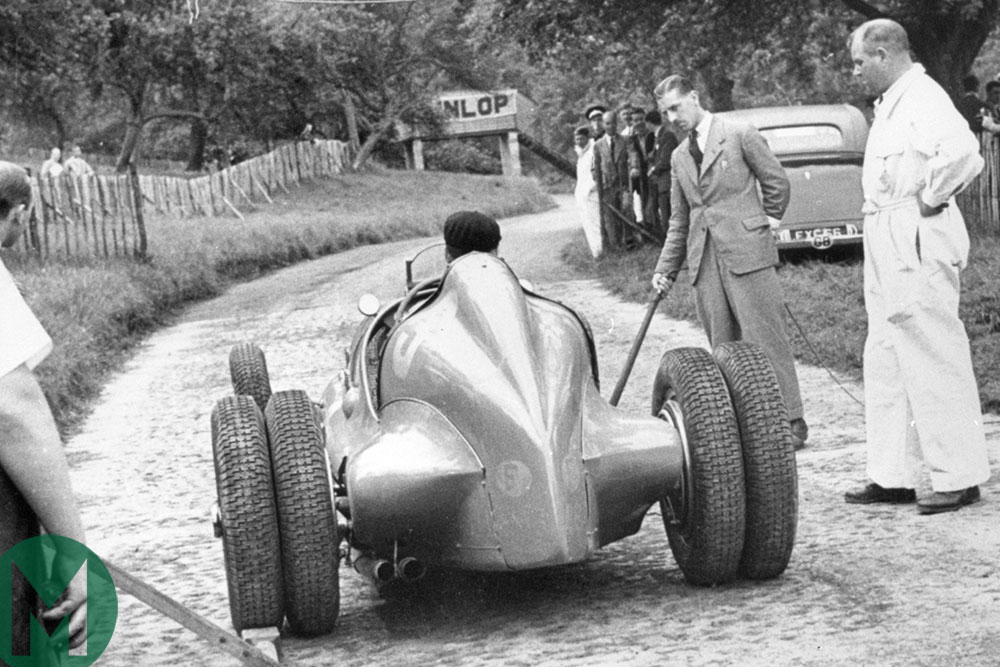 ---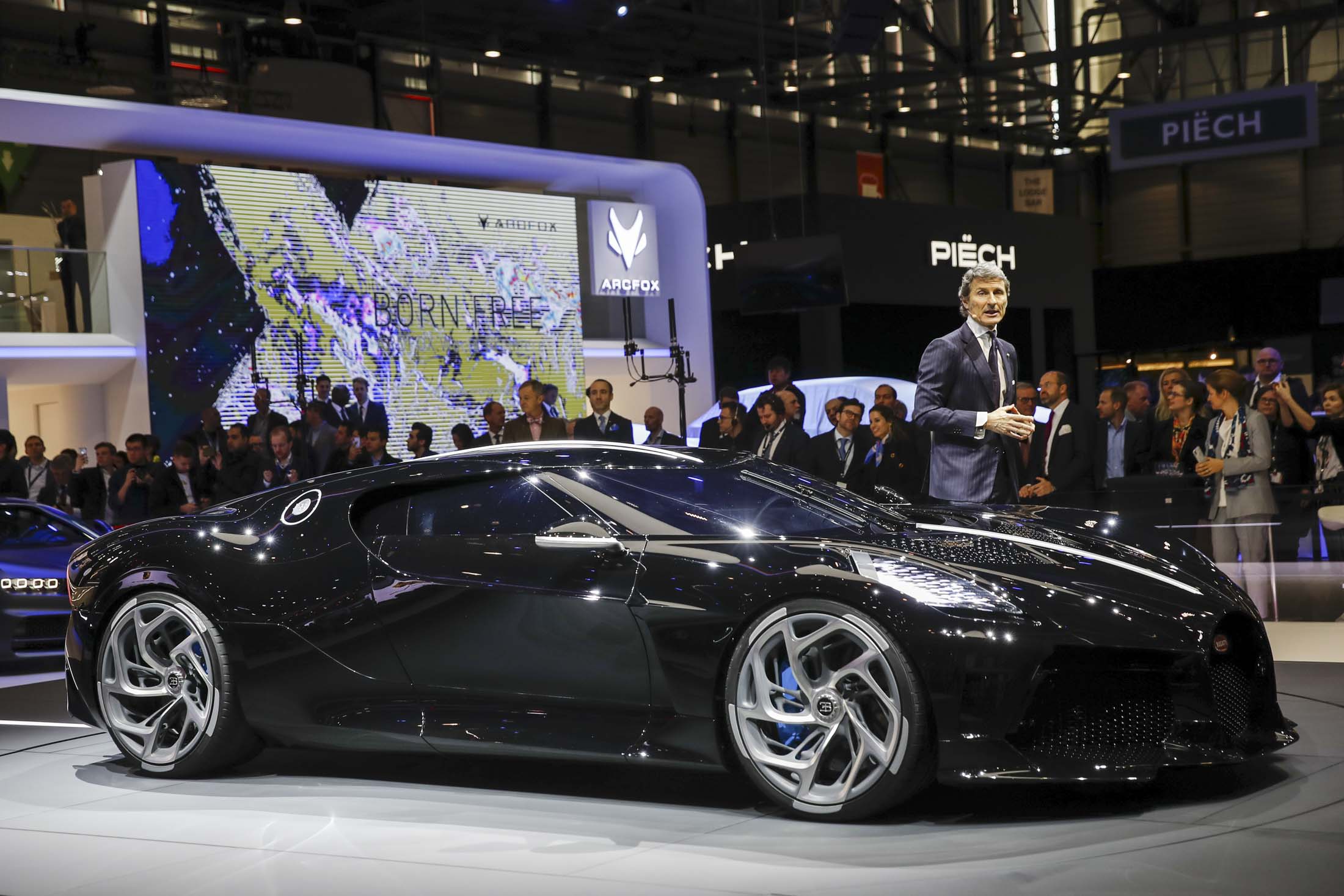 March 16, 2019

Bugatti Wants to Make a Car That Is … Not Super

According to brand President Stephan Winkelmann, an electric car you can drive every day may soon be in the works.

Bugatti is looking to introduce a second, more affordable model of car to its current multimillion-dollar lineup, Bugatti President Stephan Winkelmann revealed in an interview.

Winkelmann characterized it not as a mere halo car but as a best-in-segment daily driver with a top-line price to match—and it would be at least partially electric.

"There I would see us doing a battery electric vehicle," he said of the proposed new car. "There, the balance between performance and comfort is much more important, and it's about daily usability. This is what I see."

Face-melting speed in this second car "will be far less important," he said.

Of course, these terms are all highly relative, considering the US$3-million Chiron comes with 1,500 horsepower and a top speed of 420 km/h. Any new Bugatti will still cost a lot: It stands to reason that even a far "lesser" creation could cost half a million dollars and pack an 800-hp punch.

Winkelmann declined to give more specifics about the cost, chassis, and performance of the potential car but said the company has already begun analyzing the prospect. "Let's see what we can do," he said. "I'm hoping for the best."

There is room to expand, even with the beaucoup business million-dollar cars like the Bugatti Chiron and Divo already provide. The average Bugatti customer has 42 cars at home, according to a Bugatti spokeswoman, and often two of them are Bugattis. More than half of the 250 Chirons made were purchased sight-unseen—an astounding figure considering the astronomical price tag.

In North America and Europe, billionaire populations are are growing by 17 percent and 18 percent respectively, according to Knight Frank's 2019 Wealth Report. In Asia, there will be 1,003 billionaires by 2023, a 27-percent increase from 2018 and more than a third of the world's 2,696 total billionaire population. Since 2009, sales of automobiles costing more than $180,000 has quadrupled, according to IHS Markit.

"At the end of the day, the difference of the price in a car is the brand," Winkelmann said of how the new model may be positioned within the Volkswagen Group. "And this I think will stay the same, fortunately for us. I'm convinced about this."

Bugatti would hardly be the first classic brand to attempt evolution and relevance via electric and/or halfway practical vehicles. Ferrari and Lamborghini had long eschewed deigning to make less-expensive sportscars and – gasp! – SUVs in volume plays that would bolster their tiny global outputs (formerly sub-5,000 units).

But in the past few years Lamborghini incorporated the Urus SUV into its lineup, and Ferrari executives said last week in Geneva they are working on a hybrid supercar of their own. (Recall, Ferrari introduced the hybrid LaFerrari six years ago.) These moves effected no discernible impact in terms of "damaging" a storied brand.

The real challenge will be to develop an electric vehicle with either significantly improved range or more exotic technology than the much-hyped Porsche Taycan, another sibling in the VW Group family and one that will be on the road before the end of 2019.

Any new vehicle from Bugatti would likely borrow extensively from VW Group hardware such as the Premium Platform Electric architecture to be used by Porsche, Bentley and Audi—but with a badge like Bugatti's, it better provide an amplified experience.

In the meantime, a lot can happen. Even if Winkelmann gets the green light from Volkswagen AG, the prospect of an underling Bugatti remains far from reality.

He doesn't yet have approval from the Volkswagen board, which can be difficult to procure. It took years of lobbying from Bentley and Lamborghini to get the go-ahead to make an SUV. (For the record, Bentley "won" that battle: It got the okay to make its Bentayga before Lamborghini produced the Urus.)

If and when Winkelmann gets a yes, it will take another four years of development before a second Bugatti family line hits the road.

Might as well start saving money now.
---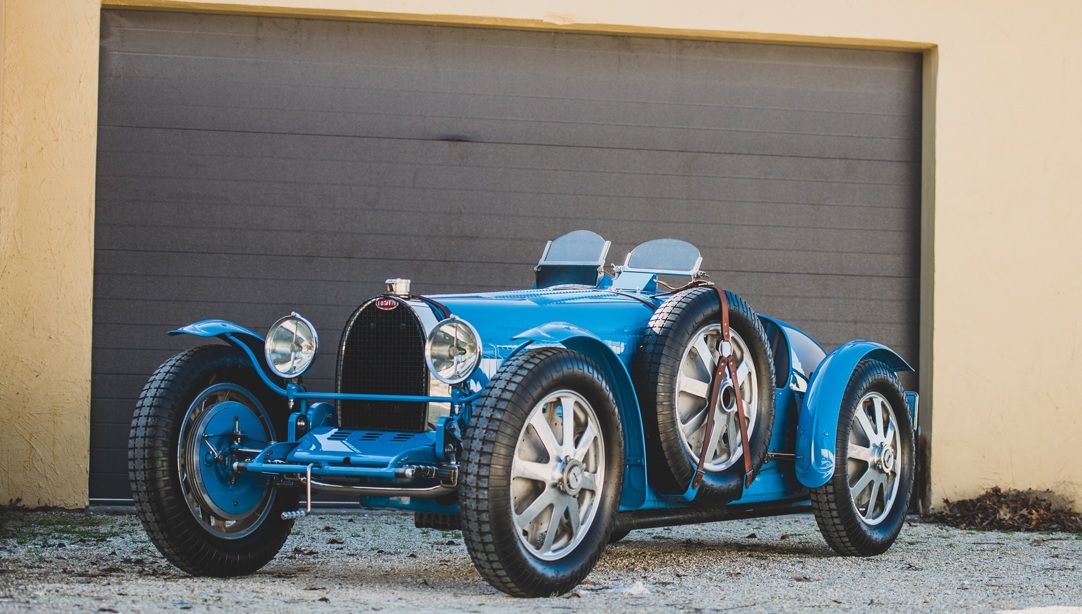 March 11, 2019
Auction results
RM / Sotheby's Amelia Island auction, March 8-9, 2019
1933 Bugatti Type 51 Grand Prix, Chassis No. 51153, Estimate: $1,250,000 - $1,600,000, Sold for: US$ 758,500 inc. premium
1937 Bugatti Type 57SC Tourer by Corsica, Chassis No. 57512, Estimate: $6,000,000 - $7,500,000: Not Sold
2010 Bugatti Veyron 16.4 'Sang Noir', Chassis No. VF9SC2C27AM795238, Estimate: $1,350,000 - $1,600,000 , Sold for: $1,500,000
---
March 11, 2019

Bugatti presents new "Baby"
500 limited-edition junior Bugatti cars built to celebrate the brand's 110th anniversary Molsheim / Geneva, March 11, 2019.
The car that brought Automobiles Ettore Bugatti to fame in the 1920s, the Bugatti Type 35, is generally acknowledged as the most successful racing car of all time. During its long career it won around 2,000 professional and amateur races, averaging more than fourteen per week at its peak. In 1926 Ettore and his son Jean decided to build a half-scale Type 35 for Ettore's youngest son, Roland, on the occasion of his fourth birthday. Now, on the occasion of the company's "110th" birthday, Bugatti and Junior Classics are reviving the idea of the Bugatti 'Baby', presenting the first 3D-printed design model on the Bugatti stand at Geneva International Motorshow.
Note: The image above is still just a digital rendering.
What Ettore and Jean had intended as a one-off car, became an official Bugatti vehicle. The feedback from customers visiting Molsheim had been so positive that it went into production and was sold between 1927 and 1936. The Bugatti 'Baby' was born. Cherished by Bugatti enthusiasts worldwide, today no collection is complete without a Baby. However, with only around 500 ever made, they have been the preserve of the lucky few. Until now.
To celebrate Bugatti's 110th anniversary, we are introducing the smallest member of the Bugatti family: the Baby II. A contemporary tribute to Ettore's masterpiece, the Baby II will be a strictly limited run: only 500 cars will be built. Unlike the original, which was only suitable for the youngest drivers, the Baby II is a three-quarters-size replica of the Bugatti Type 35 so it can be driven by both adults and children. The Baby II will allow automobile enthusiasts from across generations to share the love of driving and of the classic marque of Bugatti.
Launching almost a century after its predecessor, the Baby II has been created using the latest technology, but with the utmost respect for Bugatti's automotive heritage. Hand-built, the car was designed with the aid of a precise digital scan of an original Type 35, built for the 1924 French Grand Prix in Lyon.
Just like the original Baby, the Baby II has a rear-wheel-drive battery-powered electric powertrain. Unlike its predecessor, the Baby II features removable lithium-ion battery packs, a limited slip differential and even regenerative braking. The junior car will come with two selectable power modes for drivers of different statures: a 1kW 'child mode' with the top speed limited to 20 km/h, and a 4kW 'adult mode' with the top speed limited to 45 km/h. In addition, for those enthusiasts who crave even more pace, an optional 'Speed Key' upgrade is available (just like the Speed Key for its big brother, the Chiron!), which allows power of up to 10kW and disengages the speed limiter.
There willl be some more 21st century updates: so what was the fuel pressure pump once upon a time is going to be the forward and reverse switch, the charge cable goes in where the petrol used to, and battery packs now reside where the Type 35 engine once did. But the handbrake on the outside stays, which should work nicely in conjunction with the most powerful drive mode. There are nods to more modern Bugattis as well, with a solid silver badge like a Chiron (albeit weighing just 50g, not 140g as in that car). And while not complete just yet, the interior will feature dials by Swiss Instruments and a removable steering wheel.
The cockpit of the Baby II features Bugatti's signature turned aluminium dashboard, a leather seat, a scale recreation of the Type 35's distinctive four-spoke steering wheel and custom Bugatti instruments. The exterior of the car is painted in traditional French Racing Blue, although buyers will be able to order in a range of alternative colours. The signature eightspoke aluminium alloy wheels are scale replicas of Ettore Bugatti's ground-breaking 1924 design, and house modern brakes on each wheel. Finally, powerful headlights (not shown on Geneva Motor Show images) light the way ahead for drivers young and old, whether you're exploring new landscapes or lapping the local karting track.
Despite being the smallest member of the Bugatti family, the Baby II has a lot in common with its bigger brothers. Proudly displayed on the nose of the car is Bugatti's famous 'Macaron' badge, made of 50g of solid silver, just like the Chiron. Each car comes with a limited-edition numbered plaque and cars ordered in 2019 will also incorporate a badge to commemorate Bugatti's "110th" anniversary.
Prices start at 30,000 euros (plus taxes and delivery) and production starts in autumn / fall 2019. Join the exclusive club of Baby owners and help write the next chapter in the prestigious history of Bugatti.
Reservations for build slots open at 9am today, 11th March 2019 via: contact@bugattibaby.com