Bugatti news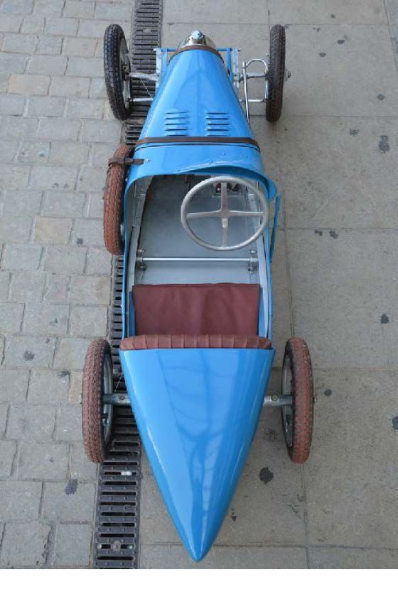 November 22, 2015
Auction result
Aguttes Auction: Automobiles de Prestige et de Collection, Automobilia, November 7, 2015
1927 Bugatti "Baby", one family since the 1930's.
Chassis number 127
Sold for 74 400 €, (estimate 25 000 - 35 000 €)
I remember having been offered a T40 for 74 k$ not too ago....
---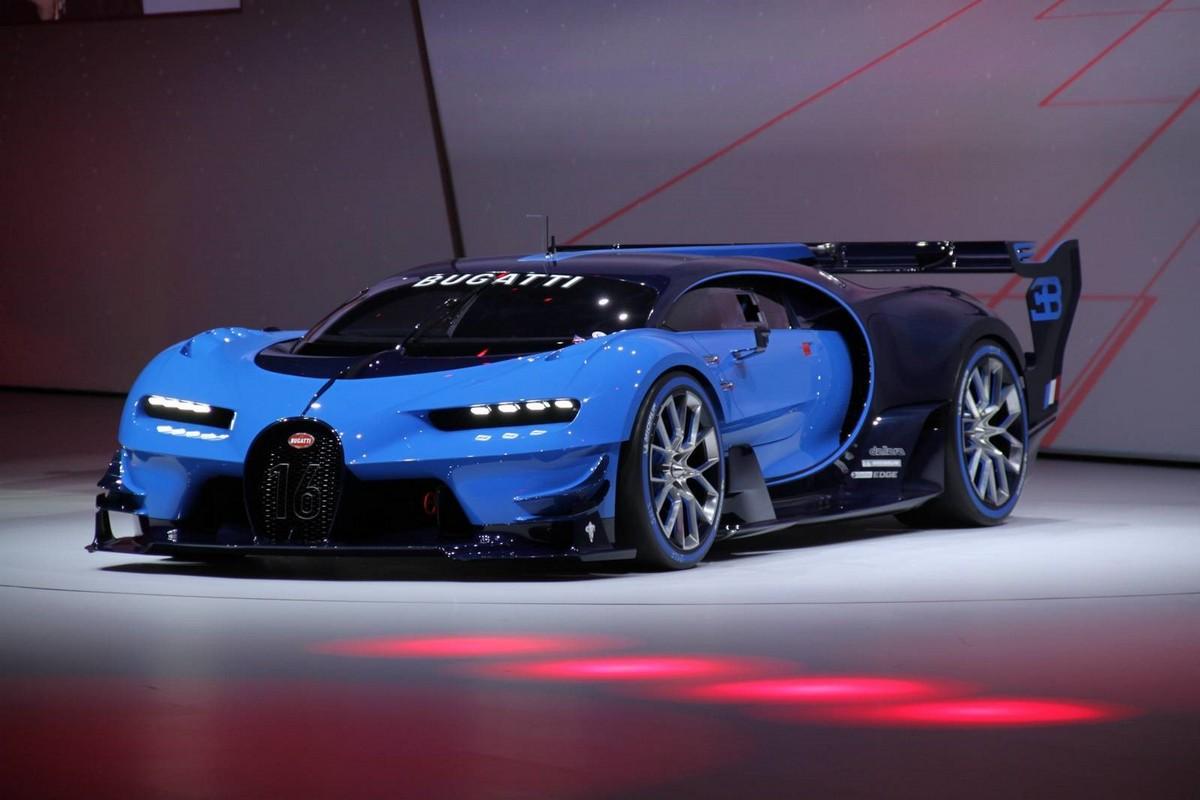 September 27, 2015
Bugatti presents new full size digital "Bugatti Vision Gran Turismo"
Virtual Reality coming to life!
In creating a new concept car for the 'Gran Turismo' video game, Bugatti's designers have previewed the look of the Veyron's successor. But the 'Monster of Molsheim' also appears tailor-made for a return to Le Mans…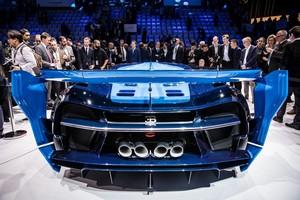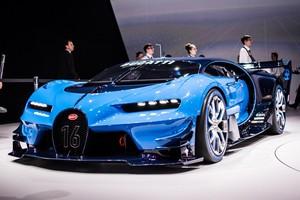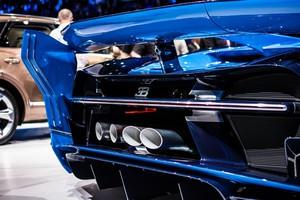 Last time a Bugatti took overall spoils at Le Mans, it had to fend off competition from Delages, Delahayes and Lagondas. During the most recent victory, in 1939, a certain Pierre Veyron was behind the wheel. With its new 'Vision GT' concept, Bugatti has wowed Frankfurt with a supercar that has a distinctly LMP1-like appearance, giving enthusiasts a glimmer of hope that the marque might one day return to Le Mans. In the meantime, however, they'll have to settle for a 'Monster of Molsheim' lapping La Sarthe in the virtual world.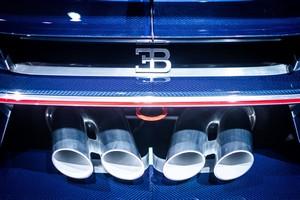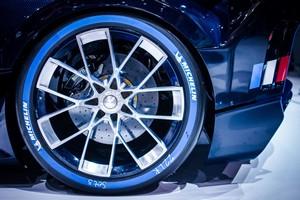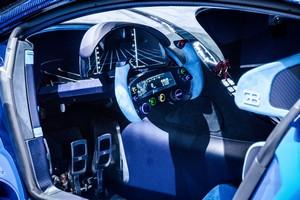 However, the engineers at Molsheim went one step further, and realised a full-scale model of the Vision Gran Turismo, which was presented at the IAA Autoshow in Frankfurt from September 17 until today. Though officially no comments are given, some of the design may actually be seen in the Chiron, the Veyron successor. We will have to wait for the Chiron (for which Bugatti already received various orders) introduction to see if that is true. There are others who say that this design looks very much ready for the Le Mans 24 hour race. We will have to see if that really materialises, though a lot of changes to the Veyron basis will have to be made before that will have any chance in Le Mans.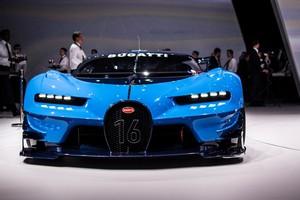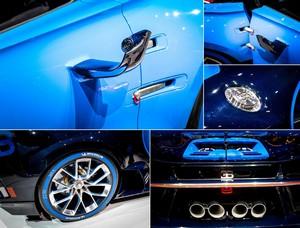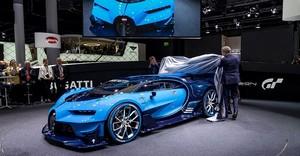 See the Bugatti website to see more: www.imaginebugatti.com/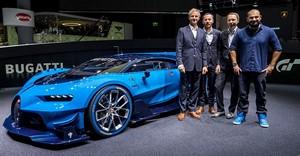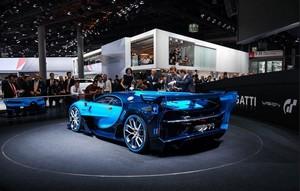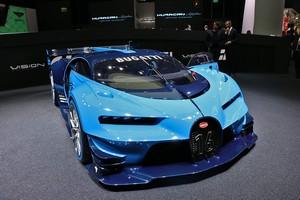 ---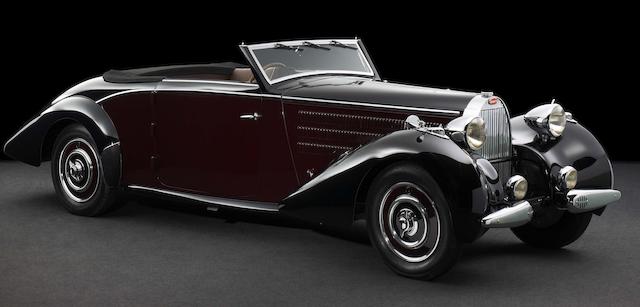 September 19, 2015
Auction results
Bonhams' The Chantilly Sale, Sept. 5, 2015 :
Bugatti Type 57 Cabriolet 1938, Carrosserie par Albert D'Ieteren, Châssis n° 57589: €1,265,000 (estimate: €1,400,000 - 1,700,000)
Bugatti Type 101C coupé Antem 1954, Châssis n° 101 504: Not sold (estimate: €1,500,000 - 1,800,000)
Star of the sale was one of my personal favourites, the Maserati Boomerang. I like it's straight lines, and the windscreen which is so flat, you could easily mistake it for the roof!
---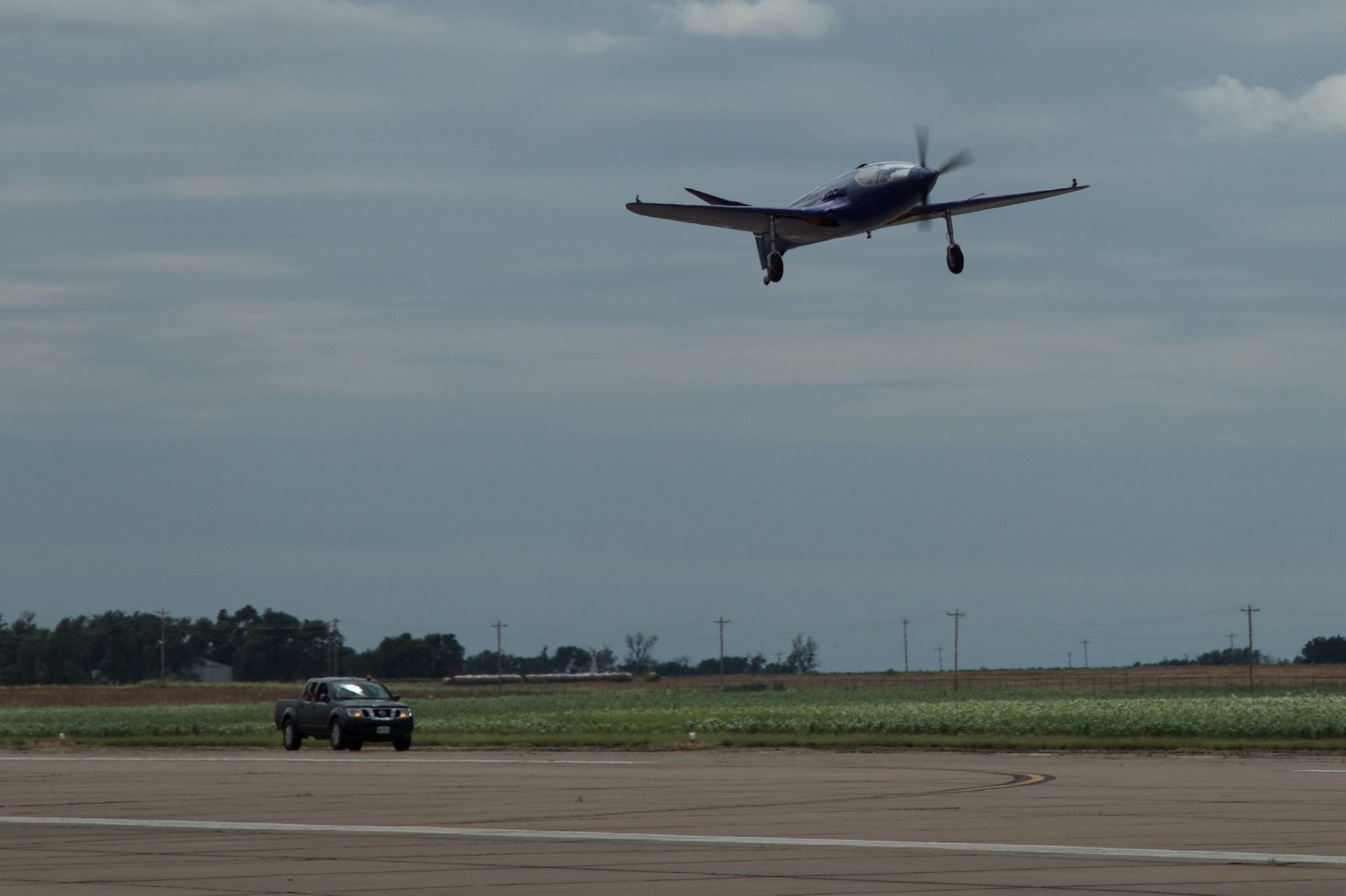 August 20, 2015
First flight Bugatti airplane replica
Yesterday, August 19, the replica Bugatti 100P airplane built by Scotty Wilson and his team flew for the first time, at an airfield in Oklahoma.
This is what Scotty himself said about this:
We intended this flight to be limited to a short hop down the runway to check power required/power available and to check control responsiveness in all three axes. Preflight preparation and before-takeoff checks were normal. Takeoff was normal and at a predetermined reduced power (80%) setting; takeoff roll was 3000 feet and I became airborne at 90 knots. I climbed to 100 AGL to check power and control responsiveness. The plane responded as expected to all power changes and control inputs. Maximum airspeed was 110 knots.
I reduced power for landing but the airplane floated much more than we anticipated. I landed further down the runway than planned but with sufficient distance to stop the plane. Unfortunately, I lost the right brake and the airplane departed the left side of the runway at slow speed. Due to heavy rains the night before, the ground was soft and the airplane tipped upward on its nose, damaging the spinner and both props.
Such is the nature of flight testing a new design. The relevant news is we successfully flew the Bugatti 100P for the first time. The plane flew beautifully.
See the first flight here!
---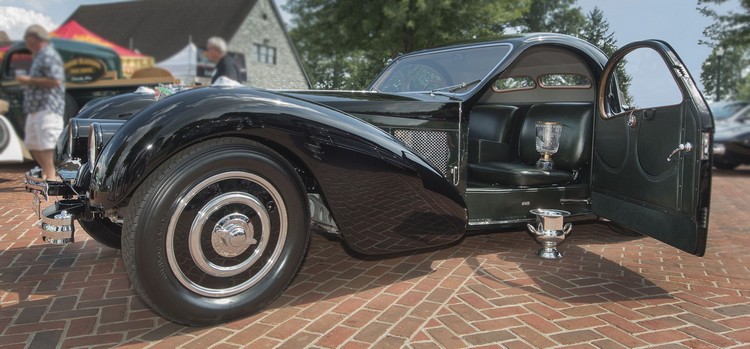 July 27, 2015
1937 Bugatti T57S Atalante named top car at Keeneland Concours d'Elegance
A 1937 Bugatti Type 57SC Atalante won Best of Show and the Children's Choice Award during the 12th annual Keeneland Concours d'Elegance, held in Lexington, Kentucky on July 16 - 19.
More than 130 historic cars were on display, including two classes of Maseratis, the featured marque, which celebrated its centennial in 2014. Other cars on display ranged from a 1908 Simplex Speedcar to a 2015 Dodge Challenger SRT Hellcat, with classic cars, European super cars and American performance cars well represented.
"Each year the Keeneland Concours attracts some of the top collector cars in the country, and we are so appreciative of their owners' willingness to share them with us, and another strong crowd shows that Central Kentucky is full of automotive buffs who love to spend the day on the beautiful grounds at Keeneland," said Tom Jones, co-chair of the Concours.
The Judges' Choice Award went to a 1935 Pierce Arrow Model 1245 Rumbleseat Convertible Coupe, with a body by Brunn, presented by Evergreen Historic Automobiles. A 1970 Maserati Ghibli Spyder won the Junior Judges Award.
The Bugatti Type 57SC Atalante, presented by the Patterson Collection of Louisville, is one of seven similar cars and was owned by the Harrahs Collection and then Carlos Hank and Arturo Keller until 2001. The car was recently returned to its original color and configuration by RM.
Dr. Anthony Manganaro of Ohio was given the Lee Iacocca Award in recognition of his lifetime of supporting the collector car hobby and his philanthropic endeavors.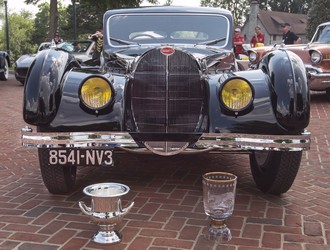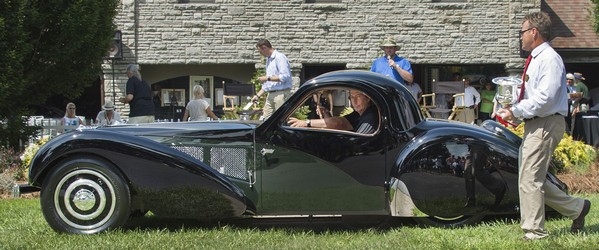 ---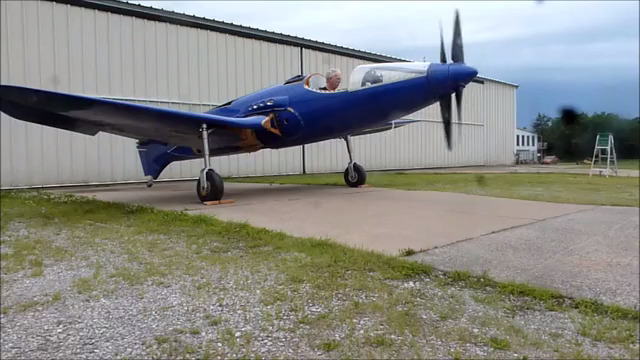 June 29, 2015
Test of the complete drive train of the Bugatti 100P Airplane replica
This is the first test of the completed drive-train system. Scotty Wilson limited the RPM to idle for this test, and will increase the engine speed gradually over the next few tests during the coming few weeks.
---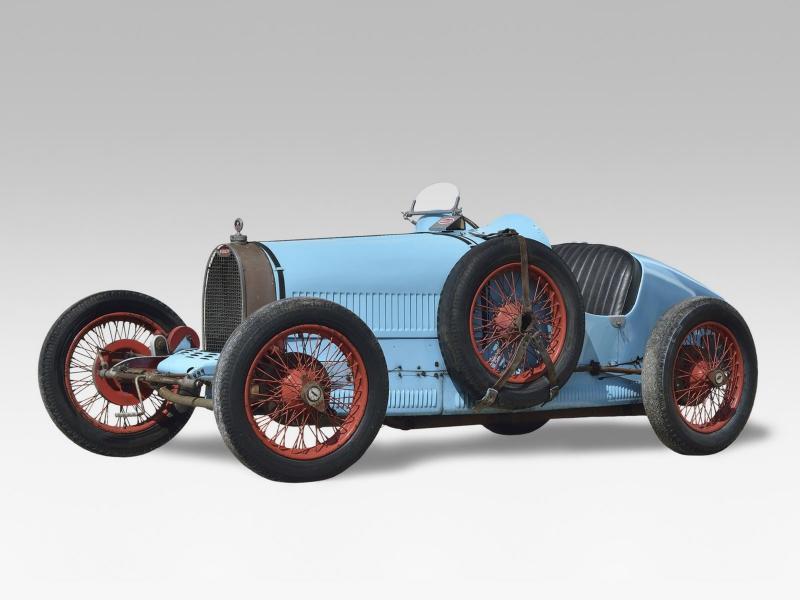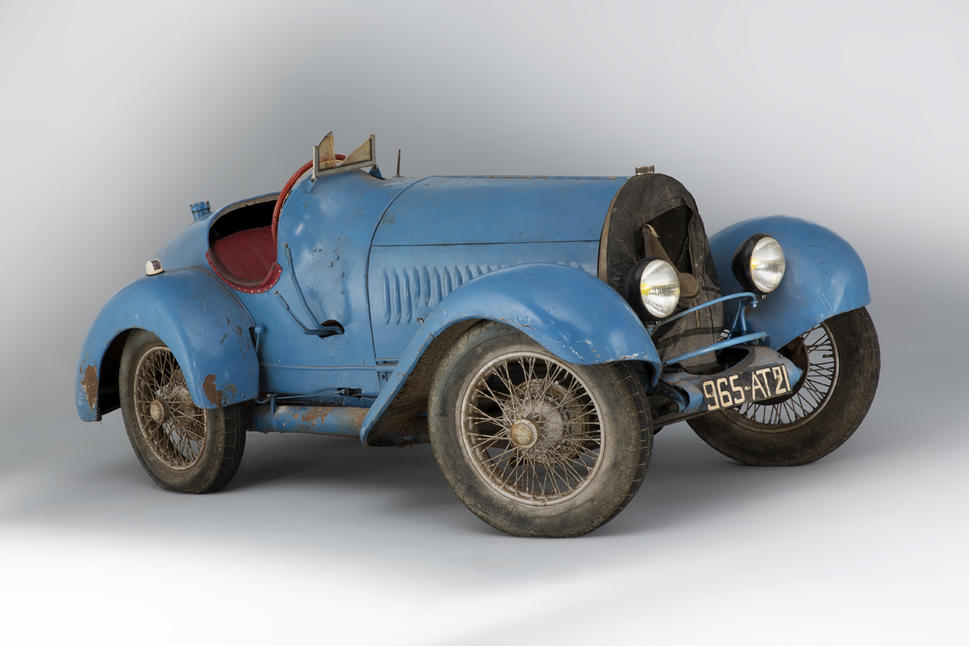 June 29, 2015
Auction results
And surprising ones for that:
Osenat in it's Automobilia and Automobiles de collections auction on June 14 in Fontainebleau, France, sold a T37 for a tremendous €920,000 ! Châssis n° 37291 had had the same owner for 44 years.
And: Artcurial in it's Automobiles Sur Les Champs auction on June 22, sold one original, though rather shabby looking Brescia for triple it's estimate of €250,000 (Car offered with no reserve!) to be finally sold for €834,400! The Brescia was in the same family since 1953, and has a body by Maron-Pot et Cie, Chassis n° 2628, Engine n°1028.
On the other side of the Atlantic, another record wass broken, that for a Bugatti Stelvio: The 1938 Bugatti Type 57C Stelvio Cabriolet, Chassis No 57748, sold for $1,595,000 in Bonham's Greenwich Concours d'Elegance Auction, on May 31.


---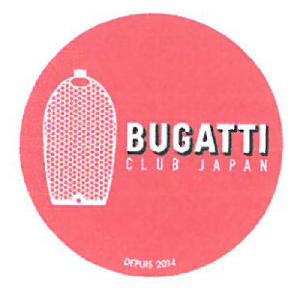 June 28, 2015

Bugatti Club of Japan founded

At long last, and after years of preparation, the Bugatti Club of Japan was officially established on April 4, 2015, when 32 Bugatti owners and enthusiasts attended the Club's inaugural meeting in Tokyo.

The President of the BCJ is Koichi Sugita, contact details for the club: info@bugatti-jp.org

We wish this new addition to the long list of Bugatti clubs a lot of good fortune, in the "Land of te rising Bugatti."!
---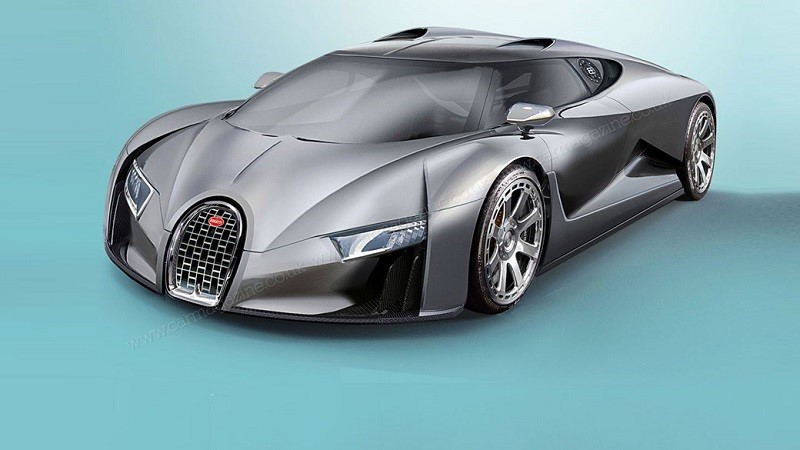 May 3, 2015
News on Bugatti Veyron Successor.
Bugatti Chiron : 92% new parts, to 100 kmh in 2 seconds
The details about the Veyron successor are becoming more and more clear, the beast seems to become a real hypercar-smasher. Apparently the projected characteristics are:
Maximum power 1500bhp
Torque target 1500Nm / 1106lb ft
Projected top speed 467 kmh / 288mph
0-62mph time 2.0sec
The name Chiron has been mentioned many times, so that does not seem to be changing any more.
Car Magazine announces that the Chiron will have 92% new parts compared with the Veyron, even if the 8 litre W16 base engine will remain the same. There will be electric Turbochargers (or would that be electric superchargers?) and a system to de-activate cylinders. This will result in a lower fuel consumption (mixed use that is, not at top speed) of 20 litres against 23,1 litres for the Veyron.

What she will really look like, we'll have to just wait. The drawing above is an artist impression, below a photo of a Veyron test-bench. No details are known, but logically it will be used to test some of the Chiron's systems.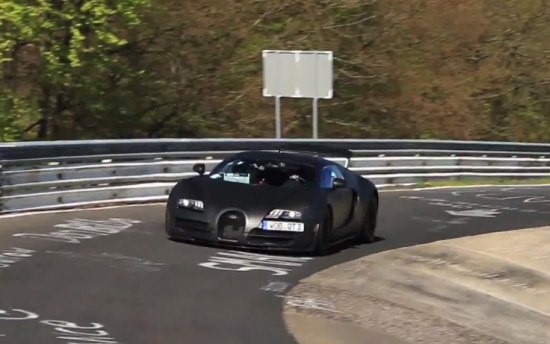 ---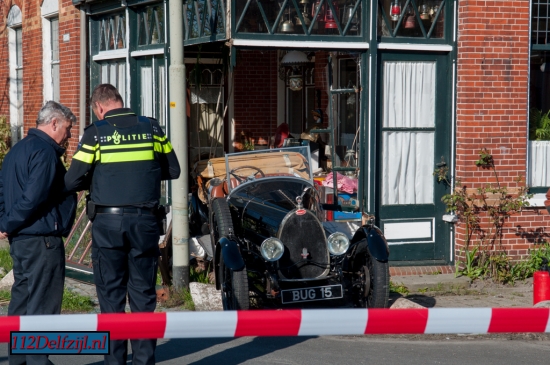 April 29, 2015
Bugatti Brescia crashes into house during rally.
During a rally of the Dutch Bugatti Club, a van collided with a Bugatti, forcing it from it's path and finally to collide with a house (formerly a well-known café) in the village of Wirdum, in the province of Groningen. The 28 year old local vandriver (or should we say Vandal?) overlooked the Bugatti. His van was hardly damaged.
The Bugatti Type 23 Brescia Midifiée (chassis 2840) was driven by a man from Schilde, Belgium, who was not injured. His woman passenger had back-injuries, of which it remains unclear how serious they were. The damage to the car is substantial, as can be seen from the Photo's. Damage to the house is quite severe as well..
The Bugatti itself is quite exceptional. She was built in 1926 en passed a short while in the showroom in Paris. After that, the car was sold for 185 pounds (256 euro) toAustralia. The car passed decades there on a farm, but also saw some rally action. Many changes were made over the decades, so not all parts are original. In the 80's the car ended up in England, and was sold in 2009 to the Belgian owner for about 150.000 pounds.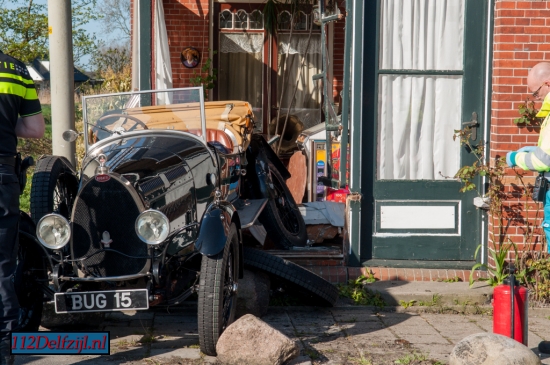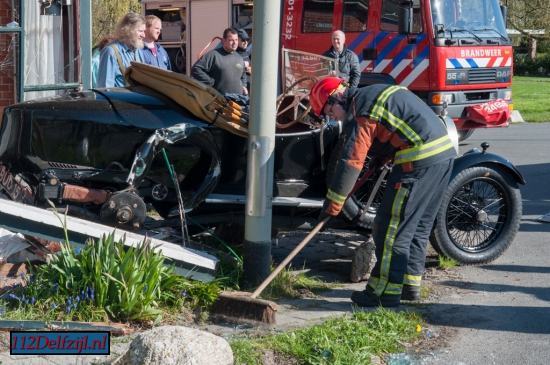 ---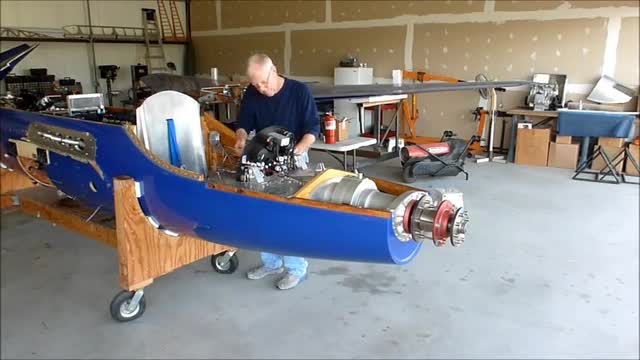 April 29, 2015
Engines and drive train running!
Those of you who follow the project already know this, the engines in the Bugatti 100P replica built by Scotty Wilson and his team are running! Click on the above image to see and hear it.
Scotty's comment: "On April 2, 2015 we fired up the engines and powered the drive train for the first time, with successful results. Both engines started easily and all systems - fuel; electrical; lubrication; propeller-reduction gearbox lubrication and cooling; engine coolant; and all gauges worked correctly. We kept engine and propeller RPM at reduced RPMs for this test. We noticed no unusual noises or vibration issues, but don't expect to see any until we hit the higher RPM ranges.
Next we'll mount the fuselage to the wing and install the propellers in preparation for easing into the full power engine runs."
Of course, we know that the engines are not the 4,7 litre 480 HP straight-eights as used in the original, but this is an important step in bringing the plane closer to flying!
And; Bugattis own 1.5 litre 4 cylinder engines were also used, in the de Monge 7.5 flying wing. They were of the same displacement, though less powerful..
---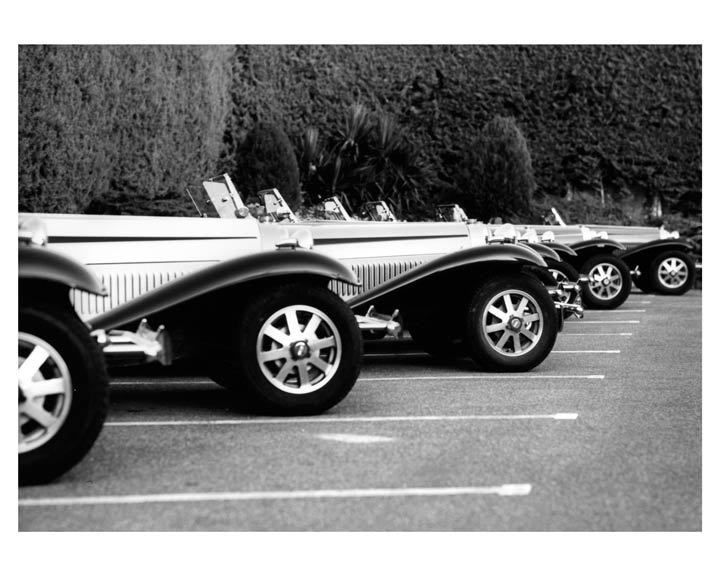 April 4, 2015
April 1
The news item below "T55's in a protest action in Paris" was of course an April 1 joke. I have no idea if it was a succes, I was not in Paris on Wednesday.
About the line-up of T55's, this was the give-away, as they are of course the BMW engined De La Chapelle's.
---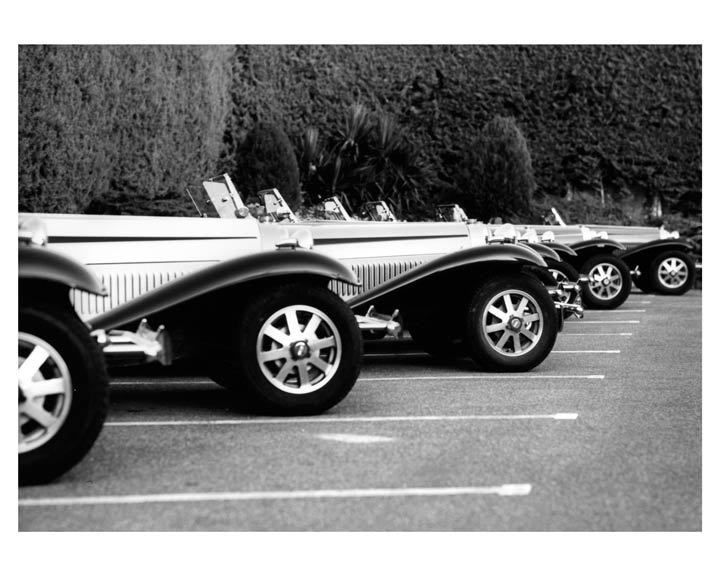 March 31, 2015
Series of T55's in a protest action in Paris.
Tomorrow, there will be a protest in Paris of classic cars. The protest is against a new law to ban classic cars from the center of Paris. As many of the famous French marques most beautiful cars will participate in the protest.
The tour of Paris will end on the Champs Elysées on 3 o'clock in the afternoon, at the location where originally the Bugatti dealership was.
The organisers hope to show how attractive these classic cars can be to the eye, which all will be lost once the new legislation is in place.
Source: Paris news agency
---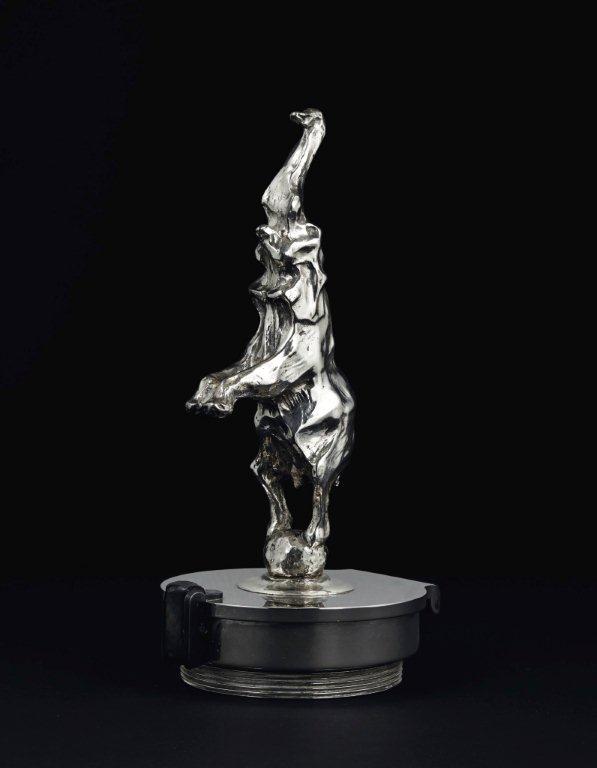 March 4, 2014
Last of the Fritz Schlumpf possessions to be auctioned
Including one of the Rembrandt Bugatti elephants and a Bugatti "Baby".
Paris – On 28 April, the Christie's Paris' Interiors sale will include an important section dedicated to personal items of the world's greatest vintage cars collector: Fritz Schlumpf. This collection is permanently exhibited at the Cité de l'Automobile – Musée National – Collection Schlumpf of Mulhouse, France.
Flavien Gaillard, specialist at the 20/21 Design department: "We are extremely honored that the family entrusted Christie's with the sale of this collection. This sale puts an end to the journey of the greatest vintage cars collector in the world. It is the last opportunity connoisseurs have to enjoy the collection as a whole, and acquire some of Fritz Schlumpf's personal items. This previously unseen collection has remained within the family by descent and allows us to discover the hidden facets of such a charismatic collector. Within the collection, several items signed by Bugatti reflect Fritz's passion for the Molsheim brand".
Among the highlights of the collection is the celebrated mascot "Éléphant dressé" made of plain silver circa 1928 by Rembrandt Bugatti for the legendary Royal Bugatti (estimate: €150,000–200,000). This mascot was cast by Valsuani and adorned this car of which only six were ever made. Considered the most expensive car at the time, Ettore Bugatti wanted to pay tribute to his brother, who had passed away only few years earlier. Ettore went to his brother's workshop to pick an original model from 1904 that he cast to adapt into a radiator cap. Alongside this legendary car, a 1902 Rochet, a 1906 Piccolo and a Baby 52 Bugatti model car for children will be offered during the sale.
Richard Rodier, consultant for the Fritz collection: "It is an honor and a true pleasure to be involved in the sale of this remarkable collection, a beautiful legacy of a rich and fascinating life".
Christie's announcement of the sale
List of the items, with estimates
All photographs below courtesy of Christie's:
---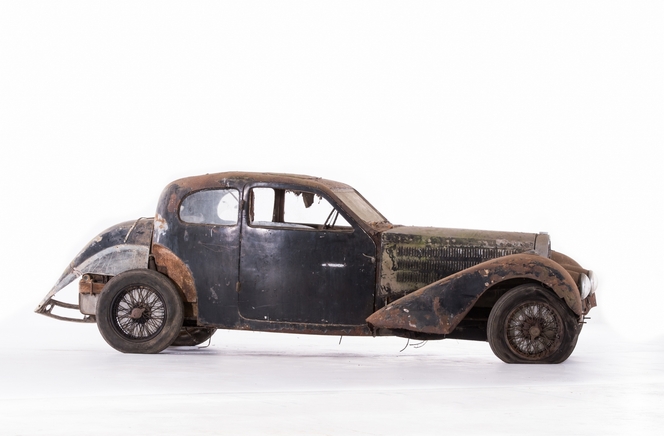 February 9, 2014

Auction Results

- Bonhams Auction, Les Grandes Marques du Monde au Grand Palais, Paris, February 5, 2015 :
Lot 333: Bugatti Type 37 Grand Prix biplace 1926, Châssis n°37136, Estimate: €250,000 - 300,000, Sold for €258,750
Lot 350: Bugatti Type 57 coupé Ventoux 1936, Châssis n°57345, Moteur n°282, Estimate: €380,000 - 480,000, Sold for €437,000
- Artcurial Auction, Rétromobile, Paris, February 6, 2015:
Lot 040: 1937 Bugatti Type 57 Ventoux Châssis n°57579 from the Baillon Collection, Estimate: €120,000 - 160,000, Sold for €298,000
Lot 123: 1929 Bugatti Type 40 Grand Sport Châssis n°40681, Estimate: €220,000 - 280,000, Not Sold
Lot 124: 1932 Bugatti Type 55 cabriolet Châssis n°55204, Estimate: €1,300,000 - 1,700,000, Not Sold
Lot 126: 1999 Pur Sang Bugatti Type 35B réplique Châssis BC 122, Estimate: €150,000 - 200,000, Sold for €250,320
Lot 164: 1928 Bugatti Type 43 Grand Sport Châssis n°43171, Estimate: €1,500,000 - 2,500,000, Not Sold
Lot 192: 1928 Bugatti Type 44 Profilé Aérodynamique by Gangloff Châssis n°44784, Estimate: €250,000 - 300,000, Sold for €333,760
The Bugatti from the Baillon collection went to a collector in New Zealand:
A Hamilton, New Zealand, car collector is "thrilled" to have won an auction at $500,000 for a rusty car he has to spend another $500,000 (NZ$) to restore.
Sixty classic cars, unearthed last year in a barn in France were auctioned last weekend in Paris.
Tom Andrews, 64, owner of Classics Museum, was excited to learn from his European agent that a 1937 Bugatti Type 57 Ventoux, was among them.
"The Bugatti is something we have been wanting for a long time and it's a very valuable and rare car," Mr Andrews said.
"I was thrilled when I got it for just under $500,000."
Mr Andrews is paying $10,000 to ship the car back to New Zealand and about the same amount as he paid for the car to bring it back to life.
"We knew what we were getting. The vehicle will need extensive restoration and I'm expecting it to take at least two years," he said.
"But at the end of the day, the car would be worth at least $1.5 million if not more."
Mr Andrews said the Bugatti will be the only one of its kind in New Zealand, and will be displayed at his museum. He owns about 140 classic cars, but said this one was "definitely the most valuable".
Thanks to Christophe Chanterault for the auction results
---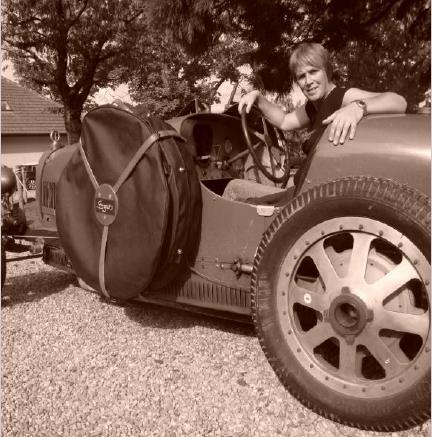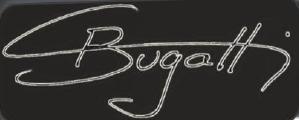 February 1, 2014
Caroline Bugatti "Sac de Voyage"
I first saw them on a GP Bugatti at the Mullin museum Bugatti exposition in Oxnard, gives you more storage capacity for one of those nice long rally's!
The bag fits all sizes of spare tire, and can be easily attached, leaving the spare tire with just a nice leather cover.
And yes, maybe it even does fit your Alfa as well..
For more info, click here!
---
January 29, 2014

Auction Results

- RM Auctions, Arizona, January 15 - 16, 2015 :
1937 Bugatti Type 57C Ventoux Chassis no. 57664, Engine no. 507, Estimate: $800,000 - $1,000,000, Sold for $800,000
1993 Bugatti EB110 GT Chassis no. ZA9AB01E0PCD39023, Engine no. 0035, Estimate: $575,000 - $775,000, Not Sold (High bid $570,000)
- Bonhams Auction, The Scottsdale Auction, January 15, 2015 :
1938 Bugatti Type 57 Roadster Coachwork by Auto Classique Touraine, Chassis no. 57661, Engine no. 25C, Estimate: US$ 550,000 - 700,000 €440,000 - 560,000, Sold for $671,000 - €579,047
Thanks to Christophe Chanterault
---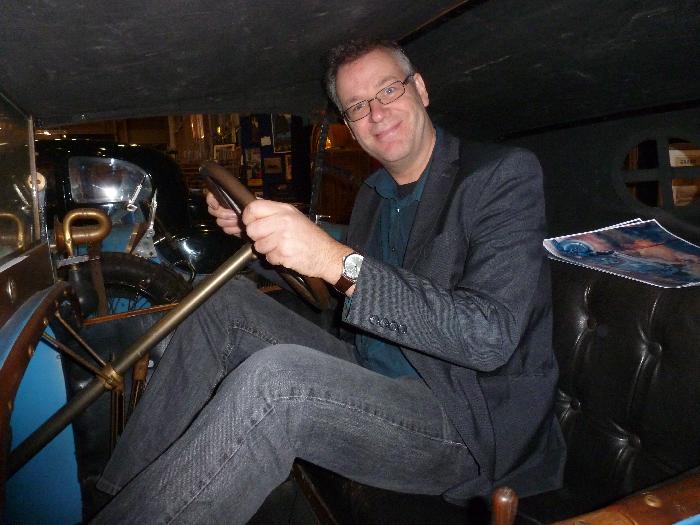 January 16, 2014
Peugeot Bébé register
3 Peugeot Bébé enthusiasts from the Netherlands, who together have the largest collection of Peugeot Bébé's (together with the Schlumpf museum) recently started the Peugeot Bébé register !
They know have 65 of those lovely tiny cars (see the above photo, your editor in a 1911 Peugeot Bébé) in their register, as well as a load of nice early photographs.
So please if you know of a nice "Baby", you have information to share or if you need or can offer parts, please go to their website: peugeot-bebe-register.weebly.com
---
January 16, 2014

Those crooks are still out there!

Contents of an e-mail from one of our Bugatti friends to some unknown crook

Henry Bateren,

You are a despicable criminal con man of the worst kind, no doubt professionally luring and steeling money off naive men, defenseless old women and young innocent virgins alike by means of skimming the internet for goods, services and items through "wanted" advertisements.

I had a search ad for certain gearbox parts on the Bugatti Page, the well-known Bugatti related internet medium, in March, 2014. I had you in my gunsight 10 months later when you on the 15th of December, 2014 approached me out of the blue by mailing me that you had the gear parts for sale "in an excellent shape and good condition".

Some 15 e-mails back and forth you have demonstrated your ruthlessness in detail. While there is no such thing as PayPal not working at any length of time as stated by you and that you therefore only accepted an untraceable Western Union payment method, on top of this you also wanted €14.500 for the deal whereas newly manufactured first class quality gears would not exceed the value of €2.000. Just to check your con scheme I had told you that I had an offer on hand in the region of that unrealistic high amount. By further positively confirming on my request that the gears had octagonal holes, not hexagonal ditto and that the material was yellow coloured brass you demonstrated naive stupidity, complete ignorance and total lack of knowledge about the subject of gearwheels. Everybody in the business know that neither such shapes nor materials are physically possible, only square shaped holes and steel material makes mechanical sense. And what nonsense about FedEx covering the import duty into Europe as you said? By the way, your Nigerian address is not known to Google Maps and therefore most probably as false as your motives.

All in all, I think that there is a fat chance that you belong to the criminal community of, say, Nigerians (?) living off social security in, say, Rotterdam. If I ever meet you in person I will flatten further your flat nose and fat lips.

In the meantime you bet that the Bugatti world will be warned against you and your likes by the imminent publication of this sad case. People in the know will also have a good laugh when learning about the stupidity you so amply have demonstrated throughout your correspondence. Spare your further efforts Henry Bateren, the Bugatti community members will never pay up front via such means as the Western Union money transfer system.

For the record it remains for me to state that the above comments have no bearing whatsoever of racial, ethnic or geographical issues.

C. Rank-Shaft
on behalf of K.C. Jessen
---
---
---