Bugatti news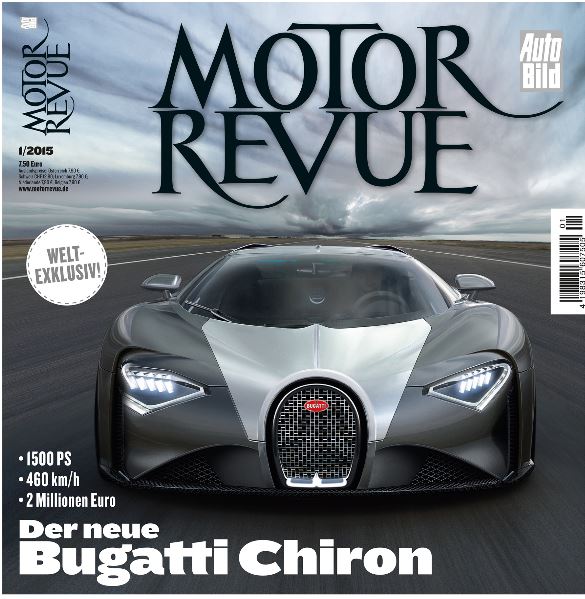 November 23, 2014
Scoop or rumour, the new Bugatti Chiron!
As the end of the Veyron production is getting near, there are more and more news items about the next Bugatti. The German magazine Motor Revue announces that the next Bugatti will be called "Chiron".
The magazine presents photos taken in Spain of prototypes which look like the Veyron but which, thanks to a hybrid power system develop 1500 HP (and from 0 to 100 km/h in 2.3 seconds ! )
The production car, most expensive and most powerful automobile ever, will be produced from next year. The Bugatti Chiron will have a top speed of 460 km/h. The transmission will be by DSG seven speeds like the Veyron, and a maximum torque of 1500 Nm. A novel injection system will ensure that the car will meet the antipollution Euro 6 standard.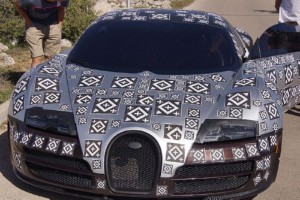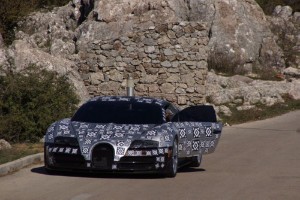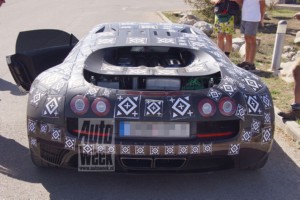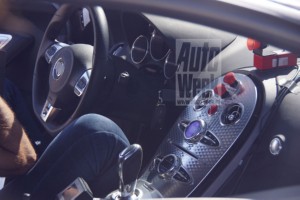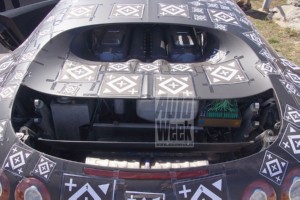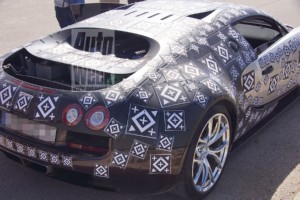 ---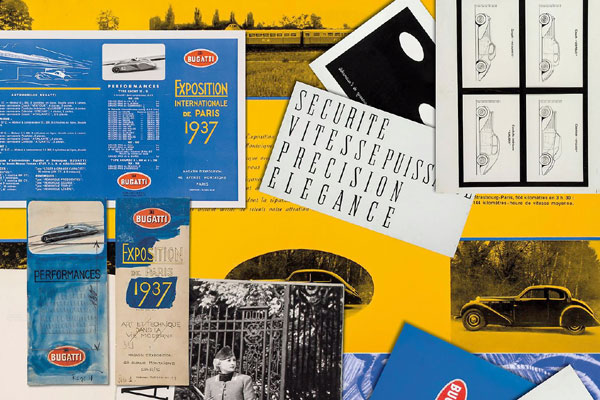 November 20, 2014
Photographs & Photobooks Auction | 21 November 2014
Sorry, only one day left!
Lot no. 49, An important archive of photographs , artwork
Estimate £15000–20000
An important archive of photographs (by Rene Jacques and others), artwork, typographical and layout designs illustrating various models of the Bugatti Type 57 touring car and the Autorail railcar for the promotional campaign at the 1937 Exposition Internationale de Paris, including the catalogue "Bugatti le Pur-sang de l'Automobile" and the 1937 pamphlet of the same title, together with the maquette and preliminary designs for the catalogue and the pamphlet, approximately 40 gelatin silver prints, some retouched and shaped to create photomontages, 11 layout designs in gouache and ink on different medium, 10 black and white proofs of the catalogue and other related ephemeral material, designs for the Bugatti "Exposition Internationale de Paris 1937" pamphlet with 6 gelatin silver prints, two colour sketches in gouache and a colour proof, the Autorail collection comprising approximately 130 gelatin silver prints and 70 negatives, 34 glass negatives of Bugatti mechanical pieces for American copyright and six glass plates, Various sizes
The avant-garde streamlined design of Jean Bugatti's 1934 Type 57 perfectly represents the marriage of aesthetic sensibility and engineering skill for which the company was famous. The Autorail railcar, the brainchild of Jean's father Ettore, was equally revolutionary. Powered by four Bugatti petrol engines each producing 200 hp, it was capable of 200km per hour on standard gauge track. The first prototype dates from 1933 and they went into service with the French State Railways the following year.
There are interesting photographs of the AutoRail, and various of engine parts, quite artistically photographed!
---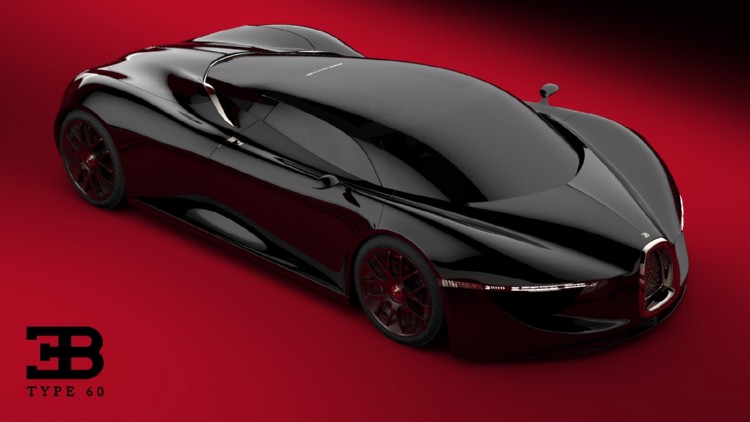 November 10, 2014
New Bugatti design
Bugatti design studies, often by design students, are presented often, and this "Type 60" by Vaughan Ling is no exception.
I present it here, just because I think it has a few nice details, though many would oppose to the grille, which has lost the "horse shoe" shape...


---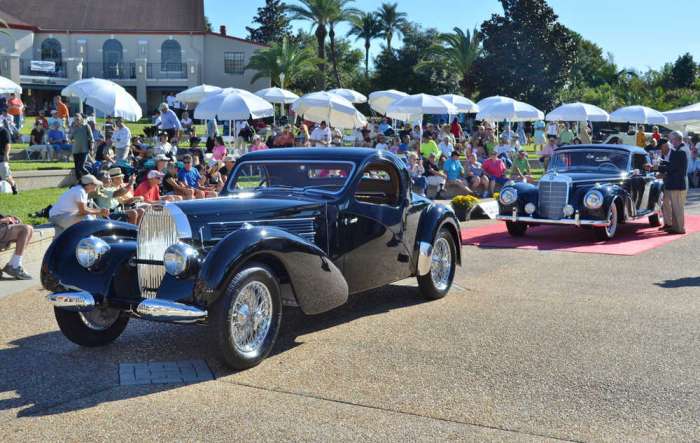 October 29, 2014
Bugatti Atalante best of show at Lake Mirror Classic in Lakeland
There were 600 classics, hot rods, muscle cars and motorcycles at the Lake Mirror Classic in Lakeland last weekend, 200 of those arrayed around Lake Mirror for the annual concours d'elegance.
Area winners included a Golden Swan in the American Modern class to Ponte Vedra Beach resident Leo Sugg's 1961 Pontiac Ventura; and Best in Class — Classics to the 1932 Lincoln Judkins Coupe owned by Wellington and Janet Morton of Saint Johns.
Also on display were Tom Bungay of Jacksonville's one-of-one 2002 Volkswagen Beetle Turbo, the only VW ever done by Porsche 911 modifier Alois Ruf in Germany with 250 horsepower, huge brakes and Recaro racing seats. Gleaming amid a flock of Vettes was Ronnie and Pam Edge's 1957 Chevrolet Corvette, bought new in Jacksonville three owners before.
"These are really spectacular. This Bugatti in front of us is just eye-dropping gorgeous," said show founder and Lakeland resident Ford Heacock.
That Bugatti was one of the Best in Show winners, both won by Richard Workman of Windemere. The classic winner was his shapely 1938 Bugatti Type 57C coupe with supercharger; the non-classic was his imposing 1956 Mercedes-Benz 300 SC. The Mercedes also won the Amelia Island Concours Award.
When Rick Workman bought his black 1938 Bugatti Type 57C at a car auction two years ago, he remembered the advice of veteran car collectors: Buy what you love.
The Windermere, Fla., resident was new to car collecting, but his instincts proved right on Sunday, when his car was awarded Best of Show at the 13th annual Hilton Head Island Concours d'Elegance & Motoring Festival.
"And I sure do love that car," Workman said. "I looked at it and thought it was an extremely beautiful car. It's a classic beauty."
The award was presented by the festival's honorary chairman, Edsel B. Ford II, great-grandson of Henry Ford, the founder of Ford Motor Co.
Workman bought the car in mint condition, and Sunday's award came fresh off his Best of Show win in October at the Lake Mirror Classic Auto Festival in Lakeland, Fla. The Bugatti was in the Hilton Head show's Rare Wheels Collection; Workman said only 17 of the coupes were made.
This was Workman's first time at Concours d'Elegance, and he says he can't wait to return next year.
---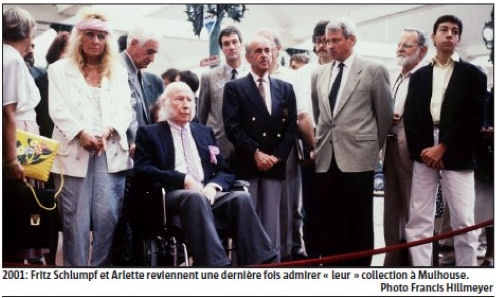 October 29, 2014
Request for information on Schlumpf collection
Ard op de Weegh and myself (Arnoud op de Weegh) are writers of several automotive books, for example "The Fate of the Sleeping Beauties" that tells the true story behind the famous Dovaz Collection (Sleeping Beauties)
Currently we're busy writing a book about the Schlumpf affair. In this book the truth behind the affair will be told. For example that Fritz Schlumpf had tried to sell his whole collection to keep the factory running.
There will be a lot of new facts and never published pictures in this book. But of course we're always looking during the writing for new facts / documents / photo's that could make our new book better.
If you have some information / documents / photo's that could help us or could be valuable for our new book. Don't hesitate to contact us.
Arnoud op de Weegh: Arnoud@opdeweegh.net
Ard op de Weegh: Ard@opdeweegh.eu
Article based on info from the authors, about the Schlumpf collection (in French)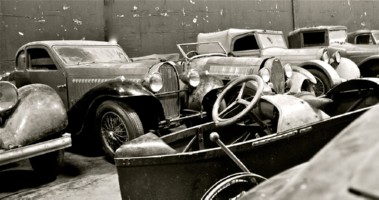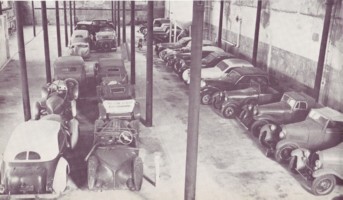 p.s. The text with the top photo is wrong, the visit of Fritz Schlumpf to the museum was 10 years earlier, in 1991.
---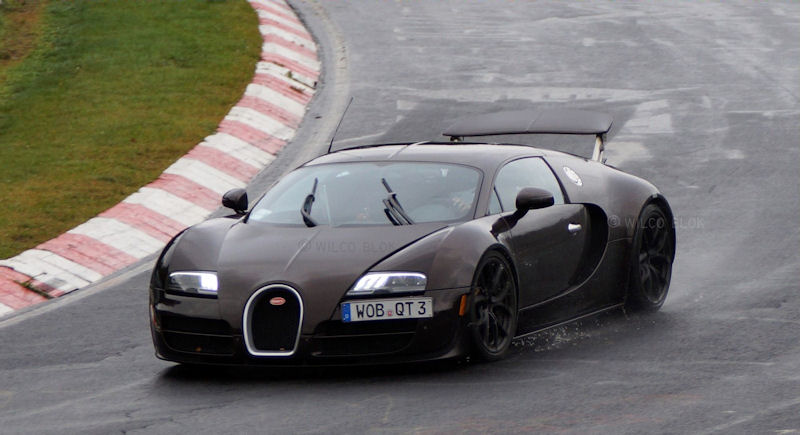 October 18, 2014
Bugatti testing new engine
As Bugatti SAS is just about 10 cars away from delivering the last of the 450 Veyrons (300 closed, 150 open) in a myriad of versions and special editions, they must work hard to get the next model ready. Very little is known about this next model, just that it is again a supersportscar, with probably even more power and maybe some type of hybrid as well.
The photo above was taken about a week ago, showing the test of the new engine, in an old style Veyron. No details of the engine can be seen, I'm sorry. Knowing Bugatti, we will have to wait for the official presentation to know everything.
Photo Wilco Blok
---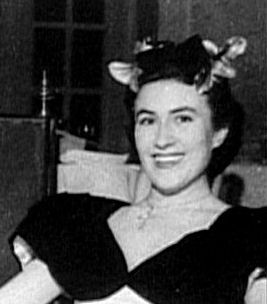 October 4, 2014
Geneviève Delcuze passed away
Last Sunday, September 28, 2014, Ettore Bugatti's second wife Geneviève Marguerite Delcuze died at the respectable age of 94.
She and Ettore Bugatti married on October 12, 1946. Together they had two children, Thérèse and Michel.
After Ettore's death in 1947, she, together with Roland Bugatti, Pierre Marco and Geneviève's new husband René Bolloré led the Bugatti factory through the 1950's and early 60's.
Below a photograph taken August 2014, together with her great-granddaughter, one of Caroline Bugatti's daughters.
We wish the children and grandchildren strength with this loss.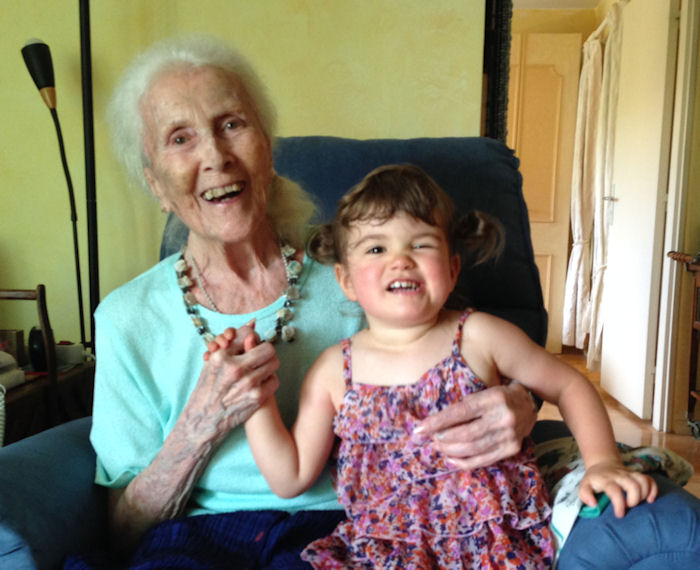 ---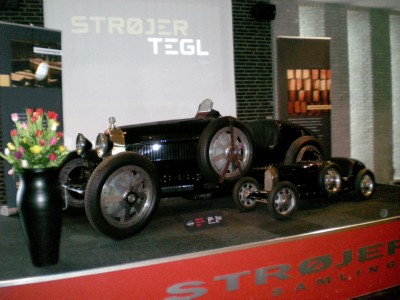 September 17, 2014
Help find the stolen baby!
A baby Bugatti replica belonging to The Strojer Collection in Denmark has been stolen. The little car had temporally been exhibited in the front window of a local fashion shop. The thieves smashed the window at night and took away the kids car which usually was to be seen alongside a full size Type 37 GP rep. in the Collection. Thousands of visitors must have seen the small car which for nearly 15 years has been one of the attractions of the Strøjer Collection.
The car was commissioned by Jørgen Strøjer Hansen in 1999 and was constructed in Denmark with utmost accuracy to replicate the original baby Bugattis built by the Bugatti factory. All materials are as originally – i.e. steel chassis, aluminium castings, axles, and hand formed aluminium bodywork by Peel. The body is fitted with Bugatti body screws wire locked with copper wire. The alu wheels are from Crosthwaite with tyres of beefier section giving the car an easily recognizable feature. The little radiator is in polished brass giving it yet another unique feature. Many photos from the build exist and can be provided in case anyone should see it offered for sale.
Well, somebody might offer this replica to some Bugatti enthusiast, if so, please contact Mr. Hansen through me
---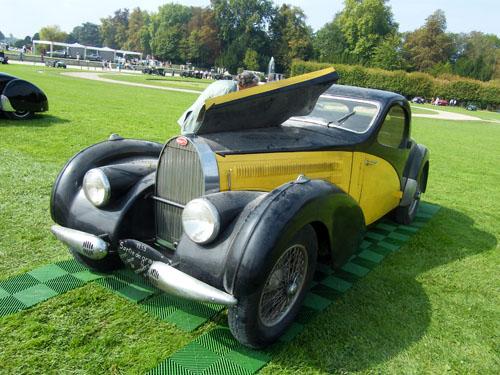 September 11, 2014
Stunning original Bugatti Atalante at new Chantilly concours
Original title: Delahaye is best of show at astounding new French concours The inaugural Chantilly Arts & Elegance took place just north of Paris on 7 September in the sprawling grounds and stunning manicured gardens of the imposing chateau. The scale of the event, which was larger than many had anticipated, was matched by the quality of cars that made the journey to Picardie – in particular, the 1937 Delahaye 135M that scooped the top award.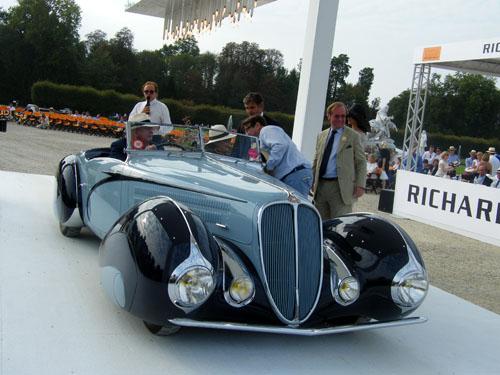 A triumphant Peter Mullin accepted the Best of Show award for his stunning French-built deco beauty. Surprisingly, it was to a backdrop of largely empty seats, which were free for all visitors to use, in contrast to other concours' that reserve such good views for VIPs. Equality and egalitarianism are alive and well in France.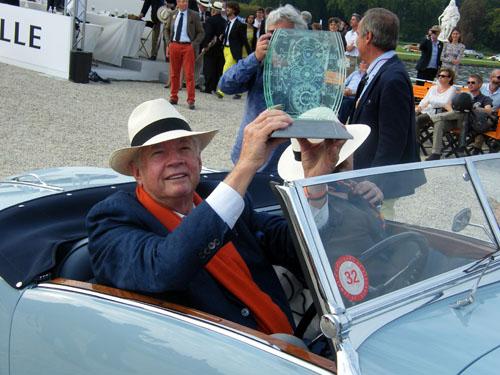 Fittingly for a new French concours, the headline class was dedicated to the country's most revered pre-war manufacturer, Bugatti. A 1930 Type 41 Royale Coupé from the former Schlumpf Collection stole the show for many, as it took pride of place on its own stand in the courtyard of the chateau, But it was the 1938 Type 57C Atalante of Henri Chambon that drew the crowds on the lower part of the display. See also above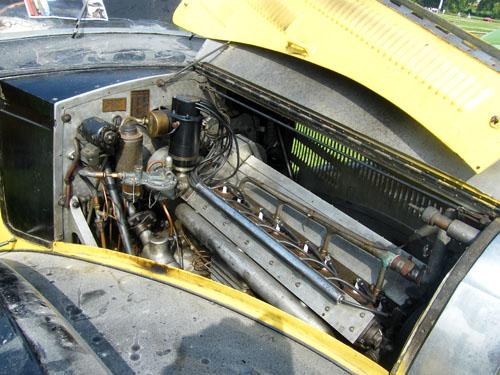 The car was entered into the Tribute to Bugatti class, though its original condition – complete with cracked windscreen and a healthy coating of dust – outshone many in the Untouched Cars class, picking up an award in the process.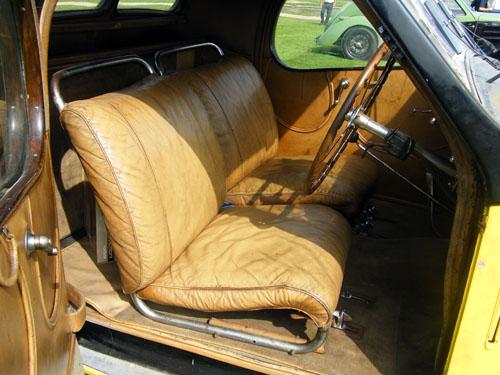 A 1933 Type 55 with Figoni et Falaschi coachwork also proved popular with visitors, and was mobbed throughout the afternoon. It was brought to the event from the United States by The Revs Institute.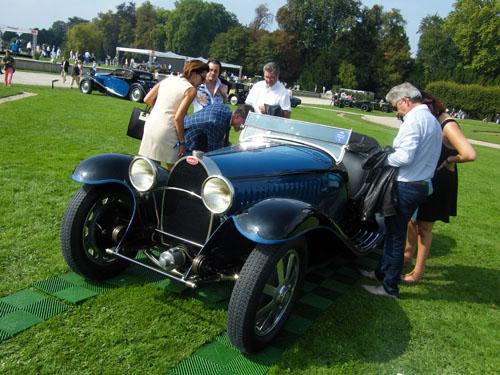 The original article, with more photo's of other cars, can be found on www.classicandsportscar.com
---
September 11, 2014

Auction results


RM Auctions, Hampton Court Palace, London, UK, September 8, 2014 :
Lot 108: 1920 Bugatti Type 23 #981, Engine no. 538, Estimation: £285,000 - £330,000, Not Sold (High Bid of £275,000 - $458,288)
Lot 127: 1938 Bugatti Type 57 Ventoux #57701, Engine no. 494, Estimation: £300,000 - £315,000, Sold for £324,800 - $541,279
Lot 157: 1937 Bugatti Type 57C Stelvio by Gangloff #57467, Engine no. 2C, Estimation: £590,000 - £710,000, Sold for £593,600 - $989,234
Thanks to Christophe Chanterault
---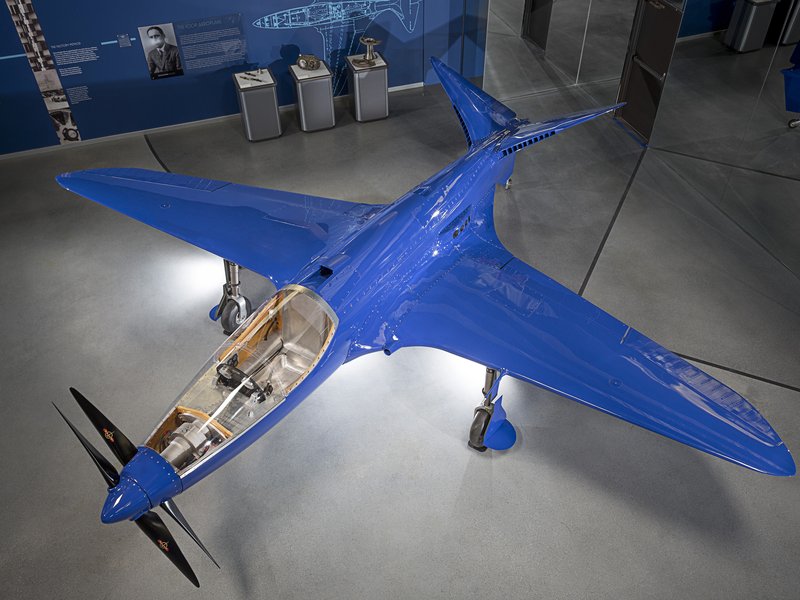 September 11, 2014

Bugatti 100P airplane and replica featured in Smithsonian's Air & Space magazine


The article in the September issue of Air & Space Magazine is titled: "Aviation's Sexiest Racer, Ettore Bugatti built fast cars — and just one airplane." and was written by Preston Lerner.

The complete article can be read online, and includes various photographs.

Go to www.airspacemag.com to read the article (3 pages, one has to click through).

Also on the same site are various sketches and drawings of the Bugatti 100P airplane.
---
August 19, 2014

Auction results


RM Auctions, Pebble Beach, Monterey, USA, August 15 - 16, 2014 :
Lot 115: 1938 Bugatti Type 57C Stelvio by Gangloff Chassis #57597, Engine #82 C, Estimate $800,000 - $1,000,000, Sold for $770,000
Lot 133: 2013 Bugatti Veyron Grand Sport Vitesse 'Le Ciel Californien' Chassis #VF9SV2C24DM795020, Estimate $1,900,000 - $2,500,000, Sold for $2,420,000
Gooding & Company Auction, Pebble Beach, Monterey, USA, August 16 - 17, 2014:
Lot 008: 1927 Bugatti Type 37A Grand Prix Chassis #37317, Estimate: $600,000 - $800,000, Sold for $660,000
Lot 131: 1927 Bugatti Type 35 Grand Prix Chassis #4863, Estimate: $2,800,000 - $3,500,000, Sold for $2,970,000
No surprise results, all results for the classic Bugattis are more towards the lower end of their price estimates or just below. Will we be seeing some kind of price drop?
Thanks to Christophe Chanterault
---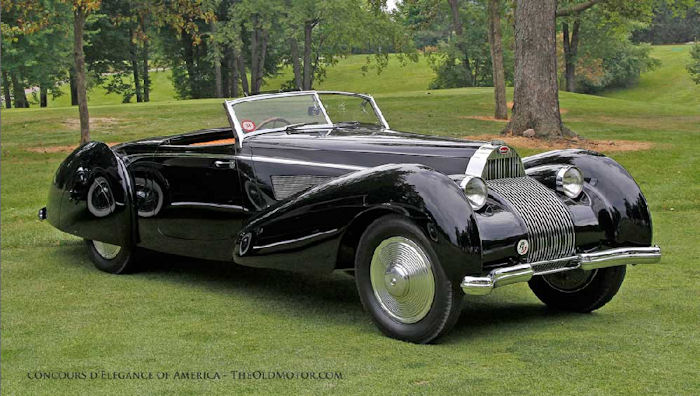 August 15, 2014

Bugatti wins Best of Show - European - at 2014 Concours d'Elegance of America at St. John's Inn


The 2014 Concours d'Elegance of America at St. John's Inn, located in Plymouth, Michigan, was held on Sunday, July 27th. The 36th annual running of the event marked the fourth year at its new home after moving from Meadow Brook Hall in Rochester Hills. More than 250 vehicles were on display on a part of the 27-hole golf course located at the Inn.

Highlights and special classes covered the evolution of the sports car, the visionary designs of Virgil Exner, Jet Age pick-ups from the fifties and sixties and the 50th anniversary of the Ford Mustang and Lamborghini. In addition, there was a full field of the traditional concours fare comprised of American and European brass, antique and classic cars.

The highlight of the event was the awarding of the best-in-show trophys, one to an American vehicle and the other to a foreign vehicle. The Best in Show – American was won by a 1932 Duesenberg Model J Convertible Victoria owned by William and Barbara Parfet of Hickory Corners, Michigan. Best in Show – Foreign went to a 1939 Bugatti T57C Cabriolet (CHassis 57819) from the Patterson Collection of Louisville, Kentucky.

The 1932 Duesenberg wearing coachwork by Walter M. Murphy is believed to be one of the earliest Convertible Victoria bodys to be built on a Model J chassis. The 1939 Bugatti T57C when new was fitted with very distinctive coachwork by Voll & Ruhrbeck, a German coachbuilder. Two of its styling elements of interest are the unusual art moderne style grille and the peaked and razor-edged rear fenders.
---
August 9, 2014

Auction result


Bonhams auction: Goodwood Festival of Speed Sale, June 27, 2014 (prices including premium)
Bugatti radiator display piece, estimate: €610 - 860, sold at €1098

1925 Bugatti T23 Brescia Torpedo, Chassis #2519, Engine #893, estimate: €250,000 - 310,000, sold at € 550,144 !

Full information.

1:8 scale model of the 1924 Grand Prix de Lyon Bugatti Type 35 by Jean-Paul Fontenelle of Art Collection Auto, France, estimate €4,900 - 6,100, sold for €4079

Gerald Wingrove 1:15 scale model of the 1932 Weinberger bodied Type 41 Bugatti Royale, estimate €12,000 - 15,000, sold for 15,689

THE 1953 SCUDERIA MILANO RUGGERI-SPELUZZI AIR-COOLED TRANSVERSE-8 2.5-LITRE FORMULA 1 PROJECT
Estimate: €170,000 - 220,000, sold for € 182,000
---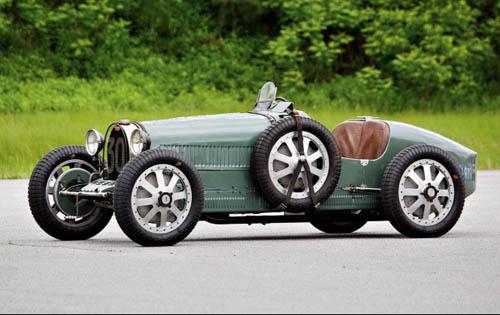 August 8, 2014

Bugatti Queen's Bugatti to star at Pebble Beach


A 1927 Bugatti Type 35C Grand Prix car belonging to so-called 'Bugatti Queen' model, dancer and racing driver, Hellé Nice is set to steal the limelight at Gooding's Pebble Beach sale, taking place on 16-17 August. It is expected to fetch up to $3.5m.

The Bugatti was purchased by Nice when it was three years old and was used extensively throughout the 1920s. It features a supercharged 2292cc straight-eight engine capable of producing 130bhp and propelling the car to over 130mph. The right-hand-drive car has been restored several times, most recently being repainted from French Racing Blue to its original shade of Taupe.

Nice was a pioneer in the truest sense of the word, becoming a successful racing driver after being inspired by Charlotte Versigny, who had campaigned a Talbot in 1927. Two years later Nice won an all-female Grand Prix at Montlhéry at the wheel of an Omega-Six, and in the process set a new Land Speed Record for women.

Her relationship with Phillippe de Rothschild led her to be introduced to Ettore Bugatti, which in turn resulted in her piloting the Type 35C in five Grands Prix in France.

Countless hillclimbs and sprints followed, as did an outing on the Monte-Carlo Rally, before she suffered a serious accident at the Sao Paulo Grand Prix in 1936, in which she was thrown from her car and several spectators were killed.

Though the trauma of the accident undoubtedly affected the star, it was the Second World War that would effectively end her career. In 1949 she was accused of being a Gestapo agent by Grand Prix driver Louis Chiron. Despite his lack of evidence, it resulted in her never driving competitively again.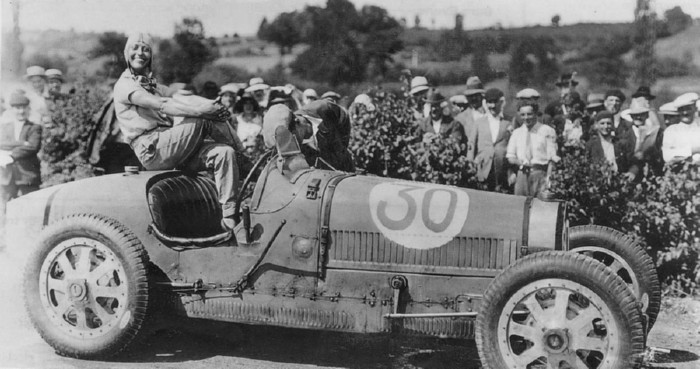 From: www.classicandsportscar.com
---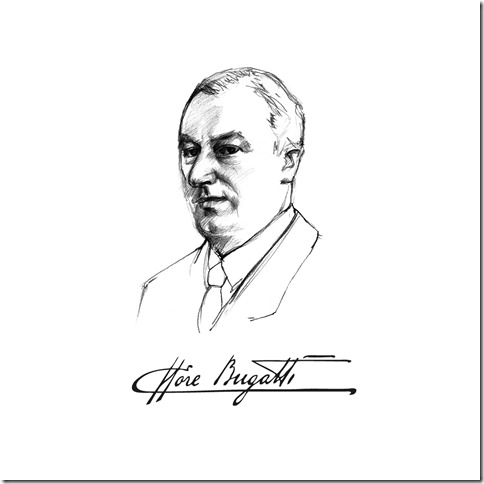 August 8, 2014

Pebble Beach: Bugatti celebrates the world première of the final Legend "Ettore Bugatti"



The sixth and final model of the exclusive "Les Légendes de Bugatti" edition honors company founder Ettore Bugatti
This Bugatti Legend harks back to the Bugatti Type 41 Royale
One-off presentation of all six Legends models in California
Molsheim, 07 August 2014.
As part of the Monterey Car Week (11 – 17 August), Bugatti is celebrating the conclusion of its "Les Légendes de Bugatti" edition (Bugatti Legends). One year ago, Bugatti launched the exclusive model series during the Monterey Car Week at the well-known and attended automotive events "The Quail: A Motorsports Gathering" and "Pebble Beach Concours d'Elegance" with the first Legend. This year, the crowning conclusion will be held on August 15 at the same location with the world première of the company's sixth Legend. It honors Ettore Bugatti, founder and patron of the brand, and is based on the historical model Type 41 Royale. As with the five previous Legends, only three of the final Legends model will be produced. It costs €2.35 million net. Bugatti is presenting all six Bugatti Legends together for the first and only time.
"Ettore Bugatti is our 'patron'. His demand that an automobile be a perfect harmony of technology and aesthetics still applies to us today," said Wolfgang Dürheimer, President of Bugatti Automobiles S.A.S. "Ettore Bugatti always strived for the creation of a total work of art. His ideas and vehicles set the foundation stone for an automobile brand that was lauded then and now as the most valuable in the world. Ettore Bugatti himself is a legend. It was clear from the start that we should dedicate the final Legends model to him personally."
Ettore Bugatti is one of the most important figures of the automotive world in the 20th century. He knew how to combine his family's rich artistic heritage with his technological ideas and succeeded in creating the foundation for a design language that shaped the brand for years to come and made it unmistakable. The brand's values of "Art, Forme, Technique" define this unique approach. Under his leadership, vehicles were produced that were ahead of their times both technically and stylistically, and are today highly valued collectors' items. Two such vehicles are the Type 57 SC Atlantic and the unforgettable Type 41 Royale that Ettore Bugatti built as the most powerful and luxurious car of its time. It also serves as the historical basis for this Bugatti Legend. The lightweight construction designs of the 1920s, such as the Type 13 "Brescia" or the Type 35 – which was one of the most successful racing cars in motor sport history with 2,000 victories and podium finishes – are further notable representatives of the brand.
One-off presentation of all six Legends at Pebble Beach
Alongside the world première of the Ettore Bugatti Legend, for the first and only time, Bugatti will be presenting all six models of the Legends Edition on Friday, August 15 at "The Quail: A Motorsports Gathering" and also on Sunday, August 17 at the "Pebble Beach Concours d'Elegance".
The Bugatti Legend "Ettore Bugatti"
The "Ettore Bugatti" Legend is based on the Bugatti Veyron 16.4 Grand Sport Vitesse1, as are all the other Legends. The super sports car is powered by a 1,200 PS, 8-litre W16 engine that transmits an unequalled 1,500 Nm at 3,000 to 5,000 rpm to the tarmac and rockets it from zero to 100 km/h in 2.6 seconds. With a maximum speed of 408.84 km/h (254 MPH) with the roof down, the Vitesse is the world's fastest production roadster ever built.
Design – pure image
"The legend's design is dedicated to Ettore Bugatti's passion for the unusual in automobile construction. One of his masterpieces – the Type 41 Royale – never fails to impress and inspire with its mere presence," explains Achim Anscheidt, Chief Designer at Bugatti. "Ettore liked to describe his creations as 'Pur Sang', as thoroughbreds. In dedicating this Bugatti Legend to him, we are staying true to his philosophy of aesthetically functional beauty for the automobile by using pure and natural materials such as polished aluminium and the finest cordovan leather."
A body of clear-coated carbon and hand-polished aluminium Exterior. The design of the carbon body of the Legends model "Ettore Bugatti" is based on a 1932 Type 41 Royale with the chassis number 41111 and sports a "yin-yang" color split.
The front part is made of hand-polished aluminium and finished with a clear coating. Bugatti is the only manufacturer to use clear-coated aluminium on a production vehicle. For the first time, this material is used for the entire front and side panels including the bonnet, the mirror bases and housings, the exterior door handles and the corners of the bumpers, the wings, the doors and the regions just behind them, the so-called "medallions" (in French). The vehicle's rear, sill panels and A-pillar trims are finished with dark-blue exposed carbon.
Based on one of the most famous wheel rim designs in automotive history, the polished, diamond-cut wheel rims were specially developed for this vehicle and color-coordinated with a dark-blue finish. The eight-spoke wheel was created by Ettore Bugatti who was looking for a light wheel for his racing cars, like the famous Type 35. Ettore Bugatti thus made a decisive contribution to the development of the aluminium wheel in automobile manufacture. The new wheel rim design on the Vitesse Legend therefore carries the name "Ettore Bugatti."
The distinctive Bugatti horseshoe and the EB logo at the rear shine out in platinum and underscore the gleaming exterior appearance of this Bugatti Legend.
The signature of the company's founder Ettore Bugatti is engraved into the tank and oil cap and painted in silver.
Finest cordovan leather in the vehicle interior Interior. Bugatti is using two types of leather for the first time in the "Ettore Bugatti" Legend. Traditional calf's leather – here in a natural brown (Brun Cavalier) – is used throughout the vehicle interior. Those parts that are typically touched by hand including the steering wheel rim, gear lever, door handles, centre console armrest and door handle recesses, the switches in the door trims and in the roof module are all jacketed in an exclusive, natural cordovan leather. Bugatti is using this skilfully created leather – the tanning process alone takes around six months – for the first time. It is typically used for high-quality shoes and is particularly durable and sure to the touch.
The exterior's blue exposed carbon is present again in the vehicle interior, such as in the door trims and cover of the rear centre box, perfectly complemented by the seats' dark-blue seams. The eye-catching feature of the interior is the platinum-coated dancing elephant, that is inset in the cover of the rear centre box and reminiscent of the hood ornament of the Type 41 Royale. The figure was originally sculpted by Ettore's brother, Rembrandt.
Other well-known Legends features have also been included in this vehicle, namely the "Brun Cavalier" leather-clad insert in the centre console extension which bears the "Les Légendes de Bugatti" nameplate and the relief of the dancing elephant as well as the door sills bearing the portrait and signature of Ettore Bugatti.
Ettore Bugatti – automotive pioneer and legend
Ettore Arco Isidoro Bugatti – his full name – was born in Milan on 15 September 1881, the second child of this highly creative family. His parents hoped that he would pursue an artistic career like his father and grandfather before him. But instead he became fascinated with technology, leaving the "Accademia die Belle Arti di Brera" in Milan to begin, at 17, an apprenticeship in a bicycle/tricycle factory. There he built his first motorized tricycle, and soon thereafter his first automobile. The construction was so remarkable that it earned him a prize at an internationally recognised exhibition in Milan. In the following year, he moved to Niederbronn in Alsace, where the manufacturer De Dietrich, impressed with Bugatti's first construction, trusted him with the management of automobile manufacture. Ettore Bugatti developed new models and took part in several car races until 1904. After leaving De Dietrich & Cie, he took on a number of jobs in automobile construction, including a job at the Deutz gas engine factory in Cologne in September 1907. At this time, Bugatti privately developed a very light vehicle, the Type 10, which he built a little later under his own name.
He left Deutz in 1909 and leased the empty buildings of a former dyeworks factory in Molsheim (Alsace) and founded his own automotive company. Production of the T13 began and grew year by year.
Thereafter came other light sports cars and an entry into motor racing. Bugatti enjoyed racing successes at Le Mans in 1920 and four times at Brescia in 1921. He built the famous Type 35 Grand Prix car in 1925, an automobile that won an incredible 412 races in only its first nine months. It was during these years that production of those automobiles people associate with the Bugatti brand was begun. Racing, sport and touring cars of their quality can hardly be found from any other factory. The prototype for the kingly limousine was produced in 1926: the Type 41 Royale.
Ettore was a versatile inventor. He not only built cars but also dedicated some of his time to the construction of trains, aeroplanes and boats. So it was that Royale engines were produced for the new high-speed train for French railways in Molsheim at the beginning of the 1930s.
Production of the Type 57 began in 1934. This best-selling touring car's body was designed by Ettore's son Jean. Ettore handed over day-to-day running of the business to Jean in 1936, by which time his son had made a name for himself as an exceptionally gifted designer. Ettore's hopes for the future of the company rested on his son's shoulders. Tragically, Jean died in an automobile accident in 1939, a heavy blow for Ettore that also had consequences for the company. Ettore Bugatti died from complications arising from pneumonia on 21 August 1947 in Paris. His business was closed upon sale of the company at the beginning of the 1960s. It was not until Volkswagen acquired the brand rights in 1998 and began development of the Bugatti Veyron 16.4 that the foundations for a sustainable and successful continuation of the brand were laid.
Ettore Bugatti's legacy is still present today and lives on in the brand.
The Type 41 Royale – automotive icon and "vehicle of kings" As a young man, Ettore Bugatti had always dreamt of building the most powerful and luxurious production car the world had ever seen. It was not until 1926 that he was able to turn his dream into a reality. With the acclaimed Type 41 Royale, he created a car that was in a league of its own in terms of performance, size, comfort, quality and elegance. For its prototype, Ettore designed an 8-cylinder in-line engine with an overhead camshaft, a capacity of almost 15 liters and a monolithic head and engine block. The production version had a 12.7-liter engine with the three valves per cylinder that were typical for Bugatti at that time. The engine produced around 300 PS at less than 2,000 rpm. The Royale is also regal in size: measuring approximately 6.5m long and 4.3m across the wheelbase, it weighs around 3 tonnes (approx. 6,600 lbs.) and boasts a 190-liter tank. The car's crowning glory is its radiator cap which features an elephant sculpture created by Rembrandt Bugatti, Ettore's brother. This elephant has since become a symbol that is synonymous with the Bugatti brand to this day. The difficult economic conditions in Europe and America at the time meant that Ettore was unable to achieve his goal of producing the 25 vehicles that he had intended to sell to various royal families and heads of state. Only six vehicles were built and all of them still exist today.
Comment from BugattiPage: To be honest, I do not see any Ettore Bugatti in this "Legend". The famous Royale 41111 had a body designed by Jean, and the elephant was by Rembrandt. I wonder who on earth could sell this as an Ettore Bugatti "Legend". And for that, what's most legendary to the car is of course it's price tag. That is where it resembles the Royale.
Probably the only thing about this Legend that Ettore himself might like, is the drawing below, of a race against a horse!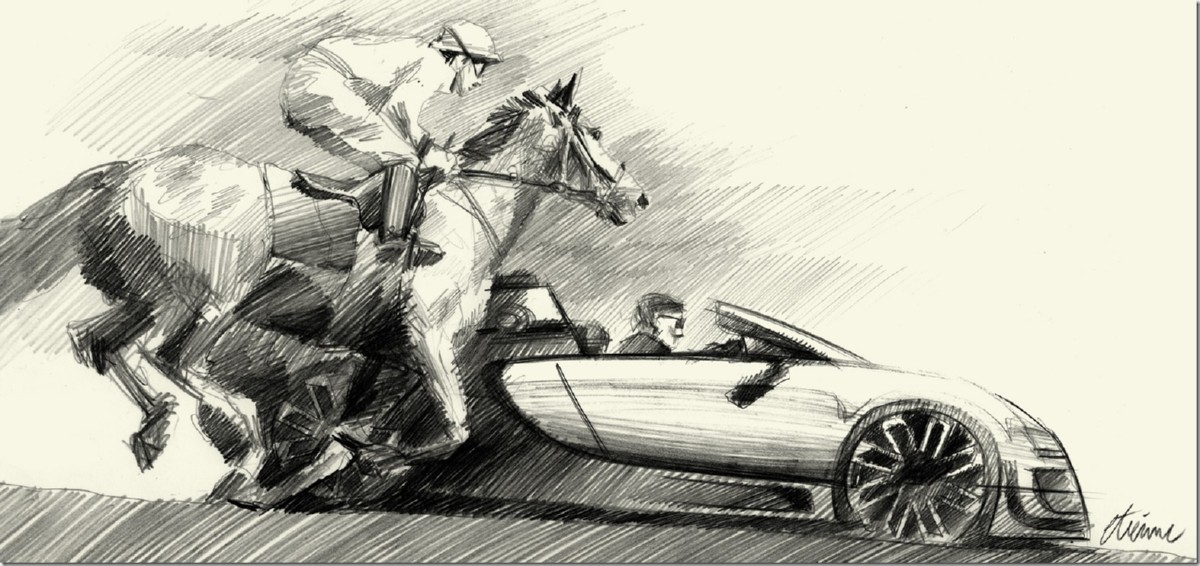 ---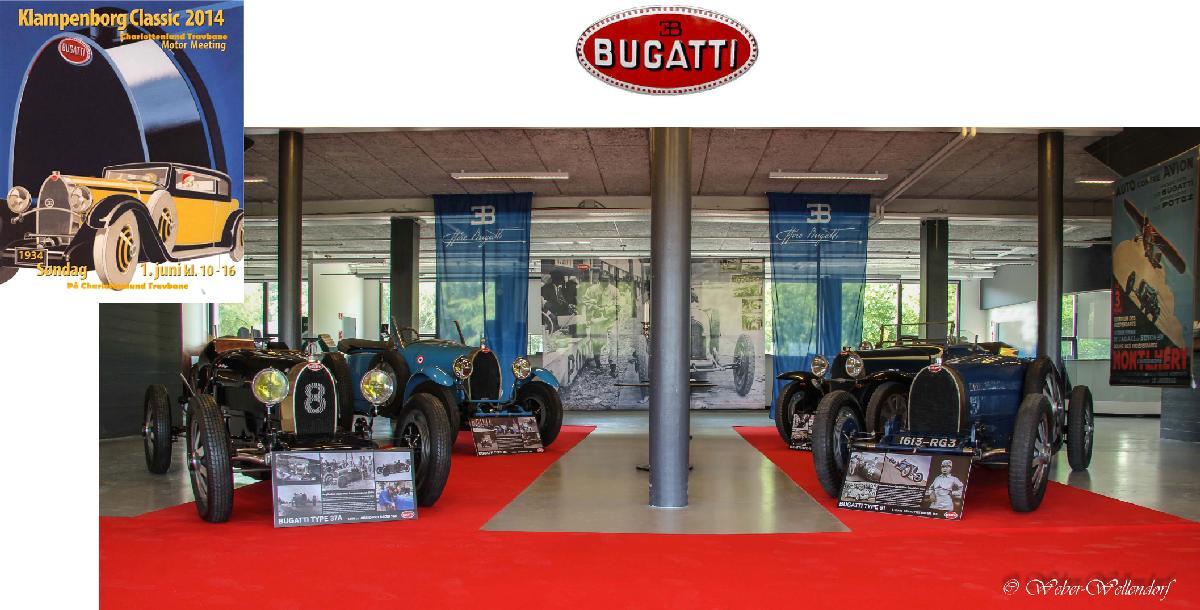 June 28, 2014

Klampenborg Classic Motor Meeting, Denmark – The first Bugatti exhibition

Sunday 1st June marked the 30th anniversary or the popular Classic Meeting at a horse race track North of Copenhagen. As a special feature a small and exclusive Bugatti exhibition was held for the first time showing 4 rarely seen cars from a very limited number of Danish owned Bugattis.

Something new
Untiring initiative taker to Klampenborg Classics, Kim Polte, says: We wanted to maintain the traditional concept of a nice Sunday out yet add something new. The idea erupted as a very special Grand Prix Bugatti returned to Denmark from 6 years of restoration abroad. What better place to present it than at our meeting!

Rarely seen cars
At the same time it is a well known secret that there are about a dozen rarely seen Bugattis in Denmark. Wouldn´t it be nice if we could persuade some of them out of hiding? Teaming up with Henrik Schou-Nielsen for layout and production we succeeded in bringing out 4 Bugattis for this special Sunday. More were hoped for, but some were in stages of restoration, others had not moved for years, and one was away rallying in France.

93 year old owner
The best story was Mrs Hauberg who brought out her well patinated Type 40 Jean Bugatti roadster. No simple task as the car hadn´t run for some 15 years and needed a long overdue MOT. Moreover her son, Lars, had never driven the car. But with help from friends and volunteers it all came to be and a delighted Mrs Hauberg received a 1st prize for getting us into action and son, Lars, behind the steering wheel. Normally one doesn´t ask a lady her age but in this case it may be permissible to state that the owner is 93 years!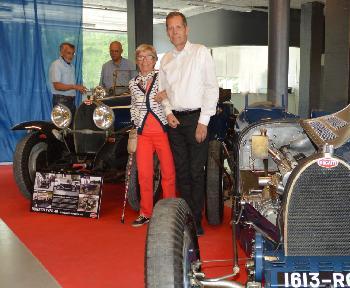 Other Bugattis
The other Bugattis present numbered aforementioned Type 51A Grand Prix Bugatti originally raced by French female racing driver, Anne Itier, in over 30 races prewar. Also a delightful Type 40 with classical Grand Sport body. A car that has been much rallied and made it across the Atlantic - and back. Finally a Type 37A rep. was lent out by the Strojer Collection, the most colourful private collection in Denmark.
Klampenborg Classic
The Classic Meeting has always been popular with Copenhagen centred Danes, but a switch of location from one horse race track to another and the Bugatti feature made for renewed interest and an amazing turnout of 476 classic cars with thousands of visitors.
Here to stay
With 30 years now having been rounded and as popular as ever the Klampenborg Classic is here to stay. The success of the Bugatti feature, the MG club´s 60 year anniversary, and other highlights prove the need to develop ideas and bring on new initiatives. The event relies on hard working volunteers and the enthusiasm of Charlottenlund horse race track, but this year´s success means that we will be back next year, says founder, Kim Polte.
Provided by: Henrik Schou-Nielsen
---