Contents
the Bugatti revue The worlds first on-line Bugatti focussed magazine!

All Bugatti types with technical caracteristics, ilustrated

Bugattis by chassis numbers

Picture Sheets of the Bugattis, per Catagory

Information on the Bugatti types is also included!
Jacob Munkhammar Bugatti site
This site was missed since 2001, I put it back on line, thanks to Pascal van Mele, the version is of January 2001!
Especially the the Hunting for Bugatti Information, "Everything Bugatti" (articles) and the Bugatti cars database are of the most interest, but you will find much more!!!
However, of course Jacob does not respond to mails anymore, some older links may not work, the Pim Faber books, models and stamps databases do not work, and the Hunting Bugatti Questions are not followed up. As a service, I will post all answers to his existing questions on my pages, new questions will be published on my site also!


Bugatti up to date information / News.

Bugatti Commercial / Merchandise.

Bugatti special garages special pages

Archive of older articles and information
---
Bugatti news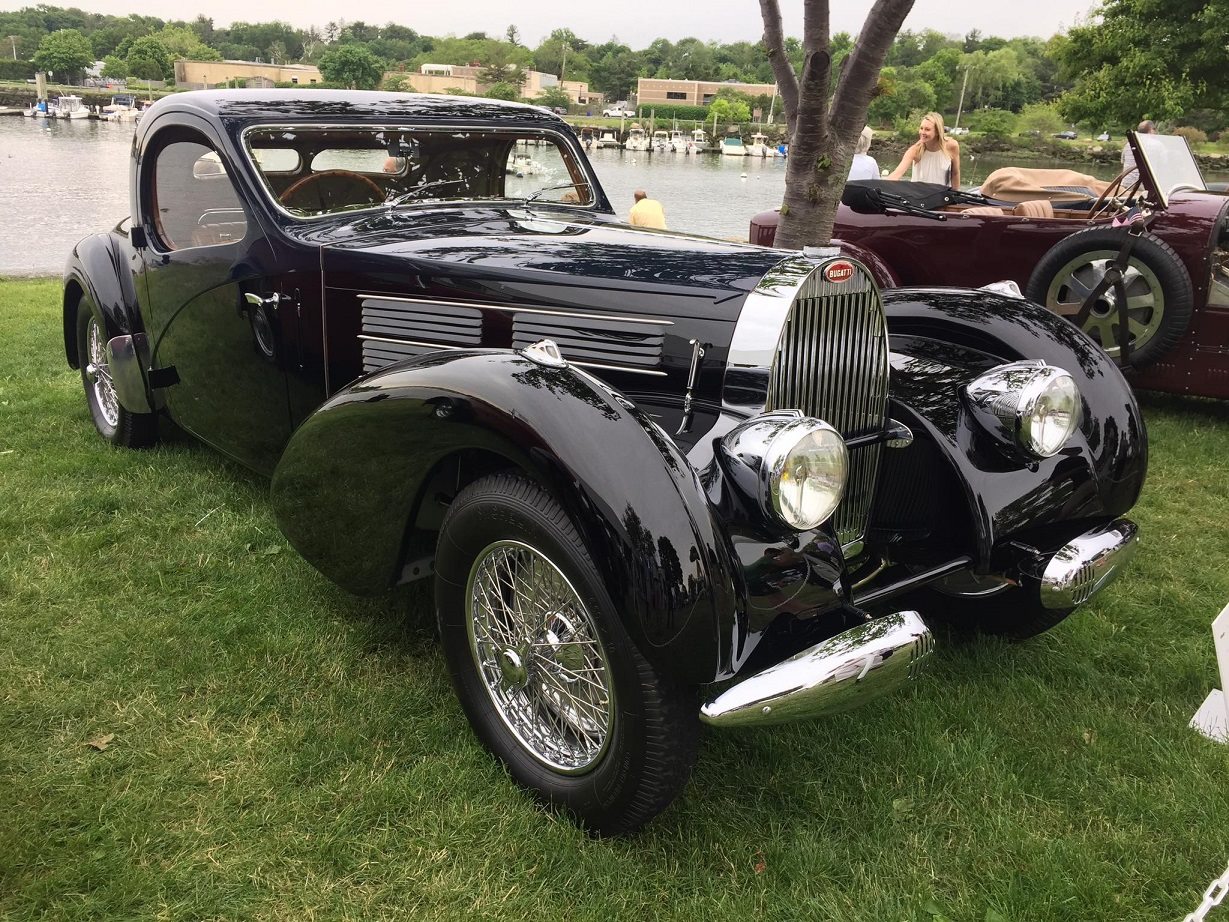 June 10, 2017

Bugatti T57C Atalante wins Best of show at Greenwich Concours d'Elegance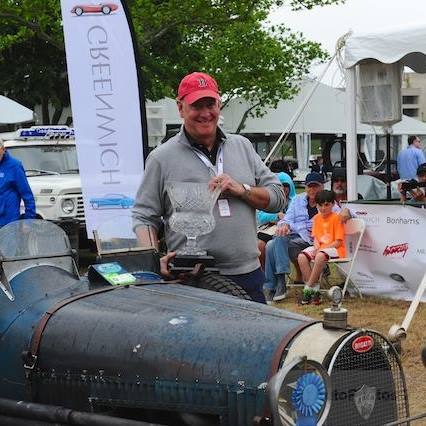 The 22nd edition of the Greenwich Concours d'Elegance was held this past weekend June 3/4 at the beautiful waterfront venue in Roger Sherman Baldwin Park in Greenwich, Connecticut. It was an event celebrating both vintage and some of the latest offerings from the auto industry. The event featured the American Classes on Saturday and the International Classes on Sunday. (so there was one best of show for each day!)

Bugatti was one of the featured marques for the Sunday, so not surprising that one of them won the grand prize!

However, there were more Bugattis that received prizes:

Best in show: 1938 Bugatti Type 57C Atalante "Private Collection"
Chief Judge's award: 1932 Bugatti Type 49, Gene Cesari
The Journalist's award: 1925 Bugatti Type 30, Peter Charlap
Preservation award: 1926 Bugatti Type 37, Sarah Rheault
HVA Award: 1931 Bugatti Type 37, Sandy Leith (Photo on the right)
4 people received the Bugatti - BIC award (don't know what that means):
1929 Type 40 Grand Sport, Ted and Christina Zamjahn
1927 Type 37A, Maureen Serri
1938 Type 57C Atalante Coupe, "Private Collection"
Type 43 Grand Sport, Richard S. King

For more photographs, go to:
newenglandrockreview.com
richardscarblog.com
---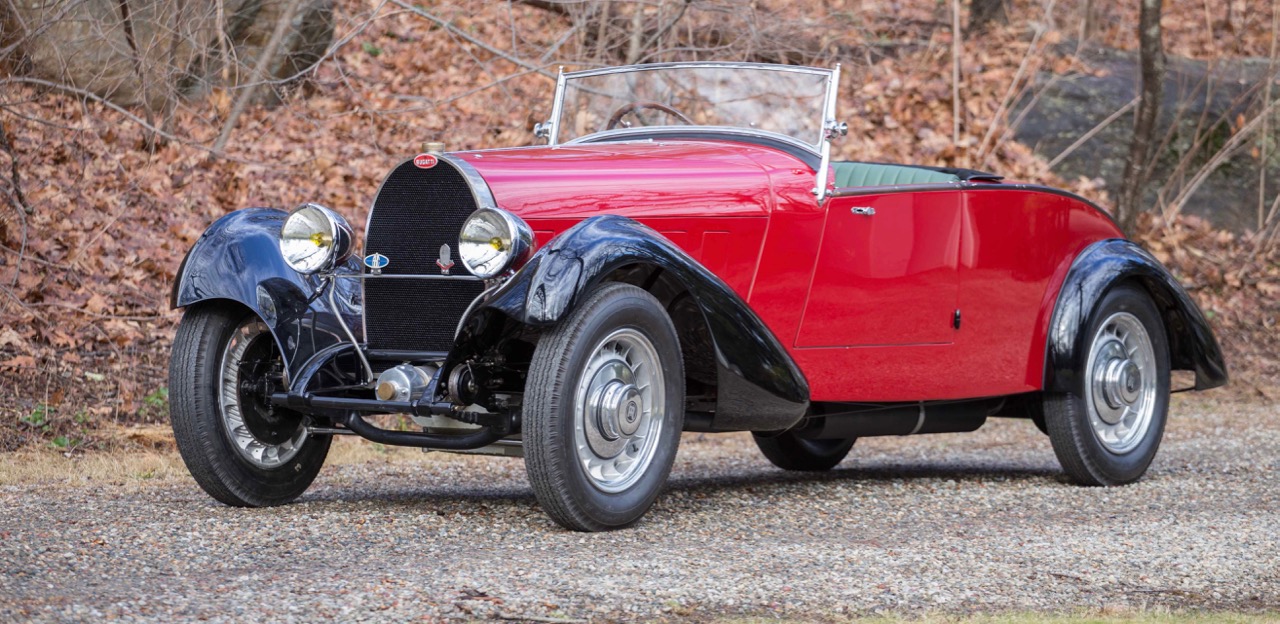 June 8, 2017

Auction Results

Bonhams' Greenwich Concours d'Elegance Auction, June 4, 2017
Lot 178, 1932 Bugatti TYPE 49 ROADSTER, Coachwork by Labourdette, Chassis no. 49534, Estimate €580,000 - 760,000, Sold for US$ 676,500 (€602,457) inc. premium
Lot 187, 1937 Bugatti Type 57 Pillarless Sports Coupe, Chassis no. 57443, Estimate €360,000 - 430,000, Amended (Not sure if that is the same as not sold?)
Lot 181, 1993 Bugatti EB 110GT, Chassis ZA9AB01E0PCD39034, Estimate €450,000 - 630,000, Sold for US$ 605,000 (€538,783) inc. premium
---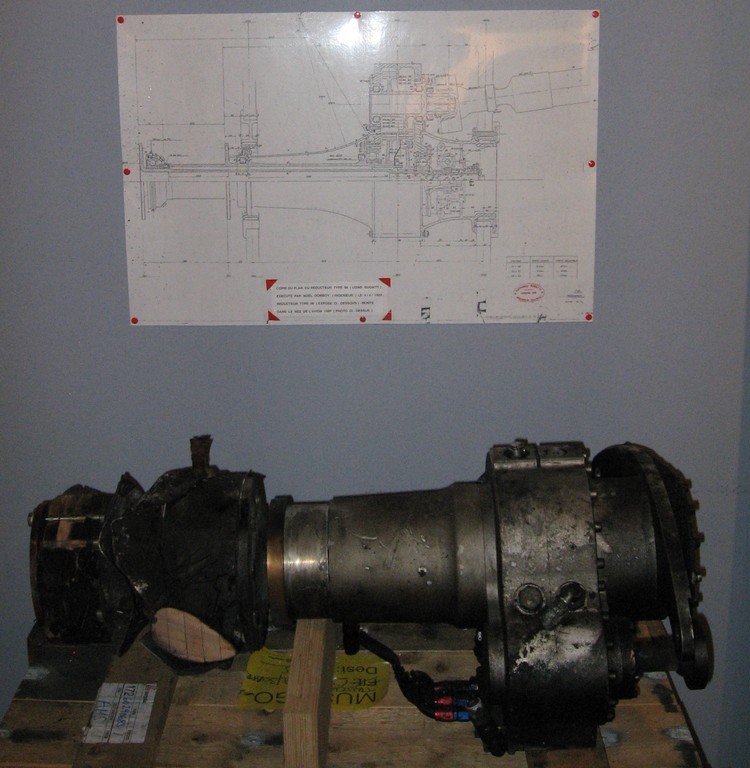 June 4, 2017

Permanent memorial for Scotty Wilson in Molsheim

Last week I heard from my friend Daniel Lapp in Molsheim that a permanent memorial for Scotty Wilson, the valiant builder and pilot of the replica Bugatti 100P raceplane who so tragically crashed last summer, has been set-up in Molsheim. Today I received the photographs presented above and below.

The center of the memorial is the actual reduction gearbox from the nose of the airplane, even more impressive because it still has all the marks of the burnt-out airplane. Above the gearbox is a copy of the original drawing for the gearbox, which was designed by Noël Domboy in 1938. A copy of this drawing was presented to Scotty Wilson at the Molsheim Festival in September 2015, a little less than a year before the crash.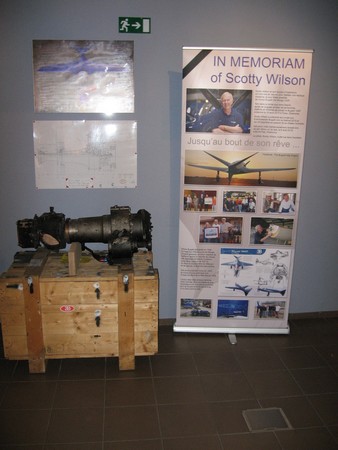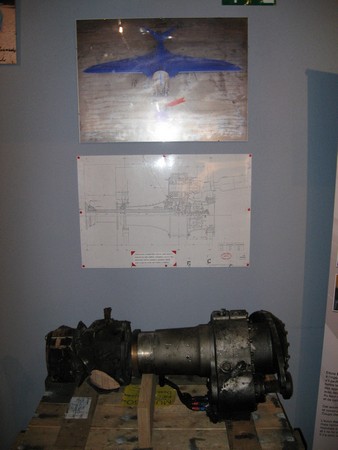 The memorial is at the "Fondation Bugatti", which is inside the Chartreuse museum, open to the public on most days, during the summer season.

Flyer for the Chartreuse museum, with location details and opening times.
---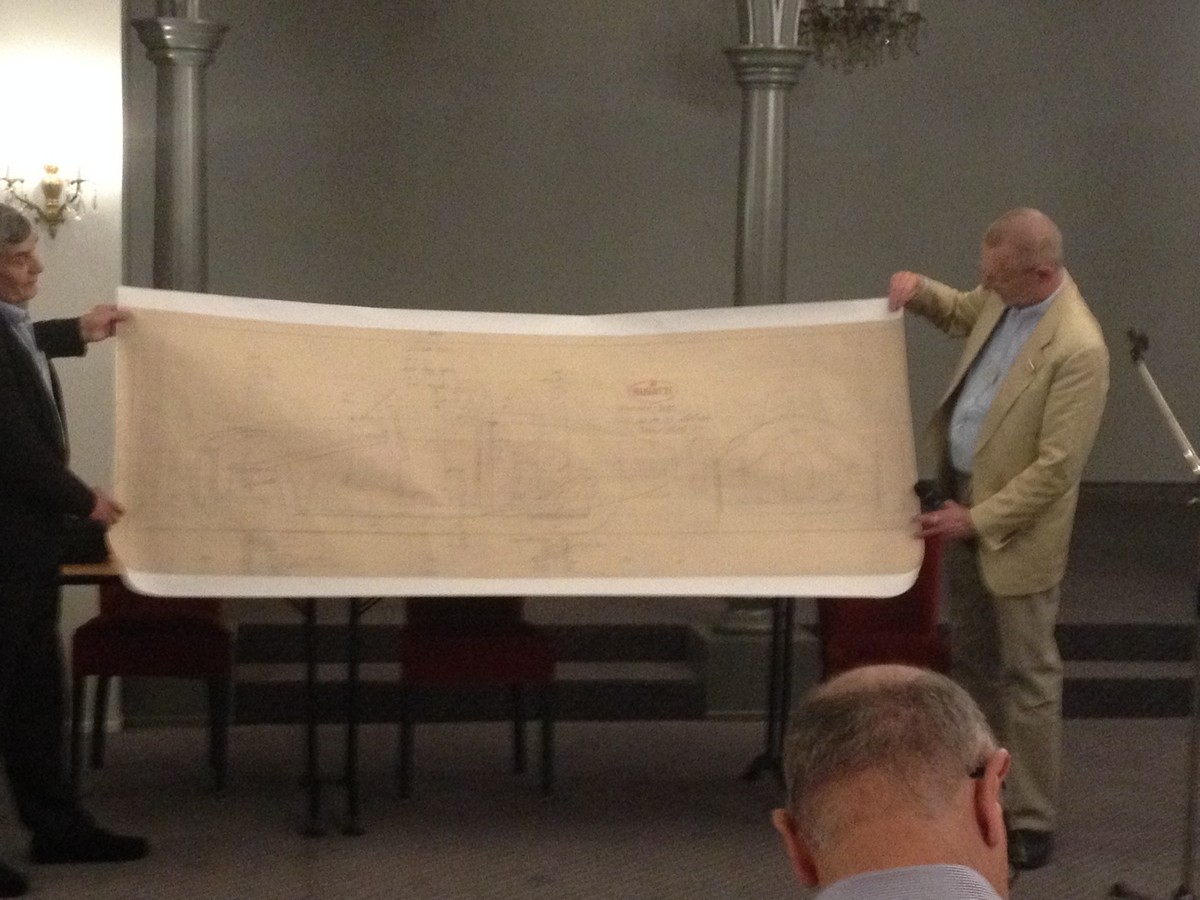 June 3, 2017

Earliest Colombo Type 251 drawing presented at Conference!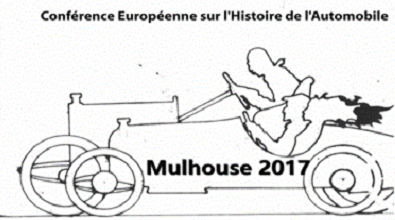 On May 26 - 28 the First Pan-European Automotive History Conference took place in the Musée National de l'Automobile, collection Schlumpf in Mulhouse, France.

At the conference John Barton, Englishman living in France, held a presentation on Bugatti 1943 - 1963, and focussing on the many four-cylinder designs that were made, but never fully developed. Interestingly, he brought with him the only surviving person who worked in the post-war Bugatti race department. René Strub worked with Bugatti from 1950 to 1957, in the race department which was fully locked-up; nobody was allowed to enter without permission.

René worked for example on the "turbofrein", a ventilated disk brake with forced cooling pump effect. John Barton, who is the owner of many drawings and patterns from the post-war Bugatti period, built the brake using the original patterns, and brought this with him to the conference also. René, 92 years of age, gave a very lively speach for the complete audience!

Finally, John presented an original Colombo drawing from 1953! (Top Photo, with John Barton and Anders Ditlev Clausager) The drawing shows the outline of the car, and very clearly shows the independent front suspension. In fact the drawing was presented to other manufacturers, who thought it too innovative, before Colombo showed it to Roland Bugatti.

As we know now, both the turbofrein and the independent front suspension were not used on the very unsuccesful Type 251, but Colombo could stay, and was in the race department for one week per month, during the development of the Type 251.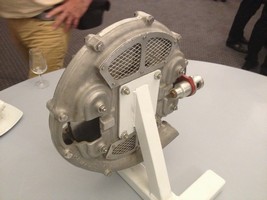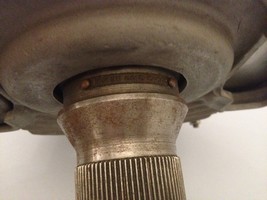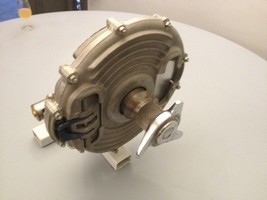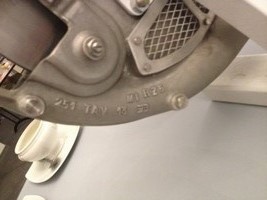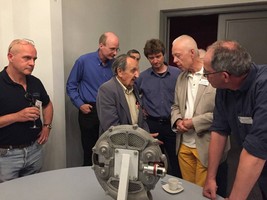 Four views of the Colombo sketched and René Strub designed disk brake, in the last photo René talking about and explaining the brake.

The conference itself was a huge succes, with about 80 people attending. As everybody present was technically oriented and mostly expert in a specific field (be it microcars or a specific marque, coachbuilder or era), the discussions were lively and interesting.

The conference, the first in it's kind, and with a focus on subjects which have a cross-border European interest, was organised by Thomas Ulrich (AHG, Automobil-Historische Gesellschaft e.V., Germany) and Anders Ditlev Clausager (SAHB, Society of Automotive Historians in Britain) from Germany respectively England. There were talks by Richard Keller, with a welcome from the Musée National and Cité de l'Automobile, France, as well as:
Christopher Balfour, UK: Personal experiences relating to the decline of the British motor industry
Dr Stefan Dierkes, Germany: Do we need more science in automotive history research?
Fons Alkemade, The Netherlands: Hard times for the European automotive industry after the Great War: The case of Spyker and Maybach
Prof. Alessandro Silva, Italy: The re-start of European Grand Prix after World War Two
Guy Loveridge, UK: The first European Grand Prix at Silverstone, 1950 (with a short film)
John Barton, France: The last Bugattis from Molsheim
Prof. Patrick Fridenson, France: The beginnings of Renault in Belgium
Oliver Heal, UK: Louis Coatalen, a French designer in England
Dr Gundula Tutt, Germany: History, materials, and technology of car paintwork, 1900 to 1945
Frederik Scherer, Germany: Aesthetics and design of motoring books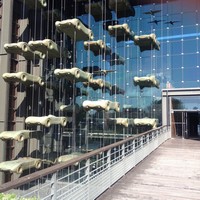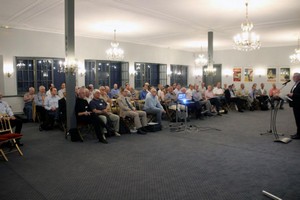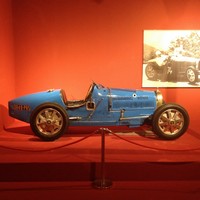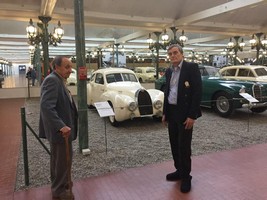 Left to right: Entrance to the museum, the audience listening to the welcome speach by Richard Keller, Fritz Schlumpf's Bugatti Type 35B, and John Barton with René Strub in front of the Bugatti Type 73, which, as John explained on several occasions, is uncorrectly identified on the museum's information shield as Type 73A.
On the Sunday the conference was continued in the Volante museum near Freiburg, just over the border from Mulhouse. However, I did not attend that part, as I had already been to the Volante museum in September 2016.
The conference was such a success, that a 2nd conference will be held in about two years time; exact date still to be fixed. This will be held in the Louwman museum, the Hague, the Netherlands.
Some of the photographs were provided by John Barton and Thomas Ulrich, the others were taken with my phone, excuses for the quality....
---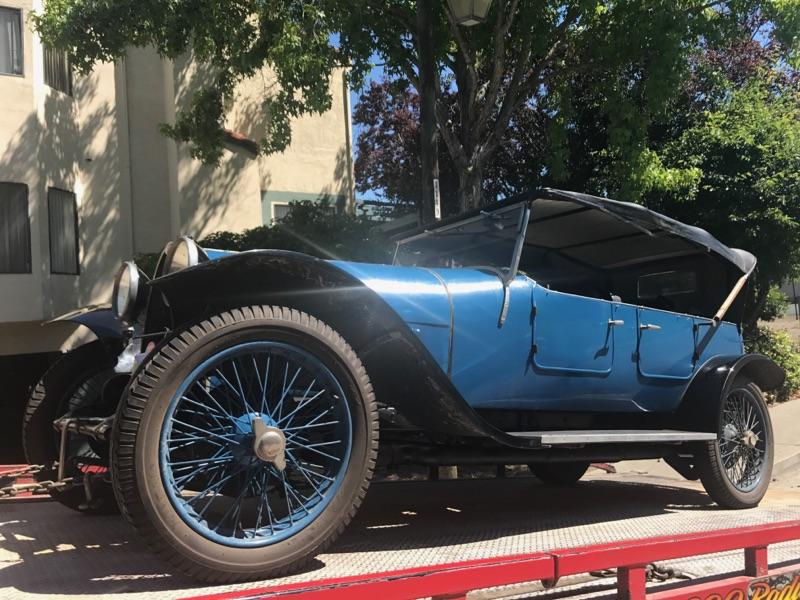 May 31, 2017
Stolen Type 30 Bugatti found back!
Joe Freeman's type 30 (4503) has been found. The police have a "person of interest!"
Margaret Puttman who sent the message around, and was a former owner of the car, says the following about this:
A touch of humour in this sad episode. When I owned the car, various friends would often say 'aren't you worried about someone stealing it?" My reply was always "If they can start it they can have it." Guess what – they tried but they couldn't start it!
---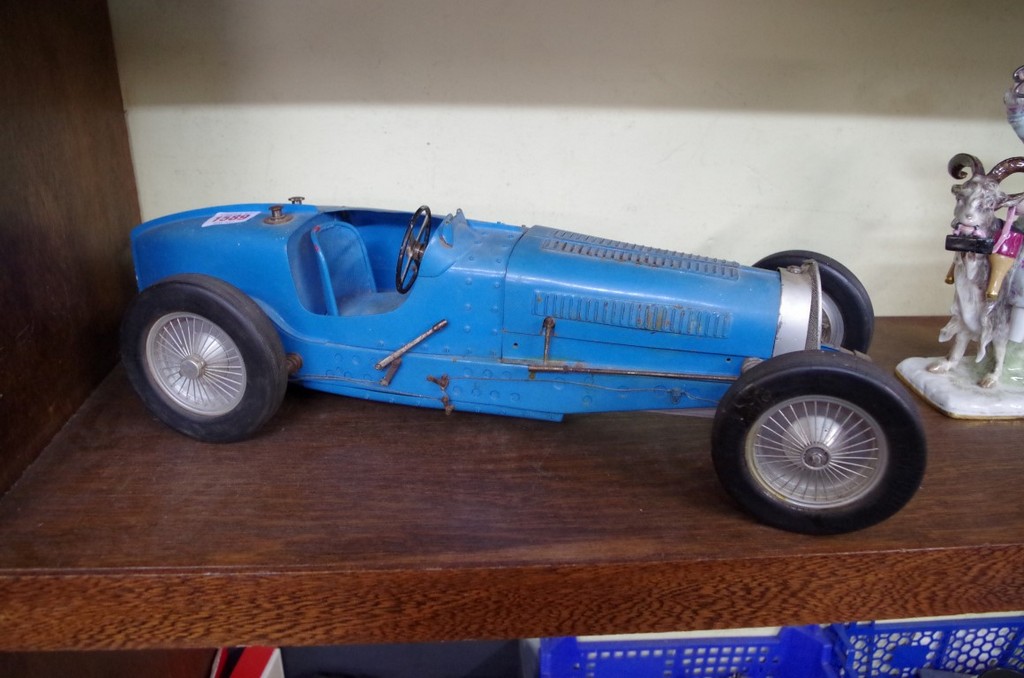 May 31, 2017
Auction result
In the recent "Stride & Son" Auction, which was held on May 26 in Chichester, West Sussex, UK, this (scratch built) Model of a Bugatti T59 racing car was offered.
The model is approximately 22" long (55cm), which would make it about 1:12 scale.
I announced the auction on my website, and the miniature was sold for a staggering 1600 pounds! The seller first thought it had gone for 160, but then he noticed the additional zero...
---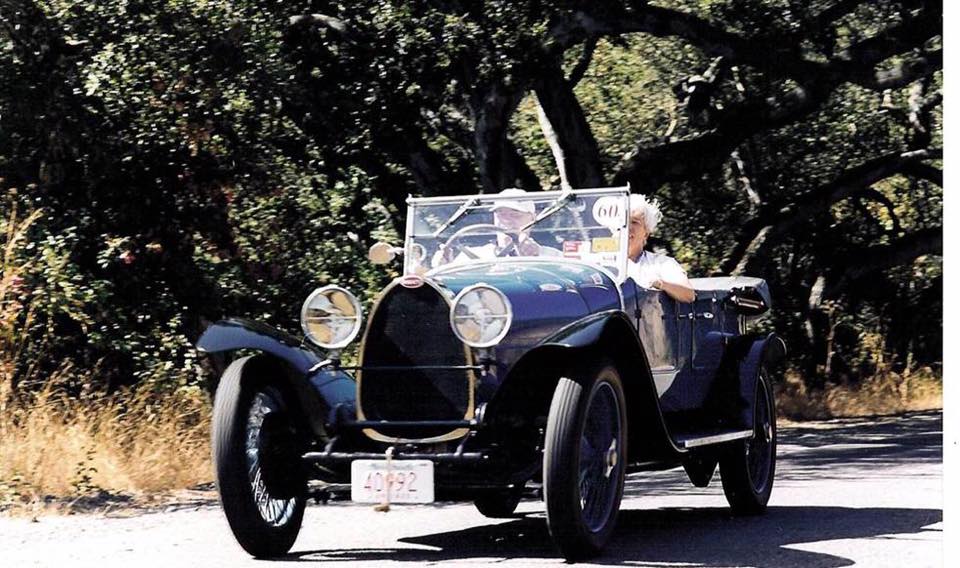 May 18, 2017
Stolen Type 30 Bugatti
A Bugatti Type 30 belonging to the Freeman family has been stolen! (Posted on Facebook first)
I have a most unfortunate piece of news:
Almost immediately after its arrival back in the U.S. from Australia, on the night of May 12-13th my Type 30 (known as "Adelaide"; Chassis 4503; engine 4384) was stolen in a locked and secured trailer parked in the lot of the Phill Reilly Restorations shop, 5842 paradise Drive, Corte Madera CA. In case any parts are sold separately: The engine number is 360 ex 4384, the gearboxnumber is 898.
Officials from several Marin County police units and the Hagerty Insurance crime specialist are already investigating the theft, which we believe might have originated at the dock when the car was unloaded from its container on Friday. Very few other people would have been aware of its return to the States.
I am attaching a picture of the car taken several years ago, although I know many have seen it recently. I am offering a generous reward for any information that leads to the safe return of my beloved car. While I doubt it will head in your direction, I thought you should know.
A truly sad end to our wonderful tour down under
Thanks, Joe Freeman
Below a photo of the unique and extremely practical chokes which Stuart Saunders made for the carburettors of the engine of this Bugatti.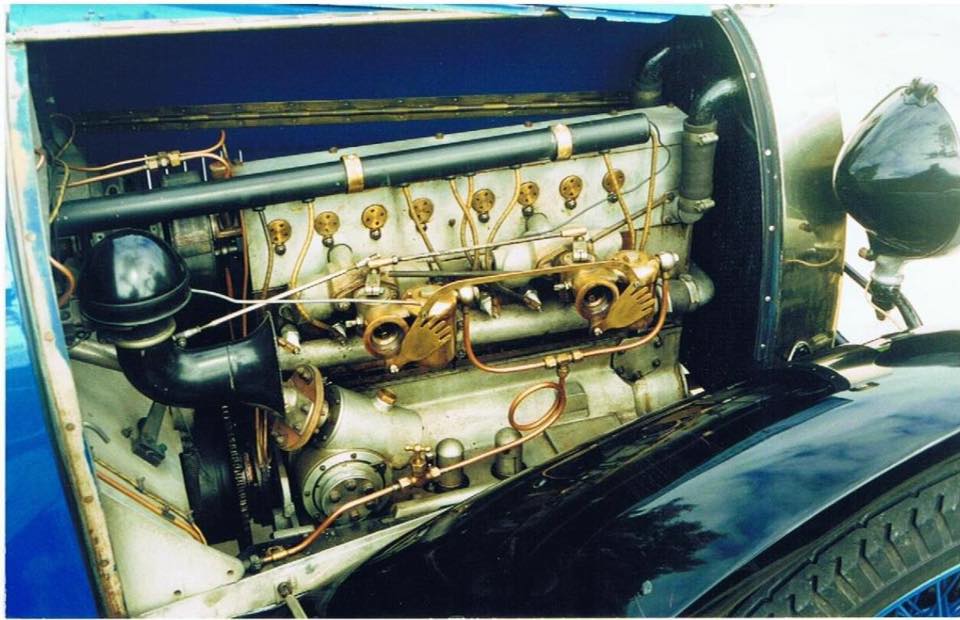 ---
May 18, 2017

Watch out for this scammer.

I get reports from a Bugattiste that a scammer is on the loose; he (He uses the name Chris Blake, e-mail: chris22blake@yahoo.com) offered 5 Type 51 wheels on PreWarCar.com. However, the same wheels, using the same photographs and exactly the same advert text, were offered two years ago (and still on my site, as nobody asked me to remove them, I did this only now), and are now in the Bugattiste's garage...

Apparently, this guy "Blake" offered some other parts on PreWarCar as well, plus he offered parts directly to Bugattistes.

Thus: Always be careful, whenever buying parts from the Internet, and when in doubt, ask me (for adverts on my website) if I know the seller or not.
---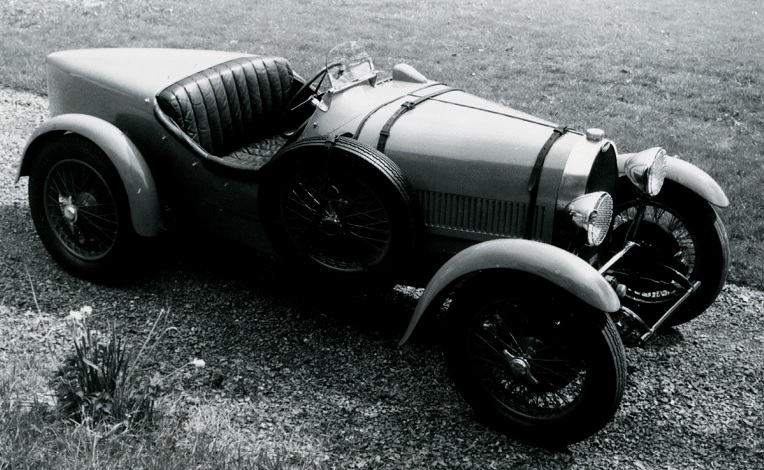 May 11, 2017
Auction results.
Osenat Auction, Obenheim, France, May 1, 2017.
1928 Bugatti T40, Chassis 40657, engine 501, estimate: 200,000 - 300,000 €: Sold for: 348,000 €
Bugatti Baby, Chassis 188, estimate: 50,000 - 70,000 €: Sold for: 86 800 €
Bugatti Type 40 coupé body, By Million Guiet, estimate: 15,000 - 25,000 € : Not sold

---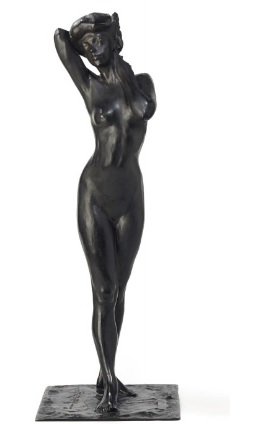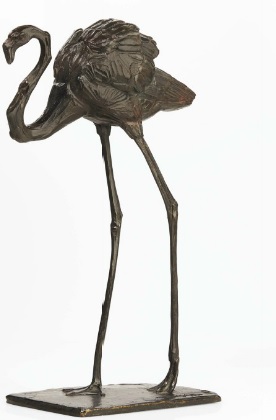 April 19, 2017
Rembrandt Bugatti Sculptures on auction
REMBRANDT BUGATTI 1884-1916
FEMME NUE DEBOUT, LES MAINS SUR LA NUQUE, PIÈCE UNIQUE, VERS 1906
Estimate EUR 300,000 - EUR 500,000 (USD 319,864 - USD 533,107)
FLAMANT EN MARCHE, LE MODÈLE CRÉÉ VERS 1912
Estimate EUR 60,000 - EUR 80,000 (USD 63,973 - USD 85,297)
The auction will be Christie's Design Vente Du Soir, 16 May 2017, Paris, France
Rembrandt Bugatti is of course most famous for his animal sculpture, but he did quite a few very attractive sculptures of humans, most of them (luckily!) nude females.
---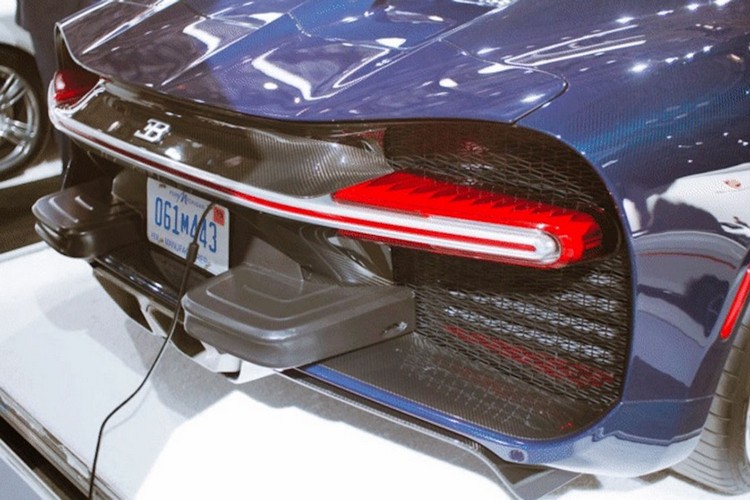 April 19, 2017
USA specification rubber extensions are back - on the Chiron
The dreadful bumper protrusions are back! The US-spec Bugatti Chiron put on display at the 2017 New York Auto Show has the exact same rubber extensions as seen on past European imports.
Apparently, the Bugatti Chiron bumper extensions are solely for insurance reasons and have nothing to do with any kind of federal regulation. Jalopnik had a quick chat about the odd Chiron bumper with a Bugatti executive. According to the spokesman, the insurance company requires the vehicle to have low-speed bumper protection and hence the protrusions.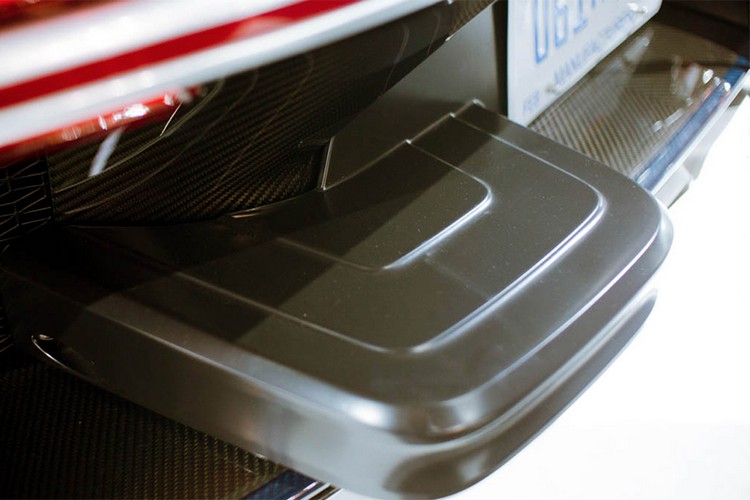 Editor: I have two questions:
How easily can these dreadful things be removed?
If you have the cash to buy a Chiron, would you need to worry about an insurance at all?
---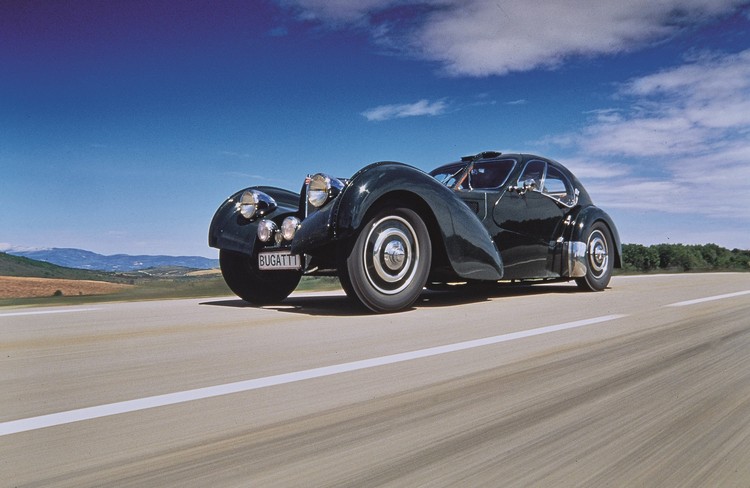 April 4, 2017
Bugatti Type 57SC Atlantic wins the category "Classics of the 1920s and 1930s"
The Bugatti Type 57SC Atlantic, one of the French traditional brand's most impressive masterpieces and one of the most valuable automobiles in the world, has been chosen by readers of the motoring magazine Motor Klassik as the best car of the 1920s and 1930s. At this year's "Motor Klassik Award" ceremony, the design icon from Molsheim took first place in the category of "Classics of the 1920s and 1930s." The award ceremony was held yesterday evening at Schloss Dyck.
"We are very pleased about this award, which honours one of the world's most famous and most valuable classic cars," said Julius Kruta, Head of Tradition at Bugatti Automobiles S.A.S., who received the award in person. "The Type 57SC Atlantic is a superlative automobile and is certainly one of the most impressive designs of Jean Bugatti. This is the fourth time that the Motor Klassik Award has gone to the pre-war supercar, which was the clear winner against five competitors in its class, with 32.6 percent of the votes cast.
In 1936 to 1938, only four examples of the 57SC Atlantic were built. Nowadays, only two of these cars still exist in entirely original condition. The Atlantic is the most famous variant of the Type 57. With the SC model ("SC" stands for "supercharger"), Jean Bugatti, son of company founder Ettore, wanted to offer a sports racing variant in addition to the standard version. The sports coupe was equipped with an in-line 8-cylinder engine with a displacement of 3,257 cm³ which developed about 200 PS. The vehicle could reach speeds in excess of 200 km/h.
Jean Bugatti, who had already proved his talent for special body designs with the Type 41 Royale, the Type 55 Roadster and the Type 50, designed an extremely lightweight, aerodynamic body for the Atlantic. Aluminium was used for the body panels. The result was the distinctive design feature of the Atlantic, a clearly accentuated dorsal seam running from the windscreen to the rear bumper. This is a riveted joint that holds the two halves of the aluminium body together and can still be seen clearly on the new Bugatti Chiron1 as a characteristic design element of the brand. The wheels stand out from the body and are accentuated by huge wings. Viewed from above, the beautiful, elegant shape of the Atlantic becomes especially clear, with the extremely long bonnet running into the round rear, forming an oval.
During the annual survey held by Motor Klassik, a motoring magazine published by Motor Presse of Stuttgart, readers are asked which classic cars they especially appreciate and which modern vehicles could become coveted classics or recent classics in a few decades. There are six categories based on the year of production and six special categories.
Editor's comments:
Of course I agree 100% with the T57SC Atlantic winning this survey, but they did a few things wrong:
Of course a photograph of an original Atlantic should have been displayed with the article, not a replica.
The prize should not have been given to VW-Bugatti, who just bought the name. It should have been given to members of the Bugatti family, like one of Ettore's living children Therèse and Michel or his granddaughter Caroline, who seems to be most involved with the family tradition nowadays.
---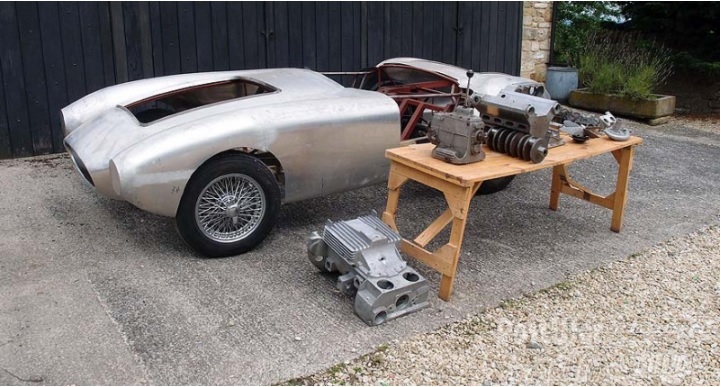 April 4, 2017
Very unknown post-war Bugatti T102 surfaces
Through an advert on Prewarcar/postwarclassics this project for a T102, with original parts, only recently surfaced.
Your opportunity to build this unique Bugatti!
1953 Original Bugatti Project
Unrestored dissmantled original engine
Unrestored assembled gearbox
Unrestored assembled Steering box
Unrestored Borrani/Bugatti wheels
Unrestored brakedrums, backplates and brakes ( possibly 57)
Chassis with dating evidence 25+ years
etc....
Some new casting for rear axle, engine, as well as hundreds of copies of drawings.
Unfinished 2 seater Barchetta style body by Steeve Bernaud, former head of Design of Bugatti SpA
The 2017 RM Sotheby's Villa d'Este auction will be held 27 May in Lake Como, Italy during the Concorso d'Eleganza Villa d'Este weekend.
Lot 232 - 1937 Bugatti Type 57S Cabriolet by Vanvooren, Chassis no. 57513 - Sold for $7,700,000 (estimate $8.5 million)
Prices start at 35.000 Euro and continue upwards to at least twice that number.
As we know, Ettore Bugatti himself was very interested in bicycles, with different designs from his hand, most well known the one where the classic large tubes of the bicycle frame are replaced by four small ones. See bugattirevue.com/revue37/bike.htm and bugattirevue.com/revue19/bikes.htm
Bugatti Automobiles and Palmer Johnson Yachts launched the Limited Edition Bugatti Niniette 66, a 66-foot sport yacht designed to match the Bugatti Chiron. Following the same classic horseshoe lines as Bugattis, Palmer Johnson and Bugatti worked in conjunction with A++ to create the yacht's exterior styling and interior design that is reminiscent of the Bugatti Chiron. Palmer Johnson took care of the Niniette 66's naval architecture and engineering. The Limited Edition Bugatti Niniette 66 is the first in a new line of yachts that will go from 50 to 80 feet, all inspired by the Bugatti Chiron. And true to the fast car design, this fast yacht will hit a top speed of 44 knots. The vessel's slender monohull is stabilized by a sponson on each side, which dampens rolls at all speeds, making a great ride for its two guests and one crewmember.
The Bugatti Niniette 66's 21-foot beam allows for a roomy master suite—featuring soft leather, polished metal, suede, and carbon—an automotive-inspired salon with macaron skylight, a marble-clad guest bathroom, and a galley kitchen with all the basics. The modern interior creates a cocooning effect via its Bugatti horseshoe shape.
On deck, guests will enjoy the fire pit, Jacuzzi, sunpads and Champagne bar, plus plenty of seating to choose from.
Powered by fuel-efficient MAN V-8 engines, and featuring MJP waterjets, the Bugatti Niniette 66's stable and efficient hull will get you to the Bahamas fast, where you will be able to jet around without trouble, thanks to the yacht shallow 4-foot draft. Guests will compete to pilot this joy-stick-controlled speedboat from the Bugatti-designed helm chairs and command center.
And Monaco-based Palmer Johnson was the most obvious choice for the automaker to pair with, given the yacht builder's known success in building mold-breaking, sleek, powerful, and efficient sport yachts.
Those interested should get their orders in soon: Only 66 examples of the Limited Edition Bugatti Niniette 66 sport yacht will be made. (bugattininiette.com)
Lot 25 - Bugatti Baby - Chassis 388A - Est. 30 000 - 50 000 €: Sold for 90,480 €
Lot 27 - Bugatti Type 57 Atalante découvrable - Châssis n° 57330, Moteur n° 548 - Est. 1 000 000 - 1 500 000 €: Sold for 2,331,200 €
Lot 40 - Bugatti Type 57 coach Pre-Série Gangloff - Châssis n° 57106, Moteur n° 40 - Est. 430 000 - 530 000 €: Not sold
Lot 500 - Ettore BUGATTI (1881-1947) Etudes mécaniques (Sketch) - Est. 500 - 1 000 €: Sold for 650 €
Lot 520 - Géo HAM (Georges Hamel) (1900-1972) Pilote au casque bleu - Est. 700 - 1 000 €: Sold for 1,040 €
Lot 527 - GANGLOFF Bugatti 3,3L Limousine - Est. 400 - 600 €: Sold for 650 €
Lot 528 - Willy VAN DEN PLAS - Cabriolet transformable Bugatti - Est. 300 - 500 €: Sold for 780 €
Lot 531 - Pierre DUMONT (1920-1987) - Bugatti Royale Double Berline décapotable 1928 - Est. 1 000 - 1 500 €: Sold for 780 €
Lot 543 - BUGATTI Type 35 engine - sectioned - Est. 15 000 - 25 000 €: Sold for 15,000 €
Lot 556 - BUGATTI Boyce - Est. 500 - 800 €: Sold for 520 €
Lot 557 - JAEGER-BUGATTI Montre de bord, vers 1930 - Est. 500 - 800 €: Sold for 4,290 €
Lot 558 - BUGATTI - Boyce et ampéremètre - Est. 700 - 1,000 €: Sold for 3,380 €
Lot 559 - BUGATTI Enjoliveur - Est. 300 - 500 €: Sold for 325 €
Lot 560 - BUGATTI Plaque émaillée - Est. 800 - 1,200 €: Sold for 1,820 €
Lot 562 - BUGATTI Montre bracelet publicitaire - Est. 200 - 300 €: Sold for 325 €
Lot 566 - Philippe LALAGÜE (né en 1955) Bugatti et Delahaye - Est. 200 - 300 €: Sold for 520 €
Lot 570 - Philippe LOUZON (Né en 1956) - Bugatti Type 30 - Est. 1 000 - 1 500 €: Not Sold
Lot 572 - GERI - Bugatti Automobiles, Autorails Molsheim - Est. 600 - 800 €: Sold for 910 €
Lot 573 - PROVENANT PROBABLEMENT DES USINES BUGATTI - Matrice de radiateur et son support - Est. 4 000 - 6 000 €: Sold for 11,250 €
Lot 574 - AGUILA-BUGATTI N°45469, circa 1930 - Chronographe bracelet - Est. 10 000 - 15 000 €: Sold for 11,700 €
Lot 575 - BUGATTI - Le Pur-Sang de l'Automobile - catalogue de 1937 - Est. 300 - 500 €: Sold for 1,040 €
Lot 576 - BUGATTI - Ettore Bugatti - Est. 400 - 600 €: Not sold
Lot 577 - JEAN PERRET - BUGATTI - Montre bracelet - Est. 300 - 500 €: Sold for 390 €
Lot 578 - BUGATTI - Montre de bord - Est. 300 - 500 €: Sold for 1,950 €
Lot 579 - BUGATTI Pendulette de bureau publicitaire - Est. 300 - 500 €: Sold for 455 €
Lot 580 - BUGATTI Radiateur publicitaire - Est. 500 - 800 €: Sold for 3,250 €
Lot 581 - BUGATTI 55 ROADSTER (Children's car) Fabrication de La Chapelle - Est. 6,000 - 9,000 €: Sold for 6,760 €
Lot 589 - EUREKA -BUGATTI Modèle sport 302 - Est. 1,500 - 2,500 €: Sold for 1,560 €
At the side of the Lukas Hüni exhibition: Bugatti vs Bentley, there was an announcement of various books in the "Great Cars" series. 3 of them were Bugattis. Mind you, the books are each on one individual car!. They are:
I also talked to Pierre-Yves Laugier, author of the famous T57S book. He has been busy with other things for a while, but will soon get back to writing on either the T51 or the T55 book.
From Jaap Horst, two books are to be expected: One on the views of Noël Domboy on Bugatti, both pre- as well as post-war, to appear hopefully in 2017. For 2018, there will be his long awaited book on the Bugatti Patents. The patents show what technological developments interested Ettore Bugatti (and other members of the family), from year to year.
Lot 22 - 1925 Bugatti Type 35 Grand Prix, Chassis 4487: Sold for $3,300,000
Both cars were sold at more than the maximum estimate, the Bébé by a considerable amount!
A 1936 Bugatti Type 57SC Atlantic owned by Peter and Merle Mullin and Rob and Melani Walton was awarded Best of Show. The handbuilt Bugatti has prominent front fenders and a narrow aluminum body uniquely joined by rivets running along its fenders and down its spine. The car usually is housed at the Mullin Automotive Museum in Oxnard, California, but had been on loan to the Petersen Automotive Museum in Los Angeles where it has been part of a special display.
Formerly the pillar of the Williamson Bugatti Collection, the Atlantic (chassis 57374) was awarded Best of Show at the 2003 Pebble Beach Concours d'Elegance. It is one of two completely original Type 57SC Atlantics in existence, with the other owned by Ralph Lauren.
To be eligible to win Best of Show — the event's top award — a car must first win its class. Four class winners emerged as finalists. In addition to the Bugatti Atlantic, they included:
The Type 57SC Atlantic had won the special class of Cars of Ettore and Jean Bugatti, which included eight examples of Bugatti artistry and performance, including three historic 1920s Grand Prix cars once raced by famous women drivers in Europe.
"Maybe a little," he said. "We didn't want to count on anything, especially in a field (of cars) this fabulous. This is such an amazing event, and there are some really amazing cars here."
The Arizona Concours was held under threatening skies and forecasts of rain, but it stayed dry all day, much to the relief of Concours officials and the car owners who had brought such an assembly of automobiles for the show. The crowd of spectators strolled through the inner lawns of the Arizona Biltmore Resort where the cars were displayed.
On Monday, many of the cars from the Concours participated in the Arizona Tour d'Elegance that included a free public display of the vehicles at the South Canal Bridge in Scottsdale, Arizona.
Net proceeds from the Arizona Concours, as well as generous donations from participants and spectators, benefit Make-A-Wish® Arizona, the founding chapter of the organization that grants wishes to children with life-threatening medical conditions.The fifth annual Arizona Concours will be held January 14, 2018.
Bugatti events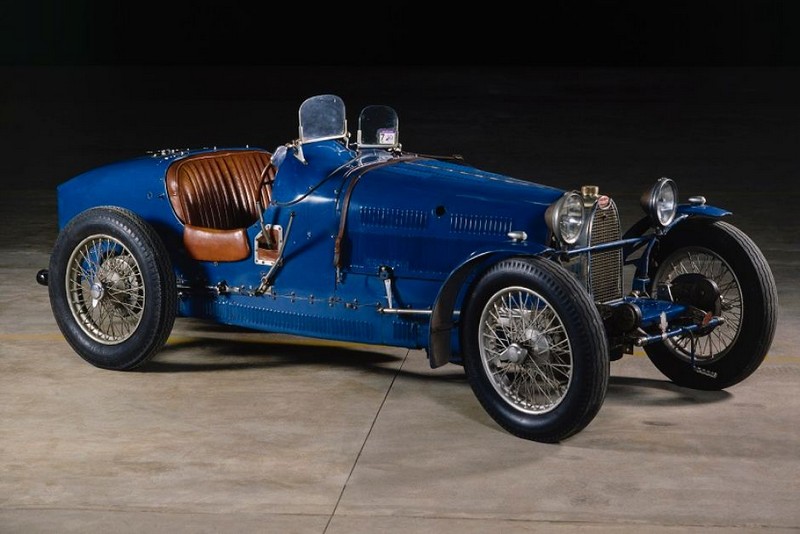 October 15, 2016 - permanent Icons at the Powerhouse Museum Sydney, Australia
Have you ever explored a museum exhibition and wondered, "how do they know which items are worth collecting?" — I have.
So when I talked to Jacqui Strecker, the head of curatorial at the Museum of Applied Arts and Sciences in Sydney, it was one of the first questions I asked.
She had just pieced together a new exhibition entitled Icons at the Powerhouse Museum in Sydney.
It is a kind of "best of the best" exhibition of the more than 500,000 items in the News South Wales collection.
The 70 rarely-displayed items, chosen by Dr Strecker, have been put together to challenge the traditional stereotype of an icon.
"Traditionally, we've associated icons with religious paintings that have a special spiritual power, that draws us to those items as an object of worship or admiration," she said.
"Now we understand icons as digital icons that help us navigate our way around computers and smart phones.
"What I've done with this exhibition is really gone through our basement, our extraordinary collection, and I've chosen my favourite objects that I think tell an interesting story and are really worth looking at and challenging the viewer to think about what constitutes an icon today."
The items range from Aboriginal pottery; a silver, brass and wooden crucifix worn on a necklace; a 1928 Bugatti racing car (so valuable Dr Strecker would not tell me how much it was worth); Australian performer Johnny O'Keefe's red suit and the Olympic torch Cathy Freeman used to light the cauldron at the Sydney Olympics.
Photo: 1928 Bugatti driven to victory by Arthur Terdich at the 1929 Australian Grand Prix.
---

October 23, 2016 - ??? Art of Bugatti exhibition - at the Petersen museum Los Angeles, USA
I get a report from Terry Cook that it is really a breathtaking display!
From the "Carscoops" website:
The Petersen Automotive Museum will host the 'Art of Bugatti' exhibition, one of the most complete lineups of the Bugatti family ever, showcasing the most important creations of the company.
The exhibition will open to the public on October 23 and will remain on display for a year.
The purpose of the exhibition is to give visitors an inside look at the history of one of the greatest art dynasties of the last two centuries, starting with the patriarch Carlo Bugatti and his path through the arts, including his mastery of painting, furniture design and manufacture and silversmithing. It then details the work of his two sons, Rembrandt and Ettore before ending up to the latter's children.
"The Bugattis were an incredibly fascinating family and their history, like all families, is filled with both triumph and tragedy," said Peter Mullin, chairman of the board of directors for the Petersen. "Their incredible aptitude for art and engineering is unparalleled by any family before or since and their legacy is worthy of celebration. It's a great honor to share these works with the public and I'm so pleased that we could bring this exhibition to the Petersen."
The vehicles on display include the Type 41 Royale, Type 57 Atalante, Type 35 and Type 46 along with modern Bugattis like the EB110 and the recently unveiled Chiron, with the assemblage representing the entire span of Bugatti, featuring cars designed by both Ettore and his son Jean Bugatti.
"The Art of Bugatti is a show unlike any other and the Petersen is so pleased to be able to share it with our patrons," said Petersen Executive Director Terry Karges. "The quality and variety of the art and automobiles on display is incredible and it truly gives a unique insight into the history of a fascinating and talented family."
Link to the Petersen museum website
---
2 interesting Carlo Bugatti Silverware items, and 11 Rembrandt Bugatti Bronze's!
The car is supplied with its original chassis, engine block, gearbox and both axles.
Brno Revival "Mezi pavilony" / "Between the Pavilions" is a social sport event, that presents the noble beauty of sports and racing vehicles in motion. On the track, where the last race was fifty years ago, cars and motorcycles from pre-war until mid-eighties will be presented. The Revival is arranged similarly to events in the world – short drives of very various categories of vehicles and mainly the spectators-accessible depot full of unique technique. The festival for cars and motorcycles enthusiasts. Part of the event is also an exhibition of present-day sports and racing cars and motorcycles, offering crafts and services in the Pavilion A and adjacent open areas.
- Extensively restored by Wilkinson's Coachbuilders of Derby from 1990-94 and 8,500 miles since
- Exquisite Vanvooren saloon body began life aboard another T44 that was supplied new to Jean Jacques Peugeot (of the car making dynasty)
- Beautifully detailed with unusual triple-hinged doors and among the most delightful Vintage Saloons we have encountered
The only event which always takes place in the birthplace of Bugatti.