Contents
the Bugatti revue The worlds first on-line Bugatti focussed magazine!

All Bugatti types with technical caracteristics

Bugattis by chassis numbers

Picture Sheets of the Bugattis, per Catagory

Information on the Bugatti types is also included!
Jacob Munkhammar Bugatti site
This site was missed since 2001, I put it back on line, thanks to Pascal van Mele, the version is of January 2001!
Especially the the Hunting for Bugatti Information, "Everything Bugatti" (articles) and the Bugatti cars database are of the most interest, but you will find much more!!!
However, of course Jacob does not respond to mails anymore, some older links may not work, the Pim Faber books, models and stamps databases do not work, and the Hunting Bugatti Questions are not followed up. As a service, I will post all answers to his existing questions on my pages, new questions will be published on my site also! Luxury or Budget Wedding in a Bugatti with AW Bridal


Bugatti up to date information / News.

Bugatti Commercial / Merchandise.

Bugatti special garages special pages

Archive of older articles and information

Bugatti and classic car auto glass replacement and sourcing information.
Most local windshield repair companies do not offer OEM equivalent glass for automobiles that are older than 1981 and especially for exotic models like the Bugatti.
The good news is glass sourcing specialists like SunTecautoglass.com can help vintage automobile owners locate the proper fitting OEM product which will ensure a great fit just like the original.
---
Bugatti news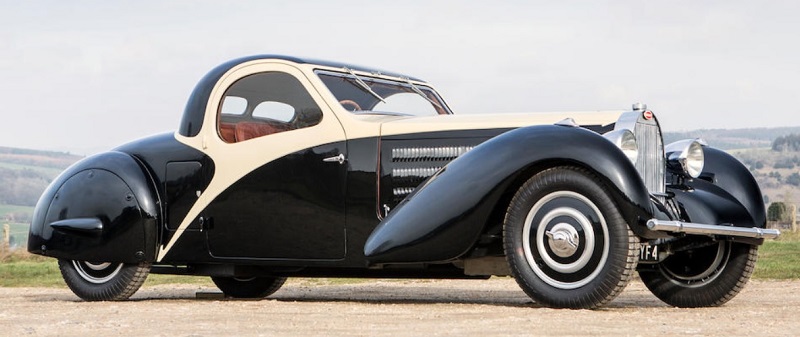 September 14, 2019

Auction results

Bonhams Goodwood Revival Sale, Chichester, Sussex, UK, September 14, 2019
1924 Bugatti Type 23 'Brescia' Open Tourer, Chassis no. 2064, Estimate: € 250,000 - 340,000 : Sold for £ 207,000 (€ 232,341) (incl. premium)
1935 Bugatti Type 57 Atalante Faux Cabriolet, Chassis no. 57252, Estimate: € 1,100,000 - 1,700,000 : Sold for £ 1,499,000 (€ 1,682,511) (incl. premium)
---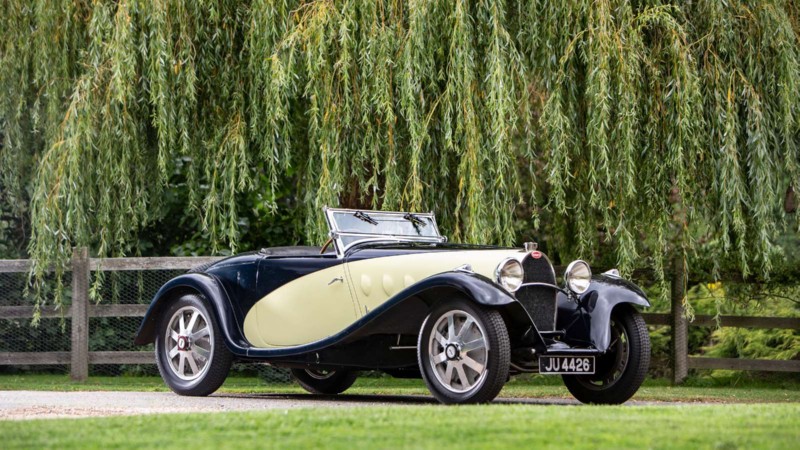 September 14, 2019

Ex-Le Mans Bugatti Type 55 to be auctioned

Bonhams announced that one of the most famous Type 55's will be the star at their 2020 Grand Palais Sale.

1931 Bugatti Type 55 Roadster
Coachwork by Figoni
Chassis no. 55221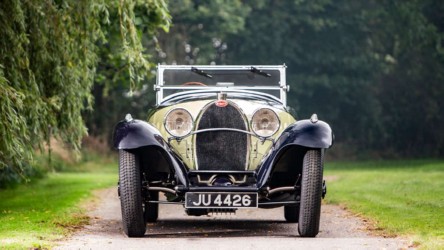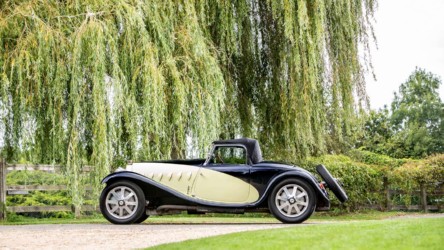 At a media preview of the Bonhams Goodwood Revival sale, the auction house unveiled the 1932 Bugatti Type 55 – a car as coveted today as it was in its heyday. Following 56 years in the ownership of one British family, Chassis no. 55221 will be offered for the first time at auction next year. One of only 38 examples of the Type 55 Super Sports model produced between 1932 and 1935, it one of just 29 known surviving models

Powered by a 2.3-litre, supercharged, twin-cam, eight-cylinder engine – a detuned variant of the engine in the Grand Prix-winning Bugatti Type 51 – at launch, the 110,000 FF ($7,500) model boasted blistering acceleration, covering 0-60mph in 13 seconds and setting a new road car top speed of 115mph. To the discerning motor car fan, the Type 55 was a wolf in sheep's clothing, a Grand Prix challenger in a sports car body.

This fine example started life as a works entry in the 1932 24 Hours of Le Mans, driven by charismatic French racers Louis Chiron and Count Guy Bouriat-Quintart, and fitted with a temporary four-seater body in order to meet the event's regulations. Unfortunately, the fuel tank split after three hours' racing, and the Type 55 was forced to retire.

Fresh from Le Mans, Count Bouriat sold the Bugatti to wealthy French magazine publisher Jacques Dupuy, who immediately did away with the much-praised, doorless body, designed by Jean Bugatti, son of Ettore. Instead, he commissioned noted Parisian automotive designer Giuseppe Figoni to create a unique two-seat Type 55 coachwork, including full doors complete with wind up windows, providing ease of access and protection from the elements while retaining a continuous bodywork. Many argued that Figoni's design considerably improved upon Jean Bugatti's work.

New owner Dupuy then entered the Type 55 into the 1933 Paris-Nice Rally, La Journée de l'Elégance et de l'Automobile au Bois de Boulogne concours d'élégance. Predictably, it excelled in all three.

The Second World War put a stop to all racing activity, and in 1962 the Bugatti was brought to England by A.A. Morse, who the following year sold it to leading Vintage racer Geoffrey St John in 1963.

And in the St John family hands it has remained ever since, receiving first a restoration in 1966, and once again thirty years later following a road accident in France. Following this accident, the chassis was painstakingly repaired by specialist Gino Hoskins.

Of the rare auction piece, Director of Bonhams UK Motor Cars Sholto Gilbertson commented: "This is a once-in-a-lifetime opportunity to acquire an extremely historic and important motor car owned by the same family for 56 years.

"Over the years, the family have resisted many offers and we are very much looking forward to presenting the Bugatti for sale in Paris next February. Everyone will now have an equal opportunity to secure one of the most important motor cars to come to market in recent years."

The auction will take place in Paris, France, on February 6, 2020.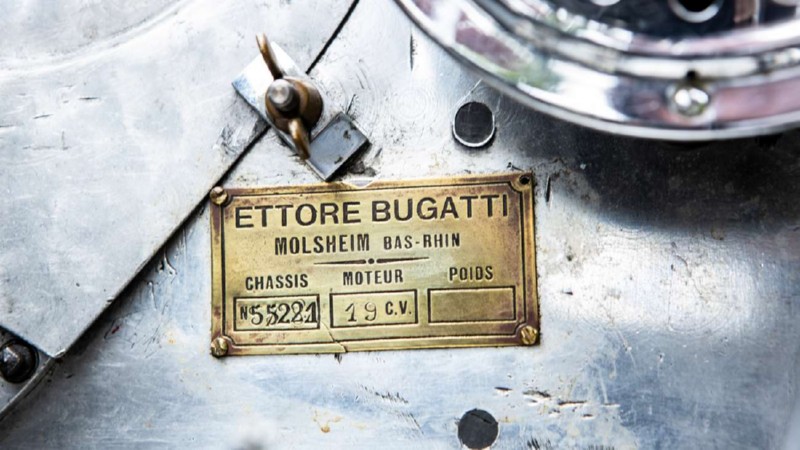 More info
---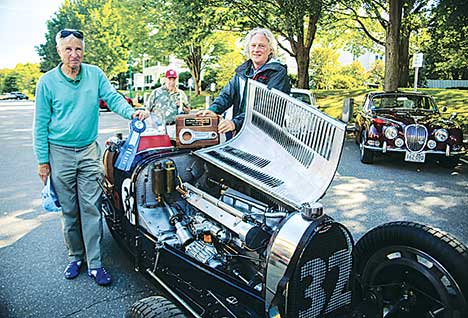 September 14, 2019
Bugatti Best in Camden Foreign Car Show
Maine owners of British and European sports cars, saloons and touring cars competed for prizes and recognition Sunday, September 1, in the 18th Annual Camden Foreign Car Show, sponsored by the Mid Maine Sports Car Club.
From this year's field of 42 cars the winners were:
Saloons and Touring Cars — 1965 Jaguar S-Type owned by Don and Molly Foster of Camden;
Traditional Sports Cars, Early Period — 1960 Jaguar XK150 owned by Bud Woodworth of Lincolnville;
Traditional Sports Cars, Late Period — 1987 Porsche Carrera owned by Gary Rich of Bar Harbor;
Modern Sports Cars — 2007 Aston Martin owned by Scott McKenzie of Collegeville, Penn.
Best in Show — 1931 Bugatti Type 51 (Chassis 51126) owned by Richard Collier of Islesboro.
Entry fee proceeds go to local charity. For more information on the club visit mmscc.com.
---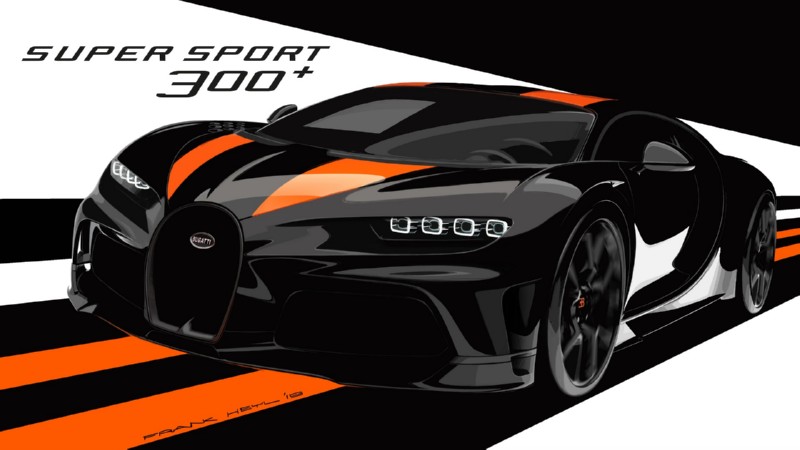 September 14, 2019
Bugatti Chiron Super Sport 300+ to be series produced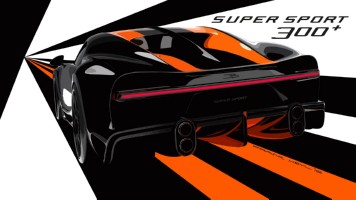 BUGATTI CELEBRATES 110 YEARS IN MOLSHEIM, SHOWCASING THE NEW EDITION MODEL SUPER SPORT 300+

Nobody is faster. Just a few weeks after the sensational record-breaking run undertaken by Bugatti – when for the first time a hyper sports car drove faster than 300 miles per hour – the French brand is showcasing a very special edition based on this new Chiron derivative: the Bugatti Chiron Super Sport 300+.

Last Saturday evening, Bugatti presented the new model to a selected group of customers as the highlight of the celebrations to mark the 110 anniversary of the tradition-steeped company in Molsheim. The Chiron Super Sport 300+ played a very special role among numerous historic Bugatti models and the current Bugatti hyper sports cars of modern times, such as the Divo, La Voiture Noire, and the Centodieci.
Chiron Super Sport 300+ – the fastest Bugatti
The special edition Chiron Super Sport 300+, limited to 30 units, is visually based on the record-breaking car. A few weeks ago, it became the first series-production car to break the magical 300-miles-per-hour barrier. Achieving a speed of exactly 304.773 mph (490.484 km/h), it is now the fastest production hyper sports car ever. But not only that: With an output of 1,176 kW/1,600 hp, the Chiron Super Sport 300+ exceeds the Chiron by 100 hp.
"After the incredible speed record of more than 300 miles per hour, which we were the first series manufacturer to achieve, we're now offering our customers the Super Sport 300+ – a very special edition model and the fastest Bugatti ever", says Stephan Winkelmann, President of Bugatti. "But the Chiron Super Sport 300+ is more than just the fastest series-production sports car in the world. It is a testimony to Bugatti's technical refinement, masterly workmanship and enormous attention to detail."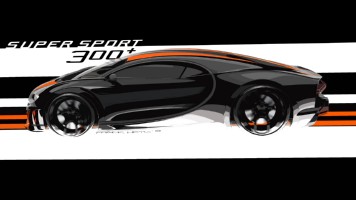 Aerodynamically optimised bodywork
The Chiron Super Sport 300+ is visually distinct from the Chiron, not least due to its extended and aerodynamically optimised body, which is designed for extremely high-speed travel beyond 420 km/h. The Air Curtains installed at the car's front corners guide excess pressure developing at the front air inlets towards the sides of the hyper sports car. At the same time, air outlets on the wheel arch and directly behind the front wheels dissipate excess pressure from the wheel arch, creating a slight amount of negative lift at the front to reduce the drag. Modifications are also very prominent at the rear. The longer rear end, the so-called Longtail, allows the laminar flow to pass over the vehicle for longer to thus reduce the aerodynamic stall by over 40 percent. Thanks to a modified exhaust tailpipe configuration, the diffuser in the centre of the rear end can almost generate a sufficient amount of negative lift by itself, meaning that the wing can consequently remain retracted in Top Speed mode. As a result, the drag at the rear has been improved even more as negative lift generated by wings and spoilers would otherwise contribute to the drag.
The body is made of exposed, jet-black carbon fibre set through in the centre with racing stripes in Jet Orange.
The black engine cover is made of carbon, as is the windscreen wiper. At the front you can recognise the special model by the Bugatti "Macaron" logo made of genuine silver and black enamel. The extremely light magnesium wheels are finished in "Nocturne", as are all trim parts. Passengers are welcomed with the lettering "Super Sport 300 +" in LED lighting at the door opening.
The interior is dominated by black carbon, leather and Alcantara in Beluga Black, complemented by colour highlights in Jet Orange. On the carbon door sills, the exclusive lettering likewise radiates in this colour, as do the headrests, the knee support in the centre console and the fine double-stitched seams. All interior trim parts on the other hand have a black anodised finish, while the rear-view mirror and centre line are painted in Beluga Black.
"With the Super Sport 300+ we pay homage not just to our glorious history with its numerous speed records but also to the performance of the entire record-breaking team. They were the ones who tackled the challenge of driving over 300 miles per hour," says Stephan Winkelmann, President of Bugatti. "For this reason, the Super Sport 300+ is more than just an edition. It is by far the fastest luxury hyper sports car in the world and a genuine Bugatti in every fibre of its being – uncompromisingly beautiful, fast, comfortable and exquisite."
The Super Sport 300+ was showcased on Saturday evening as the grand finale of the Grand Tour, a rally that takes in the most important stages in the life of Ettore Bugatti – from Milan via Monaco and Paris to Molsheim in Alsace. The first vehicles of the limited edition model Super Sport 300+, restricted to 30 units, will be delivered to customers at a net unit price of 3.5 million euros in mid-2021.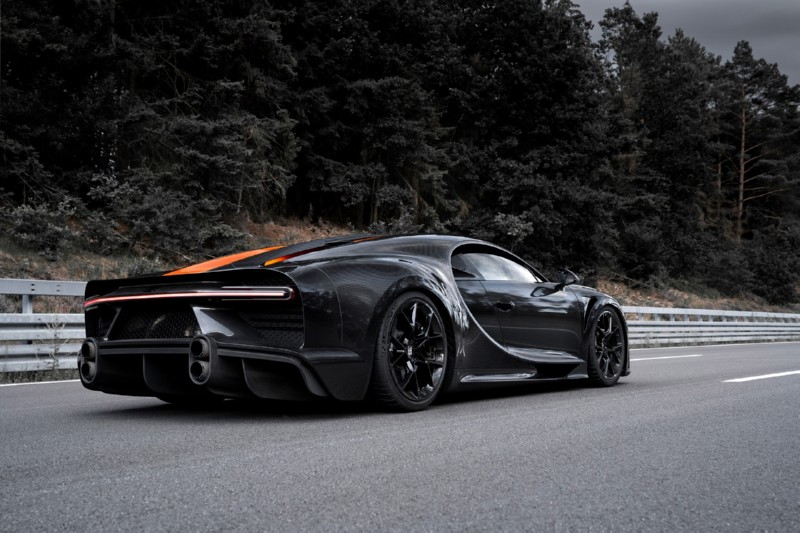 ---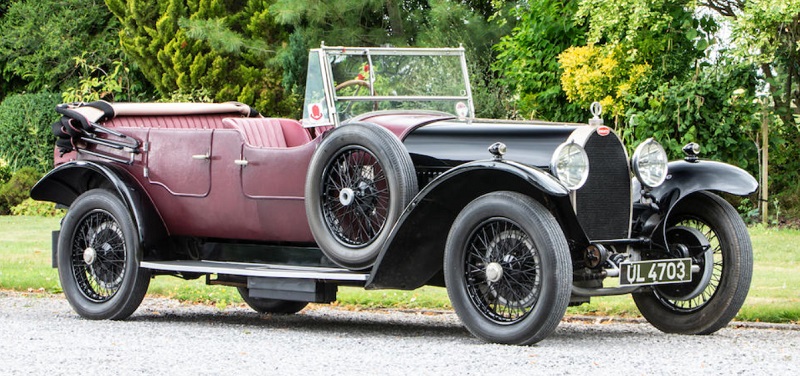 September 10, 2019
Auction result
Bonhams The Beaulieu Sale, UK, September 7, 2019
1929 Bugatti Type 44 Tourer by Harrington, Chassis No. 44923, Engine No. 636 Estimate: € 220,000 - 330,000: Sold for € 328,387 (incl. premium)
---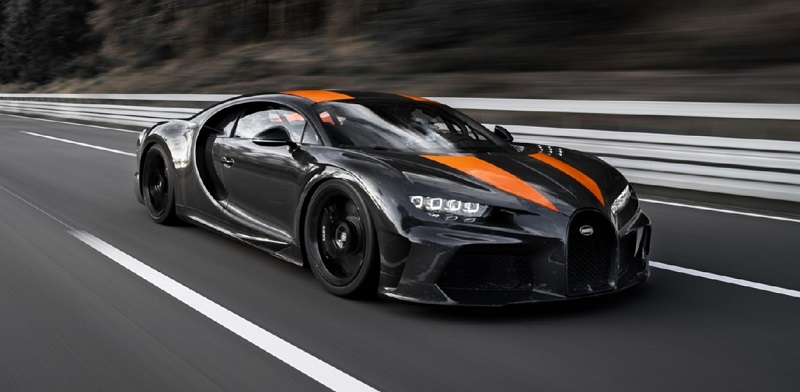 September 2, 2019
300+ MPH, 490 km/h !
A modified production Bugatti Chiron reaches 304.8 MPH, first automobile over 300 MPH!

Bugatti is the first manufacturer to break the 300-mile-an-hour barrier. On the Ehra-Lessien test track in Germany, a near production prototype derivative of the hyper sports car Chiron surpassed the magic limit with a speed of 304.773 mph (490.484 km/h). The world record was attained on August 2, by Bugatti's current test driver Andy Wallace. Andy Wallace is most famous for his races in sports cars, with most impressive the win in the 1988 Le Mans, together with Jan Lammers and Johnny Dumfries in the Jaguar. Wallace was also the driver for the then record-setting speed of 386.4 km/h (240.1 mph) in a McLaren F1, which for over 11 years was the world record for the fastest production car.

So, Bugatti has been just (successfully) obscuring the fact that they were working on attaining this record, the official statements were since the introduction of the Chiron, that no speed record attempt would be made...
On the downside, the record is not an official one for production cars (which still remains with the Koenigsegg Agera RS at 447.19 km/h (277.87 mph)), as the Chiron was modified. The Chiron used was in what is described by Bugatti as "near production" spec, modified with an additional safety cell and with aerodynamic changes and higher seventh-gear ratios, which we believe will be incorporated into a celebratory limited-edition model. It also used a slightly more powerful version of the regular Chiron's quad-turbocharged W-16 engine, turned up to produce 1600 hp, the same total made by the recently announced Centodieci.
However, the gap with the Koenigsegg is so large, that it can be assumed that a standard spec Chiron (with the 1600HP engine of the Centodieci) would also beat the official record.

The record was set in conjunction with Italian constructor Dallara, which makes the Chiron's body and developed the aerodynamic kit, and also Michelin which created the very special tires capable of dealing with such huge forces, rotating up to 4100 times a minute. The specially constructed Michelin Pilot Cup 2 tires were all X-rayed before being selected for use on the car.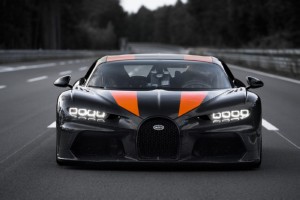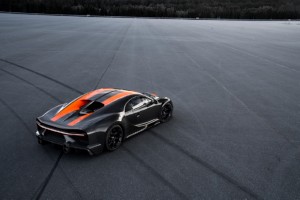 "Inside the tires you've got these thin metal strands that go radially around the edge and which are sort of equidistant from each other," Wallace explained after the record run. "On quite a lot of tires there are one or two spots where these strands touch. It's not normally a problem, certainly not at the mandated speed limit, but when you start to go really fast with the huge gravitational force it's possible to get movement there, and temperature."
The 58-year-old British sports-car veteran and the team built up to the record speed over the course of more than a week, gradually increasing speeds to ensure that the car behaved according to the aerodynamic predictions and that lift and downforce were balanced. Yet that still meant huge forces running through the structure of the Chiron, as Wallace explains: "Zero net downforce front and rear sounds easy, as you've got the static weight of the car pushing down and that's more than heavy enough. But it doesn't mean the air is having no effect; it means there is close to 2000 kg [4409 pounds] on the top surface of the body trying to pick the car off the ground and another 2000 kg under the car trying to pull it back down: two fighting forces that come to four tons roughly, trying to separate the car. So you've got to be absolutely sure that everything on the car is secure enough to go this fast."
The other challenge was the gyroscopic effect created by the huge rotational speeds of the tires, something Wallace says only really begins to affect a car traveling at this huge speed. "At 200 mph you can barely feel it, but at 300 mph it's absolutely enormous," said Wallace. "It's felt mostly on the front wheels and therefore the steering, like a spinning top when it starts to move it wants to continue to move."
As the Chiron increased speed, other unexpected challenges arrived. "They had resurfaced one end of the track at Ehra, and once you come down off the banking you're building up speed on the 8.8-km straight," he remembered, "then at exactly 447 km/h (277 mph) the car would go from the new surface to the old surface, and I got to calling this 'the jump'—it's a bump that you'd barely notice in a normal car, but at those speeds it feels huge . . . If you go over that and land and there's a bit of a sidewind, then you can lose feeling and suddenly lose confidence."
Trust, of course, is the most important commodity for any driver attempting such high speeds, even with the Chiron's safety gear, a freshly swept track, and on-site medical intervention. "Any crash at that sort of speed is likely to hurt," Wallace admitted, deadpan. "I had a massive amount of trust in all the engineers and a lot of respect for all of them, likewise with Dallara and Michelin . . . when the project started we sat down and went through the risks, drawing a pyramid with the big ones at the bottom and trying to work out ways to eliminate them. But you can never get rid of them completely, and at the top you've still got 'sod's law'—something you just can't control. If you did this enough times, it would get you, but if you trust the people you're working with, which I did 100 percent, then in the end you just do it."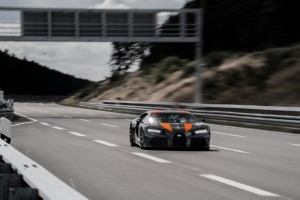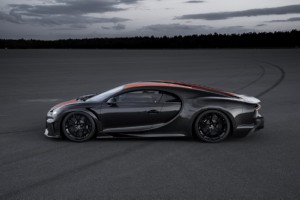 After four days at Ehra-Lessien, the team had managed a peak speed of 482.5 km/h—299.8 mph—but was determined to break the 300-mph barrier. On what turned out to be the record-setting lap, Wallace remembers feeling more confident as the car went over "the jump"—"after it landed and had a bit of a weave about I thought it's the best it's been, the cross wind was a little bit less and I just kept it pinned. The strange thing is that there's a radar speed display half way down the straight but it's obviously never been calibrated for something that fast—I went past it and it flashed up 502 km/h (312 mph), but then I looked at my gauge and it was only doing 476 km/h (296 mph) on the GPS. So I kept my foot in and saw it get past 490 km/h (304 mph), but I was running short on room."
Ehra-Lessien's three-sided layout uses banked corners, with a speed limit of 200 km/h (124 mph) for the south bend at the end of the longest straight. "It's quite tricky to spot your braking point when you're doing 136 meters (446 feet) per second," Wallace admitted. "Then you have to slow down gently so you don't shift the aero too much and lose control of the car, when all your instincts are telling you to stand on the brake."
The Chiron went so fast on its record run that the telemetry system relaying time to the team couldn't keep up. For several minutes, Wallace was the only one who knew the record had fallen. "I saw the speed on the GPS and I was thanking everyone on the way back to the pit area over the radio," he said. "They couldn't work out why I was so happy—the fastest they'd seen was 479 km/h and we'd already done 482.5 km/h. Then I stop and they all dove into the recording equipment on the car and looked through it, found the speed, and they all went mental."
If it hadn't been for running out of space on the world's longest test-track straight, the Chiron could even have gone slightly quicker. "The speed trace hadn't leveled out, it was still climbing," Wallace says. Ehra-Lessien's position at just 165 feet above sea level also means the air is relatively dense: at higher altitudes the car would encounter less resistance. But while others may eventually go quicker, Bugatti has decided to drop the mic on record setting. The company confirmed it will "withdraw from the competition to produce the fastest serial-production cars."
"We have shown several times that we built the fastest cars in the world. In future we will focus on other areas," said Bugatti president Stephan Winkelmann in the official release on the record. "Bugatti was the first to exceed 300 mph. Its name will go down in the history books, and it will stay that way forever."
As for Wallace, where does reacquiring the world production record sit in the list of career highlights of a former Le Mans and Daytona winner?
"A lot of people will just say 'You drove a Bugatti at 300 mph; whoever you put in it could have done that,' and maybe that's even true," he said. "If you win at Le Mans or Daytona, then a lot more of what you were doing was down to the driver, I'm well aware of that. But when I think about it, it's pretty bloody cool. If somebody said to me even two years ago that I was going to go over 300 mph, I'd have thought they were out of their mind."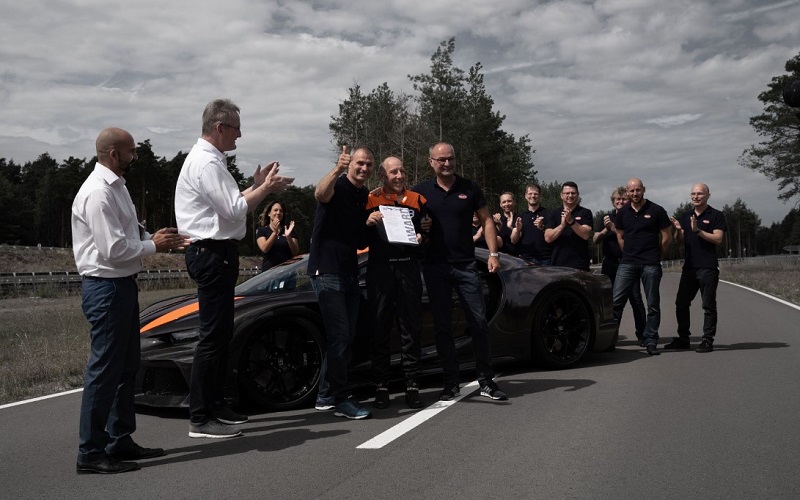 Source: Car and Driver Website.
---
September 1, 2019

Obituary: Ferdinand Piëch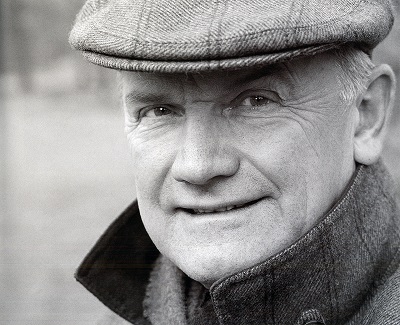 Without him Bugatti would not exist in its current form. In 1998 Ferdinand Piëch in his role as CEO of Volkswagen AG bought the trademark rights to Bugatti, and not long after the Château and site in Molsheim, Alsace. He has died on august 25, at the age of 82. A great, if not the greatest, automotive engineer and visionary in automotive history.

"With Ferdinand Piëch Bugatti loses the biggest patron and a very good friend of the brand, a real Bugattisti. Without Ferdinand Piëch, Bugatti would not be where the company is today. His vision of a modern French luxury brand with stunning hypersports sprang from his creativity over 20 years ago. The entire workforce is deeply shaken and grieving for him," says Stephan Winkelmann, President of Bugatti. Throughout his life Ferdinand Piëch was interested in technical, complex matters. He died surrounded by his family, after a long and eventful and fruitful life.

Born in Vienna on April 17, 1937, Piëch was fascinated by technology since childhood, especially by kinetic technology. At the age of nine he was already able to drive a car. After graduating from school, he studied mechanical engineering in Zurich. As the grandson of Ferdinand Porsche and nephew of Ferry Porsche, Ferdinand Piëch joined the family business in 1963, working in various positions as an engineer at Porsche throughout his years. There he developed the legendary racing car 917. Later at Audi he was responsible for the first five-cylinder engine, the turbo diesel TDI and the quattro all-wheel drive. He developed individual engines as well as complete cars. In 1988 Piëch became CEO of Audi AG, and five years later the CEO of Volkswagen AG. While in this role, he in 1998 conducted the purchase of the naming rights of Bugatti; a brand that fascinated him from early on.

Elegance and Technology Inspired Ferdinand Piëch
The advanced technology of race cars like the Type 35, the elegance of a Type 41 Royal and the iconic beauty of a Type 57 SC Atlantic especially inspired Ferdinand Piëch. His idea for the reorientation of the legendary French brand came to him while on holiday, as he later explained. It was a sign of fate: In a small toy shop, Ferdinand Piëch wanted to buy his son Gregor a Rolls-Royce toy car. But the little one pointed to another model - a Bugatti Type 57 SC Atlantic. "For me it was a pointer to interest me for Bugatti and not only for Rolls-Royce and Bentley," he wrote. Both companies were for sale at the time.

Ferdinand Piëch became more involved in the company and spent months talking to the then-owner Romano Artioli. Piëch had a vision, as so often: "A concept like Bugatti must simply not be devalued by mass producing and tabloid methods," he wrote in his biography. "Bugatti has to always offer the extraordinary; the unsurpassed, the optimum. Only that is Bugatti. On top of the entire automotive world." The brand had to be unique in the automotive world, each vehicle a solitaire.

Ferdinand Piëch Led Bugatti Back to the Forefront of Automotive Engineering
His approach was to lead Bugatti back to where it was in the twenties and thirties, at its height and to the position of the world's automotive leader. Ferdinand Piëch wanted to raise the known historical values; design, creativity, elite consciousness. This included performance and power to weight ratio. With the fourth design study Piëch and Bugatti were almost where they wanted: to transport the classic elegance of an Atalante into the modern age and to optimally equip the model's technical feature. For him that meant: At least 1000 hp, at least 400 km/h top speed and the ability to drive directly from the racetrack to the opera, without being shame.

The first production-ready model, which was to meet the extraordinary requirements, needed a few years in advance. Bugatti embarked on new technical territory. The first prototype of the new hypersport Bugatti was showed in the autumn of 1998 at the Paris Motor Show, a year later, at the IAA in Frankfurt, a mid-engined coupe followed. Only half a year later, the French luxury brand presented the study 18/4 Veyron, named after the racing driver Pierre Veyron, who won in 1939 behind a Bugatti wheel in Le Mans. "I have never seen a car that is so excitingly sensual and so uncompromisingly sporty and therefore ideally suited to the renaissance of Bugatti," he writes in his biography. He was not wrong, as he seldom was. With the first Chiron 16/4, Bugatti smashed on the barriers of physics, perfectly implementing Piëch's requirements.

"Ferdinand Piëch is directly linked to the success of Bugatti. Our modern hypersports cars not only stand in the long tradition of Ettore Bugatti, but are also a legacy Piëch's outstanding achievement. We bow down to his creativity and genius. Our sympathy goes to his family," expresses Stephan Winkelmann.
---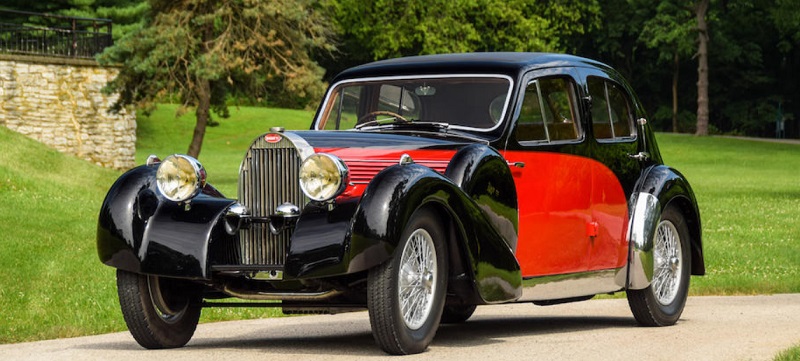 August 26, 2019
Auctions results
RM / Sotheby's Pebble Beach Auction Monterey, CA, USA, August 15 - 17, 2019
1928 Bugatti Type 35B Replica by Crosthwaite & Gardener Chassis No. / Engine No. : BC83, Estimate $400,000 - $600,000 : Not sold
2008 Bugatti Veyron 16.4, Chassis No. VF9SA25C38M795081, Estimate $1,100,000 - $1,300,000: Sold for $1,050,000
Bonhams Quail Lodge Auction California, USA, August 16, 2019
1935 Bugatti Type 57 Galibier Gangloff, Chassis no. 57245, Estimate: $325,000 - 375,000: Sold for $246,400 (€222,684) inc. premium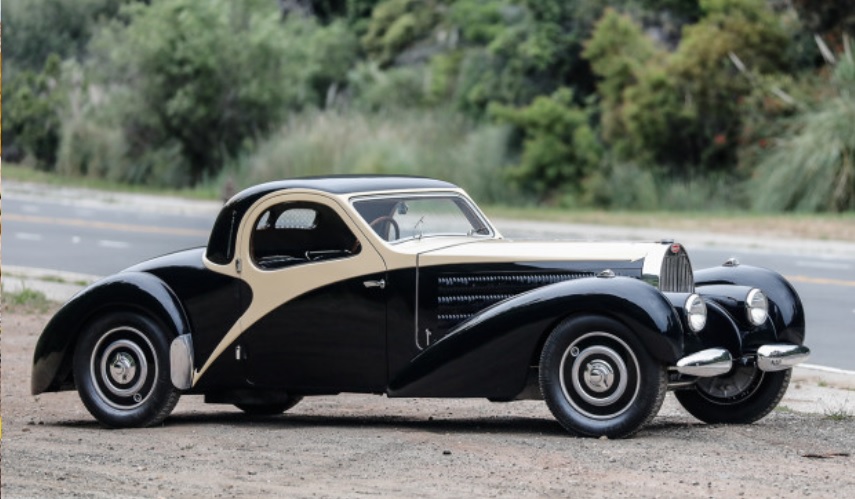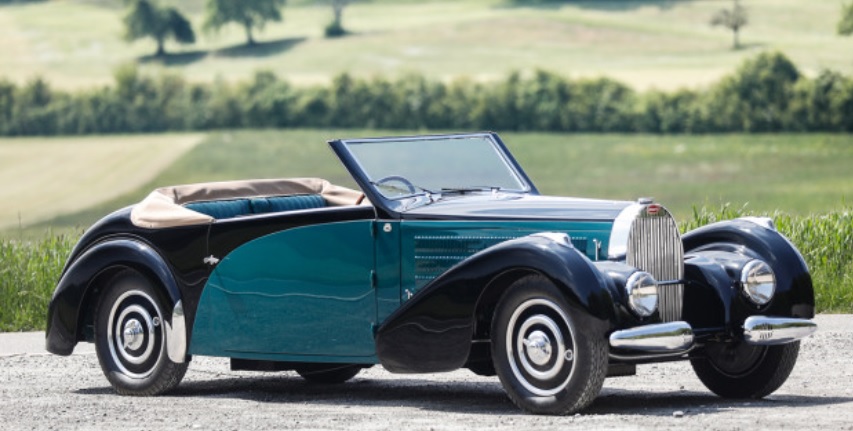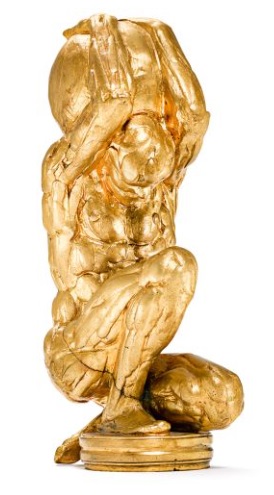 Gooding & Company Pebble Beach Auction Pebble Beach, California, USA, August 16-17, 2019
1936 Bugatti Type 57C Atalante, Chassis: 57386, Estimate: $1,750,000 - $2,250,000: Sold for $1,325,000
1938 Bugatti Type 57C Stelvio Gangloff, Chassis: 57597, Engine: 82 C, Estimate: $1,200,000 - $1,400,000 Sold for $786,000
Koller International Auctions Switzerland, June 27, 2019
ca. 1913 Rembrandt Bugatti Radiator mascot "Atlas", Estimate: CHF 10,000 / 15,000 ( € 8 770 / 13 160): Sold for CHF 97.900 (incl. premium)
All Bugatti Automobiles were sold, though be it quite a bit below their estimates, with an incredibly cheap Galibier. And remember; the estimate is usually without premium, while the sell price usually is including premium of about 20 - 25%....
Prices seem to continue going down (though some estimates were rather optimistic!). It is time to switch from Ettore to Rembrandt Bugatti....

Low prices for automobiles however is something seen in most auctions... Classic cars rarely go over their estimates, and usually are much more closer to their lower estimate, than to their higher estimate.
---

August 26, 2019
Bugatti presents new version of the Chiron
And pays homage to the EB110
In the line of special Chiron types, the latest one is called Centodieci, or "110" in Italian. Of course referring to the alleged 110th birthday of the marque, showing a lot of style elements of the EB110, and more precisely the EB110SS. For the occasion the engine was tickled a little further to 1600 HP (and a whopping 20kg was taken off it's weight), still I guess that the EB110SS would win from this one, at Le Mans... Much lighter weight, less fuel stops and less stops to change tyres.
This is in fact interesting, as the new "VW-Bugatti" marque tended to ignore the existence of the EB110 and EB112 altogether, in the first years. Now it seems that Mr. Winkelmann and colleagues embraced it, as part of the Bugatti history.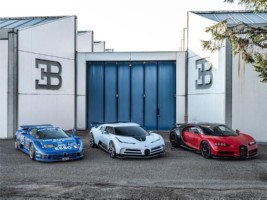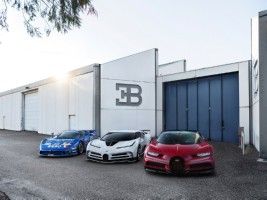 Where the special versions of the Veyron were merely a change of colour, wheels and interior (Veyron PurSang, Hermès Fbg, Sang Noir, Bleu Centenaire, L'Or Blanc, Grand Sport Venet, and a series of "Les Légendes de Bugatti": Ettore Bugatti, Black Bess, Rembrandt Bugatti, Meo Costatini, Jean Bugatti and JP Wimille.), Bugatti now changes sufficient body panels to make it look like quite a different automobile. Thus the Divo and "La Voiture Noire" preceded this one.
Photographs of the Centodieci leaked out a few days before the car was presented at Pebble Beach, which must have been on purpose. If you're interested, all 10 cars have been already sold at around 8 million euro each.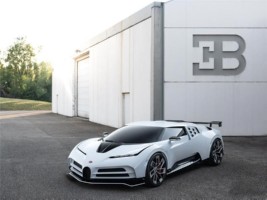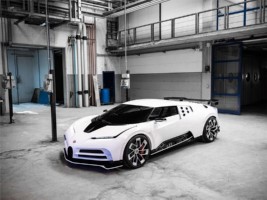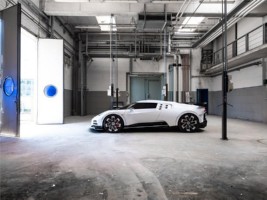 Info from Bugatti
FRENCH LUXURY BRAND ECHOES HISTORIC SUPER SPORTS CAR EB110
Exceptional design and vast power have been the hallmark features of Bugatti vehicles for around 110 years. The French manufacturer of hyper sports cars now consistently pursues this path further with the new special-edition Centodieci1. In addition, Bugatti is echoing its recent history with an exclusive and extraordinary small series. "With the Centodieci, we pay homage to the EB110 super sports car which was built in the 1990s and is very much a part of our tradition-steeped history," says Stephan Winkelmann, President of Bugatti. "With the EB110, Bugatti catapulted itself to the top of the automotive world once again after 1956 with a new model." It was a crucial interim step for the production facility that was newly founded in Molsheim in 1998, taking Bugatti back to its roots in France, and the first hyper sports car of modern times – the Veyron.
"We are proud of our long Bugatti history, of which the EB110 is very much a part. That's why we're celebrating a reinterpretation of this extraordinary vehicle with the Centodieci – Italian for 110," says Stephan Winkelmann. The EB110 was built in Campogalliano, Italy, but from the very outset it never denied its French influences. Former owner Romano Artioli opened the factory on Ettore Bugatti's 109 birthday – 15 September 1990. Artioli made a deliberate choice in opting for Campogalliano, a small town in Emilia Romagna. The location had a key advantage in the 1990s: it was in the catchment area of several Italian sports car brands, so Artioli was easily able to recruit experienced employees for his project. Artioli presented the super sports car EB110 to the public on Ettore Bugatti's 110 birthday – hence the type designation: EB for Ettore Bugatti, 110 th for his 110 birthday.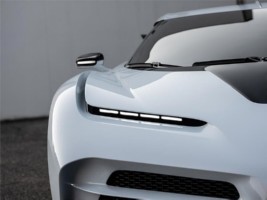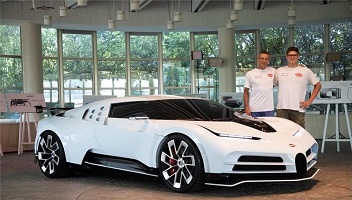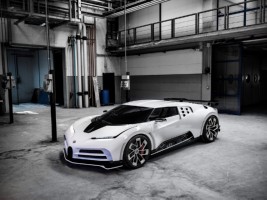 New three-dimensional design
There are many areas in which the new special-edition Bugatti Centodieci echoes the former super sports car of the 1990s. "The challenge was not to allow oneself to be captivated too much by the design of the historic vehicle and work solely in retrospect, but instead to create a modern interpretation of the shape and technology of that time," says Achim Anscheidt, Head Designer at Bugatti. Even sportier and more extreme than the Bugatti Chiron2 and Divo3 hyper sports cars, yet elegant and timeless like the La Voiture Noire, it is a one-of-akind Bugatti for the enthusiast.

"We faced a number of technical challenges in terms of the development and design of the Centodieci," says Achim Anscheidt. The EB110 is a very flat, wedge-shaped and graphically quasi two-dimensional super sports car of the late 1980s. "Transporting this classic look into the new millennium without copying it was technically complex, to say the least. We had to create a new way of combining the complex aerothermal requirements of the underlying Chiron technology with a completely different aesthetic appearance."

The flat, horseshoe-shaped radiator at the front reveals its depth only from the side view, with the newly developed, deep-seated front spoiler and the three-section air intakes providing a perfect match. The front of the Centodieci drops very low. The iconic Bugatti horseshoe has been reduced accordingly, while the Bugatti logo Macaron sits on the hood, which is interrupted at the centre by a black element. "This allowed us to rekindle memories of EB110," says Achim Anscheidt. The optimised front section with the extended front splitter and the airflow through the hood further improve the car's aerodynamics.

The front is subordinated to the generally low geometry of the vehicle, despite its original, predominant cooling surface. The newly developed, complex and very narrow headlamps with integrated LED daytime running lights provide the perfect match. Thanks to the newly developed lighting elements, we were stylistically free in the front and rear sections to pay respectful homage to the EB110 while at the same time transposing this appealing visual reminiscence into modern technology," says Achim Anscheidt.

"We incorporated the wedge-shaped design in the development process but we took it in a new direction," says the designer. Instead of copying the classic Italian wedge in which the muscle runs from the rear to the front wheel, suggesting a dynamic leap forward, Bugatti strikes out on a new path in the Centodieci. The otherwise dominant Bugatti line, the C line on the B pillar, gives way to a new design Significantly smaller than the Chiron, five round air inserts – positioned in the form of a diamond – ensure sufficient air intake for the iconic 16 cylinder engine. In this way, Bugatti has brought forward the visually leaping wedge of the EB110 SS into a new millennium.
Instead of the graphic two-dimensional rear of the EB110 with its two pill-shaped tail lights, the Centodieci relies on a wide air outlet opening for more efficient engine thermals, bringing to life the flying tail light elements in graphic kinship with the EB110. It took several months to develop solutions to ensure a balanced temperature. As in the EB110, the engine is seen behind a transparent glass surface. The rear is formed into a single ventilation hole, characterised by the eight rear light elements, 2+2 exhaust tailpipes positioned on top of each other in a black matt anodised finish and a performance diffuser to improve downforce. The overhanging rear wing is permanently attached in the style of the original EB110 SS. This increases the downforce. Downforce is supported by the aerodynamic tailgate and a laminar flow-optimised rear window.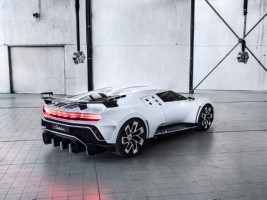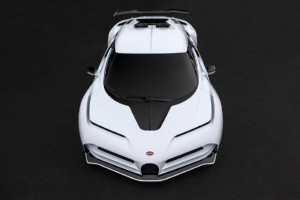 16-cylinder engine now delivers 1,600 hp
Instead of the V12, the Centodieci features the iconic 8.0-litre W16 engine with 1,176 kW/1,600 hp at 7,000 rpm. An additional air inlet in the area of the oil cooler reliably regulates the temperature of the performance enhanced engine. The Centodieci sprints from 0 to 100 km/h in 2.4 seconds, to 200 km/h in 6.1 seconds and to 300 km/h in 13.1 seconds; the top speed is electronically cut off at 380 km/h. "It's not just the top speed that makes a hyper sports car. With the Centodieci, we once again demonstrate that design, quality and performance are just as important," says Stephan Winkelmann. Compared to the Chiron2, the Centodieci saves 20 kilograms of unladen weight. Among other things, a lightweight windscreen wiper and stabilisers made of carbon are used. This enables a sensational power-to-weight ratio of just 1.13 kilograms per horsepower. "The increased power and lower weight further improve performance – for even better acceleration at high speeds. The Centodieci offers our customers an improved power-to-weight ratio and even more dynamic handling," says Stephan Winkelmann.

The new paint tone matches this. "With the communication paint finish in white, we're demonstrating a powerful contrast with the La Voiture Noire – the black car just presented in March: two completely opposing yet related forces, like yin and yang," says Stephan Winkelmann. He says that this was what continues to set Bugatti apart after 110 years.

Naturally, customers can have their special-edition Centodieci painted in the Bugatti colour of their choice. The small series, limited to ten vehicles (and already sold out) and handcrafted in Molsheim, France, will be delivered in two years at unit prices starting at EUR 8 million plus VAT. After its short period in Italy, Bugatti has now been back at its old headquarters in Molsheim, France, for almost 20 years. This is where Ettore Bugatti produced the very first vehicles that bore his name at the end of 1909.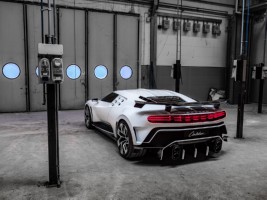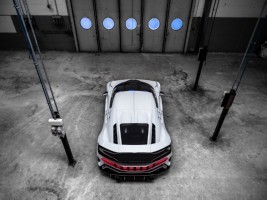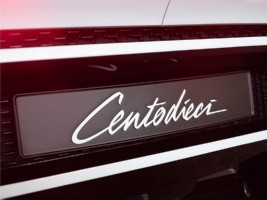 ---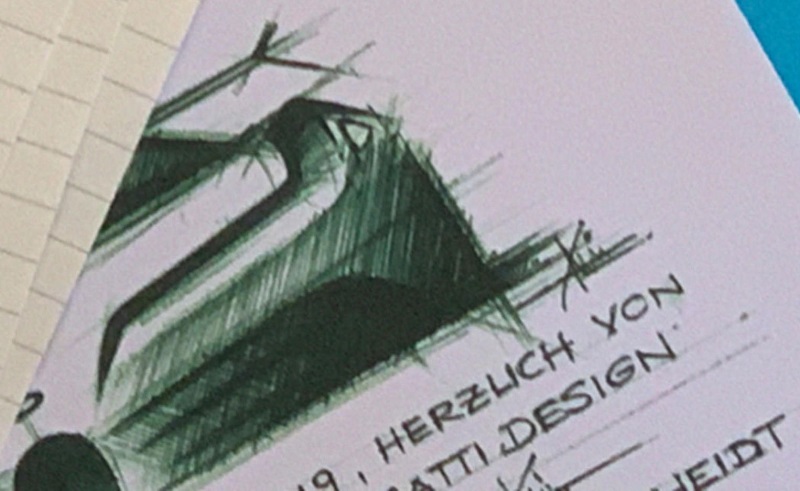 August 9, 2019
Bugatti to present a new version of the Chiron
After presenting the light-weight (several pounds lighter!) Divo and later "La Voiture Noire" shown the first time at the 2019 Geneva Motor Show, Bugatti is to present a new version of the 1500 HP Chiron, next week at Pebble Beach.

Before presenting "La voiture Noire", the new VW-Bugatti company showed a lot of information and history about the T57SC Atlantic, which turned out to be the inspiration for that new design.

This time, Bugatti showed the last month a lot of images and info on Romano Artioli's EB110GT and EB110SS. Also, this year is the "110th anniversary" of the Bugatti brand, thus using the EB110 as inspiration for the new version of the Veyron would make sense.

During a recent interview, the EB110's creator (below) revealed he would love to see Bugatti develop a tribute to the mid-engined supercar. So far, Bugatti hasn't released any teaser photos of the new model, but Germany's Auto Motor Und Sport has managed to obtain a partial design sketch (shown above) allegedly produced by Bugatti chief designer Achim Anscheidt, potentially showing what Bugatti's next hypercar will look like.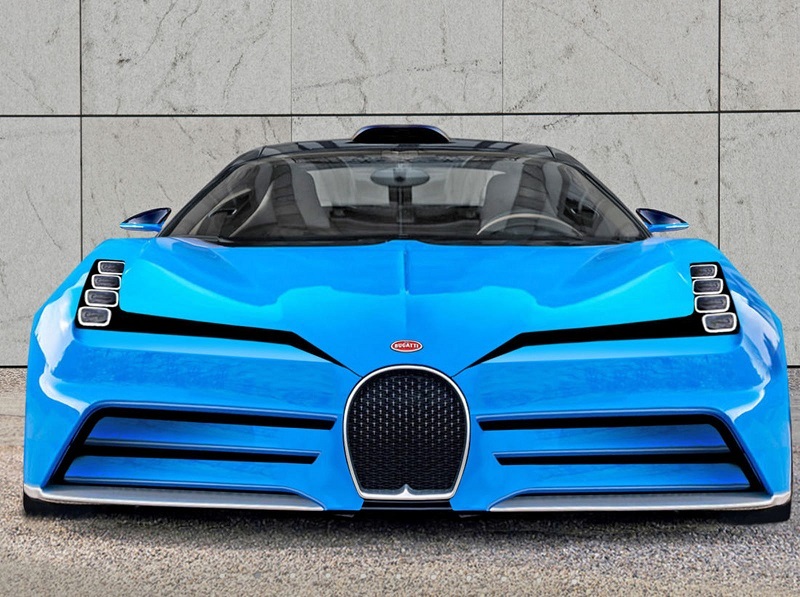 Auto Motor Und Sport believes the internal design sketch was used on a greeting card from the Bugatti Design Studio, but this hasn't been confirmed. Using the design sketch as a basis, the German publication has mocked up a render (pictured above) showing what the new hypercar tribute could look like when the covers come off at Pebble Beach.
Shown from the front, the distinctive crossbars in the grille are clearly inspired by the EB110 Super Sport but the quad headlights on each side of the hood have been vertically stacked, resulting in a striking appearance. We'll have to wait and see if the final car's design matches the render.
Well; luckily we do have a photograph of the finished car, be it just a part of it.. See below, this is one of the wheels, apparently of novel design, see below. In fact, it seems that part of the wheel is in fact located behind the large brake disc.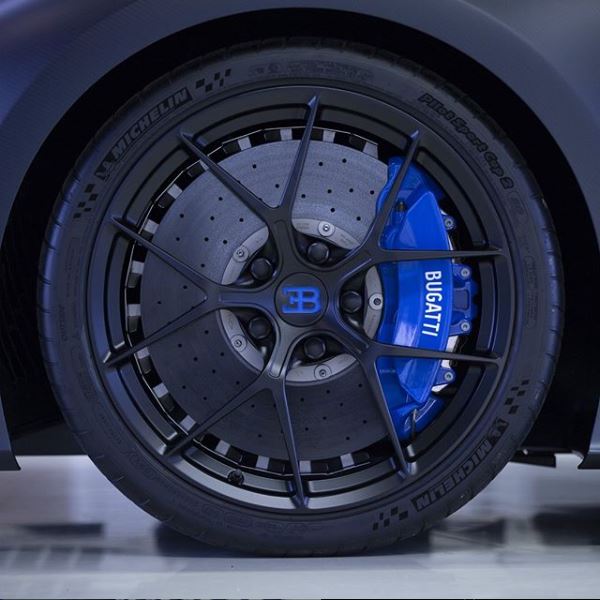 As proof that the current Bugatti does seek for inspiration in the EB110, are the photographs below of a Chiron alongside two racing Bugatti EB110SS's (Le Mans and IMSA, see this article from 1996 in the Bugatti Revue for more info), inside and outside the old Campogalliano factory, which in fact still exists and was not touched since it closed in 1995..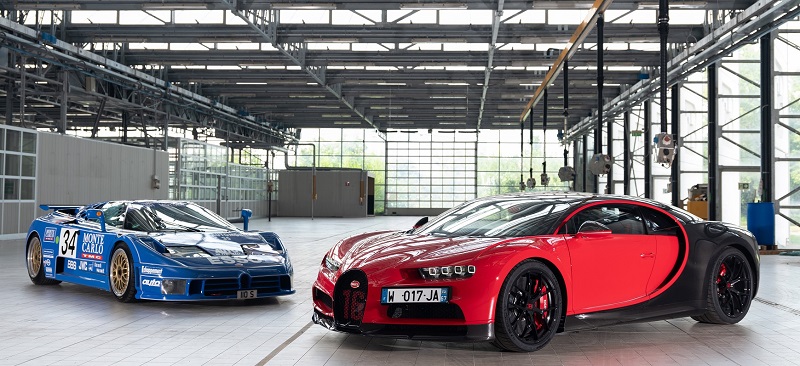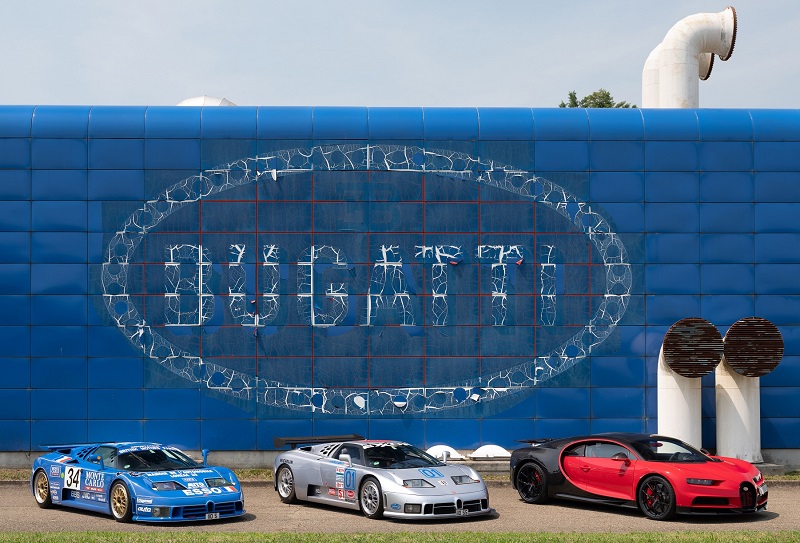 Romano Artioli was interviewed not long ago about what he thinks of this new revival. He is the Italian entrepreneur who revived Bugatti in the 1990s and launched the EB110 before it went bankrupt. A few years later the company was acquired by Volkswagen and launched the Veyron. He has revealed what he thinks about a modern interpretation of the EB110.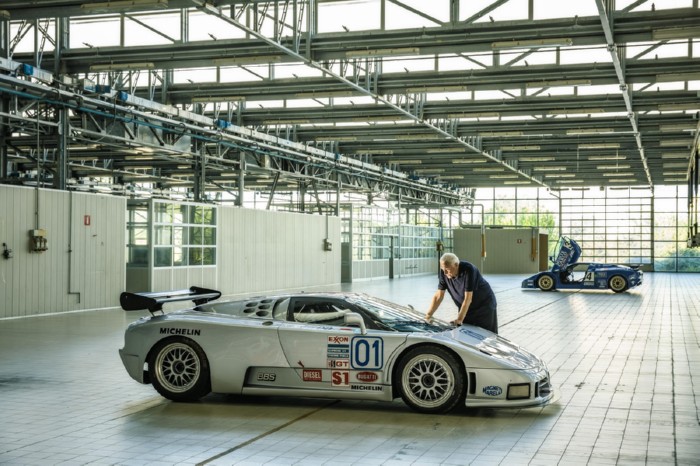 "I have read the rumors about a new Bugatti being presented in Pebble Beach and it being inspired in the EB110. I don't know if that's the truth, but if it were, it would mean a lot to me, to my whole family, and to my old companions at Bugatti Automobili," he said. "The EB110SS was designed to last for a long time, into the future, and for this reason all the technical solutions that had been anticipated, today are present in the new Bugatti cars. I would be very pleased if even the design of the possible future Bugatti was inspired by the EB110SS, which is still contemporary. La Fabbrica Blu in Campogalliano, the EB110, but also the Lotus Elise - these were a dream come true for me, my life's work." Artioli recently came out with a book about these times.
While Artioli doesn't know if the rumors are true, he believes the EB110 SS is long overdue a tribute car. "The EB110 was a car ahead of its time, 110% worthy of carrying the name Bugatti. I might not be the most impartial person in this matter, but no other car deserves a tribute more than the EB110."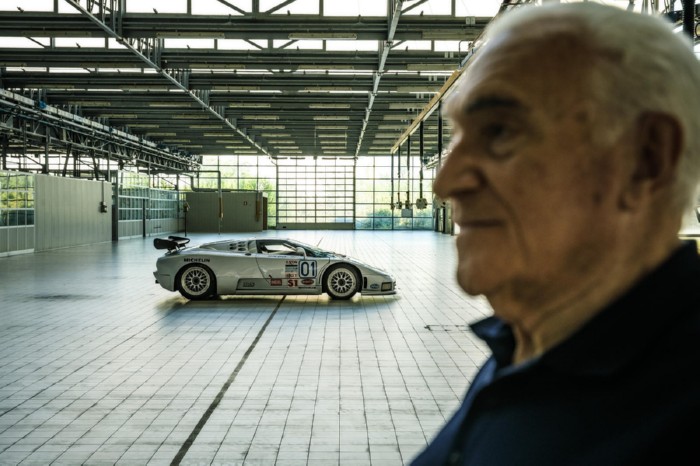 The EB110's distinctive design was the work of Giampaolo Benedini. Artioli says he would like to see some of the car's design elements applied to a modern car. "Giampaolo Benedini finished the design of the EB110 - as an architect! That's quite uncommon in the automotive world, and it resulted in a very distinguished design of this super car," he explained.
"The styling of the EB110 - especially evident in the Super Sport version - is a very graphical one. The memorable, graphical elements make it truly iconic. This Bauhaus style inspiration before that art tendency became popular. Also, design-wise, the EB110 was ahead of its time and nothing but a trendsetter."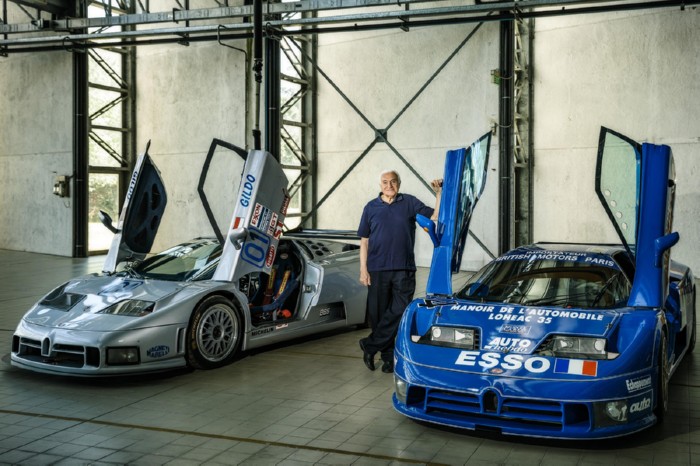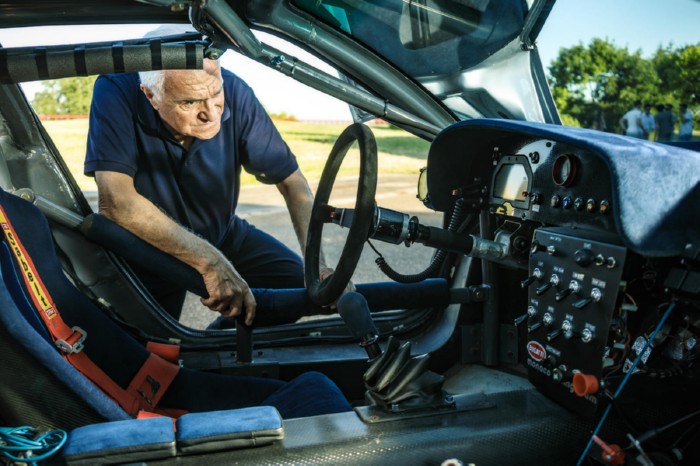 Today, Bugatti is better known for the Veyron and Chiron hypercars after the company was acquired by Volkswagen in 1998. But what does Artioli think of Bugatti's current design direction? "Ferdinand Piech, maybe the last "Patron" figure of today's automotive world took over the brand, and has it shaped to his idea, but always with respect of the long and proud Bugatti history. I think that's the most important point."
"The Veyron was and the Chiron are the absolute pinnacle of the automotive industry, the most powerful and the fastest supercars. By the way, the fact that Loris Bicocchi, our main test driver for the EB110 and employee number 7 at Bugatti Automobili, also helped test drive the Veyron and the Chiron, makes me proud!"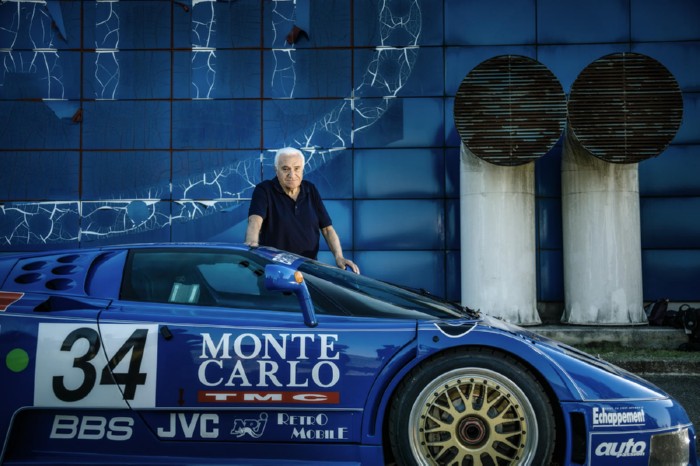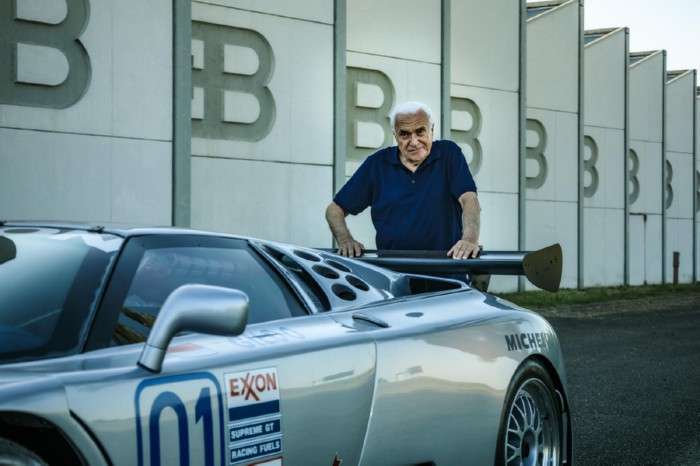 Back in January, Bugatti invited Artioli to Chateau Saint Jean, where he got to drive the Chiron. Was this when Bugatti revealed plans to Artioli to build an EB110 tribute car? "I had never been to Molsheim after Volkswagen had bought the rights to the Bugatti brand. So it was long overdue. It was an amazing experience to be received by Stephan Winkelmann and his team in the Château St. Jean and to test drive the Chiron. We exchanged a lot of ideas and stories, but no tribute or homage project was ever mentioned or presented to me."
We'll find out if the rumors are true when Bugatti unveils its latest project at Pebble Beach on August 16. Sadly, Artioli won't be at the show, but he will still watch the premiere. "I wish I could. However, it is a very long journey that would take me away from my current projects for too long. I will, however, sit in front of the laptop to watch the live stream of the Bugatti press conference, as one more Bugatti enthusiast. Maybe even still the biggest one out there…"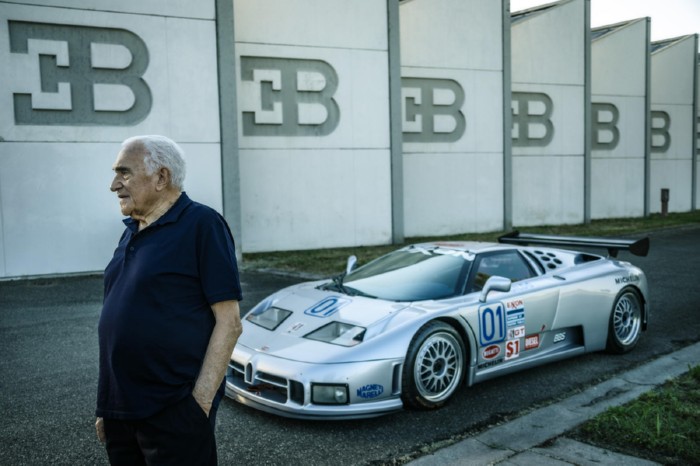 ---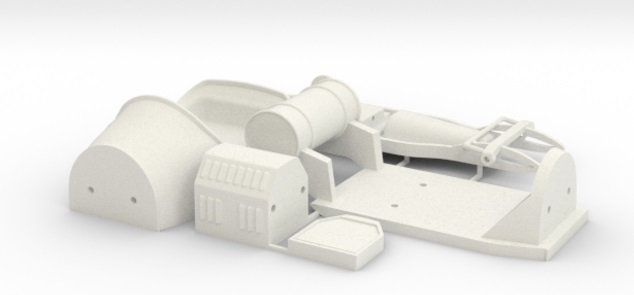 June 28, 2019
Building your Bugatti
...in miniature that is.
I was visiting the old BugattiBuilder website, and found an interesting link.
One hears about 3D printing related to a lot of parts and technologies these days, even the brake parts for a Chiron. However, in this case application is much less structural, but can be fun too.
3D printing enables specific miniatures to be made in small series, with virtually no tooling costs. On this website, there is a listing from different suppliers, with interesting models, even like the T46 wheels for the famous Heller T50 kit.
However, I especially liked the 1911 T13 GP, available in various scales, the biggest being 1:24.
No easy kits though, as these are the basic shapes only, and miss a lot of essential parts (wheels!) and details, which you will have to source elsewhere. Also, the 3D printed material is rather rough, and needs quite a bit of fiddling before it has a smooth surface. Well, plenty of time in these hot summer months, which are too hot to go outside anyway....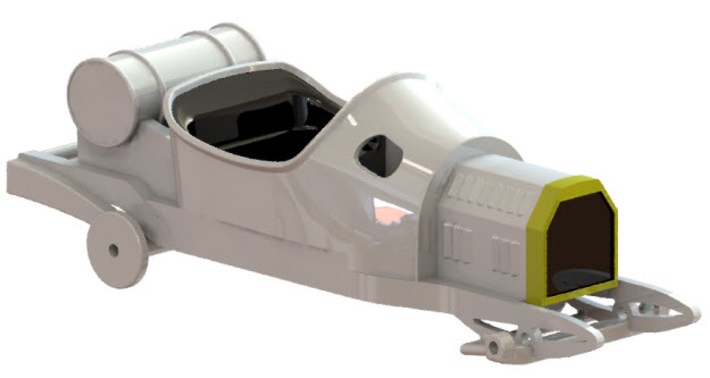 ---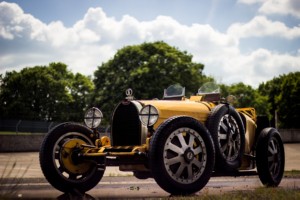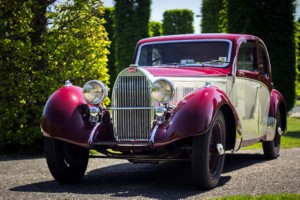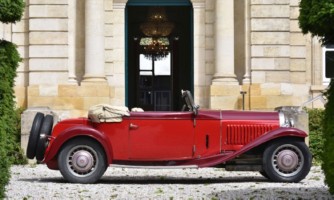 June 22, 2019
Auction results
Osenat Auction: Automobiles de Collection, June 15, 2019
1929 Bugatti T35B, chassis n° BC25, Estimate: 400 000 - 600 000 €: sold for 400 000 €
1937 Bugatti T57 Carrosserie Graber, Châssis n° 57443, Estimate: 350 000 - 450 000 €: Not sold
Arturial Auction: Vente Automobiles en Scène, June 17, 2019
1933 Bugatti Type 49 Cabriolet 4 places, Chassis n°49558, Engine n° 445, Estimate: 300 000 - 400 000 €: Not sold
Two out of 3 not sold, at estimates which do not seem to be extremely high. Apparently the reduction in prices of classic Bugattis continues!
---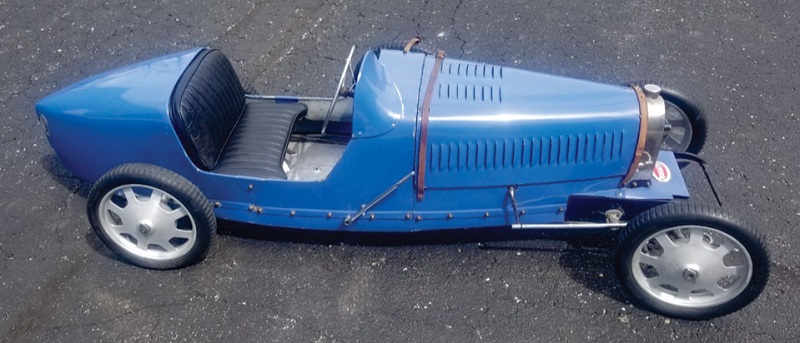 June 8, 2019
Auction result
RM Auctions - Auburn Spring, May 29 - June 1, 2019
Bugatti 'Baby', c. 1929, Chassis no. 355A
Estimate $18,000 - $25,000: Sold For $31,625 (Inclusive buyer's fee)
---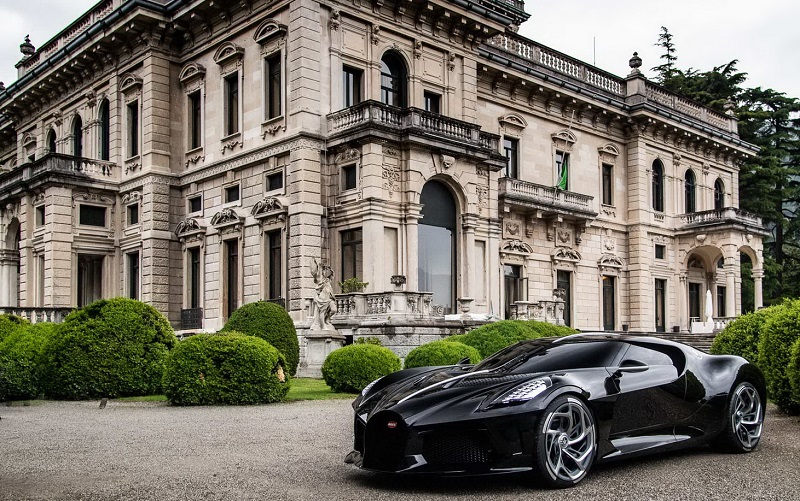 June 8, 2019
Bugatti "La Voiture Noire" Wins Design Award At Concorso d'Eleganza Villa d'Este
Bugatti has received the Design Award for the striking La Voiture Noire during its exhibition at the Concorso d'Eleganza event that was held at the shores of Lake Como in Italy.

Unveiled at the Geneva Motor Show this year, the La Voiture Noire was created as an one-off to celebrate the brand's 110th anniversary and pay homage to the legendary Type 57SC Atlantic.

Underneath the bespoke bodywork, Bugatti's latest bespoke creation uses the same underpinnings with the Divo and Chiron, including the quad-turbo 8.0-liter W16 powertrain. Its output remains unchanged, at 1479hp (1500PS) and 1180lb-ft (1600Nm) of torque.

'La Voiture Noire' is French for 'The Black Car', a node to the second Type 57SC Atlantic that was owned by Jean Bugatti himself and simply vanished, without anyone knowing what exactly happened to it.

Bugatti's modern Black Car has also gained the title of the world's most expensive new car of all time, as its owner has reportedly paid 16.7 million euros ($18.6 million in current exchange rates) for it. Speaking of its owner, it is believed to be ex-VW Group boss Ferdinand Piech, though that has neither been confirmed nor denied so far.

However, the hypercar is far from finished, with the car in the pictures being a prototype powered by a small electric motor for exhibition purposes. The finished item is still two to two-and-a-half years away from delivery, according to Bugatti's head of communications Tim Bravo, so Mr. Piech, if he is indeed the owner, should be patient.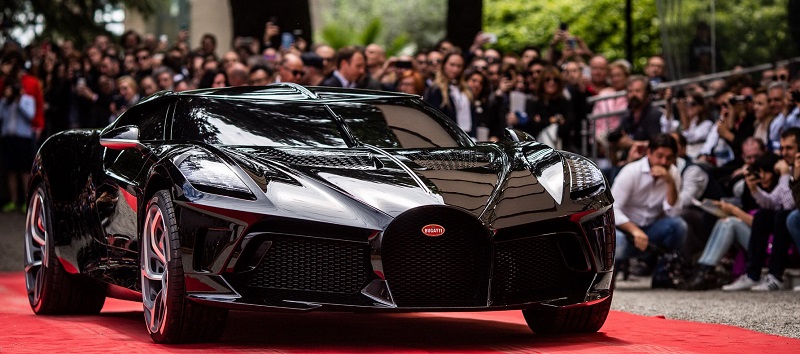 ---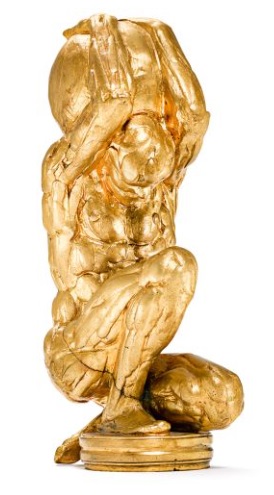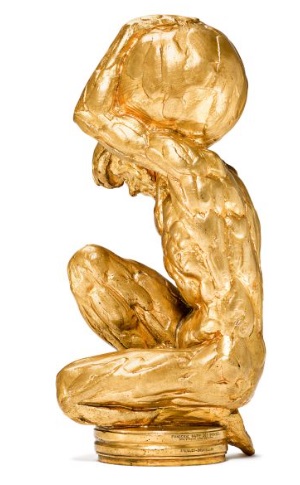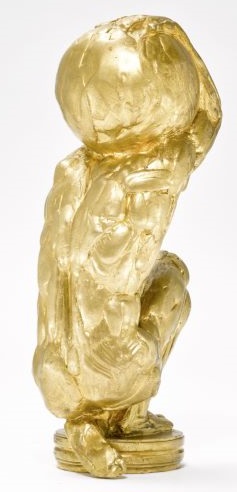 May 31, 2019
Remarkable Rembrandt Bugatti designed auto part on auction
Everybody knows the "Elephant" which adornes the Royale's Radiator, and that it was based on a statue by Rembrandt.
However, this is something different, a radiator ornament actually made by Rembrandt as such, in 1913!.
Full description:
REMBRANDT
(1884-1916)
RADIATOR MASCOT "Atlas", ca. 1913.
Gilt bronze. Gilding, supplemented later.
The base inscribed: Fonderie Nationale des Bronzes, Ancienne Firme J. Petermann. St. Gilles-Bruxelles. H 30 cm.
Lit.: Rembrandt Bugatti, Catalogue raisonné, Jacques-Chalom Des Cordes, Véronique Fromanger Des Cordes, pp. 292, 293.
Acquired on 5 June 1984, Maitre Poulain, Ventes publiques.
Unluckily, at some stage the leg broke off, and was crudely repaired. That can be done better, I guess!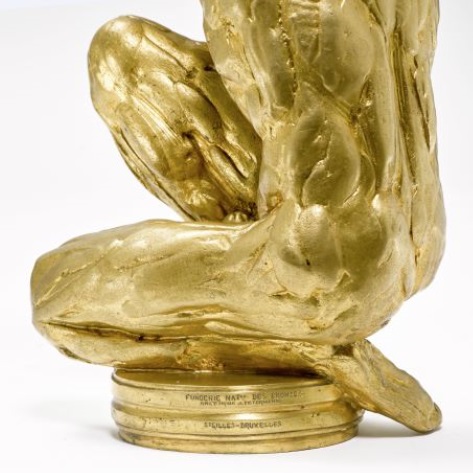 It will be auctioned on June 27, by Koller International Auctions in Switzerland, estimate CHF 10 000 / 15 000 or € 8 770 / 13 160
More info, there are more Rembrandt Bugatti sculptures in the same auction!
---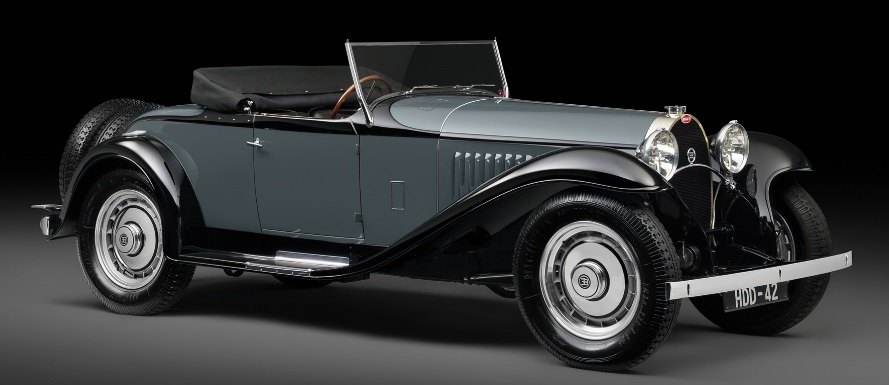 May 30, 2019
Auction result
RM Sotheby's Villa Erba Auction, May 25, 2019
1931 Bugatti Type 50 Roadster, Chassis No. 50123, Engine No. 18. Estimate: €1.400.000 - €1.800.000, sold for €1.411.250 (including fee)
---
May 23, 2019

Bugatti's second model will be unlike any car sold today

Bugatti is developing a second model to sell alongside the Chiron. While full details about the car remain under wraps, the company's chief executive recently hinted the yet-unnamed model will be completely different than its bigger sibling, and unlike anything else currently sold around the world.

"It's clear that when you think about the second model, you always have to see what the body style could be. Believe me, we really looked into every detail of the body style, and I think that there is one that is very promising for a company like Bugatti. It's a body style which is not today on the market," company CEO Stephan Winkelmann told Motor1.

He didn't provide additional details. However, his statement seemingly rules out a long-rumored SUV, a sedan in the vein of the 16C Galibier concept, and a Chiron-like coupe. Regardless of what it looks like, it will arrive as a smaller, more affordable, and more daily-drivable car than the Chiron. That doesn't mean Bugatti will go into Toyota Supra territory, though. Its second model will cost at least $1 million.

The French automaker previously confirmed its quad-turbocharged, 16-cylinder engine has nearly reached the end of its life cycle. What will power the Chiron's successor remains to be seen, and Bugatti still has time to figure it out, but the second model could go in a completely different direction.

"This could be, for example, a full electric car," Winkelmann said. He added a Bugatti-badged EV would need to be "the best of its kind."
---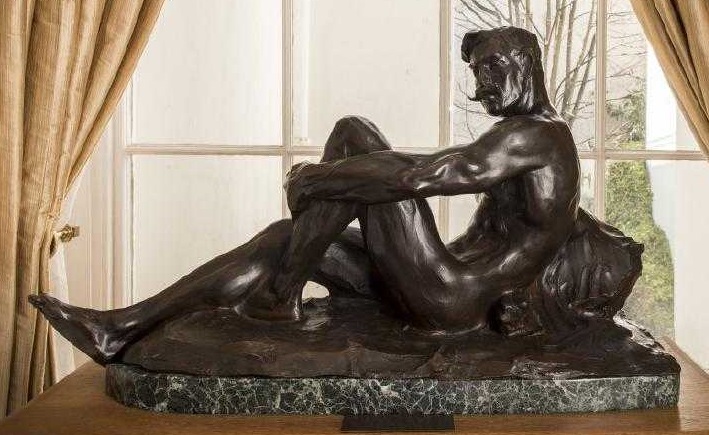 May 19, 2019
Unusual 1907 Bugatti sculpture to be auctioned
Rembrandt Bugatti, 'Athlete nu au repos' ('Naked athlete resting'), c. 1907.

Bronze, brown patina on marble pedestal. 42.5 x 76.5 x 31 cm (including marble pedestal).

Signed below the athlete: R Bugatti and dated: (1)907 (stamped), lower left of it foundry mark of A.A. Hebrard Cire Perdue and numbered: 1 (stamped).

Originally it was intended to realise the 'Athlete nu au repos' three times. According to the catalogue reaisonne and the current research this is the only copy.

Estimate €1,000,000 - €1,400,000

Quittenbaum Kunstauktionen GmbH, Munich, Germany
For bidding
---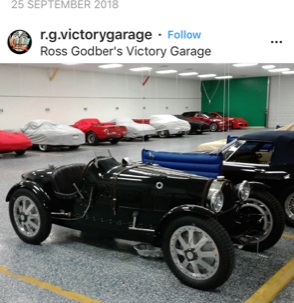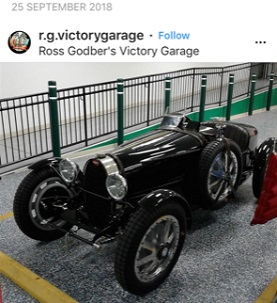 May 13 / 19, 2019
1920's Bugatti destroyed in fire
According to various reports, a fire on May 8 in a two-story self-storage building in Etna, Pennsylvania, just north of Pittsburgh, reportedly destroyed more than 200 vehicles, many of them collector cars, including a 1920s-era Bugatti reportedly worth $2 million.

According to the Allegheny County Department of Emergency Services, the fire started on the building's first floor when a man was working on a motorcycle that caught fire.

Ross Godber, owner of Ross Godber's Victory Garage, said he "was working on a Bentley in his space on the first floor of the warehouse when he heard several loud bangs," the newspaper reported.

"Mr. Godber's space was near an exit, so he got into a Ferrari and drove it out of the building. He ran back inside to try to save the three other vehicles he was working on – the Bentley, which he said was worth $325,000 when it was new; a 1947 Dodge sedan, which was in the middle of restoration; and a 1995 Ford F-250, which he was trying to convert into a monster truck – but the flames and smoke were too strong.

Mr. Godber said he thinks the Ferrari might be the only vehicle that survived the fire. He said he has heard that the vehicles lost in the fire total around $60 million.

From Hubert Lance Huet I received the photographs above of the Bugatti T35B which was probably the one destroyed in the fire. I have no further info on this car, and if it is (was...) original or not.
---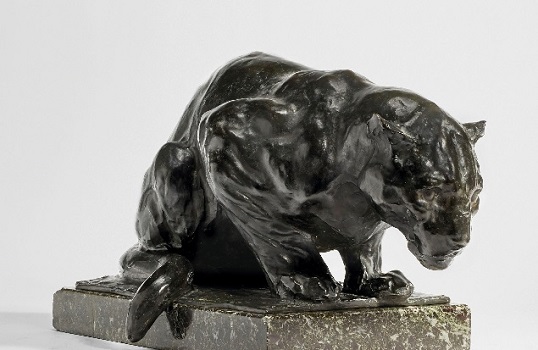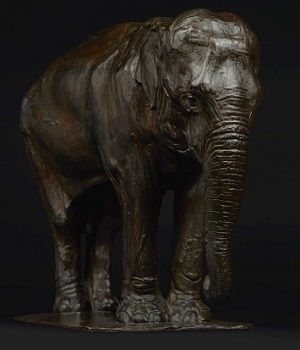 April 27, 2019

Sell your Bugatti automobile, and buy something else!

Now is you opportunity to acquire one of these Brilliant Rembrandt Bugatti sculptures!

On the left: 'JAGUAR ACCROUPI', GRAND MODÈLE, approx. 1907
Estimate: EUR 400,000 - EUR 600,000

On the right: ÉLÉPHANT AU REPOS, circa 1909-10
Estimate: 1,057,110 - 1,585,666 EUR

These are on auction by Christie's respectively Sotheby's.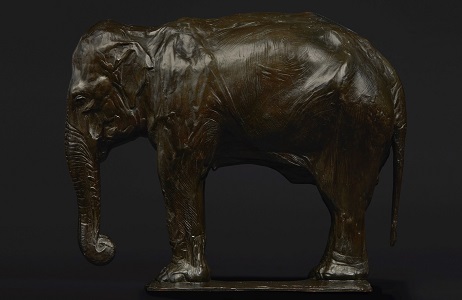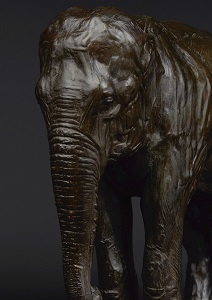 Christie's link
Sotheby's link
I believe this was the first time I instructed a Bugatti owner to buy a Jaguar.....
---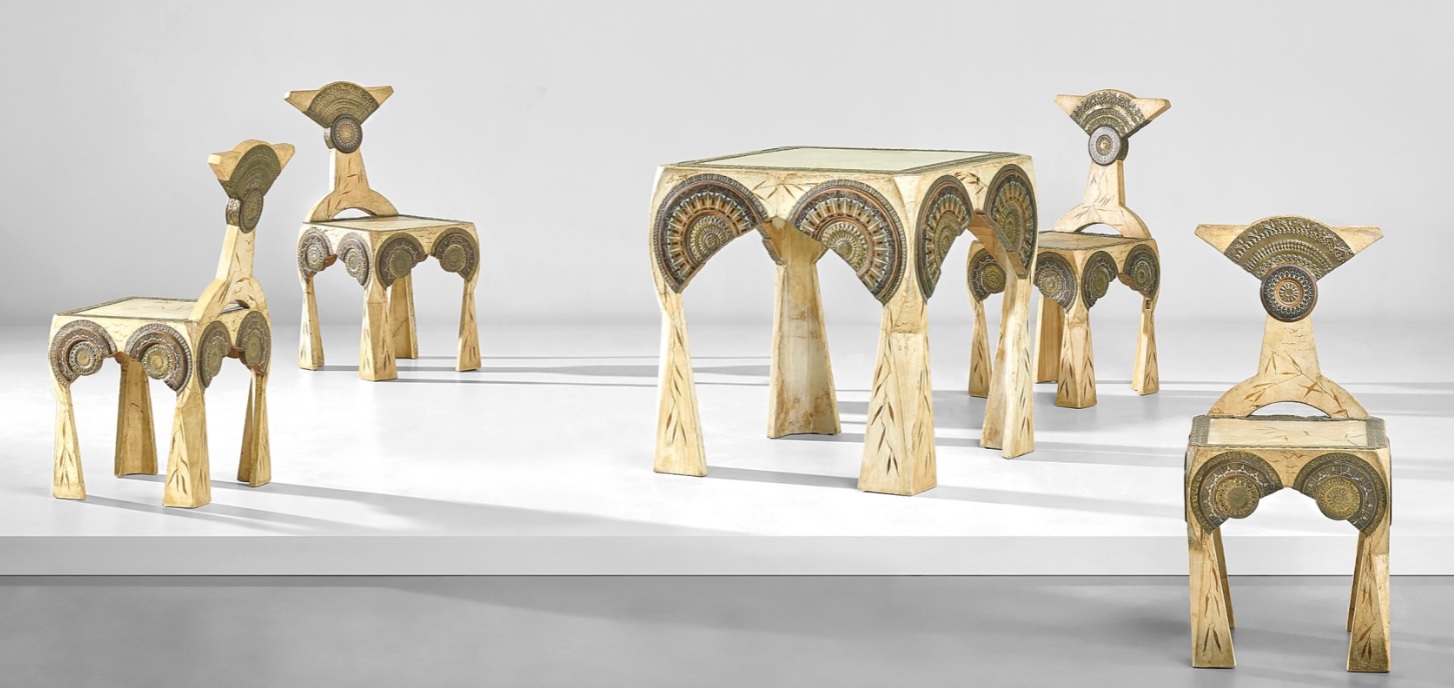 March 23, 2019

Auction result

Phillips auction, London, March 21

Carlo Bugatti game table and chairs, 1902, Estimate £80,000 - 120,000, sold for: £93,750
---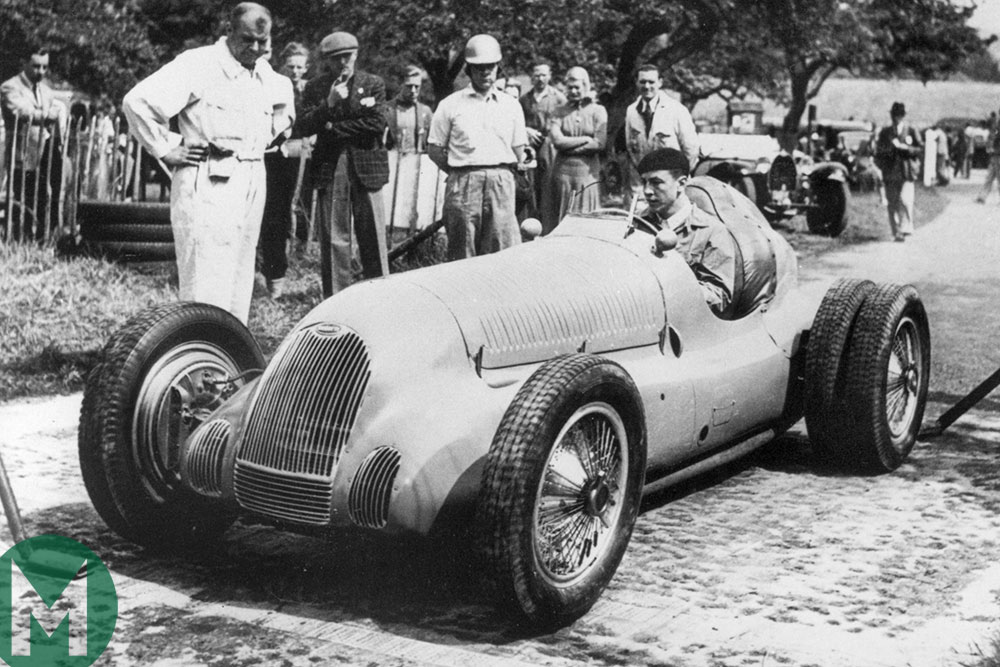 March 16, 2019

Works 59/50B Bugatti returning to Prescott after 80 years

A world-famous Works 59/50B Bugatti is set to return to Prescott hillclimb for the first time in 80 years, as part of a special exhibition this summer that celebrates the Bugatti Owners' Club's 90th anniversary.

The car will be on display at the Bugatti Trust as part of its summer exhibition 'Jean Bugatti and Jean-Pierre Wimille – Prescott 80 years ago', which will run until September this year. The exhibition is one of a number of festivities marking 90 years since the founding of the Bugatti Owners' Club, the oldest Bugatti club in the world. The club also owns and operates Prescott, as well as being based there.

This year also marks the 80th anniversary of a remarkable part of Prescott's history. On Sunday July 30, 1939, it held its first ever international meeting, a Bugatti Owners' Club event, and this very returning Works monoposto Type 59 fitted with an 8-cylinder supercharged 4.7-litre type 50B engine Works 59/50B Bugatti not only took part, legendary grand prix driver Jean-Pierre Wimille was behind the wheel.

Jean Bugatti accepted an invitation to attend the 1939 Prescott hillclimb meeting and he brought with him his famous works driver Wimille, who was fresh from winning the Le Mans 24 Hours for the second time.

The 59/50B had without doubt the most powerful engine built by the factory and was fitted with twin rear wheels specially for the Gloucestershire hill climb's challenges.

Motor Sport's report from the event at the time called it "a truly beautiful car".
"So wide was it, twin shod at the rear, that it could not use the return road," the report continued. "Wimille wore a beret and drove with great care and polish, clocking 46.69sec on his second run, after an initial ascent in 47.50sec, excellent times on this course for such a powerful car.

"Afterwards, Wimille watched other climbs in company with Earl Howe and Jean Bugatti."

Despite the unsuitability of his car Wimille still got the event's second fastest time, shy only of Raymond Mays' ERA which stopped the clock at 46.14sec.

Afterwards Jean Bugatti wrote to apologise for using such an incompatible car for the course and promised to return the following year with one of his new 1-litre machines.

The onset of the Second World War just five weeks later ensured this was not to be; further the 59/50B was only driven one more time, in 1945 again by Wimille at the Coupe des Prisonniers in the Bois de Boulogne in Paris.

It was retained by the factory until it was acquired by the Schlumpf brothers for their Cité de l'Automobile museum in Mulhouse, France. It has now been loaned by that collection to Prescott.

This year's anniversary events also include the Bugatti Trust joining the festivities of Prescott's popular annual French and Italian themed 'La Vie en Bleu' weekend, taking place on May 25-26. It is anticipated that over 90 Bugattis will be present at that.

"We are delighted that the Works 59/50B Wimille Bugatti will make an historic return to Prescott," said general manager of the Bugatti Owners' Club, Chris Rogers. "The Bugatti Owner's Club and Prescott Hill Climb have played a significant role in the history of the car and its famous French driver Jean-Pierre Wimille."

Photographs: Jean-Pierre Wimille at the 1939 Prescott hill climb in his Works 59/50B Bugatti
Published in: motorsportmagazine.com
Images courtesy of The Bugatti Trust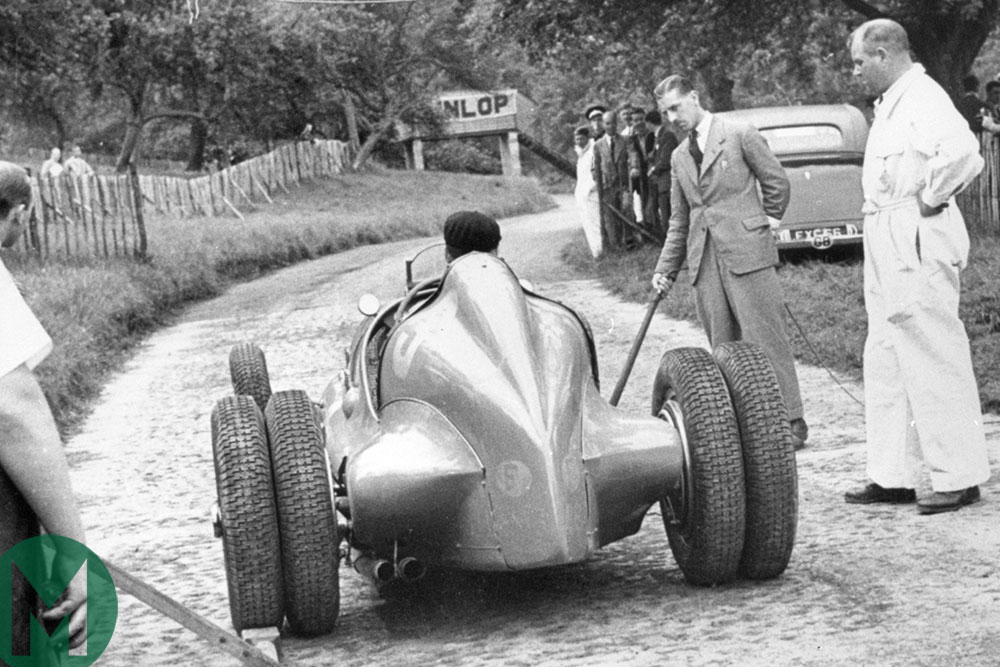 ---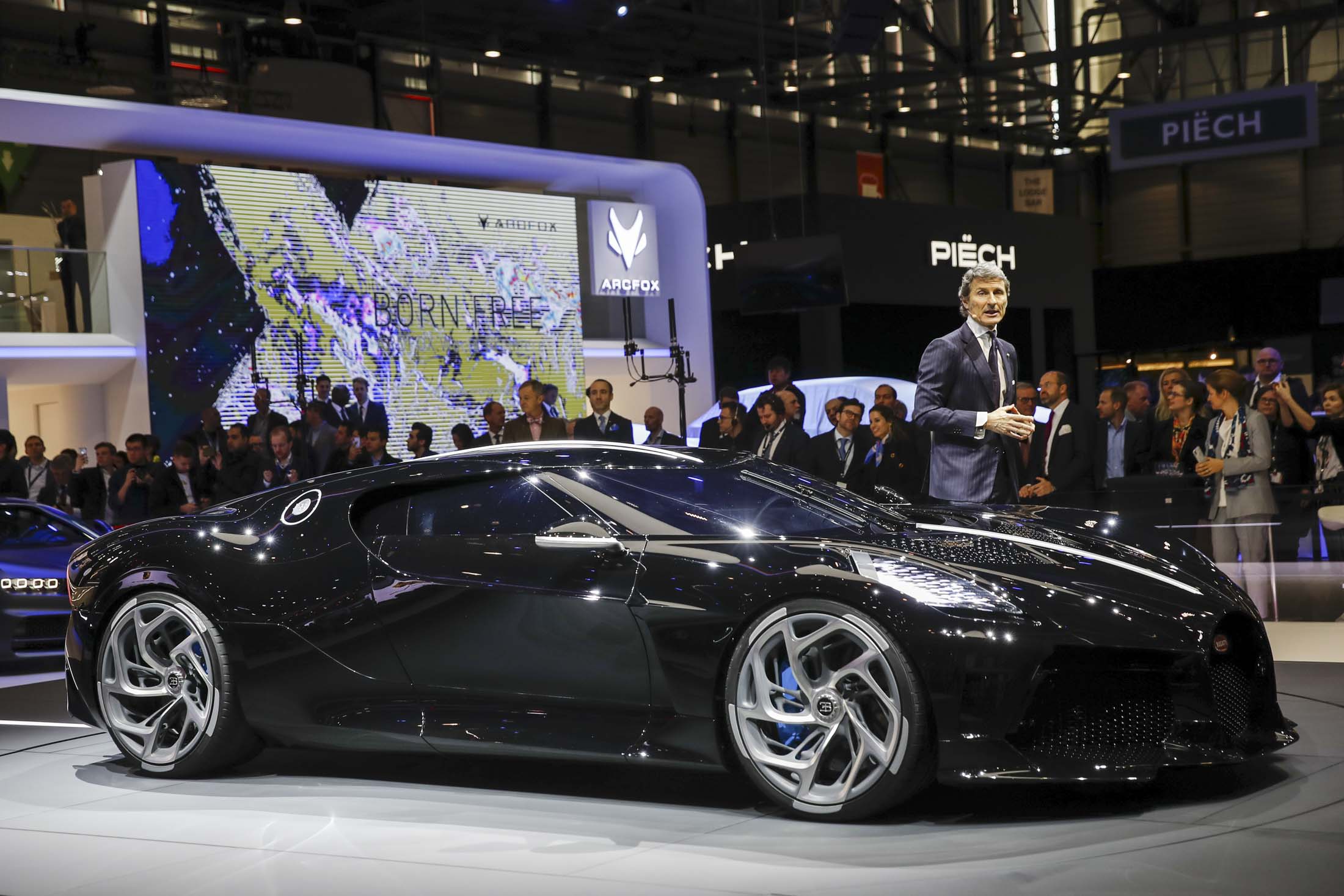 March 16, 2019

Bugatti Wants to Make a Car That Is … Not Super

According to brand President Stephan Winkelmann, an electric car you can drive every day may soon be in the works.

Bugatti is looking to introduce a second, more affordable model of car to its current multimillion-dollar lineup, Bugatti President Stephan Winkelmann revealed in an interview.

Winkelmann characterized it not as a mere halo car but as a best-in-segment daily driver with a top-line price to match—and it would be at least partially electric.

"There I would see us doing a battery electric vehicle," he said of the proposed new car. "There, the balance between performance and comfort is much more important, and it's about daily usability. This is what I see."

Face-melting speed in this second car "will be far less important," he said.

Of course, these terms are all highly relative, considering the US$3-million Chiron comes with 1,500 horsepower and a top speed of 420 km/h. Any new Bugatti will still cost a lot: It stands to reason that even a far "lesser" creation could cost half a million dollars and pack an 800-hp punch.

Winkelmann declined to give more specifics about the cost, chassis, and performance of the potential car but said the company has already begun analyzing the prospect. "Let's see what we can do," he said. "I'm hoping for the best."

There is room to expand, even with the beaucoup business million-dollar cars like the Bugatti Chiron and Divo already provide. The average Bugatti customer has 42 cars at home, according to a Bugatti spokeswoman, and often two of them are Bugattis. More than half of the 250 Chirons made were purchased sight-unseen—an astounding figure considering the astronomical price tag.

In North America and Europe, billionaire populations are are growing by 17 percent and 18 percent respectively, according to Knight Frank's 2019 Wealth Report. In Asia, there will be 1,003 billionaires by 2023, a 27-percent increase from 2018 and more than a third of the world's 2,696 total billionaire population. Since 2009, sales of automobiles costing more than $180,000 has quadrupled, according to IHS Markit.

"At the end of the day, the difference of the price in a car is the brand," Winkelmann said of how the new model may be positioned within the Volkswagen Group. "And this I think will stay the same, fortunately for us. I'm convinced about this."

Bugatti would hardly be the first classic brand to attempt evolution and relevance via electric and/or halfway practical vehicles. Ferrari and Lamborghini had long eschewed deigning to make less-expensive sportscars and – gasp! – SUVs in volume plays that would bolster their tiny global outputs (formerly sub-5,000 units).

But in the past few years Lamborghini incorporated the Urus SUV into its lineup, and Ferrari executives said last week in Geneva they are working on a hybrid supercar of their own. (Recall, Ferrari introduced the hybrid LaFerrari six years ago.) These moves effected no discernible impact in terms of "damaging" a storied brand.

The real challenge will be to develop an electric vehicle with either significantly improved range or more exotic technology than the much-hyped Porsche Taycan, another sibling in the VW Group family and one that will be on the road before the end of 2019.

Any new vehicle from Bugatti would likely borrow extensively from VW Group hardware such as the Premium Platform Electric architecture to be used by Porsche, Bentley and Audi—but with a badge like Bugatti's, it better provide an amplified experience.

In the meantime, a lot can happen. Even if Winkelmann gets the green light from Volkswagen AG, the prospect of an underling Bugatti remains far from reality.

He doesn't yet have approval from the Volkswagen board, which can be difficult to procure. It took years of lobbying from Bentley and Lamborghini to get the go-ahead to make an SUV. (For the record, Bentley "won" that battle: It got the okay to make its Bentayga before Lamborghini produced the Urus.)

If and when Winkelmann gets a yes, it will take another four years of development before a second Bugatti family line hits the road.

Might as well start saving money now.
---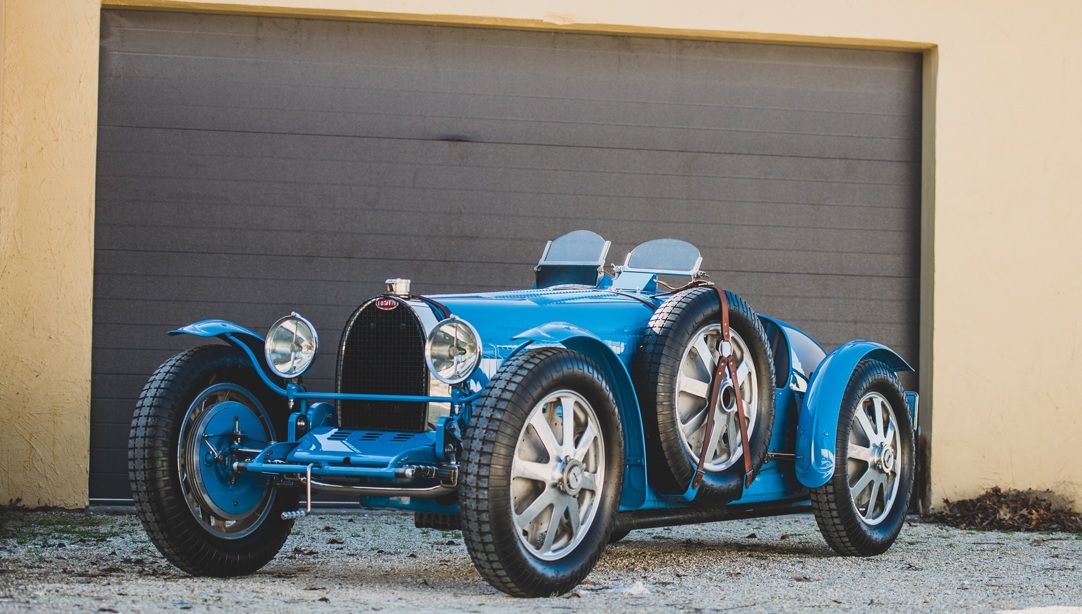 March 11, 2019
Auction results
RM / Sotheby's Amelia Island auction, March 8-9, 2019
1933 Bugatti Type 51 Grand Prix, Chassis No. 51153, Estimate: $1,250,000 - $1,600,000, Sold for: US$ 758,500 inc. premium
1937 Bugatti Type 57SC Tourer by Corsica, Chassis No. 57512, Estimate: $6,000,000 - $7,500,000: Not Sold
2010 Bugatti Veyron 16.4 'Sang Noir', Chassis No. VF9SC2C27AM795238, Estimate: $1,350,000 - $1,600,000 , Sold for: $1,500,000
---
March 11, 2019

Bugatti presents new "Baby"
500 limited-edition junior Bugatti cars built to celebrate the brand's 110th anniversary Molsheim / Geneva, March 11, 2019.
The car that brought Automobiles Ettore Bugatti to fame in the 1920s, the Bugatti Type 35, is generally acknowledged as the most successful racing car of all time. During its long career it won around 2,000 professional and amateur races, averaging more than fourteen per week at its peak. In 1926 Ettore and his son Jean decided to build a half-scale Type 35 for Ettore's youngest son, Roland, on the occasion of his fourth birthday. Now, on the occasion of the company's "110th" birthday, Bugatti and Junior Classics are reviving the idea of the Bugatti 'Baby', presenting the first 3D-printed design model on the Bugatti stand at Geneva International Motorshow.
Note: The image above is still just a digital rendering.
What Ettore and Jean had intended as a one-off car, became an official Bugatti vehicle. The feedback from customers visiting Molsheim had been so positive that it went into production and was sold between 1927 and 1936. The Bugatti 'Baby' was born. Cherished by Bugatti enthusiasts worldwide, today no collection is complete without a Baby. However, with only around 500 ever made, they have been the preserve of the lucky few. Until now.
To celebrate Bugatti's 110th anniversary, we are introducing the smallest member of the Bugatti family: the Baby II. A contemporary tribute to Ettore's masterpiece, the Baby II will be a strictly limited run: only 500 cars will be built. Unlike the original, which was only suitable for the youngest drivers, the Baby II is a three-quarters-size replica of the Bugatti Type 35 so it can be driven by both adults and children. The Baby II will allow automobile enthusiasts from across generations to share the love of driving and of the classic marque of Bugatti.
Launching almost a century after its predecessor, the Baby II has been created using the latest technology, but with the utmost respect for Bugatti's automotive heritage. Hand-built, the car was designed with the aid of a precise digital scan of an original Type 35, built for the 1924 French Grand Prix in Lyon.
Just like the original Baby, the Baby II has a rear-wheel-drive battery-powered electric powertrain. Unlike its predecessor, the Baby II features removable lithium-ion battery packs, a limited slip differential and even regenerative braking. The junior car will come with two selectable power modes for drivers of different statures: a 1kW 'child mode' with the top speed limited to 20 km/h, and a 4kW 'adult mode' with the top speed limited to 45 km/h. In addition, for those enthusiasts who crave even more pace, an optional 'Speed Key' upgrade is available (just like the Speed Key for its big brother, the Chiron!), which allows power of up to 10kW and disengages the speed limiter.
There willl be some more 21st century updates: so what was the fuel pressure pump once upon a time is going to be the forward and reverse switch, the charge cable goes in where the petrol used to, and battery packs now reside where the Type 35 engine once did. But the handbrake on the outside stays, which should work nicely in conjunction with the most powerful drive mode. There are nods to more modern Bugattis as well, with a solid silver badge like a Chiron (albeit weighing just 50g, not 140g as in that car). And while not complete just yet, the interior will feature dials by Swiss Instruments and a removable steering wheel.
The cockpit of the Baby II features Bugatti's signature turned aluminium dashboard, a leather seat, a scale recreation of the Type 35's distinctive four-spoke steering wheel and custom Bugatti instruments. The exterior of the car is painted in traditional French Racing Blue, although buyers will be able to order in a range of alternative colours. The signature eightspoke aluminium alloy wheels are scale replicas of Ettore Bugatti's ground-breaking 1924 design, and house modern brakes on each wheel. Finally, powerful headlights (not shown on Geneva Motor Show images) light the way ahead for drivers young and old, whether you're exploring new landscapes or lapping the local karting track.
Despite being the smallest member of the Bugatti family, the Baby II has a lot in common with its bigger brothers. Proudly displayed on the nose of the car is Bugatti's famous 'Macaron' badge, made of 50g of solid silver, just like the Chiron. Each car comes with a limited-edition numbered plaque and cars ordered in 2019 will also incorporate a badge to commemorate Bugatti's "110th" anniversary.
Prices start at 30,000 euros (plus taxes and delivery) and production starts in autumn / fall 2019. Join the exclusive club of Baby owners and help write the next chapter in the prestigious history of Bugatti.
Reservations for build slots open at 9am today, 11th March 2019 via: contact@bugattibaby.com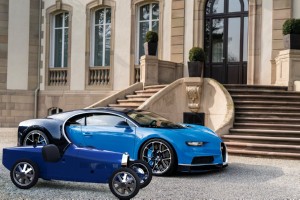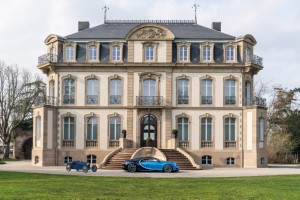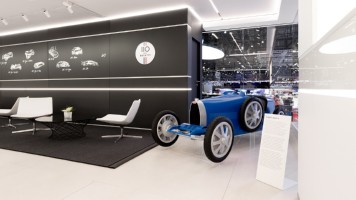 Chassis no. BC002, Engine no. 892 (ex-2526), Estimate: US$ 300,000 - 400,000, Sold for: US$ 200,000 (€ 178,221) inc. premium
I have seen a lot of Carlo Bugatti furniture, this set has some of the typical characteristics, but the widening legs are new to me!
Vellum-covered wood, repoussé brass, brass, pewter, ebonised veneered-wood, walnut-veneered wood.
Side of table and reverse of two chairs signed Bugatti.
Estimate £80,000 - 120,000, Phillips auction, London, March 21
It is not often that a T57SC Bugatti is offered, so this is your chance at RM / Sotheby's Amelia Island auction on March 8 - 9, 2019
So what do we see: approximately half of the original Molsheim Bugattis were "Not sold", as well as the two Veyron's.
A surprise was the high price reached by the EB110 SS, maybe the highest so far for an EB110 at auction?
Expected to fetch up to $2.4 million at auction, a rare 1925 Bugatti Type 35A did not sell at Arizona Auction Week 2019.
The car, driven by racing legend Louis Chiron at the 1926 Provence Grand Prix at Miramas, received a bid of $1.3 million, which did not meet the reserve price of $1.8 million.
Worldwide Auctioneers had featured the Bugatti on their catalog cover prior to the Jan. 16 auction in Scottsdale, Ariz. Principal and Auctioneer Rod Egan said it was likely to be one of the most desirable cars offered by Worldwide this year because it was ready to "vintage race, show, tour and enjoy."
The car toured 4,600 miles through Europe in 2017, according to a news release issued prior to the auction.
Signed Paul Troubetzskoy and dated 1929 on the base. Bronze with dark brown patina. Foundry mark (front right): C VALSUANI CIRE PERDUE.
The Italian artist of Russian origin, Paul (Paolo) Troubetzkoy, was a friend of Carlo Bugatti's (1856-1940) and his family. The bronze shows his oldest son, Ettore Bugatti (1881-1947), founder of the famous Bugatti car brand, on his thoroughbred "Brouillard". The bronze bears witness to Troubetzkoy's talent as a portraitist as well as his skill and passion for depicting animals. Troubetzkoy may also have been a pioneer for the youngest son Carlos, Rembrandt Bugatti (1884-1916), as a sculptor of animal representations.
Chassis no. VF9SA25C18M795208
Scuderia Tazio Nuvolari Italia and Delightful Driving teamed up to organise a meeting that has not been seen before: Bugatti and Lotus owners and enthousiasts come together in La Fabbrica Blu ('The Blue Factory') in Campogalliano (IT) on 5th October 2019.
This special meeting revolves around Romano Artioli and the book he has recently published: Bugatti & Lotus Thriller. It tells the story of a man with a dream on four wheels. After being very succesful as an entrepeneur mr. Artioli was able to revive Bugatti and to buy Lotus Cars a few years later. In this period in the ninetees of last century both the Bugatti EB110 and the Lotus Elise were developed. Romano Artioli had La Fabricca Blu built which became a car factory role model. The path that has led to these achievements was rocky, to say the least.
Bugatti Club Nederland (BCN) welcomes Bugattistes from all over the world to the 2020 International Bugatti Meeting.
On behalf of the BCN, the 'Stichting Evenementen Bugatti' is responsible for the organization of this event.
From June 7th to 13th 2020 we will stay at the Castel de Pont à Lesse Hotel – entirely rented by us – in the
beautiful Ardennes area of Dinant (Belgium), perfectly suited for touring from there for 5 days. We will visit
interesting and surprising places along beautiful roads.