Bugatti news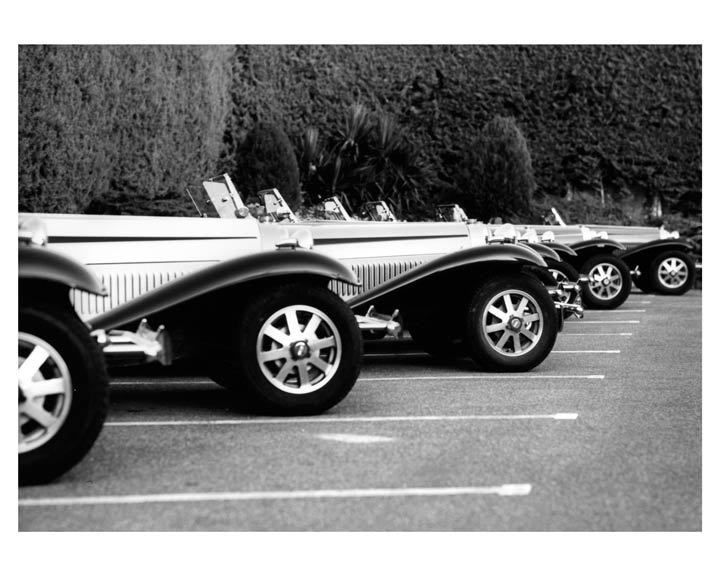 April 4, 2015
April 1
The news item below "T55's in a protest action in Paris" was of course an April 1 joke. I have no idea if it was a succes, I was not in Paris on Wednesday.
About the line-up of T55's, this was the give-away, as they are of course the BMW engined De La Chapelle's.
---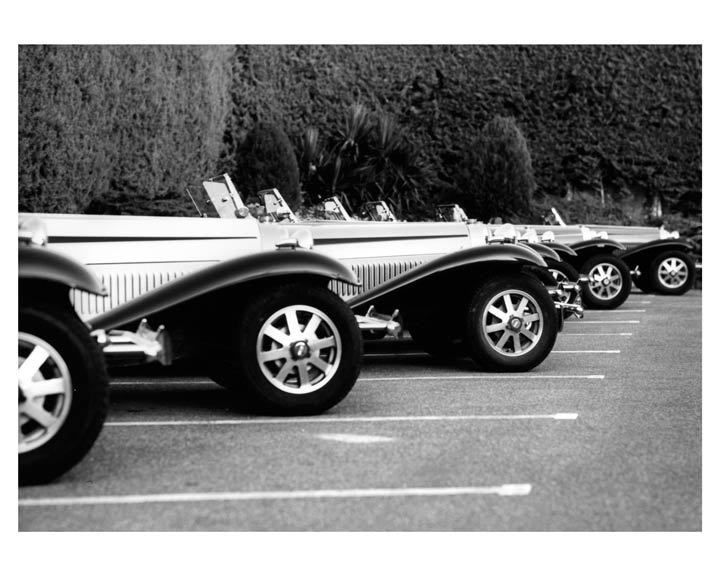 March 31, 2015
Series of T55's in a protest action in Paris.
Tomorrow, there will be a protest in Paris of classic cars. The protest is against a new law to ban classic cars from the center of Paris. As many of the famous French marques most beautiful cars will participate in the protest.
The tour of Paris will end on the Champs Elysées on 3 o'clock in the afternoon, at the location where originally the Bugatti dealership was.
The organisers hope to show how attractive these classic cars can be to the eye, which all will be lost once the new legislation is in place.
Source: Paris news agency
---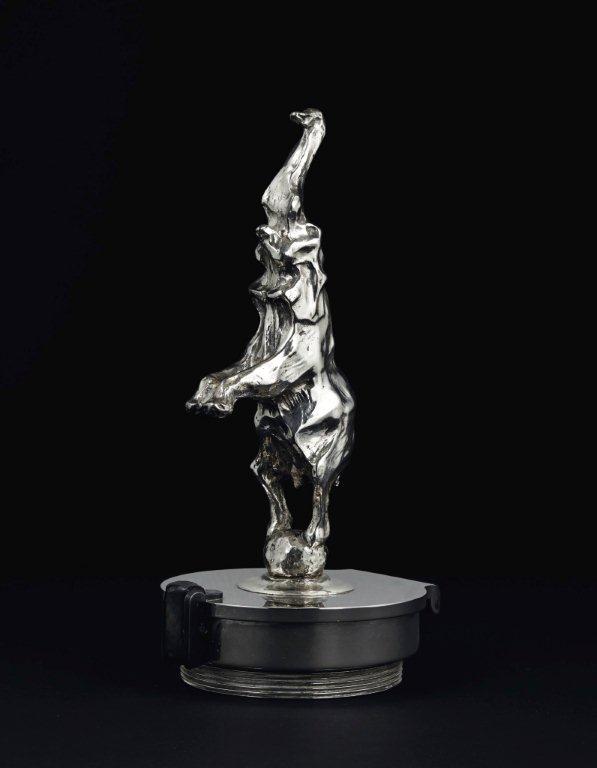 March 4, 2014
Last of the Fritz Schlumpf possessions to be auctioned
Including one of the Rembrandt Bugatti elephants and a Bugatti "Baby".
Paris – On 28 April, the Christie's Paris' Interiors sale will include an important section dedicated to personal items of the world's greatest vintage cars collector: Fritz Schlumpf. This collection is permanently exhibited at the Cité de l'Automobile – Musée National – Collection Schlumpf of Mulhouse, France.
Flavien Gaillard, specialist at the 20/21 Design department: "We are extremely honored that the family entrusted Christie's with the sale of this collection. This sale puts an end to the journey of the greatest vintage cars collector in the world. It is the last opportunity connoisseurs have to enjoy the collection as a whole, and acquire some of Fritz Schlumpf's personal items. This previously unseen collection has remained within the family by descent and allows us to discover the hidden facets of such a charismatic collector. Within the collection, several items signed by Bugatti reflect Fritz's passion for the Molsheim brand".
Among the highlights of the collection is the celebrated mascot "Éléphant dressé" made of plain silver circa 1928 by Rembrandt Bugatti for the legendary Royal Bugatti (estimate: €150,000–200,000). This mascot was cast by Valsuani and adorned this car of which only six were ever made. Considered the most expensive car at the time, Ettore Bugatti wanted to pay tribute to his brother, who had passed away only few years earlier. Ettore went to his brother's workshop to pick an original model from 1904 that he cast to adapt into a radiator cap. Alongside this legendary car, a 1902 Rochet, a 1906 Piccolo and a Baby 52 Bugatti model car for children will be offered during the sale.
Richard Rodier, consultant for the Fritz collection: "It is an honor and a true pleasure to be involved in the sale of this remarkable collection, a beautiful legacy of a rich and fascinating life".
Christie's announcement of the sale
List of the items, with estimates
All photographs below courtesy of Christie's:
---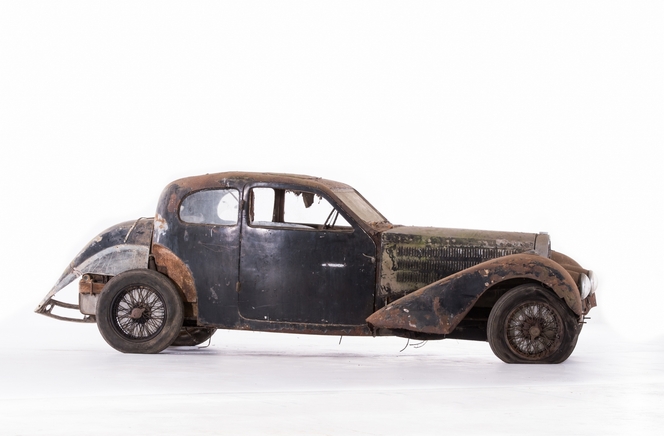 February 9, 2014

Auction Results

- Bonhams Auction, Les Grandes Marques du Monde au Grand Palais, Paris, February 5, 2015 :
Lot 333: Bugatti Type 37 Grand Prix biplace 1926, Châssis n°37136, Estimate: €250,000 - 300,000, Sold for €258,750
Lot 350: Bugatti Type 57 coupé Ventoux 1936, Châssis n°57345, Moteur n°282, Estimate: €380,000 - 480,000, Sold for €437,000
- Artcurial Auction, Rétromobile, Paris, February 6, 2015:
Lot 040: 1937 Bugatti Type 57 Ventoux Châssis n°57579 from the Baillon Collection, Estimate: €120,000 - 160,000, Sold for €298,000
Lot 123: 1929 Bugatti Type 40 Grand Sport Châssis n°40681, Estimate: €220,000 - 280,000, Not Sold
Lot 124: 1932 Bugatti Type 55 cabriolet Châssis n°55204, Estimate: €1,300,000 - 1,700,000, Not Sold
Lot 126: 1999 Pur Sang Bugatti Type 35B réplique Châssis BC 122, Estimate: €150,000 - 200,000, Sold for €250,320
Lot 164: 1928 Bugatti Type 43 Grand Sport Châssis n°43171, Estimate: €1,500,000 - 2,500,000, Not Sold
Lot 192: 1928 Bugatti Type 44 Profilé Aérodynamique by Gangloff Châssis n°44784, Estimate: €250,000 - 300,000, Sold for €333,760
The Bugatti from the Baillon collection went to a collector in New Zealand:
A Hamilton, New Zealand, car collector is "thrilled" to have won an auction at $500,000 for a rusty car he has to spend another $500,000 (NZ$) to restore.
Sixty classic cars, unearthed last year in a barn in France were auctioned last weekend in Paris.
Tom Andrews, 64, owner of Classics Museum, was excited to learn from his European agent that a 1937 Bugatti Type 57 Ventoux, was among them.
"The Bugatti is something we have been wanting for a long time and it's a very valuable and rare car," Mr Andrews said.
"I was thrilled when I got it for just under $500,000."
Mr Andrews is paying $10,000 to ship the car back to New Zealand and about the same amount as he paid for the car to bring it back to life.
"We knew what we were getting. The vehicle will need extensive restoration and I'm expecting it to take at least two years," he said.
"But at the end of the day, the car would be worth at least $1.5 million if not more."
Mr Andrews said the Bugatti will be the only one of its kind in New Zealand, and will be displayed at his museum. He owns about 140 classic cars, but said this one was "definitely the most valuable".
Thanks to Christophe Chanterault for the auction results
---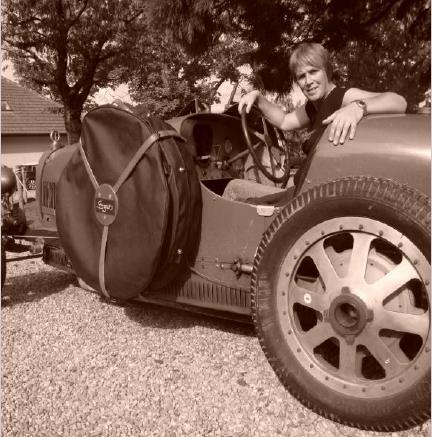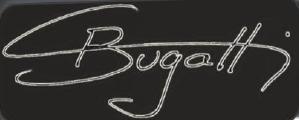 February 1, 2014
Caroline Bugatti "Sac de Voyage"
I first saw them on a GP Bugatti at the Mullin museum Bugatti exposition in Oxnard, gives you more storage capacity for one of those nice long rally's!
The bag fits all sizes of spare tire, and can be easily attached, leaving the spare tire with just a nice leather cover.
And yes, maybe it even does fit your Alfa as well..
For more info, click here!
---
January 29, 2014

Auction Results

- RM Auctions, Arizona, January 15 - 16, 2015 :
1937 Bugatti Type 57C Ventoux Chassis no. 57664, Engine no. 507, Estimate: $800,000 - $1,000,000, Sold for $800,000
1993 Bugatti EB110 GT Chassis no. ZA9AB01E0PCD39023, Engine no. 0035, Estimate: $575,000 - $775,000, Not Sold (High bid $570,000)
- Bonhams Auction, The Scottsdale Auction, January 15, 2015 :
1938 Bugatti Type 57 Roadster Coachwork by Auto Classique Touraine, Chassis no. 57661, Engine no. 25C, Estimate: US$ 550,000 - 700,000 €440,000 - 560,000, Sold for $671,000 - €579,047
Thanks to Christophe Chanterault
---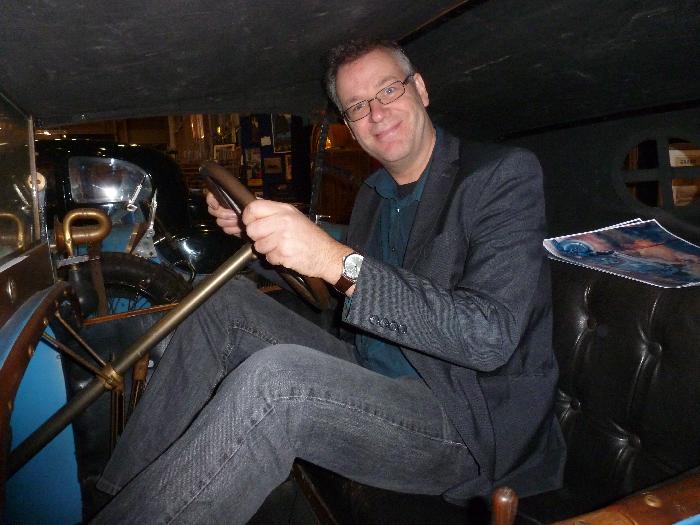 January 16, 2014
Peugeot Bébé register
3 Peugeot Bébé enthusiasts from the Netherlands, who together have the largest collection of Peugeot Bébé's (together with the Schlumpf museum) recently started the Peugeot Bébé register !
They know have 65 of those lovely tiny cars (see the above photo, your editor in a 1911 Peugeot Bébé) in their register, as well as a load of nice early photographs.
So please if you know of a nice "Baby", you have information to share or if you need or can offer parts, please go to their website: peugeot-bebe-register.weebly.com
---
January 16, 2014

Those crooks are still out there!

Contents of an e-mail from one of our Bugatti friends to some unknown crook

Henry Bateren,

You are a despicable criminal con man of the worst kind, no doubt professionally luring and steeling money off naive men, defenseless old women and young innocent virgins alike by means of skimming the internet for goods, services and items through "wanted" advertisements.

I had a search ad for certain gearbox parts on the Bugatti Page, the well-known Bugatti related internet medium, in March, 2014. I had you in my gunsight 10 months later when you on the 15th of December, 2014 approached me out of the blue by mailing me that you had the gear parts for sale "in an excellent shape and good condition".

Some 15 e-mails back and forth you have demonstrated your ruthlessness in detail. While there is no such thing as PayPal not working at any length of time as stated by you and that you therefore only accepted an untraceable Western Union payment method, on top of this you also wanted €14.500 for the deal whereas newly manufactured first class quality gears would not exceed the value of €2.000. Just to check your con scheme I had told you that I had an offer on hand in the region of that unrealistic high amount. By further positively confirming on my request that the gears had octagonal holes, not hexagonal ditto and that the material was yellow coloured brass you demonstrated naive stupidity, complete ignorance and total lack of knowledge about the subject of gearwheels. Everybody in the business know that neither such shapes nor materials are physically possible, only square shaped holes and steel material makes mechanical sense. And what nonsense about FedEx covering the import duty into Europe as you said? By the way, your Nigerian address is not known to Google Maps and therefore most probably as false as your motives.

All in all, I think that there is a fat chance that you belong to the criminal community of, say, Nigerians (?) living off social security in, say, Rotterdam. If I ever meet you in person I will flatten further your flat nose and fat lips.

In the meantime you bet that the Bugatti world will be warned against you and your likes by the imminent publication of this sad case. People in the know will also have a good laugh when learning about the stupidity you so amply have demonstrated throughout your correspondence. Spare your further efforts Henry Bateren, the Bugatti community members will never pay up front via such means as the Western Union money transfer system.

For the record it remains for me to state that the above comments have no bearing whatsoever of racial, ethnic or geographical issues.

C. Rank-Shaft
on behalf of K.C. Jessen
---
December 17, 2014

Auction result

Leake Auction Dallas, TX, USA, November 21 - 23, 2014 :

Lot 471: 1934 Bugatti Type 51 Grand Prix Racer Chassis #51153, Not Sold (High Bid: $2,700,000)
---