Bugatti books for sale
Maintained by Jaap Horst
---
Fraud Warning
I do NOT check the background of all the sellers on this site, so please be careful when sending money without knowing exactly if the offer is genuine.

Please contact me when in doubt, I will be able to inform you if the seller is somebody whom I know for a longer time, or if the seller is somebody unknown to me. In that case an extra check (not cheque!!) may be wise!
In this Page Bugatti Books and related items are offered, so if you need something, look here! If you have books to offer, please write or e-mail me.
---
---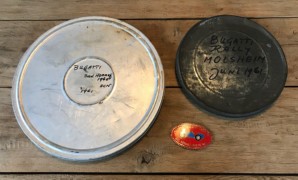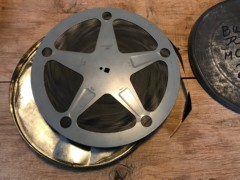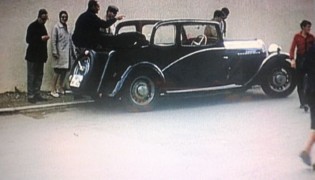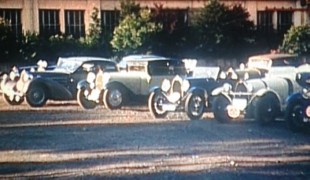 For sale genuine Bugatti movies
1 x Colour movie in 16 mm from the 1960 International Bugatti meeting in Bad Honnef-Rhein The duration of the movie is approx. 1 hours.
1x Original enamel badge from that very same 1960 meeting.
1x Colour movie in 16 mm from the 1961 International Bugatti meeting in Molsheim. The duration of the movie is approx. 45 minutes.
Price 750 euro
Please contact Elder Scheulderman:
Email: elder.scheulderman@gmail.com
Tel.: +31-6-21510699
19-1-2019
---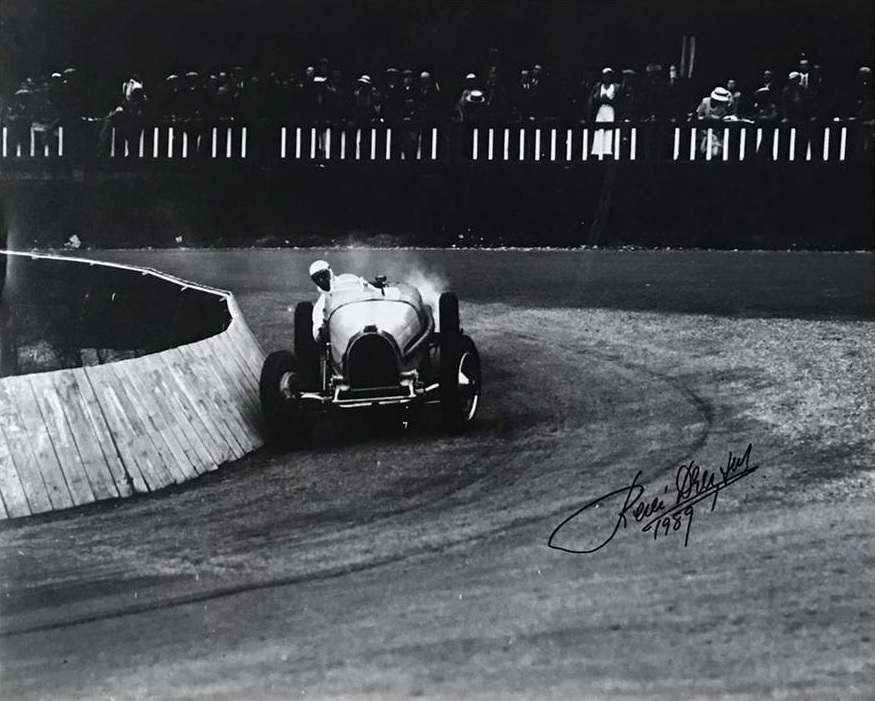 L'Art et l'Automobile special Bugatti sale!
Many brochures, photographs and more, click on the link above.
Photo: Autographed René Dreyfus photo
28-7-2018
---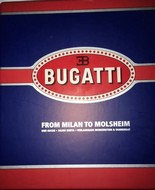 For sale:
Bugatti - From Milan to Molsheim, by Hucke, Kruta, Ulrich 2008, 807 Pages (English and German)

Asking price: 1100 euro

E-mail: Jeff@vintagecarresearch.com

24-5-2018
---
For sale: Original Bugatti Literature and brochures
1/Bugatti - From Milan to Molsheim von Hucke/Kruta/Ulrich 2008 807 Seiten Deutsch und Englisch Zustand 1-2 1500.-Euro
2/Bugatti du Chassis 3 l Type 44 1/ 1929 36 Seiten in Französisch Zustand 1-2 350.-Euro
3/Bugatti - Thoroughbreds from Molsheim von Pierre Dumont 1975 in Englisch 520 Seiten Zust. 2- 260.-Euro
4/Bugatti Magnum - Deutsche Ausgabe Limitiert von Conway/Sauzay von 1989 496 Seiten Zustand 2 900.-Euro
5/Bugatti Typ 101 von 1950 4 Seiten Faltprospekt in Französisch Zustand 2- 300.-Euro
6/Bugatti Chassis Type 46 und 50 Sonderprospekt zur neuen Kupplung. Allgemeine Beschreibung, Einstellung und Schmierung von 1930 4 Seiten in Französisch 120.-Euro
7/Bugatti Metall-Feuerzeug mit Zigarrenbohrer 1980 Maße: 7x4 cm Zustand: 2 150.-Euro
8/Dumont "Bugatti - Les pur sang de Molsheim" Bugatti-Historie 1975 von Pierre Dumont Paris 1975 520 Seiten in Französisch Zustand: 2 200.-Euro
9/Bigano "Divine Bugatti" Bugatti-Fahrzeug-Historie 1991 mit Originalkasette nummerierte Ausgabe No. 392 / 500 von Bigano / Maghenzani Mailand 1991 220 Seiten in Französisch Zustand: 2 400.- Euro
10/Bugatti Modellprogramm "Le pursang de l'automobile" von 1937 28 Seiten in Französisch Zustand: 1 600.- Euro
11/Bugatti Glückwunschkarte von 1950 4 Seiten 18 x 14 cm Meilleurs voeux et Souhaits sincéres in Deutsch: Beste und aufrichtige Wünsche 150.-Euro Zustand Top
12/ Typ 57 Faltprospekt 4 Seiten in Französisch zu Karosserieformen Coach Ventoux, Cabriolet Stelvio, Conduite Interèrieure Galibier und Coupé Atalante 600.-Euro
Please contact the seller through the webmaster, E-mail: j.j.horst@bugattipage.com
2-1-2018
---
Bugatti books for sale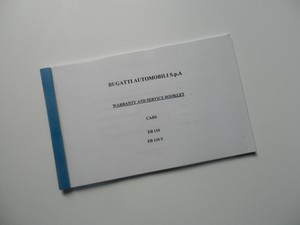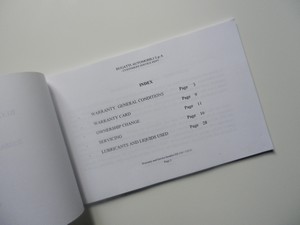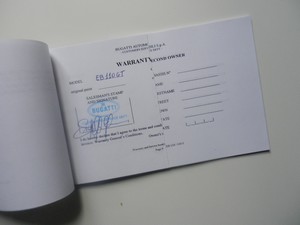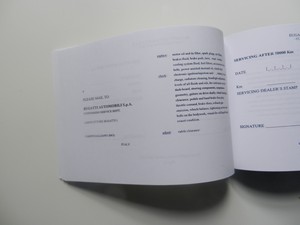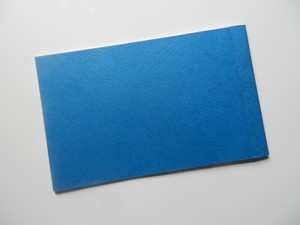 Original service booklet for an EB110 for sale.
The page with info on the car (VIN) and owner is missing, still an interesting item!
Asking price: 450 euro.
Elder Scheulderman, E-mail: elder.scheulderman@gmail.com
14-10-2017
---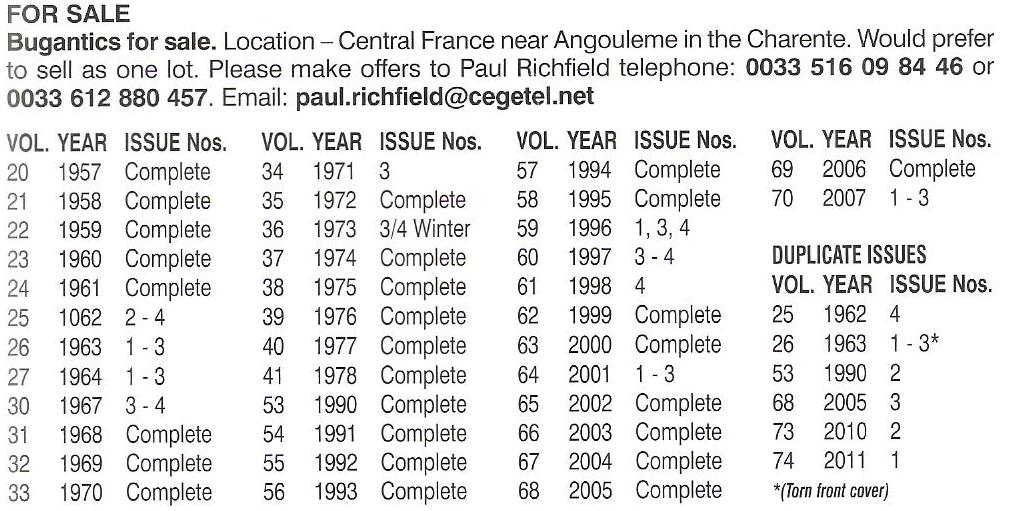 Paul Richfield, E-mail: paul.richfield@cegetel.net
12-3-2016
---
For sale:

Bugatti 19 original lithographs signed by ALot, perfect condition, 55 x 34 cm, number 11 out of total 75 made

These showing typ 50, 59, Royale, 57 engine, 53, 55, 50, 30, 46, 100p, 43, 5 litres, 35 B, 3 L GP, 57, rail, 10 and 13.

A very rare opportunity, price 2500€

Jacques Michon, cary.jm@wanadoo.fr

7-12-2015
---
For sale:
Bugatti en course (French language) - good condition
Bugatti Automobiles et Autorails - Amary Lot - good condition but dust cover torn
Thoroughbred from Molsheim - P. Dumont - average condition
Das Grosse Bugatti Buch (German) - Erwin Tragatsch - Good condition
Bugatti Automobiles in the Czech Lands (English and Czech) - excellent condition
Eliška Junková - biography in Czech language - Excellent condition
Bugatti Type 40 by A.B. Price and Jean Louis (Hardback, 1999) - Like new
The Big Bugattis: Type 46 & 50 - Barrie Price HARDBACK - Very good condition
Roger Redford, E-mail: rogerwredford@googlemail.com
15-5-2015
---
For sale:

For sale several literature:
Including original T44 handbook, well used and parts list, in French, the parts list is in very good condition, the handbook was much used in the 1930s, with oil marks, loose pages (none are missing) and servicing details for an unidentified T44 written in the back.

Also an English sales brochure (probably reproduction as it is in perfect condition) and BOC data book.

Mike Holt, E-mail: bugattiste1@me.com

15-4-2015
---
Bugatti Magnum by Conway and Sauzay

German edition.

Rudolf-Werner GIB, E-mail: Halogen-Gibb@t-online.de.

19-1-2015
---
For sale:

Notice de conduite et entretien du chassis 1500 Type 40 et du chassis 2 litres Type 38

This is an original manual in French only, from the 20's, NOT a later copy with English translation.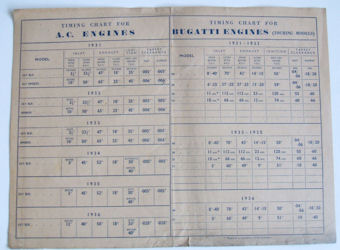 Very rare.
1930's Bugatti and AC timing chart.
In English.
Roger Redford, E-mail: rogerwredford@googlemail.com .
6-10-2014
---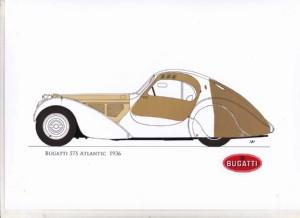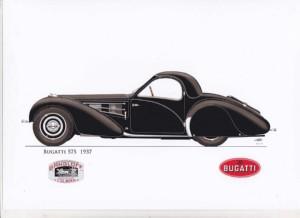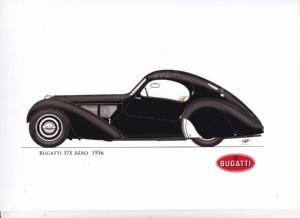 6 specially made exclusive illustrations of:
Bugatti Type 35 C 1928
Type 35 "Sonia Delaunay"
Type 57 SC Atlantic 1936/39
Type 57 S Atlantic 1936
Type 57 S Aéro 1936
Type 57 S "Gangloff" 1937.
These illustrations are reproduced on glossy photopaper.The complete set, if framed will form a nice wall decoration.

Price 21,50 euro a piece. As a set of six 110,- euro's.

For more information:info@du-commerce.nl .

6-8-2014
---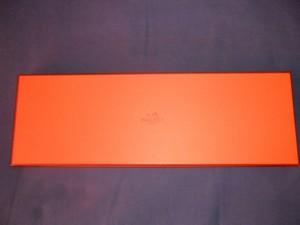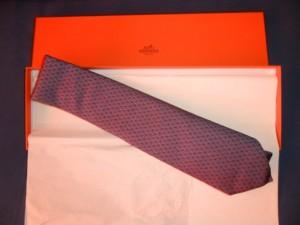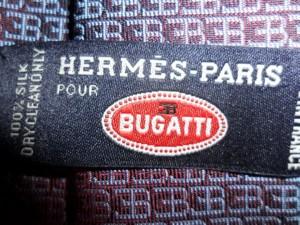 Hermes Bugatti Silk tie in orginal Hermes box.
This tie was produced by Hermes in a limited edition exclusively for Bugatti Automobiles S.A.S.
This tie has never been for sale and were only given to the special relations of Bugatti S.A.S
Price 725,00 euro.
For more information:info@du-commerce.nl .
6-8-2014
---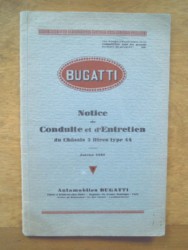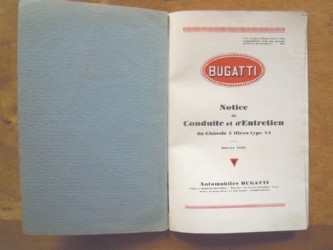 Bugatti Type 44, Notice de Conduite et d'Entretien, Janvier 1929
Cover, 36+2 p.
Good condition, some neat handwritten corrections and notes in German
Catalogue des Pièces Détachées, Août 1930
no cover, loose leaves, 23+1 p., XV plates, complete
some marks from old tapes
Eduard Saluz: eduard.saluz@t-online.de
15-6-2014
Books wanted
Wanted

I am trying to get a few missing copies (no reprints) of the so called Bugantics magazines.

I am interested in:

Year: 1935, Volume:4, Edition:6
1939 8 5,6
1946 9 2

Please send any offers through the editor:J.J.Horst@BugattiPage.com .

4-7-2018
---
This page exists since March 1, 2003
Vive La Marque !!
---
Back to the Bugatti Page