Bugatti parts for sale
Service for secure transaction (Escrow)
In case you worry about the trustworthyness of the seller, or buyer, I offer a new service:

The price which the buyer and seller agree upon will be sent to me by the buyer, plus bank charges and a small fee for myself (5%). I will inform the seller once the money has been received, and the seller sends the part(s). When the buyer receives the part(s), I will send the money to the seller.

I do not accept any deputes about the quality of the item that is received by the buyer; the item is either what it is, or it is really different from what was advertised, and in that case the buyer will send it back. No quarreling about discounts....

Maintained by Jaap Horst
---
On this Page Bugatti Parts are offered, so if you need something, look here! If you have parts to offer, please write or e-mail me.
---
Go to Bugatti Parts Wanted
---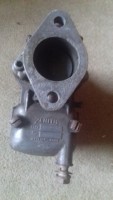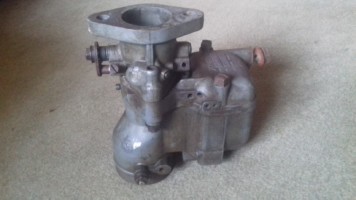 For sale:
Updraught Zenith 42 mm carburettor
It was used on a Type 37A before the original carb was replaced.
Asking price £500
Please contact the seller Robin Hanauer
E-mail: robinhanauer@yahoo.co.uk
8-7-2019
---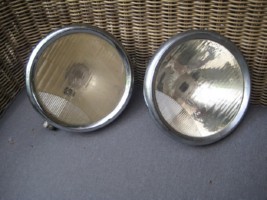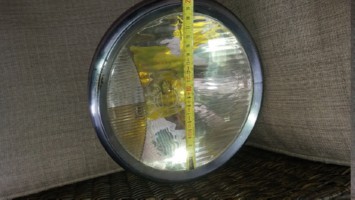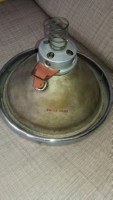 For sale: pair of Scintilla headlights.
Effective glassdiameter 185mm, outside diameter 220 mm.
One of the headlights misses the housing.
Some cracks in the chromed edge.
Reflector and glas OK.
Price: 900 euro
Please contact the seller Erik Hakstege, E-mail: erik.hakstege@upcmail.nl
19-5-2019
---

For sale: Bugatti EB112 Instrument cluster, this one actually has been in use in one of the prototypes.
Not easy to find another one to complete your EB112 restoration!
Price: on request
Please contact the seller, E-mail: lorenzobrusasco@yahoo.com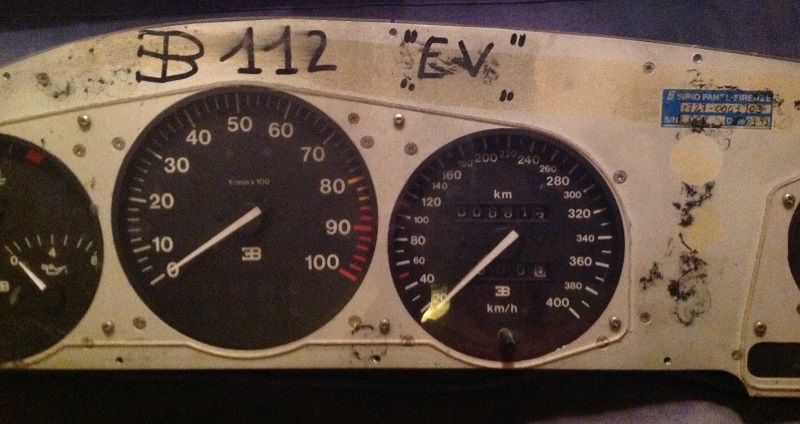 22-4-2019
---
For sale:

Bugatti Vice, believed to be original.
Length approximately 45cm
Vice is in the Netherlands

Asking price: 11,500 euro

Please contact the seller through the webmaster, E-mail: j.j.horst@bugattipage.com

24-3-2019
---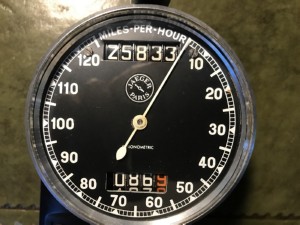 For sale: Jaeger chronometric odometer
Repaired by John Marks in England
Price: € 600,-
Please contact the seller, E-mail: v8@mgcc.de
---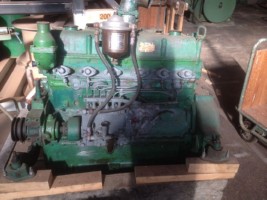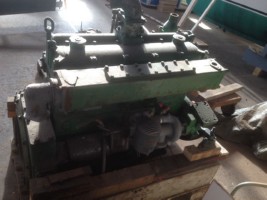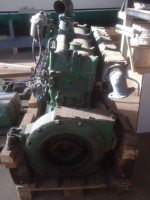 For sale:
Bugatti - Hispano Suiza 102V 6 cilinder Diesel engine.
This marine engine is complete with reverse gear, Jaeger instruments, propeller and further necessary fittings.
The total has seen only little useage and is in complete running order, no work necessary
Engine is in the Netherlands
Please contact the seller through the webmaster, E-mail: j.j.horst@bugattipage.com
9-3-2019
---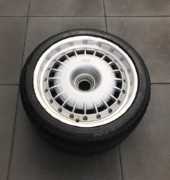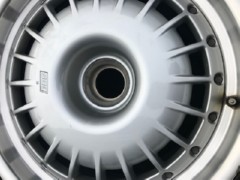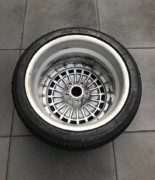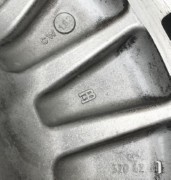 For sale original Bugatti EB110 Wheel
This is an original BBS wheel, with its original Michelin tire from a Bugatti EB110. The wheel is in used condition.
Price 1250 euro
Please contact Elder Scheulderman:
Email: elder.scheulderman@gmail.com
Tel.: +31-6-21510699
19-1-2019
---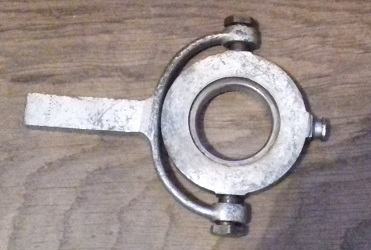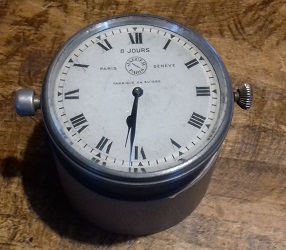 For sale:
Bugatti type 5L, 1 x clutch thrust
Jaeger quality clock, 8 days running,for Bugatti, in good working order
E-mail: cary.jm@wanadoo.fr
12-1-2019
---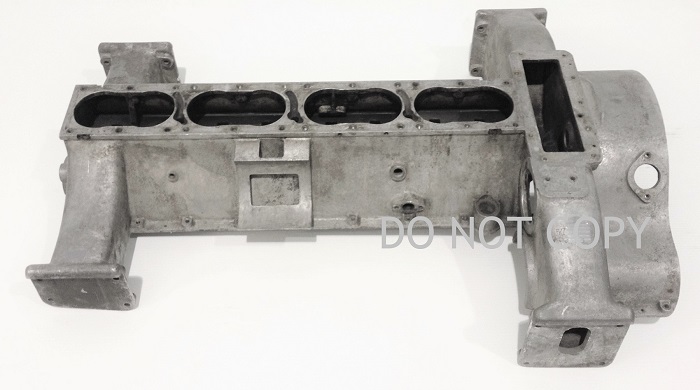 Type 57 Crankcase - Original Molsheim.
It has the Factory Stamped Serial Number.
With Title/Registration Papers.
Email: eldonsculpt@gmail.com
Tel: + 1 403 922 3370
6-1-2019
---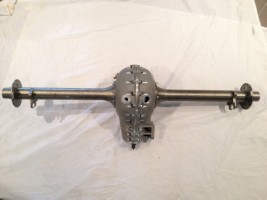 Type 55 Back (Rear) Axle - Also Fits T43, T44, T49

Complete New Reproduction Type 55 Back Axle that is Ready for Installation.

All Components are from the UK.

It is a Limited Slip Differential that was Built Specially for Hard Usage.

It is for both the Race Track, and Fast Road.

£ 9,750 or best offer.

Email: eldonsculpt@gmail.com
Tel: + 1 403 922 3370

11-12-2018
---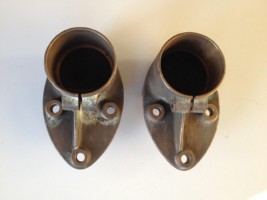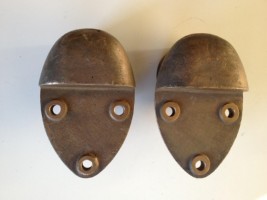 For Type 57:
A Pair of Factory Molsheim "EB" stamped Bronze Engine Mounts NOS (New Old Stock).
2975 € or best offer.
Email: eldonsculpt@gmail.com
Tel: + 1 403 922 3370
11-12-2018
---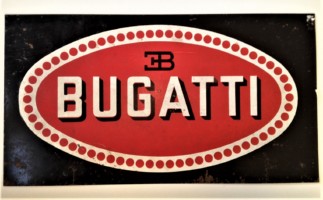 Original Molsheim Bugatti Dealership Sign.

250 mm x 460 mm

Purchased in Paris at Artcurial Auction 6 1/2 years ago.

€2750 or best offer.

Email: eldonsculpt@gmail.com
Tel: + 1 403 922 3370

11-12-2018
---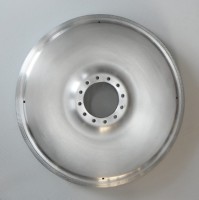 New Reproduction Type 57 / 57S Front and Rear Brake Drums.

Both Late Style and Early Series 1 are Available.
Machined from Solid 6061 Aluminium, Not Cast.
The Steel Liners are Cast Iron, using Original Molsheim Patterns, then Machined.

A Video of the Manufacturing Process is available on request.

The Price is: 8975 € for a Set of 4.

Email: eldonsculpt@gmail.com
Tel: + 1 403 922 3370

11-12-2018
---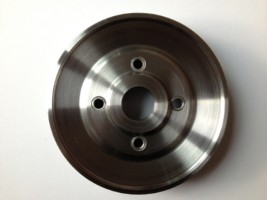 New Exact Reproduction Type 57 / 57S Pulley for Fan Assembly.

Machined from Solid 4140 Steel (Not from Cast).

New Correct Felt Seal Included.

895 €

Email: eldonsculpt@gmail.com
Tel: + 1 403 922 3370

11-12-2018
---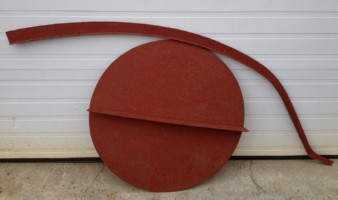 T57S Atlantic Boot Lid and Body Profile

Both copied many years ago from the particular Original Atlantic, which was later owned by Ralph Lauren.

The Price is: €1975 or best offer.

Email: eldonsculpt@gmail.com

Tel: + 1 403 922 3370

11-12-2018
---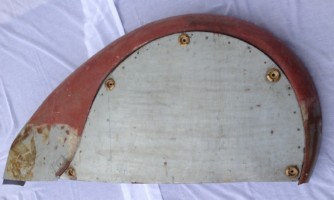 T57 / T57S Atalante Right Rear Fender with Fender Skirt.

Exact Reproduction from Original Car.

€1895 or best offer.

Email: eldonsculpt@gmail.com

Tel: + 1 403 922 3370

11-12-2018
---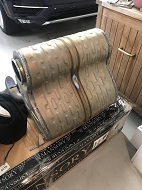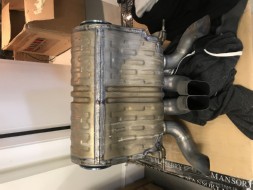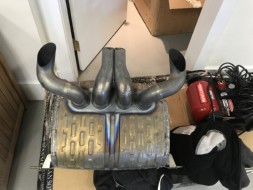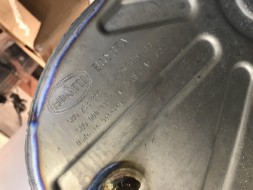 For sale: 2008 Bugatti Veyron original factory exhaust
Asking price: $2,500 OBO
Josh Cosco
JMC Exotic Detail
+1 703-677-8639
josh@jmcexoticdetail.com
3-11-2018
---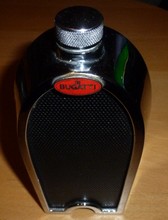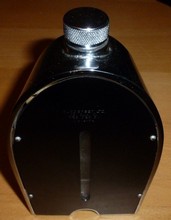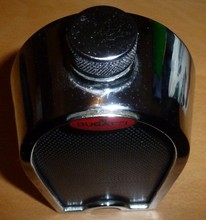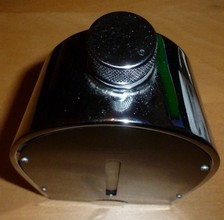 Bugatti Radiator Decanter
Heavy chrome-plated with screw top, excellent condition.
Manufactured by Ruddspeed Ltd (England), circa 1960.
Reached over 1900 at auction, now just 950 euro.
Jaap Horst
e-mail: j.j.horst@bugattipage.com
18-1-2018
---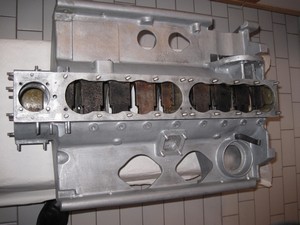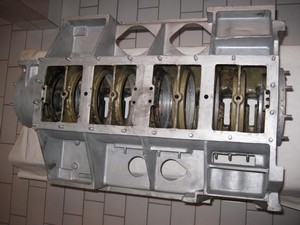 For sale - crankcase for type 30:

The project to make castings of the type 30 crankcase by modern methods is now almost complete.

Scans are made from my original crankcase (no 392) to make a 3D model of it. This 3D model is then used to make the casting patterns.

Castings will soon be available, expected cost will be around 6000 EUR ready for machining.

Contact Ole Kr. Haugen E-mail: o-k-hau@online.no.

23-9-2018
---
Bugatti T57 parts
1 coupling bar in original condition for type 44 Bugatti, 230EUR
1 rear axle strenghener in original condition, 100EUR
1 windscreen for Bugatti type 30, length 85.5 cm, heigth 28 cm, original condition, 400EUR
Bugatti Brescia water pump parts, 200EUR
Michon
e-mail: cary.jm@wanadoo.fr
10-2-2018
---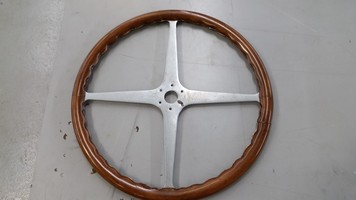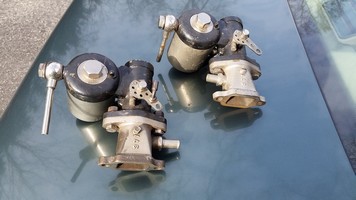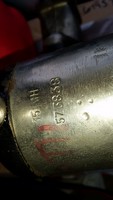 For sale:
2 Bugatti steering wheels, one was refinished the other is not. Very original: 5,000 $ US
2 Solex carbs with manifolds for GP: 2,500$ US
Jeff Norton
1 156 361 1852
Email: jeffmnorton@gmail.com
5-1-2018
---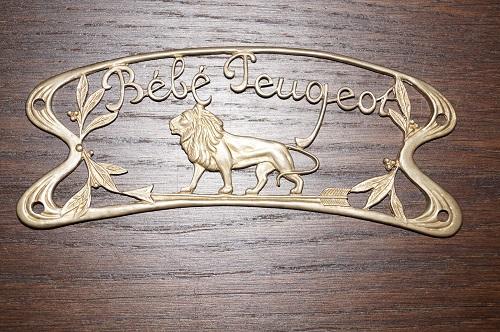 This fine Art Nouveau/Jugendstil Lion-on-the-Arrow brass emblem (Parts List No. 572, approximately 12 x 5 cm) originally adorned most, but not all, Bebe radiators and was sometimes also attached to the wooden frame under the windscreen behind the oil filler cap.
This ornament is often missing on present day surviving cars, but now a small series of these delicate emblems have been reproduced and are available if missing on your car. It concerns the open version with four 3 mm holes for either taking four copper rivets when being fitted to the top of the radiator mantle or to be screwed on to the wood under the windscreen with four small wood screws. The emblems are cast by the lost wax method by a leading Scottish jewelry reproduction expert and are indistinguishable from the original model which was used and therefore leaving all the fine details (like the lion's whiskers!) intact and by using the same brass formulae the right color is obtained. The emblems are delivered flat for being placed under the windscreen and if mounted on the radiator they can easily be slightly bent to follow the mantle curves.
The price for one badge is €75.00 and €130.00 for two badges ordered at the same time. Add €10.00 for registered airmail to Europe and €20.00 to elsewhere including sturdy packing.
For more information, Email: peugeot.bebe.register@hotmail.com
16-10-2017
---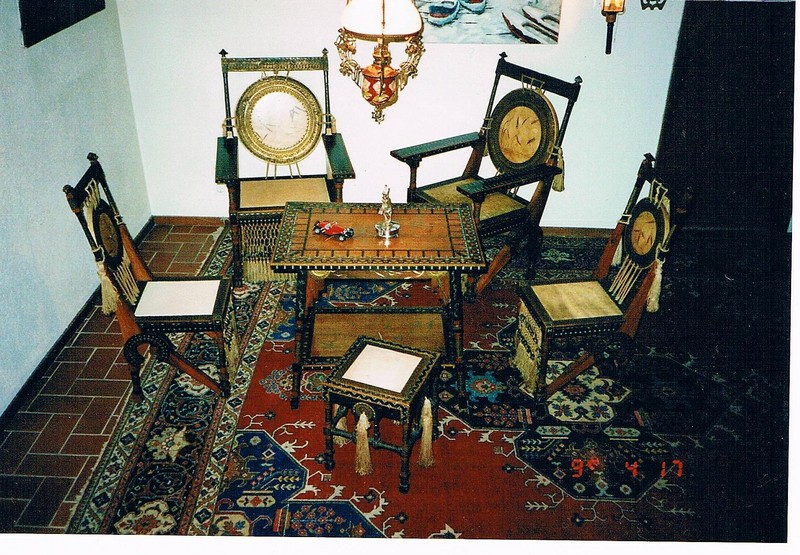 For sale: Set of Carlo Bugatti furniture
Please refer to the photographs for condition of the chairs and table.
Furniture is in Germany, and is to be sold as one set.
Please contact the seller through the webmaster Jaap Horst
Email: J.J.Horst@BugattiPage.com
14-10-2017
---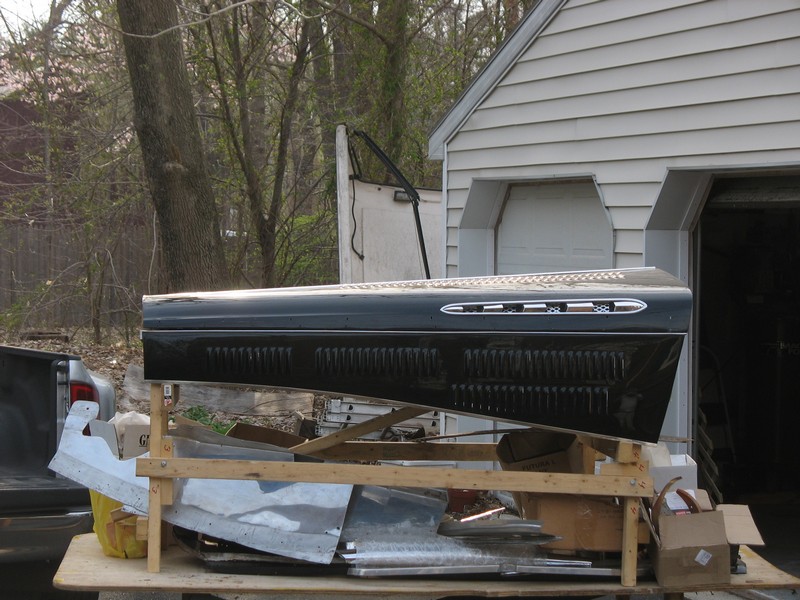 ORIGINAL AUTHENTIC (to my understanding, what I was told when I bought it) hood and side panels off one of the four Type 57 Bugattis that JACQUES SAOUTCHIK designed and built.
I was dreaming of hiring top panel beater Tommy Caruso from NJ (who built 2 of the Pebble Beach BEST OF SHOW WINNERS in the past 10 years) and building a 4 passenger fastback 135 inch wheelbase of my own design. It would use my reproduction grille shell (below), this original (to my knowledge) hood and side panels, and we would attempt to duplicate the incredibly beautiful "pinched" tail of GEORGE PAULIN's 1948 Porteau Delahaye 135 MS coupe incorporated intro a dream car we call TORPEDO. Too many projects, and I have six current projects to complete.
Hood and side panels $5,000.
REPRODUCTION brass Type 57 grille shell with steel working shutters. First class in all respects.
$9,000.
Also (not shown) I have a second duplicate brass reproduction Type 57 grille shell without the shutters, $4,500.
Contact Terry Cook: +1 908 876 9100, e-mail: delahayeusa@aol.com
14-10-2017
---
For sale:

Bugatti type 43 body, alloy, ashframe, no bonnet
With floor, wings, front window, dashboard, firewall and fueltank.

Olav Glasius, Email: glasius@euronet.nl

3-10-2017
---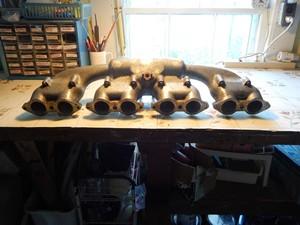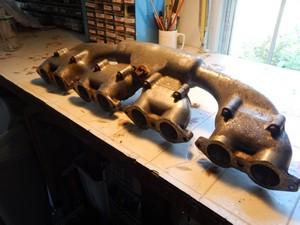 Type 57 inlet manifold.

To avoid any question about it being original Bugatti, it has retained signs of previous use and storage.

Gene Cesari, Email: gcesari@fairpoint.net

10-9-2017
---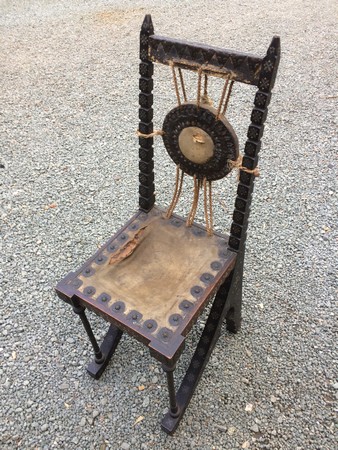 For Sale
Probably a unique opportunity to purchase a genuine Carlo Bugatti small chair in original and unrestored condition. This is a small gong example dating from the early 20th century or maybe as early as 1888.
This is unrestored and has a few tiny inserts missing and small tears. I chose to leave the chair unrestored in the long time I have owned it. It is now time to allow someone else to be the custodian of this amazing chair.
Price: £18,500.
Rare opportunity so please call Richard 07801 069261 to discuss this fine piece of art.
1-5-2017
---

For Sale
UK registration number H15 BUG.
For immediate transfer.
Offers please to Richard on 07801 069261.
1-5-2017
---
4 new GP wheels for sale.
Only used once, fully machined and polished then matted down. They have been raced on my 35B twice but I have now acquired new 51 wheels for racing.
They can come with Dunlop race tires for free to the correct bidder.
Looking for offers in £ or € .
Collection from Oxfordshire.
Bo Williams, Phone +44 7980 872364
Email: Bo@brand-links.co.uk
15-4-2017
---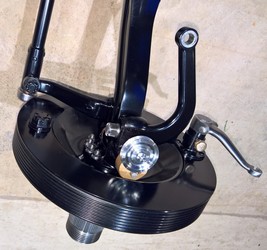 Brescia 4 wheel brake front axle assemblies complete and ready to fit. All meticulously reverse engineered from original parts with totally correct function and totally authentic shape and detail, including many features not shown on the Molsheim drawings and impossible to tell from original.
All parts multi axis CNC machined and 3d surfaced from alloy steel billet in the UK by us, full kits available including pedals etc.
Make your 2 wheel brake Brescia much safer and more fun to drive, or replace your incorrect steering geometry non Bugatti Perrot front axle.
GP axle assemblies and many other GP and Brescia parts available, all UK engineered and manufactured. Please contact me for more information.
Andy Tilley
E-mail: andy.tilley@busygrowing.co.uk
22-3-2017
---
Bugatti Parts for Type 57
Carburettor Stromberg UUR-2, $4,000 as it has the Type 57 air horn.
The parts have not been modified, even cleaned of light surface dust. Just the way I bought them with the car.
Ted Zoli, +1 315 323-4357
16-3-2017
---
Several items for Bugatti T57, T37, T49 and T40:
7-1-2017
---
For sale: Various Bugatti Veyron parts
| | | | | |
| --- | --- | --- | --- | --- |
| Part number | Description | Price per item | QTY | Total |
| BUGRJR142433 | ACCUMULATOR | 1.543,37 | 4 | 6173,50 |
| BUGRJR000129 | ADJUSTMENT ELEMENT GE | 123,72 | 1 | 123,72 |
| BUGRJR00126A | CARE PRODUCTS | 6.186,39 | 2 | 12372,78 |
| BUGRJR000123 | COVER AIR INTAKES | 1.391,93 | 2 | 2783,87 |
| LOCOILBUG | EDGE 10W60 SN BUG 4LTR | 98,60 | 6 | 591,57 |
| BUGRJR837001 | ELECTRIC WINDOWS LIFT BUTTON | 1.855,92 | 1 | 1855,92 |
| BUGRJR300175 | FILTER | 1.404,68 | 1 | 1404,68 |
| BUGRJR300434 | FILTER | 1.304,52 | 1 | 1304,52 |
| BUGRJR300469 | FILTER | 2.185,56 | 1 | 2185,56 |
| BUG5B0133843A | FILTER ELEMENT AIR | 1.088,07 | 2 | 2176,15 |
| BUG5B1861221 | HOLDER FOR HARDTOP | 3.402,51 | 1 | 3402,51 |
| BUG5B1871235B | LOCKING CATCH | 9.279,59 | 1 | 9279,59 |
| BUG5B1871236B | LOCKING CATCH | 9.279,59 | 1 | 9279,59 |
| BUG5B1872151C | LOCKING CATCH | 10.516,86 | 1 | 10516,86 |
| BUG5B1872152C | LOCKING CATCH | 10.516,86 | 1 | 10516,86 |
| BUGG052145S2 | OIL FOR FRONT AXLE | 268,86 | 1 | 268,86 |
| BUG5B0601277 | SCREW CAPS (PUR SANG+SANG NOIR | 247,45 | 1 | 247,45 |
| BUG5B0601373 | VALVE EXTENSION | 618,64 | 1 | 618,64 |
Prices are in Saudi Riyals SAR - 1 Riyal is equivalent to 0.2485 Euros
Haya Al-Sulaiman
Al Ghassan Motors
T: +966 12 606 7323
F: +966 12 606 8776
e: haya@alghassanmotors.com
www.alghassanmotors.com
6-12-2016
---
for sale
solex 35 MOHD to suit type 35, 30 or Brescia.
£475.00
Contact Nick Coates
E-mail: nhjcoates@gmail.com.
16-11-2016
---
New Bugatti Brescia oil pump, complete with new housing, gears shafts etc.
Price £900
John Tindle , E-mail: tindle.john0@gmail.com, phone: + 44 (0)7701 344056.
23-10-2016
---
Bugatti 57 1st serie : bonnet in 2 parts - 1500€
Bugatti 57, upper part of gearbox in alloy - 300€
Please contact Jacqui Michon on email: cary.jm@wanadoo.fr
12-10-2016
---
Nigel White is offering these Bugatti Memorabilia:
Original Bugatti Garage sign.
The back ground of the story is that a late friend of his father bought many Bugatti spare parts from Molsheim when the company went bust. While walking through the showroom to leave he said: "I have bought so much of your stock I guess I own this" and took the sign that was hanging in the showroom.
He used to race Bugatti's in the 50's. His name was Henry Hugh Thomas.
Trophee won for the First Class 3B race by Henry Hugh Thomas (Thom Thomas to his friends) on Oulton Park in 1959.
I have been doing some searching, Tom Thomas drove a Bugatti T35 Monoposto (chassis 4848) in 1959 at Prescott. Not all race results are recorded of course, but this seems to be the car to take to Oulton Park, and of course it was the same year. Tom Thomas also owned many other Bugattis, for example 7 Type 55's. (!)
Open to sensible offers.
Contact Nigel White:
nwhite8888@icloud.com
11-7-2016
---
---
I used to have an interest in Bugatti and started collecting parts and pieces 40 years ago, among them is this very rare "Chantiers Navals Bugatti" aluminium plate : oval shape 4,8 x 9 cm, and 1 mm thick.
I have never seen such a plate, the only time it was mentioned is in the book "Il y a 100 ans Bugatti" page 37, by Georges J Leguillon and it was this very plate.
Offers invited
Christian Ziegelmeyer, Molsheim
2-7-2016
---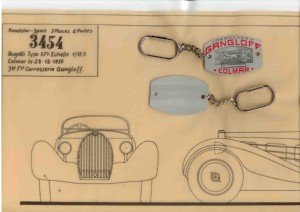 Body sign of Gangloff , very accurate matter, very high quality on a Swiss Watch Industry Standard. It is a real luxury item. 100% identical.
Ltd. edition: A 1 to A 100
Individual number: each is numbered A 1/100 to A 100/100, hand graved
Size: 57 x 38 x 0,5 mm ; 2 wholes with 4mm diameter, hand cut
Quality: Swiss watch industry standard, silver covered, patiné, covered with synth. émail
Key holder: can be taken off, if wished
Origin: Swiss made
Packaging: small bag in blu feutre
Price Ex CH: € 125 /each plus 15 € for packaging and shipping
Please contact:
Andrea Capra
acapra@bluewin.ch
0041 78 670 61 20

6-12-2014
---
Vive La Marque !!
---
Back to the Bugatti Page