Bugatti parts for sale
Service for secure transaction (Escrow)
In case you worry about the trustworthyness of the seller, or buyer, I offer a new service:

The price which the buyer and seller agree upon will be sent to me by the buyer, plus bank charges and a small fee for myself (5%). I will inform the seller once the money has been received, and the seller sends the part(s). When the buyer receives the part(s), I will send the money to the seller.

I do not accept any deputes about the quality of the item that is received by the buyer; the item is either what it is, or it is really different from what was advertised, and in that case the seller will send it back. No quarreling about discounts....

Maintained by Jaap Horst
---
In this Page Bugatti Parts are offered, so if you need something, look here! If you have parts to offer, please write or e-mail me.
---
Go to Bugatti Parts Wanted
---
4 new GP wheels for sale.
Only used once, fully machined and polished then matted down. They have been raced on my 35B twice but I have now acquired new 51 wheels for racing.
They can come with Dunlop race tires for free to the correct bidder.
Looking for offers in £ or € .
Collection from Oxfordshire.
Bo Williams, Phone +44 7980 872364
Email: Bo@brand-links.co.uk
15-4-2017
---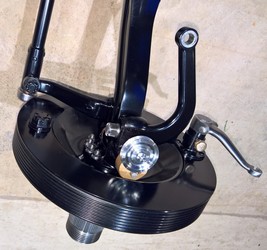 Brescia 4 wheel brake front axle assemblies complete and ready to fit. All meticulously reverse engineered from original parts with totally correct function and totally authentic shape and detail, including many features not shown on the Molsheim drawings and impossible to tell from original.
All parts multi axis CNC machined and 3d surfaced from alloy steel billet in the UK by us, full kits available including pedals etc.
Make your 2 wheel brake Brescia much safer and more fun to drive, or replace your incorrect steering geometry non Bugatti Perrot front axle.
GP axle assemblies and many other GP and Brescia parts available, all UK engineered and manufactured. Please contact me for more information.
Andy Tilley
E-mail: andy.tilley@busygrowing.co.uk
22-3-2017
---
Bugatti Parts for Type 57
Carburettor Stromberg UUR-2, $4,000 as it has the Type 57 air horn.
The parts have not been modified, even cleaned of light surface dust. Just the way I bought them with the car.
Ted Zoli, +1 315 323-4357
16-3-2017
---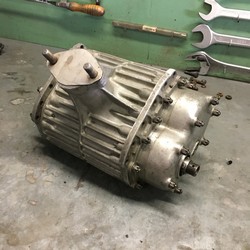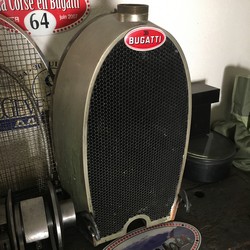 Original Bugatti parts for sale:
Blower is for a type 35
Radiator in good condition
Crankshaft for a 2 liters
Vice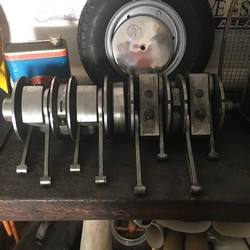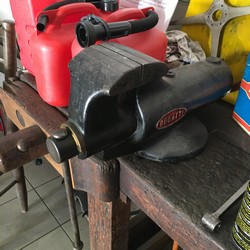 Raphael, France, Phone 06 34 08 26 14
E-mail: raphael.sicari@socri.fr.
14-3-2017
---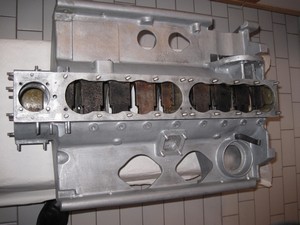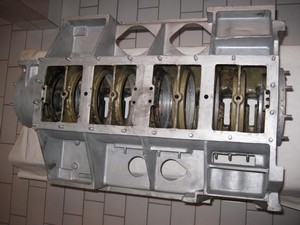 For sale - crankcase for type 30:
I seek participants in a project to make castings of the type 30 crankcase by modern methods.
The idea is to scan my original crankcase (no 392) to make a 3D model of it. This 3D model can then be used to make the casting patterns.
Expected cost will be around 5000 EUR each if there are 5 participants, for the modelling and pattern. The actual casting and machining will come on top.
Contact Ole Kr. Haugen E-mail: o-k-hau@online.no.
4-2-2017
---
Several items for Bugatti T57, T37, T49 and T40:
7-1-2017
---
For sale: Various Bugatti Veyron parts
| | | | | |
| --- | --- | --- | --- | --- |
| Part number | Description | Price per item | QTY | Total |
| BUGRJR142433 | ACCUMULATOR | 1.543,37 | 4 | 6173,50 |
| BUGRJR000129 | ADJUSTMENT ELEMENT GE | 123,72 | 1 | 123,72 |
| BUGRJR00126A | CARE PRODUCTS | 6.186,39 | 2 | 12372,78 |
| BUGRJR000123 | COVER AIR INTAKES | 1.391,93 | 2 | 2783,87 |
| LOCOILBUG | EDGE 10W60 SN BUG 4LTR | 98,60 | 6 | 591,57 |
| BUGRJR837001 | ELECTRIC WINDOWS LIFT BUTTON | 1.855,92 | 1 | 1855,92 |
| BUGRJR300175 | FILTER | 1.404,68 | 1 | 1404,68 |
| BUGRJR300434 | FILTER | 1.304,52 | 1 | 1304,52 |
| BUGRJR300469 | FILTER | 2.185,56 | 1 | 2185,56 |
| BUG5B0133843A | FILTER ELEMENT AIR | 1.088,07 | 2 | 2176,15 |
| BUG5B1861221 | HOLDER FOR HARDTOP | 3.402,51 | 1 | 3402,51 |
| BUG5B1871235B | LOCKING CATCH | 9.279,59 | 1 | 9279,59 |
| BUG5B1871236B | LOCKING CATCH | 9.279,59 | 1 | 9279,59 |
| BUG5B1872151C | LOCKING CATCH | 10.516,86 | 1 | 10516,86 |
| BUG5B1872152C | LOCKING CATCH | 10.516,86 | 1 | 10516,86 |
| BUGG052145S2 | OIL FOR FRONT AXLE | 268,86 | 1 | 268,86 |
| BUG5B0601277 | SCREW CAPS (PUR SANG+SANG NOIR | 247,45 | 1 | 247,45 |
| BUG5B0601373 | VALVE EXTENSION | 618,64 | 1 | 618,64 |
Prices are in Saudi Riyals SAR - 1 Riyal is equivalent to 0.2485 Euros
Haya Al-Sulaiman
Al Ghassan Motors
T: +966 12 606 7323
F: +966 12 606 8776
e: haya@alghassanmotors.com
www.alghassanmotors.com
6-12-2016
---
for sale
solex 35 MOHD to suit type 35, 30 or Brescia.
£475.00
Contact Nick Coates
E-mail: nhjcoates@gmail.com.
16-11-2016
---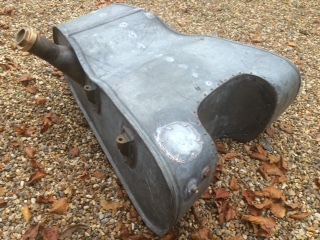 Type 43 Bugatti fuel tank, a reproduction in galvanised steel, correct cast brass mounting lugs and nice brass filler cap.
Asking £320.00
E-mail: walterheale@hotmail.com
1-11-2016
---
New Bugatti Brescia oil pump, complete with new housing, gears shafts etc.
Price £900
John Tindle , E-mail: tindle.john0@gmail.com, phone: + 44 (0)7701 344056.
23-10-2016
---
Bugatti 57 1st serie : bonnet in 2 parts - 1500€
Bugatti 57, upper part of gearbox in alloy - 300€
Please contact Jacqui Michon on email: cary.jm@wanadoo.fr
12-10-2016
---
Nigel White is offering these Bugatti Memorabilia:
Original Bugatti Garage sign.
The back ground of the story is that a late friend of his father bought many Bugatti spare parts from Molsheim when the company went bust. While walking through the showroom to leave he said: "I have bought so much of your stock I guess I own this" and took the sign that was hanging in the showroom.
He used to race Bugatti's in the 50's. His name was Henry Hugh Thomas.
Trophee won for the First Class 3B race by Henry Hugh Thomas (Thom Thomas to his friends) on Oulton Park in 1959.
I have been doing some searching, Tom Thomas drove a Bugatti T35 Monoposto (chassis 4848) in 1959 at Prescott. Not all race results are recorded of course, but this seems to be the car to take to Oulton Park, and of course it was the same year. Tom Thomas also owned many other Bugattis, for example 7 Type 55's. (!)
Open to sensible offers.
Contact Nigel White:
nwhite8888@icloud.com
11-7-2016
---
---
I used to have an interest in Bugatti and started collecting parts and pieces 40 years ago, among them is this very rare "Chantiers Navals Bugatti" aluminium plate : oval shape 4,8 x 9 cm, and 1 mm thick.
I have never seen such a plate, the only time it was mentioned is in the book "Il y a 100 ans Bugatti" page 37, by Georges J Leguillon and it was this very plate.
Offers invited
Christian Ziegelmeyer, Molsheim
2-7-2016
---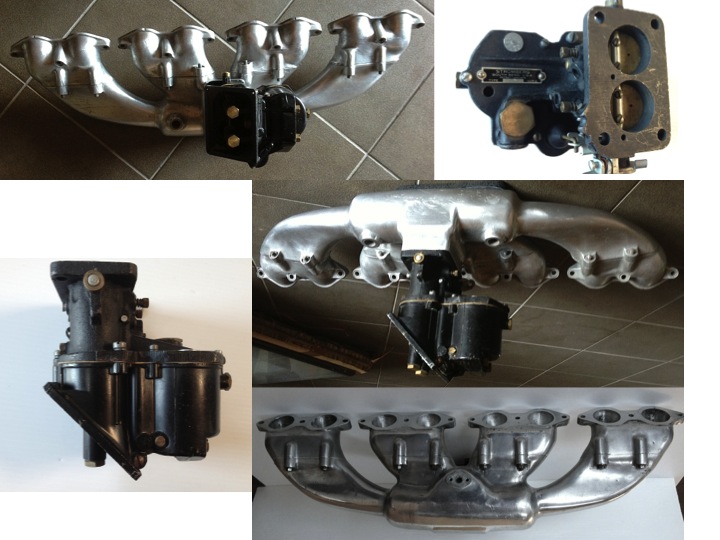 New Old Stock (NOS) Stromberg UUR2 Carburettor with Excellent Used Molsheim Bugatti Type 57 / 57S Inlet Manifold.
Both Together as a Package for US$ 4,500 or near offer.
E-mail: orbisterrae@zoho.com, Tel: + 1 403 922 3370
2-7-2016
---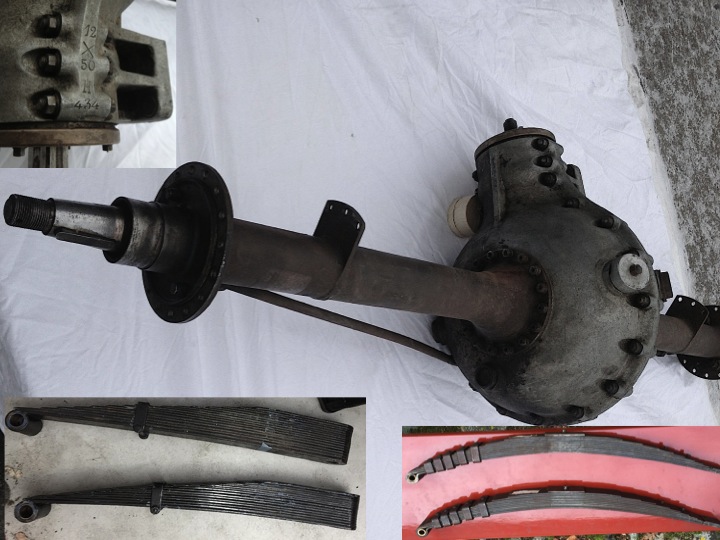 Bugatti Type 49 Original Molsheim Numbered Back Axle.
It is Also Correct for the Type 44. (Adaptable to Several Other Types).
A Complete Set of Molsheim Front and Rear Springs are Included with the Back Axle.
A Pair of Springs is also Available.
E-mail: orbisterrae@zoho.com, Tel: + 1 403 922 3370
2-7-2016
---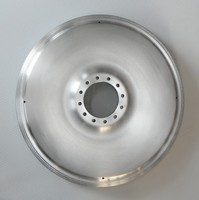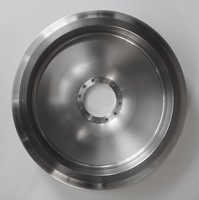 New Reproduction Front & Rear Bugatti Type 57/57S Brake Drums Manufactured to Exact Original Speci?cations and Machined From Much Stronger Solid Aluminium (Not Cast).
Watch Video of the Manufacturing Process at: www.PrecisoFabricati.com
Email: PrecisoFabricati@zoho.com Tel: + 1 403 922 3370 2-7-2016
---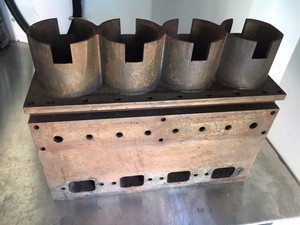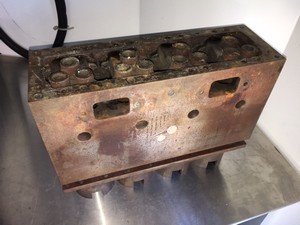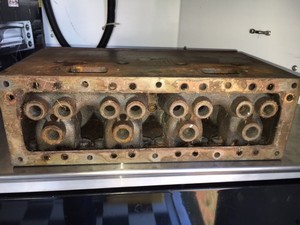 Used block, engine type not exactly clear, maybe type 40 or type 44.
Looks to be original.
Bores, valve seats and overall condition look to be quite serviceable.
Asking price $2800
Call Kevin for details or more photographs.
703 244 9758 or email krichards167@gmail
7-5-2016
---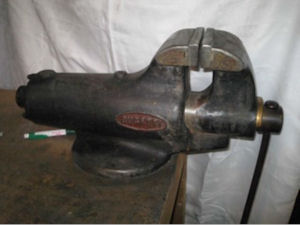 Bugatti Vice

Bought in 1960 in Molsheim, and in use ever since.

The best vice ever! Please contact the seller by e-mail: martinusnijhof@gmail.com

1-5-2016
---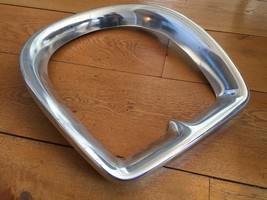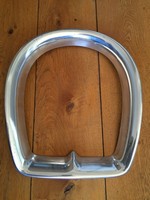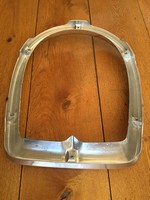 For sale: Bugatti Veyron Grille
Asking price: $8,500 USD.
please contact the seller by sending an e-mail to the editor : j.j.Horst@BugattiPage.com
9-4-2016
---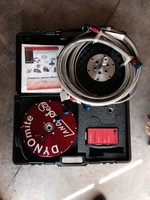 I have an in-chassis dynamometer, with an adaptor for testing a GP Bugatti.

The dyno has never been used as I ended up bench testing the engine of my T51.

The dyno is made by Land & Sea dynamometers, and the specification can be found at: www.dynomitedynamometer.com

The torque arm is calibrated for 200ft-lbs, suitable for a supercharged GP engine.

Asking price: £3,000, complete with GP adaptor.

Peter Wright, E-mail: peter.wright790@gmail.com

7-4-2016
---
Various Bugatti items (engine parts and vice) and other Bugatti related items in a new auction:

6-4-2016
---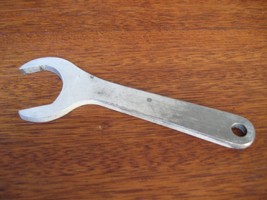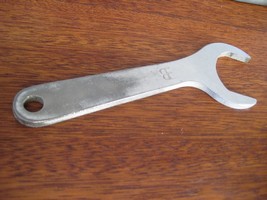 Part of a T57 toolset: The wrench for the waterpump.

May also be useable on other types, I don't know.

This is from 57355, which had 2 in the toolset, this one was received from Gary Kohs, the former owner of this T57 ( Ettore's T57).

Erik Hakstege, E-mail: jean.bugatti@upcmail.nl

19-2-2016
---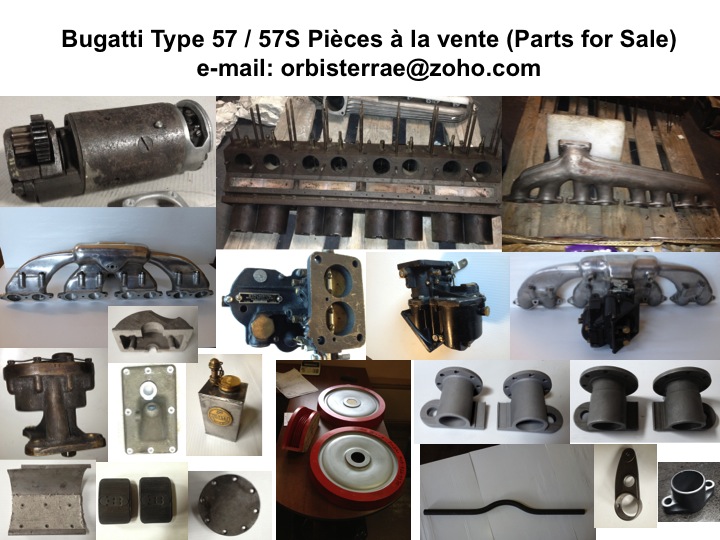 A Variety of both Molsheim and Reproduction T57 & T57S Spares For Sale.
E-mail: orbisterrae@zoho.com
31-1-2016
---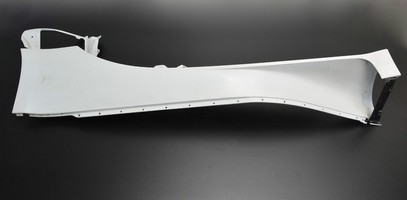 Bugatti Veyron Carbon rear bumper- 16 000€
Bugatti Veyron r.h. Side Panel-14 000€
Bugatti Veyron r.h. Quarter Panel-14 000€
Bugatti Veyron rear bumper- 9 000€
Bugatti Veyron front bumper- 9 000€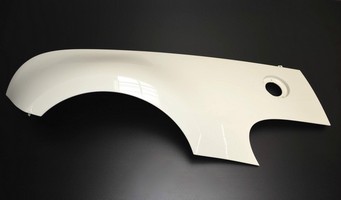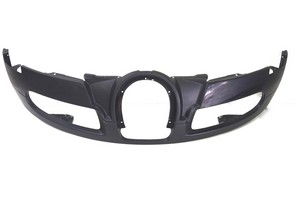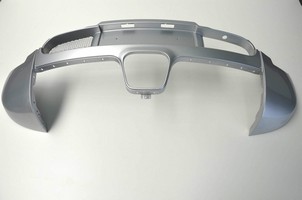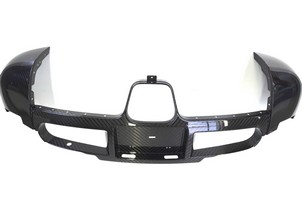 Please contact for more information.
Miroslav Culik, E-mail: culikmiroslav2580@gmail.com
25-1-2016
---


Bugatti Brescia four wheel brake front axle beam.
Meticulously reverse engineered from an original with totally correct and authentic shape and detail, including many features not shown on the Molsheim drawings.
Far stronger and stiffer than the earlier two wheel brake version, and totally interchangable.
Multi axis CNC machined and 3d surfaced from billet.
Lots of other top quality GP and Brescia parts available, all UK designed and manufactured.
Please contact for more information.
Andy Tilley, E-mail: andy.tilley@busygrowing.co.uk
2-1-2016
---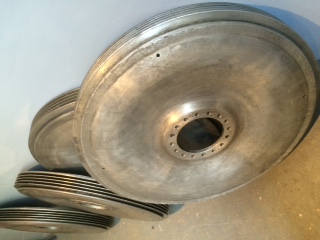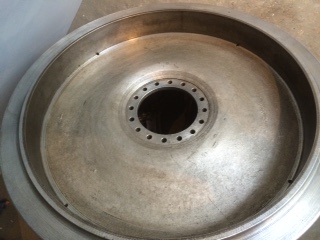 For sale

A very fine set of four original Molsheim type 46 (and also 50 I believe) brake drums, ex Lord Raglan, in superb condition, all fins are intact and the linings appear to have very little wear with no scoring or damage.

I am looking for £2000 for the set or may swap p/x for Bugatti Brescia parts.

Also: An original type 49 Molsheim block.

Suitable for converting a type 37 to twin spark.
In good condition generally, but requiring two repairs , liners in good condition , I was advised that repair would be straightforward .
May part exchange for Brescia engine or gearbox parts. Asking £650

Walter Heale , E-mail: walterheale@hotmail.com

29-11-2015
---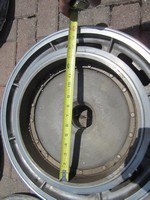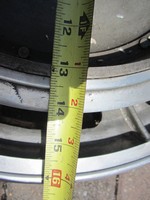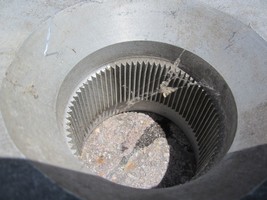 Estate Find- 5 aluminum Bugatti wheels, believed to be from the late 1920s or early 1930s.
The steel finned drums appear to be in very nice condition and measure 13 inches (33.02 cm) across. The hub splines look very good as well.
The rims measure 20-1/2 inches (52.07 cm) across.
One wheel has some minor damage- see photos.
Asking $8500 or best offer
Ron McKenzie
California, USA
mobile +1 510-579-4211
E-mail: mckenzie38@sbcglobal.net

27-7-2015
---
For sale: Parts for Type 57 ( I think):

Oil filter housing (minus the shroud)
Various valve springs (some sizes shown in photos)
Type 57 sump breather

Roger Redford, E-mail: rogerwredford@googlemail.com

15-5-2015
---
For sale:
Bugatti 6 cylinder diesel engine.

This is a really nice example and in extremely well condition. It was bought from the Swiss army.

5000€ for the engine, radiator and very much literature, including original blueprints and so on.

Michael Strohhammer, E-mail: strohhammer@gmx.de

15-5-2015
---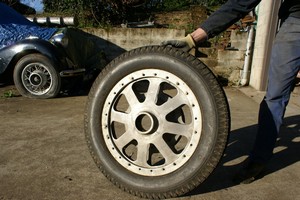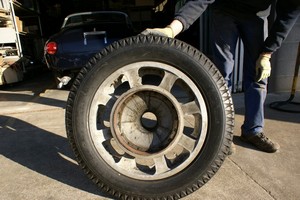 Original Bugatti Wheels : Genuine
Offered here are two genuine small brake original T35C wheels, ex: Mosheim, on Pirelli Tyres. Wheels last used about 10 years ago and are in Good Condition.
Brake drums also in good condition. Ideal for obtaining two, possibly three, original wheels to add to your original car and enhance it's value. 7000 euro each, or 13,000 for the pair.
FOB France , E-mail: onebugatti@gmail.com
15-4-2015
---
Bugatti T44 Crankshaft

The crankshaft has what was described to me as 'light surface cracks' which apparently they all have.

At the time I was racing my T44 so it was replaced as a precaution, but then it will probably have a long life ahead of it if used for everyday driving.

Mike Holt, E-mail: bugattiste1@me.com

15-4-2015
---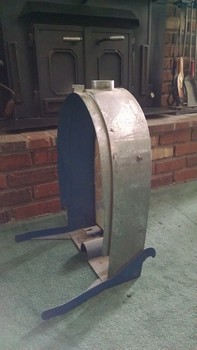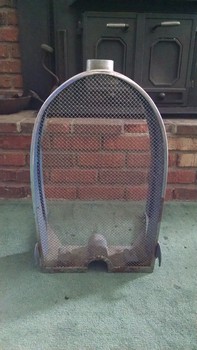 Bugatti Grille of an unknown type. T44 or 46?
$3000.00 + shipping
Michael Howsmon, USA
Email: gallowaymikie007@yahoo.com

1-4-2015
---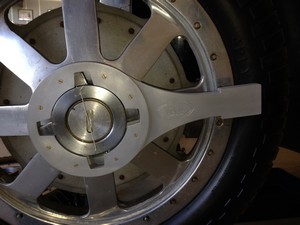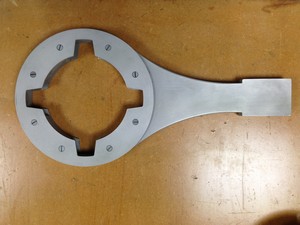 GP wheel brace made from three alu parts and clamped together with steel screws.

It slides over the spinner and then locks on either to tighten or un do. Hit it with a Hyde hammer of a Nylon to save both the spinner and the wheel.

£250 plus vat and postage.

Water pump spanner made from Gauge plate to adjust the gland nut on a T57 or T59 water pump

Price is £25 plus vat and shipping

A replica of the Crossley Bugatti Brescia oil filler. We have patterned up and made 10 off. It replaces one of the oil breathers and clamps in place allowing easy access to "top up" the sump.

All parts to fit included, a bolt on item.

£700 plus Vat and postage.

Tula engineering

Tel: 01285 831694
Mobile: 07710 512586
Fax: 01285 831188
Email Charles Knill-Jones: charles@tula-bug.co.uk


1-4-2015
---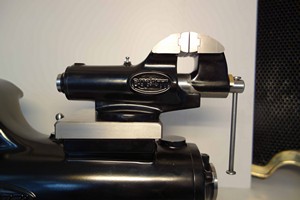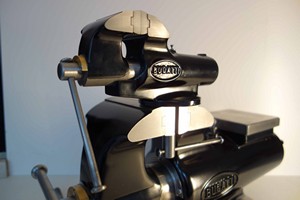 For sale, baby Bugatti Vices

Made as a scale of the full size they are 230mm long, hardened and ground steel jaws 55mm wide. They come with a pin for mounting and have a T bar handle for clamping to the bench, worktop or tool box.

We've sold 6 of 15 and two to Marc Jacobs, designer of the new apple watch. He delighted in the function and form….

£1600 plus Vat and shipping

Tula engineering

Tel: 01285 831694
Mobile: 07710 512586
Fax: 01285 831188
Email Charles Knill-Jones: charles@tula-bug.co.uk


1-4-2015
---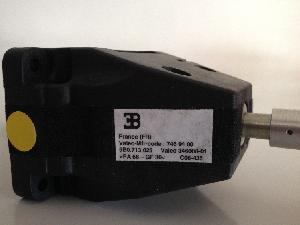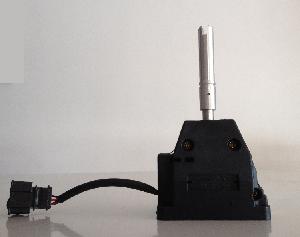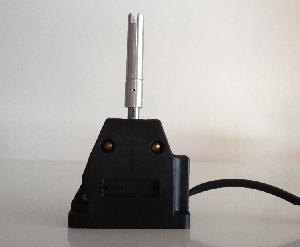 Gear lever for Bugatti Veyron.
Valeo-Mfr-code: 746 94
It's 100% original and new.
It functions both electrically and mechanically .
C. Quiquemelle
18-2-2015
---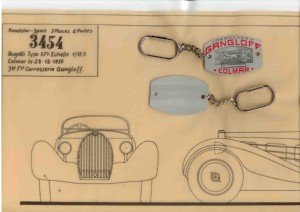 Body sign of Gangloff , very accurate matter, very high quality on a Swiss Watch Industry Standard. It is a real luxury item. 100% identical.
Ltd. edition: A 1 to A 100
Individual number: each is numbered A 1/100 to A 100/100, hand graved
Size: 57 x 38 x 0,5 mm ; 2 wholes with 4mm diameter, hand cut
Quality: Swiss watch industry standard, silver covered, patiné, covered with synth. émail
Key holder: can be taken off, if wished
Origin: Swiss made
Packaging: small bag in blu feutre
Price Ex CH: € 125 /each plus 15 € for packaging and shipping
Please contact:
Andrea Capra
acapra@bluewin.ch
0041 78 670 61 20

6-12-2014
---
Vive La Marque !!
---
Back to the Bugatti Page