Italian, German VW Bugattis and Bugatti Replicas for sale
Maintained by Jaap Horst
---
If you have a little money to spare, Bugattis are for sale sometimes.

However, If you do not have the money for a real Bugatti, and find miniatures too small, you may always consider a replica. Quality replicas can be advertised on these pages, as are the Modern EB110's from Campogalliano and the Veyrons and Chirons from Molsheim.
---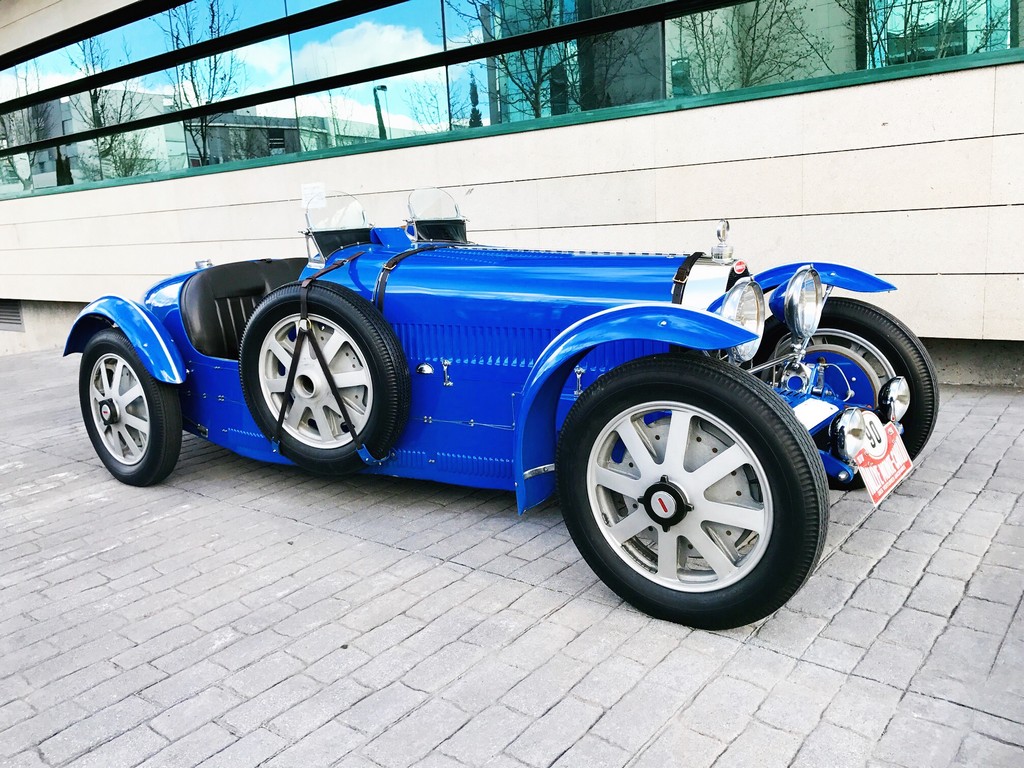 Extraordinary car from Del Val collection, the most prestigious classic car collection in Spain. This car was made personally by the Del Val brothers, from many pieces they had and based on an original Bugatti from their collection.
The radiator was bought in the Retromovil Salon in Paris in 1985. To get the wheels they waited for three years and the car body were made in England by Jim Hall in the plane fuselaje factory Aero Craft Usine.
This car has won many classic rallies. This car is the envy of engineers and classic car owners.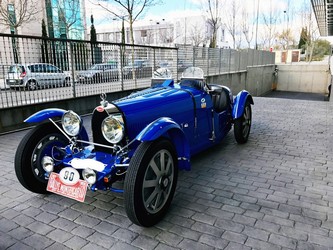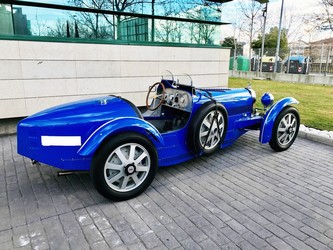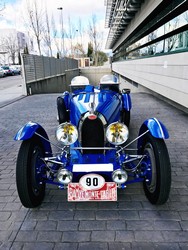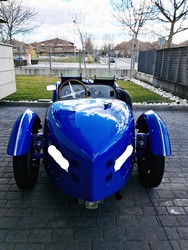 MOTOR (Fiat):
4 Cylinders
Horizontal front position
Bore and stroke: 69 x 100 mm
Cilinder capacity: 1.496 cc
Valves 8
Fuel suply: Two double barrel carburettors Solex, double overhead cam
TRANSMISSION: FRAME:
Front suspension: overlapping triangles with dampers and springs
Rear suspension: rigid shft,springs, dampers, upper transverse guide triangle and longitudinals tie rods.
Neumatic wheels
Tire 400 x 19
BODYWORK:
Bugatti design made in England by Jim Hall
2 Car seats
Fuel tank: 50 litres
Length/width/height: 4.070 x 1.630 x 1.150
Weight: 720 kg

Max speed: 170 km/h
Average consumption: 12 liters

Made in 1992 by Del Val Brothers
PRICE 130000€
The car is in Spain. My phone number is +17864591774 19-2-2017
---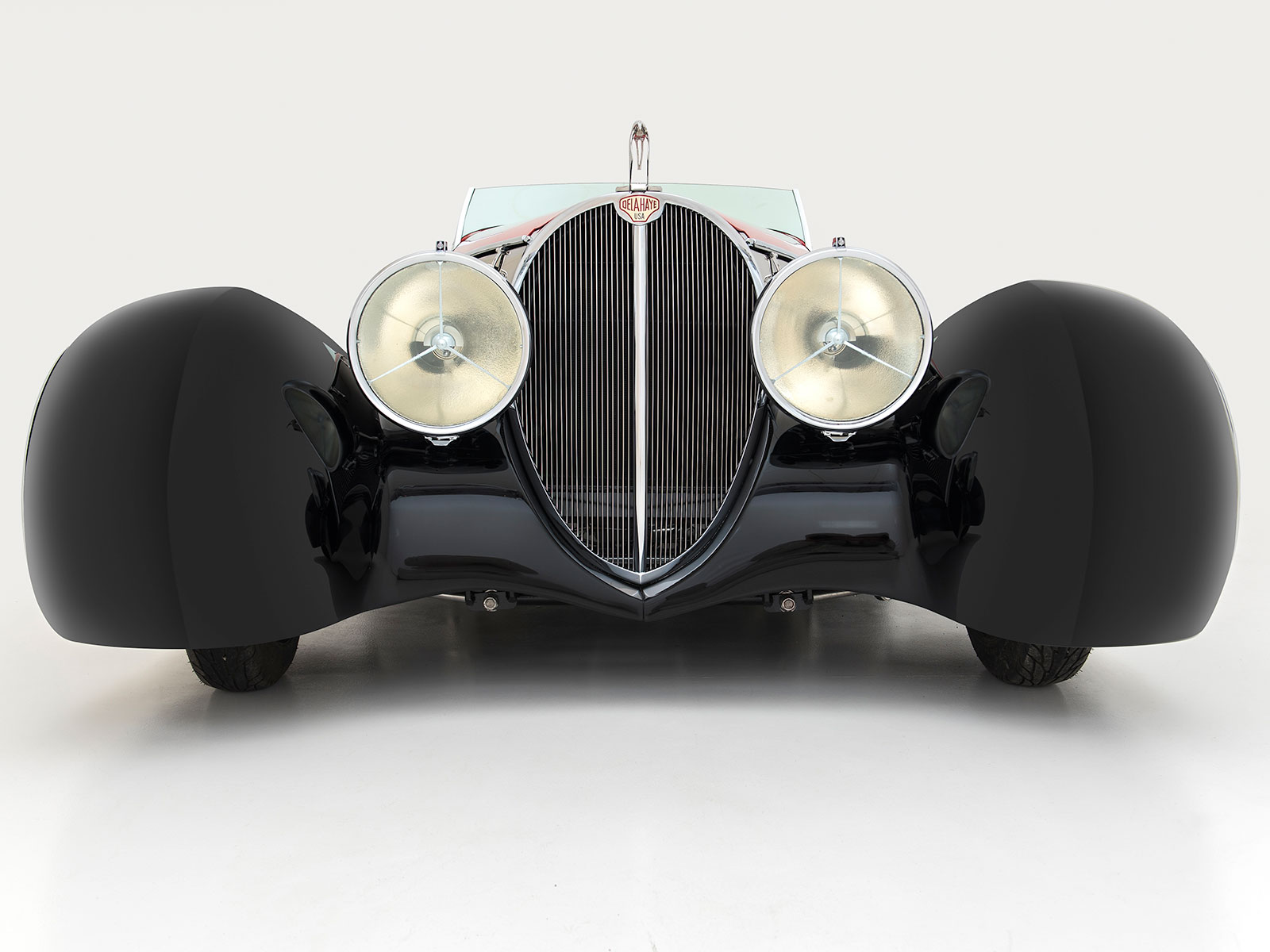 Auburn Boat-tail Speedster/Type 57S Bugatti/1935 Figoni & Falaschi Type 135 Delahaye Inspired by combining classic Auburn, Delahaye and Bugatti* styling, the Bugnaughty incorporates the timeless designs and features of the world's most beautiful cars onto a single platform. The original 1929-'36 Auburn Boat-tail Speedster body designs came from Alan Leamy and Gordon Buehrig's unheralded clay modeler Vince Gardner. Chip Foose designed the fiberglass body for Deco Rides in 1999.
The fully enclosed "pontoon" fenders were inspired by those originally appearing on a 1935 Type 135 Figoni & Falaschi Delahaye. They are from the Generation Two Deco Rides boat-tail kit. The steel grille and shell are replica 1937 Type 57S Bugatti capped off by a beautiful Hispano Suiza "flying stork" reproduction hood ornament. The rocket style taillights are 1937 Hudson hood ornaments turned around 180 degrees to face backwards, a fitting sculpture to capture both elegance and sense of speed. The eight custom tailpipes splaying out beneath the two rear "wings" hints at the Bugnaughty's performance possibilities. The car respectfully pays tribute to the Bugatti* name, and the timeless styling of Figoni & Falaschi.
Exterior Decor
The sweeping, hand hammered steel trim that gracefully embraces the fenders was crafted by Tommy Caruso of Contour Metalshaping and Mark Barton of The Panel Shop. Inspired by Geo Ham and Guiseppi Figoni, Terry Cook of Delahaye USA combined and designed the entire package.
Platform
The Bugnaughty rides on a 127 inch wheelbase rectangular steel frame. It utilizes an independent front suspension with a 9-inch Ford rear end with disc brakes. Adjustable air shocks are used in the rear to raise and lower the car, and coil over shocks are utilized on the front suspension. The engine is a 302 cubic inch Ford V8 with a C4 automatic transmission. Power steering and brakes are standard. The car was built and painted by the four Brown brothers of Brown's Metal Mods over a four year period.
Interior and Trim
Genuine kid glove leather makes up the seats, bolsters and doors, combined with deep, luxurious wool carpets. The unique dash insert by Don "The Egyptian" Boeke was designed in the Cubist style of early Impressionism. It is one of many details that give the sparkle to this one of a kind automobile.
Acknowledgements
Paint by House of Kolor, Blueblood Red and S2BC25 jet black
Built and painted by Brown's Metal Mods, Port Leyden, NY
Chrome plating by Mark Silich of The Finishing Touch, Chicago, IL
Leather interior by Rich Perez of RP Interiors, Horseheads, NY
Chassis by Fat Man Fabrications, Mint Hill, NC
Dashboard by Don "The Egyptian" Boeke, Dayton, OH
Hispano Suiza stork ornament and Hudson tail lights by American Arrow of Clawson, MI
Rear fender trim by Tommy Caruso of Contour Metalshaping of Plainfield, NJ
Front spears by Mark Barton of The Panel Shop in Stratford, CT
The car will appear at Plymouth, MI Concours July 26 and at the Quail Motorsports Gathering Aug. 14 in Carmel, CA during Pebble Beach week.
Contact Terry Cook: +1 908 876 9100 - DalahayeUSA.com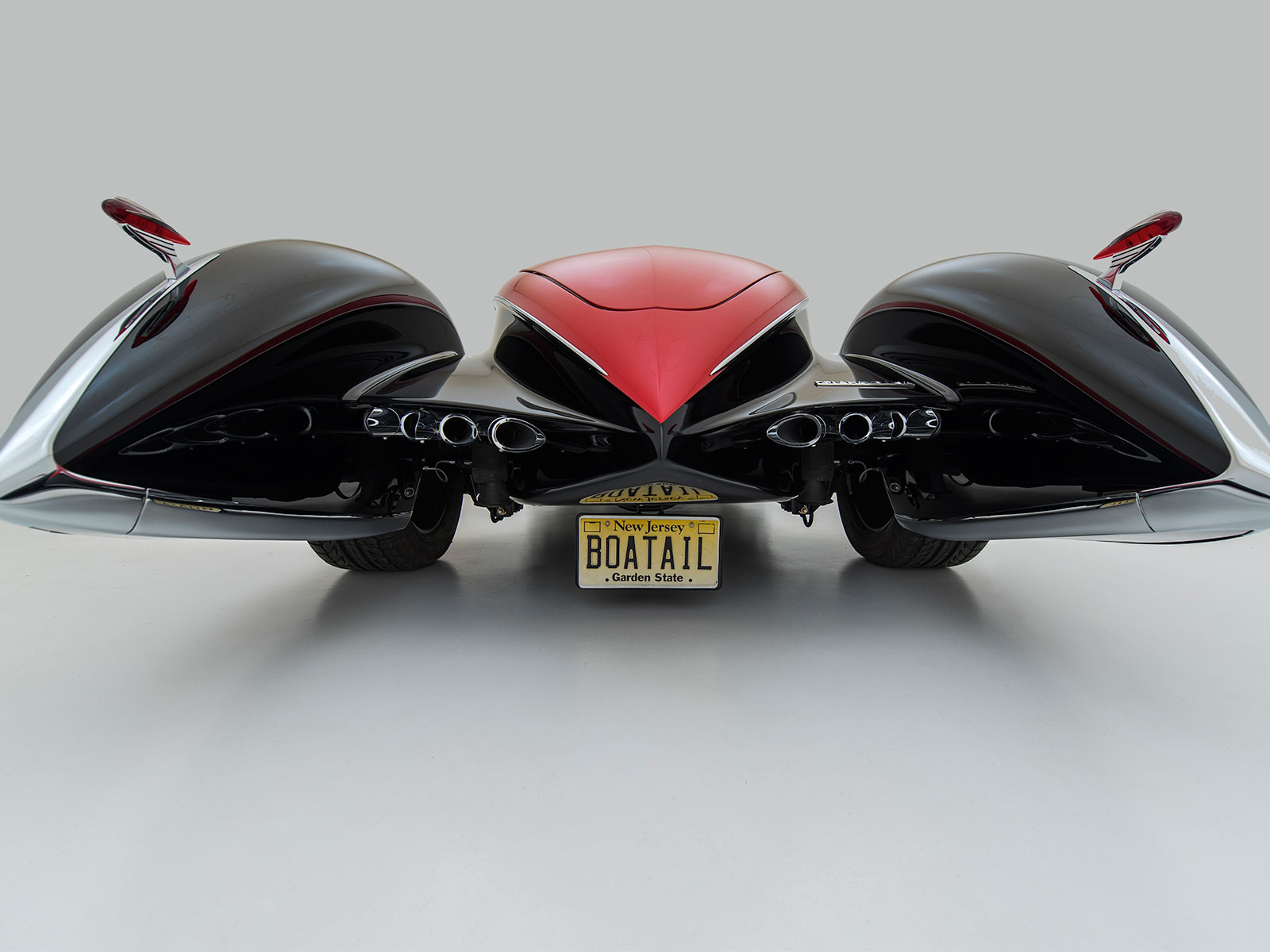 4-7-2015
---
2011 Bugatti Veyron Grand Sport

3,895 miles, Car is in USA

Carfax reports and maintenance records available

Contact the seller through Jaap Horst, e-mail: J.J.Horst@BugattiPage.com


3-5-2015
---
Wanted (for a friend of mine):
Bugatti EB110 SS
Private offers preferred.
Contact through Jaap Horst, e-mail: J.J.Horst@BugattiPage.com

29-3-2015
---
---
Vive La Marque !!
---
Back to the Bugatti Page