More info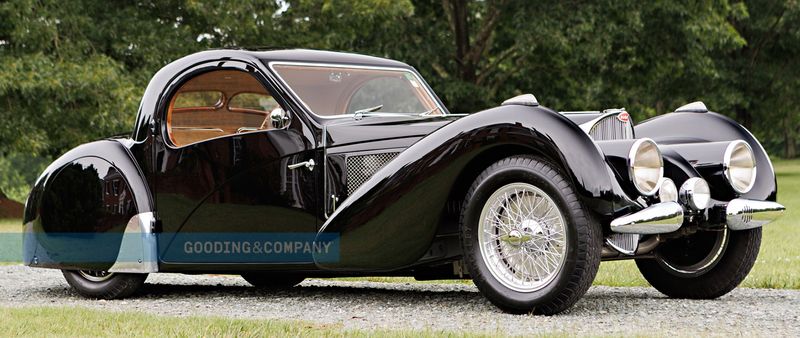 1937 Bugatti Type 57SC Atalante, Chassis 57523, Engine 23S
Among the Most Important, Desirable, and Spectacular Bugattis Ever Created
One of Just 17 Type 57S Atalantes Built and Arguably the Finest Extant
An Automotive Masterpiece Showcasing Jean Bugatti's Creative Genius
Known History Since it was First Delivered to Paris in 1937
Retains Original Chassis, Coachwork, and Matching-Numbers Driveline
Recent Mechanical Restoration by Noted Bugatti Specialist Ivan Dutton Limited
n the 20-year period between the two world wars, the eccentric Ettore Bugatti, working together with his brilliant son Jean, elevated automotive production from the utilitarian work of engineers to a genuine artistic pursuit. Each jewel-like Bugatti bears the unmistakable imprimatur of its maker and possesses the qualities that one hopes to find in any automobile: inspired styling, superior engineering, quality craftsmanship, and thoroughbred performance.
The pinnacle of Bugatti production was the Type 57S, a model that emerged in 1936 as a more sporting version of the Type 57. With its "S" designation standing for surbaissé, or lowered, this radical new Bugatti took inspiration from the Type 59 Grand Prix and was developed as an uncompromising highperformance machine – lighter, faster, and more technically advanced than the already superb Type 57.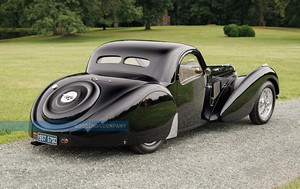 At the foundation of the Type 57S was a specialized chassis, with distinctive gondola-shaped frame rails. Not only did this design allow the engine to be mounted closer to the ground, thereby lowering the car's center of gravity, it was significantly lighter than the standard Type 57 frame. The rear section featured an ingenious oblong opening in each side rail, allowing the rear axle axle to pass through the frame, lowering the car further.
The front suspension of the 57S was also quite clever, utilizing a semi-independent configuration of a two-piece hollow axle held within a central knurled collar. This unconventional front axle worked in unison with complex de Ram shock absorbers, which, through a combination of hydraulic pressure and multi-plate discs, provided immediate and effective damping. When this technology first appeared in the 1930s, a single de Ram shock absorber cost about the same as an entry-level automobile.
For this new chassis, Bugatti thoroughly revised its 3.3-liter twin-cam straighteight engine utilizing many techniques of the Grand Prix car. A sophisticated dry sump lubrication system allowed the engine to be mounted lower in the chassis and ensured steady oil supply during hard cornering. High compression pistons and careful tuning resulted in a gain of 20–25 hp over the Type 57, while a high-performance Scintilla Vertex magneto replaced the conventional distributor of the standard model. A lightweight exhaust system was designed to suit the car's sporting character and it terminated in a most unusual manner, in a row of five small-diameter tailpipes. In normally aspirated form, the Type 57S offered exceptional performance, while the supercharged "C" variant, producing about 200 hp, was among the fastest production cars built before WWII.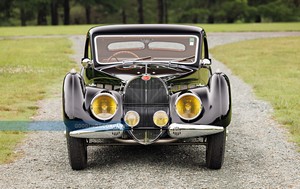 The extreme proportions of the Type 57S chassis afforded Jean Bugatti and other coachbuilders new possibilities. With its surbaissé chassis and efficient mechanical packaging, the body of a Type 57S sat several inches lower than a comparably styled Type 57. Furthermore, the car's low hood line allowed the fenders to peak above the pointed, oval-shaped radiator grille, while the coachwork completely enveloped the chassis. The result was a car that appeared impossibly low and dramatic from the outside, with a sublime view from the driver's seat.
The Bugatti Type 57S was one of the ultimate high-performance automobiles of its era, and its competition variant, the Type 57G Tank, was further proof of concept, with two wins at the 24 Hours of Le Mans and several international speed records to its credit. The 57S' outstanding performance attracted an elite clientele – a "who's who" of 1930s motoring royalty.
In total, Bugatti built just 42 examples of the Type 57S between 1936 and 1938. Like the standard Type 57, the surbaissé model could be purchased as a bare chassis and supplied to outside coachbuilders like Vanvooren, Gangloff, and Corsica. The most famous examples, however, were those outfitted with bodies designed by Jean Bugatti and built at Molsheim. In this category are the incomparable Atalante and Atlantic, widely regarded as two of the most attractive, influential, and recognizable automotive designs of all time. Just 17 Type 57S chassis were originally supplied with Atalante coachwork, a mesmerizing design named for the legendary heroine of Arcadian mythology.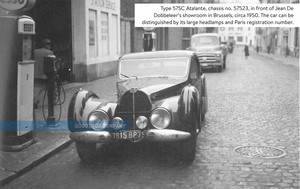 Constructed at Molsheim in April 1937, this Bugatti Type 57S, chassis 57523, was originally equipped with frame no. 27, engine no. 23S, and Atalante body no. 10.
Though it was a catalogued body style, no two 57S Atalantes are alike, each differing in subtle details. This Atalante possesses several unique characteristics – most recognizably its large Scintilla headlamps, which imbue the car with an elegant, dreamy-eyed appearance. These remarkable lights, combined with the fully skirted rear fenders and beautifully sculpted tail, make this a particularly appealing and distinctive Atalante.
As completed, 57523 was finished in a splendid monochromatic black color scheme and delivered to the official Bugatti agent in Paris, on Avenue de Montaigne.
In May 1937, the Atalante was sold to its first owner, Alphonse Gandon, a successful wine and liquor merchant. An archetypal 57S owner, M. Gandon had owned at least one other Bugatti prior to his acquisition of 57523, a Figoni-bodied Type 55 Roadster with which Jacques Dupuy won the 1933 Paris-Nice race. A connoisseur who certainly appreciated artful design in all aspects of life, M. Gandon's home was built in the Art Deco style and situated at the edge of a forest in Saint-Germain-en-Laye.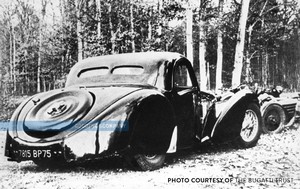 Early on, 57523 returned to Molsheim, where it received a Roots-type supercharger, becoming one of the very first 57SCs. As noted by Bugatti historian Julius Kruta, in the original Bugatti factory engine list there is a "C" marked next to this chassis number, indicating that this car must have had its blower added soon after delivery. It is also likely that the 57S was fitted with a Cotal gearbox at this time.
In September 1940, the Bugatti was registered under the name of Gaston Polonois; however, in April 1946, it was re-registered to Alphonse Gandon's son Marcel. Though nothing further is known of the circumstances, it is possible that M. Gandon owned the Bugatti throughout this entire period and merely had the car re-registered to protect it – or perhaps himself – during the war years.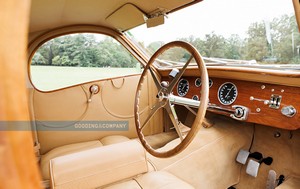 Following M. Gandon's ownership, the Atalante was sold to Jacques Longuet of Paris and was registered as "7815 BP 75" in December 1952. The oldest known photographs of 57523 were taken during M. Longuet's ownership and confirm that the Atalante participated in the very first International Bugatti Meeting in June 1958, which included a rally from Ermenonville to Le Mans.
Around 1959, chassis 57523 was sold to Jean De Dobbeleer of Brussels, Belgium. In the years following WWII, De Dobbeleer was Europe's foremost Bugatti dealer. He bought, sold, and restored innumerable cars, including some of the most significant examples of the marque and several exotic 57S models.
Soon after De Dobbeleer's acquisition, 57523 was sold to well-known Bugattiste Gene Cesari, a man many consider among the most important contributors to America's rich appreciation for the Bugatti marque. An academic, racer, and gentleman farmer, Mr. Cesari had been involved with Bugattis since 1953 and, in 1958, was even appointed as the firm's official North American agent by Bugatti Automobiles' Director General M. de Made.
Around 1960, Mr. Cesari sold 57523 to George W. Huguely Jr. of Annapolis, Maryland. During this period, Mr. Huguely quietly assembled an impressive stable of important motorcars that included a Bugatti 57C Gangloff Cabriolet, two supercharged Mercedes-Benz cars, three Duesenbergs, and three Touring-bodied 8C Alfa Romeos – a long-chassis 2.3 Le Mans Tourer, a short-chassis 2.9 Spider, and the Mille Miglia-winning 2.9 Berlinetta.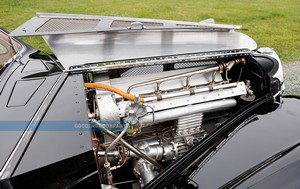 Shortly after Mr. Huguely purchased the Bugatti, his mechanic damaged the original cylinder block by starting the engine while the cylinders were filled with castor oil. As a result, Mr. Huguely removed the Bugatti's original engine and, around 1964, sold the Atalante to Dr. Donald Vesley of Louisiana. During his ownership, Dr. Vesley acquired a standard Type 57 engine, which he then converted to SC specifications and installed it in 57523.
Dr. Vesley eventually sold the Bugatti to Ed Lucas of Troy, Michigan, who, in turn, sold it to noted collector William Jacobs. In 1990, the Blackhawk Collection acquired 57523 and restored it in a two-tone, black and red color scheme.
In 2005, well-known California-based collector Ray Scherr was presented with the opportunity to acquire the Atalante as well as its original, matching-numbers engine. The engine, which had been repaired and subsequently installed in another Bugatti, was reunited with 57523 following a complex negotiation. Mr. Scherr then entrusted the Bugatti to Bob Mosier, a respected restorer specializing in important antiques and classics. Over the next three years, Mr. Mosier completely restored this important Bugatti in a no-expense-spared manner, with great sensitivity to its originality.
Chassis 57523 made its post-restoration debut at the 2009 Pebble Beach Concours d'Elegance®, where it earned both First in Class and the prestigious French Cup, a special award presented to the most significant car of French origin. From there, it went on to capture Best in Class at the 2010 Amelia Island Concours d'Elegance and back-to-back Best of Show awards at the Santa Barbara and Avila Beach concours.
Later repainted in its original black livery, the Bugatti was sold at the 2013 Gooding & Company Pebble Beach Auction to a private European collector. During his ownership, the Atalante was shown just once at the Concorso d'Eleganza Villa d'Este in April 2016.
The current owner, a discerning American collector, acquired 57523 in 2019, again with the assistance of Gooding & Company, and had it sent to highly regarded Bugatti specialist Ivan Dutton Limited in Aylesbury, England, for mechanical sorting. Having restored another Type 57S Atalante, Tim Dutton was uniquely qualified to carry out a comprehensive mechanical restoration on 57523, with the goal of making it perform as Bugatti intended. Invoices on file confirm that this project included a full rebuild of the engine and rear end, as well as a complete chassis overhaul, with great attention paid to suspension set up. At the same time, the car's original gearbox was located, rebuilt, and reunited with the chassis, and a set of new Borrani wire wheels were fitted in preparation for high-speed touring.
As this work was carried out, 57523 was inspected by English Bugatti historian Mark Morris. His report, included in the car's file, confirms that this Atalante is one of just four Type 57S chassis with a factory-supplied supercharger and retains important matching-numbers components including the frame, body, engine, gearbox, differential, as well as the original chassis plate. Furthermore, the engine is stamped in several locations with the factory assembly no. 25, indicating that it retains its original crankcase, sump, camboxes, and cam tower drive.
As the culmination and zenith of Bugatti production, the Type 57S is universally acclaimed as an automotive masterpiece. It stands among the most important Bugatti automobiles ever built; for over 60 years, collectors have regarded these precious few low-chassis Type 57s as the finest prewar motorcars. With its advanced specification, exceptional performance, and spectacular Jean Bugatti-designed coachwork, the 57S truly embodies the spirit of the Bugatti marque, Le Pur-Sang des Automobiles.
Of the 17 Atalantes built on the Type 57S chassis, it is important to note that only two were fitted with superchargers by the Bugatti factory, another two have been irretrievably lost, and four reside as permanent fixtures in the Musée National de L'Automobile in Mulhouse, France. The remaining examples are held in the world's finest automobile collections and are not likely to trade hands in the foreseeable future.
In every respect, 57523 is a true mechanical objet d'art – an exclusive and sporting Bugatti of unrivaled beauty, rarity, and sophistication, whose unquestioned authenticity, expert restoration, and magnetic presence place it among the top-tier of collectible automobiles.