Italian, German VW Bugattis and Bugatti Replicas for sale
Maintained by Jaap Horst
---
If you have a little money to spare, Bugattis are for sale sometimes.

However, If you do not have the money for a real Bugatti, and find miniatures too small, you may always consider a replica. Quality replicas can be advertised on these pages, as are the Modern EB110's from Campogalliano and the Veyrons, Chirons and Divos from Molsheim.
---
Special offer: Unique Bugatti Veyron
Special one-off with history and low mileage.
Please contact the seller through the webmaster, e-mail: j.j.horst@bugattipage.com

21-10-2021
---
Pur Sang Bugatti Type 35B for sale
In excellent as new condition, car is in Germany, with German registration.
Following the difficulties in many European countries to register a new Pur Sang replica, this is an excellent opportunity for especially the German buyers.
Also available a not registered Pur Sang T35B
Please contact the seller through the webmaster, e-mail: j.j.horst@bugattipage.com

13-3-2021
---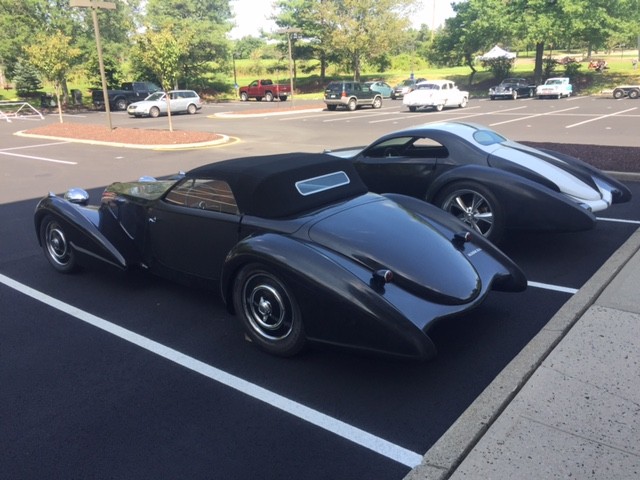 1937 Bugatti Type 57S Gangloff Drophead Replica
Our unfinished fiberglass-bodied modern day interpretation of Ralph Lauren's 5+ million dollar masterpiece, his 1937 Type 57sc Gangloff Bugatti drophead (see attached photo of his car at Pebble Beach and paulrussell.com/rPortfolio/bugatti/37_dhc/). Gangloff is the famed German coachbuilder. That car is not for sale, but this tribute replica is so you can absolutely stun the guys at your golf club.
Ralph Lauren has impeccable taste in cars. He has only three Bugattis, all of which are incredible including his 40 million dollar Atlantic. When we saw his 1937 Type 57sc Gangloff drophead at Paul Russell and Company's shop in Essex, MA we launched a 15 year quest to build a modernized replica that we could afford.
Our "Tribute" car has a convertible top with fixed windshield posts and working power windows installed so the car can have air conditioning. DELAHAYE USA fiberglass body kit ($12,900) mounted on our rolling chassis ($14,300). Beautiful folding top hides away completely in special boot between trunk and passenger's compartment. Hinged trunk, hinged convertible top boot cover, hinged and latched doors. With a 127-inch wheelbase, ten inches longer than the original Bugatti, there is considerably more interior space. Headroom and legroom for a 6 ft. 10 in. basketball player. Shoulder to shoulder room for two NFL tackles.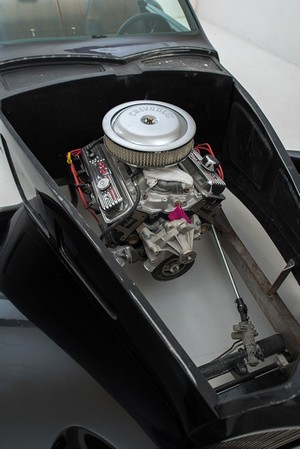 Just forward of the storage boot for the top there is a sculptured rear passenger compartment bulkhead. It runs across the rear of the interior to provide structural rigidity and support the B-posts and suicide door hinges. This shelf (see magenta photo attached) is designed to accept three curved, custom-fitted suitcases designed to artistically fill the space (included). They tuck upright behind the seats. Our three custom suitcases shown are covered in faux alligator fabric, but you can redo them in any fabric you choose to match your interior. The center suitcase is narrower and holds your choice of a Magnum of champagne or a large bottle of Congac (included with the car). A vertical leather strap (not included or shown) running through the handle would secure each suitcase.
There is one new bucket seat in the car that we are not satisfied with and want to replace. We suggest one with front-rear adjustment on tracks with a reclining seatback.
Car offered here includes brand new small block Chevy V8 crate motor with 4 bbl. carb & new automatic trans. Car can accept your choice of any popular engine and transmission such as inline Jag 6 cylinder, big or small Ford or brand new 507 cu. in 6-71 supercharged big block Chevy (not included, and not recommended for the faint of heart, but we've got one we can negotiate into the deal to replace the small block).
High quality rolling chassis by Gary Brown of Brown's Metal Mods in Port Leyden, NY (my favorite rod builder). We start with custom made tubular frame rails by Art Morrison Performance in Fife, WA (renowned at the best hot rod chassis guy today). They are bent specifically for our Type 57s Bugatti replica. We use an independent front suspension system with upper and lower control arms, disc brakes, coil over shocks and power steering rack from Kugel Komponents in La Habra, CA. Both Morrison and Kugel have both earned a stellar reputation for outstanding workmanship and engineering.
It includes a 9-inch Ford rear with axle housing, axles and third member. Disc brakes are included. Rear suspension is a triangulated four link with quality coil over shocks. Includes gas tank with quiet, in-tank fuel pump.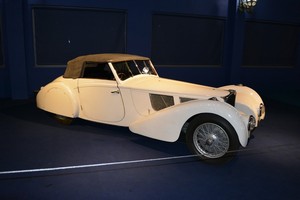 The prototype shown is for sale and includes steel wheels and new radial tires, Bugatti exact replica wheel covers (expensive Lamarr discs), tilt steering column installed with Borgeson steering linkage and steering wheel. Beautiful redwood dash, under cowl metal support structure, doors hinged and latched with door handles. Two small doors in top of cowl for easy under dash access. Body finished in black gel coat. Includes a pair of '35 Chrysler headlights which have V-d lenses to match the V-d stainless Type 57s Bugatti grille. Replica Bugatti front fender marker lights. Fender skirts are available (see stunning white Bugatti we photographed at the Schlumpf Museum in France).
FOR SALE $59,000 firm. Trades considered.
Contact Terry Cook: +1 908 876 9100, e-mail: delahayeusa@aol.com
1-11-2017
---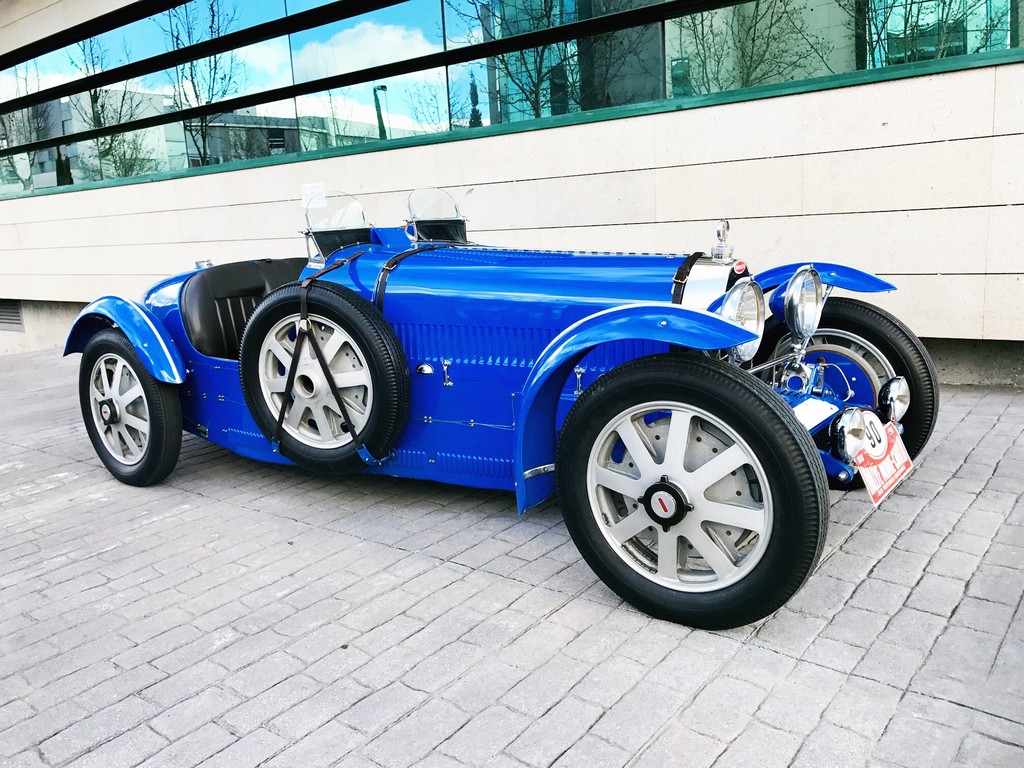 Extraordinary car from Del Val collection, the most prestigious classic car collection in Spain. This car was made personally by the Del Val brothers, from many pieces they had and based on an original Bugatti from their collection.
The radiator was bought in the Retromovil Salon in Paris in 1985. To get the wheels they waited for three years and the car body were made in England by Jim Hall in the plane fuselaje factory Aero Craft Usine.
This car has won many classic rallies. This car is the envy of engineers and classic car owners.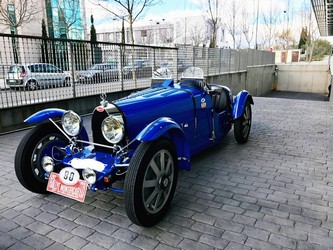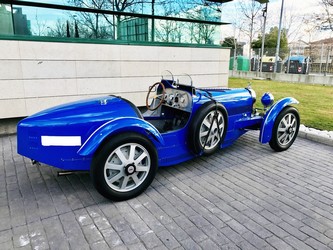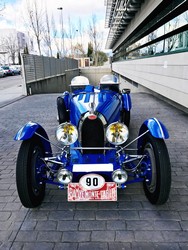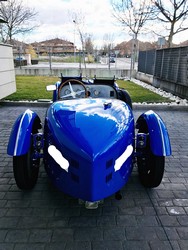 MOTOR (Fiat):
4 Cylinders
Horizontal front position
Bore and stroke: 69 x 100 mm
Cilinder capacity: 1.496 cc
Valves 8
Fuel suply: Two double barrel carburettors Solex, double overhead cam
TRANSMISSION: FRAME:
Front suspension: overlapping triangles with dampers and springs
Rear suspension: rigid shft,springs, dampers, upper transverse guide triangle and longitudinals tie rods.
Neumatic wheels
Tire 400 x 19
BODYWORK:
Bugatti design made in England by Jim Hall
2 Car seats
Fuel tank: 50 litres
Length/width/height: 4.070 x 1.630 x 1.150
Weight: 720 kg

Max speed: 170 km/h
Average consumption: 12 liters

Made in 1992 by Del Val Brothers
PRICE 130000€
The car is in Spain. My phone number is +17864591774 19-2-2017
---
---
Vive La Marque !!
---
Back to the Bugatti Page