Bugattis for sale
Maintained by Jaap Horst
---
If you have a little money to spare, Bugattis are for sale sometimes.

Most of the Bugattis in this list were found in magazines, some are advertised only on this page:

If you have any Bugattis for sale, or know of any Bugattis for sale, please write or e-mail me.
If you're succesful buying a Bugatti because of this page, I would appreciate it if you let me know (to remove the ad), and of course all financial donations are welcome. (Consider 1/2 % of the price, so I can buy my own Bugatti after selling two hundred) :-)
---
Currently a total of
49 classic Bugattis
are offered for sale, plus various parts and other Bugatti-related Items
---
Last updated December 30, 1997
---
---
---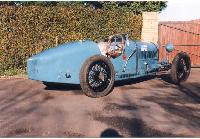 Bugatti T37
This type 37 was rebuild in 1994 from a kit of parts where brakes, wheels, parts of the engine, instruments, and some others parts were original. she runs well since 7 years, we have made about 25000 km without any Problem... (French Paper)
Contact: Guy Dubrulle (France) Fax 00 33 321 708 961 or E- mail : jdubrulle@free.fr
8-2-2000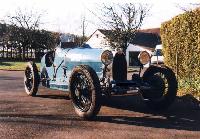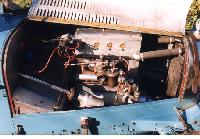 French Bugattis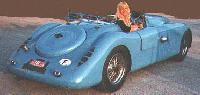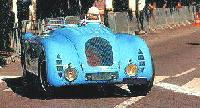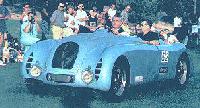 1937 Bugatti T57G
Of LeMans Victory Fame! According to the photographs this one is not entirely original, as prove the wrong wheels and luggage rack! Car is in south of France. E-mail: jnesly@azur.org
---
1928 Bugatti

Model unknown, E-mail: dilorenz@mubi.com, source: http://www.oldtimer.de/
---

        model           color           chassis         price (Swiss Francs)
Bugatti 44 Jean Bugatti	beige/black	1074		300'000
Bugatti 57 Ventoux	darkblue	57202		270'000
Bugatti 57 Galibier	gray		57776		270'000
Bugatti 40 Roadster	yellow		40442		225'000
Bugatti 23 Brescia	black/blue      racer 		300'000
Bugatti 30 Cigar	red/blue	Racer		400'000


UR, , 8 - 12 - 1997
---

Bugatti T57 Ventoux

1935, Inquire for more information: E-mail alaacl@en-lorraine.com, Source: Auto - Moto Bourse Organisation, 24 - 11 - 97
---

Bugatti T49 Cabriolet

1932, former of Michel Bugatti, 900.000 French Franks, Tel. (France) 03.83.32.31.47, Source: Auto - Moto Bourse Organisation, 24 - 11 - 97
---
Bugatti T38

Sport Tourer, restored, chassisno.: 38280

Fax: +64 9 435 19 94 Source: Voiture's Oldtimer krant, 6-11-97
---
T40/23

The car I am describing is situated near Adelaide in South Australia.
It is a Type 40 Chassis (#40114) with a type 23 "Brescia Modifie" Engine (#210)ex Type 23 chassis #1832.
Bought by the present owners in 1958 in Yorkshire UK. This car in original (Type 40) state was reviewed in "The Light Car and Cyclecar" magazine June 24, 1927; article entitled "The 11.9 H.P. Bugatti"
The car hasan aluminum clad, wooden framed two seater body, built by "Jarvis of Wimbledon".
The car is offered for sale AS IS, WHERE IS. Offers around $100,000 Aus. Requests for further information can be directed to me via Email: estrudwicke@worldbank.org, Telephone (08) 83903423
---
Not French, but Italian!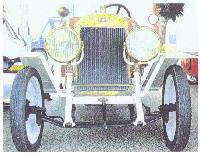 DIATTO Tipo 10, 1.018 cc, 4 cyl engine
3 spd gearbox w/ original engine #1019 circa 1921-22
Chassis # 6367, built by French coach maker Voiturette Salmson Original Diatto plate wheels
Driving Condition: Fully Functional, Well Maintained This unique automobile is considered by The Italian Automobile Association to be a National Treasure, yet they lack the funds to return it to its homeland. As far as I can tell from the information I was sent, this is NOT a Bugatti License car. It was marketed alongside the Diatto Tipo 30, which was the Bugatti Brescia model. Of course you can still buy it, but not for it's connection to Bugatti!
Stephen Trimm E-mail: sat@wt.net
---
T57, 1935

chassis 57394, Graber Cabriolet, runs great! $325.000

T57, 1937

chassis 57546, Gangloff Ventoux. $275.000.

Richard Riddell, USA tel: 714-493-1404, fax: 714-493-6952. Source: Pur Sang, Vol.37-3.
---
1938 Bugatti Roadster

Twin cam, supercharged straight 8. Raced by Phil Hill. 2nd place 1938 mille miglia. Mechanically restored. 609-662-1124 (USA)
28-7-97, Source: http://www.autox.com/
---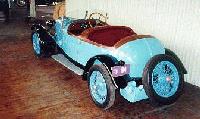 Bugatti T38, 1927

FOUR PLACE TOURING Body by LAVOCOTT & MAUSAUD.
CHASSIS NO. 38463
ENGINE NO. 38188
Body is Bugatti blue with red leather upholstery. The engine is a non-supercharged straight-8 with a 4-speed transmission. The car is in excellently restored condition. $125,000.00.

Honey Brook Classics, Ltd., P.O. Box 490
Honey Brook, PA 19344, U.S.A.
E-mail: classics@honeybrook.com
Source: Their Home Page
---
Bugatti T57C Ventoux

1937, $440,000.00. Jim's Used Cars 789 Montana Ave. Wichita 12345-6789 USA Phone: 612-362-9129 FAX: 612-481-8734
---
Bugatti T59
3.3 litre Supercharged Grand Prix. $850,000 US

Bugatti T57
Early chassis being rebodied as Aerolithe

The Guild of Automotive Restorers, Inc. ON, Canada, Phone: 905-895-0035, FAX: 905-895-0036 Sources: Various, 10/07/1997
---
Bugatti T49, 1931

Cabriolet by Gangloff, restored, LHD, full history, dark blue with blue leather, 8 cylinders, concours, asking 85,000 pounds. Phone (England) +44 1296 614 770 (Fx) Source: Classic and Sports Car, August 1997
---
Bugatti T40

From the picture: not a standard body.
Ex Musee, saine et bonne mecanique (sound and good mechanics), visible sud-est France (In the south east of France). Phone/Fax (France) 04 76 46 59 27 Source: Classic and Sports Car, August 1997
---
Bugatti T35C, 1928

Ex Nuvolari
Gregor Fisken, 14 Queens Gate Place Mews, London SW7 5BQ. Phone (England) +44 171 584 3503, Fax: +44 171 584 7403 Source: Classic and Sports Car, August 1997
---
Bugatti T57C Stelvio Cabriolet, 1938

Coachwork by Gangloff. Same owner since 1951.
On auction at the Brooks - Etude Tajan Auction, September 8, 1997 in Paris. Information: Simon Kidston, phone: +41 22 300 3160 Source: Classic and Sports Car, August 1997
---
Bugatti T40A

See the special Web page where the car is offered by Greg Steele, daytime-704-483-9343 or e-mail: gsteele@steelerubber.com. He also offers a load of parts!
---
Bugatti T13 Brescia

1922, BC53, Engine 917

Peter McGann, 5 McGregor Avenue, Black Rock, Victoria, Australia. Phone: (03) 9589 1126, Fax: (03) 9589 1787. Source: Pur Sang 37/2, spring 1997
---
Bugatti T35T Grand Prix

Bugatti T37A (2x)

Bugatti T44 Roadster

Bugatti T44 Grand Sport

Bugatti T50 Roadster

Bugatti T57C Atalante coupe

Bugatti T57 Stelvio Convertible

Bugatti T57S Atalante Coupe

Bugatti T64 Running Chassis

Competition Motors Ltd. 405A Essex street, Salem, Massachusetts 01970 (USA) phone; (508) 745-3220, 744-1412, fax: (508)741-2423 E-mail: COMPMTRS@STAR.NET Source: Pur Sang 37/2, spring 1997
---
1938 BUGATTI TYPE 57 VENTOUX COUPE,

8 CYL, RED, FRESH EXCELLENT RESTORATION,
DOCUMENTED HISTORY INCLUDING THREE PREVIOUS OWNERS: WILLIAM F. HARRAH, OTTO ZIPPOR, AND ERNIE KOUFAX.

On Kruse auction in Auburn, IN, USA, AUGUST 28 - SEPTEMBER 2, 1997. Source
---
T35B Bugatti 1927

The highlight of the collection is Mr. Rose's favorite car, an exquisite 1927 Type 35B Bugatti (estimate: $400,000-$600,000) which he added to his collection after a 10 year search. The tiny, blue, classic car, owned and raced by the well-known French female racing driver Mme. Hell-Nice, and exhibited at the Paris Salon in 1927, has a super-charged 8-cylinder, 2.3 liter engine and a top speed of over 130 mph.

The Type 35 Bugatti has the distinction of winning more races than any other race car in history. Mr. Rose has the original Bugatti factory invoice, as well as a number of period photographs of Mme. Nice racing her car -- all of which will be included in the sale.
(estimate: $400,000-$600,000)

On auction: Thursday, April 24 from 10 a.m. - 5 p.m.; Friday, April 25, 10 a.m. - 7 p.m.; and Saturday, April 26, 9 a.m. - noon. The auction will be held on Saturday, April 26 at 1 p.m. Lyndhurst is located at 635 South Broadway, Tarrytown, approximately one-half mile south of the New York State Thruway (I-87) at the Tappan Zee Bridge on US 9. To purchase a catalog call 1-800-395-6300.
source
---
T35A

T37 (black)
Information: Julien Dubrulle, 400 Chemin des Croisetes, 62750 Loos en Gohelle, France, Tel: 0321708013, Fax: 0321708961 (March 6, 1997)
1929 Bugatti T44 chassis

In need of a rebuildable body suitable for a T-44, any condition, prefer open but closed would be considered. Also in need of original style brakes, complete with backing plates, shoes drums and hardware. If available would like side rails for the frame/chassis as mine have been cut. Front and rear sections still in original dimension. Thomas Holcombe, 1934 Timberline Dr. ,Naples, Florida, 34104,USA
941-514-8282 bus. 941-261-6116, fax 941-261-2803
Any information greatly appreciated.
Would consider selling what I have, 1929 T-44 chassis with motor, trans, diff, axels, was running and drivable when put in storage
---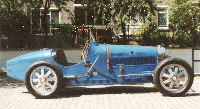 1926 Bugatti Type 37A Grand Prix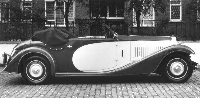 1934 Bugatti Type 57 C Stelvio drophead coupe
Coys of Kensington, 2-4 Queens Gate Mews, London SW7 5QJ, tel.0171-5847444 fax, 0171-5842733
Source: Coys of Kensington January 9, 1997
---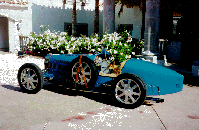 Bugatti T35B, 1928

Exclusively offered by Estes Restorations, contact Lisa Morrone or owner Dale Estes, 1-310-457- 7697. E-mail: destes@fia.net Source: Dale Estes
---
Bugatti T57 Stelvio

Chassis 57314. A magnificently restored car with interesting history. Restored and modified to T101 spesification by the works shortly after the war. recently the subject of an extensive check-over and complete body restauration to new-car standards. A most attractive example in brown over cream. Brown Hide.
150000 pounds or might consider a good vintage car, 3 litre Sunbeam or simialr, in part exchange.

A.B. Price, Moor Hall, Wixford, Alcester, Warwickshire B49 6DL. Tel: 01789 490060, Fax: 01789 772807. Source: Pur Sang 36/4, Fall 1996
---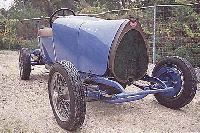 Bugatti T23

On auction at the December 1, 1996 Osenat auction in France

description of the car, Info: http://www.auction-fr.com
---
Bugatti T35C, 1926

French blue with black interior. One of the best documented Bugattis in existence.

Italian Super Classics Sweden AB, tel.:+46/470/672 00, fax.:+46/470/677 24, Box 403, S-351 06 VÄXJÖ, Sweden, Their Home page November 1996
---
Bugatti T55 chassis, no body

DM150.000

Tel.: 040 -503312 (Germany) Source: Auto, Motor und Sport, November 1996
---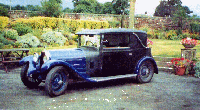 Bugatti Type 44. 1930. Chassis 44787
Harrington 2 door faux coupe coachwork
3-litre 8 cylinder
Reg. No. VN1835

Not only is the Type 44 considered to be the best touring Bugatti of the 1920s, this car has an impeccable provenance having been in the ownership of one family for 40 years. Imported into Britain in chassis form in 1930, it was fitted with a fashionable fabric fixed head coupe body by Thomas Harrington of Hove and in 1932 was acquired by Cynthia Turner of Scarborough, Yorkshire who owned it until the early 1970s. In 1961 Miss Turner set down her memories of the car in a charming article entitled 'Bugattis I have loved' for 'Bugantics'. It impressed Hugh Conway sufficiently for him to reproduce it in his definitive work, 'Bugatti: Le Pur sang des Automobiles' published in 1963.

It was purchased by collector F. Majzub via specialist Dan Margulies in 1975. Mike Wood acquired the car in 1991 and put the car back on the road It is in excellent running order and has recently completed International Rallies in Germany, Italy, and Alsace.

Cause of its sheltered history it is in particularly original condition. All numbers match, probably the only non-factory supplied parts being the pistons and tyres. The engine was rebuilt by restorer E. Allen in 1992. Other mechanical components have been rebuilt as required over the last 4 years.

There are four seats which are well upholstered in green leather and the door fillets are tastefully inlaid with walnut veneer. The car has the old style log book and VS registration document.

Offers in the region of 75,000 pounds sought.Purchase of "new" Bugatti is reason for sale.

Mike Wood
Tel. 44 1706 813333.
Fax. 44 1706 817180
Email sales@frost.co.uk

---
French (Molsheim) Bugattis that have been on auction, Bugattis that were sold and Bugattis from advertisements more than half a year ago.
---
Bugatti parts for sale.
---
Bugattis and parts wanted
I am looking for a Bugatti Type17 Brescia. Any info on someone selling it will be appreciated. Both cash payment or car exchange (Cisitalia 304 coupe, Jaguar E Type 3800 coupe, Dino Ferrari 2400 coupe, Cadillac Eldorado conv. 56).

"DAVIDE B." boldavid@mercury.tread.it , Milan, Italy, 17-11-1997
---
Looking for fittings parts and tecnical documentation for reparation
BUGATTI T13 BRESCIA

Cercasi parti di ricambio e documentazione tecnica per restauro
BUGATTI T13 BRESCIA

Marina degli Aregai, Italy, E-mail: aregai@dmw.it
---
I am looking for a Type 23, preferably with the third passenger cockpit and 4 wheel braking. Preferably in the USA

Bob Meigs (meigs@mail.sdsu.edu)
---
I am having difficulty finding some replacement wheels for my Type 43. I need at least 2 useable alloy wheels with detachable rims, in order to bring the car to England in June.

Jack du Gan--E-mail jrdu@msn.com
---
For Brescia: Front axle with or without brakes, short frame, small body like "Cordon rouge of Raymond Mays"

For T30: Body like Torpedo Lavocat et Mansaud

Information: Julien Dubrulle, 400 Chemin des Croisetes, 62750 Loos en Gohelle, France, Tel: 0321708013, Fax: 0321708961 (March 6, 1997)
---
Wanted any original Grand Prix body parts however battered for the restoration of my car. H. Schou-Nielsen
Fax. +45 33 12 62 60 E-mail
dc3-net@inet.uni-c.dk
---
Wanted: One set of 5 used reproduction Bugatti Type 35 or 51 large brake drum wheels in good condition. (less than 5 will be considered)


Michael Gans, e-mail address: 100667.156@compuserve.com 21-6-96
---
Wanted Bugatti Bresca 1926 R.A.F type wheel centre with good splines.

Call Jeff UK 01179441969 or Fax 01179853059 Source: FindIt Bugatti Index
---
Bugatti objects for sale, not automobiles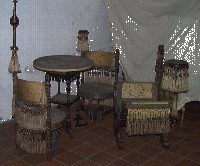 Salon de Bugatti. 4 pieces, nice quality. PRICE: 750.000 Belgian Francs
---


I have for sale approximately 160 British patents by E. Bugatti, including a fishing reel patent. I would hope at £16000, £100 each

M.A. Stroh, E-mail: stroh@stroh.demon.co.uk
---
Famous Bugatti Residence 20 km west from Paris for sale, Photo
This probably is the place where Ettore lived after he moved from Molsheim.

Price: 2 624 900 FF, Concorde Immobilier Conseil, 8 bis rue des anciennes granges, 78860 Saint Nom la Bretèche, Tel 33 1 30 56 66 66, Fax 33 1 34 62 05 52, Full info
---
Bugatti Garages
France
Jean NOVO The specialist for Molsheim Bugattis Restauration and Repair:
Telephone and Fax: 33 1 69148286 (please speak French on the phone) 3, rue puits de l'orme, 91630 MAROLLES en Hurepoix

France
---
the Netherlands
Klopper Engineering, Looweg15a, Bathmen, the Netherlands.

tel. 0570-543451, fax 0570-543498
---
New Zealand
the company Auto Restorations Ltd, Christchurch, New Zealand.

Bruce Pidgeon, Gavin Bain. Box 22273 Christchurch, New Zealand.
---
United Kingdom
Brineton Engineering
Over 350 listed spares for Bugattis
Fieldgate, New Street, Walsall, West Midlands, WS1 3DJ, UK. phone: 0922 20070/614605. Fax: 0922 722875
---
Crailville Limited Complete Coachbuilding Service Canal Yard, Hayes Road, Southall, Middlesex, England.
Not really specialized on Bugattis, but they are very good in reconstructing bodywork, see their
Atlantic
---
David Sewell, Independent Bugatti Consultant, Green Farm, Middleton-by-Youlgreave, Bakewell, Derbyshire DE45 1LS, United Kingdom, Tel./Fax.: +44 (0)1629 636288. Mr. Sewell is an independant Bugatti consultant who for many years was the Registrar of the British Bugatti Owners Club. Services offered include historical research on specific automobiles, valuations and brokerage.
---
Ivan Dutton Ltd., Peacehaven Farm, Worminghall Road, Ickford, Aylesbury,Buckinghamshire,HP18 9JE, UK.

His current ventures include:
manufacturing hollow GP axles
T35/43 cylinder blocks
Paper elements oil filters to fit inside standard oil filter
Scintered metal clutches (crash free gear changes)
Dyno testing of engines (including Royal) Info: Jon Rose E-mail: jrose01@buckscol.ac.uk
---
USA
Competition Motors, Ltd., Bugatti Specialists; office 328 Essex Street; shop: Cooper's Garage, 405 Essex Street, Salem, Massachusetts 01970; (508) 745 - 3220; fax (508) 741 - 2423, E-mail: NPPP71A@PRODIGY.COM

Owned by Donald Koleman, who is always thrilled to show the shop to visitors! On a recent visit, he had the full range of Molsheim Bugattis on view including a T43 Roadster, T40 Grand Sport, T35B (which he races extensively), T13, T51A (the ex-Veyron record car), T57S, T57C, T50, T23, T44 and various other T 57's. Competition Motors has done mechanical restorations on several Pebble Beach winners.
They allways have some cars for sale. See Above
---
Jim Stranburg has a specialized Bugatti Garage High Mountain Classics in Boulder, Colorado, USA.

Phone 303 - 444 9085. or fax.: 303 - 449 9724
---
Vive La Marque !!
---
Back to Bugatti Home Page or to the Bugatti Web