Bugatti Events in the past

Maintained by Jaap Horst
I can be reached by email at J.J.Horst@BugattiPage.com
. Back to my Home Page
---
For all those interested what Bugatti Events have been!

Last updated december 22, 2004 October 2 - 3, 2004 Grand Prix Historique of Tunis Tunis

The October 2 & 3 will take place the Grand Prix Historique of Tunis organized by G.T.O (Giovannoni Thierry Organisation) and as each years a great number of Bugatti will be present in company other prestigious marks like Talbot, Delahaye, Alfa Romeo, Maserati; Mercedes etc...
For more details: www.grand-prix-de-tunis.com Info: Christophe Chanterault
---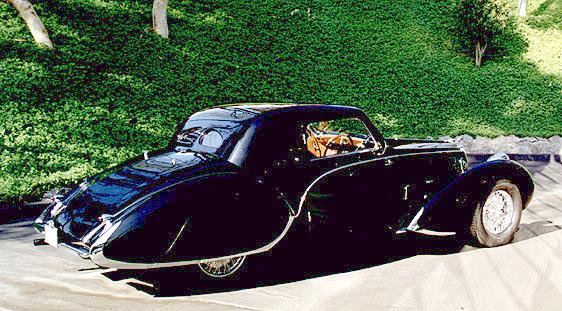 October 8, 2004 Bugatti in Hershey Auction USA

1939 BUGATTI T57C GANGLOFF ARAVIS COUPE on auction.

Sold new in 1938 as a Gangloff two-door coupe in the Aravis style. The car was imported into the U.S. by Mr. Dobbeleer from Belgium in about 1950 and sold to Steve Hamlin of upper state New York where it remained in relatively unused condition until 1996, when we acquired the car.
It was then sent to Competition Motors of Essex, MA, where the body was removed and the chassis was stripped, cleaned and rebuilt as necessary. In mid 1997 the car was shipped to Alan Taylor Company in Escondido, CA where the balance of the restoration was completed. Finished in Diamond Black and Field Green with Bourbon leather. The car is in beautiful condition and runs well.

Info: http://www.vegasauction.com/
---
October 9 - 16, 2004 Bugatti in Sicilia Italy

For details please go to www.bugatticlubitalia.it or
Bugatti Club Italia
Via Capuccio 3
I-20123 Milano
Tel./Fax.: (39) 2 805 7180
e-mail: info@bugatticlubitalia.it
---
October 23, 2004 Luzzago auction Italy

On offer: 1934 T57 Ventoux (white)

More info www.luzzago.com
---
Until December 9, 2004 Automobilia Auction

´l Art et ´l Automobile Auction has various Bugatti items on auction, including a 100P painting and a 100P glass miniature!

www.arteauto.com, go to Auction.
---
August 18, 2002 Auction Pebble Beach, USA

In Christie´s auction at the Pebble Beach Equestrian Center, USA.

On offer are:
T57, 57143 Stelvio Gangloff, est.:$280k - 320k
T51, 51129, est.:$700k - 900k
T43, 43234, est.:$300k - 400k
Bugatti radiator by Montreuil Radiateurs, T43? est.: $3-5k
---
September 10, 2002 Auction London

In Christie´s auction: Exceptional Motor Cars and Automobilia at The Jack Barclay Showroom (Bentley Service Centre),2-4 Ponton Road,Nine Elms,London SW8

On offer: set of 4 GP alloy wheels.
---
May 17 - 20, 2002 Bugatti at Burgundy France

The Second Bugatti rally in Burgundy will take place, this year, in the area of Dijon, Pouilly en Auxois and Beaune.....

The meeting will start the 17th until the 20th May 2002.

The itinerary will make you discover the famous town known for their vineyard..... Gevrey Chambertin, Vosne Romanée, Clos Vougeot.... La Rochepot, Meursault..... Chambolle Musigny..... Tell you all the marvelous places we will visit, will be too long for this short e-mail....

I'm preparing the road book at the moment..... I think it will be very nice... Burgundy is such a lovely place that it is very hard to choose the place we will visit....

In the entry fees, you have the accomadation for friday, saturday and sunday....and the meals of saturday, sunday and monday morning and lunch....

Actually, The only thing not forecasted by us for the sejour, is the friday night in order to allow you to visit Dijon by night and choose by yourself with small groups of bugattistes a nice place to have the dinner............

Do not hesitate to contact us for further details and please have a look to our web site.... :

www.chez.com/bugattibourgogne2001
---
May 25-26, 2002 Bugatti parts on auction Los Angeles

Vintage, Sports and Racing Cars in Los Angeles

The Barker Hangar at the Santa Monica Airport, California
Sale Produced by: Monterey Auction Company / RM Auctions, Inc.

Auction detals , Auction parts list
---
May 25-26, 2002 Dauer - Bugatti EB110 on show Monaco

While you are at it, you might as well take a look at two out of five Dauer EB110´s. These will be during the Monaco GP, on view in the area around the "Café de Paris".
---
June 4, 2002 Carlo Bugatti Chair on auction Amsterdam

Really a quite hansome car! Click on the picture to enlarge! Look HERE for details on this Christie´s Auction
---
June 2 -8, 2002 International Rallye Italy

The International Rally will be organised by The Bugatti Club Italia this year, and will be held in Tuscany.
See for more information their new website at: http://www.bugatticlubitalia.it/
---
June 13, 2002 Carlo Bugatti furniture on auction New York

Sale Title; Important 20th Century Decorative Arts Including Works by Tiffany Studios
Location New York, Rockefeller Plaza

4 items on auction, look HERE for details on this Christie´s Auction
---
June 21,22,23, 2002 MONT VENTOUX France

The MONT VENTOUX, in Provence - France, one of the oldest hillclimb race in the world will celebrate next June 21,22,23 his centenary (1902/2002)

During these three days, over 300 racing cars and motorcycles (1902/1973) will be an active part of this international event offering two "historic hillclimb of the Ventoux" and a large two-days "Targa" in the Vaucluse.

BUGATTI won three times this race, come celebrate these victories.

Ask now for a registration form to :

Meeting Auto-Moto du Mont Ventoux
Rue Ettore Bugatti

84200 CARPENTRAS Tel : 04.90.60.23.98 Fax :04.90.60.51.75
Email : Pafonep@aol.com
Email : ventoux2002@chello.fr

---
March 10, 2001 Bugatti at Monthlery France

See www.tea-cerede.com .
---
April 28, 2001 Christie's auctions 8 Bugattis USA

Tarrytown, New York (Lyndhurst)

Christie's International Motor Cars is returning to the beautiful grounds of Lyndhurst in Tarrytown, New York, with a number of exceptional motor cars from the Collection of Oscar Davis, a prominent East Coast collector with a special passion for Bugattis.

One of the eight Bugattis from the collection is a very rare 1931 Type 50 Roadster with coachwork designed by Jean Bugatti, one of the great pre-war luxury cars ever produced. Another intriguing example is a 1926 Bugatti Type 35A, which was an affordable road-going version of the more expensive Type 35 Grand Prix cars. Only 130 were produced and Edsel Ford owned this original and low-mileage example for many years.

The Oscar Davis Collection also features a 1934 Alfa Romeo 1750 Grand Sport; a 1926 Bugatti Type 38 Tourer with coachwork by Lavocat & Marsaud; a 1929 Bugatti Type 40 Torpedo Roadster; a 1936 Bugatti Type 57 Cabriolet; and a 1939 Bugatti Type 57C Roadster.

Highlights from other collections include a 1960 Austin Healey 300 MKI BT-7 and a 1957 Bentley S1 Continental Drophead Coupe ("Be-Bop Bentley") and a 1926 Rolls-Royce Silver Ghost Berwick Sedan (ex-Barbra Streisand).

See the Christie´s site
---
May 4 - 6, 2001 Bugatti en Bourgogne France

Info: Association Bugatti Bourgogne, Julien Dubrulle, E-mail: bugattibourgogne2001@hotmail.com
Info at: http://www.chez.com/bugattibourgogne2001 May 7, 2000 Hillsborough Concours D'Elegance USA

On May 7, 2000 Bugattis will be the featured marque at the 44th annual Hillsborough Concours D'Elegance, in northern California. We would like to hear from Bugatti owners who wish to either have their cars judged in competition, or to merely have their cars on display. We have some excellent cars in this area, including John Mozart's 1998 Pebble Beach Best-in-Show Bugatti, the 1938 Type 57SC Corsica Roadster.

The Hillsborough show is limited to about 200 vehicles, and we consistently draw a field of elegant classic cars. Hillsborough is an upscale community in the San Francisco Bay Area. We are also close to the Silicon Valley, so we can draw wealthy buyers.

We are now pulling together a mailing list for invitees. Please let me know if you want to be invited to the show, or if you know someone who would like to be included. Along with the Bugattis, we are also featuring French-bodied cars such as Delage and Delahaye.

Jim Burke
Car Advisory Chairman
E-mail: jmbii@ix.netcom.com
---
May 12-14, 2000 1900-2000 Bugatti at FERRARA Italy

For the weekend of 12, 13 and 14 May a rally is organised in Ferrara, Italy, by the Club Officina Ferrarese and Bugatti Club Italia. This event will remember the meeting of the summer 1900 between Ettore Bugatti and the two counts Gulinellis, who were first in believing in the talent of the young Ettore and financed him in realising the Type 2, which was presented and awarded at the Milan's exhibition in 1901.

Click here for Full Programme and entry form.

Informations and entry forms can also be obtained at the address:
Bugatti Club Italia
Via Cappuccio, 7
I-20123
Milano
Tel. & fax: + 39 02 86998000
e-mail . bugatticlubitalia@hotmail.com

---
May 21, 2000 London Business School Rally London

London Business School is hosting a Bugatti Rally here in London's Regent's Park on the 21 May. Around 12 classic cars are expected

Info: Helen Price
Press Officer
London Business School
Regent's Park
London NW1 4SA
+44 20 7706 6865

---
April 30 - May 2, 1999 Klassieke Autorai Rai, Amsterdam, the Netherlands

In this 2nd edition of what is to be the most prestigious classic car show in the Netherlands the Special attraction will be the Bugatti Royale Esders Roadster (French Replica using many original components). At least also a Bugatti T43 will be there, and probably various others as well!

Open from 10 - 18 h
---
June 14 - 19, 1999 International Bugatti Rallye France

This year the international rallye will be in France, organised by the Club Bugatti France. Places they will visit will be: Poitiers, Angouleme, La Rochelle.

For more info contact the Club
---
July 18 - September 19, 1999 Bugatti Exposition Cleveland Museum of art, USA

This is the first American exhibition to include the work of three generations of the Bugatti family. Carlo Bugatti (1856-1940) was active in Milan from the 1880s until about 1904 chiefly as a designer of furniture and interior decorations. He then moved to Paris, where he created some furniture, but also cast metal work, particularly in silver. Examples of his furniture and silver, along with drawings and plaster models by him are to be included in the show. He retired about 1910. His son Rembrandt Bugatti (1885-1916) worked as a sculptor, especially of animals and chiefly in bronze, from about 1900 until his suicide in 1916. Sculpture and drawings by him will be shown. Another of Carlo's sons, Ettore (1881-1947) manufactured automobiles, working in Milan, Germany, and then at his own factory in Molsheim, Alsace. His son Jean (1909-1939) designed automobiles for his father's company in the 1930s. Six automobiles will be included in the exhibition, including a 1930 Royale and a Type 57 SC, Atlantic. Curated by Henry Hawley.
---
September 11 - 12, 1999 Festival Bugatti Molsheim Molsheim, France

Organised by the Enthousiastes Bugatti France
---
August 1999 Meadowbrook Concours D'elegance Rochester, Michigan, USA

Like Pebble Beach, Meadowbrook is considered to be one of the finest car shows in the world. In tow years, 1999, we plan on making Bugatti the featured sports car marque. I (Larry Moss) am in charge of selecting sports cars for the show. Any Bugatti owners in the US who'd like to attend are requested to contact Larry. However, participation from outside the US is gladly welcomed.

Contact: Larry Moss E-mail: LMOSS@RONEY.COM March 13 - 17, 1998 Killarney Roaring 20's Festival Ireland

Festival of only 20's cars. Bound to be some bugs amongst them! Info: + 44 1304 382044
---
March 14, 1998 Bugatti a Montlhery France

The famous annual event! Info: (Tel.) +33 1 4801 9565, (fax.) +33 1 4022 0676
---
April 11-13, 1998 Bugatti a Normandie France

Held in Rouen, Club Bugatti France for information.
---
May 1-3, 1998 Great Australian Bugatti Rally XVII Australia

The Australian Bugatti Club
---
May 28-31, 1998 Rally Bugatti Club Italia Italy

Base town: Arezzo, Tuscany

Information:
Bugatti Club Italia
Franco Majno
Via Cappuccio, 3
I-20123 Milan
Italy
Tel / Fax: + 39 2 8057180
---
June 6, 1998 Louis Vuitton Concours England

This event will be held in the Hurlington Club, London, England
---
June 14 - 19, 1998 International Bugatti Rally 1998 the Netherlands

For information: Bugatti Club Nederland, Riddersborch 11, NL-3992 BG Houten, the Netherlands. Tel: +31 30 6350808, Fax: +31 570 543498.
---
July 19, 1998 Concours & Garden Party England

Held at Prescott Hill
---
August 2-29, 1998 BABB; Tour de France by the Paul family France

In 1996 I received a diary from my mother, dating from 1938, containing a report of a holiday trip.

In the summer of '38 the Paul family decided to take a holiday in France with their Bugatti type 37 sports car (without supercharger). This Bugatti had just participated for the second time at the 'Grand prix des Frontières' at Chimay in the south of Belgium. On the second of August they started out from their home in Brussels. The journey passed through Luxembourg, Strasbourg. The Bugatti factory at Molsheim was also visited. In the Savoie near Val-d'Isere they got stuck. It took 5 days before the car wa s repaired. Due to this mishap, a visit to 'Le Mont Ventoux' was skipped. They visited St Etienne, Le Puy de Dome, Biarritz and back to Dinnart. There Morlaix was skipped, so finally via Rouen the trip ended on 28 august.

This story is written down in a diary. A reprint will be available during the Rally. We will drive almost the same route, but this time (try to) avoid skipping any parts of it.

We offer you the following: A trip around France with your Bugatti or other historic car. It will take place just 60 Years after the original trip made by Alex and Wilhelmien Paul in 1938. Wilhelmien will be the guest of honour, she will celebrate her 85th birthday on the 7th of August in Annecy.

Unfortunately there are only a few pictures from those days, who can help me?

We invite you to join us and participate in the whole trip or just selected parts of it.

By booking in advance there is also the possibility of making hotel reservations via the organisers.

Best Regards, The organising team.

See also the special pages: www.incaa.nl/bugatti
---
August 27 - 30 , 1998 Grand Prix du centenaire Switzerland

Bugatti International happening, Lugano - Campione

For more info: ACS Automobile Club Svizzero, Via Dufour 1, CH-6901 Lugano, Tel: 091 922 01 21, fax: 091 923 69 69, Internet: WWW.ACSTI.CH
---
September 12-13, 1998 Festival Bugatti Molsheim France

Every year, the second sunday of September, a commemoration meeting will be held in Molsheim, in memory of Ettore.
---
September 17-20, 1998 Grand Prix Festival Ibbenbu¨ren Germany

Bugatti Club Deutschland
---
June 21 - September 21, 1997 Bugatti exposition in Varese Italy

As far as I can understand from their Web Page, a Bugatti exposition is being held in Varese, Italy. Creations from Carlo, Rembrandt and Ettore are being displayed .

Address: Castello di Masnago - Via Monguelfo 4
Times: 10.30/12.30 - 14.30/18.30; closed on monday.

For more info, see the Web Site In Italian
---
Until ??, 1997 Bugatti furniture at the Pruskin Gallery London

73 Kensington Church Street, W8
Specialising in Fine Art Nouveau, Art Deco and 1940s Neoclassic Objects and Art; Bronze & Ivories by Chiparus, Preiss; Glass by the Wiener Werkstätte, Lalique and Daum; Furniture by Edgar Brandt, R. Subes and Bugatti; Commercial Perfume Bottles and Fashion Illustrations.
Mon~Fri 10~6, Sat 11~5
Tel. 0171-937 1994 Fax. 0171-376 1285
---
Until ??, 1997 Bugatti sculptures at the Bruton Gallery New York

address: 40 E 61
times: by appt, phone: 212-980-1640 fax: 212-223-2593

Current Exhibits:
19th-20th Century European Sculpture: Barye, Rodin, Maillol, Bourdelle, Bernard, Bugatti, Wlerick
---
June 15-22, 1997 International Rally England

This years international rally will be held in Newmarket, England. Contact the Bugatti Owners Club for more information.
---
June 25-29, 1997 Vintage Celebration, New Hampshire International Speedway USA

The seventh anual Evan G. De Mouals Memorial Vintage Celebration. For more info contact Dave Fenton at 207 465 3506.
---
July 4-6, 1997 Grand Prix and International Rally at Divonne Les Bains and the Grand Prix of Geneva (August 9-10) France / Switzerland

For more information contact Gilles Faucon, organizer, rue du Chatelet, 74240 Gaillard, France. Phone: 04 50 38 08 92, fax: 04 50 38 59 59.
---
July 6-7, 1997 Retour d'une Legende Reims, France

For information contact the Bugatti Club France.
---
August 3, 1997 Bugatti plane at EAA museum USA

The Bugatti 100 Air Racer will be dedicated at the EAA Air Adventure Museum on Sunday August 3, 1997 at 1:15 pm.
The aircraft has been reconditioned and repainted in Bugatti Blue and will be hung in our Fergus Plaza at the main entrance to the Museum.
---
August 28 - September 2, 1997 Bugatti T57 Ventoux on Kruse auction, Auburn, IN USA

There'll be a T57 Ventoux, 1938 on auction,
As well as the T59/50B Cork/Rheims car Source

However, the T57 is not mentioned anymore, so maybe the T59/50B will be the only one. A very special car though! September 6-7, 1997 Bagatelle Show Paris, France

This year's Bagatelle will be held at the above date. Info: Otakar Kopecky
---
September 7-13, 1997 The Norman Conquest England/France

No Bugattis have registered yet!
Information: Nicky Walsh,

Conquest Events

---
September 8, 1997 Bugatti on auction Paris, France

Bugatti T57C Stelvio Cabriolet, 1938, Coachwork by Gangloff. Same owner since 1951.
On auction at the Brooks - Etude Tajan Auction, September 8, 1997 in Paris. Information: Simon Kidston, phone: +41 22 300 3160 Source: Classic and Sports Car, August 1997
---
September 12-14, 1997 Festival Bugatti Molsheim France

Every year, the second sunday of September, a commemoration meeting will be held in Molsheim, in memory of Ettore.
---
18-20 may 1995: Mille Miglia, from Brescia to Rome, with at least two Bugattis competing: a Type 37, from Wolters and Bervers, the Netherlands. and a Type 49GS, from Heida and Veenema, the Netherlands

June 23-25, 1995: Bugatti to enter Watkins Glen

PATRICK TAMBAY TO RETURN TO GLEN, TO DEBUT BUGATTI IN GLEN CONTINENTAL

WATKINS GLEN, N.Y. -- Two familiar names from the past will team up at Watkins Glen International during the June 23-25 NASCAR/IMSA weekend. Former Formula One and Can-Am star Patrick Tambay will drive the Bugatti EB 110 in its American debut in the Glen Continental.

The Monaco Racing Team will mark the return of the Bugatti name after an absence of nearly 60 years from competition in the United States. The team is managed by owner Gildo Pallanca-Pastor -- who will co-drive with Tambay at the Glen -- and technical director Daniel Pernoud, who was formerly of the Ligier Formula 1 team. The car will compete in the Exxon GTS-1 class, its first test in what the team hopes will be a run for the 1996 GTS-1 title.

Full story about the Bugattis at Watkins Glen, source Rob Motorsport.
---
June 24 and 25, 1995: Goodwood festival of speed

Including Bugattis in celebration of the 1933 Italian GP.

an excerpt:
This year, the theme is Great Racing Battles in motor sport history. From
the annals of classic encounters, the festival will be celebrating the 1933
Italian GP featuring top dicing action from Bugattis, Alfa Romeos and
Maseratis. Ford, Ferrari and Porsches will pick up where they left off
some 30 years ago at Le Mans and Mercedes Benz and Auto Union will
go head to head in a teutonic clash straight from the 1939 German GP.
More information on this event
---
August 13, 1995 IMSA WSC race at Mosport Park, Ontario, Canada

These are the races in which the Bugatti EB110 SS competes, driven by former Formula One driver Patrick Tambay and owner Gildo Pastor-Pallanca. The rest of the schedule is given below. information from Mark Davidson

Aug 13   Mosport Park, Ontario, Canada
Sep 10   Texas World Speedway, College Station, Texas
Sep 30   Phoenix, Arizona
Oct 8    New Orleans, Louisianna

---
August 19, 1995: All Bugatti Race at Monterey.

The Monterey and Pebble Beach (California, USA) weekend from 17 to 20th of August will include this year an all Bugatti race, on the 19th.

21 - 22 Bugatti Grand Prix models will compete, types 35, 35B, 35C, 37, 51 and 54.

Information from Jim Stranburg, who organizes the event and whom you can call for further information. tel.:303 - 444 9085. or fax.: 303 - 449 9724
---
September 5 -10, 1995: International Bugatti Rally.

International Bugatti Rally to be held 5th through tenth September 1995. The event will be headquartered in Grafton, Vermont with daily tours to points of interest in the area. PUR SANG reports that there are 46 Bugattis registered of eleven different types ranging from 16-valve to Type 59.

Participation in this event is limited to Bugatti cars but enthusiasts who will be in the area would certainly be able to see and photograph many cars not normally seen on the road.

Info from David Woodhouse September 10, 1995 IMSA WSC race at Texas World Speedway, College Station, Texas

These are the races in which the Bugatti EB110 SS competes, driven by former Formula One driver Patrick Tambay and owner Gildo Pastor-Pallanca. The rest of the schedule is given below. information from Mark Davidson

Sep 10   Texas World Speedway, College Station, Texas
Sep 30   Phoenix, Arizona
Oct 8    New Orleans, Louisianna

---
September 19-24, 1995: European BUGATTI Meeting in Alsace, France

The
FOUNDATION BUGATTI
is glad to anounce that it will organize in 1995 a
European BUGATTI Meeting

This Meeting is held from September 19th to 24th 1995 in Alsace

We would be happy to welcome a big number of Bugattists at this occation

PROGRAMME
subject to change

Tuesday          September 19th          Welcome of the Participants
Wednesday        September 20th          Museum day
Thursday         September 21st          Journey
Friday           September 22nd          Sporting event
Saturday         September 23rd          Pilgrimage
Sunday           September 24th          Departure

This european meeting will give the possibility to join an important event
on the continent to all people who are not able to participate at the
international Rally in USA.

The full programme is available here, at Jacob Munkhammar's site.
---
September 30, 1995 IMSA WSC race at Phoenix, Arizona

These are the races in which the Bugatti EB110 SS competes, driven by former Formula One driver Patrick Tambay and owner Gildo Pastor-Pallanca. The rest of the schedule is given below. information from Mark Davidson

Sep 30   Phoenix, Arizona
Oct 8    New Orleans, Louisianna

---
October 6,7,8, 1995 Bugatti event in the Netherlands

This event is especially for members of the Bugatti Club Nederland, Others may be accepted though. Let me know if you think you might be accepted.
---
October 8, 1995 IMSA WSC race at New Orleans, Louisianna

These are the races in which the Bugatti EB110 SS competes, driven by former Formula One driver Patrick Tambay and owner Gildo Pastor-Pallanca. information from Mark Davidson
---
Until October 15, 1995 Moving Beauties AT THE MONTREAL MUSEUM OF FINE ARTS , Canada

SCULPTURES IN STEEL, GLASS, LEATHER AND CHROME: A CENTURY OF AUTOMOBILE DESIGN AT THE MONTREAL MUSEUM OF FINE ARTS

There will be a type 46 surprofilee, photo of the same car at the Schlumpf museum, France and a 1939 T64 on show! According to Claude Quenneville, Ralph Lauren's Type 57SC Atlantic is in the exhibition too

See here for the original info
---
November 25 - 26, 1996 Veteran Car Show Wieze

There will be at least a 1938 Type 57 on show.

Oktoberhallen, Wieze, Belgium. Info: Guy Evens, tel: (054) 334538, fax:(054)326590
---
January 18 - 21, 1996 25th Barrett-Jackson Classic Car Auction

There will be a 1931 Bugatti Royale for sale!
Look here for their home page
---
February 1 - 4, 1996,

Bugatti will race at Daytona 24 Hours

"Life" coverage of the race at ESPNET

The EB110 SS that drove at Watkins Glen, June 1995 will compete in the Daytona 24 Hours, driven by Gildo Pallanca and Derek John Hill (son of 1961 World Champion, Phil Hill).

The Daytona festival will be (including qualifying sessions) from February 1-4, 1996. The actual Race is 3-4 February. More information about the Rolex 24 can be found HERE
---
February 9 - 18, 1996, Retro Mobile exhibition in Paris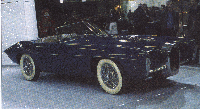 The 1966 Virgil Exner T101 will be on display.
The car is currently in the Blackhawk collection, and they will lend it to the exhibition, along with some other stunning cars, like another Exner (1965 Mercer Cobra). It is dark blue and has the original chromed T57/101 wire wheels and wide white tyre-sides.
---
March 9, 1996 Bugatti à Monthléry France

Ecurie TEA bis
Hélène et Jean-Michel Cérède
32, rue le Pelletier
F-75009 Paris
Tel: (F) 1/48 01 95 40
Fax: (F)  1/40 22 06 76
---
April 6 to 8, 1996 Bugatti en Normandie France

Association Bugatti Normandie
25, rue de Lessard
F-76100 Rouen
Tel (F) 35/72 21 34
---
May 9 - 11, 1996 Mille Miglia Italy

Of a total of 333 competitors in the Mille Miglia, 13 will be of your favourite marque, Bugatti! June 8 - 15, 1996 North Cape Challenge Norway

At least 3 Bugattis will compete:

  Model     Make            Year   Name

 T 40      Bugatti         1926   Rotlauf, Walter
 T 46      Bugatti         1930   Laqueur, Macko
 T 46      Bugatti         1933   Meyer, Bob

See for more information the North Cape Challenge 1996 home page.
---
June 15 - 20, 1996 3rd Internation Bugatti meeting in Sweden

PROGRAMME

Le Troisième Rallye International Bugatti en Suède 1996

Saturday    June 15   Arrival at Hotel Strandbaden, Falkenberg (100 km
                      south of Gothenburg).

Sunday      June 16   Visit to the Varberg Medieval Fortress.

Monday      June 17   Drive to Gothenburg to see VOLVO plants.

Tuesday     June 18   Historical race at the Falkenberg Race Track.
                      Visit to the Svedino Museum.

Wednesday   June 19   Scenic drive through the landscape of the Eastern Halland.

Thursday    June 20   Departure.


Final programme and application form will be sent out in January 1996.

Information: Carl Eric Asp   Tel  08 - 33 11 00
             Anders Hörlén  Tel 0411 - 191 95
                                0411 - 130 50 (also fax)

Bugattisektionen Automobilhistoriska Klubben
Odengatan 14, S-114 24 Stockholm, Sweden

---
July 27-28, 1996 VSCC Hillclimb, Prescott Hill England

Contact BOC, VSCC source: Pur Sang 36/2, spring 1996
---
August 2-4, 1996 Meadow Brook Historic Races MI, USA

Waterford Hills Road Race Course, Clarkston, MI
Contact MBHR, Fax 810-650-5571 source: Pur Sang 36/2, spring 1996
---
August 4, 1996 Meadow Brook Concours d'Elegance MI, USA

Rochester, MI source: Pur Sang 36/2, spring 1996
---
August 11, 1996 Oldtimer Grand Prix, Nurburgring Germany

40th Anniversary of the Bugatti-Club Deutschland
Contact Josef Boers, BCD, fax +49 2832 9532 30 source: Pur Sang 36/2, spring 1996
---
Turn of the Century Furniture, by Carlo Bugatti & recent works by Ron Arad Canada Musee des Arts Decoratifs de Montreal
2929 Jeanne d'Arc St.,
The Exotic and the Theatrical: Turn of the Century Furniture, by Carlo Bugatti & recent works by Ron Arad, Philippe Citterio.

Hours: 11 a.m. to 5 p.m. Admission: $3.00 Seniors: $2.00
Students: $1.50. Info: 259-2575
---
August 16-18, 1996 Monterey Historics, Laguna Seca USA

Contact HMSA 805-966-9151 source: Pur Sang 36/2, spring 1996
---
August 18, 1996 46th Pebble Beach Concours d'Elegance USA

Contact HMSA 805-966-9151 source: Pur Sang 36/2, spring 1996
---
August 23-25, 1996 Amilcar Meeting the Netherlands

In Arcen, provence of Limburg will be held the "28 e Rencontre International Amilcar/Salmson", where also Bugattis will be joining for a get-together of sports- and race-cars from the 20's and 30's. Information: Les Amis d'Amilcar de Pays Bas, Goudbergstraat 64, 5583 BD Aalst-Waalre, the Netherlands. Tel/Fax: +31 495 543284, e-mail: cox@pi.net source: Voiture's Oldtimer krant, Nr15, 1996
---
August 30-September 2, 1996 PREWAR AT LIME ROCK FESTIVAL USA

The Prewar Racing Group will again celebrate at Lime Rock's Fall Vintage Festival Aug. 30 - Sept. 2. A record turnout of Bugattis, Maseratis, Bentleys and other "proper" race cars will be on hand competing for several special awards. The 3rd annual wine tasting paddock party at the end of Friday practice for competitors & will again be held in the paddock of Don Koleman of Competition Motors, Ltd co-hosted by Victory Lane. Contact Pam 415-321-1411
---
September 4-8, 1996 Zippo U.S. Vintage Grand Prix NY,USA

At Watkins Glen, Contact SVRA 803-723-7372 source: Pur Sang 36/2, spring 1996
---
September 5 - 8, 1996 Brescia Bugatti festivalItaly

To commemorate 75 years of Bugatti Brescia, a event will be organised by Francesco Guasti.
Some 25 Brescia's and about 10 other Bugattis will be attending. Contact Bugatti Club Italia.
---
September 7 - 8, 1996 Beaulieu AutojumbleEngland

"on stands: A 412-413-424-425, owners (but not the cars) of a Brescia (John Bolton) and a T44 ("San" Sanvoisin) will be present." For more info go to the Beaulieu pages Info: Colin Mallett
---
September 29, 1996 San Diego Concours d'EleganceUSA

The 16th Annual San Diego Concours d'Elegance will be held September 29, 1996, at the Embarcadero at Seaport Village in San Diego, California. Bugatti is this year's featured marque. For more information, call Jo Ann Anderson at (619) 554-8274, E-mail anderson@scripps.edu or see our website at http://www.scripps.edu/pub/devweb/ source: Meredith Keller
---
September 29, 1996 Donington Park Race meetingUK

Contact: VSCC, Fax UK 01635-580-612
---
October 9 - 12, 1996 Hershey '96, PennsylvaniaUSA

Contact: (510) 736-3444
---
December 1, 1996 Osenat auction auction France

A T23 Bugatti will be for sale.

Info: http://www.auction-fr.com

---
December 3, 1996 auction at Coys of Kensington UK

3 Bugattis on auction, see the Bugattis for sale page. auction at Coys of Kensington at The Royal Horticultural (New) Halls, Westminster, London SW1 Tuesday, 3rd December 1996 Viewing: Monday, 2nd December 12pm to 7pm; Tuesday, 3rd December 10am to 7pm
---
December 9, 1996 Poulain-Le fur auction Paris, France

Supposedly some? Bugattis should be for sale.

Info: http://www.auction-fr.com
or:
Tel : 331 40 68 21 18
Fax : 331 42 46 00 09
---
---
February 7-16, 1997 Retromobile 96, Paris France

Retromobile 1997 will be February 7-16, 1997

Info Otakar Kopecky
---
February 15-23, 1997 CLASSIC-CAR-SHOW 97 Nürnberg, Germany

There will be a special "Mythos Bugatti" exposition, in the Messe Centre in Nürnberg. There will be a Type 13 A Brescia, 1925, a Type 35 T from 1926, a type 37 from 1927, a type 37 A with compressor and Aluminium body from 1928, a type 30 from 1926, a type 44 from 1929, a type 43 from 1928, a type 54 from 1932 and a type 57 Coach Ventoux from 1938 and a open Sports type 57 from the same year

More info: Autosalon 97 Nürnberg, Thanks Jacob!
---
March 8, 1997 Bugatti à Monthlery France
---
April 4, 1997 Bugatti auction in Modena Italy

Bugatti Automobili S.p.A.'s creditors are going to hold an auction on April 4th at the Modena factory to sell off the remaining assets of the late supercar maker. Among the items up for sale include some unfinished EB110's as well as a few unsold (or at least undelivered) EB110's, the physical plant/factory building, tools, spares, jigs, and so forth. One item not up for sale is the Bugatti trademark name. Info: Peter Millen

The auction will be held on April 4, 1997.

Bids need to be submitted by April 3 1997 12 noon in closed envelope.

There is a price list which stipulates minimum bids for the factory and for the cars (cars range from 100,000,000 Lira to to 270,000,000 Lira with the least expensive. 20% of the offering bid must be submitted with the bid. It will be returned if bid not accepted.

There are 4 complete Bugatti's (3 EB110 GT and 1 EB110SS)

Cars and factory can be viewed at Campogalliano on March 24,25,26 1997 at specified times.

The receiver faxed me a document (in Italian) outlining all of the details and conditions of the auction as well as a list of the items being auctioned.

You can contact Signor Rossini in Italy at: (059) 222731 or fax (059)226737

If you send him a fax requesting info on the auction he will immediately fax it to you.

Some information which I got from Signor Rossini which is not documented is:
The factory land is 73,000 square metres, the building is 23,000 square metres

One of the cars listed for auction (the cheapest one) is only a prototype. He "doesn't know" if it actually runs.

Some of the cars have up to 30,000 km on them but the engines have been refurbished.
---
April 26, 1997 Bugatti T35B on auction, Lyndhurst USA

The highlight of the collection is Mr. Rose's favorite car, an exquisite 1927 Type 35B Bugatti (estimate: $400,000-$600,000) which he added to his collection after a 10 year search. The tiny, blue, classic car, owned and raced by the well-known French female racing driver Mme. Hell-Nice, and exhibited at the Paris Salon in 1927, has a super-charged 8-cylinder, 2.3 liter engine and a top speed of over 130 mph.

The Type 35 Bugatti has the distinction of winning more races than any other race car in history. Mr. Rose has the original Bugatti factory invoice, as well as a number of period photographs of Mme. Nice racing her car -- all of which will be included in the sale.
(estimate: $400,000-$600,000)

On auction: Thursday, April 24 from 10 a.m. - 5 p.m.; Friday, April 25, 10 a.m. - 7 p.m.; and Saturday, April 26, 9 a.m. - noon. The auction will be held on Saturday, April 26 at 1 p.m. Lyndhurst is located at 635 South Broadway, Tarrytown, approximately one-half mile south of the New York State Thruway (I-87) at the Tappan Zee Bridge on US 9. To purchase a catalog call 1-800-395-6300.
source
---
May 1 - 3, 1997 Mille Miglia Italy

There will be 11 Bugattis competing in this years edition of the Mille Miglia!

More information about the Mille Miglia.
---
---
Vive La Marque !!
---
Back to Bugatti Home Page or to the Bugatti Web