Bugatti news, 2000
Bugatti news, 1999
Bugatti news, 1998
Bugatti news, 1997
Bugatti news, 1996
---
November 19, 2000

Bugatti EB18/4 Veyron changed to EB16/4 Veyron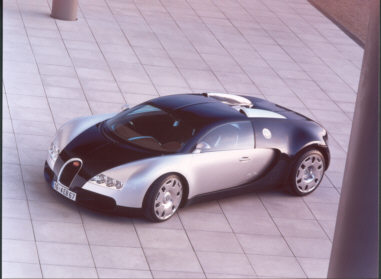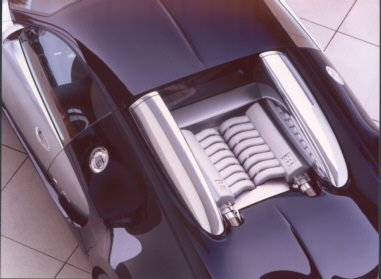 At the Paris Show, VW presented a modified version of the EB18/4 Veyron prototype : the design didnīt evolve just the metallic clear blue has been replaced by a metallic gray. The model has now adopted the color scheme of T41 Binder. As announced by Auto Motor & Sport, the prototype has received a new 16 cylinders engine to replace the W18, and the name was changed accordingly. This engine is in fact made of 2 VR8 engines (like Golf VR6) placed in V. According to journalists, it is the same engine as in the Bentley 8.16 Hunaudieres presented at Geneva 99 show. No explanation for the reasons of this change. Pictures extract from Press Book (see www.bugatti-cars.de)
Info provided by Patrick van Mele
---
October 18, 2000

Bugatti community finds Internet

At a recent rallye of the Bugatti Club Nederland I heard of various people who were succesfull either buying or selling parts through the Parts for sale page of this site. What struck me was the speed: Various reactions were obtained within a week, sometimes even a few days or even the same day! Similar reports I also received by E-mail. As far as I know, at least four Bugattis found a new owner because of the Bugattis for sale page, and through adverts on the miniatures page some miniatures were sold, but also an entire collection of Bugatti Documentation, including books, Magazines and lots of clippings from various sources.

When I started the Bugatti Page, almost 6 years ago, the Internet still was something for computerfreaks, and in those early years, nobody thought that an old-car enthusiast would even consider looking at a computer. This now has changed, and if not every Bugattiste has a computer, always somebody in his family or a friend will have.

In all, itīs a very powerful medium to exchange info worldwide, making the world a lot smaller. You can now "search" in somebodyīs barn in Australia for a part you need for your project!
---
September 6, 2000

Auction results

Recent auction result is:

1939T57 Aravis by Letourneur & Marchand, auctioned by Poulain Le Fur at 4.5M French Francs (approx $650,000) in Monaco

---
September 1, 2000

Volkswagen and the Royaleīs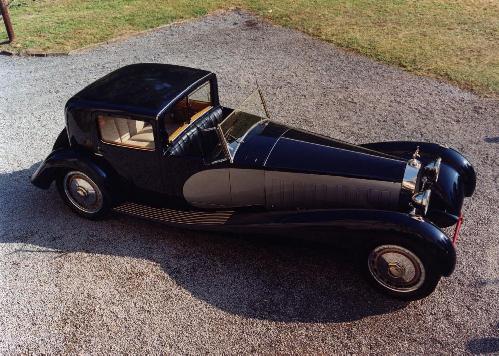 Volkswagen finished the restauration of the Binder Royale, as the picture above shows.
It still isnīt certain if Volkswagen also bought a second Royale, I get some contradictory news about this. At last Bert Kanne sent me thsi message: "The Berline de Voyage, at least as of a few weeks ago, is still in the Blackhawk Museum in Danville, California, USA." And he should know, he lives a few minutes from the museum!
So far I had no confirmation from Volkswagen itself that they bought a 2nd one. They actually denied it to me, sitting from their Royale. I think weīll have to wait for their official presentation, if they did buy a second one...
Picture thanks to Thomas Senff
---
August 30, 2000

New version of EB 18/4 to be presented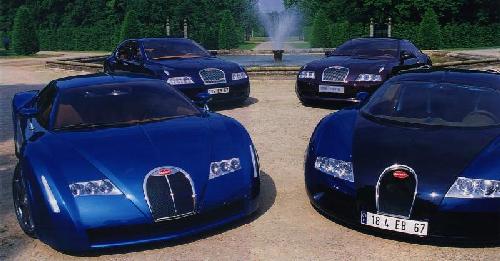 from Auto Motor & Sport : VW shall present in Paris a modified version of EB 18/4 Veyron : some modifications in the design and with the original W18 engine replaced by a 16 cylinder one. On the picture all "German" Bugattis together.
---
August 30, 2000

EB110 on Ebay auction

Again a EB110 on Internet auction, you can bid until September 5. Reserve price is $285,000. This is far above the price which is usually seen in Germany, approx. DM400,000 ($180,000),
---
August 19, 2000

New Bugattis or...? - 2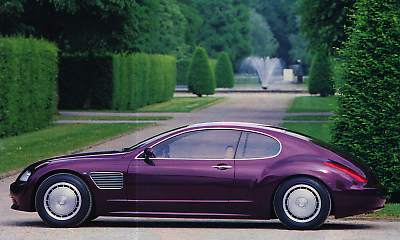 No, this isnīt really a new car either, the original EB118 was just resprayed in a new color. I heard that the EB118, was damaged at an autosho win the US. Thatīs the reason why it wasnīt shown at the Bugatti exhibition in the Beurs van Berlage in Amsterdam. Probably the prototype was repaired, and resprayed. Do you like the color?
Thanks to Thomas Senff, who also sent me the pictures for the August 17 newsitem.
---
August 17, 2000

New Bugattis or...? - 1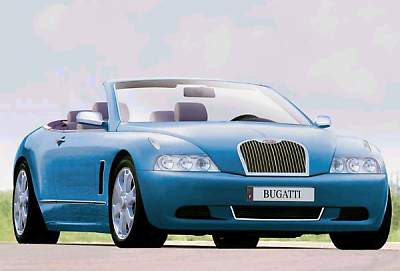 "Second supercar from the Volkswagen group, after the introduction of the new Bentley limousine, will be the Bugatti EB118 which will certainly be re-named when it will be presented in 2003. Ferdinand Piech does also have this two-door cabrio in mind. However, this open-top Bugatti would not be a pure sportscar but would represent the league of exclusive cruisers.
Ferdinand Piech has now decided that the Volkswagen-Group will be present at the 2001 24-hours of Le Mans not only with Audi but also with a Bugatti car. It is planned to build an open race-car with 650 HP produced by a W18-engine. "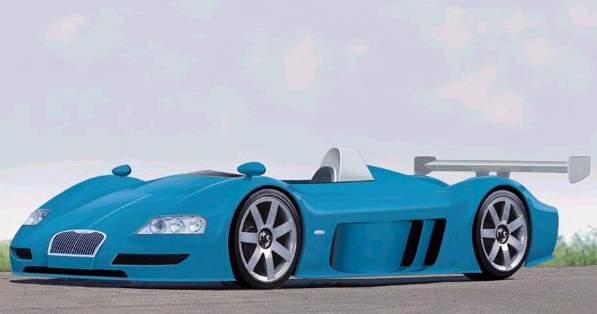 Personally I think these are merely rumours, it are nice pictures though. Of course the EB118 Cabrio is non-existent, the above are both drawings.
However, it may come true... I did read more rumours about Bugatti entering Le Mans, even that Volkswagen would rename the Audi cars already for the 2000 race. Of course we know that this hasnīt come true. JJH
---
August 6, 2000

Restauration of Chateau St. Jean completed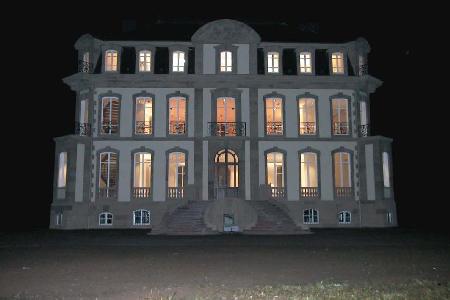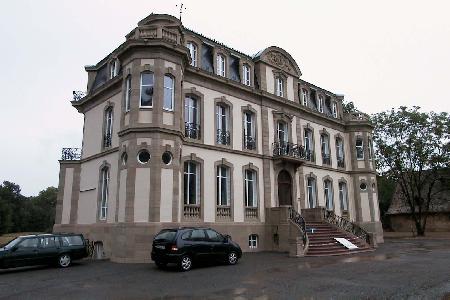 Pictures of the new exterior, sent to me by Denkmalpflege Ritt. Pictures of the interior are soon to follow.
It really looks like it will be the new headquarters for the Bugatti factory, so any rumours about it being built as a restaurant were not true.
---
---
May 31, 2000

Restauration of Chateau St. Jean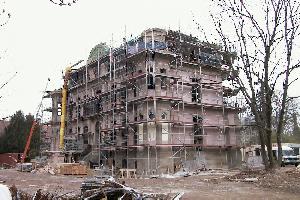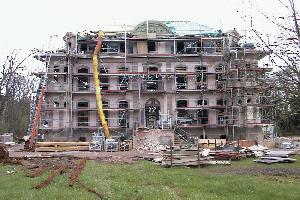 Two pictures of this operation, sent to me by Denkmalpflege Ritt.
---
---
May 20, 2000

EB110 to be auctioned on eBay

First time I saw this, an EB110 on internet auction. Bidding starts at $100000, and ends on May 24.
---
March 31, 2000

Volkswagen did buy 2nd Royale

According to an other source, Volkswagen did buy the Berline de Voyage.
I think weīll have to wait until they show up with the car, to be really sure.
---
March 31, 2000

EB 218 probably the first

Mr Piëch stated that, considering the current market, where Supersports cars are in overflow, an ultimate luxury sedan will have a better chance. So probably the EB218 will be the first to be produced.
---
March 31, 2000

Auction results

Recent auction result is:

1927 T43 Grand Sport Tourer, auctioned by Brooks at 236,700 English pounds in London, February 28

---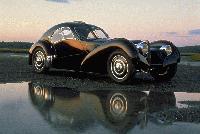 February 1, 2000

Bugatti wins Louis Vuitton

In September 1999, Ralph Laurenīs T57SC Atlantic won best of show at the Louis Vuitton Classic at the Rockefeller Center, New York. We all now the car, and she is beautiful!
---
---
Bugatti news, 1999
Bugatti news, 1998
Bugatti news, 1997
Bugatti news, 1996
---
Back to the Bugatti Page