Period pictures of Bugattis, especially racing ones!
---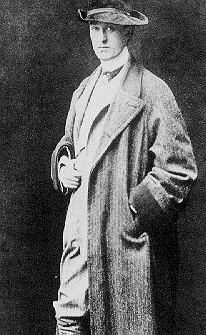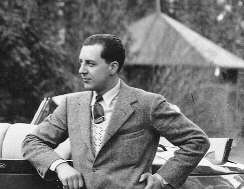 Left: Ettore Bugatti in 1900, Right: Jean Bugatti in 1932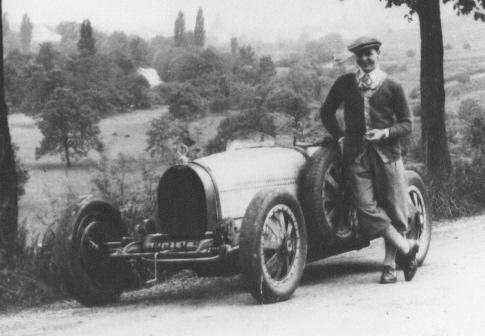 Jean Bugatti and T35C between Molsheim and Mutzig
Bugatti Type 35c, Number : 5031J4. Picture made 1927: Jean was 18 years old
Source: Eddy Wietrich
Before Molsheim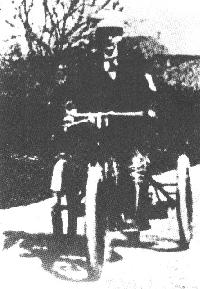 In 1899 Ettore Bugatti at the Verona race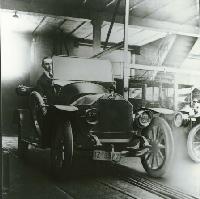 28kB, Ettore Bugatti in a Deutz he designed, approx. 1907 probably in the Utermöhle factory, Deutz (across the Rhine from Cologne) Photo provided by Deutz AG through Dennis Burnside
---
Molsheim Scenes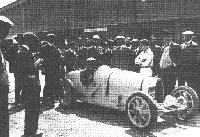 Molsheim 1924 The first T35 with Constatini at the wheel, Ettore an Jean behind
---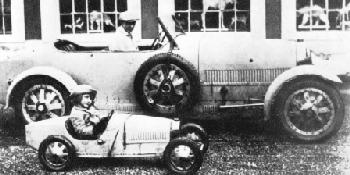 Jean in a T43, with his baby brother Roland in a T52. Notice the Rembrandt Bugatti sculptures in the factory window!
---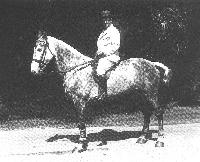 Molsheim at the end of the 20´s, Ettore on his favourite horse Brouillard
---
The Molsheim Forgery in a period photo.
---
Racing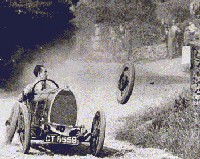 Every Bugatti enthusiast is very familiar with this photograph. It shows Raymond Mays at the Shelsley Walsh mountain race in Worcestershire, England, in 1924.

The young Englishman had heard about the legendary 1-2-3-4 result of the Bugatti team at the Brescia race in 1921. Mays was a great admirer of the Bugatti racing car, but his father only granted him a Hillman. The son bent a few rules, a Bugatti importer played along, and the first race wins followed. Then came the letter from Ettore Bugatti: The young man was asked to pay a visit to Molsheim, bringing his car with him. Raymond Mays took a few days off work, but needed a lift in a friend's Vauxhall to drive from England to France. Ettore Bugatti cordially bid the two young men welcome. After a couple of drinks he wanted to see what condition Raymond Mays' Bugatti was in. The latter stammered that he had unfortunately come in his friend's car, the Bugatti was still at home. To which Ettore replied "Then go and get it, now. " With the best will in the world, this was simply not possible.
---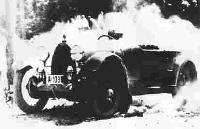 T30, chassis 4242 5kB The car is a T30, chassis 4242, 1924-model, reg.no. A-1035, imported new to Norway. The photo is taken in the "Korketrekkeren" (Corkscrew) hillclimb in Oslo, Norway in August 1933, driven by then-owner Carl Fredrik Lühr. The car was broken up in the 1960s, some parts are said to exist in Sweden.
Info: Ole Kr. Haugen, Raufoss, Norway
---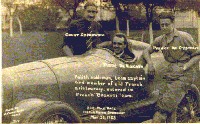 Three Bugatti entrants in the 1923 Indy 500: (1) Pierre DeVizcaya - Polish nobleman seated in his 8-cylinder Bugatti (finished 12th); (2) Count Zborowski - finished 20th in 8-cylinder Bugatti ; (3) Prince DeCystria - finished 9th in 8-cylinder Bugatti. De Vizcaya was the team captain of the Bugatti team. Photo by W. Frank Jones - Indianapolis
---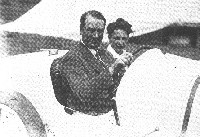 Ettore and Jean at Lyon for the 1924 Grand Prix de l´ACF
---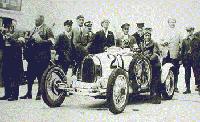 ---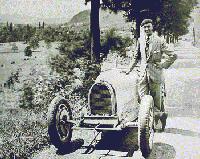 Bugatti production team driver Louis Alexandre Chiron.
---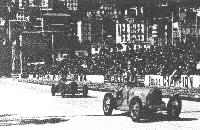 The 1933 Monaco GP, Achille Varzi´s T51 in front of Tazio Nuvolari´s Alfa Romeo
---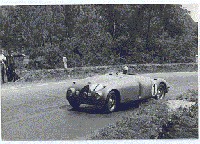 Bugatti at the Esses at Le Mans, Wimille
Brooklands
---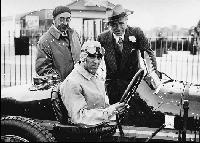 Tazio Nuvolari in a T51 at Brooklands, 1933 44 kB
Tazio Nuvolari sits in Earl Howe's Bugatti while the dapper Earl looks on. The man in the beret is the famous Brooklands scrutineer Hugh McConnell. Although Nuvolari practised Earl Howe's Type 51 Bugatti for the ten lap 1933 mountain Championship Race, his place was taken by Pietro Taruffi who was beaten into second place by Whitney Straight in fraught circumstances which saw sixty people on the track clearing up after a crash between Campbell's Sunbeam and Rose-Richards' Bugatti.. Both Straight and Taruffi lapped at 77.43 mph.
photo: THE BROOKLANDS SOCIETY PHOTO ARCHIVES
---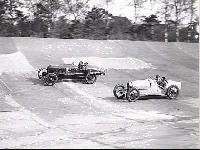 Purdy in a Bugatti T37? at Brooklands 18 kB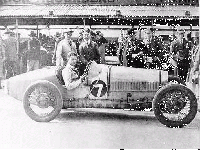 Purdy in a Bugatti T37? at Brooklands 24 kB photos: THE BROOKLANDS SOCIETY PHOTO ARCHIVES
---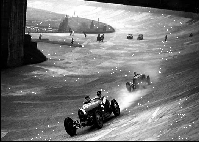 T.A.S.O. in his Bugatti leading R.L. Bowles in a Bugatti. 33 kB photo: THE BROOKLANDS SOCIETY PHOTO ARCHIVES
---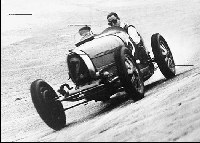 T.A.S.O. on the banking close-up. 34 kB photo: THE BROOKLANDS SOCIETY PHOTO ARCHIVES
---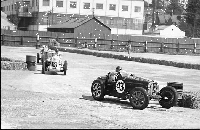 Eccles in Bugatti in chicane followed by an Austin, at Brooklands 42 kB photo: THE BROOKLANDS SOCIETY PHOTO ARCHIVES
---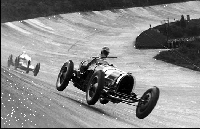 Howe's Bugatti T59 and the Barnato-Hassan at the bump, at Brooklands 31 kB photo: THE BROOKLANDS SOCIETY PHOTO ARCHIVES
---
Coppa Acerbo
photographs from: Coppa Acerbo, Circuito di Pescara
---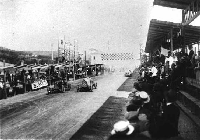 21 June 1925 - II Acerbo Cup
The start of the fourth class racing cars up to 2000 cc.: no. 6 Renato Balestrero with OM; no. 8 Ugo Minciotti with Bugatti; no. 10 Domenico Antonelli with Bugatti
---
7 August 1926 - III Acerbo Cup
Rope-dancing of the mechanic in full race, when boldness weds passion, for an intervention, on the spot, on the Bugatti; the pilot Ajmo Maggi, even if he was engaged at the bend, tightens his leg with an hand
---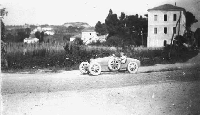 7 August 1926 - III Acerbo Cup
Luigi Spinozzi with his Bugatti 2 litres, leading the way of the race he will win, takes the station's bend at the end of the starting straight
---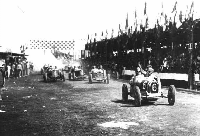 6 August 1927 - IV Acerbo Cup
The start of the over 1500 cc. racing cars class: Gaspare Bona's Bugatti no. 6, Pugno's Bugatti no. 20, Bruno Presenti's Alfa Romeo RLSS no. 4, Giuseppe Campari's Alfa Romeo P2
---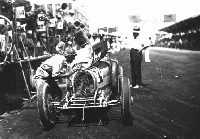 4 August 1928 - V Acerbo Cup
Tazio Nuvolari checks the 2 litres engine of his Bugatti
---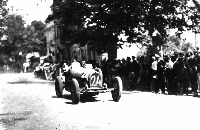 4 August 1928 - V Acerbo Cup
Tazio Nuvolari with his Bugatti 2000 goes along the first straight of the race-track
---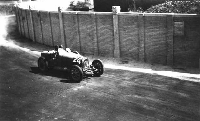 4 August 1928 - V Acerbo Cup
Tazio Nuvolari with his Bugatti 2000 at the Technical Institute's bend
---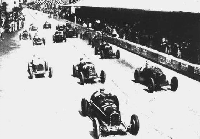 15 August 1933 - IX Acerbo Cup
The start
---
Touring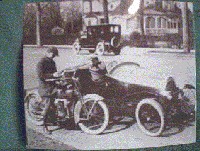 getting a speed ticket??
---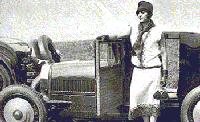 Friderich´s famous coachwork on a T37.
---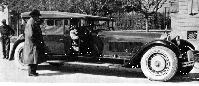 T41 Prototype Ettore at the wheel of the first Royale. Note that the car is "closed".
---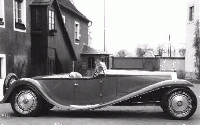 T41 Royale Esders Various original photographs
---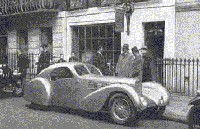 ---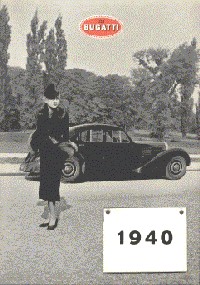 Bugatti 1940 calendar
---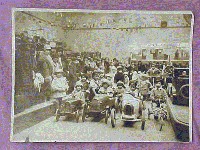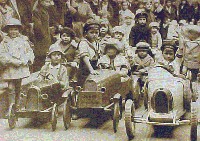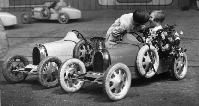 ---
Continue your tour of Bugatti Pictures
---
This page of WWW services is currently maintained by Jaap Horst. I can be reached by email at J.J.Horst@BugattiPage.com
. Back to my Home Page
---
Last modified January 6, 2004
---
Vive La Marque !!