Above left, the side of the cabinet, with the lever to lift the next ball (my machine has currently 3, though it should be 5 balls) to the plunger. In the middle the outside of the coin mechanism, 10 Ore indicating that this machine was sold in Denmark. On the right the underside of the playing field, with the counter at the top, and below that the wiring to all the bumpers.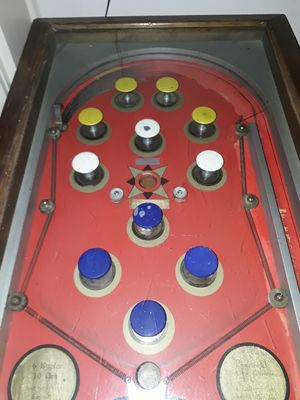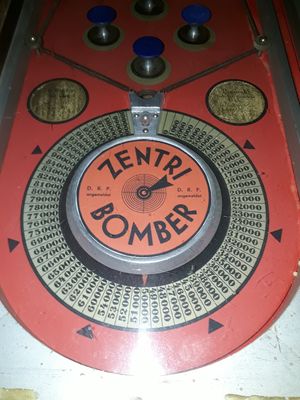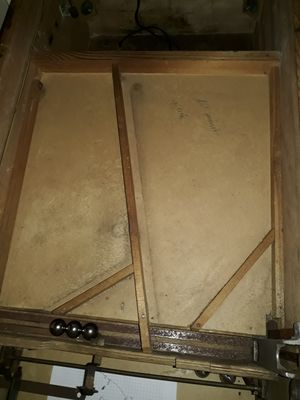 Above left the playing field, with the bumpers which each give you a score of 1000 points, and the spring marking the outside of the playing field, which can be used to bounce the ball back against the bumpers. The hole in the top part, just above the top blue bumper, gives you a "free ball". Actually, the ball just rolls back to the ball-lift.

How this works is easy to see in the photo on the right. The top hole makes the ball fall into the right side, which goes directly to the ball-lift. The game with one ball of course ends when it falls down the bottom hole, this leads to the left side, which causes the ball to roll to the left side of the rails, where it is stopped by a pin, which can only be released by inserting a coin for the next game. However, with some gentle bumps agains the cabinet, it is possible to bounce the ball from the bottom spring, up (and even over) the bottom blue bumper, allowing to make a lot of additional points!

On the bottom of the left photo above, there are two round pieces of 84 year old paper, with instructions and the number of balls to be played. Completely faded, in Danish, and in the typical German typeface. However, I am not going to replace these with new ones!!

On the right, the counter "clock". The red arrow gives your score, so you can see that my last score was 50,000 points (I did already reach 100,000 on several occasions). In fact, the clock has to do only 70 moves to reach 100,000 points.

At each 10,000 points you make, you get a bonus of 5,000! A very strange way of counting.... Thus, after 9,000 points, you go to 15,000. After 24,000 points, you go to 30,000 and so on...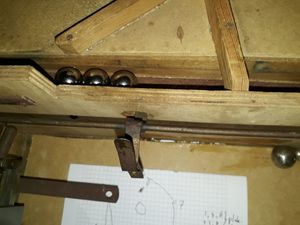 Above left the rails, with the rod which is operated by pulling the lever on the left-front of the cabinet, after insterting the 10 Ore coin. This rod turns, simultaneously releasing the 3 balls, and with the top spring, pushing the release mechanism on the clock, making it (spring loaded) go back to zero again. On the right detail of the counter-clock. The lever seen here at the top (normally towards the player, when the playing field is in it's normal position) makes the counter go back to zero again...

The photo below shows another very intelligent feature of this pinball machine. Shown is the ball-lift, and the end of the rod which is operated to release the balls and zero the counter. When this is operated, the ball-lift is actually blocked, and can not be operated! Thus, you get rid of those annoying boys, where one keeps pulling the lever to release the balls, and the other can play for free as long as he likes! (without points of course, but who cares)