Lionel of course is one of the long-time existing, and most famous of the North American model train manufacturers. Mostly in O-scale, always heavy full metal locomotives (and the Tender also in this case, though the Tender pictured here is not exactly the one Lionel delivered with the loc) and (by European standards) a bit crude. However, these were models which were much more intended to play with, than for accuracy or detail.

Later models of course are more detailed than the older ones. This one, of the Camelback is quite acceptable in fact. There even is a driver in the cabin! The Camelback locomotives are a strange concept, setting the cabin in the middle of the locomotive, alongside and over the boiler. The double fire doors are fed by a stoker, who would be standing on a platform on the tender. He had his own roof, but not really a cabin.
It is not known (to me) if the Baltimore and Ohio company in fact used this type of locomotive, it may be that Lionel took some "Artistic Liberty" here.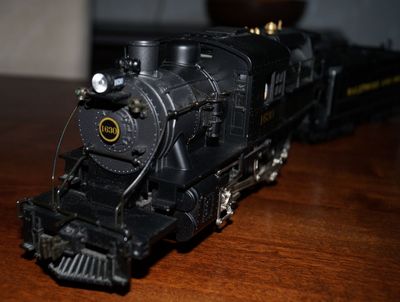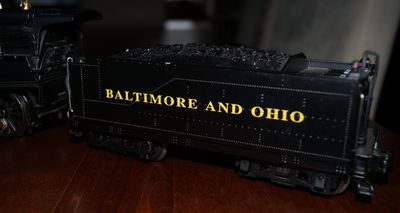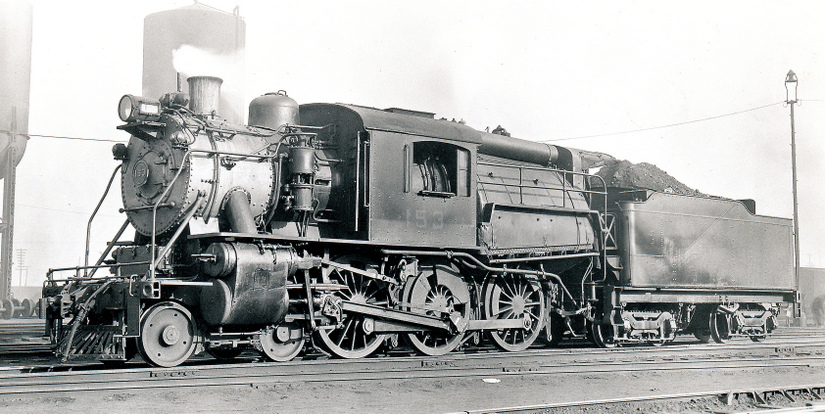 A conventional steam locomotive has a cab for the engineer and fireman behind the firebox at the rear of the boiler. In 1877, John E. Wootten, Master Mechanic of the Reading Railroad began building locomotives with a wide firebox designed to successfully burn culm, small pieces of anthracite coal resulting from mining that were plentiful and inexpensive because culm had little commercial value.

It was impractical at the time to mount the cab behind the very wide firebox so it was mounted astride the boiler before the firebox. A locomotive with this cab arrangement was called a Camelback, or sometimes a double-cab locomotive, center-cab locomotive or a Mother Hubbard. The center cab was inferior to an end cab because the engineer and fireman were separated and not able to easily communicate and the engineer was exposed to the possibility of a broken driving rod.

Nevertheless, the ability to use cheap fuel was an overpowering advantage and Camelback locomotives were very popular in the anthracite mining regions and were even tried on roads as diverse as the Union Pacific and Maine Central. Camelbacks were generally smaller locomotives since by the time 2-8-2 or 4-6-2 locomotives became common, the dangers of the center cab had led the Interstate Commerce Commission to discourage construction after 1918.

The last new Camelback was built by Baldwin for the Lehigh & New England in 1927. Some Camelbacks were rebuilt with a single cab but many Camelbacks operated until diesels replaced steam locomotives.

Photo above: L-5ds Class 153 was built by Brooks in 1900 and scrapped in 1952. Photo taken in Communipaw, NJ, January 14, 1932. It has quite a few similarities with the Lionel model, so this might be the one they used as a reference.