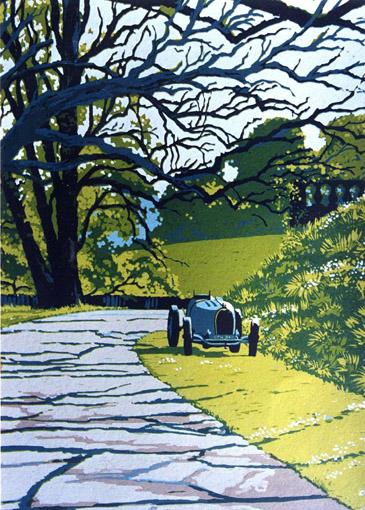 Bugatti Type 35B at Glenarm Castle
12-1-2003
A limited edition of 24 silkscreen prints, depicting a Type 35B shading itself beneath tall trees at Glenarm Castle, County Antrim. I took my inspiration from a photograph that I took on the glorious weekend of the Bugatti Owners Club Ulster Spring Rally in 2000, thinking what a wonderful picture the car made shading itself beneath the tall trees.
These hand-printed images are priced at £75 each including UK postage.
Image size 290 x 380mm (11½ x 15ins)
Available direct from the artist -
Debra Wenlock
6 West Hill,
Groomsport,
County Down,
BT19 6JT.
Phone - 028 9127 5674
E-mail: debra.wenlock@virgin.net
---
Vive La Marque !!
---
Back to the the Bugatti Page