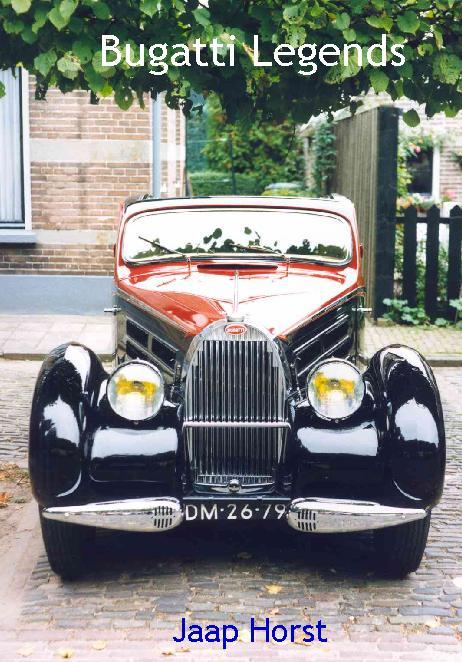 Bugatti Legends
Unproven legends and true stories.
2nd edition
SOLD OUT!
Jaap Horst
The 2nd edition is just a reprint, no changes in the text. Only difference from the 1st edition is that the color of the rear cover is changed from white to dark blue.
122 pages, 143 photographs (mainly period) and drawings
17 x 24cm
---
"You know about the Italian descendant in Uruguay who is a collector of rare material, like a Daimler Benz that belonged to a nazi officer. He has a Bugatti engine that, as he says, is the first Formula 1 engine. This engine would be a revolution in the history of car racing, and actually in the history of the automobile as a whole!"
This is one of the legends raised in this book, which is based largely on a collection of mails that I received over the 10 years that the BugattiPage exists. These are the mails that were too strange or too much of a rumour to be published on my BugattiPage site, plus a selection of the most interesting material from my Internet site.
Opposite to most other - well researched - books, this one is written more to raise new questions: Instead of proving legends to be either false or true, this book tries to launch several new ones. Apart from these legends, there is also lots of previously unpublished information on various aspects of Bugatti history.
Though some of the stories may raise some eyebrows, and, I must admit, it may very well be that some are not true, most of the stories told in the book are real aspects of Bugatti history, like the stories on the Bugatti T125 and the Bugatti OTI, the T37 with compressor in front of the engine and many others. Added to the stories were many period pictures, mostly previously unpublished.
Now directly available.
Price:
25 Euro, plus Postage & Packaging (depending on location)
This is payable cash by mail or by PayPal.
Jaap Horst
the Netherlands
E-mail: J.J.Horst@BugattiPage.com.
---
Reactions to the book
Mick Walsh, in Classic & Sportscar, March 2006:
Itīs a wonderfully eclectic mix, ranging from Miller-engined Bugatti race cars to overhead-cam supercharged motor bicycles.
Itīs rife with typos and poor English, but that doesnīt spoil this hugely varied collection ranging from mystery prototypes to internet spares scams.
Mick only has one thing wrong: the price! Itīs not 35 but 25 Euro!

Enjoyed your book, read it in one time!
RL, the Netherlands

Nice piece of work put together. Fun to distinguish between "true" and "false" in the stories.
H, the Netherlands

I like your book "The Legends".
MB, the Netherlands

Itīs an excellent book with lots of info, thanks!
G, the Netherlands
---
Vive La Marque !!
---
Back to
the Bugatti Page