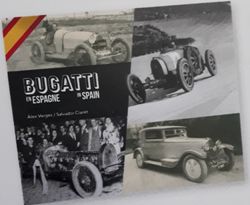 Bugatti en Espagne - in Spain
By Alex Verges and Salvador Claret
Text in French further down the page
This first work on the Bugattis in Spain, with the help of Bugattiste Henri Lalanne, promises to be quite interesting. The authors had access to material never published before, which should shed quite some light on the Bugattis that were imported into Spain, and with a special emphasis on all racing events.
Famous in the Spanish Bugatti history were of course Eusebio Bertrand y Serra (not to forget the De Vizcaya family), who supported various representatives of the marque who are little known outside of Spain, and even most of the race drivers remain unknown, until now....
All races in Spain, until 1965, in which Bugattis were entered are covered in this work.
To appear first quarter 2023
Language: French / English
approx. 30 x 21 cm, hardcover, ?? pages
Price: to follow
For more info e-mail: bugespa@gmail.com