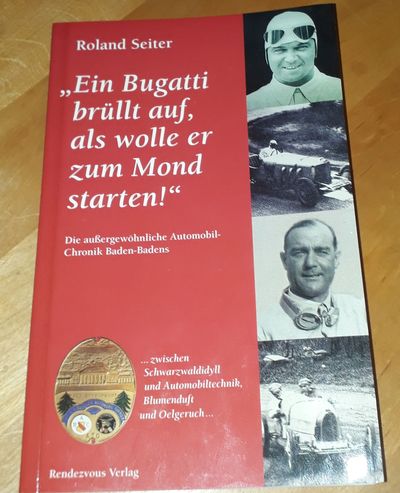 Ein Bugatti brüllt auf, als wolle er zum Mond starten
Der Aussergewöhnliche Automobil-Chronik Baden-Badens
By Roland Seiter
Die außergewöhnliche Automobil-Chronik Baden-Badens seit 1887.
Zwischen Schwarzwald-Flair, Automobil-Technik, Tanneduft, exklusives, mondaines Ambiente und Benzingeruch ! Ein Ausflug durch eine chromglänzende Vergangenheit
Although the title suggests otherwise, the parts of this small book which actually recount some Bugatti history are in fact rather limited.
Most interesting are the "Automobile Tournaments", which even became an International event in 1933. There were various competitions, including races, and a concours d'Élegance.
Luckily, the book has a register, which enables a quick search to all Bugattis mentioned. There's not many photographs of Bugattis, only one actually, a GP Bugatti driven by Hornung, photograph which is also on the cover.
There might have been more, as Baden-Baden is only 85 km from Molsheim!
Published 2002
Language: German
Publisher: Rendezvous Verlag
19.5 x 12.5 cm, softcover, 136 pages
Price: EUR 12.90
Available on various sources over the Internet