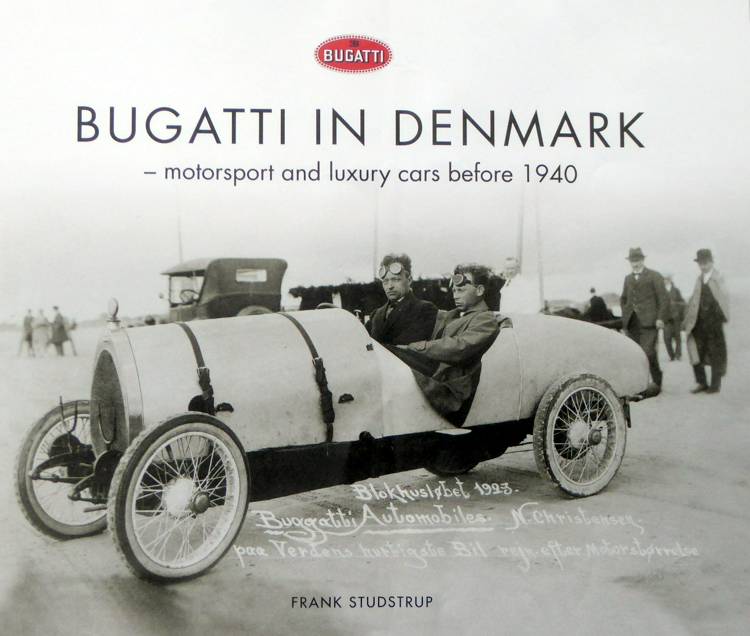 Bugatti in Denmark
Motorsport and luxury cars before 1940
By Frank Studstrup
The book first summarizes the story of the famous cars that Bugatti designed and manufactured at the factory in Molsheim from its beginning in 1910 and about thirty years onwards. The Danish history begins with the account of Danish importers in the early years before and after the First World War.
The main chapters then tell in a series of individual sections the story of 22 Bugatti cars of a number of types, which were introduced to Denmark as new or used cars in the years from before the First World War until the Second World War.
Motorcycle and car dealer Peter Hersleb Christiansen on Radhuspladsen in Copenhagen already in 1912 imported the first new Bugatti car to Denmark, and four other Bugattis soon followed. In the interwar years, they were joined by several Bugatti sports cars, passenger cars and luxury cars, which were mostly imported as used cars. Many of the Bugattis had special ownership stories and distinguished themselves in racing and in other ways.
In 1914, a Danish Bugatti racer set the first Danish land speed record with 95 km/h on the frozen Bagsvaerd lake. Another of the early Bugatti cars appeared in silent films with the great film hero of the time, and a third Bugatti participated in the dramatic speed races of the 1920s on bathing beaches, blocked road sections and racetracks, - occasionally with serious consequences for car and driver.
The book tells the story of these and other early, very different Danish Bugatti types, their owners from nobles to mechanics - and about the cars' known or unknown fate. A few of these old Bugatti cars exist to this day, while others disappeared - in most cases probably at the breaker's yard.
Most of the book's 170 illustrations have not previously been published.
Language: English (Danish also available)
Publisher: Frank Studstrup
24.5 x 22.3 cm, hardcover, 226 pages
Price: EUR 65 / GBP 55 / USD 75 (Excluding tax and shipping)
More info and ordering: editocar@mail.dk