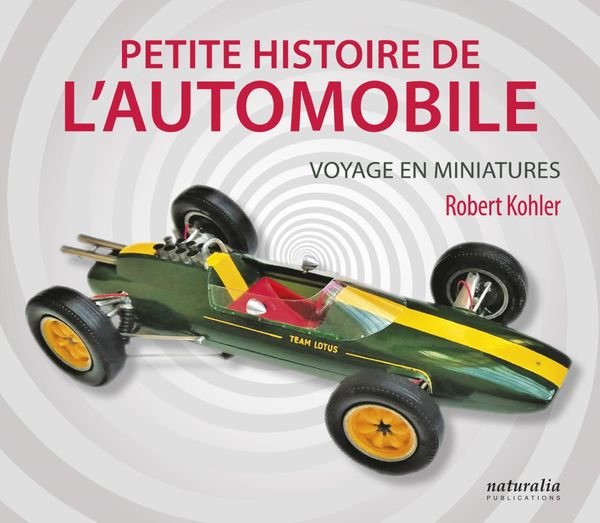 Petite histoire de l'Automobile
Voyage en Miniatures
By Robert Kohler
Review by Pete Vack, VeloceToday, French description of the book at the end of the page.
Robert Kohler has become famous for something very ambitious; the entire history of the automobile, done in a series of 124 dioramas consisting of 665 models spanning almost 130 years, from the early steam efforts to the postmodern era.
It helps that the creator is an excellent artist, who uses the ancient method of miniature painting to best effect. Most of the cars are in 1/43 scale and from the usual manufacturers, but a good number from the pre WWI era are models built by Kohler himself. Although not easily seen in the photos, Kohler notes that "All windows in the buildings are carved out, with transparent plexiglass and space inside to enhance the deepness, sometimes mirrors to deepen, tables with glasses, curtains."
This is not new. Since 2005, Swiss-born Kohler has had expositions at Cité de l'Automobile-Collection Schlumpf, Retromobile, Château de Breteuil, and the Geneva Motor Show. The models, layout and art as presented are not enough, however. Kohler has written several paragraphs to describe each diorama, the cars in the scene and the social context. In other words, an overview of the automobile, in words, models and art. Via email, Kohler told us, "My aim was to show the evolution as a global phenomena over the industrial world. The only limitation, in veteran and vintage eras, was the scarcity of models."
The recent production of his book on the subject allows Kohler to lay out the scene (superbly photographed by Hervé Monestier) on one page and the text next to it. Furthermore, Bugatti Book dealer Don Toms, now with his new imprint, Dante's Press, has printed out a very competent English translation that comes with Kohler's book. It is a welcome addition to the 176 page color book that is in French only.
Within the text, Kohler covers all the bases, and we did not note any errors in the descriptions of cars or places. It constitutes a well written, concise and accurate account as illustrated by the particular diorama. At first, since most of the dioramas focus on French cars and places, it seems French-centric, but that is primarily because from 1880 to 1930 France led the way, in technology, racing and even production. Kohler, however, all along the way gives credence to the British, German, Italian and U.S. industry and automobiles.
We found little mention of the Japanese invasion (of the U.S.) that began in the 1970s and eventually replaced the U.S. in terms of quality and production. No Datsun 240Z, no Honda Civic or Toyota Prius, much less the rise of the industry in China. There is a reason, says Kohler, "There are no suitable 1/43 models of Japanese brands." And sure enough, a quick look on the Internet yielded a lot of Japanese car models, but very, very few in 1/43 scale.
At VeloceToday, at least philosophically, the scope of our automotive interest is from 1900 to about 1975-80, when great changes in racing, car construction, regulation, design and individualism made the previous era obsolete. For Kohler too, the fascination with the art of the automobile fades after 1980, (the beginning of the Postmodern era) though he continues, somewhat half heartedly, to 1993, which celebrates the Bugatti, Renault Spyder and most appropriately, the Renault Twingo, the harbinger of the aptly postmodern SUVs. From there he speculates on the future, if it will indeed mean that the automobile as we know it will disappear like the horse, to be replaced by electric powered self driven cars and mass transportation.
Note that each car in the series of dioramas is listed in an index, with model, year and model manufacturer. In addition, each scene locale is listed in order where not identified in the text.
And what did we think? We liked the concept, the display, the history and would not have been aware of it in detail had it not been for Kohler's desire to print a book consisting of the displays. The inclusion of an English translation is more than a useful addition, it makes one appreciate the work that Kohler has achieved. Even if you get a chance to see his art on display, get the book, and read it beforehand. It will add to the experience immeasurably.
It occurred to us that his work would form the basis of a highly interesting and instructive video, one which could be offered to educational institutions around the world, modified for different countries and different grade levels, and spur an interest in the automobile as we knew it. In addition, such a display would enhance Kohler's overall perspectives. "My point of view with this work was to show how fast the evolution occurred and – in my opinion – took the wrong way some time ago. A video would be highly recommendable if it stresses the fact to come back to more simplicity, lightness, stressing lower speed with the compensation of fluidity, hence less stress and danger."
Never before has automobile history been displayed in such an interesting and artful fashion in one place. It deserves to be seen by a wider audience.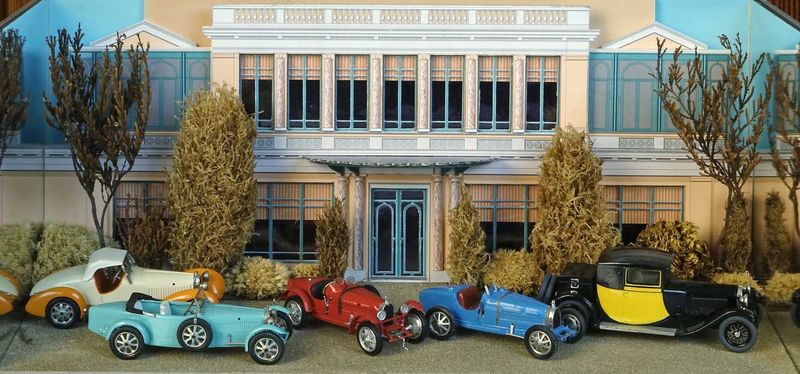 1928: A bevy of Bugattis gather at Ettore's favorite Parisian restaurant, "Le Doyen" in the shade of Champs-Élysées' tall chestnut trees.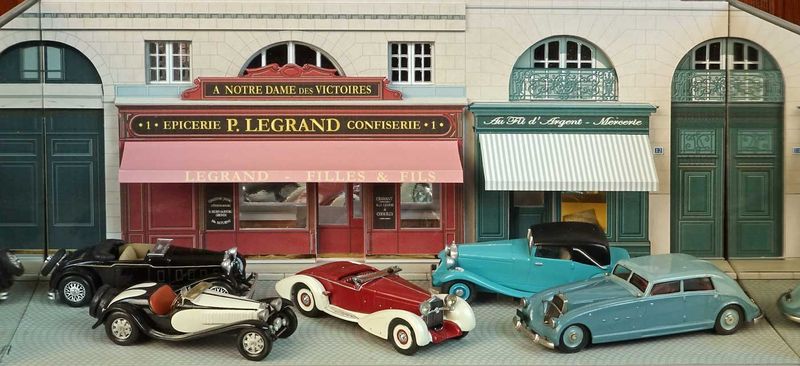 In Paris, circa 1932, a Maybach Zeppelin with a huge V12 engine that also powered the German airships sits quietly next to the lovely French offerings of the day, three Delages and a Bugatti T55.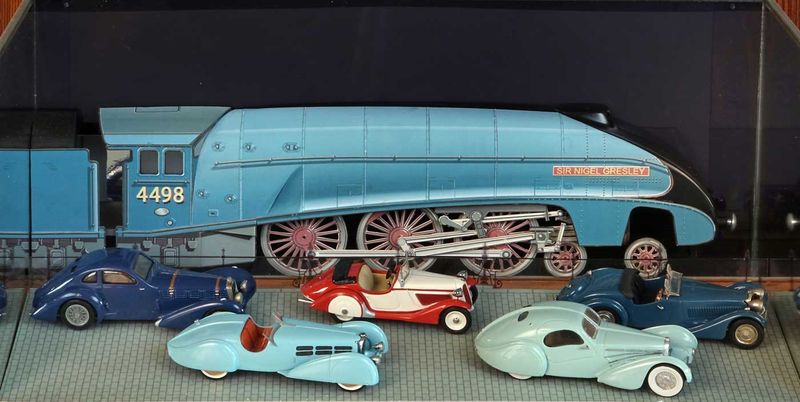 Progress in the realm of aerodynamics is reflected by the streamlined train engine designed by Sir Nigel Gresley, alongside the BMW, Bugattis and the rare Delage LM by Figoni et Falaschi.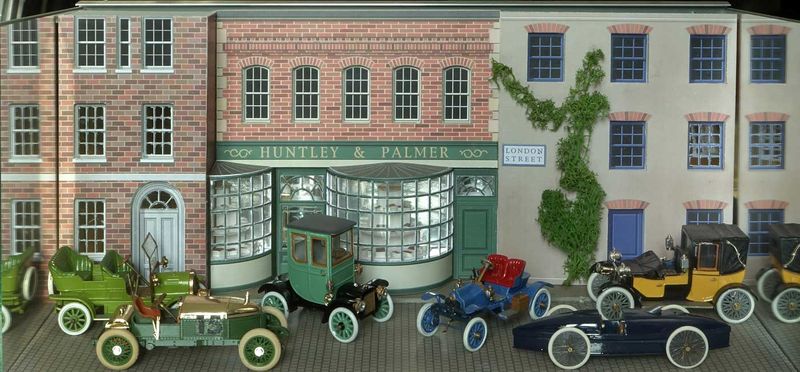 1907: On London Street, Kohler notes the stifling effect of the Red Flag Act of 1865, nullified in 1906, and the British cars began to flower. In this scene is a Spiker, Napier, Cadillac, Sizaire-Naudin, Stanley Steamer and Lancaster.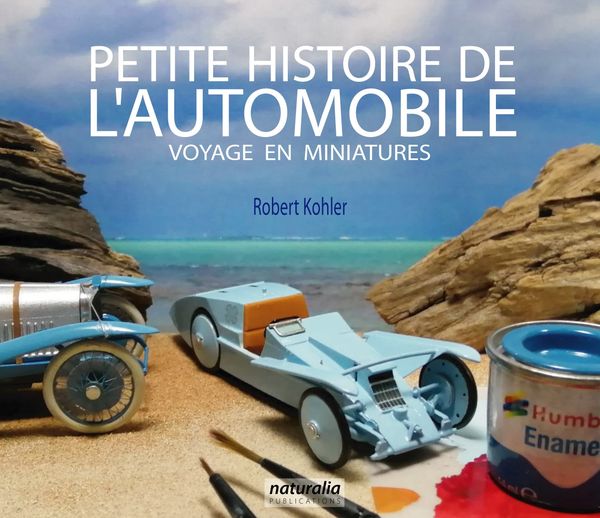 Francais Dans "Petite histoire de l'automobile", le miniaturiste raconte une histoire où chaque scène est un instantané, un concentré de vie en hommage à tous les hommes de l'art, mécaniciens et architectes d'exception épris de beauté. Débutant dans tous les pays industriels dès la seconde moitié du 19e siècle, l'épopée couvre quelque 130 ans avec ses 124 dioramas et ses 665 modèles, dont près de la moitié sont rares ou uniques. Où les véritables acteurs sur scène sont les voitures, déployant dans leur réduction, et de manière théâtrale, toutes les séductions esthétiques de l'automobile d'origine. Car il ne faut pas douter du fait que les voitures de particuliers, très vite interprétées en icônes sociales, ont été créées telles des œuvres d'art et de séduction. D'un genre certes inédit et contemporain et avec plus ou moins de bonheur.
Mais le sentiment de liberté infinie qu'elles offrent a fait leur succès… et changé le monde.