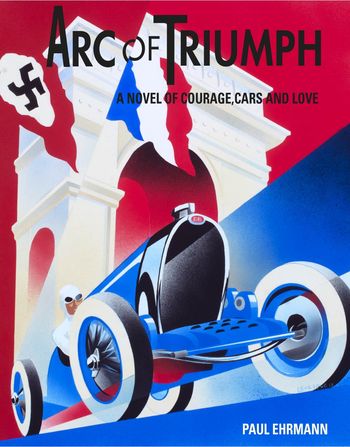 Arc of Triumph
A Novel of Courage, Cars, and Love
by Paul Ehrmann
We are true to history: A Bugatti race car driver became a hero of the French Resistance. When German occupiers – in 1942 – seize his factory to build weapons, Ettore Bugatti, a lofty artisan/engineer, wants only to preserve his empire to again make the most beautiful cars the world has ever seen. Driver Alexander Graves, racer and patriot, is thrown into conflict with his revered "Patron."
Can Alexander destroy explosive torpedoes bound for U-Boat ports to sink Allied ships without leveling the factory? Can he save Claire, who no man says 'no' to, from her reckless plan to help liberate a stricken nation? With a mechanics ingenuity and with matchless skill behind a Bugatti's wood-rimmed steering wheel, Alexander starts the race of his life.
Softcover, 21.5 X 14 X 2 cm, 281 pages
Price: Just $21,99.
For information and ordering: In Europe - In the USA, go to: arcoftriumphbook.com
About the Author:
Paul Ehrmann's fortunate youth at the foot of the Rocky Mountains was interrupted by two years in Paris where he learned the language and his passion for motorcars was generated.
Paul attended Amherst College, with a semester off to work on the docks in New Orleans and to build freeway ramps that, to this day, support commuters on their way from Boulder to Denver. An embrace of New England's landscape and literary traditions have stayed with Paul to the present day.
A sliver of opportunity drew Paul to the West Coast where he began as a production trainee on culture carrying movies before moving on to write much produced television. He acted occasionally in films, perhaps most notably on the original cult classic, "Death Race 2000."
Paul has written multiple produced scripts for "Cagney and Lacey," "The Paper Chase," and "Hart to Hart," and has also had two books of poetry published – "Saving Graces," and "The West Facing Window."
Having had all the fun they could stand in Hollywood, Paul and his wife moved to Austin, Texas where Julia is an RN who did not shirk during the pandemic and walked daily into the belly of the beast.
Paul's two children remain in California, not proximate, but ever close.
Review
A reaction from one of the readers is the following:
I had not yet read your fascinating book. I did, and was very impressed.
The first half, about the Bugatti myth and racing, taught me ideas and actions I had never even considered about French culture in the 1930s.
The second, about the courage of your racing characters fighting the Nazis was very well done, and correct in every detail I know about that period. I especially appreciated the scene at the Gare du Nord, where there was resistance against sending Frenchmen off to work in Germany.
Congratulations with your novel!