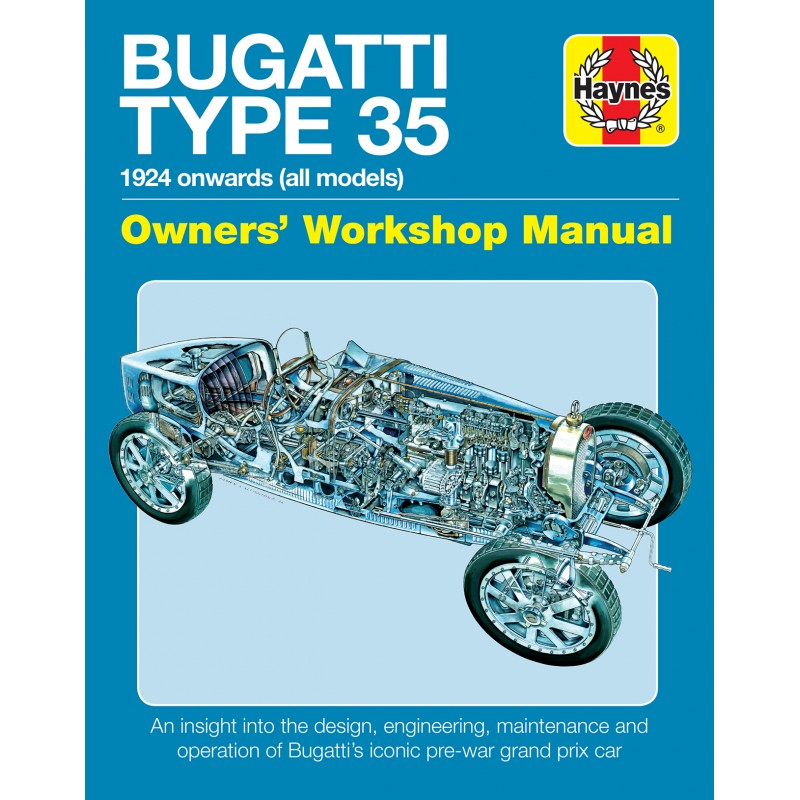 Bugatti Type 35 Owners' Workshop Manual
An insight into the design, engineering and operation of Bugatti's iconic pre war grand prix car
by Chas Parker
The Bugatti Type 35 is one of the most successful racing cars ever made. With its excellent chassis, engine and braking, and classic styling, it has become an icon of 1930s motor racing. The car brought new standards of workmanship and finish to racing, and was the first grand prix car to be offered for sale to privateer competitors. The Type 35 and its variants won the challenging Targa Florio road race for five consecutive years, in addition to 17 grands prix victories between 1924 and 1931.
This manual takes in in-depth look at the design, engineering, operation and restoration of the Type 35, and details the story of the cars, the variants produced and the anatomy of the car, with input from engineers, owners and drivers involved with the cars today. A fascinating insight into a car that still wins historic races more than 90 years on from its grand prix debut.
Author: Chas Parkerís experience of motorsport publishing includes roles as a sub-editor and occasional contributor to Autosport and Motorsport News, Britainís leading motorsport weeklies. He has written several motorsport books, including Haynes's Brands Hatch: The history of Britainís best-loved motor racing circuit, Silverstone: The home of British motor racing and Jaguar D-Type Owners' Workshop Manual. He lives in East Sussex.
More Details:
Dimensions: 270 x 210 mm
# of pages: 168
ISBN-13: 9781785211836
ISBN-10: 1785211838
Publication date: Sunday, 30 September, 2018
Language: English
Go to this page to order: haynes.com/en-gb/bugatti-type-35-owners-workshop-manual
---
Vive La Marque !!
---
Back to the Bugatti Page