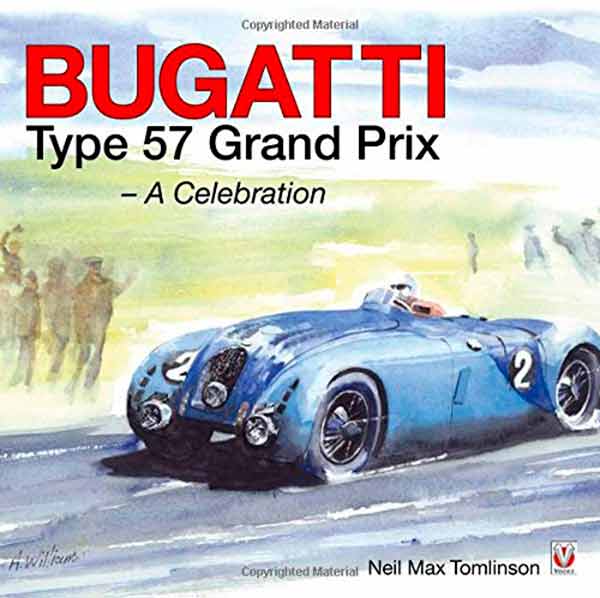 Bugatti Type 57 Grand Prix - A Celebration
Neil Max Tomlinson
Description
A comprehensive, radical look at the history and development of the Type 57 Grand Prix Bugattis. New material challenges traditional beliefs about these historic cars, and rejects some long-standing conventions. Here, myths are explored and truths are revealed in a book celebrating all aspects of these remarkable cars and their creators.
Synopsis
This work examines the Type 57 Grand Prix cars, the creation of Jean Bugatti, Ettore's eldest son. The late Hugh G Conway wrote in Bugatti – Le pur sang des automobiles, that, after 1935, Bugatti's racing programme became involved and very confusing to the humble historian, without accurate factory records. The T57G's story is complex and has taken more than forty years to draw together, study and evaluate. Revealing new material, Tomlinson takes the view that existing records can be reinterpreted with a revised mindset, challenging conformist beliefs and dismissing many conventions. The book describes the 57G's racing career and evolution through its siblings, the Types 57, 57S and 59. Type 57G characteristics are identified, with race-to-race body and chassis details described, and the Type 57G, 57S45, 57 "Sport" and 57C Le Mans cars are defined, and their enigmatic history revised. This book celebrates the Bugatti T57 Grand Prix racing cars: their origins, triumphs, failings, trivia, trinkets, and a little about the personalities behind them, interwoven with the social and political influences of those times.
Additional Information
This book details the Bugatti Type 57 Grand Prix sports racing cars, essentially the most reliable and fastest competitors of their time.
A seminal work, bringing together practically all the data known about the Type 57 Grand Prix sports racing cars.
Includes many previously unpublished factory drawings and photographs, and describes all the detailed body and chassis changes from prototype, and from race to race. With new and previously unpublished information, it provides a convincing final argument that there were originally four T57G 'Tanks' built, the prototype being written off following a crash at Montlhery. It provides the latest information about the enigmatic Type 57S45 "Tanks", and the most up-to-date information about the 1939 Type 57C Le Mans winning car. It challenges conventional Bugatti history by showing that the "King Leopold car", 57248, is a Type 57G, not a Type 59, and it discusses the evolution sequence and developmentof the Type 57 Grand Prix cars from 1934 to 1939. Also disscussed are the myths and rumours surrounding the cars, with convincing for and against accounts. It discusses the final months leading to Jean Bugatti's fatal accident, Ettore's plan to re-locate the factory to Belgium, and dismisses the notion that Jean committed suicide. The book illustrates many of the toys and miniatures of the T57G made by manufaturers to celebrate the cars from 1937 to date. It discusses race results, analyses, and political events.
Covers the Bugatti Type 57 Grand Raid - 1934-37, Bugatti Type 57 Grand Prix 'Tank' - 1935-36, Bugatti Type 57G Le Mans 'Tank' - 1937, Bugatti Type 57S45 'Tank' - 1937, Bugatti Type 57S - 1935-39, Bugatti Grand Prix Type 59 - 1933-38, and Bugatti Type 57C Le Mans 'Tank' - 1939.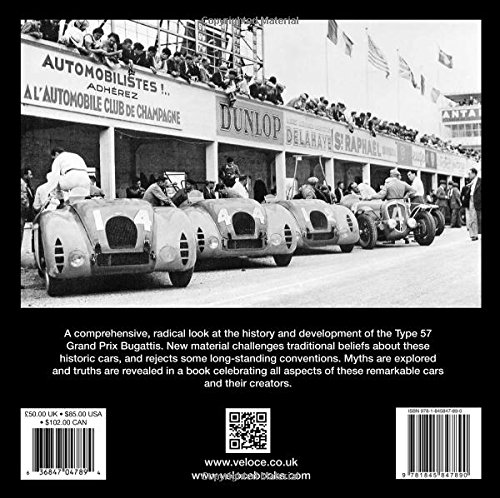 Features
A seminal work on this subject
Challenges conventional beliefs
Proposes a currently undefined history
Details the Type 57G engine and chassis evolution
Describes bodywork development
Contains previously unpublished drawings
New, previously unseen photographs included
Clarifies prototyping practice
Explores rumours and myths
Illustrates historic and contemporary miniatures
Review of "A celebration"
I read this book only in part until now, but it certainly does impress. A lot of new material is used to shed some light on the "mysterious ages of Bugatti racing", the late 30's, where budgets for racing were low, and small changes between cars are enlightened by Neil Tomlinson

There is a parallel with the Atlantic even, where this book does not proof the existence of a fourth Atlantic, but certainly of a 4th T57G !

Well worth a thorough read, and yes, I will continue also!

Jaap Horst

24.8x24.8cm
176 pages
153 pictures
ISBN: 978-1-845847-89-0
UPC: 6-36847-04789-4
ISBN: 978-1-845847-89-0

Price: £ 50.00
---
Vive La Marque !!
---
Back to the Bugatti Page