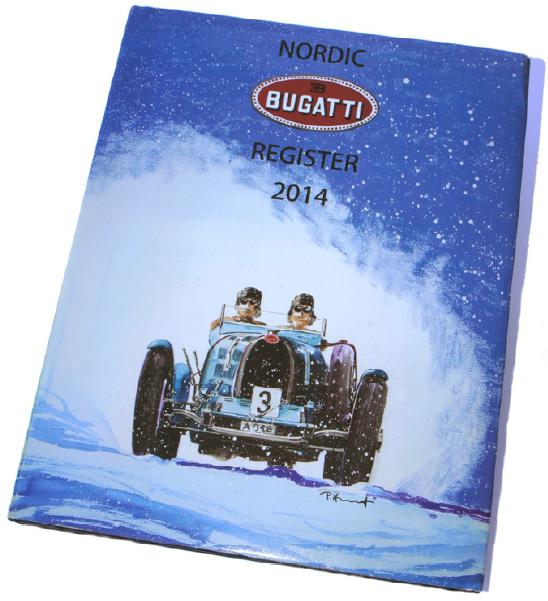 Nordic Bugatti Register 2014
Various authors
Scope
A concise history in English of Bugatti cars ever been in the Nordic countries or owned by Nordic citizens from 1912 to the present day. Several cars, still existing today, are now in the hands of owners all over the world. Thus the Register is relevant not only for Nordic citizens but also other person globally.
Content per Register Page
The Nordic Bugatti Register 2014 comprises some 200 individual Register Pages of each Bugatti car that has at one time or another been owned by one or several individuals in the following Nordic countries: Denmark, Finland, Norway and Sweden, from the first owner, or ex-Bugatti Works, to the present day, provided facts exists.
Each Register Page typically includes: Chassis and engine numbers, extracts of the original Bugatti Works data sheets, delivery dates, time of acquisition by the present and former owners. A concise history of what has happened to the car during its existence in one or several of the Nordic Countries is included. Each car is illustrated throughout with 3-4 period and contemporary photographs per car, in b/w or colour.
Information collection
The information has been compiled by the Nordic Bugatti Identification Group consisting of Bo Söderberg (Registrar), Per Hörlén (Registration Secretary), Lennart Haajanen (Finland and Sweden), Ole Kristian Haugen (Norway), Per Henricsson (Sweden), Per-Olof Håkanson (Sweden), and Frank Studstrup (Denmark).
Price 700 SEK (approx 77€), transport cost not included
Transport cost for one book:
- Nordic Countries: 90 SEK
- Other Countries: 220 SEK
To order, please go to the website: www.ahk-bugatti.se/en/Nordic-Bugatti-Register.html
Comment by BugattiPage:
Another register in quite a long line of regosters: Many nice cars, quite a few unknown cars and many Brescia's. Also interesting a full list of all the Erik Koux Bugatti Replica's: 12 Atlantic's (Aluminium and Fibreglass), a T55 and a T57SC Roadster
---
Vive La Marque !!
---
Back to the Bugatti Page