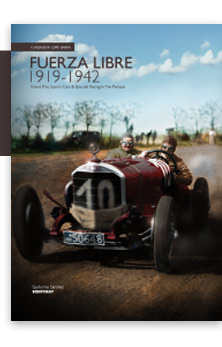 Fuerza Libre 1919-1942
Grand Prix, Sports Car & Specials Racing in The Pampas
Guillermo Sanchez
The most valuable cars from the Vintage era, in characterized exciting races under the Fuerza Libre regulatory framework, in the exotic circuits of the Argentine Pampas and the Patagonia, between 1919 and 1942. ALFA ROMEO, BENTLEY, BMW, BUGATTI, CADILLAC, CHRYSLER, DELAGE, DUESENBERG, FIAT, FORD, HUDSON, MASERATI, MERCEDES, MERCURY, PACKARD, REO, SUNBEAM, STUDEBAKER, STUTZ and others.
This book also includes international participations of Argentine drivers and foreign visitors of the period.
BOOK DETAILS:
Format: Hardcover 30.2 x 21.4 cm.
Weight: 1.625 Kg.
Pages: 370
Photos: More than 400 images
ISBN: 978-987-05-4882-9
Language: English/Spanish
2-5-2009
Vive La Marque !!
---
Back to the Bugatti Page