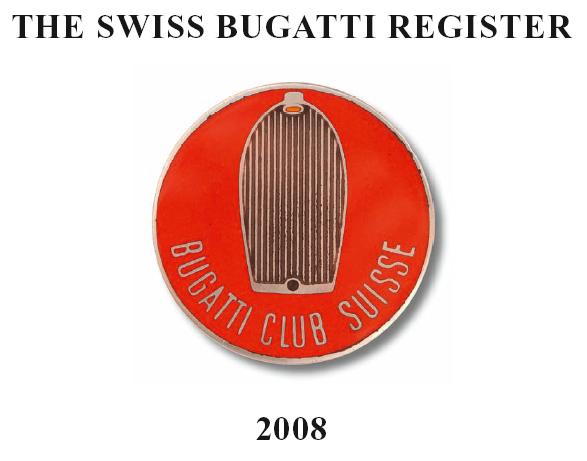 The Swiss Bugatti Register 2008
Hans Matti
Together with the organisation of the International Bugatti meeting which will take place in June 2008 at Sankt Moritz, Switzerland, the Bugatti Club Suisse (BCS) has decided to publish the Swiss Bugatti Register 2008. Hans Matti has produced a first Swiss Bugatti Register (CH1) in 1995, but this was only the draft which was never actually published and only handed out to some fellow registrars of the larger Bugatti Clubs. He has been working on this register ever since and the BCS is now ready to publish the Swiss Bugatti Register 2008, which will be available in June 2008, for distribution during the International Bugatti meeting in Sankt Moritz.
The register covers approximately 150 Bugattis which are mainly located in Switzerland. Each car is described and shown with two pictures along the terms defined by the international conference of Club registrars. An example is illustrated on the right.
The Register can be ordered at the following address:
Hans Matti
Müller Marketing und Druck AG
Kirchstrasse
3780 Gstaad BE, Switzerland
E-mail: produktion@mdruck.ch or through www.bugatticlub.ch
Price: CHF 100 plus postage: within Switzerland CHF 13, within Europe CHF 37, overseas CHF 50
Below a sample page: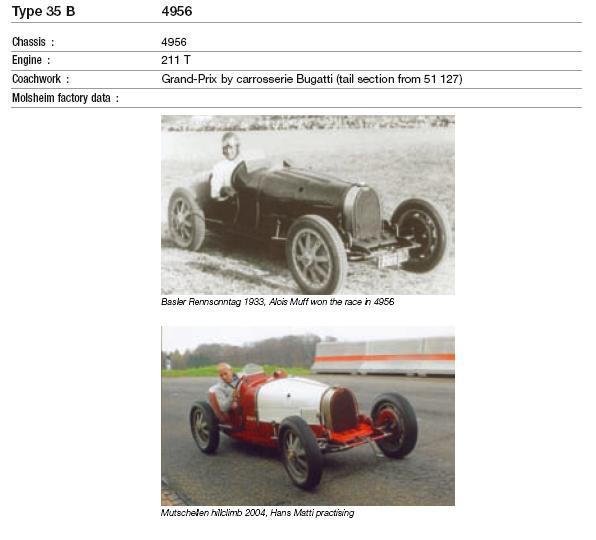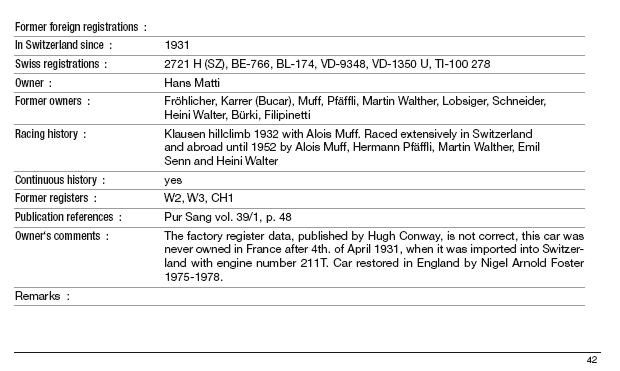 ---
Vive La Marque !!
---
Back to the Bugatti Page