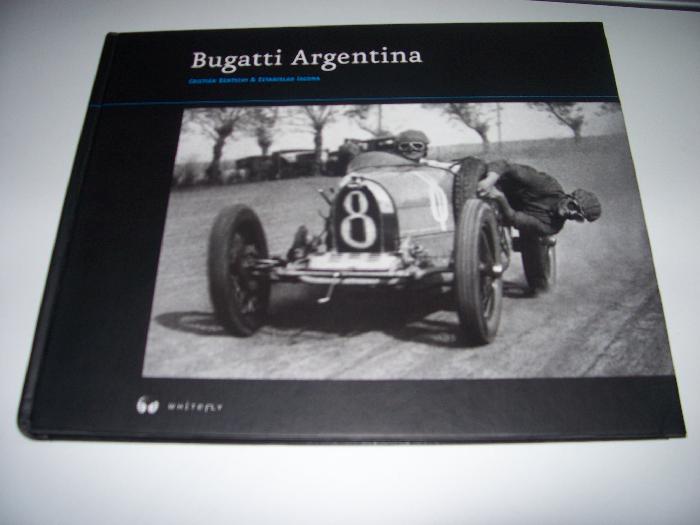 Bugatti Argentina
Cristián Bertschi & Estanislao Iacona
Pages: 248
Photos: 208 b/w duotone
Cover: hardback
Size: 30 x 25 cm
Language: English / Spanish
Price: U$S 175.00 (postage paid worldwide)
'Bugatti Argentina reflects the Argentine passion for car racing prevailing during the pre-war years and particularly the affinity that some drivers felt for the French make during the twenties. This is the first time in Argentina that a book has been written relating the history which commenced in 1924, when the first Type 30 arrived and continued until the sixties when Bugatti fans devoted themselves to salvaging and restoring the cars. The trend resurged during the nineties with a new group of collectors. Bugatti created over the years a mystique which continues intact until the present day.
In August 2005 we published Alfa Romeo Argentina, a book dedicated to the history and background of the make and its relationship with Argentina. During those years of hard work and research we came across the name of a make which repeatedly occupied the top ranking positions during the twenties and thirties, namely, Bugatti. This showed us the outstanding importance vested in these cars during the pre-war years and their undeniable contribution to local car racing. This fact was augmented by the role played by Roberto Bitito Mieres with his Type 51 in the races held by the Club de Automóviles Sport added to the number of Bugatti fans who over the years had patiently devoted themselves to discovering and restoring a great many cars.
Our experience with the Alfa Romeo Argentina book led us to embark upon a task involving similar research on Bugatti, since we were convinced that the history of the make in Argentina had to be divulged and would prove to be a valuable contribution to Bugatti lovers as well as to literature on the subject.
For info and ordering: www.whitefly.cc/
Comment by the editor: There are many new photographs in this book, as well as a lot of information not known to Bugattistes in "the old world". Apart from all the info on races, and a register of Argentinian Bugattis, a history on a fleet of Bugattis in the Buenos Aires Zoo!
---
Vive La Marque !!
---
Back to the Bugatti Page