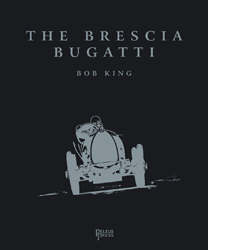 The Brescia Bugatti
Bob King
ISBN: 1 87690 764 9 EAN: 978 187690 764 8
Pages: 324
Published Size: 290mm x 240mm
Illustrations: Black and White /Colour
Binding: Casebound with jacket/Deluxe Limited

'The Brescia', written and compiled by well-known Bugatti authority, Dr Bob King, is a book to be treasured by aficionados of the 16-valve Brescia Bugatti. Including previously unpublished Bugatti factory data, this definitive, superbly illustrated book documents all surviving vehicles with current details and photographs.
A fascinating history of arguably the most revered early racing car, which led the way to Bugatti's incredible racing successes in the 1920s and 30s. Publication limited to 700 copies (of which 200 luxury editions). Available only from Publisher.
Comment by the editor: Not all surviving Brescia's are included, there are several not in this, still very extensive, book. This mainly because the owners did not submit their information.
---
Vive La Marque !!
---
Back to the Bugatti Page