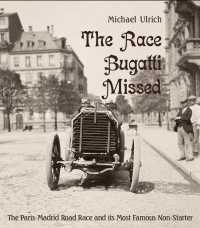 The Race Bugatti missed
The Paris-Madrid Road Race and its Most Famous Nonstarter
Michael Ulrich
Ettore Bugatti trying to take part in the greatest race of 1903 when he started making his first "Pur Sang" only in 1910? And yet, he already was an experienced racing driver and, working for de Dietrich in Niederbronn/Alsace, had designed and built two 12.8 litre chain driven monster cars which he intended to drive himself in the Paris-Madrid race together with Emile Mathis.
During research for a scratch built model of the Type 5 it emerged that a detailed account of this race, argueably the greatest of all times, simply did not exist. I soon had to find out that the nebulous tales available today confirm the mythical character of this "Race to Death". The assistance of quite a few enthusiasts from England, France and Germany enabled me to present this thoroughly researched book with many illustrations.
The book with 400 large (12 x 10 in) pages will be printed in English on 150 g semi gloss paper and will be bound in linen. Included is a comprehensive appendix. Some 450 illustrations (photos, drawings, artwork and caricatures) are printed in large format in a sepia tint, often covering two pages.
Each copy comes in a slip case together with a 130 page textbook either in French or German. The first edition will comprise 1000 copies.
Printing, binding and distribution are carried out by Monsenstein & Vannerdat in Münster, who have gained quite some experience in books of this quality.
Contact
www.autoskulptur.de/BuchhomeE.htm
Michael Ulrich
Ritterlandweg 7
13409 Berlin, Germany
Tel. + 49 30 492 60 90
e-mail: michael.ulrich@tu-berlin.de

---
Vive La Marque !!
---
Back to the Bugatti Page