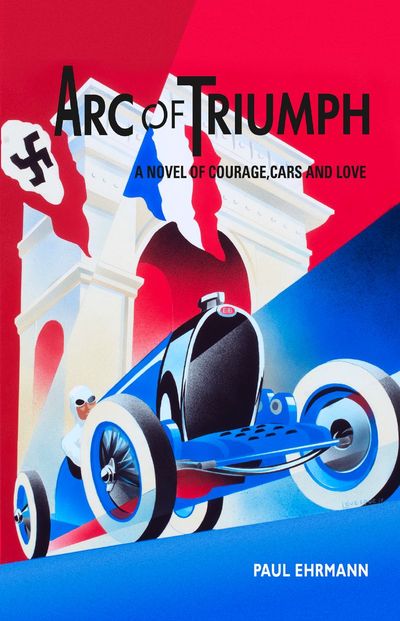 Arc of Triumph
A novel of Courage, Cars and Love
Paul Ehrmann
---
A BUGATTI RACE CAR DRIVER became a hero of the French Resistance. When German occupiers - in 1942 - seize his factory to build weapons, Ettore Bugatti, a lofty artisan/engineer, wants only to preserve his empire to again make the most beautiful cars the world has ever seen. Driver Alexander Graves, racer and patriot, is thrown into conflict with his revered "Patron."

Can Alexander destroy explosive torpedoes bound for U-Boat ports to sink Allied ships without leveling the factory? Can he save Claire, who no man says "no" to, from her reckless plan to help liberate a stricken nation? With a mechanics ingenuity and with matchless skill behind a Bugatti's wood-rimmed steering wheel, Alexander starts the race of his life.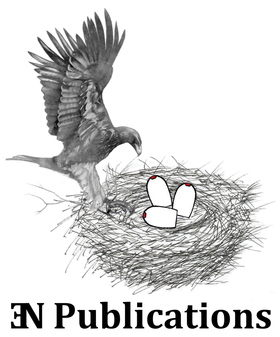 ISBN: 978-0-578-74576-3
Language : English
3rd Edition, 1st European Edition
Format : 140 x 216 mm
Pages : 294, Paperback
Cover art by Alain Levesque
Published by: Eagle's Nest Publications, in coöperation with Dante's Press
Price:

€18.00

plus Postage & Packaging cost:

Netherlands: €4.50
Europe, EU: €9.60
Europe, Other (Switzerland, UK): €12.30
USA: Order here through Dante's Press
Rest of World: €18.60

Costs for using PayPal: 5%

If you wish to pay by banktransfer,
please send me an e-mail for the bank details
---
About the Author: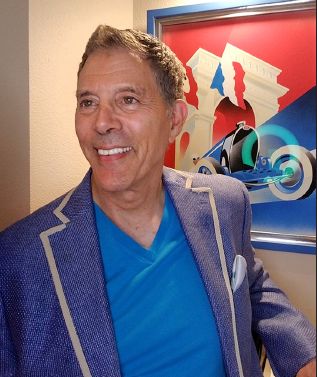 PAUL EHRMANN'S fortunate youth at the foot of the Rocky Mountains was interrupted by two years in Paris where he learned the language and his passion for motorcars was generated.
Paul attended Amherst College, with a semester off to work on the docks in New Orleans and to build freeway ramps that, to this day, support commuters on their way from Boulder to Denver. An embrace of New England's landscape and literary traditions have stayed with Paul to the present day.

A sliver of opportunity drew Paul to the West Coast where he began as a production trainee on culture carrying movies before moving on to write much produced television. He acted occasionally in films, perhaps most notably on the original cult classic, "Death Race 2000."

Having had all the fun they could stand in Hollywood, Paul and his wife moved to Austin, Texas where Julia is an RN who did not shirk during the pandemic and walked daily into the belly of the beast.

Paul's two children remain in California, not proximate, but ever close.
---
Some reactions to the book: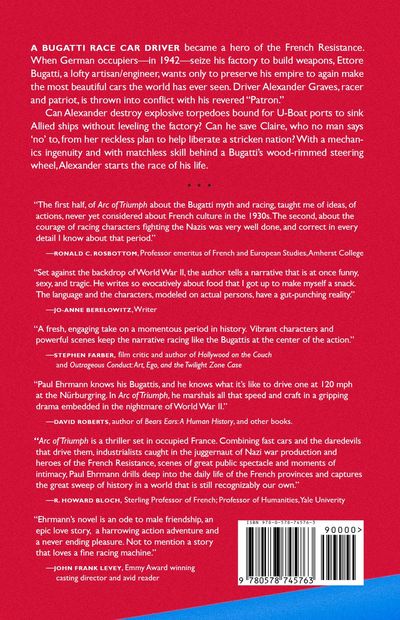 "The first half, of Arc of Triumph about the Bugatti myth and racing, taught me of ideas, of actions, never yet considered about French culture in the 1930s. The second, about the courage of racing characters fighting the Nazis was very well done, and correct in every detail I know about that period."

RONALD C. ROSBOTTOM, Professor emeritus of French and European Studies, Amherst College

"Set against the backdrop of World War II, the author tells a narrative that is at once funny, sexy, and tragic. He writes so evocatively about food that I got up to make myself a snack. The language and the characters, modeled on actual persons, have a gut-punching reality."

JO-ANNE BERELOWITZ, Writer

"A fresh, engaging take on a momentous period in history. Vibrant characters and powerful scenes keep the narrative racing like the Bugattis at the center of the action."

STEPHEN FARBER, film critic and author of Hollywood on the Couch and Outrageous Conduct: Art, Ego, and the Twilight Zone Case

"Paul Ehrmann knows his Bugattis, and he knows what it's like to drive one at 120 mph at the Nürburgring. In Arc of Triumph, he marshals all that speed and craft in a gripping drama embedded in the nightmare of World War II."

DAVID ROBERTS, author of Bears Ears: A Human History, and other books.

"Arc of Triumph is a thriller set in occupied France. Combining fast cars and the daredevils that drive them, industrialists caught in the juggernaut of Nazi war production and heroes of the French Resistance, scenes of great public spectacle and moments of intimacy, Paul Ehrmann drills deep into the daily life of the French provinces and captures the great sweep of history in a world that is still recognizably our own."

R. HOWARD BLOCH, Sterling Professor of French; Professor of Humanities, Yale Univerity

"Ehrmann's novel is an ode to male friendship, an epic love story, a harrowing action adventure and a never ending pleasure. Not to mention a story that loves a fine racing machine."

JOHN FRANK LEVEY, Emmy Award winning casting director and avid reader