Bugatti news, 2021 Plus events
Bugatti news: 2022 , 2020 , 2019 , 2018 , 2017 , 2016 , 2015 , 2014 , 2013 , 2012 , 2011 , 2010 , 2009 , 2008 , 2007 , 2006 , 2005 , 2004 , 2003 , 2002 , 2001 , 2000 , 1999 , 1998 , 1997 , 1996, 1995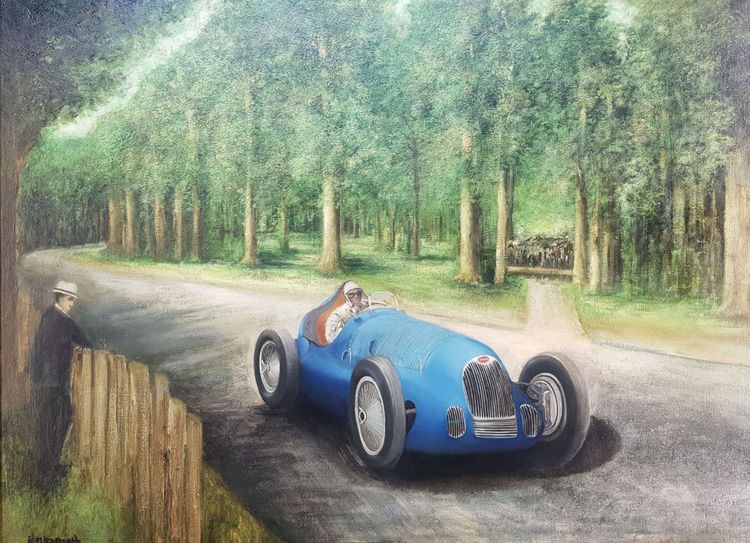 Christophe ANTONIETTI (XXth) - "Bugatti T59/50"
Christophe Antonietti is the son of Marc Antonietti, a famous car modeler who made superb miniature models in very few copies.
---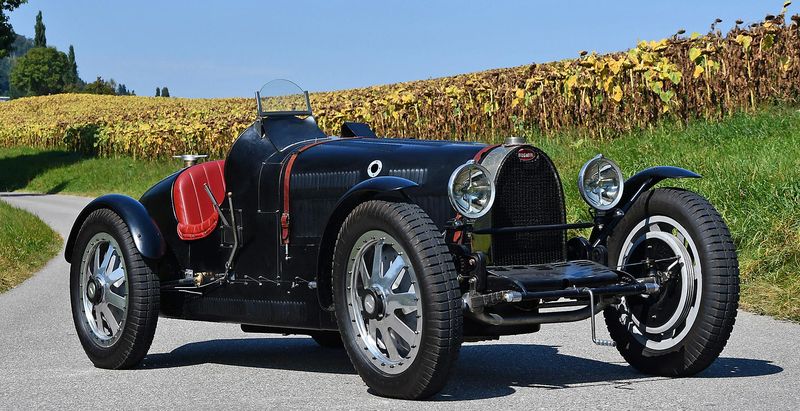 December 29, 2021 Oldtimer Galerie Toffen - The Swiss Auctioneers Gstaad, Switzerland
1928/2012 Bugatti Type 35B Recreation by Pur Sang, Estimate CHF175,000 - CHF200,000
---

January 28-30, 2021 The Motorcar Cavalcade Concours d'Elegance Miami, USA
Coming January 28-30, the inaugural Motorcar Cavalcade will be held at the illustrious JW Marriott Turnberry Resort & Spa. This Lifestyle Concours event will bring together our incredibly vibrant car community in celebration of the passions we share and the automobiles we covet.

This unique Concours d'Elegance will host and judge specially curated and themed displays of exclusive, iconic, legendary and simply awe inspiring cars – ranging from the dawn of motoring to the most advanced hypercars in the world – all in an incredible Miami inspired garden party setting.

Interesting are the v ery different categories, in which the cars can be entered:

Doors: Gullwing, Pocket, Suicide, Scissor, Canopy
Glass: Curved, Split, Monocle, Flat
Sound: From Antique to Muscle to Hypercar
Dashboard: Switches, Gauges, Binnacles, Clocks
Lights: Stacked, Adaptive, Tilt-ray, Halo, Projector, LED, Acetylene
Cockpit: Seating, Consoles, Steering Wheels
Utility: SUV's, Safari, Working, Offroad
Paint: Remarkable Colors and Combinations
Finish: Bare Aluminum, Stainless Steel, Exposed Carbon Fiber, Wood
Power: Gasoline, Diesel, Steam, Hybrid, Electric
Engine: 3 cylinder through 16
Mirrors: Flying, Racing, Fender, Wing
It seems that there will always be some category you can fit your Bugatti in, except when you show up with the 2-cilinder Type 0 of course..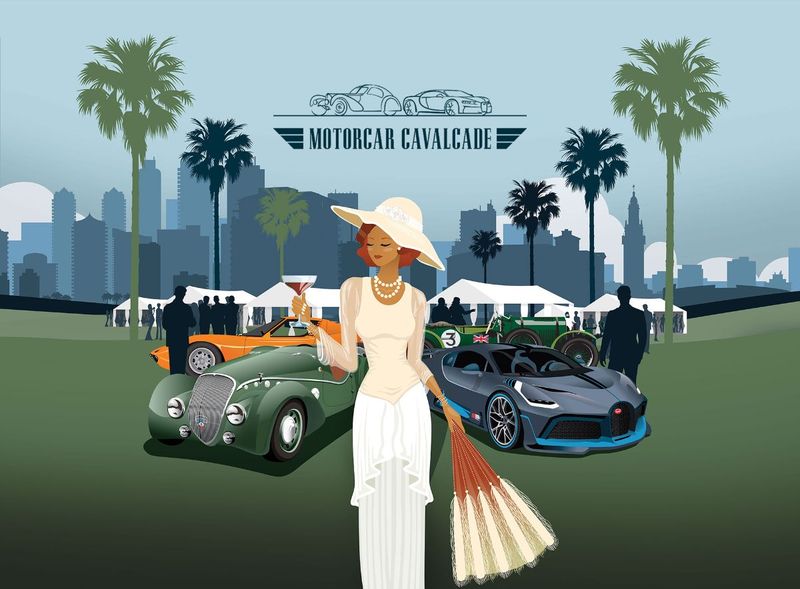 ---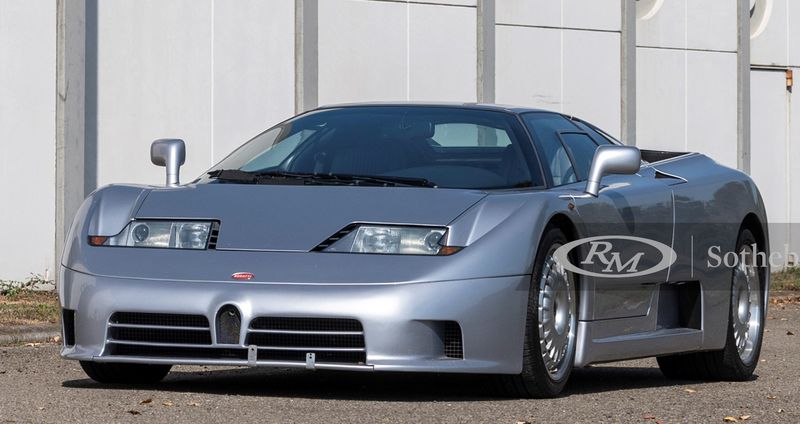 February 2, 2022 RM Sothebys Auction Paris, France
1994 Bugatti EB 110 GT France, Chassis n° ZA9AB01S0RCD39095
---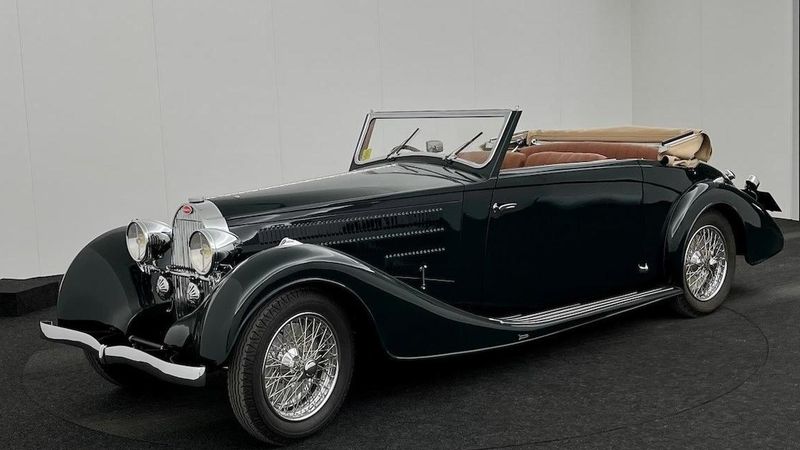 February 3, 2022 Bonhams Auction, Les Grandes Marques du Monde au Grand Palais Paris, France
Over the last month / weeks continuously Bugatti's have been added to the cars to be auctioned by Bonhams in Paris. Adding them one-by-one made this announcement rather strange over time... The cars to be autioned are:
1926 Bugatti T40 Torpedo Sport, Coachwork by Lavocat & Marsaud, Chassis no. 40169, Estimate € 280,000 - 350,000

1935 Bugatti T57 VanVooren cabriolet, Chassis NO. 57287, Engine NO. 213, Estimate € 700,000 - 800,000

1936 Bugatti T57C Ventoux streamline, Chassis no. 57335 Engine no. 340, Estimate € 1,600,000 - 2,000,000

1938 Bugatti T57C Stelvio Gangloff, Chassis no. 57678 Engine no. C41, Estimate € 800,000 - 1,200,000

1996 Bugatti EB110 GT, Chassis NO. ZA9AB01E0PCD39050, Engine NO. 00050, Estimate € 1,100,000 - 1,300,000
Below some more photographs of the classic Bugatti's in the list.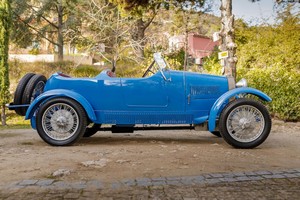 1926 Bugatti T40 Torpedo Sport, Coachwork by Lavocat & Marsaud, Chassis no. 40169, Estimate € 280,000 - 350,000
1935 Bugatti T57 VanVooren cabriolet, Chassis NO. 57287, Engine NO. 213, Estimate € 700,000 - 800,000
More info

In 2006 Chassis 57287 was completely destroyed by fire, see: bugattipage.com/2006news.htm, newsitem of October 31, 2006. Apparently this car was completely put back together again. I wonder how many new parts are in it....

1936 Bugatti T57C, Chassis no. 57335 Engine no. 340, Estimate € 1,600,000 - 2,000,000
Ettore's personal car.
More info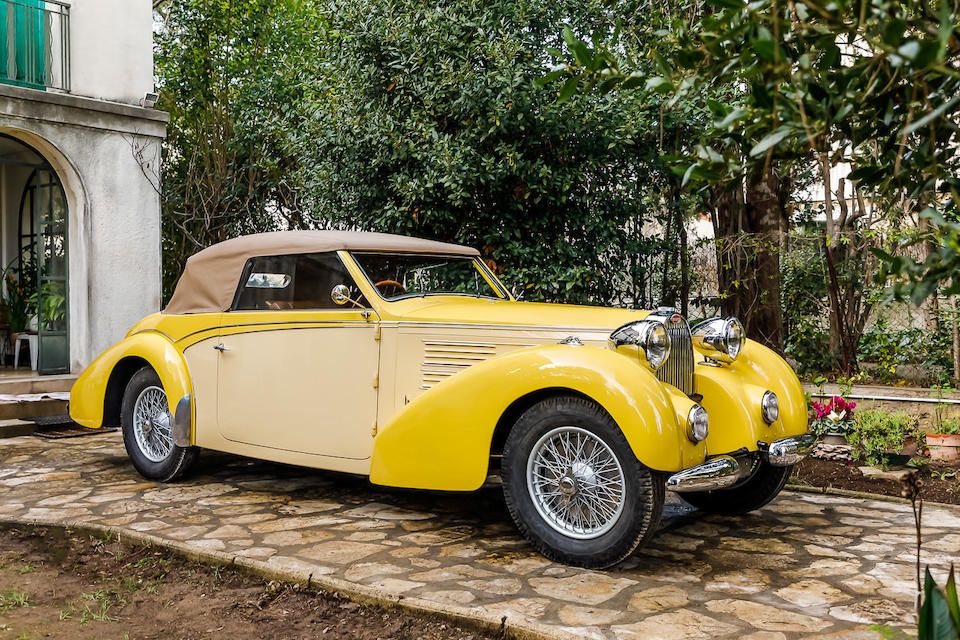 ---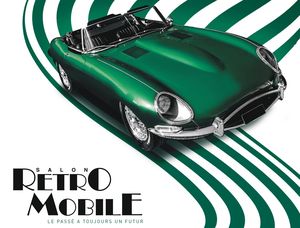 March 16 - 20, 2022 Retromobile Paris, France
After finally cancelling the 2021 edition, this one will be brilliant again, and of course with quite a few Bugattis, as usual!
The event was postponed, again, until March. Expectations are that the pandemic will then be "history", and hopefully life returns to normal.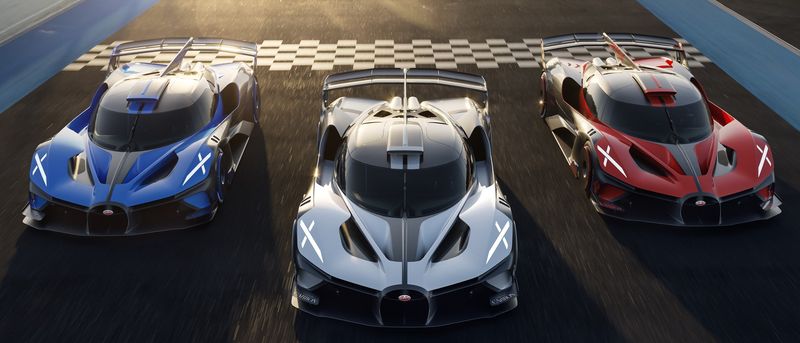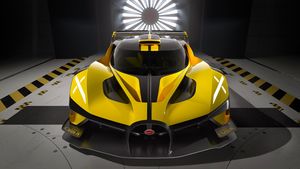 August 22, 2021

Bugatti Developing Production Version of the Bolide Experimental Hyper Sports Car

Molsheim, 13 08 2021

EXTREME, LIGHT, AND UNBELIEVABLY FAST. BUGATTI UNVEILED THE BOLIDE AS A ONE-OF-A-KIND EXPERIMENTAL VEHICLE IN OCTOBER 2020, AND WORK ON A PRODUCTION VERSION HAS NOW BEGUN.

Raw and authentic. The ultimate driving machine, the quintessence of power, lightness, and acceleration. When Bugatti presented its Bolide technological concept in fall 2020, it was initially a drivable experimental vehicle - a one-off. But now, the French luxury marque has announced at The Quail, A Motorsports Gathering in California that the Bolide1 will be produced as a few-off model.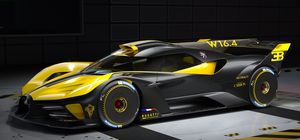 "The Bolide generated a great deal of enthusiasm and intrigue last year. Following its presentation, a significant number of enthusiasts and collectors asked us to develop the experimental Bolide as a production vehicle. I was absolutely amazed by the reactions and feedback from customers from all over the world," explains Stephan Winkelmann, President of Bugatti. "We therefore decided to make the Bolide a few-off in order to give 40 customers the opportunity to experience this incredible vehicle. Our team has now been developing a production model - the ultimate driving machine for the track." This will make the Bolide the most extreme configuration level of the legendary 8.0-liter W16 engine and a must-have for Bugatti collectors.

During its thought experiment in fall 2020, the French luxury automobile manufacturer presented the answer to the following question: What if Bugatti built a radically light vehicle around the legendary 8.0-liter W16 engine? The upshot was the experimental study of the Bugatti Bolide as a racetrack-oriented hyper sports car with a production-based W16 engine and minimal bodywork designed with maximum downforce in mind.
Presenting this engine in its purest form is the quintessence of the Bolide.
Developing Bolide around the power train
With the highly limited-edition production Bolide, Bugatti engineers and designers have created the most extreme vehicle concept ever to have been conceived around the powerful power train of the W16 engine with four turbochargers, offering the promise of the ultimate Bugatti performance kick. "For me, being able to turn the radical thought experiment of the Bolide into reality as a production vehicle is a dream come true as it is by far the most challenging project of my 17-year Bugatti career," explains Bugatti Design Director Achim Anscheidt. The design of the Bolide follows the minimalist approach of the Bugatti style philosophy of "form follows performance" and is additionally founded on an uncompromising lightweight construction approach. It pays homage to the brand's glorious motorsport past of the in the 1920s.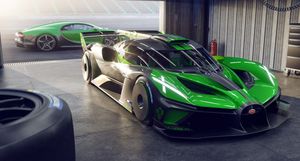 The numerous air ducts and delicate front end are more reminiscent of aerodynamically sophisticated Formula 1 cars than a hyper sports car, and they dominate its look. The Bolide sits very low to the ground, with an air intake scoop on the roof and an ultra-sporty seat position. In combination with the striking rear diffuser, the dominant rear wing results in high downforce and therefore also optimum traction. As with other Bugatti vehicles, the design team opted for a color split, although the proportion of visible carbon parts is greater than in other models.
Bugatti stands for technological innovations. With the W16 engine as a symbol of the brand's technology, Bugatti boasts one of the most extraordinary engines in automotive history. In the case of the Bolide experimental vehicle, its power output of 1,850 PS is achieved among other things thanks to 110-octane racing fuel, whereas for the production vehicle, Bugatti opted for 98 RON gas which is available worldwide, so that the owners can use their vehicles around the world without any issues. The vehicle's available power output is 1,600 PS with a torque figure of 1,600 newton meters starting at 2,250 rpm. Bugatti's engineers tuned the vehicle for higher revs per minute for use on the racetrack, alongside the intake and exhaust system to achieve even faster, more spontaneous, and extreme responsiveness. The cooling system for the turbochargers, engine, transmission, and differential are likewise modified for optimum power development.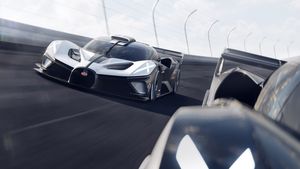 Safety standards in line with FIA rules
Bugatti's designers and engineers are currently honing the aerodynamics and handling, and are developing the Bolide in line with international FIA safety standards. To guarantee maximum safety and sufficient comfort during the pure driving experience, Bugatti has developed an array of new components. The safety features include HANS system compatibility, an automatic fire extinguishing system, pressure refueling with a fuel bladder, central wheel locking, and a six-point safety belt system.
Optimizations in the areas of design, aerodynamics, quality, and safety give the production vehicle a curb weight of just 1,450 kilograms and therefore a weight-to-power ratio of 0.9 kilograms per PS when 98 RON gas is used. "The customers' safety is always our top priority. We therefore decided to offer exclusive track days for this extreme vehicle in order to guarantee a safe environment at all times and gradually introduce the customers to the Bolide's breathtaking performance," says Stephan Winkelmann.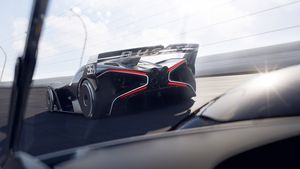 Thanks to maximum weight saving, customers will be able to experience the full power and torque of the engine – and they will love it. "We are proud to have succeeded in keeping the production vehicle so close to its technical demonstrator both visually and technically while also enhancing the design, quality, and vehicle safety," explains Stephan Winkelmann.
The new hyper sports car will be taken to production maturity over the next three years, with its delivery scheduled for 2024 at a net unit price of four million euros and limited to 40 units.
I really was waiting for this! And... The Bolide not being a car for the street, but circuits only, means that the taxes to acquire the car will be lower, nothing like the "BPM" tax as we know it in the Netherlands!
Next question; will anybody really race it (Le Mans???), or maybe Bugatti can organize specific Bolide races, not just track days?
---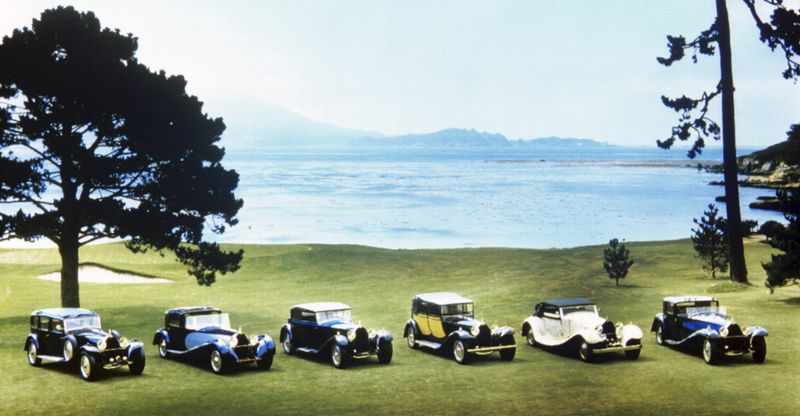 August 12, 2021

Bugatti Celebrates the 70th Anniversary of the Legendary Pebble Beach Concours d'Elegance

Molsheim, 11 08 2021

A BUGATTI MODEL WAS PRESENT AT THE FIRST EVER PEBBLE BEACH CONCOURS D'ELEGANCE IN MONTEREY, CALIFORNIA, IN 1950, AND THE ICONIC FRENCH LUXURY BRAND HOLDS A RECORD NINE 'BEST OF SHOWS' AWARDS.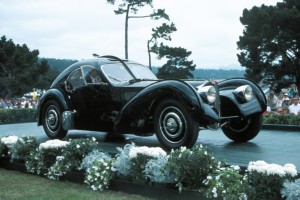 On Sunday 15th August, the Pebble Beach Concours d'Elegance will mark its 70th anniversary. Bugatti will celebrate its involvement from the very beginning with what is seen by many as the world's premier celebration of the automobile. The event was first held in 1950 when the cars were driven on a parade lap of the Pebble Beach Road Race course. One of the star cars of that initial event was a 1938 Bugatti Type 57 Coupe de Ville entered by John Edgar.
"In the early years, collector cars weren't particularly appreciated or encouraged to attend, with the emphasis placed primarily on new models," explains Pebble Beach Concours d'Elegance Chairman Sandra Button. "Things began to change in the mid-50s, when the organizers began to present their top award to classic models as opposed to new cars."
First of nine 'Best in Show' accolades for Bugatti
With the cars displayed on the 18th fairway of Pebble Beach Golf Links and the glistening Carmel Bay providing a stunning backdrop, the first outright win for the French luxury marque came in 1956. That year, the Type 37 Grand Prix car of Doctor Milton R. Roth won 'Best of Show'. Since then, Bugatti models have been present on the 18th fairway at practically every running of the concours. The marque has been awarded the highly coveted 'Best of Show' accolade more often than any other manufacturer, with a record nine wins to date.
"The Bugatti brand holds a very special place in the history of Pebble Beach. Our stories are intrinsically linked, and each year Bugatti models grace the fairway, they never fail to captivate and beguile visitors and of course, our judges," continues Button. "In fact, it is no exaggeration to say that in the Bugatti gathering in 1985 was pivotal in making Pebble Beach the international success it is today."
The event Button refers to is the breathtaking display of all six Bugatti Type 41 'Royales' at Pebble Beach in 1985 – the only time these iconic cars ever appeared together, before or since. Produced between 1926 and 1933, the Royale was a car the like of which the world had never seen. The greatest luxury automobile – a car for aristocrats and royals was how company founder Ettore Bugatti envisaged the 6.4-metre, 12.8-litre in-line eight-cylinder powered Type 41. Technically and stylistically, the opulently equipped Royale exceeded its brief with consummate ease. But unfortunately, its timing coincided with a significant global economic downturn, and as a result, just six production models were built.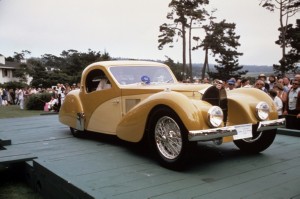 Ambitious undertaking
The highly ambitious idea of assembling all six Bugatti Royales in one place was first proposed by Chris Bock, then a member of the concours field crew and today the chief judge of the event. It was a fiendishly complicated logistical task that even involved the granting of diplomatic immunity to two of the cars by the US Government, a status usually reserved for individuals, occasionally bestowed on objects of art but never an automobile before.
"Four of the Bugatti Royales were in the US already, and the remaining two were in France," recalls Bock. "They had been part of the Schlumpf brothers' car collection in Mulhouse, which had been taken over by the French Government and placed under the care of the French National Automobile Museum Association. But the museum was worried that if the cars left French soil, the Schlumpf brothers might attempt a legal move to seize the cars back."
Even with diplomatic immunity granted, there were still significant hurdles to overcome. The typical cargo flight from France refueled in Canada, which the US grant of diplomatic immunity would not have covered, so special flights had to be arranged with Air France from Paris direct to Los Angeles. The French museum stipulated that each car be transported on a separate aircraft and then on a different truck to minimize risk. The transport cost around €85,000 in 1985, which was paid for by car collectors, judges, officials, and friends of the concours, such was the enthusiasm to see the legendary Bugatti models at Pebble Beach.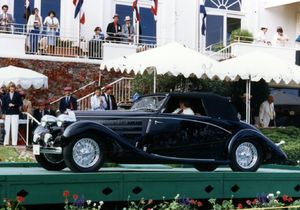 Two other Royales came from the William F. Harrah collection in Reno and a fifth from the Henry Ford Museum in Dearborn in Michigan. "That car has been donated to the museum by a former GM executive, Charles Chayne," explains Bock. "Chayne came across the car in a junkyard in Long Island, where it had ended up after a cold New York winter cracked the engine block, and bought it for a few hundred dollars."
"The concours is a complicated show to put on because it's essentially on a golf course sitting in a residential neighborhood," continues Bock. "We had put a lot of care into arranging storage for the Royales in the garages of private homes adjacent to the lodge. Then a guy arrived with the sixth Royale, which belonged to Briggs Cunningham. He'd towed it on an open trailer with a Ford F250 pick-up truck. He said: 'Oh, it'll be fine, we'll just throw a tarp over it,' while everyone else was running around hyperventilating."
Once-in-a-lifetime event
Enthusiasts travelled from all over the globe to see the six Royales at Pebble Beach. The lawn where the cars were displayed, which is now the event's concept car lawn, was constantly mobbed with spectators, Bock recalls. "There was just a throng of people around those cars. It was mobbed, and it stayed that way all day long. It was just a huge turning point for the event. It put Pebble Beach on the map with the international automotive press and car collectors all around the globe, plus it spawned the Pebble Beach Automotive Week."
Bugatti models provided many more spell-binding moments at Pebble Beach over the years, including Ralph Lauren winning 'Best of Show' with his Type 57SC Atlantic in 1990. In 2003 Ralph Lauren's car was reunited with the similar Type 57SC from the Mullin Collection. In 2019, all four Bugatti Type 59 Grand Prix cars were brought together for the first time since 1934.
A spectacle to behold
The 70th running of the Concours will feature a special exhibition of Best of Show Winners, including several Bugattis, many of which are in contention to collect awards. Summoning up the luxury French marque's appeal, Chris Bock says: "Bugatti automobiles are such a perfect blend of engineering, style and rarity. Every mechanical component is created with a designer's eye as well as an engineer's eye. They really are works of art."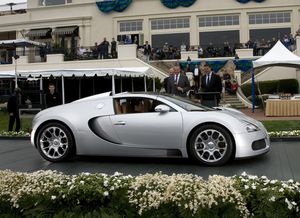 Bugatti, as a modern company, has also enjoyed a highly successful relationship with the Pebble Beach Concours. President of Bugatti Automobiles Stephan Winkelmann and Bugatti Design Director Achim Anscheidt have served on the judging panel on several occasions. The company has also chosen the exclusive venue to present contemporary models to customers, selected guests, and the world's press.
The Bugatti Veyron 16.4 Grand Sport celebrated its world premiere at Pebble Beach on the eve of the Concours d'Elegance in 2008. The car was sold at the Pebble Beach Auction presented by Gooding & Company. It achieved a price of $2.9 million (before buyer's premium), bringing in $900,000 over the car's retail price, all of which Bugatti donated to the Pebble Beach Company Foundation charity, which has raised around €30 million for charities over the years. More recently, in 2019, Bugatti showcased the Centodieci special edition at Monterey Car Week, an extraordinarily created homage to the legendary Bugatti EB110.
"Enthusiasts regard the Pebble Beach Concours d'Elegance as the greatest celebration of the automobile in the world, and rightly so," states President of Bugatti Automobiles Stephan Winkelmann. "We at Bugatti are immensely proud that our association with the concours reaches back to the very first event in 1950 and tremendously honoured to have been awarded the greatest number of 'Best in Show' accolades over the past 70 years. The event always provides the perfect setting for us to engage with our customers and make new friends each year. We look forward to continuing our special relationship with Pebble Beach Concours d'Elegance into the future."
List of Bugatti Pebble Beach Concours elegance 'Best of Show' Awards:
| | | |
| --- | --- | --- |
| YEAR | CAR | ENTRANT |
| 1956 | 1930 Bugatti Type 37 Grand Prix | Dr. Milton R. Roth |
| 1959 | 1939 Bugatti Type 57C Gangloff Atalante Coupe | J.B. Nethercutt |
| 1964 | 1932 Bugatti Type 50 Coupe Profile | William Harrah |
| 1966 | 1931 Bugatti Type 41 Royale Binder Coupe de Ville | William Harrah |
| 1976 | 1937 Bugatti Type 57SC Atalante Coupe | William Harrah |
| 1985 | 1939 Bugatti Type 57 Saoutchik Cabriolet | Jack Becronis |
| 1990 | 1938 Bugatti Type 57SC Atlantic | Ralph Lauren |
| 1998 | 1938 Bugatti Type 57SC Corsica Roadster | John Mozart |
| 2003 | 1936 Bugatti Type 57SC Atlantic | Peter D. Williamson |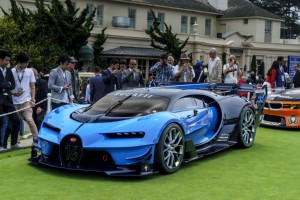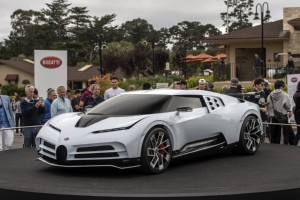 ---
August 7, 2021

And the name for the next Bugatti will be.....

We found a secret in the files of the German Trademark Office.

There is no such thing as an "ordinary" Bugatti, but some of the company's creations are more special than others...
Take the example of La Voiture Noire; it was built in one piece for $ 18 million as a tribute to the black Type 57 SC Atlantic by Jean Bugatti (son of Ettore Bugatti). Naming a unique piece after Jean's car is a great tribute, but an upcoming model could do him an even greater honor.

Bugatti recently registered the name "Jean Bugatti" with the DPMA in Germany on July 29, 2021. It may seem odd that an automobile manufacturer registers the name of its founder's son, but it is not if it will be attached to a future model of the marque.

Source: GS, France
---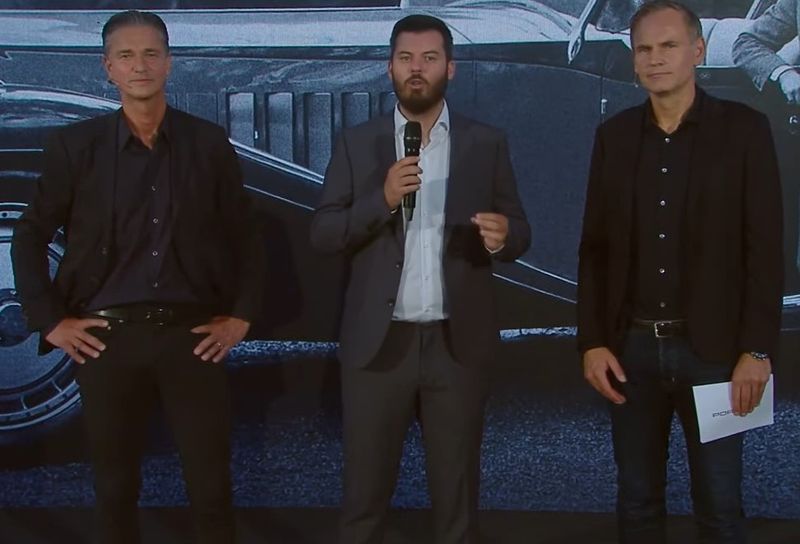 July 17, 2021

Mate Rimac on Bugatti: The future is frugal

What will be the future at Bugatti, will be the hybrid and electric automobiles, according to Rimac, and not even of the extraordinary kind. Bugatti will end up producing cars which will be more approachable, less powerful and at a higher production volume, he declared. This is an extraordinary decision for a brand which has made a name as an extreme elite, selling the fastest, the most expensive, and the most beautiful in the world. "For us, it is a matter of surviving as a company on the long term", declared Rimac during the visioconference. "We want to make the company financially independent, profitable and with a return on investment. We want to do so by putting the emphasis on efficiency." Rimac called the evolution natural, saying he would not "artificially separate" Bugatti and Rimac as individual brands within the new company if they merged beyond recognition over the next several years. "They might need to converge," he said.

Over the past week we heard nothing about poor old Stephan Winkelmann, who of course already had moved to Lamborghini, so VW could keep him within the Volkswagen group. Mr. Winkelmann's departure from Bugatti has now been officially declared.

Thus, we will see smaller Bugatti's, less expensive, and less exclusive. The current Chiron orders will be fulfilled, which will probably be the end of the large VR16 engine with 1600HP. I really doubt if Bugatti, out of the VW group, will be able to develop an all new smaller engine of it's own. A downsized 8-liter 16-cylinder to a 4-liter 8-cylinder may be the most logical choice. That will at least be far better than mating the hybrid system with an engine bought somewhere else.... Editor

A question: Can an electric car reach 300 MPH before the battery's are dead?

Road and Track had the following plea in an article titled "Mate Rimac Has to Figure Out the Future of Bugatti":
"So a note to Mate Rimac: You now control a company that has actually produced vehicles and delivered them to actual customers. It won't be enough to merely do development or build speculative prototypes. You control something that carries forward a glorious heritage and outrageous ambition. Please don't screw it up."
---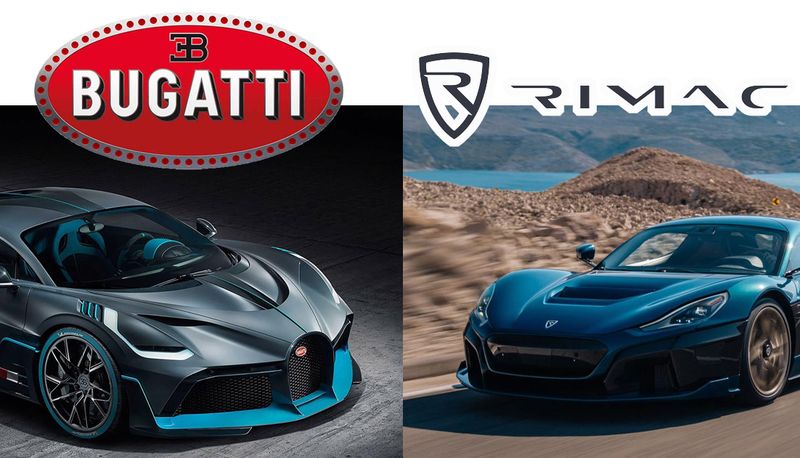 July 11, 2021

Bugatti - Rimac, what will it bring ?

As expected, Volkswagen will not continue it's ownership of Bugatti SAS. It will be owned jointly by Rimac and Porsche, with Rimac owning the larger share, though Porsche actually owns about 25% of Rimac, thus in the end has the largest share of Bugatti. Bugatti will be part of the new joint venture Bugatti Rimac.

Thus; what will change? As we know, Bugattis were only assembled in the Atelier in Molsheim, none of the parts were actually made there, most of those were made in VW-factories in Germany, or other suppliers, mostly in Germany also. Development was done in the VW headquarters in Wolfsburg, hence the German WOB-license plates of many of the prototype Bugattis.

Of course; most production contracts will continue, probably the first to be moved is the development center. if this will go to Porsche, to Rimac in Croatia or somewhere else (Molsheim? They do not have the engineers in Molsheim I guess) remains to be seen.

Engineering in Croatia focusses on electrically driven Vehicles, Mate Rimac states that even in this decennium there will be an all electric Bugatti. However, Bugatti will continue to produce automobiles powered by an internal combustion engine, which will be some sort of Hybrid though.

That Rimac, though still a very little-known company, is seriously investing can be seen in the Rimac campus which is currently under construction at a price tag of 200 million euro. This will house both Rimac Technology and Bugatti Rimac — Croatia, and may just become a new automotive epicenter.

There are also rumours that Bugatti will expand it's range of automobiles from just hypercars. Thus: let's see what happens, all predictions are difficult, especially when they concern the future...
---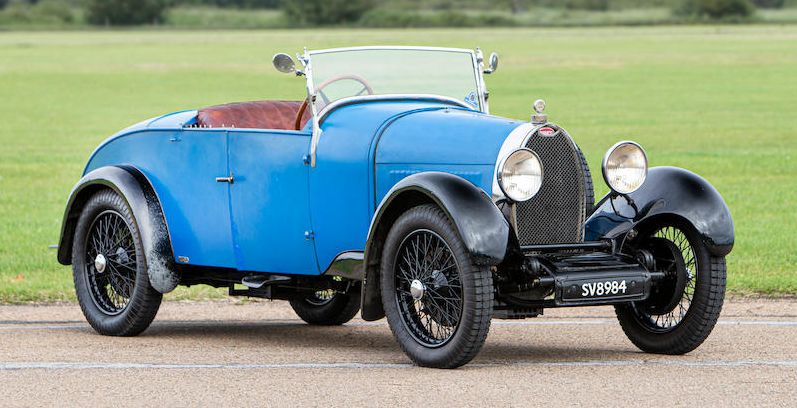 July 10, 2021

Auction results

Bonhams' Goodwood Festival of Speed auction, July 9, 2021
1930 Bugatti Type 49 open tourer, Chassis no. BC149, Estimate: £200,000 - 250,000 (€230,000 - 290,000): Not sold
1928 Bugatti Type 40 Torpedo sports, Chassis no. 40557 Engine no. 495, Estimate: £200,000 - 250,000 (€230,000 - 290,000): Not sold
Original Bugatti Type 49 gearbox, Estimate: £4,000 - 6,000 (€4,700 - 7,000): Sold for £6,900 (€8,045) inc. premium
1977 Bugatti Type 35 Child's car by Tula engineering Chassis Number 25: Sold for £ 10,200 (€ 11,893) inc. premium
---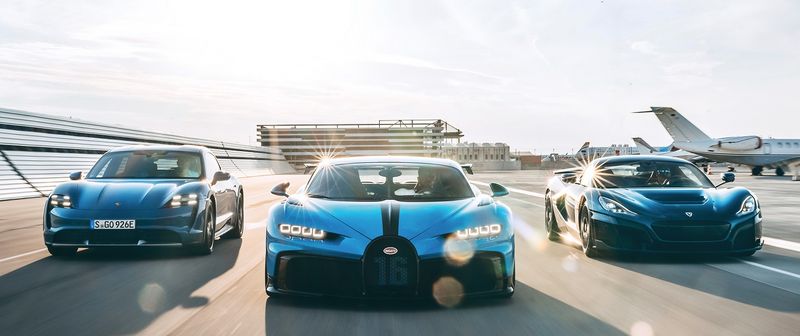 July 5, 2021

Bugatti will be taken over bij Rimac and Porsche

PORSCHE AND RIMAC AUTOMOBILI HAVE AGREED TO SET UP THE JOINT VENTURE BUGATTI RIMAC.

Today, Porsche and Rimac Automobili have finalized the plans to establish a new joint venture including Bugatti, named Bugatti Rimac. The two companies' CEOs Oliver Blume and Mate Rimac signed the relevant contracts, establishing the share split in Bugatti Rimac with 55 percent being held by Rimac Automobili and 45 percent by Porsche (which holds 24% in Rimac). The formation of the joint company is due to take place in the fourth quarter of 2021, subject to the approval of antitrust authorities in several countries. Bugatti will be brought into the joint company by current owner Volkswagen and the shares will then be transferred to Porsche. The new company Bugatti Rimac combines the genes of both strong brands. Together they form an attractive automotive company, for customers as well as for employees.

Bugatti Automobiles S.A.S. will remain at its historic headquarters in Molsheim, France, where it was founded in 1909 Not the same company as it is now, though.. The real descendant of Bugatti is making aircraft undercarriages a km or so down the road, ED.. Bugatti has always stood at the pinnacle of the automotive industry, exceeding the dreams of its customers and enthusiasts around the globe. With its long tradition and experience, Bugatti is a strong contributor to Bugatti Rimac, bringing in all of its know-how in manufacture and craftsmanship, carbon fiber and other lightweight materials, small series production, as well as a unique and experienced network of worldwide dealership partners.

Porsche and Rimac Automobili are the perfect partners to accompany Bugatti into the future. Porsche entered into a fruitful partnership with Rimac Automobili as early as 2018, subsequently increasing its shares in the young, agile and fast-paced Croatian automotive and technology company. Today, Porsche holds a 24 percent share in Rimac Automobili. Porsche itself is known as a leading sports car manufacturer from Stuttgart, Germany, having been the most profitable company within the Volkswagen Group. Rimac Automobili on the other hand has established itself as an industry pioneer in electric technologies, both as a technology supplier as well as an electric hypercar manufacturer with recent the launch of the new Rimac Nevera.

Oliver Blume, Chairman of the Executive Board at Porsche AG: "We are combining Bugatti's strong expertise in the hyper sports car business with Rimac's tremendous innovative strength in the highly promising field of electric mobility. Bugatti is contributing a tradition-rich brand, iconic products, unique quality standards and craftsmanship, a loyal customer base and a global dealer network to the joint venture. In addition to technology, Rimac is contributing new development and organizational approaches."

Mate Rimac, founder and CEO of Rimac Automobili: "This is a truly exciting moment in the short, yet rapidly expanding history of Rimac Automobili and this new venture takes things to a completely new level. I have always loved cars and can see at Bugatti where passion for cars can take you to. I can't begin to tell you how excited I am by the potential of these two brands combining knowledge, technologies and values to create some truly special projects in the future."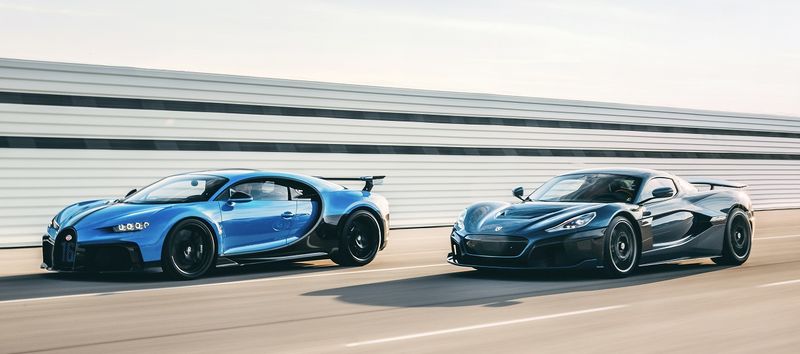 ---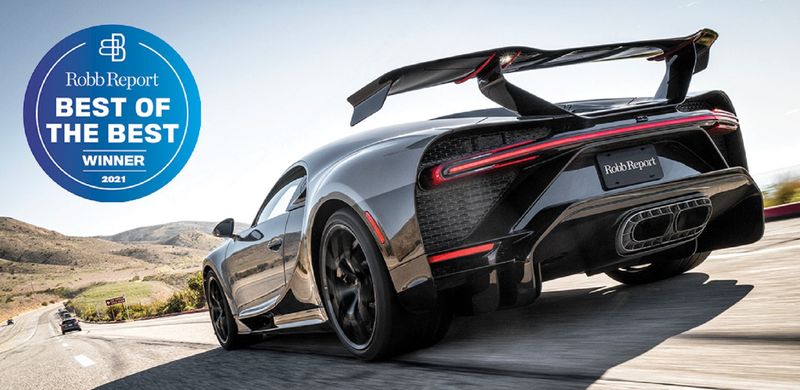 June 24, 2021

Bugatti Chiron Pur Sport Named Robb Report's Best Hypercar for 2021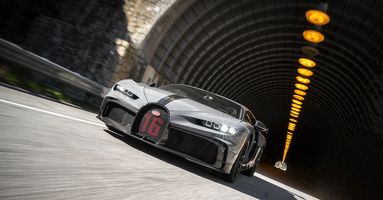 Molsheim 23 06 2021
After extensive reviews of the most elite automobiles in the world, the Bugatti Chiron Pur Sport was selected as Robb Report's "Best Hypercar for 2021."
Designed for agility, the Pur Sport has been widely celebrated for its ability to apply the brute power of the Chiron's 16-cyclinder, 1500 horsepower engine to unlock a new dimension of dynamic cornering and tangible performance throughout its entire range of speed.
We're only halfway 2021... Maybe one of the competitors will launch an even better hypercar before the end of the year?... Not probable.
---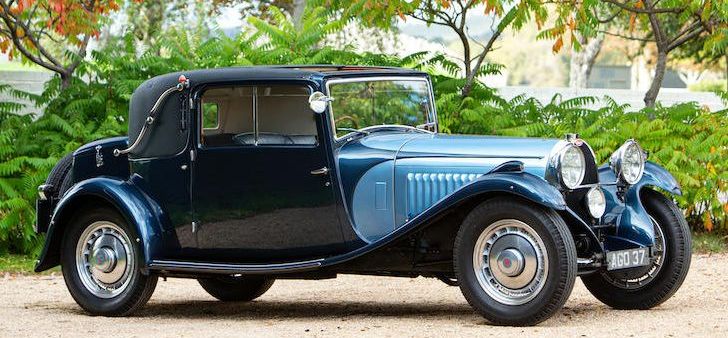 December 4, 2021 Bonhams Auction, The Bond Street Sale London, UK
1933 Bugatti Type 46S Two-door coupé By James Young, Chassis n° 46587, Engine n° 16S, Estimate £ 350,000 - 500,000 (€ 410,000 - 590,000)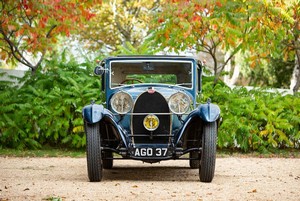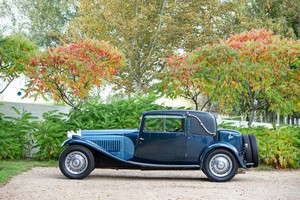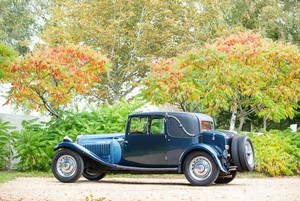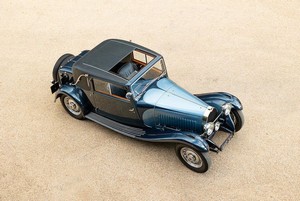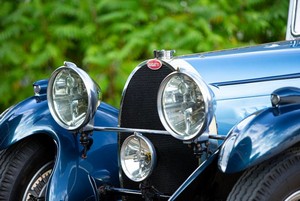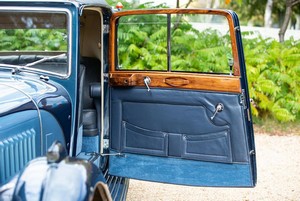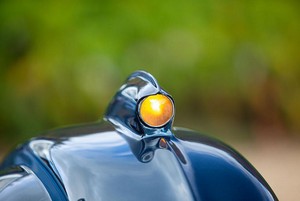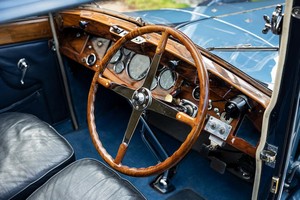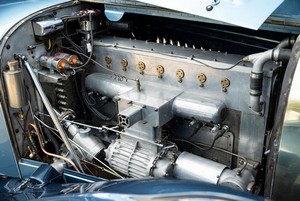 More info
---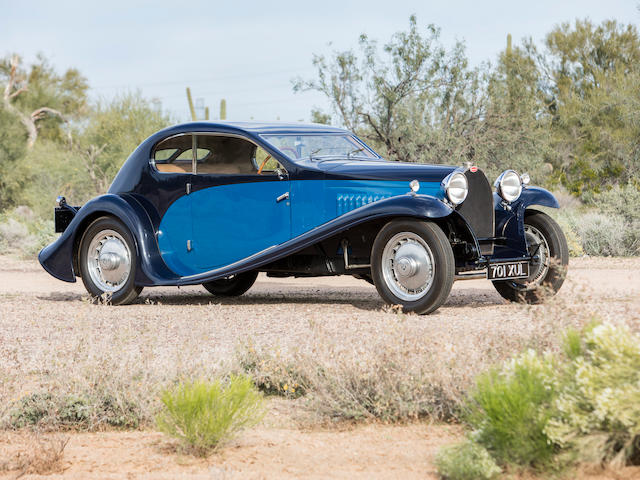 June 22, 2021

Auctions results

RM Sotheby's Milan auction, June 15, 2021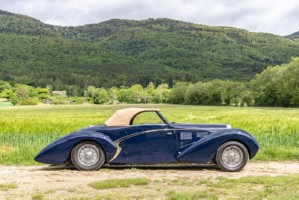 1931 Bugatti Type 46 Coupé 'Superprofilée', Chassis No. 46491, Engine No. 345
Estimate: €500,000 - €700,000, Sold for €545,000
Bonhams' Bonmont Sale - Collector's Motor Car, June 20, 2021
1933 Type 49 Roadster, Chassis no. 49562, Engine no. 49116-L19
Estimate: € 230,000 - 320,000: Withdrawn
1939 Type 57C 'Aravis' cabriolet, Chassis no. 57815 Engine no. 85C
Estimate: € 640,000 - 910,000: Sold for €734,891 inc. premium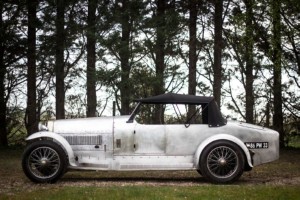 Osenat Automobiles de Collection auction, June 21, 2021
1926 Bugatti Type 35 A, Chassis no. 4627R
Estimate: €300,000 - 400,000: Sold for €252,000 inc. premium
1926 Bugatti Type 38, Chassis no. 38325
Estimate: €300,000 - 400,000: Sold for €246,000 inc. premium
---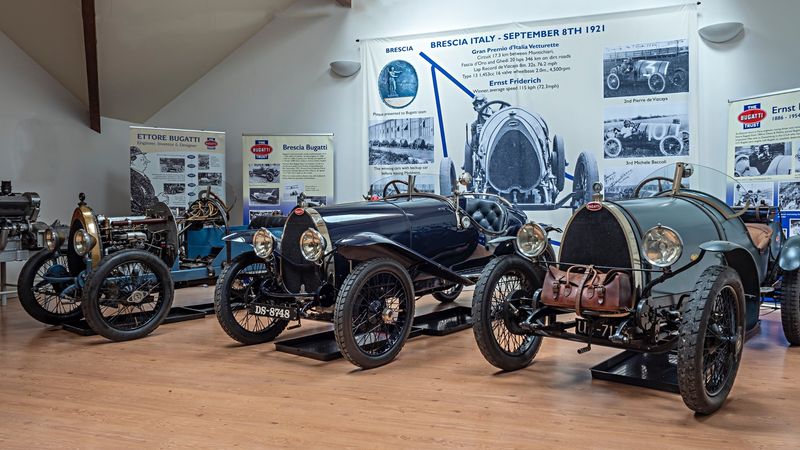 November 12 - 14, 2021 Lancaster Insurance Classic Motor Show with discovery+ NEC Birmingham, UK
The NEC Classic Motor Show returns for the first time since 2019.

Make sure to visit Hall 1 Stand Number 630: A celebration of vintage Bugattis with some surprises premiering at the show:

A century of the Bugatti Brescia
Bugatti scooped the top four spots in the Gran Premio d'Italia Vetturette race in Brescia, Italy, on 8 September 1921, with a four-cylinder model called the Type 13 – thereafter this, and its longer wheelbase derivatives, became known as Brescias.

Driving that winning car was Ernst Friderich (pictured) and this rare gathering of Brescias at the NEC will be a memorable sight.
---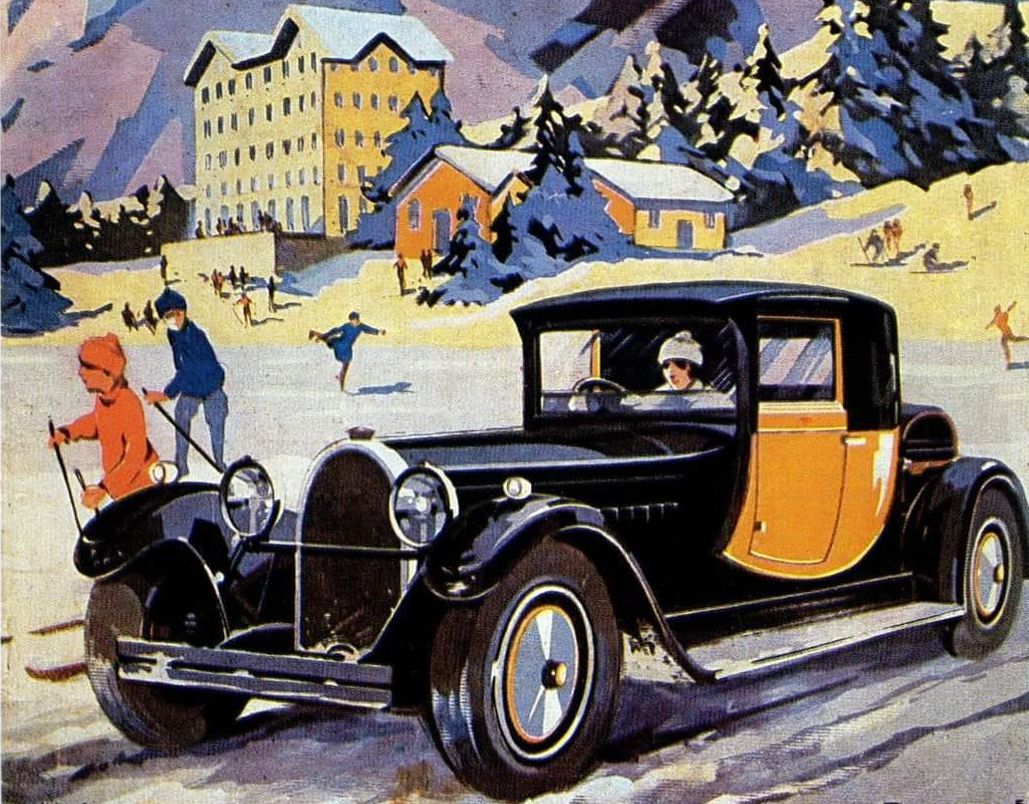 Bugatti on the cover of Omnia (click the image to see it completely), French magazine, february 1929.
This appears to be a T44, though I thought at first it might be the Royale Fiacre Coupé.
---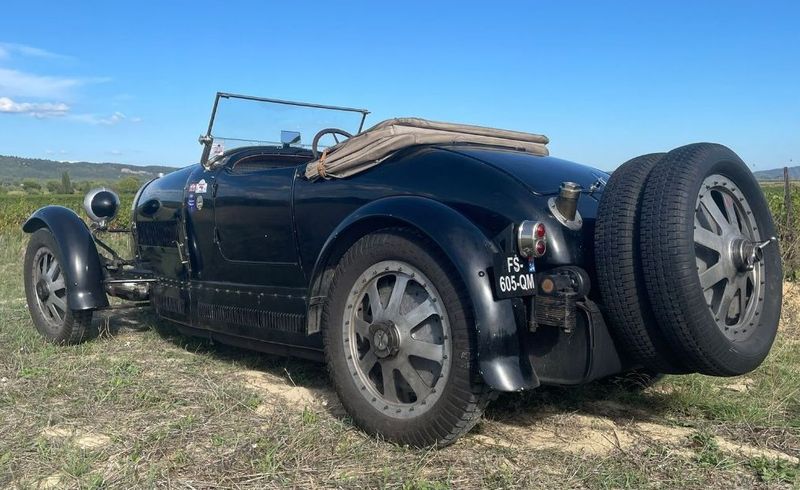 November 7, 2021 Artcurial Auction, SALON ÉPOQU'AUTO - AUTOMOBILES DE COLLECTION France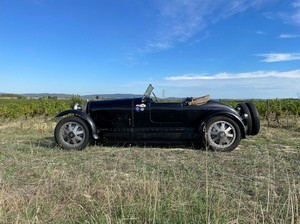 2000 Bugatti T43A Roadster Pur Sang replica, Châssis n° "43260", Estimate 250000 - 350000 €
Various Bugatti Parts
Various Bugatti books and documentations
The Bugatti T43 A we present to you came out of the Argentinean Pur-Sang factories in the early 2000s. It is therefore already about 20 years old. This Argentinean factory has been specialised for several decades in the recreation of legendary pre-war models. The model we present to you has the particularity of having a registration card with the serial number 43260, which corresponds to a Bugatti 43 model. One must take into consideration the work involved in recreating a pre-war car from scratch, most often using the same techniques as those used in the Molsheim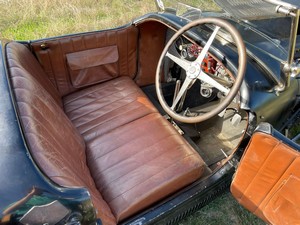 factory nearly 100 years ago. This makes it possible, for a "reasonable" budget, to enjoy these excellent cars and to share the road with the more expensive ones that were born in the factory. In the 1920s, this type of car was only available to a very small circle of privileged people. To own a Bugatti 43 in 1929 in France was quite simply to have the fastest sports car in France.
The bodywork of this Roadster is an original Argentine thoroughbred design and not a copy of the factory bodywork. Bugatti "Matching Numbers" fans will have to admit it, it dresses the 43 chassis to perfection. Please note that the soft top will have to be replaced.
The car was serviced by Bugatti specialist Frédéric Novo just before its purchase in 2017. It has participated in several events, including some of d the Club Bugatti France for a total of about 4000km driven without any problems thanks to a rigorous maintenance by its owner (new dynamo, gearbox revision,...)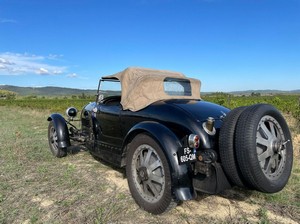 Our visual inspection showed that the car is in good condition and regularly maintained. The owner recently did a rally in the south of France and told us that the car was running perfectly. We took the passenger seat for a few kilometres and the car behaved well, the gears shift well, the acceleration of the compressed 8-cylinder engine is strong and you can feel that it just wants to go higher in the rpm. Braking is efficient thanks to new brake linings. Oil pressure and water temperature are stable and at recommended values.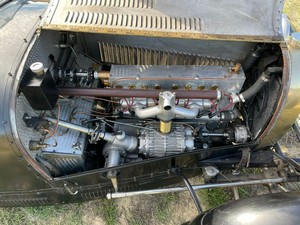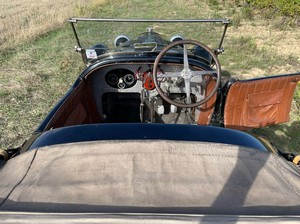 ---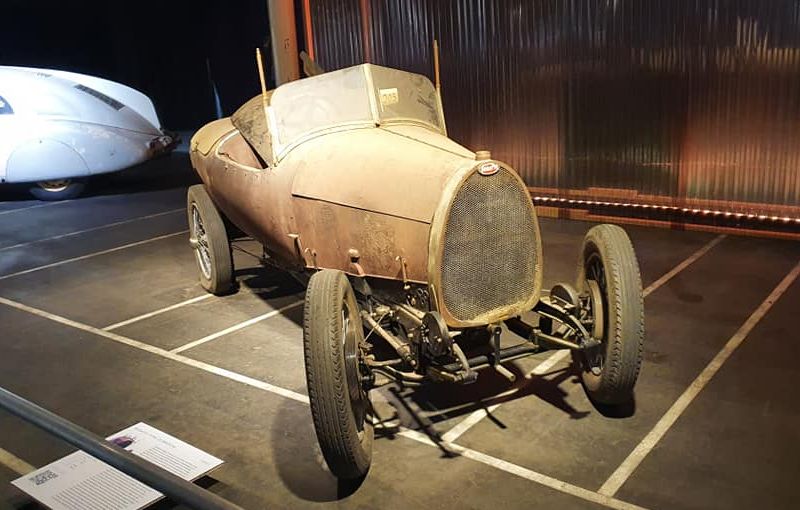 Until October 31 Mahy - A Family of Cars - exposition Gent, Belgium
Including a very original Bugatti Brescia.
---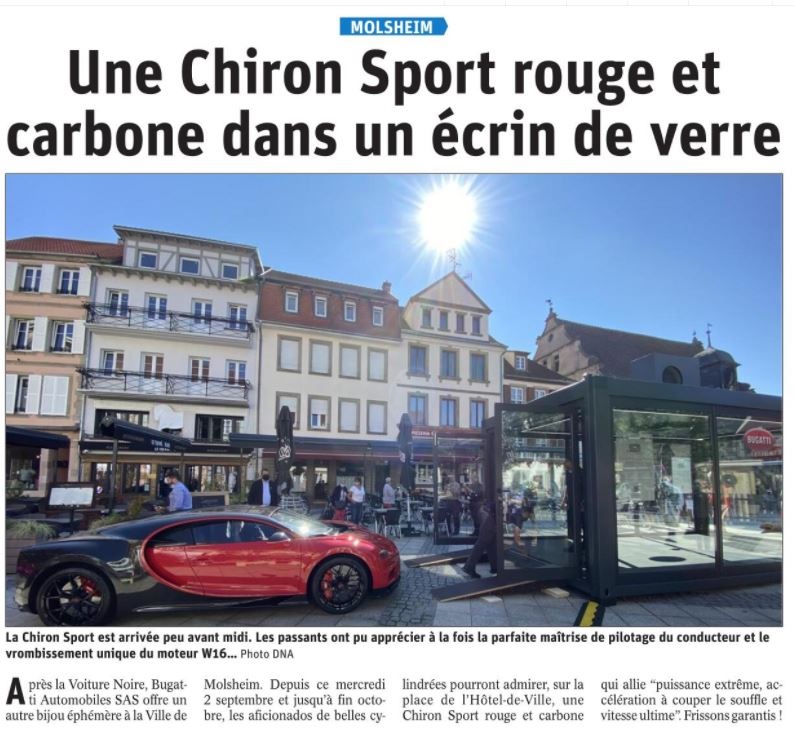 September 2 - End of October, 2021 Bugatti Chiron Sport on display in Molsheim Molsheim, France
---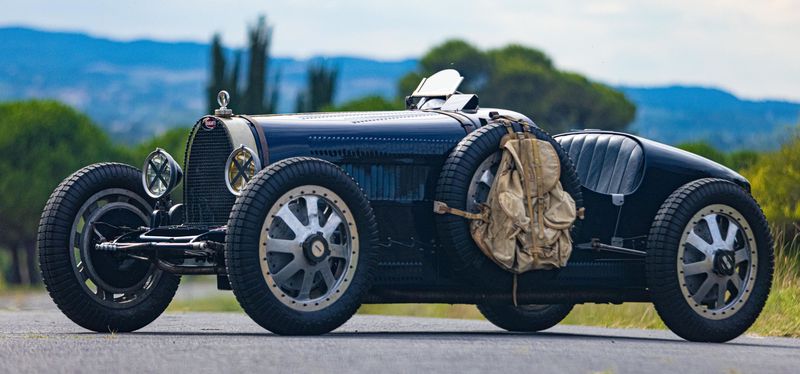 October 24, 2021 Artcurial Auction, Automobiles sur les Champs France
2005 Pur Sang 35B Bugatti replica, Châssis n° BO318, Estimate 180 000 - 220 000 €
- Very realistic and correct replica of an iconic model
- Perfect to race on track, used recently for major events
- Fitted with a period correct Scintilla Magneto
---
October 31, 2021 Herbette Auction, Automobiles de collection et de Prestige France
1931 Bugatti T49 Torpedo 4-seater, chassis 49125, Estimate € 350,000 - 400,000
This vehicle left the Bugatti factory at the end of 1930 with a sedan body (drawing number 950) and was delivered to Bucar, the Bugatti importer in Zürich, Switzerland.
It was registered ZH 25673 in the name of Hermann HARDMEIER (Chemist, living in Dübendorf) in the 1950s.
It then reappeared in the early 90's, in a chassis, through the English seller Charles HOWARD. The rest of the story is written in our beloved town of Le Touquet-Paris-Plage: A rich French boss was looking for a vehicle for the wedding of his daughter. Having a villa in Le Touquet-Paris-Plage, Mr. D. knew the Quételart family, whose two generations of architects have produced some of the most beautiful villas in typical Touquet-style. Louis Quételart, a Bugatti collector, was appointed project manager. His mission was to find a Bugatti touring car large enough to drive the bride. He opted for a Type 49 chassis. The mechanics were assigned to Laurent Rondoni of Carpentras (Ventoux Moteurs Ingénierie). The chassis was then sent to Dominique Tessier's workshop in Chambray- lès-Tours, who specialises in the restoration of classic cars.
The car was registered under the number 2234 QR 62 in 1994. Louis Quételart's young son, Louis-Richard, drove the bride without any mechanical problems. Two years later, the car had not yet found another opportunity to run and the father of the bride asked his friend, Louis Quételart, to sell the vehicle.
It was moved to the garages of the trader Edgar Bensoussan (British Motors). It is there that a trader bought it in 1999 before selling it to Pierre Feidt, a Bugatti collector and enthusiast. The Type 49 was registered (49 ZC 67) in his name on September 23, 1999.
This Bugatti Type 49 is beautifully presented inside and out, with a high-quality beige full grain leather, a blond walnut dashboard, a black alpaca hood, a body made of aluminium and ash wood, and a beautiful midnight blue color. The current owner asked BUGATELIER (Christian SCHANN) to perform checks on the car and make it more reliable. Several detailed invoices are provided (02/2019, 12/2020, 02/2021, 03/2021, 04/2021).
This Bugatti Type 49 is ready to hit the road to take you on the most beautiful historic rallies. Included with the car are an expertise carried out by an accredited professional, as wells as French registration document of a collection car ("Carte grise"), updated.
This Bugatti was auctioned by Osenat Auction in June 2018, and then sold for €276,000
---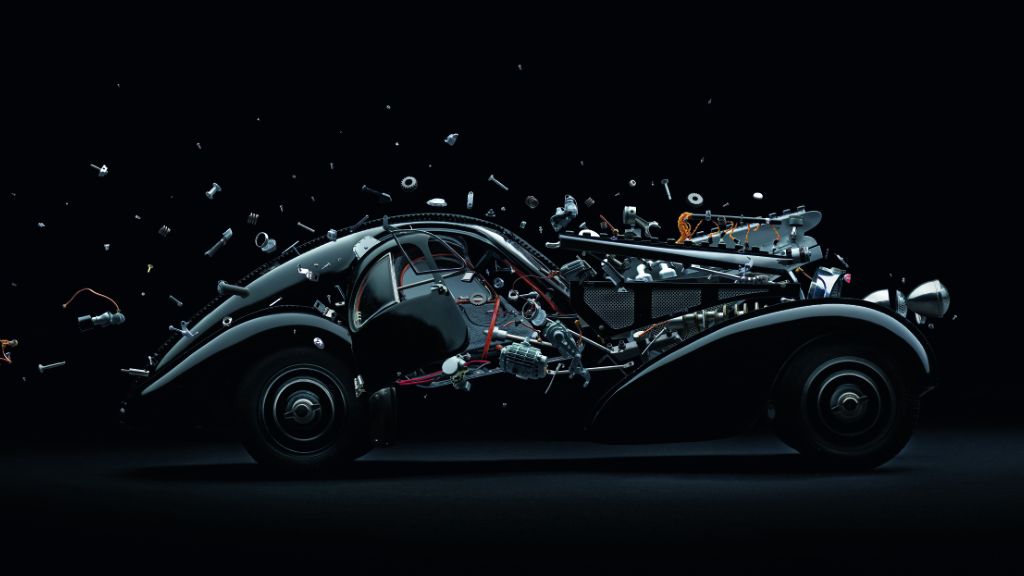 Disintegrating Bugatti 57SC
By Fabian Oefner, 2016
---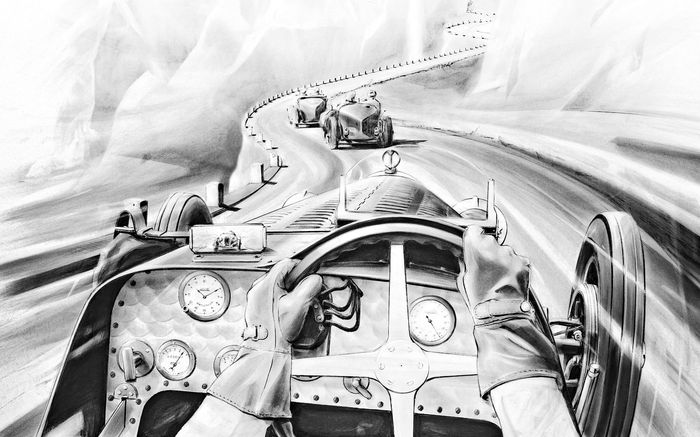 September 27 to October 3 International Bugatti Meeting Germany 2021 Bavarian Alps, Germany
Before the IBM, there will be the Prologue "Crossing the Alpes", from September 24 - 26
From the organisation:
"Dear Bugatti friends, more than half of an incredibly eventful year is already behind us and yet we still have the feeling of stepping on the spot and not really making any progress. The world, our life as we knew it, has gone off the rails. The virus, which does not stop at any borders, means for each of us a hitherto unfelt insecurity and fear – the fear of what may happen to us personally, to our family, to our friends and their family.
Certainly none of us has ever experienced such a crisis, and we in the Bugatti community will only be able to overcome it all together and then go back into a positive future with renewed strength.
However, it is also a reality that nothing can be properly assessed, that it is difficult to make binding plans. And yet we would like to invite you to the "International Bugatti Meeting Germany 2021". We can assure that we will continue to work hard and with dedication to ensure that the international community of Bugatti enthusiasts will be able to welcome you in Bavaria next year as planned."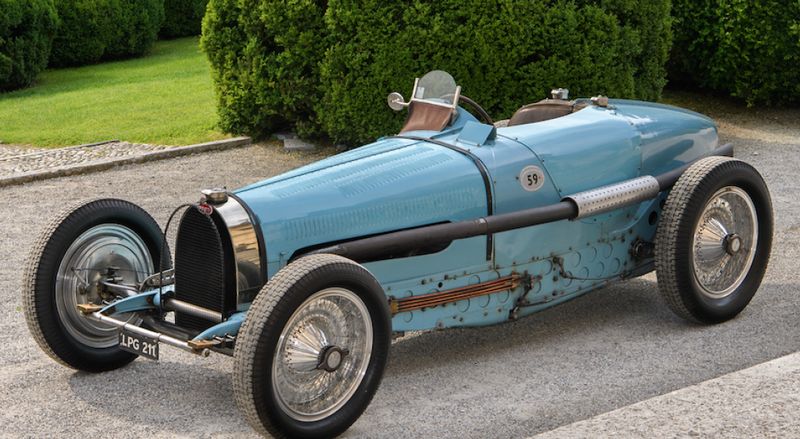 September 3-5, 2021 Hampton Court Palace Concours of Elegance UK
Concours of Elegance returns to the spectacular grounds of Hampton Court Palace this week on 3-5 September 2021 for its 10th edition, promising an array of classic delights across its three days.

Its early September date meant it was able to run in 2020, but expect a bigger affair this year with around 1000 cars taking part – as well as some new-for-2021 features.

The above 1934 Bugatti Type 59 is one of just 12 chassis built and is surely one of the most sought-after pre-war racing cars, and this week it will feature in the main concours at Hampton Court Palace, according to Classic & Sportscar
---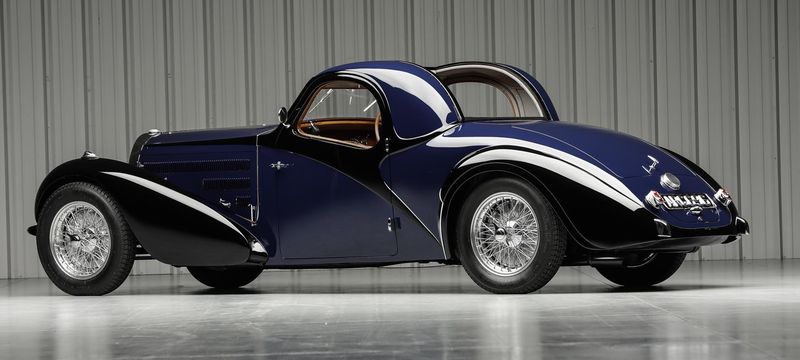 September 3/4, 2021 Worldwide Auctioneers Auburn auction Auburn, USA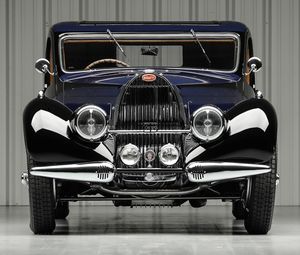 1938 Bugatti Type 57C Atalante Coupe
Chassis No. 57659, "57641", Engine No. "474"
Coachwork by Gangloff
A rare Bugatti with early Atalante coachwork featuring a "roll-top" sliding roof
Extensively documented by renowned Bugatti historian, David Sewell
Resided in significant French collections, Henri Novo as well as Michel Seydoux, of Schlumberger fame
Recipient of a painstakingly correct, frame-up restoration
Best in Class at 2016 Pebble Beach Concours d'Elegance
3,257cc DOHC inline eight-cylinder engine, supercharger, Stromberg twin-choke updraft carburetor, 160 HP at 4500 RPM, four-speed manual gearbox, beam-front axle with semi-elliptic leaf springs, live rear axle with reversed quarter-elliptic leaf springs, front and rear De Ram shock absorbers, four-wheel hydraulic finned drum brakes; wheelbase: 117.3"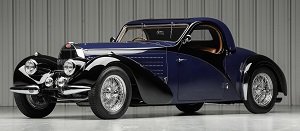 A classic Bugatti is truly a bespoke automobile in a world where that word gets thrown around with reckless abandon. To put it simply, Bugattis are handmade, thoughtfully crafted works of art and function with incredibly limited production. Bugatti remains true to this legacy today, but the zenith of the marque's pre-war history, the Type 57, is an object lesson in what bespoke truly means. This exceedingly rare Bugatti Type 57C Atalante defines the custom-tailored artisanship of the brand's glory days with more style and panache than practically any of its peers.

When the Bugatti Type 57 first hit the pavement back in 1934, there was simply nothing that could compare to it. Designed by founder Ettore Bugatti's son, Jean, the Type 57 captured the swanky allure of Art Deco styling with vast curving lines that concluded in sharp, striking angles. The family's jaw-droppingly stunning design should come as no surprise considering the family's lineage. Le Patron, Ettore Bugatti, was the son of an innovative art nouveau furniture designer in Italy before he started changing the face of European racing and the look of a sportscar for the next generation. Car makers across Europe and the United States would attempt to recreate the captivating style penned in the antiseptically clean Bugatti atelier for more than a decade. As its predecessors that came before, the Type 57 was the ultimate combination of style and speed, and 1936 ushered in more improvements including revised engine mounts, redesigned exhaust manifold, a modified crankcase with provision for supercharger mounting as well as De Ram self-adjusting shock absorbers and a new dashboard with larger and striking dual instruments.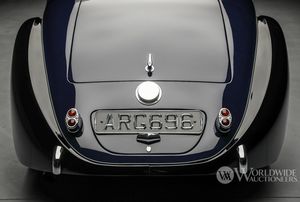 Outside of looks, the car was an undeniable success on the track. Type 57 was the foundation for Bugatti's race cars that captured victories at 24 Hours of Le Mans in 1937 and 1939 as well as numerous world records starting in 1936. Only 710 Bugatti Type 57 automobiles were produced from 1934 through 1940, including a variety of sedans, coaches as well as coupés. The most desirable and rare Type 57, amidst all its variations, was the Atalante Coupé. Coachwork on these rare coupés was incredibly intricate and represented the finest attention to detail and styling Bugatti had to offer. The coachwork on the Atalante was done in the Molsheim Bugatti factory as well as Gangloff Coachworks in nearby Colmar. Jean Bugatti's long, low, and voluptuous design was, and still is, one of the most beautiful cars the marque ever designed. It was just as impressive on the straightaway; the Atalante reportedly could top out just north of 120 miles per hour when most cars of its time averaged around 50. Only 37 Atalantes were produced between 1937 and 1939, with very few of them featuring "roll-back" roofs - like this one.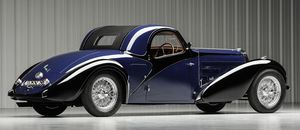 Chassis number 57641 is a Type 57C, Series 2 that carries a history as intriguing as the complex region of Alsace where it was conceived. This stunning car has resided in more than one prominent garage and has been written of extensively by the noted Bugatti historian, David Sewell. Bugatti factory records invoiced this car for direct delivery on November 15, to Monsieur Baptifaut of France. In May of 1951, Chassis 57641 then passed into the Joussy family who showed the car at concours and even participated at the Corsica Trials on multiple occasions between 1938 and 1958. During the Joussy family's ownership, the car was cited in, "The Bugatti Book," which was published in 1954 to commemorate the 25th anniversary of the Bugatti Owner's Club. By 1960, chassis 57641 belonged to serious Parisian Bugatti collector, Henri Novo. It was during Novo's ownership that Bugatti coachwork modifications are believed to have been undertaken. The 1962 Bugatti Register lists Chassis 57641 as a Ventoux Drophead Coupé, but the current coachwork, and citation in later publications, list the car as an Atalante Coupé with the rare "roll-back" roof design. The "Atalante" body that was used on this particular T57 is a very interesting and rare one. It is a so-called TO (Toit Ouvrant or Bureau/Roll Top) Grand Raid, one of the very early "Atalantes" before the name was actually used. There were a few prototypes, and this body is one of these. They were more elegant in design than the later versions. They had spats bombé with a teardrop sculpture and rear fenders that were more elegant in design. Most Bugatti T57 and T57C " Atalantes" were FCs (Faux Cabriolets) and only very few had the TO (Toit Ouvrant or Bureau/Roll Top design). Sewell believes the Atalante body was incorporated by Novo along with an original supercharger. According to Sewell, just eight Atalante bodies were built in 1935; only three of them featured a "roll-back" roof. In 1936, only one roll-back roof was produced, and it is accounted for. So, the original Atalante coachwork had to have been acquired from a 1935 Type 57 Atalante. The rare Bugatti was owned by A. Delincourt when it was documented in Hugh Conway's Bugantics, the Bugatti Owner's Club's quarterly journal, in 1962 and 1973-1974. After examining this journal along with factory transcripts and a tome of other sources, Sewell concluded that there was an error in the vehicle's original engine number of 456 in the factory records, as the engine was reassigned right before delivery with engine number 474, which is the engine number of Chassis 57641 today.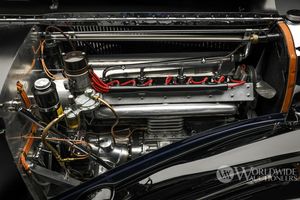 Inevitably, this Atalante was housed at the famous Schlumberger Art Collection in Paris. It's virtually impossible to overstate the Schlumberger's influence on the world of art and design. For instance, São Schlumberger was the first person to ever commission Andy Warhol for a screen print of her portrait – an iconic style the man was known for. Pierre Schlumberger, outside of his patronage of some of the world's greatest museums, was financially responsible, in part, for the restoration of the Palace of Versailles. This car has touched the hands of giants along its wild and intricate narrative, and it has only grown more valuable along the way. This example is truly at the pinnacle of the Bugatti legacy. The last leg of Chassis 57641's illustrious journey landed the car on North American shores. In 2012, the current owner of the car purchased it from Michel Seydoux and brought it out to Gainesville, Texas where one of the country's most lauded coachwork houses, Bob Smith Coachworks, restored the Atalante with expert precision. The Atalante would leave his studio and go on to capture a perfect score at the 2015 Amelia Island Concours and garner the coveted Best in Class Award at the 2016 Pebble Beach Concours d'Elegance.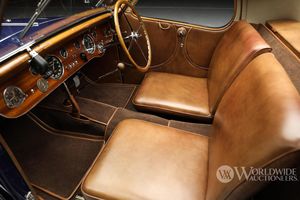 One of very few Type 57C Atalante Coupés in the world with a roll-top roof, Chassis 57641 rightfully boasts world-class provenance and is extensively documented by the best in historic Bugatti expertise. Beautifully finished in a striking yet elegant blue and black color scheme offset by gleaming wire wheels and brightwork, the coachwork is simply irresistible. Inside, the cabin is beautifully preserved and features the classic dashboard with Jaeger instruments, a rare clock with dual second hands for recording speed trials as well as the inimitable roll-back roof, which is strikingly reminiscent of a classic roll-top desk. The Atalante's boot features a golf club compartment, fitted luggage arrangement as well as a mounted spare tire. Chassis 57641 is accompanied by a concours tool kit as well as extensive documentation of the car's awards and historic provenance. This incredibly rare car is an heirloom of the Bugatti legacy. Regarded as one of the most attractive, highly sought-after, and best performing of the Bugatti road cars, it truly epitomizes art in motion.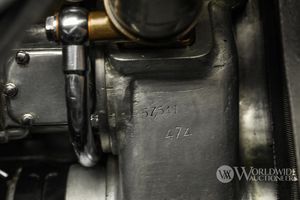 As can be seen on the photo of the chassis and engine number; there has been some modifications here; the old chassis number has been filed off the engine leg, and replaced with another number (in the correct Molsheim type face).
The engine number seems to have been added later (recently?) the type face is wrong; also the recessed numbers are clean, unlike the chassis numbers, which are dirty..
In the BugattiRegister the car is described more clearly; it consists of the chassis and drive train ( front axle, engine, gearbox and rear axle) of 57659, the Atalante body of 57325, and chassis plate and paperwork of 57641. All probably done by Henri Novo in the 1960's (before matching numbers became important) at request of his client Auguste Delicourt. Nice restoration by Smith Coachworks in Gainsville
Some additional info:

In April 29, 1996 this 57641 was auctioned as an Atalante by Poulain Le Fur, reported in Classic and Sportscar, see: bugattipage.com/bsaleol2.htm (search for 57641), and sold for FF 1,936,795 or $377,760 (no Euro's yet)
In January 2012 57641 was shown at the MECC classic carshow in Maastricht, the Netherlands, as reported in the Bugatti Revue: bugattirevue.com/revue46/mecc.htm. At that time, it struck me as being a new car (as I remember it now). It was for sale by Lusso Classics. Since then, some modifications have been made (e.g. different rear lights, additions to the dashboard, and of course a different colour)
Editor
---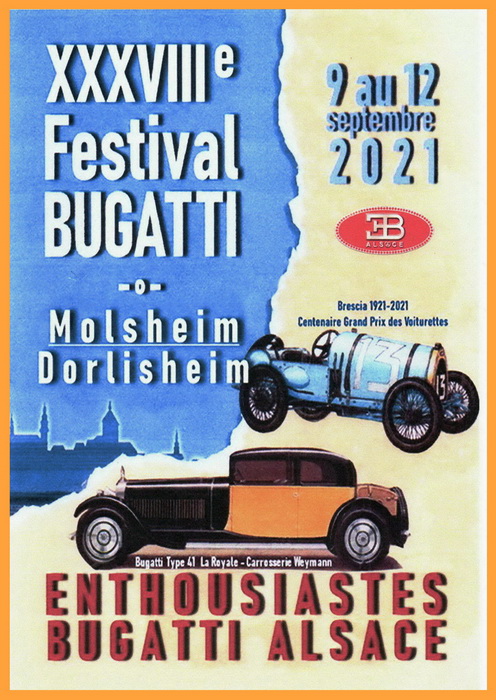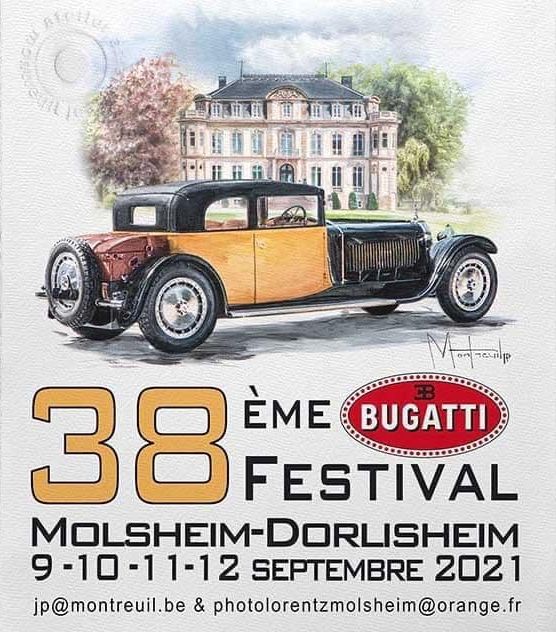 September 10 - 12, 2021 Bugatti Festival Molsheim, France
For information and inscription: Michel WEBER, phone: 0033 (0) 609 478 455, e.mail: michel.weber33@sfr.fr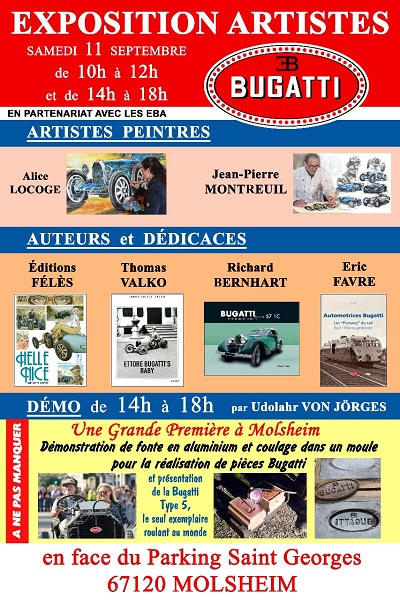 ---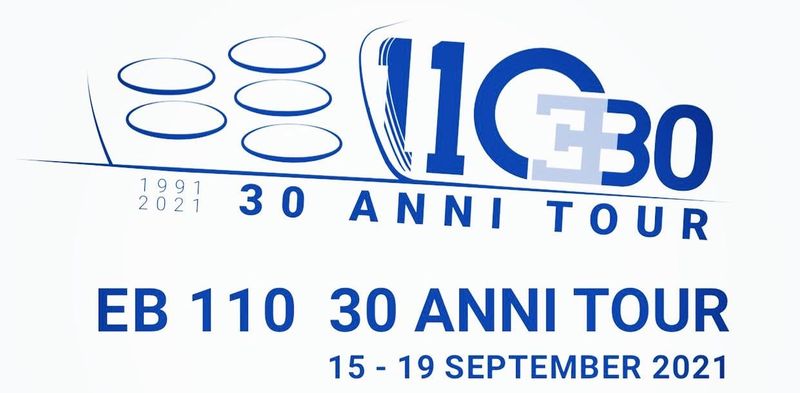 September 15 - 19, 2021 EB 110 30 Anni Tour Italy
More info: info@2fast4you.it
---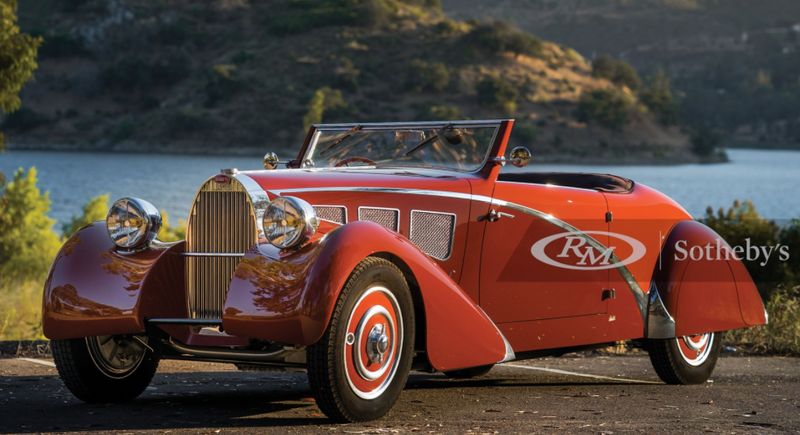 August 13/14, 2021 RM Sotheby's Monterey auction Monterey, USA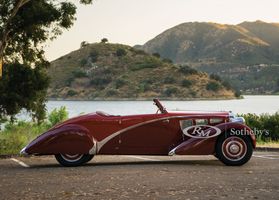 1937 Bugatti Type 57 Cabriolet
Chassis No. 57156, Engine No. 48
Estimate: will be available later
Exceptional, exquisitely detailed restyled coachwork
Mechanically upgraded, including hydraulic brakes, in-period
Beautifully presented, concours-winning Alan Taylor restoration
Documented by marque historians Pierre Yves-Laugier and Kees Jansen; accompanied by history file
The Bugatti Type 57, with its Jean Bugatti-developed chassis and its powerful, racing-derived dual-overhead cam 3.3-liter inline-eight motor, is in many respects the ideal prewar grand touring car. Yet the attitude and character of a given example varies greatly depending on which of the profusion of body styles, from avant-garde roadsters to luxurious saloons, with which it was fitted. This car, Type 57 chassis number 57156, has the distinction of wearing multiple configurations in-period—including an uncommonly seen two-seat cabriolet body.

The records of French Bugatti historian Pierre-Yves Laugier note that chassis number 57156 was assembled in June 1934 for Belgian customer, mill owner, and sportsman Frederic Deflandre, with engine number 48. This rolling chassis was bodied by Bugatti as their Galibier, a four-door sedan, on 29 June 1934, and delivered through Parisian agents Bucar the same day.

In 1936 the car was rebuilt for Mr. Deflandre by the factory, with a new, updated second-series frame of the same number, 57156, still paired with an engine bearing number 48. This car remained with Mr. Deflandre until April 1938, at which point it is believed to have been traded to the Belgian coachbuilders d'Ieteren toward a new body for his new Bugatti.

A local Belgian coachbuilder then produced a new two-passenger cabriolet body for 57156. The identity of the shop has never been conclusively established; Dutch Bugatti historian Kees Jansen attributes the work to Paul Nee, although no documentary proof has been found. It may well have been d'Ieteren themselves, and indeed, the work bears some resemblance to a drophead body d'Ieteren constructed on chassis 57589. It is important to note that at this time the car was also upgraded to the latest and best specifications, including the installation of hydraulic brakes.

The car remained in Antwerp for many years, then was acquired by the famous Bugatti dealer Jean de Dobbeleer, still on a 1930–40 Belgian registration 154486. Mr. de Dobbeleer claimed that the car had been traded in by a priest, Abbé Dubois de Sévry, to whom it had been donated by a Mr. Cadans. Inspection of the car's numbers by Mr. Laugier indicates that the rear axle and gearbox are both original and authentic replacements from other Type 57s, likely dating to de Dobbeleer's ownership.

The Bugatti was subsequently exported to the United States in 1955 by Gene Cesari for Porsche dealer Jack Fritsche, passing next to Al Wall and, in 1958, to Joseph Fine of Silver Spring, Maryland. Mr. Fine began restoring the Bugatti but in the 1960s was distracted from the work, and the dismantled car was stored on his property until his death in 2003. It was then sold by his widow; its next owner elected to have it fully restored by Alan Taylor Company of Escondido, California.

As part of its total restoration, the car was reimagined with new fenders, door skins, hood, and trim, beautifully hewn in aluminum by Mr. Taylor's employee Edouard de Vaucorbeil; these subtly reworked elements were inspired by the most alluring of in-period Continental design, artfully incorporating elements that instantly recall the likes of Gangloff. The finish of the leather, woodwork, and paint is all spectacular and a tribute to its restorers' craftsmanship. Exquisite details, such as the addition of a wine basket and beautifully crafted fitted luggage (which stow vertically behind the seats), as well as a Type 57C-style dashboard—to say nothing of the intricately turned firewall and engine beneath the hood—are found wherever one looks.

In its present form the cabriolet has been proudly exhibited at several concours d'elegance, including several times at Amelia Island; the annual La Jolla Concours, where it was judged Best of Show Pre-war in 2013; and Keels and Wheels, where it received the People's Choice award in 2014. Further, it has been a First Prize winner (number 3176) in Classic Car Club of America National judging.

With its stunning restyled coachwork, which has been maintained in excellent, restored condition, this well-documented Type 57 embodies the engineering excellence and high style for which vintage Bugattis are rightly known.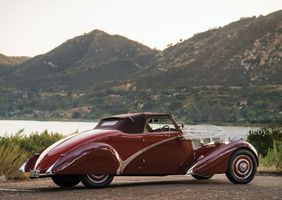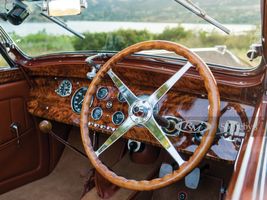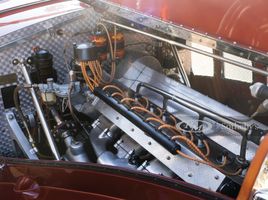 ---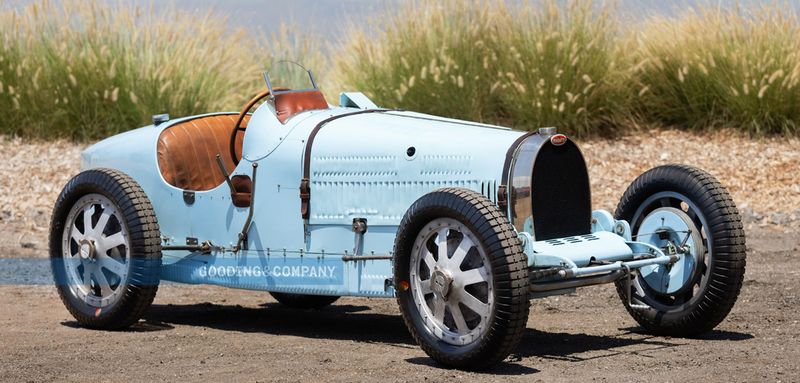 August 14/15, 2021 Gooding & Co Pebble Beach auctions Pebble Beach, USA
1929 Bugatti Type 35B Grand Prix, Chassis 4938, Engine 192T
1928 Bugatti Baby, "chassis" 358 A
1934 Bugatti Type 57 Galibier, Chassis 57224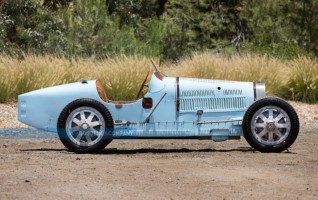 1929 Bugatti Type 35B Grand Prix
Chassis 4938, Engine 192T

Estimate: not available
Considered by many to be among the finest racing cars of its period, and no doubt one of the most enduring automotive designs of all time, the Type 35 Grand Prix is the definitive Bugatti. Initially unveiled at the 1924 Grand Prix of Lyon, the Type 35 came equipped with an overhead-cam eight-cylinder engine and produced an impressive 95 hp. Its extremely lightweight chassis was emblematic of Bugatti's revolutionary engineering, including a hollow front axle and cast aluminum wheels with integrated brake drums, beneath a lightweight, two-place aluminum body. With 340 built, the Type 35 dominated racing in the late 1920s and early 1930s, resulting in a total of over 1,000 wins.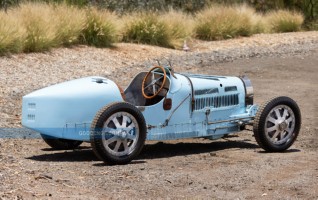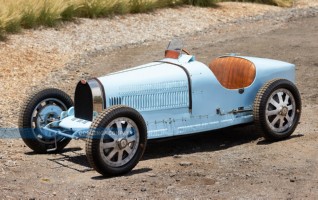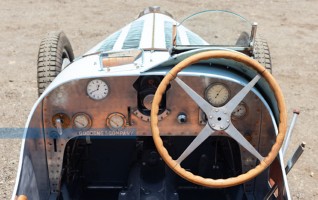 This particular example, a 1929 Bugatti Type 35B Grand Prix, features the powerful 2.3-liter, eight-cylinder engine fitted with a Roots-type supercharger. As documented in historian Hugh Conway's Grand Prix Bugatti, this example, chassis 4938, was originally equipped with engine no. 192T, which it retains today. 4938 experienced a brief but brilliant racing career, winning the 1929 Grand Prix de l'ACF and Spanish Grand Prix, raced by the legendary Monegasque driver Louis Chiron and the notable English driver William Grover-Williams. This example continued to achieve praise for its incomparable excellence, and in 1951, it appeared on the cover of Road & Track magazine.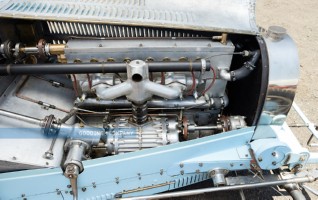 From 1952 to 2000, 4938 remained in the ownership of a single family, during which time it underwent a restoration carried out to the gleaming concours standards in the late 1980s. It was proudly exhibited at Pebble Beach and the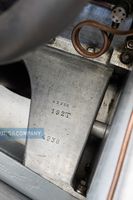 Meadow Brook Concours d'Elegance in 1989. After transferring into the hands of English collector Chris Drake, 4938 underwent yet another comprehensive, well-documented restoration that was completed by Bugatti specialist Tim Dutton in 2006. Chassis 4938 was returned to a more period-appropriate appearance while its mechanical elements were fully restored. Since being acquired by the current owner in 2006, this Type 35B has been a fixture in a museum of historic racing cars.
In preparation for this extremely remarkable sale, Bugatti historian Mark Morris was commissioned to produce a comprehensive report on 4938, included in the car's file together with an earlier report by David Sewell. The report verifies that this example retains its original chassis frame, engine, supercharger, gearbox, rear axle, front axle, data tag, and much of its Molsheim Grand Prix bodywork. Unlike many Bugatti competition cars from the prewar era, chassis 4938 remains in fundamentally original order, surviving for over 90 years –– making it truly one of the most desirable automobiles of all time.
1928 Bugatti Baby, "chassis" 358 A
1934 Bugatti Type 57 Galibier, Chassis 57224 (from the Malmerspach collection)
No further info available yet, only photographs! the Galibier requires some restoration, and a radiator. The current radiator is only a mock-up, as the radiator was stolen while in storage in Malmerspach.
---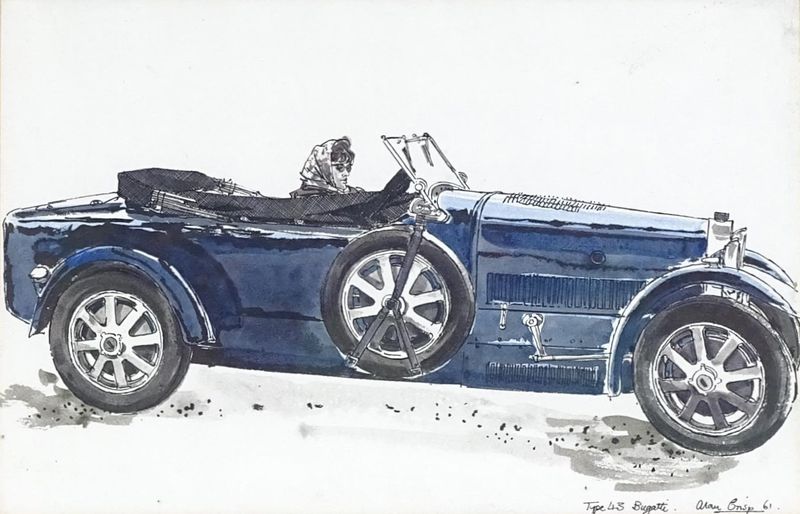 Bugatti T43, watercolour and ink
By Alan Crisp, 1961
---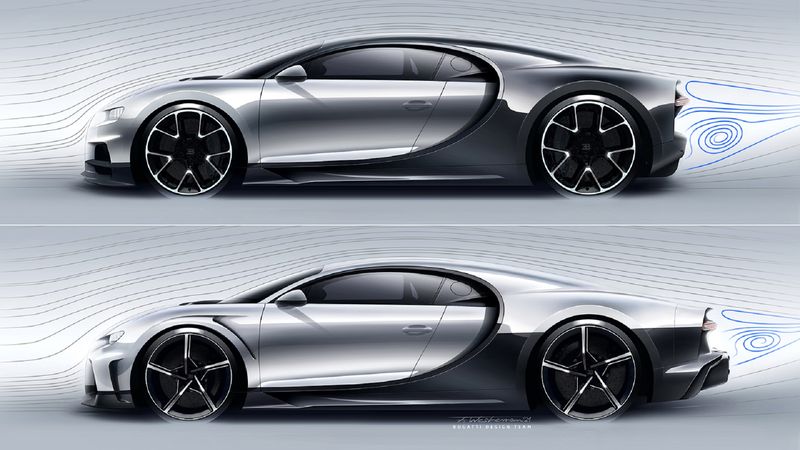 June 12, 2021

Bugatti SAS presents the Chiron Super Sport, yet another version of the Chiron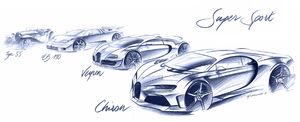 Volkswagen-Bugatti already presented a whole range of versions based on the Chiron, this one could be called the "long tail" Chiron. In the drawing above, the difference with the "normal" Chiron is well demonstrated. Bugatti doesn't hesitate to put this Super Sport in a range of Super Sport Bugatti models, beginning with a real one: the Type 55. Then on to the EB110 and Veyron Super Sport models.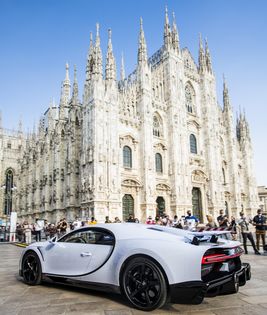 The newest version of the Chiron was already officially and publicly presented at the Milano Monza Motor Show the past week, together with the "Bolide".
Below: That what Bugatti themselves state about their newest "baby":
The Bugatti Chiron Super Sport – The Quintessence of Luxury and Speed
Molsheim, 8-6-2021
WITH THE CHIRON SUPER SPORT, BUGATTI PRESENTS A NEW HYPER SPORTS CAR THAT BOASTS A TRULY UNIQUE COMBINATION OF COMFORT AND TOP SPEED.
With a low-slung front, special aerodynamic shape at the sides and an extended rear for peak performance, it is clear at first sight that the new Bugatti Chiron Super Sport has been designed without compromise for optimal aerodynamic performance. Bugatti engineers developed the new hyper sports car for top speed while fully embracing both luxury and comfort.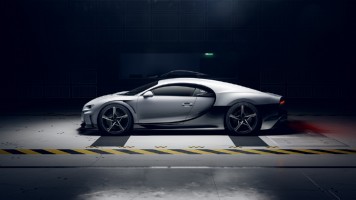 "With the Chiron Super Sport, we are following our long-standing tradition of combining top speed with absolute luxury," says Stephan Winkelmann, President of Bugatti. "The Chiron Super Sport stands for increased comfort and elegance coupled with even greater performance and higher speeds. With this new creation, we established another distinct personality within the Chiron family. It is the essence of what we learned and developed in recent years – the ultimate grand tourer." The Chiron Super Sport embodies a part of Bugatti's broad spectrum of performance – a counterpart to the Chiron Pur Sport, which was made for cornering and lateral agility.
Design – made for speed
Bugatti developed a new vehicle design with optimized aerodynamics for the Chiron Super Sport's streamlined bodywork. The new Chiron Super Sport is an uncompromising reincarnation of the Bugatti design mantra, 'form follows performance'. From the front splitter to the rear diffuser, every centimeter of its skin is designed for top speed.
At speeds over 420 km/h, a vehicle must offer sufficient downforce alongside minimal drag. "Our aim was to give the vehicle a neutral setup at its top speed while also giving it as streamlined a shape as possible." explains Frank Heyl, Deputy Design Director at Bugatti. The uplift forces exerted on the bodywork at 440 km/h are immense. The body of the Chiron Super Sport generates massive downforce to counter this uplift and perfectly balance the forces. "The design process was therefore in particular about achieving aerodynamic efficiency," Heyl continues. The Chiron Super Sport's extended rear, which is known as a long tail, gives it new proportions and very distinctive aesthetics. An optional, new, horizontal color split visually extends the proportions of the Chiron Super Sport even further, making the hyper sports car appear even lower.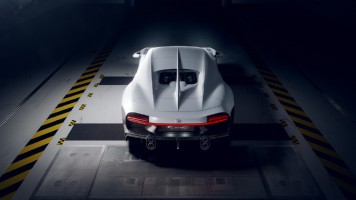 For aerodynamic performance, the rear has grown by approximately 25 centimeters to hold the laminar flow to the bodywork for as long as possible. Bugatti designers also enlarged the diffuser cross-section, pushing the diffuser's trailing edge higher and thereby reducing the rear's trailing surface by 44 percent. As a result, the slipstream and wind resistance generated are significantly reduced – factors which otherwise decelerate the vehicle. A welcome benefit of these technical modifications is that the rear is afforded even better proportions and is both wider and lower-slung. The long tail helps to keep the laminar air flow attached to the body for as long as possible.
Even from afar, the Chiron Super Sport is unmistakable due to its repositioned tailpipe configuration. To boost the effect of the diffuser and give it more space, Bugatti has shifted the otherwise central exhaust system to the side, with the pipes aligned vertically. The exhaust system also sounds deeper and richer. "If we can generate downforce with the diffuser, there is no need for us to generate it with the drag inducing wings. This means we can retract the wing as far as possible in Top Speed mode for a drive with minimal drag," explains Frank Heyl.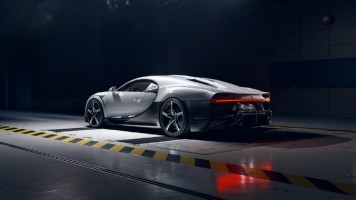 The front therefore has to be perfect, too, to achieve seamless airflow over the bodywork. On the Chiron Super Sport, features like side air curtains alongside the air intakes result in improved airflow from the front to the wheel arches, keeping it as close to the side of the vehicle. "This minimizes drag and improves the flow of air over the side radiators," explains Frank Heyl. The new, focused facial expression with inclined headlamps and the modern design language fit perfectly with the aggressive character of the Chiron Super Sport.
The nine exhaust air holes on each fender are more than just a nod to the Bugatti EB 110 Super Sport – they also serve to release the air pressure from the front wheel wells, thereby generating streamlined downforce at the front axle. Additional outlets behind the front wheel arches likewise help to balance out the aerodynamic loads.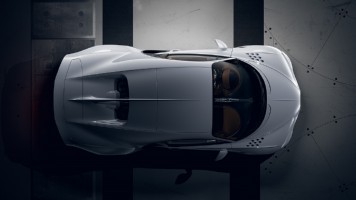 For even greater exclusivity, new aluminum wheels in a five-Y-spoke design are available only for the Chiron Super Sport. These new Super Sport wheels are also available in a diamond-cut option. The Chiron Pur Sport's iconic magnesium wheels, which further reduce the weight of the unsprung mass, are also available as an option.
The interior is a combination of timeless elegance and comfort beyond compare. It is a blend of natural elements like leather and polished aluminum, together with high-tech carbon fiber applications. This is an interior perfectly suited to high-speed continental trips.
With a strong focus on technical maxims during development, the demands made of the new hyper sports car are exacting. Even at top speeds of up to 440 km/h, it must be effortless and safe to control.
Greater performance and higher revs per minute
Bugatti thoroughly overhauled the 8.0-liter W16 engine for the Chiron Super Sport, boosting its performance by 100 PS to 1,176 kW/1,600 PS. At the same time, the vehicle weight was reduced by a further 23 kilograms. The engineers made modifications to the turbochargers, oil pump, and cylinder head with valve train, as well as to the transmission and clutch. "We increased the revolutions per minute (RPM) for even greater longitudinal acceleration and an even more emotive driving experience," says Michael Kodra, Head of Drive Development at Bugatti. The engine's rpm was increased by 300 to up to 7,100 rpm, for noticeably increased agility. 1,600 newton meters of torque is now accessible from between 2,000 and 7,000 rpm, rather than up to 6,000 rpm.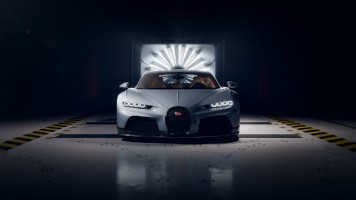 With the improved performance created by larger turbochargers with more efficient compressor wheels, the seven-gear dual-clutch transmission at full load and full speed transitions from sixth to seventh gear at 403 km/h. The Chiron Super Sport accelerates from 0 to 200 km/h in 5.8 seconds and to 300 km/h in 12.1 seconds. The Chiron Super Sport accelerates from 0 to 400 km/h seven percent quicker than a Chiron. Seventh gear boasts 3.6 percent longer transmission.
In order to achieve seamless acceleration at full throttle, boost pressure must remain close to maximum while the hyper sports car rapidly builds momentum and reaches its optimal speed. When changing gear, the pressure dips only very briefly for a mere 0.3 seconds, to then return to full boost pressure of 2.8 bar to fill the Chiron Super Sport's W16 engine. "In spite of the immense power and the enormous longitudinal acceleration, the Chiron Super Sport offers a comfortable, quiet, and balanced drive," explains Michael Kodra. Even above 6,000 rpm, acceleration doesn't diminish, giving the Chiron Super Sport a mighty thrust up to 7,100 rpm. "The attributes of this engine are a perfect fit for the fastest Chiron." says Michael Kodra.
New chassis setup for top speed
Bugatti developed a new chassis specifically for the Chiron Super Sport's high speeds and new aerodynamics. The steering systems and dampers create a firmer and more rigid connection to the vehicle from the driving feel resulting in tighter steering for smoother steering movements. Harder springs stabilize the entire vehicle at top speed, and the engineers additionally also retuned the electronically controlled chassis. It regulates the settings in real-time in a matter of six milliseconds and adapts to the driving behavior. There is a choice of four driving modes – EB, Handling, Autobahn, and Top Speed.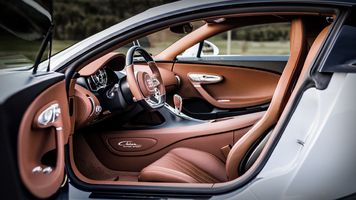 With the extended rear and modified front, the Chiron Super Sport achieves balanced aerodynamics at top speed. "Even on long bends taken at high speeds, the rear remains calm and neutral, resulting in a very composed drive in the Chiron Super Sport. Our focus at top speed is on absolute driving stability coupled with comfort," explains Jachin Schwalbe, Head of Chassis Development at Bugatti. This unwavering directional stability together with the quietness and rigidity of the steering and noticeably increased performance make the Chiron Super Sport unique.
Newly developed Michelin Pilot Sport Cup 2 tires which have been optimized for top speed offer greater rigidity and smoothness than grip-optimized tires fitted to the Chiron Pur Sport. What's more, these are the only tires that can consistently drive at up to 500 km/h. This is made possible by reinforced belts that can cope with immense forces – verified on the test bench originally built for the Space Shuttle. Every tire is x-rayed following production in order to rule out even the most minuscule of irregularities.
"We tweaked all possible parameters when developing the chassis in order to achieve the best possible setup for immense acceleration as well as the unique Bugatti luxury and comfort experience," explains Jachin Schwalbe. "In comparison to the Chiron Pur Sport, which, as a free-revving vehicle with transverse dynamics offers a great deal of downforce up to 350 km/h, the Chiron Super Sport remains very neutral and quiet even above this in the uppermost speed ranges. This vastly increases the feeling of safety," he explains. The result: extremely precise handling that the driver can predict together with confident steering and a quiet bodywork.
The three forefathers of the Super Sport
The new Chiron Super Sport joins the ranks of some famous Bugatti predecessors. Bugatti first unveiled the Type 55 Super Sport at the Paris Motor Show in 1931. The grand tourer combined thoroughbred race car technology with the comfort of a sophisticated two-seater. With the help of a compressor, the 2.3-liter eightcylinder engine delivered up to 160 PS and accelerated the Type 55 Super Sport to over 180 km/h. A number of the bodywork versions were designed by the young and talented Jean Bugatti, and only 38 vehicles were produced up to 1935.
Bugatti didn't construct the next version of the Super Sport until 1993 to 1995. 39 of the EB 110 Super Sport were produced. The EB 110 was once again all about lightweight construction, performance, luxury, and exclusivity, and became the best super sports car of its age. It was the first super sports car with a carbon fiber bodywork, all-wheel drive, and four turbochargers. The V12 turbocharged engine delivered more than 610 PS and set multiple records in the EB 110 Super Sport, including a record speed of 351 km/h.
Two decades later, Bugatti brought the Super Sport back to life again. The Veyron 16.4 Super Sport boasting 1,200 PS broke the speed record in 2010 with a speed of 431.2 km/h, thereby securing a spot in the Guinness Book of Records as the world's fastest road-legal series sports car – a record which it held for many years. This is the only Veyron model to feature NACA ducts rather than the typical large air intakes and the only model on which the engine is largely covered. Bugatti developed the horizontal color split specifically for the Veyron 16.4 Super Sport.
History then repeated itself in summer 2019 when Bugatti exceeded the threshold of 300 mph with the Chiron Super Sport 300+, with the record-breaking vehicle hitting an incredible speed of 304.773 mph (490.484 km/h). This served as the basis for a few-off model of just 30 units featuring a similar design and color elements.
Bugatti will soon begin with the manufacture of the Chiron Super Sport in Molsheim, France. Delivery of the hyper sports cars with a price tag of 3.2 million euros (net) is scheduled to start early 2022.
---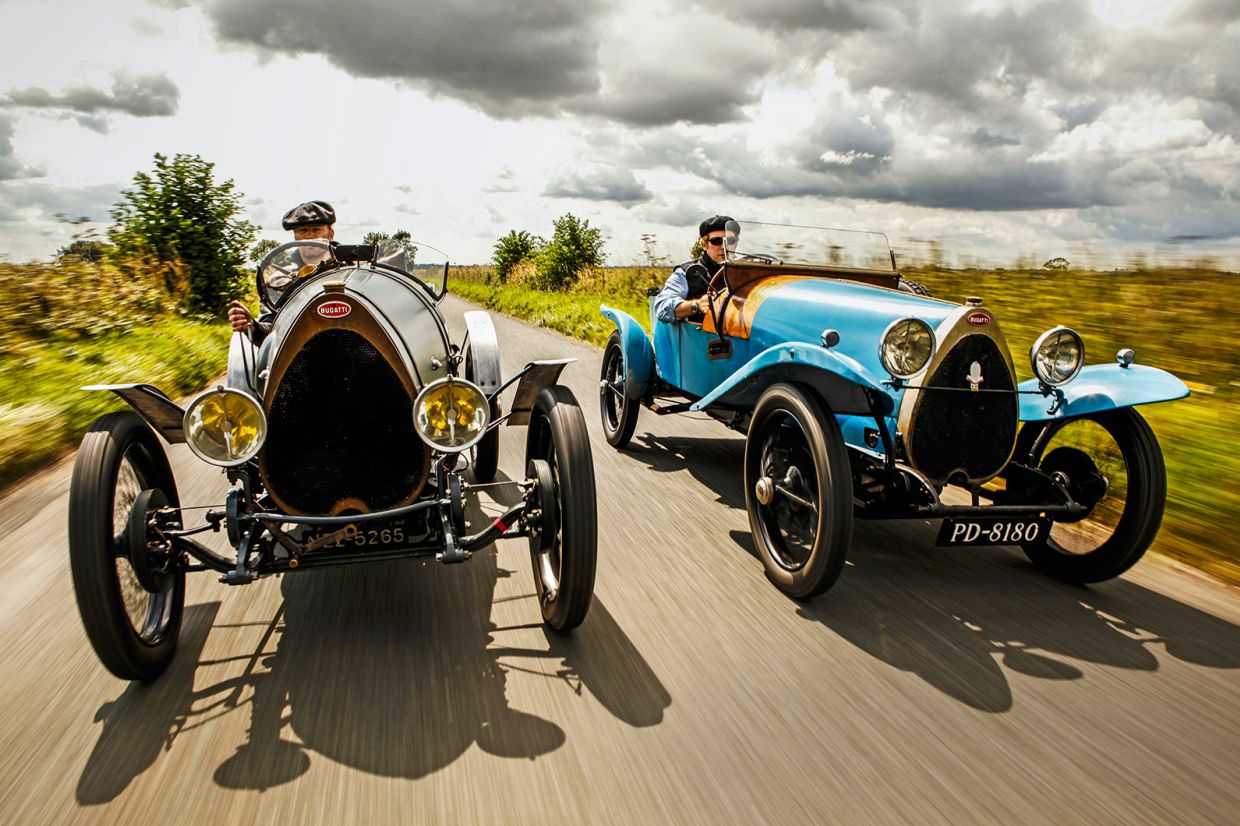 June 2, 2021

The Bugatti Brescia at 100

Read this interesting article from Classic & Sportscar, by Mick Walsh
---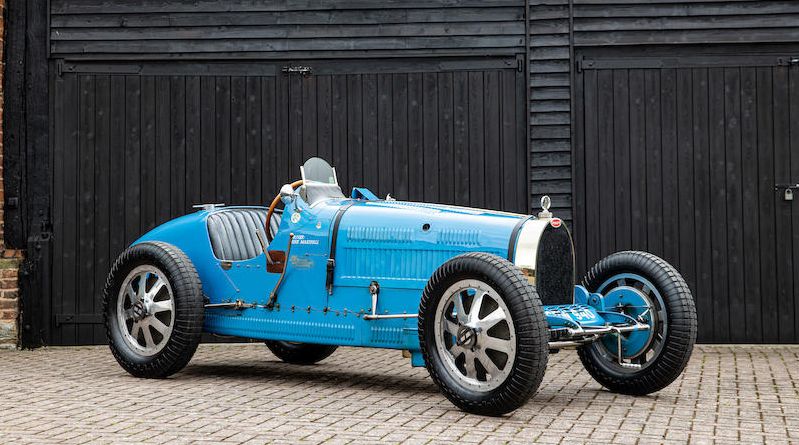 May 21, 2021

Auctions results

Bonhams Bond street Sale auction, London, May 19, 2021
1927 Bugatti Type 35B Grand Prix, Chassis No. BC43, Engine No. 137T Estimate: €350,000 - 580,000, Sold for €388,377 inc. premium
Bugatti gearbox casting (Brineton Engineering), GP type with lid, Estimate: € 1,200 - 2,300, Sold for €1138 inc. premium
Bugatti GP-type front axle, Estimate: € 1,700 - 2,300, Sold for €1205 inc. premium
Bugatti rear axle casing, believed Jarrot Engineering, Estimate: € 580 - 930, Sold for €1138 inc. premium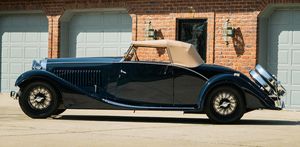 Bonhams Amelia Island auction, May 20, 2021
1934 Bugatti Type 57 Cabriolet by Franay, Chassis No. 57127, Engine No. 52, Sold for US$ 1,325,000 (€ 1,087,134) inc. premium
Private Omnibus by Million & Guiet, once owned by Ettore Bugatti, Sold for US$ 106,325 (€ 87,237) inc. premium
Replica Bugatti Baby, Sold for US$ 6,950 (€ 5,702) inc. premium
---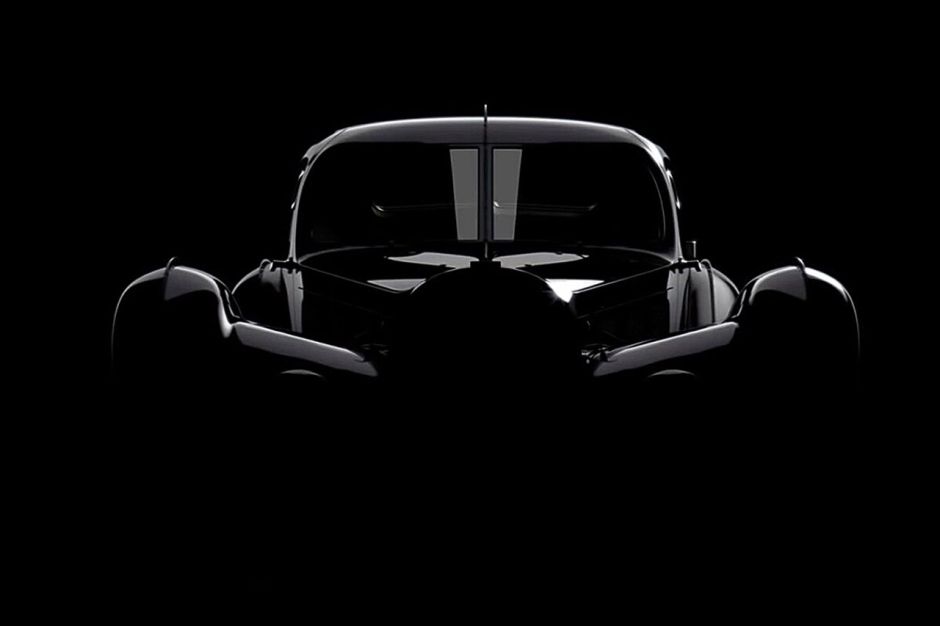 May 18, 2021

Bugatti SAS posts teasers on Instagram; Has 'La Voiture Noire' finally been found?

Bugatti's Type 57 SC Atlantic (the 4th one) is the automotive world's Holy Grail: disappeared without a trace, often searched for, never found. Until now. At least, that's what the many fans of the French supercar brand hope. The reason is a remarkable action by Bugatti on Instagram: a burst of 15 black and white photographs with teasing messages about a search of 374 days and a big reveal on May 31, 2021.

Flashback to the Geneva Motor Show, 2019. Bugatti presents La Voiture Noire, a pitch-black concept car of which only one copy - a one-off - will be made. Completely by hand. And with a corresponding price tag: at least 11 million euros plus taxes. "La Voiture Noire," said Bugatti CEO Stephan Winkelmann, is "more than a modern reinterpretation of Jean Bugatti's Type 57 SC Atlantic, this is a true hymn to its beauty."

Mythical coupé
The Type 57 SC Atlantic is an elegant sports coupé, created in 1935 on the drawing board of Jean Bugatti, the son of founder Ettore. With its unprecedented modern line, striking wheel arches and visible seam from nose to boot, it is one of the most mythical Bugattis ever. And fast too: up to 200 kilometers per hour. And that at a time when the community was still moving by horse and cart. Only four were built between 1936 and 1938. It is known where three of them are, because they occasionally participate in a concours d'Elegance. For example, one is in the garage of fashion designer Ralph Lauren. Not three actually; one was hit by a train in the 1950's, and was "Rebuilt", though with many more new parts than original ones....

But where the fourth example has gone - if it still exists - is a mystery. And it just so happens to be the one that belonged to Jean Bugatti. The only one with jet black bodywork, nicknamed La Voiture Noire. Bugatti junior had taken over the management of the factory from his father in 1936, but was killed in a car crash three years later, barely 30 years old.

Gone up in smoke
A year later, the Nazis were on the verge of invading France. It was decided to move all cars - including his son's coupé - and all tools to Bordeaux, to a factory far from the German border, and thus from possible war activity. Everything was loaded onto the train in Molsheim, but La Voiture Noire would never reach Bordeaux. Theories are buzzing. One of the most persistent trails is that Ettore convinced everyone that the final destination was Bordeaux, but that he eventually had the car taken to a secret shelter. An underground wine cellar? Or a barn in a godforsaken French farmhouse, whether or not bricked up in a hidden niche?

Unfortunately, Ettore can no longer tell, the man died in 1947. Or was the train intercepted by the Nazis and the car seized? The American Monuments Man Foundation, which tracks down art objects stolen by Nazis, does not rule out the possibility that the car is still somewhere in Germany. If the car still exists, it would be worth 100 million dollars (more than 82 million euros).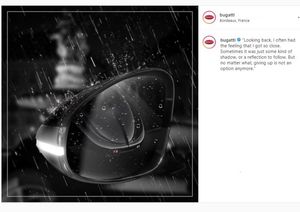 Searched for 374 days
And now suddenly there is that campaign on Instagram. "Day 374. Have you ever wanted to find something so stubbornly that you had no choice but to go after it and start the hunt?" Or: "It was a long way to Bordeaux, so close to the Atlantic Ocean. The lost Type 57 SC Atlantic should have arrived here in 1940 instead of disappearing. I can still feel its overwhelming power throughout the city and its eternal fortresses. " Although it is mainly that one photo, with in the side mirror of the new Voiture Noire an image of the rear of the mythical predecessor, which makes fans crazy. Would the only real La Voiture Noire have been found after all?
Or is it just a marketing stunt to unveil the final version of the successor, as automotive journalists think? And who knows also the identity of the buyer: in addition to the name of a Saudi prince, that of footballer Cristiano Ronaldo is especially talked about. "Appointment on May 31, 2021", it says at the fifteenth and last photo. So please be patient.
---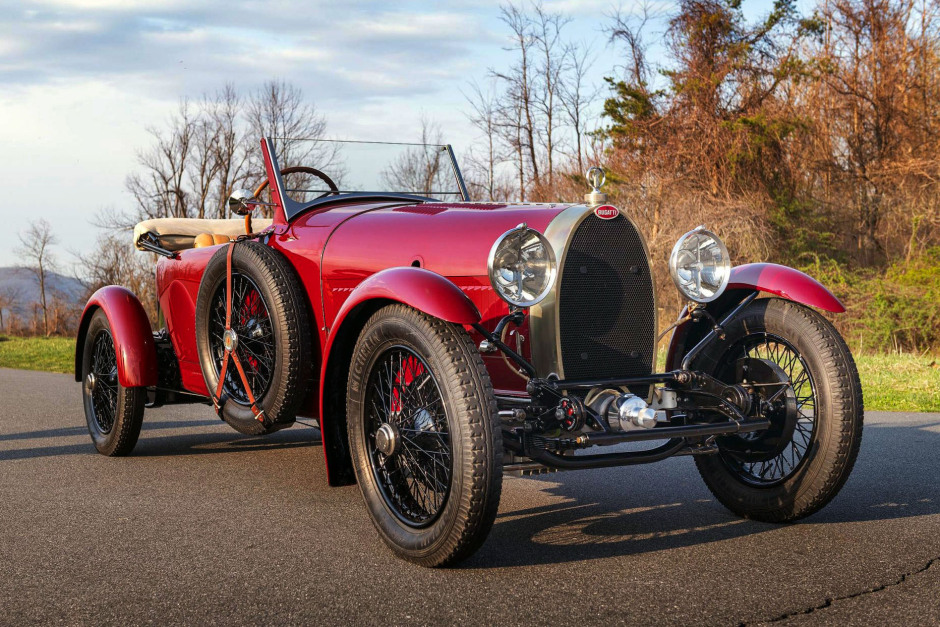 April 30, 2021

Auction result

Bring a Trailer online auction, April 30, 2021, USA

1927 Bugatti Type 38A Grand Sport
Chassis number 38470, Engine number 209: Sold for $410,000
---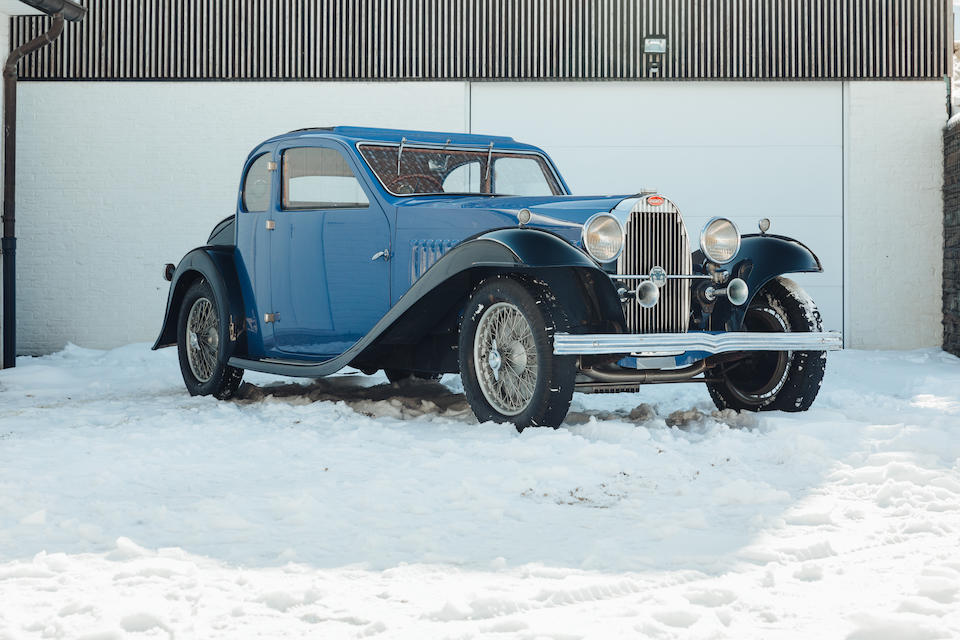 April 23, 2021

Auction result

Bonhams auction: 'Les Grandes Marques à Monaco', April 23, 2021, France

1934 Bugatti T57 Ventoux
Chassis 57119, Engine No. 34 , Estimate: € 350,000 - 450,000: Sold for € 385,250, including premium
---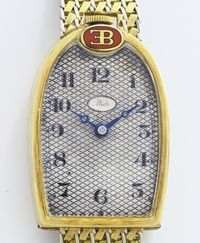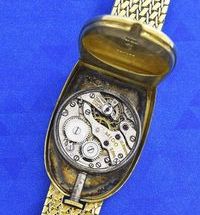 April 17, 2021

Auction results

Stanislas Machoïr auction, April 17, 2021, France
Mido for Bugatti, Ettore Bugatti's personal watch, Estimate: € 80,000 - 150,000, sold for € 220,000, Including premium: € 280,700
Bugatti T49 Cabriolet, Chassis 49481, Estimate on demand: Withdrawn
---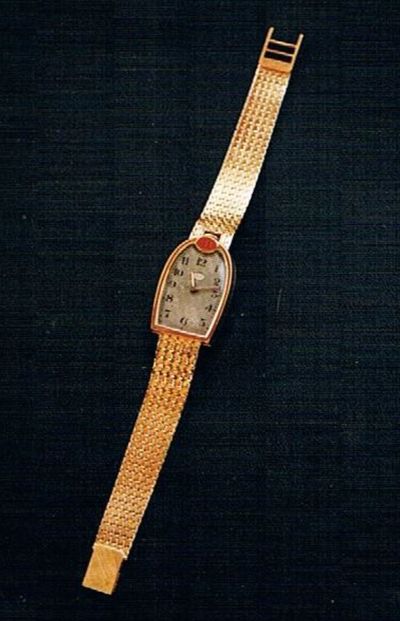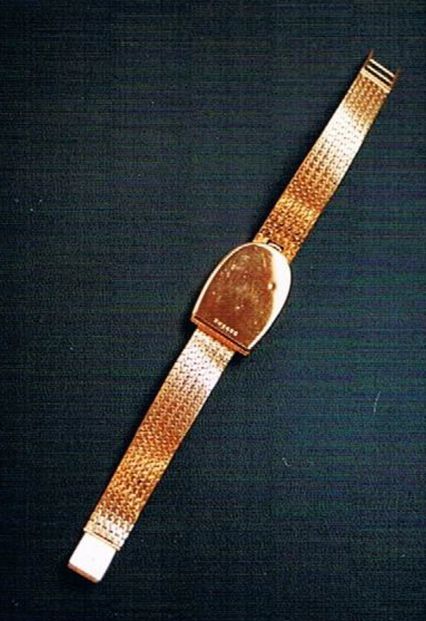 April 9/10, 2021

Statement by Caroline Bugatti - Cyril Gautier on the Mido-Bugatti watch

Following the various questions and debates about the Mido EB watch that will be on sale by Stanislas Machoïr on April 17, 2021, it is possible for us to give the following facts concerning this piece:
The case N ° 261492 is indeed that of Ettore Bugatti's personal watch.
The watch originally had a leather strap like all other Mido EB watches. Michel Bugatti, son of Ettore Bugatti replaced it with a gold bracelet.
We also note that the dial has since been cleaned and that the original straight hands have been replaced by a bluish steel set in the Mido spirit.
The back of the case has been debossed and polished.
My father, Michel, sold this watch at auction in Paris in 1986. Photos of the watch before its sale by Michel above.
It was sold by its purchaser to a Japanese collector in 1989.
Then it reappears in an auction in New York at Antiquorum on December 11, 2008. Last known trace before it was put on sale by the Stanislas Machoir auction house.
Caroline BUGATTI - Cyril GAUTIER
Thanks to Mrs Daniel LAPP and Jaap HORST www.bugattipage.com for their collaboration.
---- End of statement -----
Thus, it can be concluded that the casing of this watch belonged to Ettore Bugatti himself; as for the mechanism; in 1986 the number of the mechanism was not recorded. Thus, it can not be proven that the mechanism is the same as in the watch of Ettore Bugatti.
Mido Bugatti watches that have been on offered, including this one: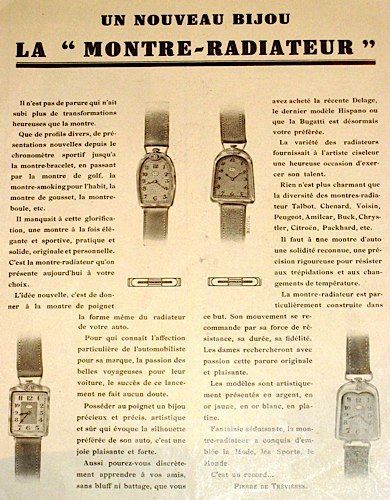 Mido records confirm that the first of the four series of Bugatti watches they produced, was a batch of 54 pieces with serial numbers 200736-200789 inclusive, produced in 1925-26.
Then three later series, two in gold and one in silver, were produced between 1929 and 1932, and were each of twelve pieces, the 2nd series was 261484-261495 (gold), while the silver series contained the number 261502. the last series (gold) contained the numbers 307215 to 307218.
However, looking at all the watches sold over the last decades, there must have been at least one more series, as 220128 and 220142 also exist. Assuming that these are from the same series, this series consisted of at least 15 watches.
Of the 90 watches produced, fewer than 20 examples are believed to have survived to the present day (10 of which are listed above). These watches were commissioned by Ettore Bugatti from Mido and given as gifts to his racing drivers and later to principal members of his factory staff.
Movement of these watches: Mido 15 jewels, (3) adjustments, Swiss made, manual wind, stem wind, stem set.
By the way, the radiator watch was not Ettore Bugatti's idea, as the Mido advert on the right shows!
---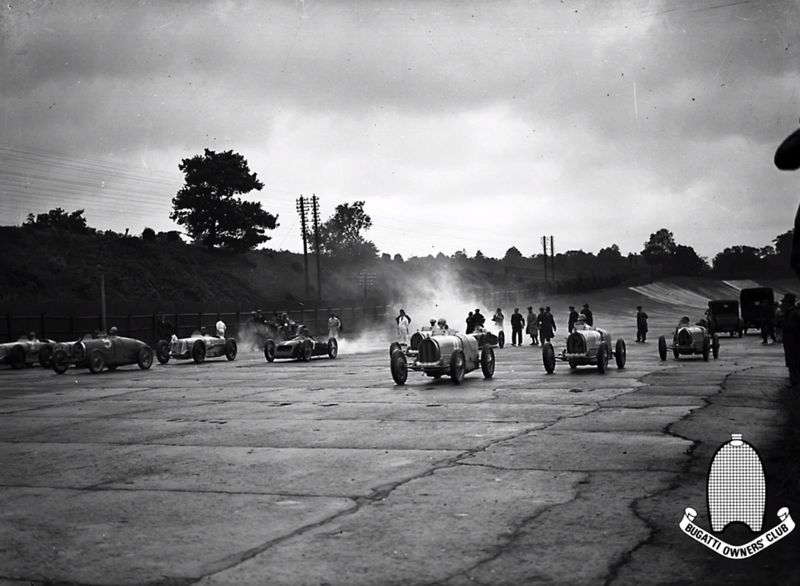 April 8, 2021

Williams - a forgotten Hero

Very interesting video made by John Staveley

This is a short biography of William Grover, a works Bugatti driver, illustrated with period photographs from a number of sources including The Bugatti Trust and private collections. The photographs were chosen for their historical content rather than quality.

Throughout his career he was supported by the lovely Yvonne who later presented "The Williams Trophy" to the Bugatti Owners' Club.

Don't forget to switch to full screen!
---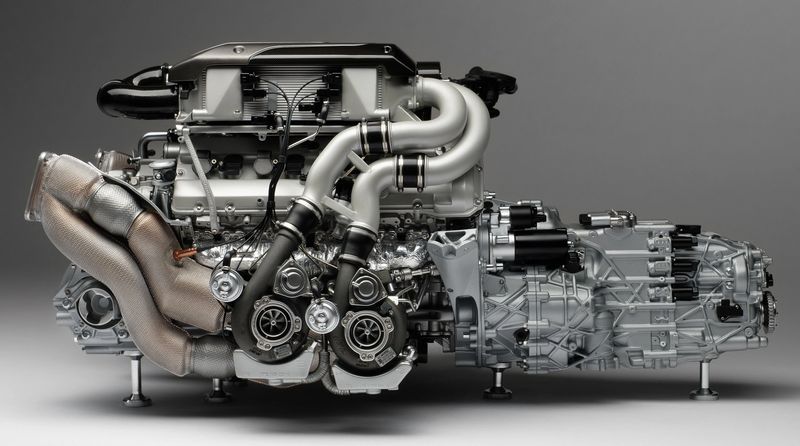 March 30, 2021

For sale: Bugatti Chiron engine and gearbox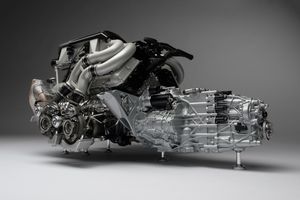 For just €10,074!
Small detail: It's 1:4 scale ...
However, from the Photographs you would not know it's not the real thing. Not even the engineers at Bugatti would see the difference!
The fastest, most powerful and exclusive production super sports car in Bugatti's history at the time of its launch, the Chiron was revealed at the Geneva Motor Show in March 2016. Master-minded by Achim Anscheidt, every element of the Chiron was designed to be a combination of reminiscence to its history, taking its name from Bugatti racing legend Louis Chiron, and the most innovative technology. The result was a unique creation of enduring value, and breath-taking automotive accomplishment. Its sophisticated design, innovative technology, and iconic, performance-oriented form made it a unique masterpiece of art, shape and technique, pushing boundaries beyond imagination. The Chiron was an attempt to create something very different from contemporary engine manufacturers, such as Ferrari and McLaren with their leanings towards hybrid technology.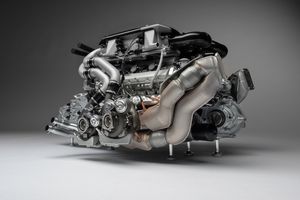 At the heart of the Chiron was its quad-turbocharged eight litre W16 engine. This unique masterpiece generated an incredible 1,578 hp and 1,600 Nm of torque, with four high-performing turbochargers worked in a two-stage controlled configuration. A remarkable 60,000 litres of air were pumped through the engine every minute whilst, simultaneously, 800 litres of water per minute circulated through its core, guaranteeing the cooling of the engine to generate the extraordinary power. A new titanium exhaust system with reduced gas back pressure and lightweight materials, such as carbon fibre, maximised power and performance. The intelligent air intake management significantly improved aerodynamics and enhanced the cooling efficiency for engine and brakes., whilst the distinctive quad LED headlights also served as air intakes to the front brakes.
The first engine model Amalgam has made since the early 2000s, this very highly detailed and meticulously finished example of the Chiron's immense W16 engine echoes the same large 1:4 scale model previously made of the Ferrari 049 engine that powered the F1-2000. Measuring in at 44cm (18in) long and 22cm (9in) high, each individual material in the engine has been carefully and artfully reproduced at scale using special finishes as befits the Bugatti Chiron design. The accurate replication of the actual engine has relied heavily on Amalgam's close relationship with the Bugatti design team. With some 1,040 individual parts, this 1:4 replica shows every visible detail of the engine right down to the numerous parts labels and barcodes.
The Bugatti Chiron Engine and Gearbox is limited to only 99 pieces.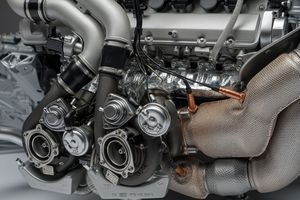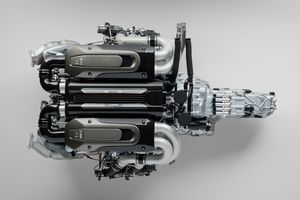 ---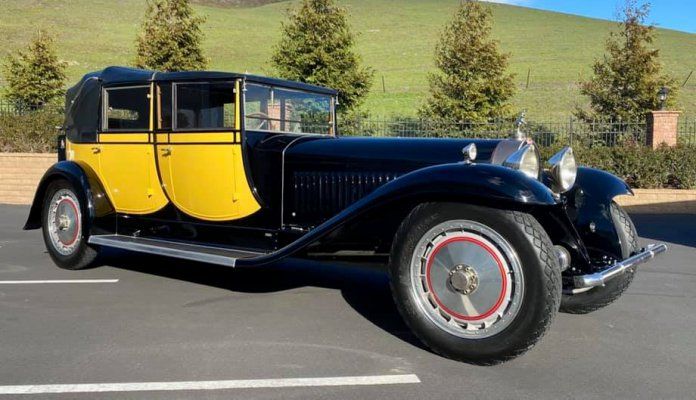 March 27, 2021

Blackhawk Collection confirms sale of Bugatti Royale

The "Berline de Voyage" has made the voyage to its new home, back in Europe

The Blackhawk Collection has sold its Bugatti Royale, the famed "The Berline de Voyage" that was hidden from the Nazis during World War II, to a European collector, and at a price that a person involved in the sale says is the most ever paid for a pre-war automobile.
Editor: strangely; this Berline de Voyage was reported sold to Korea, already in 1995... Probably Don Williams was involved in the current sale.

The transaction was reported on Facebook by former collector car auctioneer Rick Cole after the car arrived in Europe from its previous home in the museum collection in northern California. Don Williams of the Blackhawk said Cole "was a teammate" in the sale.

While the price paid for the car has not been shared, Cole indicated it certainly was more than the previous highest amount paid for any pre-war automobile, which was the $22 million spent in 2018 for the 1935 Duesenberg SSJ roadster formerly owned by actor Clark Gable at the Gooding & Company auction at Pebble Beach.
Supposedly, the sale of the Bugatti Atlantic to Peter Mullin was more; reports state $32 million

Ettore Bugatti planned a run of 25 of his largest vehicles and dubbed them the Royales with the intention of selling them to kings and princes. But the Great Depression limited sales and only seven cars were constructed, and Bugatti sold only three of them. One was destroyed in a crash. A new chassis was built to replace this, but received the old chassis number 41100. Thus: 7 chassis built, of which one re-build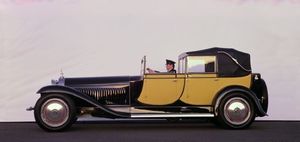 Chassis 41150 was probably one of the earliest Royales built, though the exact order is unknown. 41150 received it's chassis number not until the time of the sale, after the war, and after Ettore had died.. It stretches about 21 feet in length and weighs around 7,000 pounds. Like the others, it has a huge 12.8-liter straight-8 engine.
The Berline de Voyage was among the cars that did not sell initially and was kept by Bugatti and, with 41100, the "Coupe Napoleon," was kept at the Bugatti home in Ermenonville, France. After the war, both cars were purchased from Bugatti's daughter, L'Ebe, by American sportsman and racer Briggs Cunningham.
Cunningham spent several thousand dollars to have the cars restored in France and finally brought them to the US in early 1951. A year later, he sold 41150 to early car collector Cameron Peck, and the car later became part of the famed Bill Harrah Collection in Reno, Nevada.
When the Harrah Collection went to auction in 1986, the Royale was purchased by Texas real-estate developer Jerry Moore for a then-record price of $6.5 million. Moore, whose car collection included more than two dozen Duesenbergs, kept the car for more than a year, then sold it for more than $8 million to Domino's Pizza founder Tom Monaghan.
Don Williams and business partner Ritchie Clyne, who together owned the car collection showcased at the Imperial Palace hotel in Las Vegas, bought the car from Monaghan in the early 1990s.
Williams noted that people might consider themselves to be the owners of cherished collector cars, but they really are just temporary caretakers.
"There's a time in our lives when we get to take care and have fun with the cars we like," he told the ClassicCars.com Journal of the sale of the famed Bugatti. "We're all just caretakers." But, he added, "The legacy of the cars is the good friends we make along the way."
Source: Larry Edsall, journal.classiccars.com, Top photo: Rick Cole
---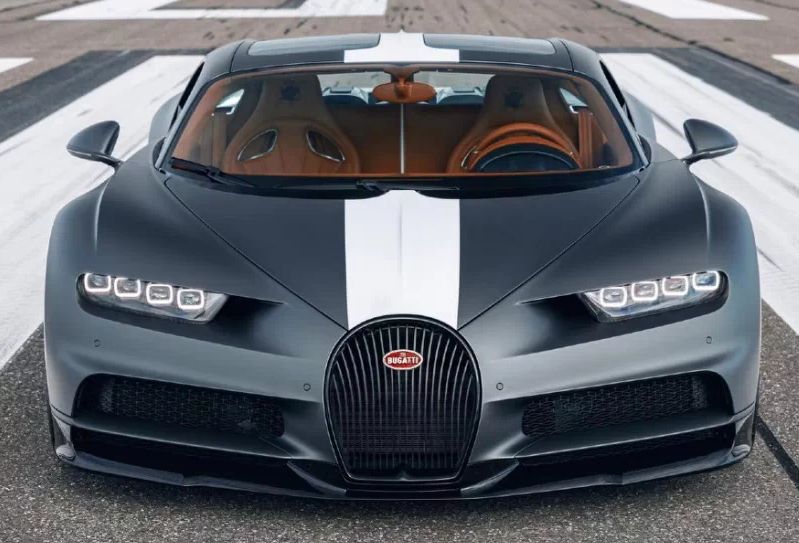 March 18, 2021

Volkswagen plans for Bugatti

Volkswagen in talks with Rimac over Bugatti joint venture

Volkswagen Group boss Herbert Diess has confirmed plans to spin off Bugatti into a joint venture between Porsche and EV specialist Rimac – but has denied reports it could sell the brand outright.
VW is currently transferring the responsibility for Bugatti to Porsche
Porsche has increased its stake in Rimac from 15.5 percent to 24 percent
It is yet unclear whether Porsche and Rimac would take an equal share in the proposed Rimac-Porsche joint venture to control Bugatti
As we reported earlier, Volkswagen would consider selling a controlling interest in the French hypercar maker to Rimac as part of a financial deal that involved Porsche increasing its investment in the Croatian firm. Porsche recently increased its stake in Rimac from 15.5 percent to 24 percent in a deal worth £60.4 million.
During the Volkswagen Group's annual media conference, Diess said that responsibility for Bugatti is currently being transferred to Porsche, which would then discuss a possible joint venture with Rimac. "Transferring Bugatti to Rimac isn't true," said Diess. "Porsche is currently preparing a partnership that's going to be under discussion with Rimac, and Porsche will be taking care of that."
"The whole thing isn't yet finalised. What we want to do is transition responsibility of Bugatti to Porsche, and Porsche in all probability will establish a joint venture with Rimac, with a minority share of Porsche." It's not clear whether any potential Bugatti joint venture would involve Porsche and Rimac taking an equal share.
Diess added that the decision to move responsibility for Bugatti within the Volkswagen Group to Porsche is because "we believe that Bugatti will get an environment that's stronger than being here in Wolfsburg in the volume segment." He elaborated,: "We have more synergies between Bugatti and Porsche over there, such as carbonfibre bodies and high-performance batteries."
Diess' comments come just weeks after Porsche CEO Oliver Blume said Bugatti and Rimac were a good fit. Blume also said that various scenarios were being discussed for Bugatti and that he believed a solution would be reached within the first half of 2021.
Sadly, any tie-up between Bugatti and Rimac will likely mean the 8.0-liter quad-turbocharged W-16 Bugatti currently uses to power its cars will be phased out at the end of the Chiron's product cycle, currently estimated to be around 2024.
Although VW Group has not yet committed to a fixed date for the end of the internal-combustion engine, the automaker aims to be the global leader for electric vehicles by 2025 at the latest. With Bugatti being a halo for the company, it makes sense the hypercar brand will also be electric by this date.
---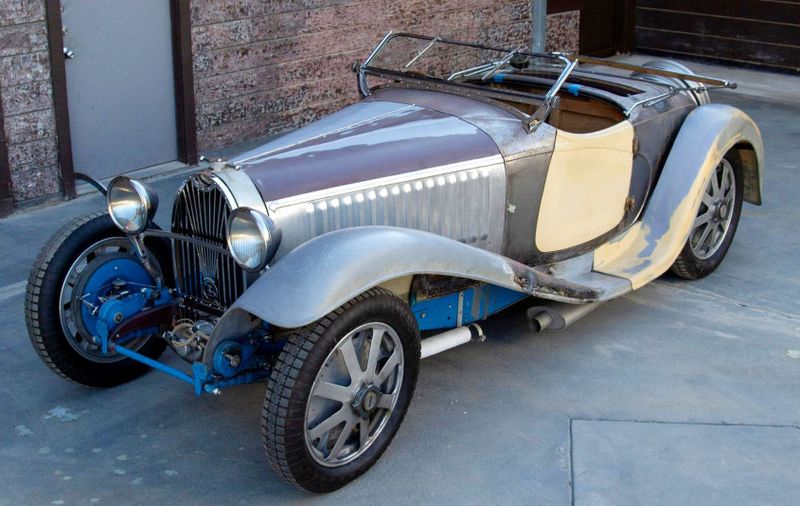 March 6, 2021

Auction result

Bring a Trailer online auction, March 4, 2021, USA
Bugatti Type 55 Gangloff replica project
Known as 55209R, chassis number 49531, engine: C & G replica
Highest bid: $120,000, reserve not met
---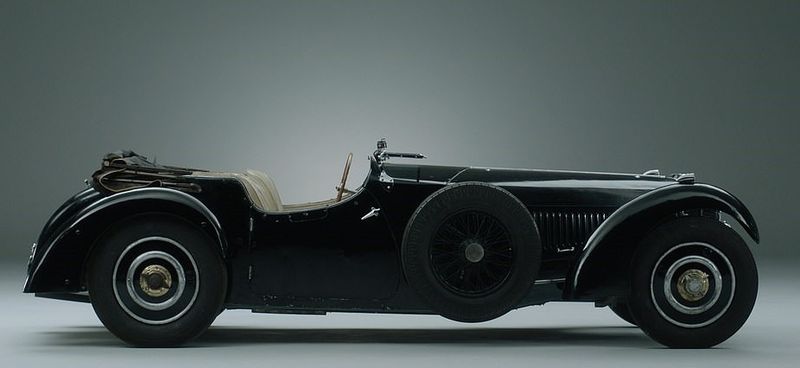 February 19, 2021

Auction result

Bonhams' Legends of the Road auction London, UK, February 19, 2021
1937 Bugatti Type 57S Corsica Roadster, chassis 57503, Estimate: € 5,700,000 - 8,000,000: Sold for € 4,676,000 (£4,047,000) inc. premium

Bugatti T57/57S Rear tower, Sold for £ 3,187 (€ 3,684) inc. premium
Bugatti Brescia 16 Valve Engine Block, Sold for £ 1,020 (€ 1,179) inc. premium
Bugatti T57/57S Engine Block, Sold for £ 2,550 (€ 2,947)
Bugatti T57/57S Gearbox with component parts, Sold for £ 24,000 (€ 27,743)
---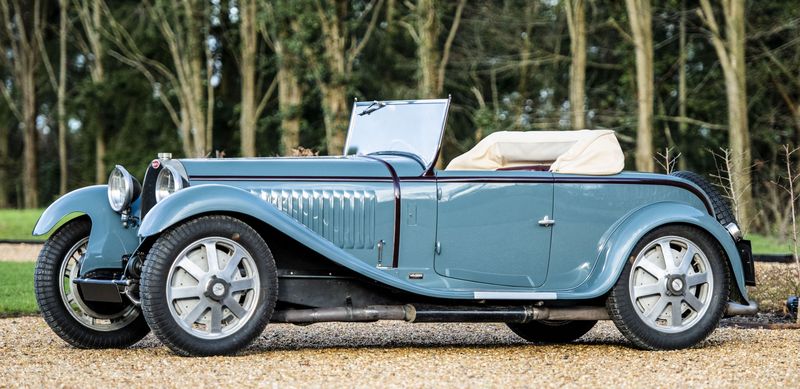 February 12, 2021

Auction result

Artcurial "Parisienne 2021" Auction, February 5, 2021
1932 Bugatti Type 55 Roadster by Vanvooren, Chassis 55204, Engine n°5. Estimate 4,000,000 - 6,000,000 €: Not sold
---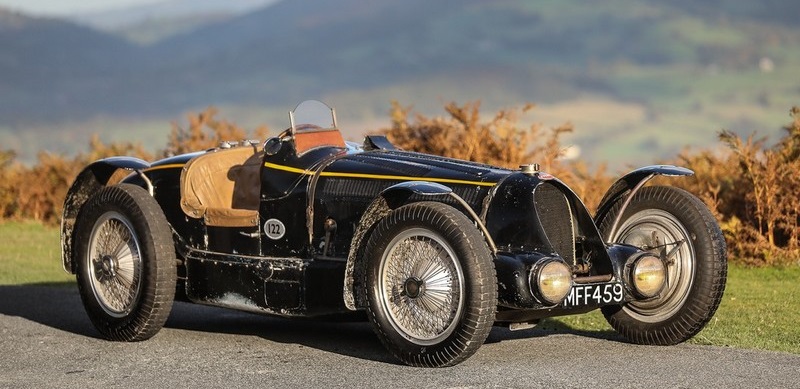 February 27, 2021

Bugatti's at auction – A year of records

Five automotive masterpieces from Molsheim were the five most valuable vehicles sold at auction internationally in 2020. Despite the pandemic, historic Bugattis broke records at the auction houses Bonhams and Gooding & Company: never before have the five most expensive cars sold at auction been produced by one single manufacturer.

Bugatti automobiles have always been exclusive. But as their age increases, so does their value – as shown by an analysis carried out by Classic Analytics, a company specialising in international market analysis and valuation of classic cars worldwide. "Bugattis from the Ettore and Jean Bugatti era, especially in their original condition and with a history of racing, have always been among the most expensive classic cars on the market. This trend has held steady and in fact even increased despite the general decline in interest in pre-war vehicles," says Frank Wilke, Managing Director of Classic Analytics. Classic Analytics belongs to the Hagerty Group, the largest classic car service provider in the USA. The top ten ranking is based on an internal auction database in which all international classic car auctions over the course of a year are observed and evaluated.

"This year certainly presented challenges, but it opened the door for Gooding & Company to create new opportunities to maintain our connection with our automotive community and enthusiasts around the world," says David Gooding, Gooding & Company President and Founder. We held our first-ever UK sale which set many new records that include selling the most expensive Bugatti at public auction and selling the top two most valuable lots of 2020; the 1934 Bugatti Type 59 Sports and the 1937 Bugatti Type 57S Atalante."

"We were honoured and extremely proud to have been entrusted with these exceptional and historic Molsheim masterpieces," said James Knight, Chairman of Bonhams Group. "Both represented superb Type 55's – one a special coachbuilt convertible by Figoni, the other the iconic artistry of the Jean Bugatti Super Sport roadster. As one would expect, both cars attracted multiple bidders. Not surprisingly, the Bugattis won the accolade as the most valuable motorcars sold at their respective auctions. and both also achieved the highest results at auction during Paris Rétromobile 2020 and the 2020 Amelia Car Week respectively."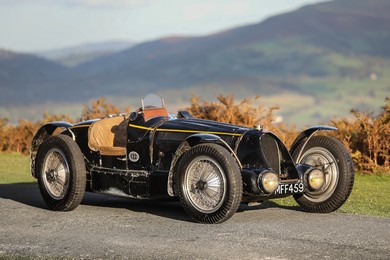 1st: Bugatti Type 59 Sports (Chassis 57248)
A 1934 Bugatti Type 59 Sports with the chassis number 57248 was auctioned for USD 12,681 million at Gooding & Company in London in September 2020. This makes it one of the most expensive Bugattis ever to come under the hammer at a public auction. The Bugatti Type 59 Sports was created as a racing car for the Bugatti Grand Prix factory team and won the Belgian Grand Prix at Spa, later finishing third in the Monaco Grand Prix. Some of the most famous and successful Bugatti racing drivers were at the wheel of this car – including Robert Benoist, Louis Chiron, René Dreyfus, Achille Varzi and Jean-Pierre Wimille. After the successful racing season, Bugatti converted the Type 59 into a sports car. King Leopold of Belgium purchased it in 1937. The vehicle remains in its original, unrestored condition to this day. It is powered by an 8-cylinder in-line engine with a capacity of 3.3 litres and a supercharger. The power output was around 250 PS; other engine variants reached up to 380 PS in the Type 59, which was built until 1936.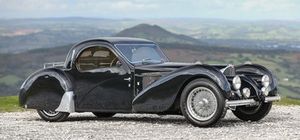 2nd: Bugatti Type 57S Atalante (Chassis 57502)
A sum of EUR 10.44 million was paid by the buyer of a rare and highly desirable 1937 Type 57S Atalante with the chassis number 57502 at the Gooding & Company auction in London. It is a genuinely distinctive model that was purchased by British racing driver and Bugatti enthusiast Earl Howe in 1937. The Bugatti Type 57S Atalante is one of only 17 cars that Jean Bugatti fitted with his sensational Atalante body. The power unit is a turbocharged 3.3-litre eight-cylinder engine that delivers an output of up to 175 PS in the Type 57S.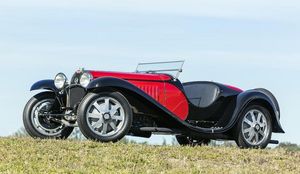 3rd: Bugatti Type 55 Super Sport Roadster (Chassis 55220)
A 1932 Bugatti Type 55 Super Sport Roadster with a factory body designed by Jean Bugatti fetched USD 7.1 million at Bonhams' Amelia Island auction in March 2020. Bugatti produced a total of just 38 Type 55 Super Sport chassis up until 1935. Eleven of the 14 roadster-bodied vehicles built by Jean Bugatti are still in existence today. Victor Rothschild, later the third Baron Rothschild, purchased the Type 55 as a new car and kept it in his collection for many decades. In 1985, Boston professor Dean S. Edmonds Jr. acquired this Bugatti with the chassis number 55220 for GBP 440,000. This made it the most expensive car ever sold in Britain at the time. In Edmonds' ownership, the Bugatti was restored and won first place in its class at Pebble Beach in 1993.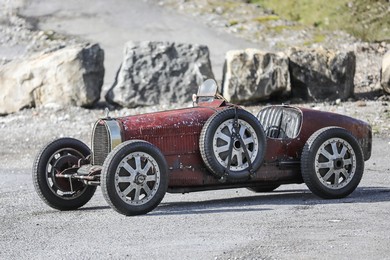 4th: Bugatti Type 35C (Chassis 4871)
A Bugatti Type 35C Grand Prix dating from 1928 fetched USD 5.23 million at a Gooding & Company auction in London – a record for the Type 35. This car with the chassis number 4871 was originally built for the Targa Florio 1928. The first private owner was Jannine Jennky, a French racing driver who drove it to overall victory in the first ever Coupe de Bourgogne in Dijon. Now more than 90 years old, the vehicle had only four owners after 1932. It remains in its original, unrestored condition. Up until 1930, Bugatti produced the Type 35C with an 8cylinder in-line engine and a capacity of two litres. With the help of a Roots-type supercharger, the power unit delivers an output of 125 PS, enabling a top speed of over 200 km/h more than 90 years ago.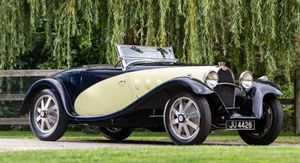 5th: Bugatti Type 55 Super Sport (Chassis 55221)
A Bugatti enthusiast paid USD 5.07 million for a 1931 Type 55 in Paris last February. This made the vehicle with the chassis number 55221 the most expensive car to be sold at one of the Rétromobile 2020 auctions. This is an outstanding vehicle: Louis Chiron and Count Guy Bouriat-Quintart co-drove it as a factory racing car in the 24 Hours of Le Mans in 1932. The later owner had a unique Figoni body put on the chassis. With this body, the Type 55 remained in the family for over 60 years. Its 2.3-litre 8-cylinder supercharged engine produces an output of some 160 PS.
And, what were the next?
6: 1955 Alfa Romeo B.A.T. 9D – $4,946,666
7: 1954 Alfa Romeo B.A.T. 7 – $4,946,666
8: 1953 Alfa Romeo B.A.T. 5 – $4,946,666 (- Collectively, the fantastic three totaled an auction high of 14 million)
9: 2001 Ferrari 550 GT1 Prodrive – $4,290,000
10: 1971 Lamborghini Miura P400 SV Speciale – $4,257,007

---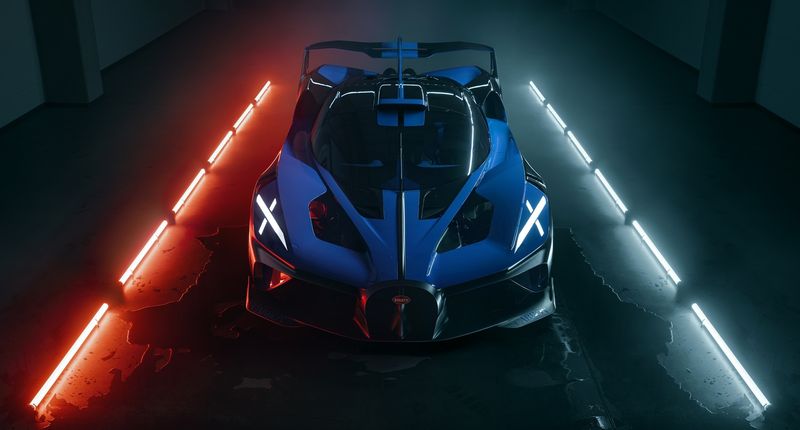 January 27, 2021
Bugatti Bolide voted the most beautiful hyper car of the year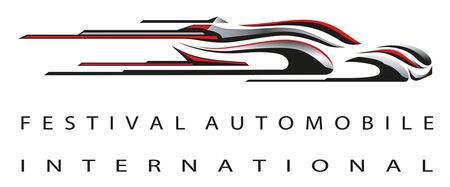 The Bolide wins the "Hypercars" category at the 36th Festival Automobile International.

With the presentation of the Bugatti Bolide last autumn, the French luxury brand Bugatti unveiled its most extreme car to date. Now the Bolide has been officially voted the most beautiful and aesthetic hyper sports car in the world. The Bugatti Bolide won the "Hypercars" category at the prestigious Festival Automobile International in Paris. An expert jury voted the experimental vehicle from Molsheim the most beautiful hyper sports car of 2020 by a substantial margin from a total of four finalists.

In its 36th year, the Festival Automobile International gave awards to cars from a range of categories according to their beauty, aesthetics, form and design. The expert judging panel was made up of 14 judges, chaired by the architect Jean-Michel Wilmotte and Anne Asensio, Vice President of Design Experience at Dassault Systèmes.

The jury selected a winner in each of a total of 15 categories.
Since 1985, the Festival Automobile International has celebrated the automobile in its most beautiful, creative and exciting forms. The industry itself as well as the changes taking place within it are examined, and the trends analysed. The Festival is also committed to shining a spotlight on those men and women who make the car what it is each and every day, who transform it and adapt it to meet changes in society, environmental requirements, economic upheavals and geopolitical challenges. Each year, the Festival judges reward not only major innovations but also the bold ideas and talent of those involved in the automotive field.

"We are extraordinarily proud that the Festival Automobile International judges were as enthusiastic about the design of the Bugatti Bolide as Bugatti fans all around the world. The experiment to demonstrate the brute force of our W16 engine in a lightweight and high-performance car has resulted in a driving experience akin to riding on a cannonball. My thanks goes to the entire Bugatti team, who have once again demonstrated with this incredible car the full extent of their creativity and technological expertise," says Stephan Winkelmann, President of Bugatti. "Our focus has always been on innovation and aesthetics from the very beginning. Receiving this award is an affirmation of our work."

With the presentation of the Bolide in October 2020, Bugatti introduced the most extreme, uncompromising, fastest and lightest vehicle concept in the company's recent history. The French luxury car manufacturer designed an ultra-lightweight shell around the iconic 8.0-litre W16 engine with up to 1,850 PS. Weighing just 1,240 kilograms, the Bolide achieves a phenomenal weight-to-power ratio of just 0.67 kilograms per PS. The top speed has been calculated at well over 500 km/h – without sacrificing maximum handling and agility.

"The Bugatti Bolide has been both the greatest joy and the greatest challenge of my 17-year career in Bugatti Design," says Achim Anscheidt, Design Director at Bugatti. "Combining the extreme aerodynamic and thermodynamic requirements into a complete and integral expression of Bugatti's unique DNA is the clearest demonstration of our motto 'Form follows performance'. The fact that this sequential iteration between technical development and design has been recognised by the jury on a stylistic level is a source of enormous pride for the Bugatti design team, and we are extremely grateful for that."

Also read the article in the Volume 26, Issue 1 of the Bugatti Revue on the design of the Bugatti Bolide.
---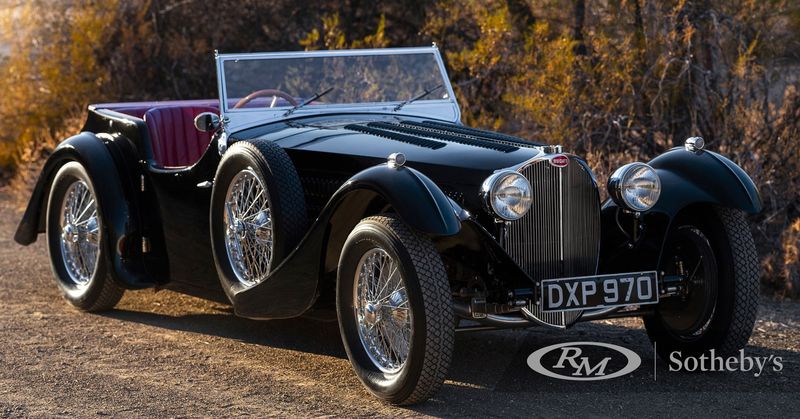 January 25, 2021
Auction result
RM | Sotheby's Auction, Arizona, USA, January 22, 2021
1937 Bugatti Type 57SC Tourer by Corsica, Chassis 57512, Engine 19S, Estimate $4,750,000 - $6,500,000: Sold for $4,735,000
---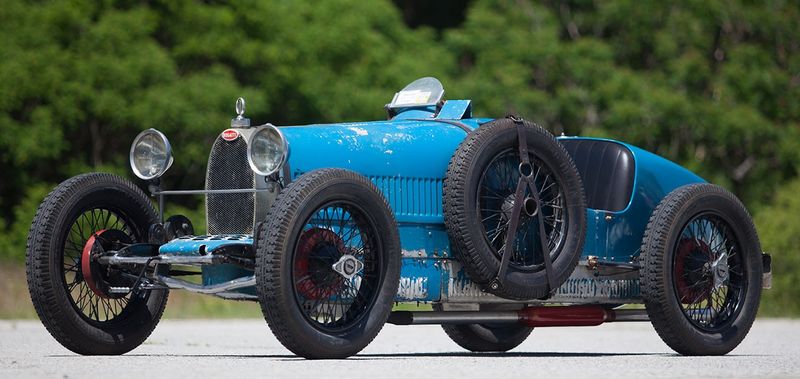 January 22, 2021
Auction result
Gooding & Company Scottsdale Auction, January 22, 2021
1926 Bugatti T37, Chassis 37227, Engine 137, Estimate $650,000 - $850,000: Sold for $935,000 including costs
---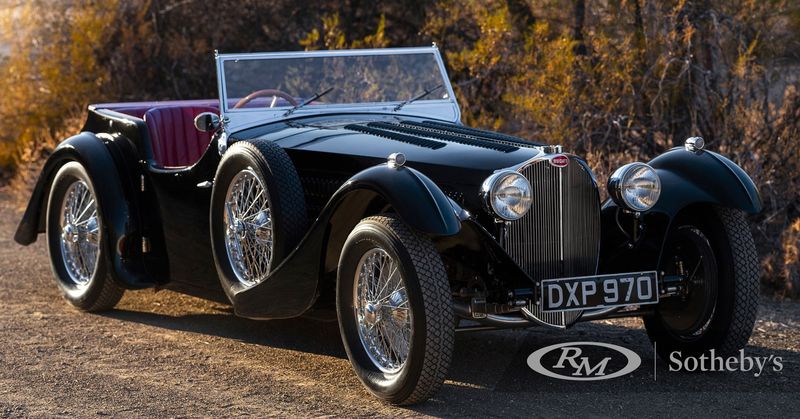 January 2, 2021
Another 1937 Bugatti Type 57S Corsica Roadster to be auctioned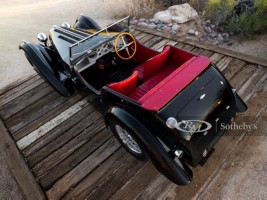 Following the announcement of the T57S Corsica Roadster auction by Bonhams, taking place on February 19, 2021, (chassis 57503) a second quite similar vehicle will be Auctioned by RM / Sotheby's on January 22.

This one is chassis 57512, and there are some differences of course: This car is fitted with a supercharger, thus it is a T57SC; experts differ in opinion about if the car was fitted with one at the factory in 1939, or at some later date.
Obviously there's a difference in the body, notably the different wings.
And there's a difference in condition, where 57503 is largely unrestored, has not been driven for half a century and was also recently re-discovered, and now for the first time since ages on the open market. 57512 seems to be perfectly restored, and has been on offer for a while now, for example on PreWarCar.com, but also in a RM Sotheby's Auction at Amelia Island on March 8-9, 2019 (Estimate: $6,000,000 - $7,500,000) and at the Mecum Auctions Monterey, on August 17, 2019, but failed to sell so far.

Thus: Take your pick of a low-slung Bugatti Corsica Roadster! Or, this is you chance to acquire both, and put them in the same stable!

More about this car and the auction in the Events section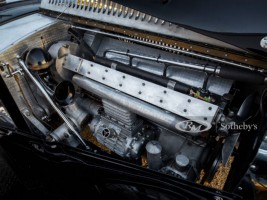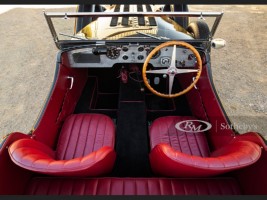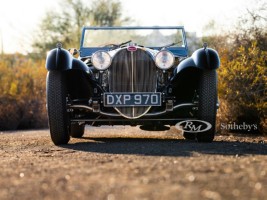 ---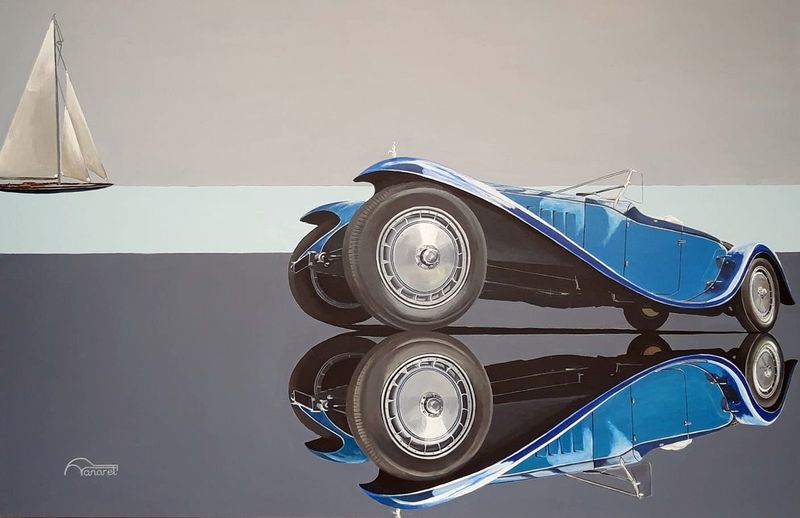 Bugatti Royale Roadster "Esders"
By François Vanaret
---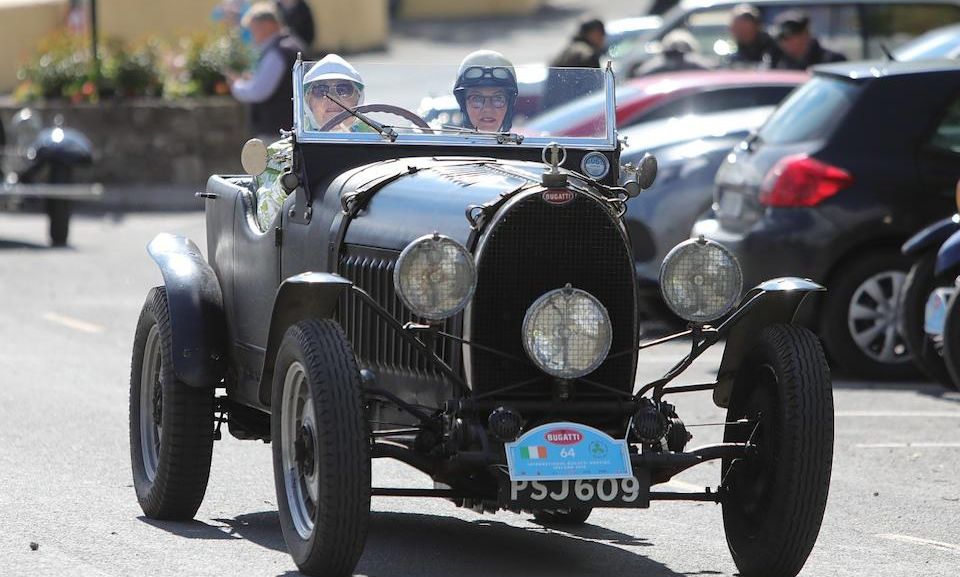 July 9, 2021 Bonhams' Goodwood Festival of Speed auction Chichester, Goodwood, UK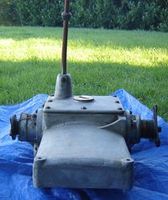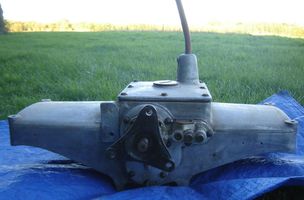 1930 Bugatti Type 49 open tourer, Chassis no. BC149,
Estimate: £ 200,000 - 250,000 (€ 230,000 - 290,000)
1928 Bugatti Type 40 Torpedo sports, Chassis no. 40557 Engine no. 495, Estimate: £ 200,000 - 250,000 (€ 230,000 - 290,000)
Original Bugatti Type 49 gearbox, Estimate: £ 4,000 - 6,000 (€ 4,700 - 7,000)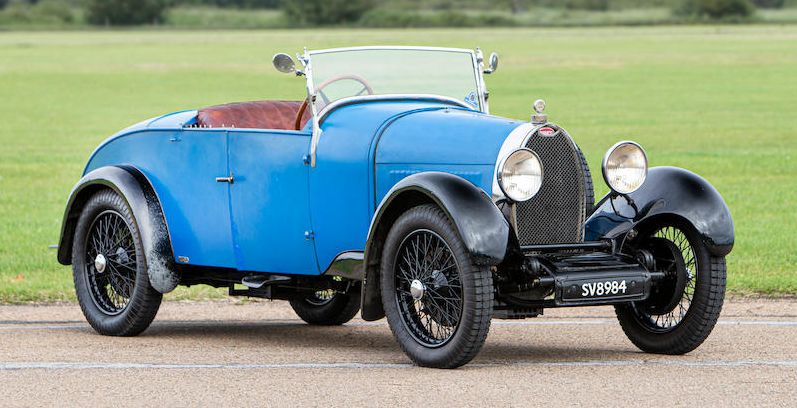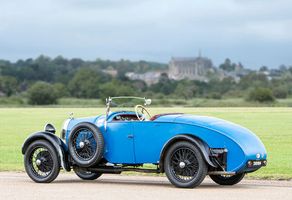 1928 Bugatti Type 40 Torpedo sports Chassis no. 40557 Engine no. 495
Original coachwork
Matching numbers throughout
Current ownership for 20 years
Enthusiastically campaigned internationally
Eligible for the Mille Miglia
The Bugatti Type 40 offered for sale here is very well known to the Bugatti Owners' Club having taken part in numerous events with the current long-term enthusiast owners, both at home and overseas. It is a highly original and correct example and is supplied with a full historical report from Bugatti authorities David Sewell and Mark Morris. Sporting and yet practical, the Type 40 is eligible for numerous historic events including perhaps the most internationally renowned of them all: the Mille Miglia.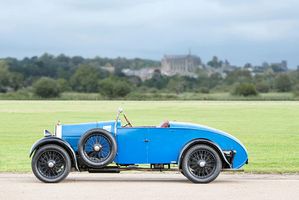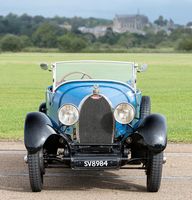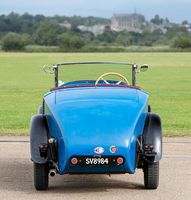 Introduced in 1926, the Type 40 Bugatti succeeded the Brescia types, being built on a longer wheelbase and equipped with a more powerful engine. Virtually identical to that used in the Type 37 Grand Prix car, the latter was a four-cylinder unit displacing 1,496cc, which incorporated an all-plain-bearing bottom end with five mains. A single overhead camshaft operated three valves per cylinder (two inlets, one exhaust) and the Type 40's 45bhp or thereabouts maximum power output was transmitted to the rear wheels via a separate four-speed gearbox. An estimated 787 Type 40s had been made when production ceased in May 1931, with a further 32 Type 40As completed with the 1,627cc engine by the end of that year. It is estimated that fewer than 200 survive today.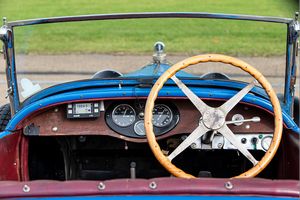 A well-documented and researched motorcar, '40557' comes with the aforementioned comprehensive report penned by Messrs Sewell and Morris. Gratifyingly, the ownership history is virtually complete apart from the usual gap during the war years and immediately thereafter. According to the report, the Bugatti was originally collected directly from the factory at Molsheim by the first owner/agent Dr Momain, and was purchased for Garage Gergovia of Clemont-Ferrand, of which Dr Momain was a proprietor.
It appears that '40557' was supplied in rolling chassis form and clothed with a two-seater Torpedo-style sports body with disappearing hood: the same coachwork it carries today. It is not entirely clear whether the body is by Charles Duval of Paris or possibly Maleyre of Bordeaux. Duval worked closely with the neighbouring Amilcar factory, and there are elements of the coachwork on '40557' that reflect Duval's styling, and hence the car carries Duval coachbuilder's plates. However, there are also design elements that point toward Malayre, particularly some of the latter's coachwork produced for BNC. Both firms are roughly equidistant from Clemont-Ferrand, so one cannot assume that one would have been more convenient than the other. The speculation regarding which carrossier bodied the car is included in an appendix to the historical report and makes for interesting reading. Regardless of which coachbuilder can claim the work, what is clear is that the coachwork fitted to '40557' is the original.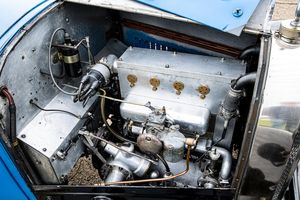 According to the aforementioned report: "In respect of its mechanical components it (40557) retains all of its original major Molsheim components: chassis frame, engine, front and rear axles and gearbox. The correlation of numbers is 'matching' throughout as 495 and the frame is 514, so close in production sequence that it has always been one complete car."
A listing of the known owners is contained within the report and can be supplied upon request. The car spent all of its life in France and from 1932 onwards remained in and around Paris. During 1986, work was carried out on the car by the French Bugatti specialist Jean Novo, and a photograph on file shows '40557' in his workshop.
The Type 40 was purchased by the current British owners some 20 years ago from the outskirts of Paris. Since then '40557' has enjoyed regular maintenance, mostly carried out by Bugatti specialists Gentry Restorations of Worminghall, Buckinghamshire. The engine was completely rebuilt to original specification between 2003 and 2005 with a refresh of the top end carried out in 2015. The gearbox bearings have been replaced and further general maintenance carried out where necessary, including king-pins, bushes, etc.
The current owners have greatly enjoyed owning '40557', competing with it on numerous national and international rallies. These have included the International Bugatti Meetings in Europe; the Great Australian Bugatti Rally in 2014; a Bugatti rally in New Zealand; and the 2016 La Festa Mille Miglia in Japan. Much loved by its owners and the Bugatti Owners' Club, this highly original and well-travelled Type 40 tourer is offered for sale only to make way for another Bugatti project. As well as the aforementioned historical report, the comprehensive history file also contains FIVA papers that require renewal with any change of ownership. '40557' is a fine and correct example of Bugatti's Type 40 and ready to be enjoyed by the next custodians on the many international historic events for which it is eligible, including the Mille Miglia.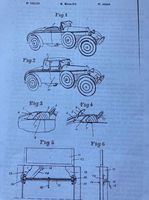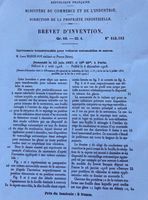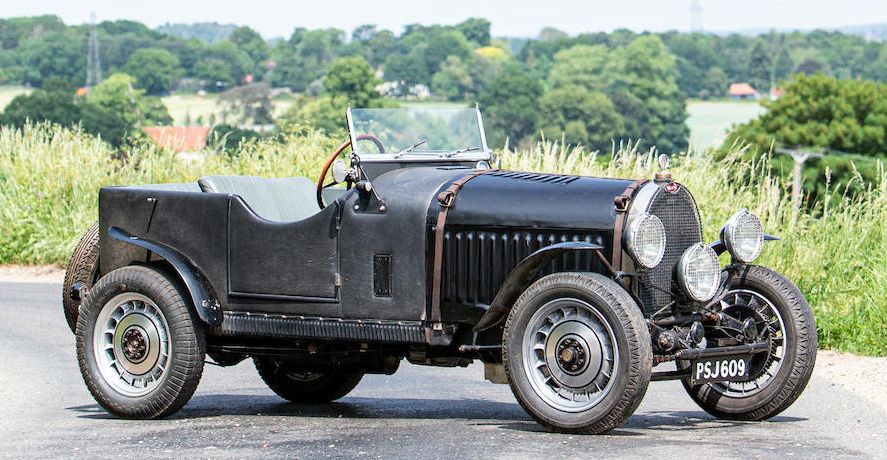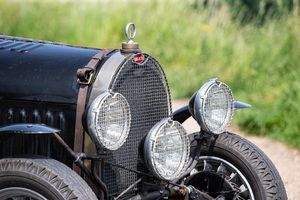 1930 Bugatti Type 49 open tourer Chassis no. BC149
Rebuilt and commissioned for the road by Ernie Allen
Present family ownership since 1979
3.3-litre engine
Cotal electromagnetic gearbox
Extensively campaigned on Bugatti and VSCC events
By the early 1930s Ettore Bugatti had established an unrivalled reputation for building cars with outstanding performance on road or track. Indeed, the world's greatest racing drivers enjoyed countless successes aboard the Molsheim factory's products and often chose them for their everyday transport. Although Bugatti is best remembered for its racing models, most of the 6,000-or-so cars produced at the Molsheim factory were touring cars of sporting character. Ultimate expression of Ettore Bugatti's original design, the Type 49 debuted at the Paris Salon in 1930 and was produced from then until 1934. The Type 49 would be the last of the maestro's eight-cylinder, single-camshaft touring cars and is considered by many to be the finest of all 'real' Bugattis. The new 3.3-litre model featured twin-plug ignition, an enlarged radiator, ball-change gearlever and (later) very pretty cast aluminium wheels among many other improvements. Total Type 49 production amounted to 470 cars, of which it is believed that around 76 exist today.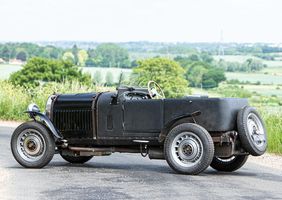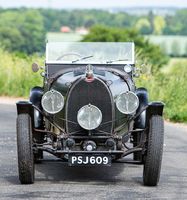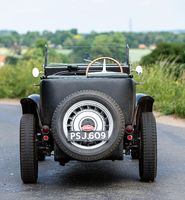 A civilised Grande Routière to match those of rivals Delage and Delahaye, the Type 49 attracted coachwork of the finest quality executed in a wide variety of styles by both the Molsheim factory and by other coachbuilders throughout Europe. The four-seat open tourer body carried by this example is in the style of Van Vooren's Weymann-type coachwork as fitted to the 1931 Le Mans cars.
A vintage car enthusiast for over 65 years, Paul Roberts purchased this Type 49 in 1979 from H H Posner. Paul and his wife Sylvia are very well known in international Bugatti circles, and this car is a former stable mate of the Roberts' Type 23 Brescia, which was sold by Bonhams at the Goodwood Festival of Speed in 2014 for an above-estimate £438,300.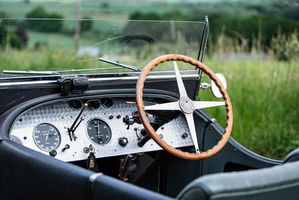 H H Posner had acquired the chassis rails, axles, springs, gearbox, steering box and other components from Switzerland, while the car's 3.3-litre eight-cylinder engine ('1024', over-stamped '49560') incorporates a factory replacement crankcase and came from New York. The chassis plate '4189' is that of a car delivered to Bucar in Zurich, Switzerland, while the rolling chassis itself was made by Ernie Allen in the UK. The rails have been shortened to 108.3" (2.75 metres) as per the Type 47 and Type 54 (original pieces retained).
The engine was rebuilt by S Longland-Hart in Suffolk and the body by Keith Hill. The engine incorporates new blocks from Eric Koux; a reground crankshaft; new white metal bearings; Stellited valve seats; and new pistons, valves, and valve springs. In addition, the oil and water pumps were rebuilt and the original inlet manifold exchanged for a superior Miro item. Fitted to accommodate the needs of a disabled driver, the four-speed gearbox is of the Cotal electromagnetic type, which allows gear changing, even under full throttle, without any interruption in the drive. (The Type 49 gearbox number '24' has been retained with the car and is for sale as Lot 208A) Marque specialist Ivan Dutton supplied a stronger crown wheel and pinion, while the new half-shafts came from Tom Dark. The final drive ratio is 3.63:1, giving 24.15mph per 1,000 revs (ie: 5,000rpm = 128mph on Blockley tyres).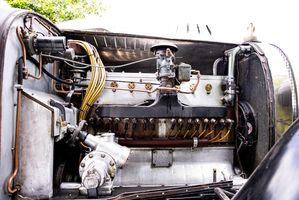 The vendor advises us that, other than the bodywork and replacements for worn-out components, the car is composed of original Bugatti parts and in-period ancillaries, the latter including a Jaeger km/h speedometer (rebuilt but unconnected) and rev counter, Boyce Motor Meter, etc.
Ownership of 'PSJ 609' was transferred to Paul's wife Sylvia in 2000, since when she has driven the car on Bugatti rallies in Holland, Sicily, and Portugal; made frequent visits to Prescott garden parties; and attended VSCC events at Silverstone and elsewhere. In 2019 'PSJ 609' took part in and successfully completed the Bugatti Centenary Rally in Ireland. Presented in good running order throughout, this well sorted Type 49 is only sold on account of the vendor's advancing years.
More info on the Bonhams website
---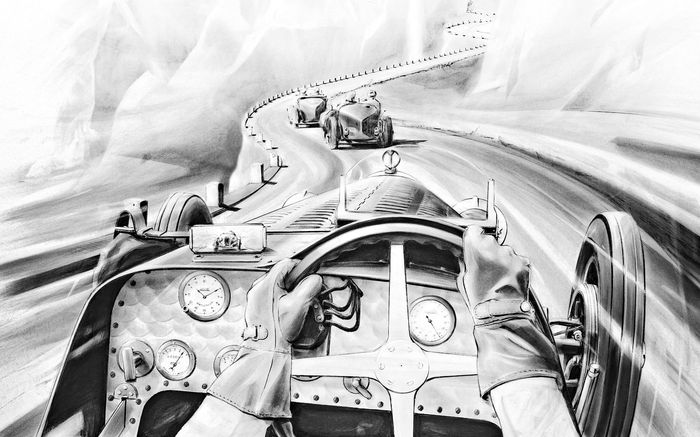 June 14 - 20, 2021 International Bugatti Meeting Germany 2021 Bavarian Alps, Germany
UPDATE:
International Bugatti-Meeting Germany 2021 - date changed to: September 27 to October 3
Prologue "Crossing the Alpes" - date changed to September 24 - 26
Before the IBM, there will be the Prologue "Crossing the Alpes", from June 11 to 13
From the organisation:
"Dear Bugatti friends, more than half of an incredibly eventful year is already behind us and yet we still have the feeling of stepping on the spot and not really making any progress. The world, our life as we knew it, has gone off the rails. The virus, which does not stop at any borders, means for each of us a hitherto unfelt insecurity and fear – the fear of what may happen to us personally, to our family, to our friends and their family.
Certainly none of us has ever experienced such a crisis, and we in the Bugatti community will only be able to overcome it all together and then go back into a positive future with renewed strength.
However, it is also a reality that nothing can be properly assessed, that it is difficult to make binding plans. And yet we would like to invite you to the "International Bugatti Meeting Germany 2021". We can assure that we will continue to work hard and with dedication to ensure that the international community of Bugatti enthusiasts will be able to welcome you in Bavaria next year as planned."
---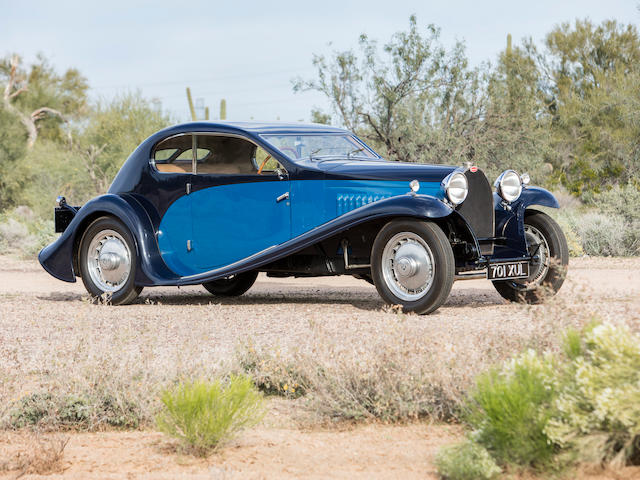 June 15, 2021 RM Sotheby's Milan auction Milano, Italy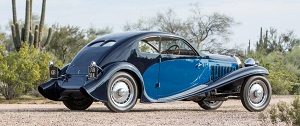 1931 Bugatti Type 46 Coupé 'Superprofilée'
Chassis No. 46491, Engine No. 345
Estimate: €500,000 - €700,000
An outstanding homage to one of the most recognisable Jean Bugatti designs
One of two bare chassis purchased from Roland Bugatti by Richard Baudens in the 1950s
Built to a very high standard by Ashton Keynes Vintage Restorations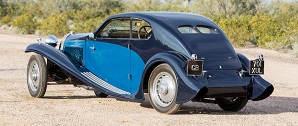 Bugatti introduced the Type 46 at the end of 1929, and it remained in production until 1933, by which time 468 chassis had been manufactured. It was a large and imposing luxury chassis, weighing in at 1,134 kilograms and powered by a powerful 5.4-litre straight-eight engine that was more than up to the task. Abundant torque insured the kind of top gear flexibility for which Bugattis were famous.
Customers received the best of both worlds: a superior conveyance that provided supple motoring at grand touring car level, with the exceptional road manners for which the Molsheim marque had become justly famous. Small wonder then that Bugatti achieved well over 400 sales despite the car's introduction coinciding with the Great Depression.
Some called the Type 46 "La Petite Royale" in reference to the titanic Bugatti Type 41; the moniker aptly captured the essence of this expansive chassis and the grand bodies with which it was fitted. This was reflected in an enthusiastic review in the British magazine The Motor when a Type 46 was road tested in 1930: "A really solidly built, beautifully sprung, comfortable saloon car with exceptionally rapid acceleration through its speed range; that is the 32.5hp or 5-litre Bugatti. It combines the luxury of a large limousine, the flexibility and top gear performance of a thoroughbred town carriage with the perfect road holding, the speed and acceleration of the best type of sports model." High praise indeed.
A TRIBUTE TO THE STUNNING SUPERPROFILÉ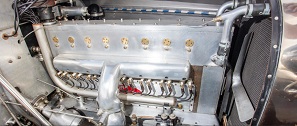 As it survives today, chassis 46491 presents the unique combination of a pristine Bugatti chassis paired with one of the most iconic designs created by Jean Bugatti and his assistant Joseph Walter. Remarkably, its present coachwork is the first this chassis has ever worn.
It is commonly accepted that after World War II, a number of unfinished chassis existed in various states of assembly in and around the Bugatti works. The ownership of four of these is believed to have been assigned to Roland Bugatti, son of Ettore. As documented in the bulletin of the American Bugatti Club (Pur Sang, Vol. 21, No. 3. Fall 1980), two of these chassis were discovered by Richard Baudens, a close friend of Roland Bugatti, in Roland's garage sometime in 1952: chassis 46482 and 46491. Neither had ever been bodied or run, and both came with an unused and crated Type 46 engine.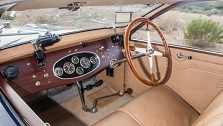 Mr. Baudens bought both chassis and had them transported to his garage in Paris. Chassis 46482 went to America, while Mr. Baudens kept 46491 with the intention of having a body manufactured for it. But as is often the case with such well-intentioned projects, this never happened, and the still-bare chassis was acquired by Michael Glass in the United Kingdom. Mr. Glass kept it until the 1980s, when it was bought by the legendary car dealer Charles Howard, who then sold it to a collector of French automobiles in the mid-1990s.
With this aged but original chassis—still displaying unmarked paint and body mounting pads—serving as the starting point, a 10-year restoration commenced; first in the shop of the famous Bugatti author Barrie Price, and later transferred to the premises of the distinguished Ashton Keynes Vintage Restorations, operated by Keith Bowley.
The inspiration for chassis 46491's coachwork was well-chosen: A Gangloff-bodied Type 50 coupé of astounding proportions. The star of the Bugatti stand at the 1932 Paris Salon, its resplendent black and blue colour scheme and flowing lines were accentuated by a contrasting sweep panel inspired by the Le Baron phaeton designs first seen on the Duesenberg Model J in 1929. Subsequently called the "Superprofilée," this stunning design featured a steeply raked windshield, an elegant fastback rear and flowing front fenders that swept back in an unbroken line to include the running board, before connecting with an elegant upsweep to the skirted rear fender. For once, breathtaking was no exaggeration.
The Type 46 and Type 50 chassis share their wheelbase and other basic dimensions; in fact, the period Superprofilée body found in the Cité de l'Automobile, Collection Schlumpf in France is itself presently mounted on a Type 46 chassis. Small wonder then, that this spectacular design statement was chosen to be replicated on chassis 46491. The result is a car of sublime symmetry and startling modernity, especially considering that its lines are nearly 90 years old!
Presented in wonderfully maintained condition, chassis 46491 presents a unique opportunity to acquire an irresistible homage to this striking design—an exquisitely crafted motorcar of which Jean Bugatti himself would no doubt approve.
This car, chassis 46491, was offered on auction by Bonhams' in their Scottsdale auction, on January 17, 2019. The estimate then was: € 660,000 - 880,000, and the car was not sold
---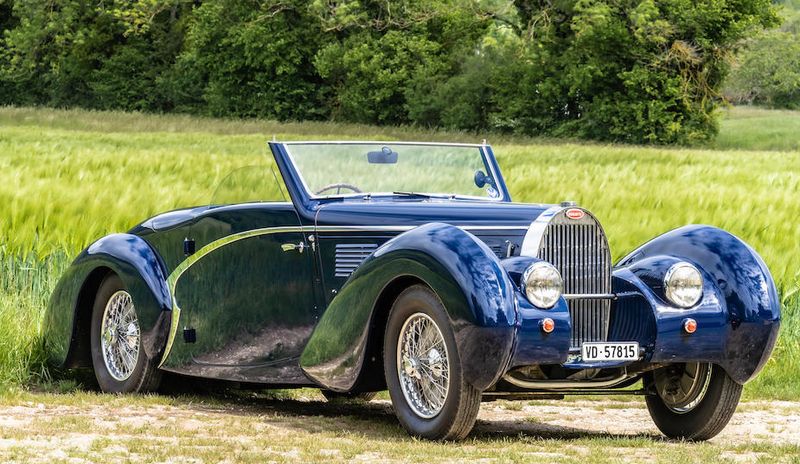 June 20, 2021 Bonhams' Bonmont Sale - Collector's Motor Cars Cheserex, Switzerland
1933 Type 49 Roadster, Chassis no. 49562, Engine no. 49116-L19. Estimate: € 230,000 - 320,000
1939 Type 57C 'Aravis' cabriolet, Chassis no. 57815 Engine no. 85C. Estimate: € 640,000 - 910,000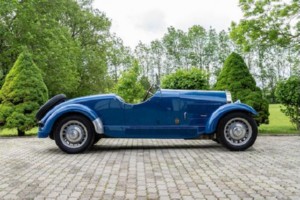 1933 Type 49 Roadster, Chassis no. 49562, Engine no. 49116-L19

One of an estimated 76 survivors
Purchased from the Friderich Garage, Nice
Present ownership since 1962
Professionally restored by Autorestorations of Christchurch, NZ circa 2005
By the early 1930s Ettore Bugatti had established an unrivalled reputation for building cars with outstanding performance on road or track. Indeed, the world's greatest racing drivers enjoyed countless successes aboard the Molsheim factory's products and often chose them for their everyday transport. Although Bugatti is best remembered for its racing models, most of the 6,000-or-so cars produced at the Molsheim factory were touring cars of sporting character.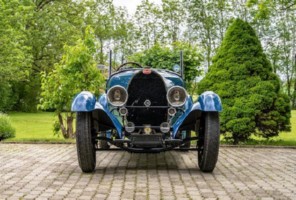 Ultimate expression of Ettore Bugatti's original design, the Type 49 debuted at the Paris Salon in 1930 and was produced from then until 1934. The Type 49 would be the last of the maestro's eight-cylinder, single-camshaft touring cars and is considered by many to be the finest of all 'real' Bugattis.
The new model had bore and stroke dimensions of 72mm x 100mm for a capacity of 3.3 litres, twin-plug ignition, an enlarged radiator and a ball-change gear lever among many other improvements, while very pretty cast aluminium wheels became available later. A civilised Grande Routière to match those of rivals Delage and Delahaye, the Type 49 attracted coachwork of the finest quality executed in a wide variety of styles by both the Molsheim factory and by other coachbuilders throughout Europe. Total Type 49 production amounted to 470 cars, the model being manufactured until the Type 57's arrival at the 1933 Salon. It is estimated that around 76 exist today.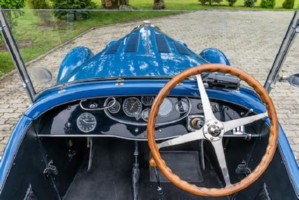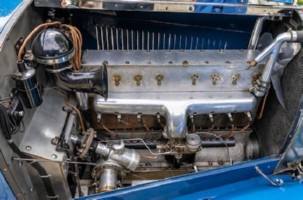 Produced in February 1933, Bugatti Type 49, chassis number '49562' is one of the last to be manufactured and was not delivered until 4th August '33, invoiced to Daste. The current owner bought the car as part of the bankrupt Friderich Garage's stock in 1962. A qualified mechanical engineer, Ernest Friderich had worked alongside Ettore Bugatti during the latter's spells with Mathis and Deutz before establishing an agency for his friend's new marque in Nice, France in 1909. The vendor was able to purchase all the available parts plus five cars.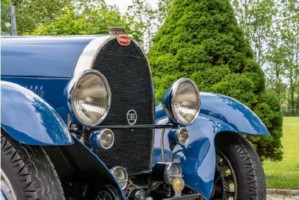 The engine currently installed ('49116-L19') is ex-chassis '43160'. The vendor, who had owned '43160' since 1989, decided to remove the engine and put it in '49562', which was one of the cars taken to Bordeaux when the Bugatti factory moved there from Molsheim soon after the outbreak of WW2. The vendor gave the original engine to one of his very close friends. New coachwork was designed along the lines of the Type 49-engined Type 44 of Willem Pieters ('44920'), the body of which was built by Albert Wathele of Liège, Belgium. '49562' was restored by Autorestorations of Christchurch, New Zealand in time for the 2005 Australian Bugatti Rally. Unfortunately, the engine broke down during the Australian Rally and the car was unable to complete the event. Since then '49562' has successfully completed numerous rallies with its owner.
Offered with a Type 44/49 parts catalogue and a Swiss Carte Grise, this handsome Type 49 is described by the private vendor as in good restored condition, with excellent engine, transmission and body. (It should be noted that the chassis plate stamped '49445' was attached erroneously.)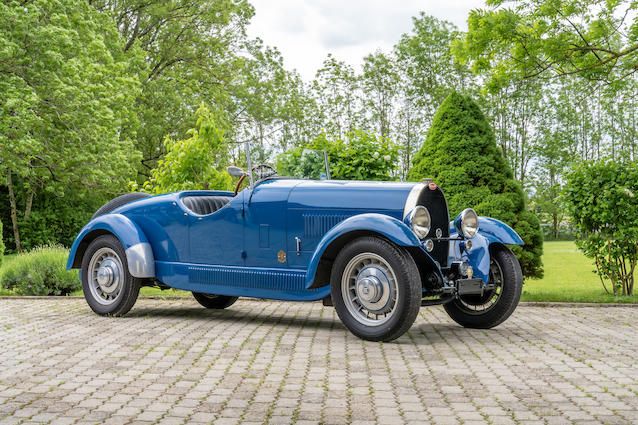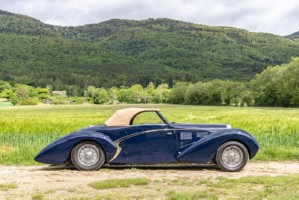 1939 Type 57C 'Aravis' cabriolet, Chassis no. 57815 Engine no. 85C

One of only 96 Type 57C supercharged models built
Delivered new to Bordeaux, France
Matching chassis, engine, gearbox and rear axle
Professionally restored in the 2000s
Aravis body built in the UK to Gangloff drawings
By the early 1930s Ettore Bugatti had established an unrivalled reputation for building cars with outstanding performance on road or track; the world's greatest racing drivers enjoying countless successes aboard the Molsheim factory's products and often choosing them for their everyday transport. Although Bugatti is best remembered for its racing models, most of the 6,000-or-so cars produced at the Molsheim factory were touring cars of sporting character. Produced from 1934 to 1940, the Type 57 exemplified Bugatti's policy of building fast and exciting touring cars possessing excellent handling and brakes.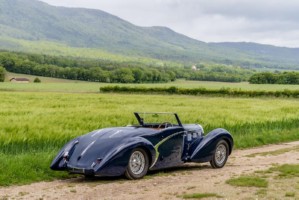 Because of its lengthy run of success, Ettore Bugatti had remained stubbornly committed to his single-cam engine, only adopting the more advanced double-overhead-camshaft method of valve actuation, after much prompting by his eldest son Jean, on the Type 50 of 1930. From then on Jean Bugatti took greater responsibility for design, his first car being the exquisite Type 55 roadster, a model ranking among the finest sports cars of the 1930s. He followed that with a design of equal stature, the Type 57. A larger car than the Type 55, the Type 57 was powered by a 3.3-litre, double-overhead-camshaft straight eight of modern design, derived from that of the Type 51 Grand Prix car, and was housed in Bugatti's familiar Vintage-style chassis. The range showed the strong influence of Jean Bugatti and at last gave the marque a civilised Grande Routière to match those of rivals Delage and Delahaye.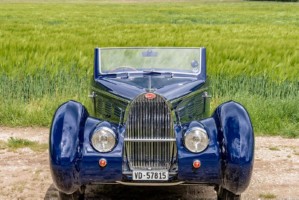 The Type 57 was the firm's most popular model and attracted coachwork of the finest quality executed in a startling variety of styles. It was no mere rich man's plaything, though, as evidenced by two outright wins at Le Mans; proof, if it were needed, that ancestral virtues had not been abandoned when creating a car fit to rank alongside Rolls-Royce or Bentley. Its success is revealed by the production figures: according to the Bugatti Trust, some 630 examples of the Type 57/57C were produced between 1934 and 1940, and the post-war Type 101 was based on its chassis. It is estimated that some 96 were the blown 57C variant. Although many Type 57s were fitted with bespoke bodies, the most popular coachwork was built to Jean Bugatti's designs by the marque's preferred carrossier, Gangloff. Gangloff's factory was situated at Colmar, 45 kilometres south of Molsheim, and the majority of Bugatti's bodies was built there.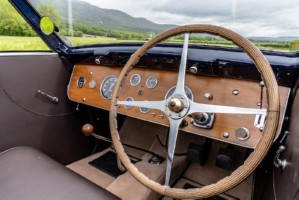 The car offered here is a rare example of the Roots-supercharged Type 57C. Chassis number '57815', with engine '85C', was one of a batch of five built in March 1939, two weeks after Jean Bugatti's fatal accident, as France prepared for war. It was completed with a factory Galibier berline body by Gangloff and finished in green with a Havana coloured leather interior. The Type 57C was delivered on 21st April 1939 priced at 108,260 French francs and invoiced to the Bugatti agent Gascogne Automobiles. The first owner was Patrick Bardinet, a cognac brewer of Bordeaux, and the second owner's name was Gattiea.
Nothing further is known of the car's history until it surfaced in the ownership of Monte Carlo resident Mr Michael Glass, who took the Bugatti with him when he moved to the USA. Mr Glass sold '57815' to Bob Seiffert of Boulder, Colorado, who in turn sold it on to Bill Hinds. Its next owner was Bill Jacobs of Joliet, Illinois. Having stood outside in the cold Chicago winters for many years, the original Galibier body became unusable. Owner of a sizeable collection, Bill Jacobs wanted to built a Gangloff Aravis body for the car (like those on '57749' and '57678') but never got around to doing it. After a negotiation that went on for three years, the vendor eventually bought the Bugatti, unseen, over the telephone and eight weeks later the car arrived in Rotterdam, packed in 17 crates with a detailed inventory of the hundreds of parts. The vendor is the seventh owner.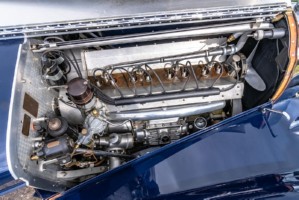 A set of drawings (dated 24th November 1938) was obtained for Gangloff's Aravis cabriolet design '3942'. The vendor then commissioned the new coachwork from Vintage Cars of Southampton, UK and visited them on eight occasions to keep track of the work's progress. Named after a French mountain like other Bugatti bodies, the Aravis was a stylish 2/3-seater cabriolet designed by Lucien Schlatter, a designer at the beginning of his career with Gangloff. Only Gangloff and Letourneur et Marchand were allowed to use the Aravis name for this type of cabriolet. It is believed that each firm produced six Aravis bodies making the total produced 12, of which six survive: three by each of the two coachbuilders.
In addition to having a new body constructed, the chassis, engine and transmission were totally overhauled by Klopper Engineering in Holland and the interior re-trimmed in leather. Some two years later the restoration was duly completed (at a cost of some CHF600,000). Simon Klopper did an excellent job and on completion the car ran instantly; it remains in excellent condition today.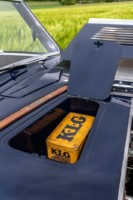 The finished Bugatti was shipped from the UK to The Netherlands. Made roadworthy, the car was immediately entered in a Molsheim event and an Alsace rally in the first months following its arrival, covering 1,800 kilometres in the first month. The punctilious Swiss authorities could find no fault with the Bugatti, only remarking that the 45 kilometres on the odometer was 43 kilometres in reality.
The vendor advises us that the difference in driving between the Type 57 and the 57C is enormous. No doubt the supercharger plays an important role, the Type 57C's blown engine producing 180 horsepower compared with the Type 57's 130. Also, most 57s have heavier steel four-seater bodies, further increasing the performance gap. Another improvement is the blown car's unique hydraulic brakes.
Boasting a matching chassis, engine, gearbox and rear axle, '57815' has featured in numerous publications, including the Swiss, Netherlands and American Bugatti Registers. The car comes with an extensive history file containing numerous photographs; email correspondence between the vendor and its restorers; a Swiss Carte Grise; and an inspection report from the Swiss authorities identifying no problems.
Because of its rarity, the supercharged Type 57C is one of the most sought-after of all Bugattis, not the least because of its superior performance, courtesy of that race-developed blown engine. Unquestionably one of the most elegant cars of its era, this rare and desirable 'Aravis' is all the more remarkable for having had only seven custodians, the last two owning it for a combined total of 40 years. It is eligible for numerous prestigious events, including those of Bugatti clubs on both sides of the Atlantic, and thus represents a wonderful opportunity for aficionados of the marque to acquire a unique car with a fascinating history.
---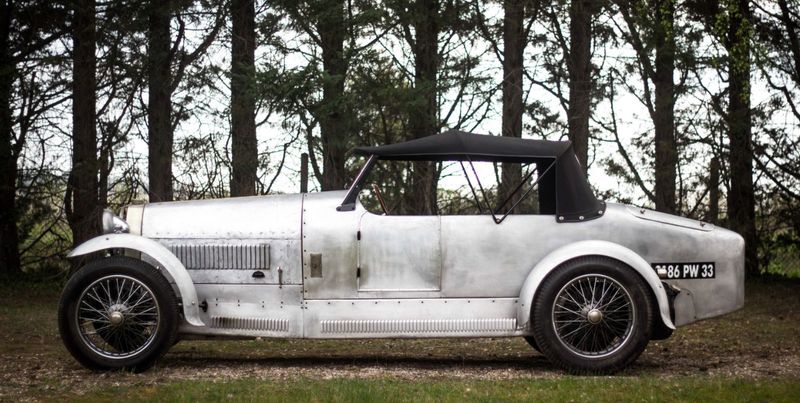 June 21, 2021 Osenat Automobiles de Collection auction Fontainebleau, France
1926 Bugatti Type 35 A, Chassis no. 4627R, Estimate: € 300,000 - 400,000
1926 Bugatti Type 38, Chassis no. 38325, Estimate: € 300,000 - 400,000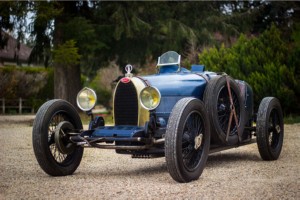 1926 Bugatti Type 35 A, Chassis no. 4627R

2 litre Race Imitation Tecla
French registration
The car presented for sale is in the Type 35A configuration derived from the 1924 Bugatti Type 35 Grand Prix.
Examination of the vehicle shows a car in good used condition, with an old patina.
The engraved chassis plate 4627 is new.
The body is said to have been made in Spain as well as the bonnet.
According to the owner, the mirror and the windscreen are two original parts. The chassis is new and of English origin. It is true to the model, equipped with the front brake cable exit hole, behind the spring articulation, as on the pre-1928 Bugatti eight cylinder Grand Prix frames. It is fitted with new ventilated drums.
The radiator is new, and has no factory markings. It is equipped with a small additional fan. The engine was originally a complete unit from Argentina. It has the number 34 followed by the letter A engraved on the top of its lower casing. They refer to the engine N° 34A that equipped the Bugatti type 35A chassis 4627, the donor of the registration card. These strokes are modern.
The letter A is not in the Bugatti factory style of engraving, and on this rear flap of the engine lower casing should be engraved the chassis number 4627, which is not the case.
The underside of the crankcase shows the cooling fins in perfect condition with no trace of impact from any stone or irregularity in the coating, which would be impossible for a nearly one hundred year old part. The engine is fitted with a Paris Rhone Dynamo and a starter motor mounted on the gearbox cover as was the case on this model.
It is fed by two bronze Solex carburettors. The car is fitted with a hand pump on the left-hand side rail to top up the oil level and a tank under the passenger seat, as on the Type 35 and later racing models. The steering box is marked with the owner's initial "Y" as is the front axle, which is a new part, as per the model. The gearbox is new and of English origin. Its cover receives a starter. A cardan shaft transmission connects it to the axle.
The rear axle is new and not numbered. It is fixed by three bolts to the strut. The strut may be old, as it is very worn and has an unreadable two-digit number on its upper side, which may be related to the number of the axle it was paired with.
The trumpets and brake flanges could be old according to the owner. The dashboard has the manual fuel tank pressurisation pump on the left, an original Jaeger "8 day" watch, and oil and fuel pressure gauges.
To the right of the beautifully crafted steering wheel is an optional 5,000 rpm tachometer on a black background. The vehicle under examination conforms to the Type 35A model, of which 139 were produced between May 1925 and September 1927.
It was built around 1990 using mostly new parts purchased from reputable British and Argentinean suppliers. The model is in very good condition, it is supplied with a normal production registration and does not require any modification for immediate use. Pierre-Yves Laugier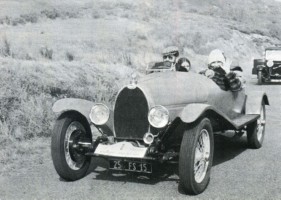 1926 Bugatti Type 38, Chassis no. 38325

Sport version of the Bugatti race car
French registration
Many original parts
Production of the 2-litre Type 38 lasted from April 1926 to the end of 1928.
337 examples were assembled and almost all of them were delivered as chassis to coachbuilders. A final series of 49 compressor engines produced a few Grand Sport Torpedos with Bugatti bodies on Type 38A chassis. Of the total of 386 cars built of this model, only about 40 vehicles have been preserved. The Grand Sport body ¾ placed on the type 38 chassis presented for sale is not anachronistic, even if this chassis was to carry a body made by a Parisian workshop.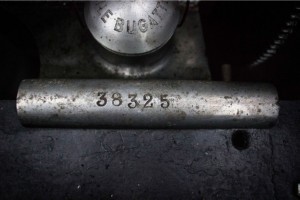 The car was delivered as a chassis to the Paris shop, 116 Avenue des Champs Elysées on 22 December 1926. It was part of an important order from the Parisian Sales Shop, which received a dozen type 38 chassis in December 1926: Four chassis N° 38306 to 38309 were delivered at the beginning of December, then eight others N° 38325 to 38332 at the end of December 1926.
The selling price in the shop for chassis 38325 and the seven other chassis is 43,050 ff each, invoiced on 9 December 1926 and paid in February 1927. The history of the car is not known to us before the war as the vehicle seems to circulate in the Seine department for which no records have survived. It is possible that this type 38 arrived in the Rhône before the war as it was re-registered before 1955 under number 3481 AJ 69 in the new system at the beginning of the fifties.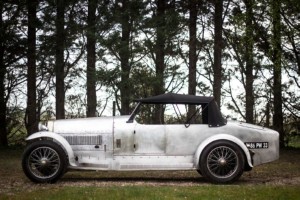 On 5 July 1960, the vehicle was registered in the name of its last owner in Lyon, from whom the collector Philippe VILLE acquired it in the early seventies. The car was then in chassis, only equipped with its extended bonnet, two seats and headlights. It did not have a windscreen. According to the memories of the Lyon garage owner Jean Jourdan, a forty-year friend of P.Ville, the car was originally fitted with a Weymann soft body. It had been prepared by its last user to go fishing on the banks of the Saône or the Rhône. Philippe Ville was a well-known wrecker in the Lyon region, specialising in heavy goods vehicles. Born in 1906, he was a great friend of his colleague Henri Malartre (1905-2005), whose premises were located at 135 Avenue Berthelot in Lyon.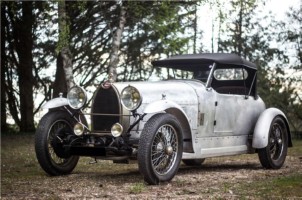 The company "BALLY & VILLE" had its buildings at 221 Avenue Felix Faure in Lyon and its construction site at rue Anatole France in Vaulx en Velin. At the beginning of the seventies, Philippe Ville, who had recovered the Bugatti but had not begun to restore it, gave the non-running vehicle to his son René, an engineer by training, who undertook the restoration of the Bugatti. In the memories of R. Ville, the engine was equipped with a mechanical fuel pump at the rear, on the right side. A body in the style of the Lavocat & Marsaud 4-seater torpedos was designed by René Ville and built by a craftsman from Aurillac. The bodywork was painted in a light orange colour.
The mechanics were entrusted to the workshop of an Aurillac engine manufacturer. Once back on the road, the car was registered on 4 June 1974 under the number 254 FS 15 in the name of René Ville in Aurillac.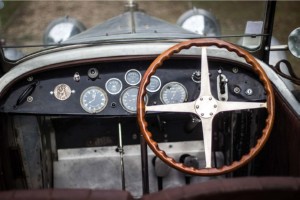 For many years, the Ville family participated in local outings in the Cantal and its surroundings. In the Lyon magazine of the A.A.A. there is a photograph of the family torpedo on the roads of the Cantal around 1978. On 5 October 1996 the car was sold to the great Cannes collector René Giordano. He drove the car on several long trips with his wife and young son, before immobilising it. He needed the 2-litre engine, identical to the type 35A, to power a Bugatti Grand Prix project. Having lost its original engine, which was replaced by a new two-litre engine with two blocks and a cam box manufactured in Argentina, the car was traded to the amateur Serge Clement for an AX Renault, before being acquired by the current owner in January 2001.
The latter will have it fitted with a Torpedo Grand Sport Bugatti style body. An examination of the vehicle in April 2021 confirms the originality and identity of the car. The plate "chassis N° 38325 11 HP Alsace" is original.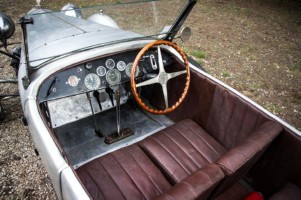 The chassis, whose frame is engraved "192", is indeed that of car N° 38325. It has a wheelbase of 3.12, identical to that of the Type 44 and some of the early Type 49s. Its front axle has the same number 192 in the middle of its front face. The rear axle with a 12x54 ratio is also engraved 192.It was not possible to inspect the gearbox, but an advertisement listing the car for sale prior to the current owner's purchase indicated that it was original Bugatti but not from this car, as was the radiator, which is nevertheless model correct.
The engine is of recent manufacture, as well as the chassis number engraved on the left rear lug of its lower casing. It is equipped with two bronze Solex 30 carburettors. The original engine was number 186. The old steering box, bears the assembly number 8. According to the owner, the crankshaft is the original one, mounted on three bearings. The aluminium apron that supports the dashboard is original as is the engine side of the firewall which bears the trace of at least twenty unused holes. It is more rounded than the current shape of the body that covers it. The exhaust is from C.Y. Weymann. The dashboard may be the one the car was equipped with when it was running on the Saône, but several counters seem to have been added since the R.Ville period.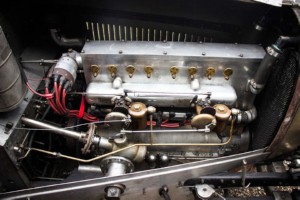 Currently on this metal panel are: a speedometer graduated at 160km/h, a rev counter at 6000rpm, an 8 day clock and three indicators for fuel level, amperage and oil pressure. All dials are Jaeger on a black background.
The actual aluminium body has never been painted. It has only one door on the passenger side like the Grand Sport torpedo with Bugatti bodywork on type 38A, type 40 and type 43 chassis from which it was inspired. The old stone guard is made by "R Le Tellier à Levallois". The shock absorbers are Repusseau.
The originality of the vehicle presented is indisputable and the identity of its rolling chassis equipped with its axles is indeed that corresponding to the number 38325. Very few Type 38s have survived, less than 40 out of nearly 400 cars built. The car offered for sale has a rebuilt engine and a Grand Sport body, the most classic design for a Bugatti that is both a road car and a sports car. It would benefit from being enhanced by cosmetic work. Pierre-Yves Laugier
---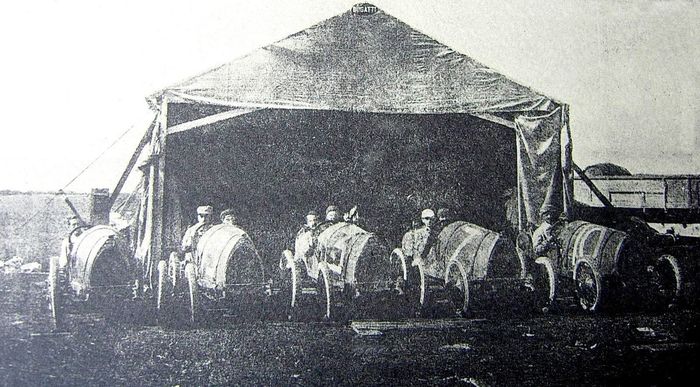 June 23 - 27, 2021 A Bugatti Brescia Celebration at The London Classic Car Show London, UK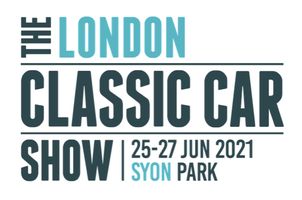 BUGATTI BRESCIA: BIRTH OF A LEGEND
Saluting the centenary of the immortal 1-2-3-4 finish for Type 13s in the 1921 Brescia Grand Prix
Remarkable clean-sweep spawns Bugatti's famous 'Brescia' designation
Special display of Molsheim marvels added to must-see event's 'Evolution of Design' theme
Support from the Bugatti Owners' Club and The Bugatti Trust
Book with confidence for fully Covid compliant, outdoor event – advance tickets now on sale offering significant savings.
"It was the Brescia and its deified four-car sweep at the finish of the 1921 Brescia Grand Prix that really put Bugatti on the motoring map," confirmed Mark Woolley, Show Director. "That was the game-changing result that really cemented Ettore's reputation for building incredible cars with outstanding performance on road or track… and thus a major centenary in automotive history that we are delighted to be toasting at The London Classic Car Show."
To ensure this remarkable centenary is honoured in style, the special display in Syon Park is being organised in conjunction with both the Bugatti Owners' Club and The Bugatti Trust – both are understandably enthusiastic to be supporting the celebration.
Nick Upton, Chairman of the Bugatti Owners' Club, is delighted to be given this prestigious opportunity of exhibiting a parade of Bugatti Brescias from within the Club Members' ownership.
"We will be displaying a real box of chocolates complete with hill climber, rally, the Parisian gentleman and the amateur racer cars. So originality, competition and design will be at the centre of the Bugatti Owners' Club pavilion."
Hugh Conway, chairman of The Bugatti Trust Museum and Study Centre, enthused: "The Bugatti Trust, the centre of research into the history of Bugatti, is delighted to join into the celebration of the centenary of the Bugatti 4-cylinder Type 13's race victory at Brescia in 1921 in which it took the first four places. It and its longer wheelbase derivative thereafter have been known as 'The Brescia' and was one of Ettore Bugatti's most successful models, 2000 being made in the years to 1926."
More info
The organisers have kindly agreed a discount code for Bugatti Trust members.
---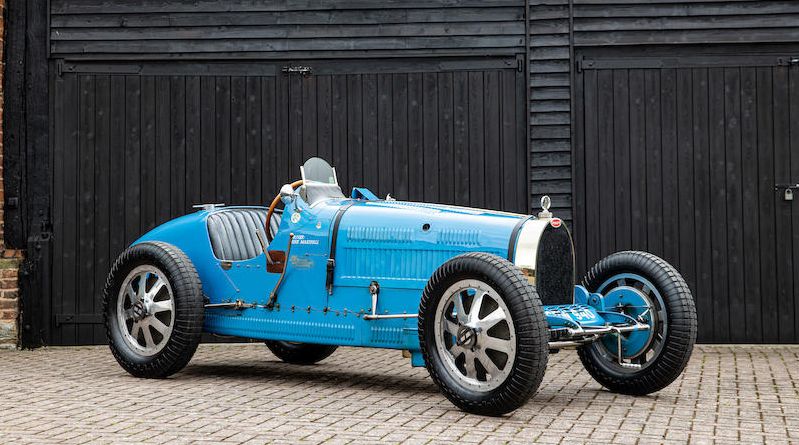 May 19, 2021 Bonhams Bond street Sale auction London,UK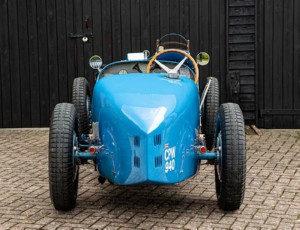 1927 Bugatti Type 35B Grand Prix
Chassis No. BC43, Engine No. 137T
Estimate: € 350,000 - 580,000
Originally assembled in the 1970s
Alan Wragg chassis frame
Crosthwaite & Gardiner 2.3-litre supercharged engine
Genuine Bugatti front/rear axles and gearbox
Well known competitor at Prescott and Shelsley Walsh
Present ownership since 1986
Maintained with no expense spared
Eligible for the Monaco Grand Prix Historique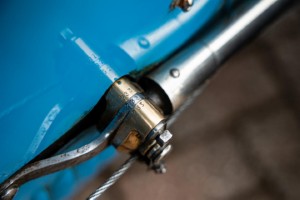 "Among racing cars it is the 1924 Type 35 Bugatti which tops the list of beautiful cars of the (1920s) period. Some would say it's the most beautiful racing car of all time. Although it underwent detail changes through the years and the radiator was enlarged, its lines were virtually unchanged from its appearance in the Grand Prix of the Automobile Club of France in July 1924, through to its final, 51 version of 1931-32." - Autocar.
By the early 1930s Ettore Bugatti had established an unrivalled reputation for building cars with outstanding performance on road or track; the world's greatest racing drivers enjoying countless successes aboard the Molsheim factory's products and often choosing them for their everyday transport. The principal building block of this success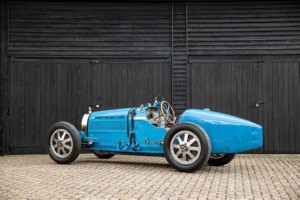 was the legendary Type 35, arguably the quintessential Vintage-era sports car, which made its debut in August 1924 at the Grand Prix de l'ACF at Lyon-Givors. The Type 35's 1,991cc straight-eight engine was derived from that of the Type 30 but incorporated five roller/ball main bearings instead of three and an improved lubrication system. In line with Bugatti's established practice, each cylinder's three valves were actuated by a single overhead camshaft. This state-of-the-art engine went into a conventional chassis with leaf springs at the front and quarter elliptics at the rear, and which boasted a novel hollow front axle and alloy wheels.
The Type 35's debut gave little indication of what was to come, as the factory team of five cars was plagued by tyre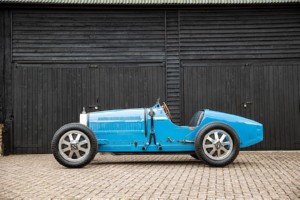 troubles and could achieve no better than 7th place at the finish. Despite this debacle the Type 35 in its various forms would go on to become arguably the most successful racing car of all time, commencing with winning the inaugural World Championship for Manufacturers in 1926 and securing countless victories for privateers. The most powerful member of the family, the Type 35B with 2.3-litre supercharged engine, first appeared in 1927 and represents the model's ultimate development.
This Type 35B was assembled as a car in the 1970s by a UK collector using many correct components and a reproduction chassis frame from Alan Wragg. Subsequently the car was purchased by Martin Johnson of Cumbria, who sold it to the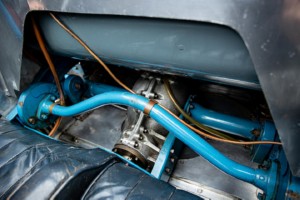 current owner in 1986 (receipt on file for £23,000). The owner then embarked on a complete restoration, which was entrusted to Robin Townsend of Stroud. Additional original components were fitted including an un-numbered GP front axle; an ex-Brescia gearbox number '1385', modified to GP form; and a rear axle number '129 12x50 H'. The eight-cylinder 2.3-litre engine is a Crosthwaite & Gardiner unit, which carries number '137T'; a supercharger is fitted, numbered '74'. The car was completed in 1991 and a photographic record of the restoration comes with it.
Since 1991 the Bugatti has been used extensively by the enthusiast owner and is a very well known example. A highly successful car, it has won many trophies at Bugatti Owners Club hill climbs at Prescott, the best times achieved being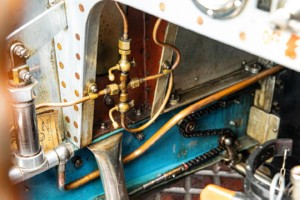 45.81 seconds on the traditional short course and 55.66 seconds on the long course. It has competed at Shelsley Walsh on many occasions too, and in 1999 was driven at the Worcestershire venue by the late Sir Stirling Moss, who commented on how excellent the car was to drive. The Bugatti also competed at the Monaco Grand Prix Historique.
The Bugatti has always been maintained regardless of cost, the most recent expense being a replacement clutch in November 2020. The car is correctly registered with the DVLA and comes with a V5C document and MoT certificates for the period 1990-2011 (now exempt). Also on file is a letter dated 1992 from, David Sewell, then Registrar of the Bugatti Owners Club, confirming the authenticity of front and rear axles and the gearbox.
A stunning car to use on the road, it is currently fitted with its Zenith (petrol) carburettor, while the methanol carburettor is included in the sale. The Scintilla magneto has recently been rebuilt and performs brilliantly. A rare opportunity to acquire a very well sorted and prepared Type 35B.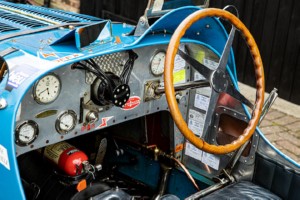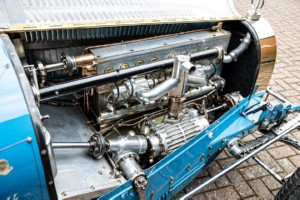 Also in the same auction:

Bugatti gearbox casting (Brineton Engineering), GP type with lid, Estimate: £ 1,000 - 2,000 (€ 1,200 - 2,300)
Bugatti GP-type front axle, Estimate: £ 1,500 - 2,000 (€ 1,700 - 2,300)
Bugatti rear axle casing, believed Jarrot Engineering, Estimate: £ 500 - 800 (€ 580 - 930)
---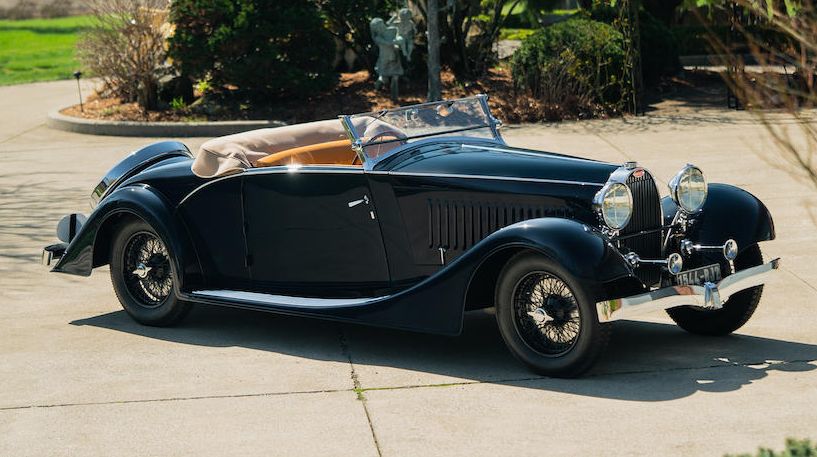 May 20, 2021 Bonhams Amelia Island auction Fernandina Beach Golf Club, Amelia Island, USA
Private Omnibus by Million & Guiet, once owned by Ettore Bugatti
1934 Bugatti Type 57 Cabriolet
Replica Bugatti Baby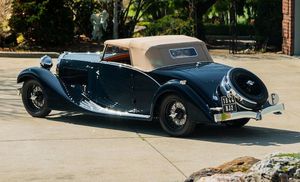 1934 Bugatti Type 57 Cabriolet
Coachwork by Franay
Chassis No. 57127, Engine No. 52
Estimate: Refer to Bonhams'
The only Bugatti Type 57 bodied by Franay
Delivered new to German movie star Hella Hartwich and formerly in the collection of famed French filmmaker Jean Rouch
Subject of a nearly $650,000 restoration
From the Clem and Mary Lange Collection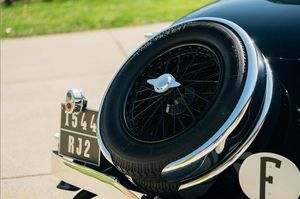 his stunning Bugatti Cabriolet not only features one-off coachwork, but it is among the few Bugattis—and only Type 57—to have been clothed by the famed coachbuilder Franay. With well known history virtually since new, few owners in the last half century, and a recent concours restoration, it is surely a special machine.
According to a report by Bugatti expert Pierre-Yves Laugier, 57127 was ordered new through Paris Bugatti distributor Dominique Lamberjack and delivered as a bare chassis on the fourth of July, 1934 with an invoice of 50,400 Francs billed to the purchaser. The savvy individual ordering this bare chassis for custom coachwork was none other than Hella Hartwich, a wealthy German movie star and ski champion who had recently starred in the 1932 film Slalom opposite Walter Riml. Dating the up-and-coming and soon to be multiple Oscar award winner Billy Wilder, the two had recently moved to Paris following Hitler's rise to power in Germany in 1933.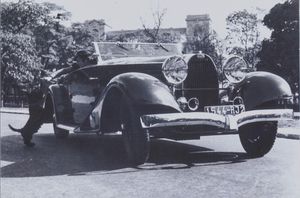 Looking for a new car for her new digs, Hartwich had the bare chassis sent directly to Carrosserie Franay to be clothed in sleek two-door, two-seat open coachwork. A popular custom coachbuilder, Franay would go on to provide coachwork for numerous Bentleys, Rolls-Royces, Delages, Hispano-Suizas, Delahayes, and even Packards and Duesenbergs—but they would only clothe a total of about four Bugattis and this would be the only Type 57 to pass through their shop.
Hartwich registered her new Bugatti in late July 1934 to her 16th arrondissement apartment with the registration number 1544 RJ2. Pictures of her with her new car show it in a dark, single shade with black painted wire wheels and a chromed radiator shell. A jaunty, slightly vee shaped front bumper set the car apart, as did the long tail with a large trunk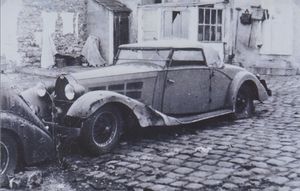 and rear mounted double spares.
It is believed that Hartwich retained the car in Paris throughout WWII, although the war years had no doubt taken their tolls as a photo of the car from 1952 or '53 show the cabriolet in complete, but somewhat worn condition having had its louvered hood sides replaced with vented ones from a Type 57S, its unique bumper switch with a standard straight one, its big Marchal headlights exchanged for more modern units, with the whole car painted a lighter color and a rather sizeable dent in the left front fender. In the care of Garage Aubert owner Pierre Proust of Montrouge at this time, it was next registered to Mr. Di Vincenzo Salvatore of Paris—a mere 5.5 kilometers from where the car had originally lived—with the plate number 3913 DN 75. Retaining the car only briefly, on May 15, 1956 the Bugatti entered the collection of Jean Rouch.
Much like the car's first owner, Rouch was deeply involved in cinema. Considered the father of cinéma verité in France, Rouch had already made a career for himself filming ethnographic films in Africa—mainly in what is now Nigeria—when he began transitioning to filming 'ethnofiction' films in the Niger Valley in the early '50s. While he spent much of his time between France and Africa, he would retain the car nearly half a century.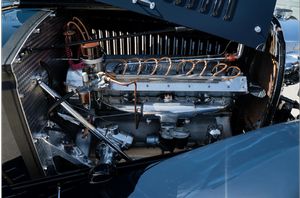 In the late 1960s, Rouch sent 57127 to Carroserie Monceau in Chamecy, France for a full restoration. Shortly after completion of the work, the car appeared in Rouch's 1969 ethnofiction comedy Petit à Petit in which three Nigerian friends wanting to build a skyscraper in their home town come to Paris to learn about the construction of tall buildings—but one could argue the plot was also a pretext to film a movie featuring Rouch's newly restored Bugatti blasting through the streets of Paris! Jean's friend Philippe Luzuy, who was briefly appeared in the film, would share ownership of the car from 1969 until Rouch's passing in 2004. During this time, the two would actively drive the car throughout France.
Still in its late 1960s restoration when it was acquired by the Clem and Mary Lange Collection in 2011, it was sent to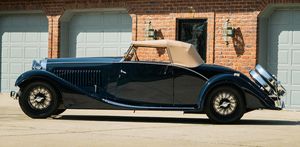 Longfield Restorations Ltd. of Ontario, Canada for a complete, concours restoration. Photos, a DVD, and receipts document the work completed. Executed over the course of three years from 2012-2015 at a cost of nearly $650,000, the Bugatti was restored back to its original specifications (save for the retaining of a rumble seat that had been put into the rear trunk by Rouch). Finished in rich, dark blue paint with a two-tone mustardy tan leather and ostrich interior, the completed car would go on to win Best of Show at the July 2016 Keenland Concours in Lexington, Kentucky.
Sparingly used since the restoration, the Bugatti still presents beautifully. Retaining its original engine, cambox, and transmission, the rear axle is a slightly later unit—no doubt switched out in period as the early axles were plagued by their fragility. A well restored, one-off Bugatti cabriolet from a famed coachbuilder is not something that comes up every day. With largely known history from new with just a handful of owners in the last 65 years, this Bugatti is primed to be coveted by its next, lucky keeper.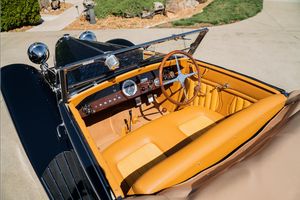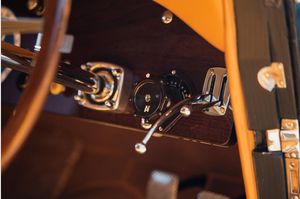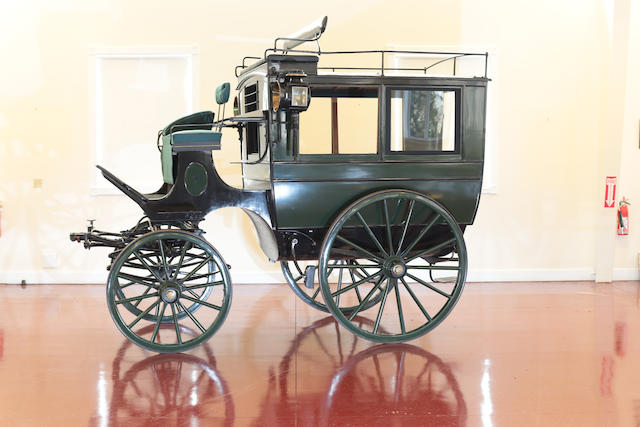 Private Omnibus by Million & Guiet
Formerly in the collection of Baron Casier and believed to have been owned by Ettore Bugatti
Estimate: US$ 80,000 - 100,000 (€ 66,000 - 83,000)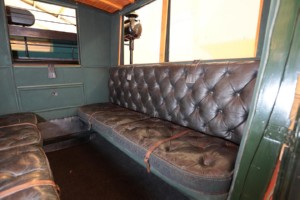 This regal Omnibus bears brass hub caps of Million & Guiet, each cast with the number 3766. This number stamping is repeated on various pieces of the ironwork, including the front road springs and mounting, and may be assumed to be the coachwork build number. The name Million Guiet will certainly resonate with collectors of European pre-war automobiles, as constructors of a number of bodies on Bugatti, Hispano and other great European marques.
According to its provenance, it was formerly in the collection of Baron Casier, who was well known as one of the more prolific collectors of carriages, housed at the Chateau Nokere in Belgium. Part of this collection was acquired in the 1980s by John Kluge, the legendary billionaire and once richest man in America.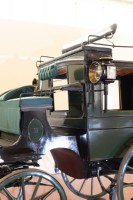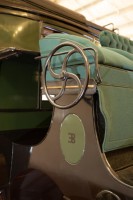 Casier was known to have acquired the Bugatti family's collection of horsedrawn vehicles and it is assumed but not documented that the Omnibus was part of that acquisition. It is understood to have left the Casier collection later than the Kluge purchase, to have been restored and later to arrive here in America.
The Omnibus is listed in the reference work Horseman Bugatti by Andres Furger as reference "EB22", and illustrated in a paint scheme perhaps more readily known to Bugatti collectors of a black over yellow, and with an 'EB' in the oval panel below the driver's seat. Interestingly, Ettore Bugatti's association with Million Guiet extended to his ownership Rolls-Royce Silver Ghost bodied by this house for most of his later years.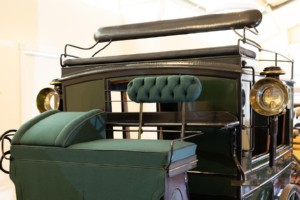 In prior ownership the carriage was refurbished externally to the current dark green paint scheme. Its front seat has been renewed, but in the rear compartment the upholstery is seemingly both original and in remarkably good order.
The Casier collection of carriages was something of legend in this community, and Bugatti's fondness for both horses and carriages runs deeply through the aesthetic of all his automobiles. It is easy to imagine friends being collected from the railroad and delivered to the Chateau St. Jean in Molsheim in this regal conveyance.
---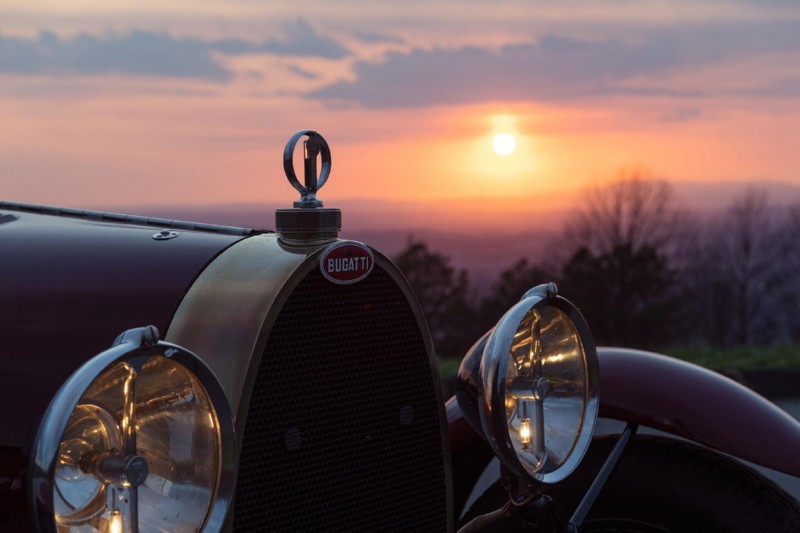 April 29, 2021 Bring a Trailer online auction Virginia, USA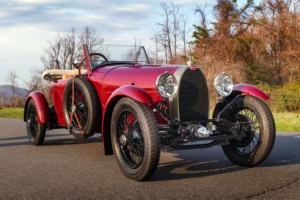 1927 Bugatti Type 38A Grand Sport
Chassis number 38470, Engine number 209
CURRENT BID: $238,000
This 1927 Bugatti Type 38A Grand Sport is a four-place touring car that wears chassis number 38470 and is said to have been ordered new by London dealer Colonel Sorel before going on to L.G. Bachelier and several other British owners in the 1930s. The car was reportedly shortened into a two-seater and its original inline-eight replaced with a non-supercharged version while in England, and it is thought to have been exported to the US in the early 1960s. Following time spent in several US collections, it was returned to its previous long-wheelbase, four-passenger configuration with a supercharger in the early 1990s before reportedly winning a class trophy at the 1993 Pebble Beach Concours d'Elegance. The seller acquired the car in 2016 and states that he has since spent approximately $60k on a reproduction supercharger as well as additional sorting for the purpose of attending Bugatti driving events, including the 1k-mile 2018 International Bugatti Rally USA. This Type 38A is offered in Virginia with recent service records and a clean Montana title in the name of the seller's LLC.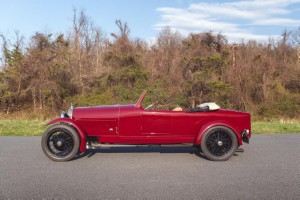 The Type 38 debuted in 1926, and 385 examples were built through the following year. The supercharged Type 38A variant utilized the blower from the Type 37A and numbered 39 examples from the factory. The aluminum bodywork of the Grand Sport included details such as a boattail rear end and a single door on the passenger side.
This example was reportedly shortened into a custom two-seater prior to being imported to the US, where it was returned to its previous configuration during a 1991-1993 restoration. The car features Marchal headlamps, a beige folding soft top, and a louvered hood with a centerline piano hinge. A dent was repaired in the lone door in 2018.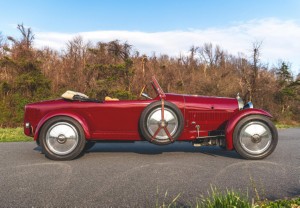 Black 19? wire wheels are mounted with Michelin Confort Bibendum tires measuring 4.75? wide. A spare wheel is affixed to the right side of the body with leather straps. Five polished aluminum wheel covers are included in the sale. Cable-operated drum brakes are featured at all four corners.
Beige leather upholstery covers the folding front seats, rear bench, and cockpit walls. The driver's seat was moved back and made adjustable under current ownership. A wood-rimmed four-spoke steering wheel is mounted on a custom spacer fabricated in 2021.
A varnished wood dashboard houses a clock with roman numerals, an ammeter, a Bugatti oil pressure gauge,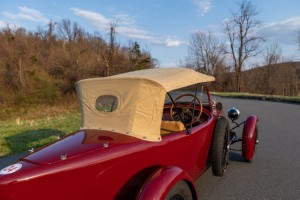 and a Jaeger tachometer. A new tachometer cable was fabricated in 2018, and a 12-volt plug has been fitted under the dashboard.
The 2.0-liter inline-eight used in the Type 38A combined a Type 35-style crankcase with the supercharger from the Type 37A. This example is a replacement engine which was previously fitted with a factory non-functional supercharger. The blower assembly was replaced with reproduction Roots-type Brineton supercharger and a modified wastegate in 2018. Engine bay details include a machine-turned firewall. fabric-covered spark plug leads, and a polished radiator expansion tank. An electric fan was added and the carburetor disassembled for cleaning in 2016. Further carburetor work was carried out and the spark plugs replaced in 2018. Helical drive gears for the supercharger were installed in January 2021.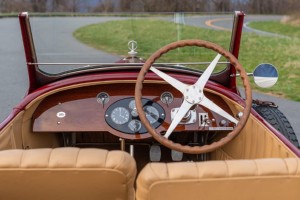 Engine serial number stamping is 209 can be seen above. A reproduction patent plate mounted on the firewall carries a typographical error in Allemagne.
Power is sent to the rear wheels via a four-speed manual transmission. Several exhaust holes were repaired in 2018. The solid front axle features semi-elliptical springs and Andre Hartford shock absorbers, while the rear rests on reversed quarter elliptical springs.
A selection of service records from 2016 onward can be viewed, including those showing approximately $20k spent on the reproduction supercharger and its subsequent modifications.
The car took part in the 1k-mile 2018 International Bugatti Rally USA, additional photos from which are provided below. Events attended under previous ownership are said to have included:
1993 and 2001 Pebble Beach Concours d'Elegance
1994 Meadow Brook Concours d'Elegance
2004 Amelia Island Concours d'Elegance
2004 Greenwich Concours d'Elegance
2007 Boca Raton Concours d'Elegance
2014 The Elegance at Hershey
Note that the same car sold in June 2016 for $440,000, and failed to sell in 2020 at RM Sotheby's - Amelia Island Auction of March 6 - 7, 2020 at an Estimate of $350,000 - $400,000.
---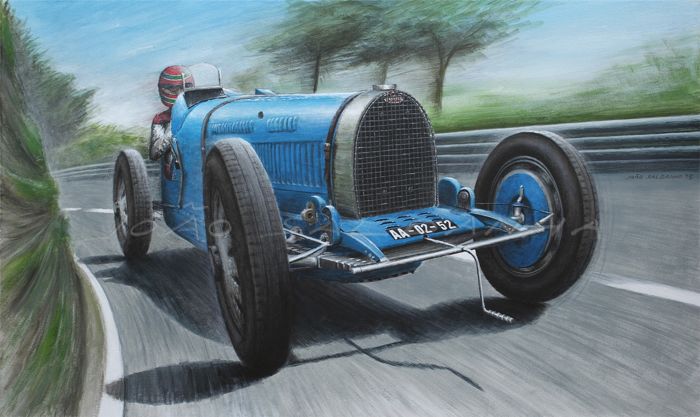 "Bugatti 35B at Caramulo Hillclimb" (2015) is an original work by João Saldanha based on the author´s own creative concept (made from several pictures of this car and the actual road) resulting in a original new work.
Ever since it was built in 1930 this Bugatti has always had Portuguese ownership and was raced in most of the motorsport events in the 1930´s with great success. Since 1956 it belongs to the Caramulo Museum in Portugal.
João Saldanha was born in Lisbon in 1974, he has an academic degree in Product Design from the Lisbon Fine Arts School (1998). Since an early age drawing cars has been his true passion, specialy regarding the 50´s and 60´s motorsports legends and now João works as a classic and sports car illustrator for Portuguese and international private collectors.
---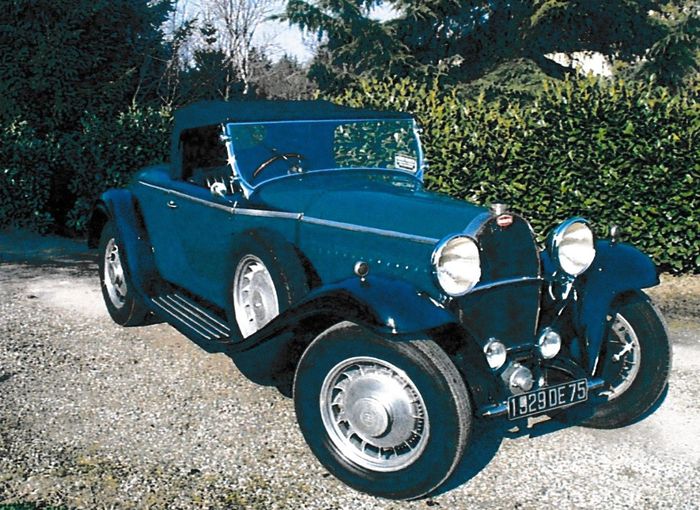 April 17, 2021 Stanislas Machoïr auction Château de Lasserre, 31380 Montastruc-La-Conseillère, France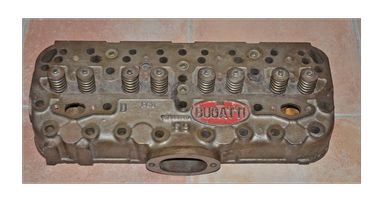 On auction are:
Mido for Bugatti, Ettore Bugatti's personal watch, Estimate was: 65000 - 68000 EUR, now increased to 80,000 - 150,000 euro
Bugatti T49 Cabriolet, Chassis 49481, Estimate on demand
Bugatti 4-cylinder Diesel engine, head only. Estimate: 800 - 1000 EUR (on the right)
Bugatti T49 Cabriolet, Chassis 49481, 1930
Following the Bugatti 44, the most produced with 1,095 units, the type 49 was released in 1930. It is the last of the single cam 8-cylinder in-line engines, started with the Type 30. It is therefore equipped with an 8-cylinder 3.3L with 3 valves per cylinder and a single camshaft.
The Type 49 was produced in 470 units until 1934, under various body models: closed similar to the Type 44, 4-seater convertible or roadster. Most of the Type 49 cars are bodied by GANGLOFF, the Bern coachbuilder, who bought Widerkehr in Colmar. The type 49 is renowned as one of Ettore Bugatti's best achievements, it was a great commercial success after its presentation at the Paris Motor Show in October 1930.
It has the advantage of having two sides of use, quiet in town or sporty on the road.
The presented car was acquired more than 20 years ago by our collector from Tarn, a remarkable amateur. This car, with its elegant bodywork produced by Gangloff, is in remarkable condition. All the elements testify to sobriety and refinement, color, interior. An icon of radiant France from the 1930s. Estimate on request.
Mido for Bugatti, Ettore Bugatti's personal watch
Ettore Bugatti's personal watch / yellow gold grille on yellow gold bracelet n ° 261492, circa 1930
Original watch ordered by the owner of the eponymous automobile brand Etorre Bugatti and which was produced by the jeweler Pierre Blanc in Paris. He gave these extremely rare watches to his best pilots and mechanics of the time as well as to his son Jean.
All the watches were on leather straps, there is only the one from "Ettore" which has a yellow gold strap.
750 thousandth yellow gold case in the shape of a horseshoe grille typical of Bugatti automobiles.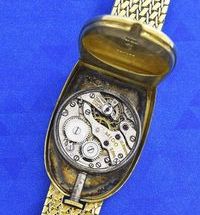 Brand logo and stylized winding crown in radiator cap at 12 o'clock, 6-screw caseback. Patinated gold dial and painted Arabic numerals, blackened steel lance hands.
750 thousandths yellow gold bracelet with adjustable jewel clasp.
Movement: Mechanical manual winding caliber.
Dim. 22.5 x 34 (with crown) mm. Condition: Good condition (Case reported) (Gross weight: 27.20 g)
By the way, the same watch was sold in 2008 for €10,058, but then it was not yet Ettore's personal watch....
Statement by Caroline Bugatti and Cyril Gautier on this watch - 9-4-2021
---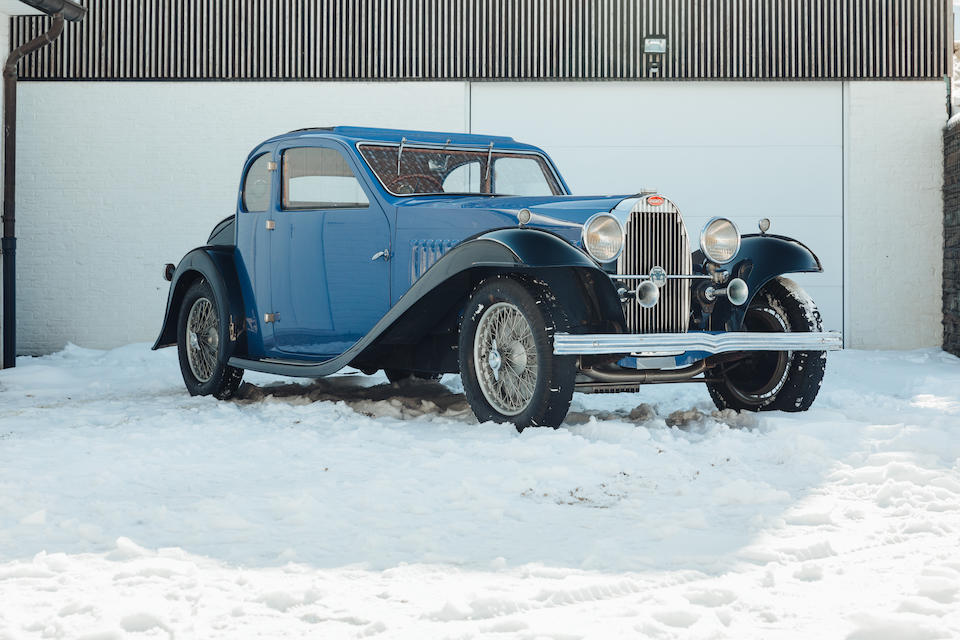 April 23, 2021 Bonhams auction: 'Les Grandes Marques à Monaco' Monte Carlo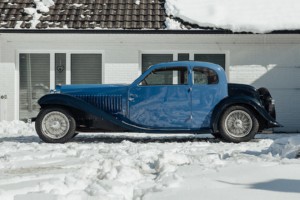 1934 BUGATTI TYPE 57 VENTOUX COUPÉ
CHASSIS NO. 57119, ENGINE NO. 34

Estimate: € 350,000 - 450,000
The first Type 57 Ventoux produced
(Not on the Bonhams page:) Cotal gearbox
Rare factory sunroof
Known ownership history from new including many important Bugattisti like the van Ramhorst brothers
Split front axle
Used for the wedding ceremony of François Rinaldi with Caroline Bugatti in 1998.
"The car sped along at 80mph with the comfort and quietness one associates with the Type 57... We were quite willing to believe that Jean Bugatti has achieved the 435 kilometres to Paris in just under 3½ hours in the Type 57 - an average of 77mph..." - Motor Sport, May 1939.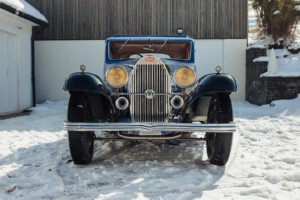 By the early 1930s Ettore Bugatti had established an unrivalled reputation for building cars with outstanding performance on road or track; the world's greatest racing drivers enjoying countless successes aboard the Molsheim factory's products and often choosing them for their everyday transport. Because of its lengthy run of success, Ettore Bugatti remained stubbornly committed to his single-cam engine, only adopting the more advanced double-overhead-camshaft method of valve actuation, after much prompting by his eldest son Jean, on the Type 50 of 1930. From then on Jean Bugatti took greater responsibility for design, his first car being the exquisite Type 55 roadster. He followed that with a design of equal stature: the Type 57. A larger car than the Type 55, the Type 57 was powered by a 3.3-litre, double-overhead-camshaft straight eight of modern design housed in Bugatti's familiar Vintage-style chassis. The range showed the strong influence of Jean Bugatti and at last gave the marque a civilised grande routière to match those of rivals Delage and Delahaye. The Type 57 in all its forms attracted discerning owners who were satisfied only with the best, among them 'speed king' Sir Malcolm Campbell.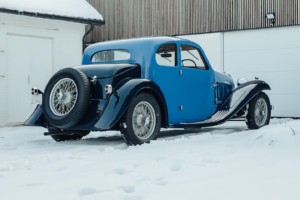 The Type 57 attracted coachwork of the finest quality executed in a startling variety of styles but was no mere rich man's plaything, as evidenced by two outright wins at Le Mans. Proof, if it were needed, that ancestral virtues had not been abandoned when creating a car fit to rank alongside Rolls-Royce or Bentley. Its success is revealed by the production figures: some 680 examples of all Type 57 models were produced between 1934 and 1940, and the post-war Type 101 was based on its chassis. However, although many Type 57s were fitted with bespoke bodies, the most popular coachwork was built to Jean Bugatti's designs by the marque's preferred carrossier, Gangloff of Colmar, just a few miles from the Bugatti works at Molsheim. One of Jean's own designs was the Ventoux, a two-door four-seat coupé with steeply raked windscreen, which took its name from the forbidding Provençal mountain best known for its role as a regular Tour de France stage and long-established motoring hill climb.
This original Series 1 Type 57 closed coupé is the first Ventoux ever made and the only T57 equipped with a factory-fitted sunroof. '57119' has a continuous provenance and comes with a fully documented inspection and provenance report compiled by Kees Jansen. A highly respected Bugatti expert, Kees Jansen is the author of several Bugatti Registers: the Dutch/Belgian Registers (four volumes) and the fourth volume of the American Bugatti Register. Included with the car is a FIVA identity card and Belgian registration papers.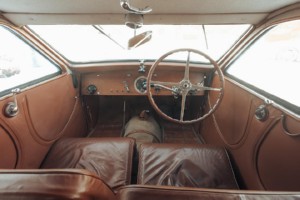 Rolling chassis '57119' with engine '34' was produced in March 1934. One of the first Type 57s commissioned, it had been ordered on 7th March by a close friend of Jean Bugatti, Jerome Wagner, a brewer in Mutzig. The order was delayed and the factory-built Ventoux coach body, designed by Bugatti employee Joseph Walter and trimmed in Havane coloured leather, was finished in June 1934. It had an open roof and three hinges for the doors. The adjustable shock absorbers, which were only available as an option for the early Type 57, were fitted to the car also. This car has the split front axle, which was a prototype design only fitted to the first six-or-so cars.
As stated above, this Type 57 was sold directly from Bugatti to Jerome Wagner, the sale being dated 2nd June 1934 in the factory record books. Wagner had already registered the car in Strasbourg as '7372-NV2' on 14th May 1934. He drove the Type 57 for five years until 1939 when it was sold on 11th July to Dr Pierre Muller in Strasbourg, so keeping its license plate. In 1949 the Bugatti was sold to Garage Waeffler, also in Strasbourg. It was then sold to Henri Meurdra in 1950, an enthusiastic Bugattiste and trader in Bugattis. Henri Meurdra's family used the car for a wedding in 1950 or '51.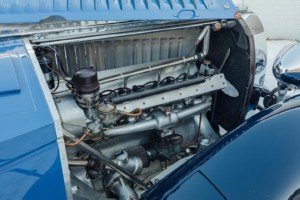 On 14th June 1951 the car was sold to Paris and registered as '1175 AK 75' by the new owner, Geo Lepere. He sold the Type 57 in 1959 to Phillippe Berlin in Neuilly-sur-Seine, who reported it to Hugh Conway for inclusion in the second and third editions of the Bugatti World Register. The next owner was Philippe Charbonneaux. In 1965 the Type 57 was sold to the Bugattisti van Ramhorst brothers, who drove the car to Holland and restored it. The Type 57 was registered in Holland as 'FS-68-84' in 1965. This Type 57 was a participant at many meetings of the Bugatti Club Nederland and also at the 1975 International Bugatti Rally held in Holland.
In 1984 the Bugatti was sold to France and registered as '6967 TL 67'. The Type 57 ended up with Bernard Merian, a successful French entrepreneur who also owned the Bugatti Atalante '57432'. He embarked on another restoration and enlisted the help of the first owner's son, Roland Wagner, president of La Fondation Bugatti, in order to have it restored to its original specification and colour. In 1993 Merian sold the Type 57 to Patrick Friedli, a staunch Bugattiste, who registered it as '967 ZM 67'. When Friedli moved to Beaune in the Côte d'Or in 2008 he registered the car as '1738 XV 21'. Patrick Friedli used the car on many occasions, one of the most important being to drive François Rinaldi to the church for his wedding with Caroline Bugatti in 1998. Patrick owned the Type 57 for almost 20 years before selling it to Bugatti specialist Bruno Vendiesse, who sold it to the present owner. Bruno Vendiesse has known '57119' for many years and Bonhams would like to thank him for his assistance in preparing this description.
---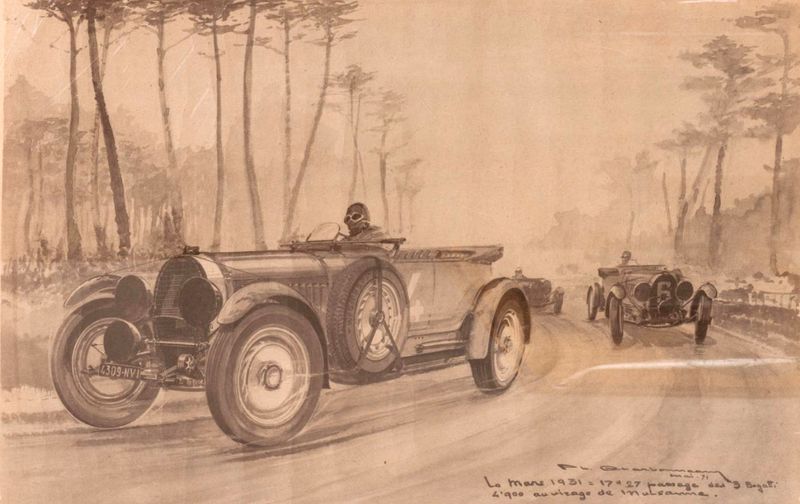 Artwork by Philippe Charbonneaux, also a famous designer of automobiles and more
Le Mans 1931 - 17h27 passage of the three Bugatti 4900 at the Mulsanne bend
I had a reproduction of this artwork on the wall of my room for years, so it is very familiar to me. I had bought it at the Bugatti Exhibition in "Museum für Kunst u. Gewerbe" Hamburg, Germany in 1983: Die Bugattis: Automobile, Möbel, Bronzen, Plakate.
---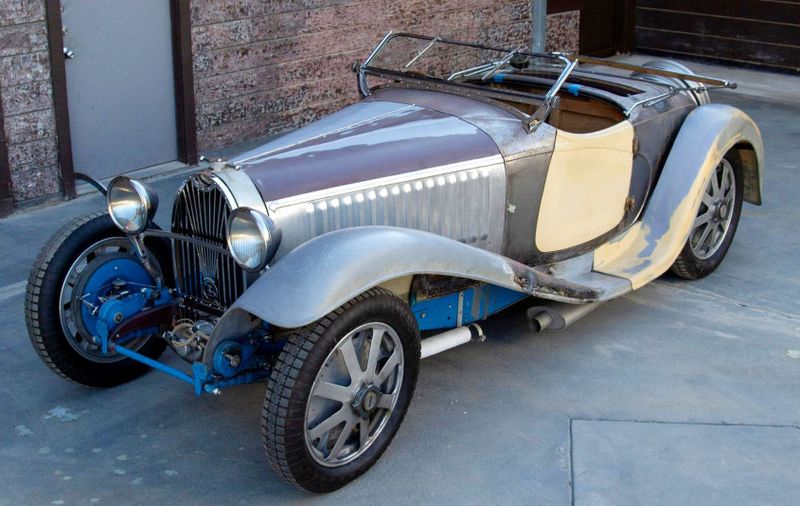 March 4, 2021 Bring a Trailer online auction USA

Bugatti Type 55 Gangloff replica project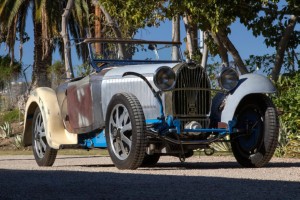 Known as 55209R, chassis number 49531, engine: C & G replica
Current bid (26-2-2021): $50,000
This Bugatti Type 55 re-creation was assembled over the course of several years beginning around the late 1980s as a replica of a Gangloff-bodied two-door roadster that had been destroyed during World War II in Switzerland. The car originated as a "bitsa" in the hands of Michigan Bugatti restorer Ray Jones, combining various reproduction and Bugatti components assembled on a replica frame. The project was carried forward for several years by a Bugatti collector in Pennsylvania, who installed the current sheet metal in favor of previous German bodywork, and was acquired by the seller approximately eight years ago in an unfinished state with a reproduction powertrain consisting of a supercharged 2.3-liter DOHC straight-eight and a four-speed manual gearbox. Bugatti components are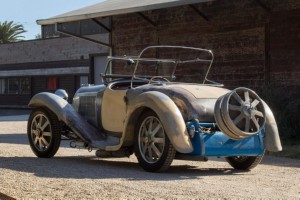 noted as including the rear axle, six 19" wheels, supercharger compressor and drive, and gearbox lid, while other period parts reportedly consist of a Scintilla magneto, a Zenith updraft carburetor, an AC fuel pump, and Dufaux adjustable shock absorbers. The car features four factory eight-spoke alloy wheels, mechanically-actuated four-wheel drum brakes, a machine-turned bulkhead, a wood dash, pedals, and a steering wheel. It is recorded as a replica in the 2018 American Bugatti Register under the designation 55209R, though it wears a Bugatti chassis plate from car number 49513 and is titled using that number. This Type 55 re-creation is offered as a non-running project with spare parts and a clean California title listing it as a 1932 Bugatti in the name of the seller's company.
The Type 55 was built between 1931 and 1935 as a road-going version of the Type 51 race car, and only 38 original examples were produced. Most wore factory Jean Bugatti-designed roadster or coupe coachwork, while 11 were provided as chassis to select coachbuilders. The styling of this replica is inspired by that of a two-door roadster with bodywork by Swiss/French coachbuilder Gangloff that was sold to Liechtenstein. That car, chassis 55209, is said to have been destroyed in Switzerland during the war.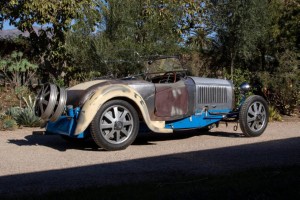 According to a 2016 report by Kees Jansen for the Bugatti Registry, this replica was first recorded as an unfinished assemblage of original and new parts in the 1988 edition of the register as 55219B. It was referred to as such due to the belief that it contained parts from the original 55219, the dismantled remains of which were co-owned by Ray Jones and an associate. It is noted in the 2018 American Bugatti Register that the frame of 55219 now exists in another car and was not used in this replica, which appears in its current register entry instead as 55209R. This car's reproduction steel frame is said to have been constructed by Ron Clark circa 1990 and is painted blue, with chipping of the finish exhibited on exposed surfaces.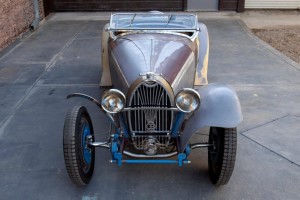 The body features wood and steel framework and was fabricated to replicate the Gangloff styling used on car 55209. Design elements include rear-hinged doors, a louvered hood, a folding windshield, and a polished stone guard over the horseshoe-shaped radiator. The bottom piece of the stone guard is reportedly a period piece acquired from Ray Jones. Several panels show various colors of primer along with corrosion, failed filler, and undressed welds. The right front fender is absent, though a bracket is in place. Period Bugatti 19? aluminum wheels are secured by four-eared knock-off nuts and wear Excelsior Comp tires. Two additional wheels, one reproduction and one unknown origin, are secured atop the rear fuel tank.
The unfinished cabin does not have seats or door panels, though door handles and latches are in place. Controls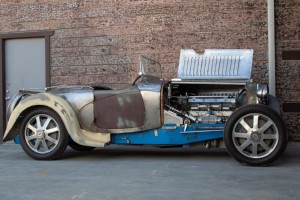 include a four-spoke steering wheel, a gearshift, a handbrake lever, and a pedal linkage as well as adjustment knobs for the shock absorbers. The aluminum firewall and scuttle are said to be mechanically milled rather than turned by hand. An untrimmed top frame folds down over the rear bodywork.
A wooden dashboard houses a Jaeger 210-km/h speedometer and a 7,200-rpm tachometer as well as gauges indicating coolant temperature, oil pressure, amperage, and fuel level. The five-digit odometer shows 95k kilometers, though the replica has not been driven.
The engine is a reproduction version of the 2.3-liter straight-eight that powered the original Type 55 and was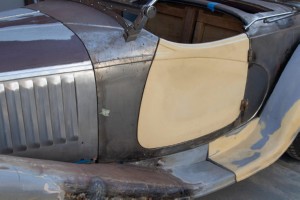 reportedly assembled with a new block, crankcase, and camboxes. The engine was sourced from Crosthwaite and Gardiner and was installed in the car approximately 20 years ago but was never started. The Roots-type supercharger is described in the Bugatti Register as a period Bugatti part stamped with the number 78, and the compressor drive is also described as a factory piece. Additional components include a Zenith 48K carburetor, a Scintilla magneto, and an AC fuel pump. The seller has not attempted to turn over or start the engine.
The four-speed manual gearbox is a unnumbered reproduction, though it retains what is said to be a factory cover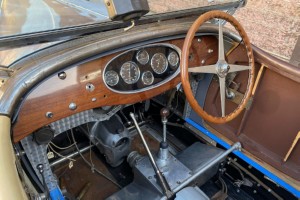 plate stamped with number 36 from chassis 55235. The rear axle is reportedly a factory Bugatti Type 55 unit from car number 55223 and is stamped on its underside with the number 26 along with a 12×54 differential ratio. Semi-elliptical leaf springs are fitted along with Dufaux Repusseau Telereglage adjustable friction shock absorbers.
The chassis plate is described in the Bugatti Register as a Molsheim piece from car number 49513, a Type 49 saloon that was destroyed after a crash in 1952. A patent plate mounted on the firewall is a noted as a modern reproduction with a typographical error in Allemagne, and is covered in a peeling plastic sheet.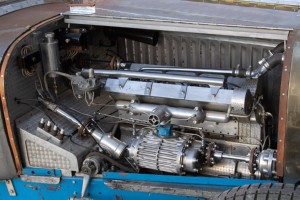 A collection of included parts and fasteners is included, among them a bumper, bearings, clutch plates, and taillights.
Thanks to Lance Baumberger!
---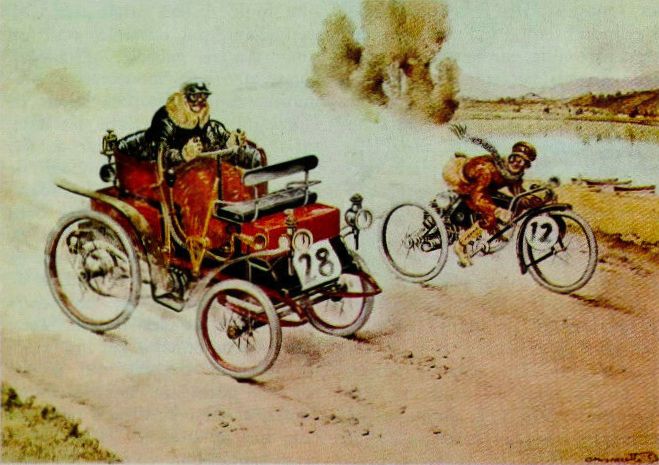 Ettore Bugatti's third race, April 30, 1899, on the 100 km circuit Turin-Pinerolo-Avigliano-Turin.
He wins the race (Tricycle category) with an average of 54.214 km/h, on a Prinetti-Stucchi tricycle. The drawing was made by the count Carlo Biscaretti di Ruffia, representing Bugatti overtaking the winner in the "automobiles" category, Gras on Peugeot, who would finish at an average of 45.220 km/h.
Illustration in the article: "Bugatti, Le "Magicien" de Molsheim", in the French "Selection du reader's digest", June 1969. (Probably appeared in other languages as well)
---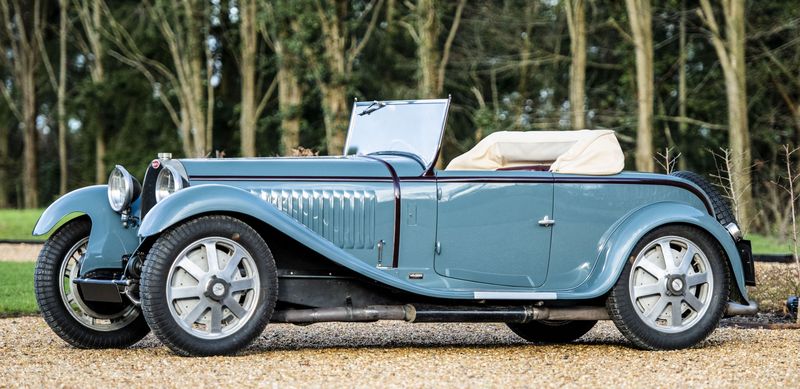 February 5, 2021 Artcurial "Parisienne 2021" Auction Paris, France
1932 Bugatti Type 55 Roadster par Vanvooren
Estimate 4,000,000 - 6,000,000 €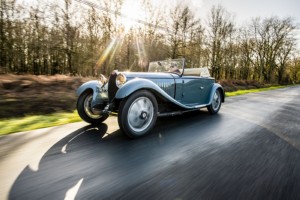 Chassis n° 55204, Engine n°5
French title
Exceptional history
Winner of the 1st Lyon-Charbonnières Rally
Chassis, engine, gearbox, axle : matching numbers
70% of wooden frame and bodywork original
Totally restored to the highest standards
The first Parisian Bugatti Type 55
Towards the end of 1931, the Parisian Bugatti agent Dominique Lamberjack junior, the friend and contemporary of Jean Bugatti, asked the factory for the semi-exclusive rights to all 2.3-litre Type 55 chassis delivered to the capital. Every second chassis would be delivered to Lamberjack, with the others going directly from the factory to private clients. For a deposit of 500 000 francs, he reserved for himself what he thought would be an attractive market for the Alsatian marque's new flagship model : " The Super Sport twin cam ".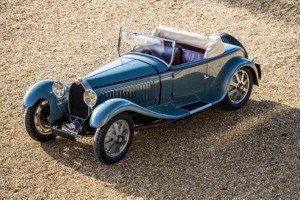 Lamberjack confided to the author that in March 1932, as he had not taken delivery of any chassis, despite the first five clients having received their cars, he called the factory and was told by the accountant that Ettore Bugatti, as soon as he'd got the money in his pocket, had gone to an auction sale and squandered nearly all of it on tapestries. The accounts were back in order by the end of March 1932... Lamberjack was a close friend of Robert de Prandières, the dynamic director of the coachbuilding firm Vanvooren in Courbevoie. They agreed between themselves that the majority of the Bugatti chassis delivered to the Lamberjack dealership of 68 rue Bayen would be dispatched to rue Pierre Lhomme in Courbevoie to be bodied. Of the six Bugatti Type 55 chassis delivered to Paris, five were bodied by Vanvooren and one by Figoni. No other Parisian workshop would lay their hands on one of these rare Super Sport Type 55s.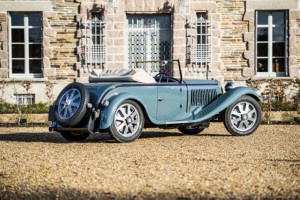 I. Life in Paris with Vladimir de Constantinovitch (1879 - 1942 ?)
Chassis 55204 was the first of five chassis of this new model ordered and paid for by Lamberjack between March and November 1932. The order appears to have been dated 8 February 1932. The chassis was loaded and transported by train from the factory on 3 March 1932 with a Type 49 faux-cabriolet destined for the showroom. 55204 was billed to " Lamberjack fils - Paris " for 72 000 francs. The four other chassis of the same model destined for Lamberjack were all the same price. We have photos of these four cars, all bodied by Vanvooren. As arranged with Prandières, 55204 was sent to the Vanvooren workshop in Courbevoie to be given a very pretty two-seater cabriolet body. We are not certain of the name of the first owner, but we know he lived in Paris because the original registration number for the car was 9762 RF 5, corresponding to the department of Seine in the Spring of 1932. However, cross-checking has allowed us to ascertain that the car belonged to an enthusiast known as " The Admiral ", as told by Lamberjack Jr to the owner from Burgundy in 1946. The same Lamberjack confided to us in 1990 that one of his clients was the son of General de Constantinovitch, known as " The Admiral ", who lived on Boulevard Haussmann.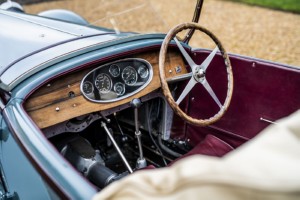 Vladimir de Constantinovitch was born in Trieste in June or July 1879. His father, the General Alexandre de Constantinovitch, related to the Obrenovic dynasty, was in charge of the Serbian Royal Guard. His marriage to a wealthy Serbian by the name of Opuich made large areas of Serbia available to him, as well as a family home in Trieste. Vladimir fought in the Legion in France during the 1914 conflict. Assigned to the air force in September 1916, he became naturalized in France on 4 September as a second lieutenant in the aviation school in Pau. He fought in the 73 Spa squadron with his friend Albert Deullin. In the staff records for the Air Ministry in 1916, Vladimir's contacts in case of an accident were listed as a friend in Paris and Her Majesty, the Queen of Italy...who was the sister-in-law of his sister Nathalie!
Vladimir had graduated from the military school in Belgrade. He married a wealthy American, Anne Heyward Cutting, from New York, whose family had made their fortune in the railroad business. Through his love for her, he converted to Protestantism. Following the premature death of his wife in November 1921, he remarried a French woman from the North, and they moved between her apartment at 170 boulevard Haussmann and his château " La Dûne aux Loups " in la Somme, and le Touquet Paris - Plage.
Vladimir conscientiously frittered away the family fortune, aided by his mistresses, Bugatti (37A, 57C) and Hispano (32CV 10403 and a Type Sport 12056). Constantinovitch bought his cars new, as evidenced in the Hispano and Bugatti sales registers. It is logical to assume that he bought chassis 55204 new and had the car transported to Courbevoie by his friend Lamberjack. The subsequent owner recalls that our 55 was originally grey with burgundy stripes. At the time it was sold to him, Lamberjack spoke of " The Admiral " as the previous owner of the car.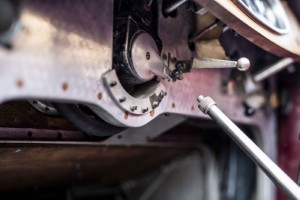 II. A racing life with Pierre Daligand (1907 - 1987)
The cabriolet 55204 arrived in Mâcon at the start of summer 1946.
It was driven around on the garage plates 6009 W 5 for at least one or two months. The new owner was a personality from the motoring world in Lyon. Pierre Daligand was a dental surgeon and also the manager of the Renault dealership Garage Continental in Mâcon. He started racing motorcycles with the Moto Club Lyonnais (M.C.L.) in 1929, having some success that year on a Magnat-Debon 350 cm3. In 1932 he took part in various races including at the Ain circuit on a Motosacoche 500 cm3. It was not until 1936 that he turned his hand to racing motor cars, both on the circuit and in rallies. The year 1936 marked the start of his Bugatti period, driving in turn a Type 37, a 43 roadster, a faux-cabriolet Type 49 followed by a Ventoux.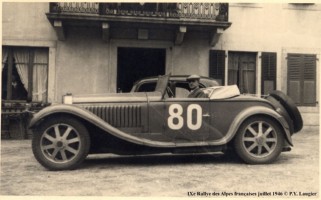 - The IXe Rallye des Alpes Françaises (from 12 to 15 July 1946)
Our car took part in this rally, the first held in France after the war. Covering 3 000 to 4 000 km, the trial crossed the French Alps to Germany, travelling through Italy, Switzerland, Yugoslavia and Austria. The difficulty of the course and the time restrictions meant that few competitors were able to finish having kept to the rules. Pierre Daligand, at the wheel of his Type 55, recorded the best time of 34.2 seconds for a start-stop trial in Annecy. The car wore the race number 80, and the number plates of his garage. It performed brilliantly until fuel-supply problems forced its retirement at Saint-Jean-de-Maurienne.
- The first Lyon-Charbonnières Rally (From 21 to 23 March 1947)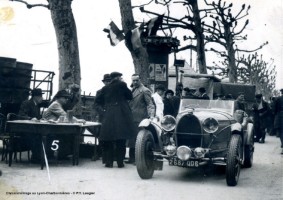 This competition was set up by Dr. Daligand and sponsored by the eponymous Casino. With two colleagues from the M.C.L., he devised the route and the regulations, and advertised his project with the Association Sportive de l'A.C.R (Automobile Club du Rhône), adding " I am no longer involved and declare myself a competitor" !
For this new race, the dentist asked a certain Monsieur Molla, a metal worker employed at his Continental Garage, to modify the body of his Bugatti Type 55, and make aluminium panels to fit onto the wooden structure of the Vanvooren cabriolet. The central section of the metal body remained unchanged. The doors were cut down and sports wings replaced the original longer wings. The race took place in three stages in a loop :
The first 506 km stage was Lyon-Clermont-Ferrand and back at night on difficult roads.
The second stage was 307 km Lyon-Grenoble-Aix-les-Bains through the Porte, Cuchero and Granier passes, where snow was forecast.

The final 312 km stage on Sunday 23 March towards Oyonnax and on to Charbonnières, with a small hillclimb en route.
51 teams arrived at the finish despite the rain, snow and nocturnal trials. Pierre Daligand won the race at the wheel of his Bugatti Type 55, and the March 1947 edition of L'Actualité Automobile produced an extensive report on the event.

- The Xe International des Alpes Rally (from 11 to 15 July 1947)
The event took place over 1 050 km, with the traditional start at the Vieux Port in Marseille and finishing at Cannes. Of the 61 competitors who lined up to start at the Vieux Port, just 27 were classified. The race was won by Gaston Descollas, the Bugatti dealer from Marseille, who was accustomed to receiving laurels at this event. He drove a different Bugatti Type 55, with racing number 112 and chassis 55201. Pierre Daligand, race number 111, was leading at the start but burst a tyre approaching a bridge which put an end to the sporting career of our car. The car was sold at the start of 1948 " to some youngsters from Beaujolais " (sic) in the words of Pierre Daligard as recounted by his son Gilles, who never put the Bugatti in their name.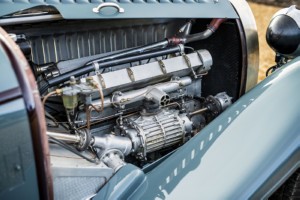 III. Bernard Roche, Château de Milly
The car was sold again on 12 June 1958 and registered with the number 6271 AX 69. Bernard Roche was an eccentric character who travelled from the Rhône valley to the Dordogne, from château to château, searching for treasures. He collected Bugatti and other cars from the 1920s. In his Château de Fénelon in Dordogne, he had an eight-valve Bugatti, a Type 44 and a Type 49 tucked away. He remembers the Type 55 " sold to some people from Paris, complete, with its aluminium wheels, for the sum of 150 000 old francs. " For some unknown reason, the Type 55 was only registered in his name in 1958 although the car had already been with its next owner, Monsieur Liandier, since April 1955. It must have been a rather belated case of regularisation... which the facts and photos confirm.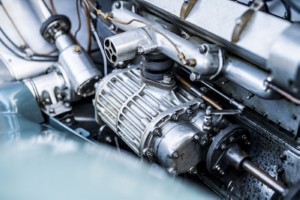 IV. Pierre Proust in Montrouge : exchange of registration documents between 55204/55202
From at least 1955, the cabriolet 55204 was driving around with the registration documents for the coupé 55202 and vice versa. An inspection of the ex-Michel Bouyer Type 55 faux-cabriolet Jean Bugatti in the Mulhouse museum, and the ex-Pierre Daligand cabriolet belonging to C. Robert in 1986 leaves no room for doubt about the identity of the two vehicles.
The Mulhouse car is chassis 55202, complete with its original engine and body, coupé Jean Bugatti. Just two numbers 55204 were re-engraved over the original 55202 on the engine, and the chassis plate for 55204 was screwed onto the firewall, an operation carried out to make the car conform to the registration document 55204 that Pierre Proust had put in his name on 3 July 1958 with the number 5838 HD 75. And so, both cars found themselves in Pierre Proust's garage on 41 rue Racine, a cavern dedicated to Bugatti, where Henri Novo, a defector from the Teillac garage, was in charge. We know of a photo of the coupé 55202 with the number plate 5392 CL 75. This corresponds to the registration document :" Bugatti Type 55 CI 2 places châssis 55202 ". A little later, this number and the corresponding paperwork was passed to 55204. The registration document was put in the name of Pierre Proust on 11 February 1954. Pierre Daligand remembered seeing his car " under a pile of scrap metal " in this garage during this period.
V. Maurice Liandier (1896 - 1990), Fontenay/s Bois : registration 9 April 1955
It is worth noting that the repair notes of Henri Novo told of a first intervention on the Type 55 during the period it was registered by Proust. We can deduce that Liandier had already bought the car : - 15 January 1954 : " Type 55 Liandier, dismantled, changed the pistons, the seals to replace. ". - Then on 25 October 1954 : " 55 Liandier, crankshaft serviced by the factory. Cylinders 60m/m5 piston height ".
Born to a father of independent means and a mother who taught art, the young Maurice had always lived in a privileged environment. He had a string of Bugattis, from the 1920s through to his return from the Second World War, from which he returned with the Médaille Militaire and the Légion d'Honneur. He enrolled to study Fine Art but took on a career managing the fur factories for the company " C et E Chapal Frères et Cie, Teinturerie de Pelleterie et Fourrures ". His father had sold land in Montreuil, in rue Kleber, where " Chapal " had built one of its many factories. Maurice lived in Sen, at 20 boulevard du 14 juillet, near one of the five French factories and was responsible for the company's machinery. Jean Bardinon, a former pilot, had married a Chapal daughter. He was the godfather of José, Maurice Liandier's son, and the father of the great collector Pierre Bardinon. Liandier was a long-standing Bugattiste, having owned a 1924 Type 35 Grand Prix de Lyon and a Type 30 Indianapolis, before the war. Liandier kept his Type 55 for nearly ten years. It was serviced by Novo at Teillac in 1954-1955, as noted in the latter's records. Liandier took his Bugatti to his property " L' Escapado " that he bought in Chateauneuf-de-Grasse in 1962. The car was parked there next to a Type 57 with a Simca 5 coupé body.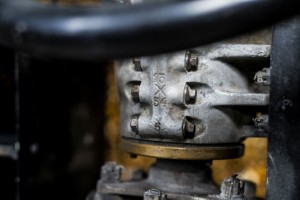 VI. In the famous Pierre Bardinon collection
The vehicle was sold on 9 June 1965 to Pierre Bardinon, the famous French collector who, in Mas du Clos in Limousin, was a tireless collector of the most important Ferrari in the history of motor racing as well as models of key sporting marques like Bugatti. Monsieur Liandier's son has photos of the car and the invoice addressed to Pierre Bardinon. It was indeed the old Vanvooren cabriolet 55204, in its 1947 Lyon-Charbonnières configuration.
La Bugatti 55204, tired but complete, made its way from Grasse back to Paris in the spring of 1965. Pierre Bardinon subsequently asked Henri Novo to take out the twin-cam engine to put in an original, unidentified, Grand Prix car, that the mechanic was assembling for him in 1965. Since this period, the ex-55204 engine has been in the ex-Bardinon, ex-Frédéric Chandon de Briailles " Type 51 ", that is part of a French collection today. Chassis 55204, without its engine and belonging to Pierre Bardinon, remained with Novo waiting to be resurrected. This would happen 40 years later.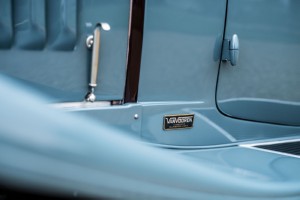 VII. An elite collector, Charles Robert
Robert was a regular visitor at the Novo garage, from where he bought a Type 57 chassis that had been lying about in Montrouge, during the same period as chassis 55204. We were able to examine the Type 55 in the basement of his villa in Nogent, in around 1986. The car was as it had been abandoned by Bardinon at Novo's in 1965. All the mechanical elements remained on the car: the front and rear axle and gearbox were, and still are, the original ones. The frame is undoubtedly that of 55204. The central section, in sheet metal, a remnant of the Vanvooren body, and the wood trim behind the seat, are a reminder of the handsome two-seater cabriolet that was modified by Daligand in 1947. We showed Charles Robert photos of his cabriolet in its original configuration and, quite rightly, he decided to have a body constructed with doors in the style of the 1932 coachwork.
Cabriolet versions of the Bugatti Type 55 are now very rare: one bodied by Figoni, one by Gangloff, another by Billeter et Cartier and two Vanvooren cabriolets are the only other examples in collections. Charles Robert spent a lot of time driving his Bugatti and other Ferrari. With a view to taking part with his wife in various rallies, he asked Laurent Rondoni to build a powerful and reliable engine for 55204. The renowned mechanic, who ran the " Ventoux Moteurs " workshop in Carpentras, built a highly competitive engine that produced close to 200 bhp. This new engine was duly installed and run in by Laurent Rondoni who was also responsible for restoring the entire car, from the chassis up. There is no better guarantee ! Charles Robert saw the finished engine but sadly passed away before witnessing the car scale Mont Ventoux at full speed on its first trial run.
VIII. In search of the origine
When the car was offered in our Retromobile auction in 2015, there was one enthusiast who wanted it more than the others. He was the owner of the Bugatti type 51 that had been rebuilt during the 1960s for Pierre Bardinon by Henri Novo, fitted with engine 5 from 55204. In order to reunite the engine and chassis, our enthusiast bought the car at the auction and reinstalled the original engine. Also, having learnt that the 1947 Lyon Charbonnières shell was for sale, he also bought that. It will be supplied to the new owner.
He decided to restore this car to its exact original configuration, including the colours : the 1932 2-seater Vanvooren Roadster. He noted that the bonnet, the bulkhead, the wooden frame of the body and a large part of the bodywork (including the lower part of the doors to seat level) were original. This made it possible to re-create the rear body exactly as it had been when it left the Vanvooren workshop in period.
Extensive research and study of photos of the car in its 1932 configuration resulted in the faithful reconstruction of the body from the bulk of its original frame.
Pierre-Yves Laugier
This Bugatti Type 55 roadster by Vanvooren is one of the most original examples of the Type 55, of which 38 examples were built, all bodies together. Just 29 of these survive, with less than 20 possessing the majority of their original components.
Remarkably, this Roadster is one of just two surviving Vanvooren Roadsters. It retains its original engine and original chassis frame, with the numbers corresponding to the engine engraved on the front and rear axles, bonnet, cam boxes and gearbox.
It is exceptional to find a Type 55 with absolutely all of its original mechanical elements (100% matching numbers) and the majority of its original bodywork. Adding to this, the car has an impressive performance, capable of nearly 180 km/h.
Photos by Rémi Dargegen
---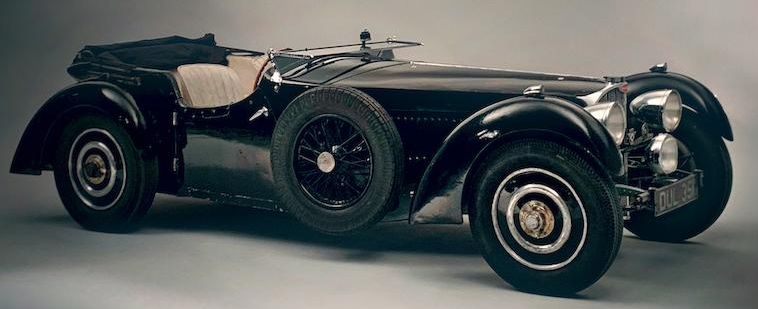 February 19, 2021 Bonhams' Legends of the Road auction London, UK
1937 Bugatti Type 57S Corsica Roadster, chassis 57503, Estimate: € 5,700,000 - 8,000,000
Many Bugatti parts, mostly T57 / T57S, including engine block and gearbox
Click here for more info on the Bonhams' site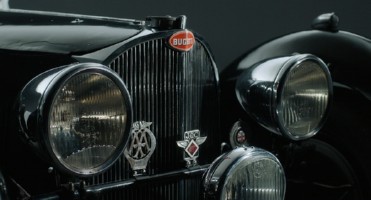 This T57S, chassis 57503, was in the possession of Bill Turnbull for many decades, until he died a few years ago. Experts knew about this car, but it was presented as a dicovery anyway, and deserved a long article in the December issue of the English magazine Classic & Sportscar, written by Mick Walsh.
That Bugatti is nicknamed "Dulcie," because of its registration number, which reads "DUL 351." "Dulcie" has been with the same owner for 51 years, the late esteemed Bugattiste Bill Turnbull, but his estate has agreed to part with it.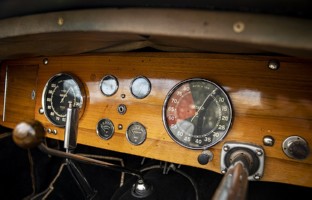 It will be the highlight of the upcoming Legends of the Road auction at Bonhams, taking place on February 19, 2021, and is expected to fetch between £5 million and £7 million. It will sell without reserve.
This 57S, chassis no. 57503, is in highly original and excellent condition. Turbull was not its first owner but he was the one to try and repair and restore it, as the video at the bottom of the page can confirm. Until just recently, he kept it hidden in his North Staffordshire workshop.
The 57 Surbaisse has a 3.3-liter twin-cam Bugatti engine and original body by Corsica Coachworks. The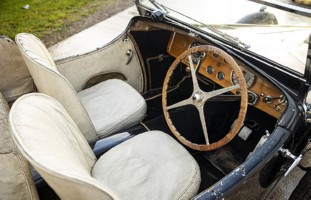 chassis is of the type made for the three Bugatti Type 57G "Tank" streamlined sports-racing cars, with the auction house saying that one of the two lost chassis was possibly re-used for this vehicle. Only 42 57Ss were ever made, but this one is all the more special for this reason.
It has "nearly perfect" black paintwork (In the article referred to above, it was not painted black yet), cream leather interior, and the original coachwork. It sells with certification and a well documented history file, including Turnbull's correspondence with the previous owners, conducted as part of his efforts to restore it.
"This really is an extraordinary example of one of the most valuable and desirable pre-war motor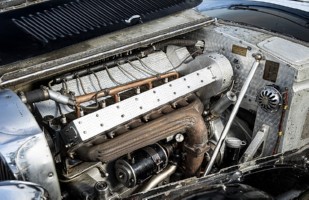 cars," Sholto Gilbertson, Director, Bonhams Motor Cars UK, says in a statement. "Other 57S Bugattis are in museums or known collections, and to offer the car to the open market for the first time since 1969 is going to be tremendous. This could well be the last "hidden" pre-war Bugatti of note and we are delighted to present this rediscovered true legend of the road next year at New Bond Street."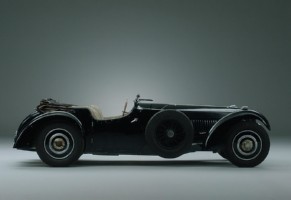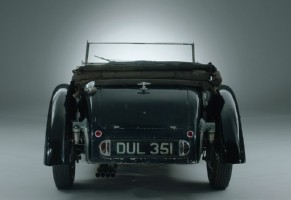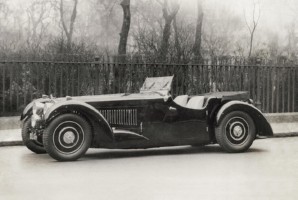 ---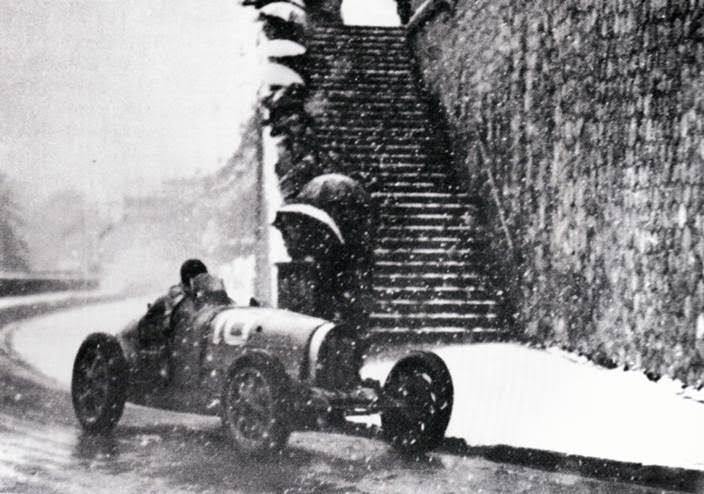 1933 Pau Grand Prix, held on 19 February.
The picture shows Guy Moll in a Bugatti T51, he came in 2nd, after Marcel Lehoux.
---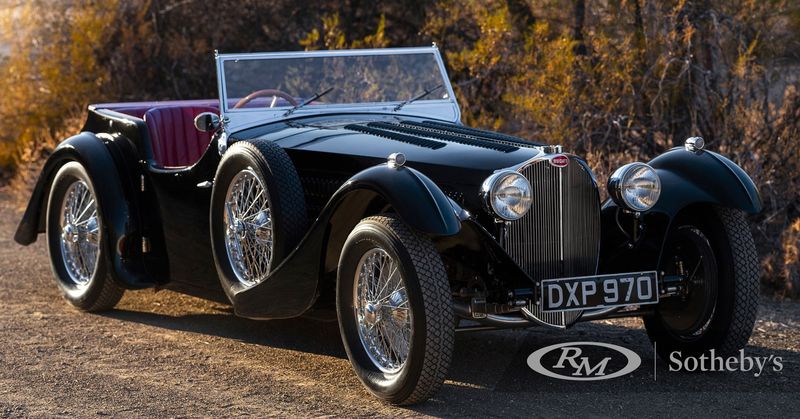 January 22, 2021 RM | Sotheby's Auction Arizona, USA
1937 Bugatti Type 57SC Tourer by Corsica

Chassis No. 57512, Engine No., Gearbox No., Differential No.: All 19S
Retains its original chassis, engine, gearbox, differential, and body
One of eight Type 57S examples bodied by Corsica, and only two four-seat tourers
Only 16 Type 57S Bugattis delivered with open coachwork
Known and fascinating ownership history
Formerly of the Judge North and General Lyon collections
Documented in Pierre-Yves Laugier's and Bernhard Simon and Julius Kruta's seminal books on the model
THE IDEAL EXPRESSION OF 'PUR SANG'
The cars of the great Ettore Bugatti came in many shapes and sizes, from petite, highly effective grand prix racers to large, elegant touring cars—to say nothing of the enormous Bugatti Type 41 Royales. All shared a reputation for precision engineering and craftsmanship often, and not unjustifiably, compared to that of the finest Swiss timepieces; their chassis served as canvasses for some of the most beautiful automotive designs ever created.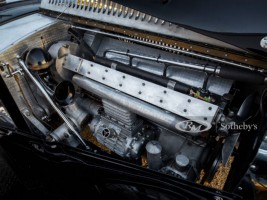 Arguably no Bugatti model expressed each of the marque's celebrated qualities as effortlessly as the Type 57S. Introduced at the Paris Auto Salon in October 1936 alongside the supercharged Type 57C, the 57S was an evolution of Jean Bugatti's successful Type 57 design. Built upon a completely re-engineered chassis that was both shorter and lower (the S standing for surbaisse, French for "lowered"), the Type 57S used a front axle that was articulated in halves, while the rear axle passed through the frame rather than under it for a lower overall stance. A magneto-driven ignition was mated to the specially tuned 3.3-liter dual-overhead cam inline-eight-cylinder engine, which featured a higher compression ratio of 8.5:1 and was positioned low in the frame; a dry sump oiling system helped achieved proper road clearance. This low-slung chassis was then fitted with an equally low-mounted radiator that wore a handsome V-shaped grille in the classic Bugatti motif for, as might be presumed, its aerodynamic effect at high speed.
This potent combination added up to a significant increase in both horsepower and overall performance over the typical Type 57 engine and chassis. The 57S now boasted 175 horsepower versus the standard Type 57 output of 135 horsepower, and when adding the available "C" specification Roots-type supercharger power output was raised to 200 horsepower. This enabled a top speed of some 120 mph, making Bugatti the fastest French production car of the period and further burnishing the marque's reputation for thoroughbred performance.
The Type 57S soon proved itself in competition, claiming three victories during 1936 (the French Grand Prix, La Marne Grand Prix, and the Comminges Grand Prix). Bugatti's greatest success on the track was soon to come when a groundbreaking aerodynamic version of the 57S called the 57G "Tank" won the 24 Hours of Le Mans in 1937. Overall victory at Le Mans was later repeated by a second incarnation of the Tank in 1939, among many other competition successes.
If there is one further quality shared by all Bugatti automobiles, it is the unusual passion they have inspired in those who have pursued them. This as is true of those who first commissioned their construction at Bugatti's Molsheim works—a process that more closely resembled the classic artist/patron relationship than it did the typical automaker/client transaction—as it is of those later enthusiasts who have gone to great lengths to preserve the Pur Sang legacy. This special dynamic is evident in the story of the car presented here: Chassis number 57512, a 1937 Bugatti Type 57SC Tourer by Corsica.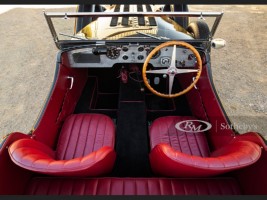 BUGATTI CHASSIS NUMBER 57512
Excellence in competition was, of course, only one facet of the Type 57S' appeal; as a luxurious, high-performance road car, the Type 57S would benefit from some of the greatest coachbuilt designs of all time. While most bodies were supplied by French firms such as Gangloff (a favorite for carrying out some of Jean Bugatti's best-recognized designs), Vanvooren, or Bugatti's own Works, British coachbuilders such as Vanden Plas and Corsica also applied their trade to the 57S with perhaps as many as 15 chassis slated for delivery to England. Ultimately, only 16 Type 57S chassis would be built as open cars, with this Tourer by Corsica being one of them.
Corsica Coachworks was established at Kings Cross, London, in 1920 by Charles Stammers and his brothers-in-law, Joseph and Robert Lee. A relatively small operation, the firm claimed not to have employed designers, preferring instead to directly carry out its customers' devices and desires. Because Corsica was small and could intimately cater to its customers' whims, the workshop attracted many of the sporting crowd. While little is known of the early 1920s Corsica output, a good deal of it is believed to have involved Bentley.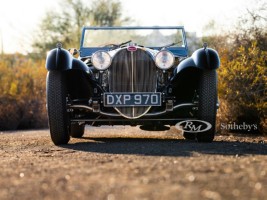 The early 1930s brought some of the best-known Corsica coachwork, including a low-slung sports body for the Double-Six 50 Daimler and an open two-seater for Donald Healey's 1935 Triumph Dolomite, by which time the Works had moved to Cricklewood. In addition to traditional British marques, Corsica also worked on Continental chassis, mainly Alfa Romeo and Mercedes-Benz. Later on, more than a dozen Type 57 Bugattis were bodied by Corsica, including a 57S roadster style body for Sir Malcolm Campbell, the Grand Prix driver and land-speed record holder, and the monumental 57S roadster created for Colonel Giles, who affectionately referred to this masterpiece as "La Petite Suzanne." Like many of the bespoke builders, Corsica closed its doors during World War II, never to re-open.
Corsica built a total of only eight bodies on the Type 57S chassis, including four two-seat roadster bodies (including the Sir Malcolm Campbell and La Petite Suzanne cars), two closed car bodies (of which one example no longer survives), and two four-seat tourer bodies. Chassis 57512 was the second four-seat tourer commissioned, with each being uniquely constructed to show obvious variations from one chassis to the other. The first chassis, no. 57503, abruptly ends the curve of the fenders just behind the wheels, while proudly displaying the oil tank just behind the left front wing.
The example offered here extends the length of the fenders front and rear to gracefully hide the oil tank and visually lengthen the car for a dramatic finish to the rear profile. The configuration of the side-mounts was also treated differently for both examples, with the spare suspended mid-flank on 57503 rather than carefully crafting the side-mount into the extended driver side fender as is seen on this car.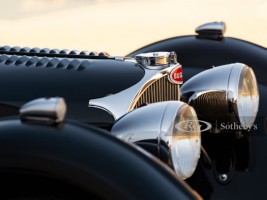 A WELL-LOVED AND FORTUNATE TYPE 57S
The history of this 57S begins with the delivery of its chassis on 8 March 1937 to Colonel Sorel at the Bugatti agency in London for Mr. Hubert Papworth, known for running a Bugatti tuning service in Fulham, London. The chassis was then taken to the Corsica Coachworks to have the open four-seater tourer body fitted. Soon after completion, 57512 was delivered to its first owner Mr. Maurice Fox-Pitt Lubbock, who registered the Bugatti in London with license DXP 970 in March 1937. Maurice Lubbock's name was listed in the March issue of Bugantics when he joined the B.O.C. Club, which also congratulated him on the purchase of his new Type 57S Bugatti.
Mr. Maurice Fox-Pitt Lubbock was a close friend of Jean Bugatti, who frequently drove him along the tight vineyard roads in Alsace at a very high rate of speed each time Mr. Lubbock visited the factory. Perhaps due in part to Jean's driving inspiration, Maurice also enjoyed exercising his new Bugatti in a spirited manner, even when carrying the family at speeds of 100 mph or better. One can imagine the heartbreak Maurice Lubbock experienced when he was forced to sell his prized Bugatti after being elected president of Rolls-Royce, approximately 10 years after he first took delivery. It is around this period that a photograph was taken of the car surrounded by eight other Bugattis including three additional 57S models in front of the Continental Cars Ltd. garage in Surrey.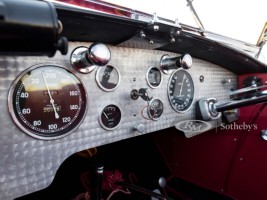 By the time 57512 was sold directly from Lubbock to its next owner, Leonard Potter, the car had been fitted with a factory Roots-type supercharger. Some historians, including Julius Kruta, have reported that the car was upgraded to 57SC specifications at the factory in 1939, while others, such as Pierre-Yves Laugier, suggest it may have been supercharged while in the service of Continental Cars. At any rate, 57512 was upgraded to the ultimate supercharged specification early in its life. Only two cars are known to have been fitted from the factory during production with superchargers, rendering them 57SC examples. The vast majority of Type 57SCs were upgraded to supercharged specification sometime after their initial delivery, with a number of examples being retrofitted decades later.
The car was sold once again by a London garage called "Speed Models," as was reported by The Autocar magazine dated 24 February 1950. The car was shipped to a Mr. Thomson in New York, who administered the sale to an advertising executive named Walter Stocklin. While in the hands of Stocklin, 57512 was raced at Long Island, Bridgehampton, and Watkins Glen during the early 1950s. By 1955, Stocklin apparently decided he would like for his Bugatti to possess all of the characteristic of a Grand Prix race car and had the original Corsica coachwork removed and replaced with a simple two-seater racing-style body constructed by Hiram Hillegas. Stockton used the car sparingly after the modifications took place and the car was sold five years later in 1960 to the esteemed collector Judge John North of Easton, Maryland. Judge North discovered the car listed for $3,800 in a classified advertisement while reading the New York Times. Thankfully, the original Corsica four-seat Tourer coachwork was included in the purchase.
Judge North recalled that the body still carried its original Corsica plates on the coachwork and under the doors. However, he owned a number of Bugattis and other classics and decided to keep the Hillegas Grand Prix-style coachwork on chassis 57512. North sold the Corsica coachwork in the mid-1960s to Allen Henderson, who intended to install the body on a much later Bugatti chassis with longer dimensions than what the Corsica body was designed to accommodate. As such, Henderson resold the coachwork to Walter Weimer after buying two more Bugattis from North. Weimer in turn sold the body to Ray Jones of Michigan, long known for collecting Bugatti chassis, bodies, and spare parts. Jones passed the body to Lynn Steele from North Carolina, who ultimately sold the body back to Judge North along with a modified Bugatti chassis and a spare 57SC engine, no. 23S.
Judge North assembled a complete Bugatti 57SC using the original Corsica coachwork from 57512, the modified chassis and 57SC engine purchased from Lynn Steele, and a number of spare components sourced from Ray Jones. The "replica" was then sold to Count Hubertus von Donhoff of Germany in 1986. Judge North reacquired the assembled 57SC from Count Donhoff in 1998 and reunited chassis 57512 with its original Corsica coachwork after 43 years of being separated. North sold 57512 to General Lyon soon thereafter, who in turn passed the car on to the Blackhawk Collection.
In the hands of the Blackhawk Collection, a restoration was performed, and the car was displayed on the lawn at Pebble Beach in 2003 to much fanfare, after being exhibited publicly for the first time in nearly 50 years with its stunning original Corsica coachwork.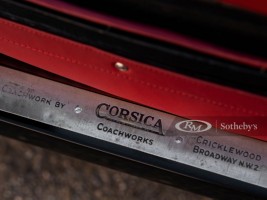 CHASSIS 57512'S NEXT CHAPTER
Chassis 57512, as it presents today, carries this restoration from its Pebble Beach debut. The restoration was carried out in a manner that preserved elements from both its original configuration and its later GP-style history, providing the new owner with the opportunity to enjoy it in its current state as an exceptional high-performance event car or further restore it to concours standards in its original elegant form as it left the Corsica Coachworks.
Notably, the frontend design was modified by removing the inner fender structure that surrounded the signature V-shaped grille and concealed a portion of the front chassis. It appeared as such under Hillegas' ownership, which included the installation of the custom multi-louvered hood that it carries to this day. The original Corsica hood design featured an impressive single row of elongated louvers on the hood sides and a solid non-louvered hood top. The original firewall and inner front cowl section under the hood were both replaced, though the outer cowl that the windshield is mounted to and leads up to the edge of the hood is believed original. The oversized "Stephen Grebel" headlamps and single spotlight that the car featured during Mr. Lubbock's ownership were substituted with more modern and efficient exterior lights by around the time it was shown at Continental Cars in the late 1940s. The original set of wheel discs were eliminated in favor of exposed wire wheels that were chromed during restoration, and the convertible top was removed at some point.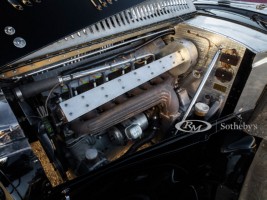 Thanks to the passion and diligence of past owners, chassis 57512 has survived to the present with its significant original mechanical components intact. It importantly features its original chassis, engine, gearbox, and differential, and its supercharger is believed to be the same one that was installed within the first few years of its life. The car's fortunate reunion with its exceptionally rare, original, open-top Corsica coachwork further elevates its significance and appeal.
Equal parts elegant and athletic, this Type 57SC Tourer by Corsica embodies everything a Bugatti and sits at the very pinnacle of pre-war motoring; it benefits from well-documented history, along with the retention of its important original components. Worthy of a commanding position in any serious collection, chassis 57512 affords its next owner almost limitless opportunities for further restoration, touring and events, and exhibition at the highest levels.
---
---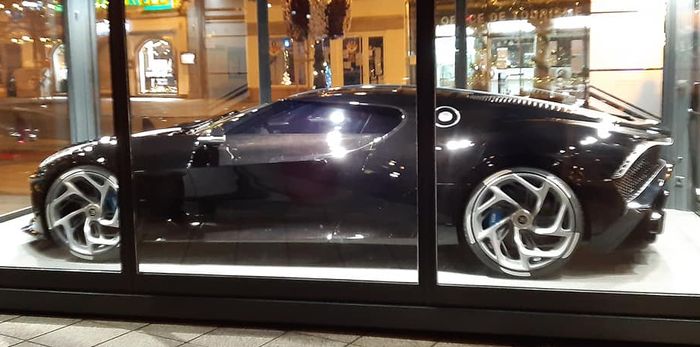 Until January ?, 2021 Bugatti is exhibiting La Voiture Noire Molsheim, France
Maybe not for everybody, but if you are in the neighbourhood: Bugatti is exhibiting to the public La Voiture Noire in the Centre of Molsheim!
I have seen this car from nearby, and I must say that the shape is unique, in fact much better than the Chiron.
---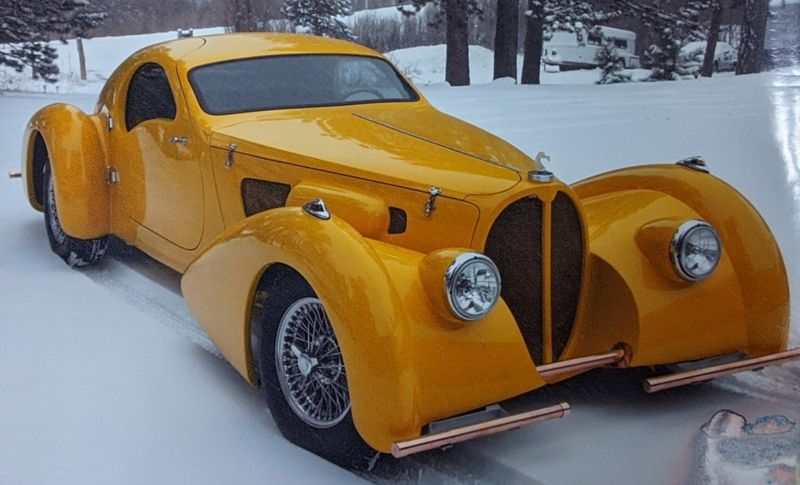 January 1, 2021 21st Annual New Year's Day Antique Auction Ross auction house, USA
If you think an original T57S may be slightly over your budget, then this "Bugatti" Pacific kit car may be something for you! At least will be enough to annoy all real Bugatti experts when you show up in one, at an event or rally!

1937 Type 57S Bugatti Delahaye Kit Car

1987 Jaguar 6cy Six Sedan engine, rebuilt with 12.000K Miles.
Pacific Fastback Design by Terry Cook. Consignor Self-Built.
Includes Photos of Entire Build Process, Delahaye Booklet and Sales Pieces.
Interior Features Genuine Ostrich and Leather. Hood Ornament is a Lalique Fish that illuminates.
One Passenger Side Door hinge is Broken. Rest of Door is Fine Just needs one new hinge.

More info and on-line bidding - Bidding was (December 22) at $ 9750, Sold for: $32,500.00.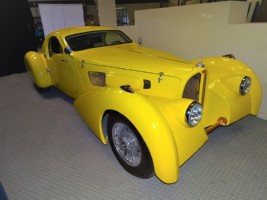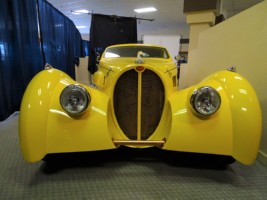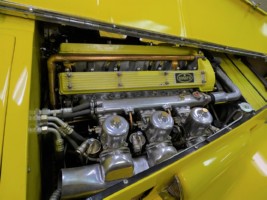 ---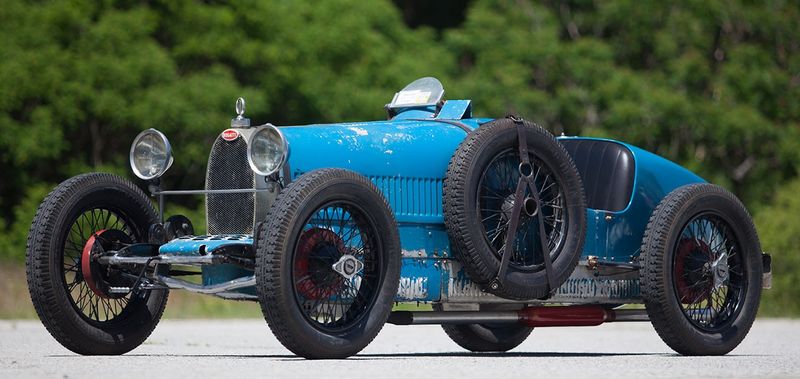 January 18 - 22, 2021 Gooding & Company Scottsdale Auction Geared Online Scottsdale Edition, "USA"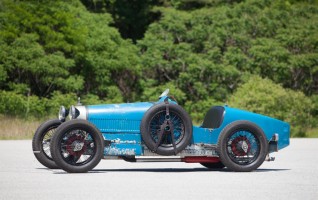 1926 BUGATTI TYPE 37 GRAND PRIX
Chassis 37227, Engine 137

Purchased in the Mid-1950s by Four-Time Tony Award®-Winning Broadway Set Designer Peter Larkin
Has Remained in the Larkin Family for Six Decades
Well Known and Highly Regarded Within the Bugatti Community
Believed to Be One of the Longest-Held Bugattis in Private Ownership

The Type 37 Grand Prix is the 1.5 litre four-cylinder model based on the famous Type 35 intended for voiturette racing. Like the Type 35, the Type 37 provided excellent overall performance, plus it offered an increased level of user-friendliness for road-based events and rallies.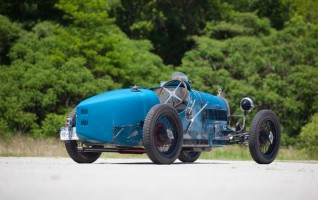 As opposed to the high-strung, eight-cylinder unit found in the Type 35 Grand Prix, the Type 37 was fitted with a four-cylinder engine that is considered as more reliable and tractable. The Type 37's engine was essentially half of Bugatti's inline-eight-cylinder unit, featuring a compact cylinder block, single overhead cam, and three-valve cylinder heads. Unlike the other Bugatti Grand Prix cars, the Type 37 used plain, not roller, bearings and a one-piece crankshaft. The Type 37 relied on simplicity and lightweight design for its performance and is easily capable of 90 mph.
Type 37s quickly became known as race-winning machines and were entered in all the great road races of the era including Le Mans, the Mille Miglia and the Targa Florio. Given its mechanical robustness, the Type 37 was the rare car that one could drive hard all day long and then drive home, with space for a passenger as well.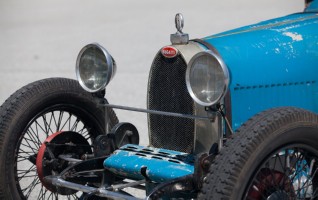 This lovely Type 37, chassis 37227, was ordered on December 2, 1926 by a gentleman from Luxey, a small village in Southwest France. It stayed in France for its early life, and in 1950 it remained in a garage at Saint-Rémy-de-Provence.
In the mid-1950s, the Bugatti was purchased by its fascinating long-term owner, Peter Larkin of New York City. Mr. Larkin was an influential four-time Tony Award-winning Broadway set designer and the car has remained in his family since his passing in 2019.
Mr. Larkin was enthusiastic in his ownership of the Bugatti, stating in 2016 that he still drove it every Sunday weather permitting. Now offered for sale for the first time in over 60 years, 37227 is well-respected within the Bugatti community and has a captivating and authentic well-worn look, with patinated older blue livery. This Type 37 represents one of the most successful and sought-after designs conceived under the watchful eye of Le Patron, Ettore Bugatti.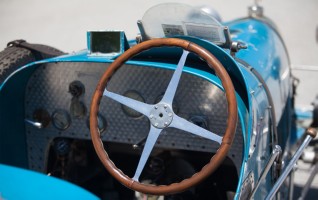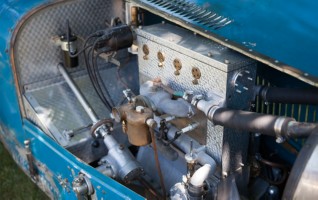 More info
---
Bugatti news: 2022 , 2020 , 2019 , 2018 , 2017 , 2016 , 2015 , 2014 , 2013 , 2012 , 2011 , 2010 , 2009 , 2008 , 2007 , 2006 , 2005 , 2004 , 2003 , 2002 , 2001 , 2000 , 1999 , 1998 , 1997 , 1996 , 1995
---
Back to the Bugatti Page