Bugatti news, 2011 Plus events
Bugatti news, 2010
Bugatti news, 2009
Bugatti news, 2008
Bugatti news, 2007
Bugatti news, 2006
Bugatti news, 2005
Bugatti news, 2004
Bugatti news, 2003
Bugatti news, 2002
Bugatti news, 2001
Bugatti news, 2000
Bugatti news, 1999
Bugatti news, 1998
Bugatti news, 1997
Bugatti news, 1996
---
Also included are old events announcements
December 24, 2011
Bugatti Aerolithe project nears finish line
By David Grainger
It has been quite a while since I wrote a progress report on the Bugatti Aerolithe that I have been building for several years. Despite the lengthy period, I still get regular requests to update the progress.
Despite many readers' concerns that the project has become moribund, it hasn't, and, in fact, it has never even slowed down, but it has reached a difficult stage where we have been producing all the tiny bits and pieces required to build a car from scratch. Add to that the stipulation that the parts being manufactured had to replicate exactly the style and engineering of 1936 and it became extraordinarily time consuming. It also lent very little to the creation of sparkling progress reports.
Now, I am happy to say that 95% of the parts manufacture is done. The only major fabrication remaining is finalizing the two front fenders, hood and the aprons that surround the frame and radiator. We will also need to create the hold-downs and hood hinges for these, but those are small items quickly rendered.
The frame and driveline is complete and the engine is just having its final inspection before it is assembled for the very last time. The interior is ready to install with just the upholstering of the seats remaining. We chose pale green leather in keeping with the exterior colour of the car, which is a very silvery green. This will no doubt be contentious as common myth and misunderstanding is that the car was silver.
Our proof for the colour we are using is a painting executed by a Bugatti engineer by the name of Bigtet in 1936. He presented the painting as a gift to Jean Bugatti, the car's designer and heir to the Bugatti dynasty. It seems hardly likely that he would have painted the car any colour but the correct one and, in the painting, the Aerolithe is represented flying down a rural road at speed and it is most definitely light green.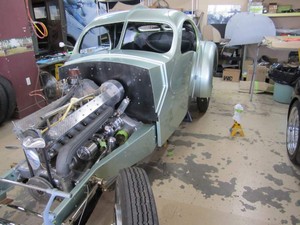 While no colour photographs exist of the car, we were fortunate to have stumbled across colour photographs of another Bugatti of the same vintage, which is identical in colour to the painting. Voila!
The entire rear shell and rear fenders are complete and under paint. The correct tail lights were sourced in France and we had to build the mounts and sockets into the rear fenders, which sweep around the rear of the car and meet in the middle. The amazing fin that runs from the front of the car over its roof and down the long tapering tail is complete and filled with all of its rivet detail. The rivet size and distance apart were carefully scaled from the photographs and are exactly as original.
The spoked wheels were manufactured to specification, but there is a problem with the tires. We have period-appropriate Dunlops on the car. However, when it appeared at the Paris auto show, it sported whitewall Dunlops with the Dunlop script in raised black lettering. This has been a problem. A few years ago, I had great luck with Dunlop recreating tires for another Bugatti project and it was very supportive. But, this time, despite repeated attempts, we have failed to garner any interest or even returned phone calls from the company.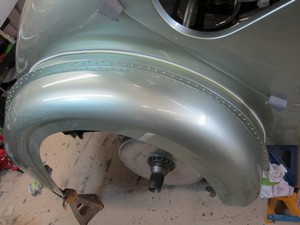 What we have recently discovered is that Dunlop may never have made wide whitewall tires, and those sported by the cars on the Bugatti stand in 1936 may have actually been painted. This makes life easier, but it will no doubt stir another hornets' nest of controversy. (Yes, the politics of Bugatti enthusiasts are that anal.)
I had the instruments for the car restored by a specialist in Holland, and they were wildly expensive, coming in at a cool $9,400. But they did arrive in their own custom metal briefcase with a wonderful wooden plaque with my firm's name and commissioning date. That made me feel much better about the cost.
The chassis of the car is absolutely original and any alterations that we had to make to it were done with the addition of a few milled blocks of machined aluminum. This was done to implement the setback for the motor. In the Aerolithe, the motor was 90 centimetres (probably 90 millimetres, ed.) back from the usual motor mount points. We created machined aluminum blocks shaped to curve with the engine and chassis and be quite unobtrusive. Other than that, the new coachwork fits the old chassis like a glove. This is despite the widely held belief by many entrenched Bugattistes that the car had a very different frame from the original standard Type 57 Bugatti frame we have used.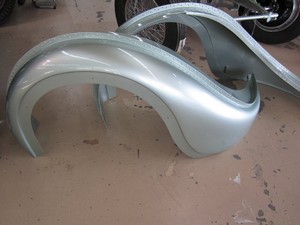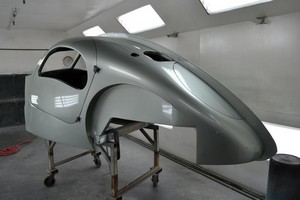 I had the body built with no reference to the frame, only to the few photographs that existed of the car, so we were all very surprised when the body fit the standard chassis with virtually no problems. In fact, if we had been mounting the coachwork on the supercharged frame that many feel was under the Aerolithe, we would have had to make quite a few alterations.
In my innocence I told of this discovery in print both here and abroad several years ago and have been the subject of quite a bit of mail, most of it quite hateful. Most amusingly, I was accosted at Retromobile in Paris last winter and I am sure that my detractor found it quite frustrating that I really and genuinely don't care which is right or wrong as the car I am building is not the original Aerolithe. That car most likely ended up in the smelters of wartime Europe.
We will certainly be finished by late winter or early spring next year. Many people have asked what will happen once it is finished. That is entirely up to the car's long-suffering and very patient owner but, whatever its fate, I am sure it will create a stir wherever it goes and impress all who see it. Even 75% assembled, the car's lines and details are breathtaking, and no mean-spirited criticisms or controversy will ever be able to alter that fact.
---
November 20, 2011



Ralph Lauren is selling his car collection!

Surprised? So was I, until I learned that the clothing magnate is selling minatures of 4 of the major examples in his collection:

NEW YORK — Style icon Ralph Lauren has surrounded himself with models this holiday season, but not the long-legged kind. He has taken four favorites from his world-renowned classic car collection and replicated them as scale models, selling them online and in Ralph Lauren Home stores for $9,500 each.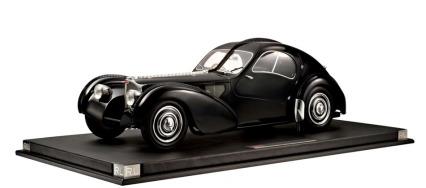 The chosen cars are 1:8 scales of the Bugatti 57 SC Atlantic Coupe, which Lauren acquired in 1988. It was the last of the chassis built and ordered originally in 1937 by Richard B. Pope of London. The other models are a McLaren F1 LM, Ferrari 250 GTO and Ferrari 250 Testa Rossa.
To encourage collectors, each sports a unique edition number and certificate.
Creating them is an exercise in patience. Each car was digitally scanned to capture each detail and curve. The technology is accurate to one tenth of a millimeter over the length of the car, which translates to an authentic scale reproduction of the original.
From there, artists create a master model using a combination of digital machining, traditional engineering and hand craft skills. This process takes about 3,000 hours of work by a team of model makers. Each individual model then takes approximately 350 hours more to complete.
Some of those hours include hand spraying each model with authentic automotive paint and then hand polishing it to create a shiny finish.
The wire wheels are assembled from approximately 140 tiny and precisely machined aluminum components, with separate spokes and nipples to mirror the originals. When all the parts have been fettled, sanded and polished, each model is assembled by a small team of model makers.
Just the Facts:
Ralph Lauren Home has introduced 1:8th scale models of style icon Ralph Lauren's personal classic cars collection.
The Bugatti 57 SC Atlantic Coupe, McLaren F1 LM, Ferrari 250 GTO and Ferrari 250 Testa Rossa cost $9,500 each.
They are available online and in Ralph Lauren Home stores.
---
November 13, 2011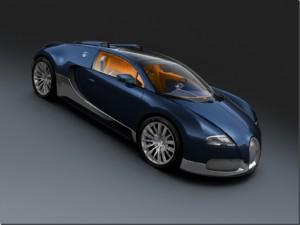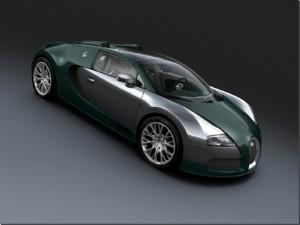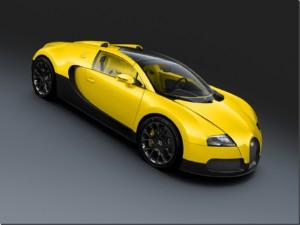 Bugatti crowns the 2011 Dubai International Motor Show with three spectacular Middle East versions of the Grand Sport
Dubai, 10th November 2011 – At the Dubai International Motor Show the legendary French brand presents three very special models of the Bugatti Veyron 16.4 Grand Sport, which is the fastest, most powerful and exclusive open top car in the world. It is Bugatti's intention to honour the very important Middle East market with this threefold variety and to provide its highly exclusive clientele in the Middle East an insight into how creativity and inspiration can be successfully driven to individualised luxury.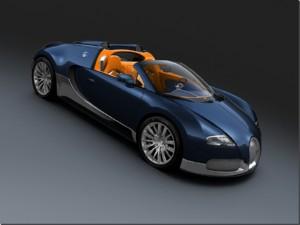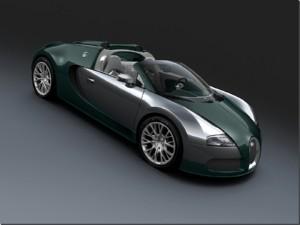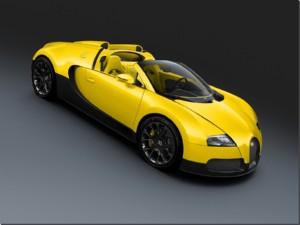 The first Grand Sport on display at Dubai Motor Show has a horizontal colour split with a bright yellow body and a underside in visible black carbon, including black-tinted wheels. The striking contrast of black and yellow, Ettore Bugatti's favorite colours, is continued by seats finished in yellow-colored leather with black stitching. The middle console is in black carbon, while the dashboard, steering wheel and gearshift are encased in black leather with yellow stitching. This Grand Sport model comes at a price of 1.58 million euros.
The second individualized Grand Sport model is also presented in a two-tone horizontal colour split consisting of visible blue carbon, framed in polished, anodised aluminium. The rims are highlighted in an aluminium polished and Diamond Cut two-tone finish. The grills at the front and the air intakes are in aluminium with a mirror shine finish. The interior of this car is finished with tangerine leather throughout. Only the door panels, dashboard, steering wheel and console are covered in dark blue Indigo leather or exposed blue carbon fibre, with tangerine stitching on the steering wheel and gearshift knob. This special edition model has a price of 1.74 million euros.
The third Grand Sport comes in the newly developed green carbon fibre tone with polished aluminium. This special model takes up the traditional Bugatti two-tone-specification. The rims, the exterior rearview mirrors and even the EB-logo at the rear are of polished aluminium to create an elegant and harmonious overall appearance. The interior, especially and tastefully selected, is also dominated in green and silver which matches perfectly with the flamboyant exterior.
The third Dubai Motor Show 2011 special edition model will be delivered at a price of 1.74 million euros.
All these models fully stand in the tradition of Ettore Bugatti's constant strive to use new colour schemes and materials to provide his clientele with unique cars for its exclusive taste. Today Bugatti is still expanding the possibilities of options to offer more and more sophisticated individualisation.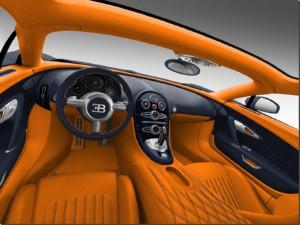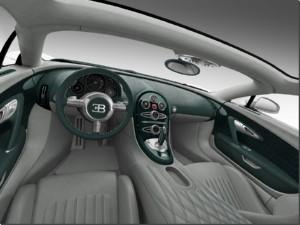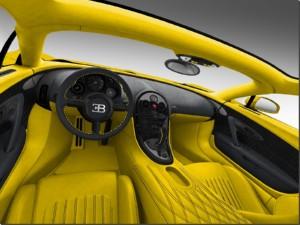 In cooperation with the Bugatti design and engineering teams, Bugatti customers can tailor their vehicles to their personal preferences by choosing from a broad array of exquisite materials and colours. The three models in Dubai display an ever growing number of options available to existing and new Grand Sport owners.
Bugatti Automobiles S.A.S. has limited the Grand Sport to 150 units of which 45 have been sold and 105 slots are still open. The cars will be manufactured at the Bugatti factory in Molsheim, France.
---
November 5, 2011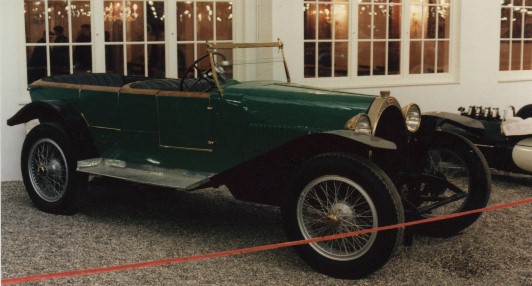 Mulhouse museum will present the restored T28

The Musée national de l'Automobile just finished the restoration of the prototype 28 that Ettore Bugatti showed as a frame in Paris 1921 and in London 1922. The car is running again and returned to his 1922 "torpedo" condition, as we can see it in the film showing the "Fabrique d'Automobiles Ettore Bugatti" in Molsheim at this time. It is really a big sensation to drive this car, silent and powerful like … the Royale.
The finished car will be presented to invited experts and enthusiasts on November 10. This private event is the first step to public events during the next months so most enthusiasts will get a chance to see the result of the restauration.
For the restauration 1500 original drawings were used, as well as a movie from 1922 which shows for the only time the T28 riding through Molsheim. Info from the original invitation:
Sources essentielles :
1500 plans d'usine et un film de 1922 qui montre pour la seule et unique fois ce torpedo en mouvement à Molsheim.
Avant cela, il fut exposé sous forme de châssis au Salon de Paris en 1921, puis à Londres en 1922. Ce premier huit cylindres de la Fabrique d'Automobiles Bugatti, a profondément marqué l'essentiel de la production de la marque à compter de 1925, en particulier le type 44 et la célèbre Royale. Stocké à l'usine, il fut acheté en 1963 par les frères Schlumpf qui l'ont remis en état selon le goût de leur époque.
La renaissance de ce prototype , laboratoire de la marque Bugatti, a été réalisée en 2010/2011 sous la conduite du comité scientifique et de l'atelier de restauration du Musée national de l'Automobile avec tout particulièrement :
Norbert STEINHAUSER, historien ;
Laurent RONDONI, spécialiste Bugatti ;
Hubert HABERBUSCH, carrossier ;
Brice CHALANCON, ingénieur-restaurateur ;
Bertrand HECK, mécanicien.


Click the picture above of the Type 28 at the 1922 London motorshow, for a pictorial overview of history and restauration of this very special and significant Bugatti.
---
October 30, 2011


Auctions Results

Chevau-Legers Auction, September 25, 2011, Trianon Palace, Versailles, France:
1929 Bugatti Type 35B '#4927', Not Sold
RM Auctions, Automobiles of London, October 26, 2011:
1930 Bugatti T46 "Petit Royale" Sports Saloon by Freestone & Webb Chassis No. 46533, Not Sold (highest bid £420,000-€487,200)
1931 Bugatti Type 49 Saloon by Vanvooren Chassis No. 49294, Sold for £109,200
1937 Bugatti Type 57 Stelvio Cabriolet by Gangloff Chassis No. 57435, Sold for £296,800
1935 Bugatti Type 52 Baby Chassis No. 449 A, Sold for £24,640
Thanks to: Christophe Chanterault
---
October 16, 2011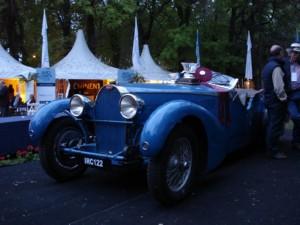 Bugatti T57 «Therese» by Bertelli wins best of show at Auto Clasica, Buenos Aires
This past weekend was held in Buenos Aires, the most classic car show in South America. Hugo Carparelli sends the pictures. Exposed were more than 500 cars and 350 vintage motorcycles.
Most interesting was Bugatti's stand was attended by ten exemplary of the brand, all original, some of them in condition as when they left the factory.
A choice of known and unknown Bugattis, with of course the Capt. Giles designed Type 57 (chassis 57316, owned by Calilo Sielecki) being very well known, as well as the 5 litre "Chassis 471" which used to be Ettore's personal car (and the same present owner as the Bertelli).
Also a very special car (owned also by the Sielecki family) is the T29/30, One of the four factory race cars for the 1922 Strasbourg GP and only survivor of the five 1923 Indianapolis 500 team cars (Chassis 4004).
Also there a choice of other Bugattis, GP's, Types 38, 40, 44, 49 and of course a T57 Ventoux.
---
September 21, 2011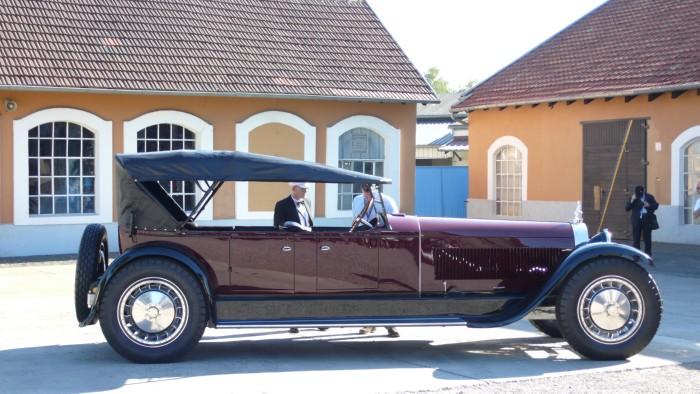 Bugatti Royale Prototype recreation presented at Molsheim Festival
During the Bugatti Festival, which took place in Molsheim in the weekend of September 9-11 in splendid weather conditons, the recreation of the Prototype Royale (Chassis 41.100) was unveiled to the event partakers, and in the afternoon presented to all enthusiasts present.
The original prototype first received a Packard body, was then rebodied into a Coupé Fiacre, then into a Saloon Fiacre, and finally into a Weymann Coach. In this last car, Ettore crashed. After this, 41.100 was rebuilt, and received the current Coupé Napoleon body. However, some sources indicate that for this second version of 41.100 no parts of the original prototype were used, and that the chassis frame and some other parts (front axle mainly) of the prototype did indeed survive.
According to the owner and builders of the recreation presented in Molsheim on September 10, these parts were used for this recreation, as well as an original Packard body. Though the owners intend to fit the car with an early Royale engine (with double ignition on either side of the block), the car at this moment has the 2nd Tom Wheatcroft engine, as the original Bugatti engine needed too much overhaul to be ready in time. Due to problems with the gearbox, the car did not run at the time of the presentation. The Recreation of the Prototype Royale was done by Hevec Classics in the Netherlands, for an undisclosed owner who is also Dutch. The instruments were recreated by Martin IJdo of Historic Engineering in the Netherlands.
The unveiling was done at the HardtMuhle, the original part of the factory (still existing and maintained on the grounds of Messier-Bugatti) at the exact location where a photograph of the original was taken. At that moment Ettore was standing beside the Royale on his horse, reenacted now by his granddaughter Caroline Bugatti.
When inspecting the Royale from up close, one can see that the fnish is superb, and that hood!! it must be the longest in the history of the automobile! Very impressive! The wheels and tires may look odd, but that is because these were in fact different for the Prototype than for the later "production" Royales, which are of course much better known. The Binder Coupé de Ville was also present at the Festival in Molsheim, and was presented for the jury.
Thanks to Daniel Lapp, EBA member and member of the festival comittee, for the pictures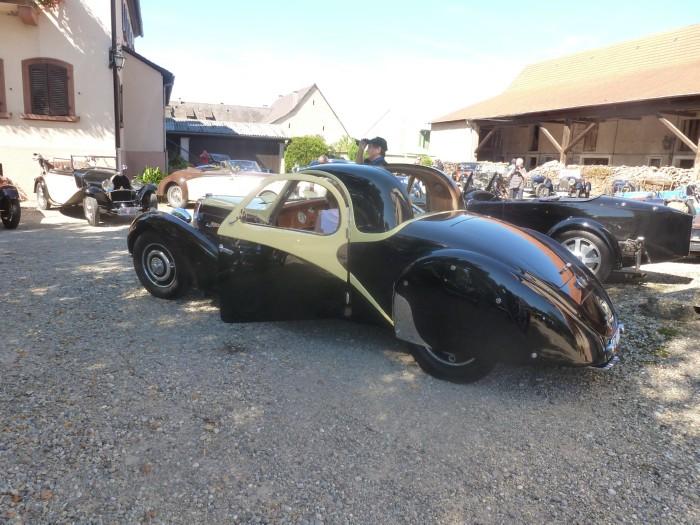 Finally, Kees Jansen, Cathy Tucker and their T57 Atalante were the Festival winners, and received the "Trophee Fondation Bugatti"!

P.s.: A more complete report, with pictures of all Bugattis present, will be published at a later date in the Bugatti Revue.
---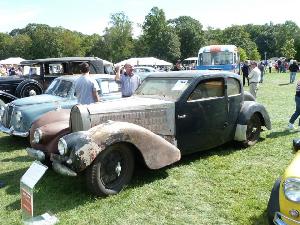 September 20, 2011


Auction result

Bonhams Auction at: Fairfield Concours d'Elegance, Exceptional Collectors' Motorcars and Automobilia, 17 Sep 2011 to 18 Sep 2011, Connecticut, Westport

1938 Bugatti Type 57 Series 3 Ventoux Coupe, Chassis no. 57701, Engine no. 494. Estimate: US$150,000 - 200,000: Sold at $337,000

From sportscardigest.com:

Lot # 764 1938 Bugatti Type 57 Series 3 Ventoux Coupe; S/N 57701; Engine # 494; Blue/Blue leather; Estimate $150,000 - $200,000; Unrestored original, 4+ condition; Hammered Sold at $300,000 plus commission of 12.33%; Final Price $337,000 -- RHD. Right front fender primed, left front fender partially stripped by grinding off the original paint, the rest of the body original, dull and dusty. Dull bright trim, surface creased and cracked original upholstery. Complete instruments, sound interior wood trim and steering wheel rim. Original matching numbers engine and chassis and original body with engine fire damage. History gap in the 40's and 50's but one owner since 1964 who fixed the operating faults but never completed the bodywork repairs. Bonhams' Eric Ide addressed the 47 year old problems and brought it to life for the auction where it was driven onto the Fairfield Concours field and across the auction block. Early clouds of smoke from Marvel Mystery Oil were gone by the time it reached the block, an impressive presentation. Bidding went right to $210,000, then slowed to steady competition among three bidders to this price. It is much more complete and sound than it first appears, being primed, stripped and original in patches that emphasize its barn-find character and disguises its completeness and originality. The new owner was overjoyed -- as were the family of the long term owner -- a happy ending to an epic tale.
---
September 13, 2011


New Galiber postponed for improvement

Looks like the new boss of Bugatti is serious about maintaining the brand's reputation for vehicles that are over the top in every way possible.

New Bugatti boss Wolfgang Durheimer has put Bugatti's much-hyped four-door super sedan on hold because it's not yet an "argument stopper," sources have admitted.

A decision will be made later this year about the future of the Galibier after Durheimer posed some tricky questions to Bugatti's engineering team about comfort, interior space and performance, sources said.

The concept car originally proposed 800 horsepower as the target figure, and it is understood that Durheimer is less than satisfied with that output.

"In his opinion," our source confirmed, "there should not even be a question about the best car in the world when you sit down to discuss it with your billionaire buddies.

"He doesn't want to build it until it's the car that finishes the argument, not the car that starts it.

"Right now, it's definitely not enough (power) and it needs more space and comfort, especially in the rear.

"It's 800 horsepower now, but there are tuners today who can give you that and we don't want our car to be involved in any discussion that involves tuners, so we have to move the benchmarks."
---
September 13, 2011


Auction result

Bonhams auction, Beaulieu, UK, September 10, 2011
Bugatti Type 57, Galibier, chassis 57380 Estimate: £40,000 - 50,000: Sold at £166,500 including premiums
The lot received an overwhelming amount of interest, with 10 telephone lines, six absentee bids and 12 bidders in the room.
---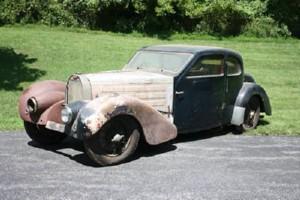 September 3, 2011


Yet another Bugatti barnfind, with only 22,000km!

These days, unknown Bugattis usually pop-up only once a year or less. Surprisingly, there are now two in one month, and both will be sold at auction.

1938 Bugatti Type 57 Series 3 Ventoux Coupe, Chassis no. 57701, Engine no. 494

Single ownership since 1962 offered from the Estate of an Engineer

This recent find in central Pennsylvania is the dream of any true collector. Quite literally the legend of the 'Bugatti in the Barn' the car has laid unused for more than three decades and comes to the market for the first time in nearly 50 years.

Bugatti historian David Sewell has confirmed to Bonhams that 57701 was invoiced by the Bugatti works to agent Sechaud of Geneva, for the sum of 82,224 French Francs. It was delivered there on September 22, 1938 and fitted from new with factory Ventoux coachwork, painted in dark blue with matched dark blue leather to its interior.

According to register notes by the early 1960s, the car had been imported to the U.S. from Karl Ivansson of Switzerland, and was now the property of E. Allen Henderson of Marlboro, NJ. At some time around this point, the car suffered from an engine bay fire which damaged the driver's side hood panel and blistered much of the paint on the front end of the car.

Nevertheless, it was particularly appealing to the late owner, who was a qualified and passionate electrical and mechanical engineer. He acquired the Bugatti in around 1964 from Marlboro Motors and set about returning it to the road. Accordingly, the paint was stripped from these items and the wiring loom which must have perished was renewed. It is known that when this work was complete, the car was made to run after an electrical fault was sleuthed and fixed and it was actually used for runs in 1966. However, the work was never finished, and so it lay unused from this time right through to today.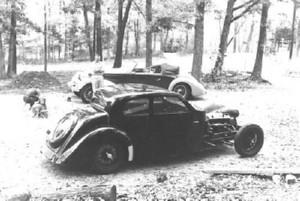 To judge from the condition of the car today, its leather trim must almost certainly be the original and save for some rodent damage to one seat base is intact, its paint is thought to have been redone at one point, but again this is also in a dark blue hue, and either matches the original or may just be original. Intriguingly, just over 22,000 kilometers are shown on the odometer, which given the succinct history and taken in the context of the generally unworn leather and pedal covers, may be an accurate reading from new. At the time of photography, many of the parts not fitted to the car were found in the same garage, including the original 'eye-brow' bumpers and unfitted Marchal side light, while inspection also confirmed that the car retains its original engine and this unit is confirmed as being 'free'.
Following in the truest Bonhams tradition of finding the rarest and most interesting historic automobiles, including a handful of significant Bugattis, in view of the generally original and unspoilt nature of this Ventoux, it may well represent a potential entry for preservation categories at concours level, or else a fine basis for restoration.
The Bugatti will be shown on the field at the Fairfield County Concours d'Elegance, prior to crossing the block, by kind permission of the event organizers.
Estimate: US$150,000 - 200,000
Bonhams Auction at: Fairfield Concours d'Elegance, Exceptional Collectors' Motorcars and Automobilia, 17 Sep 2011 to 18 Sep 2011, Connecticut, Westport
Info: www.bonhams.com
---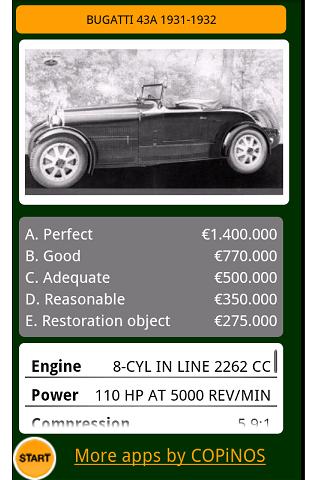 August 28, 2011

Bugatti App
For those of you who have one of those fancy phones with Apps (I really do not hav a clue myself, I'm just not that advanced!):
There is a Bugatti App, including prices and type info, useful in case you stumble upon a lost Bugatti somewhere on the French countryside! It is the:
Bugatti Classic Car App 2011/2012 by COPiNOS.
The app for easy reference to current values, specifications and photos of 46 classic Bugatti's (1909 - 1956).
Go to: nl.appbrain.com/app/bugatti-classic-car-app/com.copinos.android.man.bugatti, it's Free!
---
August 25, 2011

No major prizes for Bugattis in Pebble Beach Concours d'Elegance 2011
The Pebble Beach Concours d'Elegance 2011 was held Sunday, August 21st at the Pebble Beach Golf Links in Pebble Beach, California. More than 200 cars and motorcycles lined the 18th hole of the famed Pebble Beach Golf Links for the 61st annual Pebble Beach Concours d'Elegance, with a total of 29 classes in 2011 including feature and special classes.
Best of Show was awarded to the 1934 Voisin C-25 Aerodyne of Peter Mullin of Los Angeles. The unique Voisin features a 3-liter sleeve-valve type motor with two carburetors developing 100 hp, resulting in a top speed of over 85 mph.
Prizes for Bugattis:
Class J-3 European Classic – 1938 through 1939
1st 1938 Talbot-Lago T150-C Figoni & Falaschi Coupé
Richard Stephens, Auburn, California
2nd 1938 Bugatti Type 57C Atalante
Keith Anderson, New York City, New York
3rd 1938 Bugatti Type 57C Gangloff Cabriolet
The Off Bros. Collection – Bill Johnston & Ron Elenbaas, Richland, Michigan
Chairman's Trophy
1923 Bugatti Type 23 Brescia Lavocat et Marsaud
Giuseppe Redaelli, Varese, Italy
Elegance in Motion Trophy
1938 Bugatti Type 57C Gangloff Cabriolet
The Off Bros. Collection – Bill Johnston & Ron Elenbaas, Richland, Michigan
---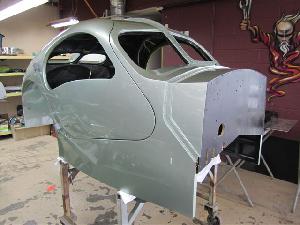 August 25, 2011


The Guild of Automotive Restorers' Aerolithe is nearing completion

The Aerolithe project is nearing completion. Despite the many difficulties David Grainger and his team encountered, they managed to build the beautiful Aerolithe coachwork on the significant earliest Type 57 chassis 57104.

Building the car itself inch by inch has given valuable insight into the original. What appear in the photo's as small black shadows and irregular lumps now have meaning to David an his team, as their car replicates these same irregularities as the build continues. As an instance, they know that the car had a standard exhaust system with single downturn as the profiles now match perfectly.

As you can see the car has now been painted, and is ready for final assembly.
---
August 25, 2011


Auction results

RM Auctions, Sports & Classics, Monterey (USA), August 19-20, 2011:
1937 Bugatti Type 57 Roadster by Ramseier-Worblaufen Chassis No. 57260; Estimate: $1,000,000-$1,300,000, Sold for $990,000
1938 Bugatti Type 57 Stelvio Chassis No. 57569; Estimate: $700,000-$800,000, Sold for $693,000
1937 Bugatti Type 57C Ventoux Chassis No. 57664; Estimate: $600,000-$750,000, Sold for $797,500
1950 Bugatti Type 101 Coupe by Van Antem, Chassis No. 101504; Estimate: $600,000-$800,000, Sold for $616,000

Thanks to: Christophe Chanterault
---
August 24, 2011


Auction results

August 18-19, 2011 Bonhams' Quail Lodge Sale USA
1930 Bugatti Type 43 Supercharged Sports 2/4 Seater: Chassis no. 43286, Engine no. 133, Estimate: US$1,300,000 - 1,500,000 : NOT SOLD

August 18-20, 2011 Mecum Auctions, The Daytime Auction, Monterey USA
1937 Bugatti Type 57 Ventoux Coupe #57345: Sold for $350,000
1925 Bugatti Brescia Type 23 Roadster: Sold for $230,000

Results for the RM Auction coming soon (hopefully).

---
August 17, 2011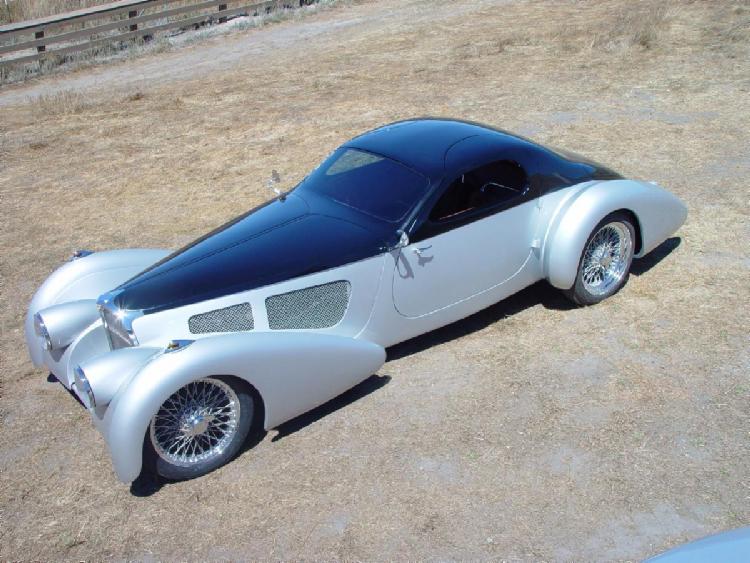 Delahaye USA presents the definitive version of the "Bella Figura" Type 57S
BugattiPage is the first to present pictures of the final, finished automobile!
The Bella Figura Type 57S Coupe is described in more detail a little bit below on this same page, the fully painted version is now ready, and will be presented at various of the Pebble Beach events.
Below the engine bay with V12 (no straigh-8)
---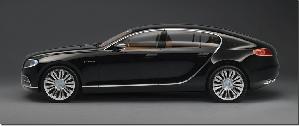 August 6, 2011

Bugatti President, W. Dürheimer Comes With New Details About 2013 Bugatti Galibier 16C

2013 Bugatti Galibier 16C, a 1000 HP sedan, was first shown as a concept in 2010. At that time we knew very few details about this car. In 2010 we some rumors said that when this car will hit the production line, will cost about $1.4 million and it will use a 16-cylinder engine that can run on both biofuel and gasoline. We also knew that this luscious limousine will bring back the dual-clutch gearbox and it will get a hybrid option.

Now Bugatti President Wolfgang Dürheimer has revealed new details about the 2013 Galibier 16C, also known as "Royale" and maybe that will be it's definitive name, in an interview with German magazine Auto Motor und Sport.

It seems that some rumors were right. 2013 Bugatti Galibier 16C will be outfitted with a sixteen-cylinder engine producing between 800hp and 1,000hp and even if it seems hard to believe, a hybrid version will be available. Dürheimer said that the expected "leader" in the luxury segment will have a series of 500 to 1,500 units. Also the initial speculated price was almost confirmed by the German executive, who hinted a price tage of more than € 1,000,000, but the official price tag has not been set.

The production version will be ready in the Fall of 2012. Dürheimer also stated that the Galibier will indeed be a Hybrid, capable of driving on Electricity alone for approximately 40km, so you can drive out of the street in the morning without waking your meighbours with a Screaming W16 engine. .
---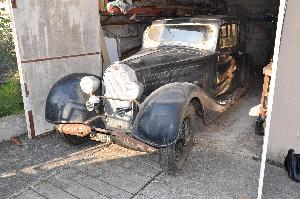 August 3, 2011

Bugatti Barnfind

Really unknown Bugattis are more and more scarce, but they are still out there. Bonham`s web site was presenting a true barnfind on their website, though it now is unavailable. Update: back on the site, go to: www.bonhams.com

It is announced that in their Beaulieu auction on September 10, 2011 they feature a barnfind T57.

Info on the car:
This Bugatti Type 57, chassis number '57380', was previously registered to a M. Demarest in France ('1252 DX 75') for which there are old tax 'discs' from 1959 through 1962. The car's next owner was a doctor, who was followed by Guy Martin (son of Le Mans racer Charles Martin) and then the current owner in 1983. (The current owner's wife is Guy Martin's niece). Although he intended to, the vendor never got around to restoring the Bugatti, which remains very complete and original but in need of a full mechanical restoration at the very least. The brakes are binding and the engine is said to turn over but not run; the body though, is in quite good condition, as the 'suicide' doors close very easily and properly. There is some rodent damage to the rear of the interior, which otherwise is generally not too bad. Believed off the road since circa 1968 and sold strictly as viewed, this exciting Bugatti 'barn find' comes with the aforementioned tax records, French Carte Grise and Attestation d'Assurance (1960).

Pictures are of '57380' as discovered by Bonhams in a village on the outskirts of Paris

Estimate: £40,000 - 50,000, € 46,000 - 57,000. No Reserve

Editor's comment: This must be the Bugatti (and an original one!) with the lowest estimate since a decade! My glass globe tell's me that the car will reach a price closer to the higher estimate....
---
December 9 (2011) - January 13, 2012 Lumières sur Bugatti Gargas, France

The Lustrerie Mathieu chandelier company invites the public to discover its savoir-faire through an original exhibition that combines the owner's two passions: chandeliers and classic collector cars.

There is a catalogue (for those who do not go), available online: Lumières sur Bugatti - book
---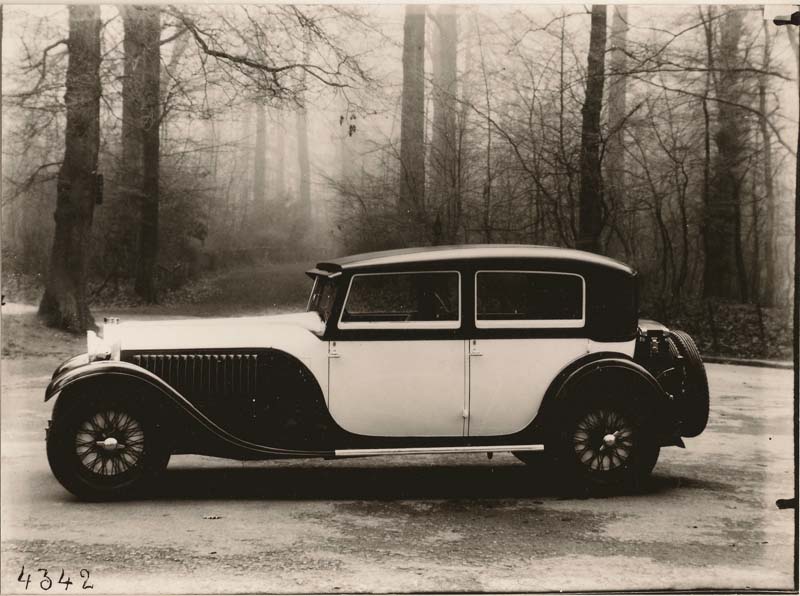 5 litre Bugatti carrosserie D Ieteren Brussels (Belgium), the client was Jean Deschrijver.
The picture was taken in the "bois de la Cambre" in Brussels.
---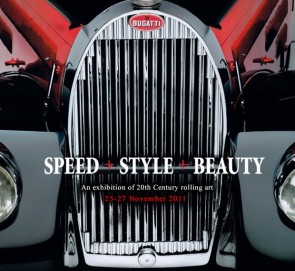 November 25 - 27, 2011 Speed + Style + Beauty Portside Wharf, Brisbane, Australia.

The 2011 edition of Speed + Style + Beauty will be held on 25-27 November at the Portside Wharf in Brisbane, Australia.

Replacing the event cancelled in January this year due to the Brisbane floods, the 2011 celebration of the automobile as an art form will feature a 1909 Rolls-Royce Silver Ghost, 1955 Ferrari 750 Monza and Dick Johnson's rapid Bathurst Falcon XC Hardtop, among others. The 40 special vehicles in the show represent "a celebration of wheels" according to organiser Rod Gould.

Classics from the 1930s at the show include a 1935 Rolls Royce Phantom III Sedanca de Ville, a 1934 Mercedes 500K reproduction, a 1934 Ford (Hot Rod) Roadster and a 1935 Bugatti 57C Fastback.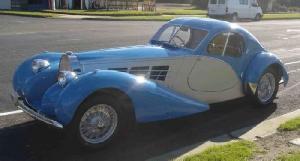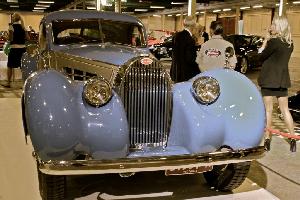 From the Post War area of the 1950s and 1960s, there is a 1953 Jaguar XK 120 Coupe, a 1959 Porsche RSK Spyder and a 1967 Corvette 327 'Side Pipe', while the 1970s is highlighted by a 1970 Citroen DS Cabriolet, a 1973 BMW 3.0 CSL Art Car and the XC Falcon that Dick Johnson raced at Bathurst in 1978 and 1979.

Meanwhile the Supercars on display include a 1967 Maserati Ghibli, a 1977 Lamborghini Countach and a 2011 Lamborghini Gallardo Spyder. There will also be some classic motorcycles on display, ranging from a 1928 Triumph to Crash Cavanagh's stunt bike.

All proceeds from Speed + Style + Beauty 2011 go to Youngcare, an organisation that assists young Australians under 65 to get out of aged care.

For more event information, visit www.speedstylebeauty.com .
---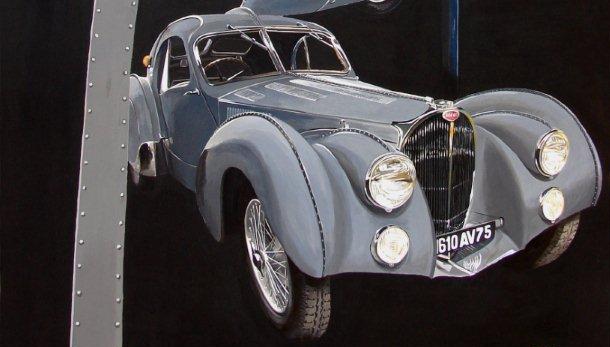 Type 57SC "57473" Atlantic, painted by Francois Vanaret.
Click for a complete view
---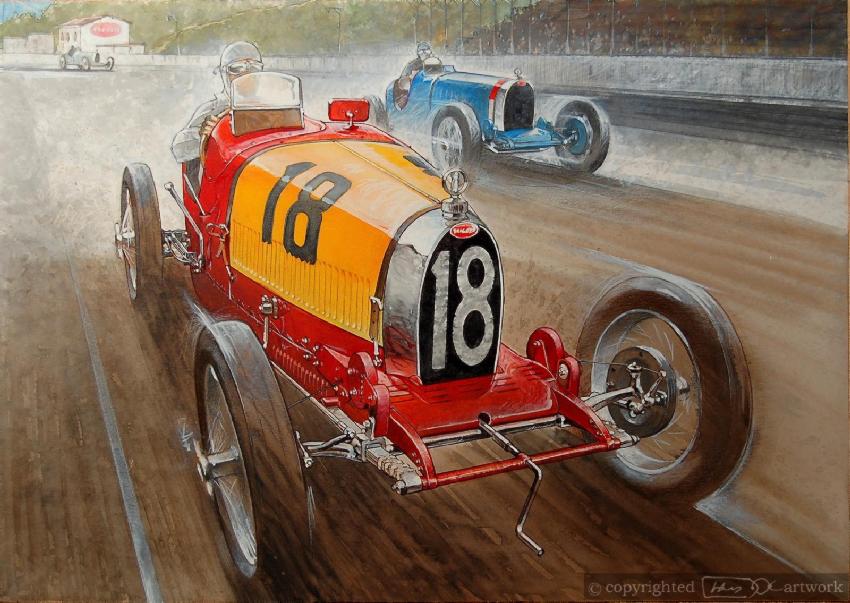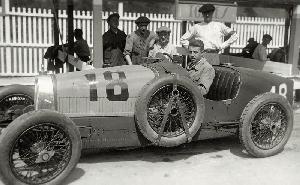 This is the 4 cilinder Bugatti 37 driven by Francisco Torres in the 1928
San Sebastian Grand Prix at the Lasarte Circuit. Painted red and yellow
(then, the national racing colours of Spain) is seen here speeding down
the grandstand straight. The other Bugatti in the background, overtaking
Torres, is the more powerful Louis Chiron's Bugatti 35, with the white
and red band of the Monaco flag on the bonnet. Louis Chiron was the
eventual winner.
Painted by Fernando Hoyos, the original car is seen on the right.
More info: hoyosfn.webs.com
---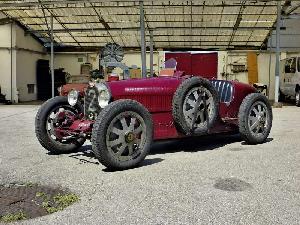 September 25, 2011 Chevau-Legers auction! TRIANON PALACE, VERSAILLES, France

1929 Bugatti Type 35B #4927

Auction description:
This Bugatti 35 TC #4927 is described in Conway's book The Bugatti Grand Prix as a Type 35 TC delivered in February 1929 to a Mr. Matarazzo in Sao Paulo (Brazil). Then the car went to Argentina. Our Bugatti historian believes that it is the car shown pages 131 to 133 in the nice book about the Argentinian Bugattis written by Cristian Bertsh and Estanislan Iacona. As we can see in one of the pictures the car which had been badly damaged in an accident had been bought in some circumstances which are still unknown to us. We meet it later in Italy after reconstruction in the hands of Mr. Francesco Guasti author of the noted Italian Bugatti Register then the property of Mr. Roberto Vesco who sold #4927 to the current owner. For many years the latter enjoyed driving the car in numerous historic events on the road, in hill climbing and in track racing. The car shows a very beautiful patina and although we are unable to know how many original parts were used in the rebuilding, this 35 TC looks very attractive. As a Brazilian friend told me about his Ferrari 250 LM, the car's soul is still there. This Bugatti appears in perfect condition and excellent running order.

Note: According to the Bugatti register this car is not an original Bugatti:
Build up car on a reproduction frame with all new components. Probably an early Pur Sang (Agentinian) production. Crankshaft on bearings, some details non-standard GP. Original 4927 was exported to Brazil in 1929 and nothing further is known of that car.
The car was never owned by Francesco Guasti, he only described it as a replica in the Italian register.

More info: www.chausselat.com
---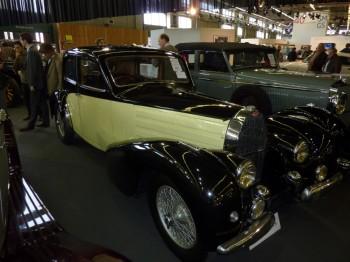 October 1-2, 2011 Murphy Auto Museum Oxnard, California
Last chance to see this 1937 BUGATTI Type 57C Berline, Gangloff Sedan Body at the Murphy Auto Museum in Oxnard.
This October 1 and 2, 10 am to 4 pm.2230 Statham Blvd. Oxnard, CA 93033. 805-487-4333.
Of course, there is also another museum in Oxnard which shows some Bugattis!
---
October 7 - November 6, 2011 Bugatti – Art & Perfection Berlin, Germany

In: Automobil Forum Unter den Linden,
Unter den Linden 21 (Ecke Friedrichstraße), Berlin-Mitte,
Open daily from 10.00 – 20.00 Uhr, free entry.

On show (at least) a T35, T57S Atlantic (replica body), T41 Royale Binder, and various Veyron's, including the "White Gold" L'Or Blanc and the Super Sport with 1200HP and 1500Nm.
---
October 26, 2011 RM Auctions, Automobiles of London Battersea Evolution, Chelsea Bridge Entrance, Battersea Park, London , United Kingdom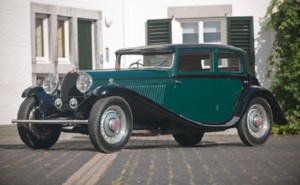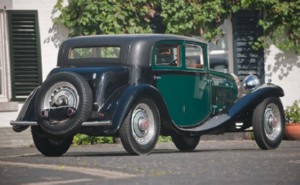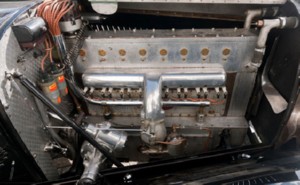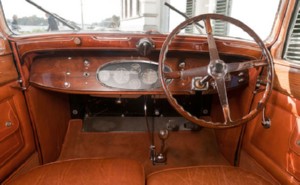 1930 Bugatti T46 "Petit Royale" Sports Saloon by Freestone & Webb
Chassis No. 46533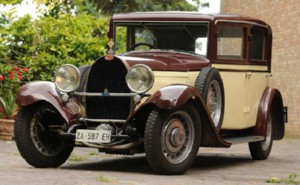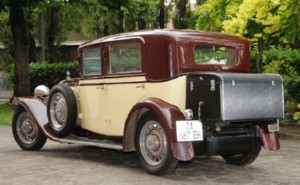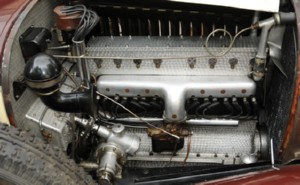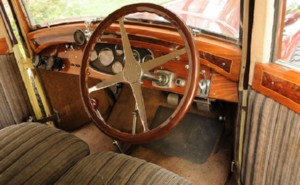 1931 Bugatti Type 49 Saloon by Vanvooren
Chassis No. 49294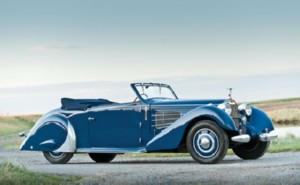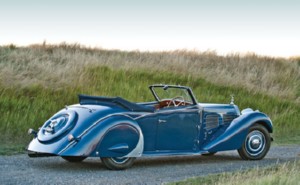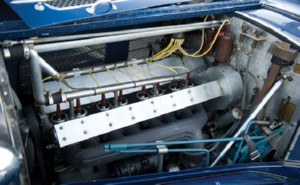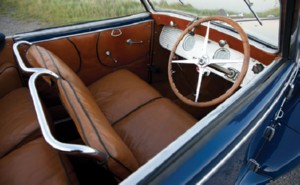 1937 Bugatti Type 57 Stelvio Cabriolet by Gangloff
Chassis No. 57435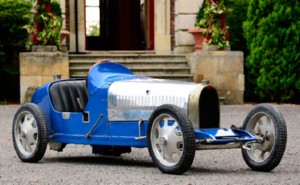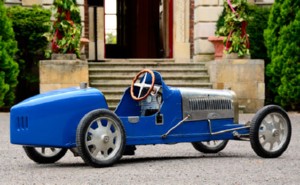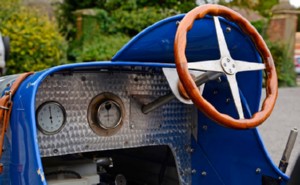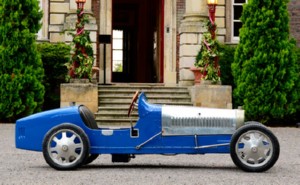 c.1935 Bugatti Type Baby (Formerly known as T52)
Chassis No. 449 A
OFFERED WITHOUT RESERVE
---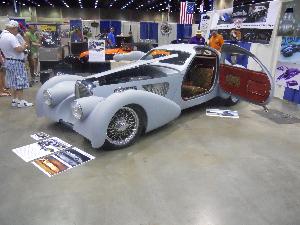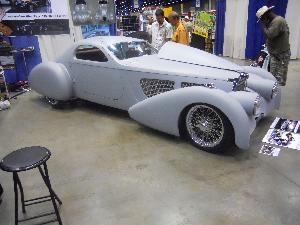 August 3, 2011

Bella Figura Type 57S Coupe to be presented

Probably upsetting the Bugatti purists, Terry Cook presented the Bugnotti roadster a few years ago. Interpretation of a Bugatti, telling already in the name it's true nature: Not a Bugatti (unlike many Replica's that like to use the Bugatti name).
He now presents a coupe "Bugatti Replica-Reinterpretation":

After three years of work DELAHAYE USA of Long Valley, New Jersey, USA, is proud to present our new carbon fiber tribute to Jean Bugatti and his elegant Type 57S. Much more than a replica, this artistically stylized, stretched and widened coupe comfortably fits two six-foot-six occupants while respecting the classic Bugatti look and feel. We're building air conditioned cars with power brakes/steering/windows and modern engines you can actually drive and afford!

These cars are designed and built in the USA (polished aluminum body built in UK). The Bella Figura is available in right or left hand drive as a complete finished "turnkey" vehicle; as a "turnkey minus" where you bolt in your engine and transmission (an importing advantage outside USA); as a "roller" (body on chassis with wheels); or in "self-assembly" form for the build-it-yourself enthusiast.

This site presents the first pictures of the real car (top pictures, not the computer renderings below), still in the base coat of paint, final color to be applied soon!

If you wish to see the "BELLA FIGURA" Type 57S coupe, plus a second car, our new Boattail, a Tribute to FRANK LOCKHART's STUTZ BLACK HAWK on a tour across the country to several major shows. Here is our Aug. 2011 US Tour itinerary.
Aug. 4-7, 2011 Louisville, KY STREET ROD NATIONALS, indoor booth #740 & 637
Aug. 12 BOB's BIG BOY, Toluca Lake (Burbank), CA, from 5-7 PM
Aug. 13 CARS n' COFFEE, Mazda Campus, 7905 Gateway Blvd., Irvine, CA 7-9 AM
Aug. 13-14 POMONA, CA SWAP MEET, in Cars for Sale, Sat PM, Sun 8AM-3PM
Aug. 19 The QUAIL, A MOTORSPORTS GATHERING, Quail Lodge, Carmel, CA
(Bugatti only at Quail, and spectator tickets for this event are SOLD OUT)
Aug. 18-21 RETRO AUTO adjacent to entrance to Pebble Beach Concours d'Elegance, Monterey, CA
(We will have a 10 x 10 indoor display, but neither of our cars will be inside RETRO AUTO)
Aug. 19-21 ROLEX MONTEREY MOTORSPORTS REUNION, Salinas, CA. We have a 10 x 40 tent at Laguna Seca with the Boattail Aug. 19-21 and the Bugatti Aug. 20-21
Aug. 26-28 PLESANTON, CA GOODGUYS, Fairgrounds, indoor booth.
More info: www.delahayeusa.com
---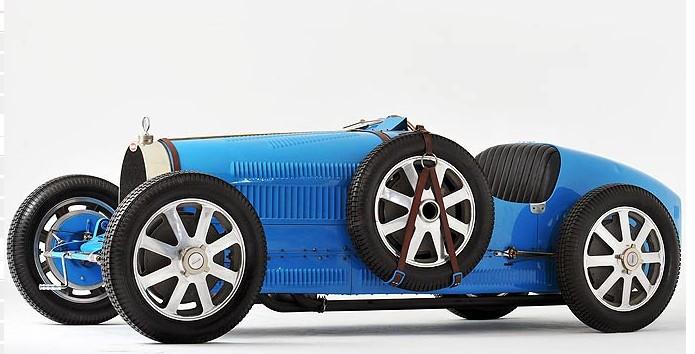 July 2, 2011
Auction result
Goodwood auction by Bonhams, July 1, 2011 K
1925 Bugatti Type 35B, Chassis no. BC31 Engine no. 70: sold at 430,500 pounds (estimate £400,000 – 500,000)
1926 Bugatti Type 37 Monoposto, chassis no. BC78, Engine no. 79: £197,300 (estimate: £120,000 - 160,000)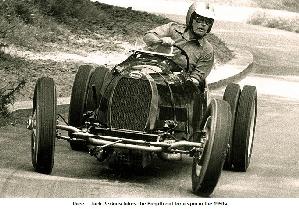 The Type 35B was discovered by Engineer Jack Perkins in 1960, when it was quite beaten-up, it had been stored at an aerodrome in Nottingham where staff took it out for joy rides.
Jack snapped it up for £60 - £1,300 in today's money - and vowed to return it to its former glory and make it the fastest Bugatti of its type.
He then sourced a 2.3 litre original Type 35 engine and got other parts direct from Bugatti.
It was a labour of love for what Autocar magazine called "the most beautiful racing car of the 1920s, if not all time".
Jack, who was boss of a drill-making firm in Rugby, Warwicks, raced the car regularly.
He died in 1992 aged 82 and his widow Jean displayed it at the Haynes Motor Museum in Somerset until the family decided to put it up for sale.
A Bonhams spokesman said: "This example represents an exciting opportunity to acquire a Type 35 in the model's ultimate, supercharged configuration."
---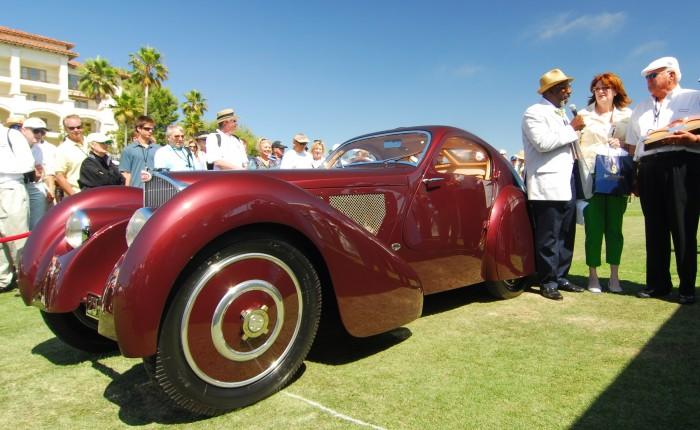 July 2, 2011

1931 Bugatti Type 51 Takes Home Best of Show During 29th Annual Dana Point Concours d'Elegance

DANA POINT, CA--(Marketwire - Jun 29, 2011) - Vintage European beauties and elegant American classics received top awards and honors during the 29th Annual Dana Point Concours d'Elegance at the prominent St. Regis Monarch Beach resort, June 24-26. The most prestigious award of the day, Best of Show, was bestowed on a 1931 Bugatti Type 51 from the acclaimed Nethercutt Collection, located in Southern California. The three-day event featured a Private Collection Tour, esteemed automotive fine art exhibition, a flyover of seven vintage airplanes organized by Capt. Jason Dwinger, and the inaugural Dana Point Vintage Automobile Auction presented by EG Auctions.

"The 2011 Dana Point Concours d'Elegance was a tremendous success," said Dick Waitneight, chairman of the board of directors. "From the sunny Southern California weather to the elegant classics, hot rods, exotics, race cars, sports cars, muscle cars and vintage motorcycles that blanketed the golf links and the nearly 7,500 enthusiasts in attendance, it has become one of the premier automotive events of the season."

The talk of the day was a Black Cherry '31 Bugatti Type 51 coupe, built in France by coachbuilder Louis Dubos. Originally created as a Bugatti factory team Grand Prix racer, the car generates up to 185 horsepower with its eight-cylinder engine. Following the 1931 race season, the Bugatti was given to famous racing driver Louis Chiron by Ettore Bugatti. The Nethercutt Collection purchased it in 2000 and reunited the body with its original chassis. The Nethercutt's also took home an award for its 1913 Mercedes-Benz Double Phaeton Torpedo, which was given the Honorary Judges' Choice Award.

"The judges recognized the Bugatti for its flawless condition, stunning design and unforgettable craftsmanship," explained Waitneight. "The Nethercutt Collection includes some of the best vehicles in the world and we appreciate their willingness to share some of these crown jewels at the Concours."
---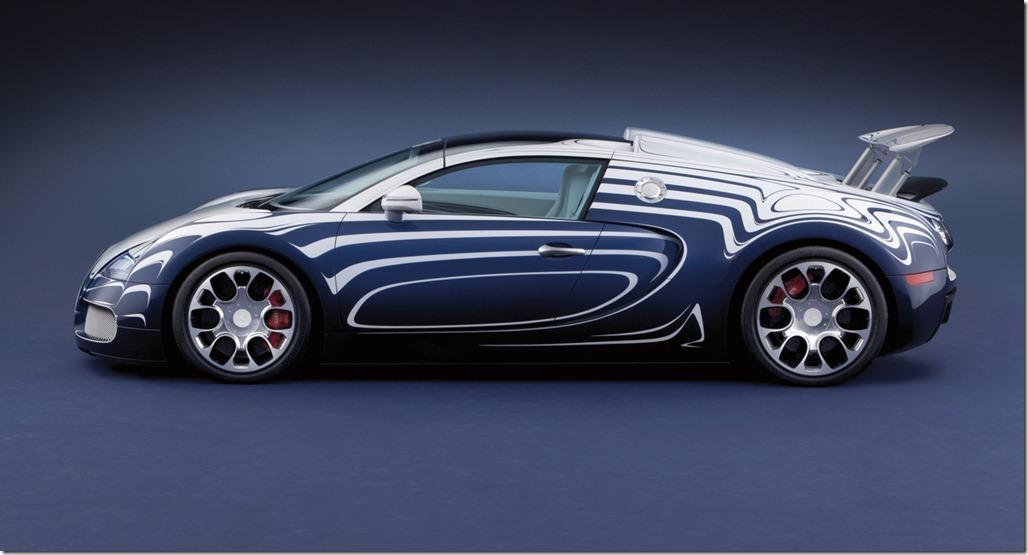 July 2, 2011

The Bugatti "L'Or Blanc"

We have seen some strange designs on Veyron's, but take a look at the picture above: When I first saw it, I was convinced that it was a dark blue Grand Sport, lit by a series of tube-lights.....

Take a better look, also at the pics below, and you see that it is the:

World debut of an exceptional partnership between the Königliche Porzellan-Manufaktur Berlin (KPM) and Bugatti World's first vehicle using porcelain elements for exterior and interior design

Berlin/Molsheim, June 30, 2011

With the partnership between Bugatti and the Königliche Porzellan-Manufatur Berlin (KPM) the renowned manufacturer emphasizes the ability in creating pieces of automotive art. The "L'Or Blanc" celebrates its world premiere with an exclusive unveiling ceremony on June 30, 2011 at the KPM workshops in Berlin. This unique version of a Bugatti Veyron Grand Sport is the world's first motor car to wear the finest porcelain on its body, as well as in its cabin. It captivates with an abstract exterior design.

The security officer nods, the door opens. Amidst pure white walls bright spotlights illuminate a Bugatti Grand Sport that is placed in the center of the spacious room. We have entered the hidden world of the Bugatti Design Studio. The team around Bugatti's Head of Design Achim Anscheidt works in a quiet and focused atmosphere as they walk around their latest object of desire. Several times they stop, take a step to the left and to the right; they bend down and up again, looking intensely at the Grand Sport from different angles. They analyse the reflections of light on the car's body before they step back for a moment to get an overall impression of their work. Thin blue lines flow over the bright white exterior of the fastest convertible in the world. It feels like visiting the atelier of an American pop-art artist.

The creation bears the name "L'Or Blanc." It represents an automobile that redefines the art of design.

If you look at it through the eyes of a designer, you will recognize that it is the reflection of the studio lights on the body that attracts their interest. Positioned beneath a special light, the car is set in an ideal environment that provides an excellent image of the reflections. The studio light is reflected on the invisible edges between the body shapes of the Grand Sport. In numerous stages each reflection line is translated by Bugatti's designers onto the car body that has been pre-painted in a vibrant white tone. They use a precision tape made of Japanese soft tissue that can be easily torn off by hand. It adheres perfectly to sulphur-containing plasticine. By stretching them to a certain degree, these tapes are "lined" in pieces up to five meters long across the whole exterior of the car. If the line does not fully meet the intention of the designers, they place a correction tape above the original line. This process is repeated until the final line has the right tension and character. Between the styling steps, the team looks at the car from a distance to evaluate the relation of the stripes to the white spaces. This is also the best way to ensure that lines flow from one side of the body across the roof and the rear to the opposite side. Even the smallest imperfections are being revised meticulously, as the final target is to achieve unrivalled perfection. Finally, the lines stretch across the perfectly shaped Bugatti like a grid of light reflections. Over the course of several weeks, the team of designers develop the final composition of dynamic bends and delicate lines that run over the automotive piece of art like the serpentines of the Italian Stelvio Pass.

"The 'L'Or Blanc' is evidence of the capabilities of the craftsmen at both brands. The distinctive structure of lines does not only mirror the elaborate hand painting on porcelain but also the process of modelling in automotive design," says Achim Anscheidt. In the next step, Bugatti's paint specialists dedicate themselves to the further completion of the masterpiece. Over the course of three weeks, each millimeter of the marked lines are being filled by hand with the characteristic blue color. In addition, the whole body receives five layers of clear lacquer. A varying and powerful gradient of the two colors is generated because the team had used a combination of tapes with different widths. While the blue lines dominate over the white spaces in the lower section of the convertible, the relation of colors inverts on the way to the roof so that the intense white appears even stronger. Twelve elements, made of finest porcelain at the Berlin based manufactory, complete the aesthetic approach of this special Grand Sport. Let us change the location and visit the workshops of the Königliche Porzellan-Manufaktur in the heart of Berlin. Following a tradition of around 250 years, at this location more than 170 craftsmen and specialists produce precious items, as today's expression of porcelain art. Hand-made plaster moulds are needed to craft the unique porcelain elements that appear in the exterior and interior of the "L'Or Blanc", and with a tremendous attention to detail, each mould is created and optimized in a several-week-long process at the research and development department. The team has to run a number of dedicated tests with the raw material to check the impact of the natural shrinkage of around 16 percent during firing and drying. Finally, the porcelain elements fit seamlessly to the Bugatti components.

"Porcelain is one of the strongest materials but the grade of quality depends significantly on the excellence of the manufacturing process. We had to assure that the inlays perfectly fit to the filler caps, it has been a challenge for us to exactly calculate the shrinkage of porcelain," explains Thomas Wenzel, Head of Design at KPM.

The "L'Or Blanc" is the world's first automobile to be equipped with porcelain, and the development team invested a lot of effort to guarantee that each item is capable of performing in every driving situation in the most powerful car on the market. Before their application to the car, the porcelain elements were extensively examined in regard to automotive safety and quality to optimally protect the passengers in case of an accident. As part of the exterior design, porcelain is used for the inlays of the centre wheel badges, the fuel filler cap and the oil filler cap as well as the signature "EB" badge at the rear. Their shiny white surface blends in with the brilliant bright finish of the paint suggesting that the car would be coated with a thin layer of porcelain, too.

"At first, it seems to be an unusual idea to use porcelain in a car, especially in the world's fastest convertible," comments Dr. Stefan Brungs, Director of Sales and Marketing at Bugatti Automobiles. "But this is what Bugatti stands for: the realization of exceptional ideas whilst striving for the utmost in quality and aesthetics. This allows us to continue Ettore Bugatti's heritage, who himself loved to experiment with new materials."

Besides the signed porcelain inlays on the sides of the centre console, an intarsia made of finest porcelain is fixed to the rear panel between the seats. Similar to the exterior porcelain elements this item carries the relief of the famous elephant in an upright standing position that has been created by sculptor Rembrandt Bugatti. His brother Ettore had used the original draft to cast the radiator mascot for the Bugatti Royale. This elephant is a synonym for the brand still today. Embedded in the top of the centre console, there is a fine porcelain dish with edges finished in an exclusive diamond polishing – a technique that has been applied by the Königliche Porzellan-Manufaktur Berlin for the very first time. The precious dish can be removed and is part of a picnic set that was exclusively designed by KPM for the Bugatti car.

"The impulse for that partnership came from Rembrandt Bugatti's renowned elephant," tells Jörg Woltmann, owner of the Königliche Porzellan-Manufaktur Berlin (KPM) and car aficionado. "At the beginning, we wanted to integrate the sculpture in our product range, then we thought about the potential for a comprehensive service and finally the synthesis of ideas led us to this outstanding Grand Sport." Woltmann is enthusiastic about the "L'Or Blanc". "A number of superlatives are associated with porcelain from the Königliche Porzellan-Manufaktur Berlin: one says it has the most beautiful shapes and decors, it has the hardest weight and the whitest tone. Now, it is also the fastest porcelain."

The Bugatti Veyron Grand Sport "L'Or Blanc" presented in Berlin, is a one-of-a-kind creation. Nevertheless, the partnership is supposed to be continued, and Bugatti's designers received a lot of inspiration from porcelain painting offering a variety of new opportunities for the design. The price of the Bugatti L'Or Blanc is 1.65 m EUR.
---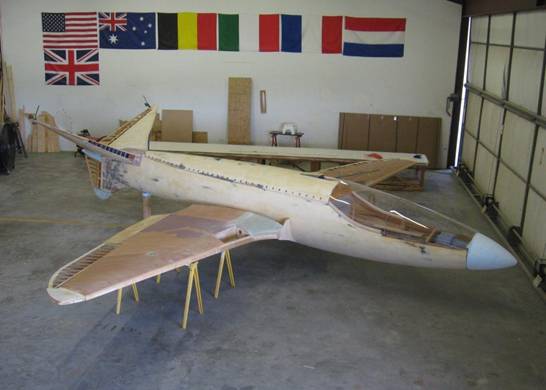 June 25, 2011

Bugatti 100P Project Takes Center Stage at EAA Welcome Center

The separate fuselage/tail of the Bugatti 100P reproduction were mated to the wing this week.

The result is approaching a substantially complete structure, which AirVetnrue attendees can see in the Member Village next month.

Here's what they're aiming for: The original Bugatti 100P Racer, which resides at EAA's AirVenture Museum. AirVenture 2011 attendees will have an opportunity to see the significant progress that's been made on one of the most incredible aircraft projects we've ever seen. The Bugatti Model 100P Racer reproduction project will likely be the first thing you see when you enter the EAA Welcome Center, located just west of ConocoPhillips Plaza. This international effort to recreate arguably one of the most elegant airplanes ever designed will be on display throughout the convention.

Scotty Wilson, EAA 572551, of Tulsa, Oklahoma, heads the project team, which aims to fly this ahead-of-its-time 1937 design. That's something the original never did, due to the onset of war and Germany's invasion of France in 1940. In June that year, just as builder Ettore Bugatti and designer Louis de Monge were getting ready to unveil this new racing plane, the Nazis were advancing on Paris. Instead of allowing their advanced, twin-engine aircraft to fall into enemy hands, Bugatti and de Monge had it stowed away in the French countryside, where it remained for more than 30 years. In the 1970s, after being reassembled, the wooden airplane that never flew found a home at the cradle of aviation - EAA's AirVenture Museum in Oshkosh - where it remains today on display next to the Spirit of St. Louis replica.

Wilson, a former Air Force fighter pilot, provided a progress report this week on the Bugatti 100P as work continues in a hangar at Tulsa's Harvey Young Airport. "By the time Oshkosh rolls around, attendees will see a substantially complete structure," he said. That means completed cockpit details, landing gear attached, and all flight controls covered with at least a first coat of Poly-Brush. On Thursday this week the wings were bolted to the fuselage.

Also a light primer coat will be applied throughout the structure, giving it a white-to-gray or yellowish appearance, he said. The actual spinner is likely to be installed, or at least a simulated one will be in its place.

And the props being custom-made by GT Propellers in Italy should be ready as well. Although not ready to announce the engines that will stand in for the original Bugatti 50B engines, Wilson says they'll be installed later this summer, meaning that the first flight could come as soon as the fall.

Bugatti and de Monge began construction of the airplane in 1937, which makes next year the 75th anniversary for the original project.
---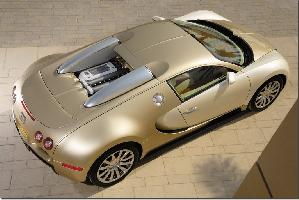 June 25, 2011

Last Bugatti Veyron sold!

Final Bugatti Veyron 16.4 sold to a customer in Europe

Supercar with a limited production run of 300 cars is a global success

The Grand Sport, the world's fastest convertible, to continue Bugatti tradition

Molsheim, 24 June 2011 – The final Bugatti Veyron has now been ordered by a European customer, marking an end to the triumphant reign of the supercar with an exclusive production run of 300 models and its even faster cousin the Super Sport. The coupé versions of the Veyron are worthy successors to the heritage of classic Bugattis, now collector's items of unparalleled status and optimum appreciation, which today are amongst the most valuable cars in existence.

But the story of Bugatti's exceptional sports car is set to continue. The Grand Sport, a supercar with the very highest technical specifications, remains available to automotive connoisseurs. In its closedtop incarnation with a transparent roof it reaches top speeds of 407 km/h; with the roof removed a maximum speed of 360 km/h makes the Grand Sport the fastest convertible in the world.

Wolfgang Dürheimer, President of Bugatti Automobiles S.A.S. since 1 February 2011 commented:
"In the Veyron the Bugatti team has created a vehicle that has already become an icon of automotive history. Both technologically and in terms of design, the Veyron is still far ahead of its time. The Grand Sport is a further pinnacle of achievement in the open-top sports car segment, and we intend to maintain the same standard in our future Bugatti products."

The Bugatti Veyron 16.4 – an icon of automotive history

The development of the Bugatti Veyron represented one of the greatest technical challenges and engineering achievements in automotive history. Volkswagen bought the rights to the Bugatti brand in 1998, and just one year later the company presented its fourth concept vehicle, the close top production study EB 18/4 Veyron at the Tokyo Motor Show. Barely six years down the line, on 29 April 2005, a Veyron exceeded 400 km/h for the very first time, and six months later was presented to its global audience.

The Veyron was and remains a synthesis of superlative technical achievements. It was the first production vehicle to have a full carbon-fibre monocoque, and its torsional rigidity of 60,000 Newton meters per degree remains unparalleled to this day. The 7,993 cm3 capacity sixteen-cylinder engine with its four continuously variable camshafts and four turbochargers is capable of a top speed of 407 km/h, developing 1,001 PS (736 kW). The seven-gear twin-clutch gearbox governs an unbelievable 1,250 Newton meters of torque, and is one of the fastest transmissions in the world with shift times of less than 150 milliseconds. Acceleration from 0 to 100 takes place in a legendary 2.5 seconds.

With its carbon-ceramic brakes, highly innovative brake cooling system and the rear spoiler which is activated to serve as an additional air brake when braking, this superlative sports car can come to a complete standstill from 100 km/h in just 31.4 metres and 2.3 seconds. The Super Sport boasting 1,200 PS and a top speed of 415 km/h performs the same feat even faster.

The European customer who has bought the 300th Veyron has never purchased a Bugatti before. Delivery is scheduled for next autumn.

Go here for other cars for sale
---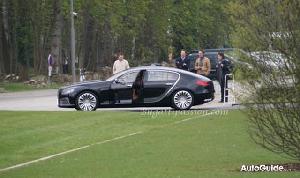 June 23, 2011

Bugatti 'Royale' Tipped as Production Name of Galibier Concept

If you're a believer in tarot cards, voodoo and rumors thinly disguised as news on the internet, then you'll love the upcoming Bugatti Royale. That is reportedly the name of the production version of the ultra fast and luxurious sedan that will be based closely on the Galibier concept.

While not a bad name in general, especially considering the brand's French origins and the fact that few apart from royalty will be able to afford it, there is an historical significance to the title. In true Bugatti fashion, however, you'll have to trace back in history all the way to the 1920s with the Type 41, which was "commonly" referred to as the Royale. This 21-foot long monster was also an exercise in oppulence, weighing 7,000 lbs and coming with a 12.7-liter straight-eight engine.

The Royale looks to bring this excess into the modern era with a twin-supecharged 8.0-liter W16 engine that will reportedly get hybrid technology.

In the picture a spy-shot of the Galibier.
---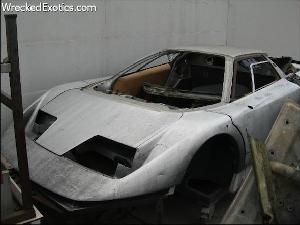 June 19, 2011

Bugatti Barnfind

But different!

This is an unfinished Bugatti EB110 that's been sat at an Italian leather factory since the mid-90s, when Bugatti went bankrupt.

This picture turned up erroneously on a website with 10 Bugattis That Were Completely Destroyed In Car Wrecks

If you need this EB110 for your project car, I'm sorry, but I do not know where the leather factory is. Close to Campogalliano maybe? If you're looking for a used car for sale in the UK then try Netcars.com who have over 100,000 cars for sale nationwide.
---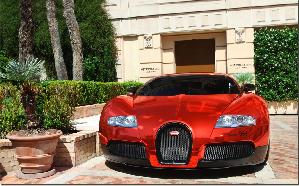 June 19, 2011
Another sign of exceptional taste!
Ok, usuallly I do not show every new Bugatti Veyron variation leaving the factory, but this one really struck me.
At first glance, it looks like a very badly executed color change in Photo shop, but it is not. Apparently this car was really sold in the Emirates, and is equipped with a (fake) crocodile hide interior.
---
June 16, 2011

Auctions Results

Artcurial Auctions, "Automobiles sur les Champs 2", Paris, France :

- 1931 Bugatti Type 46 Coupe by Vanvooren #46580, Estimation: €250,000–400,000, No Reserve, Sold for €208,259

- 1934 Bugatti Type 57 Coupe Ventoux #57213, Estimation 250 000-350 000 €, Sold for €311,262

Thanks to Christophe Chanterault
---
May 24, 2011

Bugatti Ventoux earns prize at Concorso Villa d'Este!

At the Concours d'Elegance, Villa d'Este, May 20-22, 2011, Andrea Capra and his Ventoux chassis nr. 57581 (Ex Ronald van Ramshorst) was 1st in "Trofeo Automobile Club di Como" for "the car driven from farthest way".

It was the only Bugatti elected and present. Except for the one on auction, of course.
---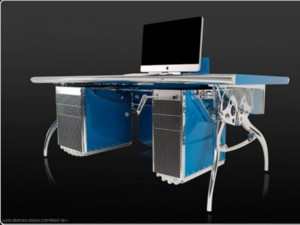 May 24, 2011

How about this for father's day!

If you already have everything Bugatti, Luzzo Bespoke designed this Bugatti-inspired Executive Desk.

In the pictures you will recognise many Bugatti details, of which I like the 2 gear quadrants used for the height adjustment, known from double carburettors!

It's yours (or your father's) for just € 170.000,-.

If you think this is too expensive, there is a simpler version for only € 50.000,-.
---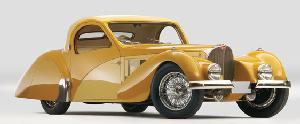 May 22, 2011
Auction result
RM Auctions at Concorso d'Eleganza Villa d'Este, 21st May 2011 :
- Lot 107: 1937 Bugatti Type 57 SC Atalante #57551, estimation: €3.250.000-4.250.000, Not Sold (highest bid €2.100.000)
The same car also failed to sell at an RM Auction in January 2009, when it reached a high bid of $4.4 million, so more than now!
---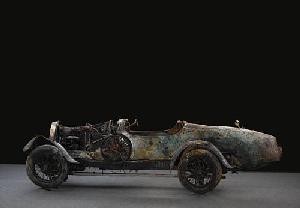 May 21, 2011

Fishy business with a Bugatti from a lake?

According to this article the sunken Bugatti which was auctioned on behalf of the Damiano Tamagni Foundation, did not even bring half of the sale price to the Foundation. Most went to the company Boerlin Lavori Subacquei that salvaged it from the bottom of the lake, who however claim that the salvage cost highly surpassed the 260.000 euros that Peter Mullin paid for it at the Bonhams auction in 2010.

Please read the article, and think of it what you may.
---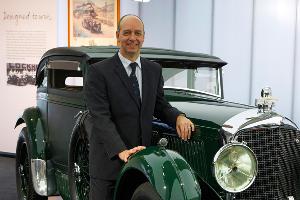 May 19, 2011
Bentley-designer to take on Bugatti
Bugatti is making itself ready for the future. Dirk van Braeckel, currently designing for Bentley, will also design for Bugatti.
Van Braeckel will be, though I'm not sure of the official title, Designdirector Bugatti. The CV of the Belgian designer (the first Belgian to work for Bugatti since Louis de Monge?) shows some of the major marques, mainly Volkswagen labels. In the beginning of the 1980's he started at Ford, switching to Audi after 3 years. After designing the A3 and A8 Van Braeckel went to Skoda, where he laid the base for the current range of models. Since 2000 he works for Bentley. Both the 1st as 2nd generation Continental GT as well as the brand new Mulsanne are his work.
For Bugatti Van Braeckel will work on the new four door sportsedan, which must be on the market in a few years.
---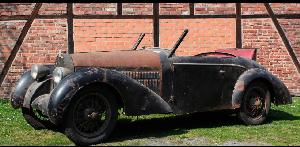 May 7, 2011

Latest details about Lankes-Auktionen "Hidden Treasure" "chassis 57453"

Probably the last details before we will see the auction results of the auction te be held on May, 11, 2011 in the Museum Mille Miglia at 17:00 hrs, were provided by Kees Jansen, of the BIG (Bugatti Identification Group).

I am now convinced it has to be an early type 30 with a chassisnumber around 4150 with a modified type 30 engine- probably engine number around 149 and a type 30 rear axle # 149 12 x 54 delivered around December 1923 or January 1924. It has a type 38, 40 or 44 front axle a ditto gearbox and I think it has a type 40 or 44 radiator. It has a body with the 1936 configuration of louvres on the hood, so likely it was rebodied around that time or slightly later. How and why it got the plate '57453' is unknown but it may have been an effort to 'rejuvenate' and or 'upgrade' the car. However I think the factory had nothing to do with the coach. For the purpose of a prototype the factory would never use 12 year old type 30 material. This may come as a disappointment to the owner but it the rolling chassis is a 100 % Molsheim car, albeit a bitsa (a car made out of Molsheim parts) with a very attractive thirties period non Molsheim body. This was done often in those days, as the life span of a body was much less than that of the rolling chassis. It is a lovely restauration object, and as such a wonderful and unique sign of its time but it is not a prototype.

The 12 x 54 ratio was usual for a type 30. The first cars had 13 x 54, 14 x 54 and 15 x 54, but the first car with the ratio 12 x 54 was 4120. From 4130 onwards (november/ december 1923) the ratio became 12 x 54 as a standard except a few cars (13 x 54: 4223, 4228, 4229, 4250 and 14 x 54: 4231) probably at the request of the client. This went on for the whole year 1924 also when the 30a (wheelbase 2976 mm) was introduced. Many cars in that time span were delivered abroad to Germany, Spain, the UK, Cuba and Holland. If we assume it was a French car from the beginning it can be 4147, 4152, 4156, 4157, 4161 or 4175. The highest chance given the rear axle number 149 is 4152.

The body is confirmed NOT to be by Gangloff (checked in the Gangloff administration).
---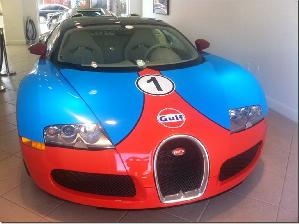 May 7, 2011

Bugatti Veyron in Gumball 3000

Usually I would not report on this event, However, in this event I thik the Veyron in GULF livery just too special not to show it to you!

The event starts May 25 in London, the route and timetable can be seen by clicking on the small picture below.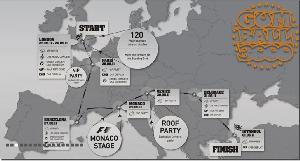 ---
April 30, 2011

Lankes-Auktionen "Hidden Treasure" seems to be a rebodied T30!

Andrea Capra informs me of the following, he received more informations and fotos which he got from Andre Holter of the auction house, the car seems to be a rebodied type 30 !

Engine
It is clearly not 49 due of the Königswelle is in front and not in the center between the blocks Therefore engine comes from Type 30 evtl. 38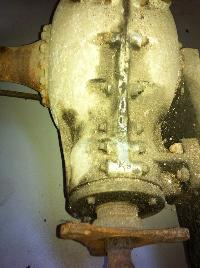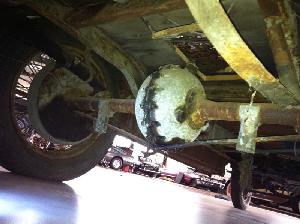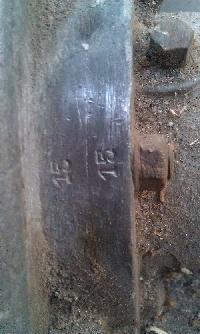 Diff and Gearbox
Clearly not 57 but type 30 (The number is on the gearbox)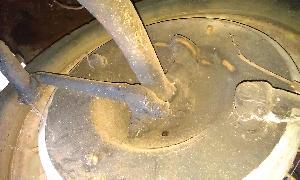 Brakes and chassis
The wheelbase is 2850mm, with no signs of shortening or welding on the chassis, therefore a type 30 (not 38 as wheelbase is 3122mm)
Firewall
Clearly not from T57
Chassisplate
It seems the the chassiplate was transferred from 57453 to this car
Body
It might come from a T57 or T49
---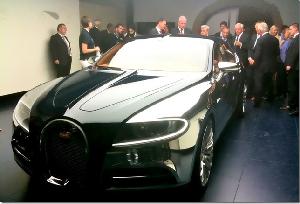 April 29, 2011

WOLFGANG DURHEIMER INTERVIEW: "BUGATTI GALIBIER WILL BE HYBRID AND SECOND EXCLUSIVE MODEL".

Bugatti will launch the 16C Galibier limousine shown in 2010 as a concept car, the new president and CEO Wolfgang Durheimer has confirmed to CAR. The Galibier will eventually be part of a two-strong Bugatti range, meaning there's life in the hypercar brand post-Veyron.

In a wide-ranging interview in the new May 2011 issue, Durheimer revealed that the Galibier would carry over the Veyron's monstrous W16 engine and transmission, but that Bugatti is developing a hybrid option to make sure its big limo retains social acceptability.

Bugatti Galibier project: what we know • The Galibier project is go • Sales of 3000 Galibiers versus Veyron's 300 • Molsheim's factory being expanded to cope • Design freeze expected in autumn 2011 • The Veyron's W16 engine will be carried over to the Galibier • Galibier will pack a new hybrid option • Dual-clutch gearbox appears again • £1 million + price tag • Interior to feature porcelain trimmings

Bugatti's future product: two models . With the final Veyrons being built, Bugatti's hypercar is coming to the end of the road. Durheimer confirmed there would be a place for a sports car in the mould of the Veyron, as well as a more luxo-oriented limo such as the Galibier and said all Bugattis for the foreseeable future would use the W16 engine. 'We can have one car biased more towards racing, and one for the road,' he told CAR. 'We are looking not to the floor but to the ceiling... We want to see how far we can push this brand. The Galibier will fulfil all the demands of Ettore Bugatti: the best car in the world, very luxurious, the best materials, the best surfaces.' Durheimer admitted the programme was still quite fluid. 'My next meeting with [VW Group chairman Martin] Winterkorn will be to set the dimensions of this car,' he told CAR. 'Only then can we finalise the design, but we will have that in the third quarter of 2011. And we still must decide if it is a carbon monocoque like the Veyron, or an aluminium spaceframe.'Why Bugatti is developing a hybrid : Durheimer said the company was developing a hybrid option for the new Bugatti. 'When the mayors of cities know we can make cars that run silently, I don't expect they will allow cars that pollute into city centres,' he said. 'But I can't imagine a Galibier owner leaving their car at the park-and-ride and catching a bus. That's why we need to offer a hybrid with this car, so owners drive up to the hotel silently in EV mode. But not every Galibier needs to be a hybrid - in places like Dubai it is not what the market wants.'
---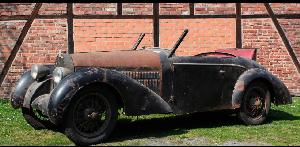 April 28, 2011

Lankes-Auktionen "Hidden Treasure" is said to be Type 57 chassis 57453!

Reported here on April 21, and to be auctioned on May, 11, 2011 in the Museum Mille Miglia at 17:00 hrs, now we have full info from Lankes Auktionen (Andre Holter).

According to the information of the actual owner, this 1937 Bugatti Convertible is a prototype or a unique single car. It became built by Ettore Bugatti based on a chassis Type 57 with the serial No 57453. A very peculiar detail is a "Children's seat" which is to be folded-out behind the regular seats.

This Bugatti never went into serial production and is equipped with a "Honeycomb-radiator" (serial No 355313), and with an 8 cylinder single cam engine (definitely not T57). The car was bought by an Italo-American citizen of the U.S.A. and afterwards sold back to Europe where it became forgotten for several decades in an old barn and is waiting now for restoration.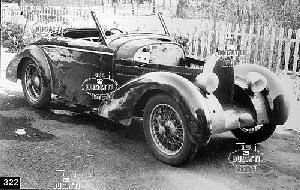 This Bugatti can be seen on the website www.bugatti-trust.co.uk and is described there as follows: "322. Type 57C, Chassis # 57453. trust information:
This Chassis number was first used for the Coupe Aero. The number was then re-issued for this convertible (owned J. Sorrentino U.S.A. 1964), the car is said to be a T57C, and may have received the T49 engine at that time, as in the 1964 picture on the Trust site (and copied at the right) the car is less engine (ed.).
The car needs complete restoration, it is kept in original condition. Many parts like the gear assembly, oil-radiator, distributor, etc. are still there (see photos in PDF file)
More information in this PDF file
---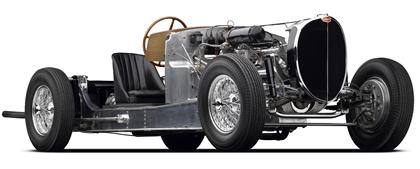 April 28, 2011

THE PETER MULLIN AUTOMOTIVE MUSEUM FOUNDATION SELECTS AUTOMOBILE METAL SHAPING AS COACHBUILDER FOR FAMED BUGATTI COUPE

Oxnard, Calif. (April 27, 2011) - The Peter Mullin Automotive Museum Foundation, organized to support nonprofit public charities that are dedicated to the study, preservation and public display of classic automobiles or public education regarding classic automobiles, today selected Automobile Metal Shaping Company (AMS), to construct the body for Jean Bugatti's famed 1939 Bugatti Type 64 Coupe Chassis #64002.

Originally designed and constructed by Jean Bugatti (Ettore Bugatti's eldest son), the 1939 Bugatti Type 64 chassis was never completed, as Bugatti tragically died while test driving the Le Mans winning Bugatti Type 57 C "Tank". In celebration of Bugatti's legacy, the Peter Mullin Automotive Museum Foundation, Art Center College of Design and Stewart Reed Design collaborated to produce a concept based upon Jean Bugatti's original drawings. AMS has been entrusted with the great honor of completing this revolutionary work of art based on their depth of experience in automotive restoration and prototype construction.

Peter Mullin, Chairman of the Board of the Peter Mullin Automotive Museum Foundation and Chairman and Founder of the Mullin Automotive Museum states, "We are delighted to announce the appointment of Automobile Metal Shaping Company as the coachbuilder to complete this historic automobile. AMS is known among top collectors and manufacturers for their extraordinary work with exceptional cars. Similar to the Type 64, Mike Kleeves and his team at AMS have one foot in the past and one foot in the future - with all the skills of old-world craftsman and the imagination of the modern automotive design industry. Jean Bugatti would be happy to see this car completed."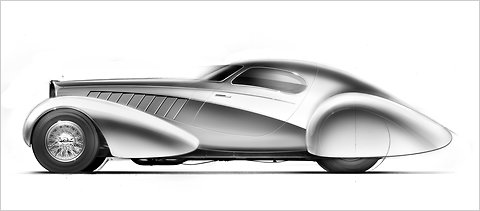 Stewart Reed, Principal of Stewart Reed Design states, "While we want to respect the Type 64's evolution from the Type 57 as a dramatic new coupe, Bugatti was clearly pushing design into new materials use as evidenced by the lovely all-aluminum chassis reminiscent of aircraft construction. Kleeves' proven reputation with the best technologies and his deep appreciation for quality automotive development are key to our realizing what Bugatti was intending for the Type 64."
Mike Kleeves, Director and Owner of Automobile Metal Shaping Company is honored and excited to help finish Jean Bugatti's Type 64 for the Peter Mullin Automotive Museum Foundation.
Bugatti's Type 64, designed as a successor to the Bugatti Type 57, was originally constructed with a wheelbase of 130-inches and a 3.3-liter DOHC engine with 135 horsepower and was able to reach 120 mph at top speed. AMS will honor the original concept and design of the vehicle incorporating the vehicles' originally-proposed papillon door, slightly different in its architecture from a gullwing door - which Jean Bugatti designed in 1939, fourteen years before Mercedes-Benz produced their similar, famous 300SL gullwing door. About the Mullin Automotive Museum:
The Mullin Automotive Museum is a facility that pays homage to the art deco and machine age - eras that produced exquisite art and magnificent automobiles. The museum is home to examples of the finest historic French automobiles from the Bugatti to the Voisin, as well as significant and representative decorative art from this same period. Housed in the building previously owned by legendary newspaperman, Otis Chandler, this 46,821 sq. foot museum will incorporate elements that reference the past as well as the present in its distinctive design. For more information about The Mullin Automotive Museum, to view visiting hours or make a reservation, please visit www.mullinautomotivemuseum.com/
About Art Center College of Design:
Founded in Pasadena, California in 1930 by Edward A. "Tink" Adams, Art Center College of Design's mission is "Learn to create. Influence change." Dedicated to educating tomorrow's design professionals with a commitment to socially responsible design, Art Center College of Design has a reputation for producing some of the world's leading artists and designers. For more information, please visit http://www.artcenter.edu/
About Stewart Reed Design
Stewart Reed Design consults designs and fabricates industrial and transportation design concepts for manufacturers and private clients around the world. Reed has designed and fabricated over 20 concept vehicles throughout his career, and in 1994 established Stewart Reed Design, consulting for clients such as Lockheed Martin, Michelin, Cunningham Motors and other niche and major auto manufacturers. Stewart enjoys judging concours and other design-oriented events including Amelia Island, Louis Vuitton Concept Competition in Paris, Eyes on Design, Pebble Beach Concours d'Elegance, Michelin Challenge Design and many others. For more information, please visit http://www.stewartreeddesign.com/
About Automobile Metal Shaping Company:
Automobile Metal Shaping Company (AMS) of Kimball, Michigan was established in 1979 as a restorer of exotic sports and racing cars. With experience, they soon developed a good reputation for fabricating new body panels that were no longer manufactured or otherwise available. This eventually expanded into building prototype bodies for the major American car companies. Today AMS fabricates automobile bodies in aluminum and steel in their well-equipped facility for private collectors and for the automotive industry. AMS has completed numerous restorations for top private collectors and worked with some of the finest classic automobiles - including several Ferrari 250 GT California Spiders, custom-bodied Packards, a 1926 Wills St. Clair and a 1957 Porsche 550A Spyder. AMS was also entrusted to rebody the 1910 Buick Bug Racer Special 60. Of note, AMS' prototype projects have included the 2004 Ford F150 truck, the 2005 Ford Mustang, and the 2009 Chevrolet Suburban.
---
April 23, 2011

Happy Easter!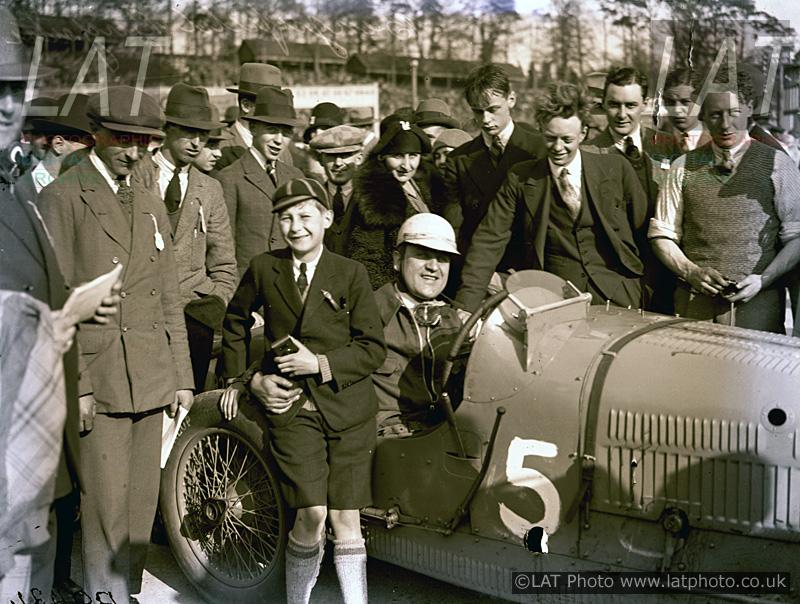 I hope it will be as good to you as in this picture of the 1928 BARC Easter meeting!

The picture shows Dr. Dudley Benjafield Type 37A at Brooklands, where he was winner of the 90mph Long Handicap in his 1496cc Bugatti.

Picture from: www.austinharris.co.uk
---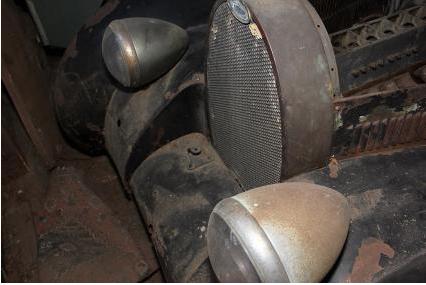 April 22, 2011

The German Auction House "Lankes-Auktionen im Schloss" presents Sensational Hidden Treasure!

DOEHLAU, Germany, April 21, 2011 /PRNewswire/ --

The German auction house "Lankes-Auktionen im Schloss" in the Bavarian town of Doehlau, presents an approximately 80-year-old, one-of-a-kind Bugatti 8 cyl. type 57, found under a pile of wood in an old barn. This old jewel needs complete restoration, but the engine and many of the original parts are still there. The car will be presented at the best possible occasion: the first auction held in conjunction with the world-famous Mille Miglia race! The auction will be taking place on May, 11, 2011 in the Museum Mille Miglia at 17:00 hrs, one day prior to the race.

The president of the auction house, Mr. Lankes, says such a discovery would be an absolute climax in the long history of his auction house. The details of the car are available to read in the auction catalogue, which is available now. Amongst all the other rare and precious cars of the "Asta" (auction) connected with the famous Mille Miglia race, the Bugatti will certainly be the "Crown Jewel"!

As President Lankes states, it is interesting to learn how many people are eager to buy classic cars due to a lack of confidence in banking investments - the discovery of the Bugatti will surely cause great excitement amongst lovers of old cars!
    
    Contact:
    Lankes-Auktionen im Schloss
    Andre Holter
    Tel.: +49-172-93-93-079
    E-mail: a.holter@lankes-auktionen.com

    Uli Hagen
    Tel.: +49-151-15-68-85-88
    E-mail: u.hagen@lankes-auktionen.com

Editor: The news item states that the car is a Type 57, in the picture however it shows clearly a single-cam engine, so probably a Type 44.
---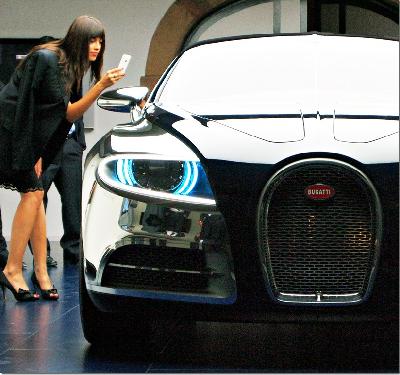 April 4, 2011

Bugatti Said to Get Backing for $1.4 Million Galibier Supercar

Bugatti, the maker of the world's fastest production car, has won backing from parent Volkswagen AG (VOW) to build the 16C Galibier sedan, adding a four-door model to its lineup, two people familiar with the matter said.

The Galibier, which premiered as a concept vehicle at the 2010 Geneva auto show, has a 1,000-horsepower engine and may cost about 1 million euros ($1.4 million), said the people, who declined to be named as the plans are still private.

"Four-door vehicles open up a whole new market for exotic- car makers," said Kevin Tynan, an automotive analyst for Bloomberg Industries. "It makes good sense for Bugatti to get in there. Those cars are loyal to design language and brand heritage."

Lamborghini SpA, another Volkswagen unit, is considering adding a third model to its portfolio of two-seater vehicles and plans to make a decision by the end of the year, Chief Executive Officer Stephan Winkelmann said at the Geneva show last month. The CEO has called a four-door car "a very feasible approach."

Wolfgang Duerheimer, the former development chief at Porsche AG who took over as head of Bugatti and Bentley in February, has been pushing VW managers to approve production of the Galibier since taking charge, the two people said.

16-Cylinder Engine

Wolfsburg, Germany-based Volkswagen agreed to build the model, which relies on a 16-cylinder engine that can run on biofuel as well as gasoline, they said. Production will require facilities in Molsheim, France, to be refitted, which may push back deliveries until 2013 or 2014, the people said.

Volkswagen purchased the Bugatti brand in 1998 along with Lamborghini and Bentley Motors Ltd. to create a stable of high- end carmakers. Under VW's reign, the super-luxury brand, which traces its roots back to Italian-born car designer Ettore Bugatti, started production of the two-door Veyron 16.4 in 2005, limiting output to no more than 300 vehicles.

Bugatti, which makes about 50 cars a year, has introduced two derivatives of the Veyron since 2008, the Grand Sport and Super Sport models. The Super Sport is the world's fastest production car, with a top speed of 268 miles per hour.

The name Galibier stems from one of France's most difficult Alpine passes featured in the Tour de France bicycle race and also served as name for an earlier four-door variant called Type 57.
---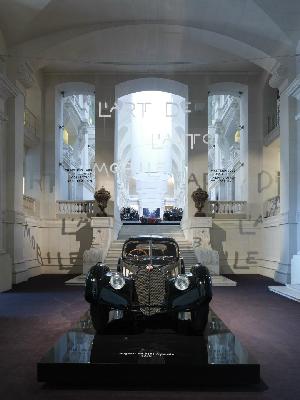 April 28 - August 28, 2011 The Art of the Automobile: Masterpieces from the Ralph Lauren Collection Musee des Arts Decoratifs, Paris, France

Ralph Lauren plans to bring his rare exciting cars right under the spotlight at the Musée des Arts Décoratifs in Paris. The exclusive cars exhibition, entitled "The Art of the Automobile: Masterpieces from the Ralph Lauren Collection" will include the following rare models: 1964 Ferrari 250 LM, 1960 Ferrari 250 GT SWB Berlinetta Scaglietti, 1956/1958 Jaguar XKSS, 1931 Alfa Romeo Monza 8C 2300, 1958 Ferrari 250 Testa Rossa, 1962 Ferrari 250 GTO and 1938 Bugatti 57 SC Atlantic Coupe.

Among the major car collections in the world, there is one that stands out more than any other as synonymous with excellence: that of iconic American fashion designer Ralph Lauren. A selection of the most prestigious sports cars from the 1930s to present day is on view for the first time in Europe at Paris' Musée des Arts Décoratifs. seventeen outstanding cars, chosen by curator Rodolphe Rapetti, and put on display by Jean-Michel Wilmotte, outline the main phases of European automobile history. With this collection, Ralph Lauren shows that the automobile is a major art form created by the industry's biggest names: Bugatti, Alfa Romeo, Bentley, Mercedes-Benz, Jaguar, Porsche and of course, Ferrari, the high point of this unique collection.

In 1970, Les Arts Décoratifs presented a selection of competition cars, "Bolides Design." To compile the exhibition, a special jury was assembled, featuring designers Joe Colombo, Roger Tallon and Pio Manzu, and the artists Jean-Paul Riopelle, Jean Tinguely and Victor Vasarely, as well as Robert Delpire and François Mathey. The jury chose the models with the idea of the car as a design object, a work of art, showing that "art and technique, each at their own level, are the expression of man and his relationship with design."

The Ralph Lauren collection can be seen from the same perspective. Patiently assembled over several decades by the fashion designer in a quest for speed and performance, it includes some of the most extraordinary jewels in the crown of European automobile history, with beauty as its common denominator.

Within the collection are some of the most elegant and innovative cars in automotive history, from the "Blower" Bentley (1929), the Ferrari 250 GTO (1962), the famous Mercedes 300 SL (1955) and the unforgettable Jaguar "D type," whose shark fin blazed a triumphant trail at Le Mans in 1955, 1956 and 1957. But the grand tourer, the Bugatti Atlantic (1938) of which only four models were produced, represents the ultimate in luxury while showcasing the evolution of styles and techniques on the road. Each of these exceptional vehicles was designed as a masterpiece blending technological innovation and boldness of style.

For its first presentation in Europe, the Ralph Lauren rare cars collection will be put on display by Jean-Michel Wilmotte, who has opted for an intimate visual approach as these vehicles stand out both for their overall design and detail, as well as for bodywork, chassis and engines.

The kinetic and sound of the vehicles will be reproduced by means of several films and recordings. A seminar on automobile design will also be held during the exhibition.

Among the cars on display at the Musée des Arts Décoratifs in Paris:

BENTLEY BLOWER, 1929
This car was designed by W.O. Bentley, but it was Sir Hilary Birkin, one of the "Bentley Boys" (a group of British gentlemen, all of them drivers and lovers of fast cars) which led Bentley to equip it with a compressor, hence its nickname "Blower." With massive bodywork embellished with the English flag, the Bentley Blower was created for a single purpose: to win races. This is the car Ian Fleming chose for James Bond 007 in his first novels.

MERCEDES-BENZ SSK «Comte Trossi», 1930
With its shark profile, the design of this Mercedes-Benz can be attributed to the talent of its owner, Italian aristocrat Count Carlo Felice Trossi, also a racing driver. The SSK is the archetype of the Mercedes of the 1920s, dominated by its colossal bonnet encompassing more than half of its length, with the radiator projecting out front as a windbreaker and exhaust pipes stemming from the sides.

BUGATTI 57 SC ATLANTIC COUPÉ, 1938
This is one of only four models ever built, and today only two are left. This fantastic car has visible seams and round-headed rivets running the length of its spine and mudguards. Power and speed are suggested by its doors cut out of the roof and ellipsoidal windows taken from the aeronautics register.

FERRARI 375 PLUS, 1954
Like all the Ferraris of the time, there were no specific plans for this design. Highly qualified and talented craftsmen created this magnificently rounded shape following the verbal instructions of Ferrari's official car designer, Pinin Farina. Thus they were able to produce a magnificent spyder which won Le Mans 24 Hours in 1954.

JAGUAR XKD, 1955
No car from the '50s embodies speed better than the XKD Jaguar, with three consecutive victories between 1955 and 1957 at Le Mans 24 Hours, and another at Nürburgring in 1956. It's this car that enabled the driver Patricia Coundley to become the fastest woman in Europe in 1964. From the aileron at its tip to the elegantly rounded bonnet, its shape harks back to that of a fighter plane.

MERCEDES-BENZ 300 SL GULLWING COUPÉ, 1955
The Gullwing owes its name to the doors which open upward, like wings. It was the darling of many celebrities including Sophia Loren, Zsa Zsa Gabor, Glen Ford and musician Skitch Henderson.

FERRARI 250 TESTA ROSSA, 1958
This car bears the mark of Sergio Scaglietti, one of Ferrari's most talented coachbuilders. The Testa Rossa (red head), which takes its name from the red camshaft covers of its V12 engine, bears Scaglietti's characteristic signature a long chassis with a torpedo ? like body, a headrest emerging from the bodywork and streamlined headlamps.
---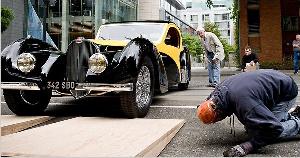 June 11-September 11, 2011 The Allure of the Automobile Portland Art Museum in Oregon , USA

In the picture the Bugatti T57S Atalante, one of 16 cars being squeezed inside the Portland Art Museum for the "Allure of the Automobile" exhibition.

The "Allure of the Automobile" opened at the High Museum of Art in Atlanta in 2010. With a few changes, the same exhibition has come to Portland.

More info: portlandartmuseum.org
---
August 18-19, 2011 Bonhams' Quail Lodge Sale USA

The ex-Ralph Eades, Richard C. Adams
1930 Bugatti Type 43 Supercharged Sports 2/4 Seater

Chassis no. 43286, Engine no. 133, Estimate: US$1,300,000 - 1,500,000

This exquisite supercharged 8 cylinder Bugatti comes to the public market for the first time ever in its life. It is a car that has been fastidiously researched by two of the great authorities on the marque, David Sewell in the U.K and Pierre-Yves Laugier of France and has benefited from a comprehensive restoration at the hands of one of the great restorers of the marque Jim Stranberg of High Mountain Classics in Colorado.

Its documented history, compiled from the reports of these two renowned historians has been traced back through a combination of factory records and French registration listings and actually begins in September 1928, when the car's engine '133' was built at the Molsheim works and fitted to chassis 43286, it was one of eight cars to be built that month. It would not be sold from the works though for another 18 months, when it was invoiced to B. Larrousé of Paris on May 12, 1930. Sewell's belief is that Larrousé was most likely a recently appointed agent for the company as just 3 were sold to him in 1929 and no less than 56 Bugattis were invoiced in 1930!

Through Laugier's forensic style investigation of the French registration records, it was established that while the first person that Larrouse sold the Bugatti to is not confirmed but by 1932 it was the property of M. Eonnet. The Eonnet family are known to have been a serial Bugattistes and would follow this purchase with acquisitions of at Bugattis including 57S (57511) and a Type 51. Photos sourced from their family album by Laugier, show the 43 being enjoyed by Eonnet, and establish that it carried factory Grand Sport coachwork.

In 1936 the car moved to the first of a series of owners on the French Riviera and with it new local registration with the Nice authorities, amazingly and helpfully these Police records exist and refer back to the car's last change of ownership having been in July 1933 in Paris. The first of these Southern French owners was Ernest Bahier of Nice who kept the car through the war years from 1936 to 1945, it changed hands on the Riveira to Eugene Gillio of Cannes, then moved to Avignon to a dealer Guy Dore in July 1948 and then back to the coast to Marseille in September 1948.

Within 2 weeks, the car was bought in Marseille by American Peter Hall and this would commence its U.S. history, for two years later he shipped the Bugatti back to America in 1950. By this time, the car was already in the guise in which it is seen today, as a typically mid-1930s 2/4 seater with full fenders and running boards and with two raised cowls. Neither Sewell or Laugier have pinpointed a precise date when the car was updated to this style, but both surmise that its revisions would have made the car look more like the contemporary Type 55 and other European Sportscars of the day were carried out during its time on the French Riviera although this work has long been attributed to Paris coachbuilder Million-Guiet.

Over the course of the last 60 or so years, the car has had just a handful of owners. Ralph Eades of Santa Ana, CA, in 1953 who is known to have purchased in from Peter Hall, then Tom Harrison, in 1973 before passing into the long term ownership of noted Bugatti collector Richard Adams of La Mesa and subsequently family members Lee Adams and Betsy Adams.

Within the last decade, the Adams' decided to restore the car and commissioned Jim Stranberg of High Mountain Classics to undertake this work. A comprehensive restoration of cosmetic and mechanical aspects has produced the stunning result that we see today.

On completion of the restoration, the Type 43 made its debut on the hallowed fairway at the Pebble Beach Concours in 2006, where it received 3rd in its class behind a somewhat formidable entry - a considerable achievement. Since then it has changed hands twice and continued to be shown, most recently at 'The Elegance at Hershey' Concours in June this year, when it was awarded the 'French Curves' award, confirming that it maintains the exceptional condition achieved in its 5 year old restoration.

It could be argued that a Type 43 is one of the best ways to experience the Bugatti legend, as it harnesses the 'pur sang' or 'pure blood' of the fabled Supercharged Type 35B, with virtually the same running gear, yet in an altogether more road friendly package making it more suitable for high speed touring. As they go, this is surely one of the best presented examples of its kind and is in ready to be used order.

More info: www.bonhams.com
---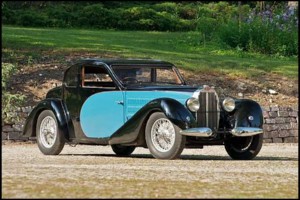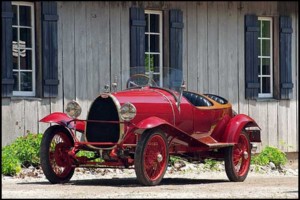 August 18-20, 2011 Mecum Auctions, The Daytime Auction, Monterey USA

- Lot S146: 1937 Bugatti Type 57 Ventoux Coupe #57345 From the Collection of David V. Uihlein Sr, No Reserve

More info: www.mecum.com

- Lot S147: 1925 Bugatti Brescia Type 23 Roadster From the Collection of David V. Uihlein Sr, No Reserve

More info: www.mecum.com
---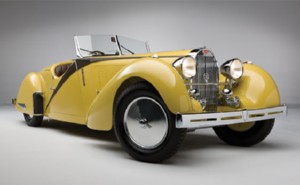 August 19-20, 2011 RM Auctions, Sports & Classics, Monterey USA

1937 Bugatti Type 57 Roadster by Ramseier-Worblaufen

Chassis No. 57260; Estimate: $1,000,000-$1,300,000

One of only two T57 Roadsters bodied by Carrosserie Worblaufen in Switzerland. Specially commissioned by flamboyant Swiss collector, Mr. Jules Aellen, 57260 was completed just in time for Aellen and his wife to show the car at the second Concours d'Elegance at Montreux on Lake Geneva in Spring 1935, where it won the Grand Prix d'Honneur. Following Aellen's ownership the roadster remained in Switzerland – in and around Geneva – well into the 1950s. From there it went to France before an American collector finally acquired the car in 2000 and commissioned its complete restoration over an 18-month period. With no expense spared, the Worblaufen archives were referenced to ensure absolute correctness, as was the existing Montfort sister car. In 2005, 57260 was invited to the Pebble Beach Concours d'Elegance, where it secured 2nd in Class.

1938 Bugatti Type 57 Stelvio

Chassis No. 57569; Estimate: $700,000-$800,000

135 bhp, 3,257 cc DOHC inline eight-cylinder engine, four-speed gearbox, solid axle and semi-elliptic leaf spring front suspension, live axle and quarter-elliptic leaf spring rear suspension, and four-wheel hydraulic brakes. Wheelbase: 130"

- Sporting Stelvio Cabriolet coachwork
- Known history
- A wonderful example of the desirable Bugatti Type 57

This 1938 Type 57 Stelvio cabriolet, chassis 57569, was delivered on August 8, 1937 to Gangloff, and on October 15, 1937, it was ordered as a Stelvio Cabriolet by Bugatti's main agency in Paris for a client believed to have been a member of the noted Pernod family. On October 27, 1937, the car was delivered to its first owner. By April 1938, 57569 returned to Bugatti's Paris agency, and in April 1938, it was sold to its second owner, named Gaillard. The known history of 57569 resumes in the early 1960s, when it was acquired from Pierre Proust Garage in Montrouge, France by Guy Huet of Holland, who subsequently had the T57 Stelvio restored by Piet Peperkorn in Haarleem. Subsequent owners included Erwin Hucke, the noted Maybach expert and motoring enthusiast Michael Graf Wolff-Metternich and Mr. Hofgut of Switzerland in the late 1980s.

Since that time the car has remained in the United States, first in the ownership of John R. Lee of Dallas, Texas. Under Mr. Lee, Bob Smith Coachworks Inc. of Gainesville, Texas performed some selective work to the car including paint repairs, adjustment of the carburetors, new carpeting and new tires, as well as attention to the braking and electrical systems. Ownership through to the present day is documented in the Bugatti Register.

With its older but well maintained restoration, this car clearly benefits from the loving care of its noted owner-collectors. 57569 has most recently received the expert attention of Donald Koleman's Portsmouth, New Hampshire-based Competition Motors, Ltd. During this period, Competition Motors carefully elevated the rare Stelvio to its current level of presentation and running order. Work included the location and installation of proper gauges and dashboard switches, as well as the installation of proper electrical-system components. The striking red and black paintwork was selectively refinished as required. Mechanically, the engine was removed, inspected, dynamometer-tested and reinstalled.

While the bulk of Type 57 Stelvio Cabriolets, including 57569, were indeed bodied by Gangloff, its coachwork displays several unique stylistic nuances that make it quite distinctive and particularly sporting. Enhanced by a dramatic color combination, the coachwork of 57569 features somewhat smaller and "racier" proportions and a wonderful profile, with its doors sweeping gently downward from front to rear. Tall rear-fender crowns nearly reach to the base of the convertible top, and stately landau irons complete the external picture of 57569. Inside, the restored light tan upholstery remains handsome, reveals few signs of use and is accented by the impressive dash, instruments and controls. The engine bay, with Bugatti's characteristic engine-turned firewall and race-bred DOHC inline eight-cylinder engine numbered 411, is tidy in presentation, well maintained and approaches metallic sculpture. The component numbers of the front axle, gearbox casing and differential have all been inspected by Donald Koleman and are all stamped "411," as is the left rear engine leg, which is also stamped with the car's chassis number, 57569.

This Type 57 Stelvio Cabriolet is impressive throughout and remains a wonderful representative of the classically refined, elegant and technically sophisticated Bugatti Type 57, a true automotive landmark.

1937 Bugatti Type 57C Ventoux

Chassis No. 57664; Estimate: $600,000-$750,000 US

210 bhp, 3,257 cc supercharged DOHC inline eight-cylinder engine, four-speed manual transmission, solid front axle with semi-elliptic leaf springs and live rear axle with quarter-elliptic leaf springs, and four-wheel hydraulic drum brakes. Wheelbase: 130"

- Supercharged example of Bugatti's most celebrated road cars
- Elegance in Motion Trophy winner at Pebble Beach
- Concours-quality professional restoration

The example we are pleased to offer here, chassis number 57664, is a remarkable automobile. It was treated to a no-expense-spared, full body-off, concours-quality restoration in the mid-1990s, performed by Bugatti specialists Ivan Dutton Ltd. of Aylesbury, Buckinghamshire, England. Approximately $450,000 was spent on the restoration to ensure that this Type 57C Ventoux would become the very finest Bugatti in world. The owner demanded that the car not only be absolutely perfect cosmetically, but it also had to function flawlessly. Accordingly, the Bugatti was authentically restored mechanically to better than new condition. After completion of its world-class restoration, the car was invited to compete at the 1998 Pebble Beach Concours d'Elegance. The owner, confident in the mechanical prowess of his vehicle, participated in the first ever Pebble Beach Tour d'Elegance and was dutifully rewarded when his car was awarded the first ever "Elegance in Motion Trophy" by the Pebble Beach Concours d'Elegance judges.

The current owner, a prominent collector, acquired 57664 in 2007. It has been fastidiously cared for and driven only sparingly since then. It is understood to still be in excellent condition. With its stunning restoration and excellent mechanical condition, this Type 57C offers the next owner membership into a wonderful community of enthusiasts who hold events and functions worldwide. This example will undoubtedly bring its next owner great pleasure in the years to come, be it at a concours d'elegance or driving event.

1950 Bugatti Type 101 Coupe by Van Antem

Chassis No. 101504; Estimate: $600,000-$800,000

135 bhp, 3,256 cc supercharged DOHC inline eight-cylinder engine, Cotal electric pre-selector gearbox, semi-independent front suspension with semi-elliptic leaf springs, live rear axle with reverse quarter-elliptic leaf springs, and four-wheel hydraulic drum brakes. Wheelbase: 130"

- The only Van Antem-bodied Bugatti Type 101
- Mechanicals derived from the legendary prewar Type 57
- Ex-Harrah, Harguindeguy, Cage
- A stellar example of the last Bugatti model produced

Altogether, only six Type 101s were built, and the handsome coupe offered here is considered by many marque enthusiasts to be the most striking example of the series. Van Antem in Neuilly-sur-Seine, near Paris, bodied it for the 1951 Paris Salon de l'Automobile. It was on display in Paris together with a Gangloff-bodied drophead coupe before returning to Molsheim, where it was eventually road-registered and likely used by Rene Bolloré, the next husband of Ettore Bugatti's widow Geneviève Delcluze. Gene Cesari, who visited Molsheim with well-known car collector Jean DeDobbeleer and, after several meetings, became the company's North American representative, purchased it late in 1958. Mr. Cesari finally collected the car in New York City before it was sold to Robert C. Stanley, Jr. of Fair Haven, New Jersey, who was the son of the prominent businessman and former head of the International Nickel Company (INCO), which produced 90 percent of the world's nickel supply during the early 1950s.

Chassis 101504 then became an important part of the Reno, Nevada-based classic automobile collection of casino magnate Bill Harrah before being sold to prominent French automobile proponent Jacques Harguindeguy. From there, film star Nicolas Cage acquired it and added it to his growing collection of significant collector cars. Subsequently, it was in the noted collection of Gene Ponder.

Brilliantly presented in black over red, the Bugatti Type 101 Van Antem coupe has been preserved over the years by its succession of noted owner-collectors. Equipped with a Cotal pre-selector gearbox, it is the only example of the Type 101 with this dramatic coachwork. It represents the swan song of a revered French marque that lay dormant for the next four decades before the introduction of the stunning EB110 in the 1990s and, most recently, the breathtaking Veyron. With its impressive supercharged engine, the Van Antem coupe is ready to be driven, enjoyed and appreciated as an exceptional example of the artistry and passion that remains a testament to Ettore Bugatti's legacy.

More info: www.rmauctions.com
---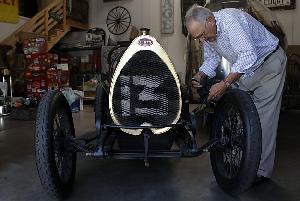 August 28, 2011 Hillsborough Concours d'Elegance USA

Featuring Bugatti (amongst others)

Leo Keoshian of Palo Alto's 1920 Brescia will be there, see the pictures.
---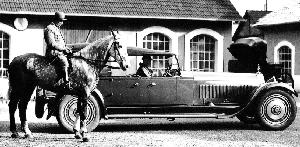 September 9 - 11, 2011 28th Bugatti Festival Molsheim, France

85 Years later... at the Hardtmuhle in Molsheim

Programme:

9 septembre 2011 VENDREDI - FREITAG – FRIDAY
13.00 Heures ACCUEIL – Empfang – Welcome - Hostellerie du PUR SANG - MOLSHEIM
16.00 Heures Départ de la promenade

10 septembre 2011 SAMEDI - SAMSTAG - SATURDAY
8.00 Heures RASSEMBLEMENT – Aufstellung – Gathering - Hostellerie du PUR SANG - MOLSHEIM
09.00 Heures Présentation de la Royale Chez MESSIER BUGATTI DOWTY
11.00 Heures DEPART DE LA PROMENADE dans le Grand Ried d'alsace– Weiterfahrt – Continuation of the trip
17.00 Heures TROPHEE FONDATION BUGATTI Parc des Jésuites à MOLSHEIM

11 septembre 2011 DIMANCHE - SONNTAG - SUNDAY
10.OO Heures CEREMONIE AUPRES DES SEPULTURES DE LA FAMILLE BUGATTIV Zeremonie am Familiengrab Bugattis – Ceremony at the Bugatti family graves - CIMETIERE DE DORLISHEIM 11.00 Heures INAUGURATION de la « PLACE de L'ELEPHANT » - Devant le nouveau cinéma de la Zone de loisirs « LE TREFLE » DORLISHEIM - MOLSHEIM

Information and inscriptions
Michel Weber
27, route de Meisratzheim
F-67800 Krautgersheim, Alsace, France
0033 388 957 377
EMAIL : michel.weber33@sfr.fr
---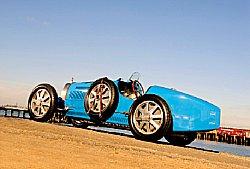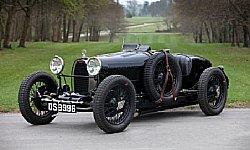 July 1, 2011 Goodwood auction by Bonhams Goodwood, UK

On offer:
1925 Bugatti Type 35 (estimate £400,000 – 500,000)
1926 Bugatti Type 37, chassis no. BC78 (£120,000 - 160,000)

And if you would like something different: Paul McCartney's Lamborghini

More info: www.bonhams.com
---
July 1 - 3, 2011 4th historic Circuit des Ardennes meeting Belgium

With 24 Bugattis announced, plus a Veyron!

More info: www.circuit-ardennes.be
---
June 18-19, 2011 Brooklands Double Twelve Weybridge, UK

More info: www.brooklandsmuseum.com
---
June 21-26, 2011 Alfa Bugatti meeting Burgundy, France

After Picardy - Baie de Somme in 2009, Alfa Bugatti Meeting is now taking you to Burgundy...

on the tiny roads of Morvan among lakes and wild forests, in the tasting cellars and vineyards of the Route des Vins, along the beautiful banks of the canal du Nivernais, On Dijon-Prenois racetrack with the Club Bugatti

Au programme : old stones and driving on beautiful remote roads, wine tasting and gastronomy ! We will stop in Vougeot and Vézelay, villages steeped with history, in comfortable and authentic hotels and spend one day with the Club Bugatti France to visit the Grand Prix de l'Age d'Or.

(Forcasted entry fee :1700-1800 € for two people from June 21 to June 26)

More info: www.alfabugattimeeting.fr
---
June 24 - 26, 2011 29th Annual Dana Point Concours d'Elegance California, USA

The 29th Annual Dana Point Concours d'Elegance will showcase the finest automobiles in the world with more than 200 vehicles representing legendary marques, including Mercedes-Benz, Bugatti, Jaguar, Porsche, Shelby, Ferrari and many more. The cars will compete for top honors on the Monarch Beach Golf Links at the St. Regis Monarch Beach in Dana Point, Calif., from June 24-26. During the three-day celebration, the Dana Point Concours d'Elegance will honor the 125th anniversary of the first Benz automobile, as well as display two beautiful classics from the esteemed Nethercutt Collection.

"This distinguished group of automobiles that will be displayed on the lawn represents some of the most elegant vehicles ever built," said Dick Waitneight, chairman on the board of the Concours. "Only the best examples of pre-war classics, European exotics and American muscle are invited to compete at the Dana Point Concours d'Elegance. Automotive enthusiasts will be impressed by the diversity of vehicles vying for one of the 30 different classes, including the top award, Best of Show."

From the remarkable Nethercutt Collection are two award-winning Concours-ready classics with fascinating histories. The first, a Black Cherry 1931 Bugatti type 51 coupe, was manufactured in France by coachbuilder, Louis Dubos. Originally built as a Bugatti factory team Grand Prix racer, the car generates up to 185 horsepower with its eight-cylinder engine. Following the 1931 race season, the Bugatti was given to famous racing driver Louis Chiron by Ettore Bugatti. Passing through the hands of several French and American owners through the years, the Nethercutt Collection purchased it in 2000. The Nethercutts restored the vehicle and reunited the body with its original chassis.

A 1913 Mercedes 37/95 Double Phaeton-Torpedo from the Nethercutt Collection will also exhibit. Receiving top honors and awards at many shows over the years, the black on black Mercedes is one of the few 37/95 examples to survive for more than 85 years. Considered a high performance vehicle at the time, this car could hit nearly 100 mph. Restored in 2000 and 2001, the 37/95 was returned to its 1913 specifications by the Nethercutt's. Only a few have enjoyed the luxury of owning this classic and on June 26, visitors can see it up close.

"The Nethercutt Collection includes some of the most sought-after vehicles in the world," noted Waitneight.
---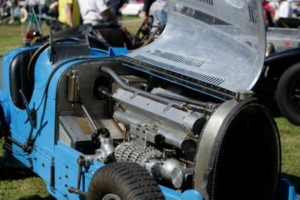 June 26, 2011 Brouwers Boulevard Sprint Deventer , the Netherlands

Er staat wederom een vermakelijk weekend voor de deur. Zo staat er in Deventer een fraai klassiekerevenement op het programma.

Aanstaand weekend kan de petrolhead bijvoorbeeld naar de TT van Assen of Italia a Zandvoort. In de binnenstad van Deventer wordt zondag 26 juni echter ook interessante dag georganiseerd: Brouwers Boulevard Sprint. Met name voor de liefhebbers van oud spul is er genoeg gaande. Op het plein verzamelen zo'n 60 unieke voor- en naoorlogse klassiekers. Zo staan er de nodige bijzondere exemplaren van bijvoorbeeld Alvis (Speed 20, Speed 25, 1270), Talbot (105, Lago), Bugatti (Type 51 GP), Veritas (Meteor Monoposto, RS 2000), Riley (TT Sprite), Porsche (356) en De Tomaso (Pantera). De helden zijn stuk voor stuk rustig te bekijken, al komen ze ook nog in actie. Zelfs drie keer rijden de deelnemers de route door Deventer.

Het is voor het eerst dat de Brouwers Boulevard Sprint wordt georganiseerd. De presentatie is in handen van Bert van den Dool, voormalig presentator van RTL Autowereld. Overigens niet de eniger BN'er. Onder de deelnemers scharen zich ook Erben Wennemars, Gijs van Lennep, Albert ter Linden en Jan Lammers.
---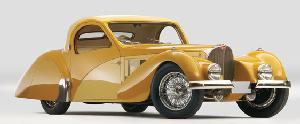 May 21, 2011 RM Auctions at Concorso d'Eleganza Villa d'Este Italy
1937 Bugatti Type 57SC Atalante #57551
More info: www.rmauctions.com
---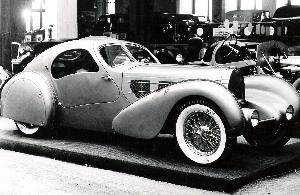 May 26 - 29, 2011 2011 International Bugatti T57, 57S and special T 57S Atlantic Recreation Meeting Eifel region, Germany
2011 International Bugatti T57, 57S and special T 57S Atlantic Recreation Meeting 26.–29. May 2011 most likely in the Eifel (southwest of Cologne) or in the river Weser region (southwest of Hannover where a non public race track will be an option).
Info: e-mail: bug.aerolithe@gmx.de or Tel./Fax 0049/+2524/928592 Dr. Peter Borstel
Deadline for pre-registration is January 18, 2011
The meeting will take place with a minimum number of registrations of 12 only, maximum is 20.
Reason is the 75. Anniversary of the Aérolithe:
The 4th October 1935 is the date of the completion of the "Aérolithe" with chassis no. 57.331, engine 226S and body design no. 1076, immediately afterwards being exhibited on the motor shows in Paris and London. Its appearance, one of the greatest coups of Jean Bugatti, was absolutely sensational for the whole motor world at that time.
---
May 28 - 29 2011 La Vie en Bleu Prescott Hill, England

A celebration of French motoring entitled La Vie en Bleu will be held at the Prescott Speed Hill Climb this month.

The event takes place on Saturday May 28th and Sunday 29th, with demonstrations and races involving brands such as Bugatti.

Visitors will be able to view the company's Super Sport model, which holds the record for being the fastest production car.

In addition to the vast collection of top vehicles on display, there will be performances by the Breitling Wingwalkers and RAF Falcons Parachute Display Team on the Saturday and Sunday respectively, weather permitting.

In a statement, the organisers revealed: "As well as the usual top class racing, visitors and families can enjoy the Parisienne 1920s Renault bus, the wickedly witty Gendarmes, live music, food from the Creperie and much, much more."

Admission costs £18 for a single day or £30 for the whole weekend, with under-14s allowed in for free. Tickets bought online in advance are cheaper.

For additional information, visit: www.prescott-hillclimb.com
---
June 5 - 11, 2011 International Bugatti Rally Burgos, Spain

Following the success of the 2009 International Bugatti Meeting held in Italy, as well as the Bugatti Club Sweden's retreat from the organisation of the 2011 International Rally, the Presidents Meeting has officially asked 2FAST4YOU to organize the International Bugatti Meeting 2011 in Spain.

It will be the first Bugatti event held in Spain. For this special occasion the organizers have chosen the area of Burgos, with its architectural beauties, wonderful cities, and the amazing natural part of Rioja up to the Atlantic ocean. We will drive along empty roads and taste the superb local food and wine.

See the: Flyer and Subscription form

For any further information please visit our website www.2fast4you.it
---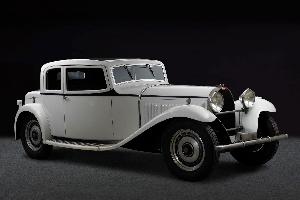 June 13, 2011 Artcurial Auctions, "Automobiles sur les Champs 2" France
- 1931 Bugatti Type 46 Coupe by Vanvooren #46580, Estimation: €250,000–400,000, No Reserve
- 1934 Bugatti Type 57 Coupe Ventoux #57213, Estimation 250 000-350 000 €
History of 46580, engine n° 351: By 1928 Ettore Bugatti had to face facts - the Type 41 "Royale" was practically unsaleable - and this was before the effects of the Great Depression were felt. He reverted to a more rational engine size for a luxury automobile, limiting it to 5.3-litres for an inline eight-cylinder, that was in keeping with technical practices at Bugatti: a one-piece cylinder block with nine main bearings, dry sump oiling system and coil and battery-operated twin-ignition. With a higher output than was the norm then, the Type 46 engine delivered more than 140bhp, which was almost as powerful as the 8-litre Hispano-Suiza H6C, its direct competitor. This neat streamlined engine even managed to be silent despite operating with a vertical overhead camshaft and cone-shaped pinions.
Presented to the press in the summer of 1929 and to the public at the Paris Motor Show that October, the "5-litres" or 30CV (taxed 31CV) found, despite the impending Depression, a clientèle interested in its size, performance and style. The large chassis, typical of Bugatti, with its rounded forged front axle, reversed quarter-elliptical leaf springs, its perfect balance due to the rear-mounted 3-speed transmission, its precise steering and effective brakes, could accommodate the most lavish body styles in line with all luxury marques. Features taken from the Type 41 "Royale" were numerous and the choice of splendid alloy wire wheels endorsed its name the "Petite Royale", a name which wasn't seen as diminutive: the Type 46 very quickly made a name for itself with its own dynamic qualities and drivability thanks to a long stroke (130mm) which gave it a flexibility worthy of a much larger engine.
"With the 5 -Litre, Bugatti has created a highly luxurious car and this magnificence comes from the combination of key elements that Bugatti alone can mix, creating a car that is comfortable, silent, well balanced, while possessing excellent speed, strength and safety, leaving it unrivalled as a touring car…" This was how, with the usual touch of flattery, the magazine La Vie Automobile described the Bugatti Type 46 in October 1930, but this time it was true. Ettore Bugatti succeeded in attracting more supporters of the marque, a clientèle demanding high standards of comfort and performance on the road. It was this same clientèle who had not endorsed the 3-litre Type 44, which was thought to be a little under powered, but with the 5-litre car, in a comfortable well appointed touring car body, all that was forgotten. With a top speed of more than 140km/h, the Type 46 was very versatile. It cruised easily at 110/120km/h, and could climb the majority of hills in one gear without stalling, a quality much appreciated in this "pre-synchromesh" era. In 1932, Louis Chiron, setting off from Uméa, finished 9th in the Monte Carlo rally in a Type 46 saloon. If the Type 44 had signalled Bugatti's move towards touring cars, the Type 46 added space and a large measure of luxury, thanks to the preeminent coachbuilders who had found a chassis worthy of their talent and creative ambition. The excellence of the Type 46 was substantiated by the facts: worth 100,000F as a chassis in 1931, approximately 450 examples were built between 1930 and 1933, in spite of the developing financial crisis.
"46580" was bodied by Vanvooren as a four-door pillarless coupé with hidden hinges. It is a lateType 46 , probably assembled at the end of 1932 and delivered in November 1933 to M.José Soler-Puig (d.1936), a textile industrialist from Catalan. He had settled in Toulouse during the First World War and owned a second Bugatti. According to information gathered from Club Bugatti France, "46580" started its life as chassis no. 46492, leaving the factory in September 1930 in a run of 30 chassis, supplied with engine no. 351 and gearbox no. 358. This chassis should have been delivered on 5 November 1930, but for some reason, stayed at the factory and was registered in 1931, hence the date on the 'carte grise'. Subsequently, the factory had "conduite intérieure 2/4 portes spider" coachwork fitted by Vanvooren who invoiced 28,000F on 12 October 1932. In this form, the non-modified chassis was renumbered "46580" and the car, possibly exhibited on the coachbuilder's stand at the October 1932 Motor Show, was sold to M. Soler-Puig, who took possession of the car on 4 November 1932.
It was presented in yellow with a marine blue band and blue interior. The car was used by his family until the start of the Second World War and then put away, the idea of fitting it with a gas generator fortunately abandoned. Deprived of its tyres which would have been used to equip a commercial vehicle and avoid its requisition, the car was laid up for about twenty years. A knowledgeable young enthusiast, Jacques Liscourt, rediscovered the Type 46 and bought it in January 1961. He set about a careful re-commissioning of the car, checking the engine and fitting new tyres and put it back on the road in Picardie. He fitted covers on the seats that had been nibbled by mice. The car, which functioned well, was then sold to a dealer, Guglielmo Ruini. Around 1966 it became the property of an architect from the Paris area, one of the first members of the Bugatti Club in France, Daniel Guidot, who re-painted it in cream and then sold it to Marc Nicolosi, the creator of the Retromobile salon and future president of the Bugatti Club. From there the car went directly into the Serre collection. Repainted in cream with blue cloth upholstery in reasonable condition, and lovely wood panelling, varnished and with a nice patina, it is offered in a pleasingly original condition with all period accessories apart from its corroded Scintilla lights which were replaced in 1961 with 1932 Trilux Marchal lamps, giving as good if not better lighting. At the same time other lamps were added (a second taillight and indicators) to comply with the rules of the road. This Type 46 took part in the first 'Club de l'Automobiliste' Paris-Deauville rally in November 1967. (It appears in a photo in the no.7 edition of the magazine l'Automobiliste from January 1968). It can also be seen on the cover of the March 1970 edition of l'Album du Fanatique de l'Automobile.
Here is a rare opportunity to acquire a totally French Bugatti Type 46, with unbroken history, which features amongst the models most produced at Molsheim, a routière combining performance with luxury, presented in original bodywork characteristic of Vanvooren. French title (1931).
History of 57213: Nowadays it sounds trite to say that Ettore Bugatti was an artist as well as a car maker, and to add that his son Jean made an effort to drag the car into the modern world. Nevertheless the Bugatti 57 is a kind of combined expression of this meeting of two personalities, containing a certain technical and aesthetic rigidity offset by the very low-angle windscreen of the Coach Ventoux. The mechanics of the vehicle are a nod to progress, the most notable feature being a dual engine connected to the gearbox instead of a separate box. First exhibited at the Salon de Paris in 1933, the 57 is the follow-up to the 49, the more classic tourer. It has the same engine references as its predecessor, with a 3.3-litre capacity, but almost everything else is different, the dual overhead camshaft providing extra power and therefore a more impressive performance. Comfort has also been taken carefully into account, turning this new Bugatti into a real long-distance traveller. This vehicle opened the way to a whole new family of bodies, with names prettily inspired by principal Alpine passes: Galibier 4-door, Coach Ventoux, Cabriolet Stelvio and Cabriolet Aravis. Only the Atalanta Coupé had a name inspired by Greek myth. The family produced several derivations: the 57 C with compressor, the low-slung 57 S and the competition 57 G, which won the Le Mans 24 hours in 1939. The 57 S chassis formed the basis for the Atlantic, probably the most famous Bugatti, a magnificent example of which recently drew the crowds at the exhibition of the Ralph Lauren collection in Paris. With some 600 vehicles manufactured, the Type 57 was at the time a very popular car with Bugatti clients, and is still eminently useable today.
The car presented by us was produced in July 1934, with engine no. 83 and Ventoux bodywork, and first issued in September 1934. On the 4th of that month it was delivered to Roger Spiessert (a.k.a. Spessardy), head of the Pinder Circus and a Hungarian-born animal tamer based in Malakoff. An experienced manager, he was passionately interested in motor vehicles and equipped his circus with a high-quality fleet, part-exchanging his Type 37 to purchase this vehicle. According to the order book, the total paid was 55,900 francs, although the Bugatti "delivery book" shows 58,000 francs; possibly the difference is in the price of the Type 37. The Bugatti 57 was registered under number 7994-AR on 7 September 1934, in Basse-Alpes Département (now Alpes de Haute Provence Département), where Charles Spiessert may have lived. He kept the vehicle for a short time and then exchanged it at the factory for another 57 (no. 57364). In April 1936, the car was sold to the Dépôt de Bordeaux and passed to Pegaz Peynel. In 1961, Henri Malartre sold it in Belgium to Jean De Dobbeleer, a Bugatti agent and specialist in Brussels. It currently has the registration number 828-H-42, issued in September/October 1950 in Loire Département under the new French registration system. After that it was sold to Hugh Sutherland of Ontario, Canada, and crossed the Atlantic to join its new owner. It then passed to E. Leyland, of West Vancouver, and then to Bill Hinds in the USA, who had the engine overhauled by the renowned Phil Reilly, using original parts. Other works were carried out on that occasion, including chroming of the headlights and radiator. The next owner was Otto Zipper of Malibu, California, followed by Paul Myers Jr. of Los Altos, California, who owned it until his death in 1991. His wife kept the car and after her death in 1997, her heirs gave Bob Cole the responsibility of selling it. Entrusted to an auction house, it then made its way to Italy where its current owner lives. This Bugatti 57, complete with sunroof, has its own user's manual from the period and a certificate of identity issued by the Automotoclub Storico Italiano or ASI. Black and purple in colour, and rear wheel aprons, this car represents a rare opportunity to acquire a true classic Bugatti with a well-known and carefully followed history. Italian title .
(Source of History of Car: Kees Jansen, The Bugatti Register, The Netherland, Belgium Volume III, to be published 2011)
More info: www.artcurial.com
---
February 18 - May 29, 2011 Animaliers: Van Barye tot Bugatti esposition Scheveningen, Holland
Exposition of animal sculptures, including Rembrandt Bugatti.
Location: Museum Beelden aan Zee: www.beeldenaanzee.nl
---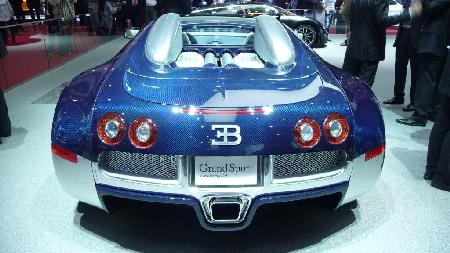 March 13, 2011

Geneva Auto Show

News Flash - March 3, 2011 - GENEVA-SWITZERLAND

The 82nd Geneva Auto Show opened today, and our interest was confined to the Bugatti stand which focused on their Grand Sport Models.

The Bugatti Veyron 16.4 Grand Sport is currently the fastest, most powerful and most exclusive convertible in the world. The Grand Sport gives a spectacular gulping suction from the air intakes leaves you feeling like you are being lifted out of your seat. The departure of this lump of change creates no noise , but a ''G'' force suction from your bank account to the tune of 1.75 million euros (2.4 million US dollars) .

When developing the Bugatti Veyron 16.4 Grand Sport, it was necessary to make significant modifications to the Grand Sport's complex structure in order to make open-top driving safe. As the roof is an integral part , removing it meant the load paths had to be completely redesigned to maintain the vehicle's rigidity and crash safety and to offer the same protection from side impacts and rolling. As a result, the Grand Sport's monocoque was reinforced around the side skirts and the central tunnel. The doors are made of carbon fiber and house an integrated longitudinal beam. In the event of an accident, this transfers the load from the A to the B pillar. Additionally, the two redesigned air intakes now feature 10-centimeter wide carbon-fiber elements to offer protection if and when the car rolls. And a 432 KPH roll it will! Fitted with a host of innovative safety systems and new equipment features, the fastest street-legal sports car in the world can now be experienced as both a convertible and a coupé with a panoramic polycarbonate roof. The result is an automobile which can be customized and tailored to suit almost any imaginable requirement.

The two special-edition Grand Sports on display at the Geneva Motor Show are presented in a two-tone horizontal color split. The first one is resplendent in visible blue carbon, framed in polished aluminum. This striking contrast extends from the wheels to the interior. The console is of the same exposed blue carbon and the dashboard, steering wheel and gear lever are encased in blue leather with silver stitching, while the seats are finished in silver-colored leather with blue stitched seams. The second special edition on display is a Grand Sport in matte white, with matte-white tinted air intakes, surrounded by clear-lacquered blue carbon elements, including blue-tinted wheels. I finally will have the opportunity to drive one in April 2011, so I promise a full report on how it compares to the T35C.

Hans Matti was on the stand admiring the Blue Grand Sport . We both agreed it was was the correct blue, although the chassis was not in the ''proper'' green-grey in our minds.

Bugatti Veyron 16.4 Grand Sport Technical File

Info and pictures Chris Gardner
---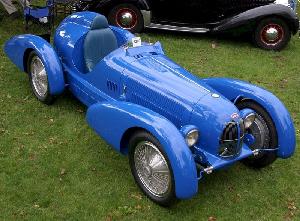 March 13, 2011

Auction result

March 1, 2011, Ebay.com:

1944 Bugatti Type 73 C, 73002: US $490,000.00

However, apparently something went wrong and the car was put up AGAIN for auction (usually one would go to the 2nd bidder (430,000) if the high bidder can't pay).

Click here to view the new listing, currently almost $20,000, reserve not met!

Info on the car:
Bugatti, assisted by his designers Noel Domboy and Antoine Pichetto, spent the war years planning a new four cylinder racing car. By 1944, his plans for production were well advanced and the newest Bugatti was to have a supercharged 1500cc 16-valve engine with twin camshafts.

Further details were released once the war had ended. The racing chassis was to be of ultra-low build, being derived from that of the pre-war 4.7 liter Type 59/50 B racing car, whilst its engine was to feature all-alloy construction with detachable wet cylinder liners, a detachable head (a first for Bugatti) and a five-bearing crankshaft. Transmission was to be by a four speed all synchromesh gearbox, and the car's total weight was not to exceed 600kg.

No more than twenty examples were to be built in the old La Licorne factory in the Paris suburb of Levallois at a price of 500,000 French francs each. Five were to be delivered in April 1946, with five more during each of the next three months. Already fifteen French racing drivers had each lodged deposits of 25,000 francs, and English readers of The Motor were invited to order the remaining five planned. Inevitably this ambitious timetable floundered against the troubled post-war economic background when materials required for motor car construction were all in extremely short supply, and several orders were cancelled.

Eventually a batch of five complete sets of parts for the racing model was produced, whilst an artist's impression of a planned aerodynamic sports saloon appeared in several Continental motor magazines and at least two of their chassis were produced. However Ettore Bugatti died in August 1947 before a single example of either type had been fully assembled. 1947 Paris Motor Show was held at the Yes Grand Palais in early October and Bugatti displayed on their stand an engineless example of their Type 73 sports chassis together with a standard single-cam Type 73 and a racing twin-cam Type 73C engine. However, without Ettore's impetus the whole project slowly ground to a halt, the unfinished cars were dismantled, all their parts were stored at Molsheim and deposits were returned.

All these parts and many others remained in storage at Molsheim for several years until one set of Type 73C parts was acquired in late 1960 by Belgian Bugatti dealer Jean de Dobbeleer of Brussels. There he assembled and fitted with a monoposto body featuring a typical Bugatti radiator shell based on one of a pair of 1945 Type 73C body drawings by Pichetto. After selling the finished car to a Frenchman, de Dobbeleer returned to Molsheim in 1961 and acquired the parts for another Type 73C, Chassis No 73002, which he proceeded to assemble, after which he sold its body-less chassis to the US via his American agent Gene Cesari.

This car was purchased in 1969 by Eric Richardson, the leading American Bugatti authority of his day, before passing in 1973 by Tom Wheatcroft who was then in the process of both purchasing and assembling what was to become his famous Donington Collection of Grand Prix racing cars. The car was fully restored in the Donington workshops to the extremely high mechanical and cosmetic standard invariable achieved by Wheatcroft, who has always insisted his cars should perform and drive as well as they look.

The car was then fitted with a copy of the second of Pichetto's 1945 73C body designs, this one featuring a cowled radiator grill typical of the late pre-war and early post-war period. In 1994, Wheatcroft sold his Type 73C Bugatti to Alberto Lenz of Mexico. Lenz in turn sold the car to its current owner in 2002. Over the last few years he has meticulously carried out numerous improvements, including fitting the car with piano wire wheels and hubs by Crosthwaite & Gardiner and cycle wings to make the car road-legal.

Whilst the Type 73C Bugatti was in truth no more than an undeveloped factory prototype which fortune dictated was never to show its true potential, or even indeed ever to have the opportunity of competing in period motor racing, it does have one claim to fame which it will retain for all time. It was the very last racing car designed by perhaps the greatest and certainly the most successful racing car designer of all time.
---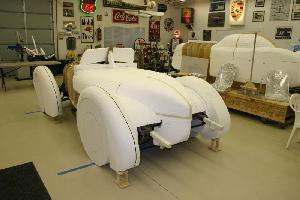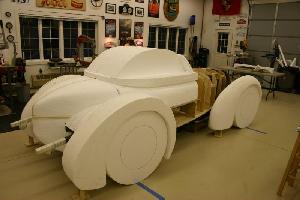 February 20, 2011

Bugatti T41 Sport Carrera project started

Do you remember the Bugatti T41 Sport Carrera which was presented by the Argentian firm Pur Sang back in 2002? It was never realised by them, later the Metalmeet group in the US started seriously with a project around the same design (which was drawn by Luis Huber by the way), realising the design in a 3D CAD programme. They did not get to building it either, the intention was to build it as a demonstration project, but the necessary funding never realised.

Recently Dave Hinz from the USA started again a project to build the design. He will be using a 1955 XK 140 Jaguar engine and drive train for the mechanicals. The pictures above is where he is searching for the perfect shape.

Read more about Dave Hinz's project and the developments in the www.metalmeet.com forum. It may be that you have to register to be able to read all.

Above for your convenience the original design from 2002. Pur Sang did realise a few similar ones "in the flesh" for example the Cadillac V16 Sport presented at Retromobile in 2003 (see issue 8.1 of the Bugatti Revue). Recently at Retromobile 2011 Mr. Anadon from Pur Sangshowed me a new car (below), which has been completed recently. I remember them saying that it was built using a Renault airplane engine, though I may be mistaken. The front at least looks much more like an Alfa. Both the Cadillac as well as this car were sold to the same man in Belgium.
---
February 12, 2011

Auction results

Martin Chausselat, February 3, 20112, Paris, France (prices include auction fee)
BUGATTI Type 35 « Grand Prix de Lyon » 1925 CHÂSSIS N° "4453": €314,468.
---
February 9, 2011

Auction results

Artcurial, 4 Feb 2011, Paris, Retromobile (prices include auction fee)
1937 T57C Atalante, chassis "57606" (In fact 57756 with engine from 57606), former owner: Jérôme Médrano: €579,966
BUGATTI BABY "TYPE 52" Voiture enfant produite par lusine de Molsheim vers 1926. original condition: €58,654
VOITURE ENFANT BUGATTI BABY "TYPE 52" (restored and details added): €33,152
ETTORE BUGATTI MOTEUR ET BOÎTE DE VITESSE DU TYPE 73 (Wood): €19,126
Carlo Bugatto: Portrait de Lidia Bugatti: €16,576
Mido Bugatti. Montre Radiateur n° 307218 vers 1930: €24,227
---
February 5, 2011

Auction results

January 20 -21, 2011 RM Auctions Arizona USA
Bugatti Type 57C Three-Position Drophead Coupe 1939 Chassis No. 57809: $913,000

Bonhams', 5 Feb 2011, Paris, The Grand Palais (prices include auction fee)
'La Petite Royale',1930 Bugatti Type 46 Faux Cabriolet Veth Chassis no. 46293 Engine no. 157: €632,500
1933 Bugatti Grand Prix Type 51 Biplace Chassis no. 738 "51153" (Ex lord Raglan): €943,000
1930 Bugatti Type 46 Cabriolet Chassis no. 46331 Engine no. 199: €333,500
1933 Bugatti Type 49 Drophead Coupé "van Rijswijk", Chassis no. 49570 Engine no. 49570: €356,500
Also various Bugatti automobilia, check on: www.bonhams.com
---
December 4, 2010

Bad news for Bugatti enthusiasts

Will investors take over the classic car market? And, what will happen with the cars invested in, will they be shown to the public or sitting under cover in a warehouse??

Law firm Mourant Ozannes has advised on a unique US$150 million Guernsey-domiciled fund that will invest in rare and classic cars.

The IGA Automobile Fund, which will invest in rare and limited production iconic cars including supercars such as Ferrari and Bugatti, will be the first to allow investors to benefit from increases in the value of classic cars. The fund manager, IGA Management Limited, has brought together a team of globally experienced automotive professionals to advise on the fund's investment.

Mourant Ozannes provided legal advice on the establishment of the fund and its manager. The fund is targeting initial capital of US$50m and is hoping to raise up to US$150m in the future. The minimum investment is currently set at US$500,000.

The fund has already attracted high-profile involvement, including Nick Mason of Pink Floyd, and Gordon Murray, designer of the McLaren F1 car both being appointed to the advisory board.

Paul Christopher, Partner of Mourant Ozannes' Guernsey office, said: "This is a fund tailored towards such an unusual asset class. The fact that a Guernsey structure was selected for it is a reflection of the flexibility of Guernsey's funds regime. I am delighted that Mourant Ozannes was able to provide the Guernsey advice for such a unique fund, which is a further reflection of the specialist expertise of our Guernsey funds team."

Peter Niven, the Chief Executive of Guernsey Finance LBG, said: "It is extremely pleasing to see that Guernsey is yet again home to a world first. The Island's finance industry has grown a reputation for innovation and no more so than our investment sector where the combination of flexibility and creativity provide an ideal environment for launching funds specialising in esoteric asset classes, such as iconic cars. The team at IGA Automobile LP have strong credentials and I wish them all the very best with this unique venture."
---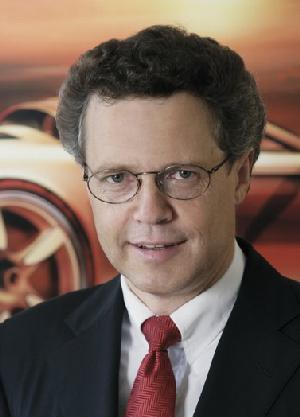 December 4, 2010

WOLFGANG DURHEIMER APPOINTED NEW PRESIDENT OF BUGATTI AUTOMOBILE S.A.S.

Molsheim, France/Stuttgart, Germany, 29 November 2010

Wolfgang Dürheimer (52), Executive Vice President, Research and Development, Porsche AG, has been appointed Chairman and Chief Executive Officer of Bentley Motors and President and Chief Executive Officer of Bugatti Automobiles S.A.S. with effect from February 1, 2011. He is to succeed Dr.Franz-Josef Paefgen (64), who is retiring.

Beginning his career in the motor industry with BMW in 1986, Wolfgang Dürheimer has held positions as a product manager and also Head of Product Development in the motorcycle division.He later became a member of the senior management team responsible for research, development and project management. In 1999, Mr. Dürheimer moved to Porsche, taking management responsibility for the iconic 911 product line. Since 2000 he has been a Member of the Board responsible for Research and Product Development. Under his management new models and product lines have been developed which have strengthened the success of the Porsche brand.

Speaking about the appointment, the Chairman of Volkswagen AG, Professor Dr Martin Winterkorn said: "Wolfgang Dürheimer personifies the outstanding technical competency of Porsche. He will bring this expertise and his experience to Bentley and Bugatti, helping it maintain its leading position within the luxury segment.

"Dr. Franz-Josef Paefgen joined the Volkswagen group in 1980. In 1995 he became a member of the Audi board of management with responsibility for technical development, before being promoted to vice chairman in 1997 and chairman in 1998. In the same year, he also became president and CEO of Lamborghini S.p.A. Since 2002, he has been chairman of Bentley Motors Ltd, and in December2003 also became CEO of Bugatti Engineering Ltd, where he was responsible for the development of the Veyron 16.4. In March 2007, Paefgen was appointed president of Bugatti Automobiles S.A.S.(based in Molsheim, France) and chairman of Bugatti International S.A. (based in Luxembourg).

During his time at Bugatti, he has played a key role in positioning the brand and has helped to ensure the success of the Veyron 16.4, and the subsequent models Veyron 16.4 Grand Sport and Veyron 16.4 Super Sport. In 2009, he unveiled the four-door 16 C Galibier concept car during Bugatti's centenary celebrations, giving a glimpse into a possible future direction of the marque.

Prof. Winterkorn thanked Dr. Paefgen for his contribution: "In his 30 years heading up several ofour car brands, he has made a significant contribution to the growth of our company. He has successfully repositioned Bentley and put Bugatti in the technological forefront of automotiveengineering."

In future, Dr. Paefgen is to act as a consultant to the Management Board of Volkswagen Aktiengesellschaft.?

BUGATTI Automobiles S.A.S.
---
November 28, 2010

Auction result

November 27, 2010 Oldtimer Galerie Toffen Auction Switzerland:

Bugatti T43, "43186", 1927: Not sold
---
November 28, 2010

Facts and Fiction about the Bugatti T43 #43186

Put together by Kees Jansen, The Bugatti Registry.

Read this PDF file: 43186-43158.pdf (revised)
---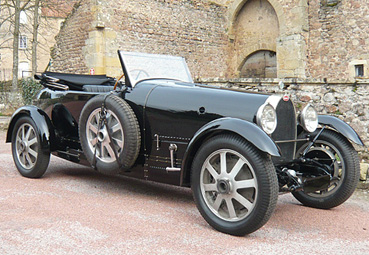 November 25, 2010

Reaction from the seller about the Bugatti T43 #43186

1927 Bugatti Type 43 Grand Sport

The sale of the Bugatti 43 Grand Sport #43186 in Toffen has caused some agitation and motivated some – partly self-appointed – specialists to deliver unqualified judgments without founded investigation and inquiry. Moreover, some "specialists" have been divulging numerous wrong and partly phantasmagorial stories about the history of this car. For example, one of the stories suggests that the car was stolen 35 years ago and then got a new frame number. Another story pretends that the frame is counterfeited. However, none of these stories challenges the originality of the parts and the quality of the restoration.

With this message, we would like to correct these rumors and expose the correct story of #43186.

Like the major part of the automobile pre-war monuments, Bugattis lacked appreciation for a very long time. Numerous cars have been neglected by their owners, disappeared or have been disassembled in order to end as spare parts. This was also the case for this Bugatti.

In the fifties, #43186 was found, together with lots of other Bugattis, at Docime, a Parisian Bugatti agency. Docime used these cars as stock of spare parts to keep his customer's cars alive. At the same time, he rebuilt certain cars, as the passion for vintage cars started to sprout at that moment of time. Numerous aficionados – some of them are still amongst us – started to rebuild Bugattis in order to get these cars back on the street and to keep the legend alive.

In the sixties, Robert Cornière bought a massive quantity of cars and spare parts (several tons) from the inventory of the garages Framezelle, Hauswald and the aforementioned firm Docime. The major part of this stock has been bought by René Giordano in the seventies. The frame #43186 was part of this transaction. René Giordano then started several restoration projects. As he writes in a letter to David Sewell in 1999, two of these projects were #43186 and #43521 (should be 43251, ed) . He did not finish this undertaking, but sold the project 43186 in 1999 to Roger Hanauer. The rebuild is based on a frame of Bugatti 43 which is recognized as original by numerous experts. Last doubts can be eliminated through a metallurgic analysis. Regarding the other parts, it is literally impossible to determine whether they are coming from 43158, 43186 or from other Bugattis. Nevertheless, one thing is certain: the parts are original Molsheim Bugatti parts coming from the pool mentioned before.

Roger Hanauer has continued the restoration, but has sold the unfinished project to a Swiss aficionado in 2007 for personal reasons. This Swiss amateur has closed the restoration and rebuild of #43186 regardless the cost, aiming at the highest standard. He particularly insisted on the respect of the original specification and was happy enough to benefit from one of the most original Bugatti 43 as reference for missing parts and execution details.

To close, let's mention that the excitement has also had a positive effect: several specialists have been providing precious additional information about #43186, which allowed to shed additional lights on some facts of the history and finally underlined the originality of the car.

C. Berger, current owner

Soon we will publish here a more detailed history of "43186", ed.
---
November 23, 2010

The connection between Bugatti #43186 and the stolen car of Michel Dovaz #43158

In august we had on his birthday in August a small talk with Michel Dovaz. Michel told us, that there had been an article in Rétroviseur 258 of summer 2010 about his T43. Michel told us, that there were mistakes in the story. For example the chassis number wasn't right. We didn't pay much attention to the story at that time and just advised Mr. Dovaz to contact the magazine for a rectification.

Then, just a week ago, Kees Jansen asked us about the same Dovaz car, the #43158. He wanted to know if this car was the only T43 that Michel had owned. We answered, that this car was indeed the only T43, the one that was stolen on the 17th of February 1975 from a garage in Paris. Then Kees mailed us the article of Rétroviseur. We were shocked. A bigger part of the article was right, but there were – just as Michel Dovaz had told us a few months ago – some remarkable mistakes. In the article it was clearly stated, that #43186 was a former Dovaz car. Dovaz never had a car with that chassisnumber.

We decided to ask Michel Dovaz. Here some remarkable mistakes in the article:

In the article it says, that the chassisnumber of the car was #43186. That is not correct. Michel just owned one T43. #43158.
In the article it says, that the car was in bad shape. This is not correct. The car was in good shape at the garage where it was stolen. It was there for some minor repairs.
On the 15th march 1999 David Sewell had inspected the "43186". In this report the following facts are written:
The chassis is an authentic example of a T43 chassis.
"The frame number inside the rear cross-member is made up of three digits, the first two both being deeply stamped '8's whilst the third is a '6' presuming that, as usual, the number is stamped upside down. It is not clear on this evidence alone whether the true number is '88'and the '6'has for some reason been added later or some attempt has been made in the past to confuse the identity of the true number"(Sewel, 1999)
The number '86' was found in no less than five other locations on the car.
According to David Sewell this is not the Bugatti T43 with chassis number #43186, but a T43 with a different number.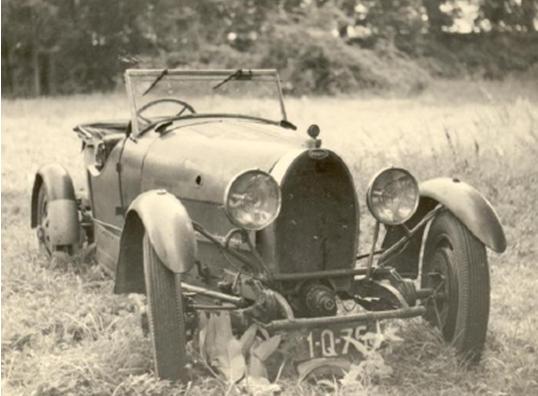 The picture above is taken in the garden of Robert Cornière after the theft in 1975.
It is confirmed by Michel Dovaz himself that this picture is taken after the theft. The picture is taken in the garden of Robert Corniere. Michel Dovaz has never been in this garden with his Bugatti T43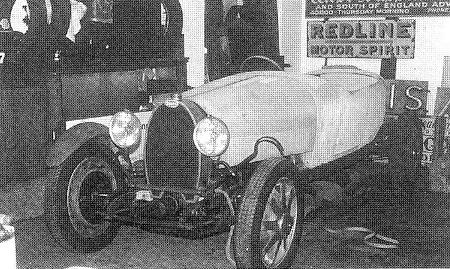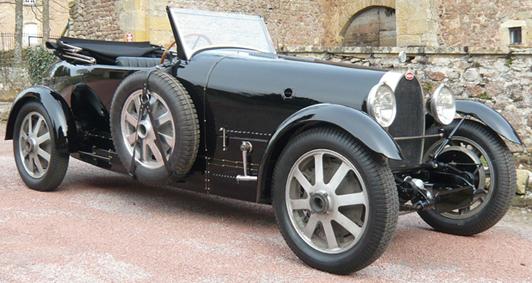 Above left: In 1999 with the current owner, right: In 2010, now called 43186.
Now it seems that the original chassis from the T43 #43158 is somewhere in the south of France. We know the place as many other Bugattists do. This is confirmed by a reliable Bugattist. On this chassis there is stamped also another chassis number. Dovaz has still his "carte gris" thus in fact the original chassis is still his. And he still has the report of the police of 1975.
It is also confirmed that the Bugatti T43 "43186" now to be auctioned, consists of a couple of parts from the Bugatti from Michel Dovaz.
In the 70's Dovaz already tried to get parts back from his dismantled car. But he didn't succeed. It is a shame that this wonderful car is stolen and broken up in pieces.
Thanks to a wonderfull meeting by e-mail this weekend with the following participants, we were able to unravel the history of these Bugattis, coming close to identifying what happened to the stolen Type 43:
Jaap Braam Ruben (Fine Automobiles). He gave many advises how to proceed.
Kees Jansen (Bugatti Club Netherlands). He did a great job finding out the history of the car.
Dick Ploeg
Benny Graf
Jaap Horst
Herman Brouwer
Kay Hottendorff
Arnoud op de Weegh
Ard op de Weegh
The so called #43186 is to be auctioned in Switzerland this weekend. A few days ago it was known as a replica. Now we know that – although mixed of several car – the car is not a replica but an original Molsheim car.

Only justice has to be done to Michel Dovaz. We will keep you informed

Our book "the fate of the sleeping beauties" , in which 43158 is also mentioned, will be available from the publisher Veloce as of Friday November 26.

Arnoud and Ard op de Weegh
---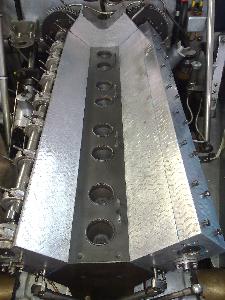 November 21, 2010

New repair method not involving welding!

Aranthes SA in Birsfelden Switzerland developed a new compound-sandwich technology to repair cylinder-blocks with heavy or small cracks. The technology comes from the aerospace industry.

The result is impressive and designed for a long time quality. Even difficult, almost hopeless cases with cracks in the valves area (below) etc. are now repairable.

Further information by

Aranthes SA
andrea.capra@aranthes.ch
Ahornstr. 9
CH-4127 Birsfelden
00 41 78 670 61 20
---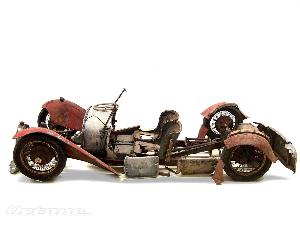 November 17, 2010

Barnfind Bugatti Makes Over Seven Times Low Estimate at Bonhams Australia Auction

On Saturday (13.11.10) a packed saleroom in Sydney witnessed spirited bidding on a number of motor cars at Bonhams Collectors' Motor Cars, Motorcycles and Automobilia auction which made a total of AUS$1,180,583.

The highlight of the sale was the 1926 Bugatti Type 38 restoration project – completely dismantled, incomplete and lacking engine and body – which realised $110,400 (£68,000), some seven times it's pre-sale auction estimate. Seven telephone bidders fought against six absentee bids and five people in the room with a northern hemisphere telephone bidder victorious. When Robert Glover, Bonhams Head of Motor Cars Australia, informed the lady owner how much the car sold for there was a stunned silence followed by a tearful thanks.

Info on the car:
1926 Bugatti Type 38
Coachwork by Compton of Hillingdon Heath Ltd.
Chassis no. 38195
Engine no. (Was 87)

Introduced in 1926, the Bugatti Type 38 was conceived as a replacement for the Type 30 that had been in production since 1922. The Type 30 Bugatti has a special place in motoring history, for it was the first small 'straight-eight' to go into production and the first to use Bugatti's classic single-overhead-cam engine, one of the most famous automobile power units of all time. Typical of the time, the Bugatti 'eight' was a 'long-stroke' design of 60x88mm bore/stroke for a capacity of 1,991cc. The three valves per cylinder were operated by single gear-driven overhead camshaft, while the crankshaft was carried in three roller bearings with plain big ends. Breathing via twin Solex carburettors, this jewel-like power unit produced approximately l00bhp at 4,500rpm. This engine was installed in what was essentially a Brescia type chassis, resulting in a car that was notably fast and powerful for its day, possessing many of the characteristics of the racing Bugattis.

The successor Type 38 benefited from many of the lessons learnt from the competition Type 35s and incorporated a number of design changes including a new four-speed gearbox, new horseshoe radiator, longer wheelbase and wider track. A blown version, the Type 38A, followed in 1927. The 1,991cc straight-eight engine retained the same basic architecture as the Type 30's but developed 140bhp and featured a combined starter/dynamo 'dynamotor' mounted on the crankshaft nose, which replaced its predecessor's belt-driven dynamo. Cable-operated drum brakes acted on all four wire-spoked wheels while the suspension system followed standard Molsheim practice. In total Bugatti produced 385 Type 38s (including 39 Type 38As). In the 1920s a handful of Type 38s found their way via the London Bugatti agent to Australia, the earliest of these (by chassis number) being '38195', which was bodied as an open tourer by Compton of Hillingdon Heath, Middlesex. Renowned Bugatti historian Bob King thoroughly researched the car for his 1992 book, Bugattis in Australasia, discovering that it was first owned by a Dr Feather, of Roma, Queesland. By the late 1930s '38195' was owned by Fred Laing, in whose ownership it was photographed on the banks of the Tweed River circa 1945. Its next owner was Ben Free, of Darling Downs, who replaced the engine with a Chevrolet unit and sold the original (to Jack Jeffery), which then passed via Dr John Newton to the owner of '38290'. '38195' was sold to the current owners in the 1960s.

By this time the Bugatti had fallen into disrepair and it remains in dismantled condition today, although most major components (other than the engine) survive intact and are included in the sale. Bonhams' is proud to offer this Type 38 restoration project, which must be one of the last truly affordable, genuine, eight-cylinder Bugatti touring cars. A list of the major components that make up the lot is available from the motoring department upon request. No reserve.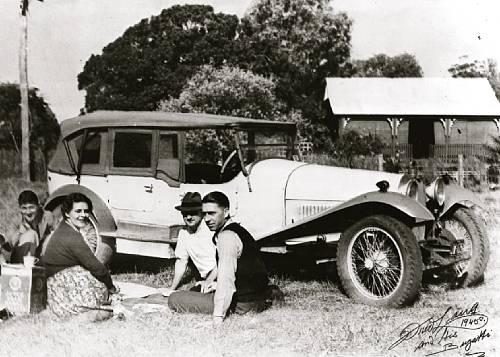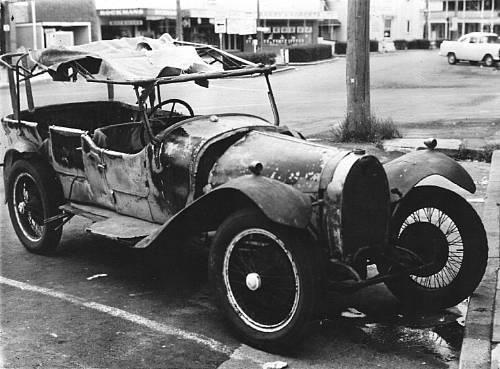 ---
May 7 - 8 2011 Vintage Revival Montlhéry, France

More info: www.vintage-revival.fr
---
April 7, 2011 Programme about Bugatti Veyron TV, National Geographic Channel, Holland

Starting at 21.00.

Sorry for announcing it before, one week early.

Also in France on mercredi 6 avril à 14h40, et samedi 9 avril à 7h55
---
November 8, 2010

Warning: Robert Wallace from Australia

In February 2010 a Bugattist - Robert James Wallace , age 51 from Australia , placed a series of offers to sell Bugatti parts through my BugattiPage site. Wallace entered into contracts with my readers, noted Bugattists from around the world, and also with me .

Wallace collected money, signed agreements and failed to deliver. The delivery was delayed and since March 2010 the group with money out have chased Wallace to get our money back, or the parts. Some of our Bugatti friends made the decisions to give him a chance to ''make-good'', while others sought assistance from Police. We have contacted the Police in Manila, France, Switzerland and in Australia . In the instance I was personally involved in no parts were received and no money refunded - just a tangled tail of excuses. The persons who filed criminal complaints received the first refunds. In the past month another party has received parts , but they were not all as described.

For me, I demanded the parts I purchased or a refund. I gave Wallace the benefit of the doubt for too long in hindsight. To date there has been no action to my repeated demands to Robert Wallace.

During the chase it was discovered that the parts I purchased had been sold twice, though I am informed that of these parts (T51 and T35 wheels) multiple sets were in Wallace's possession. The situation is under investigation as fraud now. None of the parts I signed to purchase have been delivered and the money I sent - over 12.000 Euro - has been reduced to a promise of a refund with a load of personal excuses that are questionable and ever changing.

Today I made this decision to WARN other members of the Bugatti community. If anyone else has purchased parts from Wallace and has a problem contact me directly. I will refer you to the legal authorities that will take the details for their investigation. I will keep this warning up until Wallace corrects all of his mis-deeds with our community of Bugattists. Regardless of excuses, the acts of Wallace performed has caused all involved a great deal of wasted time and a large amount of money.
---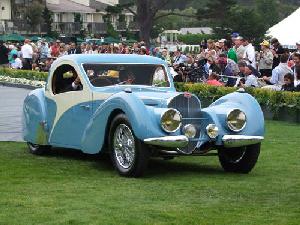 November 6, 2010
Bugatti wins Santa Barbara Concours D'Elegance
The Best of Show award goes to the 1937 Bugatti T57S Atalante Coupe owned by Ray Scherr
The Santa Barbara Concours D'Elegance was organised on October 29 - 31, 2010.
---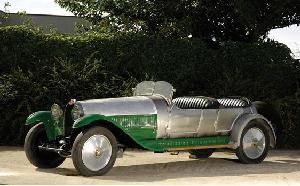 October 28, 2010
Auction Result
RM Auctions - Automobiles of London, October 27, 2010: Lot 134:
1928 Bugatti Type 38 Tourer Chassis #: 38444
Sold at £125,000
---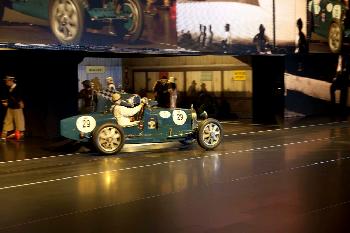 October 25, 2010
Bugatti presents Word Record Car at the Volkswagen Group Evening
European Premiere of the Bugatti Veyron 16.4 Super Sport
Molsheim/Paris September 29, 2010 – Only a few weeks ago the new Veyron 16.4 Super Sport achieved a new landspeed world record with 431, 072 km/h (268 mph) on Volkswagen Group's proving ground at Ehra-Lessien nearby the Wolfsburg headquarters. In August, Bugatti presented the car in California for the very first time to the public and tonight at the Volkswagen Group evening, the car celebrates its European premiere.
In a perfectly staged show of the Volkswagen Group evening, Bugatti presented the car which Bugatti's Pilote Officiel Pierre-Henri Raphanel had driven to a new world record at the beginning of July this year. Raphanel drove the car personally on stage, which has been changed into a historic pit stop of the thirties. The Super Sport was surrounded by three of Bugatti's most successful race cars: the Type 35.
The climax of the Veyron series: the Bugatti Veyron 16.4 Super Sport
Had a model been especially popular or highly successful in races, Ettore Bugatti's customers often pushed the master to tease out of the engine a few horsepower more for their future car. Bugatti Automobiles S.A.S. had been in a similar situation when their existing customers asked the company to not only design their second model optically differently but to also create a version with a sportier and more extreme driving experience. The result is a car with a uniquely high performance of 1,200- hp (882 kW) offering experienced drivers a whole new dimension of excitement, with a maximum torque of 1,500 Newton metres and a limited top speed of 415 km/h (to protect the tyres) but, the technique of the Super Sport is identical to the record car. The first five Super Sports to come off the production line will constitute a special series of their own, with the same configuration as the land speed record car.
The Super Sport is a consequent of the further development of the classic exclusive 1,001-hp Bugatti Veyron 16.4, launched in 2005. This model offers a stunning set of specifications, such as the twin clutch gearbox with seven speeds, the extraordinarily precise driving performance in bends and excellent stability when braking and accelerating.
Continuous work in extreme performance ranges lead to constantly new conclusions, which enabled the engineers at Bugatti to develop the Veyron into a direction in which the driver can reach new dimensions. Every modification is designed to produce an even more powerful car for an agile ride.
Four enlarged turbochargers and bigger intercoolers have been used to boost the power of the 16- cylinder engine, and the chassis has been extensively redesigned to maintain safety at extreme speed – thanks to slightly raised main-spring travel, stronger stabilisers, and new shock absorbers with a complex architecture originally developed for racing cars. This gives noticeably more precise control of the wheels and the car as a whole. With lateral acceleration of up to 1.4 g and improved interaction between the tyres and the intelligent all-wheel drive system, the Super Sport offers perfect handling and even more powerful acceleration of 1,500 Newton metres on corner exits.
The body has been fine-tuned to improve aerodynamic efficiency and maintain perfect balance in every situation, while the new fibre structure of the all-carbon monocoque ensures maximum torsion rigidity and passive safety – at reduced weight. The skin is made entirely of carbon-fibre composites, and the new Bugatti Veyron 16.4 Super Sport is available in 100 percent clear-lacquered exposed carbon on request.
Dynamic exterior
Every detail of this car, and not just its use of advanced motorsport technology, stems back to the pioneering spirit of company founder Ettore Bugatti. This brilliant designer came from a family of artists, and his philosophy was always to combine mechanical perfection and exterior beauty. This ethos remains alive and well at the company, and the Bugatti Veyron 16.4 Super Sport is wholly unmistakeable, with every external modification serving to coax greater performance from the car.
The Super Sport's flat, elongated silhouette is immediately recognisable. The 16-cylinder engine gets its air from two NACA ducts integrated into the roof, rather than from scoops above the engine.
The front air intakes have been expanded and reshaped, with the lower one extending elegantly around the sides to the wheel arch. The revised back looks sportier due to the double diffuser and a centrally arranged exhaust system.
Bugatti has a tradition of making super-sport versions of successful models, usually with racing chassis and supercharged engines. These cars were considered as true racing machines for diehard Bugatti devotees. The most successful were the type 55 and type 57S; only around forty of each were built.
The Super Sport will begin production this autumn at Molsheim along with the Veyron and the Grand Sport. The first five cars – known as the World Record Edition – are in a special black exposed carbon and orange finish and have already been sold.
---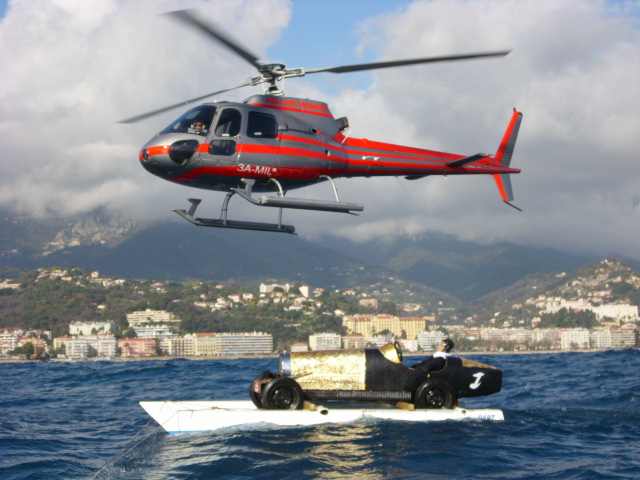 Amphibic Bugatti at see outside Monaco
Only learned about this recently (seen in an advert in C&SC), but did not want to hold this from you:
The German artist Heiko Sachse (who is advertising wristwatches with cars painted on the faces, including the Bugatti T35B) in January 2009 put what was said to be an original Bugatti, gold plated on the upper surfaces, on floats and drove through the Monaco bay with it! This was on 20th January 2009, at the occasion of the 77th Ralley Monte-Carlo.
Closer inspection learns that the Bugatti is not original, but still an original performance!
I couldn't find better pictures at the time, but received one finally in 2020!
---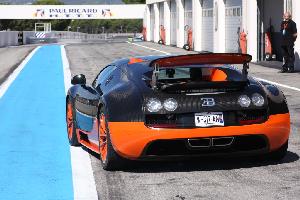 September 28, 2010
Bugatti brand grows despite economic climate
Super sports at Circuit du Castellet Creator of ultra-luxury vehicles eyes Canada and Brazil as two markets with growth potential.
John Hill Market Manager for The Americas Bugatti Automobiles:
The past few years have been an exciting time for the Bugatti brand, and as we move into 2011 this is sure to continue. Last year, we celebrated 100 years of Bugatti at our headquarters in Molsheim, France. This celebration coincided with the first deliveries of the Bugatti Veyron Grand Sport: the fastest open-top car available in the world. This past June, we established a new world speed record for a production vehicle with the Bugatti Veyron 16.4 Super Sport, which achieved 268 mph!
It is also encouraging that, despite the current economic climate, Bugatti Automobiles has sold over 260 Veyron models and 35 Grand Sports, and the sales pace for 2010 is showing increasing signs of strength.
Deliveries for Bugatti are presently at 249 Veyron models and 22 Grand Sports.
The Super Sport model has an increase in horsepower of 20 per cent to 1,200 hp, and lateral acceleration of 1.36 g's, an increase of 10 per cent over the Veyron 16.4 model. These improvements are achieved through larger turbochargers, additional fuel pumps, and significant changes to the aerodynamics and suspension. The world-record-setting Super Sport will begin production this autumn at Molsheim and the first five cars -known as the World Record Edition -are in a special black exposed carbon and orange finish. The first five of this edition were sold within days of the record-setting run. Prices for the Super Sport range from 1.65 million euros ($2.17 million) for painted carbon, to 1.95 million euros ($2.56 million) for exposed carbon. We estimate that 30 per cent of the total sales volume for the Super Sport will be achieved in the American markets, which is consistent with our experience for the Veyron and Super Sport.
Bugatti has a tradition of making super-sport versions of successful models, usually with racing chassis and supercharged engines. During 2010, we have also shown a four-door concept named the Galibier, which epitomizes the style, power and performance of Bugatti models from years past. The Galibier's design masters the challenge of uniting sportiness with the comfort and elegance of a modern fourdoor vehicle. The basic architecture picks up on the torpedo-like character of the Type 35, which was already revived in the Veyron, and reinterprets it. "Galibier" is not just the name of one of the most difficult alpine passes along the Tour de France but, in its time, was a version of the fourdoor Type 57 unequalled in sportiness and elegance.
Continuous work in the extreme performance range leads our engineers and designers to new conclusions, which is what makes Bugatti so exciting. Our team is able to develop the Veyron into a direction in which the driver reaches new dimensions. Every modification is designed to produce an even more powerful car for an agile ride.
People are constantly fascinated by the ultra-luxury segment of the market -what kind of people buy our cars, where they go in the world and where they drive them. We find that our cars are purchased by entrepreneurs and business people with a passion for automobiles. They range in interests but typically, the Veyron and its sister vehicles are not the only car in the garage. Typically, they are neighboured by upwards of 15 other cars.
More recently, the Oxnard, Calif., Mullin Automotive Museum showcased Bugatti's history when it showcased the 1936 Bugatti Type 57SC Atlantic. This car has been recognized as one of the world's most significant automobiles and it is now included in one of the finest collections of Bugattis that can be found anywhere in the world.
Our reach goes beyond museums; we foresee growth within the Americas as we plan to enter two new markets in 2011 -Canada and Brazil. Both areas are vastly expanding and we anticipate great success.
As seen by our company's 100-year history in performance, craftmanship and design, Bugatti is here to stay.
From: The Montreal Gazette
---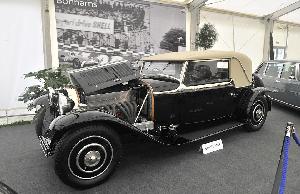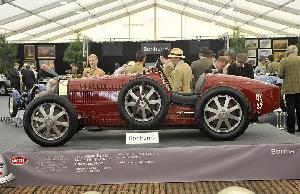 September 25, 2010

Ex Lord Raglan Type 51 and ex Boele van Hensbroek / Jos de Bouter Type 46 Veth to be auctioned by Bonhams in February in Paris

The 1933 Bugatti Type 51 Grand Prix Two-Seater (chassis 51153) owned by the late Fitzroy John Somerset, the 5th Baron Raglan (1927-2010), Patron and former Chairman of the Bugatti Owners' Club and trustee of the Bugatti Trust, is to be sold at Bonhams' Paris sale of Motor Cars on 5 February 2011. The auction will be held at one of Paris's most impressive venues – the Grand Palais on the Champs-Elysées.

Lord Raglan, whose great-great grandfather, the 1st Baron, was the General in command of British troops in the Crimean war – and forever associated with the ill-fated Charge of the Light Brigade – was renowned for his love of collectors' motor cars, in particular Bugattis. "My passion for Bugattis started when I was 18 and I have raced around the world," he once said, while Andrew Roth in Lord Raglan's obituary in The Guardian wrote: "If Bugatti-worship were a religion, then the atheist Fitzroy Somerset, the 5th Lord Raglan, would have been its pope."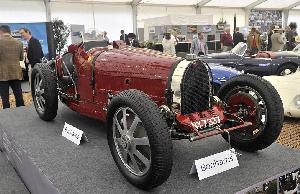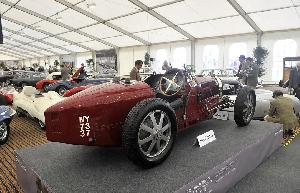 In 1998, following in the hallowed footsteps of Ettore Bugatti and Earl Howe, Lord Raglan was elected as only the third Patron of the Bugatti Owners' Club in its 80-year history, upon his retirement from an exceptionally successful period as the club's Chairman.
Lord Raglan bought this Bugatti Type 51 in 1979 and restored it himself over the next two and a half years, subsequently racing it for the next 20 years. It is now expected to sell for an estimated 1,000,000 – 1,400,000 (£800,000 - 1,150,000).
This is not the first time that Bonhams has offered a Bugatti owned by a former Patron of the Bugatti Owners' Club at one of their Parisian auctions. In 2009, a 1937 Bugatti Type 57S, originally owned by Earl Howe, sold for a remarkable 3.4 million.
James Knight, Group Head of Bonhams Motoring Department, says, "We feel privileged to have been appointed to offer these magnificent Bugattis with such well-known provenance. Lord Raglan will be forever linked to the Bugatti marque and his cars have only come to market following his death. They will undoubtedly attract a great deal of interest from collectors world-wide."
The other car on auction is a 1930 Type 46 with body by Veth of the Netherlands. This originally Dutch car was in the Netherlands until about 2003. It now suffered a full-american style restoration, adding a lot of chrome, and removing original details. The car was known for a long time as the "Boele van Hensbroek" car, the last Dutch owner was Jos de Bouter.
---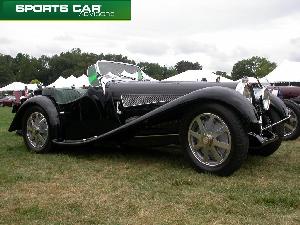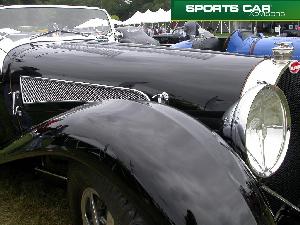 September 18, 2010

Duesenberg and Bugatti win top concours honors at Fairfield County Concours d'Elegance

We know the question that's been burning inside your skull all week. You are wondering who won the Seventh annual Fairfield County Concours d'Elegance last Sunday?

Well, that would be a Duesenberg and a Bugatti, which came away with top honors Sunday at the Fairfield County Hunt Club in Westport, Conn. More than 230 cars and motorcycles were on display.

The coveted Grand Prix d'Honneur -- rich-guy car talk for first prize -- for a domestic car went to a 1940 Duesenberg SJ, owned by Gary Bahre of Alton, N.H. Shown above, it was the last Duesenberg ever made, one of only 36 turbocharged cars. It has 10,000 original miles.

Top honors for a foreign car?

That went to the the 1931 Bugatti Type 54 Roadster, owned by the Mullin Automotive Museum of Oxnard, Calif. The Type 54 is one of only eight Type 54's made by the French marque and the only example built in roadster form. This car also holds the honor of winning Best in Class at the 1999 Pebble Beach Concours d'Elegance.

Beyond the winners, one of the other top attention getters was 1939 Rolls-Royce Phantom III "Vutotal" Cabriolet by Labourdette from the John W. Rich Museum in Frackville, Pa.

There was also a Concours Class Winner:
Founder's Award, Automobile: 1938 Bugatti Type 57C

---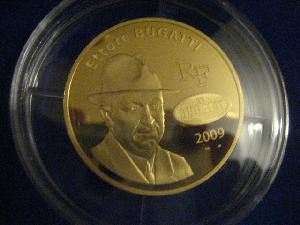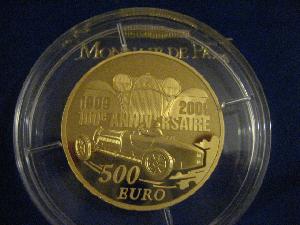 September 7, 2010

Stylish way to pay your Bugatti

Use these "500 euros gold Ettore Bugatti" coins!

They are very big coins of diameter 50 mm, 155,5 gr gold 999/1000.

With about 1000 of these coins, you should be able to buy your Bugatti! Pity there were only 99 made!

(In case you are really interested, send me a mail, I'll contact you with the guy who sells this one!)

Unlike challenge coins custom designs, these Bugatti coins are made of real gold and have high value to collectors. The 500 euro coin was issued in 2009 as a tribute to Bugatti's 100th anniversary.
---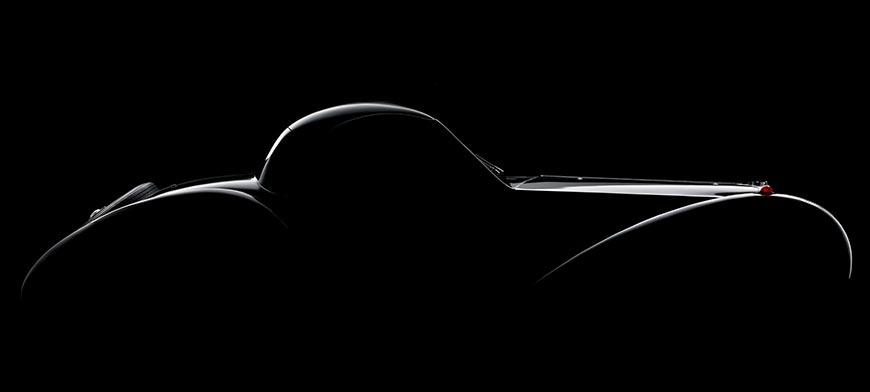 Artistic photo's by Roberto Bigano, like this: Bugatti Type 57SC Coupè Atalante (1937)
More info: store.bigano.com .
---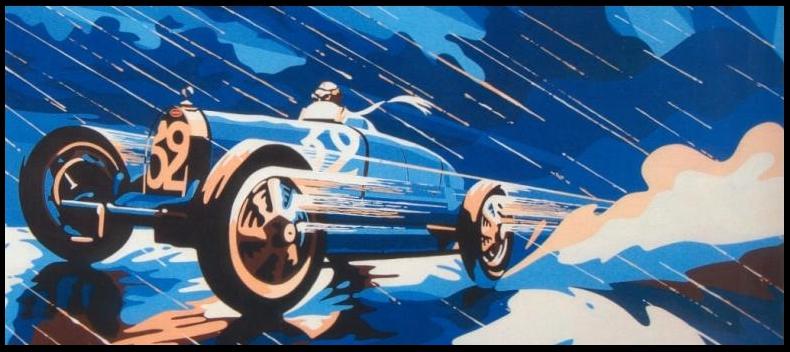 Painting by Matthew Stevens, more info: msmotorart.com
---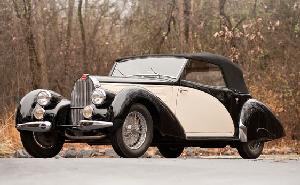 January 20 -21, 2011 RM Auctions Arizona USA
On auction:
Bugatti Type 57C Three-Position Drophead Coupe 1939
Chassis No. 57809
As researched by French Bugatti historian Pierre-Yves Laugier, chassis 57809 was ordered on December 22, 1938 by M. Gerand Ankerman from Paris. The chassis was dispatched to Letourneur & Marchand in February 1939. It had been registered in Paris before being sent to the coachbuilder. The completed car was delivered on April 6th, bearing the handsome three-position drophead coupe body, coachbuilder's number 2957. The last drophead four-seater completed by the coachbuilder in 1939, it had special chromed Cibie headlamps, a large STOP lamp at the rear and a central lamp in front. Painted black, it had black leather upholstery and a cream top. All four wheels had plain discs, the rears behind fender skirts. Delivered price was 133,455 FF (then equivalent to $3,350). The original engine number was 952C.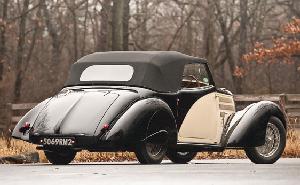 Jean-Arthur Marchand was a country boy, from a village on the Côte d'Or; Jean-Marie Letourneur was from Le Creusot, a city of iron foundries. Both had come to Paris at the turn of the Twentieth Century to learn the art of coachbuilding. They met in the shops of Henri Binder, where Letourneur had been hired and the younger Marchand was completing an apprenticeship. Both men were ambitious, so they decided to strike out on their own, taking the workshops of a body company that had gone bankrupt. In the beginning, they did contract work for other coachbuilders – Labourdette, Franay and their old boss Binder – and supplied a few complete bodies to manufacturers like Darracq.
By 1907, the partners were doing a good trade in bodies for private customers and built nearly 1,500 by the outbreak of World War I when Marchand was mobilized. After the war, they resumed operations and in 1923 were able to secure display space at the Hotel Claridge on the Champs Elysées. But seeing that one-off styles would be an increasingly-difficult business, they started producing some series-customs for automobile manufacturers under the name "Autobineau." The first of these was for Delage, a run of 2,000 bodies for DI chassis. Work for other manufacturers soon followed.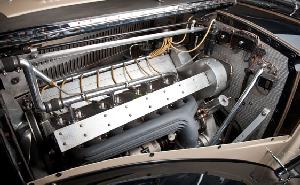 By 1930, Letourneur & Marchand were turning to streamlining. Their masterpiece in this regard, the "Coach JELM," also known as "Coupe Panoramique," was created by Letourneur's son Marcel. Commonly called the "Yo-Yo car" from the Art Deco accent line on its body, its hallmark was a sweeping sidelight extending from door into the rear quarter, with overlapping glass and no center pillar. Although most of their work was devoted to Delage, Letourneur & Marchand clothed many other chassis, among them Buick, Renault, Delahaye, Panhard, Rolls-Royce and Bugatti, the last receiving 19 bodies.
By May 1940, Capt. Ankerman was in London, but his Bugatti remained in Paris, used by Yvonne McDonald, Commandant of the Mechanised Transport Corps. McDonald was recorded by the new Bugatti factory at Bordeaux to be the keeper of the car on February 18, 1941, having left it there the previous June. It has been suggested that it was hidden there to keep it out of German hands. In any case, it dropped from sight, and in June 1945, the factory compensated Capt. Ankerman 120,000 FF (barely $1,000 at the postwar exchange rate) for its loss.
It turned up with a different registration, reflecting its discovery near Paris in 1945. The doors were marked "Mission Interalliée" (inter-allied mission), implying that it had been inducted into wartime service for the Allied forces.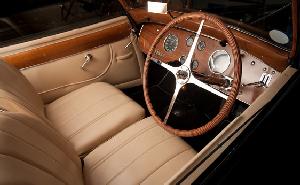 On June 28, 1947, it was sold by the French government and registered in the name of Louis Dazin at Maisons Laffitte with number 9738 YC8. It was quickly re-registered in Paris, the same day, as 4840 RP8. There are photographs of it, bearing that number, at a concours d'elegance at Enghein, an upscale spa resort on the northern periphery of Paris, in 1950. Not long afterwards, it was sold to Pierre Ferrif of Cantal in southern France. It was soon sold again, and around this time the engine was changed for the current one, which was originally in chassis 57597, a Gangloff-bodied drophead four-seater. In May of 1961, it was purchased by Dwight Johnson and exported to the United States.
Soon thereafter, it was acquired by the Adams family, joining a stable of several other Bugattis. American Bugatti specialist O.A. " Bunny" Phillips did some restoration work on it in the 1970s.
The history of the car picks up again in London in 2002. That year, the Bugatti was purchased by the current owner from Paradise Garage. He sent it to Jim Stranberg's High Mountain Classics in Berthoud, Colorado for a complete restoration. Fresh from the shop, it appeared at Pebble Beach in 2003, ran in the Tour d'Elegance and participated in two rallies with the American Bugatti Club. There followed an endless string of accolades, class wins at Amelia Island in 2004 and at Greenwich, Connecticut in June of that same year. In 2005, it participated in the Australian International Bugatti Rally, driving from Sydney to Ballarat. Alas, engine damage atop Mount Buffalo required replacement with a spare. That July, it took a class win at Cranbrook, Michigan and ran in the Bugatti rally at Elkhart Lake, Wisconsin in September.
The year 2007 saw Most Elegant honors at Quail Lodge, at Rocky Mountain Classic in Colorado Springs, and at Barrington Hills in Illinois. It was People's Choice at the Geneva (Illinois) Concours in 2008 and made a guest appearance at the "Year of Bugatti" exhibit in 2009 at Pebble Beach, where it also completed the Tour d'Elegance. Its most recent events were an entry at Quail Lodge in August 2010 and a thousand miles of International Bugatti Rallye in California immediately afterwards. A great driver and crowd pleaser, it is a virtual admission ticket to the finest concours d'elegance and rallies worldwide.
---
February 2-6, 2011 Retromobile Paris, France

With usually quite a few Bugattis, and of course the stand of the French Bugatti club.
Shorter than other years, hopefully just as interesting!
---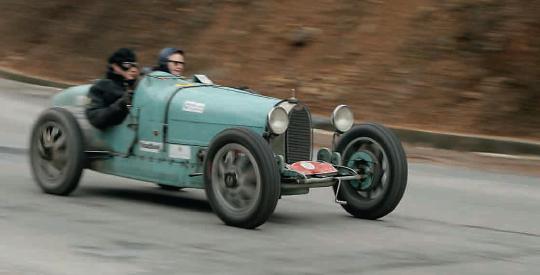 February 3, 2011 Martin Chausselat auction Paris, France

On auction:

BUGATTI Type 35 « Grand Prix de Lyon » 1925

CHÂSSIS N° #4453

The offered car #4453, according to its registration, has been built from a circulation title and numerous pieces found at the biggest and most important after war car dealer, Roger Loyer. He was a gentleman who loved cars and whom we use to visit when we were students, in order to dream for a while.
With these important original pieces, including the hollow axle, the steering box and some damaged body parts delivered with the car, the owner completed his Bugatti 35. The engine block, which is new, comes from Crosswaith and Gardiner, that is to say, quality. The crankshaft is with flat level, the wheels are made in a light alloy with small brakes. The car is Under a 35 T shape and was finished in 1994.
It has run all the historical competitions since. It won the Grand Prix Bugatti in Angoulême; It also ran the International Bugatti rallye in Angoulême, the International Bugatti rallye starting from Poitiers. The imperial rallye of China in 2006, twice the rallye of Morocco and the International Bugatti rallye at Bugatti's in the new factory in Italy. It was its first outing. It is a very well known car with an incredible functioning and presentation.

ESTIMATIONS € 280 000 - € 320 000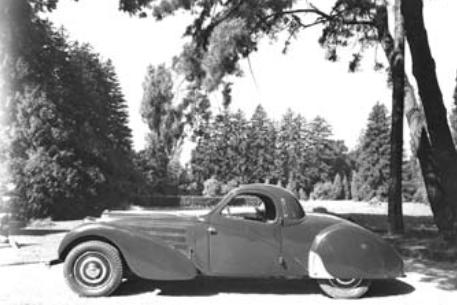 ---
February 4, 2011 Artcurial auction at Retromobile Paris, France

On auction:

1937 T57C Atalante, chassis 57606, former owner: Jérôme Médrano, famous circus director. Estimate 500 - 700 k€

Type 57 Aravis s/n 57734 (not in the catalogue!)

Bugatti Baby, Estimate 20 000 - 30 000 €, no reserve

Bugatti Baby, Estimate 27 000 - 32 000 €, no reserve

Bugatti Type 73 engine and gearbox, model sculture in Bugatti blue lacquered wood. Estimate 10 000 - 15 000 €

Carlo Bugatti, portrait of Lidia Bugatti, Estimate 6500 - 9000 €

Mido Bugatti watch, Estimate 15000 - 25000 €
---
February 5, 2011 Bonhams' Paris auction: Automobilia, Motos de collection et Automobiles d'exception au Grand Palais Paris, France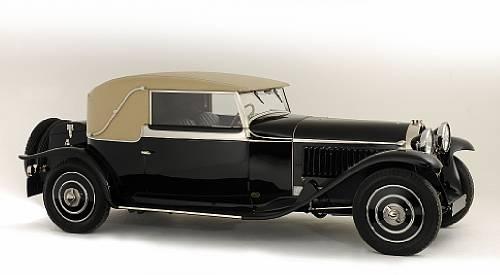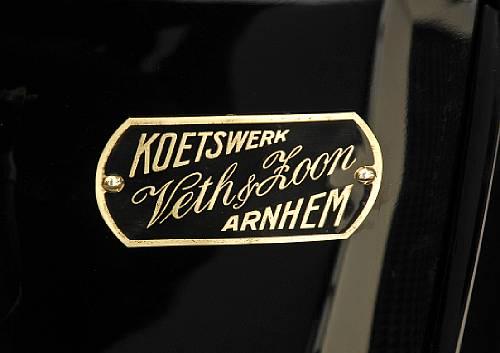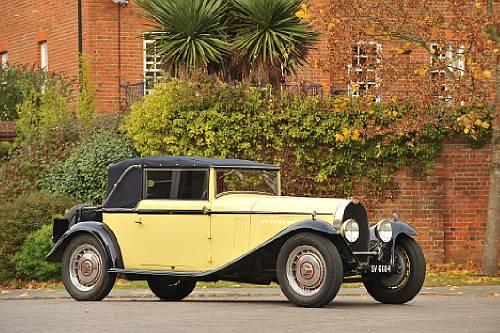 1930 Bugatti Type 46 Faux Cabriolet
Coachwork by Veth & Zoon
Chassis no. 46293
Engine no. 157
1930 Bugatti Type 46 Cabriolet
Coachwork by Figoni
Chassis no. 46331
Engine no. 199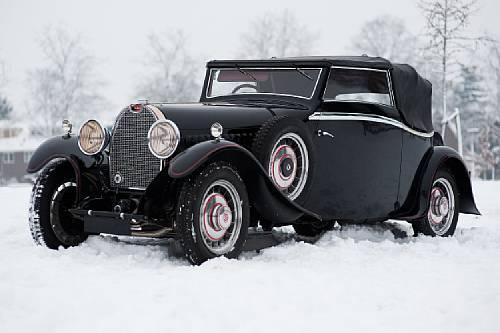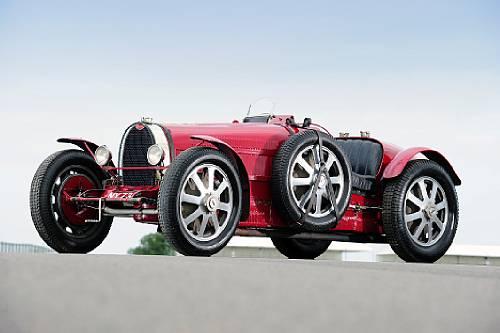 1933 Bugatti Type 49 Drophead Coupé
Coachwork by Van Rijswijk
Chassis no. 49570
Engine no. 49570
1933 Bugatti Grand Prix Type 51
Chassis no. 738 "51153"
This is really a unique auction, probably the only one of all time with two Bugattis on offer having a Dutch-built body, as well as an extensive Dutch history, one never having left the Netherlands.
It would be nice if both would be bought by Dutch owners, maybe even in the same stable!
---
Bugatti news, 2010
Bugatti news, 2009
Bugatti news, 2008
Bugatti news, 2007
Bugatti news, 2006
Bugatti news, 2005
Bugatti news, 2004
Bugatti news, 2003
Bugatti news, 2002
Bugatti news, 2001
Bugatti news, 2000
Bugatti news, 1999
Bugatti news, 1998
Bugatti news, 1997
Bugatti news, 1996
---
Back to the Bugatti Page