Bugatti news, 2010 Plus events
Bugatti news, 2009
Bugatti news, 2008
Bugatti news, 2007
Bugatti news, 2006
Bugatti news, 2005
Bugatti news, 2004
Bugatti news, 2003
Bugatti news, 2002
Bugatti news, 2001
Bugatti news, 2000
Bugatti news, 1999
Bugatti news, 1998
Bugatti news, 1997
Bugatti news, 1996
---
Also included are old events announcements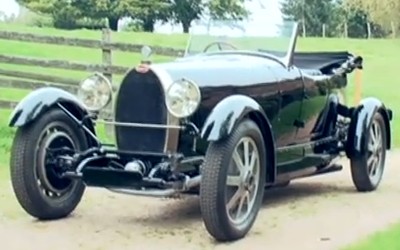 November 27, 2010 Oldtimer Galerie Toffen Auction Switzerland
Bugatti T43, 1927
---
December 19 - 20, 2010 The 100 miles of Amsterdam the Netherlands
With the following Bugattis taking part:
BUGATTI T57, Ronald Beckers
BUGATTI T37A, Paul Engelen
---
January 14 - 16, 2011 InterClassics & TopMobiel MECC, Maastricht, the Netherlands
Including, as usual, a Bugatti display organised by Bugattiste Jean Prick
---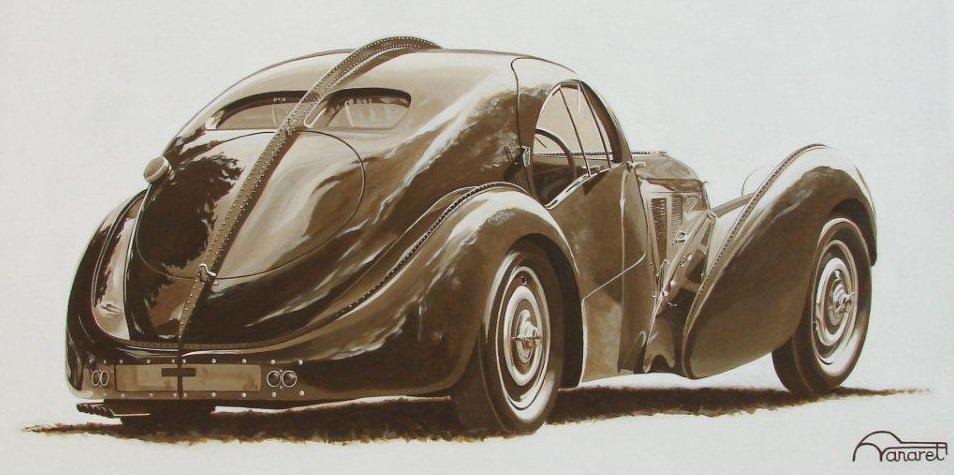 Bugatti Atlantic by Francois Vanaret.
---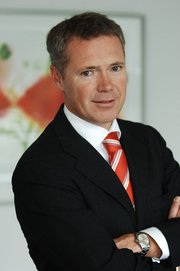 September 5, 2010

BUGATTI AUTOMOBILES S.A.S. RELOAD THE BUGATTI TEAM with New Director of Sales and Marketing, Tecnical & Factory Director

Molsheim, September 1, 2010

Dr. Stefan Brungs Named Head of Sales and Marketing for Bugatti

Bugatti Automobiles SAS announced today that Dr.Stefan Brungs (50) will take over the sales, marketing and after sales department for the company, beginning October 1. Brungs will succeed Alasdair Moray Stewart (46) who effective immediately will join Bentley Motors Limited as sales and marketing director in the board of executives.

Dr. Stefan Brungs new BUGATTI Head of Sales and Marketing

? Stefan Brungs started his career in the Volkswagen Group as head of the marketing strategy and conception of the Volkswagen brand and in 1997, took over the sales for the North west region of Europe. From 1999 to 2004 Brungs ran Bentley's European business as its managing director. During this time, Bentley successfully launched the Continental GT,expanding the brand to a new customer demographic.

Shortly after the Continental GT's successful launch, Brungs was appointed to run theVolkswagen's multibrand sales. In this period, Brungs gave VIP sales a new firm structure and linked it to the other brands of the Group. From 2006 onwards, he was responsible for Volkswagen Group's international fleet management. He built an extensive network to important multinational corporations and intensified the sales efforts in the so-called BRIC markets (Brazil, Russia, India, China)

Dr. Franz-Josef Paefgen, President of Bugatti Automobiles SAS, is confident Brungs wil lcontinue the successful work of Alasdair Stewart. Paefgen commented, "During his years at Bentley Mr. Brungs became very familiar with the luxury automotive business. The experience he gathered internationalizing the group fleet management will be an important asset for Bugatti in entering new markets."With the new factory director Fred Schulemann (48), the new technical director Dirk Isgen (46) and Dr. Stefan Brungs as new sales and marketing director Bugatti is well prepared for its future.?

Thanks to: Christophe Chanterault
---
August 16, 2010

Charles Dean wins US Bugatti GP in Type 51

XXXVII° Rolex Monterey Historic Automobile Races, 14th August 2010
OFFICIAL ROLEX RACE RESULTS :

1st: T51 GP 1932 (51126) Charles Dean (#5)
2nd: T35B GP 1926 (BC 037) Peter Giddings (#31)
3rd: T59 GP 1934 (BC 159) Charles McCabe (#14)
---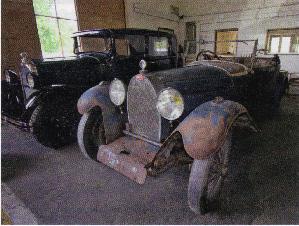 August 16, 2010

Barn finds are still out there

Sorry; this barnfind was presented earlier, also in C&SC and also presented here. The Bugatti T44's body is by Thietart, and was found together with a Voisin, not Bugatti! After the find, the cars were bought by Christophe Grohe, this one apparently ended up with Alain D.

The September issue of Classic & Sportscar, probably the best classic car magazine around, shows these pictures of a recently surfaced 1928 Type 44 Bugatti, discovered by Gaynor Cautor in "Alain D"'s workshop in France.

Apparently the car was abandoned in a shed 30 years ago together with another Bugatti (no pictures of that one), to be removed from there only recently. The car will be restored, though there is a lot of work to do. The interior is in a bad shape, but complete.
---
August 15, 2010

Auction result

August 12 -14, 2010 RM Auction USA; 1931 Bugatti Type 51 GP, chassis 51132

Not Sold, highest bid $2,750,000.
---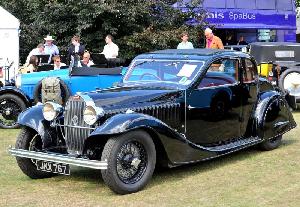 August 15, 2010

Salon Privé 2010: Concours result

Class B – Bugatti: Pre-War Touring Cars
WINNER - Allan McNabs Bugatti Type 57 Ventoux (1935)
2nd - Jeffrey Gees Bugatti Type 44 (1930)

Class E – Hypercars: 200mph+ Pre-2000
WINNER - Rowan Atkinsons McLaren F1 (1995)
2nd - Peter Reads Bugatti EB110 GT (1994)
---
August 13, 2010

Pitstop: Bugatti qualifying opens event at Rolex Monterey Motorsports Reunion

By: David Coffin

The cars are the stars at the Rolex Monterey Motorsports Reunion and the event, since its inception in 1974, has always been a relaxed celebration of motorsports history with magnificent machines assembled from around the world. The Reunion officially kicked off Thursday with practice in all 19 classes of over 600 cars and runs through Sunday at the world-renowned raceway. Also among Thursday's action was the first qualifying session for a remarkably large gathering of Bugatti Grand Prix vehicles, with the final grid count showing 34 entries.

While things are a bit more relaxed than the raceway's season-opening American Le Mans Series race and the MotoGP extravaganza, don't kid yourself that there won't be some serious racing on the track.

Every year, there are a myriad of thrilling battles and tight finishes and this year should be no different.

In that opening qualifying session, Charles McCabe of San Francisco smoked the field, setting the fastest time by more than three seconds in his 1934 Bugatti Type 59, turning a one minute, 59.668 second lap with the 3300cc power plant.

While there are at least two qualifying sessions for each of the classes, the grids are set by a convoluted system I never have understood and, even if McCabe continues to run away from the pack, he most likely will not start on the pole come race time.

Often, the top qualifiers end up as far back as the end of the pack, but the cream always rises to the top and one of the thrills of the competition is watching some of the better cars and drivers fly through the field back up to the front, even though they have only 10 laps to accomplish it.

I remember one year when Bruce Canepa of Scotts Valley was lined up toward the front in his beautifully restored No. 83 Nissan but coming out of Turn 11 to take the green flag, Canepa thought he was in second gear. Oops. He was in first, did a 360 and the whole field passed him. Not to worry, Canepa, who can really drive, flew through the field and won the race.

From the Monerey County Herald
---


August 10, 2010

Money does not bring good taste

The Swiss / German tuner Mansory "improved" a Bugatti Veyron, and created the Bugatti Veyron «Vincero d'Oro». Gold plated in many parts, both inside and out, it is probably not to everyones taste...

As European and even US buyers will not appreciate this shining appearance, it will probably end up in Moscow or one of the Arab small countries where the black gold comes from for which the Veyron has quite a thirst. And hopefully, it will stay there! Fortunately, there will be only one example made.
---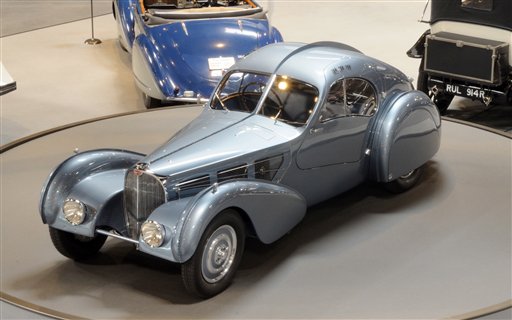 August 8, 2010

Ex-Williamson Atlantic now on display in Mullin Automotive museum in Oxnard

OXNARD, Calif. — Must see! Used car, light blue, one of a kind. Expect sticker shock!

A 1936 Bugatti that recently sold for more than $30 million went on display Tuesday at the Mullin Automotive Museum in Oxnard.

The museum says the 1936 Bugatti Type 57SC Atlantic is one of only three ever made and was first purchased by Lord Victor Rothschild of London.

In 1939, it was sent back to the factory to be supercharged. The owners have included Dr. Peter Williamson, who bought the car in 1971 for $59,000 and restored it.

The car sold in May in a deal brokered by Gooding & Co. It says the unidentified buyer paid between $30 million and $40 million.

The museum says it is not sure how long it will be displayed.
---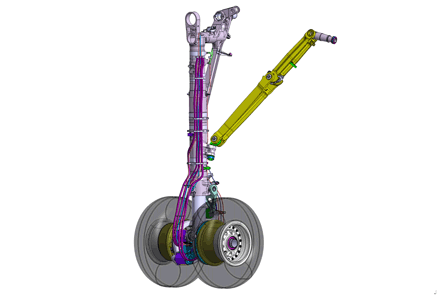 August 8, 2010

FARNBOROUGH: Messier-Bugatti plans demonstration of electric taxi concept

By Andrew Doyle

Messier-Bugatti plans to demonstrate its "green taxiing" concept by the end of 2012 and says it is in discussions with Airbus about including the system on the proposed A320 New Engine Option programme.

Unlike rival designs that would use an electric motor mounted on the aircraft's nose gear, Safran group company Messier-Bugatti has decided to mount the motors on the main landing gear because "roughly 90% of the aircraft's weight is on the mains", says Safran equipment division executive vice-president Yves Leclère.

He says a "fully mature" version of the system could enter testing by late 2014 and be available for the A320 and Boeing 737 families by 2016.

"It's more interesting for short-range aircraft, but our intention is to have applications on all existing programmes and all new products, even to retrofit some existing programmes," says Leclère.

Short-haul aircraft typically perform more than 10 flights a day and so spend a much greater proportion of their service lives taxiing on the ground compared with long-haul aircraft.

Airbus and Boeing are "interested, and of course we have a strong interaction with them", says Leclère, who adds that discussions are also under way with "key airlines". Installation of the system would require some modifications to the airframe and well as the landing gear.

The motors would be mounted on the main landing gear bogies and draw electrical power from the auxiliary power unit, enabling aircraft to taxi without their main engines running. For the longer term, Messier-Bugatti is studying whether the landing gear motors could be powered by electrical energy recovered during the landing roll.

Safran says engines such as the CFM International CFM56 - which equips 737s and some A320s - burn around 12kg (5.4lb) of fuel a minute during the taxiing phase.

Although the green taxiing system will add "several hundred kilogrammes" to the weight of the airframe, this will be offset by the fact that the aircraft will carry less fuel, says Leclère. He says the fuel burn reduction will be "several percent" for a typical flight, which translates into savings of "several hundred thousand dollars per aircraft" every year.

Another advantage is that carbon brake wear is reduced because the taxi-out can be conducted "more smoothly" than under main engine power when the brake pads are cold before take-off, which "changes the business model for brakes", says Leclère. The engines would also be less susceptible to foreign object damage on the ground.

"Our concept will have a very significant effect for the pushback, because you don't have to use an external vehicle, so that's a key element for the business model," says Leclère.
---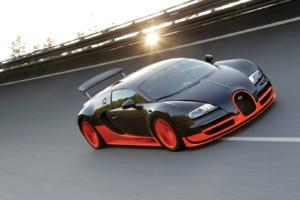 July 5, 2010

Landspeed worldrecord for the Bugatti Veyron 16.4 Super Sport: 431 km/h

The new Bugatti Veyron 16.4 Super Sport takes production sports cars to a whole new dimension.

Wolfsburg/Molsheim, July 4, 2010 – on a beautiful sunny day at 25 degrees the Bugatti Veyron 16.4 Super Sport achieved a new landspeed world record for production cars, on the proving grounds of the Volkswagen Group at Ehra-Lessien (nearby its headquarters at Wolfsburg). In the presence of the German Technical Inspection Agency (TÜV) and a representative of Guinness Book of Records the Super Sport achieved an average top speed of 431 km/h. This is 24km.h more than the regular Veyron's 407km/h.

Saturday, 2 pm – Bugatti's Pilote Officiel Pierre Henri Raphanel puts his helmet and gloves on, pulls the safety belts tight whilst the engineers check the car a very last time: tyre pressure, temperature, all systems go. Then the orange black Super Sport crosses the light barrier, from now on the time will be taken, within one hour the car has to drive from South to North and then in the opposite direction.

No one but the driver is allowed to touch the car during this time. The tension rises. A few minutes later we can hear from the left side the sound of a starting jumbo jet coming closer towards us. First we perceive the headlights of the Veyron, then we can recognize the shape of the car, a loud wooosh…. and Raphanel dashes in top speed past us. The GPS-tachometer stops at 427, 933 km/h. Now the same procedure from the opposite direction. This time the car reaches 434, 211 km/h. As average top speed the representatives of the "TÜV"and Guinness generate a value of 431, 072 km/h (268 mph). This even hit Bugatti's engineering team by surprise.

"We took it that we would reach an average value of 425 km/h," explains Bugatti's chief engineer Dr. Wolfgang Schreiber, "but the conditions today were perfect and allowed even more."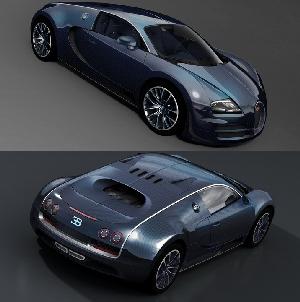 The climax of the Veyron series: the Bugatti Veyron 16.4 Super Sport
Had a model been especially popular or highly successful in races, Ettore Bugatti's customers often pushed the master to tease out of the engine a few horsepower more for their future car. Bugatti Automobiles S.A.S. had been in a similar situation when their existing customers asked the company to not only design their second model optically differently but to also create a version with a sportier and more extreme driving experience. The result is a car with a uniquely high performance of 1,200-hp (882 kW) offering experienced drivers a whole new dimension of excitement, with a maximum torque of 1,500 Newton metres and a limited top speed of 415 km/h (to protect the tyres) but, the technique of the Super Sport is identical to the record car. The first five Super Sports to come off the production line will constitute a special series of their own, with the same configuration as the landspeed record car.
The Super Sport is a consequent of the further development of the classic exclusive 1,001-hp Bugatti Veyron 16.4, launched in 2005. This model offers a stunning set of specifications, such as the twin clutch gearbox with seven speeds, the extraordinarily precise driving performance in bends and excellent stability when braking and accelerating.
Continuous work in extreme performance ranges lead to constantly new conclusions, which enabled the engineers at Bugatti to develop the Veyron into a direction in which the driver can reach new dimensions. Every modification is designed to produce an even more powerful car for an agile ride.
Four enlarged turbochargers and bigger intercoolers have been used to boost the power of the 16-cylinder engine, and the chassis has been extensively redesigned to maintain safety at extreme speed – thanks to slightly raised main-spring travel, stronger stabilisers, and new shock absorbers with a complex architecture originally developed for racing cars. This gives noticeably more precise control of the wheels and the car as a whole. With lateral acceleration of up to 1.4 G and improved interaction between the tyres and the intelligent all-wheel drive system, the Super Sport offers perfect handling and even more powerful acceleration of 1,500 Newton metres on corner exits.
The body has been fine-tuned to improve aerodynamic efficiency and maintain perfect balance in every situation, while the new fibre structure of the all-carbon monocoque ensures maximum torsion rigidity and passive safety – at reduced weight. The skin is made entirely of carbon-fibre composites, and the new Bugatti Veyron 16.4 Super Sport is available in 100 per-cent clearlacquered exposed carbon on request.
Dynamic exterior
Every detail of this car, and not just its use of advanced motorsport technology, harks back to the pioneering spirit of company founder Ettore Bugatti. This brilliant designer came from a family of artists, and his philosophy was always to combine mechanical perfection and exterior beauty. This ethos remains alive and well at the company, and the Bugatti Veyron 16.4 Super Sport is wholly unmistakeable, with every external modification serving to coax greater performance from the car.
The Super Sport's flat, elongated silhouette is immediately recognisable. The 16-cylinder engine gets its air from two NACA ducts integrated into the roof, rather than from scoops above the engine.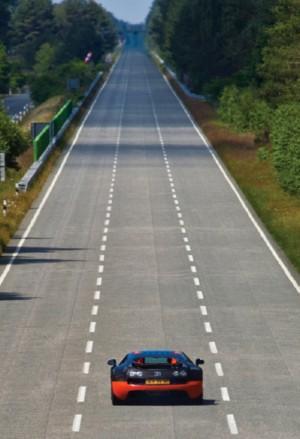 The front air intakes have been expanded and reshaped, with the lower one extending elegantly around the sides to the wheel arch. The revised back looks sportier due to the double diffuser and a centrally arranged exhaust system.
Bugatti has a tradition of making super-sport versions of successful models, usually with racing chassis and supercharged engines. These cars were considered as true racing machines for diehard Bugatti devotees. The most successful were the type 55 and type 57S; only around forty of each were built.
Bugatti Automobiles S.A.S. has sold 260 Veyrons and 35 Grand Sports by now, of which 249 Veyrons and 22 Grand Sports had been delivered. The Super Sport will begin production this autumn at Molsheim along with the Veyron and the Grand Sport. The first five cars – known as the World Record Edition – are in a special black exposed carbon and orange finish and have already been sold.
The Bugatti Veyron 16.4 Super Sport will appear for the first time in public in California at the Pebble Beach Concours weekend in mid-August and will be featured at The Quail, Monterey Historic Races at Laguna Seca and on the concept lawn of the Pebble Beach Concours d'Elegance.
---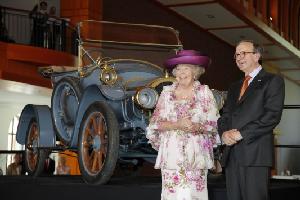 July 4, 2010

New Louwman museum open as of this weekend

The new Louwman museum, the museum based on the oldest private collection of the world, has been opened last Friday, by our Queen Beatrix (picture). The museum is now in a purpose-built building in the Hague, close to the Queen's palace.

Apparently the long-awaited Grand Raid (on the other picture, chassis 57221 or 57222?) is also in the museum, but I have had no reports yet of anybody actually seeing it. Also there Black Bess, the T50 Profilée, the T54 Bachelier, a T43 and a T44.

The old museum already was one of the best in the world, it is said that the museum is now even better. The 3 most interesting museum's worldwide for the Bugattiste now probably are the Louwman museum in the Hague, the Netherlands, the Musée national de l'Automobile, collection Schlumpf, in Mulhouse, France, and the Peter Mullin museum in Oxnard, California, USA.

More info: www.louwmanmuseum.nl
---
July 4, 2010

Hellé Nice to be honoured

The Helle Nice Foundation has commissioned a marker to be placed on the grave of Hellé Nice (her sister Solange accepted HN's remains but refused to inscribe her name on the stone), the ceremony will take place Saturday, September 4.

A number of Bugatti owners have expressed interest in attending and bringing their Bugattis, and there will be members of Hellé Nice's family present, as well as VIPs from the area and from racing. Women Bugatti driver Historian Patricia Lee Yongue will be saying a few words in behalf of Helle Nice.

For more info read the Press release
---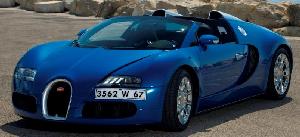 June 23, 2010

The Bugatti Veyron 16.4 Grand Sport named "Best Convertible"

The Bugatti Veyron 16.4 Grand Sport was named "Best Convertible" by the world renowned Robb Report magazine in its annual "Best of the Best" issue.

Each June, Robb Report, a leading US journal on luxury brands, publishes this special issue, which represents the culmination of an entire year's search for excellence in every aspect of the affluent lifestyle. The Bugatti Grand Sport hails as this year's "Best of the Best" Convertible and is featured as the blue ribbon winner in the 22nd annual issue. In fact, Robb Report has awarded the Grand Sport two prestigious honors since the car's introduction, one being the unprecedented "Car of the Decade" award, created specifically for the Grand Sport.

"Named "Car of the Decade" by Robb Report's Car of the Year panel last November, the Grand Sport is not only the most arresting vehicle on the market today, but it also happens to be the world's best convertible, " said Paul Meyers, Contributing Writer for Robb Report.
---
June 23, 2010

Bugatti Veyron SuperSport Confirmed

Posted: 11:34 am June 18, 2010 by CarsUK

We've been here before with rumours of a lighter and more powerful Bugatti Veyron. In fact the rumours have been around almost as long as the Veyron itself. And they resurface at regular intervals. So when we saw the rumours earlier this week we thought it was probably more of the same – a slow news day for someone so 'Let's run a Veyron Story'. And then we got a phone call.

"Have you heard about the new 1200bhp Veyron Supersport?" said the familiar voice. "It's just the same old rumour, sunshine" we retorted. "Then why am I about to transfer €400k to Bugatti?" came the reply. So it's not a rumour – it's real.

There are going to be 30 Bugatti Veyron SuperSport. They will shed in the region of 300kg with liberal use of carbon fibre, get 1200 horses and each will cost their owners €1,650,000. There are exterior styling changes but Bugatti aren't sending out photos – even to buyers – at this stage.

Bugatti were hoping to have the Veyron Supersport ready for Goodwood this year, but that's not going to happen. The aim now is to show the new Veyron at Pebble Beach in August. But Bugatti aren't the best in the world at keeping to delivery dates so it could even take until Paris before the world sees the SuperSport.

The Veyron SuperSport will be the last iteration of the Veyron. Probably.

The picture is NOT of the SuperSport, but of the Bugatti Ettore concept. Though it looks professional, it probably does not come from Bugatti.
---
June 17, 2010

Feminine Veyron drivers

TrueCar, a Santa Monica firm that gathers vehicle buying and pricing data, has done a study on gender differences based on 13 million vehicle registrations from the past two years.

Most popular with women is the Volkswagen New Beetle, with 56.1% women buyers.

On the other side of the scale is the Bugatti Veyron, with no women buyers at all! (At least in the US, does anybody know female Bugatti buyers in other countries??)

So, it seems that the Veyron is a pure masculin automobile! Or has this something to do with the old story about big cars making up for small....

However, sports car marques in general are unpopular with women: Ferrari (5.6%); Lamborghini (6.5%); Tesla (9.8%); Aston Martin (9.9%); and Lotus (10%).
---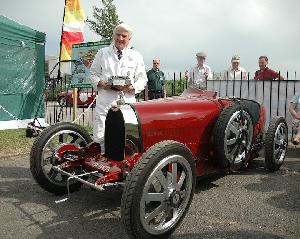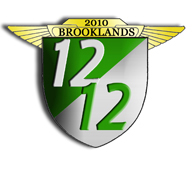 June 17, 2010

Brooklands Double Twelve Motoring Festival

A 1926 Bugatti Type 35 sold to its first owner by Brooklands personality Malcolm Campbell made a triumphant return to the Birthplace of British Motorsport at the Brooklands Double Twelve Motoring Festival on 5-6 June, 2010.

The Bugatti beat a strong field of classic cars to take overall first place in the Brooklands Double Twelve competition for its current owner, Chris Jaques (photo top right). And in a similarly nail-biting finish on the Mercedes-Benz World circuit next door, Pete Candy's 1936 Riley Special "Super Rat" stole first place in the Brooklands Speed Trials by just 0.2 sec from Terry Crabb's ERA R12C.

The two competitions kept a strong crowd at the 2010 Brooklands Double Twelve Motoring Festival – organised by Brooklands Museum and the Vintage Sports-Car Club – captivated throughout two days of motoring action, spectacle and glamour which culminated with the Museum's Royal Patron Prince Michael of Kent presenting the Double Twelve prizes.

In the Double Twelve competition – in which car and driver had to excel in both complicated driving tests and the rigorous judging of a Concours d'Elegance to be in with a chance of winning – the Bugatti narrowly but decisively beat Simon Taylor's beautiful 1937 Bentley 4¼ litre Sedanca Coupé, which was a winner at last year's Pebble Beach Concours in the USA. Other class winners included John Dennis' 1907/16 Berliet-Curtiss racer, Alex Pilkington's 1930 Alfa Romeo 1750 Zagato, Bryan Smart's 1973 Porsche 2.7 RS Carrera and Jo Moss' 1973 Morgan Plus 8.

Another historic Grand Prix Bugatti claimed honours in the Brooklands Speed Trials – this time it was Martin Overington's spectacular 1927 Type 35B grand prix car, which was the fastest Vintage (pre-1931) car, taking just 1.36 longer to cover the 900 metre course than Candy's time of 43.0 sec. The fastest road-going sports car was Andrew Mitchell's 1937 HRG 1½ litre, and honours in the closely-fought Edwardian (pre-1919) class – with six giant racers taking part – went to Karl Foulkes-Halbard's 5 litre 1907 Corbin Vanderbilt Cup car.

Brooklands Museum Director Allan Winn said, "The 2010 Brooklands Double Twelve Motoring Festival proved to be a real hit with competitors and spectators alike. We were very pleased to see so many families and enthusiasts enjoying the biggest competition event held at Brooklands since the original circuit closed in 1939. We look forward to building on the success of this weekend at the next event in June 2011."

Source: Sports Car Digest Above right: Edmund Burgess in 1924 Bugatti Brescia
---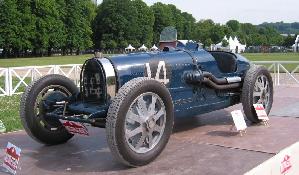 June 11, 2010

Statue of Maurice Trintignant

The famous champion Maurice Trintignant was Mayor of Vergèze from 1959 to 1965

To honor him, the municipality ordered a statue of the champion, at the wheel of his Bugatti 51.

The statue will be unveiled in Octobre 2010.

Picture: Trintignant's T51
---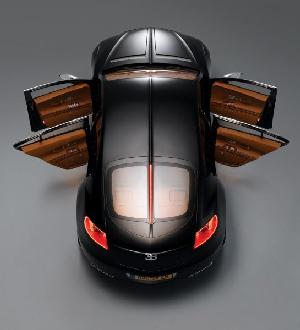 June 6, 2010
Bugatti Galibier to be produced, says Bugatti director Dr. Paefgen
Bugatti CEO Dr. Paefgen, who also heads the likewise VW-owned Bentley, assumes that the Galibier will reach the production stage. A green light has not yet been given, though. "We now encounter many challenges," he said to Dutch car-magazine Autovisie, "but count on the Galibier being produced."
The Galibier, named after the famous Pass in the French Alps, as well as a 4-door version on the Bugatti Type 57, was shown to potential buyers the first time last year. The reactions were very positive to the new five-door saloon, says one of those present. Dutch Bugatti dealer Hessing could immediately write some orders. A price tag for the limousine is not known, but will be around 800,000 euros. Excluding taxes, though. Including taxes the car will be at around 1.3 million euros.
As a technical basis, the Galibier is the sister of the Bentley Mulsanne. The prestigious brand will have the same architecture, including double wishbones, air suspension, self-thinking shock absorbers and four-wheel drive. Under the hood the Galibier will have the sixteen (!) Cylinder power from the Veyron instead of the 6.75-liter V8 engine from the Mulsanne. The ability of the engine is reduced to a still impressive 800 hp. Enough for the 5.30 meters long car to run at 350 km / h.
If Bugatti decides to put the limousine into production, she will not leave the factory before 2012.
---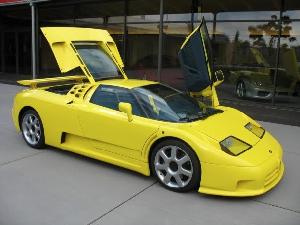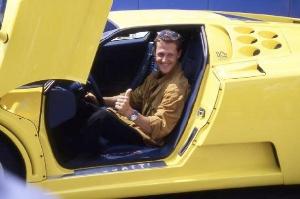 May 29, 2010

For Sale: Michael Schumacher's Bugatti EB 110 Super Sport

- it´s officially the only EB 110 SS (Sport Stradale) with the luxury interior of the EB 110 GT.

The last car, which was personally registrated on Michael Schumacher.

The car is in mint condition, best EB 110 SS available, better than new. Car comes from a high class collection and was never used. (It is NOT Michael Schumacher selling the car!)

- Car ID: ZA9BB02EO RCD 39020

€ 600,000

Maranello Motors
Cologne, Germany
Phone: +49 22137050096
---
May 27, 2010
Bugatti has built a working 800-hp electric supercar prototype
According to insiders at Molsheim, France, Bugatti has produced an 800-hp electric supercar prototype, which may never be displayed to the public… at least that's what the sources told AutoExpress.
The working electric supercar Bugatti is said to be built on the chassis of a Bentley Continental GT and features an advanced lithium-ion battery pack and two huge powerful electric-motors that can deliver a neck-snapping 1,622 lb-ft of torque from 0 mph.
Why is it that we may never get to see the electric supercar from Bugatti? Insiders say that the model is being built just to study the technology and allow engineers to explore the ultimate performance available from an electric powertrain.
This isn't the first time that Bugatti has ever built a battery-powered car. Ettore Bugatti, founder of the company, made an electric-car called the Type 56 that he used to tour around the factory in Molsheim, France.
---
May 27, 2010

Obituary: Evert Visser

Last week Evert Visser passed away, at the age of only 54 years.

Many of the especially Dutch Bugattistes entrusted their Bugattis to Evert of Superleggera, for repairs or maintenance. Evert was a skilled technician, friendlym and always in for a conversation. Only recently he participated in the 100 miles rallye together with Bart Rosman in his 43.

The death of Evert is a big loss for the Bugatti world.

Olav Glasius
---
May 27, 2010

VW Takes Majority In Italdesign Giugiaro

The Volkswagen Group and Italdesign Giugiaro S.p.A. (IDG), Turin, are to intensify their successful cooperation, putting it on a new footing. This was announced by both companies at a joint press conference in Turin on Tuesday. The Volkswagen Group will take a 90.1 percent stake in IDG, including the brand name rights and patents. The shares are being acquired by AUDI's Italian subsidiary Lamborghini Holding S.p.A. The remaining shares will stay in the possession of the present owner family Giugiaro.

"With this shareholding in Italdesign, we are participating in one of the most renowned design and development companies with one of the richest traditions in the automobile industry. Italdesign is the flagship for creative Italian automobile design and has been instrumental in shaping the face of the automobile industry worldwide. As the creator of the Golf I, Giorgetto Giugiaro laid a new foundation for Volkswagen design in the 1970s," Prof. Dr. Martin Winterkorn, Chairman of the Board of Management of Volkswagen Aktiengesellschaft, commented in Turin.

The Volkswagen Group has enjoyed successful cooperation with IDG for many decades. Giugiaro made a name for himself not only with the Golf I, but also with concepts for important models such as the first Volkswagen Passat, Scirocco or the Audi 80. A comprehensive development framework agreement was concluded in 2008. Volkswagen and IDG are also collaborating closely on ongoing projects such as the planned Volkswagen Up! model family. Implementation of the agreement is also subject to the standard approval by the relevant authorities."A new era in the strategic partnership between our companies begins today. Italdesign becomes a permanent member of the global Volkswagen family," Winterkorn said. "The Volkswagen Group will be continuing its model initiative over the coming years and will benefit from the capacity and competence of Italdesign. The company will therefore be making an important contribution to our 2018 global growth strategy," Winterkorn continued.

IDG was founded in Turin by Giorgetto Giugiaro and Aldo Mantovani in 1968. Both founders are considered pioneers of modern Italian automobile design. Italdesign has also acquired a reputation worldwide as a highly-competent development center. Today, the company generates sales of over €100 million and has a workforce of some 800 employees.

With Italdesign having designed a series of Bugattis in the past, starting with the ID90, the EB112, EB118, EB218 and EB18-3 Chiron, one wonders if VW now will give Italdesign again a role in designing the future Bugattis!
---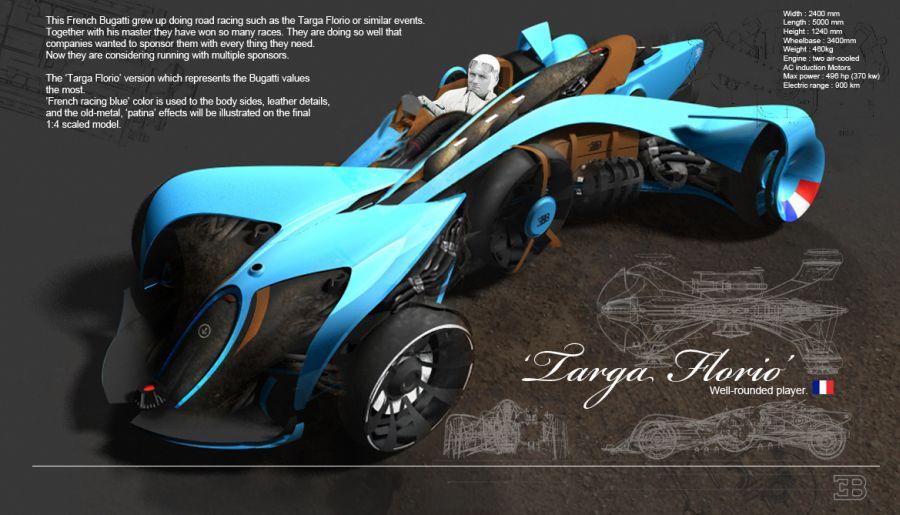 May 27, 2010
Bugatti Morpheus the Car of the Future
You are right, the electric Bugatti announced above is strange enough in itself, despite the type 56 provenance. The truth of course is that Bugatti continues to inspire (automotive) design students: this one seems to be the most radical so far!
Masters students from Sweden's Umea Institute of Design recently exhibited their final-year projects at the university's annual degree show. Featuring the work of both graduating diploma students and those completing the first year of their MA in Transportation Design, this year's exhibition brought together a diverse range of themes, ranging from futuristic interpretations of existing brand DNA to new concepts in car production, usage and forms.
The Bugatti Morpheus was designed by Doojin Choi
Designed for the year 2050 - a time when congestion forces drivers to take to circuits and areas of desert for thrills - the Morpheus concept takes the Bugatti Veyron's hunched-forward, beetle-like proportions and evolves them into an even more extreme single-seat speedster form designed purely for track day use.
The driver sits on an outrigger section that hangs on the right side between the front and rear wheels, creating an unusually open driving experience. Other unusual features such as the exposed structure, bespoke luggage set and the large spare wheel attached to the middle add a futuristic twist to design cues that date back to the birth of the Bugatti brand, not to mention a welcome dash on humour on the part of its South Korean creator.
The most innovative aspect is the backbone structure of the chassis, which flexes and acts as suspension also.
---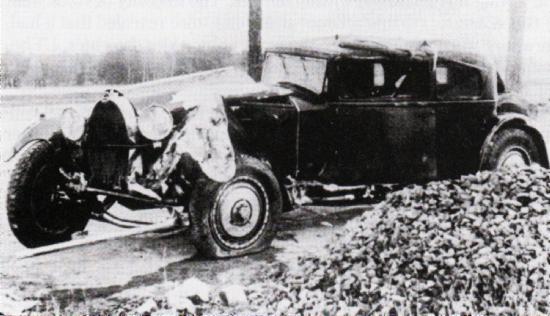 May 15, 2010

SEVENTH ROYALE DOES EXIST

What has been a legend for half a century, has now been confirmed to be true; there does indeed exist a seventh Royale.

This was all brought about by an article in the Bugatti Revue, published on May 13; in it a brochure from Gene Cesari's Grand Prix Imports in the USA, dated 1961. In this brochure a chassis of the prototype Royale is described; a car that has been missing ever since. This is the text:

The Royale does exist, but we will not photograph it until much more work has been completed. We knew that Bugatti had crashed the original Royale and had then sold it. After four years of sleuthing, our cloak and dagger boys turned it up, sadly neglected but indomitably proud, in a barnyard in France. Thus far our restoration has been difficult, with many new parts being made at considerable expense in Molsheim, preventing us from quoting a price at this time. We expect to sell it in the chassis form: allowing the future owner to select his own design features , which will surely be in the classic tradition.

From: www.bugattirevue.com/revue41/henry.htm

The existence of this chassis has been confirmed to me. The chassis of the prototype Royale was sold in the 60's to Bill Harrah, and afterwards to a collector in the USA, who had it for about 40 years. It was then sold again, the current owner wants to remain unknown however (at least for the time being). It seems that the chassis (which is the prototype chassis and different from the later "production" Royale's) is being restored, and that a body will be made for it. Which one is not known, though the Weyman body would be the most appropriate.

This does imply that the Bugatti Royale coupé Napoleon (chassis 41100) was indeed a new car, and not a rebuild of the crashed prototype, as has been often written.
---
May 6, 2010

Auction results

Sotheby's auction May 5 and 6, NEW YORK, NY.- Impressionist and Modern Art Evening and Day sales, Property from the S. Joel Schur Collection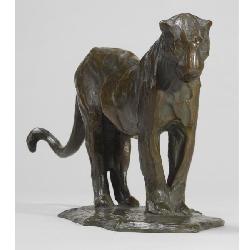 Rembrandt Bugatti, Petite panthère 278,500 USD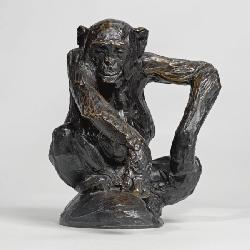 Rembrandt Bugatti, Chimpanzé assis sur une boule 512,500 USD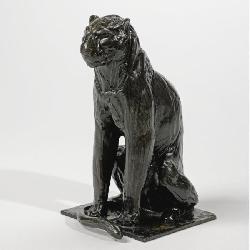 Rembrandt Bugatti, Petit Léopard assis, la queue placée en avant 194,500 USD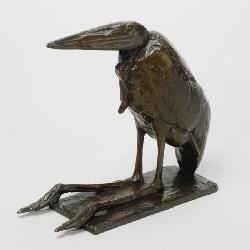 Rembrandt Bugatti, Marabout au repos 92,500 USD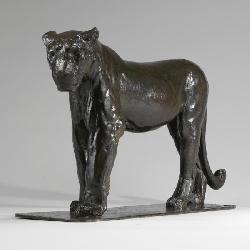 Rembrandt Bugatti, Lionne de Nubie 1,426,500 USD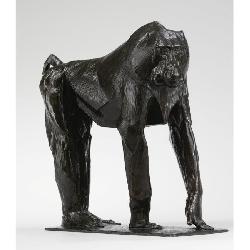 Rembrandt Bugatti, Babouin Sacré Hamadryas 2,098,500 USD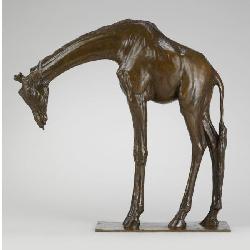 Rembrandt Bugatti, Grand Girafe tête basse 1,426,500 USD
Prices including buyer's premium.
Of the 11 Bugattis, the above 7 were sold. The male "Lion de Nubie" was not sold.
---
May 6, 2010

Williamson Atlantic bought by Peter Mullin

Did we report yesterday that the Williamson Atlantic had been sold, to an undisclosed buyer, we now get reports that it is sold to Peter Mullin, and his Oxnard museum!

This makes sense, Mr. Mullin is buying almost all Bugattis that are really special, like the Brescia Submarine.

The following is from: automotive.speedtv.com
The highest price ever paid for an automobile was reached last week when a 1936 Bugatti 57SC Atlantic was sold for something approaching $40 million, according to unconfirmed reports.

The curvaceous Bugatti coupe, considered to be the epitome of French art deco styling, was sold by California auction house Gooding & Company, which served as broker for this private sale.

The Bugatti sale eclipses the highest price ever paid at auction for a car: $12.2 million for a 1957 Ferrari 250 Testa Rossa sold a year ago in Maranello, Italy.

Although Gooding would not reveal details about the transaction, the buyer of the Bugatti was reported to be the Mullin Automotive Museum of Oxnard, Ca., according to a Wall Street Journal report. The museum, dedicated to French deco style, was recently opened by noted car collector Peter Mullin.

Just before its opening, the Mullin museum made headlines when it paid $365,000 for the corroded remains of a 1925 Bugatti Brescia that was under Lake Maggiore for more than 70 years.

"I am extremely pleased to have found the new buyer for the 1936 Bugatti Type 57SC Atlantic, one of the world's most significant and valuable automobiles that has been in a private collection and rarely seen during the past four decades," said David Gooding, president and founder of Gooding & Company.

Yesterday the amount indicated was 30 million, probably closer to reality than the 40 million mentioned in the above article. Either way, a lot of money for an old car, not much though for an automotive Mona Lisa.
---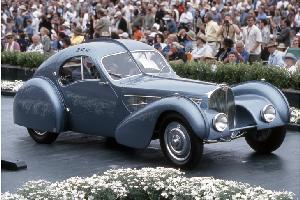 May 5, 2010

Williamson Atlantic sold for all time record!

A continent away from the glitz of Monte Carlo, a private sale has just taken place which ends two years of speculation about the car's fate and establishes a new all-time high in the classic car market. Considered by many to be the ultimate expression of the motor car as an art form, the Bugatti Type 57S Atlantic of the late 1930s puts even a Ferrari 250GTO in the shade. Styled by Ettore's son and heir apparent Jean Bugatti, so rare and mysterious that historians cannot agree on how many were made or even survive (three and two is a best guess), most collectors would however agree that this grandfather of all supercars is about as good as it gets. Ralph Lauren famously has one, whilst the second Atlantic was owned for almost four decades by respected former American Bugatti Club president Dr Peter Williamson until his death in 2008, when David Gooding auctioned most of his collection to benefit medical charities. He's now been involved in the private sale of the family's Atlantic for an as-yet undisclosed sum thought to be in the region of $30,000,000. Stay tuned for news of where you'll be able to admire it shortly...

When Dr Williamson bought the Atlantic at Sothebys auction on 12th June 1971 in Los Angeles for $59,000, it was a logic-defying world record price.

From: www.kidston.com

I knew from when dr.Williamson was still alive, that he was interested in selling the car in the 30 million $ region. There were rumours about 5 years ago that his Atlantic had been sold for 3 million, which he very clearly told to be not true. (Ed.)
---
May 5, 2010

Auction result

RM Auctions, Sporting Classics Of Monaco, 1st May 2010, Grimaldi Forum

- Lot No. 253: 1935 Bugatti Type 57 Ventoux #57594, Not Sold at high bid of €220.000 Vs estimate of €285.000-€340.000

- Lot No. 254: 1951 Bugatti Type 101 Coupé by Van Antem #101504, Not sold at high bid of $508,875 versus pre-sale estimate of €500.000-€750.000 / $680,000 - $1,100,000.

- Lot No. 283: 1937 Bugatti Type 57 Stelvio by Gangloff #57435, Sold for €336.000 - $455,952 Vs estimate of €420.000-€480.000 / $570,000 - $650,000

Thanks to Christophe Chanterault
---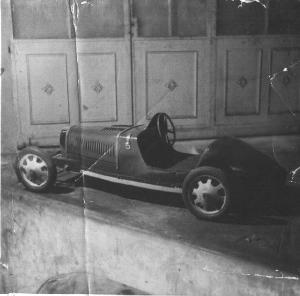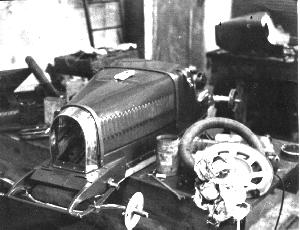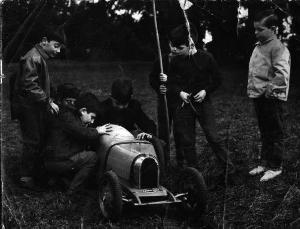 May 5, 2010

The baby Bugatti as it should be

I was sent the link to these photo's, and thought I really should show them to you.

They were taken in Argentina, at the rally de Jose C. Paz, in the spring of 1963.

The boys are: Jaime, Diego and Manuel Arcos, Lucio Bollaert, Marcos (sitting in the Buga), Javier and I. The one in the background I can't see.

In the other picture, the Mini Bugatti has been taken apart to paint, in the workshop of "Chuzo".

Chuzo Gonzalez

From: www.retrovisiones.com/2010/04/les-petits-bugattistes/
---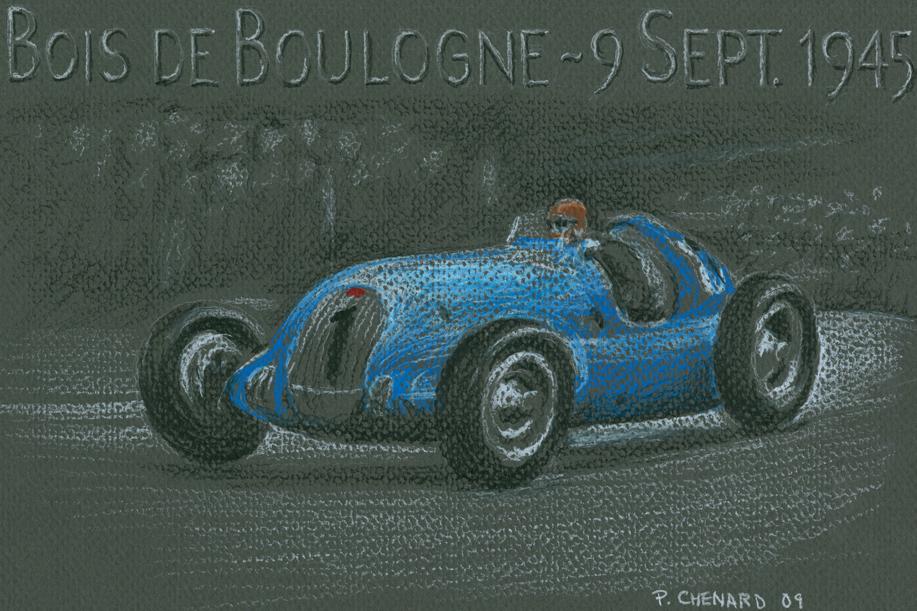 "Bois de Boulogne - September 9, 1945" by Paul Chenard. Showing Jean-Pierre Wimille in a Bugatti Type 50B 4.7 L on his way to winning the first
post-war European race, la "Coupe des Prisonniers", held in Paris.
---
October 17, 2010 RM Auctions - Freedom of Motion Pasadena, USA

The Art Center College of Design presents its Car Classic 2010 - Freedom of Motion, featuring more than 100 vehicles including some making their West Coast debuts, from 10 a.m. to 4 p.m. Sunday at the Art Center's Hillside Campus, 1700 Lida St.

Among the vehicles on display will be the 2011 McLaren MP4-12C; a 1936 Bugatti Type 57SC Atlantic. one of only three ever built; the 2010 THINK City electric vehicle; the 2010 X-prize winning Peraves X-Tracer; and many more.

Several automotive and transportation experts, including Frank Stephenson, Jeff Zwart, Dave Kunz, and others will attend. Car buff and "Tonight" show host Jay Leno is an invited guest.

Parking is off site at the Rose Bowl, with shuttles running throughout the event.

Tickets are $60 at the door or $50 on-line. Alumni save $20 by purchasing on-line.

For tickets, or for more information, call 626-396-2304, or e-mail carclassic@artcenter.edu.

Read more: http://www.pasadenastarnews.com/news/ci_16332165#ixzz12MY1lKUB
---
---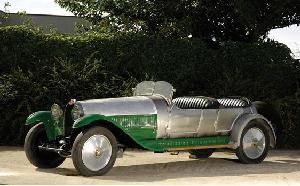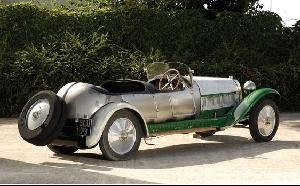 October 27, 2010 RM Auctions - Automobiles of London UK

Lot 134:
1928 Bugatti Type 38 Tourer
Chassis #: 38444

60 bhp 1,991 cc inline eight-cylinder engine with single overhead camshaft and three valves per cylinder, four-speed manual gearbox, solid front axle with semi-elliptic leaf springs, live rear axle with reversed quarter-elliptic leaf springs, and four-wheel cable-operated drum brakes. Wheelbase: 123"

- From the Estate of John M. O'Quinn
- One of only about 385 T38s built
- Dismantled, assessed and partially restored by specialists

The Bugatti Type 38 chassis clearly benefited from the lessons learned on the racetrack and entered production in 1926, replacing Bugatti's first eight-cylinder road car, the Type 30, which debuted in 1922 and saw total production of some 600 units. While similar in many ways to its predecessor, the new Type 38 refined the Type 30 concept even further with a longer 123-inch-wheelbase chassis and a two-inch wider track, providing the ideal canvas for a variety of comfortable, spacious and sporting bodies from the finest custom-coachbuilders of the era.

The two-litre, eight-cylinder engine of the Type 38 was largely based on the competition-oriented Type 35 design, with two blocks of four cylinders each, non-detachable cylinder heads and the ball bearing-supported crankshaft of the prior Type 30. Single overhead camshaft actuated twin inlet valves and one exhaust valve per cylinder provide the remarkably free breathing characteristics in the typical Bugatti fashion. Enlarged engine mounts located the engine within the new T38 chassis. The T38 engine was equipped with dual Solex carburettors and a coil-type ignition, providing output of 60 bhp in basic tune and up to 100 bhp in supercharged Type 38A form.

The engine's power was transmitted to the road with a new four-speed manual gearbox derived from the T40. The radiator and axles were based upon those of the T43, while the T40 also contributed the large, cable-operated brakes, with their drums visible though the T38's centre-lock wire-spoke wheels.

Only about 385 examples of the T38 chassis were ultimately built, including 39 supercharged T23A models, during an abbreviated production run of less than two years between 1926 and 1927. Remarkably advanced for the era, The T38 offered satisfying performance and sporting open coachwork, with each one remaining highly coveted and desirable today.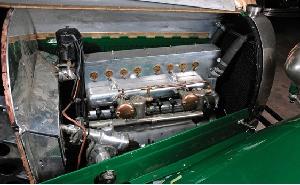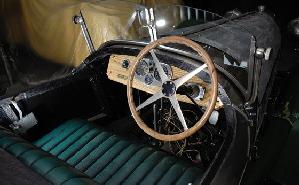 The Type 38 offered here, chassis number 38444, is offered from the highly respected O'Quinn Collection. Recently, it was shipped to the specialist firm Carrosserie Tessier in France for a complete teardown and restoration. The car was dismantled, assessed and restoration was underway, but it is unfinished and only provisionally assembled for the sale.
According to a detailed report from Carrosserie Tessier, the body's wooden structure has already been completely restored, with the damaged wood carefully replaced and 70 percent of the original wood framing remaining with the car. The body's sheet metal has already been extensively repaired and half of the original body panels were retained. The wooden trim pieces must still be fabricated and finished. The front and rear fenders, as well as the hood, are not yet restored, and consequently, they must be stripped and repaired. The upholstery was found to be inconsistent with original specifications and remains to be restored. The T38 is also equipped with a convertible top, but it lacks the support bows, which will need to be replaced.
The eight-cylinder engine remains in working condition, and in fact, it has been started and run on a test bench. The restorers have noted that the electrical system has been converted to 24 volts at some point in the car's history and that it should be returned to the original 12-volt specification. A thorough inspection of the chassis reveals that it remains in good overall condition, but of course, the brakes, front-axle pivots, leaf springs and wheel bearings must be overhauled prior to road use.
While only provisionally assembled for the sale, this 1927 Bugatti Type 38 affords an excellent opportunity for astute collectors. Honestly presented with the aforementioned assessment from the current restorer, it will provide a wonderful touring experience with spirited performance once completed, as well as the opportunity to resume its show career at a variety of concours events.
---
September 4, 2010 ceremony to honor Hellé Nice Sainte Mesme, France

Ceremony to honor Hellé Nice and place the marker on her grave in Sainte Mesme, France on September 4, 2010.

Everyone is welcome to attend, AND to bring their vintage cars!

The ceremony will begin at 11:00 AM at the church in Sainte Mesme. For more information or directions - European contacts: Bruno PERRIN (bruno.perrin3@wanadoo.fr) or Louis DEJEAN (louis.dejean91@orange.fr) USA Sheryl Greene (hellenicefoundation@gmail.com) or the phone number below.

Sheryl A. Greene, The Helle Nice Foundation, Inc., "Excel and Accelerate!", 404-429-9600
---
September 10 - 12, 2010 Bugatti Festival Molsheim, France

Schedule:

10.09.2010
13.00 Welcome at Hotel de la Monnaie Molsheim
14.00 Official presentation of the Type 50B/59 (50180) monoplace of the Musée 
national Collection Schlumpf Mulhouse
16.00 visit of the bread museum Fortwenger at Gertwiller
18.00 visit of the wineyard Bachert at Barr
19.30 visit of the arts and crafts museum Folie Marco at Barr
20.00 Dinner at Caveau de la Folie Marco at Barr

11.09.2010

8.00 Gathering at the Hotel de la Monnaie Molsheim
8.30 Departure for the touristic trip: Molsheim - Epfig - Hohwarth - Neuve Eglise - 
Fouchy - Colroy La Grande - 
9.30 Rest at Café à L'auberge du Spitzenberg at La Petite Fosse
10.45 Continuation of the trip: Provenchères s Fave - St Die - St Léonard - Arnould 
- Gerbépal - Gérardmer
12.15 Lunch at Hotel Restaurant Bon Rivage At Gérardmer
15.00 Continuation of the trip: Gérardmer - Gerbépal - St. Léonard - St Die - 
Provenchéres s Fave - Col de Saales - Schirmeck - Mutzig - Molseim
17.00 Trophée Fondation Bugatti at Molsheim
20.30 Official Diner at the Hotel de la Monnaie Molsheim

12.09.2010

8.30 Breakfast by invitation of the commune of Molsheim at the Hotel de la Monnaie
10.00 Ceremony at the Bugatti family graves at Dorlisheim
11.00 Price giving at the Hotel de la Monnaie Molsheim
12.30 Farewel Brunch at the Hotel de la Monnaie Molsheim
From 11h-14h the Bugattis will be visible close to l'Hôtel de la Monnaie

---
September 10 - 12, 2010 4ème Week-End de l'Excellence de Reims Reims, France

Probably quite a few Bugattis will show up!

More info: www.weea-organisation.com
---
September 12, 2010 Fairfield County Concours d'Elegance Westport, CT, USA

More than 200 unique cars will be on display Sept. 12 at the Fairfield County Concours d'Elegance, including the legendary Rolls-Royce Phantom III Vutotal Cabriolet.
This one-of-a-kind, custom-built vehicle appeared at the 1939 World's Fair and was redesigned by famed coachbuilder Henri Labourdette in the 1940s.

The concours includes judging classes for Porsche, Bugatti, period hot rods, barn finds, and custom cars from 1948-64.

You'll also find special collections of LeMans and Packards, and an exhibit that celebrates automotive aerodynamics.

Show up on Sept. 11 for the Car and Motorcycle Club Celebration. Both events take place at the Fairfield County Hunt Club.

203-227-7988, www.fairfieldcountyconcours.com
---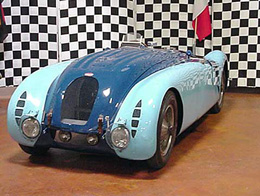 September 25, 2010 Simeone Foundation Events: Bugatti Day Philadelphia, USA

On September 25th, the Simeone Foundation will celebrate Bugatti with a driving exhibit of two very special Bugattis, a Type 35 in excellent original condition, and the winner of the Le Mans 24 hour race in 1937, the famous T57 "Tank". Both cars will be demonstrated, but do check the latest information on their website.

The Foundation is close to the Philadelphia Airport, easy to find and a wonderful place to see and hear Bugattis, live.
---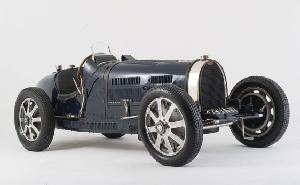 August 12 -14, 2010 RM Auction USA

Sports & Classics of Monterey auction.

On offer: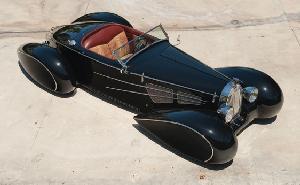 1931 Bugatti Type 51 GP, chassis 51132
2003 Bugnotti by Deco Rides
For further information, see www.rmauctions.com
---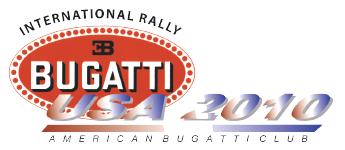 August 16 - 22, 2010 U.S. International Bugatti Rally and U.S. Bugatti Grand Prix
A Most Exciting Event is coming in 2010
The 2010 International Rally sponsored by the American Bugatti Club. During the famous Monterey Weekend: The Monterey Historic Automobile Races and the Pebble Beach Concourse 'de Elegance (August 13 -15, 2010), the club will sponsor a Bugatti Grand Prix and other events. This will be followed by a Rally-Tour through some of the California coast's most beautiful scenery. Drive over the Golden Gate Bridge and tour the John Muir Woods. You will drive along the cliffs of the Pacific ocean, through back roads of rolling hills and the legendary California Wine Country. Along the way, visiting a Steam Railroad, stopping at a private estate for lunch, tour the famous Hearst Castle in San Simeon, stroll and shop at Solvang, a quaint Danish Village, a dinner under the stars at Fess Parker's Winery.
There will also be stops at Historic California Missions and a tour of the back roads of Santa Barbara. The Rally will end in Oxnard, California, at the beautiful Mandalay Beach Resort on the beach. There will be a reception at a new Museum featuring Bugatti cars, French historical vehicles, and a Bugatti Exposition of Memorabilia. Following, will be a gala dinner at Mandalay Resort. The next morning will be a tour through the Santa Monica Mountains with lunch at a private estate in Malibu.
More info:
Paul Simms, Secretary, 600 Lakeview Terrace. Glen Ellyn, IL 60137-5419 USA, E-mail: quiltbug57(AT)sbcglobal.com
---
August 14, 2010 9th US Bugatti Grand Prix Laguna Seca Raceway, USA

The American Bugatti Club announced the 2010 International Bugatti Rally along California's beautiful Pacific Coast. Seventy-three Bugatti's from all over the world will be gathering in Monterey, California on August 16th to begin the rally.

With over 175 participants from 13 countries, this rally will be one of the world's largest gatherings of Bugatti enthusiasts and cars with entries ranging from a 1920 Brescia to a 2010 Veyron and Grand Sport.

Much of the 700 mile Rally will be along California's Pacific Coast Highway through the Golden Gate Bridge, Santa Cruz, Big Sur, San Simeon, Central Coast Wineries, Santa Barbara and Solvang. The conclusion of the Rally will be a Gala Dinner on August 21st in celebration of the 50th Anniversary of the American Bugatti Club at Peter Mullin's new French Automotive Museum in Oxnard.

"We are overwhelmed by the response to the rally and cannot wait to welcome fellow Bugatti enthusiasts and owners to Monterey in August," says David Mize, President, American Bugatti Club.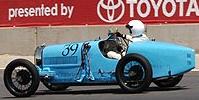 In addition to the International Rally, 35 Grand Prix and Sports Bugattis will participate in the 9th US Bugatti Grand Prix at Laguna Seca Raceway on Saturday, August 14th. The world's first all-Bugatti Grand Prix Races were begun by the factory at France's famed Le Mans circuit in 1928. The series of US races began in 1987 at Elkhart Lake's Road America. Since then, US Bugatti Grand Prix Races have been held every two or three years at important vintage motorsport gatherings from coast to coast.
---
April 27, 2010

Veyron customers behaviour not always correct!

Where Ettore used to refuse some customers, supposedly he did not sell a Royale to the King of Bulgaria because of his bad table manners, it seems to be that Bugatti SAS should do the same:

In the Netherlands a 20 year old boy took out his dad's Veyron for a spin, and was arrested while doing 160 kmh where 80 was allowed. The car was taken by the police, as was the boy's driver license.
(this reminds me of the story of a Dutch Bugattiste, who was not allowed by his father to drive any of his Bugattis any more, for having passed a red traffic light at high speed, in the centre of Hamburg.)

From the UK comes the following news:
TWO Bugatti Veyrons were among £4million of flash motors in police custody last night after being seized from a suspected crime king. Cops found £750,000 in CASH in the cars - stashed across Britain and in Switzerland but tracked down after a tip-off from French detectives.

The amazing fleet boasts four Ferraris, two of them £800,000 Enzos, three Rolls-Royces and two Porsches.
The 250mph Veyrons are each worth £750,000.

Last night alleged drugs baron Alexander Surin, 44, was in custody facing trial in France after being extradited from Spain.

He is understood to have kept his fleet hidden while driving a humble banger to avoid attention. Keys were found in raids on addresses in London and the Midlands.

An Interpol source said of the fleet: "It's absolutely incredible. Never mind the Godfather's Don Corleone - he is Don Car-leone."

source: www.thesun.co.uk
---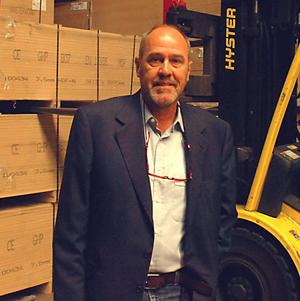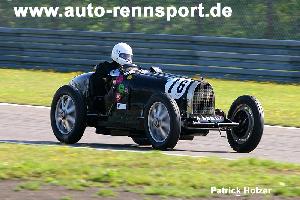 April 25, 2010
Jean Jacques Strub killed in his Bugatti Type 51
Last Friday Jean Jacques Strub was killed in his Type 51, while practising for the Monaco Historic Grand Prix at the l'Anneau du Rhin circuit in Biltzheim, Alsace, France.
Jean Jacques was 62 years old, and owner of a plant where solar cells were produced, a new plant was only recently opened.
He was presumably testing the freshly rebuilt engine of his Type 51, now 2.3 litres instead of 2.0 litres before, and 230 HP. He had an accident, and the car rolled over 3 times.
---
April 17, 2010
Bugatti Owners Club and Bonhams Partnership
Bonhams is delighted to have been chosen by the Bugatti Owners' Club (BOC) to be its official auctioneer partner.
As the market leader in collectors' motor cars and having sold some of the world's most important Bugattis, Bonhams was the obvious choice to be the BOC's new partner. Last year Bonhams sold a 1937 Bugatti Type 57S Atalante, which had been owned by the first BOC Chairman Earl Howe, for a staggering 3.4 million euros.
At the same auction (Retromobile, Paris, 2009), Bonhams sold the famous 'Black Bess' 1913 Bugatti Type 18 for over 2.4 million euros, against a pre-sale estimate of 1,300,000 – 1,600,000 euros.
Bonhams was also recently in the news for the sale of a 'sunken Bugatti' - a 1925 Bugatti Type 22 Brescia which had lain at the bottom of Lake Maggiore for seventy years. The car fetched 260,000 euros, far outstripping the pre-sale estimate of 70,000 – 90,000 euros.
The BOC was established in 1929 to bring together Bugatti and motor sport enthusiasts, and today has a membership of 1,750 and runs approximately 40 events throughout the year.
Ian Patton, General Manager of the Bugatti Owners' Club, confirmed that "The Bugatti Owners' Club is looking forward to a long association with Bonhams. As one of the most prestigious and respected international auctioneers, they are ideally positioned to serve the interests of our members."
Tim Schofield, Head of Bonhams UK Motoring, comments: "We are delighted to be the auctioneers of choice for the Bugatti Owners Club. On the back of some outstanding results we have achieved for the sale of Bugattis at auction, Bonhams is a natural partner for the BOC, and we look forward to being in attendance at the BOC's headquarters, the legendary Prescott Hill Climb in Gloucestershire throughout the season."
---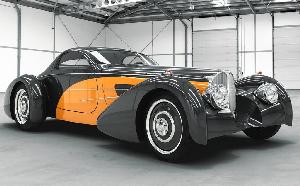 April 17, 2010

Delahaye USA to debut "Bella Figura" Bugnotti Coupe at Pebble Beach

There was time in the late '70s and early '80s in America when a few misguided industrious souls decided to recreate some of the most iconic shapes in motoring history. Kit cars with shapes emulating classic Bugatti, Delahaye, Auburn, Pierce-Arrow, Mercedes, Bentley and Rolls-Royce designs flourished, many poorly made and based on cars like the Buick Regal or Lincoln Town Car. With the originals selling for six, seven or even eight figures, it wasn't surprising that anyone would want a budget alternative, but the offerings were generally more of an insult to the originals than a tribute.

Flash forward a few decades and you'll now find companies like Delahaye USA taking up a similar charge. Rather than offering unfortunate fiberglass bodies for existing vehicles, however, the NJ company is building modern interpretations of some of those classic designs, with the intent to show what those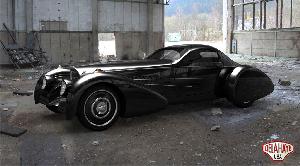 legendary designers of yore might be building today. Take their "Bella Figura" Bugnotti Coupe above, for instance. Inspired by the 1937 Bugatti Type 57S, it's said to be a tribute to Ettore Bugatti's son, Jean. At least as it shows in these renderings, we think it is beyond gorgeous.
The company has been showing off a 1/4-scale model of the project at certain shows and concours recently, but will have a full-size version to display for the first time this Fall. The full-scale carbon fiber body is set to debut at Retro Auto Aug. 13-15, in Pebble Beach, during the annual classic car festivities in Northern California. Delahaye USA plans to offer a turnkey version of the coupe on a custom chassis with an alloy body for $450,000, while a clear-coated or painted carbon fiber version will sell for around $250,000. Plans are to make a targa-style roof and drophead version as well.
---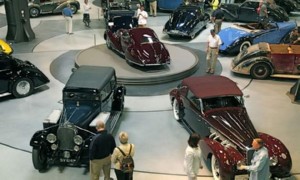 March 25/ April 17, 2010
C'est si bon: Mullin Automotive Museum celebrates the best of the Art Deco era
By PATRICK C. PATERNIE
From Autoweek.com
The Mullin Automotive Museum in Oxnard, which houses a large collection of vintage French Art Deco cars, opens its doors to the public Saturday, April 17!
The French supposedly have a word for everything, but we couldn't muster any in English let alone the remnants of high school language lab upon first entering the new Mullin Automotive Museum in Oxnard, Calif., just west of Los Angeles.
All we could do was grin giddily at the sparkling array of Bugattis, Voisins, Delages, Delahayes and other unique examples of French automotive masterpieces from the 1920s and 1930s in an exhibition hall evocative of the salon that housed the 1936 Paris motor show and similar exposition halls of the Art Deco era.
The collection is an immersion into the excitement and optimism of Art Deco design, especially in terms of automotive design. A red-and-black 1938 Bugatti 57C Atalante Coupe greets visitors. It's a car that could monopolize your attention but instead introduces you to its spectacular companions, about 100 or so, occupying the 50,000-square-foot exhibit space.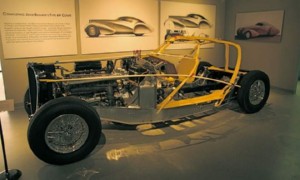 It is not just one or two standout cars but a spectacle that includes a two-tone blue Figoni et Falaschi pontoon-fendered 1937 Delahaye 135M Roadster, a long and lean silver 1951 Delahaye Type 235 Roadster with coachwork by Saoutchik, and a gorgeous yellow 1934 Voisin C27 Grand Sport Cabriolet purchased by the Shah of Persia at the 1934 Madrid motor show.
Sitting on a low turntable is Peter Mullin's favorite, a burgundy 1938 Talbot Lago T 150 CS once owned by Bentley Boy and CEO Wolf Barnato. The rare fastback coachwork by Figoni et Falaschi is nicknamed Goutte D'eau for exemplifying the teardrop streamlining that is one of the major attributes of Art Deco design as applied to automobiles, trains and aircraft of the era.
"It's my absolute favorite," said Mullin, "because it merges perfect engineering with raw beauty in the shape of a raindrop. I don't think there is a bad angle on this car."
Mullin said he has always been a car nut, but "didn't even know how to say 'Delahaye' let alone know what it was" until he OK'd the use of his house as the backdrop for a calendar shot of a 1948 135 MS nearly 30 years ago.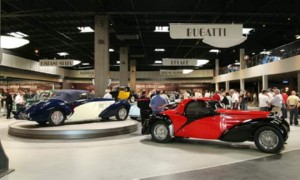 "I just knew it was the most gorgeous piece of rolling art I'd ever seen," he recalled.
That started a passion for French cars that, spurred on by the artistic as well as automotive talents of the Bugatti family, led to a passion for industrial and artistic designs of the Art Deco period.
That led to the Mullin Automotive Museum, which in addition to autos features examples of Art Deco period art, photography and furniture.
The latter makes up a lounge area in the mezzanine that also pays tribute to 100 years of Bugatti innovation. The rest of the upper level includes an homage to the 24 Heures du Mans with a 1930s style pit lane and race car display including, of course, grand prix Bugattis, a patina-coated 1911 Hispano Suiza Type 15 and the so-called "million franc prize" 1937 Delahaye Type 145 V12 driven to victory by Rene Dreyfus.
Downstairs, on the rear wall, are cars from the legendary Schlumpf Reserve Collection, most of which now belong to Mullin, including 17 unrestored Bugattis.
Then there is Mullin's "$50,000 car with a $300,000 story"--the 1925 Bugatti Type 22 that, because of a customs duty dispute, sat on the bottom of Lake Maggiore on the Italy-Switzerland border for 73 years before being salvaged last year to raise funds for a local charity. The car sits in its own room, battered and water-ravaged, resembling the remains of a prehistoric amphibian.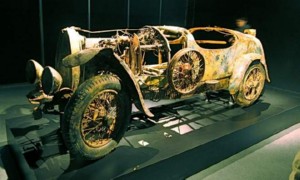 "Bugatti designed it in 1925, and Mother Nature finished it," Mullin said when asked why he has no intention of restoring it.
He does, though, plan to finish the Type 64 Coupe that Jean Bugatti designed as the successor to the Type 57S Atlantic. Mullin established a scholarship program at the Art Center College of Design, where an eight-student design proposal inspired by Bugatti's original sketches will be crafted in aluminum and mounted on the chassis.
Carrying the past forward is important to Mullin. The building that houses his eponymous collection once housed the impressive muscle-car and motorcycle museum of the late Otis Chandler. The building has been updated to fully green Leadership in Energy and Environmental Design (LEED) certified specs.
The museum will open to the public later this year; check www.mullinautomotivemuseum.com for more information. The museum will be a must-see for automobile, design and art lovers.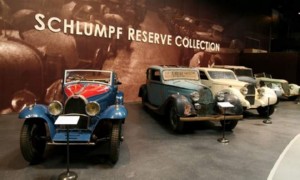 Some of the many unique Bugattis are:
the "sunken" Bugatti Brescia
Type 37A
Type 44 Fiacre
Orange Type 46
Type 54 Roadster "Uhlik"
Type 57 Atalante
Type 57 Aravis
Type 64 chassis; coupe style body is to be built
Baby Bugatti
Peugeot Bebe
Malmerspach collection, with many unrestored Bugattis
Bugatti EB110, Chiron, Veyron and various more prototypes
---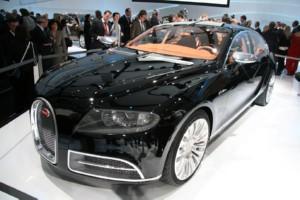 March 25, 2010

Bugatti saloon 'confirmed'

New Bugatti saloon in 2013

The Bugatti 16 C Galibier super-saloon concept is poised to be given the green light for production, following positive reaction to the concept car.

The Galibier has been on tour since last September, visiting Bugatti customers, the media and motor shows as Bugatti assesses its suitability as a replacement for the Veyron. Production of the hypercar will end in 2012.

A decision on the Galibier had been expected this spring, but Bugatti's position as the smallest of VW's brands has meant it has had to wait its turn for Group funds. Each of the 300 Galibiers earmarked for production from 2013 is expected to retail for around £900,000.

Despite this high price, the funds required for development are small within the context of the group. But VW is currently trying to raise around €4bn (£3.6bn) in a share sale and has frozen any announcements on new products. It is worried that committing to a new Bugatti model will have an adverse effect on its attempts to raise the funds.

The reaction to the car has been overwhelmingly positive and Bugatti insiders claim there is now a strong will within the Volkswagen Group to make the car. It is almost certain to be signed off for production this summer after the share sale has ended.

"It will be made one way or the other," said one insider. "We're the smallest VW Group member and there's a recession on so we've not been a priority.

"But we can expect to announce something by the summer; it looks good, people like it and it wouldn't be a great financial commitment in the context of the Group."

The Galibiers are influenced by the Veyron and the fuselage styling of the classic Bugatti Type 35.

Its doors and wings are constructed from aluminium, but the rest of the body is made from carbonfibre. Carbonfibre is also used in the front end of the chassis to add stiffness and keep weight down.

A weight hasn't been given, although Bugatti wants the Galibier to be the lightest car in its class. The four-seat cabin is more luxurious than the Veyron and has a more minimal design.

Powering all four of the Galibier's wheels is the Veyron's W16 engine, tuned to produce around 800bhp, albeit using twin mechanical superchargers rather than the Veyron's four turbochargers. The Galibier probably won't have the Veyron's DSG gearbox, either; instead it's expected to use a conventional eight-speed automatic transmission.

But like the Veyron, it will be exceptionally fast. Bugatti tech boss Wolfgang Schreiber has said he wants the production Galibier to "be the world's fastest, highest accelerating and powerful four-door".

[Mark Tisshaw]
---
March 24, 2010

Helle Nice foundation
---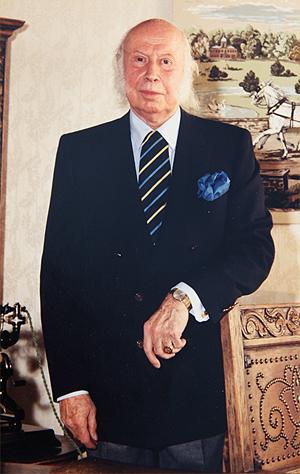 March 23, 2010

Rehabilitation for Fritz Schlumpf?

In 1976 the banks of Mulhouse didn't give any more money to the factories of Hans and Fritz Schlumpf. There was no economical or financial reason for that. Because the textile industry in Europe was in heavy weather as result of the low prices of the Asiatic textile industry, the Schlumpfs had a big problem. The history told until now says, that the Schlumpfs invested to much in their car collection and that that was the reason for their bankruptcy. Result: 2000 workers on the street without work and the Schlumpfs were to blame. The trade union took possession of the car collection and later the French government nationalized it. Fritz and Hans Schlumpf fled to Switzerland were they lived in expulsion for the rest of their live. They lost every legal suit in their absence so justice had been done. But was it justice?

After our book "the fate of the sleeping beauties", which will appear in English worldwide by Veloce in September 2010 about the car collection of Michel Dovaz and the bad things, that had been done to the guy, Arnoud and I went investigating the very nice car collection of the Schlumpfs and the Schlumpf affair. The first thing we noticed was, that not any French Authority wanted to give us any information. We were not allowed to see the verdicts of the processes against Schlumpf and the management of the museum didn't allow us to photograph the reserve of the museum. It looked like the French authority had something to hide. Meanwhile we discovered, that the large sum of money and the Malmerspach Collection were the credit balance of the bankruptcy in 1977. We were staggered. We never heard about that big a credit balance in a bankruptcy and we certainly were surprised, that the French government gave that back to Arlette Schlumpf, the widow of Fritz. It encouraged us to continue our research.

A couple of weeks ago we read in an English automotive magazine in an article about the late Tom Wheatcroft – he died 31 October 2009 - , that his greatest disillusion had been not been able to buy (a part of) the Schlumpf collection back in 1976 because of the French government. We made contact with the son of Tom, Kevin Wheatcroft, who confirmed us that story, because he was with the negotiations in 1976 between his father and Fritz Schlumpf. It encouraged us to continue our research.

We found out, that in 1976 besides Wheatcroft there have been 4 more interested possible buyers for the collection, but they were confronted, too, with the dismissal of the French government. We will tell their names in our book. The history became a slurry pit. What has really happened in 1976?

The banks of Mulhouse refused to give any money to the factories of Schlumpf. They obviously had their reasons. In order to save – this was confirmed to us – the factories Fritz Schlumpf was willing to bring a great offer. To sell a part of his collection or even the whole collection. He negotiated about it with Tom Wheatcroft and reached an agreement. The French government blocked a transaction like that. Fritz negotiated separately with at least four others with the same result. In order to save the employment of his workers he was willing to sell the factories for a symbolic amount of money, but because of the recession in the European textile no buyer came and the three factories went bankrupt. The French authority and the trade union pointed to Schlumpf as the guilty and took possession of his beautiful car collection.

If you read this story it is clear, that Fritz did all he could do to save the employment of his workers and not he and his brother, but the French government and the trade union kicked 2000 workers unemployed on the street. In our book we will describe the story more detailed.

Ard and Arnoud op de Weegh

www.extraordinarycarcollections.com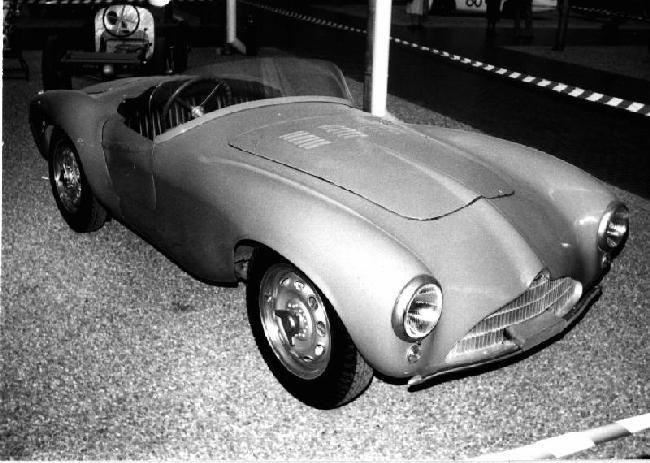 ---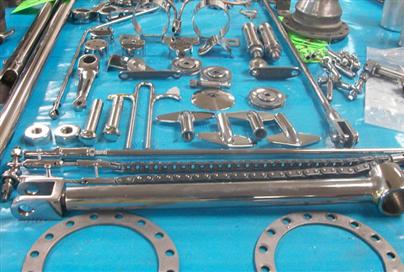 March 20, 2010

Electron Coupe becomes the sum of its parts

Intense activity as all the pieces come together

David Grainger, National Post

I have lost track of the number of reports I have made on the progress of the Bugatti Aerolithe, but I am pleased to say this is likely the next to last.

As many of you might remember from my earlier columns, the Aerolithe was a Type 57 Bugatti prototype created by Jean Bugatti in 1935. It was an aerodynamic coupe with a body created from Electron, and it was often called the Electron Coupe by the press of the day.

I have been recreating in infinitesimal detail the coachwork of the Electron Coupe on an original Type 57 chassis--number 57104--the fourth T 57 created by Bugatti and the oldest surviving chassis of its kind.

The project is at a stage where, on some days, you can look into the coachbuilding room and see an almost complete car, while, a day later, you look in and see a stripped-down hulk. This is all pretty standard as fenders are fit to the frame and body, floors are planned and fabricated, pedals and their assemblies are fit and checked, seats and brackets are made and checked and the myriad tiny items that go into a car get fabricated, shaped, honed and polished.

At this stage in the project, it is a period of intense activity, where the craftsmen involved finally have the satisfaction of seeing the items they create reach a finished form.

Decisions have been made as to the colour of the exterior and interior and the leather, carpet and wood to be used in the interior has been sourced and purchased.

There are still some flies in the ointment, though. The radiator grille assembly is of different dimensions than the ordinary T 57 grille, and while we have the entire grille, there is a small panel in the bottom that is an unusual shape. The one that was supplied is from a stock grille, so it doesn't come close to being a fit. It is a small part that we could manufacture by hand, but that would take more than a week. An attempt to have another grille piece that would fit fabricated by the original company that made us the flawed part has been fruitless so far.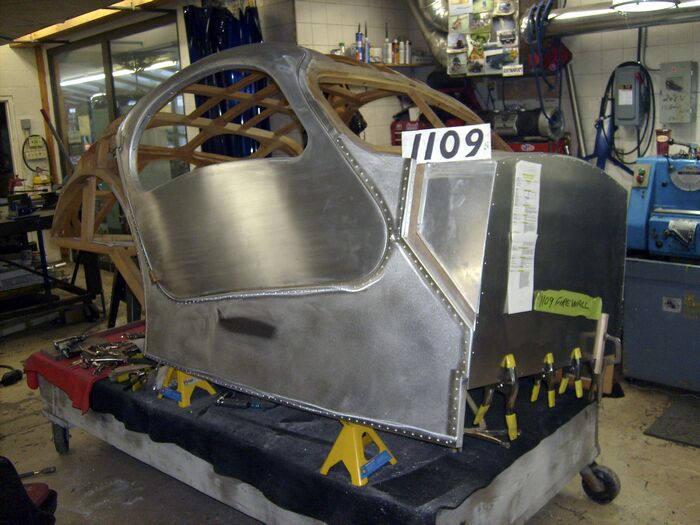 Between last year, when we ordered the parts to be manufactured, and now, the supplier has disappeared. One of our problems is so many companies have folded their tents in the last year that we are often met with disconnected phone lines and web and email addresses that no longer work. That is a strong argument for doing almost every kind of fabrication in-house.
Some of the gauges in the dashboard remain unsourced and, as we get to the end of the line, we have to make final decisions about such items. In some cases, we have simply avoided purchasing gauges because their owners want so much money for them. I still bridle at being asked to pay $5,000 for a speedometer. At this point, we can actually make a gauge for less. The question becomes whether we should, considering how many original parts are in the car. That is why decisions get put off as we search for other, hopefully less expensive, original gauges to flesh out the dash.
It is during this phase of a project such as this that one can really appreciate the skills and talents of the people working on it. To hold a complex part in your hand that came through the door only days earlier as flat stock and which is now undetectable from an original part is inspiring -- and such a change from the unfortunate lack of skills that pervade too much of modern society.
The parts range from tiny fasteners and clips for the interior to the correct seat rails and brackets for the original seats. Of course, the entire body has been created from sheets of magnesium, no small feat, but that does not take away from the beauty of parts such as door handles, dashboard, headlight mounts, pedal assemblies and even the parking brake handle, which had to be designed, cast and then finished and plated in nickel.
No matter how many years I have been in this business or how jaded I have become about many classic cars, I still hold a sense of wonder as I see a complex machine take shape from sheets of metal and bars of rough stock. To be tasked with the re-creation of one of the most beautiful cars of all time and to have had the pleasure of assembling the talent required to breathe life into it is a major accomplishment. Considering how fortunate we have been over the last years and how many incredible cars we have restored -- more than 1,000 at this point -- it takes a pretty special car to rise above the herd.
The Aerolithe is certainly that.
david@guildclassiccars.com
---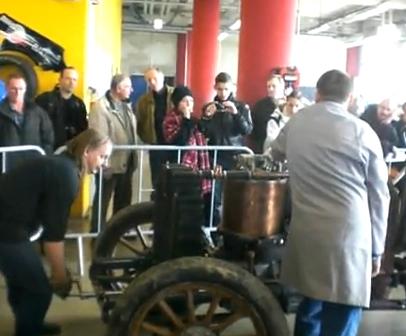 March 18, 2010
Bugatti Type 5 engine runs in the car
Udo Joerges lets me know this. Check it out on Youtube: " Bugatti Type 5 engine running in the car ".
There is also another movie of the engine running, while not yet in the car.
---
March 15, 2010
Auction result
Gooding & Compagny, Amelia Island Auction, March 12, 2010 (prices include the buyer's premium):
Lot 9 - 1928 Bugatti Type 35C Grand Prix "#4935" - Sold for $900,000 versus pre-sale estimate of $1,000,000 - $1,400,000
Lot 66 - 1932 Bugatti Type 50 Cabriolet #50144 - Sold for $1,100,000 versus pre-sale estimate of $1,250,000 - $1,500,000.
Thanks to Christophe Chanterault
---
March 12, 2010

Bugattibuilder.com update

Herman Brouwer sent the following mail:

3 out of the 5 harddisks that my friend bought (new!) for this job, have crashed. (in different computers, different locations).

Both the server my friend was building, and the server which should host Bugattibuilder, have been turned off, to prevent loss of the other 2 disks, which contain operating systems and data. (no Bugattibuilder data yet). Given the fact that 3 disks died already, the trust in the remaining 2 disks has gone.

So basicly it is now a task of bringing in more harddisks, and claiming warranty on the old ones. Which unfortunately will set us back a few days.

Plain annoying, but not much I can do right now.
---
March 11, 2010

Bugattibuilder.com and Bugattiregister.com sites up soon again

Herman Brouwer, the sites' host reports:

The server I am running the site on, lost 1 harddrive fatally, without any warning. This is the harddrive which contains the operating system.

The 2 disks (mirror, for safety) which hold the data, including the websites, appear to be OK.

A friend of mine has been working all weekend and a couple of nights, trying to recover and restore the faulty disk, unfortunately to no avail.

A completely new, professional server has been purchased, which has far more safety features then the old one. Basicly everything that is vital for running, is duplicate in this new server. (power supply, harddisks, processors, etc.). Also, the operating system architecture will change dramatically, to allow fast recovery in the event of a future failure. (VMWare, for the experts)

I hope to have the server up and running in the next couple of days. I must say that I will try and install the websites on a Linux server (I have never done that before) to allow for some nice features and better performance.

The only drawback at this point is that I am very limited in time, due to personal circumstances.
---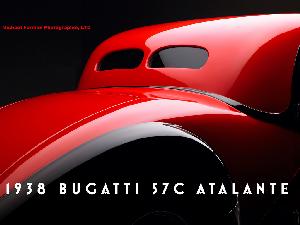 March 7, 2010

Mullin Automotive Museum to Open its Doors in Spring 2010 - April 15

New Southern California Institution Celebrates Art Deco and Machine Age Design Eras

Oxnard, Calif. (2010) – The Mullin Automotive Museum, a facility that will pay homage to the art deco and machine age design eras (1918-1941) that produced exquisite art and magnificent automobiles, will officially open its doors for the first time in the beach community of Oxnard, Calif., Spring 2010.

The dramatic facility will be a three-dimensional celebration of the pre-World War II Belgian/French decorative arts movement, long described as Art Deco. Sharing the more than 50-thousand square-feet of exhibit space will be one of the finest collections of coach-built automobiles, furniture and art from the Deco era.

A display of more than 100 historic French cars is planned to include examples from Delahaye, Delage, Talbot-Lago, Voisin, Hispano-Suiza and of course, Bugatti, wrapped in voluptuous forms from the iconic coachbuilding ateliers of Chapron, Figoni et Falaschi, Gangloff, Vanvooren, Labourdette, Letourneur et Marchand and Saoutchik, among others. And, while his work was exclusive to the cars created by his father, Jean Bugatti was among the best designers of his time and will also be well represented, along with the art of his sister, uncle, father and grandfather.

Next to the Pebble Beach Concours winning automobile restorations, will be displayed 30 unrestored art treasures. They are the core of the collection purchased by the Schlumpf brothers, industrialists of the Alsace region of France in the early 60s. Their goal was to bring all the Bugattis back to where they had been created. Their enormous collection of French cars is now called Musée National – Collection Schlumpf.

The remaining collection, called "The Reserve Collection" is made up of the renowned American sportsman John Shakespeare's collection, purchased by the Schlumpf brothers along with other French classics. Peter Mullin recently purchased that complete collection and will exhibit 30 of his favorites in as-found condition before a 90-foot diorama of the barn in which they were discovered. This remarkable juxtaposition will also illustrate the work required to make a barn-find car into an award-winning showpiece.

On the nearly 11-thousand square foot mezzanine is planned another exhibit of French classics from the less sensual Grand Prix and Le Mans sports-racing school of design including Gabriel Voisin's incredible "Laboratoire" experimental racer. They will be shown in a pre-WWII Le Mans track and racing pit diorama to give viewers a sense of the casual atmosphere once enjoyed by the racing elite.

"Club Bugatti" will share the second floor. Here we will be encouraged by Mr. Mullin to remember that the Bugatti name and its creative gene predated and paralleled the famous Ettore, so reverently chronicled in the automotive world. The family art exhibit will include priceless furniture created by Ettore's father Carlo near the beginning of the last century, bronze sculptures by Ettore's brother Rembrandt and elegant pastels and charcoal drawings by Ettore's daughter, Lidia. The entrance to the Club will be around a freestanding wall containing a set of Carlo Bugatti's splendid doors.

The science of the Twenty-first Century will protect the art of the Twentieth. A well-integrated green power supply and supporting insulation will create an interior climate carefully tuned for preservation. In that atmosphere, the priceless restorations and fine art pieces will cease measurable age.

An elevator will rise from the main floor through the mezzanine to a roof deck and garden. Art deco waveform grilles surround the elevator mechanism. The elevator tower includes a staircase and will double as a photo gallery illustrating Parisian life during the "Belle Époque." The rooftop view will include the green discipline of the 21st century facility. The roof itself is sealed in thermoplastic polyolefin (TPO) with heat-welded seams. The surface is so white and smooth, its manufacturer states it will reflect 20% of the solar heat away from the interior. An array of photovoltaic panels collects the area's nearly uninterrupted daytime access to solar power and a set of ducted-turbine generators makes use of the steady ocean breeze. Their design will actually advance the deco theme above the museum's entrance. Below them, the entrance is shaded by an Eiffelesque iron portico supporting dozens of tinted windshields that looks both period correct and apropos collections within.

Mr. Mullin would like the collection to be known as a museum of the art deco period. The mature forms of that new design language were established by "l'Exposition International des Arts Décoratifs et Industriels Modernes" (1925); dubbed Art Moderne for many years then Art Deco by a journalist in 1960. That concise description has survived half a century. In spite of the best efforts of a devoted connoisseur of Arts Décoratifs Modernes, it will likely be the Arts Industriels that will raise emotions and make memories - it will be the cars.

Swiss sculptor Max Bill described the convergence of fine and industrial art of the period; "Whether he like it or not, those who create new forms succumb to the influence of modern art...Comparison between an automobile and the sculpture of its time will show how close the relationship is between works of art and the forms of useful objects." Contemporary designer Philippe Charbonneaux describing Figoni's work said, "...very much an artist...a master of curves and elegant lines." Even the connoisseurs in Britain could not resist colorful commentary. As auto enthusiast and noted aficionado Sir Peter Ustionov suggested: "One drives, of course, an Alfa Romeo; one is driven in a Rolls Royce; but one gives only a Delage to one's favorite mistress." Sir William Lyons, father of the sweeping forms of SS and Jaguar cars, described the classic French work as, "positively indecent."

The Mullin Automotive Museum
1421 Emerson Avenue
Oxnard, CA 93033
www.mullinautomotivemuseum.com
info@frenchcurves.org
---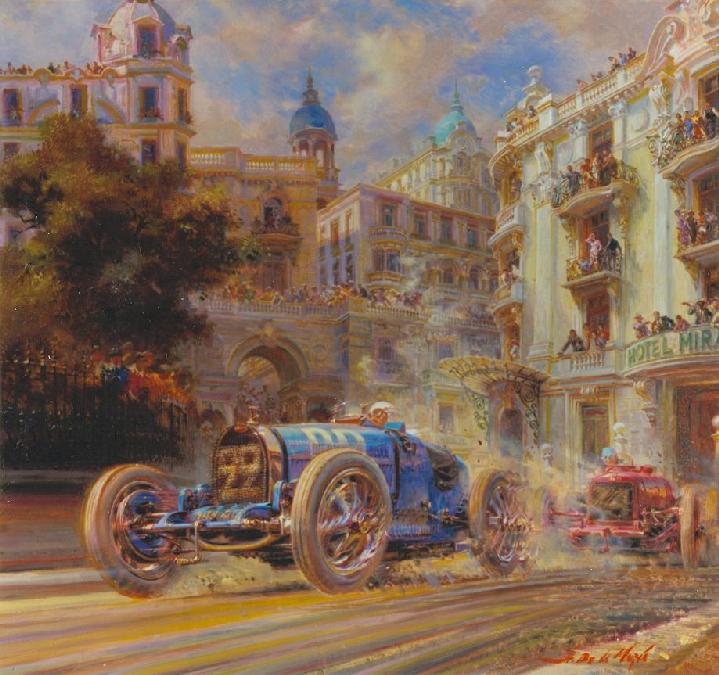 "Bugatti at Monaco" by Alfredo de la Maria. Showing the 1930 Monaco GP. Rene Dreyfus pilots the winning
Bugatti T35B through Mirabeau while the #34 Maserati 8C of Arcangeli chases behind.
Available as an original giclee on canvas in an edition of 100.
www.collectorstudio.com
---
February 19 - June 20, 2010 Exhibition "Van Barye tot Bugatti. Les Animaliers" NOT OPEN Scheveningen, the Netherlands

ATTENTION: I GET REPORTS THAT THIS EXHIBITION IS NOT OPEN YET!

With some Rembrandt Bugatti sculptures.

Museum Beelden aan zee
Harteveltstraat 1/Boulevard
SCHEVENINGEN

For more info: Click here
---
April 28 - July 31, 2010 30 year quattro in Audi Museum Mobile Ingolstadt, Germany

In the show there will be various 4WD automobiles, from the Spyker to the mooncar

In the show there is of course the chassis of the Bugatti T53 from the museum 'Cité de l'Automobile', the Schlumpf-collection
---
May 1 - 2, 2010 Grand Prix De Monaco Historique Monaco
Race A - Pre 1947 Voiturettes and Grand Prix cars
See for more info: www.acm.mc
---

May 6 - 9, 2010 Mille Miglia Italy
Last year Bugatti won first and second place, with Bruno Ferrari in a Type 37 coming first, and Carlos Sieleckis 2nd in a T35A
This year the Bugattis will of course have a good chance of winning again, with 10 Bugattis competing!
See for more info: www.1000miglia.eu
---
May 8 - 9, 2010 1st Historisch Waterloo Waterloo, Belgium
Rally and Concours d'Elegance.
See for more info: this PDF file
---
May 31 - June 6, 2010 International Bugatti Rally 2010 Salzburg, Austria
More info: www.bugatti-club-austria.at
---
May 29 - 30, 2010 La vie en Blue Prescott, UK
---
June 3 - 6, 2010 Classic Welt Bodensee, Friedrichshafen Germany
---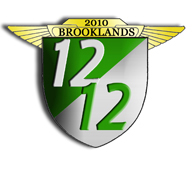 June 5 - 6, 2010 Brooklands double 12 Brooklands, UK

If you haven't already entered your car for the Brooklands Double Twelve, there are still a few more weeks to go until the class lists close. I am delighted that we already have some great cars entered for this competitive and fun event and am really looking forward to June 5th and 6th when the Double Twelve returns to Brooklands.

There will be 144 cars in total, 12 in each of the 12 classes, invited to compete in the combined Double Twelve Driving Tests and Concours competition in and around the Museum site over the weekend. A new feature this year will be to incorporate some of the original Campbell Mountain Circuit in to the driving tests. There will be more about this when the full test details are announced.

More info from Nic Waller phone +44 (0)787 551 6817 or email me at nic.waller1@virgin.net
---
June 13, 2010 Classy Chassis - Concours d'Elegance Houston, USA
More info: www.classychassis.org
---
June 20, 2010 Nationale Oldtimerdag Lelystad, the Netherlands

20 juni vindt de 26e editie plaats van de Nationale Oldtimerdag in de Flevolandse hoofdstad Lelystad.

Graag nodigen wij u uit om met uw Bugatti gast te zijn tijdens deze meeting met 400 veteran, vintage en classic cars.

Er komen gemiddeld 25.000 bezoekers die gratis toegang hebben.

Wij bieden u daarvoor een hotelarrangement voor twee personen in het 4-sterren Apollo Hotel Lelystad City Center inclusief oldtimerontbijt, een welkomstdrankje en een surprise op de kamer.

Tijdens de dag bent u onze gast en zorgen wij voor lunchpakketten, koffie- en consumptiebonnen, deelnemersvaan, rallyschild, deelnemersdraaiboek en een attentie na afloop.

More info: www.oldtimerdaglelystad.nl
---
June 24 - 29, 2010 Masterpiece London London, UK

Coys will show a 1932 Bugatti Type 51 Grand Prix motor car, which has been raced by legendary driver Jean Pierre Wimille and is one of the finest surviving examples of its kind.

More info: www.masterpiecefair.com/
---
July 2 - 4, 2010 Goodwood Festival of Speed Goodwood, UK
---
July 9 - 11, 2010 Le Mans Classic Le Mans, France
---
April 7, 2010 HV Auction How Caple Court, Herefordshire, UK

27 lots of Bugatti spares, automobilia and publications.

Catalogue (PDF)
---
April 7 - 11, 2010 Techno Classica Essen Essen, Germany
---
April 7 - 16, 2010 Molsheim-built Trippel on auction Munich, Germany
A Trippel Schwimmwagen SG-6 that was built at Bugatti's in 1942 will be on auction at Hermann Historica in Munich between April 7th-16th, 2010.
Viewing will be March 27th - April 01st, 14:00 - 18:00 hours.
The car is taxed € 120 000. The condition seems to be fine.
Thanks to Ralf Scholz
---
May 1, 2010 RM Auctions, Sporting Classics Of Monaco Grimaldi Forum, Monaco

- Lot No. 253: 1935 Bugatti Type 57 Ventoux #57594, Estimate: €300.000-€360.000,
More details : www.rmauctions.com

- Lot No. 254: 1951 Bugatti Type 101 Coupé by Van Antem #101504, Estimate: €500.000-€750.000,
More details : www.rmauctions.com

- Lot No. 283: 1937 Bugatti Type 57 Stelvio by Gangloff #57435, Estimate: €420.000-€480.000,
More details : www.rmauctions.com
---
February 27 - 28, 2010 Desert Classic Concours d'Elegance La Quinta, Calif., USA

Glamour returns to La Quinta Resort & Club, the legendary Hollywood hideaway in La Quinta, Calif., with the third annual Desert Classic Concours d'Elegance (www.desertconcours.com)

On Sunday, February 28, beginning at 10:00 a.m., the stunning cars, along with a description of each vehicle and its significance, will be displayed on La Quinta Resort & Club's Mountain Course. Conjuring up images of the popular Palm Springs Road Races during the 1950s, automobile aficionados will be delighted to see incredible racing cars, including the 1955 Jean Behra Porsche 550 and the 1959 Scarab Formula One Car.
In addition to the cars of the 1950s, there will also be dazzling examples from other eras, including the 1939 Shah of Iran Bugatti Type 57.
---
March 11 - 14, 2010 Retro Classics Stuttgart Stuttgart, Germany
---
March 12 - 14, 2010 15th Amelia Island Concours d'Elegance USA
---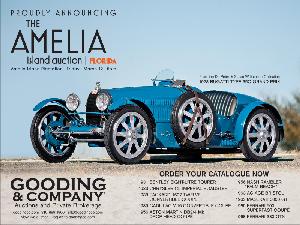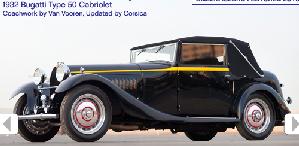 March 12, 2010 Gooding & Company auction Amelia Island, USA

1928 Type 35C

Known as the first car that sparked Dr. Peter and Susan Williamson's love for Bugattis, the 1928 Bugatti Type 35C Grand Prix is a gem within the rare breed of racing Bugattis, one of the most iconic and historically significant Grand Prix cars ever built. Painted in traditional French Blue, this car was easily spotted over the years at numerous Bugatti tours and Colorado Grand rallies with Dr. Williamson behind the wheel. Gooding & Company estimates that this car will sell between $1 Million - $1.4 Million.

Type 50 Cabriolet van Vooren

Produced in limited numbers, the Type 50 was one of the most exclusive Bugatti models of all time. After spending a number of years with famed Bugatti enthusiast Col. Giles, this significant car migrated to the United States. Joining the Williamson family in 1964, this rarity has recently been restored and displayed at the Pebble Beach Concours d'Elegance®. Gooding & Company estimates that this car will sell between $1.1 Million - $1.5 Million.

Both Bugattis are from the Dr. Peter and Susan Williamson collection, probably more Bugattis as well, check back here later for more info

Or go to www.goodingco.com
---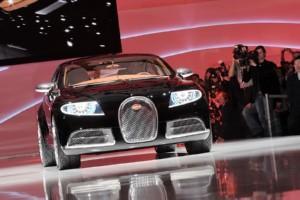 March 6, 2010

Bugatti presents Galibier and 2 new versions of the Veyron at Geneva

Where customisation becomes an art form

Two unique Bugatti Veyron 16.4 Grand Sport models at the 2010 Geneva International Motor Show Geneva, 2 March 2010 – One year on from the launch of the Bugatti Veyron 16.4 Grand Sport, Bugatti Automobiles S.A.S. will be exhibiting two customised Grand Sport models at the Geneva International Motor Show 2010. A special exhibit on the Bugatti stand will also give visitors to the show a glimpse at the technology that lies beneath the bodywork of the Grand Sport.

Throughout his life, Ettore Bugatti constantly experimented with different colour schemes and materials as he sought to create his unique cars. Today, Bugatti Automobiles S.A.S. continues this tradition, and is constantly expanding the range of options it offers on the basis of suggestions received from customers. In discussion with the design and engineering team, buyers of Bugatti cars can tailor their vehicles to their personal preferences by choosing from a wide array of exquisite materials and paint finishes. The two models on display in Geneva showcase the evergrowing range of options available to new Veyron and Grand Sport owners.

Two-tone colour scheme with Royal Dark Blue carbon fibre and Arctic White

On the first of the two Grand Sport models exhibited in Geneva, the bonnet, monocoque and rear section are made of carbon fibre tinted in a Royal Dark Blue colour that shows off the lustre of the fibre. Air intakes and all grilles (except the highly polished radiator grille) are likewise finished in Royal Dark Blue, creating a striking contrast between the central part of the car and the Arctic White side panels. The inner sides of the horseshoe-shaped spokes in the wheel rims are also painted Royal Dark Blue. The EB logos on the wheels, and fuel and oil filler cap are still made of polished aluminium as usual. The characteristic Bugatti two-tone colour scheme thus extends down to the last detail.

The combination of blue and white is also found inside the cabin. The dashboard, centre console, seats and interior trim panels are all made of dark blue Indigo Leather, with white stitching on the steering wheel, seats, centre console and gearshift knob making a striking contrast. The quilting pattern gives the vehicle's interior a dynamic look in keeping with its performance. The car has already been sold for 1.75 million euros (ex works).

Horizontal two-tone colour scheme with dark grey carbon fibre and polished aluminium

The second of the two display models follows a very different interpretation of the two-tone concept, one that first appeared on the Bugatti Sang Bleu. The upper section of the body – including the doors and side panels – is made of dark grey carbon fibre, framed whilst the bottom part of the car is finished in polished aluminium. The lower air intake grilles are polished to a brilliant shine. The wheel rims are the same as those on the Bugatti Pur Sang, with Ebony Pearl inner sides and a Diamond Cut face. The EB logos and all screws are made of sparkling aluminium.

As in the first car, the dashboard, centre console, seats and interior trim panels are upholstered in leather, but the silver colour used here does not contrast as strongly with the white stitching as the blue, giving a softer, more elegant feel. This car too has already been sold, with a price tag of 1.65 million euros (ex works).

Customers who find themselves inspired by the two display models can design their own Bugatti in the "Customisation lounge". In this dedicated area of the Bugatti stand, they will find an extensive collection of paint and material samples, allowing them to select the ideal combination for their own Grand Sport or Veyron coupé.

Where technology becomes an art form

These spectacular vehicles are the result of painstaking craftsmanship combined with state-ofthe- art materials and technologies. At this year's Geneva International Motor Show, some of the technical secrets of the Bugatti Veyron 16.4 Grand Sport will be revealed to the public for the first time. Almost as soon as they were launched, the Veyron and the Grand Sport acquired cult status and secured their own niche in automotive history. They were recently chosen as the car of the decade by two influential English-language motoring titles, Top Gear and Robb Report.

The Bugatti stand in Geneva will feature an exhibit of a Grand Sport broken down into its two main sections: the front end/monocoque, and the rear section with the engine and gearbox. The two sections are normally joined together by titanium bolts. The most striking thing about the rear section is the unique titanium exhaust system. This is surrounded by the electrohydraulic wing-spoiler array. The double wing, which both provides aerodynamic stability and functions as a brake, is normally hidden from view but here it is clearly visible. At the other end of the rear section, the two engine-turned aluminium oil sumps can be seen. The high-strength CFRP roll bar above these is visible on the passenger side, but hidden by an air scoop on the driver's side.

The monocoque, incorporating main beams and cross members made of lightweight, highstrength carbon, can be recognised by its fibre structure. A saddle fuel tank is built into this in a protected position, with a firewall between it and the engine. The ceramic brake discs and the polished stainless steel suspension, which are normally hidden behind the wheels, are also clearly visible in the technical exhibit.

This unique insight into the workings of the Veyron is sure to be a big attraction at the show. It is complemented by a separate display of the Veyron's engine and gearbox. Bugatti Automobiles S.A.S. was the first manufacturer in the world to offer a seven-speed twin-clutch gearbox, which is mounted longitudinally in front of the mid-engine in the all-wheel-drive Veyron. Both gearbox and engine use a dry-sump design, primarily because this helps to achieve a lower centre of gravity.

Distribution of engine torque between the two axles is handled by a Haldex clutch located behind the front-axle differential, while the rear-axle differential is notable for its multi-disc differential lock.

At 710 millimetres in length, the car's 16-cylinder mid-engine is no bigger than a conventional V12 unit. Its compact dimensions are made possible by the unique W layout, which consists of two offset double row banks, each comprising eight cylinders and with a bank angle of 15 degrees.

The two banks are at an angle of 90 degrees to each other, and are housed in to a single crankcase.

This means that they function as a single engine, aspirated by four turbochargers. The engine has a maximum output of 1001 horsepower at 6,000 rpm, and develops 1,250 newton-metres of torque between 2,200 and 5,500 rpm.

2009 was a difficult year for the whole automotive industry, but Bugatti still delivered 50 vehicles. To date, 255 customers have ordered a Bugatti Veyron, and 230 of these have now received their car. Nine of the 26 Bugatti Veyron Grand Sports ordered to date have so far been delivered.

(Bugatti SAS)
---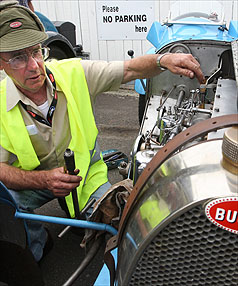 February 20, 2010

Bugatti in Australian Top Gear tour

The car driven by a man whose skills were once praised by legendary racer Stirling Moss was part of a convoy that roared through Palmerston North to promote the upcoming Top Gear Live show.

About 25 classic cars, ranging from Ferarris to Jaguars, stopped at the Pioneer Highway Shell service station yesterday, after leaving from Invercargill on Sunday.

The cars will visit 10 locations before finishing in Auckland for the Top Gear Live show, which features appearances from hosts Jeremy Clarkson and James May, and Kiwi racing driver Greg Murphy.

One of the convoy drivers, Awhitu's Terry Roycroft, is travelling in the 1925 Bugatti he inherited from his racing driver father Ron, who won the 1954 New Zealand Championships and the 1956 New Zealand Grand Prix.

Mr Roycroft said he once overheard British racer Moss, who was watching his father drive the Bugatti, say: "If Roycroft gets a decent car we'll have to watch out for him because he drives like Fangio."

Argentinian Juan Manuel Fangio was a dominant force in the early era of motor racing, winning five Formula One World Championships between 1951 and 1957.

Mr Roycroft said that when the car had a Jaguar engine it could reach speeds of 255kmh, but he was unsure how fast it would go now.

"We came up from Invercargill and it's handled quite well," Mr Roycroft said. "It was noted for its handling when it was a racing car."

Convoy organiser Brett Macleod said things had been going at breakneck speed since Sunday.

"It's been a busy time for us coming up the country but it's been fun getting into all the towns.

"The whole thing is about celebrating the love of motor racing and good cars."

The convoy moved on to Hastings last night, and would go to Napier, Taupo, and Hamilton, today.
---
February 19, 2010

Auction result

Artcurial Auction, Automobiles de Collection, Paris, Palais des Congrès, February 14, 2010, Paris, France

Lot 62: 1937 Bugatti Type 57C Atalante #57756, Not Sold
---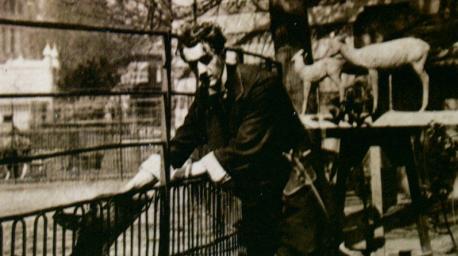 February 8, 2010
Excellent Rembrandt Bugatti website
Recently I had some communications with Veronique Fromanger, THE expert on Rembrandt Bugatti. She showed me the excellent website from her hand about the work of this very talented brother of Ettore, who tragically killed himself in 1917.
The website has a load of information, and of course hundreds of pictures of the sculptures themselves.
Follow this link: www.rembrandtbugatti.info
---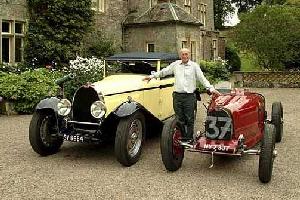 January 25, 2010

Obituary: Fitzroy Raglan

A leading member of the British aristocracy who has been a mainstay of the UK Bugatti Owners Club for several decades and served as its Patron in recent years.

He was the long term owner, for twenty-seven years, of a type 37A (37298 with engine 189) who is now best remebered as the owner of a red type 51 (NY 7337) used in competition by himself and John Venables-Llewelyn and frequently driven to meetings by road. He also owned a primrose and dark-blue type 46 tourer (46331) with the UK reg. no. SV 668 (a car which had been prepared for a trans-Sahara expedition and fitted with "estate" coachwork.

As a competitor at Prescott between 1984 and 1999, he showed great consistency, recording long-course times of 54 secs. seven times with a best of 54.21 in September 1998. Best time for the short course was 44.11 secs. recorded in August, 1998 see "Bugantics" 58/2/19).

His interest in sporting motor cars has extended over more than fifty years. In 1955 he worked as a volunteer bodywork designer in Cairo on an Egyptian sports-racing car project known as the Phoenix 150 SR. The project was the brainchild of Raymond Flower.

He lived in the historic and extremely beautiful Centilla Court near Usk and adjacent to Raglan village in Monmouthshire and was a leading and active member of the Bugatti Trust from its inception.

In January 2009 he hosted "Raglan avec Elégance" which was recorded and is available from the Trust (£12.99 plus p&p). He died on 23rd January 2010 after a short illness.
---
January 25, 2010

Auction results

Bonhams, Automobiles d'Exception á Rétromobile, 23 Jan 2010 Rétromobile Salon, Porte de Versailles, Paris
1925 Bugatti Brescia Type 22 Roadster chassis no.2461 engine no.879, Estimate: €70,000 - 90,000, Sold for €260500

The sale was hotly contested by 6 bidders and finally won by an European collector on behalf of the California Collection of Peter Mullin, who will exhibit in the state it is in future museum near Los Angeles, while the under-bidder, U.S., too, wanted to restore it.
The successful Dutch buyer (Jaap Braam Ruben) who bid on behalf of Peter Mullin told the press that he had no price limit for acquiring the car, before adding "Bugatti is the first desease". Evidence that the importance of the crisis is not the same for everyone...

1937 Bugatti Type 57C Berline chassis no. 57477, Engine No. 347, Estimate: €120,000 - 150,000, Sold for €158700
1927 Bugatti Type 44 Roadster chassis No. 441139, Estimate: €120,000 - 160,000, Sold for €157550
1929 Bugatti Type 44 'Fiacre' Coupé Coachwork by Jean Bugatti, Registration no. UAS 803, Chassis no. 441193, Engine no. 398, Estimate: €220,000 - 260,000, Not Sold
Gooding & Company Scottsdale Auction, Scottsdale, Arizona, Friday, January 22 & Saturday, January 23, 2010 :
1931 Bugatti Type 49 Cabriolet Coachwork By Beutler Chassis No. 49427, Engine No. L327, Sold for $264,000
1938 Bugatti Type 57C Roadster Replica Coachwork in the Style of Corsica #57577-R, Engine No. C15, Sold for $429,000
Prices include buyer's premium
Thanks to Christophe Chanterault
---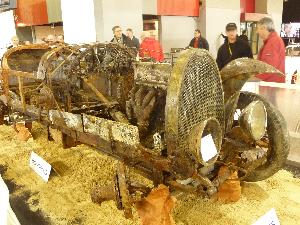 January 24, 2010

Sunken Bugatti Relic fetches 260,500 Euro at Bonham's

Over the course of the past few months the Brescia sold at the Bonham's sale last night has become one of the most celebrated of all Bugattis. Having lain submerged beneath the waters of Lake Maggiore in Switzerland for more than 70 years it Remained under the water , undiscovered, until 18th August 1967 .The ship-wreck of a Bugatti became a popular target for members of the local sub aqua club. On 12th July 2009, after a 73-year sojourn in Lake Maggiore the Bugatti was finally rescued from the lake. The catalog said it would, of course, be possible to restore the car with an estimate that only some 20% of the original is reusable. I doubted that.

I examined the car with a number of other Bugatti owners and experts prior to the sale. It created a lot of interest as it was actually no longer a Bugatti but a rusted and fused together lump of various metals that had been abandoned underwater for 70 years. It was once a Bugatti, now it is a different constitution. Much like a moon rock that has left the moon, or a temple that has only a footprint left, it is now the remains of something once known by history. The titanic once was a boat, but no longer exist in that form, hence it is now the remains of history - merely DNA.

This Bugatti is the same. It is no longer a Bugatti but the end results of time and a story. So, could it be restored? The answer is no, it can not. The metal, submerged for this time is not only rotten, but it has lost it's ability to function as a metal used in a car. The atomic structure of all that metal has changed with some of the metals fusing together, and other metals remaining in the shape of the original car components. Once disturbed from it's current '' reef material condition'' , this once Brescia will never be able to be a car again. Of course, someone can reconstruct it using all new parts, and assuming the indentity , but that illusion will be forever false merely because of the process of decomposition induced by water , time, and dissimilar ferrous metals disintegrating.

Fellow Bugatti talked over the champagne that flowed before the Bonham's auction. Who would buy this ship wreck of a once upon a time Bugatti? The rumor was Peter Mullin...maybe Evert Louwman ? It maybe could go for 90,000 Euro just for the story hype. Who's Museum would house this sunken treasure? Visions of the installation of a large fish tank in the lobby of the winning bid's Museum danced as we discussed the possibilities. Even a Swiss watchmaker suggested that pieces of it be machined down to watch size pieces, into a series of a Bugatti watches ! A story spinning a underwater story capable of Jacques-Yves Cousteau proportions.

Then, more practical Bugattist ventured into the real value discussions. If you replaced every part, the mere identity could fetch a want-to-be restorer a catch at 50.000 Euro. But that could barely make sense of such a restoration expenditure. Well, everyone had an opinion. The end result on Saturday night was the remains of the dead Bugatti fetching a record, astonishing price of 260,500 Euro ( $368,300). So much for the idea of any re-construction! It is clear that it will remain in it's precise static state of wonder, likely on public display, and part of the Bugatti allure for decades to come. Well, it is now time to continue to search the Metro tunnels of Paris for that lost Royale.......

Chris Gardner
---
January 10, 2010

Bugatti Anecdote contest

I have been organizing a lot of contests over the years, starting with the best Bugatti ever contest, followed by an artistical contest with many categories in February 2002 see the past issues of the Bugatti Revue, a photo contest in 2005 and a writing contest in 2008.

For the 15th anniversary of the Bugatti Page (February 27, 2010) I thought of an anecdote contest, so this would also be sort of a writing contest. All stories, however short, are accepted. Of course preferably about Bugattis.
These might be for example funny things that happened while restoring, driving or acquiring your Bugatti.
Maybe somebody added an extra engine part to your box of parts, so you had to take the engine apart again because you thought you had fogotten it?
On the other hand, it may be that you have been searching (on foot) a garage on a sunday morning on France because your Bugatti had broken down, only to stumble upon a Bugatti specialist that did repair your car perfectly?
Maybe somebody borrowed your classic to go on holidays, and sent you a funny postcard with a made-up story about the car being damaged, only to return with the car really broken down. (Thanks Wilco)
It may also be that you acquired what you thought was a replica, only to find out that it is an original T35B which won the Grand Prix de l'ACF two times!

Of course the above are only a few examples; there generally is nothing stranger than real life. The stories may have been suffered by yourself, though it may also be something you heard. Of course it would be nice to add a picture of the car in question to the story.

Please send your story to me by E-mail or regular mail, before February 25. I will publish the stories in the Bugatti Revue on February 27.

Of course, for such a contest the honor of winning is most important, however, in my opinion a real contest needs a prize! The winner may pick any book he likes from the Special Classics Car book store, provided that the value is 40 euro or less. Of course a copy of "Bugatti Legends" is also possible.
---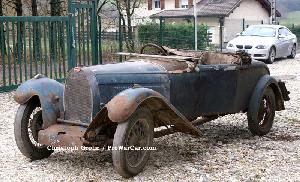 December 26, 2009

Bugatti Barnfinds still possible

From Prewarcar.com
They are getting scarce, but if you have the right contacts you might still be possible to come up with a truly great barnfind.

Swiss classic car dealer Christoph Grohe must have such friends as he found not only one but TWO really grand cars: how about this 1930 Bugatti and a 1934 Voisin! Both were put to rest in a garden somewhere in the south of France, but unfortunately were not exactly protected against the elements.

The seller had inherited both cars from his father who seemed to have bought the Bugatti in the sixties. The Voisin, an Avion C24 Charmeuse which stayed with the same familly since new, was stored in a dry garage.

The Bugatti, a 44 Roadster by Thietart of Paris, used to be covered by a wooden hut built for that purpose although over the decades the hut disintegrated. The Bugatti already found a new home, but the Voisin will be exhibited on the stand of Christoph Grohe at Rétromobile 2010.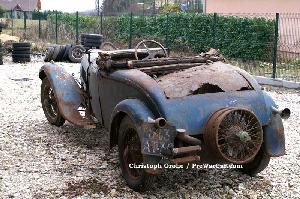 ---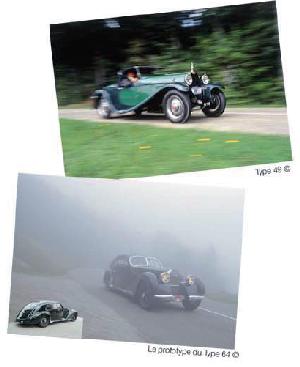 December 26, 2009

Collection of Posters

8 unique posters, photos mostly taken in full action during one of the Molsheim Festivals, by Gérard Vonpierre. I saw these personally, so I can say that the paper and printing both are of high quality.

Posters are available from the artist!
---
December 24, 2009
Exhibition in Brussels
The exhibition is very impressive, there is a complete line-up of Bugattis from 1910 to 2009, almost the full 100 years of the Centenaire! Click one of the pictures below for a full report!
And: Don't forget two walk through the rest of the Autoworld car-museum, as there are various more Bugattis there!
---
December 18, 2009

Auction result

Osenat Auction, 13th December 2009, Fontainebleau, France :

- 1928 Bugatti Type 37 Grand Prix, chassis #37301, engine #222, Sold for €1,035,700 (including the buyer's premium)

Thanks to: Christophe Chanterault
---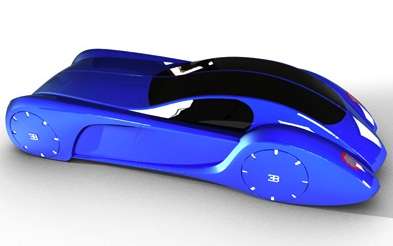 December 12, 2009

Bugatti Type 57 Concept

Bugatti has been attracting designer's attention throughout the years, many designs have been presented in these (and the Bugatti Revue) pages. The takeover of Bugatti by Volkswagen did not change that at all!

A Bugatti Type 57 concept is courtesy of the imagination of Edwin Conan. This sleek concept car is a retro-inspired auto influenced heavily by the 1930s original Bugatti Type 57.

In fact, the Bugatti Type 57 looks a lot like a car Alfred would drive Bruce Wayne around in. The aerodynamic design has a stretched hood and gently curving cabin. This luxurious modified Bugatti Type 57 concept would also be eco-friendly with a hydrogen-run engine.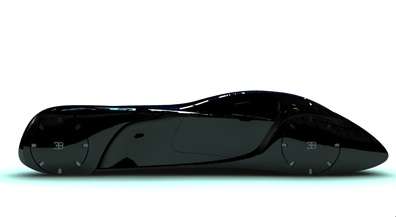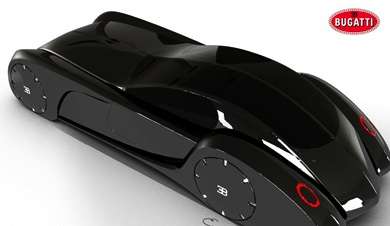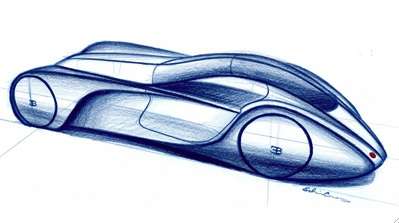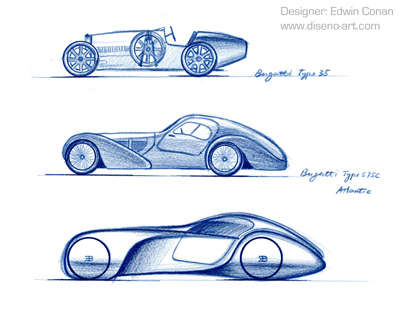 ---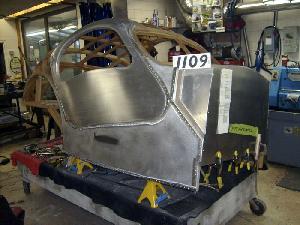 December 12, 2009

The Aerolithe Project: An update

Now comes the fun of assembling the car

David Grainger, National Post
Published: Friday, October 16, 2009

There has now been enough progress on the Type 57 Bugatti Aerolithe project to warrant another column.

I regularly receive email from interested readers all over the planet who are wondering what is going on. Some actually made the assumption the project had stalled -- yet another victim of the economic downturn.

In fact, the Aerolithe project has never faltered. Progress, while appearing slow, has actually been quite good. It's just that in the production of an entirely handmade automobile there is a great deal of time spent making things that are inglorious. It's very difficult to write enthusiastically about creating brackets, hinges, grommets and other sundries that are required to assemble a car.

We are now at a stage where most of that has been done and now we get the fun of starting to assemble all the bits into what promises to be an absolutely outstanding and beautiful Bugatti.

The Aerolithe's body is composed of magnesium, and I have previously written about the problems associated with using this eccentric metal -- so I won't bore you with a retelling. I can say that its use added at least 40% in costs and time. That said, the magnesium gives the car a credibility that would otherwise be impossible to obtain if we had just made an aluminum recreation. After all, Ettore Bugatti claimed the original car was made for magnesium, and it became known as the Electron Coupe.

The car body is so light that two people can pick it up and move it around quite safely, so there was a real advantage to using Electron, especially for a designer such as Ettore Bugatti, who was obsessed with creating ever-lighter cars.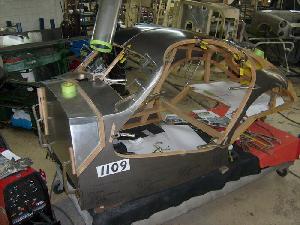 The car's chassis is pretty much finished. It has been dry assembled and the missing fixtures created. It will actually be run up this week and should be capable of moving under its own power. On a project like this, this is a milestone moment. The engine was run on the bench months ago to test it, but this is the first time it will be linked to its transmission, differential and all the other bits that will push this car down the road.
The floors of the car have been created from aluminum plate, the firewall from sheet aluminum and the toe boards from wood. The floor was a critical piece of engineering -- because the Aerolithe has very little headroom, the floor plan had to be quite clever in order to make the car drivable. The seats also had to be modified. However, none of these alterations reaches outside the realms of other special-bodied Bugatti Type 57s. The body itself is nearly fully created and is in the process of being rive ted and screwed together. Some last-minute alterations have had to be made, such as modifying the inside of the wheelwells to avoid conflict between the shock absorbers and the body. But, for the most part, it has been astounding how well the Aerolithe coachwork has mated to the standard Type 57 chassis.
The largest modification from the standard pattern was the set-back of the motor and the grille. In order to drop the hood profile below a standard Type 57, the engine and radiator were moved backward 90 millimetres. On a production Type 57, the bottom of the radiator sat directly over the front axle; the Aerolithe's sits behind and below the axle. This allows the body and the hood to sit significantly lower, giving the car a more aerodynamic appearance.
The Aerolithe has a design feature that was ridiculed when the original car first appeared at the Paris Auto Show in the 1930s, but, over time, this design feature has become a signature of the Aerolithe and the three Bugatti Atlantiques that followed.
The body has a central spine running down it as well as the fenders both front and back. These spines are for riveting the metal shells together. There are literally hundreds of rivets to install, each one carefully applied so that both sides of the rivet are perfect in size and symmetry. This is a fussy and time-consuming job, but, when finished, the riveting makes for a very dramatic appearance. The shame of it is that there are a lot of other rivet lines on the car, but these are flush with the coachwork so the craftsmanship will be lost under layers of paint.
Speaking of paint, we are almost ready to start refinishing panels, and the chassis will be disassembled one last time for its final paint. The next time it goes together, the chassis and mechanicals will be a finished object of art. The body will be mounted shortly thereafter.
The project is almost at the end of the tunnel and, fortunately, the light in the distance is not an oncoming train.
---
December 12, 2009

New versions of Bugatti Veyron presented

Bugatti, known to present new versions of the Veyron on a regular basis, presents 3 new ones at the Dubai motor show.

Bugatti is bringing along three special Veyrons dubbed Nocturne, Soleil de Nuit and Sang d'Argent, so past experiences point at special paint jobs, unique interiors and fresh wheel designs.
---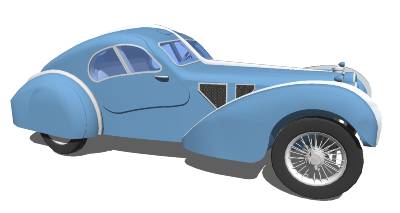 December 12, 2009
3D Bugatti Sketchup drawings
Just found, maybe a nice start for your own drawings, or you can use them as a background in your Sketchup architectural designs. Sketchup can be downloaded for free from Google.
Follow this link.
---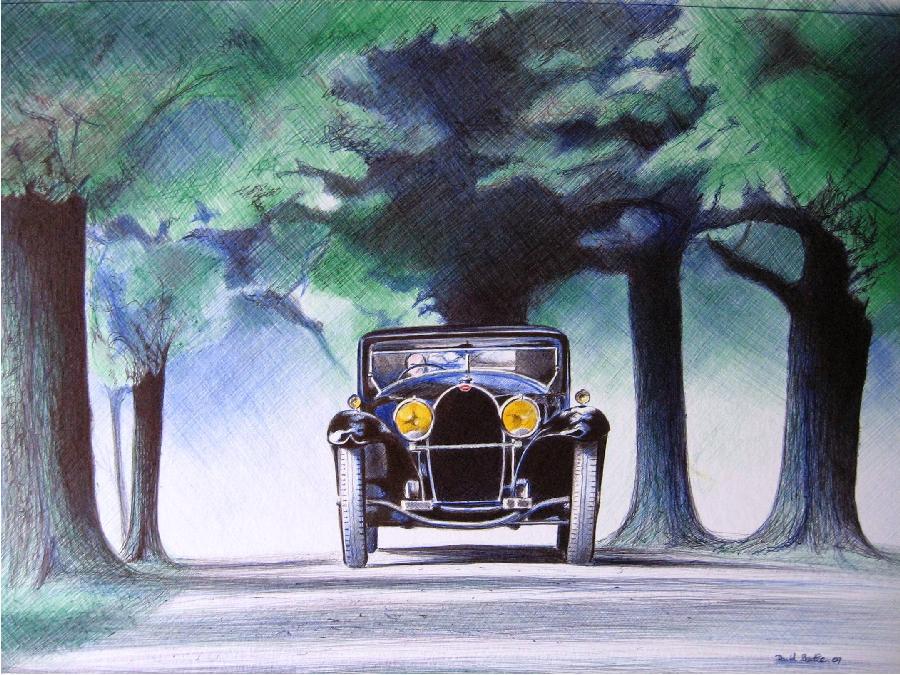 Drawing by David Beattie.
The drawing shows Ettore in his personal Type 41 Royale Chassis (41100). The drawing size is larger than A3 and is drawn with ordinary Biros.
The lights have yellow ink but it's all biro apart from that. It has taken me fifty four hours plus to complete, I have enjoyed every moment.
Thirty plus photos a model and all information I could get on this car so I knew my subject well. I taught myself this technique.
---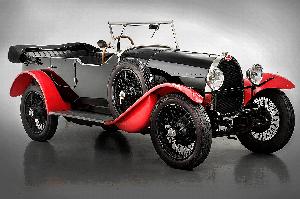 February 11, 2010
Auction result
Bonhams & Goodmans Auction, December 5, Sydney, Australia:
1925 Bugatti Brescia type 23 Original body by Comptons Chassis no. 2493 Engine no. 901
Sold at: 179,236 EUR
By 1926 the type 13 had been developed into the superb type 23. The wonderfully original condition of this Brescia Bugatti can be attributed to its relatively sheltered life.
While most Brescias delivered to Australia saw duty as racing cars and therefore suffered the usual associated mechanical depredations, 2493 was delivered new to London where it received its elegant tourer body from the well known coach builders, Comptons. It was first registered Yo 4627 in London on 4 June 1926. Its survival, unmolested, can be attributed to it being sparingly used with the odometer reading 45,000 miles when it arrived in Australia.
The name of the first owner is not known, but by December 1931 it was in the hands of Archibald Colquhoun, a student at Christ Church, Oxford. By July 1933 it was with garagist Mark Jones of Oxford who stored the car, unused, from 1954 until 1968 when he sold it to vintage car collector Adrian Liddell. In Liddell's hands it remained little used prior to being sold to the enthusiastic Sultan Karim of Singapore in 1981. Karim took the car with him to Canada from where he sold it to David Pearse of Queensland in 1994. It has been with the vendor since 2005 during which period it has provided many miles of enjoyable fast vintage touring. The writer has a fifty year history of driving Brescias and can confirm after driving this car that it is true to breed and a delight in every way. The long chassis cars (Type 23) make wonderful touring cars well able to cope with modern traffic and 2493 is a surprisingly rapid example; our Grand Prix Bugatti has to be well wound up to pass it on the open road. 2493 represents a rare opportunity to buy a handsome and practical Brescia Bugatti with all matching numbers which is fitted with original coachwork and upholstery. Its four seats are family friendly and provide space for luggage. The car is eligible for a smorgasbord of International rallies where it will be greeted with great enthusiasm in view of its well patinated originality. It comes with full weather equipment, a full and a half tonneau and an assortment of spares. Reliability is assured as the engine has been rebuilt with a new crankshaft and connecting rods. The gear box has all new gears and the back axle a new crown wheel and pinion.
---
December 12, 2009

40-odd year mistery solved!

I received the following, very interesting e-mail from Martin J. Filiatrault, Clarkston, Michigan :

I'm trying to substantiate something I experienced in my teens, in the mid-'70s. This is going to sound like a hallucination, or a flight of fancy, but bear with me... because it is something I experienced myself. I have never forgotten it, and I never will. but I've always wondered about it... did I really see what I think I saw?

I grew up in Bloomfield Hills, Michigan, and went to a private Catholic high school in Birmingham. One of my best friends in high school lived near Franklin, Michigan, off 14 Mile Road between Inkster Road & Franklin Road. He had a friend who lived a few houses down the road, right by the intersection of 14 Mile & Inkster. I don't recall his name, and probably only saw him three times in my life... but I'll never forget those three times.

He lived in a fairly big house on several acres of land, and this being high school days in the '70s, he sometimes held big parties when his parents were away. Once, when my best friend and I were attending such a party, he got our host to show us a little secret...

It was an underground garage, beneath the main house, only accessible from the back of the lot. When we went inside, I couldn't believe what I was seeing in the cavernous, dimly lit space. Lots and lots of junk of every description... but what caught my eye were the cars; some of them old racing cars... and dismantled biplanes! All in various stages of disrepair and damage... but there were a lot of them... cars and biplanes!

Even now, I find it hard to believe. After all, I was a stoned teenager at the time, and it all seemed so surreal. But make no mistake, it was a real experience, and I wasn't so stoned as to dream this whole thing up. Being an avowed motorhead, I knew I was seeing something incredible. I remember that we couldn't linger; we couldn't risk the discovery of this hideaway by other partygoers, so I couldn't examine anything in detail. But I'll never forget that when I looked at the shape of the radiators of the racing cars, I instantly thought "Bugatti", and I may even have seen the famous script, although of that I am uncertain. I don't know all that much about Bugattis, but if my memories are even the slightest bit accurate, the cars I saw would have loosely fit the category of the T-35 or T-37; open wheel, monoposto type cars. I didn't make the same level of identification with the aircraft, although I do know they were biplanes. It was only recently that I learned that Bugatti also made biplanes, so it's easy to make the leap that the owner collected both autos and aircraft of the Bugatti marque.

The only other memory I have in relation to this episode is that the garage also held an old semi truck tractor, with a single-axle and conventional cab, that was in running condition and parked by the garage door. Weeks later, my best friend showed up at my house with his buddy, driving this old truck he had snuck out of the underground garage. The roads by my house were spectacular by Michigan standards, winding around the nearby lakes. The unladen truck locked up the back axle every time he hit the air brakes. I still remember riding in this old truck with my best friend driving, his buddy in panic while he slid the rear end around every curve, tires screeching and smoking!

I never did see that house again, or the mysterious underground garage and all its treasures. I moved to California after high school, and didn't think of it much more until I moved back to Michigan in 2008. While exploring my old haunts, it occured to me to see if that house was still there. Of course it wasn't. Many of the older houses in that area were torn down, and new mansions built on the land; my best friend's house suffered the same fate. My friend now lives in Pennsylvania, and although we don't communicate often, I am able to contact him. I may have to do more research on this topic. If I can find out his friend's name to tie in with all this, I'll let you know.

But meanwhile, I thought I'd do some online research. If these cars were indeed Bugattis, then maybe I can find out more about this cache by following the trail from that end... which is why I'm sharing all this with you. Are you aware of any old Bugatti racers, or biplanes, surfacing in Michigan? Since the house is gone, all that stuff had to have been moved... and even if it was secreted away elsewhere, it's doubtful that the original owner is still alive. It's possible that his son, my friend's buddy, may have inherited the collection... but it seems more probable that this collection has been disbursed, and therefore seen the light of day. If you know of anything that might tie in with this bizarre, incredible experience of mine, and what may have become of the collection, please let me know. I would love to learn just exactly what I saw on that fateful night.

I get questions like this more often, though never so detailed as this. Usually these kind of questions are hard to answer. I already had sent Mr. Filiatrault the question if he was sure that the Bugattis were not replica ones (which usually is the case nowadays when I get a question about a barnfind "Bugatti"), when it struck me that Ray Jones at some time was living in Michigan, so I sent him an e-mail. If it was not his collection that was described, he surely ought to know the owner!

Soon after I received an e-mail from Mrs. Jones:

Dear Jaap,

Thank you for your forward. Yes, this email is referring to our former family home, under which Ray had a working shop and storage for over 200 vehicles. When we moved from that house further into the countryside, our teenage son stayed behind to provide 'security' during the transition. He was in a huge amount of trouble when we learned of his party, which we raided with the assistance of the police, but it is amusing to read about it now. It is also slightly reassuring to find that the boys were keenly interested, careful not to open the collection to the full revelry and were sober enough to remember the experience to this day. In retrospect, our son is due a little credit he certainly did not receive at the time!

For the record, there were many Bugattis and some Mercedes among the collection at that time. Some of the cars there then are still with us now, the best of them in fact. The airplane parts were from French Stampes. We no longer hold any vintage aircraft.

We would be happy if Martin would like to contact us or our son directly by email.

Meanwhile Martin had also received an answer from Ray Jones himself:

Dear Martin,

What memories you brought with that email to Jaap Horst !
It was not a hallucination...it was very real.

Our son Raymond was a bit of a renegade at that time, and his party was quite an event for us. We were living in Milford at that time and he agreed to live at 14 mi. for 'security'... You know the rest.

No 'inheritance' as yet, I am still working at 83.
About 1960 we built at 14 mile. I had my shop in the basement and had built an underground (85 x 55) storage next to the house which was soon filled with cars...some Bugattis stacked onto special frames I had made for them.

Married 55 years now...That was the second of our16 homes..Growing up with my dad as a builder, I built or modified all of them. I like to keep busy! When I bought about 40 Stampe planes from France, they were towed down the expressway from the airport. The TV cameras were running...speculating that someone might be starting his own air force. I stored them at the Pontiac Airport where I had a hanger. I have been a pilot since I was 16...before I drove a car.

I am still working on Bugattis with our youngest (of our 9 children) Brian. The 3 boys were exposed to cars from the start and played on the floor of the shop with old carburetors, etc. and have all become master mechanics...though none of the 3 graduated High School. Oh well. Raymond got his GED and now lives in Kansas.

Etore Bugatti had even built one airplane...we think it was a prototype for a fighter...just before WWII. We searched it out for many years and found it in a barn in N. France where it had been hidden before the war. It is now in a museum.

If you are interested, I have magazine articles, I can send about my cars and history. The basement of our current home is full of Bugattis. Some are ready for sale and several are under restoration. Brian has a shop in N. Charleston and is very competent and talented with the Bugatti work.

I would be delighted to have you visit and talk over old times.

Sincerely, Ray Jones

So, this time the mistery was solved super rapid! Really a joy to see such a mistery on the outskirts of Bugatti history solved!

This was the reply afterwards, from Martin to Ray:

Ray,

I was amazed and delighted when I received your email. I am so grateful that you chose to respond, and share those photos. It was a bit like Dorothy eventually finding out there really was an Oz! The Internet has proven to be a great asset in making these kinds of connections. I've found many a friend, and solved many a mystery… but this has to be one of the greatest solutions for me thus far.

It was great to learn that you're still alive & working on Bugattis. I hope you'll forgive my erroneous assumption; my own parents were older when I came along, and they both passed away some time ago. Like you, I have enough hobbies and interests to keep me busy for the rest of my days, whatever their number.

In case you hadn't figured it out, my best friend up the road from your old house was Jim Leggett, aka Jim Purves. Yes, we were renegades back then. Frankly, I'm surprised and grateful that I survived it all. I was hoping I hadn't thrown Raymond under the bus with my disclosures… or under the semi tractor in this case… but then, you indicate that the party was no surprise, and given the tone of your letter, I get the impression you're reconciled with past transgressions, and proud of your sons. At least, I hope so… it would certainly add to the fairy-tale happily-ever-after ending to this tale!

My fateful encounter with your mysterious lair obviously made a huge impression on me. It's very heartening for me to realize that so many details of my memory of that experience were accurate. I would absolutely love to hear more about it, and see any other photos or articles you would care to share. It actually affected my own future dreams; since then, I've always wanted to build a huge underground storage facility for cars, motorcycles, airplanes and other dream machines. I have come close to reaching such lofty goals, and my plans continue. My fascination with "barn finds" has never diminished, and I'd guess yours hasn't, either.

After graduating High School, I moved out to the San Francisco Bay Area, seeking my fortune as a rock & roll musician. Like many of my peers, it took me awhile to settle down and get my act together, but I eventually got married (28 years and counting with my wife Amy), had kids, and pursued various careers with some success. I learned to fly at Palo Alto Airport, and also worked at San Jose International Airport for eleven years as a fuel technician for Atlantic Aviation and the San Jose Jet Center, fueling most of the airlines on the field. When Amy pursued her Ph.D. and my oldest daughter went to college, I was allowed to retire early, and we moved up north near Redding, CA. We had a main house & guest house on fifteen acres, up on a bluff with wonderful views of Mt. Lassen, Mt. Shasta, and the Shasta Bally Range. I designed the guest house to include a recording studio, an oversized garage to house my toys, and a shop where I intended to build my own aircraft (I had my sights set on a Vans RV-8). My wife pursued her new career as a Psychologist, while I tended to the property and my younger daughter by day, and pursued my musical career by night. Unfortunately, Amy's career chewed her up and spat her out, and she wanted to come back to Michigan to be closer to her family. We eventually sold our California property, and now live in Clarkston. Keeping true to my dreams, I found a nice little house with a great big garage, with lots of room for a shop and some toys. Although I'm not current, I have done some flying out of Pontiac Airport, which is now called Oakland County International… but good luck finding it under that name in any airport listing. I still intend to build that RV-8, and if my current entrepreneurial ventures come to fruition, I may even build that underground garage someday… and if things go really well, perhaps I'll be able include a Bugatti in my collection. What's life without dreams to pursue?

Thanks again for sharing; it means a lot to me. I hope to get a chance to visit with you sometime soon. If you ever come back to the area for the Meadowbrook Concours D'Elegance, please let me know, and I'll make plans to meet up with you there.
---
December 6, 2009

4 years warranty for Veyron

Bugatti announced that it has introduced an extended warranty cover. The Bugatti Veyron extended warranty is extended to three and four years.

The Bugatti Veyron extended warranty covers every eventuality up to four years after the vehicles original delivery. The optional warranty for the Bugatti Veyron guarantees the mechanical and electrical components, the body- and paintwork, including a guarantee against rust throughout the entire vehicle.

The built-in telemetric system of the Bugatti Veyron can be used to provide early warning of any possible malfunction within the cars equipment. In the event of a failure, the warranty also provides for the delivery of replacement parts anywhere in the world.

In case your Veyron brakes down Bugatti S.A.S. will make you reach your destination. The warranty provides immediate breakdown service, plus towing free of charge if the car cannot be repaired on the spot. If they have to tow your car the Bugatti Veyron extended warranty also assures they will provide you with a replacement car of Audi A8 standards.

The Bugatti Veyron extended warranty will provide an anti-inconvenience check that can be used to cover any expenses resulting from a breakdown, such as hotel accommodation or travel tickets, without any need to produce receipts.

To enforce this warranty Bugatti has set up a special help line that is available 24 hours a day, 7 days a week where all calls are managed personally by a member of the Bugatti customer service.

The Bugatti extended warranty applies to a specific car and is transferable to the new owner Bugatti Veyron Extended Warranty in the event of the car being sold. For further details please contact your Bugatti dealer.
---
November 21, 2009

Bugatti Diesel engine

For sale on E-bay, current bid: 1 euro. Probably the cheapest way to obtain your Bugatti engine.

And maybe this 7 liter diesel is a perfect fit for your Stelvio, though probably a lot less sporty!

Otherwise, there is also a Zenith 48K 741 carburettor on Ebay, starting bid 1500GBP, no bids yet!
---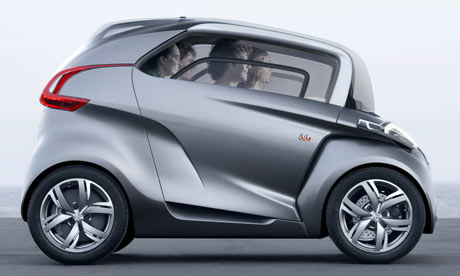 November 16, 2009

New Peugeot Bebe!

The language of car design depends on beliefs that will eventually be redundant, if not actually stigmatised. We have a four-wheel-drive to conquer hills and fields, a mid-engined supercar to drive across Europe at 300kmh. Not much longer, sunshine.

But unless we all succumb to pitiless totalitarianism, there'll still be a need for personal trans-port, so designers are working to a radical two-part brief: 1) How to create a visual language as appropriate to electrical power as, say, a Ferrari was to petrol? 2) What should a car intended only for urban use be?

The conversation was begun more than a decade ago by Daimler's Smart and continued by Toyota's iQ, but no major manufacturer followed because it's difficult to make money out of small cars. But desperate times have brought us the startling and ingenious Peugeot BB1 prototype, the clearest indication yet of the future of the car.

Peugeot has tradition in miniaturisation. It made bicycles before it made cars (and pepper mills before it made bikes). In 1912, the Baby Peugeot, by the great Ettore Bugatti, appeared at the Paris Salon de l'Automobile. The BB1 is a phonic play on "Bebe Peugeot" as well as a play on tradition: this tiny car has the feel of a four-seat scooter. You steer with a handlebar-like tiller and power comes from a pair of 15kw electric motors in the rear hubs. Lithium-ion batteries give a range of 120km.

Design is by Athanassios Tubidis, who looked at kickboards, rollerblades and foldable electric scooters, aware that his approach was leaping the species barrier. He says BB1 has the proportions of a washing machine, not a racing car. The entire visual dynamic reverses assumptions about thrust and vectors which have animated car designers for nearly a century.

This car looks designed for urban journeys, not cross-country epics. Inside, you are on a seat leaning forward, rather as you do on a quad-bike. The last French plastic car inspired by a scooter was Paul Vallee's three-wheel Chantecler of 1956. The last English plastic car with an electric motor was the Sinclair C5. These were bad jokes. The Peugeot BB1 is serious, but very amusing.

So; what do you think? Does this follow to some extend the original idea that Ettore Bugatti had behind the design of the first Peugeot Bebe? (ed.)

Source: Guardian.co.uk
---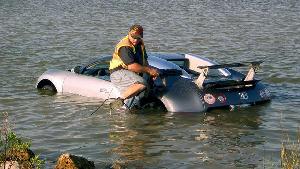 November 14, 2009

Bugatti developing an amphibian version of the Veyron!

Well, you possibly already thought that rumour a bit too far-flung, though the evidence seems very clear. Instead of still another Veyron version, it is just a Veyron owner who was toying too much with his cell-phone, to keep his Bugatti on the road! Of course one possibility is to keep the car submerged for 80 years, and then hoist the remains of a classics Bugatti from the water. If this car can be salvaged? Probably a good deal for Bugatti's spare parts department!

LA MARQUE, Texas -- A man blamed a low-flying pelican and a dropped cell phone for his veering his million-dollar sports car off a road and into a salt marsh near Galveston.

The accident happened about 3 p.m. Wednesday on the frontage road of Interstate 45 northbound in La Marque, about 35 miles southeast of Houston.

The Lufkin, Texas, man told of driving his luxury, French-built Bugatti Veyron when the bird distracted him, said La Marque police Lt. Greg Gilchrist.

The motorist dropped his cell phone, reached to pick it up and veered off the road and into the salt marsh. The car was half-submerged in the brine about 20 feet from the road when police arrived.

Gilchrist said he doesn't know if the car was salvageable, but in his words, "Salt water isn't good for anything." He says the man, whose identity hasn't been released, was not injured.

From: Click2Houston.com
---
November 8, 2009

Car collector - lawyer John M. O'Quinn dies in car crash

John O'Quinn knew the law, a simple fact never in doubt. But before he cracked a legal text or saw the inside of a courtroom, he knew something else — cars.

O'Quinn's education began when he was 10 years old, courtesy of his father's humid garage, where he spent afternoons and weekends until he finished high school. Decades later, after his 60th birthday, it resumed at a classic car auction in Katy and continued until the prominent Houston litigator died in a car accident last week, when he had invited an overseas expert and a film crew to witness the rebirth of one of the great novelties of his vast collection: the oldest existing working automobile.

Starting on that day in 2003 when he purchased 14 cars at his first auction, O'Quinn became a towering figure in the world of automotive collecting. He amassed a collection that numbers more than 800 vehicles, from the overtly silly Batmobile to a Rolls-Royce Silver Shadow once owned by a maharaja.

Only one figure in American history, casino magnate Bill Harrah, had put together anything approaching O'Quinn's collection, and it seemed fitting that a number of the late Harrah's cars now reside in one of O'Quinn's Houston warehouses.

"In the sheer number of significant cars, I don't think there has ever been one like this," said Ken Dougherty, owner of a Houston company that buys, sells and restores classic cars and an early adviser when O'Quinn took up the hobby. "There are other nice collections, but they are usually oriented towards one particular car or period. He bought across the board. He had everything. There was not a single type of car he did not have. He could send cars to any event that was specializing in any genre and they really wouldn't have to ask anyone else."

Houston has seen impressive car collections before, including those of shopping center developer Jerry Moore, auto dealer Sterling McCall and former Shell Oil CEO John Bookout. But O'Quinn surpassed them all, and he boasted a vision beyond the mere acquisition of cars for personal whim or pleasure. He planned to build a museum to display them that he claimed would be the greatest in the world. He had already hired people to compile archival research on cars and to take oral histories from important automotive figures.

An ironic ending He had even scouted potential sites. He was intrigued by one tract near downtown and one closer to the Museum District. He predicted the museum would be completed by 2010, and he acknowledged he was far from finished buying more cars.

The irony of the way O'Quinn died — a car wreck on a wet street near downtown — was lost on no one aware of the passion that had come to consume him, and surprised no one who had ever ridden with him as he drove at breakneck speeds around town. But the collector car world is now focused on another matter: What will become of the museum and the collection?

"The simple answer is I don't know," said Gerald Treece, a longtime friend who also will serve as executor of the estate. Treece said O'Quinn's personal property has been left to the foundation that served his charitable giving. It will take awhile to determine whether the cars in effect belong to the foundation or to the separate corporation, Treece said.

Part of his collection is a 1937 T57 Atalante's.

Article taken from: HOUSTON CHRONICLE, By MIKE TOLSON
---
October 31, 2009

Auction results

RM Auction, Automobiles of London, October 28, 2009 :

Lot N°247: 1995 Bugatti EB110 GT #ZA9AB01E0PCD39057, Estimate: £180,000-220,000, Sold for £220,000

Lot N°267: 1939 Bugatti Type 57C Faux Cabriolet "Charmaine" #57787, Estimate: £275,000-400,000, Sold for £308,000

Lot N°276: 1938 Bugatti Type 57C Stelvio #57715, Estimate: £400,000-460,000, Sold for £440.000

Thanks to: Christophe Chanterault
---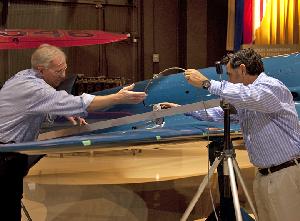 October 25, 2009

More news on Bugatti 100P flying replica project

Scotty Wilson and Gregg Carlson are moving fast-forward in the build of the replica of the Bugatti 100P.

They went to the EAA Oshkosh museum to measure the actual wing-profile of the original airplane!

More info on the Bugatti Aircraft Association Website! Includes video.
---
October 17, 2009

Auction result

RM Auctions 'Vintage Motor Cars of Hershey', October 8-9, 2009 in Pennsylvania :

1930 Bugatti Type 44 Touring #44547 Sold for $187,000 (estimate of $85,000-$120,000)

Thanks to Christophe Chanterault
---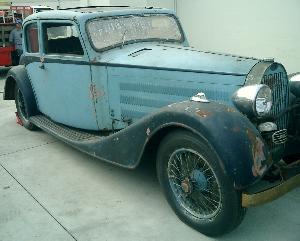 October 17, 2009

Malmerspach cars being prepared for Peter Mullin museum

The ex-Schlumpf cars from the Malmerspach collection are currently being prepared for the new Peter Mullin museum, which will open some time in 2010. The cars will not be fully restored, but shown in the condition as they were found.

Above the 1935 Bugatti T57 Galibier Berline, chassis 57338
Below the 1929 T40A, chassis 40485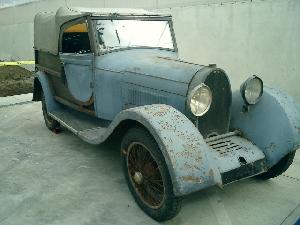 Thanks to Ard op de Weegh
---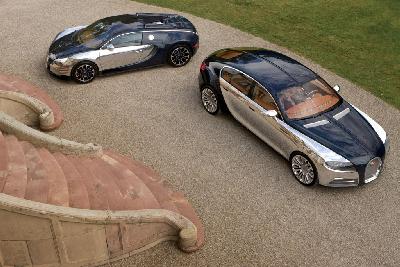 October 4, 2009

16C Galibier available from 2012

According to messages in the press the Bugatti 16C Galibier will enter production and will be the world's fastest 4-door.

However, the Galibier will not have the same horsepower as the Veyron's 1001. Due to the fitting of two turbochargers, not 4, the power will be reduced to a mere 800HP. Still sufficient to reach a top speed of 350 km/h.

The new Bugatti will also be the most luxurious. Apart from the "usual" luxorious interior, what one would expect from a car like this, the dashboard will be fitted with a Swiss Parmigiani watch, that can be removed to be worn on the owner's wrist. (A similar portable clock was also fitted to some 1920's Bugattis).

The transmission will not be the twin-clutch DSG one fitted to the Veyron, there will be a conventional 8-speed automatic transmission. The car will be available from around 2012, and will set you back around 1.3 million euro, before taxes.
---
September 29, 2009

Auction results

Bonhams Auction Reims, Fine Vintage and Collectors' Motorcars, September 26, 2009

- Lot 128 - 1912 Bugatti Type 16 5 litre Châssis #471, Engine #471 - Estimation : 1.800.000/2.400.000 € - Not Sold (highest bid 1.400.000 €)

- Lot 133 - 1924 Bugatti Type 30/38 Tourer Châssis #38298, Engine #533 - Estimation : 130.000/190.000 € - Sold for 152.950 €

Thanks to: Christophe Chanterault

Apparently the Type 16 will be sold after the auction:
"We're currently in meaningful negotiations with an interested party," said Knight. "The vendor has adapted his expectations to the interest expressed," he said. James Knight is the managing director of Bonham's motoring department.
---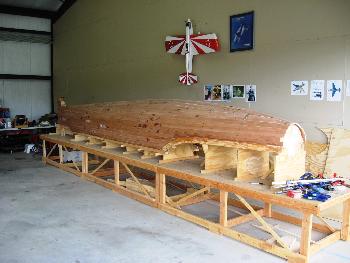 September 18, 2009

Bugatti 100P flying replica project started!

Scotty Wilson and Gregg Carlson started the build of a replica of the Bugatti 100P airplane this summer. The following text is from Scotty Wilson:

My good friend Gregg Carlson and I first discussed building a replica Bugatti 100P one year ago. We concluded after several months of research that we could and should build the plane. We knew there would be challenges because the plane is such a devilish mixture of simplicity and complexity. And, with so many gaps in the historical record, we just had to accept the fact that we would not be able to answer every question. At some point, we would be faced with a choice: move forward or succumb to paralysis by analysis.

We chose to move forward, and are building a replica as faithful to the original as is practical.

More info on the Bugatti Aircraft Association Website!
---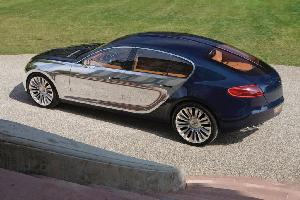 September 15, 2009

New 4-door Bugatti Galibier finally presented!

Last Saturday (September 12) in Molsheim the new Galibier was first presented to a select group of persons, a few days later finally the pictures were released. The new Bugatti, with the official name '16C Galibier Concept', will not be shown at the IAA in Frankfurt, as Bugatti will not be present there.

The car is a 4-door saloon, which features the same 8-litre 16-cylinder engine as the Veyron, but mounted at the front. Also the power was somewhat throttled, resulting in a topspeed of "only" 350 km/h (Is that the fastest Saloon ?). The use of carbon fibre prevented the weight from becoming too high, 1900 kg is just a bit more than the Veyron's 1800kg. The length is approximately 5.30 meters, 80cm more than the Veyron. The rear features 8 exhausts, 4 at either side, as could be seen in the earlier released teaser.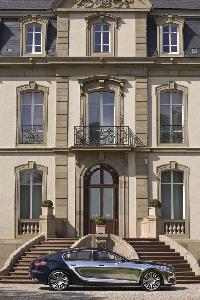 So, how do you like it?? Probably not as spectacular as you would like it, though I do like how the rear looks. What I do like also is the quite sober interior, not too many dials and knobs, mainly wood and leather.
There is no news yet about when the first ones will be delivered, but I would count on 2012.
---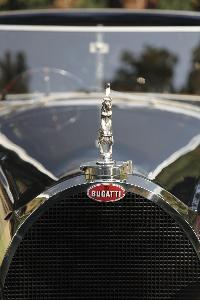 September 15, 2009

Bugatti's masterpieces at Molsheim.

Exquisite Concours d'Elégance ends centenary celebrations

Molsheim, 12th September 2009 – To conclude the festivities marking its 100th anniversary, Bugatti Automobiles S.A.S. presented an impressive overview of the legendary brand's model history in the park of Château St. Jean in Molsheim.

Bugatti clubs from all over the world helped to organise a comprehensive exhibition bound to please enthusiasts, which culminated in an exquisite Concours d'Elégance. On hand were all the vehicles that have contributed to the Bugatti legend over its 100-year history, from the company's founding in 1909 to the current Bugatti Veyron Grand Sport.

This includes vehicles such as the "Brescia", the Type 35, whose numerous race track victories made Bugatti a household name across the world, the legendary six Royales from the late 1920s and the Types 57 and 59 designed by Jean Bugatti, which ten years later played another important role in the brand's story and went down in automobile history as icons.

The Concours begins with some pre-first-war cars, among them the small Type 15 Fiacre from 1912, the oldest Bugatti with a closed body that has survived and continues with the legendary Type 18, Chassis 471, Ettore Bugatti's personal Mont Ventoux race car. Two Bugatti Royales und three of the most original Bugatti Grand Prix cars - one of them the winning car of the first Monaco Grand Prix in 1929 – represent the period up to the second world war.

Of course, the general overview would not be complete without the Bugatti EB 110 and the prototype EB 112 from the epoch between 1987 and 1995, during which the Italian businessman Romano Artioli attempted – unfortunately in vain – to revive the company that was forced to bring its activities to a halt in 1956.

When speaking of Bugatti, it is also important to remember the entire family's significance in the artistic community. More an artist than an engineer, Ettore Bugatti came from a family that attained worldwide acclaim for its artistic prowess. His father Carlo was a well-known furniture designer and his brother Rembrandt a talented sculptor whose wildlife sculptures are traded at premium prices today. Selected works by both men are on display in a special exhibition in the château. The exhibition includes exquisite individual pieces that have returned to Molsheim for the first time for this weekend.

As we all know, this event was, contrary to the usual Molsheim Festival, closed to the general public. For participants only.
---
February 5 - 7, 2010 Bremen Classic Motorshow Bremen, Germany
---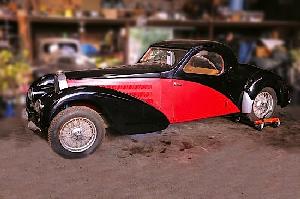 February 14, 2010 Artcurial Auction Paris, France

- Artcurial, Automobiles de Collection, Paris, Palais des Congrès

Lot 62: 1937 Bugatti Type 57C Atalante #57756

Lot detail : www.artcurial.com

Catalogue PDF: Click here
---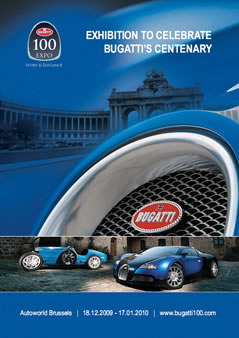 December 18, 2009 - January 17, 2010 Exposition 100 years Bugatti Brussels, Belgium

Autoworld Brussel will organize an exposition for 100 years Bugatti from 18/12/2009 until 17/01/2010. On show will be 40 Bugattis:

Type 13 (1910-1920) – 1 ex.
Type 22 and Type 23 "Brescia" (1921 – 1926) – 1 ex. each
Type 32 "Tank" (1923) – 1 ex.
Type 35: the most symbolic Bugatti (1924-1930) – 5 ex.
Type 37 – 2 ex.
Type 40 (1926-1930) – 2 ex. - "Grand Sport" and "Fiacre".
Type 41 "Royale Esders" (1926-1931) – 1 ex.
Type 43 (1927-1930) – 2 ex. - "Grand Sport" and "Figoni-Falaschi" (Parijs).
Type 44 (1927-1930) – 1 ex. "Faux Cabriolet", body D'Ieteren Frères
Type 50 (1930-1933) – 1 ex. - "semi profilée"
Type 52 "Baby" (1927-1937) – 1 ex.
Type 55, "voiture de Monsieur Jean" (1931-1935) – 1 ex.
Type 59 (1933-1934) – 1 ex. - "course"
Type 56, small electric car (1931-1933) – 1 ex.
Type 57 - 57C – 57S – 57SC : the unique signture of Jean 1934-1939) – 10 ex.
- T57 Stelvio 1st series – 1934 – Cabriolet Gangloff
- T57C Aravis – Cabriolet – body Letourneur & Marchal (Paris)
- T57C Galibier 2nd series – 1938 – berline
- T57C Ventoux – 1938 – coach
- T57SC Atalante – coupé cabriolet
- T57SC Atlantic – 1936.
- T57 – Coupé "Gangloff" – 1935. new replica body using a never before used design.
- T57 – four-seater coupé – 1939 – body Albert D'Ieteren
- T57C – Roadster 'Gangloff'. body realised in 2007 using an unpublished design from Gangloff , 1935.
- T57S – roadster – 1936. Identical reconstruction of the T57S owned until 1950 by the French painter André Perrin, and afterwards scrapped.
Type 57G "Tank" (1936-1937) – 1 ex.

After Ettore…

Type 101 (1951 – 1953) – 1 ex.
Type 251 (1955/6 ) – 1 ex.
Type 252 (1956) – 1 ex.

EB 110 (1991-1994) – 1 ex.
EB 112 (1992) – 1 ex.
Bugatti Veyron 16.4 (2006 – ca. 2011) – 1 ex.
Bugatti Veyron Fbg by Hermès (2008) – 1 ex.
Bugatti Veyron 16.4 Grand Sport (2009) – 1 ex.
Other inventions by Bugatti.

Amongst others: the Bugatti 100P airplane, model built by Dominique Mathern!

More info: www.autoworld.be and www.bugatti100.com
---
January 22 - 31, 2010 Retromobile Paris, France
---
January 23, 2010 Bonhams Auction at Retromobile Paris, France

Automobiles d'Exception á Rétromobile Auction

1925 Bugatti Brescia Type 22 Roadster - No reserve
Chassis no. 2461, Engine no. 879
Estimate: €70,000 - 90,000

1927 Bugatti Type 44 Roadster, chassis 441139
Estimate: €120,000 - 160,000

1929 Bugatti Type 44 'Fiacre' Coupé
Coachwork by Jean Bugatti, Registration no. UAS 803
Chassis no. 441193, Engine no. 398
Estimate: €220,000 - 260,000

1937 Bugatti type 57C Berline, no reserve
Chassis no. 57477, Engine no. 347
Estimate: €120,000 - 150,000

More info: www.bonhams.com
---
---
Bugatti news, 2009
Bugatti news, 2008
Bugatti news, 2007
Bugatti news, 2006
Bugatti news, 2005
Bugatti news, 2004
Bugatti news, 2003
Bugatti news, 2002
Bugatti news, 2001
Bugatti news, 2000
Bugatti news, 1999
Bugatti news, 1998
Bugatti news, 1997
Bugatti news, 1996
---
Back to the Bugatti Page