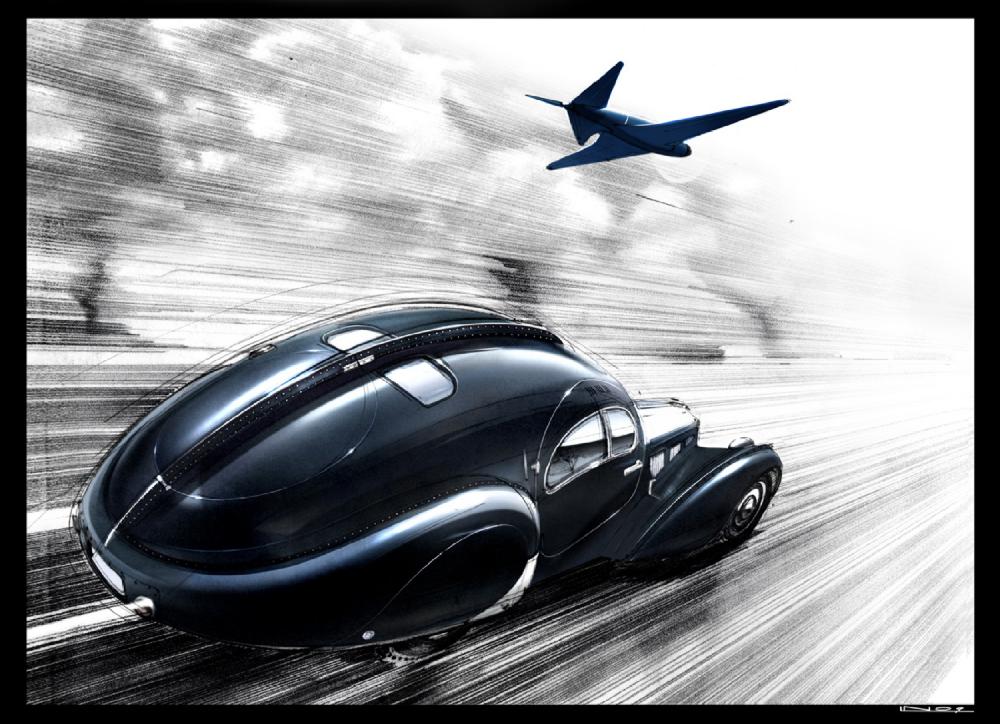 Impressive painting of 100P airplane and T57S Atalantic chasing it! Was posted by "The Speed Merchant"
speedbirds.blogspot.com
---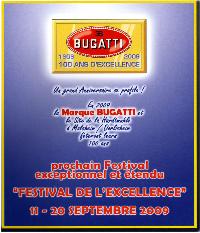 September 11 - 20, 2009 Bugatti Centenary Festival
Rumours for the 2009 centenary: 100 year of Bugatti in Molsheim!
It seems that the festivities will be organised in three parts during the 2° and 3° week-end of september 2009:
The 2nd week-end in Molsheim
The 3rd week-end in Paris
In between in the Museum in Mulhouse
See below the programme, and some subscription forms.
Bugatti at Maison d'Alsace
During the centenary, a Bugatti T35 will be on display at the Maison d'Alsace!
---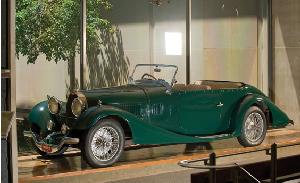 October 9, 2009 1930 Bugatti Type 44 Touring to be auctioned
1930 Bugatti Type 44 Touring Car, chassis 44547.
The Bugatti will be auctioned by RM Auctions, in the "Vintage Motor Cars of Hershey" auction, on October 9, 2009
---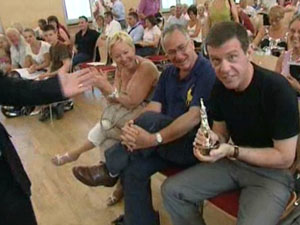 July 5, 2009
Auction result: 238,000 euro!
And this is not for a complete Bugatti, but just for the Napoleon coupé Royale´s Elephant radiator mascot!
It was sold to an anonymous collector.
350 people had come to the auction, held at the "hôtel de la Monnaie" of Molsheim. The original radiator mascot for the Roayale went for a stunning 238,000 euro! Other, most interesting Bugatti item, in the sale was a "Baby" Bugatti. This was sold for 65,000 euro.
In French: Des acheteurs du monde entier ont participé à cette vente exceptionnelle organisée à Molsheim La vente aux enchères a été organisée à l'hôtel de la Monnaie de la ville. Le fameux bouchon de radiateur de la Bugatti Royale type 41 "Coupé Napoléon", surmonté d'un éléphant en argent, est parti à 238 000 euros.
La salle avait été décorée sobrement, comme pour marquer une dernière fois la mémoire des Schlumpf. Seule une affiche publicitaire et la "baby" Bugatti, réplique à l'échelle 1/2 de la Grand Prix 35/51 dont le premier modèle fut réalisé en 1927 par Ettore Bugatti pour son fils Roland, ont été proposées au regard des 350 personnes venues participer à la vente.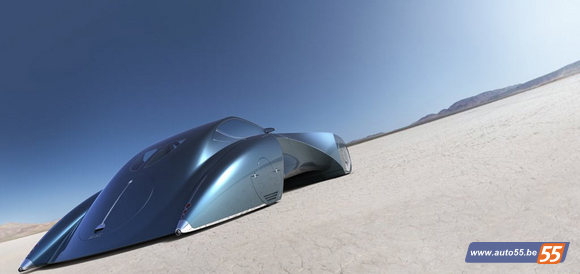 ---
July 5, 2009

Bugatti Stratos concept

French graphic designer Bruno Delusso didn't want to be bothered with the engineering and mechanical issues that plague the average concept car – he just wanted to create something stunning. So by throwing production feasibility, drivetrain components and caution to the wind, he succeeded.

Inspired by the Bugatti Type 57, Alfa Romeo 6C 2500 Mille Miglia and Raymond Loewy's locomotive designs, Delusso rendered up this: the Bugatti Stratos. Aside from the rear window and grille, it's difficult to peg the Stratos as anything more than futuristic, Photoshop-enhanced navel-gazing, but the design speaks for itself, so check it out in the images below.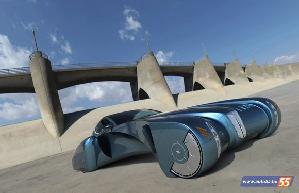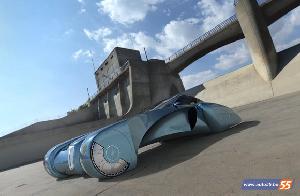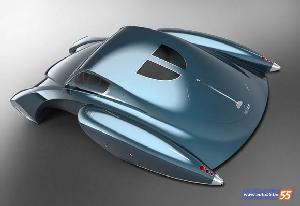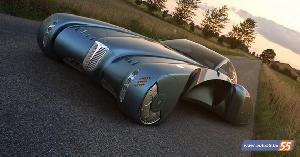 ---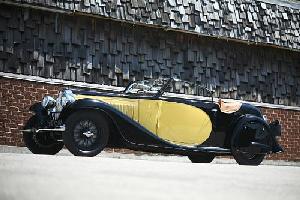 June 20, 2009

Auction result

The Greenwich Concours d'Elegance, Collectors' Motorcars and Automobilia Greenwich, CT , USA

1934 Bugatti Type 57 Stelvio Drophead Coupe Chassis no. 57202, Engine no. 47: Sold for $419,500 inclusive of Buyer's Premium

Thanks to: Christophe Chanterault
---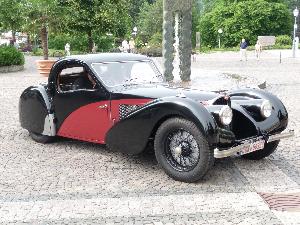 June 7, 2009

57542 is on the road again!

The one of only two original Typ 57SC (57542, eng 28SC) ordered and delivered originally with compressor and the only Atalante SC has been off road since the late fifties, getting famous as one of Michel Dovaz's sleeping beauties.

It has now been carefully restored retaining beautiful patina (see for example the original Bugatti badge!) and is on the road again these days for the first time during a meeting in the southern part of the black forest in Germany.

As we all know by now, how valuable even unrestored cars are, when they represent a glorious history, the value of this car is hardly to be estimated. The more appreciable is, that the present owner does not hide it behind high walls (as M. Dovaz did) and in air-conditioned rooms (as M.Dovaz did not), but has it driven on curved streets in todays dangerous traffic.

on the left picture below you see the organizers of the meeting Eberhard grether in the white shirt and Hero Alting in the Backgroung behind the car as well as well-known book-author and Bugatti-authority Julius Kruta in a shirt with Bugatti-logo. The driver (owner?) of the car prefers to be anonymous to those, who don't know him anyway.

The pictures were taken on the Schloßplatz in the lovely city of Badenweiler near Freiburg yesterday. There were a lot of other Type 57 Cars to whom this meeting was devoted, There were a 57s cabriolet by Alting, an Atlantic reconstuction and Peter Borstels Aerolithe, as well as Ventoux, Stelvio Graber cabriolet and a 4-seater Corsica. The underground carpark looked like alladin's cave...(right photograph on the bottom row)

Thanks to: Lothar Baerz
---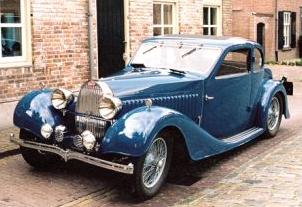 June 6, 2009

Auction result

Result of the Legende et Passion sale at the Espace Fontvielle at Monaco on the 18th of May.

The highlight of the Monaco sale was £232,000 being paid for a 1968 Lamborghini Miura P400 that had had just one owner for the past 30 years and was in excellent condition.

Close on the heels of the Miura was a 1934 Bugatti T57 Ventoux - 57315 - , in concours condition, which fetched £190,000. The Bugatti had undergone a complete restoration costing in excess of €100,000.
---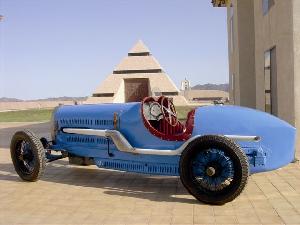 June 6, 2009

Auction of type 38

I'm just too late to announce the auction of this Bugatti, claimed to be 38221 (though another Bugatti claims the same chassis number)

The auction was today, June 6, in Cheverny, France see: www.rouillac.com/cheverny2009.html

Bugatti 38 "special":
The Type 38 was produced in 346 copies between 1926 and 1927. In 1928, 39 Type 38 A were produced, which were fitted with a compressor.

This car is a modified Type 38. The modification was done at the end of the 30's, or maybe just after WW2

In various American magazines photographs appeared, like in " Sports Car " in 1948, wo we know for sure that this special existed by then, as it participated in 1948 in the "Watkins Glen Grand Prix".

The châssis is type 38, n° 38 221, the number issued on the USA papers (MOTOR Vehicule Certificate of Title). Le châssis was shortened by 47 cm (wheelbase reduced from 3.12 m to 2.65 m).
The engine is a 8 cylindres ( bore x stroke: 60 x 80), of 1991 cm3 de cylindrée (approximately 70 hp), one overhead camshaft, 3 valves per cylinder, 3 main bearings, 2 Solex carburettors, Delco ignition, ignition order: 1 - 5 - 2 - 6 - 3 - 7 - 4 - 8, max revolutions: 4000 rpm, oil capacity: 6 litres
Rear axle from Type 38 - n° 116, 12 x 56,
Gearbox n° 226 : separated from engine, central gear lever 4 speed
Dynostar at front
Bugatti-style front axle, not hollow
Radiator Type 38 (identical to Type 43),
Wire wheels
Cable brakes
The body is a special race-style 2-seater.

The seller is Jacques-André ISTEL, an American born in France, who bought the car in June 1955 in Miami, in the actual configuration.
The car was restored between 1969 and 1991 by an american, Edmond Williman.
The car was therefore 54 years in the hands of the same owner, and was not used much. The car is definitely imported in France.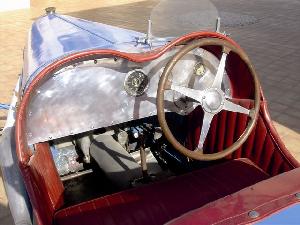 ---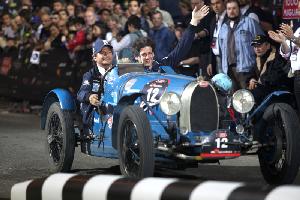 May 21, 2009

Mille Miglia 2009: Double win for Bugatti!

This years 1000Miglia was very successful for Bugatti:

Winner: Mr. Ferrari Bruno-Ferrari Charles, BUGATTI Type 37

2° Sieleckis Carlos-Hervas Juan, BUGATTI Type 35 Á.
14° BUGATTIs Type 37 Á.
22° BUGATTIs Type 35 Á.
31° BUGATTIs Type 35
81° BUGATTIs Type 40
222° BUGATTIs Type 37
322° BUGATTIs Brescia

All the 8 departed Bugattis have reached the finishing line. Above left: Ferrari-Ferrari, right Sieleckis-Hervas.
---

May 1, 2009

Bugatti wins class

At the 2009 Villa d'Este Concorso d'Eleganza Class B - Prewar Closed Cars was won by the 1938 Bugatti 57S Atalante, owned by Gil Noble from the United Kingdom.

This usually very impressive concours, was this year a bit wet due to lots of rain.
---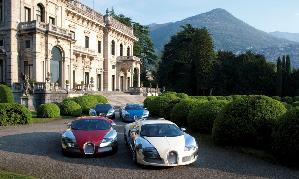 May 1, 2009

Bugatti presents 4 commemorative models

At the 2009 Villa d'Este Concorso d'Eleganza Bugatti presented 4 more "Centenary" models!

Early last month we revealed details about Bugatti's new special edition variant of the Veyron, the 'Bleu Centenaire'. Designed to mark the company's 100th anniversary, we thought that there could not possibly be any more special editions of the Veyron on the horizon, but at this past weekend's Concorso d'Eleganza Villa d'Este Bugatti unveiled four new special edition Centenaire Veyrons.

The four new cars are part of the Bugatti's centenary celebrations, and pay tribute to four legendary Bugatti drivers who drove the Type 35 racing car prior to World War II. These include French driver Jean-Pierre Wimille, Italian driver Achille Varzi, English driver Malcolm Campbell and German driver Hermann Zu Leininger.

The Bugatti brand is almost inextricably linked to the Type 35. The Type 35 Grand Prix was by far one of Bugatti's most successful racing models, and its unmistakable radiator grille and eight-spoke aluminum wheels have become defining features of the carmaker's latest efforts.

Each of the four new Veyron Centenaire Editions get their own specially mixed color scheme, and these colors consist of blue, red, beige and green. Additionally, other exclusive aesthetic details include the grille, front wings, and doors being made of polished aluminum to give off a mirror effect.

Inside, the headrests bear one of the signatures of the four legendary drivers, and there is also a special commemorative plate detailing the significance of the cars.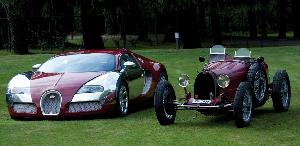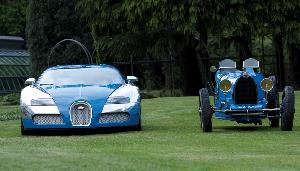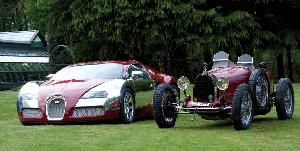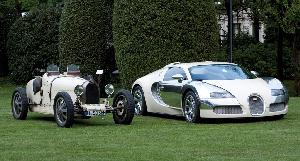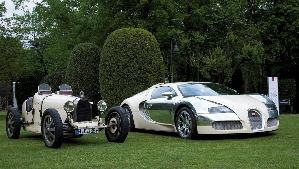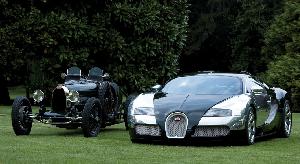 More Bugatti "Royale" rumours
New rumours surface (again) that Bugatti would be working on a 4-door model, already dubbed the "Royale". Drawings accompany the news items.
Though a four-door supercar, fitted with the Veyron's 8-litre W16 engine on a platform to be developed together with the (also VW owned) Bentley would be a logical choice, nothing is definitive at all. We'll have to wait for news from Bugatti itself.
---
April 27, 2009

Auction result - Bertoia Auctions, Vineland, N.J. USA

For a big kid's little kid, a 6-foot-long child's battery powered "Baby Bugatti" from the 1930s, owned by Bill Harrah and sold during the Harrah's Museum sale in 1985, was offered with an estimate of $20/25,000.

The race-ready car more than likely pleased one of the young-at-heart bidders, while breaking the hearts of numerous others. Topping estimates, it went out at $36,800.
---
April 27, 2009

Auction result

Coys Auctions, Techno Classica Essen, 4 April 2009 :

1929 Bugatti Type 44/43 Grand Sport #441216, Not Sold

Now she's selling in the Coys showroom (see link), I think if it is not sold in their showroom might see it again in a future Coys sale.

Thanks to: Christophe Chanterault
---
March 25, 2009

Paefgen reveals something about Bugatti's future

TDB: Let's turn to Bugatti. You just introduced the Centenaire, at the Geneva Motor Show, a limited edition of one.

Paefgen: This is the first step in celebrating 100 years of Bugatti, and it was proposed by a customer who is going to buy the car. We'll have more later this year.

TDB: How much is he going to pay for Centenaire?

Paefgen: I can only tell you the base price, $1.2 million.

TDB: There had been stories indicating we might see a less expensive Bugatti, in the future.

Paefgen: The simple story is that we will stay where we are, at the very top of the market. As soon as this car stops, we will build something else. We're in the last 50 or so of the Veyron Coupe, then we have 150 (convertibles). Then we need to find something else to fill the plant. We're currently running at the rate of 65 cars a year, so that means 2.5 to 3 years, at the latest.

TDB: We'll start to show a proposal in September, when you'll see four one-offs with the theme of racing history.

So; no cheaper Bugattis, 4 new versions of the Veyron in September, and maybe the presentation of a new model, probably in Frankfurt?
---
March 22, 2009

Auction results

RM Auctions, Automobiles of Amelia Island USA, March 14, 2009 :

- 1939 Bugatti Type 57C Faux Cabriolet "Charmaine" chassis no. 57787, Estimate: $550,000-$750,000, Not Sold (highest bid $380,000)

- 1936 Bugatti T57 Stelvio, Chassis no. 57395, Estimate: $350,000 - $450,000, Not Sold (highest bid $240,000)

Thanks to: Christophe Chanterault
---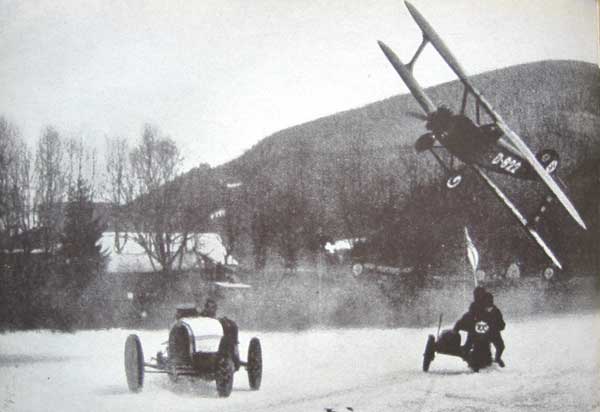 March 2, 2008

Caption Contest results

Not many reactions this time, but what I did receive was a full description about the background of the picture, from Michael Muller:

The photo (at the right) has been taken during the weekend 17/18 Feb 1934 on the frozen Eibsee near Garmisch (Bavaria). In the 20's and 30's there was a rather famous race on the frozen lake, and as supporting event they organized a race between a car, a bike, and a plane. The plane normally was piloted by German flying ace Ernst Udet.
In 1929 4 wheels had been represented by Hans Stuck and his Austro-Daimler, and in 1932 by Heinrich Joachim von Morgen and his Bugatti T35B. In 1929 the bike driver was Josef Möritz, and in 1932 Willi Stör. In 1934 the pilot of course was Udet again, the bike driver Josef Möritz with his Victoria, and the car was Ulrich Maag from Zurich with his T35C. Possibly it was always the winner of the official races - cars and motorcycles - who had to perform the show race against Udet.

Captions:

"Even as young boys, Clarkson, Hammond and May dreamt of one day making a television program called Top Gear" - Phil Balsdon, Australia

" I say pilot, are we at Brooklands yet?" - Brian Swann, UK

As usual, I won't pick a winner myself, decide for yourself.

At the moment I don't have any suitable pictures anymore, so if you have similar (period) pictures, I'd like to receive them and post them for the caption contest!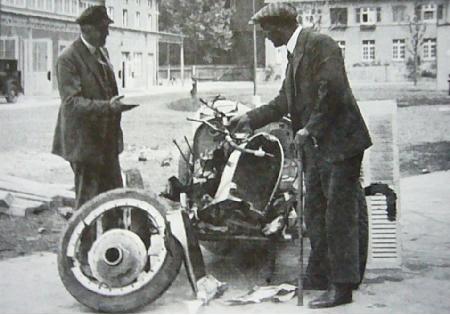 Michael Muller also sent info about the previous caption picture:
It shows the German race driver Carl "Charlie" Kappler (right) with his damaged T35 after his accident at the Neroberg race at Wiesbaden on 24 May 1927 (see photo attached). On the other photo of the damaged car still the #3 can be spotted on the bonnet, which by the way is unique for the Kappler car due to its large number of cooling slits. Kappler himself still needs a crutch. The accident was rather heavy, acc. to period newspaper report the car cut a tree of 28 cm diameter and cracked an even bigger one.
Kappler in July 1926 bought new the T35T #4796 from Bugatti importer Omnia of Munich. He raced this car very successful that year in the 3 litre class, aside with his Simson Supra in the 2 litre class. At hillclimbs it was common to start in 2 classes in order to maximise price money. For 1927 he swapped the Simson against a 2 litre Bugatti, and raced both during 1927 and 1928, mainly at hillclimbs. Common knowledge within the Bugatti historians is that the 2 litre car was a T35C, the same he sold in 1930 to Hermann Prinz zu Leiningen.
Wiesbaden was the first appearance of the 2 litre car, at least this was written by the press ("Kappler mit seinem neuen 2 Liter Bugatti"). 8 weeks later Kappler entered the repaired car for the German Gran Prix at the Nürburgring on 17 July 1927, see attached photo. Clearly visible the "Kappler bonnet" with its unusual slits.
But now the mysteries.
The photos of the wrecked car clearly show an unsupercharged T35, you can spot the carburettors where at a T35C the supercharger inlet manifold is placed. But at the Nürburgring the Bugatti without any doubt is supercharged. So Kappler's T35C obviously started life as T35, with no idea on my side where he got it from.
Next mystery is the bodywork of Kappler's car at the Ring. The German GP was open for sports cars only, but contrary to other Bugatti drivers, who simply fixed the usual cycle wings and lights, Kappler opted for a "real" sports car body with doors, full windscreen, full fenders, and even a luggage hatch. Exactly this "touring equipment" was used by the Molsheim factory for the Gran Prix Touring at Montlhery on 19 July 1925 to convert the T39 pure sang GP cars into "modest" tourers.
The questions are clear - where did Kappler get this bodywork from? Most probably directly from Molsheim. And what about supercharging? Also a job done at the factory? Very likely, because Kappler's hometown Gernsbach in the Black Forest is only abt. 100 kms away from Molsheim. However, nothing mentioned in the Bugatti files about this afaik, but I'm looking for any information proving my theory. Or of course any other bits and pieces in connection with Kappler's T35/35C.
Michael sent me more pictures, from the Kappler biography "Im Donner der Motoren" by Martin Walter.
---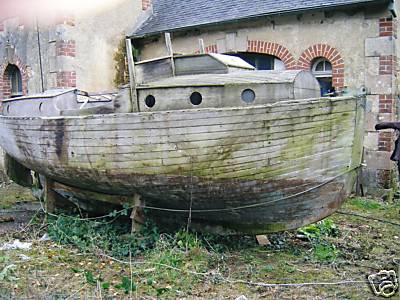 March 7, 2009

Bugatti's sailing boat BARBARA (1?) surfaced!

Suddenly appearing on Ebay, probably Barbara (1), Ettore Bugatti's sailing boat.

De boat dates from 1931, was sold in 1947, and concluding the lotnumber (524) and description, it was at some time auctioned. Obviously, after that (maybe not sold??) it was neither restored nor stored inside even!

If this is beyond restauration??

Description, French:Coque diêppoise de 1931 construite au chantier Maccario à Trouville pour Monsieur Ettore Bugatti, sous le nom de "Barbara" qui était sa femme. Ce bateau comporte toujours dans le carré avant, les W.C, la glacière et l'évier. Le mécanisme de safran, l'arbre d'hélice et son hélice sont en très bon état. Le réservoir d'essence et le réservoir d'eau sont intactes. La provenance de ce bateau est l'objet d'écrits dans le livre de sa fille, Ebe Bugatti.

Translation: Boat build in Dieppe in 1931, in the shipyard Maccario in Trouville, for Mr. Ettore Bugatti, under the name "Barbara", his wife. Some of the interior still present. This boat was described in the book by his daughter, L'Ebé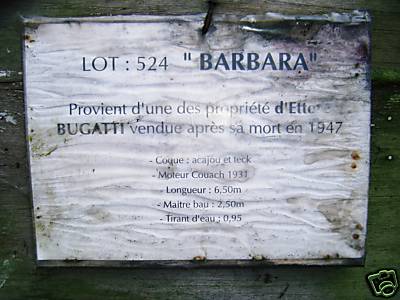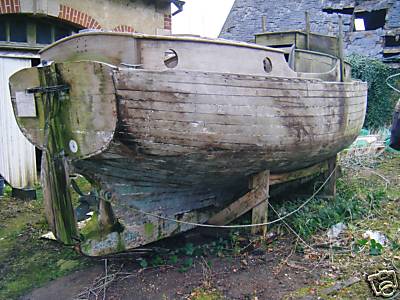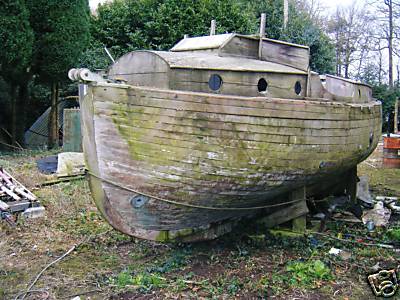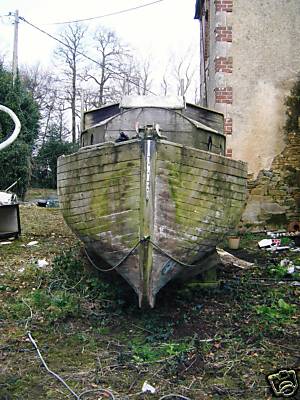 cgi.ebay.fr Bidding starts at €20.000, but with an unknown, higher, reserve. If it will sell??
Engine:Couach from 1931
Length: 6.50m
Width: 2.50m
Depth: 0.95m
---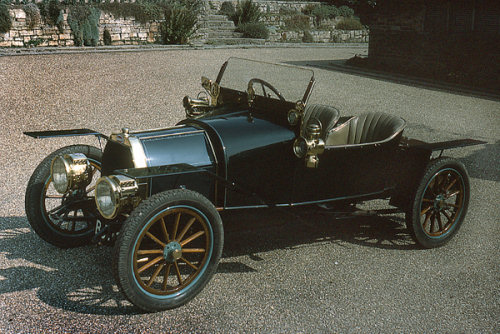 ---
May 13 - July 13, 2009 2nd oldest Bugatti at the Bugatti Trust UK
If anyone is interested, the second oldest Bugatti is on display at the Bugatti Trust for two months from 13th May.
Ettore Bugatti acquired his factory in Molsheim, Alsace in 1909 and commenced manufacture of his cars from 1910. To commemorate the centenary The Bugatti Trust has been able secure the loan of an 8 valve "Pur Sang" Bugatti through the generosity of the National Motor Museum.
Dating from 1910 this historic car is the second earliest remaining in existence. It was owned for many years by the late Peter Hampton, one of the founder members of the Bugatti Trust. It is reputed to have been owned by Mme Bugatti herself and displayed at the Paris Salon in 1910. It is also thought to have been used on the battlefields of France in WW1.
It will be on display from mid May for approximately two months.
---
July 3 - 5, 2009 Goodwood Festival of Speed UK

The 2009 Goodwood Festival of Speed will honor the "unrelenting true grit" of automotive icons ranging from Jackie Stewart to Mick Doohan.

The annual event will also feature the 100th anniversary of Audi, Bugatti and Morgan.
---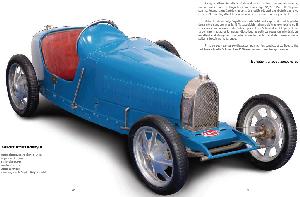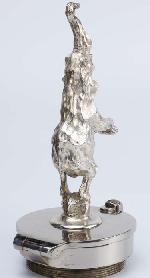 July 5, 2009 Succession de Madame Fritz Schlumpf - auction Molsheim, France

Auction of several Schlumpf items, only a few of which are really interesting, like the elephant Royale mascot, and a type "Baby" (formerly called type 52 by mistake) - Estimate 25 - 30k-euro.

The "Baby" is châssis n° 257 A, Circa 1930.
The elephant statue is the original from Royale 41100, the Napoleon Coupé.
---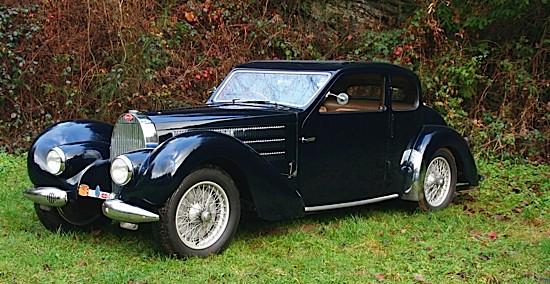 July 13, 2009 Artcurial, Classic and Racing Cars Auction Deauville
Lot No 27 : 1938 Bugatti Type 57 Coach Ventoux #57662, Estimate on request
Also: Lot No 42 : 1984 De La Chapelle Bugatti Type 55, Estimate : 35000 - 45000 €
---
July 18-19, 2009 CHOLMONDELEY BUGATTI FESTIVAL. Chester, UK

A major Bugatti event is taking place at Cholmondeley Castle (near Chester) on July 18-19th. The Pageant of Power will focus attention of the close connection between Ettore and Jean and the Cholmondeley family. Cars not seen in the UK for several years will be on display and there will be an exhibition of photographs and artefcts never seen in public before. An article discussing the Cholmondely Bugattis will be posted on bugattibuilder.com and an expanded version will appear in the event's programme.

The cars discussed in the article will be:
1914 8 valve car with UK registration B-5166
35 - 4394
44879
49 with UK registration GP 847
50116
57612 Atlantic
57698 Atalante
57679 Stelvio
57739 Figoni
---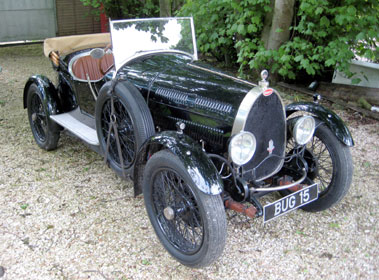 July 22, 2009 H&H Sales Ltd, The Pavillon Gardens, Auction Buxton (UK)
1923 Bugatti Type 23 Brescia "Modifie" #2840, Engine #1288, Estimate : £100000 - 120000
---
August 1 -2, 2009 Schloss Dyck Classic Days Jüchen, Germany

Also here: Bugatti is the featured marque!
---
August 8, 2009 2009 Krasl Concours ST. JOSEPH, USA

Vehicles sought for Concours

More info or contact:

Concours director Dar Davis by e-mail at drd43@sbcglobal.net, by phone at 983-0742 or by mail at Krasl Art Center, 707 Lake Blvd., St. Joseph, MI 49085. Applications are due March 13.
---
August 12 - 16, 2009 Pebble Beach USA

With Bugatti the featured marque (again)

There's a whole list of events, take your pick: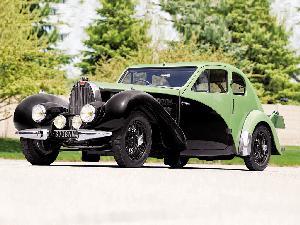 Pebble Beach Auction - presented by Gooding & Company
Wed, August 12 – Sun, August 16, 2009
Gooding & Company, the official auction house for the Pebble Beach Concours d'Elegance, is thrilled to announce the sale of an incomparable piece of Bugatti history - the 1936 Bugatti Type 57C Coupe. The Type 57 is the quintessential Bugatti road car and this specific car is considered to be one of the most historically significant examples of its kind.
"This year's Pebble Beach Concours d'Elegance will be honoring the Bugatti marque and Gooding & Company is delighted to offer, without reserve, one of the most spectacular Bugattis ever built," said David Gooding, founder and president of Gooding & Company. "Ettore Bugatti's personal car will undoubtedly capture a great deal of attention during the week and will draw connoisseurs worldwide to our auction."
Bugatti factory employees originally assembled this 1936 Bugatti Type 57C Coupe as a birthday present for Le Patron, Ettore Bugatti. Deemed as one of its most cherished automobiles, the Bugatti factory went to great lengths to protect this precious vehicle during World War II. After Ettore Bugatti's death in 1947, the car continued to be maintained and stored at the Bugatti workshop in Molsheim, France, where it received factory upgrades as developments progressed. Those upgrades included tailored interior accessories, a unique engine and transmission combination and other subtle technical improvements that distinguished it from any other Type 57. Additionally, the car's one-off coachwork is believed to be one of the last designs penned by Ettore Bugatti's son, Jean Bugatti before his death.
Since leaving the Bugatti factory in the late 1950s, Chassis 57335 has had only a few protective caretakers, and remains one of the most correct and original Bugattis in existence. The more recent owners of the car have preserved Ettore Bugatti's intrinsic connection with this automobile. Used only sparingly, the car has never been restored and the breathtaking interior evokes the presence of the legendary Ettore Bugatti himself. Every detail on the spectacular automobile reflects the artistry of the Bugatti marque and it possesses a tangible link to some of the most important innovators in automotive history.
The Gooding & Company Pebble Beach Auction preview days will be from Wednesday, August 12 through Sunday, August 16, 2009. The Saturday and Sunday evening auctions will commence at 6:00PM and are located at the Pebble Beach Equestrian Center. Gooding & Company Pebble Beach Auction catalogs are available for $100 and admit two to the viewing and the auction. General admission to the viewing and the auction can be purchased at the tent for $40 per person. Bidder registration forms, press credentials and additional auction information are available at www.goodingco.com
Pebble Beach Concours d'Elegance
Sun, August 16, 2009
Pebble Beach Tour d'Elegance - presented by Rolex
Thu, August 13, 2009
Pebble Beach RetroAuto
Fri, August 14 – Sun, August 16, 2009
Pebble Beach Motoring Classic
Mon, August 3 – Wed, August 12, 2009
Blackhawk Exposition Sale
Wed, August 12 – Sun, August 16, 2009
---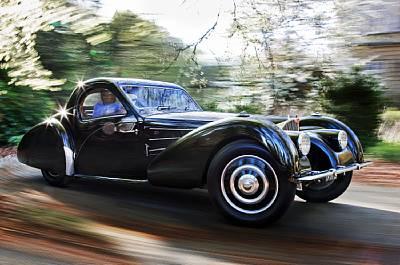 August 14, 2009 Bugatti T57S Atalante Gangloff in Quail Lodge auction USA

One of three, 1937 Bugatti Type 57SC by Gangloff, chassis 57.523

Following Bonhams much publicized sale of the 'Dr Carr Barn Discovery Type 57S', in February, Bonhams is extremely proud to offer a beautifully restored example with an equally fine pedigree.

Type 57S, number 532 is a stunning one-off Gangloff coupe distinctive for its low profile, compact cabin and long tapering tail. It was delivered new to a Doctor in Sevres, France, and over the course of seventy years has resided in distinguished collections including that of Michel Seydoux, before being acquired by the present owner sixteen years ago. Ready to show or tour, the car has been regularly used for both over the course of the last few years, having been exhibited at the Villa d'Este Concours d'Elegance where it won the Trofeo Girard-Perregaux in 2008 and run on the Mille Miglia Retrospective.

Bonhams Quail Lodge auction is now in its 12th year, and regularly attracts the world's finest collector cars for sale, last year's auction totaled more than $21-million, and recorded four world record prices.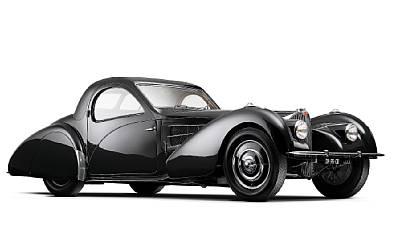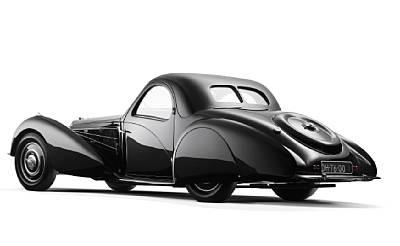 This same car was also offered at the last Retromobile.
---
August 15, 2009 17th "Annual Car Guys Gathering " USA

As you probably know, on Sunday August 16th, the famous and 59th Pebble Beach Concours' d'elegance will take place and this year the Honored Marque, once again is Bugatti.
As a car guy and Judge, we're having our 17th "Annual Car Guys Gathering " on Saturday the 15th at our home from 2:00-5:00pm and invitations will go out this week to about 80 couples,

Each year we have an "Official Driveway Car,." and offer you this opportunity to participate with one of your Bugattis, of course with a sign indicating it's model # chassis # and even, if you wish, a For Sale Message.

Contact: Mickey Kapp: mickapp(AT)sbcglobal.net
(Change the (AT) into a "@" before sending!)
---
June 3 - 7, 2009 NÖ Classic Austria

One Bugatti 50T roadster already been entered, some places still open
---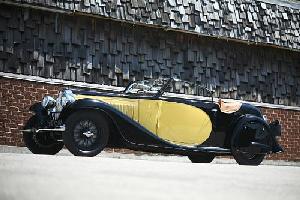 June 7, 2009 The Greenwich Concours d'Elegance, Collectors' Motorcars and Automobilia Greenwich, CT , USA

Bonhams Auction featuring:
1934 Bugatti Type 57 Stelvio Drophead Coupe

Chassis no. 57202, Engine no. 47

The car we offer has been restored to be the archetypal image of the breed, presenting in the two tone livery so favored in period of black with different colored side scallop panels, in this case those being in pale yellow. In essence, the car looks as if it were lifted straight from the sales catalog of 1934, its condition too is that of a virtually new car.

One of the blessings of the touring Bugattis as compared with their Grand Prix counterparts is how uncomplicated and chartable their histories have proven to be, particularly aided through the tireless research work of a handful of enthusiasts such as David Sewell in the UK and Pierre Yves Laugier in France. It is understood that the latter can be thanked for the comprehensive chain of ownership that is known of this car which begins in 1934 when it was purchased from the Lyon Bugatti Agency by George Dame a maker of custom hunting rifles based in the Loure Valley region of France.

The car remained in the Lyon area passing into its second ownership in 1937, though it is thought that this gentleman whose name is not recorded was killed during the hostilities that followed two years later.

In 1946 it is known that the Bugatti was purchased by a Mr. Collage still in France. Collage kept the car until 1952 and it was during his custodianship that it received its only known modification, being the then fashionable 'filling in' of the car's front fenders - an act which was frequently done to make pre-war cars resemble their post-war counterparts more closely and also for the practical reason of avoiding mud being splattered on the side of the car.

Between 1952 and 1958 the car lived in Paris with its fourth owner Mrs. Combes, until it passed to a Henri Grodm'ery. Up until this time it had naturally been used for transport rather than as a collectible item, and it remained so until the start of the 1970s when Mr. Maurice Markus purchased it and in turn sold it to modern Peugeot agent and collector Henri Bas Lande. During M. Bas Lande's ownership in the late Seventies he commissioned the car's first proper restoration which entrusted to the hands of a man named Mortelli of Nice. It was later completed re-restored in Italy in the mid-1990s to the fine condition in which it is today, with new paint, new interior, new top, engine and mechanics rebuilt.

The Bugatti arrived in America shortly after its Italian restoration having been purchased by two American brothers, when one was sadly killed the other sold the car and it passed quickly through Cosmopolitan Motors of Seattle to Barrett-Jackson's 2000 Scottsdale auction where the current Canadian based owner acquired the car.

In the current hands, the Bugatti has been appreciated, admired and maintained, but rarely used, in fact it is believed that the mileage since its restoration in the mid 1990s is still in the mid-100s! The result of this is that the car still has the feel of a fresh restoration and could quite literally be campaigned at concours level as it stands. As with any virtually unused rebuild, Bonhams would probably recommend it be serviced properly before used for the tours and road events which it would similarly lend itself well to.

Estimate: $400,000 - 500,000
---
June 11 - 14, 2009 Retro Classics meets Barock Ludwigsburg, Germany

Retro Classics meets Barock – die schönsten Oldtimer in Ludwigsburg, Erstmals wird 2009 der Preis "Best of Best" verliehen
---
June 14, 2009 Artcurial - Briest - Poulain - F. Tajan Auction Sochaux, France

Your cheapest way to some Bugatti technology:
PEUGEOT Type : BP1 Voiturette Bébé N° de série : 10082

Pre-Auction Price Estimate: €8,000 - €15,000 , Minimum Bid: €7,200
---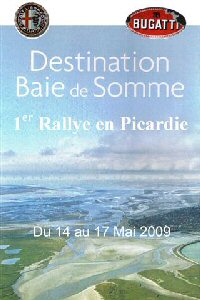 ---
May 14 - 17, 2009 Alfa Roméo & Bugatti Rally in Picardie and La Baie de Somme France
Tiny roads for Grand Touring or Grand Sport …A few laps on a recent track at the wheel of a Grand Prix …
Beautiful landscape and invigorating sea breezes … Old stones and Gastronomy…
Come to relax in a preserved seashore, admire wildlife and enjoy driving at the same time.
---
May 15 - June 12, 2009 Bugatti Prototypes exhibition Kassel, Germany

7 prototypes from the Mulhouse museum will be on show, alongside privately own cars at the documenta-halle.
Some of the cars present will be the T28, Pierre Michelin's 1936 T50 and the 1956 T252
---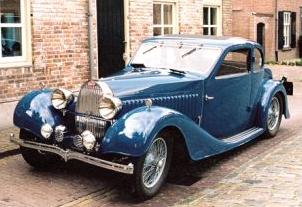 May 18, 2009 Coys Auction Monaco

Bugatti Type 57 Ventoux

Chassis Number: 57315

Described by the vendor as being in 'concours' condition this 1934 Type 57 underwent a complete restoration by the seller when he purchased the vehicle in 1996. The work was completed 3 years later at a cost of around €100,000 with the engine benefiting from a rebuild by Dutch Bugatti specialists. The body work is described as being in excellent condition, no doubt due to the seven layers of paint. The blue leather interior is also described as being in excellent along with the chassis and engine. All restoration work carried out has been exhaustively photographed and a large restoration file is supplied with the car along with EU registration documents, letters from the factory to the first owner and the original bill of sale dating from January 1935.

57315 is a matching numbers example and an ideal historic motor car for any collector of the marque or enthusiast who requires the best possible example to enter Concours d'Elegance competitions, or the many social rallies at which this exquisite Bugatti would be welcomed.
---
May 23 - 24, 2009 9ème Grand Prix Historique de Pau Pau, France
---
May 23 - 24, 2009 La Vie En Bleu 2009 Prescott Hill, UK

The aim is to gather 100 Bugattis or more!

RARE CARS ON DISPLAY

1939 Type 59s Bugatti owned by King Leopold III of Belgium - this is the legendary Black Bugatti, the last of the great Bugatti Grand Prix racing cars.
1937 Type 57 Atalante - you may have head of this one in the news late last year. Found in the garage of eccentric Doctor on his death. Sold just after Xmas for just over £3 million to a European collector and coming back to Cheltenham for this event. (Trivia: originally owned by Earl Howe the BOC president and patron)
Bugatti EB 110 (CHASSIS # 1) the 1st Bugatti supercar, EB (Ettore Bugatti) 110 years after his birth.
Veyron Pur Sang (Pure Blood) one of only 5 in the world - no paintworkjust pure polished aluminium and carbon fibre
3 Bugatti Veyron (and the number is rising)
1986 Lotus 98 Turbo Renault formerly driven by Ayrton Senna. With up to 1300 bhp available, this car will provide one of the weekend's highlights.
More info
---
May 23 - 30, 2009 International Bugatti Meeting Maremma, italy
---
May 9 - 10, 2009 3d International Cyclecars & Grand-Sport Meeting Belgium

International car event, specific for our Tricyclecars, Cyclecars and Grand-Sport cars, which will take place near Brussels, Belgium.
---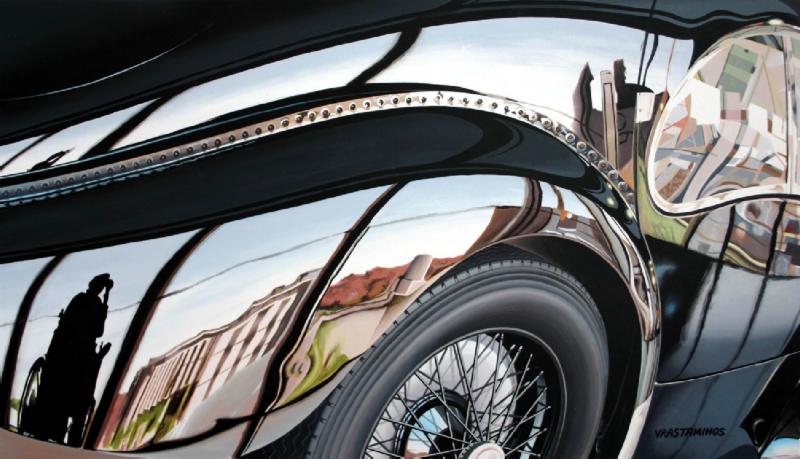 Acrylic painting by George Vrastaminos of the Bugatti Atlantic T57SC. The car is located at the VW Museum in Wolfsburg.
www.vrastaminos.com
---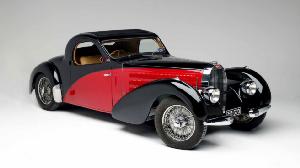 February 6 - April 26, 2009 Bugatti: Carlo Rembrandt Ettore Jean Exhibition Melbourne, Australia

Temporary Exhibition Space 1,Ground Level

Admission free
For most people the world of Bugatti is associated with cars. However, the Bugatti story is a much larger one, encompassing three generations and four remarkable individuals: Carlo Bugatti, his sons Ettore and Rembrandt, and Ettore's son Gianoberto (Jean). For the first time in Australia this exhibition will show the furniture, sculpture and cars of this extraordinary family. Drawn from private collections, the Art Gallery of South Australia and the furniture now in the collection of the NGV, including the last chair from Carlo Bugatti's 'Snail Room' exhibited in Turin, 1902 (and a centrepiece of the show) the exhibition includes 13 pieces of Carlo's furniture, 15 animal sculptures by Rembrandt, a Type 37 racing car from Ettore's workshops and a Type 57C coupe designed by Jean Bugatti. The bringing together of these seemingly disparate works may be a surprise, but they reflect a common creative impulse and share a unity of expression that binds them together. Welcome to the world of Bugatti.

Dr Gerard Vaughan, Director, NGV said: "The furniture, sculpture and cars produced by these artists are truly remarkable, and this exhibition will include superb examples of their craftsmanship across all three genres.

"Very few works by the Bugatti family are held in Australian public collections and we're proud to be holding the first Australian exhibition dedicated to this unique family," said Dr Vaughan.

Amanda Dunsmore, Curator Decorative Arts & Antiquities, NGV said the idea for the exhibition stemmed from the NGV's acquisition of Carlo Bugatti's Throne chair in 2006.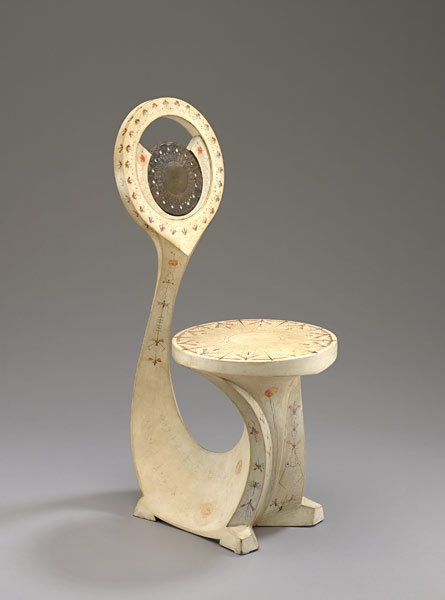 "The patriarch of the family Carlo Bugatti is known for his idiosyncratic oriental-inspired furniture, of which the Throne chair is an outstanding example. Yet undoubtedly his greatest contribution to the development of twentieth century design are his Art-Nouveau-inspired chairs from the Snail Room. They were exhibited at the First International Exhibition of Modern Decorative Arts in Turin in 1902 and won the most prestigious award, the Diploma of Honour. The NGV recently acquired the last remaining chair from the set of four to remain in private hands. This work will form the centrepiece of the NGV exhibition," said Ms Dunsmore.
Carlo's youngest son Rembrandt Bugatti is recognised as one of the most talented and individual sculptors of the twentieth century, despite a career that lasted only twelve years. A deeply shy man, he led a solitary life with few friends but found refuge and the expression of his emotional world through animals.
His extraordinary oeuvre of sculptures was produced from the animals he observed at the Paris and Antwerp zoos. His innate empathy with his subjects is clear in their tactile and life-like qualities. Tragically, Rembrandt's career ended when he took his own life in his Paris studio in 1916. For the first time in Australia, Rembrandt's intensely personal sculptures will be on public display.
Another highlight of the exhibition will be a Type 37 racing car designed by Ettore Bugatti, Carlo's eldest son. Founder of the famous Bugatti car company, Ettore Bugatti was an artist who chose cars and their mechanical components as his subject. The Bugatti engine and bodywork designs are amongst the most highly resolved combinations of aesthetic form and function. The Type 37 in the exhibition came new to Australia in 1926.
On show and in the pictures: Type 57C Atalante 1938; chassis no. 57788; engine no. 72C - chassis no. 37146; engine no. 53 - Walking panther 1904 - Chair, from the Snail Room c.1902
---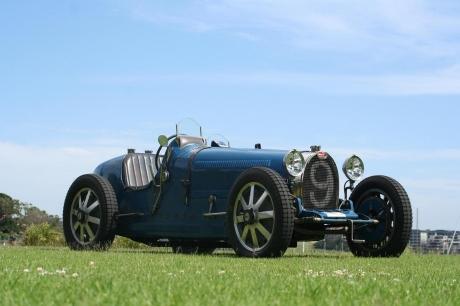 March 14, 2009 RM Auctions, Automobiles of Amelia Island USA
1927 Bugatti Type 51, Chassis no. 4847 Engine no. 138T, Estimates Available Upon Request

Delivered new as a Type 35B, 4847 was modified to supercharged Type 51 specifications and raced before and after World War II by French racing driver Marcel Balsa. It was exported to Australia in the early 1950s, where it has remained ever since, and enjoyed a highly successful career in historic racing. Well maintained and complete with recorded racing history, 4847 is well suited for continued race and rally competition.

The 1927 Bugatti Type 51 chassis no. 4847 has a well documented racing history over the last seventy years. This supercharged Type 51 was raced before and after World War II by French racing legend Marcel Balsa. In the 1950s, this remarkable car was exported to Australia where is has remained ever since, including spending the past 20 years under the attentive care of its current owner. During this time, it has enjoyed great success on the vintage racing circuit, both in Australia and overseas events, and has remained unquestionably the fastest Bugatti, if not the fastest prewar racing car, in Australia.

"This fantastic Type 51 is an excellent example of a great car coming to auction and being offered for the first time in over 20 years," said Ian Kelleher, Managing Director of RM Auctions.

"A car like this is what keeps the excitement and enthusiasm surrounding the classic car industry at its peak and ignites the passion of true collectors from around the world," he added.

It appears this car has been withdrawn, as it is no-longer on the RM website

A stunning, supercharged 1939 Bugatti Type 57C Faux Cabriolet "Charmaine" chassis no. 57787, one of the last Bugattis built before WWII and formerly owned by a remarkable series of famous British personalities. Estimate:$350,000-$450,000 US

1936 Bugatti T57 Stelvio, Chassis nr. 57395. Estimate $350,000 - $450,000.
More details on : www.rmauctions.com

Thanks to Christophe Chanterault
---
March 20-22, 2009 Avignon Motor Festival Avignon, France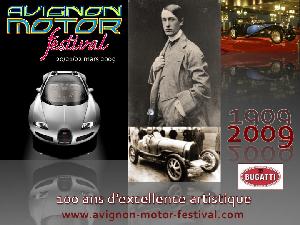 As almost all events this year, also this one has Bugatti as (one of the) favoured marque
---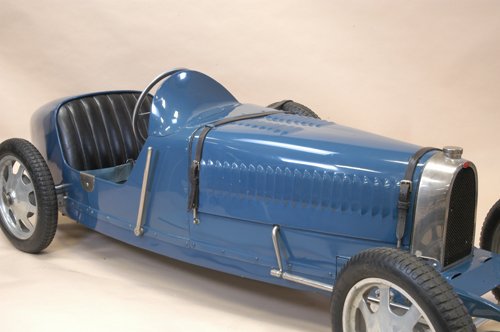 March 21, 2009 The Donald Kaufman Automotive Toy Collection Auction Vineland, NJ, USA

Lot 1312 : ORIGINAL BABY BUGATTI

Circa 1930's, this example was owned by Mr. Harrah and sold during the Harrah's Museum Sale in 1985. It is one of only ninety made and reportedly bought for his children. Years later, he had it restored, and it still retains its original battery powered motor, making this 73'' long beauty a prized find with 1/2 HP motor. Comes with verification certificate from Harrah's Sale. (Good Overall Cond.)

Estimate $20,000 - $25,000, Starting Bid $10000
---
March 22, 2009 Bugattifilm by Rene Letzgus ARTE TV channel (Germany)

Starts 13.00
---
March 25, 2009 Bugattifilm by Rene Letzgus ARTE TV channel (Germany)

Starts 05.00
---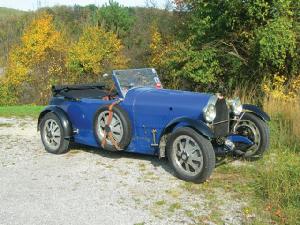 April 4, 2009 Coys Auction Essen Techno Classica 2009 Essen, Germany

1930 Bugatti 44/43

Chassis Number: 441216, Estimate: €150000 - €200000
As a young man Bugatti had been preparing for a career in fine art when he realised that his younger brother had far more talent than he and so he switched to engineering. The artist in him was never far beneath the surface, however, and all his designs are marked by harmony and balance. Nowhere is that better demonstrated than in his cars of the middle 1920s and in particular the Type 35 and Type 43. The two designs complemented each other: the eight cylinder Type 35 was a no-compromise racing car, while the Type 43 was an exceptional 'Gran Turismo'.

In 1926, while the supercharged 2.3 litre engine was being developed for the Type 35B Grand Prix car, Ettore Bugatti produced a new touring model, the Type 38. As the work progressed he recognised the potential that the supercharged engine would have in a touring chassis and another model, the Type 43 was born.

This excellent Bugatti Gran Sport comes to our sale with EU papers, FIVA - passport No.: 025895, original parts and further important documentation. Being already documented on page 46 of Hugh Conway's 1962 Bugatti register as having been delivered to France when new as a type 44 with a two-seater roadster body with rumble seat it was equipped with engine no: 171 in 1962. This has all been thoroughly documented by both the Bugatti Owners' Club as well as Bugatti authority David Sewell. In 1993 the previous owner embarked on a comprehensive restoration and conversion to Bugatti Type 43 specification to such a degree that all dimensions and specifications are correct for the Type 43 except for the frame depth, which remained at 115 mm rather than the 95 mm for a Type 43 frame. Bugatti authority Ivan Dutton rebuilt the engine to Type 43 spec, using its original sump. The previous owner assembled the Type 43 to correct specification in all other significant respects – again all confirmed by David Sewell, who concludes that the car is now best described as a Type 43 despite its origins.

Mark Morris of the B.O.C. also points out in his aforementioned report, that the car features the five major components of : chassis frame, front axle, engine lower crankcase, gearbox and the rear axle centre casing which are in fact all of Bugatti manufacture. The Grand Sport body the car carries today was made by Wilkinsons of Derby in the early 1990`s to Type 43 Grand Sport specification, whereas the engine is supercharged to Type 43 specification. Notably the relevant parts mentioned - original gearbox no. 969, spare front and back axles, also come with the car. Currently a constant mesh gearbox conversion ( no.: 52 ) is fitted to the car. The restoration is documented in a huge file with invoices, pictures etc. etc. The car is well known in Bugatti circles and ran on several prestigious rallies on the continent. Surely well worth consideration as the estimate offered here offers tremendous value.

More info: www.coys.co.uk
---
April 22, 2009 Bugatti & Zo Lecture Middelburg, the Netherlands

De lezing wordt gehouden in de Loge "La Compagnie Durable", Stationsstraat 16 te Middelburg.
WOENSDAG 22 APRIL: AANVANG OM 19.30 uur.
Hans Breteler, uit Wageningen met "BUGATTI & ZO"

Vanaf het eind van de 19e eeuw manifesteren zich enkele leden van de Italiaanse familie Bugatti in met name het Noorden van Italië, het Zuiden van Zwitserland en in de (Frans/Duitse) Elsas. Het gaat om Ettore (automobielen en andere transportmiddelen), Rembrandt (beelden), Bice (gehuwd met de schilder Giovanni Segantini en moeder van diens zoon Gottardo), Carlo (meubilair) en Jean (autoconstructeur). Zij spelen een belangrijke rol in hun tijd, mede doordat zij verkeren met zowel de beau monde als enkele beroemde kunstenaars van hun tijd. De lezing gaat over het gedachtegoed, het leven en de producten van de Bugatti's.

Dr. Hans Breteler werkte tot 2003 op verschillende terreinen en in verschillende functies binnen het Wageningse onderzoekscomplex van de Wageningen University & Research, op o.a. het gebied van de biotechnologie en de biochemie van planten en woonde en werkte o.a. in Sierra Leone en Noorwegen. Sinds tientallen jaren verdiept hij zich in allerlei cultuuruitingen, zowel antiek als hedendaags en zowel 'hoge' als 'alledaagse' cultuur. Daarbij speelt hetgeen in Italië gebeurt en gebeurde een belangrijke rol.

Taal : Nederlands. Met een powerpoint-presentatie. / Dutch Language!
Georganiseerd door Dante Zeeland.

---
April 24 - 26, 2009 Villa d'Este 2009 Cernobbio, Italy

The Bugatti Type 57 SC Atlantic #57591 of Ralph Lauren will compete in this magnificent setting that is the Concorso d'Eleganza Villa d'Este. The car will be making its first European appearance in 18 years!
---
March 4/5, 2009
2nd Aerolithe recreation project in Canada
Reaction from David Grainger
I can tell by the Doctors letter that he has been somewhat offended by my comments about the Aerolithe and its decriers.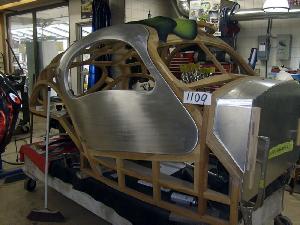 As far as the defamation of his car, the same experts who are slamming our car are the ones who have made a pastime out of insulting the German car and calling it a disppointment. I merely quoted.
He is right, I have not seen his car but we have dozens of scaled photographs of it and have taken it part by computer to determine its match against he original car. We can even tell you which rivet marches are incorrect. It has a few minor faults, the roof height amongst them, but as it is not a devout recreation of the Paris show car, who cares. I am sure it is and always will be far more drivable than ours. Our car is strictly a recreation of the car when it appeared in Paris.
As far as head height and his thoughts on the frame, they bear no effect one on the other, as these T 57 Bugattis have their seats dropped below the frame rails. You also have to remember, people were shorter and most 30s sporting cars lack room for the modern physique.
I can state emphatically that the gondola frame was not used. We offered Bugantics the absolute proof which included mockups of gondola components married to the Aerolithe. These photographs were absolutely conclusive by the way but Bugantics did not print them or the engineering arguments we put forward in detail. Instead the editors chose to end the argument, perhaps to save face and unruffled some feathers.
As far a being an armchair expert, I suppose I am, but I am one who builds Bugattis. My armchair expert comments were directed at a certain British group who remained steadfastly and doggedly attached to their own views even when presented with the proof that they were mistaken in their beliefs and conjecture and the ways that they had interpreted the nine or ten photographs that exist. They also tried to pass off non related blueprints as those belonging to the Aerolithe.
As far as the wood frame. Ours was built by the same chap but we did have to make some revisions as the first cars frame has some proportional errors in it. I am not sure why the good Doctor seems bitter that we chose the same shop to build our framing, they have been in business since the 17 hundreds.
As far as a comparison between the German and our cars, both have credibility and as I said before, the German car will be more drivable, but ours is a devout recreation and is made from MAGNESIUM so is truly the ELECTRON Coupe.
It is also the earliest known T 57 chassis, important in its own right and one that the German restorers approached to buy off of me for their own Aerolithe project while it was in progress.
David Grainger E-mail: inquire1(AT)guildclassiccars.com
Top picture: David Grainger's Aerolithe replica in progress.
Additional Comment by David Grainger:
John Staveley, the editor of Bugantics emailed to say that he was a bit dismayed over my letter in which I said that Bugantics had not published the engineering letter. He said that he discontinued the fight as it was boring many readers who had requested its cessation. As it was quite frankly boring me to tears at the time as well I fully believe that and it really did not mean to suggest that John or Bugantics were acting in any way other than in the interests of its readership at large.
I have apologized to John directly but if you would publish this note it would serve to inform your readers that I at no time thought the Bugantics acted any way other than very even handedly.
---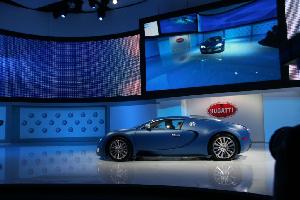 March 3, 2009

Centenaire "just another version" of the Veyron

Opposite to some rumours, the Centenaire that was presented in Geneva does not have 1350hp, it will have to do with just 1001! Thus it is nothing more than another robe for this chassis, which of course already is quite nice!

Bugatti Automobiles S.A.S. presented the Bugatti Veyron Bleu Centenaire at the 2009 Geneve Motor Show, a special commission honouring the 100th anniversary of the company, thus initiating a range of worldwide activities celebrating the creation of this mythic brand a hundred years ago. In addition Bugatti Veyron Grand Sport is shown for the first time to a wider public in Europe.

The Bugatti Veyron has only been on the market for three years, but has already reached the status of being an undisputed part of automotive history, with 250 cars ordered to date, and nearly 200 cars delivered. This means that there are only 50 Veyrons to be sold until the limit of 300 units will be reached.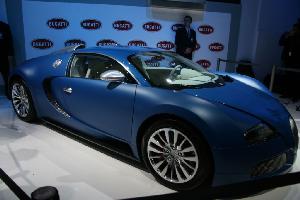 The Bugatti Veyron Bleu Centenaire was created as a unique model to celebrate the hundred year old history of the company. This special model takes up the traditional Bugatti two-tone-specification, but portrays it in one rather than two colours: in the most known light shaded Bugatti blue. The Centenaire's unique combination of a « sprintblue matt » and « sprintblue gloss » hence offers a new impression of the two-tone-scheme known so far with parts of the engine also covered in this traditional Bugatti Blue.
The roof-trim-stripes and the exterior rearview mirrors are of polished, anodised aluminium. A special wheel design has been added - enhanced by a bright red brake-capillar. The grills at the front and at the side air intakes are in « mirror shine ».
The interior of the Centenaire is fitted in a special «snowbeige» leather with quilting on the seats. The central console is covered in the same leather. New LED lights, Park Distance Control and a rearview camera have become part of the standard equipment for all Bugatti Veyrons from this year onwards. The Bugatti Veyron Bleu Centenaire shares all performance characteristics of other Veyron models performance-, acceleration- and deceleration characteristics which have been highly praised ever since the Bugatti Veyron first appeared on the scene. The car will cost 1,35 Million Euro exclusive taxes and transportation.
---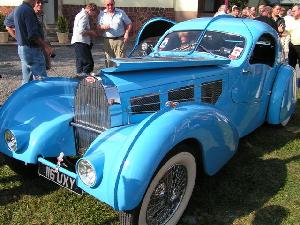 March 2, 2009

2nd Aerolithe recreation project in Canada

Letter from Peter Borstel

With some special interest I am following the 2nd Aerolithe recreation project of the Guild of Automotive Restorers in Canada after the first one was finished in 2006 already.

From the internet it is possible to take a huge amount of pages with text and pictures concerning the 2. project. From the beginning an attempt could be supposed to put this project in a very special focus with corresponding publications. It might be possible with regard to Pebble Beach and to lift the sometime finished project in a certain price level.

In this context suits the following statement of Mr. D. Grainger, which is leaping to the eye and published by him in the internet in December 2006:
"In the meantime another recreation of the Aerolithe was created in Germany and pre-miered last year but it was altered from the original in many ways and was a disappointment to many in the Bugatti fraternity."

A group of specialists in the Bugatti scene are entitled "arm chair experts" by Mr. D. Grainger. Taking note of some remarks in his internet reports Mr. D. Grainger apparently is in a strained relationship with them. Refering to the negative judgement about the 1st Aerolithe project given off by Mr. Grainger, who never has seen the result of the 1st project personally, he might be considered as a Bugatti "arm chair expert" as well.

Incidentally a number of Bugatti specialists described the result of the 1. project as an almost excellent masterpiece. Despite of one (not many !) slight alteration concerning the roof, which is 1 inch more in height matching to the Pope Atlantic. The decision for this alteration was made after detailed discussions to guarantee a comfortable seating position especially for the tall person I am and perhaps later following owners. The supports of the seats on the floor of a Type 57 standard chassis is higher than on a Type 57S chassis. That causes problems for the seating position using original designed seats in the compartment of the Aerolithe based on a standard chassis (perhaps in Canada it has been found or will be found out). For me it is another proof, that a Type 57S chassis or even a gondola one was the base of the original Aerolithe. So far in this aspect both recreations of the 1st and 2nd project are not original whether a roof is slightly higher or electron or aluminium is used to build the body. But even in the 4 Atlantics (one original and 3 Koux Replicas) I had the pleasure to sit in I always hit my head against the roof. That does not happen in my Aerolithe, build on the 57.645 standard chassis for driving whether it is e.g. across Great Britain, Germany, Austria or up the Stelvio pass in Switzerland. It is not a show car for Pebble Beach or Villa d`Este.

An almost excellent masterpiece. Why this statement has to be repeated? Well be-cause it is a good chance for a similar result of the Canadian project. The reason:
A nearly identical copy of the wooden frame, which always is the basis to build up a correct body in its measurements, formate and final shape, manufactured in Germany for the 1st project was delivered to Canada by the same woodwork-shop involved in the german one.

Mr. Grainger in his internet report dated 28.10.2007: "…………. but we discovered a fellow in Germany who had just completed an almost identical structure for another Bugatti." Correct is that the completion of the 1st project framework took place in spring 2005 already but it wasn`t for "another Bugatti" ! It was the special frame for the Aero-lithe of the 1st recreation project ! Developed and created by this "fellow" with the help of some experts and all technical equipment and computerized documents nowadays available.

So the canadian project at the very end enjoyed a certain benefit from the necessary preparations made for the 1st project in Germany. For nothing ! See internet report of Mr. Grainger dated 28.10.2007: "As the Aerolithe that we are building is very similar proportionally to the car that the German shop had framed, it was decided it would be cost-effective ……… and have it built in Germany."

Would it be allowed to presume that the 2nd Aerolithe recreation project is a little bit a mixture of a canadian/german one? Global players !

However, they have been lucky all these canadian Bugatti " arm chair experts ", in-volved in their project, haven't they?

Peter Borstel, E-mail: bug.aerolithe(AT)gmx.de

Top picture: Peter Borstel's Aerolithe replica
---
February 25, 2009

Bugatti Centenaire to be Presented in Geneve

As Bugatti prepares to celebrate its centenary this year, rumours abound of a special edition Veyron being readied for next month's Geneva Motor Show (March 5 - 15).

Sources close to Bugatti say the 100th anniversary model will be named, aptly, the Centenaire Edition, which promises to be the fastest Veyron yet with 1005kW (1350HP) enabling a top speed in excess of 419km/h.

We can also expect masses of exposed carbon fibre and a unique body kit though presently no further details are available.

There are a lot of rumours about what will be presented, some say that it will not be another version of the Veyron, but an altogether different car. We'll know more after the opening!
---
February 25, 2009

A light at the end of the tunnel

David Grainger, National Post

Last week, Mat Radman, my captive automotive engineer and coordinator of the Aerolithe project, had a meeting with his team to determine if the car would be ready to journey to Pebble Beach this summer to attend the Concours d'Elegance.

The consensus was that the Bugatti would be ready no matter what challenges lay ahead over the next few months.

I must admit feeling a slight dread concerning this proclamation. I've been here before and, in many cases, that optimism has been met with difficulties and drawbacks that have defeated deadlines, depressing and annoying project owners and builders alike.

This time, however, I feel more comfortable about the imposed deadlines.

First, these deadlines are not imposed on us by the car's owner. He has been absolutely sterling throughout the entire process -- his only demands have been that we maintain the historical accuracy of the build.

This is exceptional as many owners impose unrealistic deadlines on projects that are more about wish fulfillment, birthdays, anniversaries, anticipation or just plain cash flow into a black hole than they are about the mechanical and supply realities.

In the case of the Aerolithe, the deadline has come from the people building the car. They have vowed to have it ready no matter what crops up or how many nights the lights have to stay on past midnight. This is an altogether different creature.

The last time I felt truly comfortable about such a vigorous deadline was when we built the Batmobile and had to have it ready for Halloween so it could appear, costumed crusaders and all, in front of Toronto's Hospital for Sick Children to a crowd of excited kids.

While the Aerolithe's deadlines and destination may not be quite so worthy, it is aimed at one of the greatest automotive events in the world -- and the car itself has a lot of historical merit.

This is a car that has elicited contention among experts and has posed some of the most challenging technical problems I have ever encountered during a build. This build is being viewed on our Web site ( www.guildclassiccars.com) by enthusiasts all over the world, most of whom only have the kindest things to say about the Bugatti's recreation.

During the project we have explored the technology and engineering incorporated into what is undeniably Bugatti's greatest model line, the T57 series. Our respect for the brilliance of the pre-war designers and engineers has continuously grown as we came to realize just how cleverly these automobiles were wrought. It is for good reason that Bugatti is still the overlord in the pantheon of the world's greatest cars.

The Aerolithe project is over budget and has taken much longer than anticipated, but, when finished, it will not just be a recreation of the lost Bugatti. It is being fabricated from Electron, a magnesium alloy, and will live up to the name bestowed on it by an awestruck 1930s media. It is in every way the Electron Coupe.

During the last two years, we have made some amazing discoveries about magnesium, its strengths and weaknesses and the incredibly complex methods that were employed to shape it. During that time, we ran into some frustrating dead ends, watching beautifully shaped metal mysteriously bend back flat overnight, snap like a soup cracker just as it was finished being worked, explode into flames and just generally resist all forms of mechanical manipulation. It has even sickened the people working it because, when absorbed into the body, it is toxic.

We have heated, cooled, hammered and rolled it. We have also cursed it, regretted it and, at times, felt genuine despair about using it. In the end, however, perseverance tinged with the right amount of experience, craft and desperation unlocked the alloy's secrets.

Two years later, we can actually accomplish things with Electron that even its manufacturers said could not be done. As a result, the car is taking shape, its skeleton being fleshed out and increasingly covered in its reluctant skin.

At times during the process, I truly felt Ettore Bugatti was lying about the use of Electron in the construction of the original car. I thought, perhaps, it was just a bit of showmanship on his part -- buzz created to promote the line.

Today, however, I know that more than 70 years ago those incredibly gifted craftsmen at the Bugatti works in Molsheim, France could have created this magnificent automobile, draping it with its incredibly light, strong and peculiarly incendiary coating of Electron.

I look forward to that moment when the Aerolithe's gleaming eight-cylinder engine will burst into song, when its heart starts to beat for the very first time.
---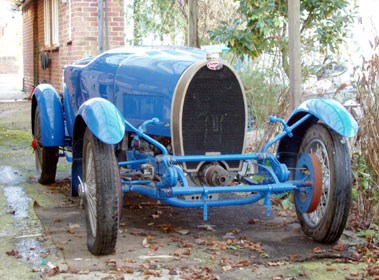 February 13, 2009

Bug and Spider unearthed in Berkshire Garage

A bug and a spider would not normally feature high-up on a petrolhead's wish list when thinking about the contents of a dream garage. However, when the 'wildlife' in question turns out to be a 1929 Bugatti Type 40 Grand Sport and 1956 Lancia Aurelia B24 Spider America things take on a different complexion.

Owned by the same family for a combined total of eighty-nine years, the two sportscars are among dozens that will go under the H&H hammer during the Race Retro International Historic Motorsport Show on March 13th – 14th 2009.

Fifty-three years have passed since the Bugatti was last offered for sale, its keeper at the time being a Robert Ian Murray Esq of Glasgow. Still retaining its 1956 purchase receipt and continuation buff logbook (among myriad other paperwork), the diminutive Molsheim masterpiece appears to be to largely original specification.

Known to the Bugatti Owners Club but not seen in public for many years, the boat-tailed four-seater has been partially restored (ill health preventing its completion). Finished in French Blue with black leather and sporting that distinctive 'horseshoe' radiator, the Type 40 looks every inch the 1920s sportscar.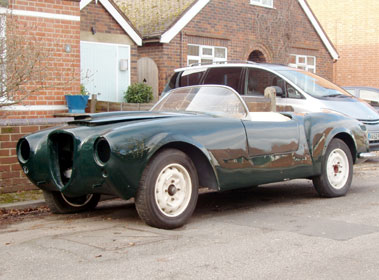 Equally stylish and no less typical of its era the Lancia was penned by Pininfarina. Only in production for a single season, the B24 Spider America was a triumph of flamboyance over practicality (witness its reverse rake windscreen pillars, upturned quarter bumpers and wilfully shallow doors).
Sharing the same sophisticated running gear as its other Aurelia siblings (world's first production V6 engine, rear-mounted transaxle, inboard back brakes etc) but sitting on a shorter wheelbase, the B24 Spider America ranks alongside the BMW 507 and Mercedes-Benz 300SL Roadster as a true 1950s icon.
Finished in British Racing Green with cream leather upholstery, the rakish two-seater is perhaps the most glamorous of the many Lancias to have passed through the family's hands (which could explain why they have held onto it since 1973). Part restored like the Bugatti and abandoned for the same reason, it has the makings of a great project.
Coming to market at a fraction of the price that restored examples command, the 1929 Bugatti Type 40 Grand Sport (40607) and 1956 Lancia Aurelia B24 Spider America carry saleroom estimates of £120,000 - £140,000 and £100,000 - £120,000 respectively.
For more information about this auction or to enter a vehicle, please contact H&H on lo-call +44 (0)8458 33 44 55 or info@handh.co.uk
The catalogue closes on Tuesday 17th March
www.handh.co.uk
---
February 13, 2009

Auction result

Osenat Auction; December 14, Fontainebleau France:

Peugeot BB 2 str Tourer: GBP 26,019.

Probably the cheapest way to obtain a piece of Bugatti designed engineering!
---
February 8, 2009

Auction results

Bonhams' auction, February 7, Retromobile, Paris, prices including Buyer's premium.

1913 Bugatti Type 13 '8 valve' Two Seater, Chassis no. 442 , estimate 150,000 - 200,000 euro: Result: not sold

1913 Bugatti Type 18 5-litre Sports Two-seater, Coachwork by Labourdette, Chassis no. 474, "Black Bess", Estimate: €1,300,000 - 1,600,000 : Result: €2,427,500, sold to the Netherlands!

1934 Bugatti Type 57 Sports Saloon, Coachwork by James Young - 57158, estimate 290,000 - 350,000 euro. : Result: €306,700

1937 Bugatti T57 Ventoux - 57319, From the collection of Jean Michel Cerede, estimate 180,000 - 220,000 euro.: Result: €166,750

1937 Bugatti Type 57S Atalante Coupé - 57502, estimate ????? euro. : Result: €3,417,500

"1930" Bugatti Type 35B Project, Estimate: €55,000 - 65,000. : Result: not sold

Concluding: prices seem reasonable, with the result for "Black Bess" the biggest surprise: Higher than the estimate!
---
February 4, 2009

"Steinhauser" best book!

Norbert Steinhauser's work, "Ettore Bugatti, L'artisan de Molsheim" has been awarded the prestigious Académie Bellecour's award for the Best Motoring Book of 2008. Their decision was made after judging the content, the style, the quality of the pictures, the design (easy readable and modern but classic) and the quality of the paper and binding.

Info on the book:Ettore Bugatti, L'Artisan de Molsheim

Thanks to Johan Buchner - Bugattibuilder
---
January 21, 2009

Auction results

Gooding & Company The Scottsdale Auction :

All prices are in $US and include buyer's premium.
1936 Bugatti Type 57 Pillarless Coupe : Sold for $396,000
2008 Deco Rides Bugnotti : Sold for $203,500
Thanks to Christophe Chanterault
---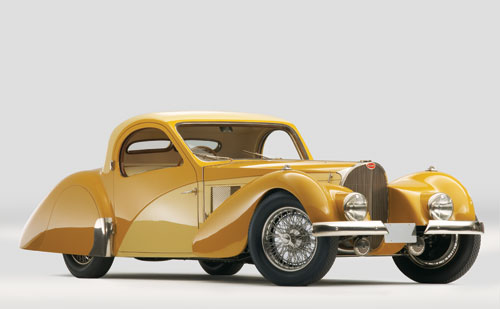 January 18, 2009

Auction results

RM Auctions:
Bugatti Type 57 SC Atalante Chassis No. 57551, Engine No. 30 S: NOT SOLD, high bid $4.4 million

First sign of falling prices for the top-class automobiles, or are all possible bidders waiting for the auction in Paris??
---
January 18, 2009

Again; the Empereur engine

And hopefully the last time.

In an earlier report it was noted that the engine was a Czech AVIA V30. However, I now get a report from Ad Meeuwesen in the Netherlands, stating that the engine is in fact a Russian Transmash V84 or 3D12. This is a 38.88liter V-12 diesel engine, used mainly to power Russian tank's. Compare the photographs below, on the left the Empereur's engine cylinder head, on the right the Transmash. Quite convincing in fact.

This engine is nowadays used often in tractorpulling because these engines, using a few turbo's, can be easily upgraded from the standard 7-800hp to 1800hp on diesel fuel.

A rebuild to use methanol will probably lead to even more power, petrol is probably also possible, and may have been an intended change for the Empereur engine.

On the valvecover of the Transmash (right), there are 3 smaller covers, to access the diesel injectors. It is obvious that for the Empereur (left) these covers have been re-made with the EB-logo. Both the old as well as the new covers have 8 screws, spaced exactly the same way! It seems that no further search is necessary!
---

December 30, 2008

Comic strip on Bugatti Airplane to be published

Long-time professional drawing-artist (of eg. the Hulk and other comics), Bugatti and Bugatti Airplane enthusiast and BAA member Herb Trimpe made a comic strip "Spitfire" in which the Bugatti 100P airplane plays the main role.

I won't give any details on the story, I'll just tell you that it is both interesting and exiting.

The comic will be published by Image Comics of Berkeley, California, USA. It will probably be published together with several other comics in one booklet / magazine.
---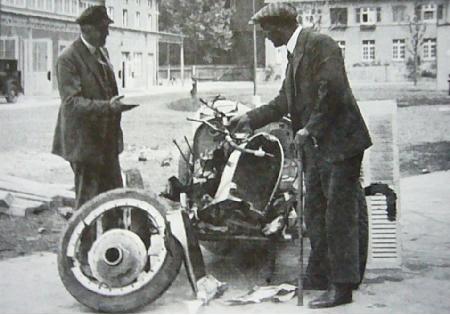 December 8, 2008

Caption Contest results

A lot of reactions this time, with many people sending more than one:

"50 euros for this pile of junk! you must be mad!" -Brian Swann, UK

"He! Weg mit Ihrem Schrott vor meiner Haustüre !" - He! Get rid of this junk from my doorstep!" - Wolf Kiefer, Germany

" Do you usually road test after an oil change ? "
" Don't get so upset - these old cars are two a penny ! "
" That's the last time I ask for a Tapley brake test ! "
" Cars are left with us at the owner's risk I'm afraid ! "
" Our crack testing methods do not meet with everyone's approval ! "
" The factory had a problem with Dunlops too ! " - David F. Cox - UK

"Can you imagine that in 80 years people will pay a fortune for this pile of scrap?"
"Store it away for 80 years and you will fetch 90.000 future euro for it!"
"It still looks better than a Bentley!"
"You must have had some serious grabbing on the front brakes!"
"I guess it's the radiator that's giving the problem of our engine getting to hot."
"Can't figure out where that rattle underneath the bonnet is coming from?"
Or (with reference to the previous picture)
"I told you not to lay down on the bonnet while driving!'- Ruud Leenen, Netherlands

Yes, it's clearly appendicitis

Driver : Well, fix it, dear Henry
Dear Henry fix it!
Mechanic: With what shall I fix it??? - Herman van Oldeneel, Netherlands

I didn't really pick a winner, decide for yourself which one you like best!

I still do not know anything else on this photograph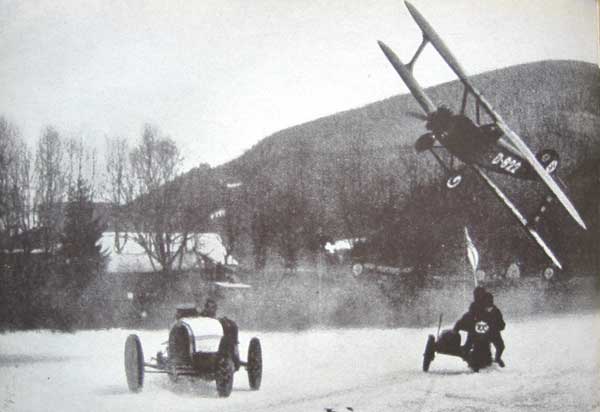 And a new Picture!


Your job is, to send me the best possible caption, the funniest text that could go with the photo.

E-mail your caption to: J.J.Horst@BugattiPage.com, the best ones will be published here!

Of course, if you have similar (period) pictures, I'd like to receive them!
---
December 8, 2008

Pebble Beach concours deadline moved up

Organizers have bumped up the deadline for entry forms to Jan. 7, 2009. That's two months earlier than in the past. Applications are being accepted now. - And beware: Bugatti is the featured marque this year!

Pebble Beach organizers say the move allows the best field of cars to be put together for the 59th show, and gives owners more time to prep their entries.

Most will get word in the early spring if they've been accepted to next year's show, which is Aug. 16. Bugatti and Bentley are the featured marques. Additionally, the centennials of Audi and Morgan will be celebrated, as well as the designs of Zagato.

For more information on entering, follow this link:www.pebblebeachconcours.net
---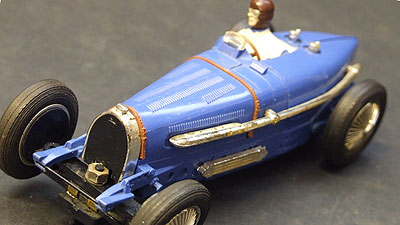 December 8, 2008

£3000 for a Bugatti T59!

The world's largest auction of Scalextric model cars has raised £99,000 - exceeding all expectations.

Over 1,000 models were amassed by a single, anonymous, collector over a 30-year period. The toys included the most prized Scalextric car in existence, the Bugatti type 59. The Bugatti was hand-built to order in the mid-1960s and drew some of the fiercest bidding. Of the 40-50 original examples made, probably less than a dozen are known to have survived. There are two in the sale, each estimated at £2,000-3,000. Other rarities included a green prototype Batmobile, complete with a section of track, and a James Bond Aston Martin, with 007 ejector seat and bullet-proof shield.

Two of the cars in the sale sold for £3,055 and £2,935. (Not sure if these are the Bug's) Chris Large, of Peter Wilson Auctioneers in Cheshire, told Sky News: "It's hard to believe the volume of cars this man has collected. "Even top dealers are saying there are cars in this collection no one knew existed until now." Eighty boxed sets were also up for sale, dating back to the British company's launch in 1957. The auction, in Nantwich, attracted worldwide telephone and online bids. A spokesman said: "The amount of interest in the collection was astonishing. "The sale room was jam-packed with bidders and the result exceeded all expectations despite the present economic climate."

One boy started collecting the toys from their inception in 1957 and now his remarkable collection of more than 1,000 cars - containing many exceptional rarities - is to be sold. It is believed to be the biggest single auction of Scalextric ever held. Car boot bargains they most definitely are not.

The list of rarities is enormous. The collection includes a number of highly sought after Auto Unions, many with colour and race-tuned engine variations (each estimated at £100-200); Alfa Romeos and Spanish Banco Occidental racing cars together with others made for test purposes; some for company presentation; as employee rewards and others that were simply one-offs. Most of the cars are in mint condition, still in their original boxes. Around 80 boxed sets range from Set 1 to modern day Spiderman, Turtles, Night Rider, Ascot and other outlandish cars. Every imaginable marque of car and motorcycle is represented in the sale and there are even four horse racing models (estimate £40-60). A prototype Batmobile, which is one of only three known in green, is estimated at £200-400.

Scalextric, a British company, celebrated its 50th anniversary last year. The owner of the collection, who asked to remain anonymous, said he purchased the first set of cars made by the company when tinplate rather than plastic was used for the bodies. "I still have one of the two cars, a blue Ferrari, with steering gimbal which incorporated the electrical contacts necessary for driving the vehicle," he said. (It is estimated at £50-100).

It was during the mid to late '80s that the collection took off. He said: "I was fortunate in acquiring a huge collection from a specialist dealer in Surrey, which included many unusual and rare items from the Roger Gillham stable. This formed the bulk of my collection at that time. Roger Gillham was the undisputed King of Scalextric and had published a book titled 'Scalextric'. Illustrated in this book was his famous Bugatti Type 59, the No 11 car, which was the showpiece of the newly acquired consignment. Further editions have been produced including the 'blue' book, which I have one mint copy andone working copy. Within this working copy, there are some photocopy documents identifying rarities and scarcities. My own collection includes many of these items."

A further, smaller, collection became available in 1988 and this, too, was acquired. It contained many rare and interesting pieces which complemented the earlier pieces and took the collection to near the 1,000 mark.

Further purchases took place over the next few years, including a small collection of saloon cars with many spare parts. Visits to swapmeets, specialist sales and dealers across the country resulted in the collection growing considerably. This included trips to France to obtain rare French factory produced items in Calais, and a valuable trip to Spain, which saw acquisition of extremely rare Spanish items, namely Fiat 500 varieties and a huge amount of Spanish spare parts. These European visits included Germany, Holland and Switzerland, all of which produced valuable items. In the mid '90s, Internet access meant that items became available through online auctions.

The owner added: "I believe this personal collection, a hobby which has given me an immense amount of pleasure, will be a vital part of the Scalextric history I hope the cars are enjoyed by many enthusiasts and collectors in the future."
---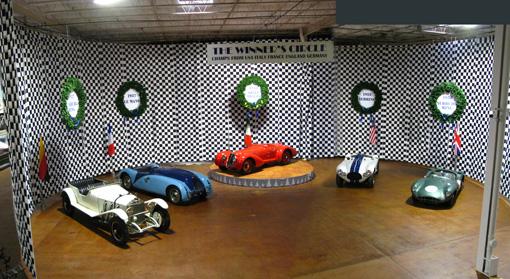 December 7, 2008

Collector Simeone opens museum in Philadelphia

For more than 20 years, Fred Simeone kept his priceless collection of vintage racing cars in a nondescript garage downtown. He'd give private tours to other car collectors and enthusiasts, but the automotive gems remained largely hidden from public view.

Not any more. Simeone now has a museum for his more than 60 rare racers, which span the 20th century and include models by Alfa Romeo, Aston Martin, Bugatti, Stutz and Hudson.

The cars run from big, boxy antiques to sexy, streamlined sportsters and include winners of prestigious races at Nurburgring, Le Mans and Sebring.

"We have a few real Mona Lisas in here," Simeone said.

The cavernous facility showcases cars in huge dioramas, from a three-dimensional Italian village to a tableau of the Bonneville Salt Flats. Within each setting, the cars are arranged in chronological order to convey what Simeone said is the message behind the metal: how vehicles are improved by the spirit of competition.

An exhibit on Le Mans, a 24-hour endurance race, starts with the 1933 Alfa Romeo 8C2300 Le Mans—a high-riding, rectangular vehicle that to the modern eye looks more lumbering than aerodynamic. It ends with the 1970 Porsche 917LH, a low-slung, sleek and curvy racer with a bubble-like cockpit.

"It's designed to show how we are all compelled to compete and, in the process of competing, we evolve," Simeone said.

Simeone, 72, got the car collecting bug from his dad. It has taken him to places like Argentina, where in the 1970s he tracked down a 1937 Alfa Romeo 2900A that had placed second in the 1937 Mille Miglia, an Italian road race. It was sitting in a shed owned by the son of a man who had raced it in the 1950s.

Simeone had always planned on a public display when he had the time and when he felt the collection was "complete." Now, he compares his museum with the nearby Barnes Foundation in that both represent the singular vision of a collector.

Similarly, Simeone tells the story of auto racing his way, from the 1909 American Underslung to the 2002 NASCAR Dyno Mule. He groups most cars by race course and year to show the evolution of the winning vehicle. He designed the dioramas himself.

And, like Barnes, who bought art when it was affordable, Simeone said his collection was only possible because he started early.

Buying these cars in today's market "would be totally out of my league," Simeone said. "But if you purchased them 30 years ago, it was doable."

Kirk F. White, a race car enthusiast and former dealer, said Simeone's collection is special because of its integrity.

"He has impeccable taste and he will only buy the very best cars with the purist pedigrees," said White, who has known Simeone for about 40 years. "He really, by and large, likes them to be original, just the way they ran in the day."

Buz McKim, the historian at the NASCAR Hall of Fame under construction in Charlotte, N.C., has not seen Simeone's cars in person but was impressed by what he saw on the museum's Web site. He said it's not hard to understand the attraction of such a collection.

"Everybody, way down deep inside—whether they want to admit it or not—thinks that they can drive race cars," McKim said.

At the museum's dedication a few weeks ago, Simeone gave retired auto racing champion Mario Andretti a guided tour before honoring him with the first "Spirit of Competition" award.

The tour included a sporty, bright red 1975 Alfa Romeo 33-TT-12 parked next to a black 1926 Bugatti Type 35, which comparatively looks like a glorified buggy. Both had raced in the Targa Florio, a course through the hills of Sicily.

When asked if he had any favorites, Andretti noted the Alfa Romeo, which he had once driven to victory in the Monza race. But then he reconsidered.

"Any of the cars that I ever won with are my favorite," Andretti said.

SIMEONE FOUNDATION AUTOMOTIVE MUSEUM: 6825-31 Norwitch Drive, Philadelphia

Info: www.simeonemuseum.org , on the photo the "winners circle" with T57G Tank. Also in the collection a T35.
---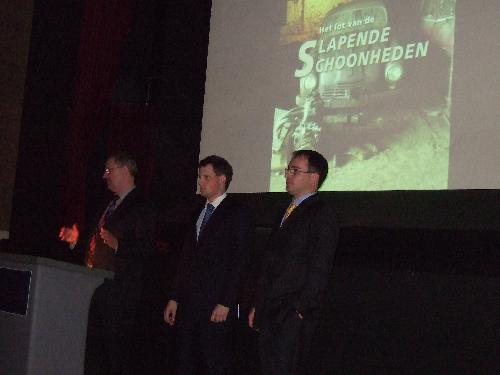 November 27, 2008

Book on Dovaz collection presented and well-received

Last Friday November 21 the last step was taken in the effort to clean the bad name off of a great car collector who never intended to be one. At the famous Louwman Collection in Raamsdonksveer, a selected group of enthusiasts and press was invited for the presentation of the Dutch edition of the book on this collection of cars, which most probably would have ended as scrap, if it not had been for Mr. Dovaz. Mr. Dovaz himself was present, as was one of "his" Bugattis, a Ventoux.

"Het lot van de Slapende Schoonheden" is written by three authors, Ard op de Weegh, his son Arnoud op de Weegh and Kay Hottendorf. Ard held a long talk about why and how the book came to be, a long search for the truth about a man, and the history of the cars that he had owned (and some of them still owns). Mr. Dovaz received the first copy of the book from the president of the Dutch Classic Car association "KNAC" and he was very happy to sign all books presented to him.

The well written book, of which translations in English, French and possibly German will appear soon, reveals the truth behind the collection, which was photographed in 1983. Photo's were taken in such a way that the priceless cars seemed to be in a terrible state, and appeared in various magazines, and finally in 1986 a book appeared. The research by the authors revealed that the condition of most of the cars was not that bad at all, and that Mr. Dovaz was in fact treated very badly by the original photographer.

Top picture: The three authors, Ard op de Weegh, his son Arnoud op de Weegh and Kay Hottendorf at the presentation of their "Het lot van de Slapende Schoonheden" book.
Below (from left to right): Mr. Dovaz receives the first book from KNAC president Mr. Croll, Michel Dovas signing the book (Martijn Visser's one in this case), and one of the Dovaz collection cars: Bugatti Ventoux #57286.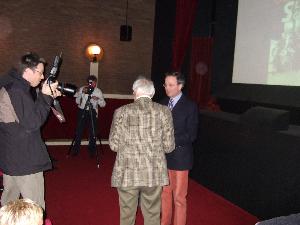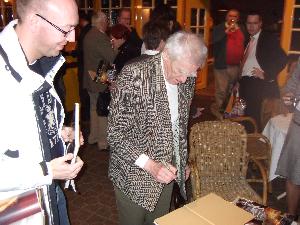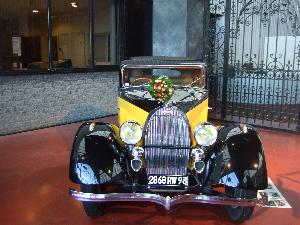 More info: www.extraordinarycarcollections.com
---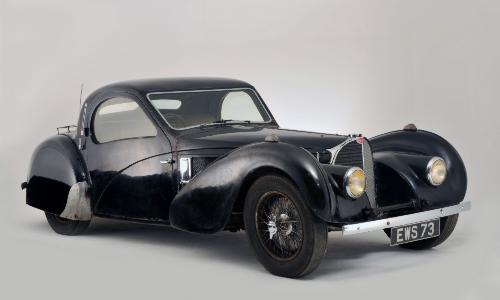 November 27, 2008

Ex-Earl Howe Bugatti 'Barn-Find' To Headline Bonhams Retromobile Sale

One of the most important motor cars in the world emerges from its secret hideaway for the first time in 50 years!

The 1937 Bugatti Type 57S originally owned by Earl Howe, whose existence has only been known to a handful of people during the last 50 years will be sold at Bonhams' Retromobile sale in Paris on 7 February 2009. This highly significant motor car is conservatively estimated to realise in excess of €3,000,000.

The Bugatti with Atalante coachwork retains all the attributes that will ensure its appeal to the world's most discerning collectors. It has a spectacular provenance having been owned by Earl Howe, Lord Ridley, Harold Carr and others; it has a continuous and chronicled history; and it has exceptional originality retaining original chassis, engine, drivetrain and body. It even has what appears to be a remarkably low mileage with an odometer reading of just 26,284.

The car will be on view at Bonhams Collectors' Car sale at Olympia on 30 November – 1 December 2008

James Knight, International Head of Bonhams' motoring department said: "I have known of this Bugatti for a number of years and, like a select group of others, hadn't dared divulge its whereabouts to anyone. It is absolutely one of the last great barn discoveries, and we at Bonhams are honoured to have been selected to handle its sale."

Bugatti Type 57S, chassis no. 57502, was completed at the Bugatti works on 5 May, 1937 sporting two-seat Atalante coupe coachwork. It was ordered new by no less than the motor sport great – and the BRDC's (British Racing Driver's Club) first President - Earl Howe via UK Bugatti agents, Sorel of London. Howe had a long association with Ettore Bugatti and his machines, and developed a close friendship with Ettore and his son Jean, having raced their Grand Prix motor cars.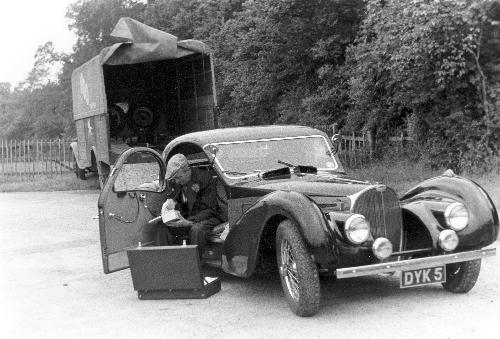 copyright Bugatti Trust Archive
Earl Howe took delivery of 57502 on the 9 June 1937 and was to retain his Bugatti for over eight years. He added a personal touch by fitting his own bumpers, rear-view mirrors on the A-pillars and a luggage rack, which it still retains to this day. It was to become his personal companion, escorting him to Brooklands and other race meetings. The car would have seen relatively little use during the Second World War as Earl Howe served with the Royal Navy Volunteer Reserve.
After hostilities ceased, the T57S was sold via Continental Cars to a Mr J P Tingay in 1947. It was Tingay who effectively brought the car to 'SC' specification by fitting a Marshall K200 supercharger – as finding an original Bugatti blower proved nigh on impossible so soon after the War.
Mr M H Ferguson acquired the Bugatti from Tingay in 1950 and by 1954 it formed part of Lord Ridley's collection. Dr Harold Carr then acquired it in 1955 from Lord Ridley. Dr Carr drove the car for the first few years but in the early 1960s it was parked in his garage where it remained for nearly 50 years, until Dr Carr's death in 2007. The T57S is being sold on behalf of the family of Dr Carr, and will be offered with an extensive file of correspondence documenting its fascinating history.
James Knight said: "The Atalante is incredibly original and, although she requires restoration, it is "restoration" in the true sense of the word. From my perspective, save for some of the interior, all original parts can be restored or conserved in order to maintain originality. It offers a truly rewarding project to the new owner - who will join a select list of distinguished owners – to play such an integral part in bringing this wonderful motor car back to life. It has all the finest attributes any connoisseur collector could ever seek in one of the ultimate road-going sports cars from the golden era of the 1930s."
---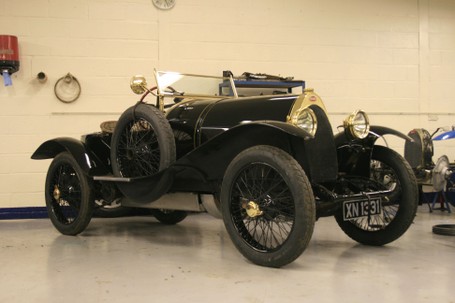 November 17, 2008

'Black Bess' to star in Retromobile auction

The 1913 5-litre Bugatti Type 18 Sports Two-Seater known as 'Black Bess' and widely regarded as the most important Type 18 in existence will star in Bonhams' Retromobile sale in Paris on 7 February 2009.

With continuous history from new, this Bugatti has the most extraordinary provenance and in 95 years has had just a handful of owners – featuring many distinguished names. This is the first time that 'Black Bess' has come to auction and Bonhams anticipates interest from connoisseurs around the world. It is estimated to fetch €1,300,000 – 1,600,000 ($2.9m - 3.6m NZ). One of only three surviving examples of just seven Type 18s built, 'Black Bess' is widely regarded as the most desirable example available. One is entombed in the Schlumpf Collection (French National Motor Museum) and the other is privately owned in the UK. 'Black Bess' is very original, retaining its original chassis, engine and body.

This car was delivered new to the pioneer French aviator Roland Garros, the first aviator to fly the Mediterranean. In 1913 he had been invited by Ettore Bugatti to the factory at Molsheim and, impressed by the Type 18, ordered a chassis - number 474 - with a sporting two-seater body by notable French coachbuilder Labourdette. To check on its progress, Garros would regularly fly down to Molsheim in the aeroplane, a Morane-Saulnier, that he had used on his epic trans-Mediterranean flight.

When hostilities commenced in 1914 Garros joined the flying corps and is believed to have driven to a flying meeting in Vienna in the Bugatti. Although he survived being shot down in 1915, he was killed three weeks before the Armistice when he was shot down again. Ettore Bugatti, who had become a close friend, named his last child - born in 1922 - 'Roland' in honour of Garros.

His Bugatti was acquired by another pilot, Audemars, who passed it on to Louis Coatalen, Chief Engineer of the Sunbeam Motor Company Ltd in Wolverhampton. Coatalan was responsible for the war-time Sunbeam aero-engines, and he used the fast and reliable 5-litre car on his regular trips between London and Paris.

After the war, the 1913 Bugatti was bought by Miss Ivy Cummings. Introduced to competitive motor sport by her father, she successfully competed in many speed hill-climbs and speed-trials in the car between 1919 and 1924. She named the Bugatti 'Black Bess' after Dick Turpin's legendary steed, and this affectionate title has stayed with the car ever since.

Ivy Cummings became a well-known figure in 'Black Bess' at sprint events in the early '20s and she was reported as 'handling it with skilful abandon' at one of her favourite venues, 'Kop Hill' near Princes Risborough. This was no mean feat in a 4-cylinder 5-litre Bugatti capable of a top speed of 100mph.

In 1925, after the RAC had banned public road speed trials, Cummings sold the Bugatti to an Oxford undergraduate, a Mr Preston, who raced it the same year at Brooklands. It is also thought to have been driven by the late Sammy Davis while in Preston's ownership. The car then passed into the hands of a young actor, James Robertson Justice, who planned to compete in it himself. He discovered, however, that a considerable amount of work was needed, and 'Black Bess' was taken to McEvoys in Derby.

It was here that Bill Boddy, a journalist for Motor Sport, the magazine he later edited for 45 years, tracked down 'Black Bess' in 1933. The car was bought by Col. G M Giles, Vice President of the Bugatti Owners' Club, who restored it to its former glory. He paraded 'Black Bess' at the opening rally of the club's new hill-climb course at Prescott and went on to compete in the car at other events with his brother. With the approach of war in 1938, Col. Giles was not able to use his Bugatti and he sold it to Rodney Clarke for £200 with a spare engine and second chassis (that was to be later built and become the 'third' surviving Type 18).

Records of 'Black Bess's motor sport successes are next seen after the war, driven by Clarke, who kept it until ill health caused him to search out someone else who would appreciate how special the car was. Thus, in 1948, 'Black Bess' entered the stable of the late Peter Hampton, a true Bugatti aficionado who already had a remarkable collection of early Bugattis.

Within two weeks of buying the car, Hampton gamely undertook an epic drive to the 1948 French Grand Prix at Reims, with 'Black Bess' performing faultlessly. Nevertheless, being a perfectionist, he decided to carry out a second complete overhaul. As one of Hampton's prized possessions for 40 years, 'Black Bess' was seen at innumerable club events.

In 1988 Hampton sold the car to the current owner, a fellow Bugatti enthusiast and connoisseur of historic racing cars. Over the last 20 years it has continued to be used for rallies and in competition, meticulously prepared by renowned Bugatti engineer Ivan Dutton. 'Black Bess' retains the original Labourdette doorless body and so remains the same car today that Roland Garros took delivery of 95 years ago.

Source: New Zealand Classic Car
---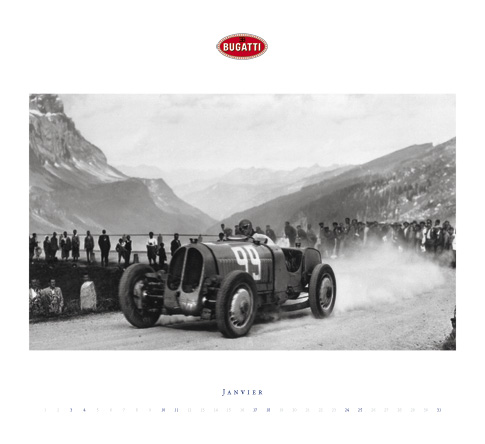 November 16, 2008

2009 Calendar

Classiche Sportive (Alexander Kuhlmann) again publishes a high quality calendar, as he did last year.

This year the theme is different, all original, old B&W photographs.

Most of these I have not seen again.

However, bad news also: he will make only 100 this year (400 last year), which also means a price increase....

Still a few available at:
---
February 6 - 15, 2009 Retromobile Paris, France

With usually quite a few Bugattis.
---
February 7, 2009 Bonhams Auction Retromobile, Paris, France

On Offer in the Bonhams auction:
1913 Bugatti Type 13 '8 valve' Two Seater, Chassis no. 442 , estimate 150,000 - 200,000 euro.
1913 Bugatti Type 18 5-litre Sports Two-seater, Coachwork by Labourdette, Chassis no. 474, "Black Bess", Estimate: €1,300,000 - 1,600,000
1934 Bugatti Type 57 Sports Saloon, Coachwork by James Young - 57158, estimate 290,000 - 350,000 euro.
1937 Bugatti T57 Ventoux - 57319, From the collection of Jean Michel Cerede, estimate 180,000 - 220,000 euro.
1937 Bugatti Type 57S Atalante Coupé - 57502, estimate ????? euro.
"1930" Bugatti Type 35B Project, Estimate: €55,000 - 65,000.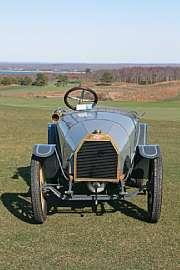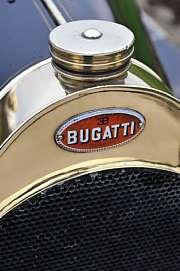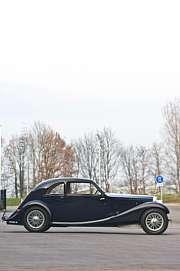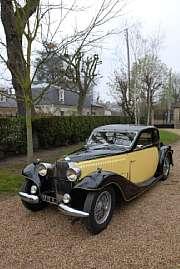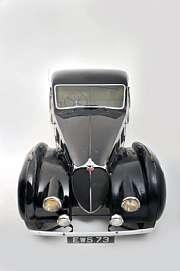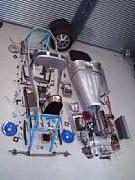 ---
February 13-15, 2009 Torino - Automotoretro Turin, Italy

As almost all events this year, also this one has Bugatti as favoured marque, because of the centennial. Cars from the Mulhouse museum will be on show, as well as Bugattis from Italian collectors.
---
February 20-22, 2009 3rd Annual Boca Raton Concours d' Elegance USA
---
February 24, 2009 Woolley & Wallis auction Salisbury , England

The Property of the late Lord Parmoor - auction

Lot: 76
A Carlo Bugatti bone, copper and pewter inlaid centre table square top with applied vellum bordered with repousse copper, above arched frieze and column legs inlaid with decoration 31.5 inches (80cm) high, 29.5 inches (75cm) wide.
Provenance: Applied Arts from 1880, Sotheby's London, 21st October 1988, lot 138.
Estimate GBP 10000-15000

Lot: 77
A Carlo Bugatti pewter, copper and bone inlaid side table rectangular section top with inset panel, above arched frieze, square section and four cluster column legs applied with beaten copper, the panel back with central roundel 35.5 inches (90cm) high, 39 inches (99cm) wide, 19 inches (48cm) deep.
Provenance: Applied Arts from 1880, Sotheby's London, 21st October 1988, lot 141
Estimate GBP 6000-10000
---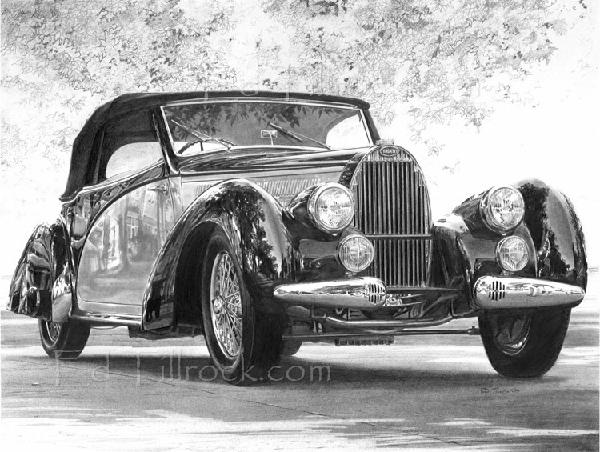 Pencil rendering by Ed Tillrock of Jim Foghts T57 Drop Head Coupe at the Geneva Concours
show in Geneva Illinois
www.edtillrock.com
---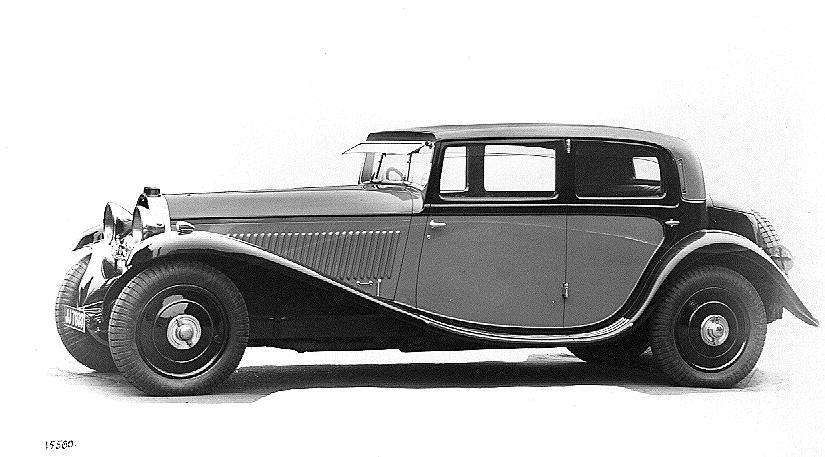 Factory photograph from Freestone and Webb, Bugatti, possibly the 1932 Bugatti T46 Sport Saloon by Freestone & Webb, ex Peter Williamson, #46533.
Provided by Adam Borkat
---
January 9 - 11, 2009 Interclassics & Top Mobiel Maastricht, the Netherlands

With as usual a Bugatti stand organised by Jean Prick.
---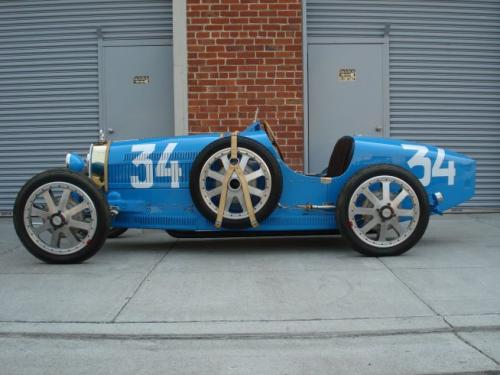 January 14-18, 2009 Russo & Steele, Scottsdale Auction Scottsdale, USA

1927 Bugatti Type 37

s/n BC 50

A tremendously successful and popular little car, the Type 37 was introduced as a durable and easy to work on racer to supplement Bugatti`s sophisticated and complex Grand Prix cars. Type 37`s were successful in the Voiturette class (under 1500cc), and their 1496cc plain bearing coil ignition motors were much easier to maintain than Bugatti`s full on GP offerings. This particular car is a painstakingly recreated car using Bugatti Club parts, and as such, every component has passed their scrutiny and would be accepted as a correct replacement part for use on an original Type 37. To certify that the car meets their standards, the Bugatti Owners Club has granted this car a BC serial number. Based on its authenticity, the car should be a welcome entrant for prestigious rally events including the California Mille, and it has also been confirmed with the Federation International de l`Automobile that that the car is eligible for FIA papers (in Appendix K, whose phrasing we can pass along to interested parties). As a race car, this car will be sold on a Bill of Sale only.

The car has incredible presence and is likely the finest recreation of any car we have ever had the pleasure to offer. It was built by Dave Willis, and every detail is just so, from the square-headed fasteners with full safety wiring to the hand scraping etched patterns on the engine block and cylinder head. Despite the high level of the Pur Sang cars, this car is even more impressive and authentic. It was thoroughly gone over in 2002, which included a wide variety of odds and ends. The clutch was replaced, and the charging system servied. The carburetor was also serviced, and a pair of Marchal headlamps sourced and installed at tremendous expense. The cooling system also received attention, and the tail section of the body refinished. The car also received a standard service, and various electric. In 2004, the car was converted to electronic ignition and the fuel tank restored. All told, nearly $20,000 was spent during this period.

The car is in excellent overall condition, with the lightest of patina. The paintwork is very high quality and free of significant blemishes. There are a series of small cracks over each rivet just behind the driver`s compartment. The metalwork is highly polished and excellent, and the Marchal headlamps, which were added on, are very impressive as well. The exposed suspension and brake components reveal both the level of craftsmanship of this car, and the remarkable design of Bugatti.

The interior is equally striking, with beautifully machined dashboard, instruments, and pedals. Again the details reflect the level to which this car was built, with the chain tensioned brakes, and carefully rendered switches. The car shows minimal wear and soiling, and is on the whole stunning. The leather upholstery is just broken in and is excellent.

The engine compartment also stuns with its attention to detail. The finishes are correct throughout and the engine spotless. The turned finish on the firewall is correct, as are the other finishes.

This is truly a no-excuses no-compromise recreation of a Type 37. There are, without reservations, no areas whatsoever in which this car could possibly be more faithful to the original. Not a single corner was cut. This car is truly a work of art and is sure to bring pleasure to all who behold it.

For more details, see www.russoandsteele.com.
---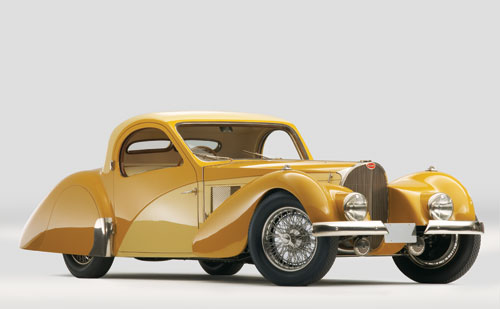 January 16, 2009 RM Auction Arizona, USA
Bugatti Type 57 SC Atalante Chassis No. 57551, Engine No. 30 S
Bugatti Type 57S chassis 57551 with engine number 30S was completed on July 23, 1937 with an Atalante body finished in black with pigskin upholstery. The body configuration, with its low headlight placement between the radiator and front fenders, was identical to the October 1937 Paris show car. It was delivered by the factory just a week later to its first owner, Jean Lévy of Strasbourg, Deputy Administrator of the family owned "Grands Moulins de Strasbourg", a successful grain milling company established by his father, which is still in business today.
Lévy used his Atalante until the beginning of the war and transferred it to Maurice Weber, manager of the livestock feed operation at the Grands Moulin, in 1941, presumably for safekeeping. In 1946 the Atalante was sold by Weber, ending up in the summer of 1947 with Pierre Pruvost in Bezons. A year later it was acquired by a Paris owner and displayed at the June 15, 1949 concours in the Bois de Boulogne.
It was registered in 1951 to the well known French artist André Derain, a contemporary of Matisse and Vlaminck with whom Derain exhibited in 1905 in a Salon where their exhibit area was described as la Cage aux Fauves (the cage of wild beasts) at the birth of the style known as Fauvism. He and Pablo Picasso were later colleagues. After World War II Derain was actively engaged in designing theatrical productions and illustrating books, but before following the career of an artist Derain had trained as an engineer, no doubt adding to his appreciation for the design, handling and performance of the Type 57S Atalante.
In 1959 the Nice dealership of Ernest Friderich sold the car to Jean-Louis Fatio, then through Fatio's associate Robert Baer to Colin Doane, an U.S. Air Force officer who brought it to the United States. Doane drove it three thousand miles over the next two years, including a 500 mile trip from Boston to Watkins Glen.
In 1961 Doane sold it to the fabled collection of casino magnate William Harrah. While in the Harrah's Collection it received a comprehensive restoration with the chassis and running gear restored by O.A. "Bunny" Phillips and the body in the Harrah's shops. Several aspects of the Atalante were returned to the original configuration including re-creating the original pair of small rear windows and removing some of the chrome embellishments which had been added in France in the late forties.
In addition to refinishing the Bugatti in its present colors of Patrol Cream and Lemon Oxide during its time in the Harrah's Collection, the present supercharger was installed, bringing it to the ultimate Type 57SC specifications. With the usual thoroughness and extensive research which characterized cars restored for Harrah's, the hydraulic brakes that had been installed at some point were replaced with a set of original Bugatti Type 57 mechanical brakes obtained from Howard Greene. Chromium plating was stripped and replated with the correct nickel. Completed in 1976, it earned the ultimate accolade for quality, appearance, design and performance: Best of Show at the 26th Pebble Beach Concours d'Elegance.
It was acquired during the disposition of the Harrah's Collection by Dr. Herbert Boyer and later was acquired from him by the present owner who has continued to maintain it carefully and meticulously as restored by Harrah's over thirty years ago. During the current gentleman's ownership, further work was executed including a complete engine rebuild by noted specialist Mr. Phil Reilly in the mid 1990s. Since then the Bugatti has been exercised regularly, but for limited distances only and it remains in virtual break-in condition. Notably, the Bugatti's next owner will have the further distinction of carefully breaking in the engine to their personal specifications.
The colors chosen by Harrah's to highlight Bugatti's design and win Best of Show at Pebble Beach in 1976 are still attractive, handsome and harmonize with the lines of Jean Bugatti's coachwork. It is one of the most beautiful, desirable and advanced of all Bugattis, with Jean Bugatti's lean, sleek, aggressive Atalante coachwork perfectly complemented by the low Type 57S surbaissé chassis. In 2002 the present owner also commissioned a professional refurbishment of the cosmetics on the car, removing much of the spidering from age and returning it to its fully restored original glory. Today the Atalante looks as good as it runs and drives, a true testament to the recent meticulous care of a peerless original restoration.
Bugatti Type 57SC Atalante coupé number 57551 is the first of only four built in the summer of 1937 with streamlined headlights. It has a well documented history from new and is one of the most attractive, desirable and best-performing of all Bugatti road cars. It is capable of a true 120mph on the road, but its appearance, history, rarity and design will accelerate its owner's heart rate even higher. Without question, these stunning Bugattis remain the very definition of art in motion, and this particular example, exemplified by its noteworthy provenance is the very pinnacle of their limited production.
For more details, see www.rmauctions.com.
---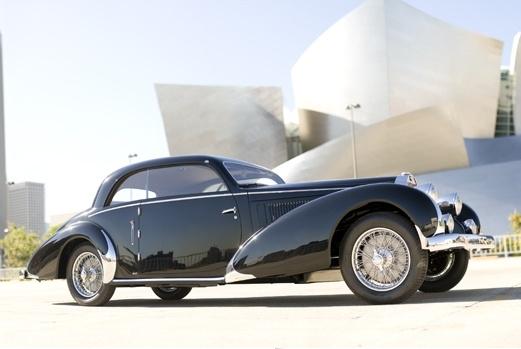 January 17, 2009 Gooding & Company, The Scottsdale Auction Scottsdale, USA

Lot #18 : 1936 Bugatti Type 57 Pillarless Coupe, Coachwork by Paul Née

Chassis No. 57397 Engine No. 276

Estimate: $500,000 - $600,000

This splendid Bugatti Type 57 was originally delivered to Paul Worth of the famed French perfume family on March 4, 1936. While the car was originally delivered as a faux cabriolet constructed by Fernandez & Darrin, in 1947 a stunning new body was conceived by Paul Née of Levallois, Paris, for its new owner, Monsieur Lescure. Née was most renowned for building high-quality and similarly ingenious cabriolet bodies for Lancia. The handsome coupe bodyfeatured some unique characteristics such as a large sunroof, eye-catching chrome fender flashing, a distinctive ridge on the boot, a clever hidden spare, Marchal lights, rear-hinged doors and unusual vents on the bonnet.

In 1954, the Bugatti was sold to Monsieur Jean Contat in France who owned the car for the next seven years. On June 14, 1962, it was shipped from Le Harve aboard the SS Bernard Howaldt and arrived at the Los Angeles harbor on July 10, 1962. The car was received by well-known American Bugatti collector Dr. Milton Roth who, at the time, owned some of the marque's most important cars.

Sadly, Dr. Roth passed away soon after taking delivery of his Type 57 Coupe and on March 15, 1965, Dr. A. J. Nelson of Long Beach, California, purchased the car from Dr. Roth's estate. Three years later, Dr. Nelson commissioned a frame-off restoration to be completed by O. A. "Bunny" Phillips of Pasadena, California, as the car was by then showing some age. The Bugatti was one of Phillips' many ongoing projects and as a result the car remained disassembled for the next three decades. During the 1990s, Jim Stranberg adopted the restoration work and the fabulous Paul Née Bugatti was completed just before its debut at the 1999 Pebble Beach Concours d'Elegance, where its immaculate restoration earned it a class award in the Closed European Classic, 1925–1939 category.

Jim Stranberg of High Mountain Classics in Colorado is one of the foremost Bugatti restorers and scholars. His restorations have been awarded numerous prizes at Pebble Beach and many other premier international concours. After the Pebble Beach Concours win, some minor detailing was done by Stranberg and the car was acquired by the present owner in November 2005. Since then, the car has been actively campaigned on the show circuit and has been in the care of another renowned restorer, Alan Taylor of Escondido, California, who has assured that the car remains in concours condition.

In 2006, the car won a succession of prestigious awards, including the Breitling Award for The Car of Timeless Elegance at Amelia Island, Best in Class at the Keels and Wheels Concours d'Elegance in Houston and class awards at the Pebble Beach Concours d'Elegance and the Los Angeles Concours d'Elegance. In 2007, the car continued its winning ways, earning Most Elegant Car at the Palos Verdes Concours.

Since its primary restoration, this car has covered less than 400 miles and remains a beautiful and understated example of the Bugatti Type 57. A distinctive pillarless coupe that embodies the sophistication and grace represented by the Bugatti name, it has been owned and restored by some of the most impressive names in Bugatti collecting including Roth, Phillips and Stranberg.

Featuring one-off, intricately detailed coachwork with an elegant coupe form that successfully blends the classic Bugatti look with a clean, modern design, this remarkable and award-winning automobile deserves significant attention as a distinguished example of the celebrated Type 57.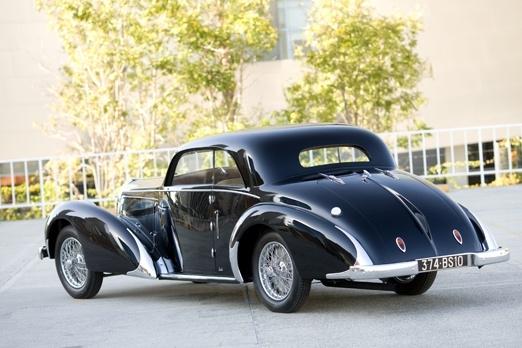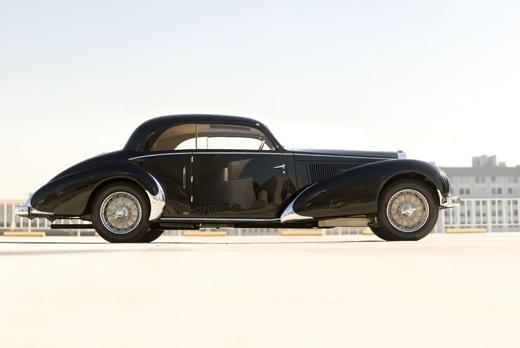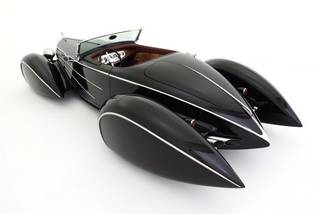 Lot #38 : 2008 Deco Rides Bugnotti, see also: this article in the Bugatti Revue
Chassis No. H4094

Highly Unusual One-Off Custom
Design By Chip Foose
High-Quality Homage To 1930s European Coachbuilding
Please note this car is titled as a 1937 Nash

346 Cubic Inch Chevrolet LS1 Eight-Cylinder Engine
Fuel Injection
350 BHP
4-Speed Automatic Transmission
4-Wheel Power Disc Brakes
Front Independent Suspension With Coil Over Shocks
Rear 9­" Ford Live Axle With Coil Over Shocks
Estimate: $200,000 - $250,000
More info: auction.goodingco.com
---
---
Bugatti news, 2008
Bugatti news, 2007
Bugatti news, 2006
Bugatti news, 2005
Bugatti news, 2004
Bugatti news, 2003
Bugatti news, 2002
Bugatti news, 2001
Bugatti news, 2000
Bugatti news, 1999
Bugatti news, 1998
Bugatti news, 1997
Bugatti news, 1996
---
Back to the Bugatti Page