Bugatti news, 2007 Plus events
Bugatti news, 2006
Bugatti news, 2005
Bugatti news, 2004
Bugatti news, 2003
Bugatti news, 2002
Bugatti news, 2001
Bugatti news, 2000
Bugatti news, 1999
Bugatti news, 1998
Bugatti news, 1997
Bugatti news, 1996
---
Also included are old events announcements
Jan. 11-13, 2008 Interclassics & Topmobiel Maastricht, Netherlands
This show has never disappointed me, always many nice cars, with at least 5 Bugattis or more. Of course, always the stand by Jean Prick, son of the great "Bugatti Pope" Guillaume Prick is worth your while, as well as a little chat!
More info: www.ic-tm.nl
---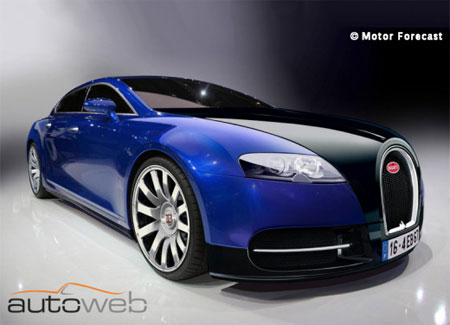 November 26, 2007

Amateur designer daydreams: What a 2010 Bugatti Royale could look like

Bugatti has stated that it is not going anywhere, and that there will be another model, and that it won't be an entry-level model. (Never mind the fact that an "entry level" Bugatti could still cost $800,000.) What they haven't stated is what kind of model it will be, except to say that it will remain the best of the best.

We aren't sure who's responsible for the rendering above, but if Bugatti were to go the sedan/limo route, this is one person's idea of a new Bugatti Royale. From this angle, we are definitely in. It's a car in which we could see going very fast, very comfortably, on our way to Biarritz with three of those damsels we met at the craps table in Monaco.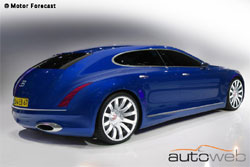 From the rear, however... well, things go less... winningly. We can understand the concept of a shooting brake -- but a Bugatti Royale Wagon? Looking at that elegantly sloping expanse just makes us want to go shopping. Very quickly, still, and for very expensive stuff... but shopping nonetheless.
Source: Autoweb.cz
---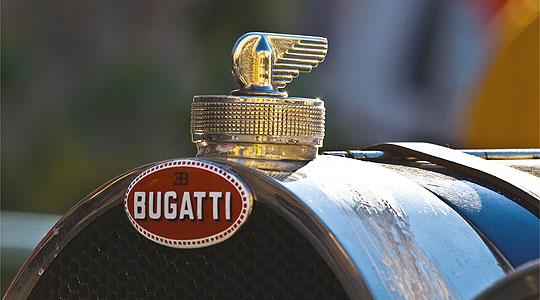 November 24, 2007

Calendar - 1 -

The Calendar Impressioni Di BUGATTI Classiche Calendario 2008 takes you on a journey to an era when the fiery passion of an ingenious engineer and the daringness of illustrious gentleman driver's were rewarded with numerous victories. The photographer Alexander Kuhlmann captures the archaic atmosphere that surrounds these icons of automotive history with an affectionate attention to detail; he presents impressions of these storming race cars Ettore Bugatti created with his groundbreaking craftsmanship which resulted in insane performance.

The handicraft of this most exclusive and very limited photo art calendar is nothing less than extraordinary. Four especially manufactured Bugatti Type 35 butterfly screw attach the calendar sheets to the wooden rear wall thereby establishing an almost haptic tie to the handmade Bugatti coachworks.

The fascinating motives remain a permanent visual pleasure by applying the included passepartout on top of the calendar sheets hereby covering the print of month and days. The Calendar Impressioni Di BUGATTI Classiche is under the patronage of the BUGATTI CLUB ITALIA.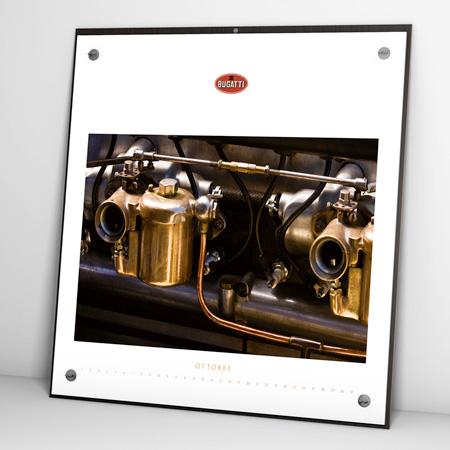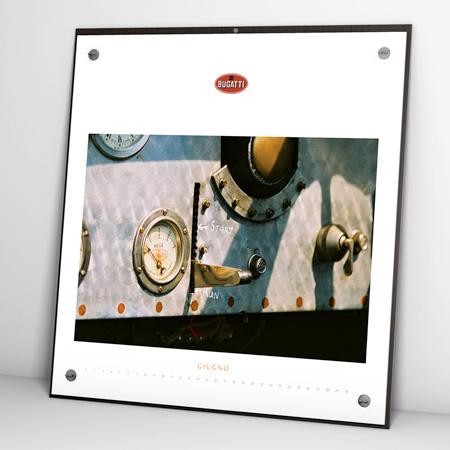 Format: 43,5 cm high, 47 cm wide
Binding: Specially fabricated BUGATTI Type 35 butterfly screws attach the calendar sheets to the wooden back wall (4 mm)
Limited Edition: 400 pieces (individually numbered on cover page)
Price: 79,90 Euro incl. VAT (shipping extra); worldwide shipping possible

Contact: Alexander Kuhlmann
Mobil: 0049 (0)163 846 47 46
Fax: 0049 (0)721 151 51 89 17
eMail: ak@classiche-sportive.com
Internet: www.classiche-sportive.com

---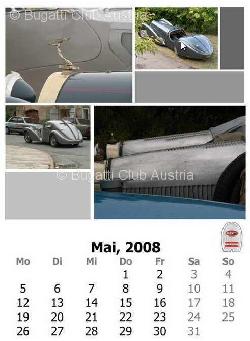 November 24, 2007
Calendar - 2 -
The BUGATTI CLUB AUSTRIA has produced a calendar for 2008.
It is printed on heavy, glossy paper ( ca. 30 x 40 cm ) with a lot of beautiful photos! Available from now on for € 19.- plus post & package.
Please have a look for more images , you will find there the whole edition!
Please order the calendar using the shop at our website www.bugatti-club-austria.at.tt or wmg@surfeu.at !
---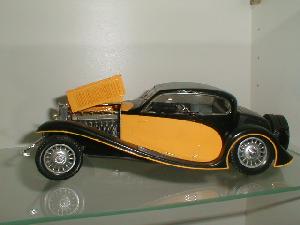 December 2, 2007

New contest! Big prizes!

Now possible to enter until January 18!

Just for fun, and of course to convince you to write some interesting reading material, I would like to start a new contest. I'm asking for written articles in this case (Illustrations are welcome!), and I suggest as a subject, the way you personally got hooked on Bugattis. This can be because you received a miniature kit that you built (That was the case for me, I received the Heller 1:24 plastic kit of the T50 profilee, than started reading more about the marque Bugatti, looking in magazines to find more information and so on. A bit more on how the BugattiPage started.).

However, in your case this may be entirely different. Maybe you just won 500million in a lottery, and the Bugatti just happened to be the most expensive car in the classic car dealer's showroom (I still have dreams about that! The worst dream I had was when I dreamed about riding my own(!) GP-Bugatti (which in reality I don't have, so far the dream was Ok). Then I found that the Bugatti was very slow, and when checking more closely, it turned out that the pedals to control the car were bicycle pedals, and I had to propel the Bugatti myself!). Of course it's also possible that you heard about the new Bugatti Veyron, wanted to know more about it, saw all the old Bugattis on my site and on the rest of the Internet, and fell in love with the old ones instead! In short, the way your first came to know/see/learn about/ride a Bugatti is very personal, and would be very interesting to all other readers of the Bugatti page.

However, this subject is only a suggestion, articles on different subjects (as long as Bugattis are involved) are also welcome.

One of the stories that I read in one magazine or book in the early days, a story that I liked and that always remained in the back of my head, was the story about the Bugatti owner that had painted both sides of his car in a separate color. For many models, eg. the T57Ventoux or Stelvio, the base color is black, with a colored side, usually in blue, red or yellow. So this guy with two differently colored sides would ride the French "Routes Napoleon", which are ruler-straight, but go up and down hill all the time. He would overtake any sporting rider in, what would usually be a slower car than his Bugatti. This driver of the other car would then start chasing the, let's say, red Bugatti, without being able to keep up, naturally. Once over the top of the next hill (and out of sight), the Bugatti driver would slow down to a very slow pace, and let the other driver overtake him. This driver wouldn't probably even pay attention to this very slow, blue car, maybe not even notice that it was a Bugatti. Once the other driver was out of sight over the next hill, the Bugatti driver would accelerate again, overtaking the other driver. This guy would remain absolutely puzzled, as he was being overtaken again by the red Bugatti, which he thought he was still chasing! Especially when the Bugatti driver would do the same trick more times, he would leave the driver of the other car practically thinking he was insane!
Jan Cohen informed me that the man in question was the Parisian Bugatti dealer Lamberjack. For details refer to "un siecle de carrosserie francaise" By Henri Labourdette.

All articles that I receive will be published in a special issue of the Bugatti revue. Please do not think that you're article is not worth reading, the worst thing that can happen is that you don't win first prize! For the language: English is preferred, though I can also except articles in French, German, Spanish and (of course) Dutch. For these articles I can not garantee a translation when I will publish them.

Please send your contribution to J.J.Horst@BugattiPage.com Before January 4, this way you can use your Holiday to practice your writing skills, and when you win, you will still be able to use the first page of the calendar! I can accept most formats, Word, Txt, PDF etc.

Of course there are big prizes to be won:
First prize will be the brilliant 2008 calendar: Impressioni Di BUGATTI Classiche
For the runner up there is a choice of either :
---
November 24, 2007

New EB110 service online

We are currently launching a new platform for all EB110 owners, work and repair shops, dealerships, service stations all over the would as we now have got access to all the inventory that was left when Bugatti S.p.A. in Italy went bankrupted in the early nineties

As we have received 1st orders from i.e. Brabus, SPS Automotive and others, we are looking forward to expand that business in future

Future services may include an (un-)official EB110 registry, galleries etc...

Not just spare parts but also updates like carbon parts, different rear wings (including the Dauer stuff), mufflers, exhausts (Remus) wheels and inventory

Parts that are no more available will be produced in limited quantities

inquiries, suggestions are welcome

Axel J. Zahn

Frequent inquiries that I receive, mainly about spare parts, indicate that there sure is a need for this service!
---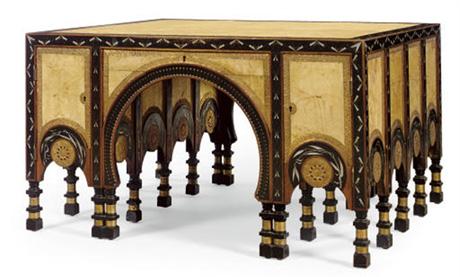 November 21, 2007

Exceptional result for Carlo Bugatti furniture

At a Christie's auction of works from the collection of the late New York dealer Allan Stone (New York, Rockefeller Center, 2007), big prices for the unusual resulted: a desk from about 1900 by furniture designer Carlo Bugatti made 10 times its estimate, fetching $1.56 million! This must be a record for any Carlo Bugatti furniture, and is in line with increasing prices for "products" from the other members of the Bugatti family, with a Rembrandt Bugatti sculpture "Lionne d'Afrique," from circa 1910, realizing $1,832,000 at a Christie's auction in June this year.

The double-sided desk from around 1900, decorated with pewter inlay and repoussé copper, was expected to fetch $100,000 - $150,000, but interest quickly doubled the high end of that estimate. As bidding reached $800,000, Philippe Ségalot, a private dealer, jumped in. He eventually beat out the other bidders, taking the desk for $1.56 million (including buyer's premium). That's more than an 11-fold increase on the designer's previous auction record, set just one year ago at Christie's when a Bugatti chair got $132,000. Ségalot bought the desk on behalf of a client. "I thought it was an exceptional piece of furniture for Bugatti, and apparently I was not the only one to think so," he said.
---
November 10, 2007

Bugatti Royale compared with Bentley 8 Litre

The recent issue (December 2007) of the UK magazine Classic & Sportscar features an article on the Bugatti Royale, where it is compared with the finest Bentley, the 8 litre of 1930. Both cars are coupe de Villes, however, the Bugatti is the Tom Wheatcroft replica of the Coupe Napoleon, not the original.

Interesting comparison in all cases!
---
November 9, 2007

Book on Hillclimbing

There's recently been published an informative book on this subject: "Hillclimbing & Sprinting" by Phil Short & Steve Wilkinson , more info at www.veloce.co.uk.

It's much like a book for getting started in the sport, interesting as far as Bugattis are concerned, are the descriptions on Prescott hill and Shelsley Walsh. These descriptions comprise the tactics for fast times on these climbs.
---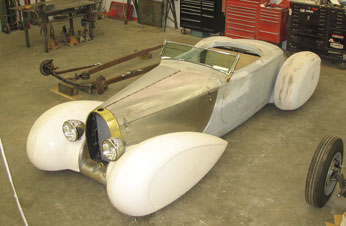 November 3, 2007

Terry Cook T57 "Hot Rod" nearing completion

I wrote before on this project, on August 24, 2006. Now there has been a lot of progress, as the photographs show.

The car is one of the possible variations of the Boattail Speedster. The black BMW V-12 powered Car #3 shown below is getting treated to a crocodile interior and having stainless exterior body brightwork by Steve Pierce of One Off Technologies in Gilford, NH. The finished but yet unplated Bugatti Type 57 grille shell on this car are sold separately also, see my parts for sale page.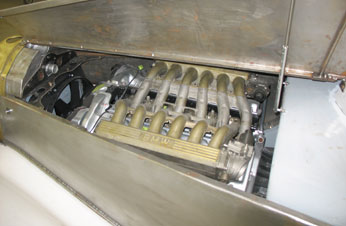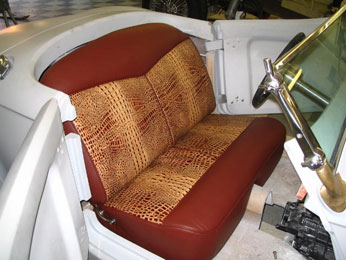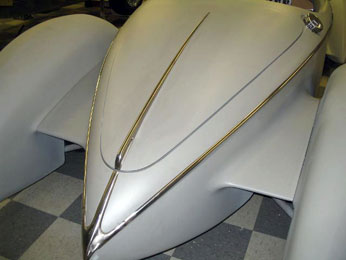 ---
October 28, 2007

Aerolithe presents big challenges

David Grainger, CanWest News Service

It has been a while since I have written about the continuing saga of the rebuilding of the Type 57 Bugatti aerodynamic coupe, the Aerolithe. This is not because significant progress has not been made but rather that all projects reach certain plateaus where nothing of great importance occurs and visible progress is limited. The Aerolithe has been at such a stage for the last couple of months.

That is not to say that many very important challenges have not had to be met and overcome. Our greatest challenge on this project has been the fact that not only do we have to recreate the entire body of the car from just 11 photographs but it must be made from magnesium if it is to truly replicate the car that was known in the 1930s as the Electron Coupe, electron being the slang name for magnesium alloy.

The magnesium has been problematic as I stated in a previous column covering the fabrication, but we did not truly understand just what a royal pain it could be. It would not form into multiple compound curves, most especially reverse curves that were very common on some sections of the fenders. Even heating the metal to 700C or 800C would often not make it malleable enough for our purposes.

Instead, a patchwork quilt of smaller pieces welded together and relief cuts finally yielded stable curves, which, when heated and cooled properly, resisted cracking, a condition that had frustrated us repeatedly when the parts were stressed. It is not pretty during fabrication, but it works, and once dressed -- meaning the filing and sanding of the welds -- the patchwork disappears.

The Aerolithe had a wooden substructure to which the body panels were attached. That seems unusual in this day and age; however, before the Second World War, it was the standard for almost all cars. The wood was most often white ash, which is incredibly strong, light, resists cracking and stress and is resistant to deterioration.

We were going to create the woodwork in our shop, a task that we have performed before for other cars, but we discovered a fellow in Germany who had just completed an almost identical structure for another Bugatti. As the Aerolithe that we are building is very similar proportionally to the car that the German shop had framed, it was decided it would be cost-effective to draw up blueprints that would incorporate the adjustments we require and have it built in Germany. That task is about half completed at this point and we expect the framing to arrive some time in early winter.

The engine and driveline are almost ready to be put into the frame and fired up and tested. The biggest mechanical hitch right now is the lack of a front axle. We had actually secured a complete front axle assembly for the car from a shop in England, but, when it arrived, it was stripped to a bare bone and missing all the parts that were supposed to be included, which represented thousands of dollars. As that wrong axle and "lost" parts had cost £8,000 ($15,900), a refund was demanded and eventually realized -- but not without some fuss and bother. Now, a newly fabricated axle is being produced in England at a cost of about $7,500. While it would have been preferable to have had an original, the new axle will suffice and will certainly be very accurate. Its manufacture does not detract from the value of the car as it is the only major mechanical component that is not original to the chassis.

What has been enjoyable over the course of this project so far has been the voyage of discovery on which we are embarked. Many myths that over the past decades have been hypothesized, theorized, argued and even written as fact by some armchair experts have become quite clear to us as we have explored the original car's photographs down to its smallest proportions and actually recreated the build.

Even the chassis, whose type and form have long been a hotbed of contention, has now revealed itself to be, in all likelihood, an absolutely standard chassis. The formula to proving this is that the body and all of its components, when fit exactly to an ordinary frame, need no adjustment. This is important because, for a very long time, it has been assumed that the Aerolithe was built on a special sport frame, while our build demonstrates that it was far more likely to have been sat on a very ordinary early chassis. A sport frame would require several major changes to items such as the steering box height.

These arguments would appear trivial to anyone not immersed in a world where cars can be worth millions of dollars, but to some aficionados, any disagreement with a personal view can mean a slap in the face with a glove and pistols at dawn.

This sure ain't like restoring your parents' Oldsmobile.
---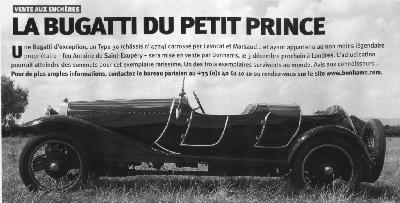 A Target=_Top HREF="newspics/4724-t30.jpg">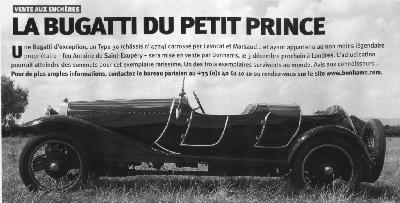 Dec. 3, 2007 Bugatti on auction Olympia, London, UK
Bonhams is auctioning a T30, chassis 4724 which belonged to Antoine de Saint-Exupéry
A probably cheaper Bugatti design also on auction is a 1913 Peugeot Bébé 6hp Type BPI Two-Seat Tourer 10252, Estimate: £15,000 - 20,000
If you're into the newer stuff: a 1993 Bugatti EB110SS Super Sport Coupé ZA9BB02EOPCD39001, Estimate: £150,000 - 180,000
Finally, if you want to really shock the crowd, you should arrive at a Bugatti meeting in a Panther De Ville Saloon, also available at the same auction!
More info on: www.bonhams.com
---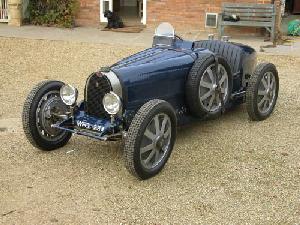 Dec. 5, 2007 Bugatti on "True Greats" Coys auction Westminster, London, UK
Lot 348 1932/198 Bugatti Type 51 Grand Prix
Registration no: WFO 234
Chassis no: BC96
Estimate: £200,000-250,000
More info will be available on: www.coys.co.uk
---
Nov. 9 - 11, 2007 Bugatti Royale at Classic Motor Show Birmingham, UK

A Royale Replica, the Tom Wheatcroft Coupe Napoleon Replica, will be on show at the Classic Motor Show at The NEC (National Exhibition Centre), Birmingham.
---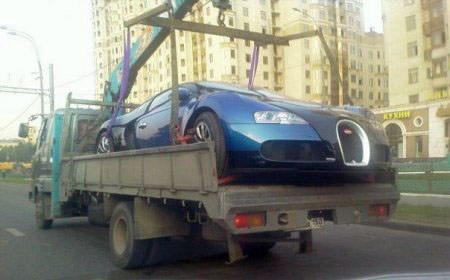 October 28, 2007

Park it right!

Even when you own a Veyron, you still have to park it where it's allowed, or you will be towed away, as was the case with this Veyron in Moscou!

Or maybe it had broken down, there is no story with the picture!
---
October 18, 2007

Auction results

Two auctions, with the following results:

Oct. 6, 2007, The Sportscar Auction Geneva Geneva, RM Auctions (prices are in Swiss Francs (CHF):
1921 Bugatti 23 Brescia Tourer, chassis 1339, 218,500
1939 Bugatti 57 by Graber, chassis 57670, 312,800
1936 Bugatti 57 Galibier, chassis 57490, Not Sold
1935 Bugatti 57 Stelvio Cabriolet, chassis 57435, Not Sold
1935 Bugatti 57 Ventoux Coupé, chassis 57280, Not Sold
1937 Bugatti 57 Ventoux Coupé,chassis 57594, Not Sold
1928 Bugatti T35C Special, chassis 4894, Not Sold
Strangely, the first two cars were over their top upper estimate, while the rest was not sold at the auction. It seems that at least one Bugatti was sold after the auction privately.

Oct. 12, 2007, RM Auctions: Vintage Motor Cars at Hershey:
1937 Bugatti Type 57C Ventoux, chassis 57664, $528,000
---
October 18, 2007

Bugatti Veyron versus Jet fighter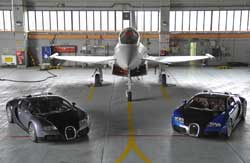 Make sure to watch Top Gear on BBC 2, UK, Sunday October 28
The team behind one of television's most popular fast car shows thought it would be a great idea to race a 250 mph Bugatti Veyron, the world's fastest street-legal car, and the twice-the-speed-of-sound Typhoon multi-role fighter, set to be the backbone of the Royal Air Force (RAF) for the next 30 years.The result is a breath-taking filmed sequence which will be aired during the new Autumn series of BBC 2's popular "Top Gear" programme, aimed at fast car buffs, this one scheduled for Sunday, 28 October 2007.
The tricky issue of just how to race them against each other was eventually resolved. It was decided that the car would cover a measured mile and back along the runway at RAF Coningsby, Lincolnshire, timed against a Eurofighter Typhoon taking off alongside it and climbing a mile upwards and diving down again to cross the finishing line at a height of 100 feet.
With two such advanced machines involved, it was inevitable that only the best quality drivers would be appropriate – Richard "The Hamster" Hammond, "Top Gear's" legendary fast car man, was behind the Veyron's steering wheel, and the RAF's Typhoon Display Pilot, Flight Lieutenant Jim Walls, was the Typhoon jockey. "Well, it's an awesome car versus an awesome aeroplane," said Richard Hammond. "For a guy who spends a lot of his life celebrating technology and speed, and clever machinery, it is a fabulous challenge.
"It is a recipe for huge fun," he went on. "We have taken one of the most exotic and expensive cars in the world and pitched it against one of the most technologically advanced and fabulous fighters," He marvelled at the level of technology contained within the Veyron's frame – worth a cool £700,000 – and at the thought that went into its design and construction. "So you can be whispering along at 200 mph, but it really feels like just 30. It is a real celebration of what can be done. Given this go-for-it, no holds barred, view of what a car can be made to do, it is a marvellous achievement."
Fighter pilot Jim Walls was equally enthusiastic about the contest. "It is very exciting and to me it is very akin to display flying. It is an aerobatic manoeuvre near to the ground, the sort of thing we do in the display," describing the race he said: "From a standing start the car travels a mile, turns around and comes back a mile. It will finish at full speed, and will be able to use the 200 feet width of the runway to turn round. "The aircraft, from the same standing start, will take off, go up a mile, perform a half Cuban to turn round, and will then descend to cross the finishing line at a height of 100 feet. It will be going as fast as it can within the legal limits – it cannot go at maximum speed because it must not go supersonic over land", he explained.
"Top Gear" assistant producer Alex Renton said: "We got the idea of going out there and seeing what cars could compete with Typhoon. And there was no doubt in our minds that the Bugatti was the main contender. "The acceleration statistics are unbelievable with 1,001 brake horse power, and stopping distances are startling, all on a road car. Jim, the Typhoon pilot , has been doing some flights in the simulator, and he was estimating about a minute to complete the run; rough estimates from Bugatti showed they would be similar, so that really was the car for us," said Alex.
"Why Typhoon? Well, it's the RAF's new toy," explained Alex. "We have read so much about it in the press, and have heard about its agility and amazing performance in the air, both at subsonic and supersonic speeds, we really wanted to have a good look at this piece of kit".
When the BBC put forward the proposal for the race RAF Air Command considered that the programme would be a positive way of increasing the public's knowledge of the capabilities and advanced technologies of Typhoon, and it was subsequently approved, subject to very strict safety guidelines. Once the financial details had been finalised under established defence Wider Markets procedures, with the BBC agreeing to meet all the RAF's additional costs associated with the event, filming took place at RAF Coningsby on Tuesday and Wednesday 04 and 05 September.
Source: Royal Airforce online
---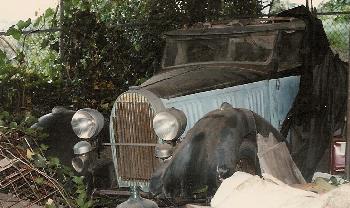 October 8, 2007

They still exist!

Of course, everybody thinks that they do not exist anymore, but they still exist, the undergrown, neglected Bugattis!
This Type 57 Bugatti is slowly becoming part of the garden decor. Charles Crail discovered the car back in 1990 but its owner refuses to sell it and continues to let it deteriorate.

Contact Information; Charles Crail Automobiles (805) 568-1934 Santa Barbara CA, www.charlescrail.com

In the pictures above, it can be clearly seen what state this Stelvio?? is in. Especially the interior looks nice! However, there's one extremely strange aspect: Take a look at the engine bay! The inlet of this T57 is on the right hand side of the car, where the exhaust always is. But still, the cam-drive is on the rear of the engine, where it should be. So, is this an unknown conversion or, a much simpler solution, was the image mirrorred? Only on one of the pictures (the rear) letters and numbers show that that photo is as it should be.

And, a small quiz, what other Bugatti shown on this page is mirror-imaged? No prizes, just eternal fame!

The eternal fame goes to Matthijs de Back from the Netherlands, who correctly identified the T59 at the top of the page, as being mirrorred. The T59 is from the Ralph Lauren collection obviously.
---
October 3, 2007

Bugatti Future

After the presentation of the new limited edition model the "Pur Sang", Bugatti's president Franz-Josef Paefgen said: "We will continue the brand and there will be new products. A few decisions have been made already, and there will be no smaller Bugatti. If a second car comes to market, it will be in the same market segment as the current (1000-horsepower) car."

The new model will be another limited edition model like it's big brother: "It will be extremely exclusive, with lifetime volumes in the hundreds, not thousands."
---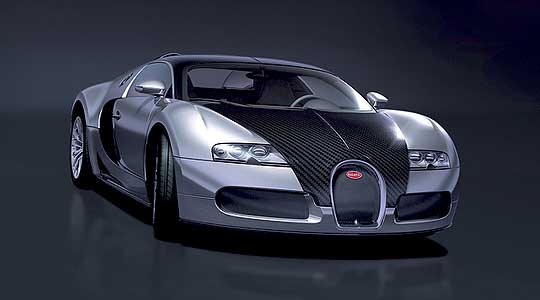 September 25, 2007

Bugatti presents special version of the EB16.4 Veyron

At the IAA in Frankfurt, Bugatti presented a new version of the Veyron, the "Pur Sang". The car is pure aluminium and carbonfibre reinforced epoxy (called "Carbon fibre" rapidly), giving it a two-tone, naturally inspired appearance. The rawness of the materials aims to highlight the dual character of the car: performance coupled with cruising comfort – structure and body, dark and light.

According to Achim Anscheidt, Head of Bugatti Design, the idea of finishing a Veyron in its pure material configuration – with no colour coating – came from watching visitors to the Atelier in Molsheim. "The visitors are always intrigued to see the Veyron's high-tech components being meticulously assembled into an automotive work of art," says Anscheidt. "They watch the car coming together and admire the technical beauty of its structure."

A closer look at the details reveals the technical logic behind the styling, and the precise division of performance components and body. The sophisticated monocoque contains all the core structural components, including the W16 engine, the passenger cell, the crash box and the linkages to the wheels. Visible as the centre of the car, this is styled in clear-coated carbonfibre. Meanwhile the aluminium panelling lends the car its shape and unique body sculpture. The limited-edition Pur Sang will cost around 1.4m euros, 300k more than the "standard" Veyron. All 5 Pur Sang's that will be build have already been sold.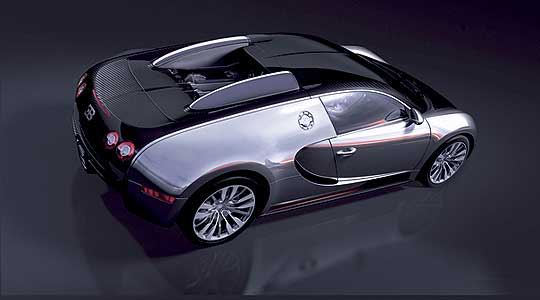 Some Irony, for years Pur Sang (In Argentina) built Bugattis, now Bugatti is building Pur Sangs!
Meanwhile, Bugatti also renewed the website, go to www.Bugatti.com
---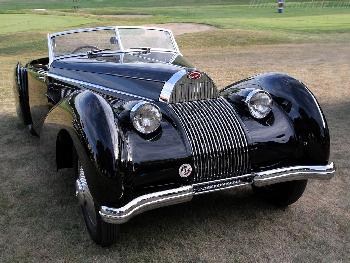 September 5, 2007

Meadow Brook Concours d'Elegance results

There was one Bugatti winner at this concours on August 5:

Class N1: European Luxury and Sport
1939 Bugatti Type 57C - Voll & Ruhrbeck 2-Dr. Convertible
---
August 27, 2007

Auction results

Here the results of the biddings which have took place at Pebble Beach :

- RM Auctions :
1930 Bugatti Type 35B Grand Prix Race Car #4948 : $605,000
1937 Bugatti Type 57 Ventoux Coupe #57614 : $412,500

- Christie's :
1927 Bugatti Type 40 Two Seater #40490 : $165,000
1928 Bugatti Type 52 #327A : $44,000
1938 Bugatti Type 57 Three Position Drophead Coupe Coachwork by Letourneur & Marchand #57649 : Not Sold

Info: Christophe Chanterault
---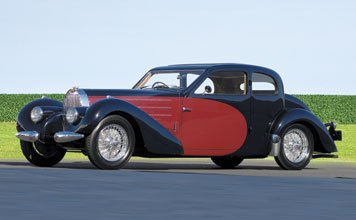 Oct. 12, 2007 Bugatti on Hershey auctionHershey, PA, USA

RM auctions is auctioning a T57C Ventoux, chassis 57664 from 1937, estimate US $450,000.00 - US $550,000.00, opening bid at 225k$.

For more info: www.ebay.com or www.rmauctions.com
---
Sept. 9 - Oct. 27, 2007 Bugatti History in MiniaturesCanandalgua, NY , USA
For more info: www.ochs.org
---
August 7, 2007

News on the Bugatti Veyron

- On the level of the sales, the Veyron orders are higher than expected ! Inside the factory people are now speaking of the last delivery in 2010 ! Due of the news orders, Bugatti has increased the production of the Veyron. Bugatti produce now 2 Veyron every week. Bugatti initial limited the production of the Veyron to 60 units a year, but they have decided to increase it to 75 units annually.

- Failing to market a new model, Bugatti will offer to its Veyron some modifications, so negligible are they. The cockpit should slightly move with the profit of new leather coatings for the dashboard. Outside will not be remains about it since new rims should be adopted. The extreme half-compartment of Bugatti will be also available with new colours of body.

- This year, in January rumors regarding a possible Bugatti Veyron Spider appeared. Now we can tell you for sure that the new Bugatti Veyron Spider is real! From very reliable sources we found out that Bugatti is going to produce the convertible version of its Veyron in a limited edition of 80 units. This version of the Veyron will not be completely convertible such as the Ferrari F430 Spider or the Gallardo Spyder. The new Veyron convertible will look more like a targa version of its older brother, more like Porsche Carrera GT or the Koennigsegg CCX. The performances will be less impressive than those of the coupe. Top speed will be "limited" to 350 km/h and the record as "World's fastest cabrio in the world" remains the earlier-mentioned Koenigsegg CCX with a top speed of 395 km/h.Anyway 350 km/h remains an untouched speed for most of the convertible cars.

Source: Christophe Chanterault

About the new Bugatti: Officially, nothing is released, but from a reliable source within Bugatti, I know that the next Bugatti will be made, largely using existing components. Connect that with the rule of the part Bugatti-owner Porsche, that no small Bugatti is to appear, there are only a few possibilities:
The Spider version of the Veyron, also mentioned above.
Either a two-door or a four-door, front engined car. This could be using the Bugatti Veyron's engine, on a Bentley platform.
---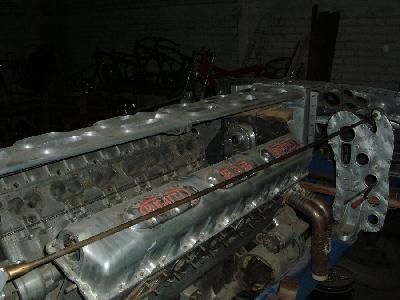 July 23, 2007

Bugatti Empereur comments

You will all remember the article on the "Bugatti Empereur" (see a little below). The owner of the car obviously thinks that my conclusions are wrong, and sends me the letter below (which was translated from Spanish by an acquaintance of his). I was asked not to change the letter, so I only removed a few obvious typos (I read and write spanish, so I responded to the owner based on the original letter). I don't have any further comments. JJH

I' d like on behalf of the propietary of Bugatti Empereur, you can publish in your web-site this information, without any modification.

Going through your comentary, I realize that in every moment you attempt to compare badly to the Bugatti Empereur. As for my concern, I never meant to compare badly to the Bugatti Royale. The sizes of my car are:
Trail : 1,80 mts.
Distance between axles : 4,50 mts.
Total length: 6,50 mts.
From the base of the tyre, up to summit of the musk: 1,20 mts.
Size of tyres: 28" X 6 X 9.5 rims of alloy, with 24 blades that cool of the aluminium brake drums. The brakes are: Lockheed Bugatti, with double systems (double circuits). Engine: it's a Bugatti all sides sealed 12 cylinder in "V" 38 litres model 1937 and the number of the bodywork is 57-385-A.

I don't understand how someone who is specialist in Bugatti has omitted the letter "A" which Ettore Bugatti qualified the Bugattis Superlatives, the abreviation of my car are SSCP (that etymologicaly means: Super Sport Charged Prototype). I can't understand how someone can confuse the engine of HISPANO-SUIZA Z-12 with the engine of my car, that was also built for Ettore Bugatti on Bordeaux plant, which I have testimonies to show and prove it. And not only built the 12 cylinders, also the 6 cylinders for marine machines and fast motorboat.

I don't have an idea, in what bases, nor either in which testimonies you have based upon to deny the construction of the itselues. When Mr. Horst talks about the little connection, trying to minimize the relation of Bugatti with HISPANO-SUIZA it would be nice to tell you that the first spanish brand in the year 1938 definitively ended to make in bois - colombes French Factories, and in the spring time of 1939 when was ended the Spanish civil war, the HISPANO GUADALAJARA was destroyed and the Barcelona that was in better shape, was found in the situation that couldn't build nothing at all, without capital and rawmaterial, not even no one interested in the reconstruction of the factory. We are going to ilustrate you about the matter: in 1946 was created the National Enterprise of Autotrucks S.A. (ENASA) of which was created The Pegaso Truck and The Pegaso Car (Z - 102). The only factory in France that built the engines 12 in "V" and 6 on line was the Ettore Bugatti factory in bordeaux, up to the bombing for the RAF (ENGLISH REAL FORCE) in november 1940. Being me, an investigator and a serious specialist in mechanics restoration, I stand to qualify that is excessive trivial to judge of originality or not a car by photos, whithout parameter of qualification in the history either civil or mechanics. The project of the 12 cylinders in "V" borns in 1936 and extends up to 1940 like DELAYE, ALFA ROMEO, ROLLS ROYCE, PEUGEOT, FIAT, HISPANO SUIZA, MAYBACH ZEPELIN. in Europe. In America were distinguished PACKARD, CADILLAC, LINCOLN, AUBURN, FRANKLIN, PIERCE ARROW and others manufacturers; they built from 1926 up to 1940, end of "V" 12 and "V" 16.

I can' t understand how you dare to minimize the creative spirit of Ettore Bugatti that from its beginning with Stuki, then with The Count Dietrich, with Deutz, with Crossley, with Peugeot and Diato built engines from 1 cylinder, 4 cylinders, 6 cylinders, 8 cylinders, 12 cylinders and 16 cylinders.
Regrettably to bring alive the Real Marca in the photos of my car, it gets worse than better.
With no other reason, and with the purpose of fulfill the doubts that can appear from the lover's of Bugatti history. I say goodbye to you for now politely.
Very Truly

Sergio Garino
---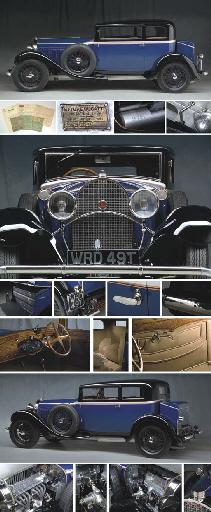 July 11, 2007

Auction results

On the June 3, 2007 Christie's Auction in Greenwich, USA, two Bugattis were auctioned:

1938 T57C Atalante Coupe, Chassis No. 57766, Engine No. C57
1931 T49 two-door sports coupe, Chassis No. 49194, Engine No. 32

The T49 fetched £ 198,000, the T57 Atalante £ 426,250. So the Ettore Bugatti cars fetch lower prices nowadays than his brother's sculptures!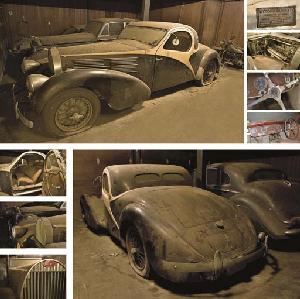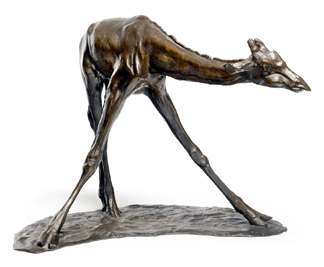 In Sotheby's June 19 sale of important Twentieth Century design in New York, two Rembrandt Bugatti sculptures were auctioned:
The "Girafe en Train de Boire," right circa 1907, sold for $734,400
The "Biche et Faon se Retournant," below circa 1906, sold for $504,000.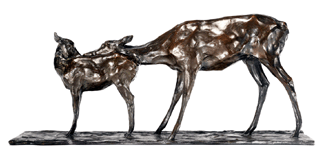 ---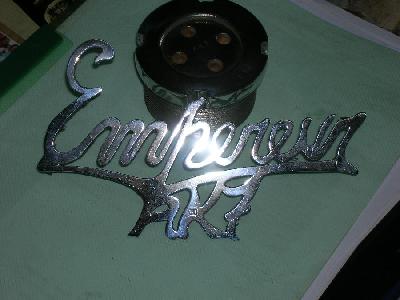 June 24, 2007
Bugatti Empereur !?
Starting in April last year I began receiving questions from various sources, about a Bugatti named "Empereur". It presumably had a 35 litre V12, with 4 valves per cylindre. This would in fact make a Royale look small! That's probably why the name was chosen. More questions, and information followed, now also by the guys who are actually trying to sell this monster, which is under construction (or restauration, decide for yourself!), being Pablo Palumbo in Argentina and his associate Daniel Ledesma in Canada. The car is in Argentina at the moment.
According to Pablo and Daniel, the Empereur is an original Bugatti project, dating from around 1937. About the history of the car, according to the owners it came to South America, on board of the ship Graf Spee, as a safe place to be hidden in World War II. They say: "Mr. Horst we are in front of the eighth wonder of the world, each piece of the car is a jewel that cannot be copied."
Personally I doubt this very much, for various reasons. I will show you some photographs, so you can decide for yourself what you think of it.
When I was just contacted about the car, it carried only the numbers "0037", and "AK7", which appear on almost every part! Later the numbers 57385 and 20S also appeared. 57385 is the 1936 Paris show car roadster, on T57S chassis, with Jean Bugatti designed body with the swiveling front mudguards. The presented "Empereur" certainly has nothing to do with that T57s, as it is much bigger. 57385 started with the engine 8S, which was later exchanged for 20S (that part they have correct), it was soon converted to go with regular front wings (still a beautiful roadster), and was converted to a Barchetta in the 50's, before the car was lost (stolen from a railway station parking lot).
Of course this car is no Bugatti T57S, the only similarity it has with a T57S is the radiator, which is T57S-style, though much wider, and with an aluminium outside frame, which is unlike the original Bugatti radiator frames.
In the pictures it can be seen that virtually each part has been numbered or stamped, however, not in a way that Bugatti would do it. Also, the detail of the fittings is not correct: No Bugatti type bolts and nuts are used. I was informed that the car has the steering on the left: I know of only one other Bugatti like this, which is also a replica.
As for the engine, it might be a Hispano Suiza 12Z, which has the specifications that correspond to the specs of the engine sitting in the "Bugatti". However, I could not discover any engine pictures of the Hispano Suiza, which may be a (small) connection with Bugatti. It is known that at the beginning of WWII, while in Bordeaux, Bugatti made parts for Hispano-Suiza airplane engines.
When I compare this car and especially the finishing of the parts, with the parts for the Bugatti 100P record Airplane, there's a huge difference, both in detailed finish as well as in the number of indications of all possible chassis and other identification numbers on almost each part, added with the inverted E -B logo.
I still have to be convinced that this is an original car.
Go to this special page for more pictures.
Contact Daniel Ledesma for more info: telephone 001-416-236-4886 , cellular phone 001-6478310643.
---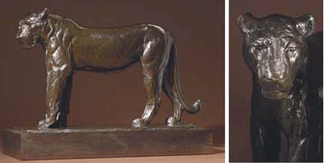 June 24, 2007

Auction results: Rembrandt

Rembrandt Bugatti bronze, "Lionne d'Afrique," circa 1910, realized $1,832,000 at Christie's Twentieth Century decorative art and design sale on June 5 and 6.
---
May 15, 2007

Around the world in a 1933 Bugatti, now in Turkey

Harry de Winter, Bob Meijer, Amnon Rafalowicz, Leon Ramakers, Milosch Kaposi and Oswald Schwirtz are taking a two-year trip around the world in a troupe of cars that number a 1938 Lagonda, a 1933 Bugatti (T46), a 1934 Lagonda and a 1978 Land Rover.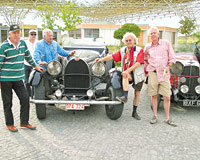 Beginning from Amsterdam in 2006, their first stops were Italy, Greece and Turkey. In Turkey, the six men traveled to Izmir and Denizli. They will finish their tour in China in 2008.
An initial maintenance check was made by the men before starting the tour and the cars have broken down only twice so far. The group reads up on the next destination country before they set off, drawing up a route map and determining their rest stops.
While the sole purpose of the tour is entertainment, the drivers say they were very surprised by the interest people showed, especially in Turkey. Noting that they liked Turkey very much, the men each placed a flag of Turkey on the back of their car. The first step in planning the trip was finding the best car for each driver, Schwirtz told the newspaper Today's Zaman. Schwirtz believes that driving old cars that have been around the block are much safer than modern day cars. "We are traveling just for fun. These cars are very simple and very easy to fix. Unlike modern cars, we don't have to go mechanics. For example, even if our car breaks down in China, we can easily fix it. That's why we chose old cars. A couple of days ago, the steering wheel of one of the cars fell off. We fixed it in one day," Schwirtz said. He added they expect to finish their tour in Beijing, China in April 2008.
After the interview wrapped up the team got in their cars and continued their world tour.
---
May 15, 2007

Auction Result!

Result of the Bonhams annual Hendon sale of May 2, 2007

1923 Bugatti 1,496cc Type 22 Brescia
The ex-Major Bertram H Austin, Brooklands-winning 1923 Bugatti was top seller from the collection, fetching £120,300, ­ more than double its lower estimate.
---
May 3, 2007

Bugatti wins public award at Villa d'Este !

The Coppa d'Oro Villa d'Este public award, the main prize decided by visitors, went to the Bugatti 57C Cabriolet Voll & Ruhrbeck #57819 of 1939. The car's chassis was one of the last to be delivered to German Bugatti importer Noll of Düsseldorf before the outbreak of the Second World War. Voll & Ruhrbeck were commissioned with constructing a special body for the chassis. The Bugatti was subsequently owned by Norwegian Olympic ice-skating champion Sonja Heine. Following a complete restoration, the Bugatti was making its first European appearance in its original version. James A. Patterson is the current owner.

The photographs below are from Pebble Beach 2006, where the car was first presented to the public
---
May 3, 2007

Re-write of the Brescia Bugatti book of 1990!

Peter McGann informs us that the Brescia Bugatti book he published in 1990 is now being re-written for publication in early 2008. The book will be similar in format to the first edition but will include substantially more historic and technical information. The book is also being re-formatted in size to make it more user friendly.

What Peter also needs is input from all the Bugatti owners so that he can be confident that all matters available have been addressed. Peter would like to ask all Bugatti owners and especially Brescia owners to send information and photographs to the following address:

Peter McGann
21 Keating Street
Black Rock
Victoria 3193
Australia
E-mail: pnc24757@bigpond.net.au
---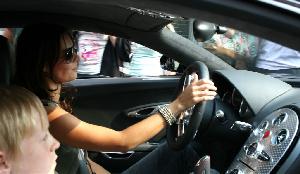 Angelina Jolie waiting at the start

May 3, 2007

Debut of the Veyron in races!

At least two of the famous new Bugattis were entered for the famous Gumball 3000 streetrace, where participants drive from London to Istanbul and back in seven days. One is shown here which was driven by Angelina Jolie. The Gumball races are organised on regular streets, here in Holland the police did some extra checking on the highway, confiscating the drivers license of various people who drove at 200 or more (here, if you exceed the speed limit by more than 50km/h, you lose your license. In one case the driver had to stop, for this reason, and his co-pilot took over, only to lose his license rapidly after when he hit the 180km/h mark! Bad luck, especially considering that participating in the rally costs 28.000 pounds ! I don't know if it was one of the Bugattis, that were stopped in the Netherlands, or that Angelina went through our country light-footed!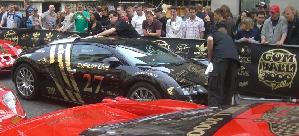 The Veyron for a fast polish, just before the start!
The other race was the Arab Run in Dubai, no further info, pictures below!
---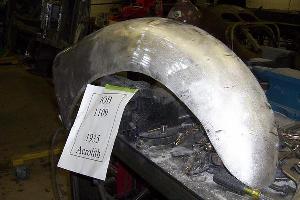 Outer half of the front right fender before welding to rear half of the front fender
April 4/May 3, 2007
Recreating the Aerolithe a challenge
Fabricating Bugatti model's body complicated by use of hard-to-find Electron, a magnesium alloy
DAVID GRAINGER
A project such as the Bugatti Aerolithe's recreation requires lot of planning because we have little information on it. A lot of assumptions must be made, although they have to be firmly grounded by a comprehensive knowledge of cars from the '30s as well as the procedures and the often eccentric engineering of the Bugatti company in particular.
While the chassis is mostly complete, and the engine and driveline are original and can easily be rebuilt, the car's body is a different kettle of fish. To make life more difficult (as if only a handful of old photographs as a reference wasn't bad enough), Ettore Bugatti announced at the 1935 Paris auto show that the body of the Aerolithe was made from Electron, a magnesium alloy.
We decided very early into the build that we needed to research the use of magnesium to determine if the Bugatti craftsmen of the time could, in fact, have used it to create a car body. Next, we had to determine if we could, within reason, do the same.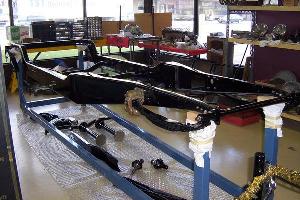 57104 chassis

Obtaining a sheet of magnesium was our first challenge. Many of our raw-materials suppliers had no idea where to get it or no interest in supplying such an exotic material.

Once found, we had to wait a month or more for the first sheet to arrive. It finally came, an 8-by-4-foot sheet of dull grey metal that looked just like a sheet of aluminum. With it came an invoice for more than $3,500.

That was a bit of a shocker, as a quick calculation determined that the raw material for the Aerolithe body would cost somewhere in the region of $30,000 to $35,000.

At this point, my feeling was that Bugatti had told the media in 1935 something that might not have been true. I felt it could have been a response to some media criticism of the way the car's body was joined in sections by riveting. The rivet flanges were found on the outside of the car's fenders and centre line instead of being hidden.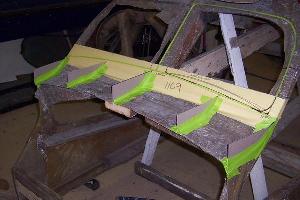 Fibreglass built body mold taken from an Atlantic and being used for research of body dimensions

Some critics panned the design. I had often thought this was a styling cue perhaps copied from Bugatti's Grand Prix cars - the Type 59s, whose body shells were riveted together despite being made from aluminum. Riveting Electron made sense. It is hard to handle and riveting could have been a plausible excuse for using flanges to join it. Our research lent credibility to Bugatti's proclamation about the car the world soon knew as the Electron Coupe. That firmed up our client's resolve to have it recreated in magnesium.

We decided the creation of an entire front fender outer shell would provide almost all of the challenges we might face with the material. The fenders have large flat sections, rivet flanges, complex compound curves and rolled edges.

First, we discovered that magnesium does indeed burn and that great care has to be taken with filings, dust and the ragged edges of the material. It is also difficult to extinguish.

Next, we found that it only wants to bend about 15 degrees before it snaps. It is also incredibly light. The whole sheet can be picked up between two fingers.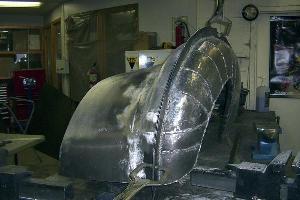 Front view - left side fender (both halves prior to riveting)

Imagine our surprise, then, when we also discovered it is almost impossible to dent with a forming hammer. And it has a memory that makes it want to reassume the shape you are trying to make it give up. Three weeks of careful handling later, we had it - an Aerolithe front fender that could be picked up between a thumb and a finger, and resists being dented with a hammer.

From: The Gazette (Montreal) 2007, CanWest News Service, Published: Wednesday, April 04, 2007

More info: http://www.guildclassiccars.com/
---
April 4, 2007
Bugatti circuit in Molsheim to be opened in June!
See for more info: http://www.ot-molsheim-mutzig.com/f_circuit_decouverte.html where also the leaflet in PDF format (French) can be downloaded.
---
Sept. 14, 2007 Conférence: Ettore Bugatti dans la presse alsacienne Molsheim, France

20h 1er étage de la Metzig
Par Nicolas Guhring (Who is doing a history thesis on this subject).
Entrée libre.
---
Sept. 14 - 16, 2007 Bugatti Festival Molsheim, France

Festival BUGATTI as always organized by EBA members (Enthousiastes Bugatti Alsace).

For more info, please contact Paul KESTLER : debugattigler@hotmail.fr

---
Sept. 14 - 16, 2007 Circuit des remparts 2007 Angoulême, France

With many Bugattis competing!. See the lists below.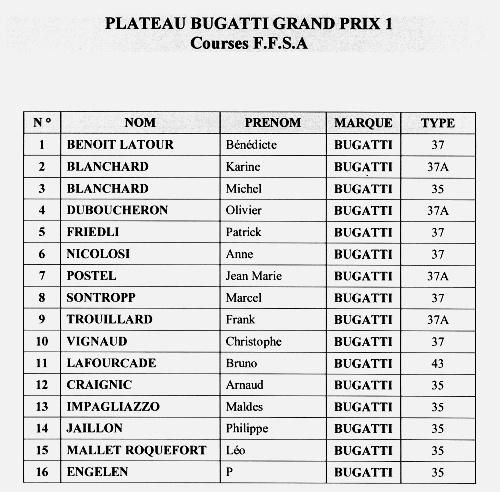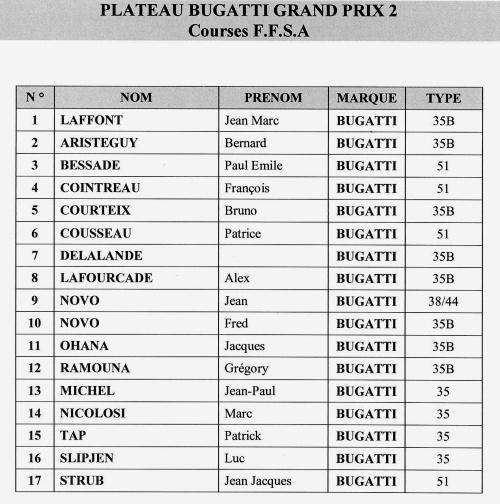 ---
Oct. 6, 2007 The Sportscar Auction Geneva Geneva, Switzerland

7 Bugattis on auction. The Auction will be held during the Geneva Classics Event at Palexpo on October 6th at: 15h00 Automobilia / 16h30 Cars & Bikes.In Association with RM Auctions, Inc.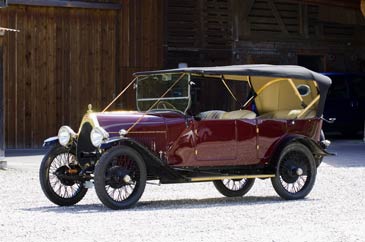 1921 Bugatti T23 Brescia Tourer 151'800 - 182'100, chassis 1339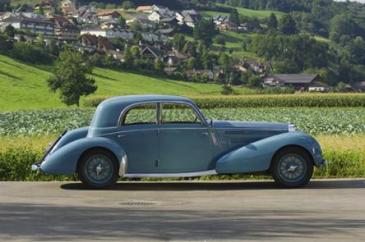 1939 Bugatti T57 by Graber 170'000 - 212'500, chassis 57670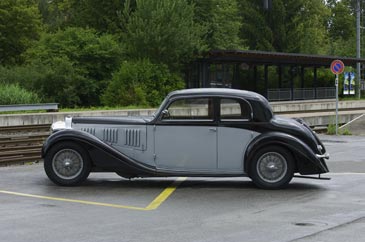 1936 Bugatti T57 Galibier 206'400 - 255'000, chassis 57490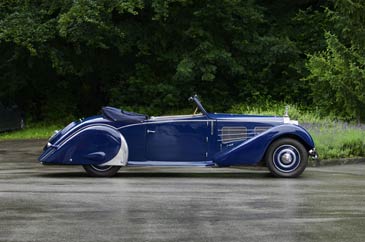 1935 Bugatti T57 Stelvio Cabriolet 388'600 - 479'700, chassis 57435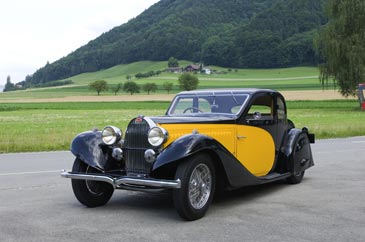 1935 Bugatti T57 Ventoux Coupé 364'300 - 455'400, chassis 57280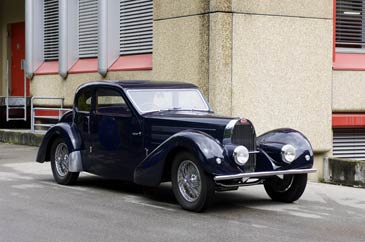 1937 Bugatti T57 Ventoux Coupé 255'000 - 309'700, chassis 57594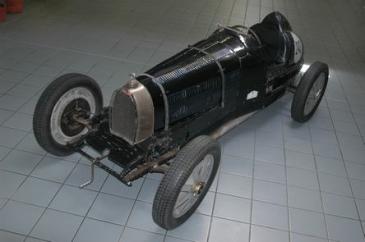 1928 Bugatti T35C Special 473'700 - 576'900, chassis 4894
Estimates in Euro
For more info: www.sportscarauction.ch
---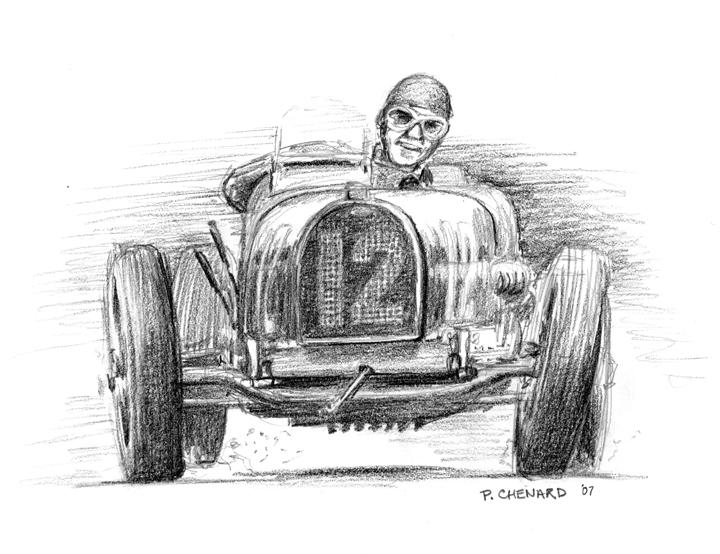 Nuvolari drifting a Type 51. Recent sketch by Paul Chenard, Automobiliart.com.
---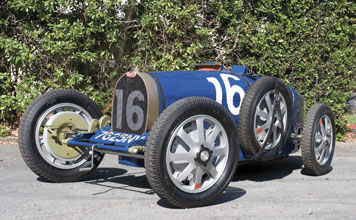 August 16 - 19 , 2007 Pebble Beach Concours d'Elegance USA

Incorporating two auctions where Bugattis are on offer:

RM Auction :
Monterey Sports & Classic Car Auction, August 17 - 18, 2007, at The Portola Plaza Hotel and Monterey Conference Center

1930 Bugatti Type 35B Grand Prix Race Car #4948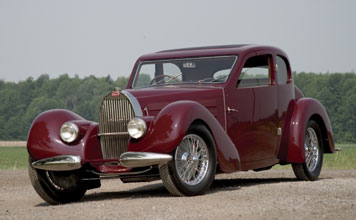 1937 Bugatti Type 57 Ventoux Coupe #57614
More and Lot list, here : www.rmauctions.com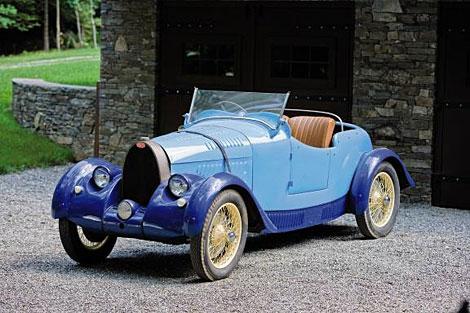 Christie's :
Three Bugattis from the Estate of Allan Stone will be auctioned at Christie's Exceptional Motor Cars sale in Monterey on August 16th.
- 1927 Bugatti Type 40 Two Seater Chassis #40490 Estimate: $150,000-200,000
Catalogue page : www.christies.com/LotFinder/search/searchresults.asp?SN=1864&LN=0091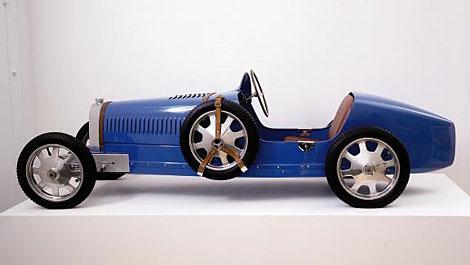 - 1928 Bugatti Type 52 "Baby" chassis #327 A Estimate: $25,000-50,000
Catalogue page : www.christies.com/LotFinder/search/searchresults.asp?SN=1864&LN=0090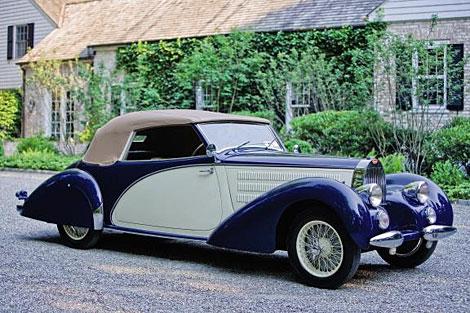 - 1938 Bugatti Type 57 Three Position Drophead Coupe Coachwork by Letourneur & Marchand #57649 Estimate: $600,000-800,000
Catalogue page : www.christies.com/LotFinder/search/searchresults.asp?SN=1864&LN=0092
Info: Christophe Chanterault
---
Until June 3, 2007 'Curves of Steel: Streamlined Automobile Design' Phoenix Art Museum , USA

A major exhibit at the Phoenix Art Museum featuring 22 rare historic automobiles that explores how streamlining and aerodynamics influenced American and European design from the 1930s to the 1990s.

Where: Phoenix Art Museum, Central Avenue and McDowell Road. Information : www.phxart.org or +1 (602) 307-2090.

There will be (of course) a 1936 Bugatti Type 57SC Atlantic coupe on display. For those who have not seen one for real, a possibility to go and be stunned!
---
March 1 - June 17, 2007 Bugatti T57C at Le Mans exhibition Audi Museum, Ingolstadt, Germany

The Audi museum in the southwestern German city of Ingolstadt is dedicating a special exhibition to one of the world's most gruelling motor racing events - the 24 hour Le Mans.

Among the exhibits is the Bentley in which the legendary Bentley Boys won the race in the 1920s, the Bugatti T 50 C (probably T57C?) from the late 1930s and the Jaguar C Type, which won the race in 1953.

The exhibition from March 1 to June 17, commemorating the 75th occasion of the race this year, also features the Ford GT 40 which was unbeatable in the 1960s and the Porsche 917 which dominated the 1970s. All of Audi's six winning cars will be on show together in an exhibition including the Audi R10, the first diesel-powered car to win Le Mans last year.

A particularly interesting exhibit comes from the private collection of Nick Mason, the drummer from the famous rock band Pink Floyd - a Lola T 920 in a paint scheme from "The Wall". Mason had planned taking part in the 1981 event to promote the pop group's album.
---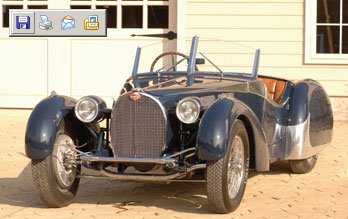 April 20 - 21, 2007 RM Auction Marshall, TX, USA
In this auction of the Ponder Collection 4 Bugattis and replica's are on auction:

T57SC "Corsica Type" Roadster. This car resembles the "Colonel Gilles" T57S roadster. It is however a later "replica", on probably a modified T57 chassis
T101 Antem coupe
T55 recreation
T35B recreation

No additional information is available yet, but the T55 and T35 could be of Argentinian origin. The T101 can only be the original, and one of my personal favourites! Now I only have to win the lottery a couple of times!

Location: The Ponder Estate, 4801 Victory Drive, Marshall, TX

For more info: www.rmauctions.com
---
April 30, 2007 Bonhams Auction RAF museum, London

On auction will be a 1923 Bugatti T23 Brescia. Two owners from new, a Brooklans race-winning car from the Yorkshire Car coollection.

For more info: www.bonhams.com/cars
---
May 17-20, 2007 Czech Bugatti Rallye 2007 Karlstejn, Czech republic

As you may see, we could have all four racing cars owned by Prince Lobkowicz and two cars which once belonged to Eliška Junková in our Rally.

Originally, we have been thinking of a visit at National Technical Museum. However, due to the fact that both Bugatti cars owned by the National Technical Museum shall be exhibited during the Rally and the museum building itself is under reconstruction now, we shall visit one of the best private museums in Europe, the so called Praga Museum. Praga was a famous Czech car mark, celebrating 100th anniversary this year. Even if it is called Praga, the museum is not located in Prague, but on one of our routes.

Bohuslav Klein/Roland Saunier , for more information: E-mail: r.saunier@seznam.cz

---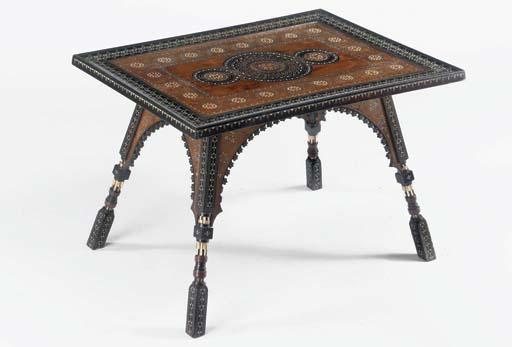 May 23, 2007 Christie's 20TH CENTURY DECORATIVE ARTS auction Amsterdam, the Netherlands
On auction will be a Carlo Bugatti table (An inlaid walnut table, Estimate 2,500 - 3,500) ,
and a replica Carlo Bugatti chair.
For more info: www.christies.com
---
June 22 - 24, 2007 Goodwood Festival of Speed UK
The jewel in the crown will be the presence of no fewer than four! 1920s Bugatti Royales.
For more info: www.goodwood.co.uk
---
June 23 - 24, 2007 Grand Prix de l'Age d'Or Dijon-Prenois, France

Since the motor-racing track of Montlhéry closed its doors with the public, the Grand Prix de l'Age d'Or is held on the circuit of Dijon-Prenois, in Burgundy. A change which was not without evil, but for this third Burgundian ground edition, the 23 and June 24, 2007, the GP de l'Age d'Or affirms its convivial character by opening the access to the park of the competitors. The public can thus come directly into contact with the impassioned owners of beautiful mechanics which will run during this weekend in front of 15.000 spectators. The plate is announced - as with the accustomed one - of a large variety. Grand Prix Cars (Maserati 250F, Lotus 16) are awaited, cars of endurance, GT (Ferrari 250 GT, Alfa TZ2, J aguar Type E, Shelby GT350…), but also of the racing cars of pre-war period.

A whole plate will be animated by the Club Bugatti France, which will align about thirty cars, of which Type 51 and 35. Citroen will leave finally the models of the private collection of the manufacturer for an exceptional parade. The tariffs are of 12 euros for Saturday 17 euros for Sunday or 25 euros for the whole weekend.

Information to the 01 64 21 15 66 and www.gpao.fr
---
March 19, 2007
Bugatti President Fired!
MOLSHEIM, France — Add Thomas Bscher to Volkswagen's growing executive-casualty list. The 54-year-old German, president of Bugatti since 2003, announced his resignation over the weekend after an apparent fallout with Volkswagen boss Martin Winterkorn. His departure is the latest in a long line of high-ranking Volkswagen Group executives who have been sent walking since the former Audi boss replaced Bernd Pischetsreider at the head of Europe's largest carmaker on January 1.
Details of Bscher's resignation have not yet been communicated. However, he was said to have been at odds with Winterkorn over the future direction of the famed French marque, under Volkswagen control since 1998. Having brought the spectacular EB16.4 Veyron to production fruition after a troubled gestation and securing at least two years of full production capacity — some 100 cars in total — Bscher had been angling for Volkswagen to make available a development budget for a second Bugatti model.
Bscher, a self-made millionaire, former racing driver and partner of Cologne-based Sal Oppenheim, Jr., responsible for corporate finance and financial markets, was brought into the Bugatti fold by Pischetsreider in 2003 following lengthening delays in the development of the EB16.4 Veyron. With extensive experience in the field of management and having played a pivotal role in the development of the McLaren F1 — in which he placed fourth at the Le Mans 24 hours in 1996 — he realized Volkswagen supervisory board Chairman Ferdinand Piëch's earlier promise of building the world's fastest road car. The EB16.4 Veyron eventually was launched in early 2006 with a claimed 0-60-mph time of just 2.8 seconds and a top speed of 253 mph.
Filling Bscher's role at Bugatti in the short term will be Bentley boss Franz-Josef Paefgen.
Whether this signals a more profound shift in the organization of the Volkswagen Group's upmarket brands is yet to be announced.
Ed.: If Bscher was fired or if he resigned, there are different versions. Apparently Bscher wanted a cheaper, higher volume model to be the next Bugatti. Fact is that those who visited the Bugatti stand in Geneva found it quite dead...:
I read your article about the Bugatti booth in Geneva
I was there yesterday.
This is a mess and a scandal.
I do not understand how the management of VW can display Bugatti this way.
It is one of the most brilliant car brands and the stand is dead and sad.
May I kindly ask you to send me a copy of the press CD you got. There were no others left.

---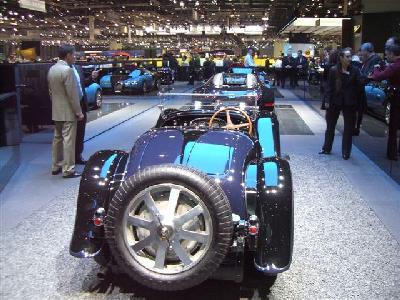 March 6, 2007
Bugattis in Geneva!!
NEWS FLASH
Geneva 6th March 2007 : Geneva- Switzerland
Over 60 Veyrons delivered Worldwide
By the end February 2007 Bugatti Automobiles has delivered 60 new Bugatti Veyron 16.4 to date. The planned production has been exceeded. The Veyron has been limited to 300 units maximum. The order entries for the Veyron now reached 140 units and Dr. Bscher doesn't want to his customers to wait. Of those 140 order, the customers had to shell out a 300,000 Euro deposit, which represents 30% of the price. Most of the order have come from the USA. To date, most of the delivered cars have been destined for the USA. In Europe the majority of the orders come from England and Germany. Orders also from Arab countries underlined positive sales trends.
I asked if any cars where ordered for Afghanistan, and a salesperson on the Bugatti stand said he believed one, but note that caution was being taken until a service organization was set up for those countries. He also said that Russian and China are seeing strong demand. Bugatti Automobiles said the carbon fiber is made in Italy, the suspension forged in Germany, the brakes made in the UK, the leather is Austrian, the windshield is from Finland. The company technical advisor said that with a joint development with Michelin, the tires for the Veyron was be ok for driving at 400 Kilometers (248 Miles per hour). I asked him where this could be done. I just got a smile.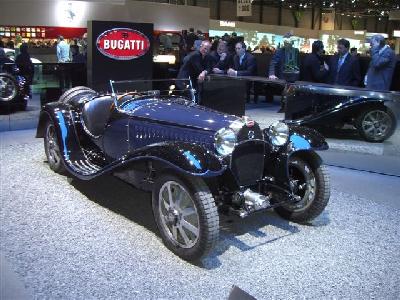 Bugatti called the T55 on display a part of the companies Thoroughbred heritage. They also referred to the Veyron as ''Pur Sang'' in the same breathe. The press agent told me '' The T55 gearbox in first and second slightly ''hang'' at high engine speed, otherwise it can be changed quickly. I ask them if they ever thought of an Ivan Dutton Clutch, to solve that 70 year old problem. He said he'd look into that . The T55 was Pebble Beach restored , finished in Blue and black.
All in all, the 2007 Geneva Bugatti Auto Show stand was very restricted , encased in glass, and seemed to be distant from the even the Press Population. I received a press kit with no photos, and only a CD disc. I wonder how Ettore's Motorshow stand of the 1920's and 1930's was and if the ambience was as electrifying as his cars in the late 1920's.
On another interesting note, Zagato introduced a new Diatto - which was a knock out.....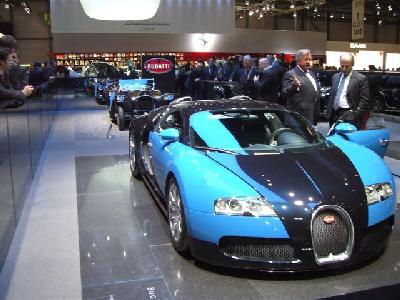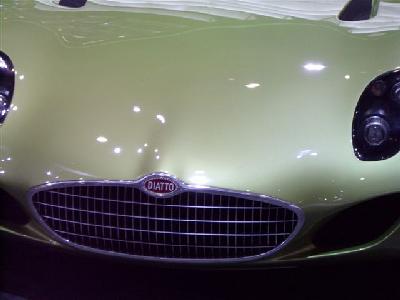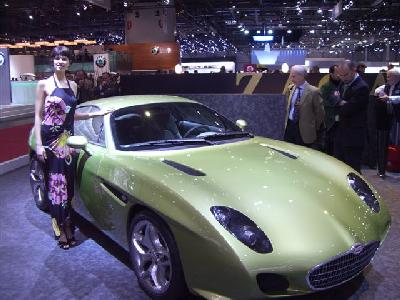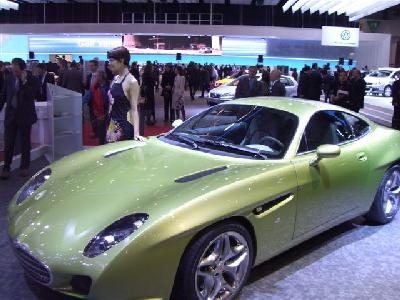 Article and photo's: Chris Gardner
---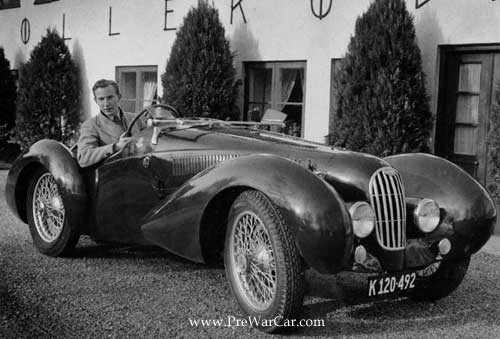 March 6, 2007
More about a T39A that became a twin-cam T38A!
From www.PreWarCar.com:
Below the facts as delivered by Danish owner Henrik Schou Nielsen:
1. An undisputed fact is that it is an 8 cyl GP chassis.
2. Also undisputed is the dating of 1926 as it follows the frame number on the car.
3. Also undisputed is that it has the front cross member for blown cars.
We received all kinds of theories in this quiz, but the explanation is the following by Sandy Leith. He knows the car and comes with careful chosen words: "The chassis frame is a GP Bugatti chassis frame which may be from a 1926 Type 39A, chassis no. 4803...this is not confirmed...and may never be able to be confirmed, but it is quite likely! The engine is a T38A (yes, really; chassis 39A; engine 38A.)" The very nice '38 coachwork so far is a total mystery and we would love to hear more about it.

Henrik sent this explanation:
"On Bugattis the chassis number is stamped in the sump casting of the engine. This is why a car very easily looses its identity if the engine is changed. This means that the T 39 engine was stamped chassis no. 4803 / engine no 75 but the chassis is not stamped with the chassis number BUT has a separate frame number. This 39 engine exists in a car in Belgium. The engine was updated to Twin Cam specs. (and still is) which is possible with 35 and 39 engines as it involves only changing the block and cam drive. The crank case and sump remains unchanged so still keeps the stamping 4803. Conway checked the car in Belgium many years ago and stated that the engine 4803 / 75 was in a chassis - but not belonging to the chassis. When the original T 39 engine of 4803 was taken out of the chassis no-one took much notice of numbers. So when my car had its engine changed for a Type 38A engine the identity of that 38 engine followed with it = 38468. This is stamped on the sump of my engine along with the engine no 350. "
---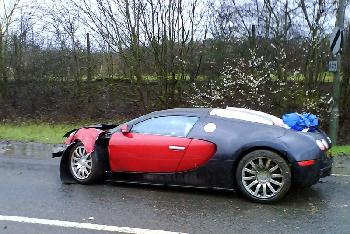 March 6, 2007
First smashed veyron?!
We've seen plenty of smashed Ferrari Enzos but this is the first time we've come across images of a wrecked Bugatti Veyron. Information is sketchy, but it's thought that a pool of water on the road caused the AWD supercar to lose traction and then spin out of control, sending it head first into a ditch near Shepperton in the UK. Most of the cabin section and engine compartment look relatively undamaged, however, it's hard to determine what internal damage to the drivetrain there is if any. Hopefully the driver got out unscathed.
According to the source, this is the first time a private customer has actually crashed a Veyron. Engineers reportedly destroyed two prototype examples during testing, which was part of the reason for the long delays during the vehicle's development.
I especially like the cartoon by Bill Caldwell
---
March 6, 2007
Plans for Bugatti: More models!
Interview with Thomas Bscher:
Bugatti plans to offer more models in the future, with as a goal an entire product-family. For the next model, significantly higher numbers are foreseen compared with the limited 300 of the Veyron. According to Bscher, VW will decide about the next model already in the fall of this year. Bscher:" We are working on the next model, it can be smaller, but it is also possible that it will be again a big car."
The next car may use the engine and drivetrain of the Veyron, considerably reducing the development costs. However, if the model will be smaller, it will consist of VW-modules. Especially the next Bugatti will not be a small-series car. Bscher: "We should have a car that can be, like Bentley, be developed into an entire family of cars, with two- and four-doors, as well as a convertible on one basis platform."
Designs for the next Bugatti are, according to Bscher, already there. One by the VW-mother, another one by Bugatti. This second car aims at a different segment, with much higher production numbers (as much as 10,000 per year!).
the start of production should be towards the end of 2010, or the beginning of 2011.
Of the Veyron already 140 were sold, of which 20 in Germany. 5o cars were delivered.
---
February 13, 2007
Bugatti Argentina book to be presented at Retromobile!
The Bugatti Argentina book is ready, and will be introduced to the public and press by ourselves at Retromobile (from February 16 in Paris).
Estanislao M. Iacona
More information on this new publication soon!
---
January 13, 2007
Bugatti delivered 47 cars in 2006, future unknown though!
The Bugatti brand delivered 47 vehicles to customers worldwide last year. This is more than Bugatti sold in 1939!
Porsche AG CEO Wendelin Wiedeking (Porsche is one of the Shareholders of Volkswagen, who owns Bugatti), when asked about the involvement of VW with Bugatti and Lamborghini: "No more toys". Of course Porsche also does not want any competition from VW, which may be a reason for him to say this. However, this indicates that part of the VW-board is against Bugatti, and probably against any further investments in Bugatti. Bugatti will have to develop new cars, with little investment. Rumours are about a open version of the Veyron (which would indeed mean very little investment), which would be almost ready. These open Veyron's would have a speed limiter for 350km/h though, which would prevent them from being the fastest open car.
As Porsche is involved in the lower end of the sportscar market, a low-cost Bugatti would probably be vetoed by Wiedeking. The only possibility that remains would be a high speed limousine, using a version of the Veyron engine and possibly some Bentley parts, to bring down development cost.
---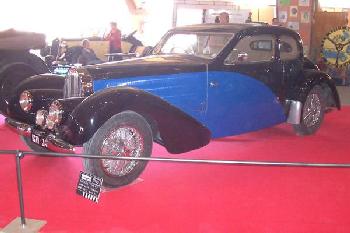 January 3, 2007 - December 28, 2006
T57 Ventoux on auction site in Poland is Scam!
This auction is a Scam: The same car was on the site of Axel Schutte in 2003, was for sale at Essen in 2004 and was finally sold to France. It was converted to the later type, and changed from all-black to black and blue (the bigger of the two pictures, click for an enlargement). It is chassis nr. 57556.
The auction on the website: http://www.allegro.pl/item151599917_bugatti_t57_cos_dla_indywidualistow_.html#photo has now closed (can't understand why).
All entries after December 27 have been removed, so I hope that nobody was deceived by this news-item, which I repeated in (too) good faith.
---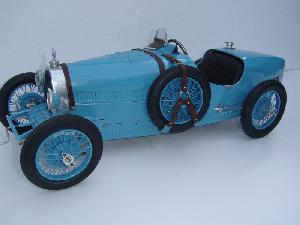 December 21, 2006
Heartache as Brian's hard work is stolen !
BRIAN SWANN painstakingly built two model sports cars as Christmas presents for his sons - but now they have been stolen by burglars. The brass replicas of the 1920s Bugattis had each taken him about about 200 hours to complete.
They were stolen along with two treasured 1920s children's pedal cars, also Bugatti sports models, which he says are "unique". Thieves who smashed their way into the garage at the bottom of his Coundon garden left behind his precious life-size 1920s Bugatti sports car which he regularly drives around the city.
The retired city car worker, who admits to being a "bit of a Bugatti nut," said:
"The thieves also took a rare Singers Owners' Club badge and other car badges, a box of brass scrap metal and Christmas presents for the family which we had stored in the garage.
"None of the stolen items was insured.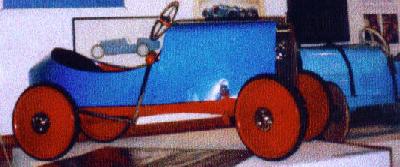 "It has ruined our Christmas.
"We were planning to go to my son's in London, but now my wife won't go away and leave the house."
Mr Swann is offering a reward to anyone who can provide information leading to the return of the property
"I can't give a figure at this stage, but it will be a substantial amount, depending on the outcome," he said.
"The models are priceless to me because so much of my time has gone into making them."
by Jane Stirland, Source: iccoventry.icnetwork.co.uk
At the top of the article one of two Brass model cars made by Brian Swann. The pedal cars were by the firm Eureka, well known for it's "Bugatti"-pedal cars.
---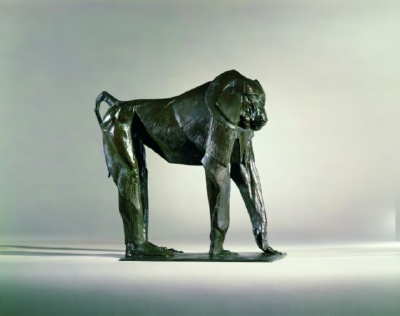 December 21, 2006
Rembrandt Bugatti Auction record!
Two recent auctions of 46 pieces of African wildlife art belonging to Genesee Country Village & Museum in Mumford netted $4.5 million, $2 million more than anticipated.
Money raised through the auctions, on Nov. 30 and Dec. 15 at Sotheby's in Manhattan, will be used to acquire new art and to preserve some of the village's 68 historic buildings, said Betsy Harrison, the museum's outgoing CEO and president.
"We were very thrilled," said Patricia Tice, curator of the museum's John L. Wehle Art Gallery. "It will give our collection fund quite a boost."
The Dec. 15 auction set a record for a work by Italian-born sculptor Rembrandt Bugatti: $2 million for his 1910 bronze figure of a baboon, Tice said. Another piece in the earlier auction, Bob Kuhn's painting of "Jaguar with Cattle Egret," may have set a record of $380,000 for that artist's work, Tice added. Sotheby's was researching past sales of the painter's previous pieces yesterday.
Source: www.democratandchronicle.com
The image is of the 1910 Rembrandt Bugatti sculpture "Hamadrya Baboon". I'm not sure if this is the sculpture that was auctioned.
---
December 21, 2006
Bugatti Studying Veyron Replacement
End of Veyron production coming soon.
After a slow launch, the ultra-luxury carmaker, Bugatti, is quickly ramping up production. Of course, that still means rolling out just 70 of its $1.4 million V-16-powered Veyrons next year, compared with 50 in 2006, said Thomas Bscher, president of the Volkswagen AG subsidiary. At that rate, the company will quickly wrap up production of the Veyron, having stated a goal of building no more than 300 copies overall. The question is what will come next, said the executive, adding that he hopes to have a decision made by mid-2007.
"There will be another car," despite rumors and reports that Bugatti might be a one-trick pony, insisted Bscher. In the near-term, Bugatti is likely to produce a small number of high-priced supercars, variants based on the Veyron, but longer-term, the Volkswagen subsidiary may turn in a very different direction. One possibility, said Bscher, would be to go into a much lower-priced market segment. That could increase potential sales significantly, but Bugatti can't go too low, or it might wind up competing with the roughly $150,000 GT, built by VW sibling division, Bentley. On the other hand, potential sales become extremely limited - and in the process, so does profitability - if Bugatti's next venture runs more than $300,000.
As it is, the Veyron has proven to be a mixed success, even in Bscher's assessment. At the current price tag, "We're just making a small, small profit," he told TheCarConnection.com, during an interview at the Los Angeles Motor Show. And that's just counting the cost of actually building the Veyron. If one added in development costs, acknowledged Bscher, "It would be a big loss." While there is a benefit to the halo Bugatti provides the overall VW group, that just won't be tolerable going forward, the Bugatti CEO stressed. So the company continues struggling to come up with a plan that will pass muster with the parent company.
by Paul A. Eisenstein (2006-11-30)
---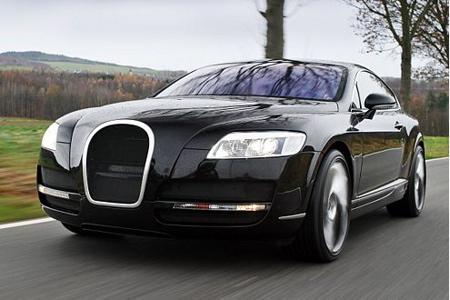 December 21, 2006
Don't want to wait for the Veyron Replacement?
Presentation of the LEW-Design Big Bang - The Bentley-Bugatti
It was one of the big stars at the Essen Motor Show 2006. The LEW-Design Big Bang reminds of the Bugatti Veyron, is however "merely" a Bentley Continental GT with a Bodykit.
Lars Zühlke's Big Bang, is the first project of this magnitude of the Chemnitz' Firm LEW-Design. The Bentley Continental GT was not just made to look like a Bugatti Veyron. Many parts were changed, mostly using lighter materials like carbon fibre.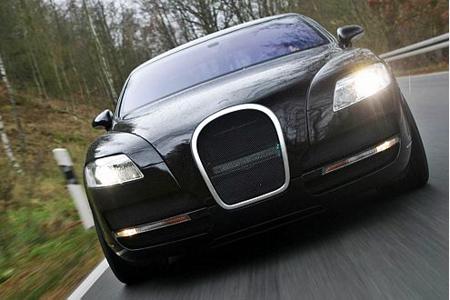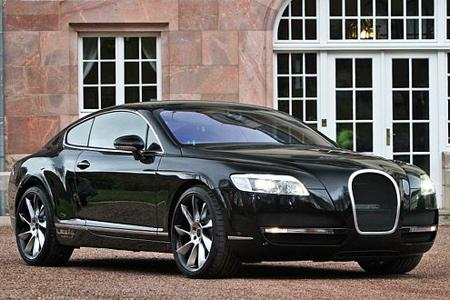 LEW design would like to work together with Bentley, and if there are sufficient positive reactions, they would like to build a small series of 20 to 50 cars.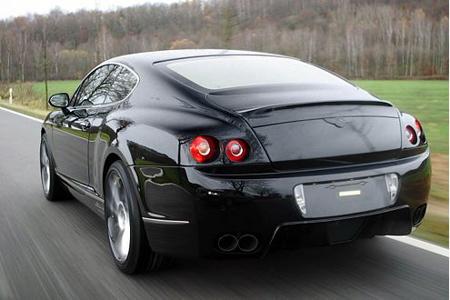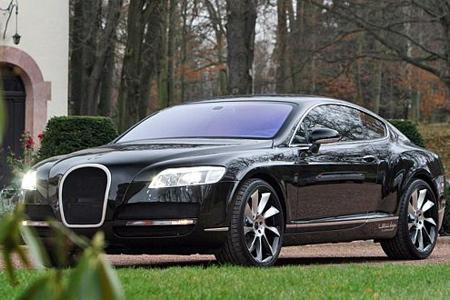 The complete article can be read on: Autobild.de
Comment from the editor: I'll know a place for you where they sell Bugatti badges that you can stick on!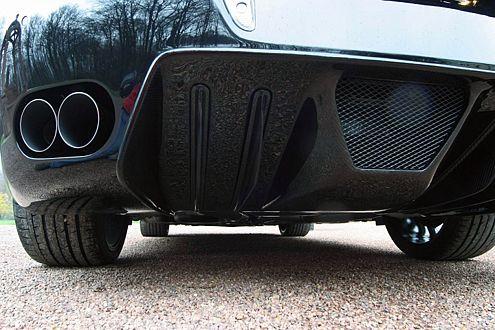 ---
March 9 - 11, 2007 Amelia Island concours Amelia Island, Florida, USA

For more info: www.ameliaconcours.org
---
January 12-14, 2007 InterClassics & TopMobiel Maastricht, the Netherlands

There is usually a high quality of Bugatti content here, as Jean Prick and friends make a special Bugatti exhibition. Apart from this, there will be at least a T57 Atalante on show!

For more info: www.interclassics-topmobiel.com
---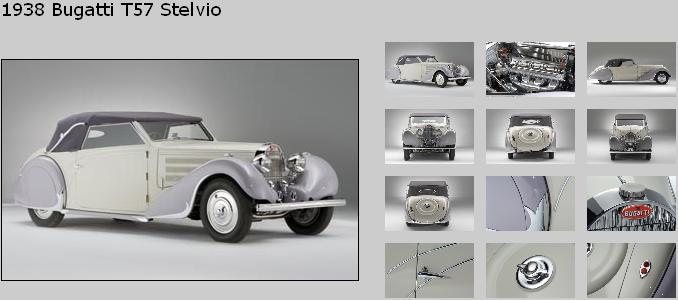 January 19, 2007 Bugattis on RM Auction "Vintage Moto Cars in Arizona USA

On auction a Bugatti 1938 T57 Stelvio, 57450, estimate: 450 - 550 k$.

On auction a Bugatti 1927 T37A, 37290, estimate: 400 - 600 k$.

For more info: www.rmauctions.com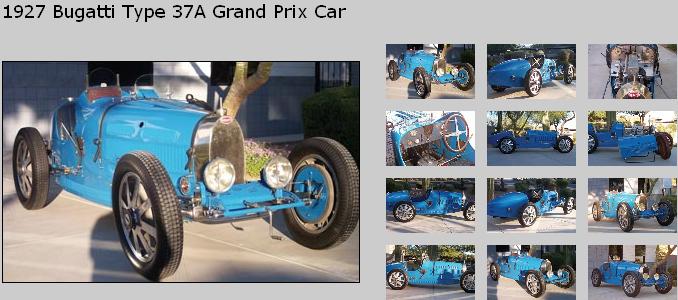 ---
February 2 - 4, 2007 The Bremen Classic Motorshow Germany

Three full show days, a separate hall for historic motor sports, special focus on the topic "Bugatti" in the historic automobile section, and a special show devoted to Belgian motorcycles in the two wheeler section. These are the new highlights awaiting visitors to the fifth Bremen Classic Motorshow to be held at the Bremen Exhibition Centre.
Bugattis which will for sure be on display are:
Bugatti type 41 Royale (Coupe Napoleon)
Bugatti type 32 "tank"
Bugatti type 13 "Brescia"
Bugatti type 55
Bugatti type 64
Peugeot "Bebe"
For more info: www.classicmotorshow.de/
---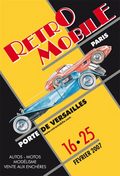 February 16 - 25, 2007 Retromobile Paris

For more info: www.retromobile.fr

The following Bugatti will be offered on the February 17 Christie's auction:

1930 Bugatti Type 43 Grand Sport
ex-M. Bouvet, from the Richard Paine Collection, replica coachwork by Wilkinson's of Derby, Chassis No.: 43308
Estimate: €550,000-700,000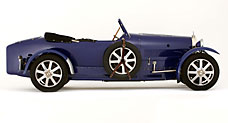 ---
---
Bugatti news, 2006
Bugatti news, 2005
Bugatti news, 2004
Bugatti news, 2003
Bugatti news, 2002
Bugatti news, 2001
Bugatti news, 2000
Bugatti news, 1999
Bugatti news, 1998
Bugatti news, 1997
Bugatti news, 1996
---
Back to the Bugatti Page