Bugatti news, 2005 Plus events
Bugatti news, 2004
Bugatti news, 2003
Bugatti news, 2002
Bugatti news, 2001
Bugatti news, 2000
Bugatti news, 1999
Bugatti news, 1998
Bugatti news, 1997
Bugatti news, 1996
---
Also included are old events announcements
November 15, 2005
Bugatti Veyron to be featured on TopGear
The Bugatti Veyron will be featured within 5 - 6 weeks, in the typical British manner of this leading Automotive TV program. Hopefully it will be tested also by the famous anonymous test driver, "the Stig", where it will finally show if it is the fastest of all on the track!
Derrick Makey spotted the car on M2 heading towards London around 8.45 Tuesday 27th October. Believed to be same car as Alain Prost drove at launch. The car was driven by BBC 'Top Gear' presenter Jeremy Clarkson while filming. Gave chase to 100mph when aborted as blue light police cars came up behind. In a split second Clarkson put his foot down and was gone. Police continued on to M25 they must have been despatched to an incident and not our speeding frolics on the highway. Rejoined Carkson and his film chase car untill they turned off.
Have taken photos but quality too poor due to low light levels. Clarkson was in full flow and clear to see with lights rigged up in car for his onboard camera. All i am let with is a set of pictures of tail lights.
This car makes anything that I have seen seem so mundane. I look forward to seeing the film when 'Top Gear' is shown on the BBC.
---
November 15, 2005

Bugatti T57C coupé on Ebay

The world´s most famous auction site, Ebay is known to feature auctions of almost everything. I heard that once some English woman even auctioned herself there! Bugatti parts can be seen regularly, though complete cars are still relatively scarce. Recently we saw a Bugatti Veyron auctioned, and a few years ago also a T59 (replica). I never heard of a Bugatti Car ever being sold this way, though I´m not sure.

Now you can try your luck again, on a car offered by Hyman, which has been on my site also for quite a while. Bids start at $500,000 ! (Item number 4589804569)

If you search for Bugatti, and then order by price, highest first, you see also some other nice offerings, like an original Carlo Bugatti stool or T54 clutch housing.
---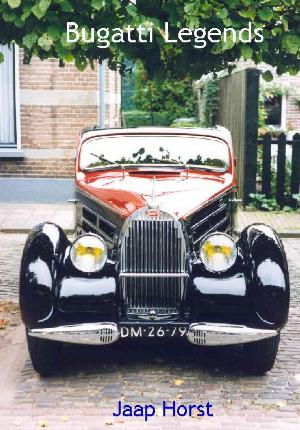 November 6, 2005
Bugatti Legends book finally finished
Only printing is now needed, delivery of the Bugatti Legends book, on which I have been working this year, will begin December 2005.
Some of you had already heard that I was working on this, for others it will come as a complete surprise that I´ve been working on a book. It all began when I told some of the stranger stories from the mails I´ve been receiving from the beginning of the BugattiPage site, to a friend of mine, and he responded, why don´t you write them all down! And so I did.
Collected in this book are not only a multitude of mails, all extremely interesting to the Bugattiste, but also various other Bugatti related stories.
Though some of the stories may raise some eyebrows, and, I must admit, it may very well be that some are not true, most of the stories told in the book are real aspects of Bugatti history, like the stories on the Bugatti T125 and the Bugatti OTI, the T37 with compressor in front of the engine and many others.
Added to the stories were many period pictures, mostly previously unpublished.
Available from December 2005, for 25 Euro or $40.
Click here for ordering information!
---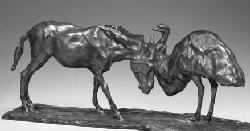 December 1, 2005 Rembrandt Bugatti Bronze on Auction Paris, France

On auction is the Rembrandt Bugatti 'Hémione et émeu', 1904.

ARTS DECORATIFS DU XXEME SIECLE Auction.
---
December 7, 2005 Carlo Bugatti chairs on Auction New York, USA

Offered for auction are a pair of side tables, at this Christies "Important 20th Century Decorative Art & Design" auction in the Rockefeller Plaza.
---
December 16 (corrected date), 2005 Bugatti T49 on Auction Geneva, Switzerland

Bugatti 49 chassis 49450 will be sold during the next auction of osenat-fontainbleau auction house.
This car is a beautiful sedan by Ruckstuhl of Switzerland, same owner since 1944, estimate € 65.000 / 105.000
The auction will take place at the Geneva Jean Tua museum (28-30 rue des bains) on december 16th.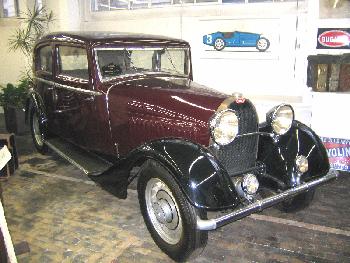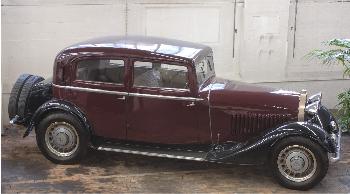 ---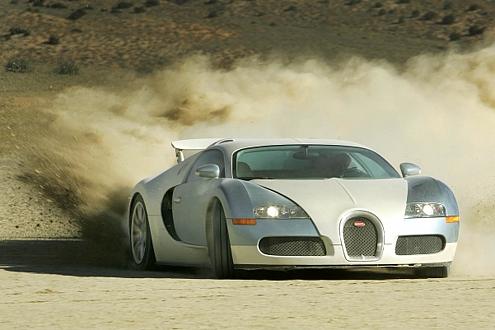 October 18, 2005

Bugatti 16.4 Veyron Update: 415 km/h

As the Bugatti Veyron now is being produced, and being made available to journalists, articles are abundant: Even this morning on the front page of my newspaper (Speed monster of 1.8M Euro), with a large article inside. To those who wonder about the price: Yes, the price remains 1.3M, but we in the Netherlands are lucky enough to be paying 0.7M taxes on top of that!

The Veyron now being tested regularly, the top speed is mentioned as being over 400km/h, the highest official record on regular track being 407.5 km/h. The highest official record was written in the books on the Utah Salt flats, at 415km/h. An absolute record for "production" cars.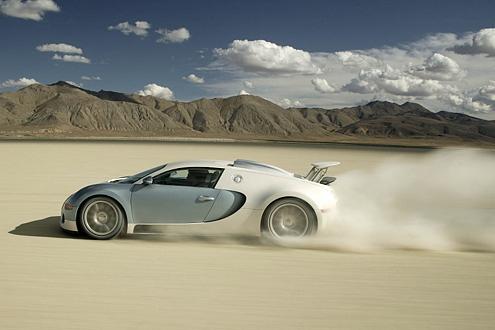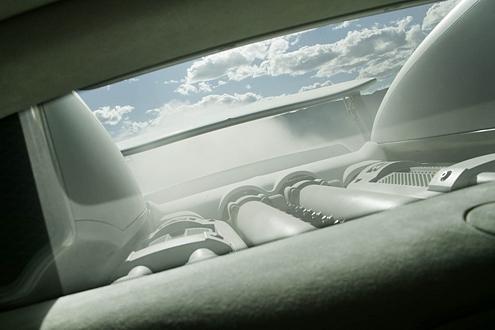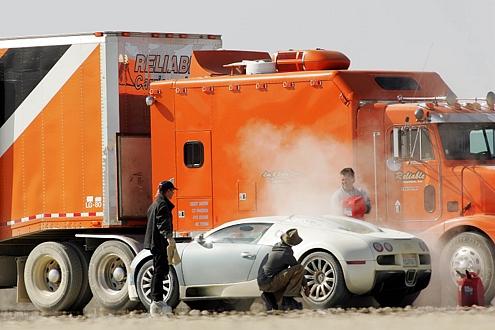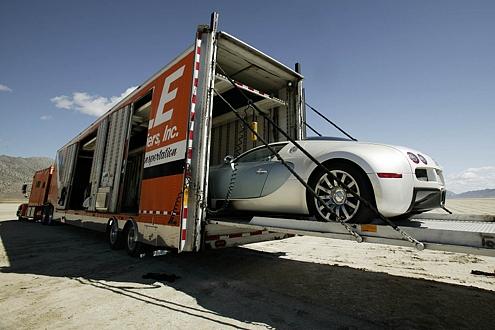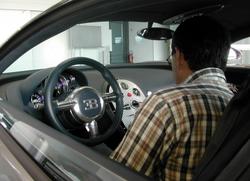 Emmanuel Bugatti, Grandson of Ettore Bugatti, recently visited the Molsheim Bugatti works, to see the Atelier. There the new Veyron was presented to him. He could see for himself that this is indeed an exceptional motorcar, capable of beating records, and continuing in a way the Bugatti Myth.
At Molsheim-Dorlisheim, where 34 people are employed, Emmanuel Bugatti took his place behind the wheel of the Veyron. Also he took a special interest in the quality system that is used building the Veyron. All parts are individually checked, in order to garantee the highest possible quality to the buyer. Each Veyron is Bench-tested before embarking on a road test to ensure that everything is of the highest level when the car is delivered.
The Bugatti Future is still unclear: until recently Thomas Bscher, the Bugatti chief , mentioned a smaller, lighter sportscar of about 100,000 Euro. In a recent interview another idea was launched: to use the Veyron´s engine in a saloon car. This obviously wouldn´t be a cheap one.. Assuming that maybe the power would be reduced somewhat to maybe 700 HP or more, a price of at least 700,000 Euro seems to be reasonable. This way history would repeat itself, Romano Artioli did the same, installing a modified version of the EB110 engine in the EB112.
So how does this Bugatti Veyron go? Read this article, (With also additional photographs) to see what you can expect for your money. Of course, it´s far cheaper than your private jet, and almost as fast!
Thanks to Guy Schitter and Christophe Chanterault!
---
October 18, 2005

Auction results: (Bonhams Goodwood Sale of September 16)

Bugatti T35B # 4914: not sold (Max. bid GBP 1.8M)
Bugatti T59/50B: GBP 815,500
Source: Classic & Sportscar, November 2005
---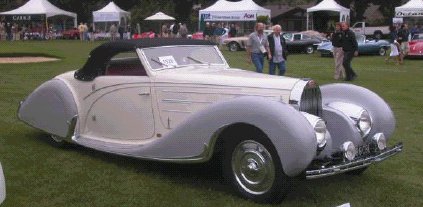 September 6, 2005

Paleis het Loo Concours d´Elegance results

Best of Show was the Bugatti Type 57 C Cabriolet Gangloff, 1939 of Frans Van Haren. Photo from the Villa d´Este concours, which he won beginning of this year.

There was a special class for the Bugatti T57(s), with 7 Bugattis in this class.

Second prize here went to Jan Smits his T57 Ventoux, while best of the Bugattis was the Bugatti T57 Atalante, entered by Kathy Tucker.

There also were sprints organised, in the Saturday sprint Bart Rosman had an accident, nearly overturning his Bugatti T35C. Several parts were bent, and his steering wheel broken.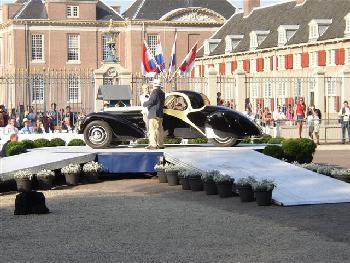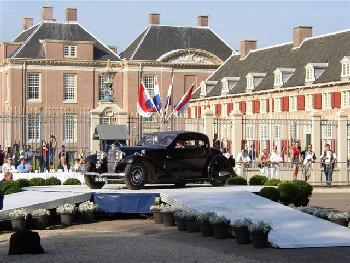 Number one and two in the Bugatti T57 class.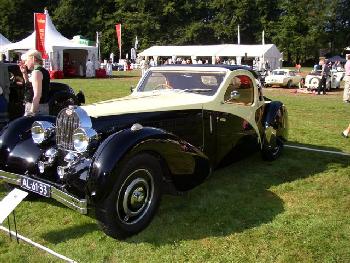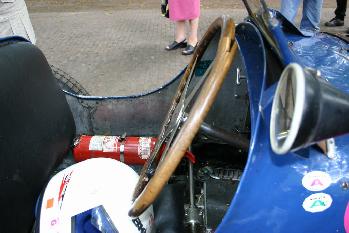 Another picture of the Atalante, and the broken steering wheel of the T35C.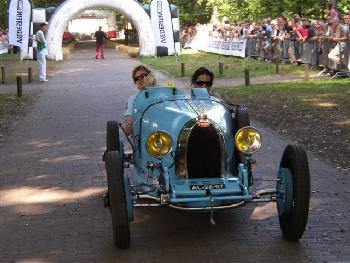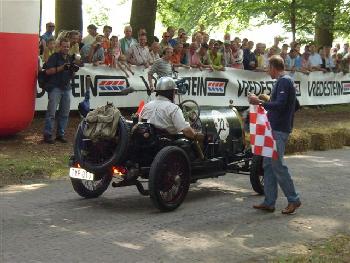 Some sprint Action: Elizabeth Blokhuis in a T37, and Kjeld Jessen in his T13 Brescia. He gave a very impressive show on the Sunday.
(Photographs Gerrit Bus and Ton Stoffelen)
---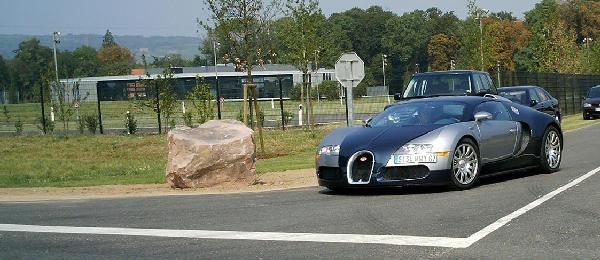 September 6, 2005

Official presentation of the Bugatti Veyron

On September 3, in Molsheim, France, the official presentation of the Bugatti Veyron was held, with only VIP´s invited (people from VW, some politicians etc.)

Next week at the Bugatti Festival, a Bugatti Veyron will also take part in the tour, and be present at the usual presentation on sunday morning.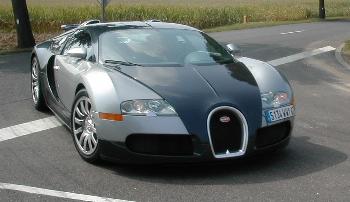 Below: Alain Prost trying the Bugatti Veyron (left) and Thomas Bscher arriving.
Movie of some of the Veyron´s arriving by Laurence Schitter.
---
August 29, 2005

Pebble Beach Concours results

While the best of show was not a Bugatti this year (1937 Delage D8-120 S Pourtout Aréo Coupé), there were however two class wins this year:

Winner of Class J-2 (European Classic 1925-1939 Open) was the 1939 Bugatti Type 57C chassis 57768 Gangloff Aravis owned by Peter W. Mullin from Los Angeles. (Photographs obviously from before the show, by Dick Riddell)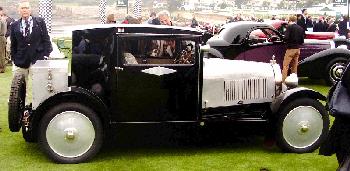 The French Cup was won by the
1927 Bugatti Type 40 Bourack & de Costier Coupé, owned by Daniel P. Brooks from London, United Kingdom
(Photo Kees Jansen)
---
August 29, 2005

Bugatti Veyron Spotted in USA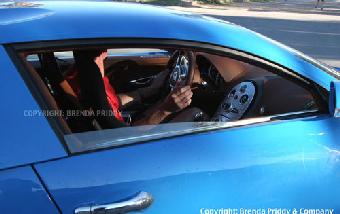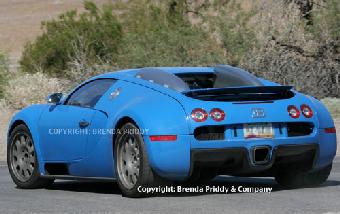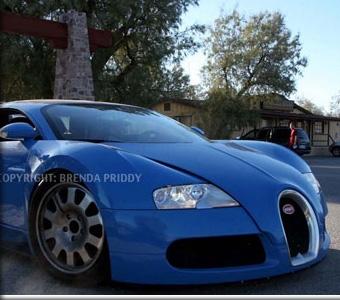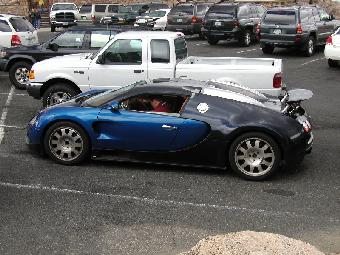 Above: Veyron´s testing in Colorado. The allblue one almost camouflaged as a "current" EB110.
The Bugatti Veyron was recently spotted in different versions in the USA, for everybody to see there were a few cars at Pebble Beach, but 2 different cars were also spotted by Gerald Styles and Sat Thara Khalsa, both in Colorado, one of them on Mount Evans CO. It is 14,000 ft in altitude, the highest paved road in the US. Apparently the engineers are doing some road tests or altitude testing.
In a few days, on September 3, the official launch of the final versoin of the car will be in Molsheim. Bugatti will then begin making money... And the 300 million inverted in the Veyron, and all other prototypes you would say? This loss has already been written off by Volkswagen.....
Below the version shown at Pebble Beach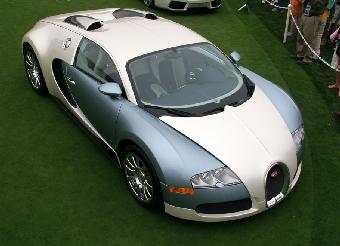 ---
June 7 - October 16, 2005 Bugatti: The Thoroughbred of Automobiles Saratoga Automobile Museum , USA

An unprecedented and amazing collection of the finest and most beautiful cars ever built is making an exclusive appearance at the Saratoga Automobile Museum this summer.

As the most comprehensive Museum exhibit of vintage Bugatti automobiles in decades, this collection includes as the piece de resistance, the Pebble Beach Concours, Best of Show-winning Type 57SC Atlantic owned by renowned Bugatti collector, Dr. Peter Williamson.
---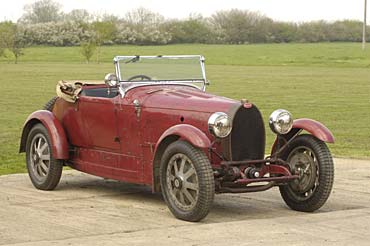 August 18, 2005 Exceptional Motor Cars Auction Monterey Jet Center, Monterey, California

For auction
1928 Bugatti Type 43A, ex-Bill Serri, Jr. Chassis no. 43292, Estimate: $700,000-900,000

1929 Bugatti Type 44 Fiacre, Chassis No. 441141, Estimate $180,000 - 240,000

Bugatti T52 Replica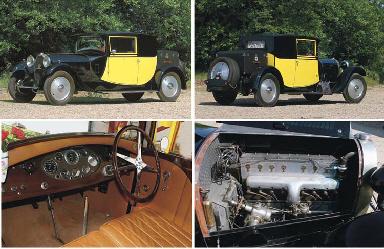 Also on auction a collection of original Bugatti drawings:
The collection includes 26 lots, each lot containing 2-3 scale 1:10 drawings (49 drawings in total) of some of the most expensive and spectacular Bugattis ever made. Prices for each lot vary between $350-550 and $3000-4200, the complete collection of all lots is estimated at $57.000 - 82.500. The drawings were all made by Lucian Schlatter a highly talented designer for Gangloff, which worked exclusively for (Jean) Bugatti.
---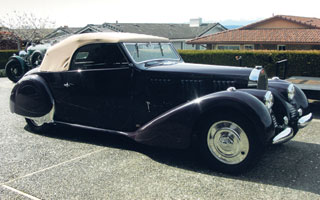 August 19-20, 2005 RM Auctions Monterey, USA
On auction 1936 Bugatti T57 Stelvio, chassisnr. 57440
---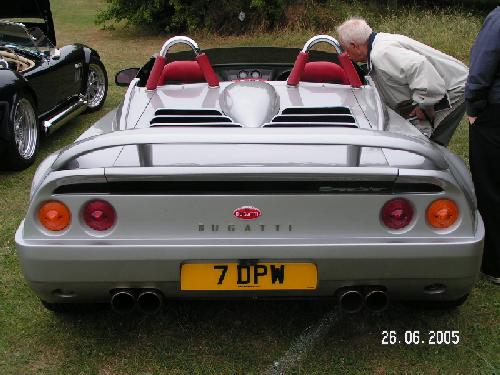 July 16, 2005

Thomas Bscher´s secret Project??

And then, suddenly, it´s there!!!
What seems to be the next project of the VW owned new Bugatti firm and successor to the EB16.4 Veyron that will start being delivered in a few months time, is actually an unknown car, spotted at a carshow in England. The car is named Bugatti Speedster, with badges on all sides, and the Bugatti name in big letters on the rear.

The first guess is that it must be a home-build project of some kind, maybe even VW (beetle that is, 4 pots, not 16) powered. However, when inspecting the pictures, the build quality seems to be quite high, and the design really professional. Than the Pininfarina signs on the side are there also... maybe it is some unknown project from the EB110 Era after all?? Maybe a private project on EB110 basis?

All information is very welcome!! : Motorisation, builder, designed by Pininfarina as it says??

Photo´s from Tim in London, click an image for an enlargement!

Identification:

This is a rare concept car offered to a number of major players in the sports car world for possible volume production. Three were made in the mid 90 nineties, 2 speedsters and one fixed head, before the project was shelved. Unfortunately the other speedster no longer exists. I understand this was the only one badged in Bugatti trim as offered to Bugatti for possible production.

Manufactured by EB-M in South Africa and believed to have connections to the pininfarina studios in Turin, Italy. Styling similar to Bugatti, Lamborghini and Ferrari.

E.B.M. marketed a similar car afterwards as the Tazio Spyder. EBM ceased trading around 2000.

Mechanically the vehicle has an advanced suspension set- up from Audi of Germany. Power being provided from the USA in the form of the proven Chevy 350c.i High OutputV8 mid-mounted. Trans axle is from Audi.

The vehicle needs to be viewed to fully appreciate its fine engineering excellence.

Just a couple of details:
It was first registered in the UK in 2000
Has only covered 3100 miles
Just in case it gets spotted again, the car is now registered as "R6BBV" not "7 DPW".

It is privately owned by me and is currently for sale!

Enquiries can be made to: E-mail; rob.rumble1@virgin.net : Phone 0044 7831 771350
---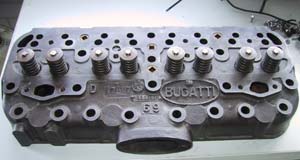 July 4, 2005

Bugatti cast iron Cilinder head discovered in the Netherlands.

Theo Castricum, recently found this cast iron Bugatti head !?! There was some discussion on Joris Bergsma´s PreWarCar site, final answer about what this is came from: Hans-Peter Stolz :"the cylinder-head is from a Bugatti Diesel (1962 ??) Hispano-Suiza DOOD-60 >>> Autom. BUGATTI / Service Pieces Detachees Diesel 115, rue de la Republique PUTEAUX (Seine) Tel. LONchamp 03.99

He sent a photo from the parts book to prove this, Apparently the cilinder head was a spare for an amphibious vehicle or likewise.

Source: PreWarCar
---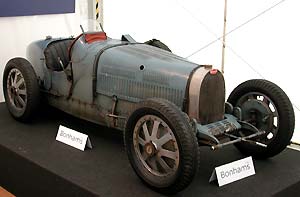 July 4, 2005

Next Bonhams Sale even more spectacular?

The Brits have these sayings which cannot be translated into any language. The Understatement is such a fine instrument. No big words will catch the emotions that come to you when you see, feel touch the 1928 T 35B that was unveiled by Bonhams last Friday at Goodwood FoS: the # 4914 William Grover-Williams car that won the monaco GP in racing green. Every single stain, scratch and screw whispers history. From whatever angle you look at it, it is honest in the way like Coca Cola once claimed 'The Real Thing'. We understand that the current greyish blue skin is the bleached and oiled factory paintwork that was applied by Molsheim right after the victory. We were as bold to lift the leather straps of the bonnet to see where the decades had taken a lesser toll of the paintwork and found the hazy heavenly blue that is described in places as the truly original Bleu Grand Prix.

But it is not the only Bugatti there, since there will be also Bugatti Type 59/50 B 1935 of Robert Benoist at the Grand Prix of A.C.F 1935 in Montlhéry, pretty sale in prospect!!

Looking ahead to the Revival Sale one can only imagine the prices achieved by these two Bugatti Grand prix cars - Bonhams give no estimate. Neither example would appear to be in regular running order but the 'Williams' Type 35, described by Bonhams as "absolutely one of the motor racing world's most important historical 'documents'. Indeed for many students of the sport it is the most significant unspoiled Grand Prix-winning car in existence", sums up everything that is glamorous and romantic about the sport we love. Monaco, Bugatti, and the mysterious Englishman William Grover-Williams (known simply as 'Williams') who became a secret agent in France during the Second World War, and was subsequently captured by the Gestapo, and executed. It was painted green for the 1929 race in honour of its British driver - the traces of which can still be seen on the car.

Source: PreWarCar and Christophe Chanterault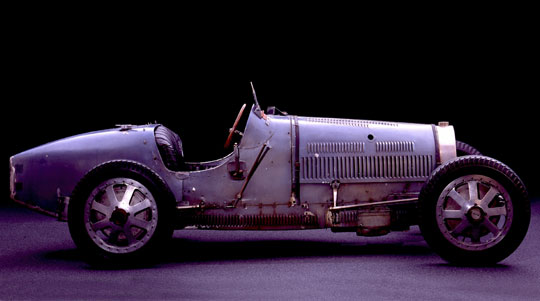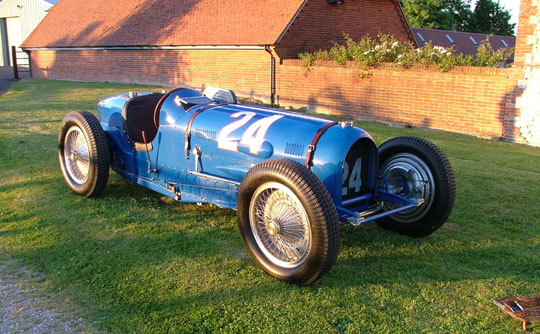 ---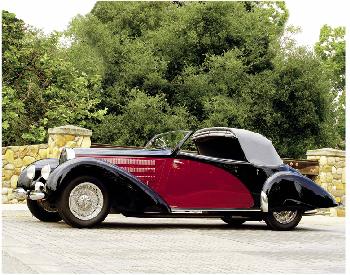 Auction: Gooding & Company at Monterey 21st August 2005

1938 Bugatti Type 57 57587 Cabriolet by Letourner & Marchand 750,000-950,000

1994 Bugatti EB 110 225,000-275,000
---

July 4, 2005

Bugatti president pays GBP 1,2 million for T59

Current Bugatti president Thomas Bscher bought (last Friday at Bonhams/Goodwood) the ex René Dreyfus Bugatti T 59 that came on the market after 55 years. Our congratulations for this magnificent catch ! The bad news for Mr. Bscher is that he will have to start saving again for Bonhams' next sale when an even more original and even more important T 35B will be auctioned by Bonhams... It is chassis # 4914, the first car to win a Monaco GP ever. It is probably the most original, best preserved GP Bugatti still in existence.

The price was rather a disappointment as the estimates were 2.5 M Pounds and upwards. In fact this is a genuine car with continuous history.
---
July 4, 2005

More on the Bugatti T54 recently sold to a Dutch collector

Ch.nr.54201 was the first T54 , factory racer for Archille Varzi. After a year it was sold as new to Prince Jiri Lobcowicz in Czechoslowakia. (This prince had owned a T35, and still owned a T51)
At his first race on Avus Berlin he crashed in the first curve, and was killed. The T54 was given, together with the T51 to his friend Zdenek Pohl, who put the car back in order, and also raced it. After a few years Pohl had a a new roadster body for the car made by O.Uhlik.

In 1970 the car was sold to Peter Hampton in England, who had the roadster body removed. (The roadster body ended up in the USA with Peter Mullin, and was put on a T55 chassis by Ray Jones)

Peel made a new GP body, as far as known from the scuttle onward. Crostwaithe and Gardiner technically restored the car, and renewed the dashboard as it had the wrong holes.

After Peter Hampton´s death in 1991 the car was auctioned and bought by A.Kogan. This buy was arranged by Chris Gardner. The car is now bought from Kogan by a Dutch collector, which makes that now 2 of the 3 the existing original T54´s are in the Netherlands. The amount mentioned in the former newsitem on this, is not correct, by the way. The 3 original T54s (Chassis and engine number matching) are:

54201 GP : this car
54205 Roadster Bachelier Louwman, at the Nationaal Automobile museum in the Netherlands
54210 GP Anthony Wang New York

---
June 25, 2005

Pictures of international Bugatti rally

A collection of very nice pictures of this rally in the Belgian Ardennes, provided by Emmanuel Jacqmard.
---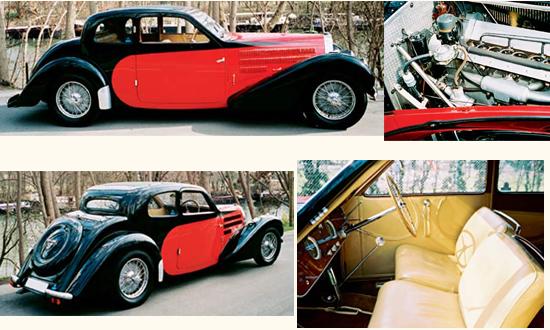 June 25, 2005
Auction Result
On June 20, 2005 at the ARTCURIAL, Automobiles de Collection Auction in Paris, the Bugatti Type 57 Ventoux, 57628 was sold for 236 694 euros. (Estimate: 200 000 - 250 000)
Info: Christophe Chanterault
---
June 14, 2005

News on the Bugatti EB16-4 Veyron

Loads of articles on the Bugatti Veyron begin to appear now in the regular automotive press. Now that the first pre-production models are being build, there is no more doubt that the Veyron will reach production.

All cars will be able to reach the high speed, of over 400 kmh (still no exact figure there....). However, to reach this, a special, 2nd key must be used:
We found this procedure very interesting. If you have the million bucks to buy one of the limited run of 1,001 horsepower Bugatti Veyron you have a whole procedure to set up your supercar for the super-run. Bugatti will give all Veyron owners a special lightweight aluminum key. This key fits in a slot located at the left of the driver's seat, down by the sill. Once engaged, the car then goes into "Top Speed" mode (why does KITT's Super Pursuit Mode come to mind), which first performs some safety checks. Then the chassis drops to 2.5 inches from the ground in the front and 2.75 inches at the rear. All diffuser flaps close, the rear spoiler goes to an angle to keep down wind resistance and all limiters are disabled. Just don't hit the brakes because it puts the car back to regular mode.

First Bugatti Veyron Sold, on Ebay! At an opening bid at a round 2 million dollars, the buyer "a2nsouljuh" secured himself a very extreme and unique car, Chassisnr.: ZFFEW58A950141740. It will be delivered to him by October/November 2005 and is a U.S. Spec vehicle. This actually was the 2nd time the car was offered, the first time, there was only one bid at 1.7M$, but it didn´t reach the reserve, now at 2M$ it did.

The car is sold by: Grant Manny, Phone: (847) 989 0586,
---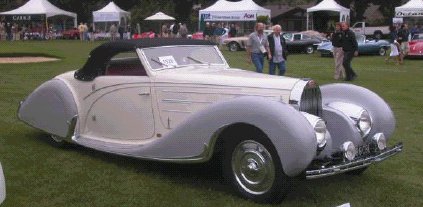 May 29, 2005

Villa d´Este concours d´elegance results

In the class: 1930-1939: open cars "Flamboyances et extravagances" the 1st Diploma and Silver Plaque went to the Bugatti Type 57 C Cabriolet Gangloff, 1939; entrant Frans Van Haren. As you may recall, this car was auctioned recently, and sold for the staggering price of almost 2 million dollars.

Two Bugattis came second in their class: Bugatti 35A Grand Sport, 1926; entrant Roland Jordi 1920-1929: open & closed cars "Les années folles". and Bugatti 57 Atalante Coupé, 1936; entrant Franz-Josef Kleine 1930-1939: closed cars "Flamboyances et extravagances".
---
May 28, 2005

Mille Miglia 2005 results

Carlos Sielecki, the 2003 MM champion, came second overall at the wheel of a Bugatti T 23 Brescia '23 in this years Mille Miglia (after having come 4th last year), held from May 19 - 22. Winner this year was Viaro-De Marco in an Alfa Romeo 6C 1500 SS 1928

As last year, there were about 23 Bugattis in the Mille Miglia, with surprisingly some 6 four-cylinders (T23, T37 and T40) arriving in front of the first Eight!
---
May 7, 2005

Bugatti Veyron officially the fastest of all!

Bugatti finally has proven their promise: On the Volkswagen test-circuit Ehra-Lessien, under supervision of the TüV Süddeutschland a speed of over 400km/h was attained. When the Bugatti will reach production stage in september, it will be the fastest production car (until now: the Koenigsegg CCR with 387.9 km/h).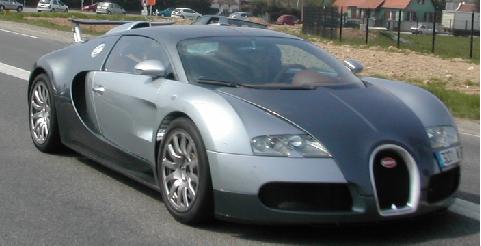 The official top speed (I do not have an actual number yet) was noted on several runs, and in both directions. It is stated that it was over 400 km/h, but not how much over. Bugatti always stated a figure of 407 km/h, so we´ll have to see if they reached that.
Bugatti is planning to produce 300 Veyron´s, 50 of them will be delivered in 2005/2006, all of these have been sold. One Veyron is said to have been sold to the Netherlands, though the Dutch buyer wishes to remain anonymous.
Photograph: Pre-production models of the Veyron are now seen regularly on the streets around Molsheim. Photo: Laurence Schitter
---

June 24 - 26, 2005 Goodwood Festival of speed UK

This year, including the sale of the Bugatti T59, "Voiture moteur No.3", 59121.
---
June 25-26, 2005 Grand Prix de l'Age d'Or circuit of Dijon-Prenois, France

This year, Bugatti will be the mark put at the honor with the presence of one of its models at the priceless price.
---
June 14, 2005

T 54 record price

The T54 Bugatti, 54201 Ex: P. Hampton/ C.Gardner /Kogan has been sold for a new record 800,000 Pounds sterling.

This car has the original frame, #3, the original engine #1 with rear axle, all the rest of the original parts - from the bulkhead and body to the front axle were disgarded in the 1970's overrestoration by Croswaith and Gardiner of the UK.

I hear it sold to a Dutch Bugatti racer, if this is the case, better be careful as it is powerful piece of hardware, ideal for Lemans !

Info: Chris Gardner
---
for sale page
---
June 12 - 18, 2005 International Bugatti Meeting Belgium

The 2005 International rally will be organised by the Bugatti Club Nederland, but will be held in the Belgian Ardennes.

---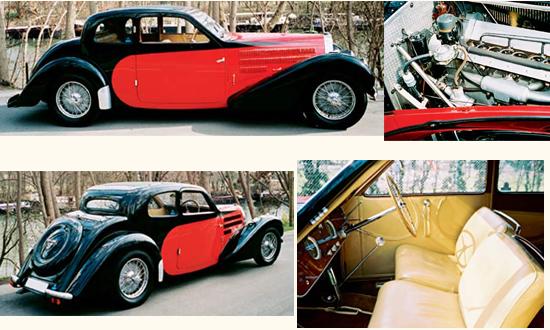 June 20, 2005 ARTCURIAL, Automobiles de Collection Auction Paris, France

Sale of a Bugatti Type 57 Ventoux.

This car was sold as new in France in November 1938 to a Mr Fabre. Its chassis number was 57628 with engine #445 which is still in the car. After 1945, it was kept in the Michel Dovaz's collection before being displayed in the short-lived Musée de Sarlat with the other cars of the Dovaz collection. When some cars were sold off, Mr F. Persillon bought it then the Bugatti went to Italy where its new owner had it restored according to the rules.

Estimate: 200 000 - 250 000 EUROS

---
May 7, 2005

Bugatti EB110 engineer Mauro Forghieri to take on the Veyron!

The Project 1221 is developing the all new MF1, a 2-seat berlinetta . Though little is released about the new car yet, not even the brand name under which it will be sold, there are sufficient interesting details: The chief engineer is Mauro Forghieri, of Ferrari racing fame and of course famous for his work on the Bugatti EB110. Mauro Forghieri leads a team of engineers at his Oral Engineering in Modena.

The car will be of a novel design, with over 1000HP (close to 1221 is said), a useable rev range of over 10.000, and a weight to power ratio of 1 (1 HP per kg!). Choise of rear and all-wheel drive will be available, and still the MF1 is to be a useable car in everyday traffic. Price is at the moment at 575.000 Euro, though this may still change. CEO of the Project 1221 is Andreas Andreanos. Andreas Andrianos is the engineer that carried out all the exploratory conceptual work and built the preliminary clay models that have been retained as the basis for Project 1221.

The brand name for the new car will be presented at a later date, the engine characteristics are to be unveiled in May/June 2005, while the car itself will be presented fall 2005. Production will start in 2007.

Some additional details:
As it has already been stated the MF1 is to be commercialised worldwide in both left and right-hand drive. Expanding on this we would like to disclose that what we imply in fact is that all MF1 units will sport both left and right-hand drive, simply selectable in a matter of seconds by the driver without any need of mechanical modifications or adjustments.

The steering wheel can be swiftly positioned either on the left or on the right side along with the pedals, while the steering rack is - and remains - centrally mounted as on a single-seater racing car.

With the rear bodywork being singularly narrower than the front and no protruding rearview mirrors, owners will be able to aim and position the MF1 on any kind of road without fear of touching anything. Concerning its "packaging", in spite of a mid-mounted powerplant, the MF1 is distinguished by a rear lift-back screen offering access to a luggage compartment capable of quite more than the "usual" pair of golf-bags and even allowing to carry ski gear. An additional luggage compartment is located in the front.

A highly functional and elegant layout comprising upwards swinging doors ensures unusually comfortable and unhindered access to the airy yet eminently protective and cosy passenger compartment.
---
May 7, 2005

Second and last call for Photo contest

Back in February I did a call for photographs for a photo contest. Until now I received few reactions however, that´s why I want to do a second call.

Photographs should (of course) somehow have Bugatti as a subject, and can be of entire cars, details or....

All photo´s arriving before June 15 will be considered for the prizes! Everybody can enter a maximum of 3 photographs. The 3 winners may chose any of the following: a Bugatti CDRom, Barrie Prices´ Bugatti T46&50 book, or a copy of the catalogue of the Beurs van Berlage exhibition in 1999.
Send your photographs to J.J.Horst@Bugattipage.com
---
March 4, 2005

Price increase?

Recent rumours that the 1929 Monaco GP winning Bugatti T35 has sold for 4,2M Euro have stunned classic car market pundits. This price, 5 times that of other genuine cars with less glamourous history, is further confirmation that trends are moving to late 80´s levels (that is: high), but only for very original examples and landmark greats.

The car in question is chassis 4914, driven to victory in the first Monaco GP by William Grover, better known as Williams. The car had been with the same French owner for 50 years, it´s engine had never been opened, the leather seats were still original.
Source: Classic & Sportscar, March 2005
---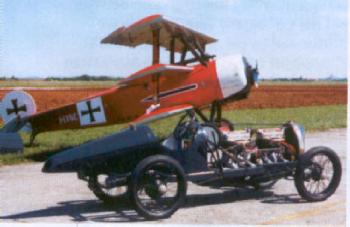 March 4, 2005

Twin engined Bugatti to be presented

A sensational twin-engined Bugatti will be unveiled at the Avignon Retro Expo on March 18-20. Based on an experimental eight-cylinder built in 1911, it features two eight-valve fours in line, in a lengthened T13 chassis.

Photo´s of the original cr show a crude tub body, artllery wheels and engines coupled by a rubberised leather flywheel.

The French replica is based on a photo of a later, more attractive racer, with wire wheels, illustrated in Hugh Conway´s history Le Pur Sang des Automobiles. Experts now believe the photo is mis-captioned, and may be a single-engined car. So it appears the French constructor has spent years building a car that didn´t exist. For more details on France´s second largest classic car show, contact Jean Baptiste Garcin on 0033 490 84 02 04.
Source: Classic & Sportscar, March 2005
---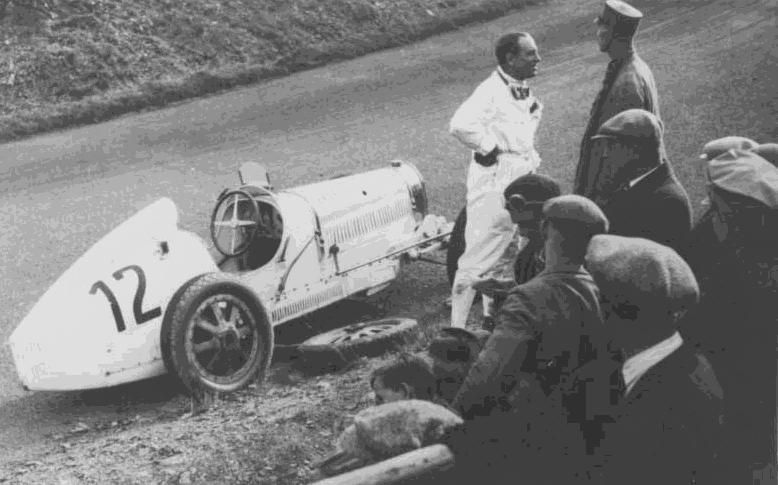 On the picture: Most probably the German Ernst-Günther Burggaller with the broken axle on 17th of July, 1932, at the Nürburgring. Possibly his last race with the T35 B engine, but the car already having been altered to Monoposto specification. Subsequently Burggaller would exchange the engine with a T51A, and continue to race with it in the 1500cc class. Info: Ralf Scholz
---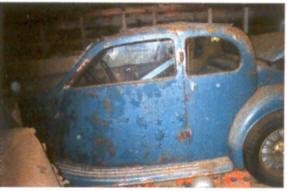 March 4, 2005

Bugatti T57 Ventoux discovered

Recently found in a New England barn in the US. The body looks reasonable, other than the wood and fabric panel having rotted away in the roof. The paint is peeling away in flakes. It also looks that the instruments are missing, but itmay be that the owner still has them.

The car was discovered together with a 1928 Pierce Arrow, and various other cars, that were outside, and in a far further state of decay.

Source: Classic & Sportscar, March 2005
---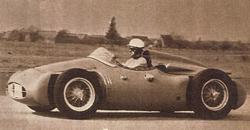 February 2, 2005

Maurice Trintignant passed away

French F1 driver of the Fifties, Maurice Trintignant has died in hospital on February 13, aged 87, bringing to an end a charmed life that had seen him compete in a variety of categories during some 26 years behind the wheel.

Affectionately known as le Petoulet, after rat droppings - les petoules - in his fuel tank were found to have caused his retirement from one race, Trintignant went on to contest 80 grands prix between 1950 and 1964, taking a pair of Monaco victories, three years apart, in 1955 and 1958.

Born in Vaucluse on October 30, 1917, Trintignant shrugged off the death of one of his brothers to begin racing in 1938 in the GP de Pau, finishing 5th in a Bugatti Type 51. After the interruption of World War I, he broke into grand prix racing before the start of the first ever world championship. He contested two 1950 rounds with the Gordini team, but was lucky to be there, however, having somehow escaped a potentially fatal accident in the 1948 Swiss GP. Incredibly, after being in a coma for over a week, he recovered sufficiently to be back on the grid in 1949.

While he triumphed in non-championship events, it was not until 1955 - now with Ferrari - that he finally tasted champagne in F1, and another three until he was to do so again, remarkably also at Monaco, this time with Rob Walker's Cooper team. In between times, he had proven himself to be a useful sportscar pilot too, claiming the 1954 Le Mans 24 Hours for Ferrari and taking second in the same race, for Aston Martin, some five years later.

He also drove for the Aston Martin F1 team, although not in the world championship, adding the British marque to a list that included Vanwall, Bugatti, Maserati and Lotus before he eventually retired from F1 in 1964. He quit racing for good after the 1965 Le Mans 24 Hours.

In the picture he is seen at the wheel of the ill-fated Bugatti 251 during a test run in 1955-56, on the Entzheim track.
---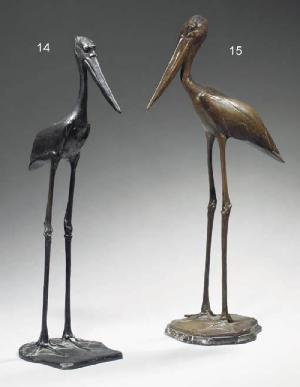 May 19, 2005 Christie´s Auction Paris
2 Rembrandt Bugatti Jaribu´s on auction (male and female).
---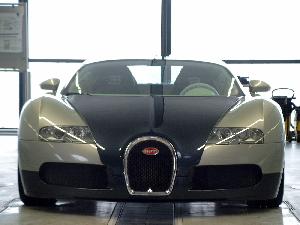 February 2, 2005

News about the Bugatti Veyron and more

To the side, the two-color Grey Bugatti Veyron, assembled in the Atelier in Molsheim, and ready to be shipped to the Geneva Salon of March 3 - 13.

It seems that now 50 Veyron´s have been ordered, with the downpayment of a mere 300,000 Euro payed. Customers possibly being, apart from Michael Schumacher: Jay Leno (who already owns a few Bugattis) and football-"king" Beckham. The Veyron is set for a production run of 300. Delivery should start the second half of 2005.

Interview with Thomas Bscher
L'Automobile Magazine, March 2005

Thomas Bscher, is still convinced that the Veyron 16.4 will begin to be delivered in September.
According to Bscher, the delay is caused by the change in Director of the VW group by Mid-2003, when Bernd Pitschetsrieder followed up Pietsch. Pitschetsrieder ordered verious changes to be made, like a sequential gearbox instead of the original 6-box, different ventilation, adaptation to the wheels and more. (No mentioning about problems with roadholding, downforce and drag leading to a good roadholding only at lower speeds)

It is clear that Bscher is not by far clear about the future, as the reply to what next Bugattis will be made is the following:
Why not a Veyron CS ( Club Sport ), by 2008, with fixed wing and even more horsepower? Afterwards, like in 2010, we could "recycle" the same drivetrain with the DSG gearbox and the W16 8 litres quadriturbo engine, in a second front-engined Bugatti(costing approx. 700 000 euros ). Finally, we also think of a much smaller model, for about 100 000 Euros, with an eight cylindre in-line engine. Rests to choose between both projects.

Compare this with Interviews that Bscher gave before, where the more powerful Veyron was out of the question, nor was a front-engined version mentioned. Nice to see a straight-eight being reconsidered! JJH
Thanks to Guy Schitter!
---
February 2, 2005

Winter testing of Veyron

Mythical Veyron breaks cover

By Ray Hutton of The Sunday Times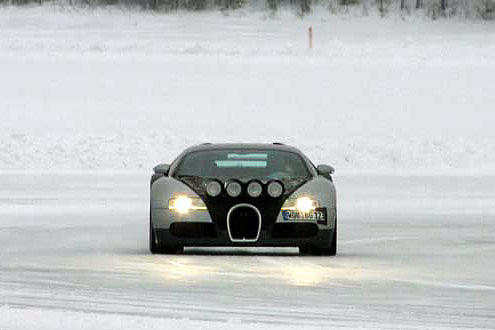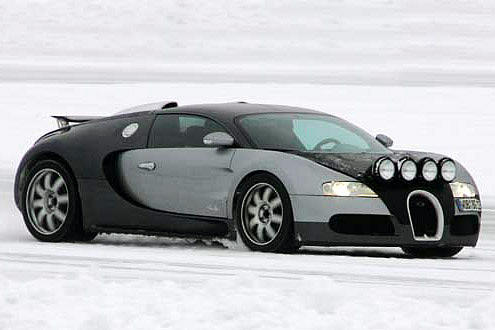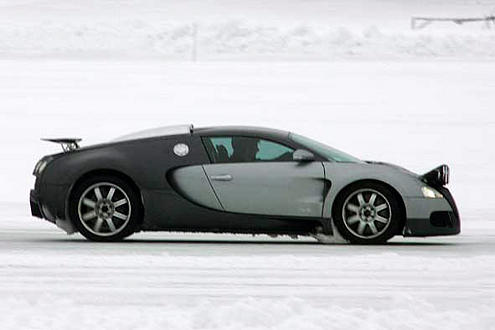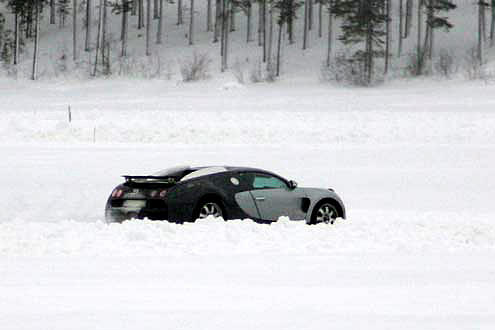 Glimpsed in the snow like a mythical creature, these pictures confirm the elusive Bugatti Veyron supercar exists and is in its final stages of testing. Billed as the fastest, most powerful and most expensive (£800,000) car in the world, doubts had begun to grow about whether it would ever go into production. Now, after six years, numerous setbacks and at least one 200mph crash, the 8 litre 16 cylinder Veyron is finally ready.
During winter testing in the Arctic Circle the streamlined form of the Veyron, though heavily disguised, was unmistakable in this picture . The manufacturer claims it has already taken 12 months' orders. "The car is done," said Georges Keller of Bugatti. "We're just going through the last details. It will be launched in October. The wait will be worth it."
With its 1,001bhp engine, it makes the Ferrari Enzo's 660bhp motor — the current world record holder — look puny. The Veyron's estimated 0 to 62mph time is 2.9sec with a top speed of 252mph. That would make it 12mph faster than the McLaren F1, hitherto the world's fastest road-going car.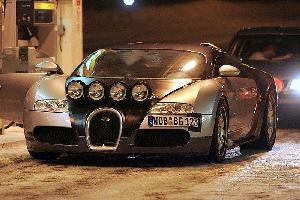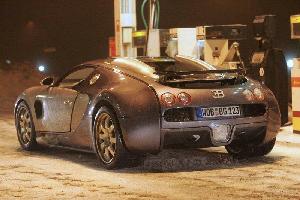 Click on the pictures above for an enlargement.
The first problem with the Veyron was the engine's cooling system. Then aerodynamic instability was the suspected cause of a 200mph accident during testing. The car was delayed further because Bernd Pischetsrieder, boss of VW, which owns Bugatti, was unhappy with the steering. Finally, on its first public outing, Bugatti's test driver lost control, avoiding another collision by inches. If all now runs smoothly Bugatti plans to make 50 cars a year at a new factory near the company's base at Molsheim in the Alsace region of France.
---
January 26, 2005

Talbot Stolen

Okay, I know it´s no Bugatti, but anyway:

The Connecticut State Marshal's office seeks any information on a late 30's or early 40's Talbot Tear Drop believed stolen in the Midwest United States, time unknown.
Please contact State Marshal James E. Sullivan, JamesESullivanCT@aol.com or (230) 470-1876.
---
December 4, 2004

Boijmans van Beuningen buys Bugatti furniture collection

The Museum Boijmans van Beuningen of Rotterdam, the Netherlands bought a 5-piece furniture collection by Carlo Bugatti, father of the famous automobile constructor, at a Christie's auction in Amsterdam.

The Morish-style furniture date from around 1900 and are typical for the work of the Italian. The colection contains a 218 centimeter high cabinet (38.850 euro) and various chairs, like a 5-legged round chair with a minaret-like adornment (11.325 euro).
---
January 11 - 12, 2005 Christie´s auction New York

Carlo Bugatti Chair on offer at Christie´s auction.
---
February 11 - 20, 2005 Rétromobile Paris

30th anniversary of Retromobile, Paris.
Info: www.retromobile.fr/
---
February 12, 2005 Christie´s auction at Rétromobile Paris

Various Bugatti Automobilia on auction, also a T49 radiator.
---
February 13, 2005 Poulain Le Fur auction at Rétromobile Paris

Bugatti T37 37292 and a 1:8 T35 miniature.
---
Until February 25, 2005 Estate Auction #2 of Mickey Mishne USA

Antiques and Estate Auctioneers and Appraisers out of Wellington, Ohio will be leading the public auction of Mishne's estate. Included in the estate are over 400 lots. Featured Vintage Original Poster Art. Many highly collectible Bugatti pieces are among the estate.
---
February 20 - March 2, 2005 International Bugatti Meeting Australia

For details please go to www.bugatticlubaustralia.com.au
---
Bugatti news, 2004
Bugatti news, 2003
Bugatti news, 2002
Bugatti news, 2001
Bugatti news, 2000
Bugatti news, 1999
Bugatti news, 1998
Bugatti news, 1997
Bugatti news, 1996
---
Back to the Bugatti Page