Le Garagiste Sculptures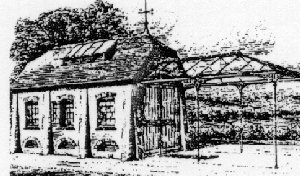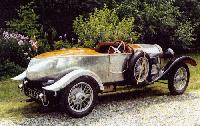 Maintained by Jaap Horst
---
Thomas Melahn of Le Garagiste offers three very nice Bugatti sculptures, which are shown below: Pictures are clickable for enlargement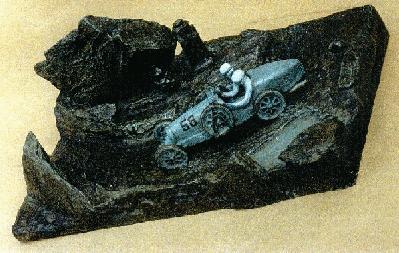 "Targa"
The subject, Elizabeth Junek; The place, the Madonie circuit of the Targa Florio; and the time, very late in that race of 1928. The fearful moment when two rocks appeared suddenly in the middle of the course... Two rocks that had not been there on the previous lap. It has long been at least suspicioned that these had been planted, and with this notion at least in mind, the eerie figures of two mysterious men appear in the shadow of a large boulder.

Signed by: Elizabeth Junek and Le Garagiste (Tom Melahn)
---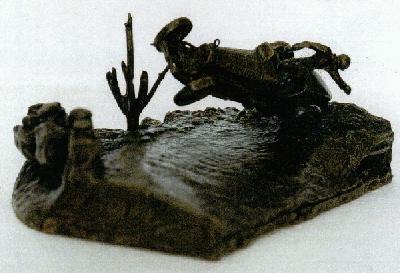 "Pirouette"
The Place: Grand Prix du Comminges, France. The Date: August 14, 1932. The Subject: Rene Dreyfus while leading on the last lap, spinning on the wet road in a fast curve, being thrown from the Bugatti which pirouetted and struck a tree landing upside down. The little sapling saved the lives of the horrified spectators who stood transfixed at the scene.

Signed by: Le Garagiste (Tom Melahn)
---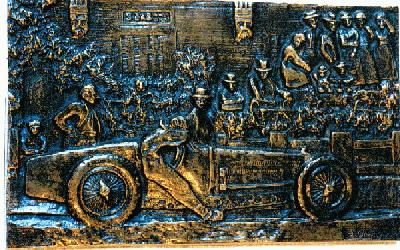 "Down and out in Nice"
The Subject, Rene Dreyfus; The Place, The Grand Prix de Nice. The Date: August 19, 1934. The Car: Type 59 Bugatti. The engine stalled on a curve, Rene got out tried to crank it, tried to push it, tried everything, and finally got back in the car and slumped over the steering wheel in despair, scaring quite a few passers-by.

Signed by: Le Garagiste (Tom Melahn)
---
Le Garagiste also offers some sculptures not of Bugattis, contact Thomas Melahn for more Information. One is of a 1924 Mathis, the other of a 1917 Chalmers.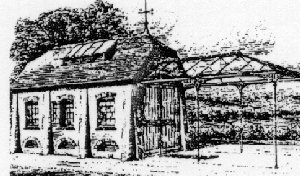 Address:

Le Garagiste
PO Box 268
Searsport ME
04974 USA
E-mail: basquette@acadia.net
p.s.: The T40 is Melahn's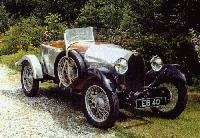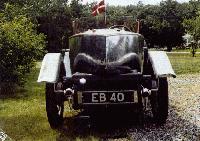 ---
Vive La Marque !!
---
Back to Bugatti Miniatures Page