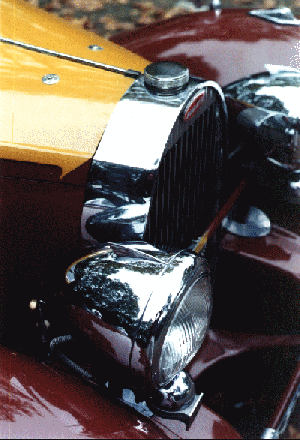 Feeling the wind
Your Faithful and Humble reporter had his first ride in a Bugatti!! Saturday the 7th of October I attended the meeting of the Bugatti Club Nederland, and was lucky enough to get a seat in van Ramshorst's Type 54 / 57, a T54 chassis with a T57 engine, and a self built two - seater roadster body. Armand van Ramshorst was at the wheel, who drove the Bugatti with the necessary respect: fast! I already was (of course) a Bugatti enthusiast, but after this experience of feeling the wind in my face (and the rain, as the car was only equipped with two small glasses), hearing the roar of the fantastic 3.3 litre straight eight, seeing the front suspension at work and enjoying the great way this wonderful machine could go around corners, I am more enthusiastic than ever! On a short stretch of straight road she attained a speed of 140 kph (90 mph) and is obviously capable of more! This really is a magnificent machine! Thanks Armand for this great experience!

The Bugatti meeting was a real succes, with 19 Bugattis participating, an all time record for the Dutch Bugatti Club. Attending were a '26 Brescia Modifié, a 35, some 37's, 43's and 44's, and a series of T57's, the Bugatti known for her excellent factory bodywork. Present were a really breathtakingly beautiful and rare Aravis, some Ventoux, two Stelvio's and a very nice four-door supercharged Galibier. Unluckily this Galibier had a damaged front fender, because she hit the entrance of the Garage where the automobiles had been parked the night before.

I wish to thank all the members of the Bugatti club for this wonderful experience and one of the best days in my life. Especially I want to thank Tjerk Stapel, the organizer of the event and the man who invited me. He had written a short article about the Internet in a special "magazine" for the event, which had the strange effect that people to whom I was introduced already had heard of me.
---
Back to the Bugatti Home Page.
---
This page of WWW services is currently maintained by Jaap Horst. I can be reached by email at J.J.Horst@bigfoot.com
---
Vive La Marque !!