7 Bugatti's on auction! Four of them from the Bruno Lafourcade collection:
1920 Bugatti Type 13, Chassis n° 772, Engine n° 445, Estimate 250.000 - 350.000 €
1925 Bugatti T35B Reconstruction by Ventoux Moteurs Engineering, Chassis n° 4617, Estimate 400.000 - 600.000 €
1926 Bugatti 37A ex-Jacques Dufilho, Chassis n° 37211, Engine n° 114, Estimate 900.000 - 1.200.000 €
1928 Bugatti T44 Faux Cabriolet par Labourdette, Chassis n° 44342, Engine n° 76, Estimate 300.000 - 400.000 €
1928 Bugatti T35/51 Reconstruction "Petit Coupé Friderich", Chassis n° 4775, Estimate 250.000 - 350.000 €
1935 Bugatti Type 57, replica "Aérolithe" body, Chassis n° 57104, Estimate 1.500.000 - 3.000.000 €
1936 Bugatti T57 Galibier, Chassis n° 57363, Engine n° 57331/234, Estimate 250.000 - 300.000 €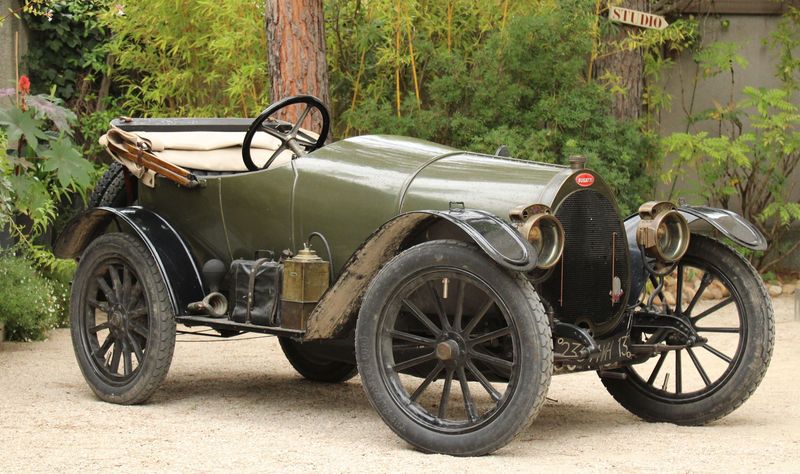 1920 Bugatti Type 13, Chassis n° 772, Engine n° 445, Estimate 250k - 350k €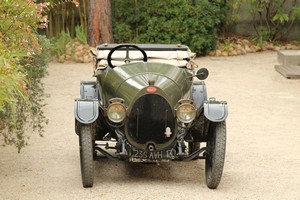 French title
Rare and interesting model
High quality restoration
Ready to drive
Surprising performance
Around 2003, after restoring a Bugatti 57, Bruno Lafourcade and François Chevalier found themselves looking for a new project to occupy their weekends. " We discovered a Bugatti Type 13 in bits with Yves Ancelin. An engine in pieces, radiator, chassis, worm-type steering box, gearbox, differential, axle, four wooden wheels etc, " explains François Chevalier. "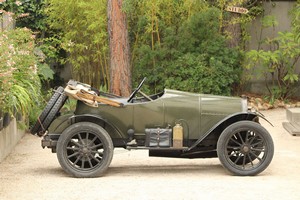 The car was pretty much complete… at least the first half ! " The little 1300cc 8-valve engine was rebuilt by Laurent Rondoni (Ventoux Moteur Ingénierie) with a hollow crankshaft. The lubrication was modified so that it could be lubricated under pressure using the original oil pump. Laurent Rondoni also adapted the metal plates between the radiator and the engine to make the front part of the chassis more rigid. This is a common and discreet improvement often carried out on Type 13 and 22/23 cars. With the mechanical side of the work entrusted to an internationally renowned specialist, " the rest " was carried out by Bruno and François in their spacious garage. This included the paintwork which was carried out by Bruno and François using paintbrushes and sandpaper. It took a lot of delicate work, matching the front and rear wings for example, to make sure the car was just right.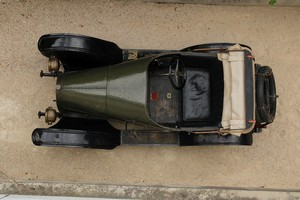 The Type 13 was given a few discreet upgrades to improve its driveability. An alternator driven by the propellor shaft powers a starter motor and the lighting (while retaining the original acetylene headlights). A rev counter graduated to 4000 rpm, taken from a Delage, allows the speed to be monitored. " I once took it up to 3000 revs, " recalls François. " That must correspond to a good 102-103 km/h. But with the 8-valve engine, it's the car that sets the pace. It drives at 2 500 rpm, around 80 km/h. " François Chevalier added an adaptable Michelin spare wheel that could get the car to a garage in the event of a problem. " It's very clever " notes the Bugatti enthusiast. " This additional wheel is attached to the outside of the wheel. But I'm not sure how that would work at the front. "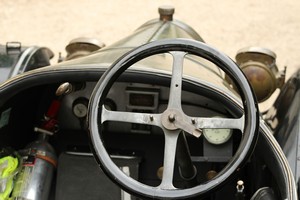 Following a year and a half of restoration work, Bruno and François set off on a trip into the Alps involving a dozen passes! " We only went into first gear once or twice. " remembers François Chevalier. The descents were probably more exciting than the ascents given the lack of front brakes !
Inspected in 2004, this little Bugatti, one of around a thousand examples built, (with scarcely half a dozen remaining in France), was one of Bruno Lafourcade's favourite cars, as he could set off in it at a moment's notice. Well-known to specialists and equipped with French registration, this Type 13 offers a rare opportunity to take part in the Bugatti dream, with complete peace of mind.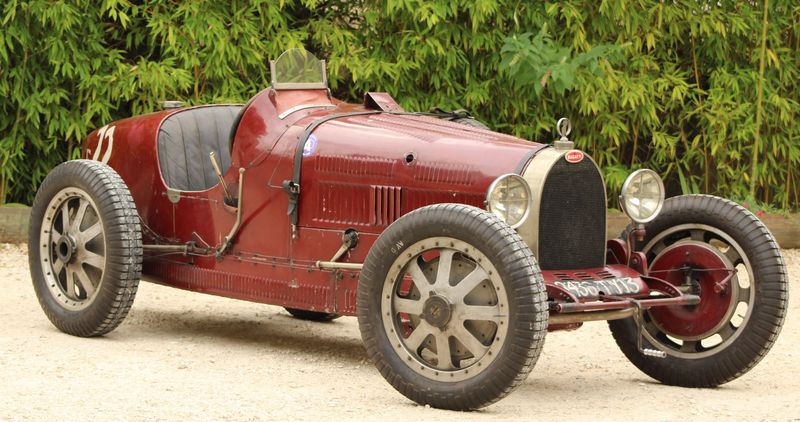 1925 Bugatti T35B Reconstruction by Ventoux Moteurs Engineering, Chassis n° 4617, Estimate 400k - 600k €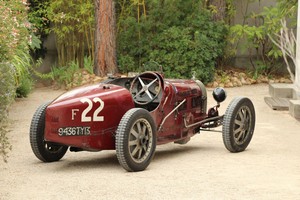 French title
Reconstruction by the greatest marque specialist
Powerful and reliable car
Lovely patina after 25 years of racing
For many enthusiasts, the Bugatti 35 is a legendary car, as prestigious as it is out of reach. For certain collectors, the 35 represents the Holy Grail. In 1959, François Chevalier gave his BNC Monza to Antoine Raffaëlli in exchange for a Bugatti chassis frame, believed to be from a Type 35 that had burnt and been scrapped in the Toulouse area. The astute young man also possessed a Type 30 engine and various elements from a 37 coming from the " de Sa Conte " Cooperage. The first part of a truly epic adventure was unfolding….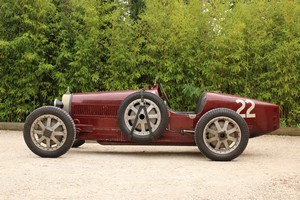 A few years later, François Chevalier met Bruno Lafourcade, a fellow Bugatti fan. Their meeting generated a joint desire to rebuild this Bugatti 35, formerly owned by a certain Mr de Viscaya. It was at this moment that Bruno began to collect all the elements he could find, listing them and carefully storing them away. In September 1994, François sold all the parts he owned to Bruno on particularly favourable and friendly terms. Bruno took the Bugatti 35 chassis (4617) with large hubsto mount the paddle wheels, four aluminium wheels, front suspension and differential, drum brakes and numerous small parts. As the reconstruction began, the passion for the project grew. The efficient and indispensable Laurent Rondoni built a TC version engine with roller bearing crankshaft, connected to a rare, original Zenith 48 K carburettor. The starter and magneto conform to the original and it was given a Brineton dog box, limited-slip differential, and a hollow axle supplied by François from his stock of parts. It was starting to take on a certain charm.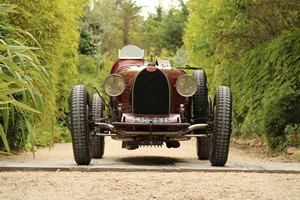 In 1995, the 35 was running and taken to be inspected. The two friends took part in a rally together in Alsace at the end of the 1990s. In 1996, the Bugatti, hand-painted dark red by the two accomplices, obtained its French registration. At the end of the 1990s, Bruno's son Alexandre discovered the Bugatti's potential and used it enthusiastically in numerous events. The 35 was doing exactly what it had been designed to do and Alexandre covered nearly 100 000 km under race conditions, demonstrating the car's capability and reliability. It must nevertheless be noted that the maintenance of this 35 by Ventoux Moteurs Ingénierie was carried out with no expense spared (all invoices will be supplied with the car, which comes with an FIA passport requiring renewal).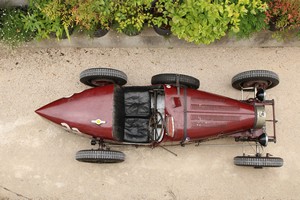 After so much time and effort spent recreating this Bugatti 35, we would like to believe that nothing could happen to it. However, François Chevalier remembers an incident that could have had serious consequences. " I had a set of original wheels, " recalls the Bugatti and Moto Vincent enthusiast. " Back then, re-manufacturing was less common. I brought them back from storage in Dordogne and had them Magnaflux tested at Larrousse. Three of them were fine. The day they were fitted for the Tour of Sardinia, one of them broke completely, sending the car into the ditch ". Luckily, Alexandre and the 35 escaped unhurt.
The Bugatti 35 has just been recommissioned by Raphaël Rondoni and his team at Ventoux Moteurs Ingénierie. It is important to understand that this reconstruction project has been carried out by discerning enthusiasts with the help of the greatest marque specialist worldwide, with no time or cost spared. We therefore advise potential buyers to examine in detail the work undertaken on this car, under the supervision of specialists who were in close contact with the original models, with the aim of keeping as close to the original as possible.
Major participations by the Bugatti 35B in competitive events and demonstrations:
Vintage Montlhéry (from 1998 to 2002)
Rallye Bugatti Montlhéry (from 1997 to 2004)
Rallye Bugatti in Provence (2015)
Circuit des Remparts, Angoulême (from 1999 to 2006)
Grand Prix de Divonne-les-Bains (from 1997 to 1999)
L'Anneau du Rhin (3 times)
Virada Rallye (France, 2000)
Rallye Bugatti International (France, 1999 ; Great Britain, 2004 ; Corsica, 2007)
Mille Miglia (2000)
Targa Florio (2001)
Tour of Sardinia (2000)
Mont Ventoux Hillclimb (2002)
Tanneron Hillclimb
Prescott hillclimb (England)
Klausen Pass hillclimb (Switzerland)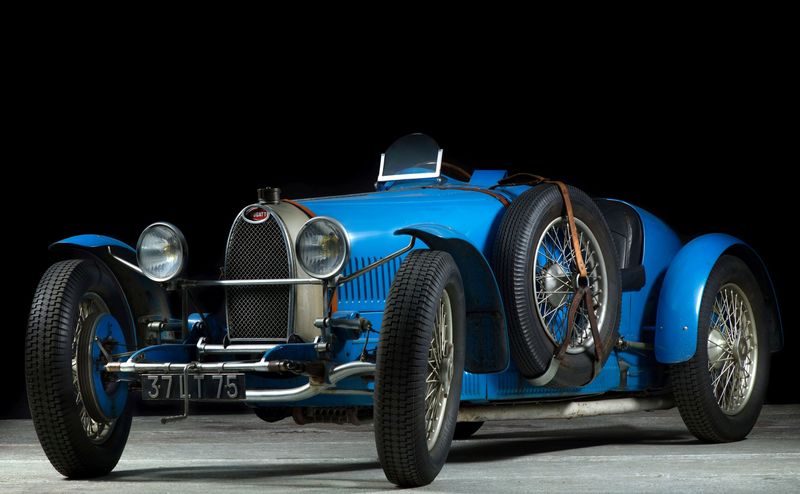 1926 Bugatti 37A ex-Jacques Dufilho, Chassis n° 37211, Engine n° 114, Estimate 900k - 1.200k €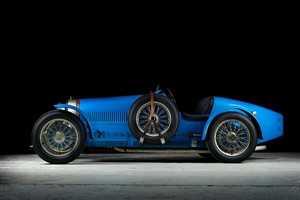 French title
Famous previous owner
Genuine Bugatti 37 with supercharger added by Dufilho
Original engine
Highly prestigious Grand Prix model
A year after the successful launch of his Type 35, with its 2-litre 8-cylinder engine, Ettore Bugatti presented the Type 37 in November 1925. It was equipped with a 1.5-litre 4-cylinder engine and wire wheels, and had several other, less visible differences from the 35. It was, however, almost as quick, developing 60bhp and - with a weight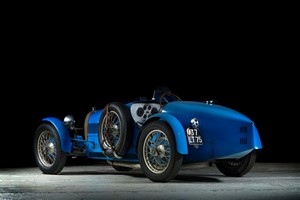 of 710kg - had a top speed of 150kph. In June 1927, the Type 37A appeared. Its 1496cc engine had a supercharger (as on the 35B and C); power went up to 90bhp and its top speed to 175kph. It still had wire wheels and, as an option, 330mm drum brakes. The Bugatti Type 35 and 37 were the first racing cars to be offered for sale in a catalogue, with 287 of the 37 and 37A sold.
Jacques Dufilho was born in Bègles in 1914, ten years before the first 35, into a family of pharmacists. In the 1930s, as a young man, he turned towards one of his first loves, for agriculture and breeding cattle and horses, before enlisting in the army for two years in 1934. On returning to civilian life, he went into the theatre, before being called up for active service in 1939. When he was released in 1940, he went to live in Paris, where he followed Charles Dullin's classes at the Théâtre de l'Atelier. After the war, he achieved his first success with comic sketches such as 'Victorine' at the Théâtre des Bouffes Parisiens. His career encompassed nearly 170 films and 60 plays, and he received a Molière, two Césars and many prizes and trophies.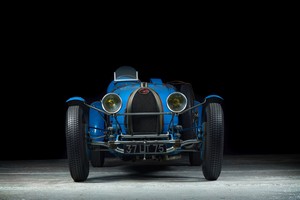 In 1942, he was first touched by the grace of Bugatti's cars, by the charm of their appearance and the beauty of their engineering. He began simply, buying a Bugatti Type 40 cabriolet in poor condition. He restored it himself, but in 1943 a breakdown brought it to a halt in Paris. Naturally, he went to the official Bugatti workshop in Levallois, where he was well received by the great Henri Hauswald, who had worked for Bugatti for over 25 years. Since 1939, Hauswald had been training his 'godson', Raymond Lemayeux, to become a highly skilled member of the clan of Bugatti mechanics. Dufilho hit it off with Hauswald's team and he acquired a Bugatti 44 to replace his Type 40. The actor remained faithful to Hauswald's Bugatti workshop and, after Hauswald died, to Lemayeux's workshop at the place du Palais Bourbon in Paris. Dufilho's consuming passion saw him buy several Bugattis, including a lovely 57 Stelvio cabriolet in black and pale yellow (57406).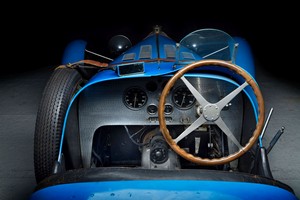 In 1957, he noticed a Bugatti Type 37 (chassis no. 37211 and engine no. 114) in poor condition, in the courtyard of Hauswald's workshop. It was one of the three Type 37s delivered in October 1926 and was displayed in Bugatti's showroom in Paris. Not knowing what to do with it, its previous owner, M. Balanche, a sculptor from Meudon, had it repainted by the Bugatti workshop. It was love at first sight, and Dufilho bought his sixth Bugatti. It would be HIS Bugatti, which he would customise, just like André Dubonnet's Hispano-Suizas and Robert Delaunay's Voisins in the 1930s or, more recently, Gianni Agnelli's Ferraris, with their special bodywork, uprated engines or personalised interiors.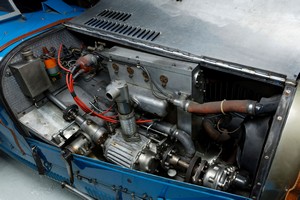 The restoration stretched over 10 years, from 1958 to 1968, with the work carried out as Dufilho was paid for his films and plays. The car was completely stripped down, the chassis checked and all the mechanical parts gone through with a fine-tooth comb, as he liked to say. The Type 37 270mm brake drums were replaced by 330mm items, as fitted to the supercharged Type 37A, and new 18in wire wheels fitted. Houdaille hydraulic dampers replaced the friction ones. A new engine-turned aluminium dashboard was mounted on top of the original dash, with the position of the instruments decided by Dufilho. The bodywork was in a bad state and was completely rebuilt in duralumin by M. Porte, a former panel beater at the Bugatti factory. The black leather upholstery was made up by the coachbuilder Polné. Under the bonnet, the aluminium engine block (no. 37211/114) was, of course, kept, but the cast iron cylinder block, a 1496cc Type 35 (69 x 100mm), was replaced by a 1628.5cc Type 49 item (72 x 100mm), in which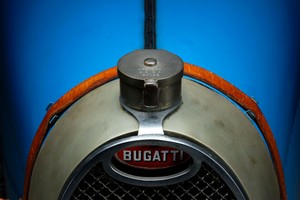 every other plug hole was sealed. The pistons, conrods and crankshaft were new. Ignition was provided by means of a battery and distributor, while fuel was supplied through a Zenith 42 carburettor, with - from 1961 - a Bugatti no. 71 supercharger and the drive gear crankcase no. 265. The radiator was rebuilt by Delhomme in Levallois and the multi-plate clutch replaced by a stronger single-plate part. Front axle no. 255, gearbox no. 139, rear axle no. 350, marked 13 x 54. With the increased capacity, peak power was probably close to 100bhp at 5000rpm. In 1965, when first testing it, the actor declared that he had driven it at 200kph! Dufilho knew the Bugatti family well and was given the radiator cap by Lydia Bugatti.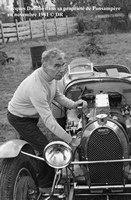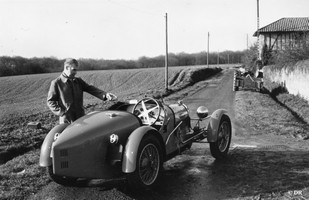 In the end, to finish HIS Bugatti 37A Special, Dufilho had to part with his 57 Stelvio. In the following years, when he was at his farm in the south-west of France, he used his Bugatti 37A almost every day, always having it scrupulously maintained by Lemayeux, who made a special journey to work on it every year. Christian Huet, a longstanding expert on the Bugatti, was also often present. During these meetings, the programme of work needed to maintain the car was decided, interrupted by an enjoyable dinner until late in the night and lengthy stories about Bugatti.
In 1981, Dufilho's tax arrears had built up and he asked Huet to sell his customised Bugatti. It was duly sold at auction in Fontainebleau on 18 April 1982, after Lemayeux had given it a full service at his garage. Bugatti no. 37211 was then bought by a major Parisian collector for his wife. Sometime later, his mechanic replaced the Type 49 cylinder block with a new 1496cc Type 37 block, produced at the request of the UK Bugatti Owners' Club. To improve its cooling, a radiator was concealed in the tail of the car. 37211's last outing was the Rallye des Amis des Grandes Marques in 1987. Since then, the opportunity to use the Bugatti has not arisen, and it has lain dormant without being driven for 30 years. It then was acquired by a collector who was taking pleasure in admiring its intrinsic beauty rather than getting behind the wheel. Its future keeper will therefore have the pleasure of getting it running again (the engine is not seized) and bringing this unique Bugatti back to life, by taking part in rallies and shows for the marque.
This Type 37 in known in Bugatti circles as the 'Dufilho 37'. It offers the provenance, authenticity and prestige of the model and has a clear and unique history, without having been subjected to the rigours of racing; rather, it has known the love and respect of its successive owners.
Photos © Bernard Canonne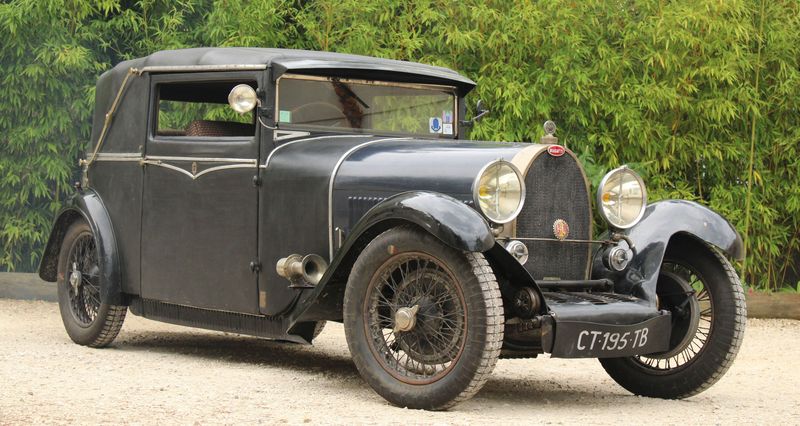 1928 Bugatti T44 Faux Cabriolet par Labourdette, Chassis n° 44342, Engine n° 76, Estimate 300k - 400k €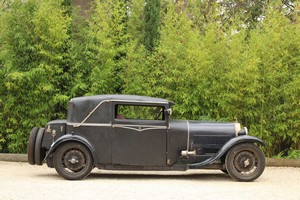 French title
Transparent history
Exceptionally well preserved
High quality mechanical restoration
This Bugatti 44 Faux Cabriolet Labourdette is remarkable for its history and patina. What is even more extraordinary is that it was tucked away less than 50 km from Bruno Lafourcade's garage while he was looking as far afield as New Zealand for a Type 44. " A long time ago, Bruno and I owned a cabriolet 44 Vanvooren together. I discovered the parts of the car in 1961, " remembers François Chevalier. " This car stayed in Bruno's mind as we had never got it going. "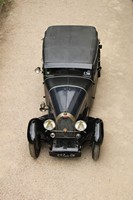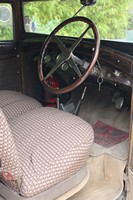 Many years later at Rondoni's, François Chevalier came across a very rusty engine block from a Type 44. Laurent Rondoni told him that he'd had it for several years and that it used to belong to someone who had owned the Bugatti for ages. Rondoni was not familiar with the car however. On further investigation, Bruno Lafourcade and François Chevalier discovered the story of a Mr. Gros from Cavaillon. " It was the very same person that Antoine Raffaëlli had courted for two years in order to buy the ex-Trintignant Bugatti 51 with the Type 35 engine ! At the time, focused on the negotiations for the 51/35, Antoine must not have noticed the 44. " explains François Chevalier. Mr. Gros's daughter later inherited the 44 and her husband tried in vain to repair the engine.
In 2010, Bruno and François made contact with them. They discovered an incredibly original, unrestored car. Fearing thieves, the radiator had been taken out but the car was complete. " The most incredible thing was that this car had also been sold by Trintignant senior in 1934 ! " continued François Chevalier. We can also add that this Type 44 left the factory in Molsheim around 1930 not to be sold for another three or four years, due to the 1929 financial crisis.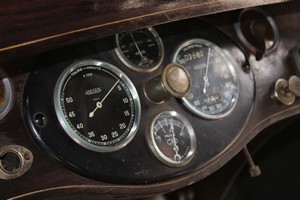 In October 2010, after lengthy negotiations, Bruno Lafourcade finalised the deal with the heirs, right from under the feet of many international collectors. The 44 was taken for restoration and " everything that you see has remained exactly the same. And everything that you can't see has been restored ! " explains François Chevalier. The mechanical work was carried out at the workshop of Laurent Rondoni, Ventoux Moteurs Ingénierie, who rebuilt the 3-litre engine, refurbished the gearbox, front suspension and axle etc. Over numerous weekends, Bruno and François worked tirelessly on the car in order to preserve its extraordinary, original patina. The interior has also been kept as close to its original condition as possible, with just the upholstery on the seats renewed (the original cloth has been conserved under discreet fabric covers). The dashboard has its original, large rev counter and an accelerator pedal on the right. With a comprehensive file of restoration invoices (approximately 100 000 €), the " Buick of Molsheim ", as it has become known, runs beautifully (it runs to 4 000 rpm in 4th gear according to François Chevalier). With French registration, this elegant Bugatti 44 offers a marvellous opportunity to own a family car with transparent history.