Bugatti news, 2019 Plus events
Bugatti news: 2018 , 2016 , 2015 , 2014 , 2013 , 2012 , 2011 , 2010 , 2009 , 2008 , 2007 , 2006 , 2005 , 2004 , 2003 , 2002 , 2001 , 2000 , 1999 , 1998 , 1997 , 1996
---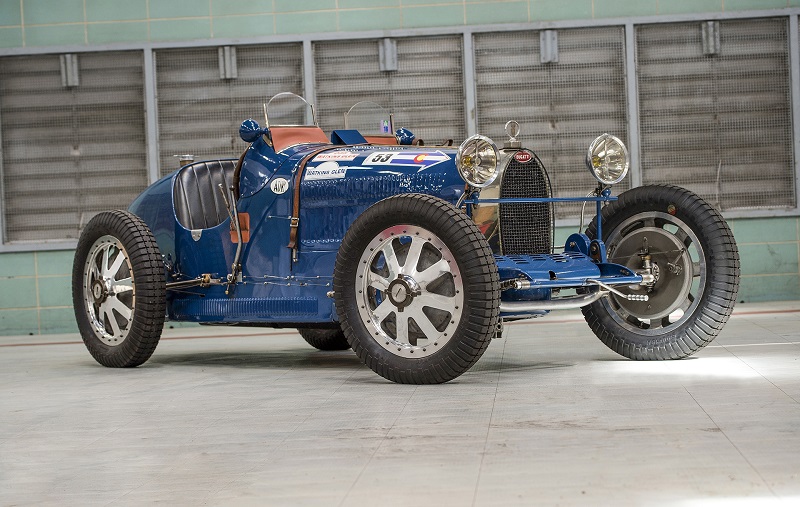 January 16, 2019 Worldwide Auctioneers Scottsdale auction Scottsdale, AZ, USA
Bugatti Type 35A
Auburn, Indiana. November 26th, 2018. Leading the field of early consignments for Worldwide's annual Scottsdale Auction on Wednesday, January 16th is an exceptional and highly authentic example of Bugatti's most successful racing model, a rare and impeccably documented 1925 Bugatti Type 35A.
With a limited roster of former keepers that includes Fred Hoffman, it was raced in period by Jean Ollivier and Louis Chiron, with competition history through 1942 that included the 1925 & 1926 Provence Grand Prix.
---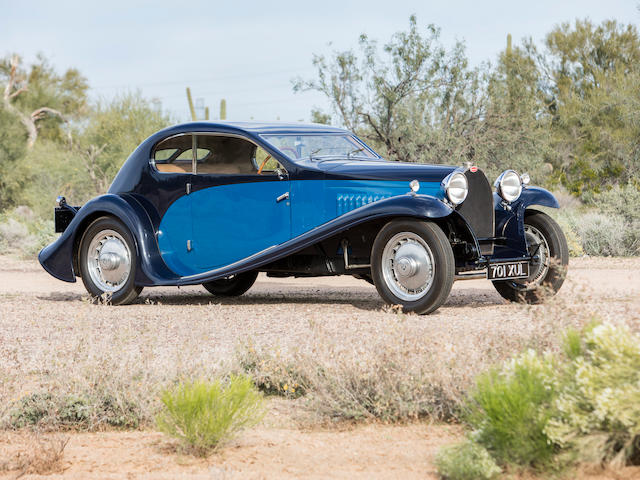 January 17, 2019 Bonhams' Scottsdale auction Scottsdale, AZ, USA
1931 Bugatti Type 46 'Superprofilée' Coupe
Chassis no. 46491, Engine no. 345345
Coachwork in the style of Gangloff, by Ashton Keynes
One of two chassis purchased from Roland Bugatti by Richard Baudens in the 1950s
Estimate: US$ 750,000 - 1,000,000, € 660,000 - 880,000
THE MOTORCAR OFFERED
One of the most outlandish design studies of its day, Bugatti's aerodynamic coupe, which was christened the 'Superprofilée' was the latest development in the design traits that were coming from the Molsheim works in the late 1920s and start of the 1930s. Jean Bugatti had wisely employed the talented designer Joseph Walter to assist with their coachwork, and between them they developed a style which is now synonymous with the marque. Their influence would start to be seen from the late Type 40 models, with the arched side panels, and is of course evident across the Type 57 factory body range. Along the journey, as with all designers, they would create artwork and the occasional real-life model before rolling this out perhaps in a more practical form on the production cars. And, so is the case with Superprofilée and the less severe Semi-Profilée bodywork. The latter, in a more toned-down form, would of course go into production as the Ventoux Coupe on the subsequent Type 57. While, the Superprofilée style, which was first seen publicly on a Twin Cam Type 50 at the Paris Salon in 1932, does not appear to have become a production designation.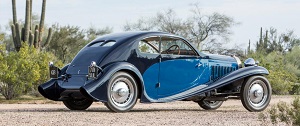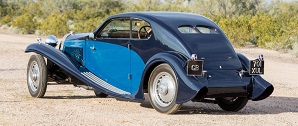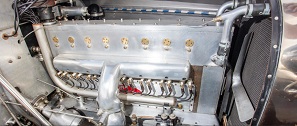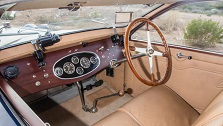 In terms of the statement made by these two profile body styles, it is a true icon of design of which there are very few survivors of the genus, those include a Semi-Profilée in the Louwman Collection, and the sole Superprofilée naturally resides in the Cité de l'Automobile, Musée National de l'Automobile, Collection Schlumpf, in France. The latter has proven to be an irresistible inspiration for others to mirror this striking piece of design. Copy being the sincerest form of flattery... this is one such example.
Most intriguingly, 46491 has a direct connection to the Schlumpf car. It is understood to never received coachwork in period, instead, it was one of a handful of Bugatti rolling chassis which would have languished around the works in the immediate post war era and was one of four which are understood to have been transferred to Ettore's son, Roland Bugatti. In the American Bugatti Club journal, Pur Sang Vol. 21, No. 3. Fall 1980, Andy Rheault wrote publishing a series of letters from Don Stanford to Russ Sceli in 1952, which refers to these cars as such: 'Richard Baudens' 'is a close friend of Roland Bugatti, Le Maestro's son' 'the Baudens-Bugatti friendship has resulted in a situation you won't believe, but here it is: Long ago, Baudens discovered a couple of brand new Bugatti chassis in Roland's garage and it turned out that there had once been four of 'em; Le Patron's last works, still (these two) in their original crates, 5-liter Bugatti engines complete and never yet turned over' 'Anyway—Roland Bugatti sold the last two crated chassis to Baudens, who shipped them to his garage in Paris, where they are today'.
Those two referred to are 46482 and this car 46491, the former would come to the States, and pass to Eri Richardson, who discovered the sole surviving Superprofilée body and matched it to that chassis in the late 1950s. That car is the subject of a number of articles entitled 'the last new Bugatti in the world,' and post Richardson moved on to noted Bugattiste Andy Rheault, who sold it to Fritz Schlumpf. Meanwhile, by elimination, 46491 is the other car referred to, which Don lists in 1952 as being 'definitely and finally not for sale, since Richard Baudens is going to have a body built for it'.
From Baudens this chassis now passed to Michael Glass in the UK and remained there for a number of years, 46491 was still in the UK in the 1980s where it was later acquired by arch car dealer Charles Howard, and then landed with the present owner nearly 25 years ago. A fastidious and passionate collector of French automobiles, he was inspired to recreate this mythical body style. To begin with the ideal was to build a semi-profilee, but as the project developed, the more avant garde Superprofilée became the desired conclusion.
Over the course of more than 10 years, the journey evolved, restoration was begun at Barrie Price's workshops and then transferred to Keith Bowley's renowned Ashton Keynes house in the British Cotswolds area. A color choice of black over blue was made, similar to 46482 and accentuating the car's lines.
The result as evidenced on these pages is stunning rendition of the stylized aerodynamic bodywork penned by Bugatti and Walter. Intriguingly, the coachwork that it wears today is not only to a period style, but also the first and only coachwork that chassis 46491 has ever worn. Once complete its use has been modest, with the occasional display outing including twice at the much-lauded Salon Privé event in 2009 and 2010.
Bugatti's majestic Type 46 is a much coveted and Grand Dame automobile of the brand, and in this form, it is also one of the most of its day. To date, the car has note been shown publicly at any USA Concours events, and is yet to be toured.
Also in the same auction:
1993 Bugatti EB110 GT, Estimate: US$ 800,000 - 1,000,000, € 700,000 - 880,000
2018 Bugatti Chiron, VIN. VF9SP3V3XJM795072, Estimate: US$ 2,800,000 - 3,300,000, € 2,500,000 - 2,900,000
---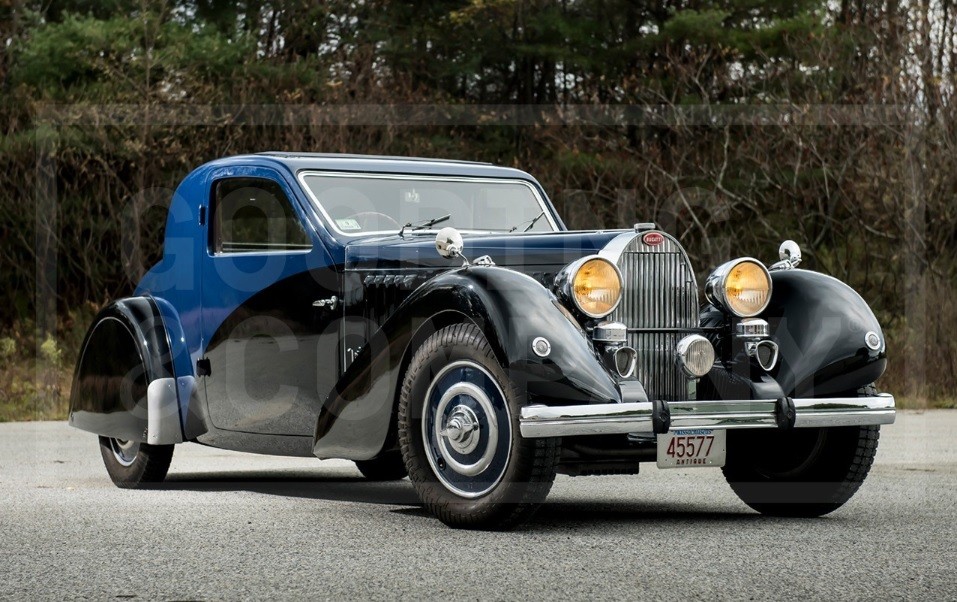 January 18 - 19, 2019 Gooding Scottsdale auction Scottsdale, AZ, USA
1936 Bugatti Type 57 Two-Light Ventoux
Chassis: 57469, Engine: 350
Highly Original, Largely Unrestored Condition | One of Six Examples Built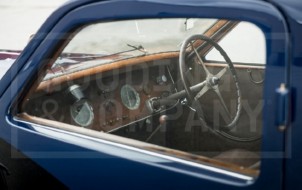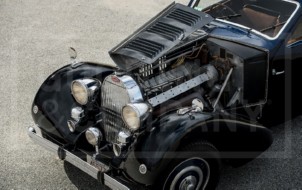 ---
Bugatti news: 2018 , 2017 , 2016 , 2015 , 2014 , 2013 , 2012 , 2011 , 2010 , 2009 , 2008 , 2007 , 2006 , 2005 , 2004 , 2003 , 2002 , 2001 , 2000 , 1999 , 1998 , 1997 , 1996
---
Back to the Bugatti Page