Bugatti news, 2018 Plus events
Bugatti news: 2017 , 2016 , 2015 , 2014 , 2013 , 2012 , 2011 , 2010 , 2009 , 2008 , 2007 , 2006 , 2005 , 2004 , 2003 , 2002 , 2001 , 2000 , 1999 , 1998 , 1997 , 1996
---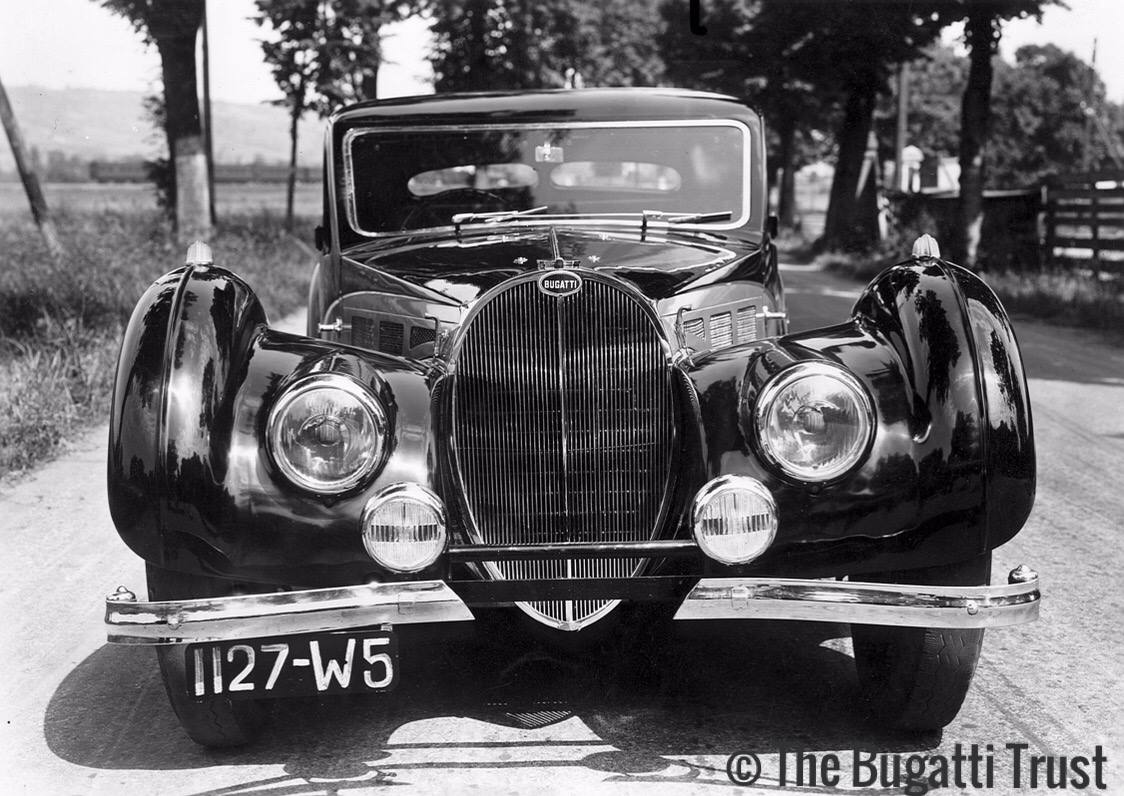 November 9 - 11, 2018 Lancaster Insurance Classic Motor Show NEC Birmingham, UK
Celebrating: The Magnificent Type 57 Bugattis
The Bugatti Owners' Club with the Bugatti Trust, will jointly be displaying a selection of very rare and unique Type 57 and Type 57S Bugattis. Hall 1 Stand 325.
Photo: Type 57S Atalante out on test drive near Molsheim with trade plates. Copyright The Bugatti Trust
---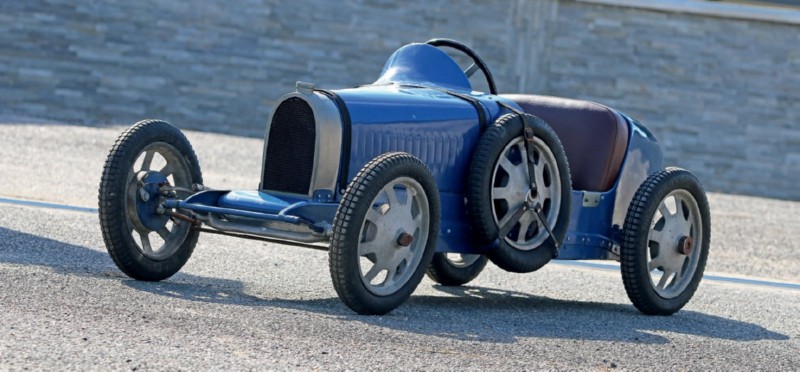 November 10, 2018 Aguttes Auction Lyon, France

1927 Bugatti Baby

Estimate 20,000 - 40,000 euro

Very close to the famous Bugatti Grand Prix produced at Molsheim from 1925 to 1927, this true Bugatti for kids was presented at the 1927 Milan Motorshow.

Created for Roland, the younger son of Ettore Bugatti, it has been finally put into a limited number production of 500 units. Fitted with an electric engine powered by a 12-volt battery and connected by a toothed crown to the rear axle, the Baby had a top speed up to 15 km/h. Sold at the time for the children customers' of the mark, it will make the happiness of the youth of the men in high places, the crowned heads and the celebrities.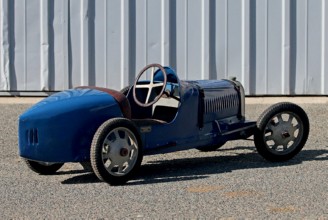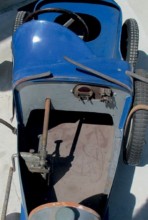 Our Bugatti has remained in the same family of the famous and talented French designer Philippe Charbonneaux since the late 1980's. Display for a while inside his personal museum in Reims and conscientiously preserved, this Baby is in really nice and original condition. Partly restored, it was repainted some years ago and upholstery have been remade. The seat is in original condition like the dashboard and the body. It is now in very nice condition and has all its leather bonnet straps, the famous horseshoe-shaped radiator grill and its fifth wheel (fitted with Dunlop Cord Ballon in 350x55R) are in used but good condition.

The Paris-Rhone engine is missing but all mechanics parts are in good place. Rare and very faithfull scale model to the famous Pre-war Bugatti Grand Prix, this Bugatti Baby, often mistakenly called the "Type 52" since Hugh Conway books, is an historic model and will be a great addition to any collection of Bugattis.
---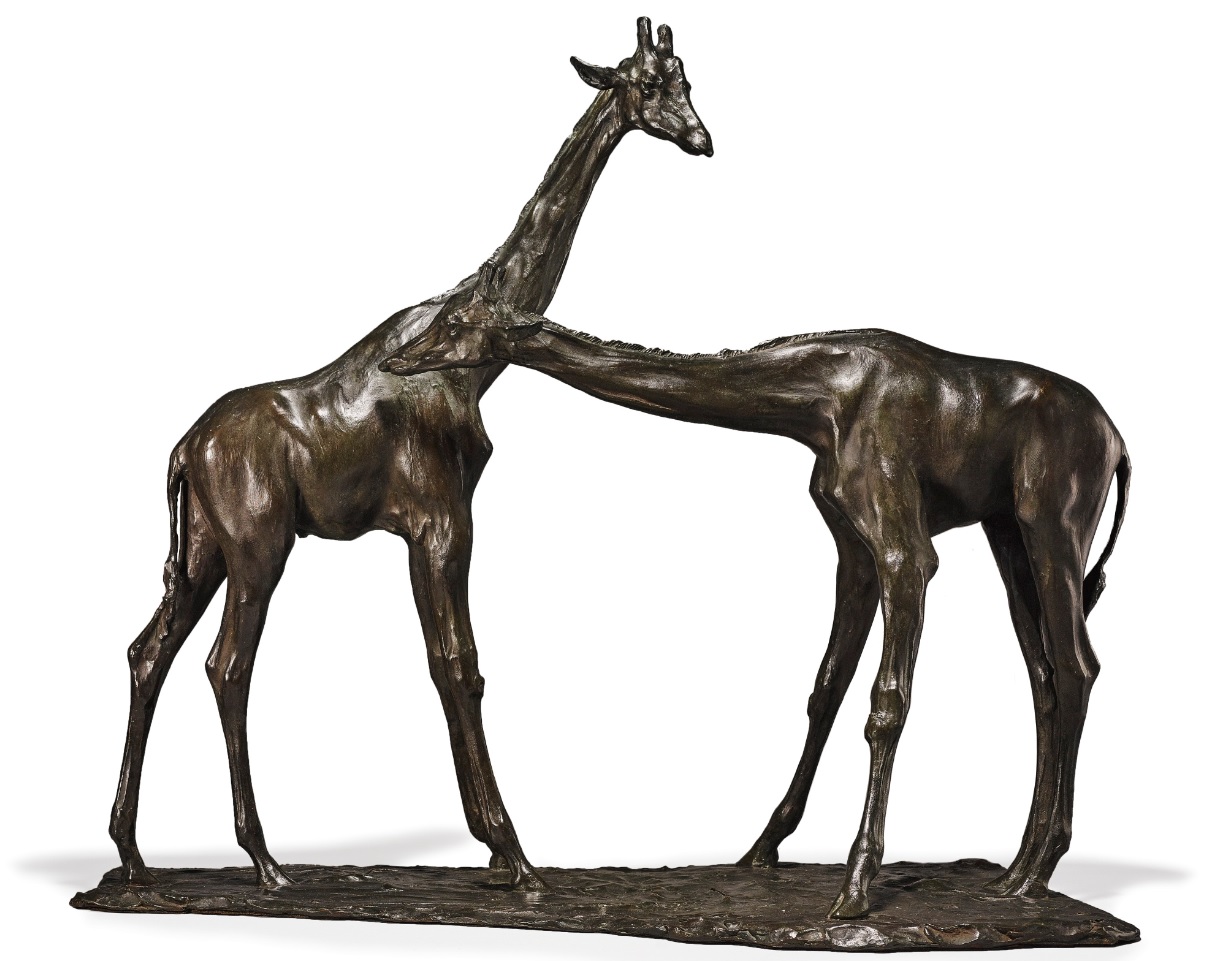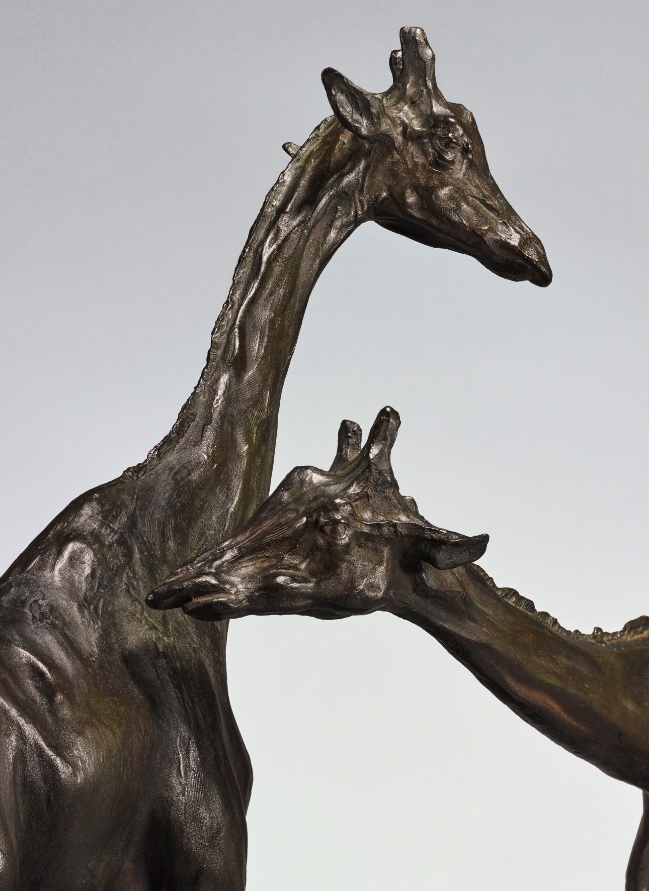 November 12, 2018 Sotheby's Impressionist & Modern Art Evening Sale New York, USA
Rembrandt Bugatti, 1884 - 1916
DEUX GIRAFES
Inscribed R Bugatti, numbered (pièce unique), dated 1906 Anvers and stamped with the foundry mark A. A. Hébrard. Cire Perdue
Bronze, Height: 23 5/8 in. (60 cm) - Estimate $1,500,000 — $2,000,000
Conceived in 1906 and cast in 1907; this work is unique.
Property from the descendants of Joseph Reinach.
---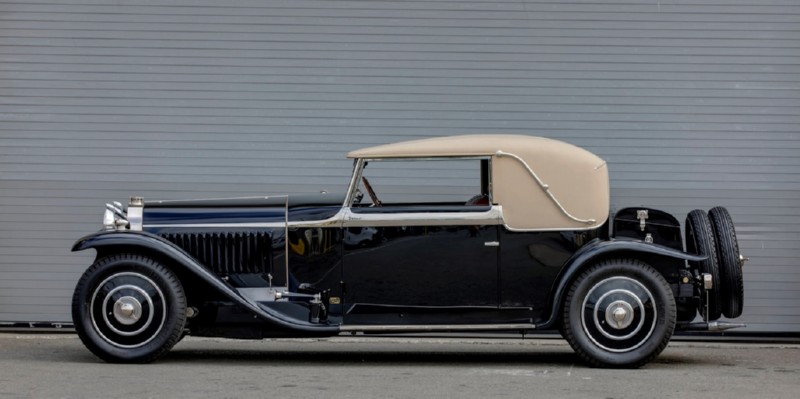 November 15 - 17, 2018 Mecum Auction Las Vegas, USA
1930 Bugatti Type 46 Faux Cabriolet
Coachwork by Veth & Zoon
Chassis 46293, Engine no. 157
Estimate: $1,150,000 - $1,250,000
Type 46 chassis ordered by C D Klos of Belgium
The 18th of 35 chassis produced in the Molsheim factory in April 1930
Faux Cabriolet coachwork by Veth & Zoon of Arnhem
Acquired by William Borchert Larsen of Wisconsin in 2004 after many decades of Dutch ownership
Extensive restoration completed by Alpine Eagle Restorations in U.K. at an estimated cost of $550,000
Winner of the George Harris Challenge Cup for Best of Show at the 2011 Bugatti Owner's Club Concours at Prescott Hill
Black with contrasting Beige Mohair hood and nickel-plated side mouldings
Brown leather upholstery with crocodile skin pattern
Inlaid wood door cappings
I know this car quite good, when Jos de Bouter still had it, I even had a ride in it, a few times. Of course, in those days, the then dark red car had a whole different character, visually.
Of course, before that the car belonged to Boele van Hoensbroek, also in the Netherlands, JJH
In 1929, Bugatti reigned supreme in the motoring world, its Type 35 racers dominating at every level of motorsports and the ridiculously opulent Type 41 Royale unchallenged as the very definition of automotive royalty. Between those two extremes was a line of inline-8-powered cars of decidedly sporting nature, most notably the Type 44, widely considered Bugatti's first attempt at combining performance with quiet, refined comfort and ease of operation. Still, there remained a void in the lineup beneath the enormously expensive Royale that Le Patron sought to fill with the Type 46, a larger car than the preceding 8-cylinder models and designed to be driven and enjoyed by average drivers, albeit those with the means to own one of the finest automobiles in the world.
Riding on a 138-inch wheelbase and spanning 15 feet in overall length, the Type 46 traded nothing in the way of performance to accomplish its grand-touring mission. Its engine, derived from the majestic Type 41 Royale, was a torque-rich 5.4L inline-8 with three valves per cylinder actuated by a single overhead camshaft, with output estimated at 140 HP. In typical Bugatti fashion, it was an engineering marvel, based on a one-piece aluminum monoblock with the head, combustion chambers and crankcase all cast in a single unit. The Type 46's suspension (comprising rigid axles on semi-elliptical springs), rear-mounted 3-speed transaxle and cable-operated drum brakes were also carried over from the Type 41. No surprise, then, that the Type 46 became known as "La Petite Royale."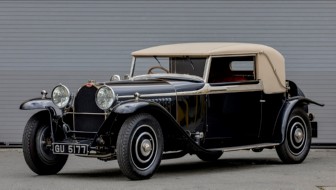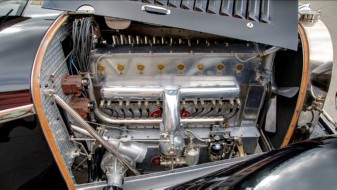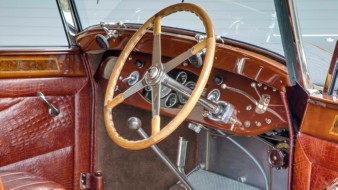 In contrast to the hyper-expensive Royale, of which only six were built, the Type 46 was relatively affordably priced, resulting in the production of 444 examples and making it one of Ettore Bugatti's greatest commercial successes. In contrast, the supercharged Type 46S introduced in 1930 held little appeal to buyers expecting more from its 160 HP output, and only 18 were sold. As Bugatti's designated flagship model, the Type 46 attracted a wide variety of custom coachbuilders, among them Veth & Zoon, founded in 1840 in Arnhem, the Netherlands. The company started with horse-drawn carriages before building bodies for Spijker, Rolls-Royce, Maybach, Bugatti, Bentley and MG. In 1914, they were awarded the status of official supplier for the Royal Dutch Family. Veth & Zoon's interpretations of the Type 46 included the brilliantly executed "Faux Cabriolet" treatment on this 1930 Type 46, Chassis No. 46293 and Engine No. 157. The 18th of 35 Type 46 chassis built in April 1930, it was ordered on April 4 by Dutch Bugatti agent, H. Stam, for his client C. D. Klos, a mussel farmer from Yerseke on the Oosterschelde coast.

In 2004, William Borchert Larson of Wisconsin acquired Chassis No. 46293 after many decades in Dutch ownership, and he commissioned UK specialists Alpine Eagle Restorations to return the car to its original grandeur. The restoration was completed after Larson's passing over a six-year period and at a cost of more than $500,000. Soon after the car's completion, it appeared at the 2011 Bugatti Owner's Club Concours at Prescott Hill, where it won the George Harris Challenge Cup for Best of Show.

Closely patterned after the body Klos had ordered for his 1928 Type 44, this car's Faux Cabriolet coachwork was a popular treatment among Type 46 buyers, elegantly interpreting the model in two-door form with an imitation soft top and a separate trunk nestled between the rear fenders to complete the coupe design's perfect proportions. Finished in black with a contrasting beige mohair hood and nickel-plated side mouldings that emphasize the car's long horizontal lines, its interior features beautiful brown leather upholstery with a crocodile-skin pattern popular in the Art Deco era and beautifully complemented with inlaid wood door cappings. Stunning coachwork and a sensational presentation combine in this wonderful testament to Ettore Bugatti's artistic and engineering genius.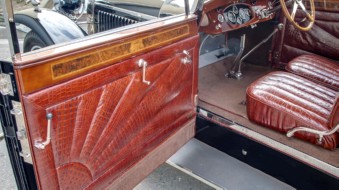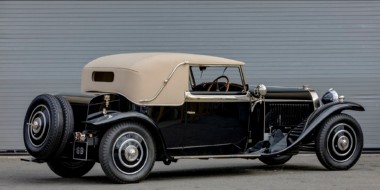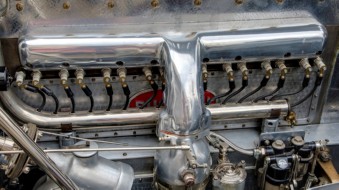 ---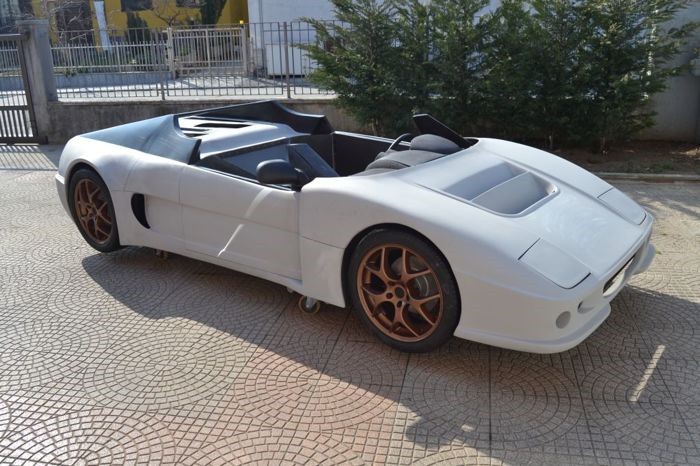 May 5, 2018
EBM Prototipo Bugatti - Spyder Pininfarina design - 1999
Currently on auction at Catawiki, auction ending May 16.
Remembering from way back in 2005, when I presented the Bugatti Speedster by EBM of south Africa, see the 2005 News page, July 16 ?
Well, in that very article, I mentioned that there were in fact three prototypes, two speedsters and a Coupé, and that one of the speedsters did not exist anymore. Well, in fact that very car is now on offer, and yours to bid on!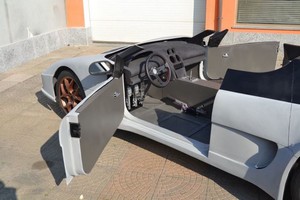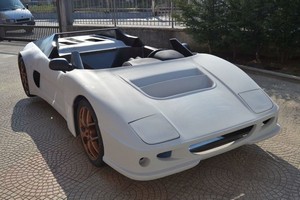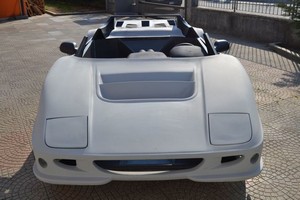 The description as it goes with the auction is as follows:

Project to be completed in advanced condition of completion, every part is new.

The car, although new, was checked and painted in all its details, while the bodywork has a primer that will have to be sanded for the final painting.

All colours are in line with the choice made by the Brunei Sultan, who wanted the car in the following combination:
silver in colour, with matte black details and bronze/golden wheels, interior had to be black and gold. He was supposed to be the first buyer for the launch of the car in production, but the car was no longer delivered and stayed in Britain until my purchase in 2017.

The car was designed by Pininfarina and then built in Great Britain by an unknown company made up of racing car engineers. According to a report, the car was registered in the United Kingdom in the 2000s and was therefore also tested in a test centre.
The car follows the single copy mode registered as:
EBM TAZIO SPYDER, A vin chassis results: EBM-RSA 99100021

According to the Individual Vehicle Approval (VAT) in Great Britain, the car can be re-registered according to their regulations after special inspections and tests, based on the old documentation. The car must be completed and functioning in all its parts before booking the check-up. Once re-registered in Great Britain, the car can be easily re-registered in the buyer's country. There is no obligation on the part of the buyer to road re-registering.

The car can also be registered as a new construction in various countries around the world.

It has a vin chassis mark on the frame, only valid for UK re-registration, but no registration document (V5 or V5c) is included with the car.

This car still is a unique example built at the end of the 1990s, even the lines are those of the time It very much reminds some Ferraris. The idea was to build a spyder car that could be used on the road but also on the track and participate in endurance racing.

The Chevrolet v8 5.0 type 305 small block engine (the same monobloc used for the f5000 of the 70s) with 5-speed gearbox plus audi getrag type reverse gear is included in the sale. Engine is to be overhauled but it is complete, it is a good engine for great performance and various processing, gearbox is ready to use, then you will have to build the lines of connection between the levers in the car and the motion control already present on the gearbox It also has engine mounts. Radiator is from factory, repainted, ready to fix.

There is also a double engine air intake to be fixed to the bonnet, a very rare and original piece already studied, also used on the le mans version of 512bb Ferrari Seats were purchased new, all connections for the assembling are present, including safety belts All you see in the photos will be sold.

I can help in finding the missing parts and provide support in car refinishing The car was viewed by the Simbol Design Automotive company, well-known for producing special cars Available to finish upon request up to on-road setup.

An engine up to 12 cylinders can be installed, there's room in the frame to do it, provided it is not a boxer.

Once completed, this car will become a much sought-after car and highly valuable for investment A truly unique car. I am available for any info and for viewing the car by appointment, located in Crevoladossola (Italy).
So, a unique project, below what the finished speedster could look like (this is the other one of the two speedsters, from the article of 2005):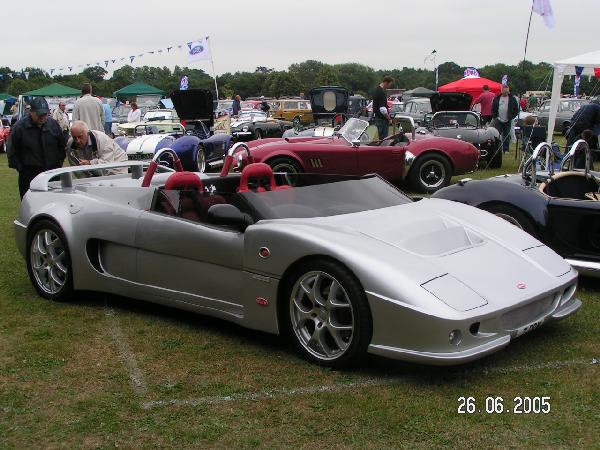 And the coupé you may ask, how does that look? Well, I found photographs of it on a French website: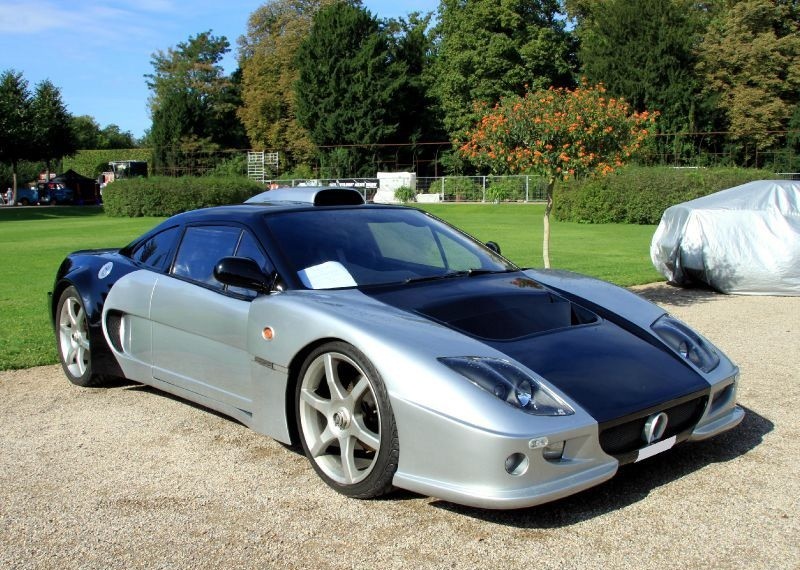 In my opinion, this coupé, with American engine and Audi running gear, is less good looking than her open-top sisters.
---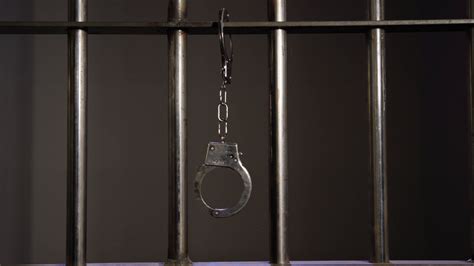 May 5, 2018
Sentence read for selling Replica Bugatti's
The two men from the small town of Westervoort were sentenced to 200 hours community service plus six months in prison, suspended.
Remember the article from April 18? Well, the judge has spoken the verdict.
At the hearing in mid-April, the defendants argued that the ten delivered vehicles were composed of authentic parts of old, disassembled Bugatti's. Thus, the constructed cars were real old-timers. However, the judge considered the fraud proven.
---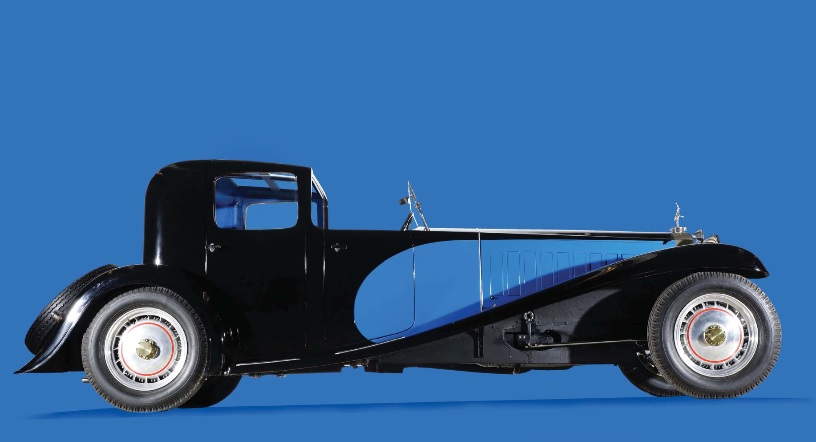 May 3, 2018
Auction results
Osenat Auction, Strasbourg, France, May 1, 2018
Lot 1, miniature autorail Bugatti, € 300, costs included
Lot 5, 2 miniature autorail Bugatti, € 336
Lot 7, 3 miniature autorail Bugatti, € 480
Lot 12, vise, original, € 4560
Lot 19, vise, not original, € 3360
Lot 28, vise, not original, € 4800
Lot36, vise, not original, € 4800
Lot 41, vise, not original, € 5400
Lot 45, Bugatti Vise legs, original, € 3600
Lot 47, vise, not original, € 5400
Lot 48, Bed made for Jean Bugatti, € 4200

Lot 49, Type 49 engine, No L 73, estimate: 30 - 50 k€, sold at € 22800
Lot 50, radiator Type 44, € 4560

Lot 135, Type 23 Brescia Reconstruction, estimate: 60 - 100 k€, sold at € 60000
Lot 136, Type 35B, BC41, estimate: 400 - 600 k€, sold at € 528000
Lot 137, Type 46 Petit Royale Coupé de Ville, 46065, estimate: 350 - 450 k€, sold at € 384000
Lot 138, Type 51 reconstruction, estimate: 350 - 500 k€, sold at € 342000
Lot 139, Type 49 Roadster, BC60/49572, estimate: 320 - 380 k€, sold at € 360000
Lot 140, 1925 Type 35, Chassis 3537, estimate: 300 - 400 k€, sold at € 336000
Lot 141, Type 49 Torpedo 4 places, chassis 49125, estimate: 320 - 380 k€, not sold
Lot 142, 1930 Type 35A, estimate: 290 - 350 k€, not sold
Lot 143, Type 57 Galibier, Chassis 57761, engine 552, estimate: 320 - 380 k€, sold at € 432000

Lot 134, VW Beetle based "Bugatti", 1963, estimate: 8 - 12 k€, sold at € 36000
Lot 155, Pur Sang Type 51, nr 1970/2010, estimate: 200 - 250 k€, not sold
Lot 156, Citroën Méhari, ex Caroline Bugatti, 15000€

Info From Cyril Gautier
We see here again the importance of originality; the one car that was totally original, the Galibier, was the only one fetching a higher price than the max. estimate... Exception being the VW beetle based replica....
PDF file with all Bugatti items, photographs + descriptions
---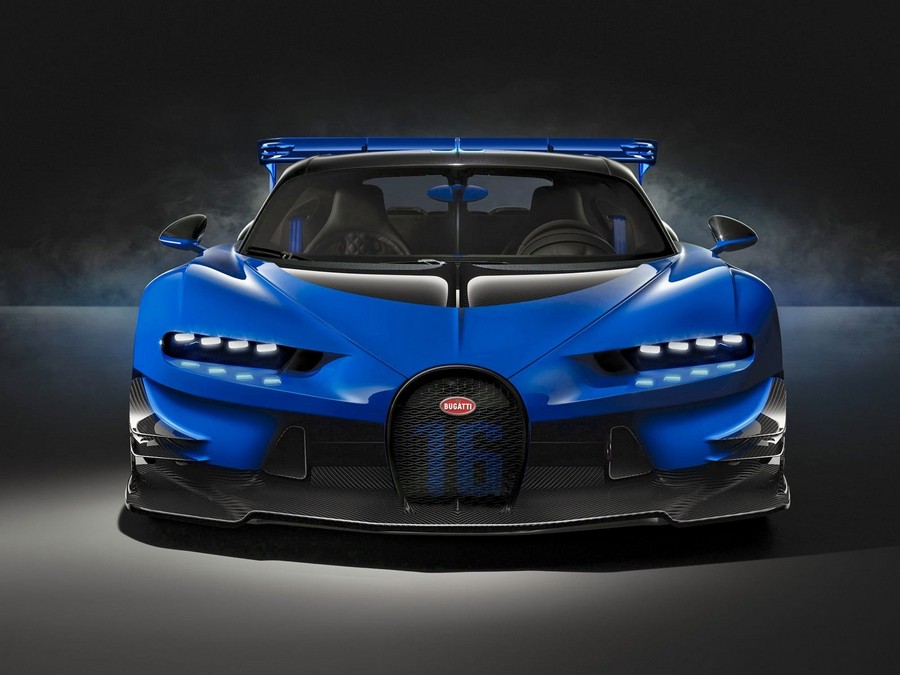 May 3, 2018

Extreme Bugatti Chiron Special Edition Coming Inspired By Vision GT

Bugatti will reveal a new special edition model later this year.

At this year's Geneva Motor Show, Bugatti unveiled the track-focused Chiron Sport. A true Chiron successor will eventually arrive, but in the meantime new CEO Stephen Winkelmann has hinted that several new Bugatti models are also in the pipeline, marking the first time the automaker has developed more than one model at a time. Bugatti hasn't revealed what these models will be, but one of them was recently previewed at a private event in Los Angeles.
---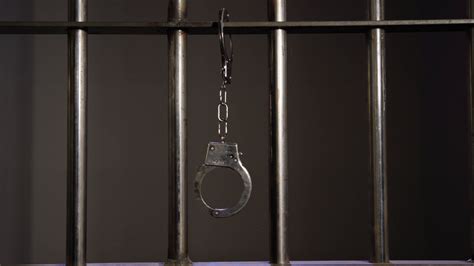 April 18, 2018

Going to jail for selling Replica Bugatti's

Two men from the small town of Westervoort in the Netherlands, aged 50 and 60, sold Bugatti's at incredibly low prices, However "they are real".

The pair was arrested already in 2013, but were now brought to court, sentence will be in two weeks from now. The main question in the court in Arnhem was, if the cars were produced using 100 year old parts, or if they were completely new replica's.

Justice is convinced that the second scenario is valid, and that the two was fooling around with the tax department.

This of course beacuse the import taxes for oldtimers is considerably lower than for new automobiles. By marking the replica's as oldtimers, the two paid at least 180,000 euro less taxes. The District Attorney demands jail time of 14 months for the older of the two, and 10 months for the younger suspect.

Gray area

The two of course claimed their innocence. "If you take a piece of fabric from the 1930's to make a dress, what do you call it?", said the youngest one in court, "tell me, madame Judge, I think it is a gray area. We never intended to avoid paying taxes".

The criminal acts were committed between 2008 and 2013. The two men worked with an Argentinian car builder (we know who they are), who delivered them a dozen classic Bugatti's. The suspects stated that the cars were built using authentic parts of old, dismantled Bugatti's. Thus, they were oldtimers, they say.

The justice department comes to a different conclusion. According to them, it has been proven that all parts of these imported Bugatti's are in fact new.

Replica's

"The Argentinian firm the two did business with, make replica's of old automobiles", according to the DA. Where an authentic Bugatti from early last century will be worth about 2 million euro, the imported cars were sold for a fraction of that, in a single case as low as 60,000 euro. "also for the buyers it was absolutely clear that the cars were replica's, and the suspects did not know? I absolutely believe nothing of that."

Strangely, the customs department did not see anything strange over those years, "and that while they do a thorough inspection of each car", said one of the lawyers. "They knew of all the details, and never made any objection to importing those Bugatti's at the oldtimers tax rate".

As I said, the verdict will be in two weeks from now.
---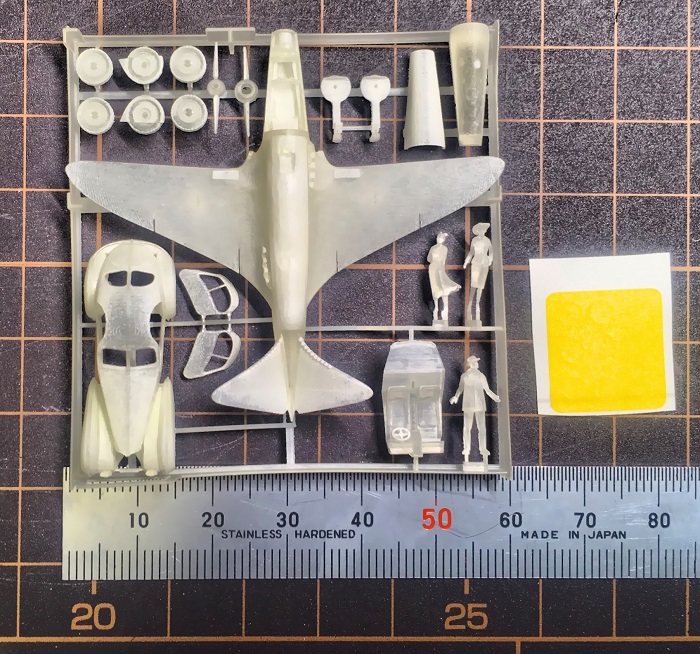 April 15, 2018

Small, Smaller, Smallest.....

You know me as an enthusiast of the Bugatti airplane, and also as someone who pays attention to Bugatti miniature models. In fact, I have some kits of the 100P Bugatti airplane still waiting to be built..

From Japan this novelty, in three ways:
- The kit is in 1:144 scale, a scale usually used for large airplanes.
- The kit is a combination of two models; the Bugatti Airplane and the T57SC Atlantic.
- The kit was made by 3D-printing.

Apparently, not many are made, you can order from this website, which delivers internationally: www.dameya.net/shopdetail/000000000512/
---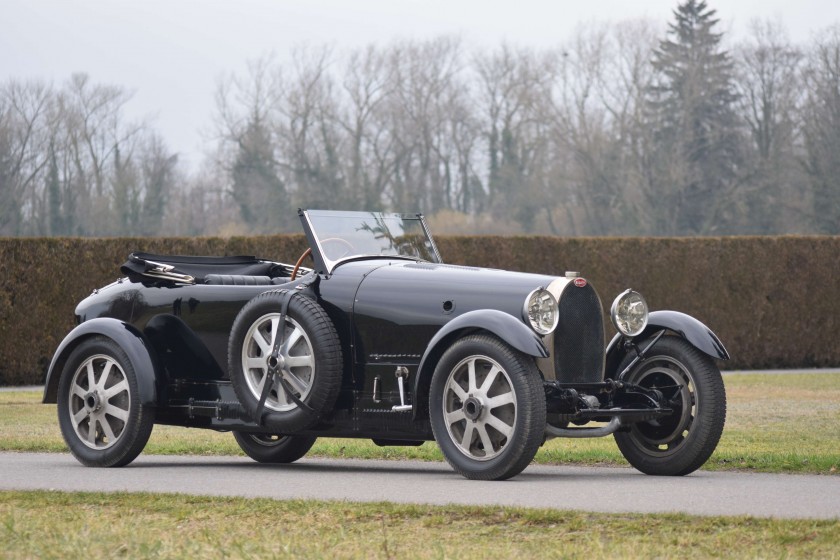 April 9, 2018

Auction result

Artcurial Auction - Automobiles sur les Champs 12, Paris, France, April 8, 2018

1927 Bugatti Type 43 Torpédo Grand Sport, Chassis n° "43186", Estimate: 500,000 - 800,000 €: Not Sold
---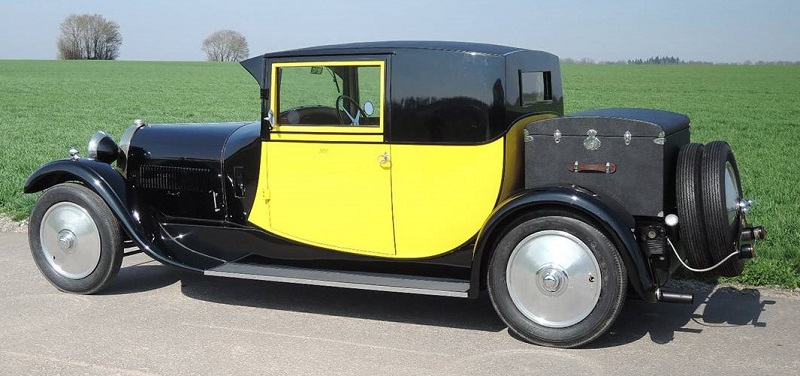 March 30, 2018
Auctions results
Osenat Auction, Automobilia & Automobiles de collection, Fontainebleau, France, March 24, 2018
1928 Bugatti Type 44 Cabriolet Vanvooren 4 places, Chassis 44646 moteur 402: Sold for €360,000
Coys Auction Techno Classica Essen, Germany, March 24, 2018
1928 Bugatti T44 Fiacre by Gangloff, Chassis 441141, Estimate €500,000- €550,000: Sold for €618,750
---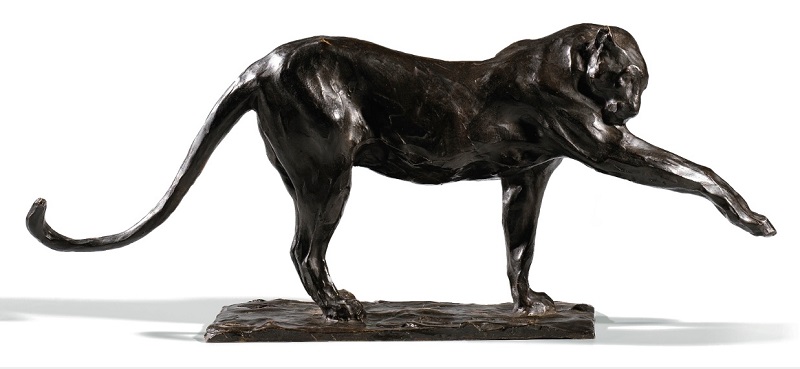 March 24, 2018
Auction result
Sotheby's Art Impressionniste et Moderne auction, Paris, March 23:
Rembrandt Bugatti - PETITE PANTHÈRE SE LÉCHANT LA PATTE, Estimate 100,000 — 150,000, Sold for 285,000 EUR
---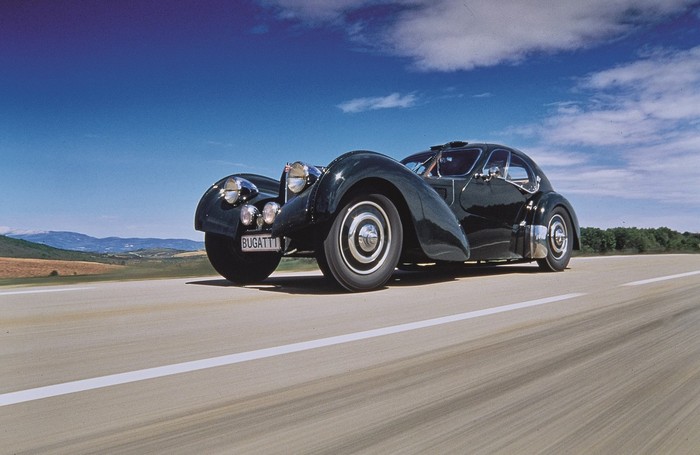 March 24, 2018
Bugatti Type 57SC Atlantic wins the category "Classics of the 1920s and 1930s" - Again
Molsheim/Essen, 23 March 2018
Bugatti has set up a record at this year's "Motor Klassik Award" ceremony held by German motoring magazine Motor Klassik. The Bugatti Type 57SC Atlantic, one of the world's most beautiful and most valuable automobiles, has been chosen by readers of Motor Klassik for the fifth time as the best car of the 1920s and 1930s. Bugatti is therefore the first brand to have won an award every time it entered and so often in one category. The award ceremony was held in the Colosseum Theater in Essen.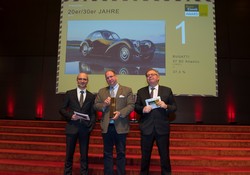 "This award for the Atlantic is a great honour for us," said Julius Kruta, Head of Tradition at Bugatti Automobiles S.A.S., at the award ceremony. "It is great to see that people are still so thrilled by this incredibly beautiful car. We would like to thank the readers of Motor Klassik for this fantastic result." The supercar was once again the clear winner against five competitors in its class, with 37.3 percent of the votes cast.
In 1936 to 1938, only four examples of the 57SC Atlantic were built. Nowadays, only two of these cars still exist in entirely original condition. The Atlantic is the most famous variant of the Type 57. With the SC model ("SC" stands for "supercharger"), Jean Bugatti, son of company founder Ettore, wanted to offer a sports racing variant in addition to the standard version. The sports coupe was equipped with an in-line 8-cylinder engine with a displacement of 3,257 cm³ which developed about 200 PS. The vehicle could reach speeds in excess of 200 km/h.
Jean Bugatti, who had already proved his talent for special body designs with the Type 41 Royale, the Type 55 Roadster and the Type 50, designed an extremely lightweight, aerodynamic body for the Atlantic. Aluminium was used for the body panels. The result was the distinctive design feature of the Atlantic, a clearly accentuated dorsal seam running from the windscreen to the rear bumper. This is a riveted joint that holds the two halves of the aluminium body together and is today a characteristic design element of the brand. The wheels stand out from the body and are accentuated by huge wings. Viewed from above, the beautiful, elegant shape of the Atlantic becomes especially clear, with the extremely long bonnet running into the round rear, forming an oval.
During the annual survey held by Motor Klassik, a motoring magazine published by Motor Presse of Stuttgart, readers are asked which classic cars they especially appreciate and which modern vehicles could become coveted classics or recent classics in a few decades. There are six categories based on the year of production and six special categories.
Editor's comments (same as last year!):
Of course I agree 100% with the T57SC Atlantic winning this survey, but they did a few things wrong:
Of course a photograph of an original Atlantic should have been displayed with the article, not a replica. A better one was shown during the award ceremony!
The prize should not have been given to VW-Bugatti, who just bought the name. It should have been given to members of the Bugatti family, like one of Ettore's living children Therèse and Michel or his granddaughter Caroline, who seems to be most involved with the family tradition nowadays.
---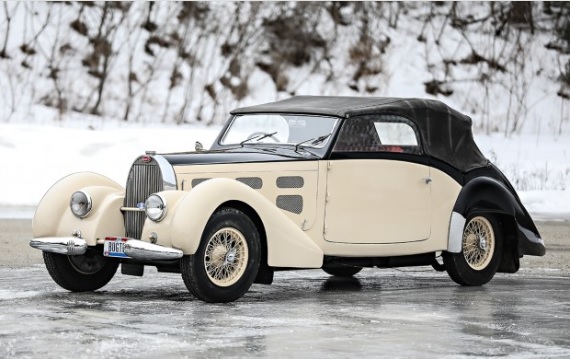 March 12, 2018
Auction result
March 9, 2018 Gooding & Co - The Amelia Island auction, Florida, USA
1936 Bugatti T57 Stelvio Gangloff, Chassis 57442, Estimate: $450,000 - $600,000, Sold for: $198,000
---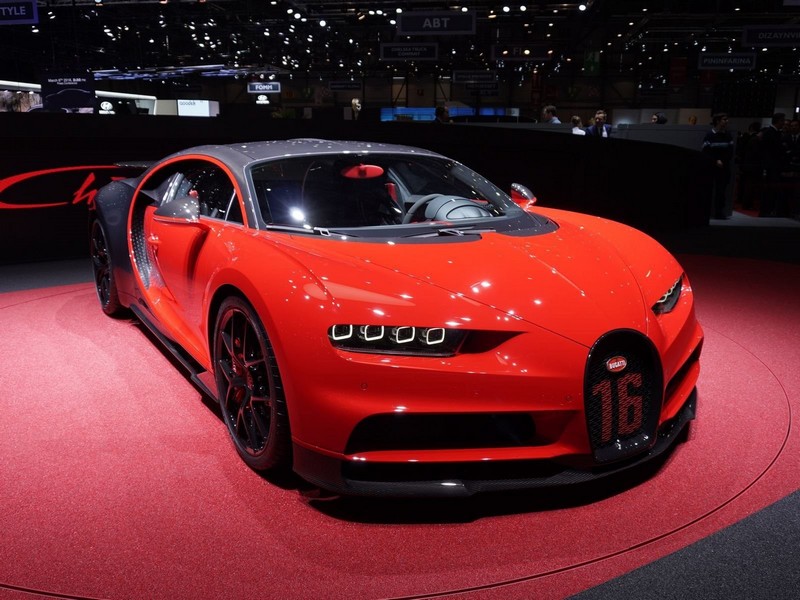 March 10, 2018
Bugatti Boss Hints At New Models Beyond The Chiron
Could a second Bugatti model join the Chiron?
There were several significant supercar and hypercar debuts at this year's Geneva Motor Show. One of them was the surprise reveal of the track-focused Bugatti Chiron Sport. While it isn't more powerful than the regular Chiron, packing the same 16 cylinder 8.0-liter engine with 1,479 hp on tap, it's lighter and faster around corners, making it more suited to the track than the standard Chiron. Inevitably, we will eventually see a successor to the Chiron, but Autocar reports that Bugatti has already started conceptual work on several new models.
"I can confirm we have a team working on future projects," Bugatti's new boss Stephan Winkelmann said at the Geneva Motor Show. "I will not say more now, but keep an eye on what we are doing in Molsheim - there will be more." Winkelmann refused to elaborate on his statement. What's interesting here is that the CEO didn't just say Bugatti is working on its next car – it's working on multiple projects, when the automaker normally only develops a single car at a time. This could be hinting at a companion car for the Chiron, or a more powerful Chiron Super Sport for Bugatti's planned top speed record attempt this year to reclaim the crown from the Koenigsseg Agera RS.
Former CEO Wolfgang Dürheimer has also previously declared that "the four-door car is not dead," raising the possibility of Bugatti producing a four-door super sedan as a production version of the Galibier concept unveiled back in 2009. A final decision on what form Bugatti's next car will take will be decided before the end of the year. Dürheimer also confirmed that Bugatti's next hypercar will most likely adopt a hybrid powertrain. A second model line is also being considered to join the Chiron's successor, which might be built while Bugatti continues to develop hybrid technology for its next hypercar to ensure it meets the performance standards the automaker is renowned for.
Source: Carbuzz.com
---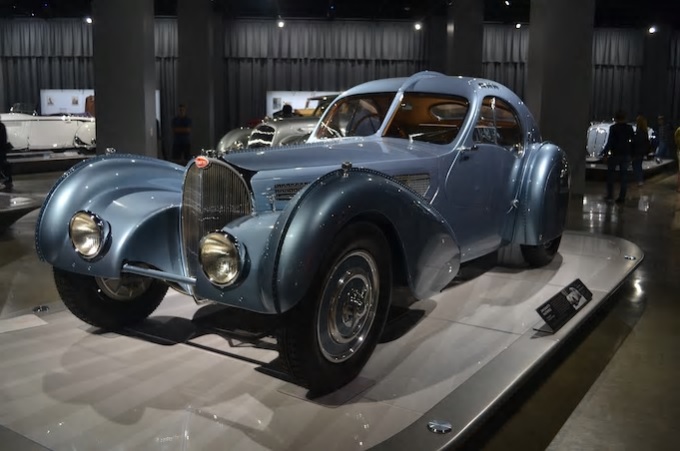 March 6, 2018
Peter Mullin Reveals Plans to Open New Museum in England
160-acre facility replete with vacation lodging and storage space
ccording to Octane magazine, automotive museum mogul Peter Mullin plans to open a new museum in England. The all-new facility will house examples of Mullin's extensive collection of pre- and post-war cars, primarily of French origin. The $200 million development is tentatively called The Mullin at Great Tew, located in the Cotswolds region of south England. Approximately 160-acres are set aside for the elaborate structure, set to draw 200,000 visitors a year when it opens in 2020.
Specifically, the proposed museum will break ground on a portion of the Enstone airfield, some 20 miles north of Oxford. The building features 60,000 sq. ft of display space over four floors, accompanied by 50,000 sq. ft of storage space. On the museum grounds, a demonstration track and workshop complex will serve visitors. For patrons of the museum and well-heeled visitors, a series of 28 lodges are planned with various layouts and sizes.
At the moment, there's no word on the future of the original Mullin museum located in Oxnard, California. The 50,000 sq. ft. facility houses some of the greatest Art Deco-era cars the industry has ever seen, ranging from a perfect 1936 Bugatti Type 57C Atlantic to a 1925 Bugatti Type 22 pulled from the depths of an Italian lake.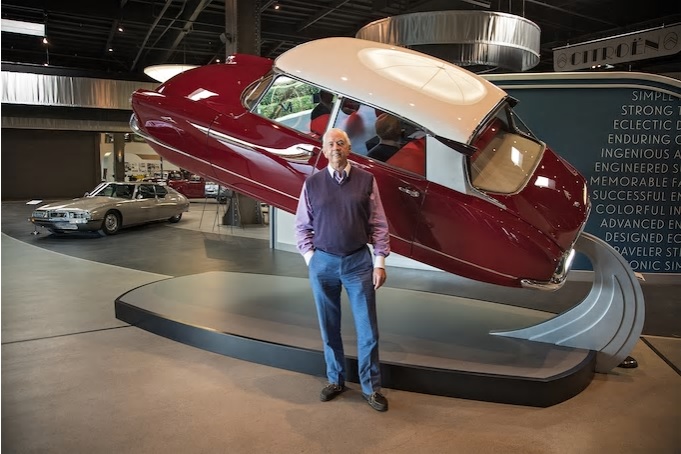 Peter Mullin posing with a "Flying" Citroën DS at his recent Citroën exhibition in Oxnard.
Don't expect to only see Mullin's collection at the new facility. "'I know from my experience with the Mullin museum at Oxnard [California] and the Petersen that there's a tradition of lending vehicles to other museums for exhibitions, and I'm sure there'll be opportunities for that here," he told Octane. "It won't just be about classics, however. We want to celebrate not just where we've been but where we're going."
Considering the reasonably quiet nature of the area, not everyone is pleased with the plans. Some residents, including actor Sir Patrick Stewart, are vocal in their dissent against the proposal with some calling it "elitist." Project director Kieran Hedigan told Octane that "One of the key objectives of The Mullin is to serve audiences of all ages, rich and poor, young and old," he said. "This project will transform an overgrown brownfield site into a destination for grandparents and grandchildren and everyone in between."
Source: www.automobilemag.com
---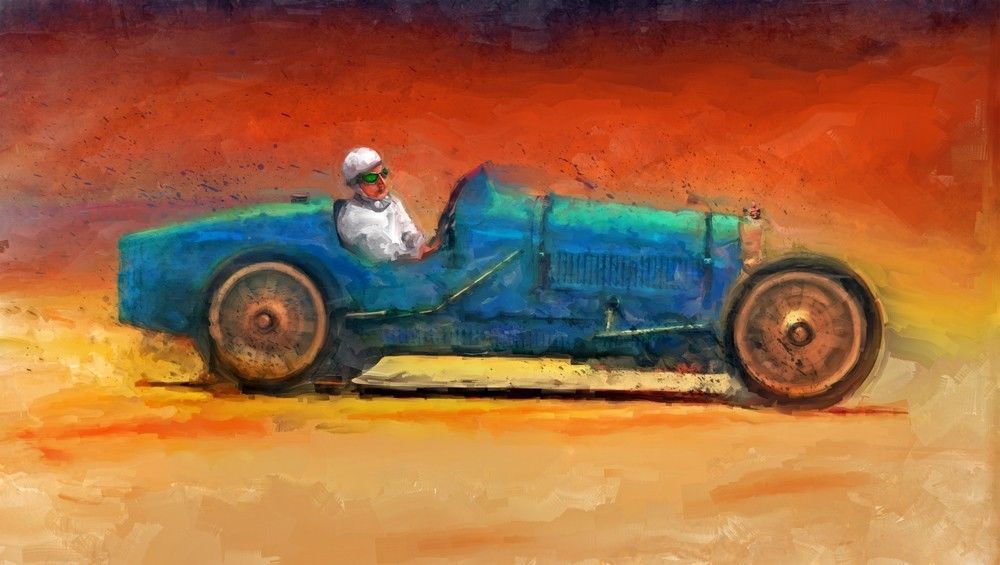 Bugatti 35GP 1929 championship
Unknown artist
---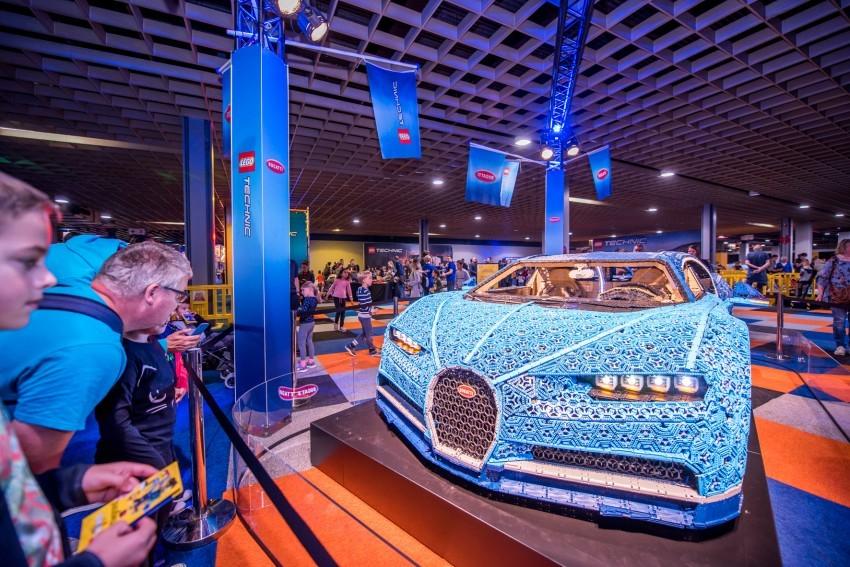 October 20 - 24, 2018 Lego World Jaarbeurs, Utrecht, the Netherlands
The Chiron built from Lego, is currently on display at Lego World in Utrecht!
---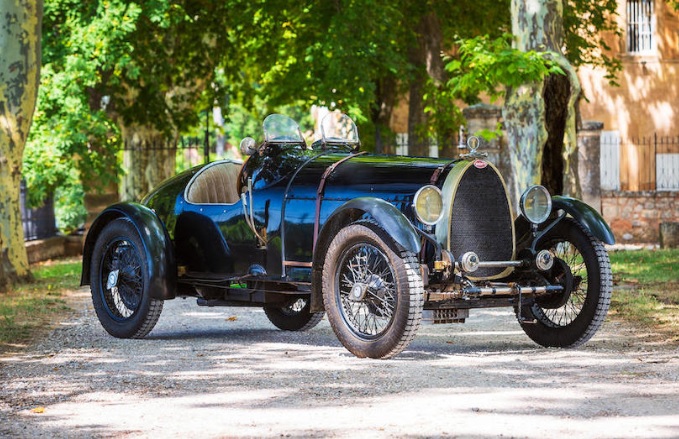 September 8, 2018 Bonhams' Goodwood Revival auction Chichester, Goodwood, UK
1922 Bugatti Type 30
Chassis no. 4238 Engine no. 242/5
Estimate: £ 400,000 - 600,000, € 450,000 - 680,000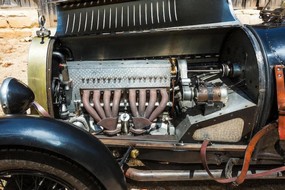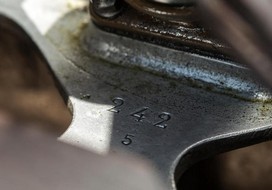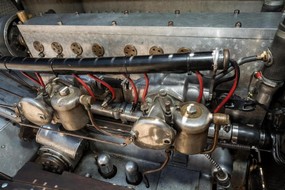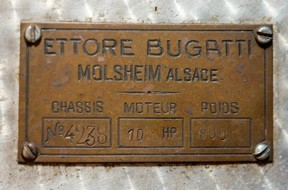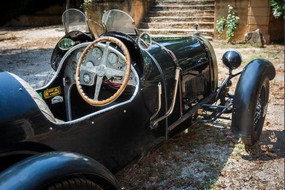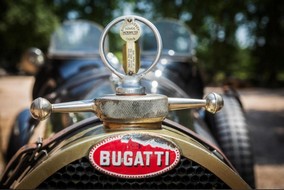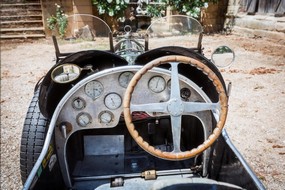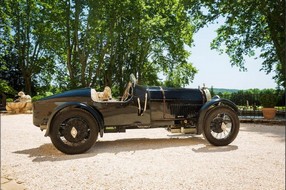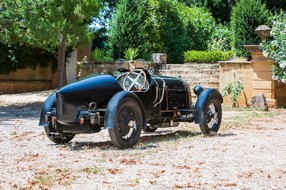 More info.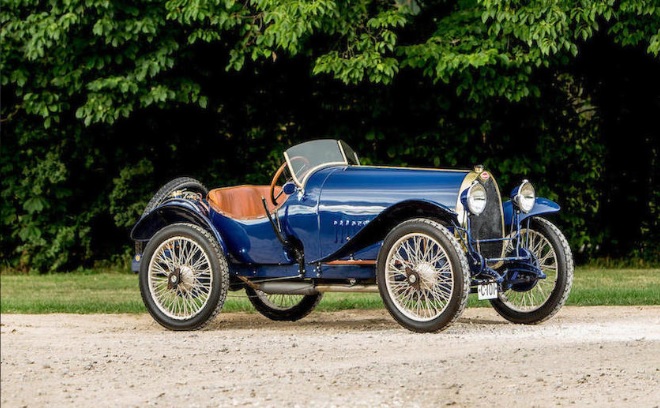 1924 Bugatti Brescia Type 13a
Chassis no. 2058, Engine no. 366
Estimate: £ 380,000 - 400,000, € 420,000 - 440,000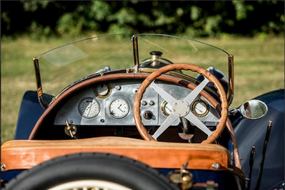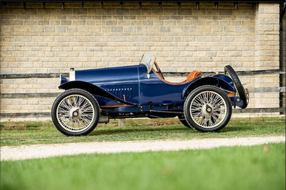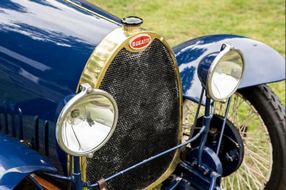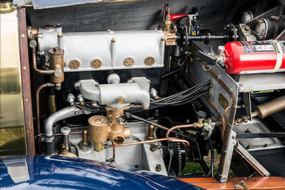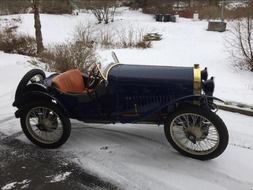 ---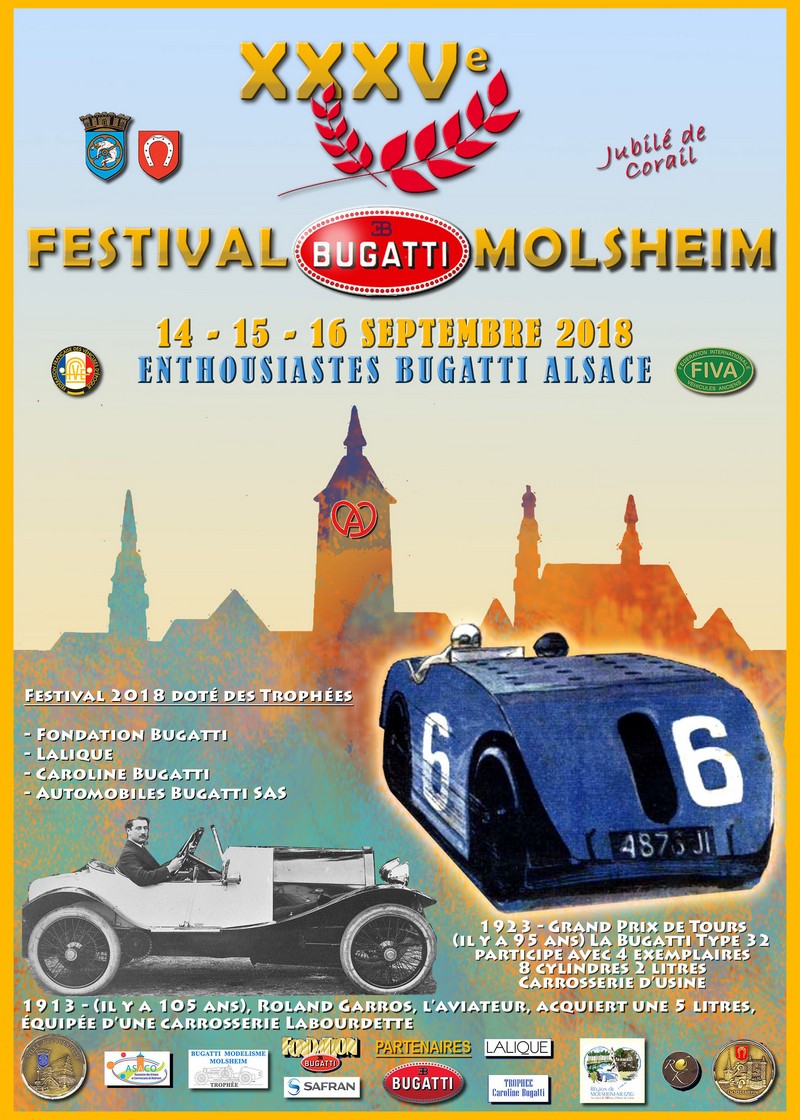 September 14 - 16, 2018 Bugatti Festival Molsheim, France
The only event which always takes place in the birthplace of Bugatti.
---

April 14, 2018 until ? French coachbuilt cars exhibition at the Mullin Museum Oxnard, CA, USA
"L'epoque des Carrossiers: The Art and Times of the French Coachbuilders" is the title of a new exhibition opening April 14 at the Mullin Automotive Museum in Oxnard, California, where some of the most sculpturally sensual cars in the world will be on display. Among those cars are the 1936 Bugatti Type 57SC Atlantic by Jean Bugatti, 1939 Delahaye Type 165 cabriolet by Figoni et Falaschi and 1937 Talbot-Lago T150-C SS "Goutte d'Eau."

"Our new exhibit will showcase the sublime beauty and artistry of France's finest coachbuilt cars," Peter Mullin, the museum's founder, was quoted in a news release. "The display highlights the nuanced details and elegant craftsmanship that define and distinguish each of the coachbuilders from one another.

"The elegant cars paired with their rich and diverse stories will create a captivating educational experience on the coachbuilt genre."

Included in the exhibit are works by Bugatti, Citroen, De Villars, Figoni et Falaschi, Henri Chapron, Henri Labourdette, Guiet & Cie., Pourtout, Jacques Saoutchik, Vanvorren and Gabriel Voisin, the museum said.

Several of the vehicles are Best of Show winners at major concours d'elegance.
The photo above is worth a click: it is in fact super-detailed!
---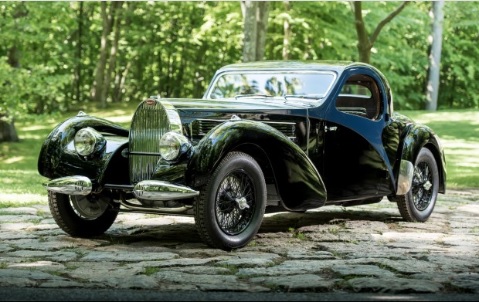 August 24 & 25, 2018 Gooding & Company Pebble Beach auctions Pebble Beach, CA, USA
1938 Bugatti Type 57C Atalante
Chassis: 57766, Engine: C57
Estimate: $2,800,000 - $3,300,000
Formerly the Property of Al Garthwaite and John W. Straus
Pebble Beach® Award-Winning Restoration by Sargent Metal Works
Fitted with Rare Alloy Coachwork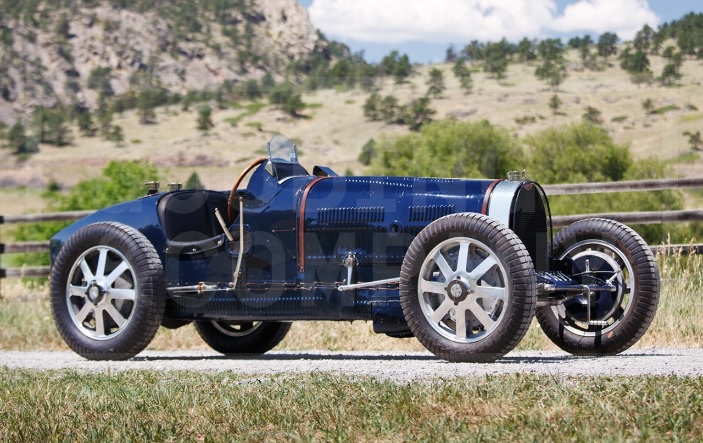 1931 Bugatti Type 51 Grand Prix
Chassis: 51132, Engine: 15
Estimate: $3,200,000 - $3,700,000
Original Bugatti Works Grand Prix Racing Car
Extraordinary Period Grand Prix History and Provenance
Formerly Owned by Noted Racing Driver Jean-Pierre Wimille
Documented, Correct Re-Chassis in Period by the Bugatti Works
Retains Original Bodywork, Gearbox, and Rear Axle
2014 Bugatti Veyron Grand Sport Vitesse
Estimate: $2,100,000 - $2,600,000
---

August 30 - September 3, 2018 Lime Rock Historics Lakeville, Conn., USA
One of the largest vintage cars events in North America, Historic Festival 36 will be held at Lime Rock Park in Lakeville, Conn., over Labor Day Weekend (Aug. 30 – Sept. 3) and feature:
The only North American classic car race and concours held in the same location
The largest gathering of historic Bugatti, this year's featured marque, with 50+ Bugatti racing and on display - #BugattiInvasion
Bugatti Collector Peter Mullin as the honored guest showcasing his Type 57SC Atlantic Coupe, one of the world's most expensive cars
Ralph Lauren's Type 57SC Gangloff Convertible that inspired an eyewear collection
Simeone Foundation's Bugatti 57G "Tank" that won the 1937 Le Mans 24 Hour race
The American Bugatti Club and the 60th Anniversary Celebration of the Vintage Sports Car Club of America
PDF with more info Visit www.LimeRockHistorics.com to learn more.
---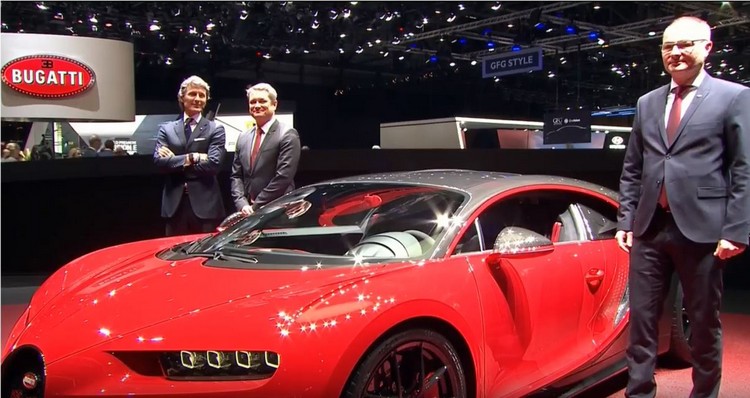 March 6, 2018
88th Geneva International Motor Show 2018: Bugatti presents Chiron Sport as a world premiere
Molsheim / Geneva, 6 March 2018.
Top photo: Presentation in Geneva at 10 AM on March 6.
Chiron Sport is a new version of the Chiron
Bugatti hones the Chiron and gives the Sport version, which has the same power output and performance data, significantly improved handling and even greater agility
Dynamic handling package with stiffer suspension and new Dynamic Torque Vectoring function
Weight reduction of 18 kilograms
Chiron Sport corners significantly faster: lap times on Nardò handling circuit five seconds better than with Chiron
Bugatti has developed the Chiron Sport for customers wanting an even sportier driving experience with their Chiron, with improved lateral dynamics on winding roads
Chiron Sport distinguished by a new wheel design and four-pipe exhaust deflector
Chiron Sport is the first production vehicle in the automotive industry with carbon fibre windscreen wipers
Base price is €2.65 million net (US market: US$3.26 million including transport, customs duties, taxes and fees)
Customers can choose individual colour and trim options to give their car an even sportier appearance
First deliveries are planned for the end of the year
Presentation with 17 photographs

Bugatti has honed the Chiron and is offering a Sport version of its 1,500 PS super sports car two years after its world debut at the Geneva International Motor Show. At the same venue this year, the French luxury brand is presenting the Chiron Sport2 which offers significantly improved handling and even greater agility with no change in the power or performance data. For this purpose, Bugatti has developed a dynamic handling package and reduced the weight of its car by about 18 kilograms. As a result, the Chiron Sport reaches higher cornering speeds and can lap the Nardò handling circuit in the south of Italy five seconds faster than the Chiron. The main differences between the appearance of the Chiron Sport and the standard version are a new wheel design and new four-pipe exhaust deflector. The basic price of the Chiron Sport is €2.65 million net. A base price of US$3.26 million including transport, customs duties, taxes and fees has been set for the US market. In addition, there is an optional colour and trim package allowing customers to individually tailor the sporty appearance of their Chiron Sport. It is planned to deliver the first vehicles to customers at the end of the year.

"We have developed the Chiron Sport for customers wanting an even sportier driving experience with their Chiron, with improved lateral dynamics on winding roads," says Stephan Winkelmann, President of Bugatti Automobiles S.A.S. "What was important for us was to leave unchanged the unique character of the Chiron, its combination of ultimate performance, longitudinal acceleration and maximum speed with luxury, comfort and everyday usability."

This is why the extreme power and performance data of the Chiron as well as the ease and convenience of driving remain unchanged. There is however a significant improvement in the handling of the Chiron Sport.

"The Chiron Sport has become perceptibly more nimble and its new agility, especially in tight corners makes for a much more emotional experience for the driver on winding roads and handling circuits," Winkelmann continues.

Dynamic handling package and lighter weight make Chiron Sport faster

The Chiron Sport benefits from a new dynamic handling package. The Bugatti developers have defined a stiffer suspension. This includes a new control strategy for the shock absorbers, which react 10 percent more stiffly than on the Chiron on average. The steering has also been modified without sacrificing its outstanding direct feel and its calculable performance. These new settings only take effect in the Handling mode of the Chiron Sport, which is therefore distinguished from the EB mode more clearly for the driver.

In addition to these changes, the rear-axle differential has been optimised and the car now features a Dynamic Torque Vectoring function that distributes torque individually to the wheels on each side, significantly improving the steering behaviour and agility of the vehicle, especially in tight curves. This change is effective in all driving modes.

One of the modifications which make the Chiron Sport more nimble is a weight reduction of about 18 kilograms, thanks to the use of new lightweight parts. The greatest savings were possible as a result of the new lightweight wheels, together with increased use of carbon fibre, for example for the stabiliser, the intercooler cover or the newly developed windscreen wipers. The Chiron Sport also features lighter glass in the rear window and a new, lighter exhaust deflector.

As a result, the Chiron Sport has become even more responsive and corners even faster. On the handling course of the Nardò test circuit, Bugatti developers recorded a lap time which is five seconds faster than the base Chiron model. Due to its design the Nardò circuit is especially well-suited as a reference track for the Chiron, as the super sports car can reach its full handling potential even at cornering speeds in excess of 200 km/h.

Bugatti is the first manufacturer to develop a carbon fibre windscreen wiper

The windscreen wiper arms developed by Bugatti for the Chiron Sport are an interesting technical detail. This is the first production car to feature windscreen wiper arms made from carbon fibre. This new development means that Bugatti no longer needs the articulated joints which normally feature on conventional wipers. The function of these joints has been integrated into the carbon fibre structure of the wiper arms. In addition, the wiper arm tips, which are made from aluminium, are produced by a weight-saving 3-D printing process. This means that the new carbon fibre wipers are 77 percent or 1.4 kg lighter than their predecessors.

In addition, thanks to the new material, the wiper arms have a new profile that allows improved aerodynamic properties.

New wheel rims and exhaust deflector distinguish Chiron Sport from Chiron

At first glance, the Chiron Sport can be recognised by its new "Course" alloy wheel rims and the new exhaust deflector, which has four round tailpipes instead of the rectangular design used on the Chiron. In addition, the Sport version has a number of design features that underline its identity as a Chiron Sport. For example, the engine starter button and the driving mode selector knob on the steering wheel as well as the marketing plate have an anodised black finish, the "Sport" logo is in evidence on the door sill strips and there is an insert on the central console with an embroidered "Chiron Sport" logo.

More colour and trim options available for an even sportier look

In addition, Bugatti's design team has created a package of colour and trim options for the Chiron Sport allowing customers to give their vehicles the sportiest look possible. The Chiron Sport on show in Geneva features all the options available.

The vehicle body has a classic duo-tone colour scheme. The A-colour at the rear of the vehicle is determined by visible grey carbon; Italian Red paintwork at the front represents the B-colour. Apart from red, the colours available are "French Racing Blue", the silver tone "Gris Rafale" and a dark grey "Gun Powder".

The distinctive Bugatti side line, a C-shaped trim strip made from aluminium alloy, is painted in the B-colour, in this case "Italian Red". This red tone is also to be found on the brake calipers, the EB logo on the hubcaps, the underside of the rear spoiler and in the labelling on the intercooler cover. Here, it creates an exciting contrast with the "Gun Powder" grey of the carbon fibre intercooler cover and the same tone which is used for paintwork on the wheel rims, the aluminium bezel of the Chiron's iconic rear lights, the EB logo on the rear and the famous Bugatti horseshoe on the radiator grille.

A red "16" is positioned prominently on the black-painted grid of the radiator grille – referring to the number of cylinders which gives the Chiron engine its unique position.

Black is the dominant colour of the interior. All the controls of the car have a black anodised finish. The steering wheel and selector lever are covered with suede leather. In addition, Bugatti has used three materials for the styling of the interior: Alcantara for the roof liner including the A-pillar and sun blinds, the rear wall trim, the sill trims, the lower part of the central console, the insides of the seat side cushions and the boot lining. Smooth leather is used for the seats, the inside door trims, the islands on the dashboard including the instrument cluster trim, the airbag container on the steering wheel and the armrest and insert of the central console. Finally, the dashboard itself, the door trims, the rears of the backrests and the steering column housing are made from exposed carbon fibre.

The B-colour of the exterior, "Italian Red" on the Geneva show car, is used to create restrained but distinctive accents in the interior, for example on the stitching, the safety belt, the surround of the C-shaped light bar in the centre of the vehicle, the back of the rear-view mirror and the lining of the central console stowage compartment.

Including this optional colour and trim package, the Chiron Sport on show in Geneva costs €2.98 million net (US market: US$3.672 million gross), which probably makes it the most expensive production car on display at this year's show.

The International Motor Show is being held at the Palexpo exhibition centre in Geneva from 8 to 18 March 2018. The Bugatti stand is in Hall 1.
---
March 6, 2018

Auction results

March 6, 2018, Catawiki auction

Bugatti T57SC Atlantic toy, Chinese, 2018, Estimate: 12 Euro, Sold for 135 euro (Including costs)
Congratulations buyer "5497"!

Catawiki did not seriously react to my emailing them, and did not withdraw the item from the sale.
---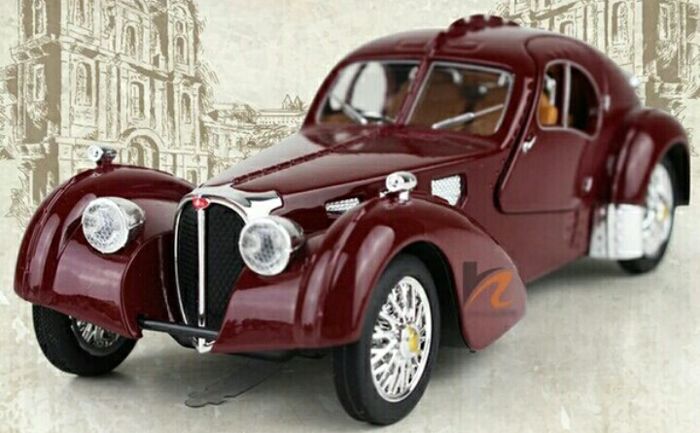 March 1, 2018

Big frauds, small frauds

You may sometimes visit auction sites, like Ebay or Catawiki, to find something really special for your collection. At least I do, and I have found quite a few nice things over the years (some of which I have since sold....)

However, a few days ago I found something very interesting on Catawiki, see the listing below: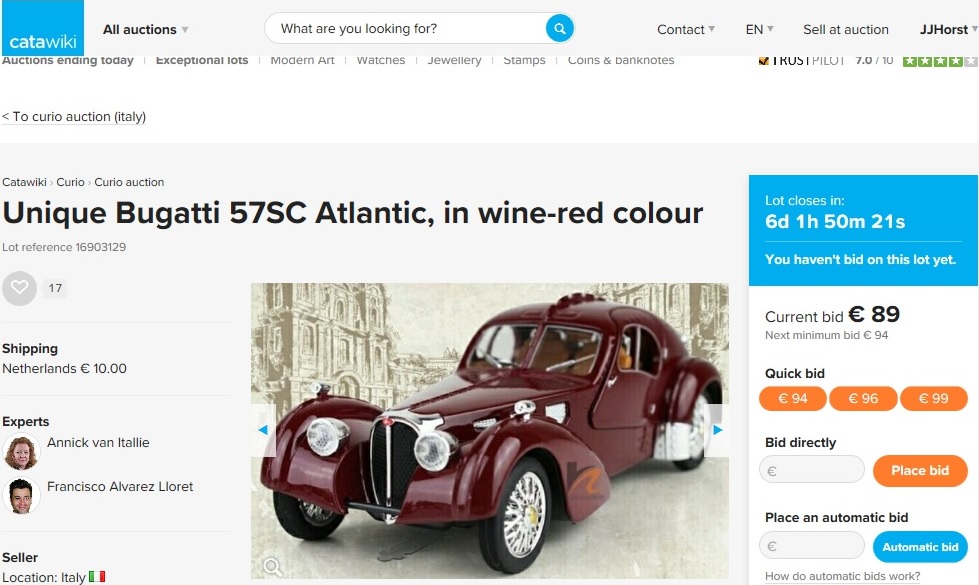 The description in the Catawiki page indicates how very special this model is:

England 2002-1/24 scale, 1936 model - alloy metal - abs
Scale: 1:24
Model: Coupe
Material: Diecast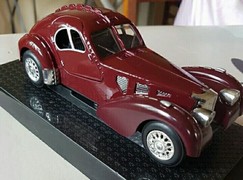 1936 Bugatti 57SC Atlantic, in wine-red colour, 1/24 scale

The Bugatti 57SC Atlantic Coupe, also known as 57 SC Atlantic, is a Coupe designed by Jean Bugatti and marketed from 1936 to 1938, in only 4 specimens.

The present model is a beautiful miniature with perfect finish, faithful to the real 1936 Bugatti.

A beautiful specimen, purchased in England around 2002.

Made out of metal and abs material, resistant to moisture and ageing.

Flawless, perfect and functional, not a scratch, painstakingly preserved.

For collectors or those who want to own a truly unique piece.

1/24 scale, wine-red colour

With original box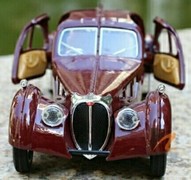 Copy with suicide doors like the real Bugatti. It makes sounds: the engine roar and the sound of the horn are wicked!

Noteworthy are the coats of arms on the rims, accurate to the smallest detail, and the Bugatti Emblem on the nose.

One of a kind, only 4 copies have been made in the whole world.

Under the car there is a button to turn on the lights. Truly spectacular.

Tracked shipping via courier.

So, indeed an impressive miniature, only 4 made in the whole world!
And, somebody was wise enough to bid 89 euro for this unique specimen!
With the 9% auction cost for the buyer (16% for the seller), and postage, he will pay only a bit more than 100 euro, a steal!

Until I found the listing below on AliExpress.com (ordering straight from China):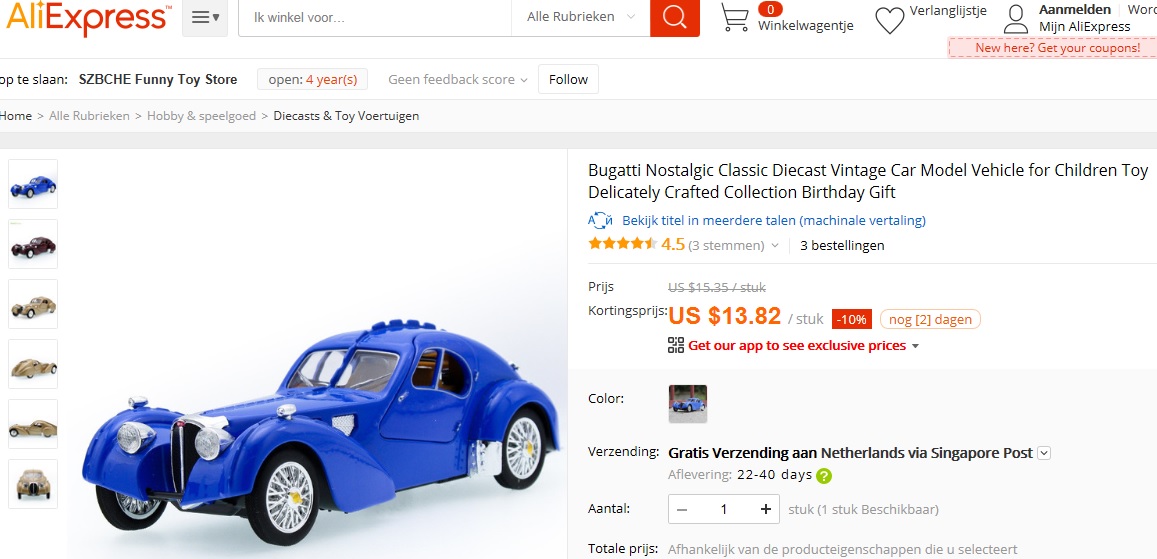 So, for less than 14 dollar, about 12 euro, you can order the same one in China, including shipping. There's a few versions, including the dark red one, and also a version with the higher rear fin, like on the T51 Dubos coupé. Have a look on Aliexpress.com, and search for "Bugatti Classic". The scale is 1:28 by the way.
What drew my attention to this fraud? It's the funny cuts in the ridge on the roof and fenders, very unlike the original, and reason why I did not yet order it from China!
I contacted Catawiki, and they have their experts investigating it. Hopefully they will withdraw the item from their auction, which ends on Tuesday March 6 at 20:00.
---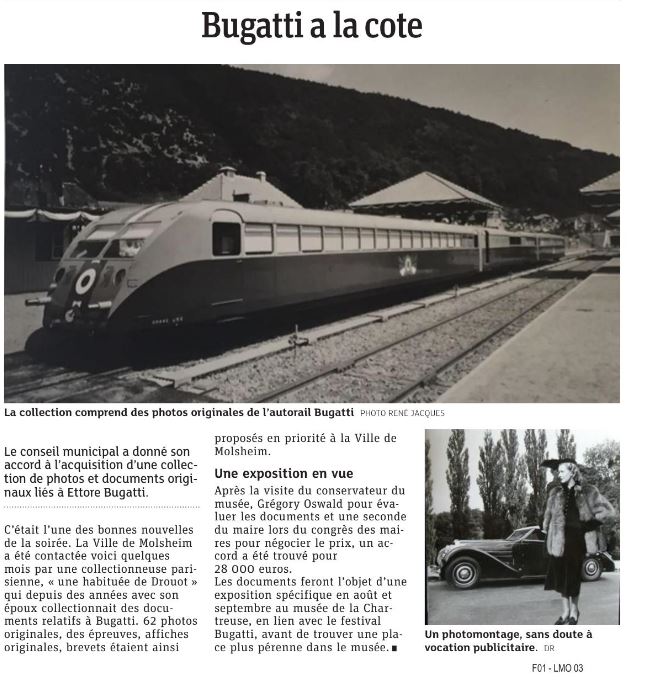 February 18, 2018

Molsheim acquires a collection of Bugatti photographs and documents

The DNA, Dernières Nouvelles d'Alsace, published today that the town of Molsheim was contacted by a collector from Paris, who had during years been collecting together with her husband. The collection comprises original photographs, publicity posters and patent documents.

After consulting with Grégory Oswald, curator of the Musée de la Chartreuse, the collection was bought for 28.000 euro.

The documents will be object of a special exhibition in the Musée de la Chartreuse in August and September, to coincide with the Festival.

Thanks to Guy Schitter
---
---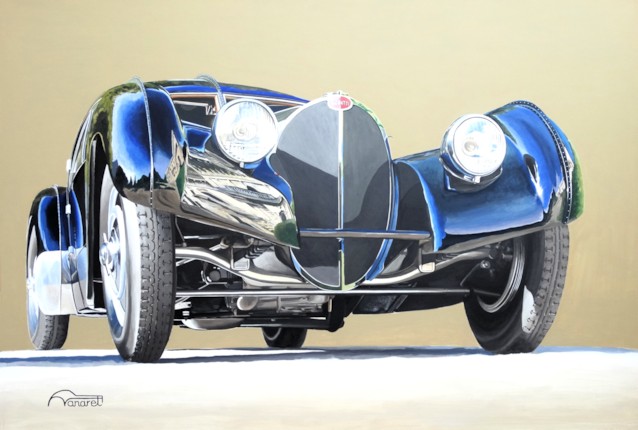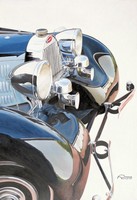 Two new paintings by Francois Vanaret (France).
Abysses (above)
Rendez-Vous (right, click for an enlargement)
---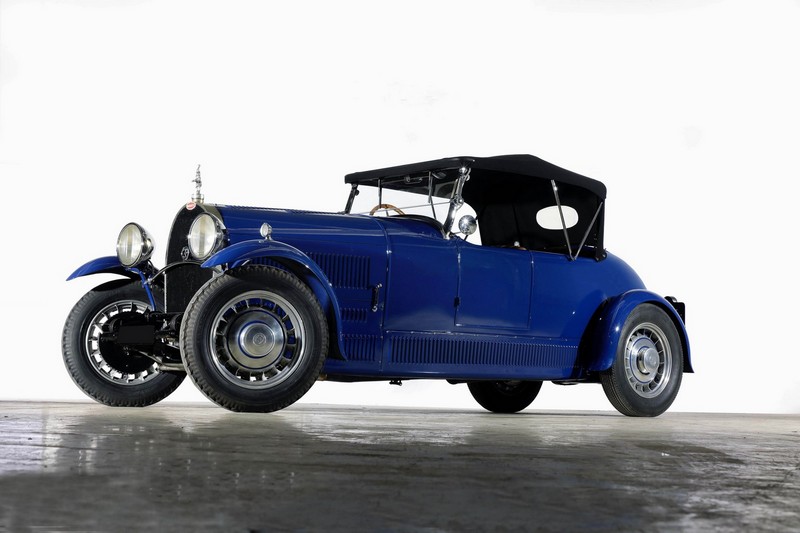 June 17, 2018 Osenat Auction, Automobiles et Motos de Collection Fontainebleau, France
Bugatti Type 49 4-seat Torpedo
Chassis: 49125
Estimate: 300,000 € - 380,000 €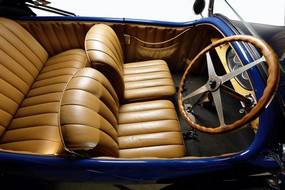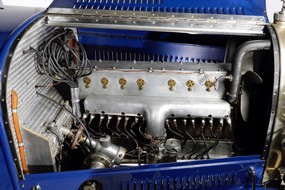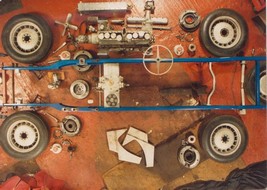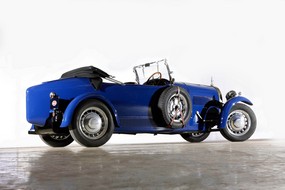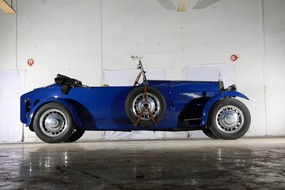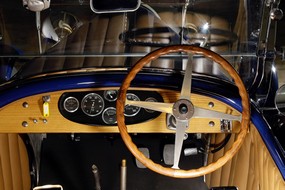 This Bugatti was on auction before, not sold then. The lower estimate was lowered from 320 k€ to 300 k€, probably the reserve was also lowered.
---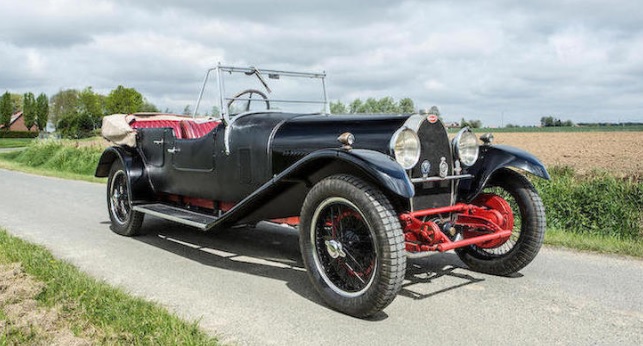 July 13, 2018 Bonhams Auction, The Goodwood Festival of Speed Sale, Collector's Motor Cars and Automobilia Chichester, Goodwood, UK
1928 Bugatti 44 Tourer by Harrington, Chassis 44721, Engine no. 435
Estimate € 360,000 - 450,000, To be sold without reserve
This Type 44, chassis number '44721' fitted with engine number '435', was originally ordered by London-based Bugatti agent, Colonel Sorel. It is one of just 12 Bugattis of various types ordered by the Colonel in October 1928, and was delivered on 15 November that same year. The car was delivered to London in rolling chassis form and was then despatched for bodying to coachbuilder Thomas Harrington Ltd, at that time based in Brighton, Sussex. Founded in 1897 and known to have been bodying cars as early as 1905, Harrington had become a major producer of motor coach bodies while keeping up the car-bodying side of its business, concentrating on high-quality European makes, Bugatti included.
Like many of Harrington's car bodies, this Type 44's four-door tourer was constructed using the Weymann system. This type of body construction took its name from its inventor - Charles Terres Weymann - a Frenchman whose background in aviation led to him using a lightweight wooden framework for motor bodies, which was held together by steel plates and covered with fabric. The principal advantage of the Weymann system was its inherent flexibility, which meant that it was free of the squeaks, creaks, rattles and cracks that hitherto had affected all traditional coachbuilt bodies. It was an immediate success; as well as making bodies at its factories in France and (later) England, Weymann licensed production to numerous independent coachbuilders, Harrington among them. Research indicates that Harrington produced two variants on this Tourer theme; one where the spare is on the wing, the other - such as this example - where the wheel is rear mounted and therefore aesthetically more desirable.
Originally finished in black, with red wire wheels, brown leather interior, and tan soft-top, '44721' was purchased new in England by an American, Mr Henry B du Pont of Delaware, a member of the eponymous chemicals manufacturing dynasty. Twenty-nine years old when he purchased the Bugatti, he later became a vice president of the DuPont company while at the same time serving as a board member of General Motors. Mr du Pont used the Bugatti for a honeymoon trip around Europe with his new wife, Margaret Wilson Lewis. The car's UK registration was 'UF 3321'.
Remarkably, Henry du Pont kept his Bugatti from some 34 years, surely a mark of the fond memories he had of the Type 44, only parting with the car to a family member in 1962, selling to his relative, a Mr John Riegel of Montchamin, Delaware. Within a year, the Bugatti had passed to yet another member of the family, Richard Riegel, and later in the mid-1960s was offered for sale by The Vintage Car Store, New York. In 1969, Mr Nelson Deedle bought the car, which in 1973 found a new home with one F E Davis.
Offered for sale at a London auction in July 1975, the Bugatti was purchased on one R Bell, while its next owner, from 1976, was The Honourable G H Wilson of Newton Valance, Hampshire. Wilson later sold '44721' to Graham Little, author of an unpublished 'Who's Who' of Bugatti people, and in 1985 the car changed hands yet again, passing to Geoffrey Perfect. Offered for sale at an auction in Birmingham in 1990, the Bugatti was purchased by well-known collector Peter Groh, who in turn sold it to respected Dutch dealer, Jaap Braam Ruben. Offered for sale by Braam Ruben at a Paris auction in June 1991, the Type 44 was purchased by Jean Paul Mouton, who registered it in France as '853 KAH 75'. Mr Mouton owned the Bugatti for the next 24 years, displaying it at the Centre Internationale de l'Automobile in Pantin, Paris between December 1992 and March 1993, and taking part in several events including the Bugatti-Ferrari meeting in Beaune in 2004 and also a Louis Vuitton backed rally in China. More recently, in 2016, the Type 44 was exhibited to much admiration at the prestigious Zoute Grand Prix concours in Belgium.
Throughout all this time and these many changes of owner, this Type 44 has remained outstandingly original, the only significant change in specification being the replacement of the body's original fabric covering with a more durable modern material. Well-known in Bugatti circles, '44721' is listed in four Bugatti Registers (two by Hugh Conway and two by David Sewell) as well as in Barrie Price's book, 'The 8-Cylinder Touring Cars'.
Offered with French registration papers, '44721' represents a wonderful opportunity to acquire an outstandingly original and well sorted Type 44, eligible for many of the world's most prestigious historic motoring events.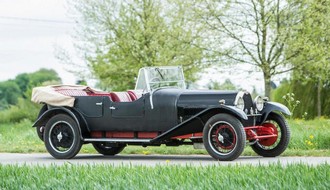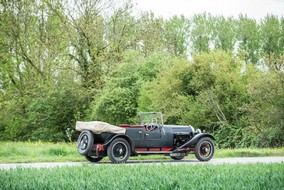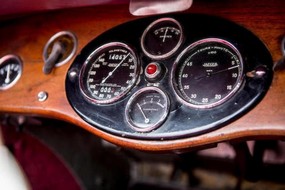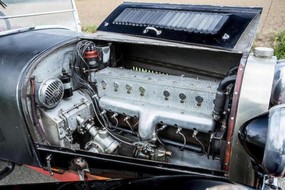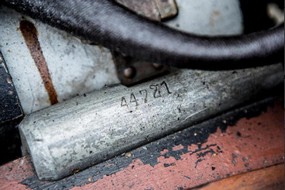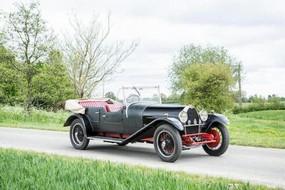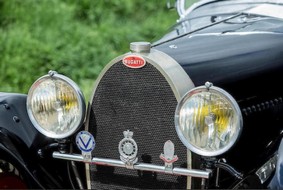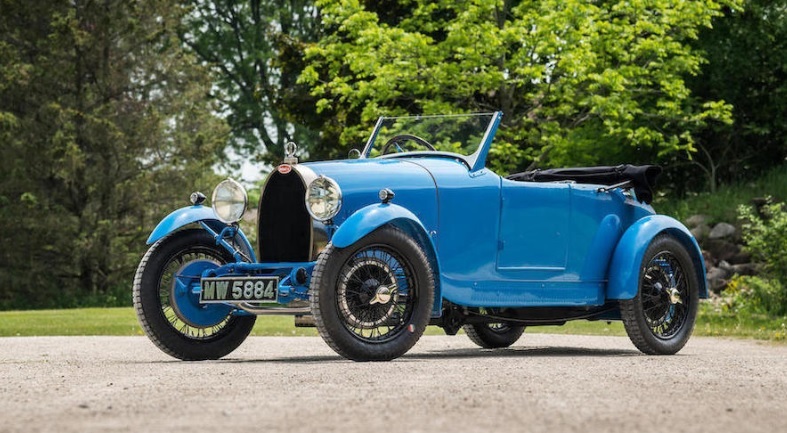 1928 Bugatti Type 40 Grand Sport, Registration no. MW 5884 (see text) Chassis no. 40796
Estimate: € 340,000 - 400,000
This Bugatti is a rare British supplied example of the sporting and beautifully proportioned Grand Sport, Bugatti's clever 'crossover' factory body that echoed the lines of their hugely successful Grand Prix cars but provided a more commodious four-seater cabin. It was still a spartan design with single access door and compact rear seats and a guise which would prove to be extremely popular, being chosen by a number of clients on cars from the production period encompassing the Type 38 through to the Type 43.
An immaculately restored car, it returns to the UK, for the first time since the War, after a long sojourn in America. The Bugatti order book states that precisely 89 years and one day ago on 12th July 1929, chassis 40796 went to British agent Colonel Sorel, completing an order made in May that year. The car is understood to be one of few of its model that came to the UK, and accordingly historians believe those for this market featured a slight modification for this market in the form of a 'two bow' top mechanism and the option of 'side-curtain' panels to enclose the passengers – presumably necessary for our climate!
Within a few months, Sorel had secured a buyer for the car and it was registered to a G.S. White of Hardenhuish, close to Chippenham, under the Wiltshire number MW 5884, as researched by the current owner from council records. Subsequent ownership is understood to have included a B.J.F. Malcolmson of Sunningdale and London's St. James, followed by a Mr. Kiss, Mr. Vaughan, N. Williams and then R. Godfrey. In the immediate post-war years the car is known to have been active in UK circles, as it is pictured as the 'Clerk of the Course' car at the famed Prescott Hill Climb on 12th June 1949, piloted by a Michael Burns.
Shortly after this it would come through the renowned garage of Jack Lemon Burton, where it would no doubt have rubbed shoulders with numerous of its kind, including its successor in nomenclature, if not in stature, the Type 41 Royale.
By 1958 the car was still here in England, when it was found by an American on his travels, Victor Lane of Chicago at Halfway Garages on Bath Road in Reading. Mr. Lane was extremely fastidious in documenting his ownership and as recounted in a well detailed history file that continues from this point, he states that as bought the Type 40 had been uprated to Type 40A specifications and had recently received an engine rebuild at the hands of Jack Lemon Burton's famed garage in London.
In sales particulars in the 1970s, Lane states that 'Shortly after buying the car, I took it to the Bugatti works in Molsheim.' 'I was greeted enthusiastically and taken for a harrowing road test at once by the shop foreman'! His vivid recollections are carefully noted, and the fact that the foreman gave the car a clean bill of health, with the exception of its starter motor drive, which they quickly fixed for him. By this point it had lost its original steering wheel and he notes 'Francois Seyfried, a company manager, presented me, also without charge, with a brand-new steering wheel'. During this excursion, he learned that the 40A conversion was quite commonplace for the works or national agents to have carried out in period and believed that therefore it had been in this form since the early 1930s.
It is theorised that its numbered crankcase, which is from car 40121, was changed either when the car was uprated or during the Lemon Burton rebuild, which is assumed more likely, since a number of these cars passed through that garage and there appears to be a period of crossover of the two cars there.
Between 1959 and 1960, Mr. Lane moved from Chicago to Lincoln, Nebraska and during this period he commenced a restoration of the aesthetically tired, but mechanically sound car. Over the course of his custody for the next 20 years, his use must have been modest as by the time he offered the car for sale in 1978, he notes only 'one or two thousand' miles to have been covered. By then, his career had moved him to work in New York City, and he was resident in Katonah, New York. The buyer in 1978, was one Henry Adamson of Lake Forest, Illinois, a cousin of the famed pioneering collector D. Cameron Peck.
At this point Mr. Adamson began to restore the car, and in his notes on the rebuild, he enthusiastically details his intentions, of repainting, reupholstering etc. As can sometimes happen, decades would elapse before it was completed, and the process became a partnership with the current owner. Working with the now aging Mr. Adamson, the owner vociferously researched the Bugatti to ensure that it was restored in exacting detail. With the goal of a consistent restored presentation, its original interior and roof were replaced, the chassis and body repainted in Bugatti Blue livery and the mechanical aspect carefully worked through and put back to stock Type 40 specifications with a new cylinder block. Virtually anything that was removed from the car was retained and remaining with it still are the majority of the original leather, seat bases, crankshaft, water pump, the latter mechanical pieces are all stamped with assembly number '23' being believed to be consistent with the engine it was delivered new with, as well as the original floorboards and side screens. (The majority of this accompanies the car today).
Also, on file are a detailed set of photographs, taken during the early days of its restoration/dismantling, all supporting its authenticity and originality. It should be noted that its body number '75' can be found in various locations on the coachwork.
After nearly 40 years the car passed from Henry Adamson into the present owner's hands. On arrival with this Bugattiste, the rebuild was completed in 2016, just in time to be shown at the Pebble Beach Concours d'Elegance, there it completed the Thursday tour, and was displayed on the hallowed 18th Fairway, where it garnered much admiration and the delight of those that had know the car for years that it was finally returned to former glory. Following this, the Type 40 was also used and displayed at the Bugatti gathering at the Greenwich Concours d'Elegance in 2017, winning its class.
Having completed and achieved the journey, but with the car still 'running in' and only modestly used, the owner has elected to pass the car on to another enthusiast to enjoy, and owing its roots chose to bring to the UK for its sale. Here, exquisitely presented this rare British Bugatti is offered for sale nearly 90 years after it left Colonel Sorel's books.
With a fascinating, documented history, the Type 40 offers entry to the esteemed Bugatti Clubs around the world, as well as being on the list of eligibility for numerous other events, including the Mille Miglia.
Please note that although still wearing cast plates for 'MW 5884', this number is not currently on the DVLA system and would need to be applied for.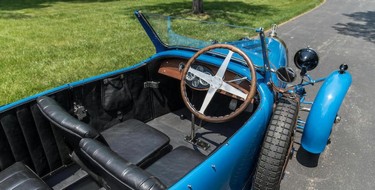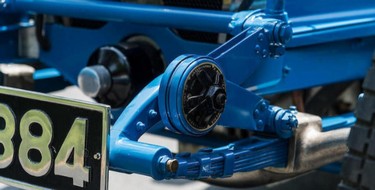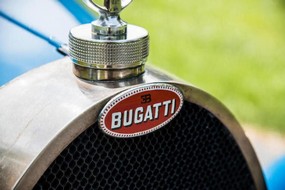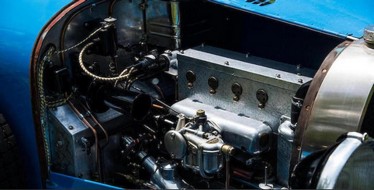 2012 Bugatti Veyron Super Sport Coupé, Chassis no. VF9SG252X4M795031
Estimate € 1,900,000 - 2,100,000
More info
---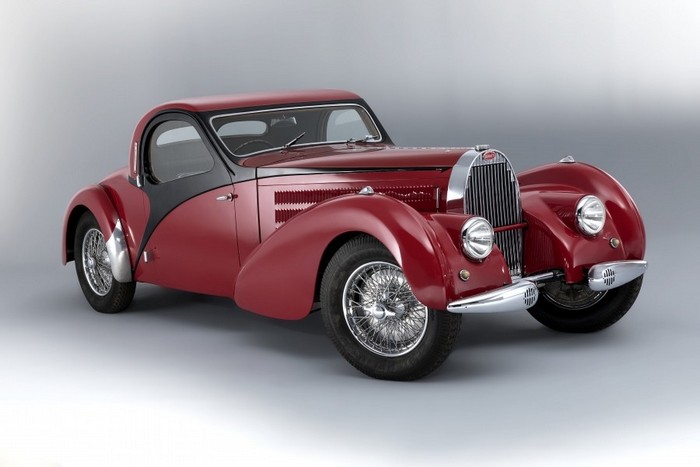 February 10, 2018
Auctions results
February 7, 2018 RM Sotheby's auction, Paris
1925 Bugatti Type 35 Grand Prix, Chassis "4394" Estimate €500.000 - €700.000: Sold for € 387,500
1993 Bugatti EB 110 Super Sport Prototype, Chassis No. ZA9BBU2E0PCD39006, Engine No. 0026, Estimate: €850.000 - €1.100.000: Sold for €1,152,500
2017 Bugatti Chiron, Chassis No. VF9SP3V39HM795042, Engine No. DAL001/022, Estimate: €3.200.000 - €3.600.000: Sold for €3,323,750
RM Sotheby's enjoyed a fantastic night at its fifth annual Paris sale, 7 February, bringing in a sale total of €23,745,225 with 83 percent of the 84 lots successfully sold. Demonstrating continued interest in low-production modern-era hypercars, the 2017 Bugatti Chiron was the night's top seller, achieving an incredible €3,323,750, while a 2005 Maserati MC12, one of just 50 ever built, took second billing at a final €2,001,875. Proving that blue-chip post-war classics also remain very much in demand, the beautiful and remarkably original 1958 BMW 507 Roadster Series II rounded out the top three, realizing €1,776,875.

Only 500 Bugatti Chirons are slated for production and worldwide delivery, so its position as a prized collector car will undoubtedly forever be cemented. Launched at the Geneva Motor Show in 2016, the Chiron is capable of an electronically limited top speed of 420 km/h, thrust by no less than 1,500 bhp. The car sold by RM Sotheby's in Paris had less than 1,000 km on the clock and was presented in beautiful Atlantic Blue over French Racing Blue and a brown leather interior. A lucky new owner took this ultimate hypercar home at a final €3,323,750, a world-record price for a Chiron offered at public auction.

An earlier supercar from the famed French marque, a 1993 Bugatti EB110 SS Prototype, attracted numerous bidders in Paris, selling for a final €1,152,500 to set a new record for the model at auction. Ultra-rare, sporting unique factory modifications and a mere 3,300 km from new, the SS is unquestionably one of the most significant of the 36 examples produced.

February 8, 2018, Bonhams, Les Grandes Marques du Monde au Grand Palais, Paris
1928 Bugatti Type 40, Chassis no. 40717 Engine no. 710, Estimate €300,000 - 400,000: Sold for €529,000
1935 Bugatti Type 57 Tourist Trophy Torpedo, Chassis 57264, Estimate €780,000 - 1,300,000: Sold for €713,000
1937 Bugatti Type 57 Pillarless Sports Coupe by Graber, Chassis no. 57443, Estimate €280,000 - 340,000: Sold for € 293,250
February 9, 2018 Artcurial Auction, Paris
1938 Bugatti 57C Atalante Coupé, Chassis 57624, Engine 448, Estimate: 3 M€ – 3,5 M€: Sold for 2,5 M€ + Auction costs
I was present at this auction, rather flat bidding, went to 2 million in a few seconds, then went steadily to 2.5 and stopped.
1936 Bugatti Type 57 Galibier, Chassis 57291, Engine 124, Estimate €120,000 - 180,000: Sold for €210,000 + Auction costs
Bugatti Type 57 Cabriolet Vanvooren, Vanvooren body n° 2940, Engine n° 546, Estimat €650,000 - €950,000: Sold for €550,000 + Auction costs
1926 Bugatti Type 40 Grand Sport, Chassis 40131, Engine 31, Estimate: €200,000 - 260,000: Sold for €180,000 + Auction costs
Unless stated otherwise, prices are including auction costs
---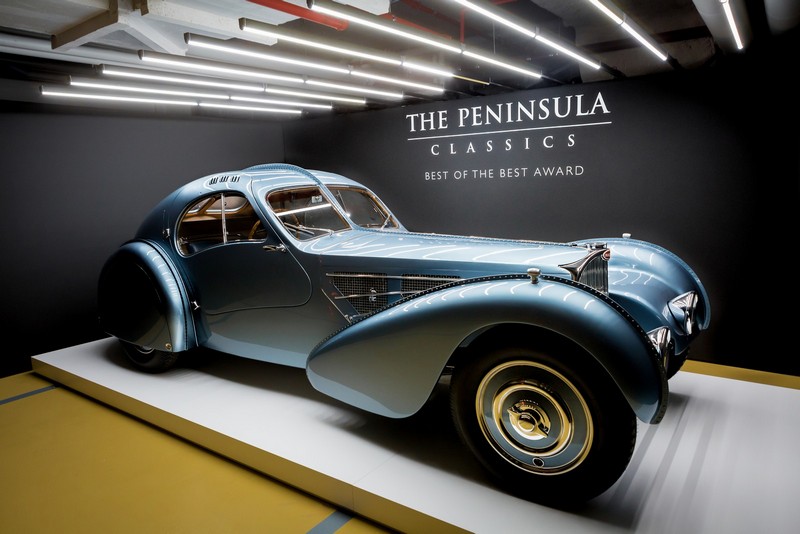 February 10, 2018
1936 Bugatti Type 57SC Coupé Atlantic Wins Third Annual The Peninsula Classics Best of the Best Award
PARIS-February 8-A rare and beautiful 1936 Bugatti Type 57SC Atlantic was named the winner of the prestigious The Peninsula Classics Best of the Best Award today at The Peninsula Paris hotel.
Now in its third year, The Peninsula Classics Best of the Best Award brought together eight of the world's finest classic cars—the best of show winners from the top international concours—to compete for the title of the most exceptional motor car in the world. The Bugatti is co-owned by the Mullin Automotive Museum, and Rob and Melani Walton, located in California, USA, and was named "Best of Show Concours d'Etat" at the 2017 Chantilly Arts & Elegance.
Speaking of the award's legacy, The Hon. Sir Michael Kadoorie, Chairman of The Hongkong and Shanghai Hotels, Limited and co-founder of the award said, "My great hope is that we not only succeed in thrilling long-term car enthusiasts, but that this award will also ignite a new-found passion for those just discovering the world of motoring."
Powered by a supercharged engine and considered by many to be the first supercar ever made, the winning Bugatti is one of four Type 57 Atlantic models ever produced, with only three in the world remaining. The vehicle was designed at the height of the art deco movement by Jean Bugatti, Ettore Bugatti's son. Jean based the car on his other design, the 1935 Aérolithe concept car, which was famously riveted externally, for fear of the magnesium-alloy body parts catching fire. Jean kept this signature riveted seam on the all-aluminium body of the Atlantic. "The Bugatti Type 57SC Atlantic is the crown jewel of the automotive circuit," said Bugatti Head of Tradition Julius Kruta. "This car was Jean Bugatti's masterpiece with its beautiful and breath-taking lines, plus its unmatched performance for the time. Today, it remains the ultimate expression of the Bugatti legacy: unparalleled power and beautiful design."
This model, chassis number 57374, was the first Type 57 Atlantic produced and is the only surviving "Aéro Coupé," a designation given to the first two cars that were mechanically very similar to the Aérolithe. The car was delivered new in 1936 to Britain's Nathaniel Mayer Victor Rothschild, third Baron Rothschild, and has since passed through few owners in its 82-year history. The car has been displayed internationally, and most recently, was on display at the Los Angeles-based Petersen Automotive Museum for the "Art of Bugatti" exhibit.
"The Atlantic represents the pinnacle of everything I adore about French automotive styling and is widely described as the Mona Lisa of the automobile collector world," said Peter Mullin, Founder and CEO of the Mullin Automotive Museum. "From its signature curves to its aviation-inspired rivets, to the Jean Bugatti designed sleek all-aluminium body, the car is truly a remarkable piece of art. I'm very honoured to have shared it with the world amongst other worthy 'Best of the Best' contenders."
"I second Peter's thoughts – the other seven nominees were simply stunning, which makes winning the award feel even more special," said Rob Walton, co-owner of the winning car. "What this award does is allow us to take a step back and admire the quality and beauty of the greatest classic cars in existence today. For an automotive fan like myself, it's a joy."
The founders of The Peninsula Classics Best of the Best Award are each known as some of the world's foremost motoring experts, and were brought together by their shared passion for fine motor vehicles, impeccable restorations, as well as the preservation of tradition and heritage.
The Hon. Sir Michael Kadoorie, together with award co-founders Christian Philippsen, William E. "Chip" Connor and Bruce Meyer, created the award. The gentleman each cite a passion for automotive excellence as the inspiration behind the creation of The Peninsula Classics Best of the Best Award.
According to Bruce Meyer, "For the third year, the ultimate standard for judging The Peninsula Classics Best of the Best Award was that of uncompromised quality and design. Of course, this made the selection process most challenging for the esteemed group of panellists." He continued: "In the end, the 1936 Bugatti Type 57 SC Coupé Atlantic emerged victorious, with its exceptional, bespoke design making it a marvellous combination of art and technology."
Previously presented during Monterey Car Week, the award moved to Paris this year to be presented during the world-famous Rétromobile event. The Bugatti was presented at an exclusive reveal party in The Peninsula Paris' subterranean garage, following a private dinner.
The winning vehicle was selected after being reviewed by 24 automotive experts, designers and notable celebrities within the motoring world. Learn more about each judge, in addition to the seven other nominees by clicking here.
The Peninsula Hotels, owned and operated by The Hongkong and Shanghai Hotels, Limited, is proud to sponsor The Peninsula Classics Best of the Best Award, a natural extension of the group's passion and appreciation for luxury, travel and the motoring lifestyle. With 10 hotels in global gateway cities throughout Asia, USA and Europe, The Peninsula Hotels celebrates glamour in travel, and aims to showcase the ultimate in sophistication, innovation and design. Known for its timelessly elegant hotels, discreet integration of technology and functionality, and extensive fleet of luxury transport, the group aims to bring its heritage and expertise to celebrate the very best in the world of motoring.
---
February 5, 2018

Famous Dutch Bugattiste Pim Faber passed away at age 92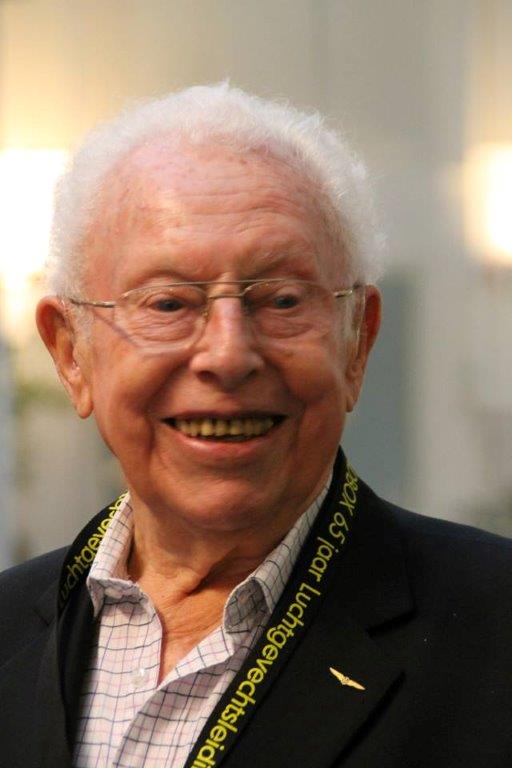 Willem George Adolphe (Pim) Faber passed away on January 30, 2018, at the age of 92, the funeral was today, February 5 in his home-town Ermelo in the Netherlands. Pim was the first non-owner to become a member of the Dutch Bugatti Club BCN, an avid collector of models and books, and of course an enthusiast of the Bugatti 100P airplane. His role in the club was making the famous BCN Newsletter with the blue cover or "Journaal", which he did for decades.

I must have known him for over 20 years, and I probably last met him at the BCN spring rally in 2016. A kind man, open to talk to anyone, and often about his days in the military in the Dutch Indies, see: www.veteranennw-veluwe.nl. Also I used to meet him at a model car swap-meet, where he was not very actively selling his last Bugatti miniatures, he was much more there to talk to everybody (I don't remember buying anything from him, though I may be wrong. He did present me once with a tiny piece of fabric from the covering of the Bugatti 100P). A remarkable man indeed.

I wish for his wife Wil and the children a lot of strength in these difficult days.

I had not known about this, if it had not been for fellow Bugattiste Ken Kessler, who wrote the following memories of Pim:

Remembering Pim Faber 1925-2018

It is difficult writing about a friend whom I never met in person, but over 30 years, Pim Faber and I got to know each other through letters, and then e-mails. He was one of the most enthusiastic Bugattistes I met during the 50 years that I have been a devotee of the marque.

We connected through other collectors, the common thread being Bugatti models. I'm not sure how we found each other, but back in the 1980s, it wasn't a simple case of a Google search. Over the decades, Pim proved to be an invaluable source of Bugatti news. In return, thanks to my work as a journalist, I was able to supply him with information that came to me via the Bugatti press office, while living in the UK meant that he had a contact who could keep an eye out for British magazines, models and other Bugatti-related items.

Because Pim was, initially, a completist, I would always look for the fun, but hard-to-find models, the notions and toys and novelties that one acquired by luck, as in Kinder Eggs. Pim returned the favour with continental-sourced models and we exchanged numerous tiny Bugattis over the years. The most enjoyable aspect of this was that money was never mentioned. We simply liked helping each other.

I recall Pim selling off much of his collection, but he maintained focus on the modern Bugattis, notably the Type 110/112 and VW's Bugattis. I was always finding weird toys (it would be too much to call them scale models!) of Veyrons in the local Poundland. But where I was really able to help Pim was in his pursuit of models of the British railway locomotives that Ettore Bugatti had a hand in designing, such as the Mallard. As a friend worked at Hornby/Meccano, I never had a problem addressing Pim's other model collecting interest - certain military models, e.g. Bren gun carriers.

Pim's emails always included fascinating glimpses of his military past, and in the last few years, we discovered our mutual love of wine - Pim's qualifications being far in excess of mine. My two regrets, then, are that we never met in person, and that I never had a chance to let him loose in my wine cellar.

I suspect that at this moment, in another plane, Pim is deep in conversation with Ettore Bugatti, Jean Bugatti, René Dreyfus, "Williams" and all of the other characters who informed his passion. As Pim signed every card and letter and e-mail, I am sure that his parting remark to all of us would be, "Vive la marque!"

Ken Kessler
---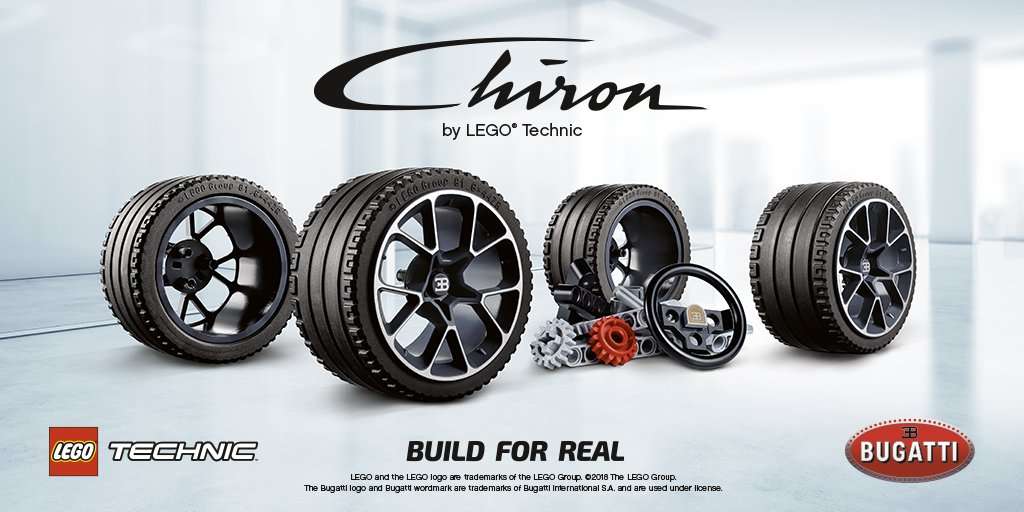 February 1, 2018

Bugatti and Lego are partnering to present a Lego Technic Bugatti Chiron

Where before we presented a 1:4 scale model of the Bugatti Chiron 16 cylinder Engine by Amalgam, this is different. Remember your young days when you made your cars out of Lego bricks? And many a time only did so to then crash this one into another? I remember from long ago building wind propelled Lego Technic vehicles that we ran on the (reasonably quiet) street in front of our house. Fun!

However, this one is rather different:
Bugatti confirmed via Twitter on Tuesday that there's a Chiron Lego Technic set coming. The 45-second teaser video shows one of Lego's designers building the set at Lego's headquarters in Billund, Denmark, next to an actual Chiron. The clip doesn't actually show the finished set, but after the Porsche 911 GT3 RS set that Technic put out last year, we have every bit of confidence that Bugatti's offering is going to be awesome.

According to The Brick Fan, the set will hit stores in August and cost 369 euros ($458), however, U.S. pricing is not confirmed. It will supposedly have 3,599 pieces.
---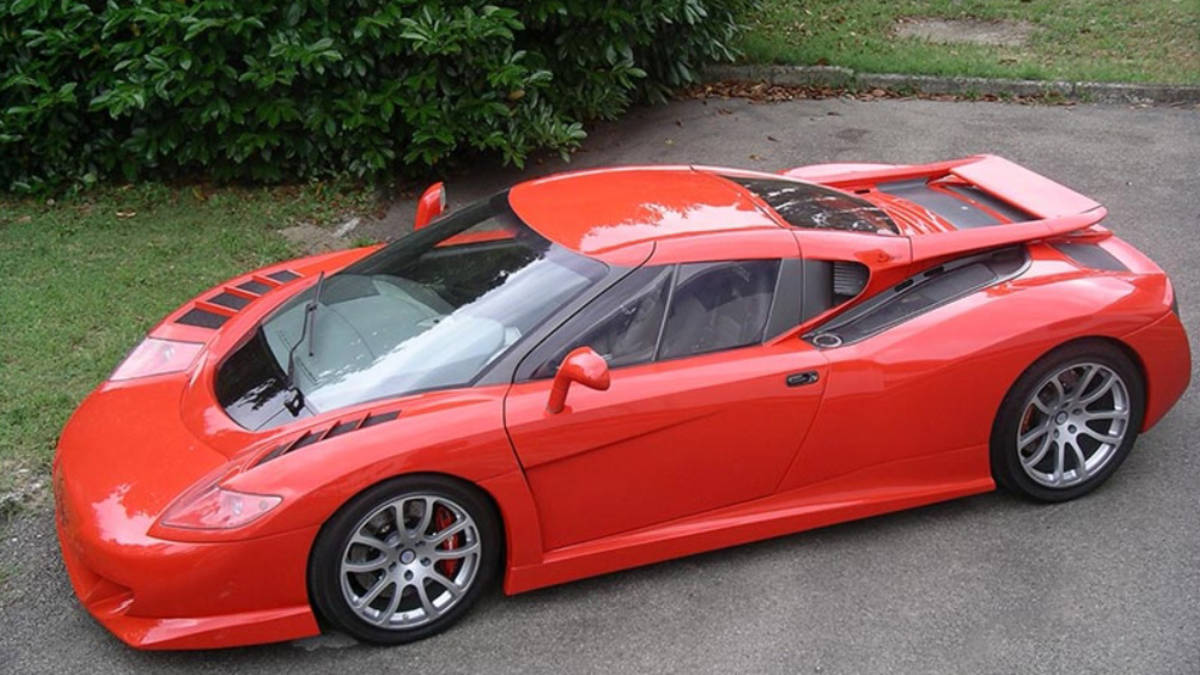 January 27, 2018

Bugatti EB110-based Edonis is finally almost in production

3.8-liter V12-engined supercar to use leftover Bugatti EB110 components

The Bugatti EB110 is coming back, but not in the way you think. An American outfit called Casil Motors has partnered with Modena-based B Engineering, which services EB110s to this day, to produce "the ultimate analog supercar" based on Bugatti-produced EB110 chassis and powered by a 720-hp 3.8-liter V12.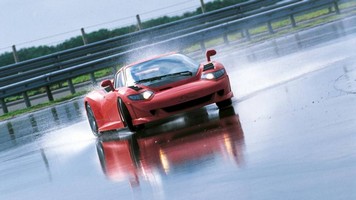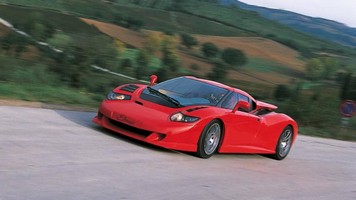 The basis of this effort will be the original EB110's carbon-fiber monocoque chassis, a number of which were purchased from Bugatti when EB110 production ground to a halt. Casil and B Engineering plan to clothe the car with a newer exterior but otherwise stick close to the specs of the now-old Bugatti, featuring a number of updates throughout. The overall promise of the project is to offer an EB110 experience to those who missed out the first time around, with a few updates here and there.
If this project sounds familiar, it's because B Engineering tried this once before: The company envisioned a run of 21 supercars called the Edonis based on leftover EB110 hardware years ago, but the project stalled early on. Casil Motors and B Engineering are now back with plans (and money) to finally put those leftover EB110 parts to use, offering buyers a choice of two exterior designs and plenty of interior customization.
The stated performance specs -- perhaps the main draw here -- are 3.4-second sprints from 0-60 mph and top speeds of 220 mph, accomplished with technology that's mostly 25 years old. Instead of all-wheel drive, the Edonis will be rear-wheel drive, so the driving experience won't all be apples to apples.
If you're in the market for something that is mostly an EB110 underneath and packs a 3.8-liter V12, the price of entry this time around will be about $850,000. Casil Motors and B Engineering plan to produce just 15 examples of the Edonis.
Actual EB110s, in case you're wondering, trade hands for around $600,000, up from about $300,000 a decade ago. We think we know which car would have a better investment potential, but there's also the draw of being able to hoon a V12 supercar without worrying about its investment potential.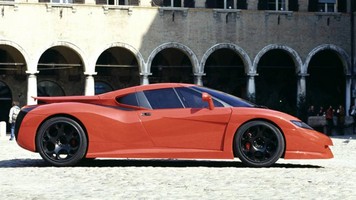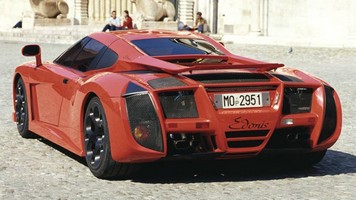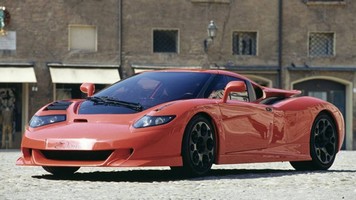 ---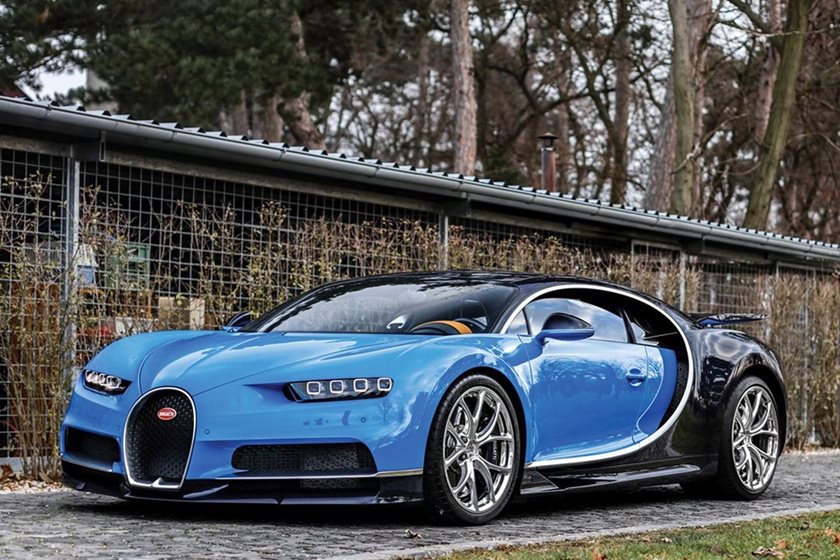 January 27, 2018

Why Are So Many People Trying To Sell Their Bugatti Chirons?

Because they can flip it for a huge profit, of course.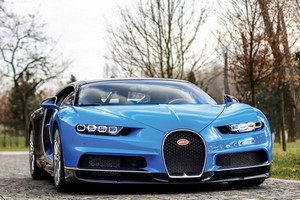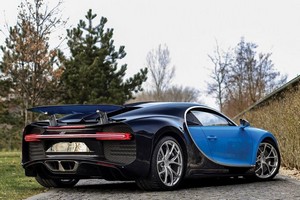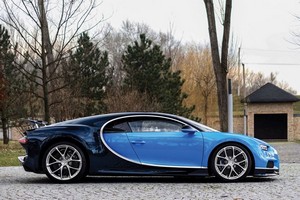 Ordering a new Bugatti has to be one of the most gratifying experiences in the world. The new Chiron is a pinnacle of engineering achievement and the ultimate symbol of status and class. For around $2.5 to $3 million dollars you'd expect the Chiron to be special and it most certainly is. Ordering a new Chiron must be nice, but we imagine that taking delivery would be one of the greatest moments that it is possible to have in life. The Chiron is one of the fastest cars in the world, thanks to an 8.0-liter quad-turbo W16 with a massive 1,500 hp.

If we were to take delivery of a Chiron, we couldn't wait to get behind the wheel and take it for a spin. But if the Chiron experience is as good as we've made it out to be, why are there currently so many used examples on the market? Perhaps it's merely our plebeian point of view, but if we bought a Chiron we'd would go out in a fevered frenzy to get the most enjoyment out of our purchase. Chiron owners seem to have a very different point of view because many examples, including some of the first ones to be shipped to the US, are already crossing auction blocks on their way to their second owner.

There are only a few reasons that we could come up with as to why owners would want to part ways with such a beautifully crafted and expensive object like the Chiron. We struggle to even call it a car because with an optioned price of well over $3 million, the Chiron is so much more than a vehicle for transportation. The first reason might be that (for some odd reason) the owner did not care for the Chiron experience. Even though we have been swooning over the Chiron and its unbelievable engineering, a Bugatti customer is used to multi-million dollar yachts and private planes. So perhaps the Chiron just didn't live up to their lofty expectations.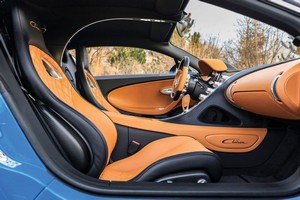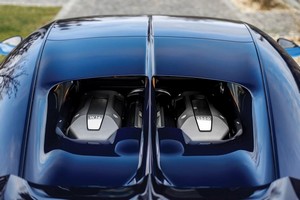 We offered this as our first alternative, but we firmly believe that the real reason why so many Chirons have come up for sale is because their owners only wanted to make a profit. We found at least six Chirons listed on James Edition and an additional Chiron listed on the DuPont Registry. Of the roughly seven Chiron examples that we found, only two are listed with prices. One of the cars is a two-tone blue model in Germany that has a listing price of $3,833,150. The other is being sold in Los Angeles with a list price of $4,350,000. The Chiron can vary greatly in price depending on options, but the original owners of these cars are looking at anywhere from $800,000 to $1.3 million in profit just from buying a car.
It may not sound like this is a big trend, considering that we only found seven cars for sale, but remember that only 500 Chirons will be built in total and that only 70 will be built per year. That means that one in every 10 Chiron built this year is already for sale. There are a lot of people out there who defend car flippers like this. They tend to use arguments that owners are only doing what makes financial sense and that our stance on the issue was only formed out of jealousy. Obviously, we'd love to be afforded the privilege of making a small fortune just from buying and selling a car, but it isn't the reason why we love cars in the first place.
While we commend collectors for buying classic cars and preserving them like they would works of art, we are firm believers that new cars should be driven. The fact that many of the Chirons are up for sale with anywhere from 15 to 300 miles on the odometer means that the owner didn't even get to enjoy the car before selling it. Cars, especially ones like the Chiron, can certainly be considered art, but the thing that makes cars so much more exciting is the fact that they can be expressed in living motion and thrill us in ways that staring at a painting or sculpture can't do. The sound and feel of a car is part of what makes it special.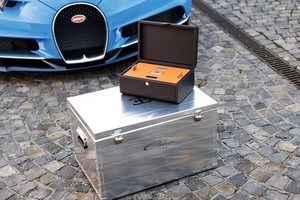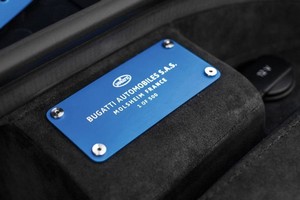 Buying a car like the Chiron only to sell it before driving it a single mile is a bit like buying a beautiful painting and selling it before even laying eyes on it. Our opinion may be a controversial one, but we think that flipping a car so quickly is a great way to dilute the hobby. It is fantastic for the wealthy owners that are given the opportunity to buy them, but it keeps raising the prices even further so that regular car enthusiasts will never be able to afford them. It isn't wrong to flip new cars like the Chiron to make a profit. In fact, given the chance we'd love to make such an enormous profit just from selling a car. It just isn't why we became car enthusiasts in the first place.
From Carbuzz.com
---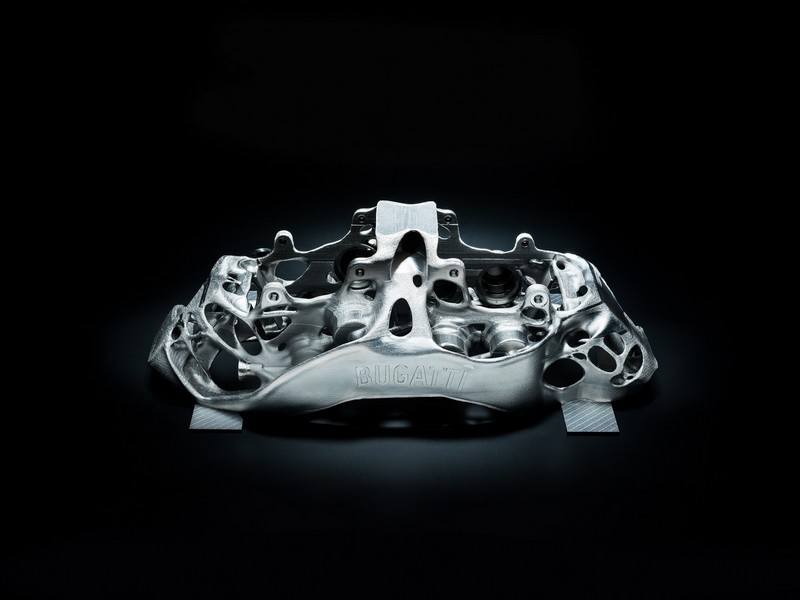 January 27, 2018

Bugatti develops world's largest titanium functional component produced by additive manufacturing
New eight-piston monobloc brake caliper is the world's first brake caliper to be produced by 3-D printer
Also largest brake caliper in the automotive industry as a whole
Bugatti is the first series manufacturer to use titanium, a material calling for extremely complex and challenging processing
Worldwide innovation is the result of cooperation between the Bugatti Development Department and Laser Zentrum Nord in Hamburg
French super sports car brand reaches new milestone in development of 3-D printing as a future-oriented technology
As the technical development laboratory of the Volkswagen Group, Bugatti leads the way in 3-D printing and is a worldwide innovation driver
3-D printed components to be trialled for series production this year
Experience gained to be used in research and development projects of the Volkswagen Group and its brands
Molsheim / Wolfsburg, 22 January 2018.
With its Veyron and Chiron super sports cars, Bugatti has established a position as a pioneer for new technical developments and innovations in the extreme performance sector of the automotive industry over the past few decades and has set breathtaking performance data and records. Now the Development Department of the French luxury brand has achieved a new coup. For the first time, the Bugatti developers have succeeded in designing a brake caliper that can be produced by 3-D printing. But that is by no means all. While the main material used for the additive production of vehicle components to date has been aluminium, the new brake caliper is made from titanium. This is therefore the world's largest functional component produced from titanium using 3-D printing processes. This new milestone in the development of 3-D printing was reached in cooperation with Laser Zentrum Nord of Hamburg, an institute that has formed part of the Fraunhofer research organization since the beginning of the year. With this world debut, Bugatti has underlined its lighthouse function for 3-D printing within the Volkswagen Group and its role as an innovation driver in the international automotive industry. Vehicle trials for the use of the 3-D titanium brake caliper in series production are to start in the first half of the year.
"Vehicle development is a never-ending process. This is particularly true at Bugatti," says Frank Götzke, Head of New Technologies in the Technical Development Department of Bugatti Automobiles S.A.S. "In our continuing development efforts, we are always considering how new materials and processes can be used to make our current model even better and how future vehicles of our brand could be designed."
"As our performance data are often at the physical limits, we are especially demanding," adds the 48-year-old machine tool and production technician, who holds a degree in engineering. "This is why Bugatti always goes at least one step further than other manufacturers in the development of technical solutions."
Götzke has worked for the Volkswagen group for more than 22 years. He joined Bugatti in 2001 and played a key role in the development of the Veyron as Head of Chassis Development and in the development of the Chiron1 in his current position.
Bugatti currently uses the most powerful brakes in the world on the new Chiron. The brake calipers were an entirely new development. They are forged from a block of high-strength aluminium alloy. With eight titanium pistons on each of the front calipers and six on each of the rear units, these are also the largest brake calipers currently installed on a production vehicle. The brake calipers of the Chiron are produced using bionic principles on the basis of a natural model. The new architecture combines minimum weight with maximum stiffness. The inspiration for the design and mode of operation of the brakes was taken from motorsports. P> With the newly developed titanium brake caliper from the 3-D printer, Bugatti is now going one step further and breaking new ground. This particular titanium alloy, with the scientific designation of Ti6AI4V, is mainly used in the aerospace industry, for example for highly stressed undercarriage and wing components or in aircraft and rocket engines. The material offers considerably higher performance than aluminium. For example, even as a 3-D printed component, it has a tensile strength of 1,250 N/mm2. This means that a force of slightly more than 125 kg be applied to a square millimetre of this titanium alloy without the material rupturing. The new titanium brake caliper, which is 41 cm long, 21 cm wide and 13.6 cm high, weighs only 2.9 kg. In comparison with the aluminium component currently used, which weighs 4.9 kg, Bugatti could therefore reduce the weight of the brake caliper by about 40% at the same time as ensuring even higher strength by using the new part.
To date, this approach was not feasible because it is extremely difficult or even impossible to mill or forge components from a titanium block as is normal practice with aluminium due to the extremely high strength of the material. This problem has now been solved using an extremely high-performance 3-D printer, which also opens up the possibility of generating even more complex structures which are significantly stiffer and stronger than would be possible with any conventional production process. Frank Götzke found the selective laser melting units required in Hamburg, at Laser Zentrum Nord.
"Laser Zentrum Nord is one of many scientific institutes with which we have developed very good cooperation over the years," Götzke explains. "Thanks to the large number of projects completed, mainly for the aviation industry, the institute has comprehensive know-how especially in the field of titanium processing and offers mature technology." Over the past few years, the Hamburg production scientists have received a large number of highly regarded national and international innovation awards for their work in industry.
"Cooperation with Bugatti is a key lighthouse project for us," says Prof. Dr.-Ing. Claus Emmelmann. Prof. Emmelmann was formerly Managing Director of Laser Zentrum Nord GmbH and has been Head of the Fraunhofer Institute for Additive Production Technologies (Fraunhofer IAPT) since Laser Zentrum Nord was incorporated in the Fraunhofer research organization under this name at the beginning of the year. He also heads the Institute of Laser and System Technologies (iLAS) of Hamburg University of Technology. Emmelmann takes pride in the cooperation between his institute and Bugatti. "We were thrilled to be contacted by Bugatti. I do not know any other carmaker which makes such extreme demands of its products. We were pleased to face up to this challenge."
The development time for the 3-D-printed titanium brake caliper was very short. From the first idea to the first printed component, it only took about three months. The basic concept, the strength and stiffness simulations and calculations and the design drawings were sent to Laser Zentrum Nord by Bugatti as a complete data package. The institute then carried out process simulation, the design of the supporting structures, actual printing and the treatment of the component. Bugatti was responsible for finishing.
The special 3-D printer at Laser Zentrum Nord, which was the largest printer in the world suitable for titanium at the start of the project, is equipped with four 400-watt lasers.
It takes a total of 45 hours to print a brake caliper. During this time, titanium powder is deposited layer by layer. With each layer, the four lasers melt the titanium powder into the shape defined for the brake caliper. The material cools immediately and the brake caliper take shape. The total number of layers required is 2,213. Following the completion of the final layer, the remaining titanium powder which had not melted is removed from the chamber, cleaned and preserved for reuse in a closed loop. What remains in the chamber is a brake caliper complete with supporting structure which maintains its shape until it has received stabilizing heat treatment and reached its final strength.
Heat treatment is carried out in a furnace where the brake caliper is exposed to an initial temperature of 700°C, falling to 100°C in the course of the process, in order to eliminate residual stress and to ensure dimensional stability. Finally, the supporting structures are removed and the component is separated from the tray. In the next production stage, the surface is smoothed in a combined mechanical, physical and chemical process which drastically improves its fatigue strength, i.e. the long-term durability of the component in later vehicle operation. Finally, the contours of functional surfaces, such as the piston contact surfaces or threads, are machined in a five-axis milling machine which takes another 11 hours to complete its work.
The result is a delicately shaped component with wall thicknesses between a minimum of only one millimetre and a maximum of four millimetres.
"It was a very moving moment for the team when we held our first titanium brake caliper from the 3-D printer in our hands," Frank Götzke remembers. "In terms of volume, this is the largest functional component produced from titanium by additive manufacturing methods. Everyone who looks at the part is surprised at how light it is – despite its large size. Technically, this is an extremely impressive brake caliper, and it also looks great."
The first trials for use in production vehicles are due to be held in the first half of the year; the time schedule is still to be finalized. At that stage, the engineer promises that it will be possible to considerably shorten production times, especially for machining.
Götzke and his team are presenting the results of their work to the Group and its brands. "In 3-D printing development, Bugatti is the leader in the Volkswagen group," Götzke emphasizes. "Everyone can and should benefit from our projects. This is also part of Bugatti's role as the Group laboratory for high-tech applications."
The 3-D-printed titanium brake caliper is only one example of Bugatti's current research and development work. "We have not only developed the world's largest titanium component produced by additive manufacturing but also the longest aluminium component to date made by 3-D printing," Götzke explains, proudly taking a 63-centimetre-long lightweight aluminium windscreen wiper board out of the cabinet. The board only weighs 0.4 kg, half the weight of a conventional die-cast lightweight aluminium board, without any reduction in rigidity. But that is another story.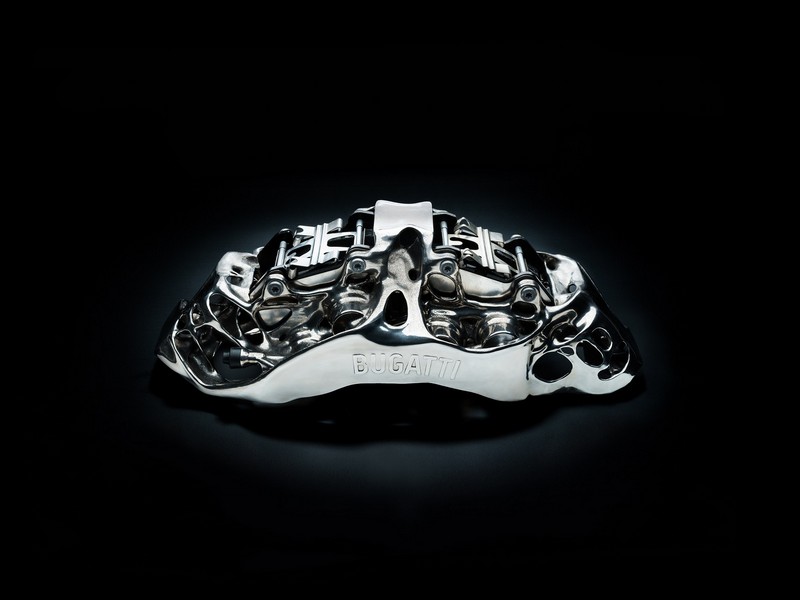 ---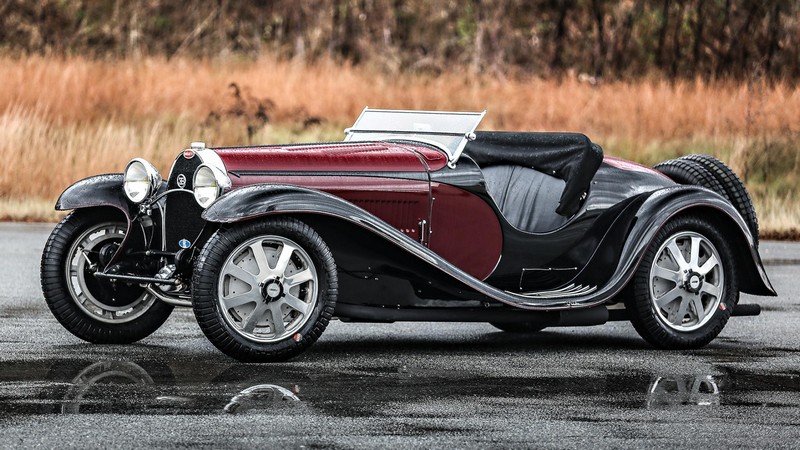 January 24, 2018

Auction results

January 19-20, 2018 Gooding & Co - Scottsdale auction
1931 Bugatti Type 55 Roadster, Chassis: 55201, Estimate: $4,000,000 - $5,000,000: Sold for $4,070,000
1922 Bugatti Type 29/30, Chassis:4008, Estimate: $800,000 - $1,000,000: Not sold. Now Asking Price: $800,000
RM Sotheby's - ARIZONA 2018 (January 18/19)
1993 Bugatti EB110 GT, Chassis No. ZA9AB01E0PCD39056, Engine No. 0064: Sold For $967,500
---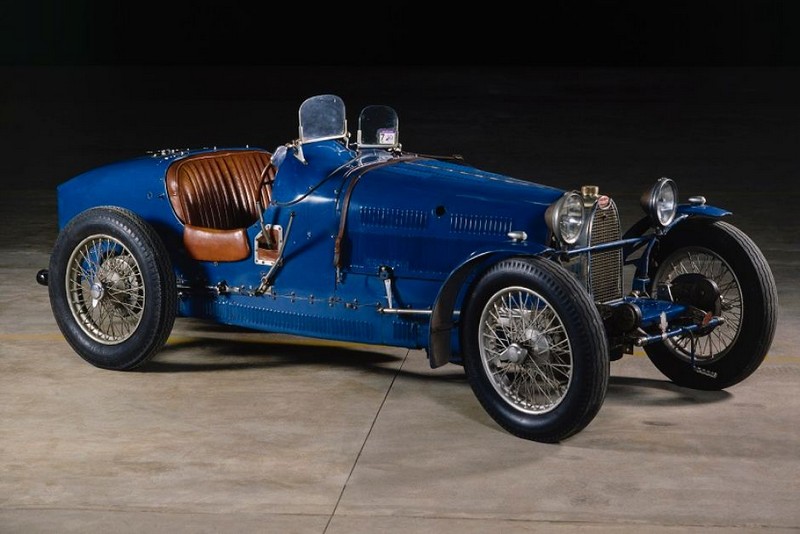 October 15, 2016 - permanent Icons at the Powerhouse Museum Sydney, Australia
Have you ever explored a museum exhibition and wondered, "how do they know which items are worth collecting?" — I have.
So when I talked to Jacqui Strecker, the head of curatorial at the Museum of Applied Arts and Sciences in Sydney, it was one of the first questions I asked.
She had just pieced together a new exhibition entitled Icons at the Powerhouse Museum in Sydney.
It is a kind of "best of the best" exhibition of the more than 500,000 items in the News South Wales collection.
The 70 rarely-displayed items, chosen by Dr Strecker, have been put together to challenge the traditional stereotype of an icon.
"Traditionally, we've associated icons with religious paintings that have a special spiritual power, that draws us to those items as an object of worship or admiration," she said.
"Now we understand icons as digital icons that help us navigate our way around computers and smart phones.
"What I've done with this exhibition is really gone through our basement, our extraordinary collection, and I've chosen my favourite objects that I think tell an interesting story and are really worth looking at and challenging the viewer to think about what constitutes an icon today."
The items range from Aboriginal pottery; a silver, brass and wooden crucifix worn on a necklace; a 1928 Bugatti racing car (so valuable Dr Strecker would not tell me how much it was worth); Australian performer Johnny O'Keefe's red suit and the Olympic torch Cathy Freeman used to light the cauldron at the Sydney Olympics.
Photo: 1928 Bugatti driven to victory by Arthur Terdich at the 1929 Australian Grand Prix.
---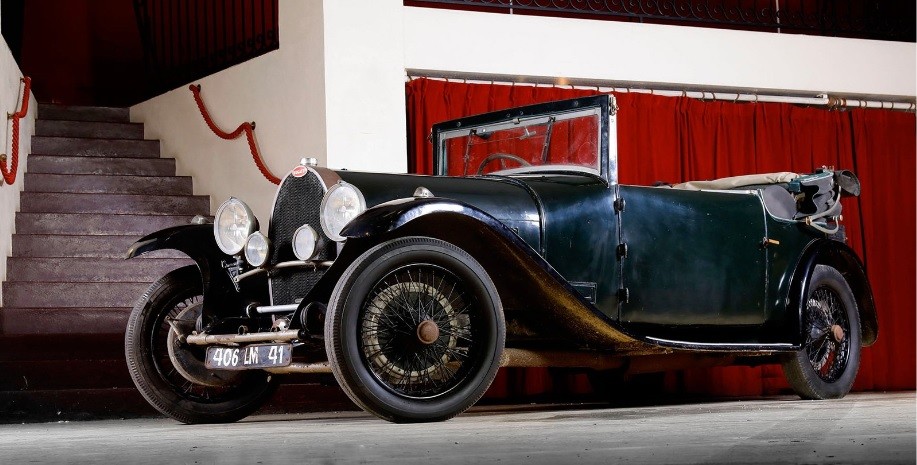 March 24, 2018 Osenat Auction, Automobilia & Automobiles de collection Fontainebleau, France
1928 BUGATTI TYPE 44
CHASSIS 44646 moteur 402
Cabriolet Vanvooren 4 places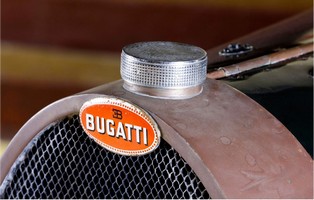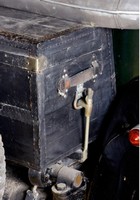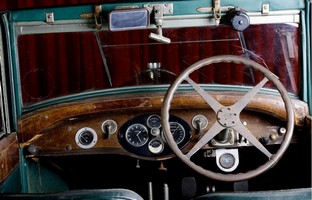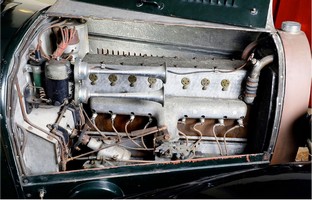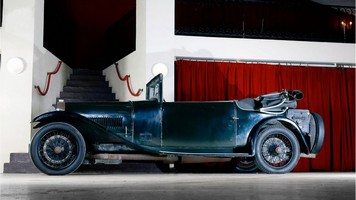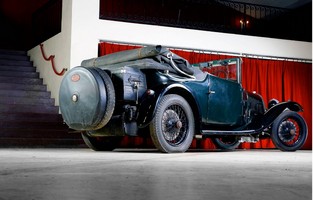 More info
---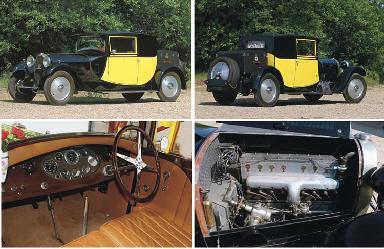 March 24, 2018 Coys Auction Techno Classica Essen, Germany
1928 Bugatti T44 Fiacre by Gangloff
Chassis 441141
---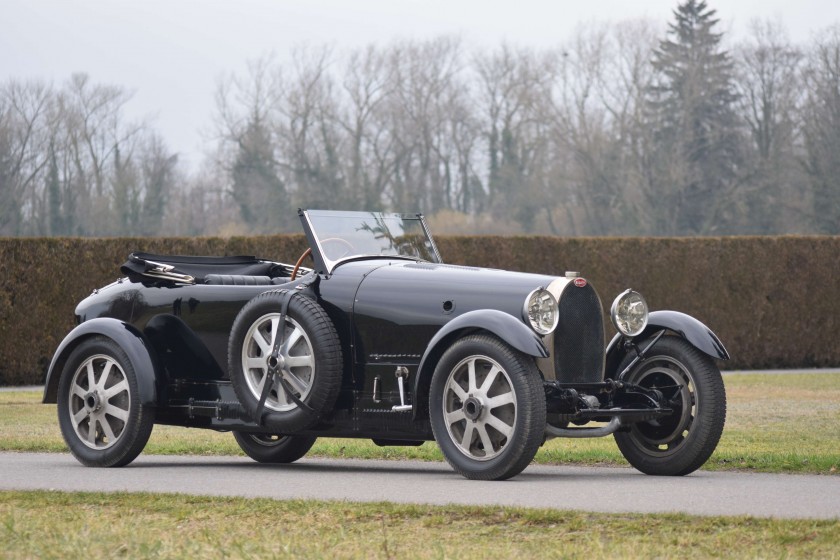 April 8, 2018 Artcurial Auction - Automobiles sur les Champs 12 Paris, France
1927 Bugatti Type 43 Torpédo Grand Sport
Chassis n° "43186"
Estimate: 500 000 - 800 000 €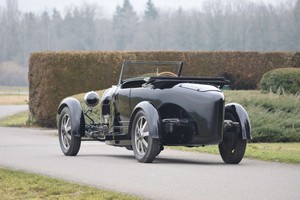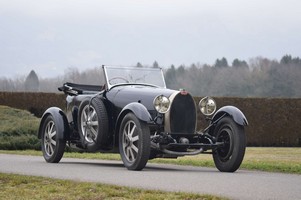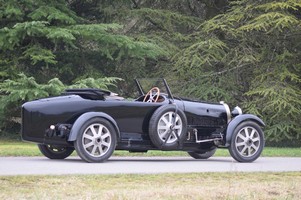 This car was sold in 1999 with its French registration document, identified as chassis n° 43186. According to its vendor, from Cannes, it had been acquired from a Bugatti garage in Paris by the collector Robert Cornière in the 1950s or '60s. When we met Cornière at his home some years ago, he told us nothing about this, but he asserted that he had only ever owned one Type 43 - chassis n° 43305. We now know that he also owned chassis n° 43158 (partly dismantled), identified later and doubtless sold to our Cannes collector, who later sold 43186.

There is no conclusive information, however, that Cornière ever owned a third Type 43 (n° 43186). The only potential evidence for this is a photograph taken in the late 1970s (probably at Cornière's country-house east of Paris) showing a trailer loaded with what could be a Type 43 chassis, a gear-box casing, two rear axles, Bugatti Grand Prix aluminium wheels and Type 49 aluminium wheels. A Type 43 chassis may have been stocked dismantled by Robert Cornière - but nothing confirms that he owned two in the same condition.

Vehicle Inspection - Paris 1 March 2018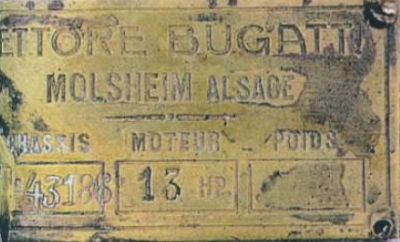 Following our recent vehicle inspection, the following observations can be made:
Chassis Plaque
Brass, engraved 43186, riveted, with figures that do not conform; the letter E in the words ALSACE and MOTEUR do not conform either. So the plaque cannot have been made by Bugatti.

Front Axle
Numbered 167. Saloon-car axle, conform to Type 43 or Type 44 - but the number suggests it cannot be a Type 43 axle, as fewer than 160 of these were built, so is probably a Type 44 axle.

Engine
The lower crankcase bears the car's supposed chassis number 43186 rear left. This number is engraved in smallish characters, in a style quite different from that used by Bugatti. The lower crankcase also bears the assembly number 57S front left, along with a cross. The letter S seems to have been engraved twice. We know of nothing similar on any other car we have inspected, although the crankcase nonetheless appears vintage. The engine number front left has been effaced.

The upper crankcase bears the number 69 at the base of the oil filter, along with a figure 8 on its side (perhaps symbolizing infinity). This crankcase seems vintage and conform.

The cam-box is new and conform. The compressor's drive-housing is vintage, and bears the number 11. The compressor itself is new.

Steering-Box
Vintage and conform, bearing the assembly number 4.

Gear-Box
The casing is engraved 186. As this number is higher than the total number of Type 43 gear-boxes produced (just 159 or 160), this cannot be an original Type 43 gear-box, yet is nonetheless vintage and the numbers authentic. We believe the purported 43186 identity of this car derives from this gear-box number 186. The gear-box is actually a Type 44. To verify this we inspected the lower faces of the brackets: those for a Type 44 gear-box are 65mm high, those for a Type 43 are 48mm. Close observation clearly reveals that the 17mm difference has been lost through grinding.

Rear Axle
Surprisingly engraved 186. It was doubtless engraved by the British mechanic John Barton while the car was in his workshop. As he told La Vie de L'Auto-Rétroviseur: 'The axle was a Type 35 - I replaced it with a Type 43.' No doubt he also arranged for the number of the axle to match that of the gear-box.

While the car was in Cannes, the axle bore the number 5, yet was still not a Type 43 original, as its upper side bore the letter H - which was not used for Type 43 axles (or even Type 35 axles). So the axle exchanged in England cannot have been conform to the original model.

Chassis
The chassis frame bears several numbers : we can read 88, preceded by a more delicately engraved 6. Neither inscription corresponds to the factory style. Analysis of the numbers in the metal of the rear cross-piece, carried out in England, seems to indicate that one or two numbers were engraved on this U-shaped cross-piece. The first, apparently, was 88. Unfortunately for the engraver, the original Type 43 chassis with frame 88 is now in the Schlumpf Collection in Mulhouse. A 6 was also engraved, further adding to the confusion.

This rear cross-piece is bolted down with two longerons, and not riveted as it should have been. This extra detail confirms our belief that the chassis was not factory-made; we suppose the frame to be recent, and that it was not originally engraved.

Analysis of the upper side of the frame, as regards the engine support back left, is also revealing: the triangular element appears to have been welded to the left rail of the chassis and, as a result, cannot have been press-moulded with the rest of the ensemble. Finally, the rear support of the spring-leaves fixed to the chassis bears number 43: this makes no sense at this position, as casting numbers here are always in relief. Even so, the piece is vintage and conforms to the design of the Type 38.

Bodywork
That of a 3/4-seater Torpedo Grand Sport. The bodywork is recent and well-made, copied from a very fine, non-restored Type 43 (chassis n° 43279) discovered in Aisne in the 1970s. It spent some time in Paris with Pierre Prieur, who was able to take the dimensions. He had bodywork produced for a car whose parts and bare chassis he had recently come across. However, before this bodywork had been mounted, it was sold (along with the parts) to a collector from the Loire Valley - who, shortly afterwards, sold the bodywork to the Cannes collector mentioned above.

Dashboard
New, with all instruments conform, some of them vintage.

Radiator
Vintage and conform.

Wheels
New, Grand Prix-type wheels conform to the 1930 model, in cast aluminium, as mounted on the last Type 43 cars sold.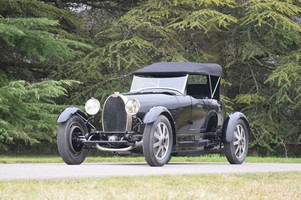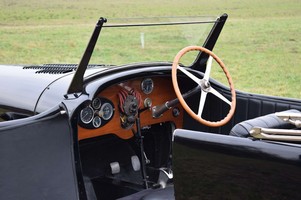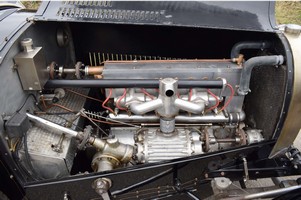 CONCLUSION
The vehicle offered for sale is conform, in terms of external appearance, to the Type 43 Grand Sport. It conforms mechanically to the 2,300 cm3 engine created by Bugatti in 1927. Its engine was last serviced in Spring 2009 by one of France's leading Bugatti workshops, Roseau Racing Restauration, under the direction of Henri Roseau (who apprenticed at Laurent Rondoni in Carpentras), using parts supplied by Brineton Engineering (U.K.). The axles and gear-box are vintage, doubtless Type 44 and very similar to those of Type 43. The chassis is conform to the original design, but the origin of the chassis is unknown, and construction does not appear to have been in line with original Bugatti Type 43 production criteria.
Pierre-Yves Laugier for Artcurial - March 2018 As the reader will have realized, this Bugatti 43 has been mostly constructed using authentic Bugatti original parts. The price of an authentic Type 43 is around €2.5 million, so the price of the car we are presenting seems perfectly logical. We cordially invite any interested party to view this Type 43 and admire the loving attention to detail with which it has been made. This is a superb vehicle with charming patina. It functions impeccably and will, in the years to come, become even more desirable with a few vintage rallies under its wheels! It comes with its French registration and is ready-to-drive.
Additional info from independent sources:
In 2010 this article was written about 43186 (and 43158) by renowned Bugatti Registrar Kees Jansen, and published on this website. At that time the Bugatti T43 "#43186" was offered on auction by Oldtimer Galerie Toffen, but it was not sold at a maximum bid of € 754.603,00.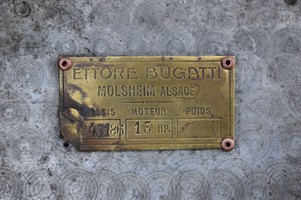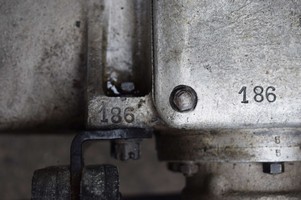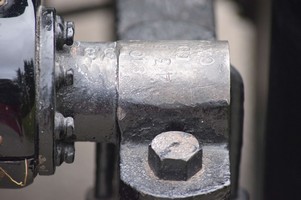 ---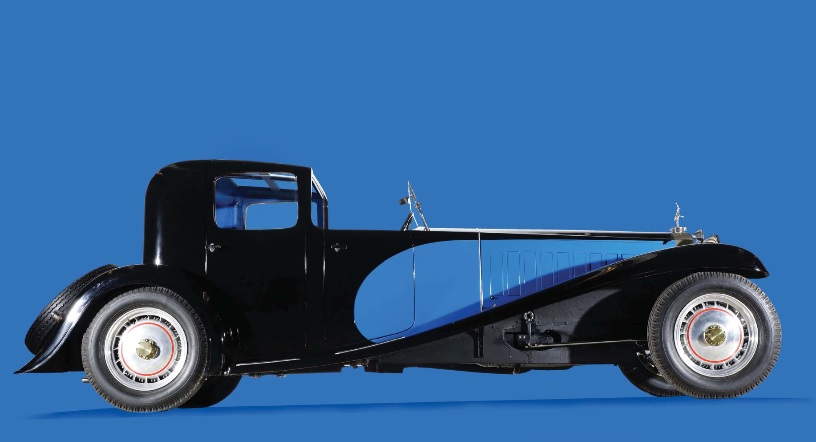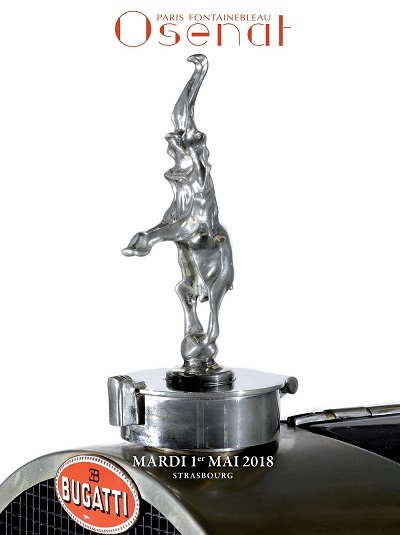 May 1, 2018 Osenat Auction Strasbourg, France
The sale of The Feidt family Bugatti collection, including 9 cars:
Type 23 Brescia Reconstruction, estimate: 60 - 100 k euro
1925 Type 35, Chassis 3537, estimate: 300 - 400 k euro
Type 35B, BC41, estimate: 400 - 600 k euro
Type 51 reconstruction, estimate: 350 - 500 k euro
Type 46 Petit Royale Coupé de Ville, 46065, estimate: 350 - 450 k euro
Type 49 Torpedo 4 places, chassis 49125, estimate: 320 - 380 k euro
Type 49 Roadster, BC60/49572, estimate: 320 - 380 k euro
Various Bugatti Vices, legs
Various parts, Magneto's
Bugatti children's bed, made by the factory workers

Pur Sang Type 51, nr 1970/2010, estimate: 200 - 250 k euro
VW Beetle based "Bugatti", 1963, estimate: 8 - 12 k euro
Citroën Méhari that belonged to Caroline Bugatti, 1973, estimate: 10 - 14 k euro
PDF file with all Bugatti items, photographs + description
Direct link to the Osenat website.
---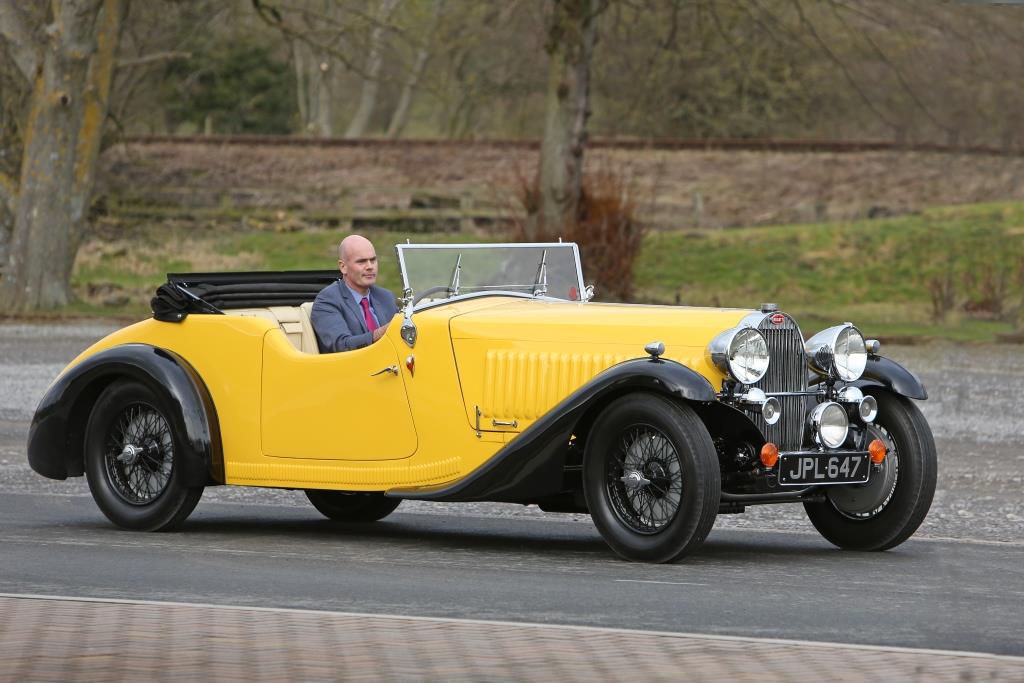 May 13, 2018 Tennants Auction Leyburn, UK
1935 BUGATTI TYPE 57 'GRAND RAID' TOURER
Chassis No: 57324
Engine No: 204
UK Reg: JPL 647
A fully restored original example of the 1935 Bugatti Type 57 Grand Raid Tourer is coming up for sale in Tennants Auctioneers' Vintage Motor Vehicle sale on 13th May, with an estimate of £700,000-1,000,000 (plus 10% buyer's premium + VAT).

The Bugatti Type 57 was an entirely new design created by Jean Bugatti, son of founder Ettore Bugatti; 739 Type 57s in various models were built between 1934 and 1939. The present car is one of only ten 'Grand Raid' Type 57 Tourers produced – a lower and sleeker 'semi' sport model, which was first unveiled at the Grand Palais in Paris, September 1934. Four 'Grand Raid' chassis' were delivered to Bugatti's London Depot on Brixton Road, including the present example; according to Bugatti factory records, it was ordered by Col Sorel for stock and invoiced on 11th July 1935.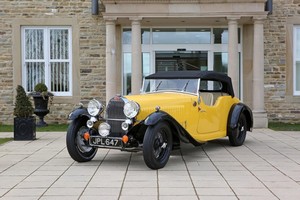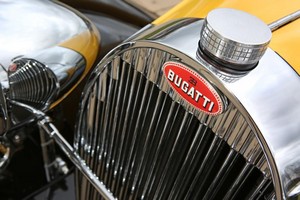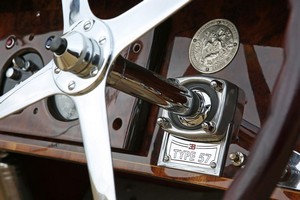 The vehicle was then fitted with a four-seater body built by Corsica Coach Builders of Cricklewood, London – a firm who built bespoke bodies for Bentley, Delage, Invicta , Mercedes-Benz and Bugatti chassis.
The early history of the car remains unclear, as it was first registered (or re-registered) with the Department of Transport on 1st April 1944, nearly ten years after it had been built. However, with the growing interest in the Bugatti Marque in the 1950s, post-war owners of the car have been recorded, and it has only had two owners since 1978.
This very rare model is practical and useable, and has had both engine and coachwork restored by leading specialists Ivan Dutton Ltd and I. Wilkinson & Son Ltd of Derby.
A full report on the vehicle, compiled by Mark Morris an independent Bugatti specialist, is available on request.
More info will become available here.
---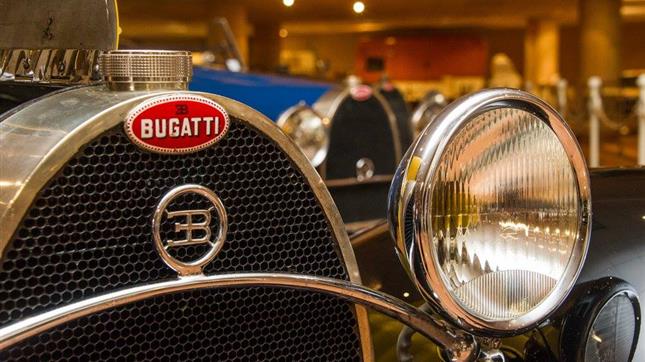 December 18, 2017 - March 10, 2018 Exhibition of Bugattis at H.S.H. the Prince of Monaco's Car Collection Monaco

Fifteen iconic Bugatti Grand Prix and Sport-type vehicles can be admired at this unprecedented exhibition in a unique setting. All are in working order and come from private collections.

Founded in 1909 by Ettore Bugatti, an industrial designer from a family of artists, the brand and its cars are considered true works of art, both aesthetically and technically. Featuring stylish lines and unique designs, Bugattis are reputed to be the most elegant, fastest and most powerful cars.

Among the exceptional cars dating from 1910 to 2016 that will be on display is the Bugatti type 35 C, which took part in the 1st Monaco Grand Prix in 1929 as number 8, driven by Marcel Lehoux.

As a reminder, at this 1st Grand Prix, the Bugatti brand topped the podium with the 35 B and 35 C models (similar to the Lehoux model). Subsequently, in 1930,1931 and 1933, Bugatti cars won the Monaco Grand Prix races with spectacular success.

There will also be a major focus on sports vehicles, with an EB 110 model from 1991, the Veyron from 2015 and the Chiron (loaned by the brand and on show in January 2018).
This Chiron model was named after Monegasque racing driver Louis Chiron, who won the 1931 Monaco Grand Prix in a Bugatti type 51.

H.S.H. the Prince of Monaco's Car Collection
Les Terrasses de Fontvieille
98000 MONACO
Tel.: +377 92.05.28.56
---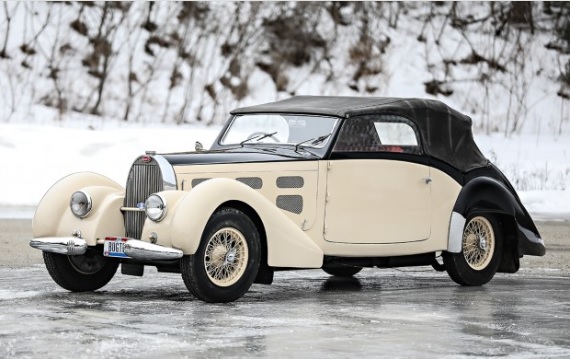 March 9, 2018 Gooding & Co - The Amelia Island auction Amelia Island, FL, USA
1936 Bugatti T57 Stelvio Gangloff
Chassis 57442
---
March 11, 2018 22:30 Bugatti, l'ivresse de la vitesse ARTE TV channel

TV show about the history of Bugatti.

Bugatti : un nom associé aux belles autos, au luxe et aux records de vitesse. Ce documentaire raconte l'histoire de la famille de passionnés à l'origine de cette légende. À la fin du XIXe siècle, le décorateur et architecte italien Carlo Bugatti conçoit des meubles originaux pour les maisons princières européennes. Ses deux fils, Ettore et Rembrandt, héritent de son esprit visionnaire : constructeur automobile, le premier crée des petits bijoux de la route qui allient esthétique et technicité, alors que le second devient un sculpteur de renom. Au fil des années, les voitures qui sortent des ateliers d'Ettore Bugatti s'illustrent par leurs performances hors norme dans les compétitions, établissant ainsi leur solide réputation sur la scène internationale. En 1939, le déclenchement de la Seconde Guerre mondiale et la mort accidentelle de Jean – qui a succédé à son père à la tête de l'entreprise – annoncent le début d'une période difficile qui s'achève au milieu des années 1980, lorsque la prestigieuse marque renaît de ses cendres grâce à l'entrepreneur italien Romano Artioli. Depuis 1998, elle fait partie du groupe allemand Volkswagen AG.
---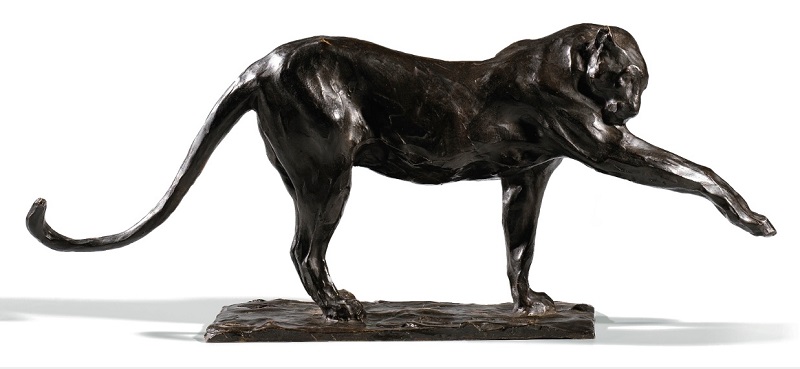 March 23, 2018 Sotheby's Art Impressionniste et Moderne Auction Paris, France
Rembrandt Bugatti
1884 - 1916 PETITE PANTHÈRE SE LÉCHANT LA PATTE
Bronze, signed RBugatti and stamped with the foundry mark CIRE PERDUE A.A. HEBRARD
15 x 38,5 x 9,9 cm
---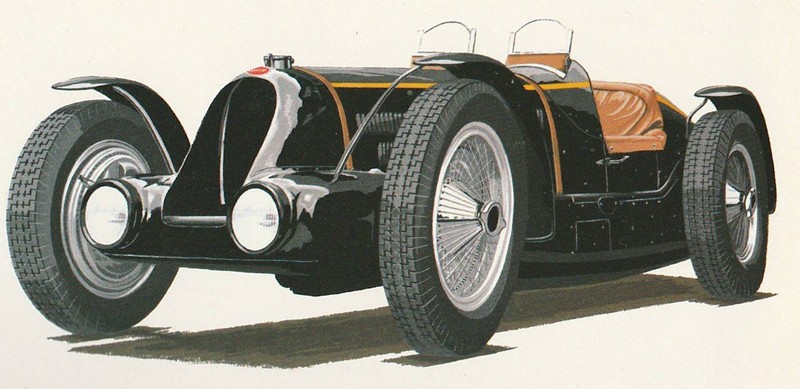 Drawing of the Type 59 Roi des Belges roadster, drawing by Paul Kestler (France).
---
March 6, 2018 20:40 Leve de Zoo! België één TV channel

TV show about the Antwerp Zoo, including Rembrandt Bugatti.
---
January 30 - February 3, 2018 Taylor Graham New York, USA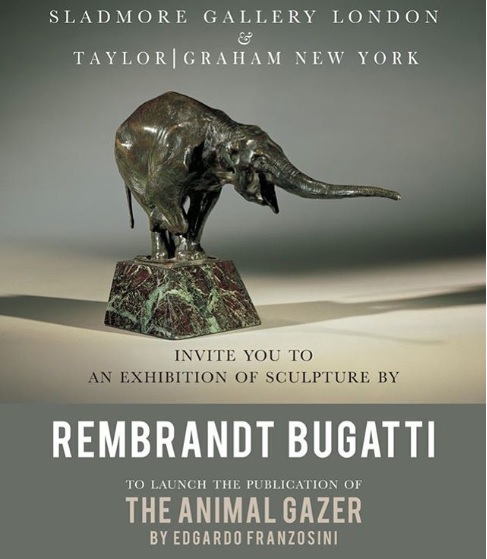 ---
February 7 - 11, 2018 Retromobile Paris, France

As always, there will be quite a few Bugattis!
---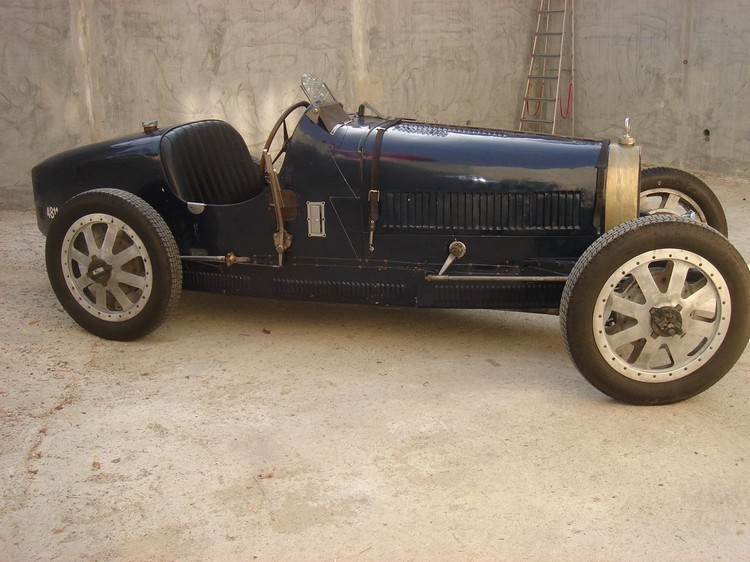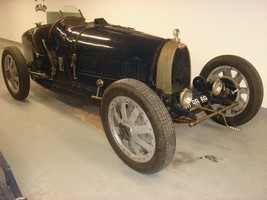 February 7, 2018 RM Sotheby's auction Place Vauban, Paris, France
1925 Bugatti Type 35 Grand Prix
Chassis "4394" Estimate €500.000 - €700.000 (It was first stated as €950.000 - €1.050.000), Offered without reserve
Apperently a partly original car, see this discussion on BugattiBuilder from 2009.
More info on the RM Sotheby's site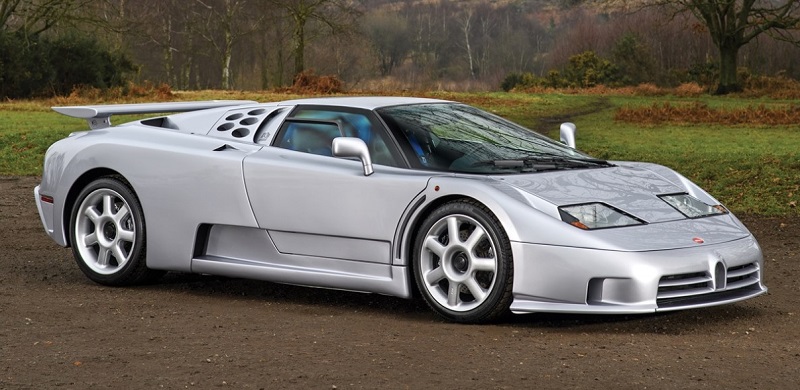 1993 Bugatti EB 110 Super Sport Prototype, Chassis No. ZA9BBU2E0PCD39006, Engine No. 0026, Estimate: €850.000 - €1.100.000
2017 Bugatti Chiron, Chassis No. VF9SP3V39HM795042, Engine No. DAL001/022, Estimate: €3.200.000 - €3.600.000
---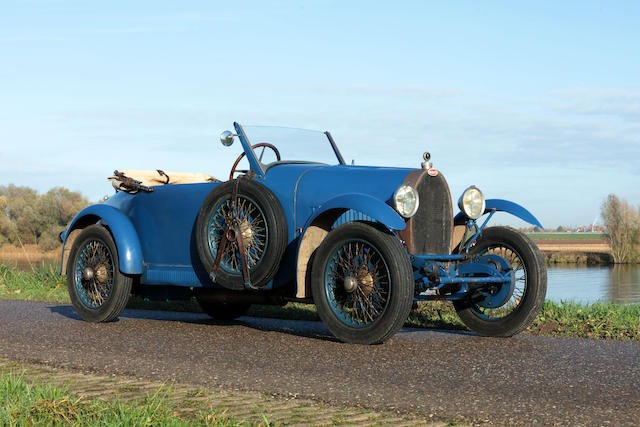 February 8, 2018 Bonhams, Les Grandes Marques du Monde au Grand Palais le Grand Palais, Paris, France
1928 Bugatti Type 40
Chassis no. 40717 Engine no. 710
Estimate €300,000 - 400,000 / £270,000 - 360,000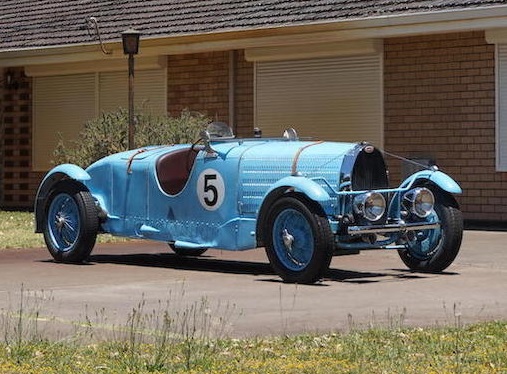 1935 Bugatti Type 57 Tourist Trophy Torpedo
Estimate €780,000 - 1,300,000 / £690,000 - 1,100,000
The ex-Earl Howe, Pierre Levegh, Current Ownership since 1958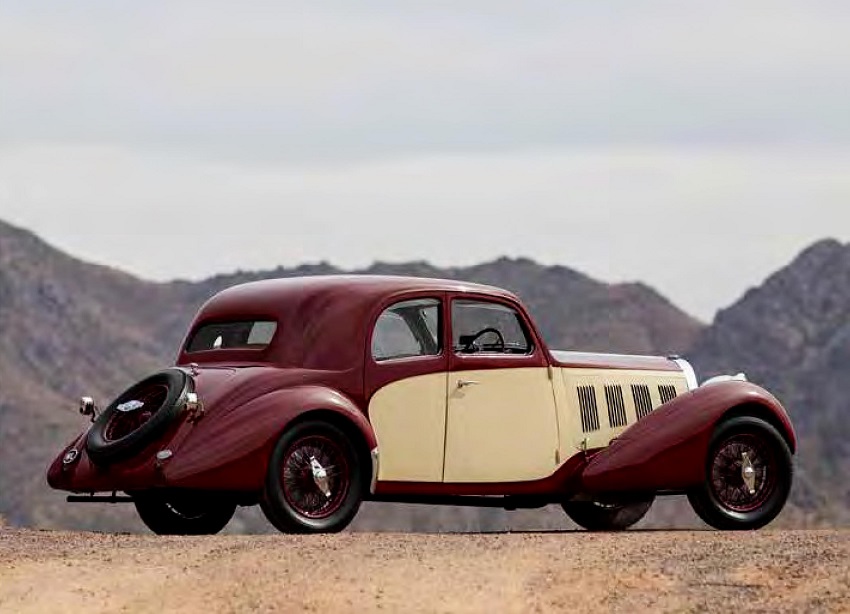 1937 Bugatti Type 57 Pillarless Sports Coupe by Graber, Chassis no. 57443, Estimate € 280,000 - 340,000
It was "Amended" last year when the estimate was €360,000 - 430,000
This Bugatti is almost unrecognisable after it's recent respray, of course the car is much better known in it's dark blue colour in which the Sauerbier family in the Netherlands drove around in it for decades!
More info on the Bonhams site
---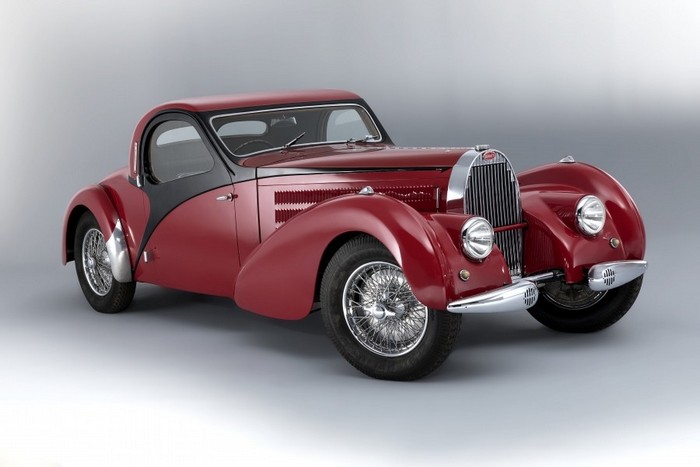 February 9, 2018 Artcurial Auction Paris, France
1938 Bugatti 57C Atalante Coupé
1936 Bugatti Type 57 Galibier, 57291
Bugatti Type 57 Cabriolet Vanvooren
1926 Bugatti Type 40 Grand Sport
1938 Bugatti 57C Atalante Coupé
Châssis n° 57624, Moteur n° 448
Estimate: 3 M€ – 3,5 M€ / 3.5M$ - 4M$
- Extremely rare Atalante with aluminium body and matching numbers
- Supercharger fitted in 1952 by the factory
- Ex-Charles Renaud and Peter Williamson collection
- Known, continuous history, ex-Geneva Motor Show
- A Bugatti masterpiece in the most desirable specification
- US title, EU customs cleared
The various factory registers allow us to trace the origins of the car on offer, as follows :
Bugatti coachwork factory book
The handwritten records of cars bodied by Bugatti in 1938 have been conserved. They tell us that in January 1938, two " Coupé Atalante " were built :
- Chassis 57598, in two-tone red livery, completed on 10 January,
- Chassis 57624, " blue/black body - tan leather interior ", left the workshop on 28 January 1938.
It was the seventh Bugatti to leave the coachbuilders during 1938. At that time, between four and eight cars were built a month and 1938 was the last year that the " 2-seater Coupé Atalante " appeared in the Bugatti catalogue. There would be a couple of further examples assembled in 1939, for special orders, including one that was prepared for the New York Motor Show.
A total of 34 Atalantes were built on 57 or 57C chassis. The model had been presented to the press in April 1935, known then as a " Faux-Cabriolet ", and not officially named Atalante until the Motor Show in October 1935. Only 17 examples of the Atalante coupé were built on a 57S chassis.
Monthly sales register
Chassis 57624, fitted with engine 448, was assembled in December 1937, and was sent to the coachbuilder at the start of 1938. The car was completed on 28 January 1938.
Delivery register
The vehicle 57624/448 coupé Atalante was transported from the factory to the Geneva Motor Show by train on 2 February 1938. The car had not been promised to, or bought by, the agent in Geneva, but sent by Molsheim for loan or display only. Having been finished just five days before being sent to the Motor Show, we can conclude that it was built specifically for the event, and consequently particular care was taken in its construction.
The car was officially sold on 5 April 1938 to the Bugatti dealer in Geneva, Jean Sechaud. The Sechaud Garage had taken over from Garage Blanc et Paiche around 1932 as the Bugatti representative in Geneva. There were many Type 57 sold new in Switzerland, but only two Atalante coupés put into circulation there: chassis numbers 57402 and 57624.
A Swiss history
Chassis 57624 was officially imported into Switzerland on 8 April 1938. It crossed the border at Saconnex (receipt number 7142). The vehicle was described as " Coupé - weight 1473 kg ". There are no longer any proper registration records of Swiss cars from before the war, but cross-checking of statistics records has shown that in 1938, the first four Bugatti were imported in April. These were completed cars and not chassis. Of these four, one went to Lausanne and the other to Geneva, and 57624 was undoubtedly one of these two.
We have consulted 1950s Swiss police archives and found 57624 logged there, always registered in Geneva. We can suppose that the Bugatti was on the road in this canton from 1938, when new, through to 1948, when we come across the car again in the hands of an enthusiast by the name of de Marignac.
Chronology of Swiss owners
Gilbert de Marignac and his cousin Bernard Darier acquired this car around 1948. At that time, it was registered GE 11146. We traced Mr de Marignac, who now lives in Crans, near Céligny. He recalls : " The car was bought by my cousin Darier. For some reason, I was the co-owner, although I rarely used it. However, I still remember it was lovely to drive. I seem to remember the car was green and was re-painted light brown. In 1950, I ended up working in America and lost track of the car, which was probably sold by my cousin at that time. "
Darier is no longer alive. He was close to the Hentsch family, that owned one of the four Swiss private banks, Hentsch & Cie. Marignac and his brother Denis had married the two Van Bercham sisters, connected to the Pictet bank.
The next owner of 57624 was Alphonse Gontran-Weber who registered the vehicle with the number NE 2542 (Neuchâtel canton). He lives in Lugano today but comes from a town near Neuchâtel, called Boudry, and discovered this car in a large garage in the town around 1950. He told us that he owned the car with a friend of his, Bernard Darier. It is possible that Darier sold the car to Gontran-Weber while retaining the use of it. The chronology of the owners is, for the moment, consistent. Gontran-Weber remembers having raced at Monza in his Atalante 57. He was a wholesaler of precious stones, who travelled on business to Brazil and South Africa, and had offices in Geneva. He was also responsible for setting up the " Gontran-Weber Trophy " for motor racing. In two letters that he wrote to a Bugatti enthusiast in 1998, he remembers that at a later date a certain Charles Renaud won this trophy with the Aston Martin team at Monza !
Darier and Gontran owned several cars together including a Delahaye. When their partnership came to an end, Gontran-Weber chose to keep the Bugatti. He later sold it, through Hubert Patthey, to a close friend of the latter, Charles Renaud, also from the Neuchâtel region. He lived in Cortaillod, the village next to Boudry. As the car remained in the same area, it retained the registration number NE 2542. In a long letter to one of the future owners of this car, Renaud states that he bought the car in Geneva in 1952. Gontran remembers seeing the car, damaged, in Basel or Geneva, some time after he sold it. Perhaps in the garage where Renaud would discover it ? Renaud's letter lists all the modifications and improvements he made to the vehicle during his ownership. The key elements of this work were:
- The supercharger was fitted at the factory in Molsheim
- The coachbuilder Köng in Basel restored and modified the body.
One wonders whether the car had been seriously damaged before, or shortly after Renaud bought it, as Gontran told us he saw the car in a dreadful state in the garage in question. We note that the curve of the rear wings, which on the original design, joins in the middle of the stern, is interrupted and separated by a band at the rear, on 57624, just as it is today. Looking at the back of the car in a photograph taken in the grounds of the château d'Ermenonville in 1958, it appears that this modification was there then, leading us to believe that it was part of the work carried out by Köng in 1952 or 1953.
In his letter, Renaud says that he sold 57624 to a Mr Marz from Bern, in 1957. We have discovered records of this owner in the Swiss police archives, under " Dietrich Marx, Dolmetscher. " The Bugatti was registered BE 59930. According to the written recollections of Renaud, " When I sold it to a certain M. Marx, from Bern, the vehicle was in perfect condition...Unfortunately he had to get rid of it shortly afterwards... " We believe that Marx asked Renaud to take the car back and sell it for him, as we have traced the owner after Marx through the police records. This was Roger-Georges Poinsot, from Carouge, a district of Geneva where he still lives. He worked in the family central heating business. Born in 1932, it was around 1954 that he bought his first Type 57 Bugatti, a 1935 Ventoux coach, which ended up at the scrap yard. He remembers the Atalante that followed it : " In around 1955, I bought a black and yellow coupé 57 from C.Renaud of Basel. It was mechanically sound apart from the linkage, which began to flake off into the filter! I used it every day for some 15 000 km. It used 25 litres per 100 km. The rather large turning circle meant that to get round small squares, the car had to slide on four-wheels in first gear. I had to sell the Atalante for financial reasons after the birth of my son. It was a certain Mr Fatio, from Bellevue, who bought it. My concerns about the car were justified for, just after he bought it, I learnt that he had issues with the connecting rods. " This account fits with Renaud taking the car back again before selling it on to Poinsot, who registered the Bugatti in Geneva with the number GE 56608.
The car then passed to the next owner, Jean-Louis Fatio, from an old Geneva family. He was a young student living in Bellevue in 1957 when his friend, Raymond Hyvert from Carouge, told him that his neighbour Poinsot was selling his coupé Atalante. The transaction was concluded the following Saturday for the sum of 5 000 FS, and 3 500 Fs handed over as a down payment. Fatio had used all his meagre student savings to buy this coveted Bugatti, despite some paternal opposition.
" Shortly after buying the car, on my first trip out in it, I had just got to the end of the straight road in Bellevue when I broke four rods. By chance, a friend overheard a conversation in a bar in Geneva in which Poinsot congratulated himself on selling his Bugatti which he knew had a linkage problem. I phoned him straight away and asked him either to take the car back or forget about the remaining 1 500 FS ; he accepted the second option. The Atalante had rear bumpers from a Jaguar XK120, but the restoration dating from Renaud's ownership was of high quality and car looked magnificent. The job of fixing the engine was given to the former chief mechanic of the Garage Sechaud : Gaillepand. "
The latter had been working for himself for several years in a small workshop in a basement, in rue du Roveray, Geneva. The Garage Sechaud was still operational but had moved to a large site at 16 rue Manoir, in the Eaux-Vives district. Gaillepand suggested to Fatio that the engine was mounted on small pink metal bearings. Having taken advice from the Bugatti factory, the work was carried out immaculately by the former Sechaud chief mechanic.
Fatio remembers that while he was on a rally at Le Mans in his Atalante, he met Charles Renaud, who was taking part in a 57SC. On the Hunaudières straight, he remembers overtaking Renaud's 57SC at over 200 km/h ! The aluminium-bodied, supercharged car was extremely quick.
Around 1960 - 1961, after a hugely enjoyable period spent behind the wheel of his restored Atalante, Fatio went to work in the US. He was, by then, already in contact with the great collector Milton Roth, of Long Beach, California. Roth had visited Fatio's family home in Messery, on the French side of the lake. While there Roth saw several Type 57 Bugattis stored by Fatio for Robert Baer. Baer was a dealer from Geneva who specialised in beautiful collectors' cars that Americans had been coveting since the early 1950s. While Fatio was in the US, his father organised the sale of 57624 to Milton Roth, through Robert Baer.
The Atalante's American history
The rest of the car's story is well known through the " Bugatti Register 1962 " of HG Conway, which names the Californian owner who bought the car in circa 1961 from Roth : Michael H. Strater, 3555 Dwight Way, Berkeley 4, California.
Fatio recalls visiting Roth in California in 1961 and remembers that Roth no longer owned the car then. It had changed hands for 3 500 $.
In 1963, the car sold to the future president of the American Bugatti Club, the renowned neurologist Peter Williamson, of Greenwich, CT. A full restoration of the car was carried out by the Bugatti specialist O. A. Phillips. This mechanic, working in the outskirts of Los Angeles, had been maintaining rare Californian Bugatti since 1931 ! The new livery in reversed red and black, dates from this period.
The coachwork bears the assembly number 25, making it the 25th Atalante, with a long Type 57 chassis, to leave the Bugatti workshops, of a series of 34 vehicles assembled between 1935 and 1939. Every possible combination of colours appear to have been tried out on the coachwork of this car : the original black/blue two-tone pattern is thought to have comprised an almost completely black body with doors and side panels on the bonnet in dark blue.
The Atalante coupé on a Type 57 chassis is one of the most beautiful Bugatti to appear at any Concours d'Elégance, and is also one of the most exclusive and desirable models built by Bugatti.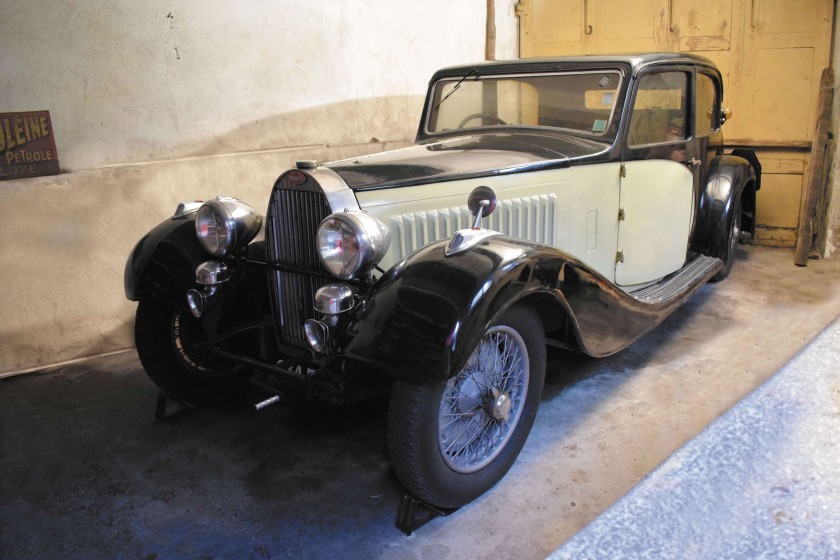 1936 Bugatti Type 57 Galibier

Estimate 120 000 - 180 000 €, No reserve

Chassis n° 57291, Engine n° 124

- Unbroken chain of ownership
- In the same family since 1965
- Well preserved car

The history of this Bugatti 57 is unusually transparent, with an unbroken chain of ownership and a small number of owners.

It was sold new to Mr Maurice Bladbourg from Bordeaux, through the Bugatti agent Mr Piénon, who received the car on 28 March 1936. It was registered 269 G 78. On 8 February 1938, the car was sold to its next owner and registered in Landes with the number 8045 HU 1. According to edition 22 of the Bugatti Club magazine, published in 1992, the car then had two owners, Mr Sostrat and Mr Frère, before being bought by Mr Roblin, a garagiste in Rochefort-sur-Mer.

It is from Roblin that Georges Lombard bought the Bugatti, on 17 September 1965, and the car has remained with the family ever since. It was regret over the sale of a Bugatti 40 in 1961 that prompted this purchase, and in 1966 Georges Lombard began to restore the bodywork, returning the car to its original colours of yellow and black. The same year, he joined the Bugatti Club in Holland and decided to set off on an ambitious rally, covering some 3,000 km across France, Denmark, Germany and Switzerland. It was the first of many voyages, for touring was one of Lombard's many passions. He also loved driving in his modern car and set off in 1973, without any hesitation, on a trip to the North Cape in Norway in his Citroën DS.

In 1976, a family tragedy kept him from his passion for some 12 years, but in 1988, he put the Bugatti back on the road and took it to Novo in Marolles to have work carried out on the engine (with the adoption of small bushings), the rear axle, the brakes and the clutch. In 1990, Lombard rediscovered his love of rallying, and the first event he entered was the aptly-named Galibier rally. Then, in 1991 he took part in the Bugatti day at Montlhéry organised by Jean-Michel Cérède. In 1992 he was part of the first Grand Prix de Divonne-les-Bains, an event he took part in every year until 1996. That year, the car had another trip to Novo, when a conrod broke. The problem was duly rectified and the happy owner continued to use his car on numerous trips, even if the distances were rather shorter than 30 years earlier. In December 2012, the Bugatti was exhibited at Chambéry to mark 40 years of the Auto-Rétro show, which Lombard also attended. He died a few months later at the age of 96.

Since then, the car has been stored in a garage at the family property and will need a full mechanical overhaul. The woodwork requires some attention but the tan leather interior has been incredibly well conserved. An interesting feature of the car is that the passenger compartment has four separate seats.

This rare Bugatti 57 is being offered with a substantial file containing correspondence pre-dating its purchase in 1965, relating to the maintenance, restoration, outings, rallies and other events that the car has experienced during its life.

It is rare for a car of this age to have such a well-known past, and to be in such well-preserved condition. Amongst the Bugatti 57s that have survived, this must be one of the most authentic.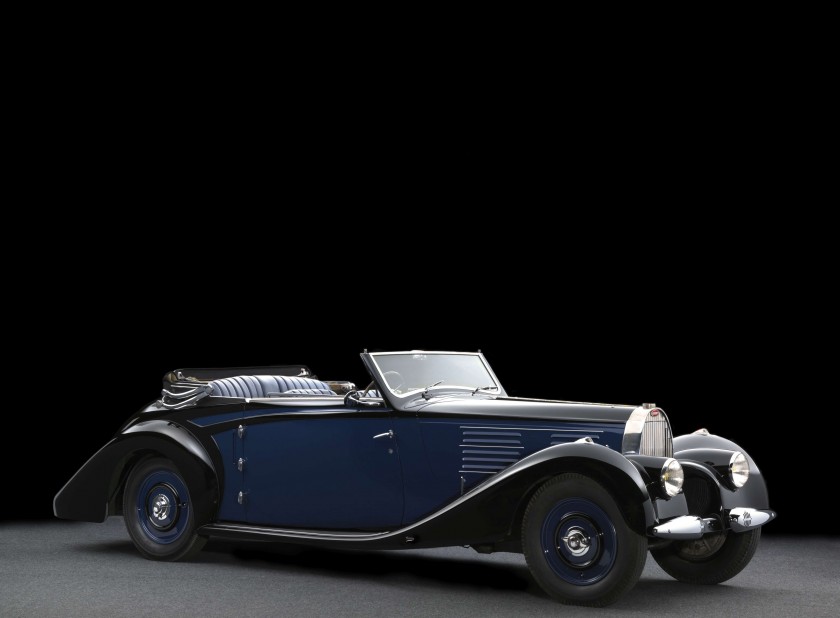 Bugatti Type 57 Cabriolet Vanvooren
Vanvooren body n° 2940, Engine n° 546
Estimation 650 000 - 950 000 €
- 1938 Paris Motor Show Vanvooren body
- Exciting history
- Top level restoration
- One of the Volante Collection masterpieces
Having long been a mystery, this car recently revealed its secrets past after extensive investigative work carried out by various Bugatti historians as well as its current owner, who has carried out a full-scale, no-expense spared restoration. The car sports the Vanvooren Type 57C cabriolet body (chassis 57757/engine 52C) that dates from the Paris Motor Show of October 1938, and was refitted around 1945, at the factory, onto a new Type 57 chassis (engine 546) that had been in stock since June 1939.
Chassis 57757/engine 52C, cabriolet Vanvooren, Salon 1938
The coachwork on this vehicle was built by the Établissements Vanvooren, rue Pierre Lhomme in Courbevoie, in order to be displayed on the coachbuilder's stand at the Paris Motor Show, held at the Grand Palais between 6 and 16 October 1938. To this end, chassis 57C no. 57757/engine 52C was prepared at Molsheim at the start of August 1938, so that it could be fitted with the Vanvooren coachwork. We know that the body was designed to fit this particular chassis as, on one of the three photos of the car, taken in Bois de Boulogne in October 1938, we can read " 57C " on the left-hand side of the trunk. These photos were published in the November-December issue of the magazine Auto-carrosserie. The body is described as being " black and blue in colour, with a blue hood and blue leather interior ". In 1938-1939, it was rare for the Vanvooren workshop to order chassis from Bugatti - this chassis 57757 was the only Type 57C delivered during 1938 to be made into a cabriolet. Another chassis, n° 57695/engine 506, without supercharger, left the Vanvooren workshop during the 1938 Christmas period. The two chassis had been delivered to the coachbuilder on 12 August 1938.
The car 57757/engine 52C was bought by D'Ieteren, the Bugatti agent from Brussels, on 30 September 1938. He was invoiced 41 200 francs for the four-seater cabriolet. The Paris Motor Show opened its doors the following week. On 15 November 1938, the car was finally delivered to D'Ieteren in Brussels, for his client Mr Washer, who paid 110 000 francs. In all the factory documents there is only mention of " Washer " as the client of the car. Armed with this information, we set off on our search once more, and track down the daughter-in-law of the first owner, Jean Washer, the famous Belgian tennis player of the 1920s. She retrieved the family archives for us, and her nephew discovered the material we had hoped to find. The family album still contained publicity photographs of the car in Bois de Boulogne, sent by the Brussels agent in an attempt to persuade his client. There was also a photo taken during the winter of 1939, showing Jean Washer, in gloves and helmet, posing next to his new acquisition, which was fitted with Belgian number plates. His recently deceased son, Paul Washer, had, not long before, tried to contact the factory at Molsheim, hoping to find out about the family car. He apparently had strong memories of being 16 years old and his father buying the cabriolet. Unfortunately, he failed to get any answers. What we now know is that the car had been successfully 'recycled' by the factory towards the end of the war : the chassis had been fitted with the engine from 57404 and was used for a 1939 model cabriolet body by Gangloff, and the Vanvooren body was re-fitted to a new chassis with engine n°546.
Jean Washer (1894-1972)
Jean Washer, who was born on 22 August 1894 in Berchem and died on 22 March 1972 in Geneva, came from a family involved in the textile industry in Brussels. He started playing tennis after the war, joining the Royal Léopold Club de Bruxelles. His most successful year came in 1923 when he was ranked 9th worldwide. In 1924 he reached the quarter-finals at Wimbledon and lost to René Lacoste. The following year he was a semi-finalist at Roland Garros, having beaten Henri Cochet, but then lost to Jean Borotra ! He was a quarter-finalist once again in 1926. He won the singles in the Belgian outdoor Championships eight times between 1920 and 1927, and the doubles seven times between 1919 and 1925. He played for the Belgian team in the Davis Cup between 1921 and 1927. In 1922, at the Racing Club de Bruxelles, he beat Henri Cochet followed by Jean Borotra and in 1924, he won against René Lacoste at the Léopold Club and then Henri Cochet on the Côte d'Azur. A left-hander with a powerful serve, he had a good smash and a fast forehand shot. Professionally, he was responsible for the synthetic fibres department in the UCB Group UCB (Union Chimique. Belge). In 1928, Jean Washer acquired a splendid park in Drève de la Meute, Bois de Waterloo, in which the property " le Manoir " was situated. This huge Anglo-Norman residence dated from the early 20th century. After the Second World War, Jean Washer coached his son, who also became a very successful tennis player, and retired to live in his villa in Geneva until his death in 1972. Earlier, however, on 10 May 1940, the Germans invaded Belgium. The country surrendered on 28 May and the occupying forces installed themselves in Wallonia. They set up their quarters in " Le Manoir " and an officer confiscated the fast 57C cabriolet for his own use. Other cars were also extracted from various garages to be used by the occupiers. It appears that the Bugatti then headed east with its officer, as we next come across the car at a coachbuilder north of Frankfurt.
The Vanvooren body
During the car's recent restoration, when the woodwork and seats were dismantled, the coachwork number was revealed. It was stencilled on the back of the seats, in blue crayon on the wood and lead pencil on other parts. In total, the Vanvooren number 2940 appeared on over ten pieces of the coachwork. It conforms to a Bugatti chassis number that was bodied during the autumn of 1938, as number 2986 corresponds to coachwork fitted to a Coupé 57C Vanvooren in July 1939.
Analysis of various parts of the body, carried out during the restoration commissioned by the owner of the Volante Collection, has revealed the rest of the story to us. On the inside of a door panel there is a long inscription : " Erwin Leun, Karosseriebauer, Giessen. Klein Linden, Dammstrat 14. Deutschland " The town of Klein Linden is 400 km east of Waterloo, to the north of Frankfurt, and Leun's workshop is known for the work he carried out for the Wehrmacht during the war. The Leun family told us that their workshop had modified numerous cars that had been confiscated between 1940 and 1944. On the Bugatti, the position of the spare wheel was altered, so that it could be hidden in the trunk rather than be visible on the left wing. During the war, this was deemed to be safer, as well as being an aesthetic improvement. A tow bar was welded on at the back, which involved cutting out a few centimetres at the bottom of the rear bodywork. It is possible that this modification, as well as the holes pierced in the wings were carried out in order to install a radio. The name Hammerstein appears engraved in the metal of the two front seat sliders. This could be the name of a German officer from the military family Von Hammerstein, and be connected to the name of one of the officers who considered the car as loot. Although we can trace the car's journey from Waterloo to Klein Linden as taking place between 1940 and 1944, it is impossible to determine exactly when the chassis 57C was separated from the Vanvooren body.
The turbulent period of the war and the cars in stock in Bordeaux and Molsheim
The chassis must have been separated from its body sometime between 1944 and 1950. There is a strong possibility that the work was carried out in the factory at Molsheim, as the original rear axle N°52C and the frame appear to have been subsequently used on the car of an enthusiast from Colmar, after the war. The car's current chassis came from new stock that had been stored in Bordeaux in 1940, and, by order of Hans Trippel, taken back to Molsheim in 1941. An auction was organised at the factory that year, after the stock of cars from Bordeaux had been returned to Molsheim.
The body from chassis n°57757, our ex-1938 Salon Vanvooren cabriolet, was put on the new chassis equipped with engine n°546. It was a complete chassis with engine, gearbox and axle n° 546, that had been stored in Bordeaux in 1940 - 1941 then taken back to Molsheim. The frame number, 438, shows us that the engine 546 had not been fitted in a chassis when it was assembled in January 1939, but some time after June 1939. The joint research of several Bugatti historians, including Sandy Leith from the US, appears to show that the original chassis 57757 of our car, frame 339, still complete with its axle number 52C, received a Gangloff four-seater cabriolet body from 1938 - 1939 and engine ex-57404. From then, it became known, under this number.
The current car, chassis and engine n°546, body ex-57757 cabriolet Vanvooren
It is extremely likely that at the end of the war, several Type 57 and 57Cs that had been requisitioned, poorly looked after or simply damaged while in storage, would have been returned to the Bugatti factory to be restored. New clients had the choice of getting their chassis restored or having their coachwork fitted to one of the new 1939 chassis that were still available. This is undoubtedly what happened to body number 57757, whose owner after the war chose a new Type 57 chassis. One can suppose that the engine 52C was unusable as chassis 57757 was recovered by the factory and fitted with an engine from 1936, ex-57404, and a fairly heavy four-seater Gangloff cabriolet body, the latest 1939 model.
After the war, we find the chassis with engine 546 fitted with the Vanvooren coachwork, in Austria. Paul Girardoni, owner of a large Austrian sugar refinery, bought the car in the early 1950s, and according to his wife, Olga Girardoni, this transaction took place in 1951. She remembers receiving the car as a present from her husband, and using it daily, as well as taking it to the factory in Molsheim several times to be serviced. At this point, the car was green (Mrs Girardoni recalls it being " petrol-coloured ") with tan leather interior. Between 1952 and 1954 it was registered in Saint-Gilgen on lake Wolfgangsee, in the province of Salzburg, with the number S 33.696, and later in Burgenland, close to the factory, with the number B 31.133. Mrs Girardoni's family albums include numerous photos of the car and include some shots of the dashboard, which show it as being the 57C model - it had four small dials to the left and two larger ones flanking the steering wheel, all set on a lacquered wooden fascia, which would have been an option chosen by the coachbuilder.
In 1965 the car was sold to the great Swedish collector Allan Soderstrom, from Malmo. When he died, the Bugatti was put up for sale by his son, and bought in 1996 through the dealer Jean-François du Montant by M. Pierre-Alain Bonnigal. During his ownership, the car was repainted dark blue.
Offered for sale in 2007 by Andreas Haas, it was bought by the current owner in 2014, through Bruno Vendiesse, to become a highlight of the Volante collection. Our owner entrusted the Bugatti to the workshop of René Grosse for a full-scale two-year restoration that cost in excess of 300 000 €. The coachwork was repainted in the original Nitrolac two-tone colour scheme, blue and black. The interior was fitted with the type of seats that Vanvooren would have used, and upholstered in blue leather. The rear of the car, modified during the war, was restored to its original configuration.
Over 4000 photographs were taken of different stages of the restoration, documenting the meticulous attention to detail taken by the team at Grosse's workshop. A renowned Vanvooren specialist, our collector's approach to this project was as a historian. His Volante Museum, dedicated to fine pre-war motor cars, already included eight cars bodied by Vanvooren, and he was very familiar with the techniques used at the workshop in Courbevoie. There was no-one more qualified to return this 1938 Paris Motor Show Vanvooren cabriolet to its former glory.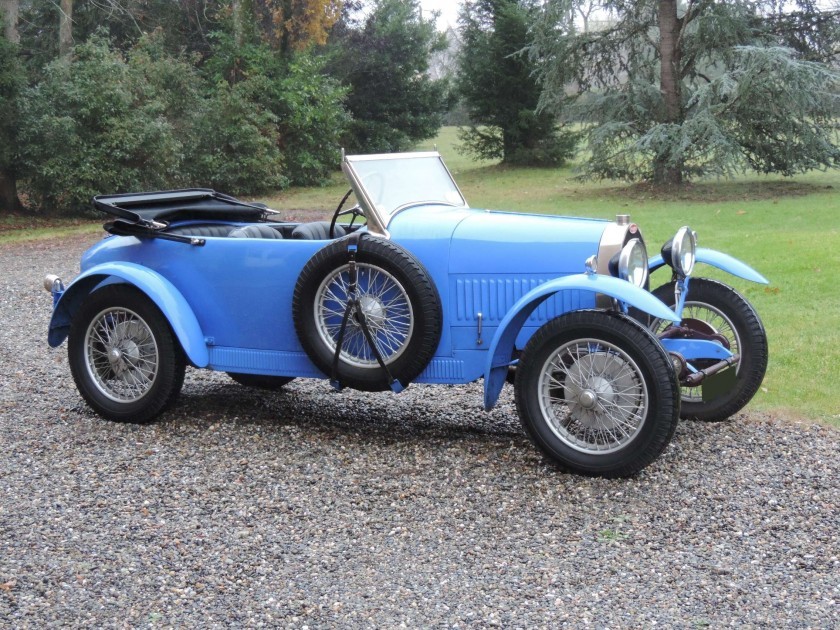 1926 Bugatti Type 40 Grand Sport
Chassis (according to title) n° 40131, Engine n° 31
Estimate: 200 000 - 260 000
- Carefully built
- Mostly genuine Bugatti components
- Lovely car for touring rallies
This lovely Bugatti 40 has been built using genuine Bugatti components, not all dating from the same year, but assembled to create a beautiful car. It was acquired in this form by the father of the current owners.
According to the description of specialist Kees Jansen (in photos), the base for this car was engine no. 31, which was originally fitted to chassis 40131. This number appears on the chassis plate attached to the dashboard. The chassis belongs to a second series long wheelbase car, but only two of the three relevant numbers are visible. According to Kees Jansen, it is likely to correspond to a series number between 40350 and 40450. It may be possible to verify the missing number by dismantling the front transverse section of the chassis. The rear axle (no. 172), the front axle and the gearbox (no. 217) are all original Bugatti parts. We invite interested parties to consult the detailed description.
This mechanical base has been fitted with a " Grand Sport " body, of good quality and probably more recent, thought to have been built for, or by, Pierre Dellière. The interior is upholstered in black leather and is protected by a hood in good condition. The car has all its accessories, including a full set of lights. The current owner's son has informed us that the car runs well, and has been driven on numerous outings in the South West of France. Here is an opportunity to buy a Bugatti, carefully constructed using mostly original parts, that gives access to the legend of Molsheim.
---
January 11 - 14, 2018 Interclassics MECC, Maastricht, the Netherlands

As always, there will be at least a few Bugattis!
---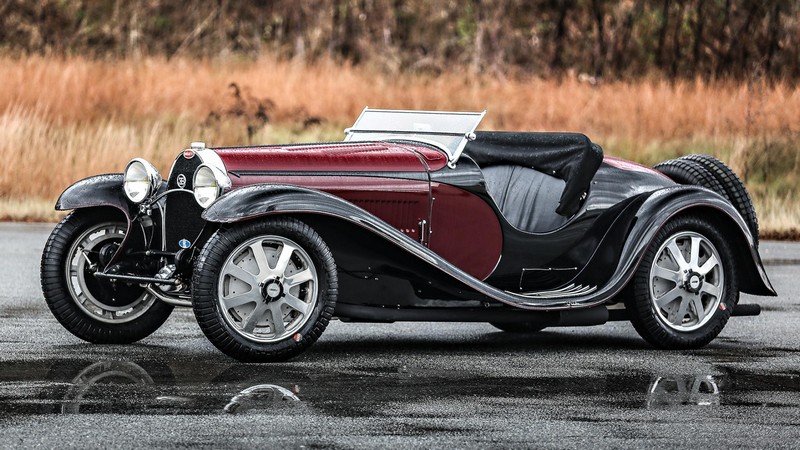 January 19-20, 2018 Gooding & Co - Scottsdale auction Scottsdale, USA

1931 Bugatti Type 55 Roadster

Formerly the Property of Dr. Peter Williamson

Pebble Beach Concours d'Elegance® French Cup Winner

Chassis: 55201, Engine: 1

For how much this Bugatti will be sold largely depends on whatever mood the bidders are in on January 19 and 20, but Gooding & Co expect it to go for between $4million and $5million.

Such a vast outlay buys into proper provenance, mind. This is apparently "one of the most coveted pre-war sports cars" built. Underneath sits the chassis of Bugatti's Type 45 and Type 47 GP racers, along with a supercharged, twin-cam eight-cylinder engine with 130bhp.

This particular car is the very first of just 38 Type 55 models ever built, and as such, gets a GP style bonnet with shortened louvres on the side. Because long louvres are sooo 19th Century.

It was originally showcased at the 1931 Paris motor show, before being delivered to Duc de le Tremoille (French nobility, we're told). After that, a noted Bugatti enthusiast named Dr Peter Williamson owned the thing for more than 40 years.

To this day, the chassis and engine remain original. It's been fully restored too. And let's be honest, it looks quite amazing, no?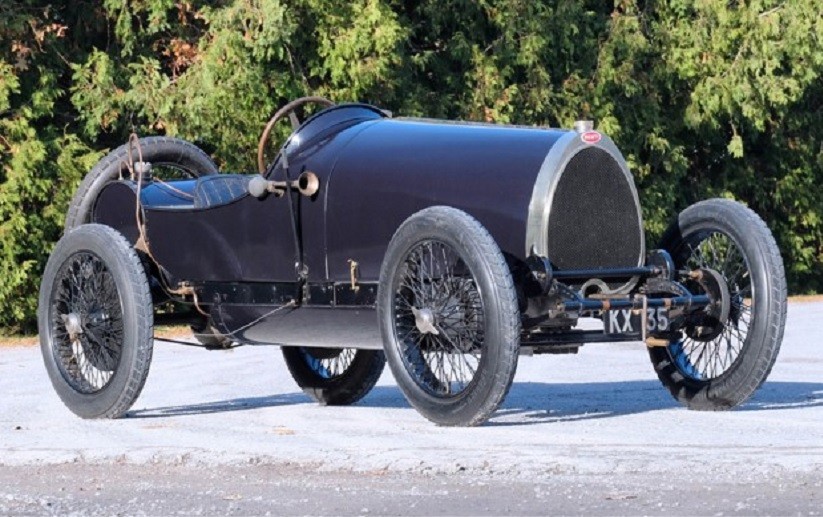 1922 Bugatti Type 29/30
Chassis:4008, Estimate: $800,000 - $1,000,000
The Oldest Eight-Cylinder Grand Prix-Style Bugatti in Existence
The First of Just Two Such Bugattis Delivered in 1922, Recently Restored to Original Configuration
Documented Ownership Backed by Extensive Research by Pierre-Yves Laugier, David Sewell, and Mark Morris
Offered with Extensive Documentation, Including Copies of Factory Records and 1933 Letter from Ettore Bugatti
1,991 CC SOHC Inline 8-Cylinder Engine
Twin Zenith 36 HA Sidedraft Carburetors
Estimated 60 HP
Front Hydraulic Foot-Actuated Drum Brakes, Hand-Controlled Rear Brakes
Front Solid-Axle Suspension with Semi-Elliptical Leaf Springs
Rear Live-Axle Suspension with Reversed Quarter-Elliptical Springs
PROVENANCE
Original Owner, Paris, France (acquired via Bugatti Paris in 1922)
J. William Theze, Bordeaux, France (acquired from the above in 1928)
Claude Knoerr, Saint-Jouvent, France (acquired from the above in 1933)
Max Diederieck, Douai, France (acquired from the above in 1934)
Jean Paul Villemagne, Aude, France (acquired from the above in 1937)
Jacques Liscourt, Toulouse, France (acquired from the above in 1960)
Jean-Jacques Bajol, Toulouse, France (acquired from the above)
Philippe Salvan, Toulouse, France
Claude Renel, Viriat, France
Uwe Hucke, Gloucestershire, UK (acquired from the above in 1968)
Christoph Grohe, Féchy, Switzerland (acquired from the above)
Julian St. John Eckersley, Farnham, UK (acquired from the above in 2006)
Nicholas Benwell, Farnham, UK (acquired from the above in 2013)
Brad Baker, Oshawa, Canada (acquired from the above)
Current Owner (acquired from the above)
With an eye to the future, Ettore Bugatti knew well the importance of perfecting prototypes for a robust eight-cylinder engine suitable for the rigors of racing. In March 1921, the carmaker developed a paired eight-cylinder, three-valve-per-cylinder, overhead-camshaft engine designated the Type 29. By 1922, this engine would evolve into the Type 30 two liter. The new engine would forever change the course of his company, ultimately leading to Bugatti's unprecedented dominance in Grand Prix racing.
The Bugatti company's first series of eight-cylinder cars were the 16 two-liter Type 29/30 vehicles. The cars, numbered 4001 through 4016 and built in 1922 and 1923, are also referred to as the pre-production Type 30s, and are thus separate from the Type 30 and 30A models that would soon be manufactured. Eleven of the cars were built on the Type 22, 2,400 mm wheelbase chassis. Three cars – including chassis 4008, the example offered here, utilized a modified Type 23 chassis, 2,550 mm in length, and two were built atop a much longer 2,850 mm wheelbase chassis.
At the 1922 French Grand Prix, four Bugatti Type 29/30 cars, numbered 4001–4004, competed at Strasbourg, while it is believed that 4008 was shown at the racetrack to spectators and potential customers. Results of the race were promising, with three of the four cars finishing 2nd, 3rd, and 4th. Shortly after the race, the November edition of La Vie Aérienne et Sportive magazine featured a photographic illustration, believed to show 4008, accompanied by an article written by Ettore Bugatti. "My new two-liter cars are undoubtedly the fastest cars in the world," Ettore boasted.
Argentine driver Martin de Alzaga Unzue took notice. He led a team that campaigned three two-liter Bugattis (cars 4014, 4015, and 4016) at the 1923 Indianapolis 500 wearing unusual aerodynamic bodies, achieving speeds in excess of 100 mph. Despite success on racetracks, and notwithstanding the importance these early cars would later prove, only two of the 16 examples of the 29/30 are known to survive, including this car, 4008.
According to factory records and the exhaustive research of esteemed Bugatti historian Pierre-Yves Laugier, as well as historians David Sewell and Mark Morris, the body of 4008 was finished with in-house coachwork, referred to as Reservoir Ovale, which featured gently tapered metalwork pulling tautly from the grille, blanketing the cowl, and terminating at the rear-mounted, oval profile fuel tank. The body was further adorned with long front fenders and unique cycle-type rear fenders that flowed forward, creating blended running board surfaces.
Chassis 4008 has a position of great importance in Bugatti history, as it was the very first eight-cylinder sporting Bugatti delivered, having arrived at the Paris dealer on November 16, 1922. But even more important, this car, due to its two-seater configuration, is the oldest known example of Ettore Bugatti's vision of his company's future, and his unprecedented success in Grand Prix racing.
During the first decade of this Bugatti's life, early owners or registration agencies assigned an incorrect chassis number and varied taxable horsepower ratings to its paperwork. By 1933, the car was owned by Claude Knoerr, who asked Ettore Bugatti himself to correct the record. Ettore issued a signed letter identifying the car as 4008, Bugatti Type 30A (as he often referred to his cars built from 1922–1926), with December 22, 1922, noted as the first road registration date, making it the first of just two such cars delivered within the calendar year.
In 1937, the Bugatti was acquired by Jean Paul Villemagne, a reclusive collector with a penchant for disassembling his cars. Chassis 4008 was disassembled as well, but fortuitously, it remained largely complete under his care. After 4008 passed among a series of owners, esteemed Bugatti expert Uwe Hucke acquired it in 1968, still substantially disassembled. Mr. Hucke worked tirelessly to sort and reunite the correct parts, preserving as many original components as possible. Photos from this period show the car with the original bulkhead, firewall, floorboards, pedals, dashboard, Zenith carburetors, instruments, and switch panel. While the coachwork had been lost, the engine is thought by Mr. Sewell to be a proper, very early Bugatti-sourced replacement. As it should, it features the integrally cast steering-box housing, which is exclusive to the early straight-eight engines. After reassembling the drivetrain, Mr. Hucke fitted the car with torpedo coachwork replicating cars from the Strasbourg Grand Prix, and periodically he would exhibit the Bugatti at events in the 1990s.
During the time of Mr. Hucke's ownership, Pierre-Yves Laugier was engaged to research and chronicle the unprecedented history of the 4008's life. In addition to documenting numerous formerly unknown prior owners and their residences, M. Laugier discovered what he believed to be 4008's original fenders, which had been retained by a former owner. The fenders were reunited with the car, but were not installed on the coachwork at that time. After Mr. Hucke divested his collection and sold 4008 to a new caretaker, M. Laugier issued his report in 2001, stating that "4008 is both the first and the oldest surviving eight cylinder Bugatti… ." Based on the report, its new owner, noted Bugatti enthusiast Nicholas Benwell, commissioned a detailed photo-analysis of the earliest racing cars, and from those photos re-created the Reservoir Ovale racing-style body that 4008 had originally. The car made its concours debut at the 2014 Zoute Grand Prix Concours d'Elegance in northern Belgium, where it was deservedly awarded Most Exciting Design. Under its current ownership, 4008's original fenders were installed, revealing what the car must have looked like when new, over 90 years ago. Beautifully composed with clean and pure coachwork, this surviving artifact is the very foundation of the Bugatti legacy, which manifested itself in an unprecedented string of racing victories with the legendary Type 35 and its variants.
Bugatti 4008 is accompanied by numerous documents, including extensive reports by M. Laugier and other marque experts, multiple factory reference materials, a copy of the 1933 letter from Ettore Bugatti, and a 1922/23 Bugatti sales catalogue depicting what several experts believe is 4008. As M. Laugier documents, this Bugatti has emerged proudly from a lengthy journey and has been confirmed as the earliest surviving eight-cylinder, two-seater sport Bugatti.
---
Bugatti news: 2016 , 2015 , 2014 , 2013 , 2012 , 2011 , 2010 , 2009 , 2008 , 2007 , 2006 , 2005 , 2004 , 2003 , 2002 , 2001 , 2000 , 1999 , 1998 , 1997 , 1996
---
Back to the Bugatti Page