Bugatti news, 2017 Plus events
Bugatti news: 2016 , 2015 , 2014 , 2013 , 2012 , 2011 , 2010 , 2009 , 2008 , 2007 , 2006 , 2005 , 2004 , 2003 , 2002 , 2001 , 2000 , 1999 , 1998 , 1997 , 1996
---
January 12 - 15, 2017 Interclassics Maastricht, the Netherlands

This event is traditionally the first big event of the year

Usually with the stand of Jean Prick, showing at least a few Bugattis
---

February 8 - 12, 2017 Retromobile Paris, France
The event in France is usualy the 2nd big event of the year, shortly after the one in Maastricht
The Retromobile always surprises us with an unexpected number of Bugattis
---
February 10, 2017 Artcurial Motorcar auction at Retromobile Paris, France

With many Bugattis and Bugatti Automobilia from the "Collection Hervé & Martine Ogliastro".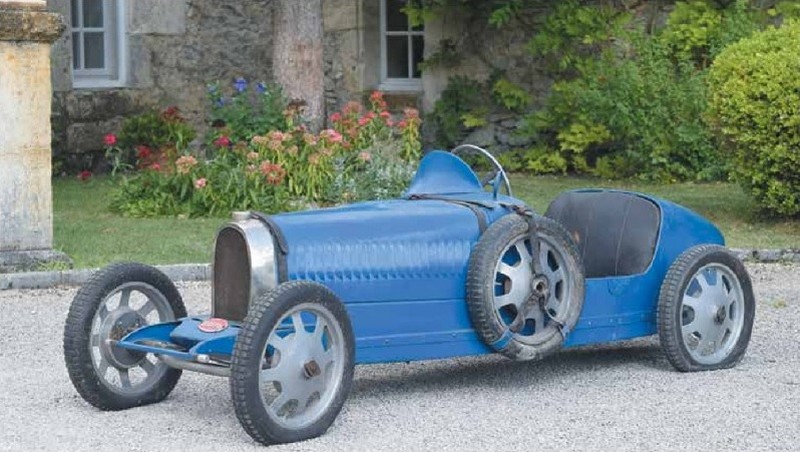 Lot 25 - Bugatti Baby - Chassis 388A - Est. 30 000 - 50 000 €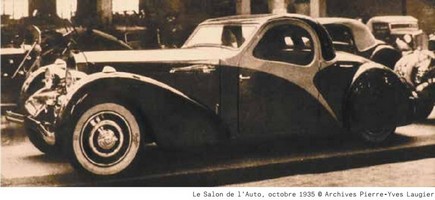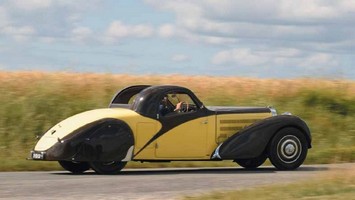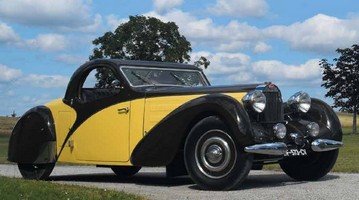 Lot 27 - Bugatti Type 57 Atalante découvrable - Châssis n° 57330, Moteur n° 548 - Est. 1 000 000 - 1 500 000 €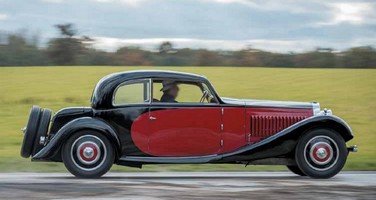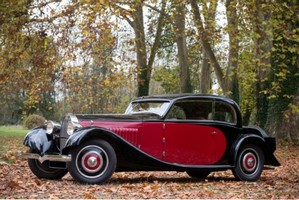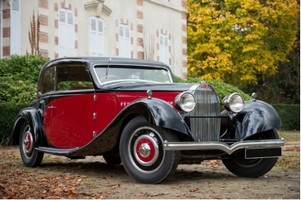 Lot 40 - Bugatti Type 57 coach Pre-Série Gangloff - Châssis n° 57106, Moteur n° 40 - Est. 430 000 - 530 000 €
PDF Catalogue (BIG file!)
---
February 11, 2017 Artcurial Automobilia auction at Retromobile Paris, France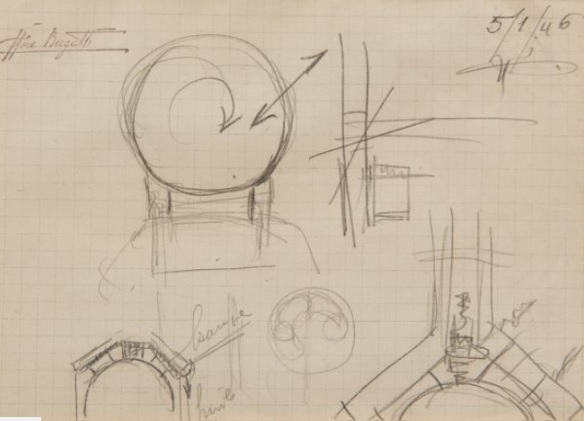 Lot 500 - Ettore BUGATTI (1881-1947) Etudes mécaniques (Sketch) - Est. 500 - 1 000 €
But what is it??
Lot 520 - Géo HAM (Georges Hamel) (1900-1972) Pilote au casque bleu - Est. 700 - 1 000 €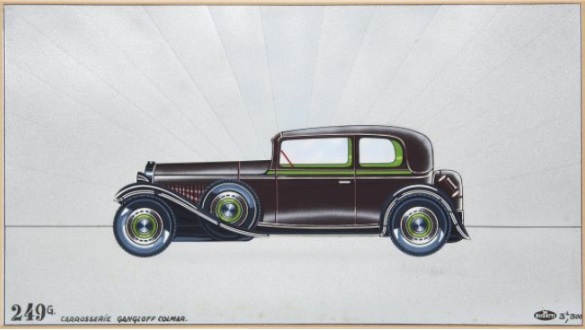 Lot 527 - GANGLOFF Bugatti 3,3L Limousine - Est. 400 - 600 €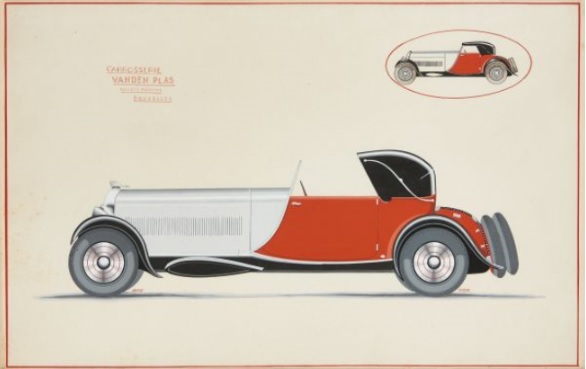 Lot 528 - Willy VAN DEN PLAS - Cabriolet transformable Bugatti - Est. 300 - 500 €
Lot 531 - Pierre DUMONT (1920-1987) - Bugatti Royale Double Berline décapotable 1928 - Est. 1 000 - 1 500 €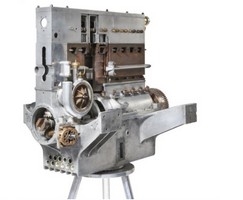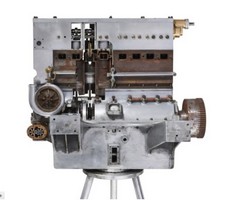 Lot 543 - BUGATTI Type 35 engine - sectioned - Est. 15 000 - 25 000 €
Lot 556 - BUGATTI Boyce - Est. 500 - 800 €
Lot 557 - JAEGER-BUGATTI Montre de bord, vers 1930 - Est. 500 - 800 €
Lot 558 - BUGATTI - Boyce et ampéremètre - Est. 700 - 1,000 €
Lot 559 - BUGATTI Enjoliveur - Est. 300 - 500 €
Lot 560 - BUGATTI Plaque émaillée - Est. 800 - 1,200 €
Lot 562 - BUGATTI Montre bracelet publicitaire - Est. 200 - 300 €
Lot 566 - Philippe LALAGÜE (né en 1955) Bugatti et Delahaye - Est. 200 - 300 €
Lot 570 - Philippe LOUZON (Né en 1956) - Bugatti Type 30 - Est. 1 000 - 1 500 €
Lot 572 - GERI - Bugatti Automobiles, Autorails Molsheim - Est. 600 - 800 €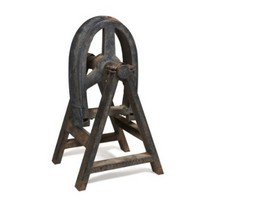 Lot 573 - PROVENANT PROBABLEMENT DES USINES BUGATTI - Matrice de radiateur et son support - Est. 4 000 - 6 000 €
Lot 574 - AGUILA-BUGATTI N°45469, circa 1930 - Chronographe bracelet - Est. 10 000 - 15 000 €
Lot 575 - BUGATTI - Le Pur-Sang de l'Automobile - catalogue de 1937 - Est. 300 - 500 €
Lot 576 - BUGATTI - Ettore Bugatti - Est. 400 - 600 €
Lot 577 - JEAN PERRET - BUGATTI - Montre bracelet - Est. 300 - 500 €
Lot 578 - BUGATTI - Montre de bord - Est. 300 - 500 €
Lot 579 - BUGATTI Pendulette de bureau publicitaire - Est. 300 - 500 €
Lot 580 - BUGATTI Radiateur publicitaire - Est. 500 - 800 €
Lot 581 - BUGATTI 55 ROADSTER (Children's car) Fabrication de La Chapelle - Est. 6,000 - 9,000 €
Lot 589 - EUREKA -BUGATTI Modèle sport 302 - Est. 1,500 - 2,500 €
---
February 26 - March 13, 2017 Bugatti Club Australia - Tour of Victoria Australia

The tour will start with a welcome dinner and night in a hotel overlooking one of Melbourne's iconic beaches on the evening of Sunday 26th of February 2017 prior to departing the next morning with 2 1/2 days touring the West Coast with a different exploration of the Great Ocean Road to the normal drive through. Two nights will be spent in accommodation high up on Beacon Point with fantastic views across the Road, the beach and the Southern Ocean toward Tasmania; this venue has a highly rated restaurant. The colourful native birdlife outside your window is fascinating and koalas and other native animals are usually seen. While in the area we plan a visit to the Otway Fly Tree Top Walk where you will walk through the tops and above giant native trees, and a special visit to Cape Otway Light House, one of Australia's most important, which has been operating since 1848 on the area known as the Ship Wreck Coast, where numerous ships had a tragic end in the mid-and late 1800s. On a recent run over the route for these two days, we saw 7 koalas including one with baby.

On the third day we will continue to follow the coast and then head inland through one of Australia's most recently active volcanoes, now the home to a group of emus and a few koalas, to spend 2 nights at the highly rated Royal Mail Hotel in the scenic Grampians area. Thursday will be a relaxing day with a gentle tour of this scenic area including visit to an historic winery and lunch at a very early homestead. We will then move to Ballarat to visit Sovereign Hill, a reproduction of a gold mining town from the early 1800's.

On the seventh day, Saturday, April 4, we will head North via a fascinating water driven flour mill built in 1862, a hilltop morning stop and lunch at an old sheep station homestead to the Murray River at Echuca where we will stay for two nights. On Sunday, our 1910 steam driven paddle steamer will pick us up to take is to lunch at a nearby winery. After leaving Echuca we will head for the hills; the Mount Hotham ski resort (although no snow at this time of year) and then on to Lakes Entrance in Gippsland for two nights. We will go by a different type of boat to lunch and a tour of the Gippsland Lakes.

On Thursday, we will transfer to the Inverloch Resort for the last 4 nights to have 3 days touring the beautiful areas of Southern Gippsland including Wilson's Promontory. This will be the annual Bugatti Club Australia three day rally. On Monday 13th of March, the Labour Day public holiday, we will return to Melbourne, with possibly an interesting Mornington Peninsula lunch venue on the way.

We expect the total distance driven in Victoria to be around 3,000 km.

We have received interest from Bugattists in countries as far afield as UK, France, Netherlands, Belgium, Luxembourg, Switzerland, Italy, USA, Japan and New Zealand with Bugattis including T 13, T 22, T 23, T 30, T 35, T 40, T 43, T 44, T 51, T 55 and T 57 with many of some of these models. (also for the rally below)
---
March 16 - 31, 2017 Bugatti Club Australia - Tour of Tasmania Australia

For a small island, Tasmania has an enormous amount to offer the visitor and I have been very surprised at the number of new venues to visit and exciting events since the Club was in Tasmania in 2008 whilst the amazing, World Heritage listed, National Parks remain in great condition. We have tried to pick the top places to cover in two weeks what people say takes six weeks to cover properly.

After three nights in Melbourne, we will catch the overnight ferry to Devonport on Thursday 16th of March, and on leaving the ferry at around 7 AM we will have an interesting breakfast on our way to 2 venues where Platypus and Sea Horses are cultivated. We will then have a typical Australian pub lunch on our way to Woolmers Estate, a very early (1840s) convict built Homestead and outbuildings which has hardly changed since it was built. We will then move to Launceston for the night.

On our second day in Tasmania we will head east to the coast for lunch on our way to Freycinet Peninsula where the next day will be free to explore this incredibly scenic area which includes Wineglass Bay (1 of the 10 top beaches in the world) and numerous walks through the National Park. We should then have plenty of oysters available at lunch and on our way south to the Port Arthur convict site where we will stay nearby for one night and have a tour of that site, hopefully a little more joyously than in its convict heyday.

Before leaving Port Arthur, on Tuesday morning we will have a speedboat eco cruise around of the Tasman Peninsula, which is not only great fun, but also is the best way to see a lot of the interesting coastline including some of the highest sea cliffs in the Southern Hemisphere. We will then travel via Australia's oldest road bridge, near one of the oldest towns, to Hobart for three nights. In Hobart we plan to visit Mona (Museum of Old and New Art) an amazing new building with some interesting and challenging "art", but there are so many interesting visits possible in Hobart, that we will have some spare time and some recommendations.

On the morning of the eighth day in Tasmania we will head west right across the island, and on the way visit "The Wall" a truly amazing sculptured wall of Huon Pine 3 m high and 100 m long completely carved by one man to show the history of the Tasmanian Central Highlands; we can also visit Lake St Clair, claimed to be Australia's deepest lake, in its World Heritage environment, and both of these near our lunch venue. That night we will reach Strahan where we again have two nights.

Our day in Strahan will offer a trip through beautiful, rugged heritage listed countryside to Queenstown on the amazing West Coast Wilderness Railway with its fascinating duplex ABT steam locomotives which were built around 1900 and which drive on the track and on a rack and pinion down the centre. After lunch we will view Macquarie Harbour and the Gordon River with its old convict settlement, natural forests, salmon cultivation and very treacherous entrance which wrecked many ships. The next morning, we will leave the East coast and head to beautiful and historic Stanley on the north coast for lunch, via several interesting possible visits on the way, and on to the new Tall Timbers Resort in Smithton.

On Monday, our 11th day in Tasmania, we will take the recently sealed road to Arthur River to take a cruise on the River to lunch; the heritage forests here are completely natural virgin and there has been no logging on this river. The next day we will go to a Whisky distillery for lunch (Tasmanian whisky's have recently been winning international awards) and visit an artists' workshop/gallery and a fascinating garden on our way to Cradle Mountain, where we will then have a free day to visit the Tasmanian Devil conservation park, walk around the lake and explore this World Heritage National Park.

On our final day in Tasmania, on our way to the ferry that evening, we will make a morning stop at "Tasmazia" – mazes and a shrunken village; befitting its address: Staverton Rd. Promised Land. We will then make our way to Clarendon House, said to be "the grandest colonial house in Tasmania" for lunch and a tour. Our final destination will be the overnight ferry arriving back in Melbourne early in the morning of Friday 31st of March.

The total distance driven touring Tasmania will be around 2,000 km.
---
---
Bugatti news: 2016 , 2015 , 2014 , 2013 , 2012 , 2011 , 2010 , 2009 , 2008 , 2007 , 2006 , 2005 , 2004 , 2003 , 2002 , 2001 , 2000 , 1999 , 1998 , 1997 , 1996
---
Back to the Bugatti Page